Using an integrated approach to log home systems will result in greater efficiency, lower building costs, superior performance and overall savings.We can and should analyze each component separately, but it's important to combine the systems intelligently and to consider the interaction between each system.
I use the term integrated because it is necessary to evaluate not only the individual system or area, but also how each of these interact and affect the others.
For example, addressing air and water infiltration may require sealing any openings where the logs meet the roof system, but the cabin roof system must also be insulated and allowed to vent. One option might be to use SIPs, or structural insulated panels which can span long distances and are insulated with rigid foam that does not need to vent.
Another concern might be how flammable logs are if you are building in a fire-prone area and the type of log fasteners you use may be important. For the record, we always use 14" heavy-duty log and timber screws.
Sale
As another example of using an integrated approach, the environmental impact of wood treatment or the preservatives used on milled logs needs to be considered.
If somebody is interested in log homes, chances are they are also interested in green building techniques to reduce waste and encourage sustainability; maximizing energy efficiency and promote alternative energy sources such as solar power; reducing air and water infiltration to maintain the integrity of the log structure and not require log repairs or restoration down the road; and preserving and maintaining their log cabin as a legacy for generations to come.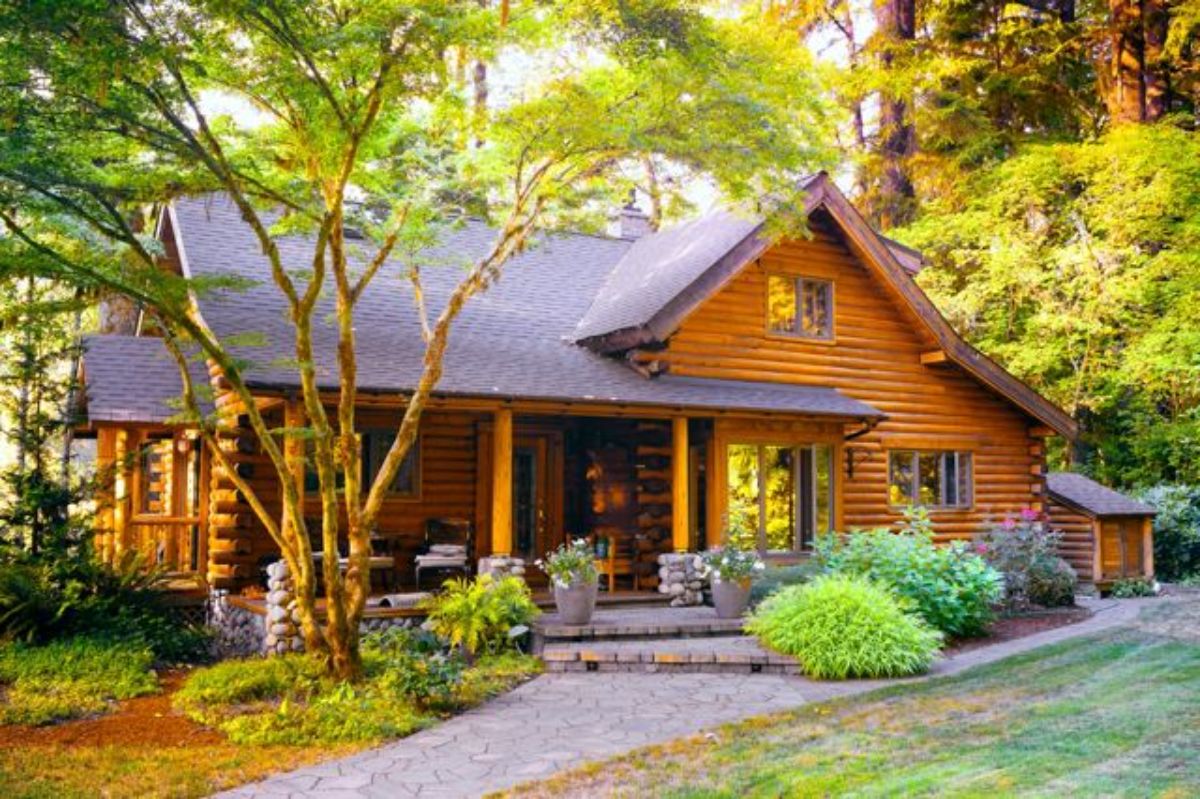 While all these issues are admirable and worthy goals in standard framing construction, they are even more important to consider with log homes due to the unique nature of log construction and the close relationship between log home owners and their cabins. Log homes typically are more carefully designed, meticulously built and lovingly maintained than stick-framed homes and it's clear that careful cabin home design early on pays off in many ways and for long periods down the road.
Fortunately for the potential log home builder or cabin owner, many of the unique issues and unusual constraints inherent to building with full logs and timbers have been encountered, studied and addressed.
Listed below are several white papers written and distributed by the Log Homes Council that address some of these questions, as well as provide additional information. In addition, I have added some pages from Log Cabin Connection that are relevant. With a little reading you can increase your log home education enormously.
Even if you are not required to put this integrated approach to log home systems into action by, for example, designing your own cabin floorplan design using intelligent log home design software, you will have the background knowledge to speak intelligently with log home producers, designers and builders.
White Papers from the Log Homes Council
Downloadable PDF files
You will need Adobe Reader installed to open and read these files.
You can download Adobe Reader here
To open the file in your browser window, just click on the link (not all browsers have this feature). If you prefer to download the file, right-click on the link and choose "Save Target As" or "Save File As." Then select where you want to save the file on your hard drive.
Once you have saved the file, double click to open it.
---
---
Log Home Systems and Design Pages
These pages contain relevant information about log home and cabin design.
Although not everyone building a conventional house gets so deeply involved in the design process, log home systems are different, as are log home owners. Don't be afraid to delve into the details – log home kit producers and log cabin companies are aware of the importance of these cabin systems and will have worked out designs and procedures to address them.
An integrated and careful approach to your log home systems will create a cabin that is a high-performance house that will serve your needs in an efficient and comfortable manner for years.
More Log Home Design Pages:
REScheck: Tricks of the Trade REScheck is software designed to compute an energy compliance analysis that is needed for building permit applications.
Log Cabin Design Tips Tips for your log cabin design that will save you money.
Aging In Place Ideas for Your Log Cabin As people become older, remaining in their own home becomes more important and aging in place design can facilitate that.
Log Cabin Home Design – Evaluating All the Factors The ideal log cabin home design is different for everybody and must be determined after evaluating all the factors involved.
Tips for Building Stairs These tips for building stairs will make quick work of your design.