A High Performance Building System
Log cabins and timber frame homes built using SIPs are stronger, quieter and vastly more energy efficient than other building systems. Because structural insulated panels used for cabin roofs and timber frame walls use rigid insulation as their core they are inherently more efficient giving you less noise, lower energy bills and a more comfortable interior.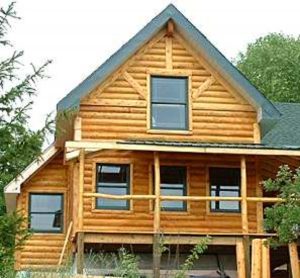 Thanks to the tightness of the building envelope, outside air is not allowed access to the interior of the home except in controlled amounts from the forced ventilation. This building system provides easily regulated humidity levels with less dust making your log home both healthy and comfortable.
Structural panels provide better overall air tightness and real world thermal performance than conventionally framed walls or roof framing. Panel systems provide a dense, uniform and continuous air barrier without thermal bridging, and leave no opportunity for internal convection such as is possible with the voids left in stick framing.
SIPs are rigid panels with the foam core bonded to the stiff outer skins, thereby creating structural strength along the same idea as an I-beam. Individual panels can be made as large as 8' x 24', meaning entire building components are quickly erected, saving dry-in time, costly labor and less exposure to the weather.
What are Structural Insulated Panels?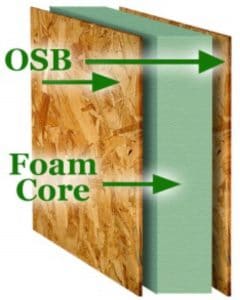 Structural insulated panels, also called SIPs, are building panels often used in residential log home construction in cabin roofs and floor systems and as walls in timber frame houses.
The high performance building panels are typically made by creating a sandwich using a core of rigid foam insulation (polystyrene or polyurethane) layered between two structural skins of oriented strand board (OSB), plywood or fiber-cement.
The OSB provides a substrate on which to apply finish materials such as drywall on the inside or shingles or metal roofing on the outside. For specialty jobs other materials are substituted for the outer skin saving the labor of adding this later.
Because structural insulated panels are manufactured in a factory under controlled conditions like a modular log cabin, they are reliable, strong, energy efficient and cost effective. They are a reliable building system custom designed for your log home that will save you money, labor and construction time when building your log cabin.
---
Learn more with these recommended books:
---
First Steps in Using Rigid Panel SIPs
If you're building your own log home and you're interested in using structural insulated panels you should start by identifying a panel system manufacturer, dealer or distributor that you trust and are comfortable working with. They will be familiar with the use of building systems in log home construction and can handle the engineering involved with using them.
An experienced dealer or manufacturer can answer all your questions and guide you in the best practices for installing them. SIPA is the Structural Insulated Panel Association and you can search for members of SIPA for your area here.
It's also best to ensure that you are working with a log home builder who has experience with structural insulated panels. While utilizing structural insulated panels can simplify the cabin build process, there are special procedures to be followed and an experienced builder can handle the necessary arrangements.
How are Structural Insulated Panels Rated for R-Value?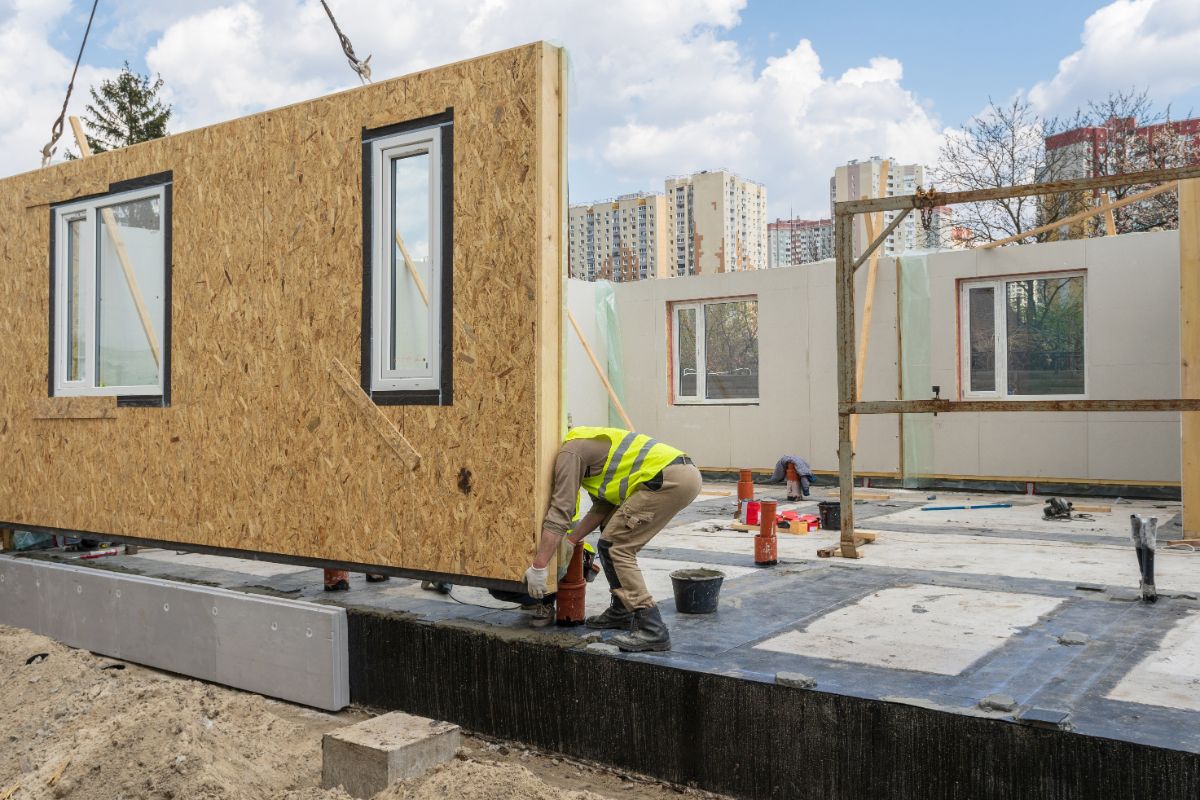 Like any insulation, the R-value varies depending how thick it is and what type of insulation material is used. For a discussionabout R-values, see our page on the energy efficiency of log homes. Or check out Colorado Energy for a good R-Value comparison table.
Panel systems use rigid foam cores that perform much better than fiberglass for insulating, including prohibiting air movement through the panel. Check with the SIP manufacturer for the insulation rating of their panel systems.
See what savings you can gain by upgrading your insulation at Build It Solar.
For more information about green building visit the Green Building Initiative website.
Structural insulated panels are supplied on the job site as ready-to-install building components, saving construction time. Typically, window openings and electrical chases are already cut, making them accurate and quick to assemble.
The rigid panels are always straight and true so they install quickly and save money with lower labor costs, reduced jobsite waste disposal and by downsizing HVAC equipment due to their increased energy efficiency, often enjoying reduced heating and cooling costs of 50% or more. In cabin roof applications, rigid panels rely on beams and purlins for support, making them ideal for log home construction.
Going Green with Panel Systems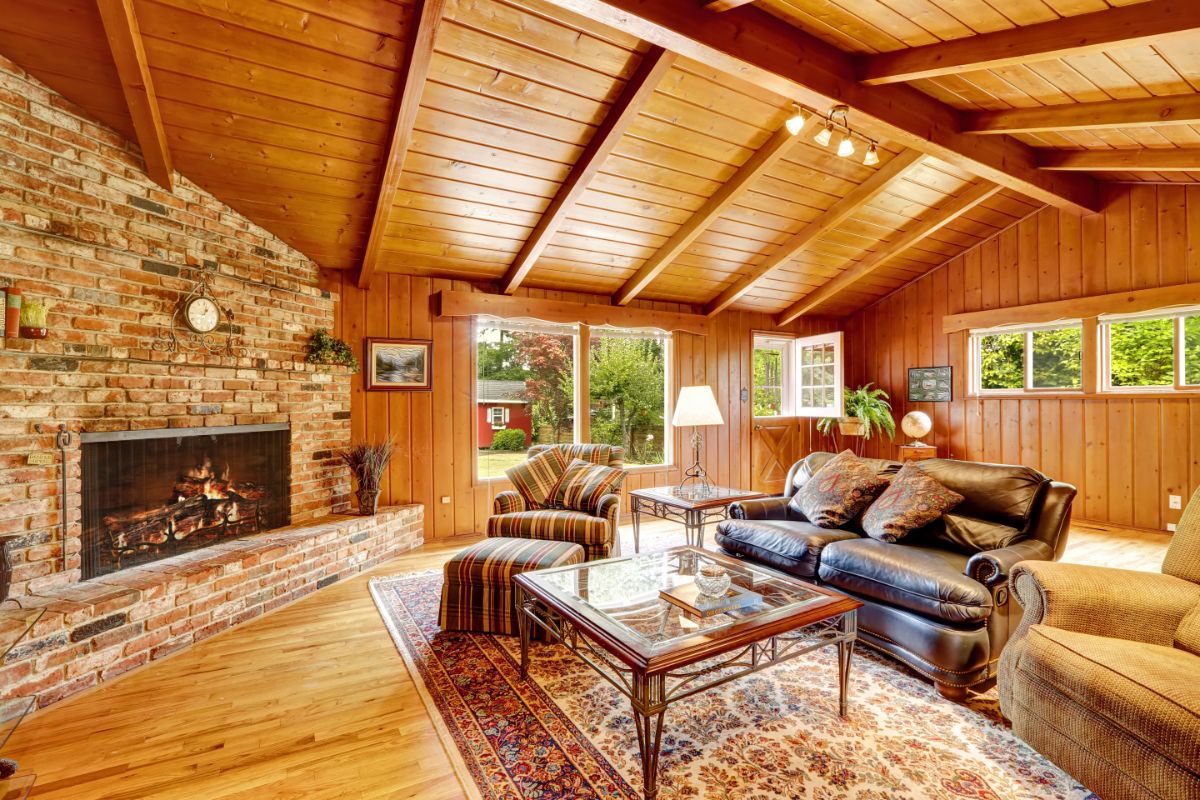 Green cabins are log homes that meet present needs without compromising the ability of future generations to meet their needs. Building green means designing to make wise use of our environmental resources.
Log cabins and timber frame homes meet these criteria by using a sustainable resource – logs and timbers. By implementing rigid panels into the build process you can build a high performance log home that will last for generations and help reduce the depletion of our non-renewable resources.
SIPs are energy efficient by reducing the energy consumption both in the operation of the cabin and in the production of the materials used to build it. Since they also minimize waste, structural insulated panels are one of the greenest choices for sustainable building you can make for your log home construction project.
More Log Cabin Building Pages:
Cabin Roofing Choices Your log cabin roofing choices will affect your budget and long-term enjoyment of your cabin.
Log Home Building School Learn practical ways to craft your dream at a log home building school.
Build a Log Cabin To build a log cabin means coordinating many aspects and prompt decision-making.
Cheap Hardwood Flooring Cheap hardwood flooring is available through my supplier, shipped anywhere in the country.
Build a Small Log Cabin How To Build a Small Log Cabin: Reprinted from December 1983 Popular Mechanics by Michael Chotiner with illustrations done by Harry Schaare.