Small log cabin kits can help make your dream of log home living come true sooner than you think. If you've spent any time looking at the glossy log cabin magazines you've seen the huge log homes that look more like lodges.
Maybe you can't begin to afford something that size, or maybe you don't want to face having to clean a cabin so big. Using small cabin plans you can build a small log home that you can afford.
You may have strong feelings about our oversize homes and their negative impact on the over-burdened resources of our planet – you've come to realize that bigger isn't always better and you'd rather put your money into quality rather than quantity.
Jump to: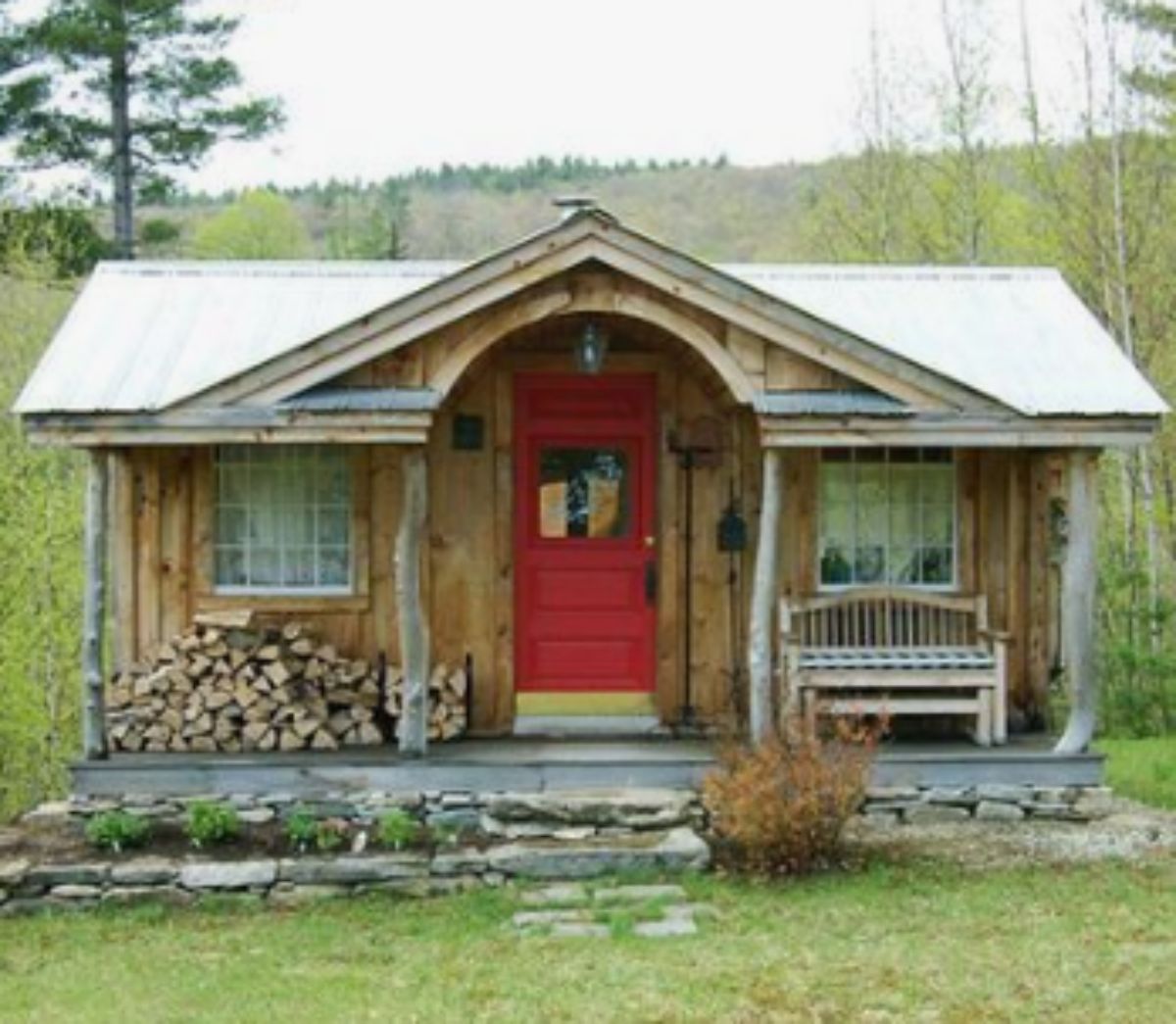 Gibraltar Post-and-Beam Cabin Kit
Small log cabin kits are one way to keep the size down and still enjoy a log cabin getaway in the mountains. A little cabin is manageable and cozy and with the right log cabin floor plan you can have a huge home in a not-so-large cabin.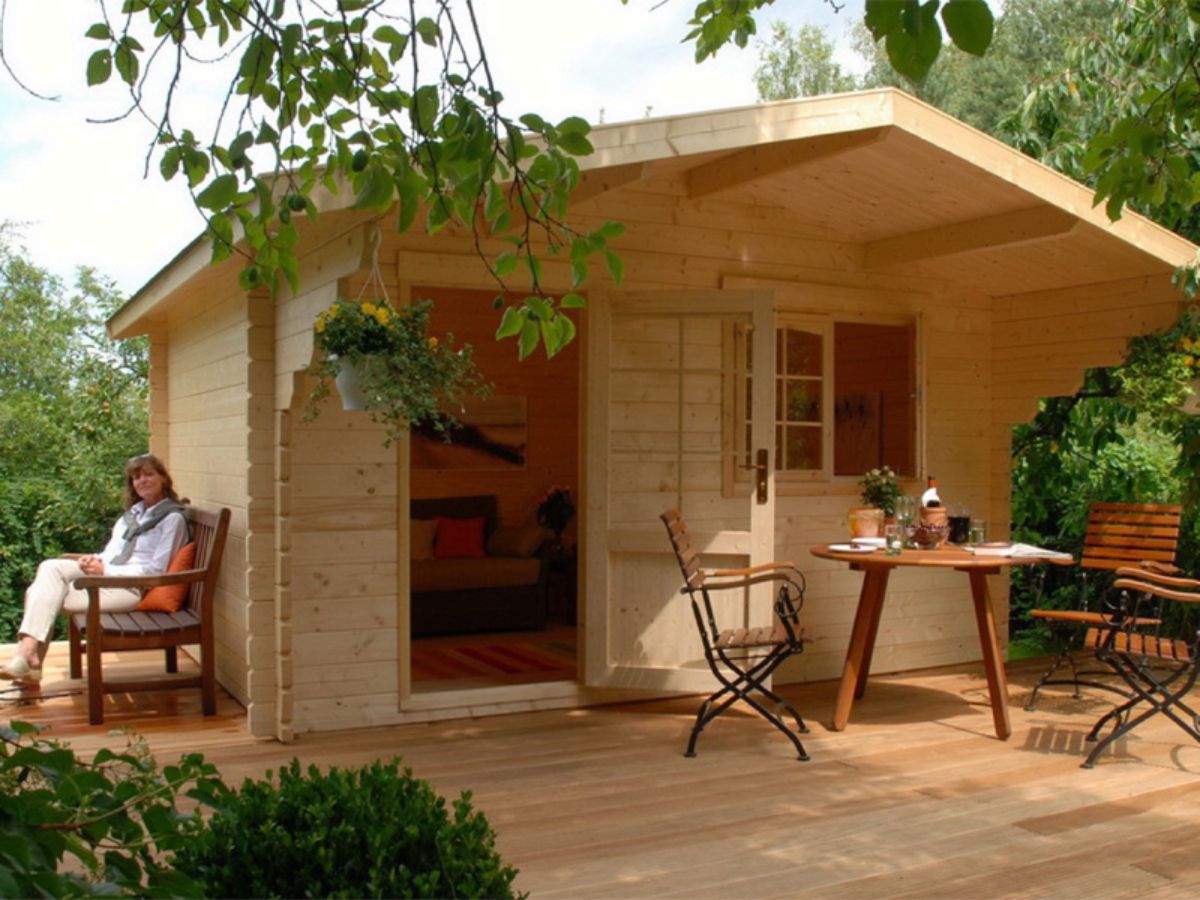 Allwood Kit Cabin Lillevilla Escape: 113 sqft cabin kit
Save Money for the Extras
Square foot size should not be a competition. The savings you realize from building a small log cabin kit can be invested back into your plan with upgrades on kitchen countertops, stone fireplaces, extra-large porches or hardwood flooring.
For many people, a log cabin starts out as a second home for vacations and family holidays. They don't need a huge space to store items used once or twice a year, or furniture or linens for different seasons.
They cherish the time spent at the cabin as a simpler, less complicated time when it's possible to focus more on the family or your partner without all the distractions of a large house.
As you get older its less and less fun keeping up with all the cabin maintenance required on a large log home with spring set-up, fall cleaning, painting and dusting.
Over time many folks fall in love with the location and the freer lifestyle where they've built a small log home and eventually decide to retire there. It helps to plan in aging-in-place ideas and universal design.
It's also easier to make the transition if you've carefully designed your small log cabin kit with rooms serving a multi-purpose use, for example, an office converts to a guest room and meals are eaten outside on the porch or in a cozy kitchen nook rather than a formal dining room.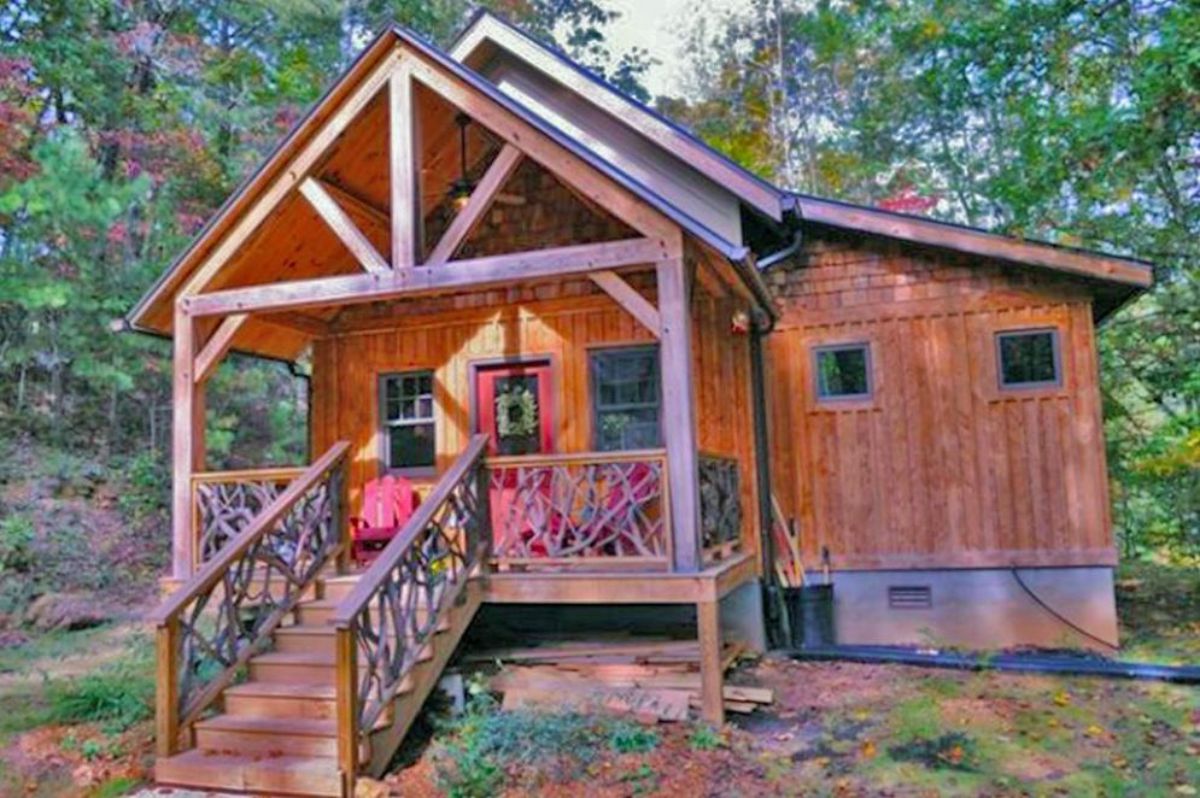 Timber Frame Cabin Kit: 725 sqft Goshen Timber Frame cabin kit
Small Log Cabin Kits Use Smart Designs
Small log cabin kits accommodate the changing realities of today's market, where folks are getting away from building over-priced McMansions with all their extra work and un-used space. In a cleverly-designed small log cabin everything has a place and traffic patterns, smart storage ideas and multi-use areas are carefully planned and designed into the build.
Smart log cabin home design will allow you to have everything you need in a smaller footprint with a more efficient use of space. Cabin design ideas should be carefully considered so as to create an optimal and affordable cabin floor plan.
Build A Green Log Cabin
Small log cabin kits not only save money with the lower cost of the log package, it's also cheaper to purchase a smaller parcel when buying land and your energy bills are less.
Solar power in your log home becomes more practical and your carbon footprint is reduced. Using solar panels to provide your small cabin power needs or a solar water heater for showers is not only a way to be eco-friendly, it's often the only way to get power to your cabin when you build off-grid.
Green building tips for log cabins suggest keeping the footprint small and building upwards rather than out. You can also utilize more outside space with large porches and outdoor rooms. Bring the outdoors in and move the indoors out with a transitional space that you can use for 3 seasons of the year.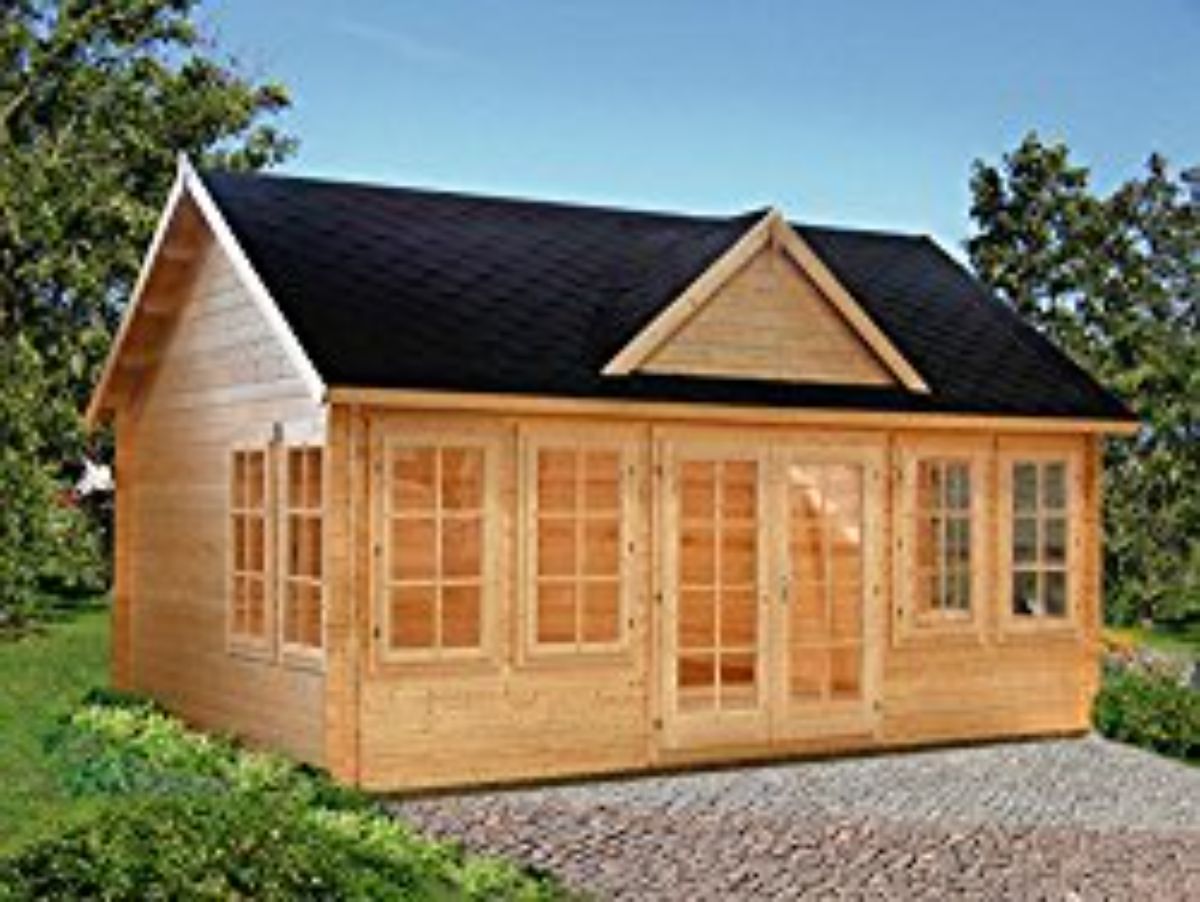 Allwood Kit Cabin Claudia: 209 sqft cabin kit
Small Cabin Outbuildings
Some small log cabin kits are designed for do-it-yourself construction of guest cabins, rental cabins, bunkhouses, barn kits and storage buildings. A small log home kit can be constructed very easily in a short time and help ease the storage load in your primary house or offer guests a unique and interesting space to stay.
Small cabins can be a place to call your own; a quiet place for writing, playing music or working on your art. The coziness and warmth of all-wood cabins invite reflection and relaxation.
Most of these small log home kits require only basic construction tools to assemble. You'll need only common tools such as hammer, tape measure, builders' level, chalk line, ladder and screw gun and no heavy equipment.
Large cabins require specialized log home building tools such as a beam and timber saw and a sliding miter saw.
Small Log Cabin Plans
Sale
Small Log Homes: Storybook Plans and Advice
Used Book in Good Condition
Hardcover Book
Obomsawin, Robbin (Author)
English (Publication Language)
96 Pages - 05/05/2001 (Publication Date) - Gibbs Smith, Publisher (Publisher)
A great resource to have in your library is a book called "Small Log Homes: Storybook Plans and Advice" by Robbin Obomsawin.
From the back cover:
"Leaving behind a complex, hectic lifestyle and returning to a much simpler existence is the irrepressible dream of many."
---
Sale
Another good book is "Inside the Not So Big House: Discovering the Details That Bring a Home to Life" by Sarah Susanka.
"Bestselling author Susanka ("The Not So Big House") teams up with architectural design writer Vassallo to expand upon the message that has resonated with over a million homeowners: opting for personalized, well-crafted, thoughtfully designed spaces over superfluous square footage results in a home that comforts and nourishes those who live there."
Small log cabin kits are developing a strong niche in the larger world of log homes. For starter cabins, secondary log buildings or just an eco-friendly way to live in a log home, a small log cabin can fill the bill and save you money.
More Small Cabin Pages:
Log Cabin Kits Log cabin kits are a convenient way to buy a log cabin ready to be assembled.
Free Small Cabin Plans Free small cabin plans are available for download for the DIY log home builder.
Tiny Cabin A tiny cabin reduces the impact on resources, the environment and your wallet.
Pallet Cabins Pallet cabins are one way to affordably build a tiny home using cheap, recycled materials.
Build a Small Log Cabin How To Build a Small Log Cabin: Reprinted from December 1983 Popular Mechanics by Michael Chotiner with illustrations done by Harry Schaare.