Fall cabin maintenance is a necessary chore and fall is a great time to do a semi-annual check-up on your log home before the cold weather hits and the snow and rain comes. It's never much fun to do log cabin maintenance, but it's better to do it when the air is crisp rather than cold. You'll not only enjoy it more, but you'll do a better job and have a more accurate picture of the state of your log cabin.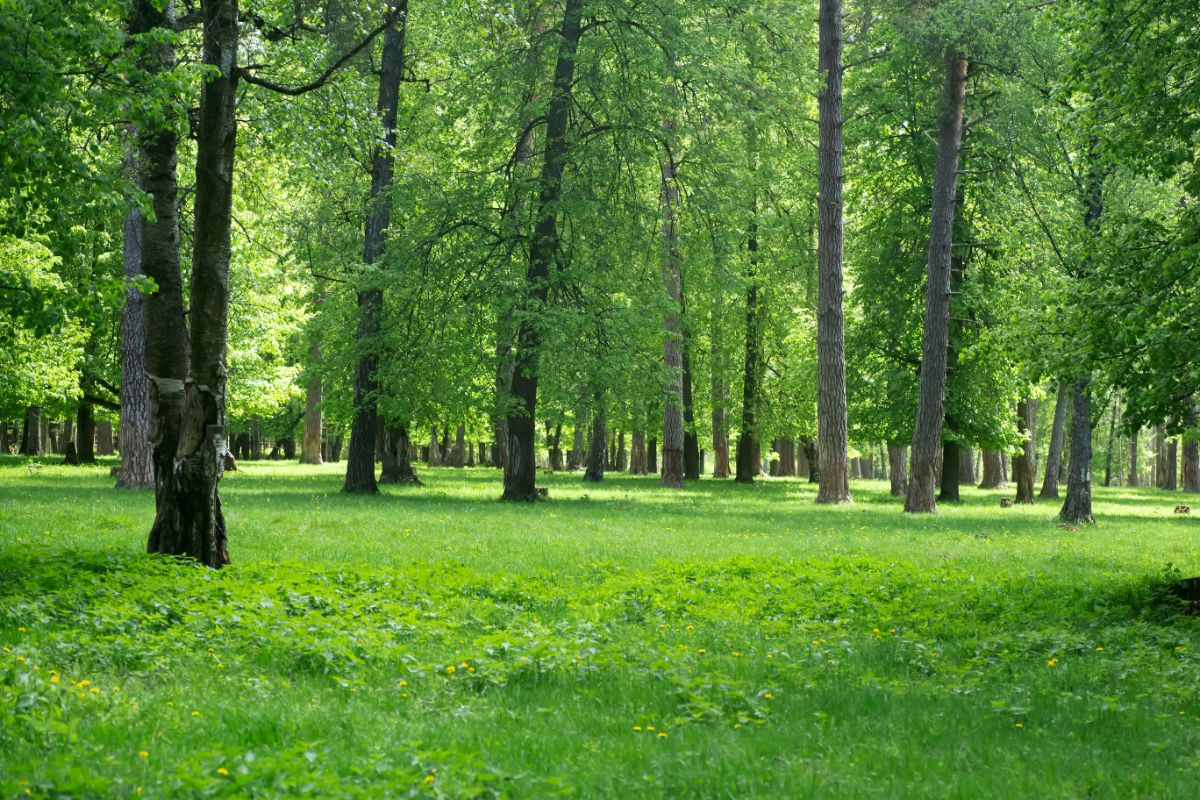 Clean The Logs
Fall cabin maintenance begins with a careful walk around your cabin, checking the overall condition of the logs and assessing any damage which may have occurred over the summer. Cracks and checks in the logs are normal, but if they get too big they can allow moisture and dirt to collect and this will lead to further damage.
The logs need to be cleaned and cleared of dirt, duct, cobwebs, pollen, ash or other dirt. The best way to do this is with a gentle hose rinsing, hitting the dirtier spots with a soft brush and soap solution.
If this doesn't work you might consider using a pressure washer, but be very careful that you don't overdo it. Holding the nozzle too close to the wood, pointing it directly at the logs and using an incorrect nozzle or pressure can all lead to damage to the wood. The high pressure water can strip away the soft sections of wood and leave your logs rough and pitted and open to further moisture absorption.
Trim your Landscaping back
Check your cabins landscaping and make sure your plants or trees haven't gotten to close to the log walls that they are touching. Bushes rubbing on the logs can damage the wood and leave marks and it also inhibits good air circulation, which means that the wood isn't allowed to dry quickly after a rain or a dewy morning. This will also help to keep spiders from taking up residence on your logs.
A good rule of thumb to use for spacing is you should be able to walk between your log walls and any plantings without touching either. If they're too close trim them back or consider replanting them somewhere else.
Tend to the Gutters and Downspouts
Take a look at your gutters and downspouts and ensure they are working. Look out the window during a rain and see if the water is pouring out of the bottom of the downspout. Even better is to connect the end of the downspout to a downspout extender that drains the water away from your foundation and out to a natural slope away from the cabin.
Water can build up in the earth around your cabin over time, especially during a rainy patch, and this can lead to leaks into the basement or crawlspace.
Assess the Log Stain
Assess the state of your log stain by misting or sprinkling some water onto the logs. It should bead up and run down, indicating that the log stain has penetrated the wood and still has adequate life to repel water.
If the water absorbs into the wood and leaves a dark patch your fall cabin maintenance task has probably turned into a new log stain job. This is a big project and one you want to do correctly, so check out our page on staining log cabins to ensure you do it right.
Check the Trimwork
Check for any loose boards, window trim, shutters, or fascia. With winter approaching you don't want anything coming loose in strong winds. It's easier and cheaper to repair or replace it now as part of your fall cabin maintenance before it tears loose and causes further damage.
Check the trim that covers the top of windows and doors and make sure it has some kind of flexible flashing tape or waterproof pan flashing that keeps rain from running behind the trim or along with the windows or doors. Over time any leakage here will rot out the wood surrounds and create expensive repairs.
Clear the Heat Pump
With cold weather on the way your heat pump or furnace will get more use. Make sure it stays running well and efficiently by cleaning coils, changing filters and keeping the area around your heat pump clear of leaves and brush. You can generally clean the heat pump coils with a hose and a light brushing. Use a spray-on foaming coil cleaner for very dirty coils or stubborn stains.
Take the time to clean your dryer vent while you're at it. A clogged dryer vent is one of the leading causes of fire and you can easily prevent this with a little maintenance.
By the way, if you can see the large hose that vents your dryer to the outside, make sure that it is either galvanized metal or a flexible aluminum duct. Flexible plastic hoses can get dangerously hot and create a fire hazard. Even PVC pipe is not recommended as the high-speed air passing through PVC creates a build-up of static electricity and danger of a fire.
Clean the Gutters
Cleaning the gutters is a staple of fall cabin maintenance. The safest way is to use a long ladder from the ground and scoop out the leaves, branches and dirt out of the gutters by hand.
It's helpful to use a pair of tongs to dig out the rotting leaves and soil built up in the gutter. You can get a gutter cleaning tool that will help you reach from the ground so you don't have to risk climbing on the roof. Dump the leaves and moss into a garbage bag as you go along. If you drop it on the ground you may have a smelly yard for a few days.
Clean gutters keep the rain from overflowing and splashing back onto your log walls. If you have asphalt shingles, check if you have a lot of granules wearing away and collecting in your gutters. These granules are what keep the shingles from cracking when they expand and contract from summer heat and winter cold.
If you have a tidy collection of granules in your gutters from your roof you may be looking at replacing your cabin roofing soon.
Replace Caulking
Renew your caulking anywhere it looks like it's pulled away or missing. Use a good quality log caulk – this is not a place to try to save a few dollars. You can buy good colored caulk to match your log stain from log home supply stores and many home maintenance or hardware stores.
Cut the tip of the caulking tube at an angle, press it tight to the crack, hold it at an angle and drag it along the crack as you squeeze the caulking gun trigger.
Be especially attentive around doors and windows where holes have been cut in the building envelope. Log homes are very energy efficient but air infiltration will cost you energy dollars.
Check for Termites
By keeping a close eye for termites you can stop them before they do extensive damage to your log home. Watch for:
Droppings around your logs
Noise or tapping in the walls
Visible ant-like insects with white wings
Dark or soft spots in the wood
Mud tunnels or tubes
Small holes in the wood
If you see any of these signs it's time to address the issue by spraying yourself, using Spectracide foaming spray, a termiticide such as Termidor, or calling in an exterminator.
Using these fall cabin maintenance tips will ensure that your log home is in good shape and ready to face the cold weather. Check out our page on spring cabin maintenance to prepare your log cabin for summer's heat.
More Cabin Maintenance Pages:
Spiders and Log Homes Spiders can be a problem with log homes - here's how to deal with them.
Termites and Log Homes Learn how to identify and treat termites in log homes.
Top Spring Maintenance Tips These Top Spring Maintenance Tips can help keep your log cabin in excellent shape.
Log Cabin Maintenance -- Issues Unique to Cabins Log cabin maintenance is a necessary chore but it's important to address issues unique to log homes.
Log Stain Tips for Log Cabins Best tips for applying log stain to your cabin.