Overall Themes and Individual Elements
Log cabin decorating can be an overwhelming task but don't let it get you down. Start small using rustic décor elements but plan big with an entire log cabin interior design laid out.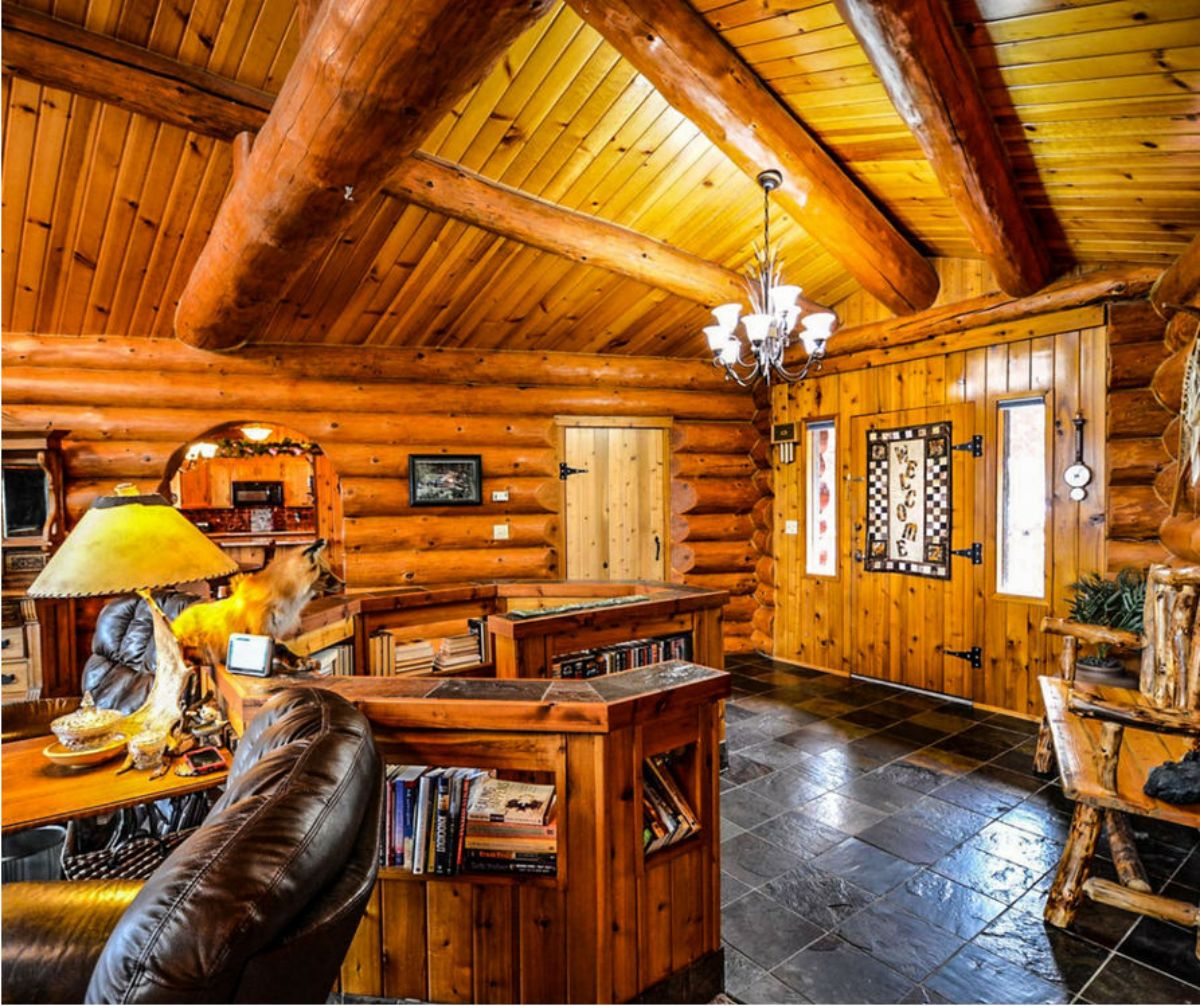 Jump to:
Plan Big with Log Home Interior Design Themes
Start with choosing an overall décor theme. Many people like the wildlife themes for cabin decorating, like moose, bear, wolves, elk, or ducks. If you go this route make sure you really love it because it becomes very easy to select log cabin decorating elements with moose or bear and pretty soon you can be overrun with woodland animals in your cabin. Nature themes include pine cones, pine trees, and maple leaves.
Other log cabin interior design themes are areas and eras such as:
Lake Cottage décor
Western Ranch
Lodge look
North Woods
Southwestern
Adirondack style
Each of these log cabin decor themes looks great and many rustic décor accents and furnishings can be found in these styles for your country lodge or log cabin.
Don't be afraid to mix them up the way you like it. Pick and choose different rustic design elements from various sources; maybe decorate different rooms in your cabin in different rustic themes to give that rugged rustic country appeal.
Another idea for a log home interior design theme would be an eclectic mix of antiques and imported items. This really opens things up and almost anything that interests you can be incorporated into your overall log cabin decorating plan.
Start Small with Log Cabin Decorating Elements
Start with individual cabin decorations like rustic lighting fixtures. A cabin-style combination light and ceiling fan can anchor an entire room. Or plan around different dominating features, like the fireplace.
The stone hearth and log fireplace mantle can suggest cabin decorating themes, such as:
Or start with a small room – the smallest room in the house makes planning easier to visualize. Make your cabin bathrooms stand out with cabin hardware:
Colors and Textures
Log cabin interior design can be overwhelmed by the monolithic look of wood everywhere you turn. With log walls, hardwood floors and log or paneling on the ceilings, the dominating visual aspect is wood.
Some people like this, but others would rather have some colors thrown in to the mix to set off the beautiful golden wood tones of the logs and timbers.
Don't be afraid to install some drywall on your interior walls. Use this as a blank canvas to add color to a room. Add a texture to the walls with plaster and give it some depth.
A bright color will reflect the cabin lighting and brighten the entire place. Muted earth tones blend well with the log cabin look and provide some contrast with the rich tones of the logs.
Light Fixtures and Lighting
Resin Antler Chandelier, Deer Horn 6 Light Vintage Style Ceiling Light American Rural Countryside Antler Chandeliers for Living room,Bar,Cafe, Dining room,8688
Unique style & Lifelike: Hand-stained and antiqued each antler, we've tried lots of reverse mould technology to achieve the exact comparable match to the real antler. With the excellent resin lamp body and natural high strength resin material, our ceiling Light becomes sturdy and durable, beautiful and generous.
Retro Style & Collection Value: Make your home stand out! By putting the chandelier in a place of your choice, you're able to create beautiful decorative lights for living room,bar,dining room,Café and so on. More texture and the vintage ceiling light will never be out of date. Perfect match with your antique preference.
International E12 Lamp Holder: Adopt E12 spiral lamp holder.After safety testing,the antler Ceiling Light can be used for energy saving lamps, incandescent lamps, LED bulbs, etc.Our horn chandeliers can be arranged according to your preferences.The light is soft, safe and practical which can provide the warm to your home constantly.
Enjoy the Fun of Assembly: Not only a lamp, but also a toy! Feel the sense of accomplishment from component to assembly! Retrieve your childlike innocence! Adorned with 6 bright lights, these twig lights work great when placed sparingly around the home for an added glow. And it comes with 2 feet (60CM)chain which can be adjust to suit your needs.
Provide the Best Service: We are a professional lighting manufacturer, ensure that provide you the best quality and the most abundant category of lighting products. If you have any problem regarding this order, please don't hesitate to contact us by email, we will try our best to help you solve your problem ASAP.
Log cabin light fixtures take on a new role with their ability to set a mood or enhance a rustic décor theme. Log homes are not ordinary and their light fixtures should not be either.
The high cathedral ceilings of a Great Room call for large, dramatic light fixtures such as a whitetail antler chandelier, a cedar log chandelier or a birch bark canoe chandelier that focus the eye and make a statement.
Use pine cone wall sconces or twig wall lamps to continue the natural rustic décor on stairs. Rustic table lamps and dining lights round out your theme.
Wood Finishes
Logs and tongue-and-groove paneling on interior walls need to have some sort of finish applied to protect the wood and help keep it clean. Some people may choose to stain the wood but be careful you don't overdo it or your interior may feel dark.
Keep the stain on the outside of the logs where the log stain will act like a high-SPF coating for your logs to protect them from the damaging UV rays of the sun.
Use low-VOC paint on your interior drywall to reduce fumes when painting. Glossy paints are easier to clean but can reflect too much light and look shiny.
Minwax Fast Drying Polyurethane Protective Wood Finish, Warm Satin, 1 Quart
PROTECT WOOD SURFACES – Minwax Polyurethane Wood Finish protects interior projects like woodwork, furniture, floors and cabinets. The oil-based, clear top coat is one of the most durable coatings for wood protection against scratches, spills and more.
OIL-BASED DURABLE FINISH – Clear finish provides long-lasting protection and warm beauty to both finished and unfinished wood projects. Protective coating is ideal for woodwork, furniture, doors, cabinets & floors, and is available in a variety of sheens.
SATIN SHEEN – Give your wood projects a sleek finish with this satin clear varnish. It not only protects the natural beauty of the wood, but offers a soft, unique sheen for a modern, cozy and on-trend look.
FAST DRYING – Get more done with this protective poly coating. It's a fast-drying clear coat, which allows for quick recoats after 4-6 hours, letting you get projects done faster. Be sure to apply with a high-quality natural or foam brush.
A BRAND YOU CAN TRUST – Minwax is America's leading brand of wood finishing and wood care projects. Since 1904, we have been inspiring consumers to Keep on Finishing. We offer consumers a complete line of products to meet every wood finishing need.
Varnish or polyurethane is an ideal finish for logs and other wood. It also comes in satin, semi-gloss and gloss, with the wear resistance increasing with the gloss, as a higher concentration of solids is mixed in.
But too much gloss can make the wood look plastic, whereas the satin finish will remind you of a hand-rubbed oil finish, begging to be touched.
Unless you're applying polyurethane to a high-wear floor there's no need to use the gloss finish. If you really want to protect the underlying wood, apply one coat of gloss covered by a finish coat of satin. The gloss coat protects the wood with a hard layer and the satin covers this with a smooth, satiny finish.
Fireplaces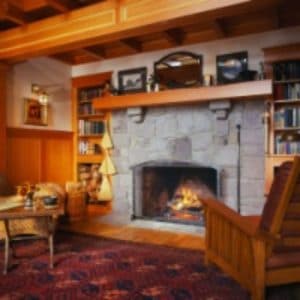 What would a log cabin be without a fireplace? After you install a fireplace, nothing sums up the rustic coziness of log home living like a stone fireplace set against logs and timbers. While there are many factors involved in designing the perfect fireplace, the most noticeable features will be the hearth and mantle.
Using artificial (or manufactured) fireplace stone for the hearth facing can reduce the weight load by a factor of 6 or 7. Learn more about a quick and inexpensive way to frame a stone fireplace.
Consider using a wood burning stove as a heat source or use an alternative fuel such as gas or even gel. A gas stove or fireplace is a convenient and safe way to heat your log home.
Choosing a mantle can be an intensely personal choice and a key feature of your log cabin decorating, but you can rarely go wrong with using a massive timber made of reclaimed wood, or a red cedar log sawn in half and resting on two log corbels, or a rough-sawn slice of a log with the bark side showing, or stone slabs set on a recess above the fireplace.
This is a chance to let your imagination free, but remember that there are minimum clearances required for flammable materials.
Railing Ideas for Log Cabins
An ideal combination in nearly every log cabin decorating theme is wrought iron with the logs and timbers. They complement each other with their strength and rustic simplicity. Iron railings for log cabins offer a nice contrast with the lighter wood inside the cabin and they anchor down the feeling of solidity and permanence.
But there are many different loft and deck railing ideas. Whether you go with a traditional rustic wooden or stone railing or take a clean, modern approach using glass or cable, it pays to plan in advance and make it your own choice.
Window Orientation and Log Cabin Decorating
An east-facing window brings in pleasant morning sunlight. West-facing windows can be hot on summer afternoons so keep them small or ensure you use deep overhangs on your cabin roofing to block the sun.
Large fixed-glass windows can be ordered with a tinted finish to help keep your interior cabin furnishings from being damaged with the UV rays of the sun.
One of the best features of log cabins is the ability to use over-sized windows. The large logs are natural load carriers and allow the walls to be opened up to the outside making every window a picture window.
Use double doors leading to your porch, deck or outdoor room to bring nature closer. Allow this open, bright, close-to-nature feeling to inform your log cabin decorating ideas.
It's important to choose efficient cabin windows to maximize the energy efficiency of your log home.
Log Cabin Flooring
Your floors are one of your largest log cabin decorating elements, but their importance is often overlooked or minimized. The choices you make for your log cabin flooring will partly dictate the overall design and look of your cabin.
You can make the flooring a significant décor item or you can choose to make your flooring become a background for show pieces like soft leather couches, rustic wood tables and wrought iron benches.
You can make a small room feel larger by using flooring that is lighter in color than the walls. Mix up your cabin flooring with stone or tile at the entrances that get the most wear.
Blend or contrast stone or tile with hardwood flooring and use area rugs to soften the hardwood and help define interior spaces. Spice it up with cowhide rugs and pillows.
Kitchen Cabinet and Bathroom Vanity Hardware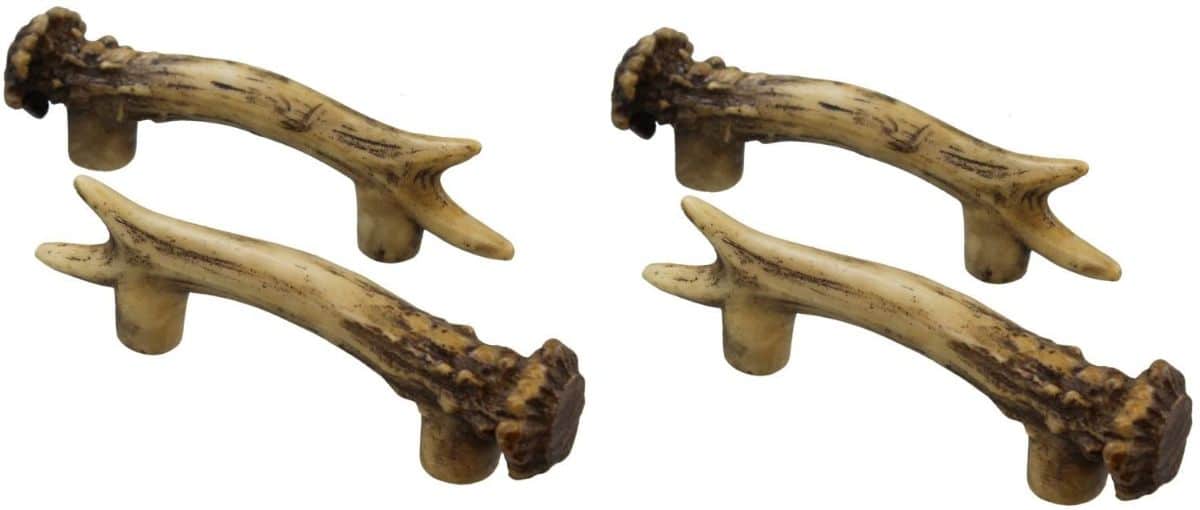 An easy upgrade to your log home interior design is replacing your kitchen cabinet hardware and your bathroom vanity hardware. This is easily done with just a screwdriver and you can choose from dozens of different rustic décor styles such as: 
Speaking of kitchens, your cabin kitchen countertop choices will affect the overall look of your cabin. You can opt for traditional with granite countertops, enjoy the smooth feel of soapstone or go green with recycled paper or concrete countertops.
Rustic Log Cabin Decorating Tips:
Choose a focal point for each room – a sweeping chandelier, a massive stone fireplace, a cozy window seat, a favorite piece of artwork or antique – and build your cabin interior design around it. Echo the fireplace stone with smaller décor pieces or shine a spotlight on your artwork.
Brighten your day with rustic cabin lighting. Not only will it provide illumination, but it will also add a warm and personal touch to your cabin décor.
Sale
If you love a warm comforter on a cold night use a rustic cabin style down comforter or try a Hudson Bay blanket over flannel bear-themed sheets.
Search online for log cabin decor, cabin furnishings, rustic mountain cabin accessories, wildlife art, cabin wildlife rugs, rustic cabin signs, log accents, cabin furnishings and log cabin accessories. eBay is a great place to start with a huge collection of log cabin decorating items being sold every day.
Incorporate smart storage ideas to make full use of the interior space you have in your log cabin. You can keep items out of sight that don't lend themselves to your overall cabin décor.
An excellent book with loads of photos and plenty of log home interior design, rustic décor and log cabin decorating ideas is "The Rustic Home" by Ralph Kylloe. Check out our Virtual Library for other suggestions, too.
Large spaces like Great Rooms require dramatic interior design elements. Use an antler chandelier (or two!) to lighten the large space. Install a rustic iron cabin chandelier or Southwestern theme chandelier and use that to establish your log home interior design.
Can't afford to completely redesign your cabin? You can redecorate cheaply by changing individual cabin interior design elements and still make it feel like a new cabin entirely.
Carefully plan out your overall lighting scheme to balance overall illumination with focused spots and ambient lighting. Combat the mistaken conception that log homes are dark and oppressive by flooding your cabin with energy-efficient ambient lighting and smart use of task lighting.
Cabin Decorating Scrapbook
Start a scrapbook with log cabin decorating ideas, such as:
Sketches
ideas jotted down
examples torn from log home magazines
photos of friend's rooms
swatches of fabric or paint chips
log home interior design plans
rough dimensions of rooms or areas that you desire
sample layouts and arrangements
lists of furniture, antiques or art that you require a place for
pictures of light fixtures
log cabin decorating articles
ads for rustic decor pieces
catalog pages showing cabinet door styles
sample pieces of flooring
Log cabin decorating or log home interior design can be as simple as choosing a few rustic décor elements to enhance your cabin decorating or as grand as selecting an overall theme for your log cabin interior design and ensuring that everything is designed and crafted around that theme.
More Cabin Decorating Pages:
Log Cabin Home Decor Ideas Log Cabin Home Decor Ideas for your Log Home Dreams
Your Cabin Fireplace Guide A cabin fireplace brings warmth, ambiance and a general sense of comfort to your log home.
Cabin Hardware Cabin hardware adds practical performance to the overall rustic feel of a log home.
Log Cabin Decor Styles and Themes Using a log cabin decor style to guide your log home interior design ideas.
Ceiling Fans for Log Homes Ceiling fans keep your log cabin cool in the summer and warm in the winter by circulating the air. Learn these tips for the most effective cabin fans.