Sorting Through the Choices
Part of what makes a log cabin home are the hardwood flooring choices you make as part of your log home interior design.
The large expanse of the flooring you choose makes a bold statement and demands careful consideration of your overall cabin theme, installation requirements, and your budget.
You can compare the durability of flooring hardwoods with the Janka Hardness Scale, showing the suitability of hardwood for the wear and tear associated with flooring.
HARDWOOD FLOORING STYLES
Wood Planks
Wood flooring styles over about 4" wide are considered planks. Typical widths range from 4" to 6" although you can get planks up to 12" wide. The problem with going too wide is that there is more expansion and contraction across the grain with the wider planks. You can end up with gaps between the planks.
The installation is generally quite easy and wide planks lend a traditional look to your cabin, especially if installed with cut or square nails.
Engineered Hardwood
Engineered flooring is made of layers of wood laminated in alternating grains, like plywood, so it's very stable for floors. This is the best choice for flooring if it is being laid on concrete or in the basement since it won't expand with the higher moisture levels.
Engineered hardwood can be nailed down to sleepers or glued directly to concrete. It has a thin veneer or wear layer of actual hardwood on top so it can only be refinished a limited number of times.
Reclaimed Wood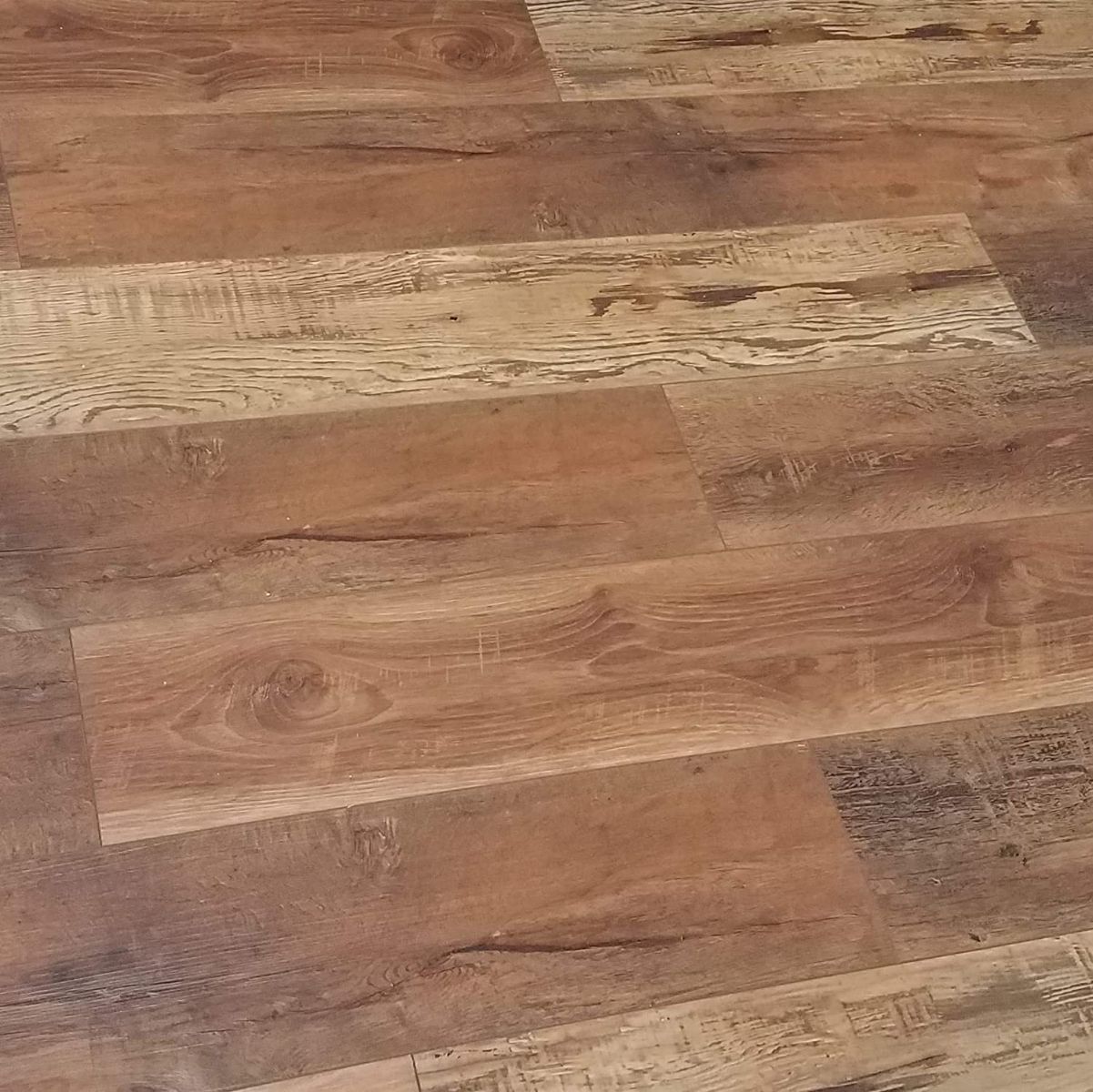 Reclaimed wood flooring is one of the hottest trends right now. The reclaimed wood comes from railroad trestles, old mills and barns or logs that had sunk during their delivery trips down river.
Recycling the wood is environmentally friendly, but it also gives you wood with incredible character and a unique history. Reclaimed wood also yields unusual species such as chestnut that has been wiped out by blight and can't be had by any other means.
Hand-scraped Flooring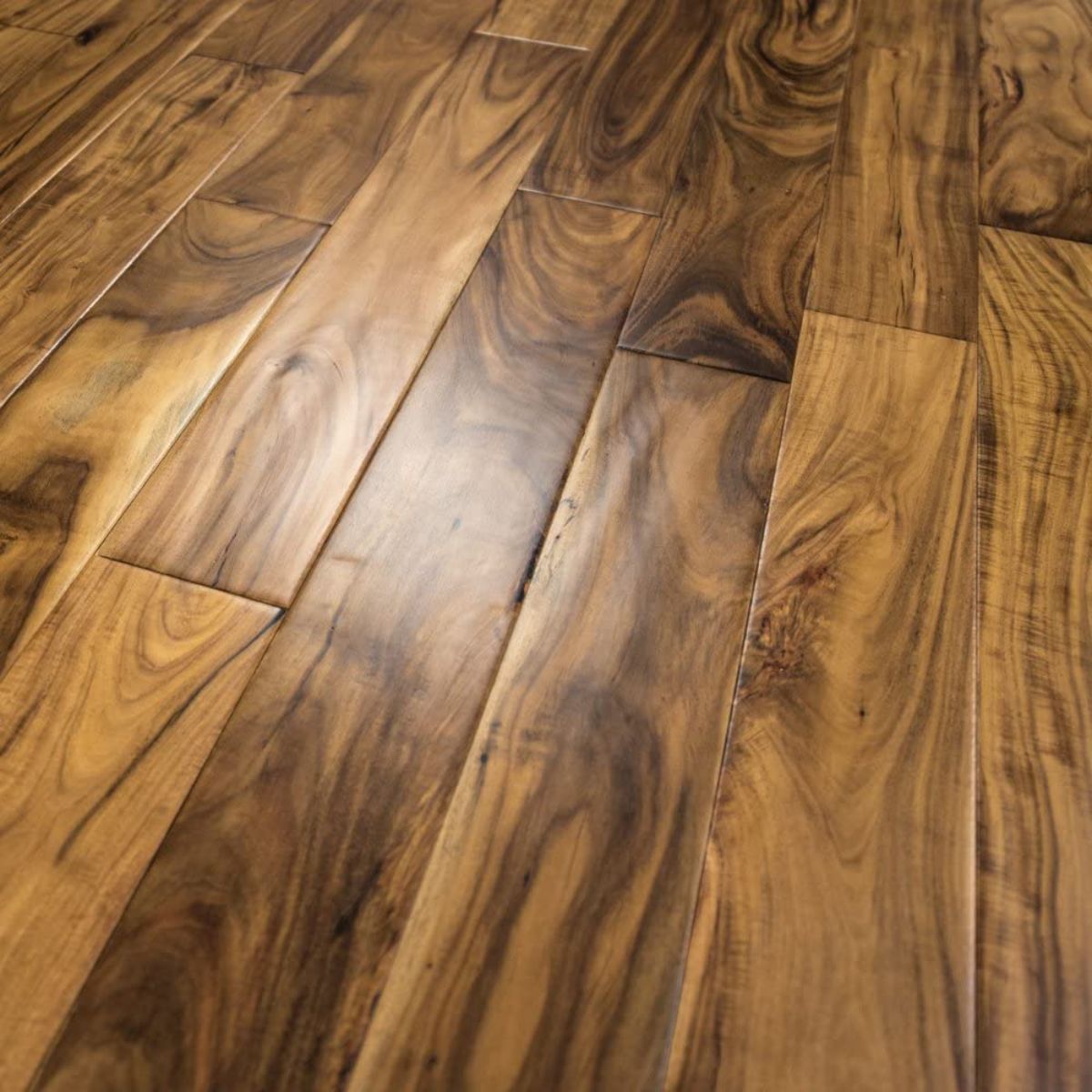 Hand-scraped flooring is more expensive because of the extra work involved, but it is one of the most visually appealing of the hardwood styles. The hand-scraped look is a perfect complement to a rustic log cabin design and can add a striking element to your home.
Laminate Flooring
Not really hardwood but instead a picture of hardwood laminated onto man-made material. Laminate is one of the most inexpensive types of flooring and generally the easiest to put in yourself. Very good quality laminate flooring is durable and scratch-resistant for pet owners. It is often available as a floating floor where the laminate strips click together for fast installation.
HARDWOOD FLOORING WOOD SPECIES
There are many different wood species used for flooring -- some are better suited for wear and tear than others. Here are a few of the most commonly used woods.
Pine – Relatively inexpensive and very easy to work with, pine can scratch and dent easily but lends itself well to a traditional log cabin look.
Oak – A classic look with a wavy grain, oak can make a nice contrast with pine logs. Available in white oak or red oak, it's a little more elegant than pine. You can save money and add some character by buying "cabin grade" oak with more knots and uneven grain.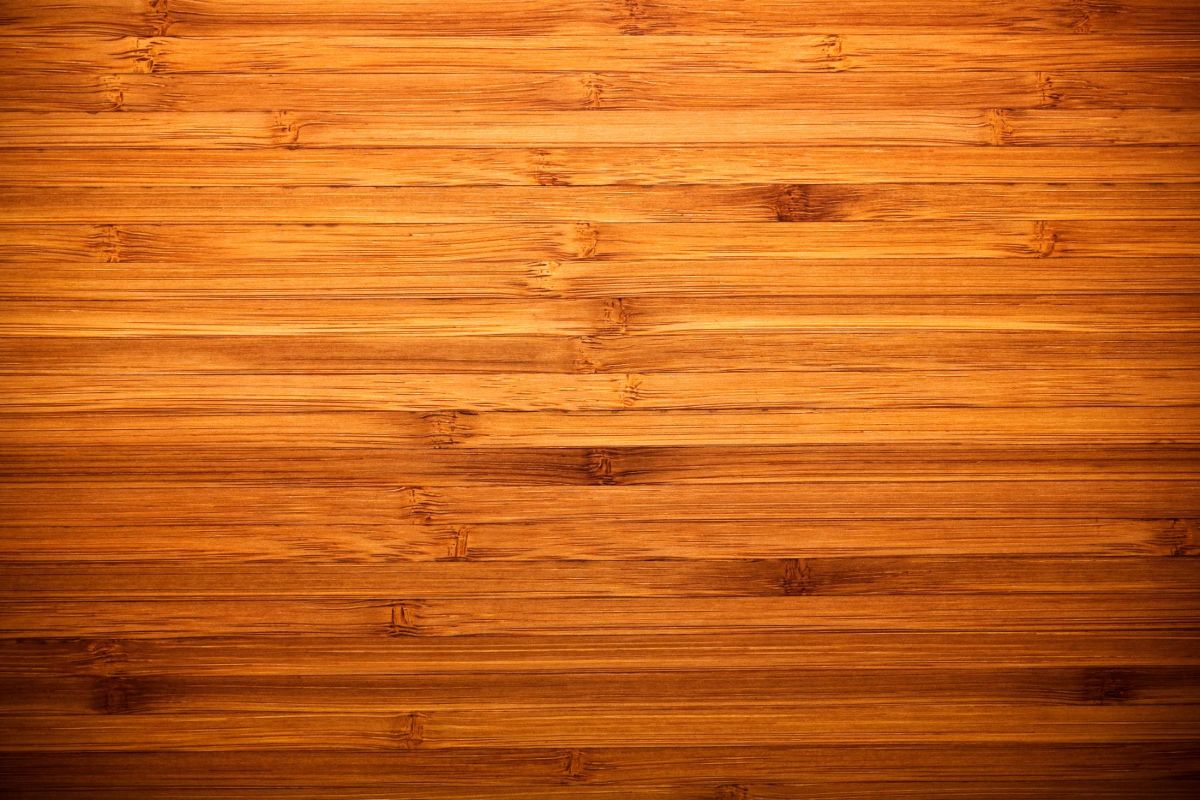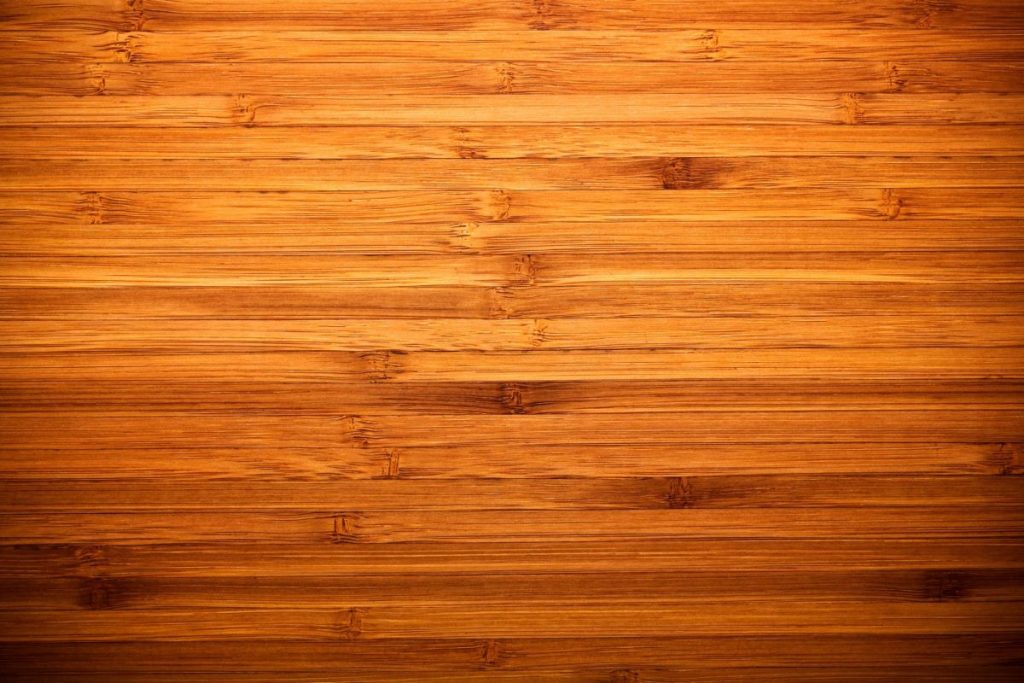 Bamboo – An environmentally-friendly alternative, bamboo is actually a fast-growing grass. The distinctive grain makes an exceptional statement and being an easily renewable resource, bamboo flooring is a popular choice for "green" builders.
Bamboo is available in natural or "carbonized", where it's heated until sugars in the bamboo darken and accentuate the grain pattern. Carbonized bamboo is slightly softer than natural bamboo.
Douglas Fir – Douglas Fir has a very straight and even grain and is quite stable. It is widely available on the west coast and adds a traditional look to a log cabin.
Hickory – Hickory makes a very hard and long-wearing floor but it can be difficult to install. The wood tends to split when nailing and it's hard to cut and machine. Once installed, the wavy, uneven grain and varied color add interest to the floor.
Brazilian Cherry – Brazilian cherry is an exceptional hardwood that's very high on the Janka Hardness Scale. It gives a more elegant, formal look to your log cabin and installs easily with a flooring nailer.
The hardwood flooring choices you make help to establish the overall look and feel of your log home. Carefully consider your budget along with the distinctive appeal of each style and species of hardwood flooring. Click for a cheap hardwood flooring liquidator that ships anywhere in the country.
More Log Cabin Building Pages:
Cabin Roofing Choices Your log cabin roofing choices will affect your budget and long-term enjoyment of your cabin.
Log Home Building School Learn practical ways to craft your dream at a log home building school.
Build a Log Cabin To build a log cabin means coordinating many aspects and prompt decision-making.
Cheap Hardwood Flooring Cheap hardwood flooring is available through my supplier, shipped anywhere in the country.
Build a Small Log Cabin How To Build a Small Log Cabin: Reprinted from December 1983 Popular Mechanics by Michael Chotiner with illustrations done by Harry Schaare.