Planning for landscaping for log homes is essential and should begin in the design phase of your cabin. The best time to shape your lot, provide proper drainage, flatten a future vegetable garden or excavate a water feature is when heavy equipment is already on the scene to dig your foundation or install utilities. Having the major earthwork done early also means that you can take advantage of the best time to plant and prepare your yard.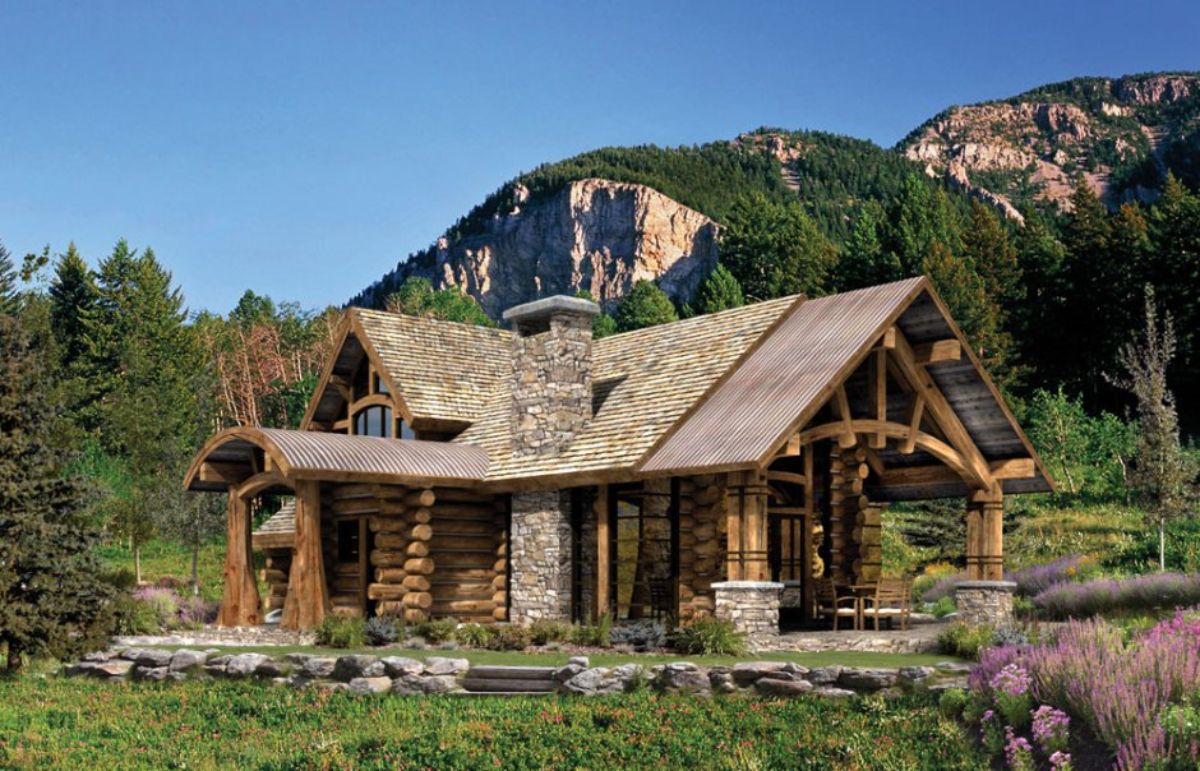 Jump to:
Log Home Landscaping Tips
Below are some ideas and tips I've learned from building cabins and landscaping for log homes:
Decide which views you want to save -- and which you might want to block! The diameter of the root system of a tree can be 2 to 3 times the height of the tree so there's a good chance that trees too close to the cabin will have their roots damaged during construction anyway.
Include trees to save to provide shade from hot afternoon westerly glare. Carefully remove trees to open up southerly exposure for passive solar power warming in the winter.
Consider adding an outdoor room or even an outdoor kitchen to increase your living space at a fraction of the cost and make a graceful transition to nature.
Plan for specific activities that you anticipate doing in your yard, whether it's a vegetable garden for food, room for the dogs to run, sports for the kids, etc.
Water features add a tremendous visual appeal to landscaping for log homes and the sound of running water is part of the attraction. This is another area where advance planning pays off. You can have the hole dug early so you don't disturb your yard and you can plan in the water piping necessary for your water feature.
If you want privacy, consider climbing hydrangea, wisteria or other vines. For shade try oaks, red maples and Norway maples. To add colors to your yard choose flowering dogwood, flame azalea and dahlias.
Mix annuals and perennials. Remember the change of seasons and plan for visual interest throughout the year. Some good winter plants include weeping crab apple, corkscrew willow and Winter King hawthorn. In fact, it's best to plan for the winter first, building on that selection with other annuals for a changing landscape throughout the seasons.
Air flow is essential in landscaping for log homes. Be sure to leave some space between your logs and any planting, 3' – 5' is best. Your cabin needs to breathe so mold and mildew don't start. You also want to keep rainwater from splashing onto your logs as much as possible to reduce weathering and cabin maintenance.
Adequate slope and drainage will keep your yard from trapping water and leaving standing pools after a heavy rain. A minimum of 6" within the first 6' away from the foundation is typical. You want to direct water away from and around your log home and guided where it won't carry away mulch or flood your garden. Use perforated drain tile with a filter sock to direct water flow.
If you want to encourage wildlife, consider flowering dogwood, columbine, balsam fir and swamp milkweed.
Get inspired with landscaping ideas, including plans, landscaping designs, professional secrets and tips.
Clear fallen trees and stumps within 50' of your cabin as these can harbor woodboring pests.
Plan your planting and hardscape together. Pathways of stone, gravel or mulch will lead visitors through your garden. Retaining walls can be appealing as well as functional using stone or timber. Plant a hedge of junipers or hemlock to hide unappealing areas.
Don't use pine straw and wood mulch for ground covers as they can attract termites.
Land with lots of oaks will have acidic soil and needs to be turned with lime before planting to balance the pH. Or you can use plants like rosemary and sage that can handle bad soil and still thrive. Plus, you'll love how your dogs smell after they've been running through the rosemary bushes.
Don't forget to include a garden bench, a flat spot for chairs or even a convenient boulder where you can sit and enjoy your efforts – and get a new perspective on your cabin.
Landscaping for log homes involves good advance planning, some creativity and of course, hard work, but you'll appreciate and utilize the results for years to come.
Further Reading on Cabin Landscaping
More Cabin Landscaping Pages:
Buying land is the first step towards your wilderness dreams. Buying land can be a daunting task. Learn what to watch for and how to find the perfect spot.
Log Cabin Maintenance -- Issues Unique to Cabins Log cabin maintenance is a necessary chore but it's important to address issues unique to log homes.
Add a Water Feature For An Oasis of Calm A water feature will be the centerpiece of your yard. Learn how to design and build a tranquil oasis of calm.
An Outdoor Kitchen Guide An outdoor kitchen allows you to spend more time enjoying your log cabin on the outside.
Outdoor Rooms -- Transition to Nature Outdoor Rooms bring the outside in and the inside out. They are a graceful transition to your own natural retreat.