Jump to:
The Focal Point of Your Log Home Landscaping
Add a water feature to your cabin landscaping and create your own oasis of calm. Who doesn't love to relax by a quiet pond or lose themselves in thought alongside a bubbling brook?
In Russia they have a saying that there are three things that you can watch endlessly:
Running water
A crackling fire
Someone else working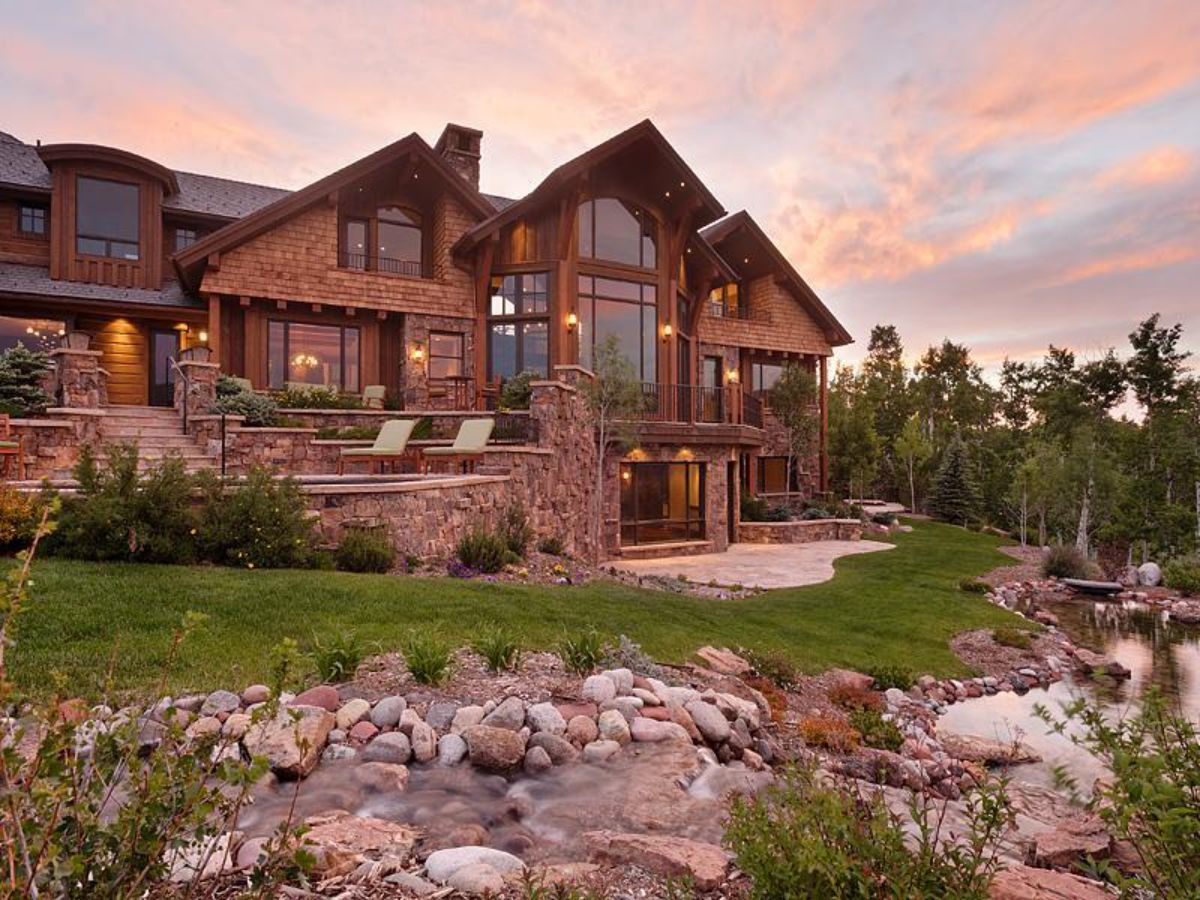 If you want to have running water in your yard and don't live on a stream you can still add it with a fountain or stone waterfall. The soothing sounds of running water will calm you and restore you after a long day and a peaceful pond can be a focal point of your backyard.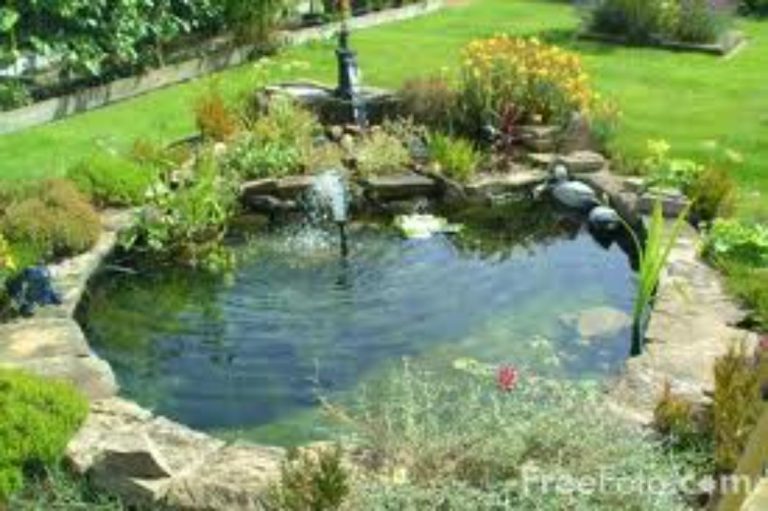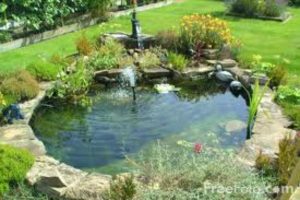 Incorporate a water feature into your landscaping plan and the running water can cover background noise and transform your yard into your own piece of paradise.
Adding a yard stream or yard pool to your landscaping is a great project especially if you have any slope in your site so the water naturally flows downhill. You can then pump it back up to the top with a small, hidden pump. But even without a slope, you can add a running stream or a quiet pool to your log cabin landscaping to bring a new dimension to your cabin yard.
Your project can be as elaborate as a cascading waterfall disappearing into the ground, as simple as a flowing water wall made of river stone, with streams of water cascading down the face, or as tranquil as a quiet pond with lily pads and goldfish.
There are many options including a running stream, multiple waterfalls, and ponds.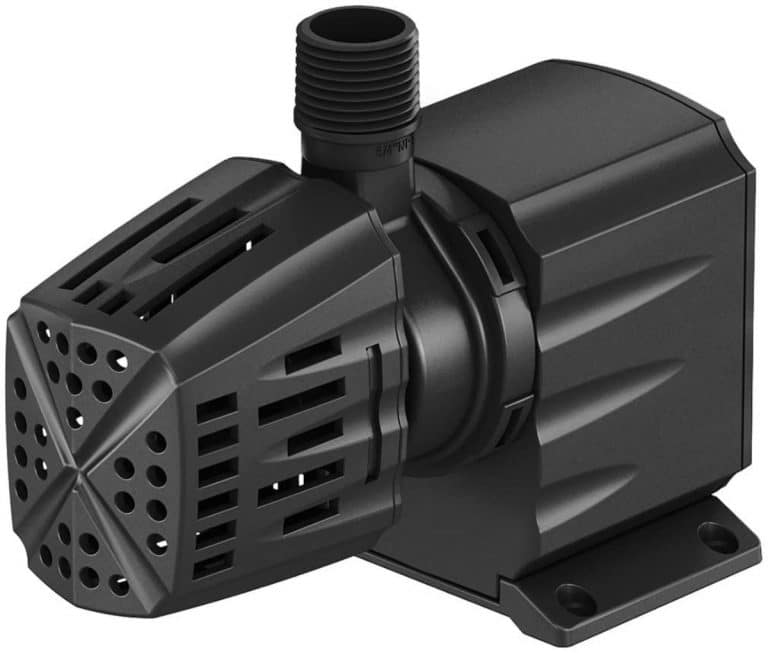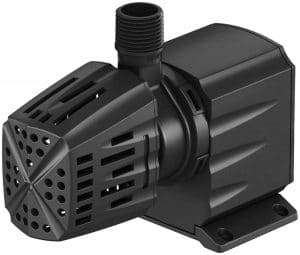 All you need is:
Heavy-duty waterproof EPDM pond liner to cover the bottom of your stream or pond
A water pump to move the water back uphill
Rocks, boulders and plants to dress it up
Some muscle to move everything into place
Tips for Adding a Water Feature
Here are a few tips to keep in mind when planning your project: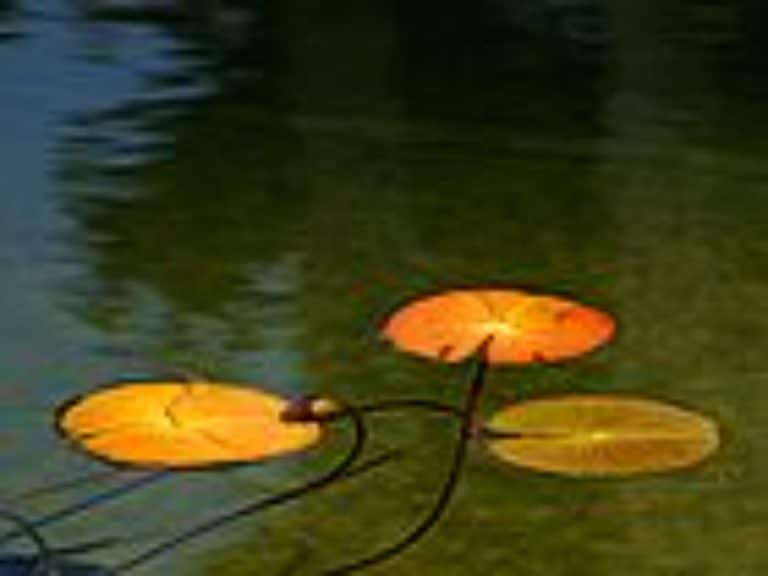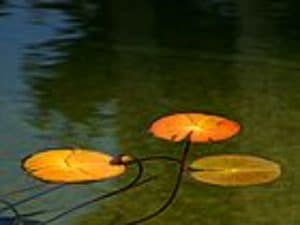 Blend the feature into the landscape. Incorporate any rock outcroppings you may be lucky enough to have and avoid anywhere too high that would look unnatural for a pond. If you site your water feature too low you may run the risk of flooding when heavy rains hit.
Begin by sketching out your design and plan your excavation carefully. This can be hard work but a clever design can minimize the labor. If excavating, remember you need to plan for where you'll put the dirt you remove.
Be careful not to position a pond underneath trees where falling leaves will collect and decompose.
The easiest thing to use is a flexible synthetic rubber liner to line the path of your stream or bottom of the pond. Cut this oversize, drape it along the bottom and overlap the sides. Weigh it down with smooth rocks and boulders placed carefully so as not to puncture the liner.
Add plants and fish to help achieve a natural balance and to reduce algae. This will help you keep from adding to your cabin maintenance list.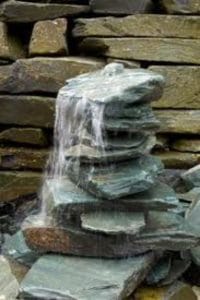 If you're building a pond you can estimate how much water will be needed to fill it by multiplying the cubic capacity x 7.5 gallons/cu.ft. Cubic capacity can be found by multiplying the surface area x the water depth.
Be aware of local city ordinances and check with building inspectors about local building codes. Your pond may need to be fenced off to protect children and building permits may be required. Also, if the pond is over 2 feet deep, check if swimming pool regulations apply.
All electrical systems should be protected using ground-fault circuit-interrupter (GFCI) outlets. These will automatically trip off the circuit breaker and cut power if there is a problem with the grounding circuit in your system.
Water Feature Kits
Instead of building your own water feature, you can also buy kits that come complete with everything you need - both indoor and outdoor.
You can go from an amazing indoor fountain waterfall to a peaceful overflowing rock waterfall.
Or check out this 270-gallon Pond Kit that includes:
8-feet by 10-feet non-toxic pond liner
200-gph filter-free pump with protective shell
2 fountain heads, diverter & telescopic riser
2 silk water lilies
installation instruction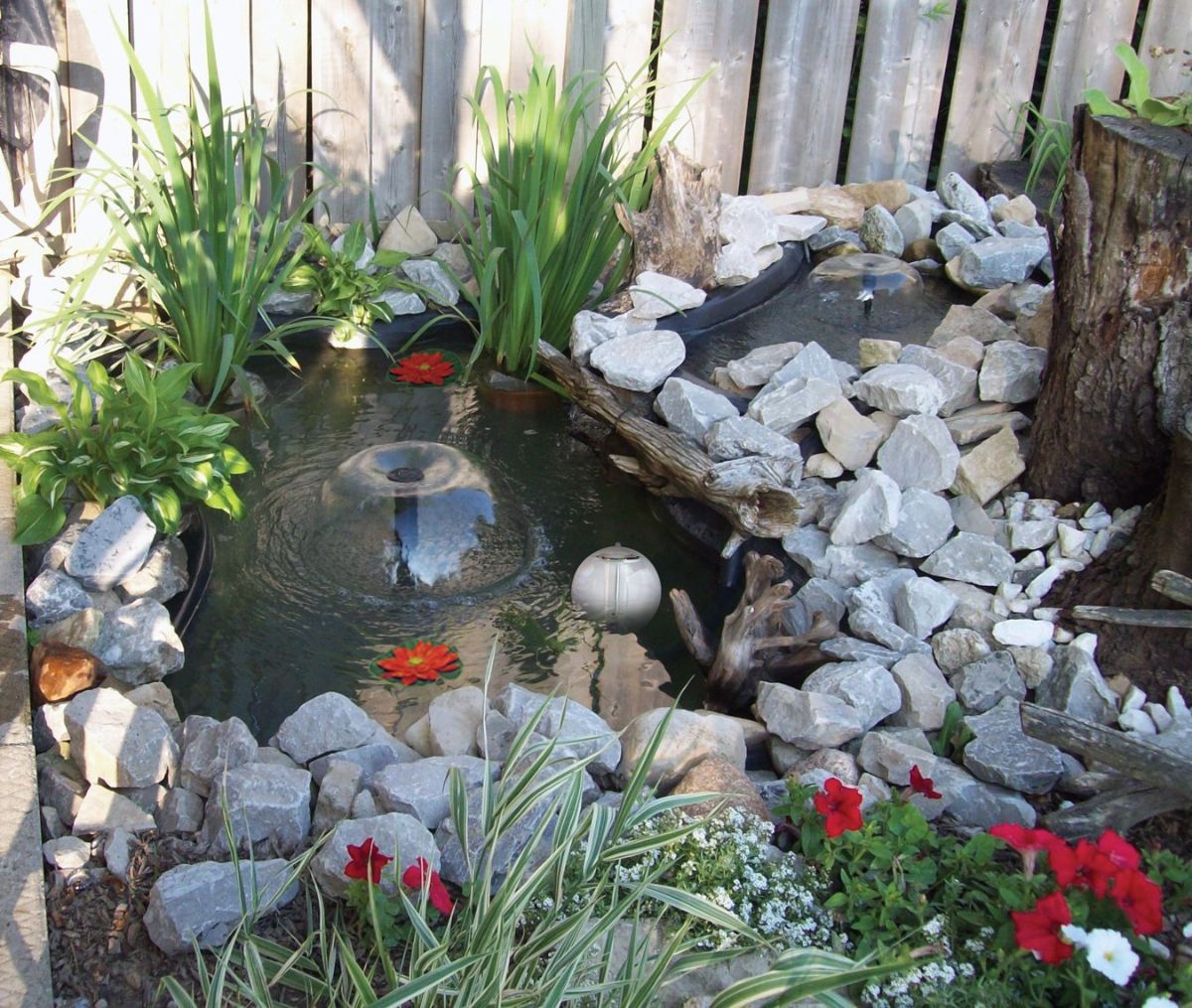 Create your own tranquil garden spot or cool oasis with a water feature incorporated into your log home landscaping.
More Cabin Landscaping Pages:
Buying land is the first step towards your wilderness dreams. Buying land can be a daunting task. Learn what to watch for and how to find the perfect spot.
Log Cabin Maintenance -- Issues Unique to Cabins Log cabin maintenance is a necessary chore but it's important to address issues unique to log homes.
An Outdoor Kitchen Guide An outdoor kitchen allows you to spend more time enjoying your log cabin on the outside.
Landscaping for Log Homes -- Do's and Don'ts Landscaping for log homes and cabins requires careful planning and addressing of some unique concerns.
Outdoor Rooms -- Transition to Nature Outdoor Rooms bring the outside in and the inside out. They are a graceful transition to your own natural retreat.