Reclaimed wood has a unique history and carries the scarring and patina of a long life. The warm glow and unusual background adds character to log home flooring, kitchen cabinets or cabin stairs.
History and Patina
The backstory of salvaged wood can be fascinating, whether the wood comes from ancient logs lost en route to the mill and sunk underwater for a hundred years antique oak or pine barn beams or wooden railroad trestles that snaked across river crossings in the mountains of the Old West.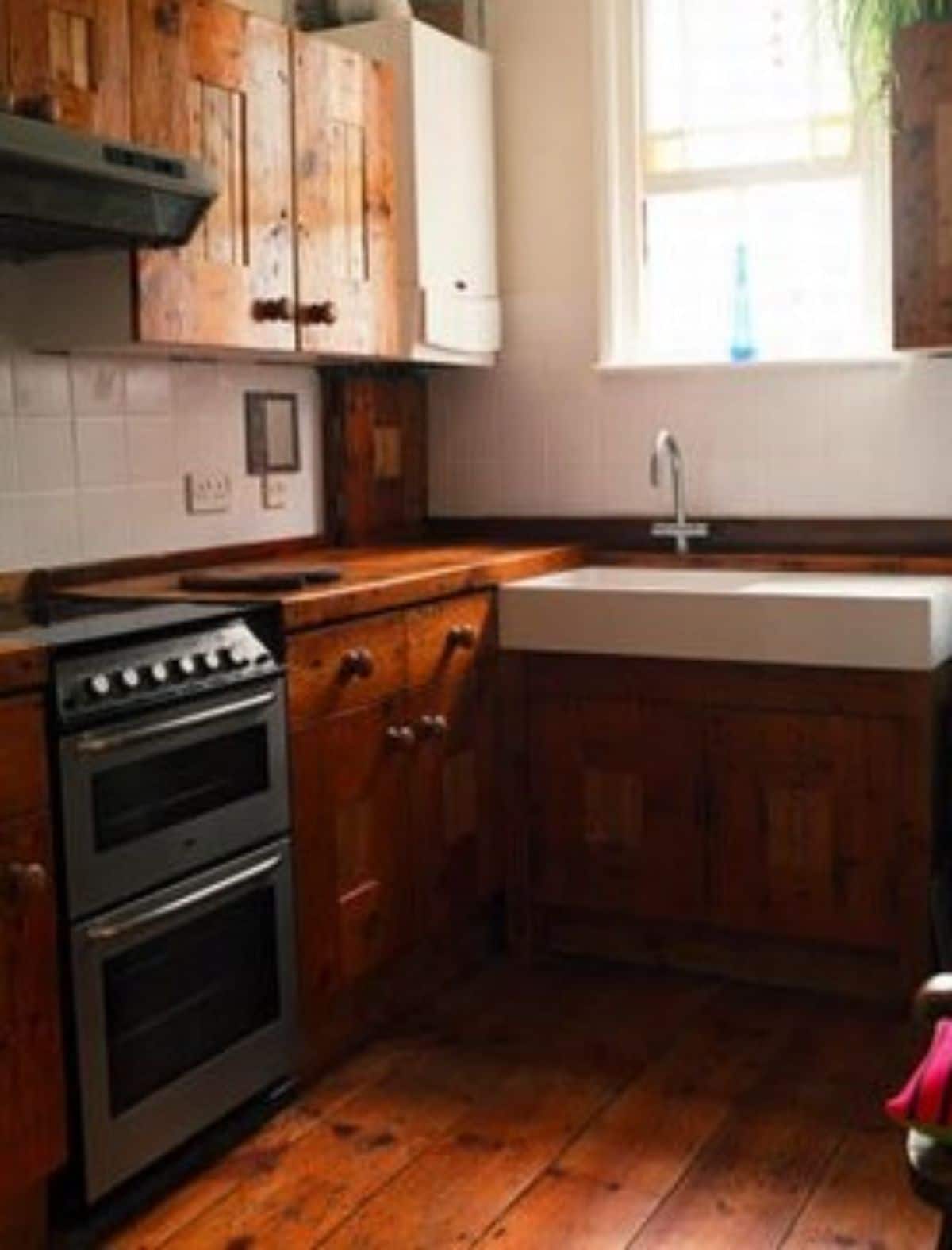 The antique wood has been aged and weathered over time, exposed to the elements and battered by storms. Old barns and outbuildings, mills and warehouses still stand that are built from the beautiful old hardwoods that are so rare today.
Sometimes called heritage wood, it is often the only source available of some species that were ravaged by blight and have disappeared from our landscape. Chestnut forests once covered huge swaths of the country, but a chestnut blight in the early 20th century killed billions of trees, wiping them out. The only chestnut available today is recycled wood, reclaimed from old barns and torn-down houses.
Scavengers and reclaim specialists carefully deconstruct these structures, rather than simply demolishing them and damaging or destroying the valuable antique wood they are built from. By carefully salvaging these planks and timbers, these companies have made it possible for the rest of us to experience the old-growth timber and unique species that have become in such short supply today, preserving a part of our history.
No other modern wood can match the timeless appeal of nail holes, weathering, insect damage and scarring that attest to the long life and history of this reclaimed wood. Hardwood floors made from the wide planks of salvaged wood can give a log home the unique character to set it apart. Old growth timber carries the tell-tale tight grain pattern that permits extremely wide planks to remain stable and true.
Vintage wood can also create beautiful reclaimed furniture with the character of time in each piece.
Antique oak often is found with the beautiful quarter-sawn appearance and tight grain pattern with a dark patina. Heart pine lasts for centuries and was the wood of choice for southern hardwood floors for many years. It has a reddish-orange tone and the multitude of knots adds character to the long-lasting rustic look.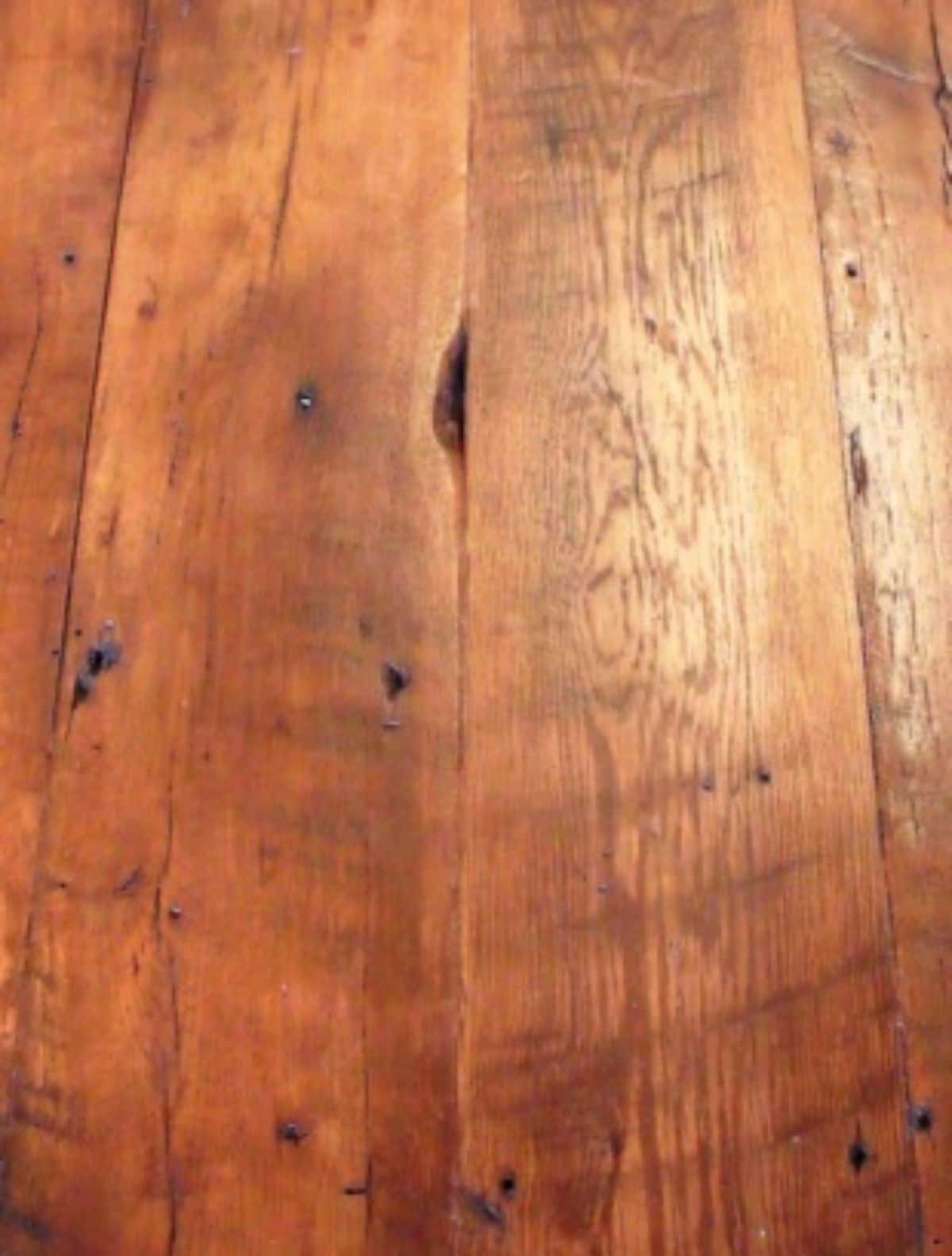 Wood Floor Finish
Because of the inherent character and flaws in salvaged wood you can't expect a perfect, mirror final finish on your antique wood. This old wood wasn't mass-produced to make every piece uniform and the knots and small nicks provide a sense of history and vintage appeal.
There is also a natural variation in the grain and color between old boards and between heartwood and sapwood. Along with the dings, dents and scrapes picked up along the way, these one-of-a-kind flaws add to the rustic appeal and unique character of heritage wood.
Recycled or Reclaimed Wood
Sale
Recycling generally refers to turning a product back into its primary component to re-use, like recycling cans for their aluminum. Reclaiming refers instead to using the finished product – planks, beams or timbers – in a new way, such as barn wood becoming indoor wall covering, or railroad trestles turned into timber-frame components or a rugged fireplace mantel.
By relieving pressure on our forests and keeping old wood out of landfills, reclaiming wood is the ultimate "green" building material. In addition to adding unmatched character and beauty, using reclaimed wood preserves natural resources along with the history and heritage of craftsmanship.
More Interior Design Pages:
Cabin Roofing Choices Your log cabin roofing choices will affect your budget and long-term enjoyment of your cabin.
Cabin Interior Design Blends Form and Function Cabin interior design combines layout and functional design with aesthetic cabin decorating decisions for the perfect log cabin interior.
Transforming Your Cabin With Rugs Transforming your cabin with rugs is a quick and easy way to Keep It Cozy!
Log Home Building School Learn practical ways to craft your dream at a log home building school.
Log Accents for that Log Home Feel Log accents can be used to provide a log home feel even if you can't afford a log home.