Not everybody can build or buy a log home, but using log accents can give you some of the same appealing rustic charm and rugged beauty of a cabin. Instead of building an entire log home, you can add in pieces here and there to suggest the sensibility of a frontier or forest cabin without altering the structure of your home.
Choices include log siding for your exterior or interior, log furniture, adding twig railings or building log stairs and posts, or creating a warm and cozy cabin bathroom. It's only limited by your own creativity and the availability of materials and craftsmen.
Jump to:
Exterior Log Siding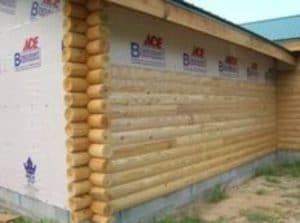 One of the ways to add log accents is with the use of log siding. Log siding is lumber cut like slices from a log, with a rounded front face but a flat backside. This can be installed over a stud exterior wall or other siding, with the result being the look of a log building without having to move.
Log siding can be used like any other wall covering. It's heavy, but simply requires the normal underlying support structure.
Log siding is milled with a notched overlap so that the higher rows lap over the lower rows to shed water. It comes in various sizes, profiles and species. Suppliers can also offer different corner styles such as butt-and-pass, dovetail or post-and-beam.
Interior Log Siding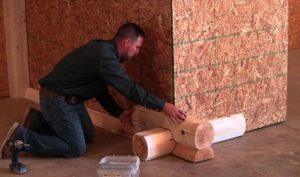 Used inside to cover an accent wall, log siding can transform a room with the solid look of wood. You want to use this judiciously because it can overwhelm a room, especially if it's a small space. But with the right mix of materials log siding adds a warmth and cozy charm to a room.
Even in a log home the interior walls are often stick-framed and log siding or tongue-and-groove lumber is installed as a finished wall covering. You might even consider using wood flooring to cover a wall for a rich cabin feel.
Log Furniture
Building your own log furniture can be a daunting task, but it's easy to buy a piece or two to add a rustic cabin feel or a traditional lodge vibe to your home. The good thing is that you can add it one piece at a time until you've built up the collection you want. Log and Timber Home Shows are a great way to meet log furniture builders and check out their styles and prices.
Faux Wood Beams
Faux wood beams are easy to work with since they are light and easy to cut. They work best installed on ceilings and are very useful for covering up wiring runs or venting.
Other Log Accent Choices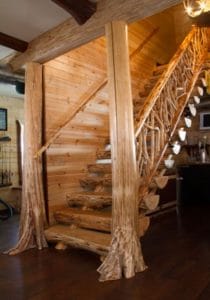 Other log accent choices include log railings, twig railings, log mantels, log posts, window trim and log stairs. Depending on your budget and time, you can add in additional pieces such as a polished post or stair railing of logs. Twig railings for your porch or loft are intriguing and perfectly suited to a country cabin look.
If you're ambitious, you could have someone build you a complete set of log stairs. While expensive, it's still cheaper than building your own log home. This would obviously not be a simple task but if you are already doing some remodeling you could incorporate this into the ongoing work.
There are many opportunities to add log accents to your home, whether you have a log cabin or not. Even if you can't afford to live in a log home you can still enjoy the log cabin lifestyle.
More Interior Design Pages:
Cabin Interior Design Blends Form and Function Cabin interior design combines layout and functional design with aesthetic cabin decorating decisions for the perfect log cabin interior.
Transforming Your Cabin With Rugs Transforming your cabin with rugs is a quick and easy way to Keep It Cozy!
Cabin Loft A cabin loft creates a cozy and creative space overlooking the great room.
Your Cabin Fireplace Guide A cabin fireplace brings warmth, ambiance and a general sense of comfort to your log home.
Reclaimed Wood Carries the Rich Patina of Time Reclaimed wood has a unique history and carries the scarring and patina of a long life.