Your log cabin bathroom reflects the overall style and function of the log home itself. It's important to consider all the elements like bathroom vanities, faucets, bathtubs and showers to create a cozy, comfortable, rustic design that complements your cabin.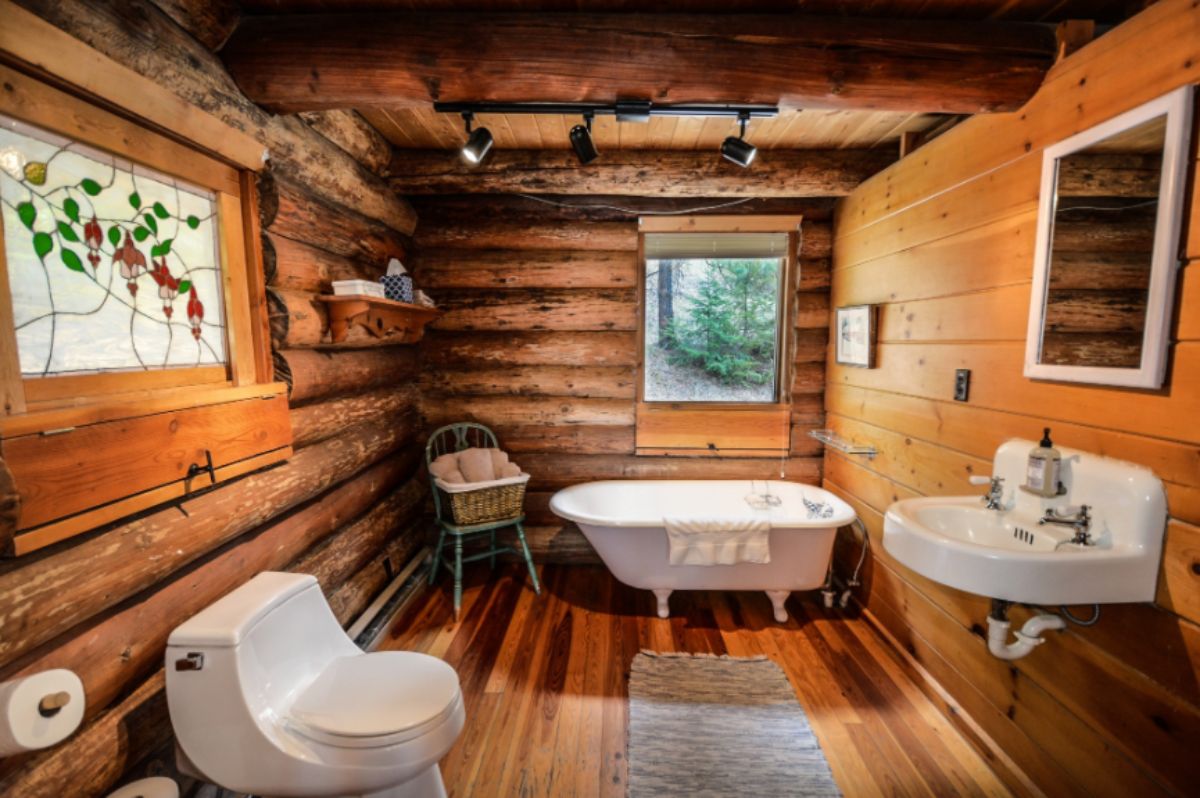 Jump to:
Inspiration for Your Cabin Bathroom
These cabin bathroom ideas can inspire you in your log home design, whether you are building your log cabin on your own, remodeling an existing log home or simply adding rustic elements for that log cabin look.
Utilize natural materials such as stone and wood, and combine that with rugged details that hold their own with the rugged look of log and timber. Cast iron and steel are ideal complements for wooden structures.
Space & Size
You can design the overall cabin bathroom area based on the spacious feel of a log home or timber frame house. The massive timbers used allow you to span greater distances without supporting walls.
Incorporate individual elements such as towel bars and birch bark-framed mirrors, adding a rustic feel to the space. Is it a small half-bath for extra convenience, or a large luxurious master bath?
Determine the overall square footage you have to work with so you can pick out the proper bathroom components such as bathtubs and vanities. Remember, everything from mirrors to sinks need to be in proportion to the room size.
TSMST 8FT Sliding Barn Door Hardware Track Kit with Floor Guide and Spring Damping Door Stopper, Smoothly and Quietly, Widest to 48" Wide Door (1.18" to 1.97" Thickness)
Heavy Duty Sturdy: The aluminum track with Environmentally friendly materials, Carbon Steel Roller Hanger, matte black finish for ensuring anti-corrosion and years of beauty and longevity. Spring Damping Door Stopper reduce the impact to track.
WIDE APPLICABILITY - wood plugs are used for cement walls, screws are used for wood walls and cabinets, etc. Rustic style suitable for indoor decoration in kitchen, bedroom, dressing room, club, pub and so on; waterproof and rust resistant tract kit also a nice door accessory for barns, garages, stables, etc.
DOOR WEIGHT CAPACITY: 330 lb; Clearance needed above top of door: 6"; Fit door panel width to 48"; Fit door panel thickness: 1-1/4" to 1-7/8". Rail is predrilled with 16" hole apart.
PACKAGE INCLUDED - Barn door hardware kit (Spliced Rails, 2x Roller, 2x Anti-jump pad, 2x Door Stops with Spring,1x Barn Door Floor Guide, 6x rail screws with spacers and wood plugs, 1x Hex Key, 1x Track Connector, 1x Detailed Installation Book) DOOR NOT INCLUDED.Attention:We put the spliced rail into the small upgrade package.If you don't find it.Please open the package check first.
SIMPLE AND EASY TO INSTALL: Professional instruction and customer service team help you solve all installation problems in time. Save the cost of finding a carpenter or decoration team.If there is any part missed or defectived during shipping, please let us know, We will solve the problem for you as soon as possible.
Determine the Budget
Before setting out shopping, figure out what level of spending you're comfortable with. Is this a quick, functional cabin bathroom for seasonal use, or is this your dream retirement log home where anything goes? You'll want to keep to the same level of fixtures throughout the project to maintain a consistent look and feel.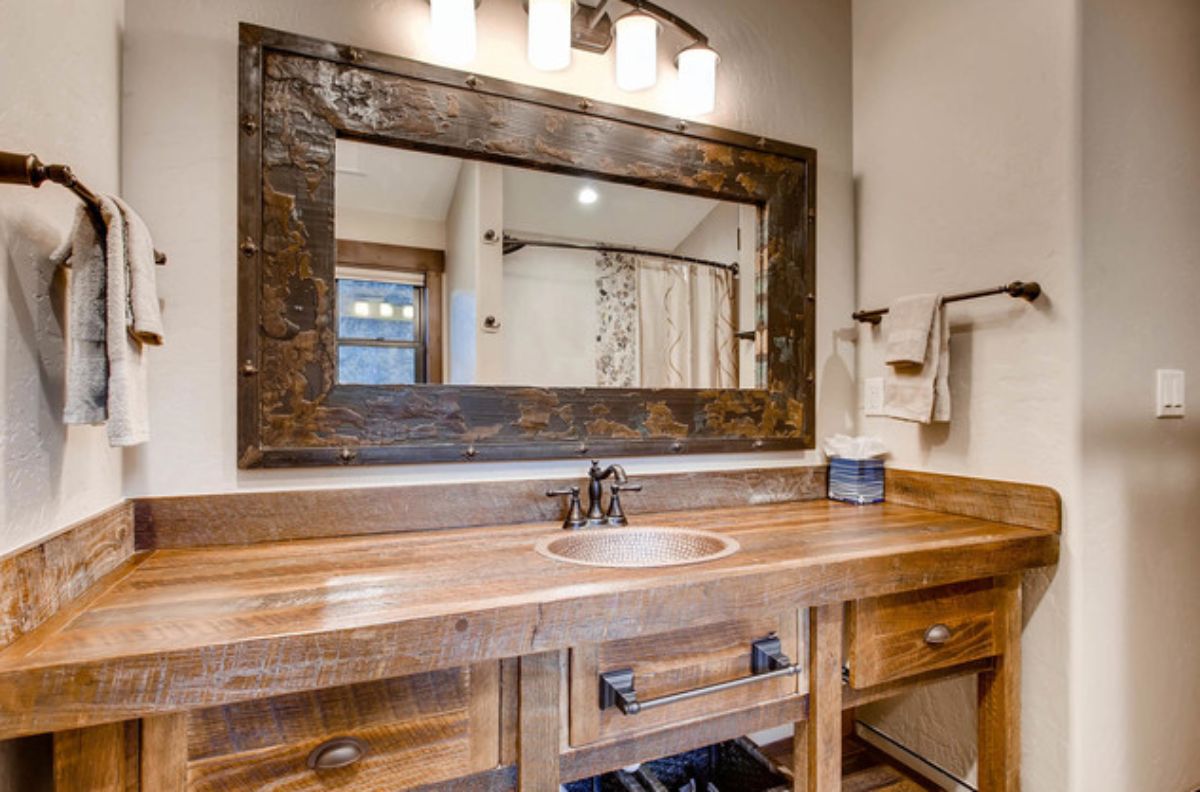 DIY or Call in the Pros
Before beginning it's best to evaluate your building skills and the time you have available. There is nothing like the satisfaction of performing your own remodeling work, tearing out, and replacing bathroom fixtures. But if it's a large job or beyond your capacity, it's best to call in the pros who will get it done right and quickly.
Another option is acting as your own general contractor and putting together a team who can handle the various phases of construction, from tear-down to rough framing, finish work, and plumbing. You can save money and be as involved as you want to be.
Design & Dream
You can't know how to start until you know your overall plan. Put together a scrapbook of ideas, including: bathtub or shower or both? Two sinks or one?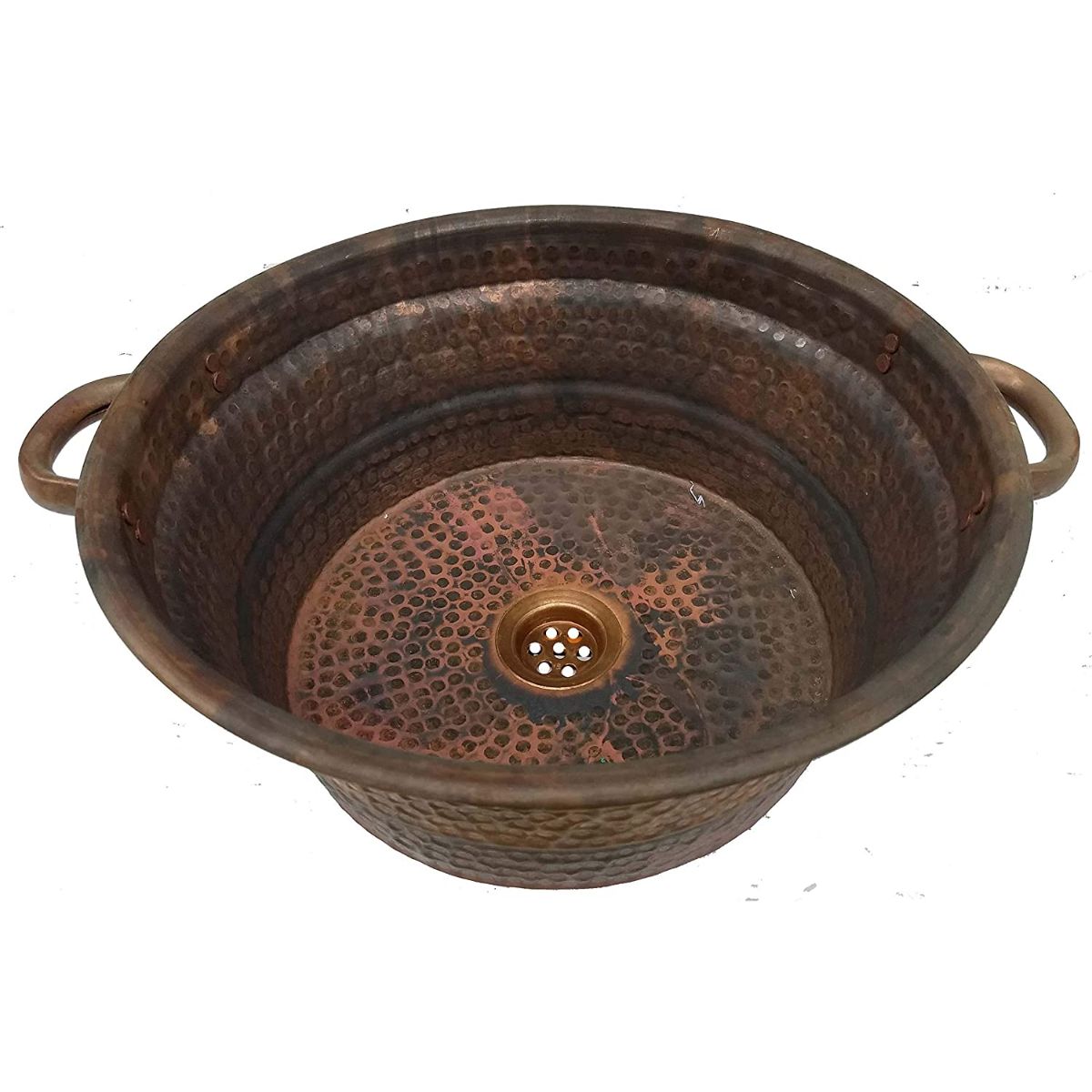 Typical traffic patterns for morning or evening routines, etc. Once you get a feel for the amount of space you require and the rustic design elements you would like to incorporate you can begin to imagine the space when it's complete.
Log home interior design is different from regular houses. Using cabin design software can help you visualize the finished cabin bathroom and use the space efficiently.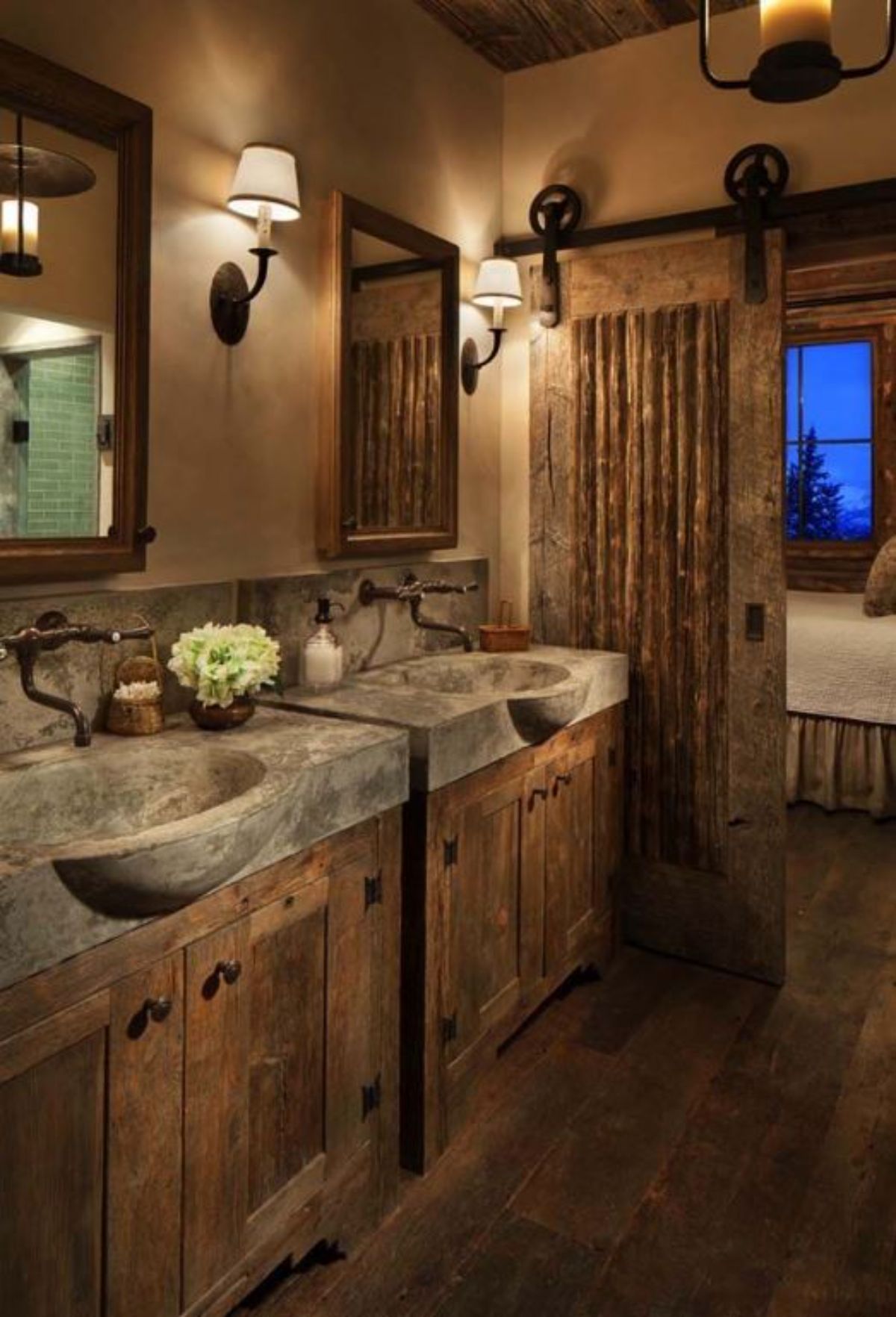 Plan your cabin style to incorporate wood tones and natural colors to create a cozy, rustic feel, including wood floors and walls, a stone or rustic tile shower and copper sinks with concrete or stone countertops. How about a clawfoot tub? The country decor of sliding barn doors goes well in a log home bathroom.
Reclaimed wood, galvanized metal, rough stone and cast iron are all part of rustic cabin bathroom decor ideas, along with wildlife and outdoor themed shower curtains to tie it together. Smaller elements such as outlet covers can also add to the overall feel.
Don't be afraid to get creative creating the log cabin bathroom of your dreams. Log homes lend themselves to many styles of bathroom designs and finishes, from basic, simpler rustic styles to luxurious and spacious places to relax.