Using a log cabin decor style can guide your log home interior design ideas. Over time, tried and true design themes have evolved that fit the log home lifestyle and unique decorating challenges presented by a solid wood backdrop.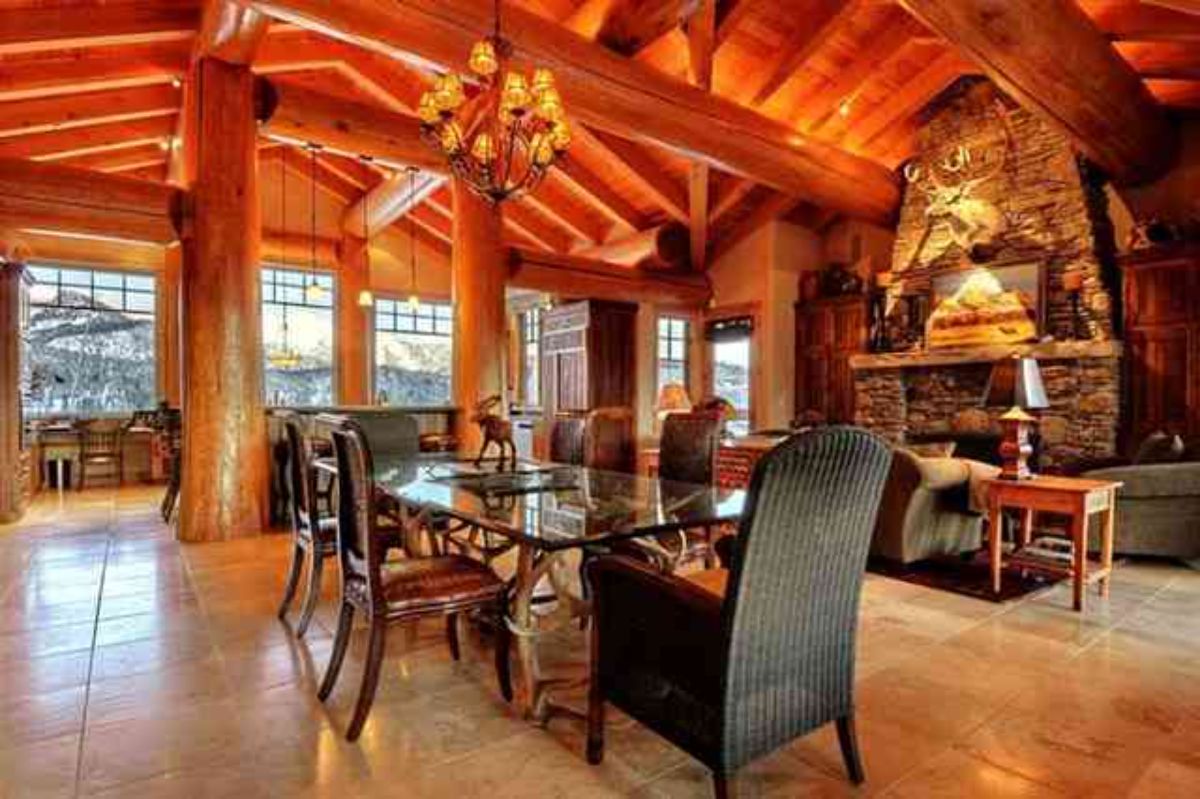 Jump to:
Log cabin decorating can be a challenge because log homes are different than conventional houses. The logs and heavy timbers present a background that is not neutral but rather is involved in the overall design scheme. They are a perfect backdrop for rustic decorating. Not everything is appropriate for this setting, but many things not only fit in, they create a dynamic energy that will make your cabin come alive.
You probably have been contemplating your ultimate log cabin decor from the beginning, and it has helped drive your log cabin home design. There is more to cabin interior design than simply where to place the furniture and what colors to buy. An overall aesthetic theme or style will direct your decisions as far back as in the design process as deciding on room sizes and floor plan layout.
You need to match your new, grand log home with its high cathedral ceilings, light-flooded hardwood floors and warm hues of natural wood with design elements and décor that will hold its own and complement the rugged beauty of a cabin.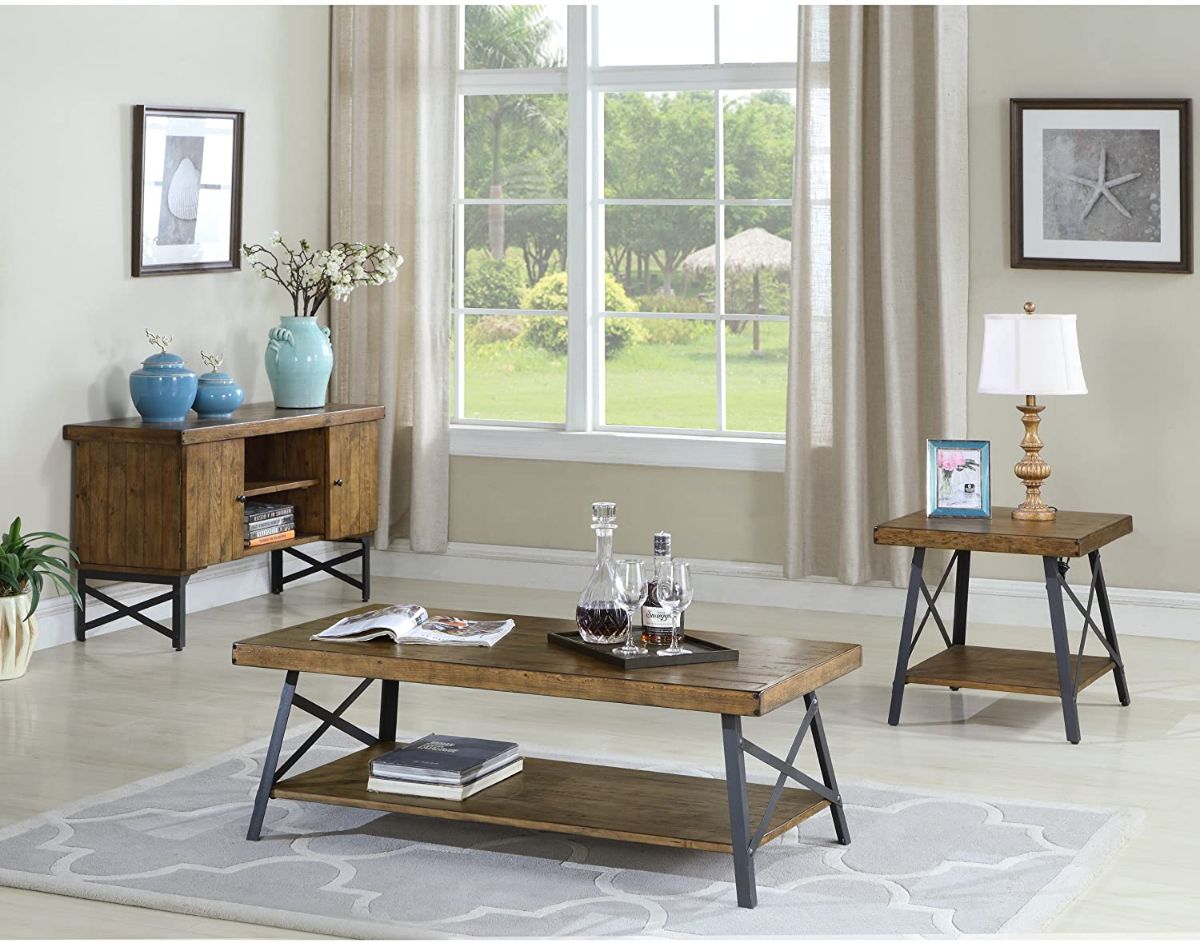 Log homes are different in one aspect because of the sheer size. The square footage may not be that different but the volume is larger due to cathedral ceilings, large great rooms, and the typically open floor plan layout. Normal size furniture can be lost or look out of proportion, but chunky wood slab coffee tables and even log bedroom suites are an ideal complement. Since the open layout means rooms flow into each other, you can use furniture groupings to delineate spaces.
Many people like to follow certain themes or styles for their cabin decorating ideas. It needn't be a cliché or a wholesale adoption of conventional props. Instead you can us an established log home style as a guideline and a way of organizing your ideas and design aesthetics.
Log Home Styles & Themes
Lodge Style – a reflection of the early lodges around Yellowstone and Yosemite, these grand log homes feature sweeping wooden staircases with twig railings, huge fireplaces with stone chimneys all the way to the ceilings and majestic chandeliers of deer antlers or moose horns. Everything about this log cabin decor is on a grand scale and the log home must be large enough to carry it off. This is well-suited to filling the spaces of a large cathedral-ceilinged great room and filling a master bedroom with a bedstead made of heavy hickory or red cedar logs.
Adirondack or Lake – this style was inspired by the great movement back to nature in the early 1900's and is a nod towards the early-American feel of rustic or primitive style but with a more deliberate feel. These people could afford to make their log home decor look rustic while still maintaining all the modern comforts. The furniture is built with the bark still on, but carefully smoothed and sealed; wide birch bark frames on mirrors reflect the warm light of wall sconces made from hammered tin or wrought iron. Using pine trees, leaf, bear and fish motifs the lake style invites the outdoors inside.
Sale
Flash Furniture Asti Upholstered Sofa in Brown LeatherSoft
Curl up with your book on a lazy Sunday afternoon or debate the merits of red wine versus white at your next cocktail party, either way you can do both in style while enjoying the supreme comfort of this gorgeous sofa
Soft and durable LeatherSoft Upholstery for a timeless look
Supportive slanted arms and generously padded back and seat cushions for extra comfort
Can be used in the living room, family room, den, mancave or as the main seating in a small apartment
PRODUCT MEASUREMENTS >>> Overall Size: 73"W x 29.5"D x 34"H | Seat Size: 64"W x 19.5"D x 19"H | Back Size: 64"W x 17"H | Arm Size: 23.75"H from floor; 7"H from seat
Western – a cowboy or ranch feel with horses, leather and lassos, silver artwork and painted or weathered natural wood. Furniture tends to be blocky wood, maybe a leather couch with brass studs; bright colors like blue, white and red stand out on fabrics. Chandeliers and other log cabin light fixtures may be made from elk-horn or deer antlers. This style is informal and relaxed, harking back to a hard-working, rugged lifestyle in the American West.
Cottage or Country – down-home style that is non-pretentious with hand-made furniture and primitive art, this style is easy-going and comfortable with an eclectic mix of furniture pieces and utilitarian design. This has a lighter, brighter feel that contrasts nicely with the solid wood log walls and plank floors.
Southwestern – inspired by the indigenous Indian and Spanish cultures of the southwest and taking its cue from the desert, this is typified by earth tones, leather couches, silver items, brick or adobe fireplaces or floors, ornamental tin and wrought iron fixtures, and woven textiles with bold colors and geometric patterns.
Rustic or Primitive – this includes rawhide snowshoes and metal wolf traps; bearskin rugs and old tools; a stone fireplace and homespun fabrics, evoking early American frontier cabins and a simpler lifestyle, although I'm sure those settlers would have loved living in a modern log home. This has a traditional and authentic feel from the early days of our country.
Log Home Design Resources
There are a number of resources available to aid you in developing your own log cabin decor and interior style. Check out some of the visual references available in our virtual library and log home education pages for cabin decorating ideas.
I have listed several books below that contain superb photographs and drawings that evoke the different approaches to cabin design aesthetics and log cabin decor. Simply looking through these will inspire you with design layouts, color schemes and cabin décor ideas for your own log home. You can also check out our new cabin book reviews page to see what others are reading.
---
---
Log Cabin Decor Strategies
Surpars House Farm House Chandelier, 7-Heads Rustic Industrial Pendant Light for Restaurant,Bar,Coffee Room
Latest design,retro style that blends with high end decor for dining room,restaurant,bar or office shop
Rustic color,mental lamp fixture with 7 condensed paper gears as shades
7 lights,use 7 E26 base normal bulbs,bulbs not included
Great size, 29.5" in diameter and 30" in height
Very easy to install,3 years warranty,free return or replacement for any defects
Whether you decide to follow one particular log cabin decor style or develop your own eclectic mix there are some fairly universal concepts of log home interior design to consider.
Create intimacy – certain areas of your home need to feel cozy, like your bedroom, kitchen, or reading nook. The high cathedral ceilings and open floor plans typical of most log homes feel roomy and expansive, but not intimate. By building a cozy, cave-like feel you will create an intimate space where you will want to linger.
Define area with furniture – an open floor plan can benefit by delineating living, working and dining areas by furniture groupings, still allowing you to re-arrange to match changing functions, like giving a party, hosting guests or setting up a studio for artwork or writing.
Utilize proven rustic décor – certain design elements and cabin hardware work well in any log home regardless of the overall style or them. Leather couches and easy chairs, distinctive iron or antler light fixtures and iron railings for log cabins all complement the glow of varnished wood and hold their own in the context of heavy timbers and solid wood walls.
Soften the feel – use textures and colors to soften the rugged, masculine feel of logs and heavy timber. Muted earth tones go well with any kind of wood and the textiles and fabrics from pillows, throws, wall hangings, carpets, rugs and blankets will create a welcoming, calm interior.
Pay attention to lighting – log cabin light fixtures can make or break your log home interior design. It's important to match the scale of the room, from a grand antler chandelier in the great room, to cozy hammered-tin wall sconces in your dining area. The soft glow from log walls is the perfect stage for dramatic lighting.
Your log cabin decor doesn't need to adhere to any one theme or style; as long as you have a coherent vision of your overall look you can combine elements to create an eclectic style that is unique to you.
But incorporating a rustic style for your log home interior decorating ideas gives you a continuity that ties the cabin together. Inspired by various eras or locales, log home design styles bring to mind the rich heritage and rugged spirit of our country's history.
More Cabin Decorating Pages:
Log Cabin Home Decor Ideas Log Cabin Home Decor Ideas for your Log Home Dreams
Your Cabin Fireplace Guide A cabin fireplace brings warmth, ambiance, and a general sense of comfort to your log home.
Cabin Hardware Cabin hardware adds practical performance to the overall rustic feel of a log home.
Ceiling Fans for Log Homes Ceiling fans keep your log cabin cool in the summer and warm in the winter by circulating the air. Learn these tips for the most effective cabin fans.
Creating the Log Cabin Look Creating the log cabin look can be as easy as installing log siding on an interior wall.