As part of your log cabin interior decorating you want to consider adding cabin hardware that will complement your rustic decor. These can be nature-related, or heavy cast iron or wrought iron that complements the natural wood setting.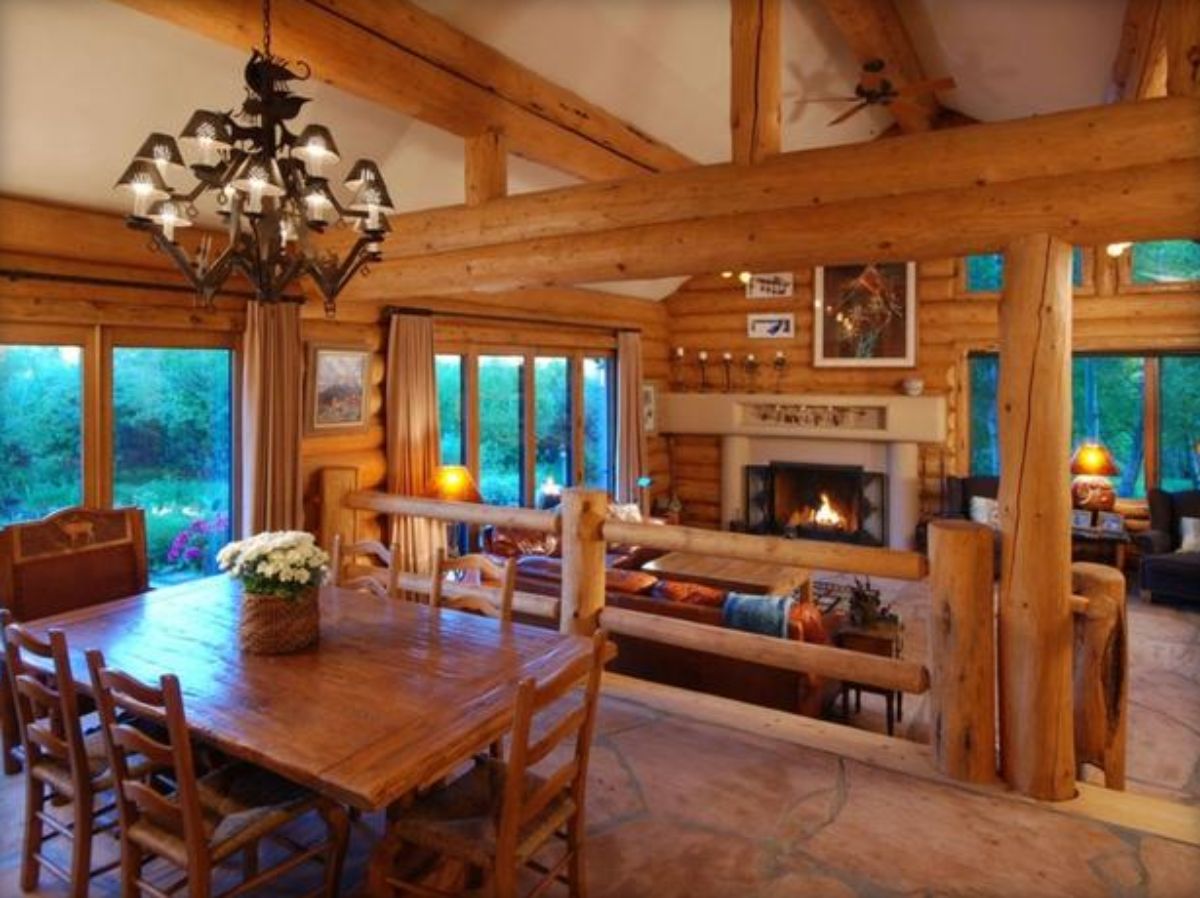 Jump to:
Popular Cabin Hardware Styles
The popular styles for cabin hardware include outdoor themes such as animals - rustic black bear drawer pulls, ducks, fish, deer antler drawer pulls,  and moose drawer pulls. Items of nature are also a great addition, such as pine trees, mushrooms and pine cone drawer pulls.
Log homes and timber frame homes have a strong, brawny feel to them and a good complement is the use of wrought iron and steel for your cabin hardware. These strong elements help balance the woody feel and also create hefty cabin hardware that can stand up to heavy use over the years.
Along with the aesthetic sense that these rustic cabin elements bring, it's important to consider the practical use and choose cabinet, door and vanity cabin hardware that will be useful and comfortable to use.
Kitchen Cabinet Hardware
When selecting the hardware used in kitchen cabinet hardware you have a wide choice available. Drawer pulls and cabinet knobs are made in many different styles that would suit a log home. Kitchen cabinets in log homes tend to be solid wood and can easily handle wrought iron handles or other heavy-duty hardware, such as antlers or black iron.
Bathroom Vanity Hardware
Cabin bathroom vanity hardware is very similar to kitchen hardware. Wood cabinets and vanities need to be able to stand up to a lot of use and nothing beats a heavy-duty iron handle or solid porcelain knob. These can also withstand the higher moisture levels in a bathroom or shower area.
Cabin Doors and Windows
Unless you're ordering custom-made windows and doors, most will come with hardware already installed. You can choose to replace it with something more sturdy and suited to the all-wood feel of a cabin, or stick with what you've got and put your money elsewhere, on another rustic decor that will further the rugged aesthetic design.
Another option is to focus on one location, such as the front door, and replace this hardware with heavy iron door pull, a wrought iron door hook or another rugged alternative.
Cabin Coat Hooks
Use a classic rubbed bronze or black iron to set off the golden tones of pine or oak that surround you in a log home. Or go heavy-duty with black cast iron acorn wall hooks or early American wrought iron single prong hooks.
Log Home Towel Racks
There are a great number of choices when it comes to towel racks, from a solid wrought-iron towel rack, to oil rubbed bronze towel bars, an iron pipe towel bar, or a handmade barnwood & iron hand towel rack.
Cabin Hardware Sources
As far as sources of cabin hardware, here are some ideas of where to look:
Try searching on Etsy for handmade, original ideas
Keep an eye out for outdoor shows and frontier festivals for craftsmen who make original pieces
Log Home & Timber Shows often have unique hardware ideas
Interior Doors
For interior doors, another idea is to use a sliding barn door kit. These can add a unique look to interior space and they also serve a useful purpose, with their wide openings and lack of swinging space.
Check out this sliding barn door hardware kit:
These are just a few ideas to spark your imagination and give you an idea of what is available when selecting cabin hardware. One of the advantages to building a log home is the rugged, lifetime feel of the logs and heavy-duty hardware.
The right combination of rugged hardware and iron railings for log cabins not only serves a practical purpose but also adds to the long-term functionality.
More Cabin Decorating Pages:
Log Cabin Home Decor Ideas Log Cabin Home Decor Ideas for your Log Home Dreams
Your Cabin Fireplace Guide A cabin fireplace brings warmth, ambiance, and a general sense of comfort to your log home.
Log Cabin Decor Styles and Themes Using a log cabin decor style to guide your log home interior design ideas.
Ceiling Fans for Log Homes Ceiling fans keep your log cabin cool in the summer and warm in the winter by circulating the air. Learn these tips for the most effective cabin fans.
Creating the Log Cabin Look Creating the log cabin look can be as easy as installing log siding on an interior wall.