Warmth, Ambiance, Comfort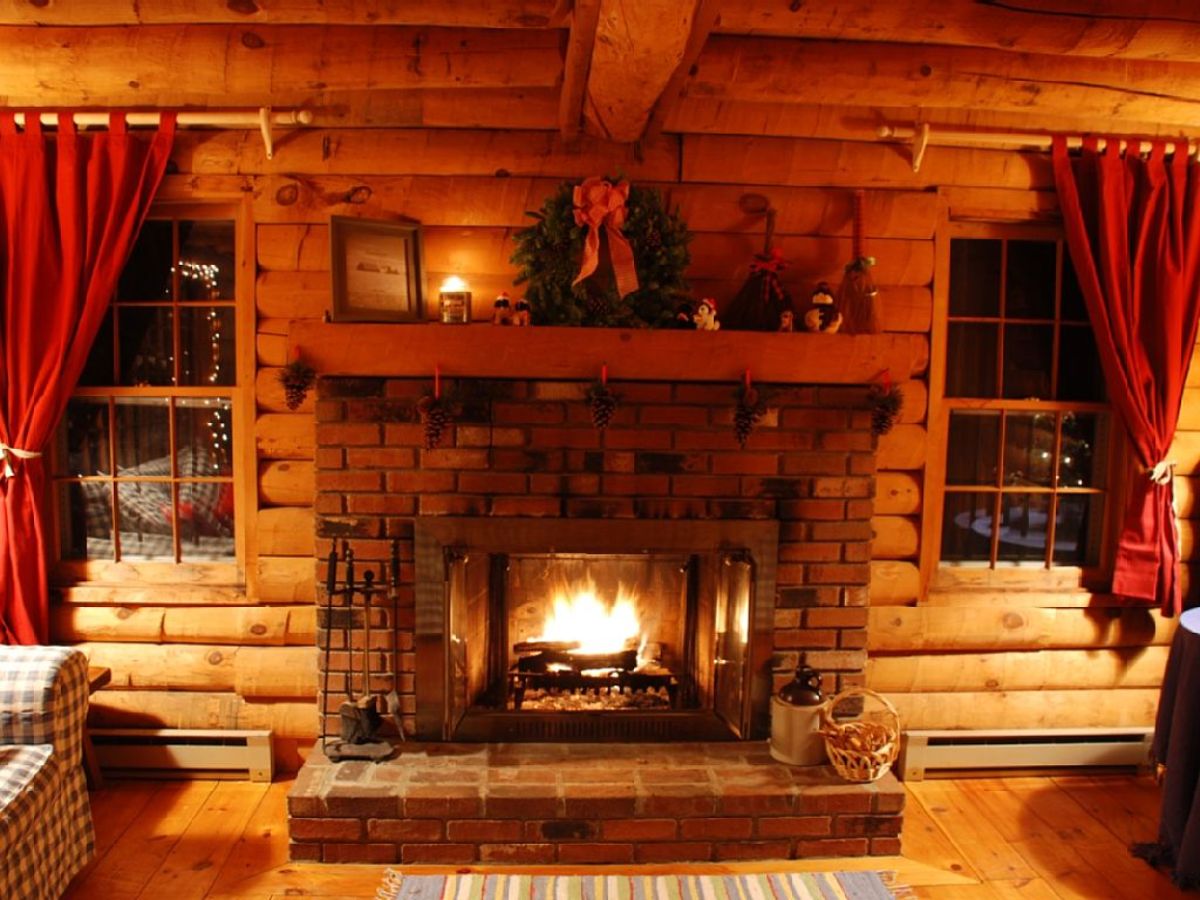 A cabin fireplace brings warmth, ambiance and a general sense of comfort to your log home. Just what kind of fireplace is best for your log home is dependent upon many factors. Read on to learn about options, features, considerations and more.
An Intro to the Modern Fireplace
Sale
5-Piece Fireplace Tools Set 31'', Heavy Duty Wrought Iron Fire Place Toolset with Poker, Shovel, Tongs, Brush, Stand for Outdoor Indoor Chimney, Hearth, Stove, Firepit-Easy to Assemble, Black
🔥Classic 5-Piece Fireplace Tool Set🔥: 5 pieces of fireplace tools come in one package. The 4-leg 31'' stand keeps the set stable and weighty. The fireplace tongs help to place kindling safely and reposition the logs, and the brush features firm bristles to sweep ash and debris quickly. The fire poker works excellent to stir up the fire, and a basic shovel for removing the logs.
🔥Easy to Assemble🔥: No worry about the assembling. Your experience with ComfyHome should not be frustrating or time-consuming. Only the frame requires a 5-minute assembly with our easy-to-understand manual. Ease of use fireplace tools work perfectly for your fireplace, matching with both wood-burning stove and gas chimney.
🔥Durable & Sturdy Construction🔥: Made of premium iron and coated with high-temperature resistance iron powder. The heavy-duty metal body of the stand and tools provide reliable durability easily withstands the heat of fire. This sturdy fireplace tools set can serve your indoor/outdoor fireplace, stone stove, or wood stove for a long time.
🔥Aesthetic Design for Space-Saving Storage🔥: Elegantly crafted with classic design complements your hearth or outdoor fire pit and fits perfectly with your existing house décor. The integrated hooks on the top of the frame keep every tool organized while saving space. This fireplace toolset meets all your needs in the cold winter for the family.
🔥Worry-Free Purchase🔥: We are proud to bring ComfyHome to your home, and firmly believe that this heavy-duty fireplace tools would serve well. For your better experience with us, we're glad to provide ONE YEAR WARRANTY for your honor purchase.
Most fireplaces purchased today are designed and built by manufacturers in factories, as opposed to being built on site with brick and mortar. Although they might not have that same authentic charm, pre-built fireplaces come in a wide selection and can be easily upgraded.
Pre-built fireplaces must be professionally installed and conform to all safety requirements. Factory-built fireplaces usually consist of a firebox within a steel cabinet. Quality units are customizable, featuring mantels or surrounds, glass doors and a variety of finishes.
Your key decision will be whether to buy a wood burning, gas, or electric fireplace. You'll also need to choose the size and style that best suit your needs. Consider the following information to guide you in your fireplace design planning.
Cabin Fireplace Fuel Options - Wood Burning
While a wood burning cabin fireplace is unmatched in its traditional beauty and ability to provide the most realistic crackling flame, old style open wood burning fireplaces are pollutants and are banned in some areas as a result.
Buying a new fireplace will be less of an environmental battle and more of a testament to your knowledge if you choose a technologically advanced, EPA-certified style wood burning stove option. This will still provide ambiance but add heating efficiency and environmental responsibility.
Installation
Building and safety permits are required for any fireplace construction, so professional installation is highly recommended. For a wood burning cabin fireplace to function safely and efficiently, proper installation is absolutely imperative.
Maintenance
Wood burning fireplaces are significantly more labor intensive than other options. Consider the cost and labor involved in purchasing, splitting and stacking wood. Stocking the fire and clearing ashes are essential maintenance tasks. Harder woods will usually burn longer and help prevent creosote build-up in your flue. Other maintenance requirements include yearly inspection and cleaning by a certified professional.
Cabin Fireplace Fuel Options - Gas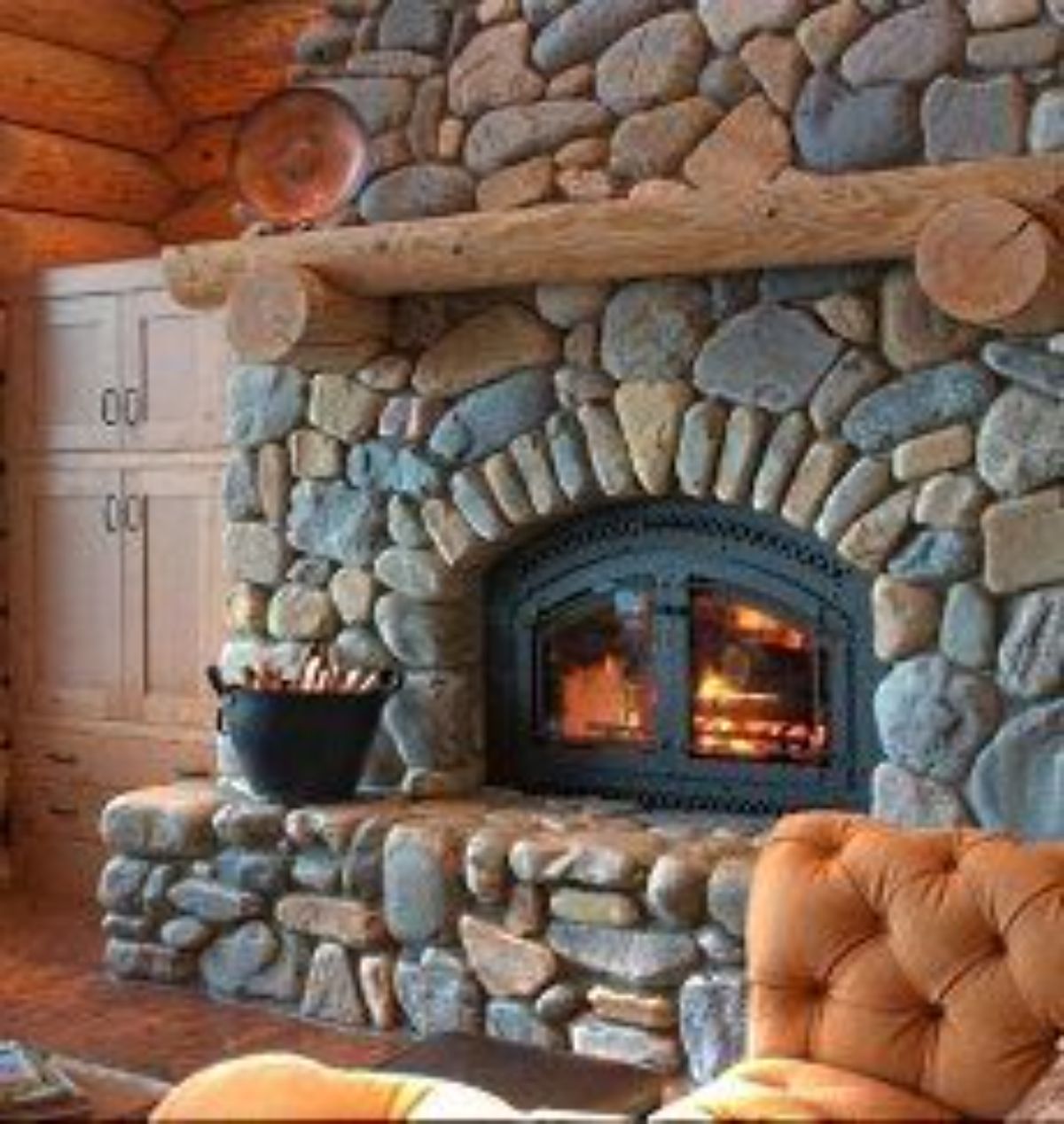 Gas fireplaces are popular options because they light with the flip of a switch, making them far more convenient and labor-friendly than wood burning units. Many gas fireplaces come equipped with remote controls and wall thermostats and all are by nature clean burning and efficient. Choosing between liquid propane and natural gas is entirely your choice but usually depends on what's available in your area.
Gas fireplaces come with either no venting system or a direct vent. Direct vent fireplaces use zero-clearance technology, so they don't require the presence of a chimney or foundations, as very little space is needed between the unit and combustible materials.
Venting is usually through a wall or roof, allowing more placement options and easier installation than wood fireplaces. Direct vents allow combustible gases to leave the home quickly and with little fuss.
You should always check with building inspectors for the local codes before installing a vent free fireplace or hearth product, as these can vary by locale. Keep in mind that moisture build-up can cause mold in unvented units, as well.
Installation
A gas fireplace can be installed wherever a gas line is available, in the center of the room or along a wall. HVAC contractors and licensed plumbers are permitted to run gas lines and it is important to have a licensed professional complete installation so that all safety codes are met.
Maintenance
The Hearth, Patio & Barbecue Association (HPBA) suggests annual professional inspections of the burner, venting, fan, pilot light and thermostat of a gas stove.
Cabin Fireplace Fuel Options - Electric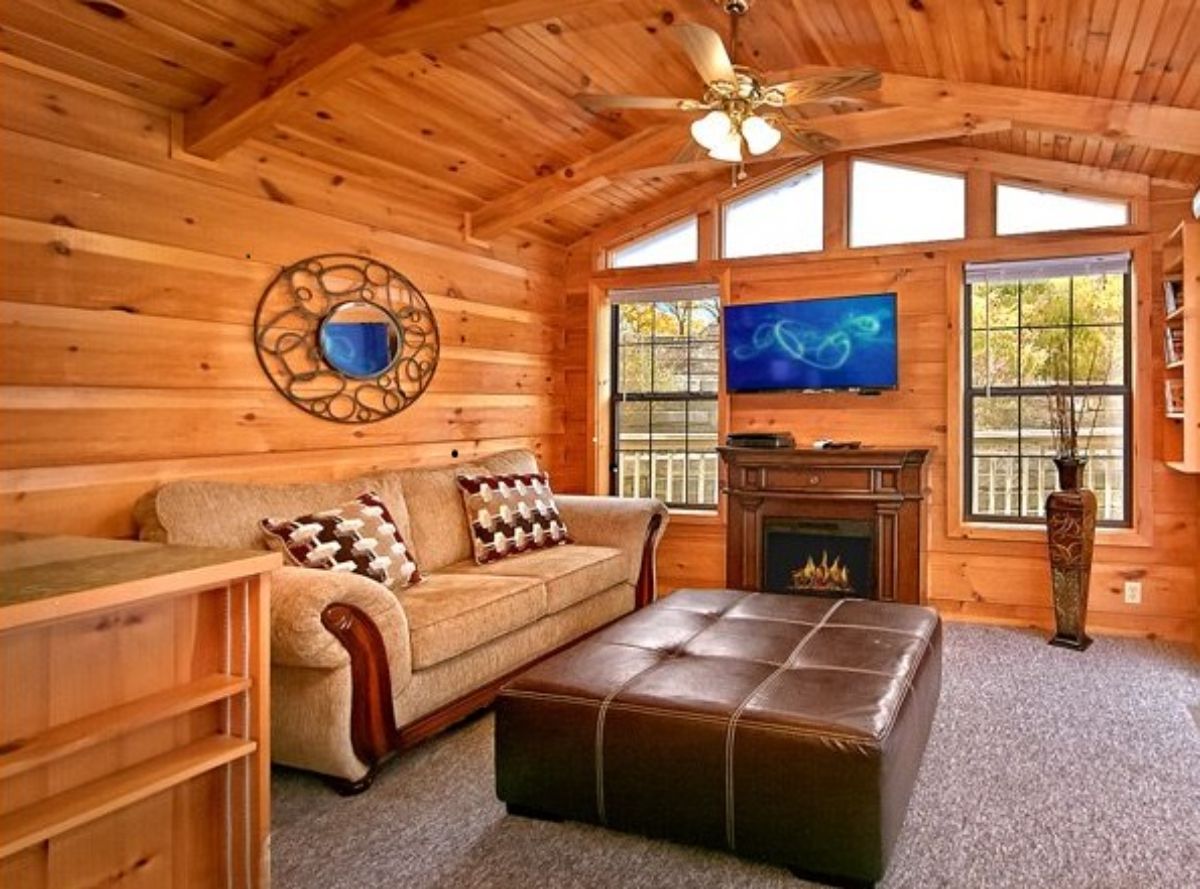 Like a gas fireplace, an electric fireplace will provide ambiance and heating with the flip of a switch. It also costs very little to install. Additionally, venting is not required, so an electric fireplace can be installed almost anywhere an electric outlet is available.
Many models allow users to turn on the lights without cranking the heat, a great feature for summer use.
Other optional features include thermostats, remote controls and adjustable flames.
Sale
TURBRO Suburbs TS20 Electric Fireplace Infrared Heater, 20" Freestanding Fireplace Stove with Realistic Dancing Flame Effect - CSA Certified - Overheating Safety Protection - Easy to Assemble - 1400W
🔥Toasty Fireplace: There's no better feeling than relaxing by the fireplace on a cold, winter evening as you sip a steaming cup of hot cocoa. Stay warm this winter with the efficient 4,777 BTU heat output of a TURBRO Suburbs electric stove.
🔥Flame Control: Create a charming fireside environment without the mess and smoke of a real fire. The flame effect can be turned on separately from the heat to help you set the mood when the heater is not needed.
🔥Safe to Touch: The heating element is located on the bottom so the body of the stove is always cool to the touch, no matter how long it has been running.
🔥Easy to Use: Simply flip the switch to turn on the heating element, set the thermostat from 68-95℉, and wait as your room instantly begins to heat up.
🔥Overheat Protection: Overheating protection automatically shuts the heater off if the internal temperature gets too hot. The TURBRO Suburbs heater is CSA certified to be safe for use in North America.
Installation
No invasive installation is required as long as an outlet is available. This fact makes an electric fireplace a great choice for any room, including a bathroom, a bedroom or cabin loft.
Maintenance
Virtually no maintenance is required for electric models, making these especially attractive for cabin vacation rentals.
Cabin Fireplace Inserts
Wood burning or gas fireplace inserts fit into old fireplaces and use an existing flue, sometimes only after small modifications. Inserts are generally used to update polluting and inefficient open wood burning fireplaces, transforming them into efficient, environmentally sound heat providers.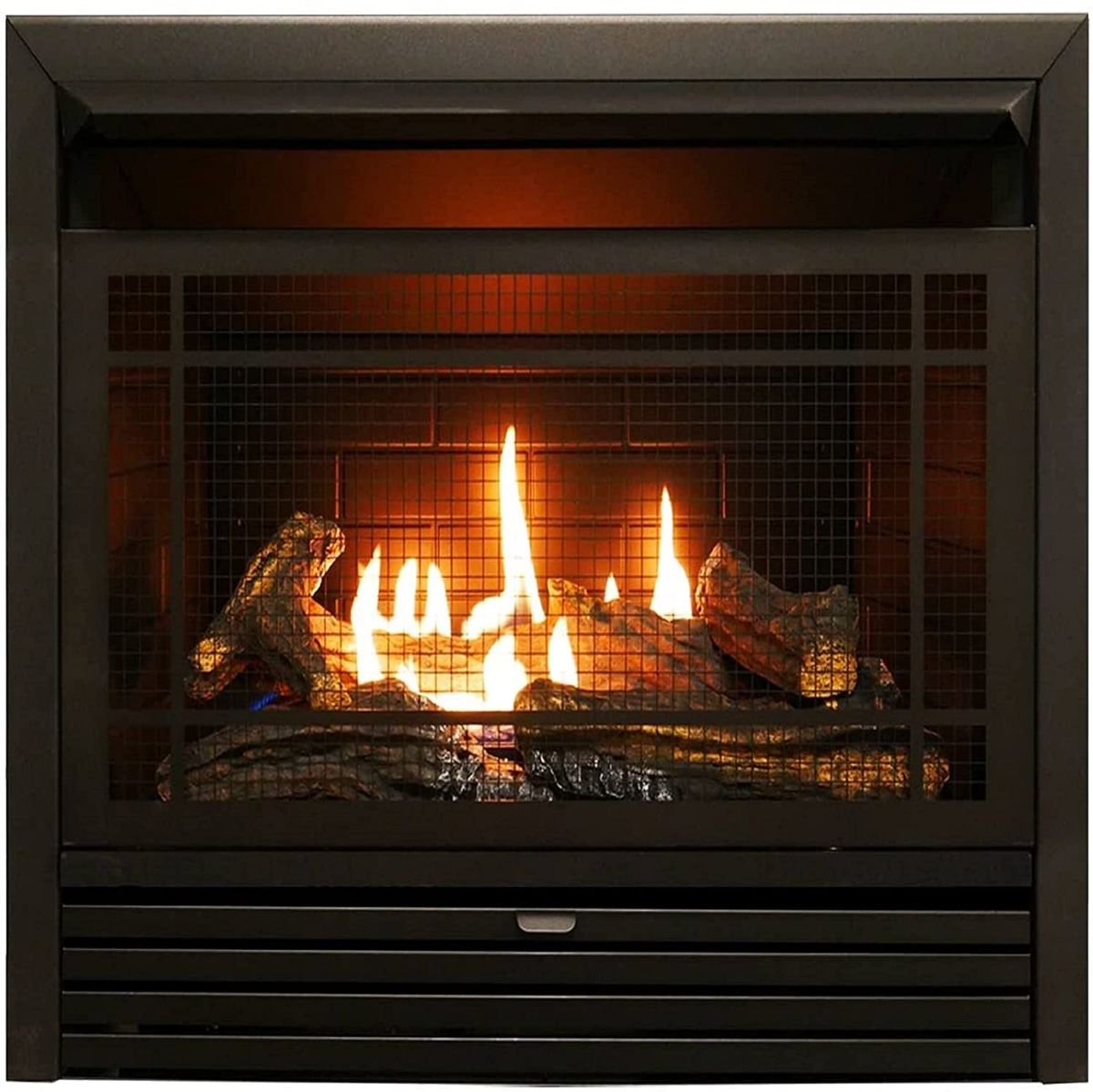 Duluth Forge Vent-Free Fireplace Insert
Installation
Insert installation depends on style and specifications, but will require less cost than installing an entirely new unit. Professional installation is still recommended, since local and state regulations can apply.
Maintenance
Refer to the wood or gas burning section of this guide for your respective insert type.
Hot Topics – Other Cabin Fireplace Considerations
Convenience
When it comes to convenience, wood fireplaces fall far behind gas and electric models. Flipping a switch or pressing a button will crank up your gas or electric heat source with little effort, but a wood-burning fireplace requires dry wood supplies, lighting and stocking.
Decor v. Heat
In older models, it may have been necessary to choose between these two main goals. Today, EPA-certified wood burning fireplaces and other fuel options provide both efficient heat sources and subtle atmospheric enhancements.
Choosing a fireplace large or small enough to meet your style and heating needs can be difficult. If they come into conflict, prioritize: choose heat if that's your main objective.
Style and Appearance
Regardless of whether a cabin fireplace is wood or gas burning or electric, style varies greatly. The material and style of the fireplace mantel or surround and the glass doors will greatly affect the fireplace's overall appearance and relationship to the room. The mantel and surround may be purchased separately from the unit itself. The unit's interior will also influence its appearance.
Consider your aesthetic goals: Are you trying to create a clean, sophisticated look, or a rustic, comfortable feel?
Size and openings
Reputable manufacturers will inform you of the necessary size fireplace to heat your space efficiently and experienced subcontractors may help you choose the right size, especially if you are replacing an existing unit. High ceilings, number and use of efficient cabin windows, insulation and total square footage play a large part in heating efficiency.
A basic rule is that a larger room requires a larger fireplace for heating. Fireplaces have varied numbers and locations of openings. Traditionally, they are open only on one side, (the front) but common choices now include:
two sides (see-through)
three sides (peninsula)
four sides (oasis)
Cabin Fireplace Quality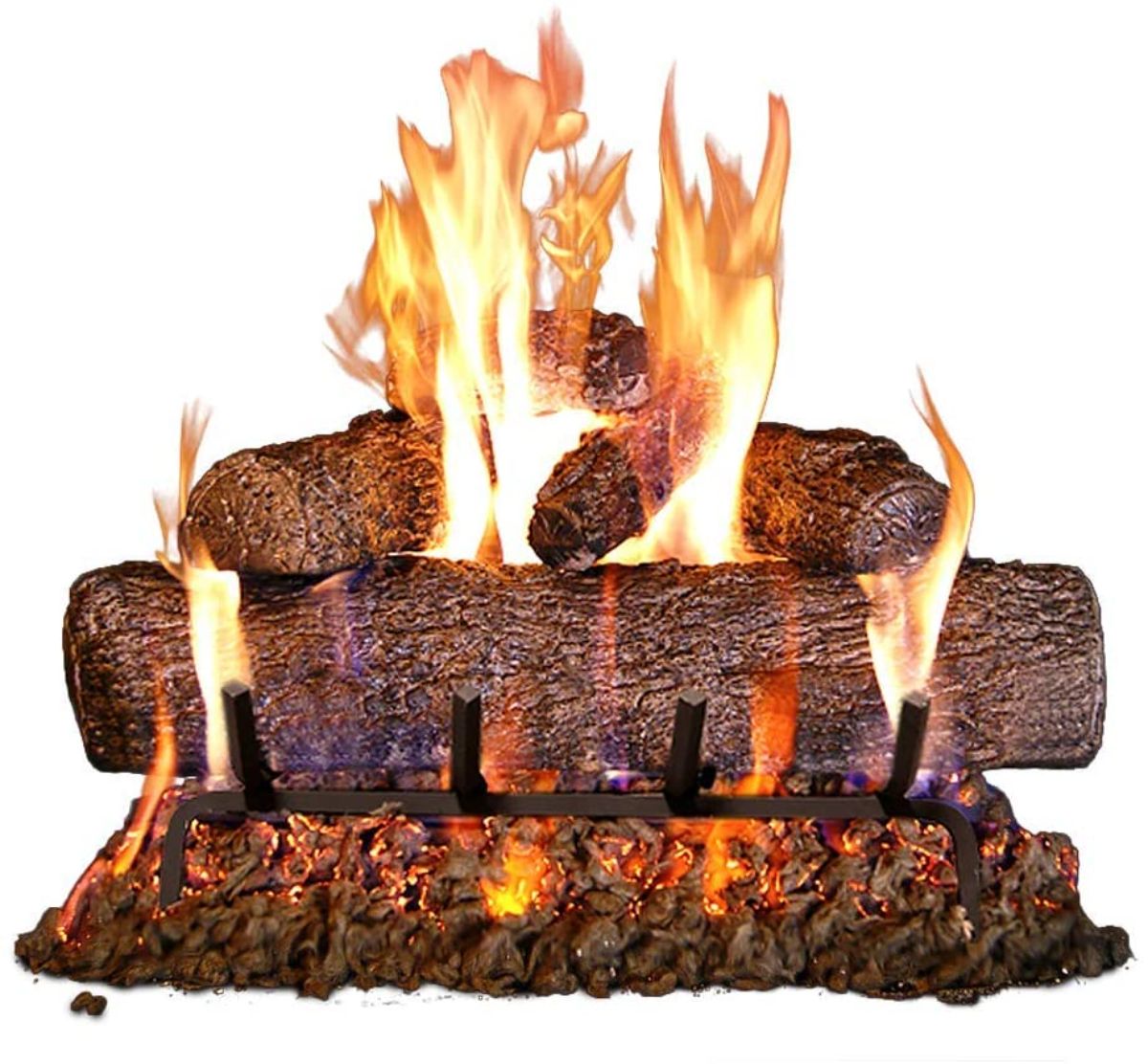 A high quality fireplace will be solidly constructed from materials like stone, brick and marble. Overall strength, heavy-duty faces and an EPA certification are important for durability and safety.
Flame quality in gas and electric units can be an indication of sound workmanship. Top of the line fireplaces may include ceramic glass doors in brass frames, stainless steel construction or heavy-duty steel grates.
Features included for efficiency, like heavy-duty doors, gas log sets and blowing fans, are common in high quality fireplaces.
Blowing Smoke and Burning Cash
Fireplace costs vary greatly based on fuel choice, performance, material quality and size. Similarly, installation costs range from very low (as with electric fireplaces, which negate any installation costs, and inserts, which require simple installation), to high (for gas or wood burning fireplaces).
The costs of operating a fireplace can be difficult to quantify since they are relative to energy costs in your area, the availability of wood and your log home's insulation and energy efficiency. If wood is readily and cheaply available, wood burning fireplaces can be the least expensive to operate.
The Bottom Line
Purchasing a new cabin fireplace is a large undertaking. First and most importantly, check your local standards. If you choose to go the traditional route, you'll be sitting happily by an authentic, crackling wood fire. If you choose a more modern electric model, you can turn on the ambiance but ditch the heat in the summer.
Whatever your final decision might turn out to be, ensure it's the right one by carefully assessing factors like style, size, cost, convenience and of course, safety.
More Cabin Decorating Pages:
Cabin Interior Design Blends Form and Function Cabin interior design combines layout and functional design with aesthetic cabin decorating decisions for the perfect log cabin interior.
Transforming Your Cabin With Rugs Transforming your cabin with rugs is a quick and easy way to Keep It Cozy!
Log Cabin Home Decor Ideas Log Cabin Home Decor Ideas for your Log Home Dreams
Log Accents for that Log Home Feel Log accents can be used to provide a log home feel even if you can't afford a log home.
Cabin Loft A cabin loft creates a cozy and creative space overlooking the great room.