You are sure to love this beautiful cabin and the chinking details that are a throwback to rustic cabins in the woods. The Kenny Elk River is a lovely home built around the classic Elk River model from Stonehill Log & Timber Homes. A sprawling home with an attached garage and gorgeous views, this is one home that combines rustic and modern beautifully.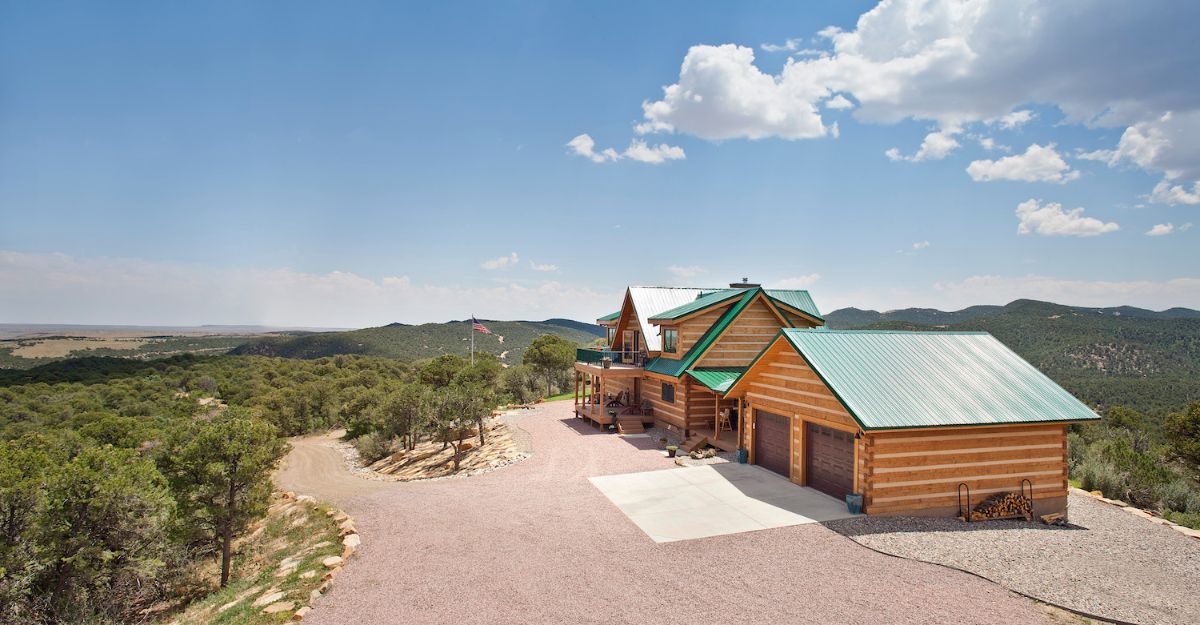 Built on top of a hill, the views around this home are part of the package. I love how this home is all by itself here with a gravel "yard" but the surrounding area is full of lush green trees in the hills and valleys.
This home is built with a simple floor plan that includes an open main floor with the classic wall of windows in the great room overlooking the backyard. While it does have a second floor, the lofted spaces are just an extra area of the home with the main living space on the main level.
A semi-attached 2-car garage is connected by an open breezeway creating an even more cozy space outside to relax and enjoy the views. Plus, on the far end of the home, you even have a hot tub off the deck for the ultimate relaxation destination.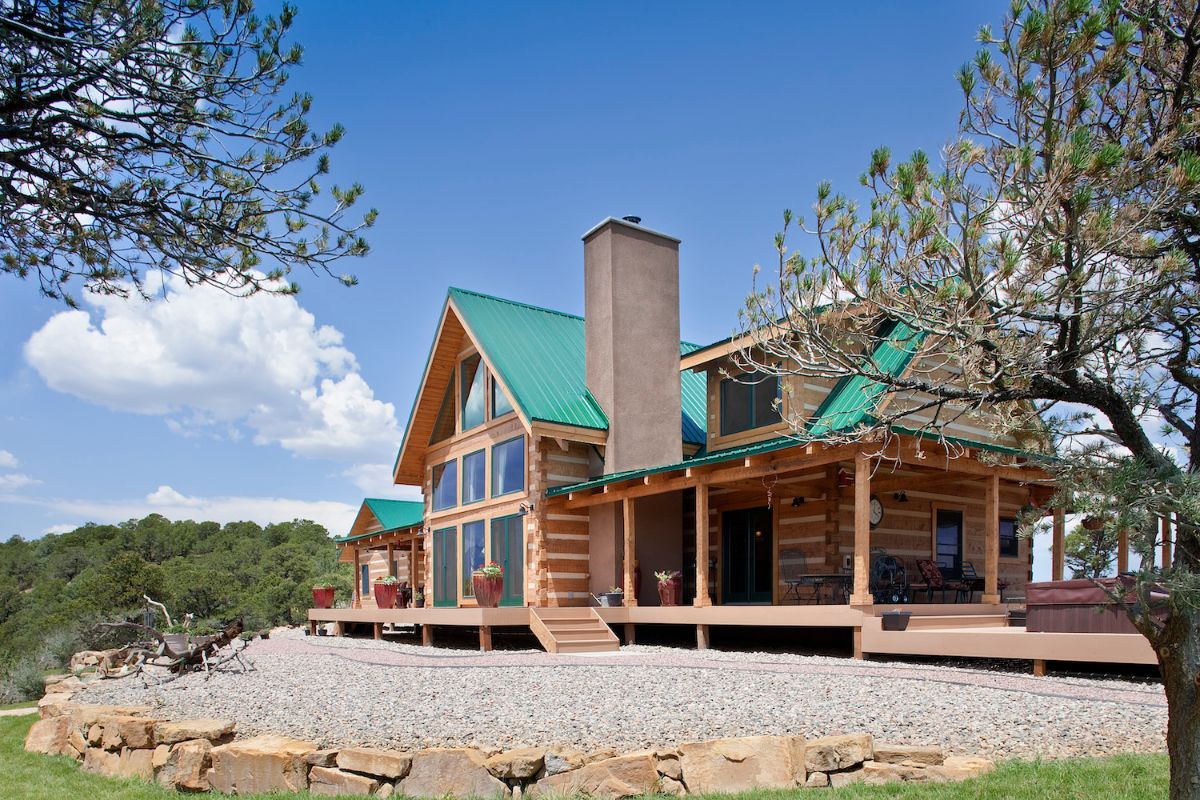 One of my favorite parts of this home is that there are so many open spaces outside with covers for you to enjoy the outdoors while remaining safe from the weather conditions. While it isn't necessarily a place with a lot of rain or snow, the location on top of the hill definitely makes the sun beat down on you. This is ideal for being outside, but still being safe.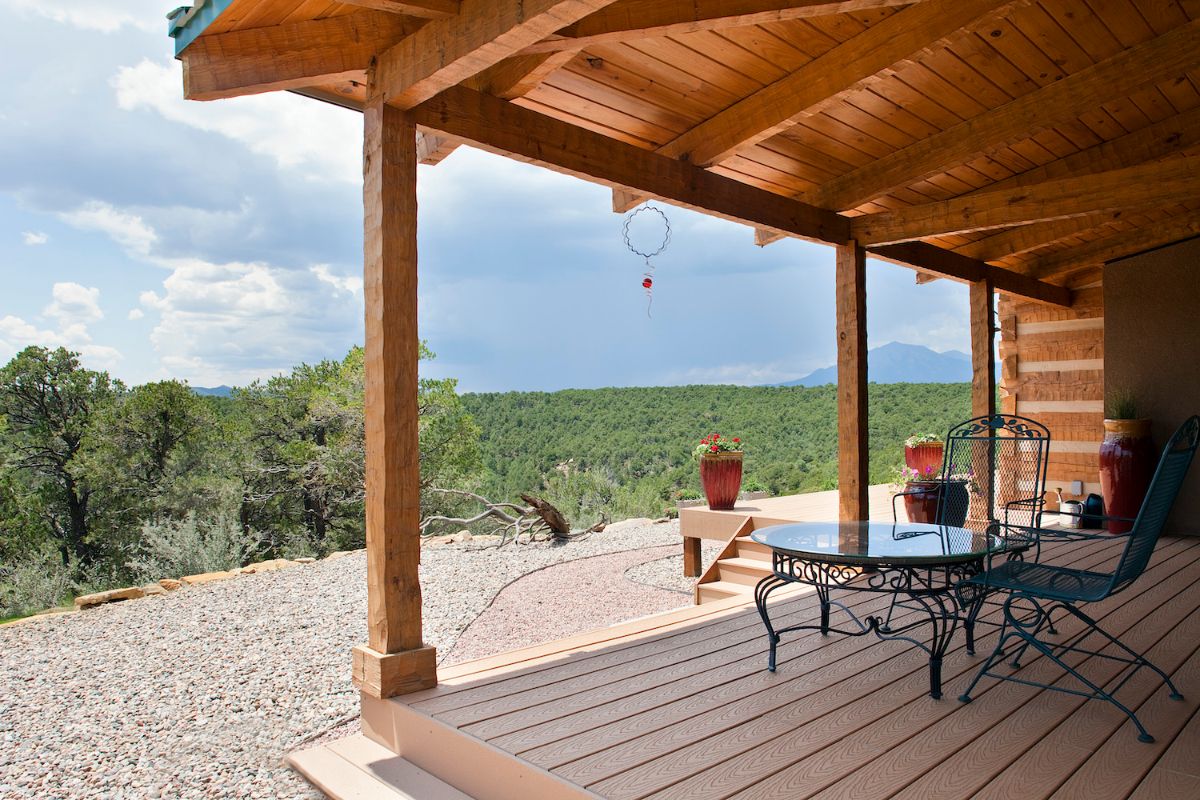 And since there are multiple spaces all around the back side of the home, you can have a variety of seating areas with tables for picnics or just lounge chairs to relax with a good book on a lazy weekend.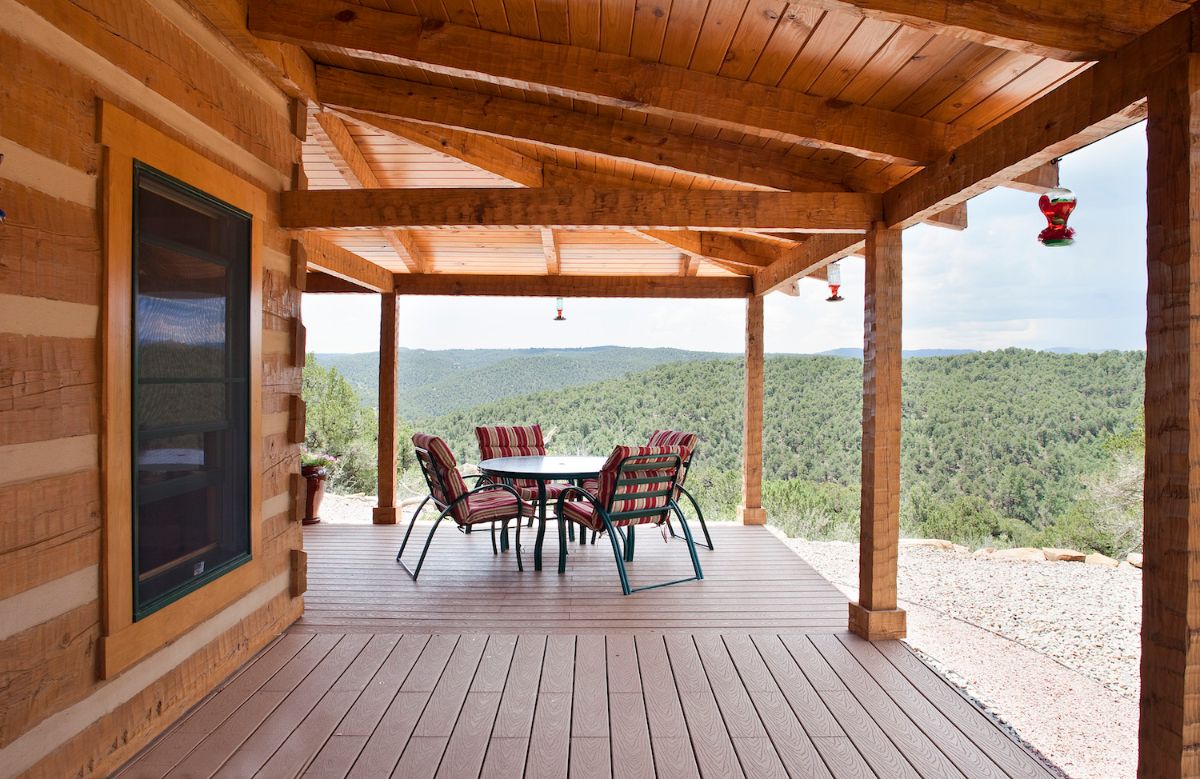 Inside the cabin, you will find the same beautiful wood walls with chinking that you see outside. I love how the home is built with real wood and logs and a combination of stains and styles to give it a truly rustic and natural appearance.
This main space of the home is often called a great room but is really just the living room or family room in this home. It has a wall of windows and glass patio doors on the back to bring in all of that natural light but also has room for your sofa, chairs, a few side tables, and of course, the fireplace. Whether you add a television in this space or not, it's ideal for family time.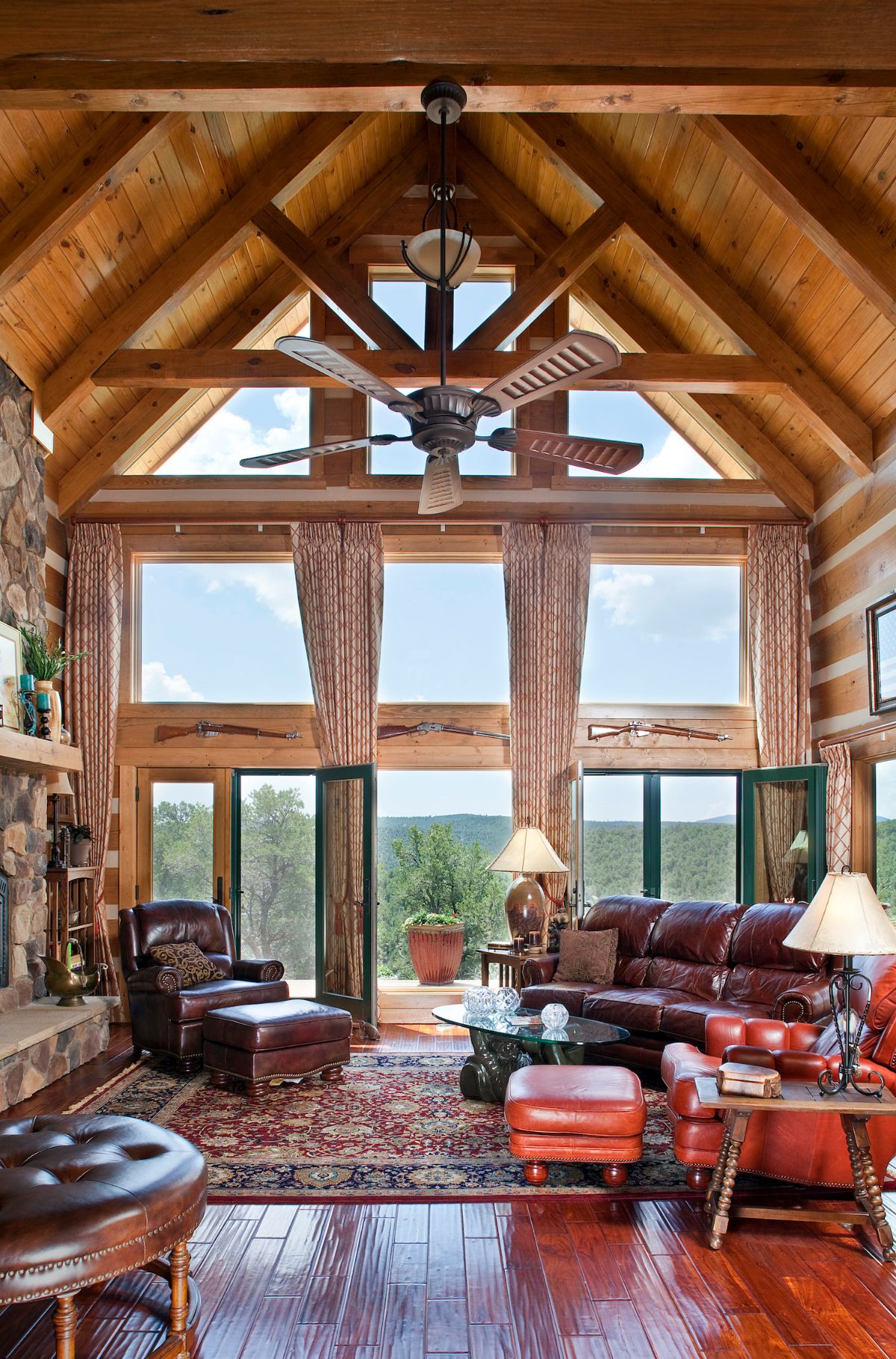 A log cabin kitchen can be rustic and modern at the same time, and this home definitely shows that beautifully. Light wood cabinets add a rustic look with a tile backsplash that matches the natural tones. Around the room are stainless steel appliances and dark granite countertops that pull in that modern look and appeal you want. It's a lovely combination of styles that is truly functional and welcoming.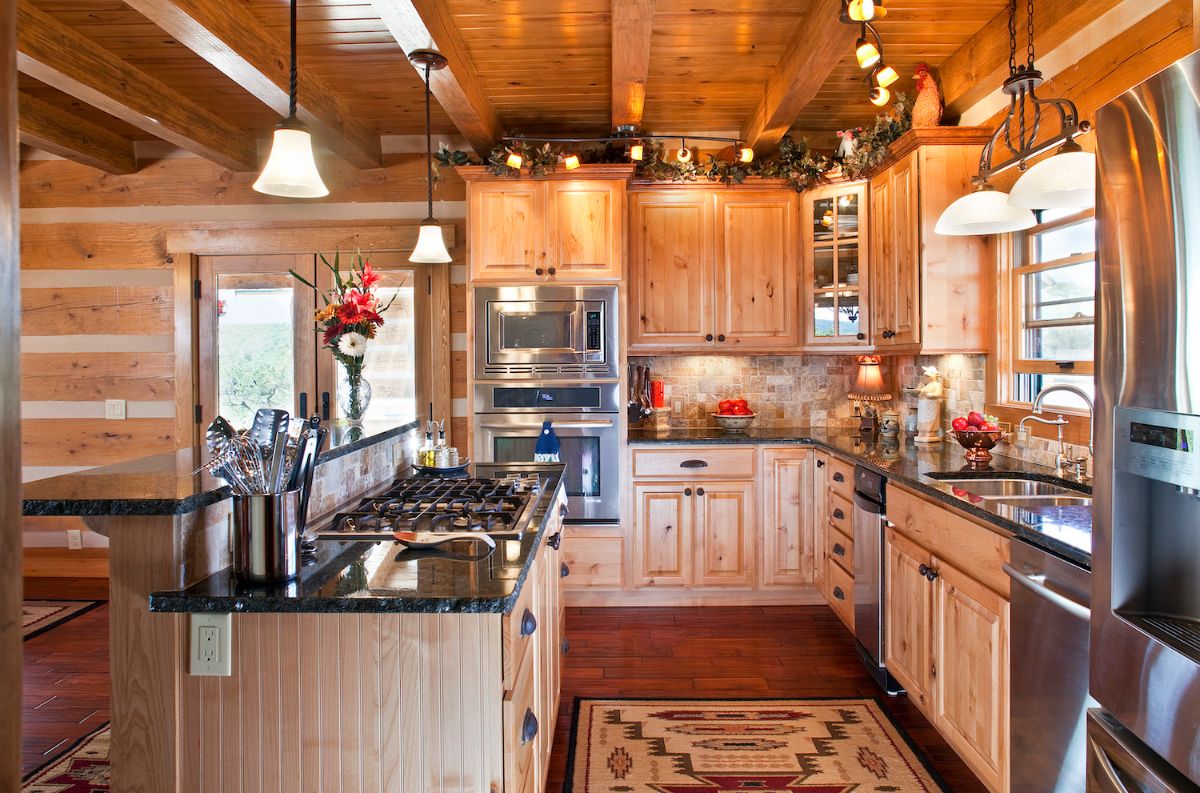 The main floor master bedroom is one of my favorite spaces in this tour because it just looks so relaxing and casual. A large room with space for all of your needs such as the king-sized bed, tables, a chair, and of course, the chest of drawers, is accented by large windows and a private deck entrance door on the side.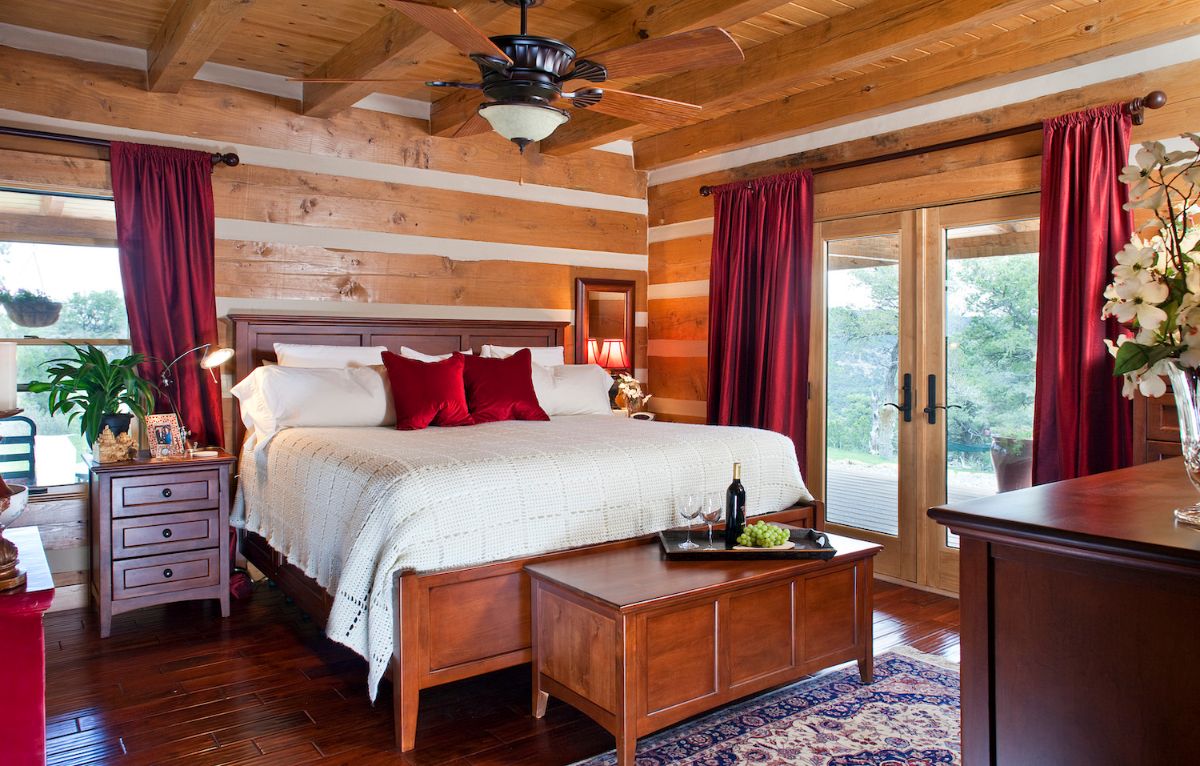 Of course, just around the corner is this lovely master bathroom with the classic his and hers sinks and mirrors. I love the extra drawers between these on the vanity, but the glass door shower in the corner is my favorite part of the suite.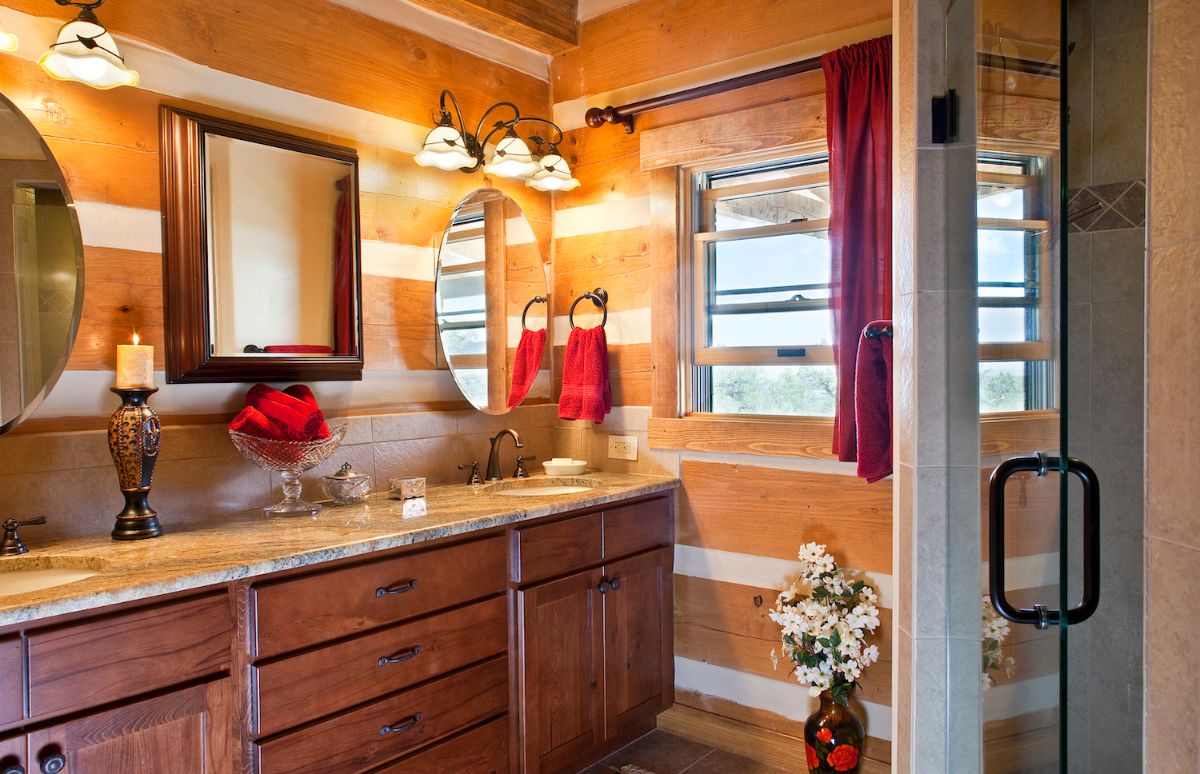 For more information about this and other log cabin builds, check out the Stonemill Log & Timber Homes website. You can also follow them on Facebook, Instagram, and YouTube for regular updates of their latest builds. Make sure you let them know that Log Cabin Connection sent you their way.
More Log Cabin Kits and Tours