The Wright Cabin is a stunning home in Minnesota that is a dream come true. Filled with luxury additions, beautiful woodwork, and stunning stonework, this home is the ideal retreat from the hustle and bustle of city life.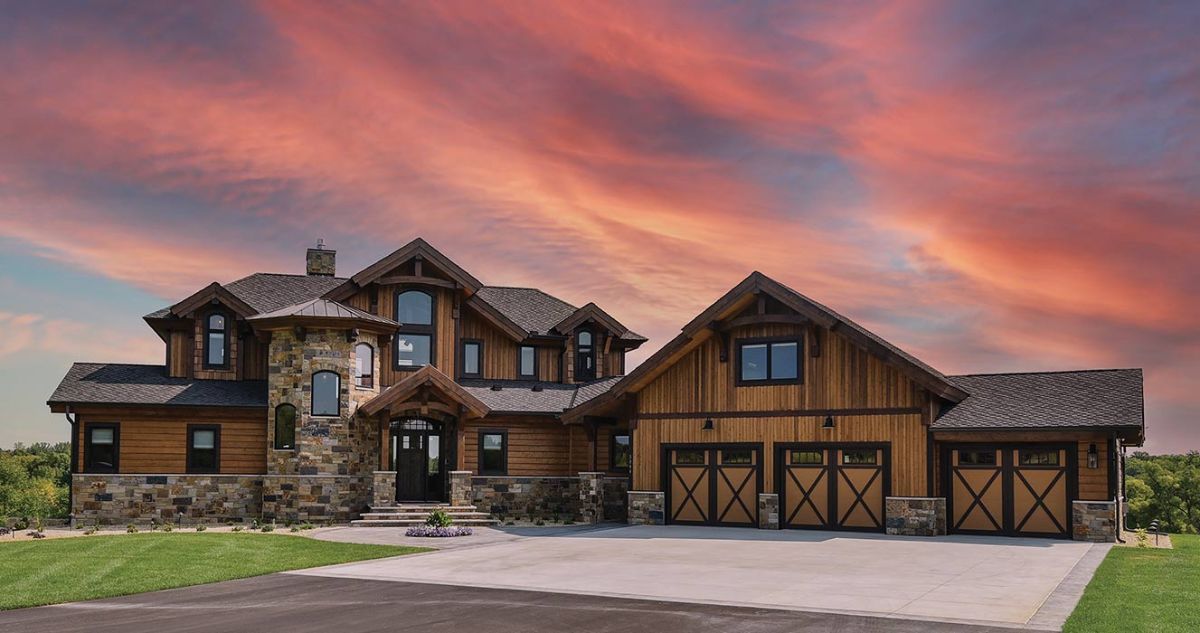 Log Cabin Size:
Log Cabin Features
Large three-level home with open spaces outdoors for entertaining on all three levels.
Full basement suite with kitchenette, pool table, and living spaces.
Luxury master bedroom suite with stunning large master bathroom suite including custom tiled shower spaces.
Sprawling custom landscaped outdoors with patios, decks, and porches ideal for relaxing and entertaining.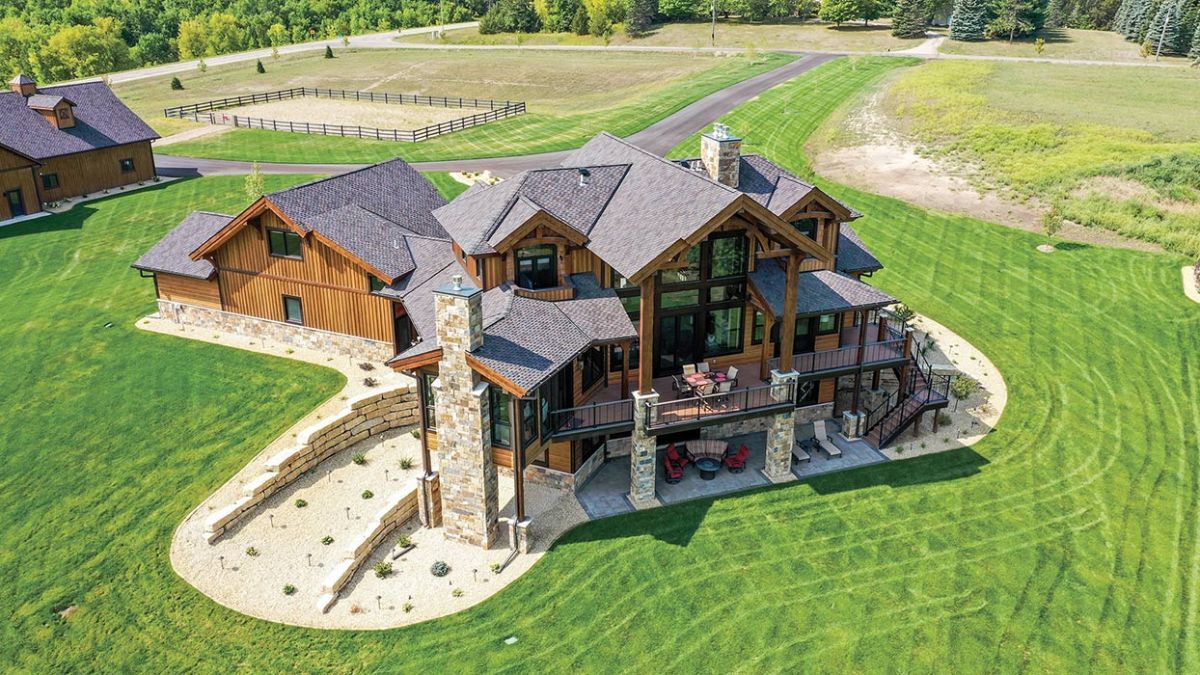 I love the variety of both covered and open decks as shown. Here you have the main floor patio that has a covered porch area ideal for a table and chairs, but also open spaces for sunbathing if desired.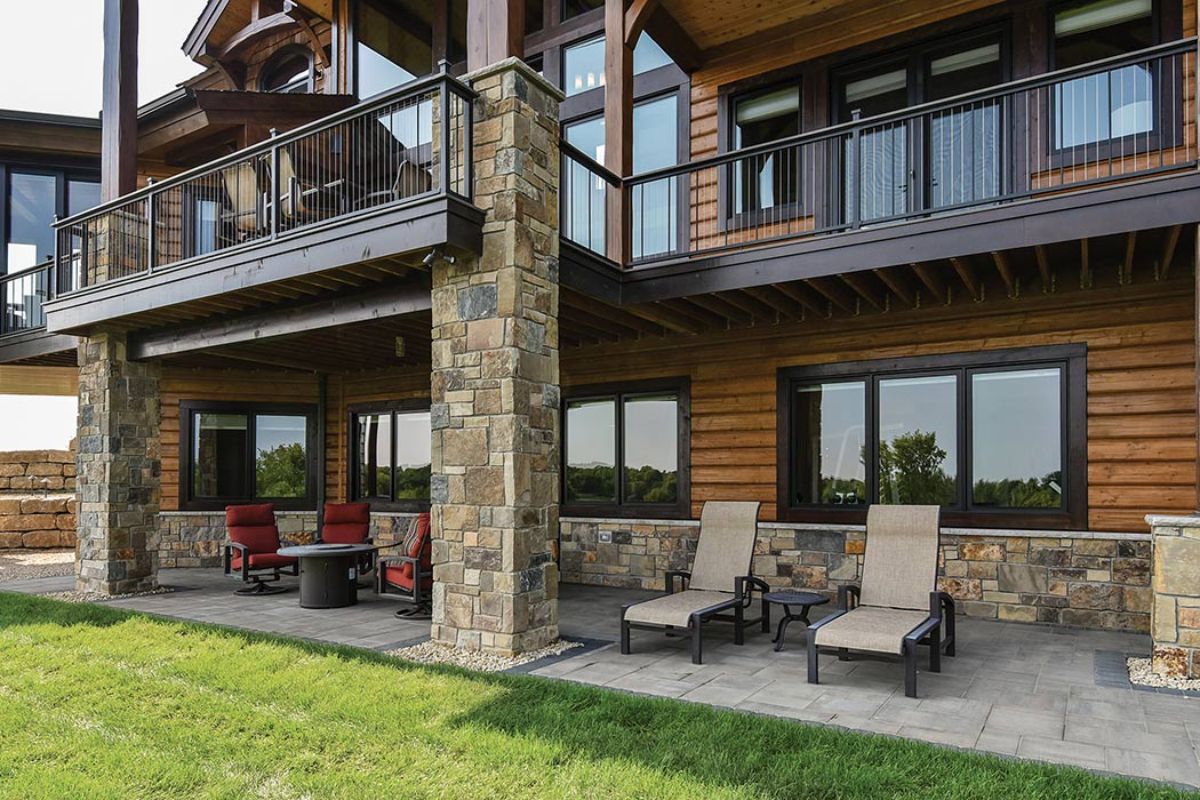 On the upper level, just outside the great room and living spaces, there is an open deck with tables and chairs made just for picnics that has plenty of sunlight, but also a custom overhang above.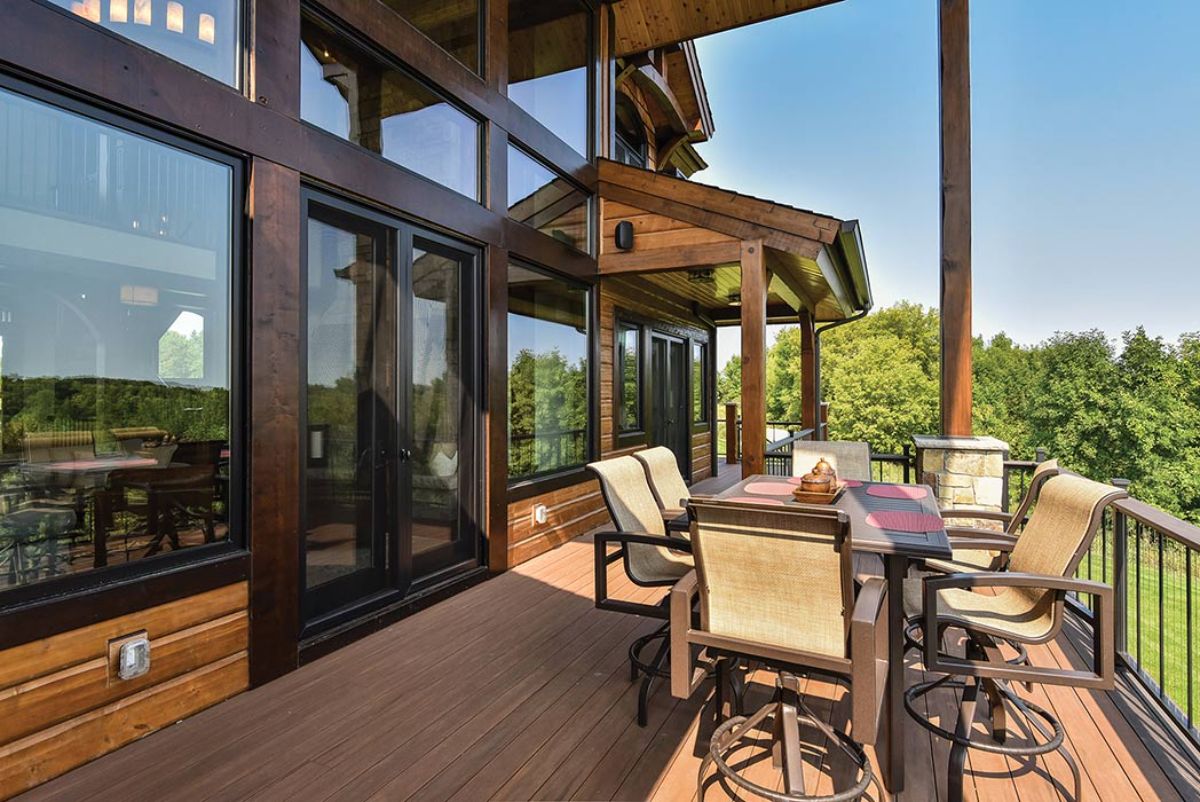 The entry door to the home has beautiful woodwork arches and awnings alongside the lovely stone columns that accent the space with a rustic look.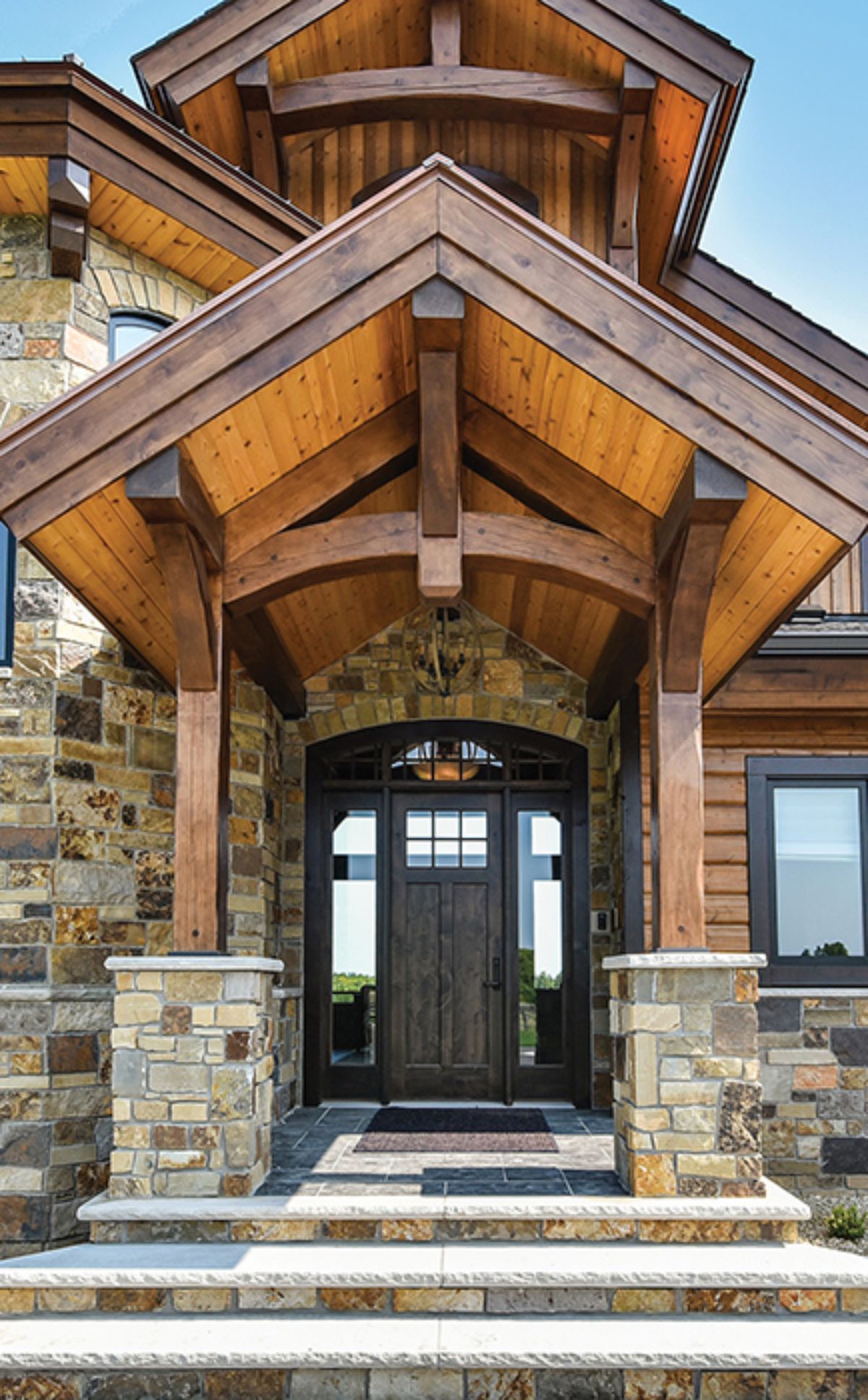 Inside the home, a beautiful entry space leads right to the living areas with an open floor plan and corner stairs leading both up and down to the different levels of the home.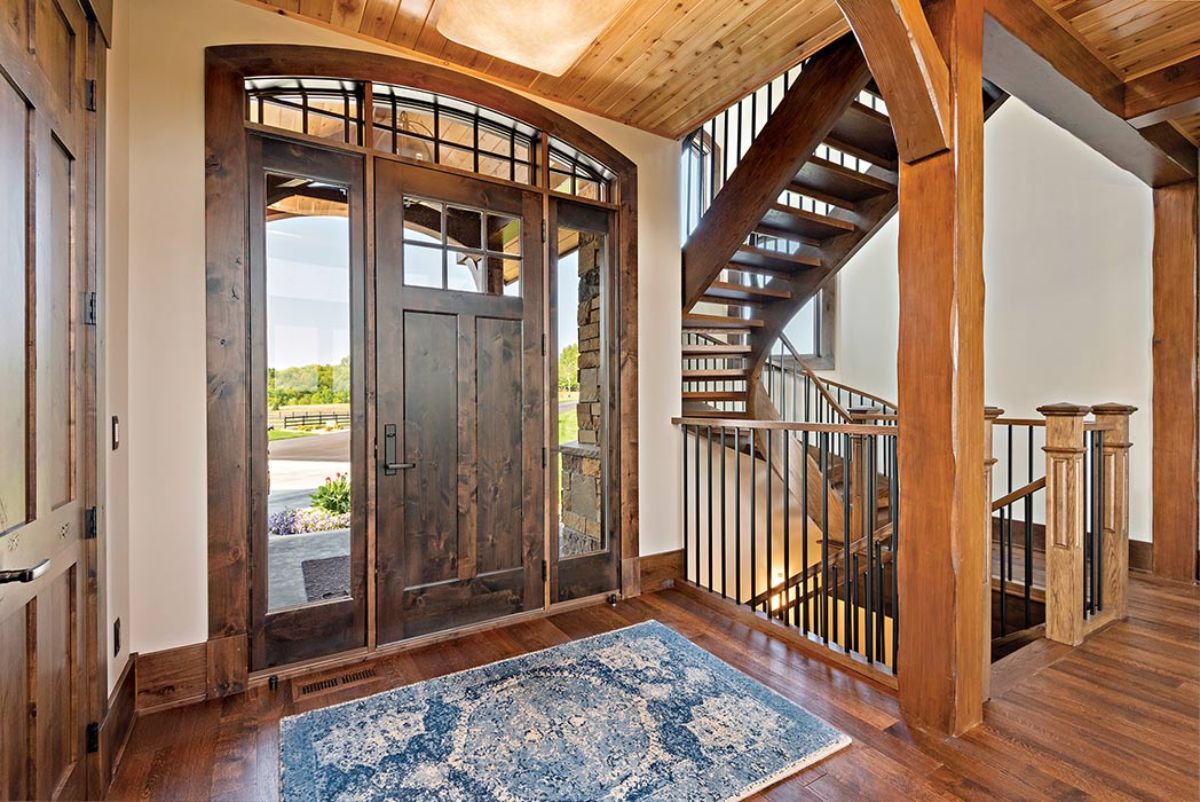 The living spaces throughout the home are stunning and filled with tall windows and gorgeous views. Each space is laid out for comfort, and in this instance, a cozy space for watching movies together as a family.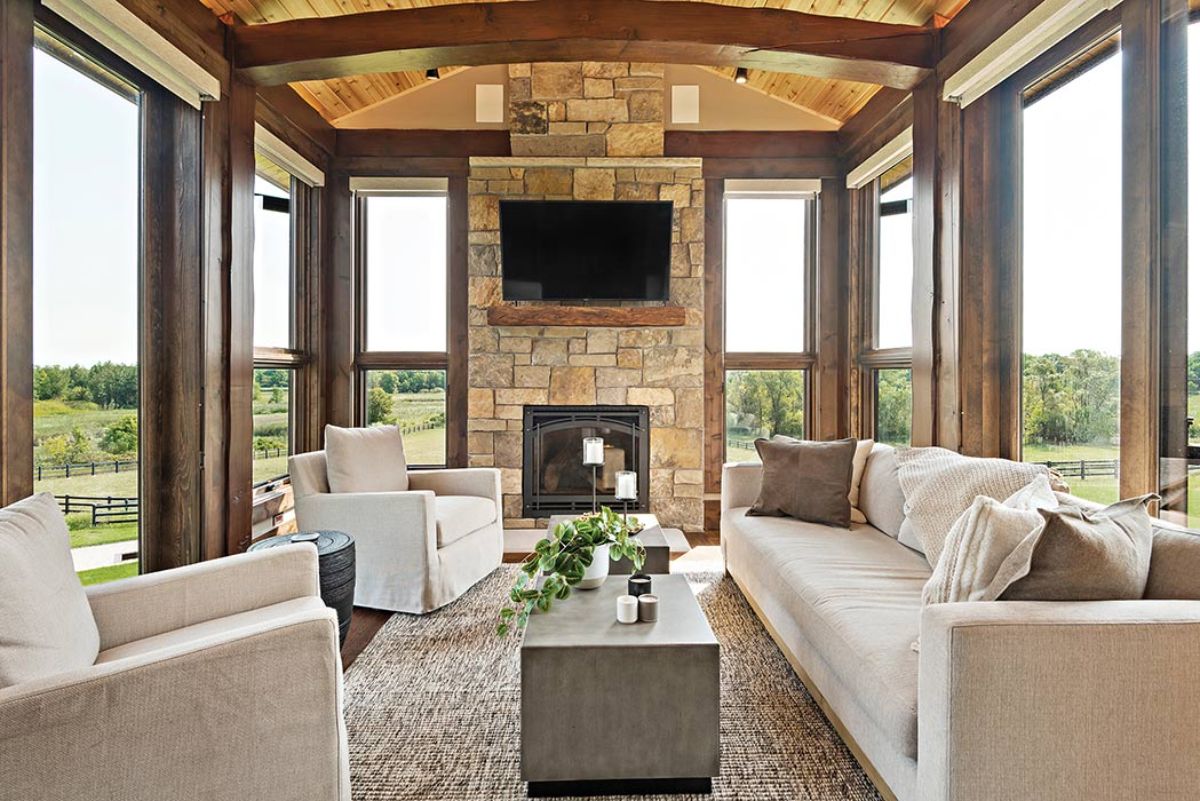 Just inside the living room, is a safe spot for relaxing with views all around the home. The sofas are soft and cozy around another fireplace with a beautiful chandelier above.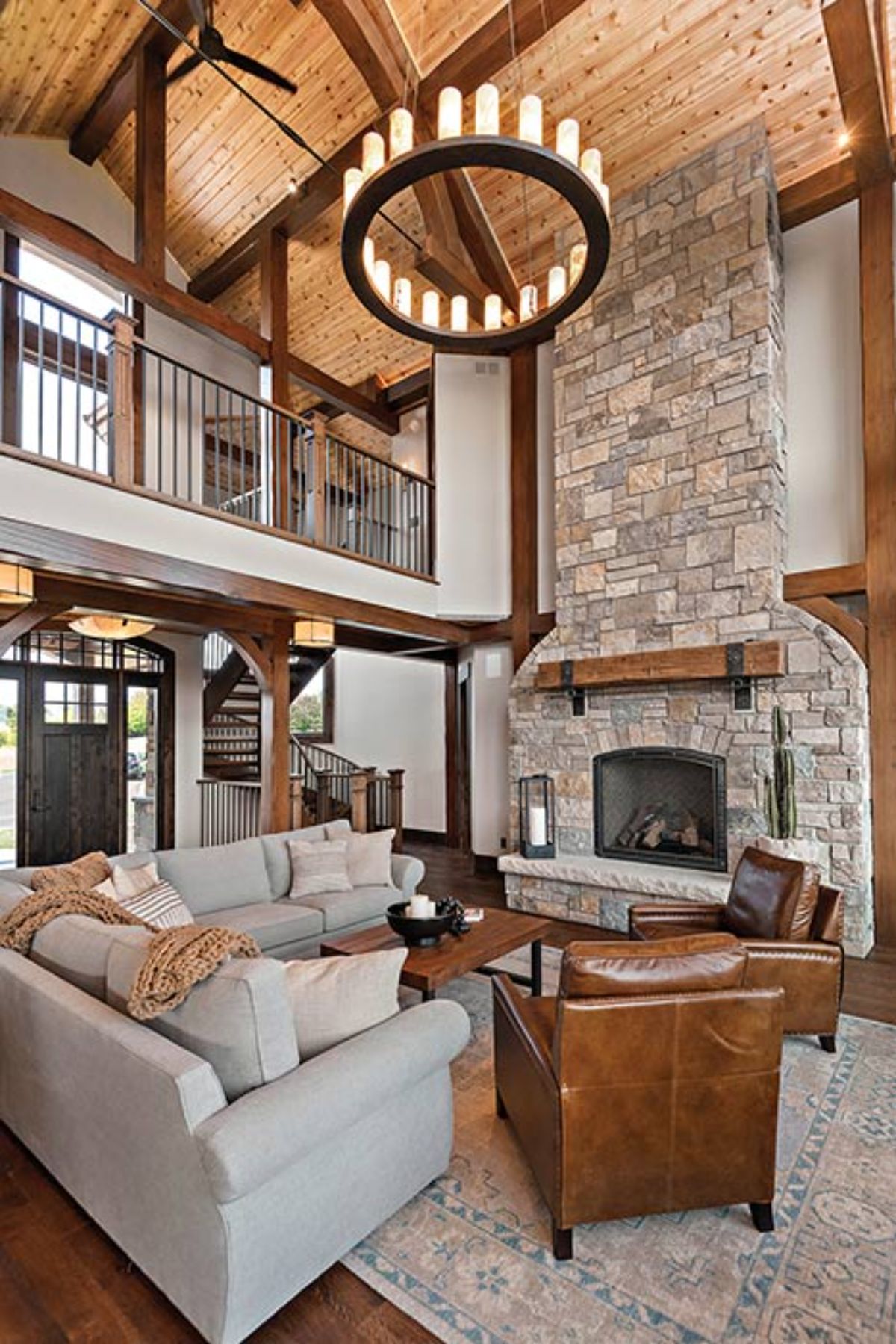 The kitchen on the main floor is nice and open with an island bar on the outer edge that is a combination of beautiful distressed wood and granite countertops. Simple spaces with stainless steel appliances and tons of dark wood cabinets make for a perfect family kitchen.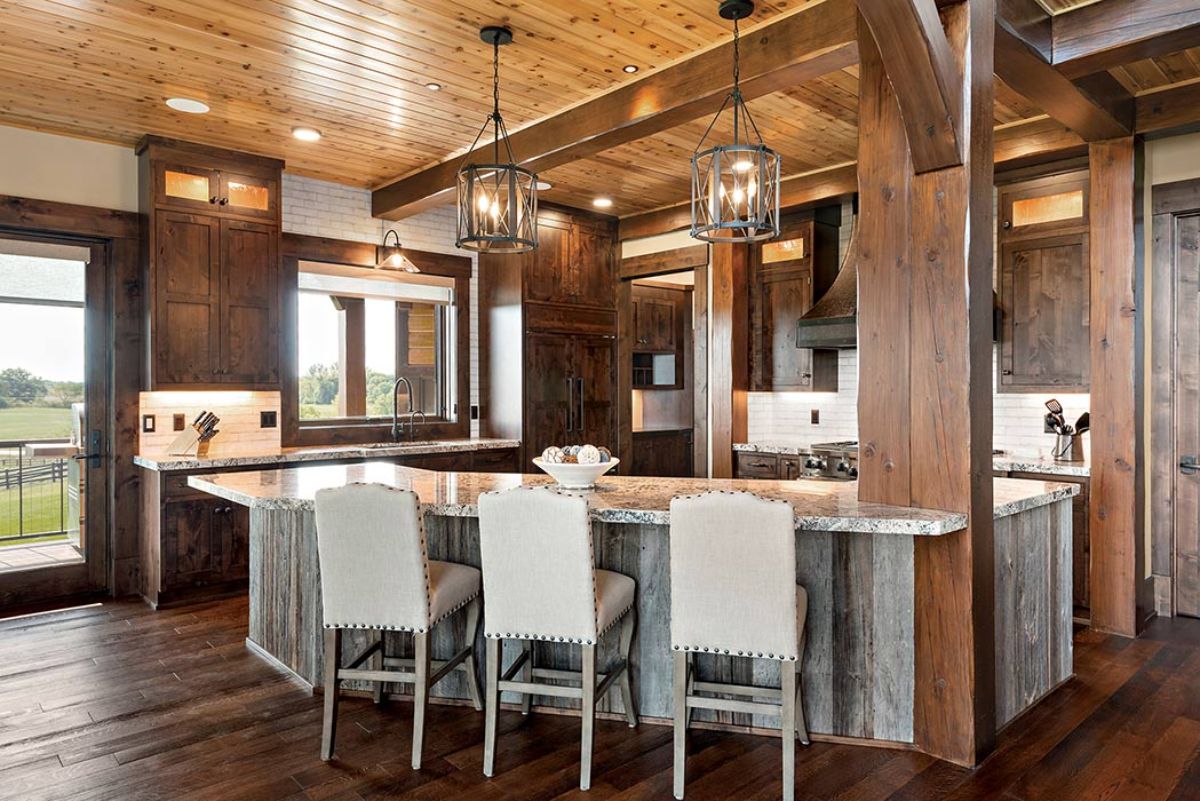 The dining room between the kitchen and sunroom space includes a lovely round table with upholstered chairs that is cozy and ideal for a simple family meal.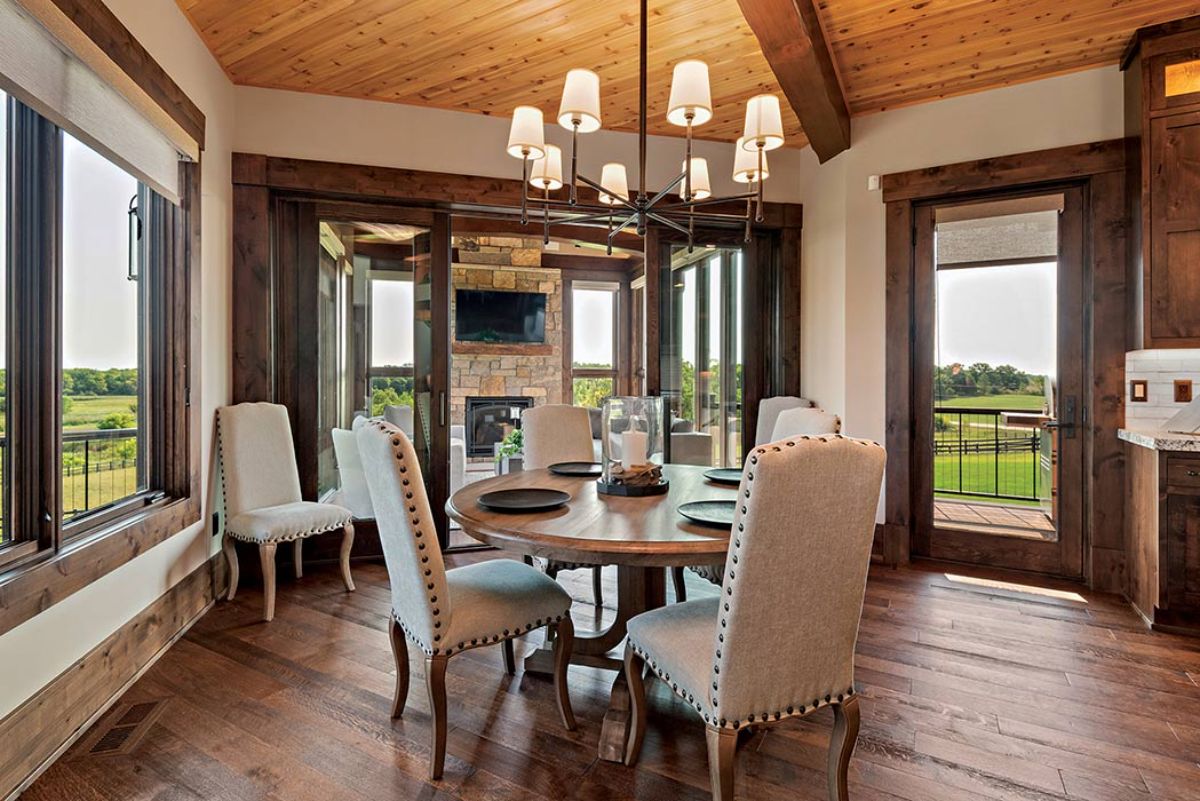 A separate pantry with a corner wine fridge is a great addition to the space. I love that this is near the kitchen, but a separate space from the rest of the home.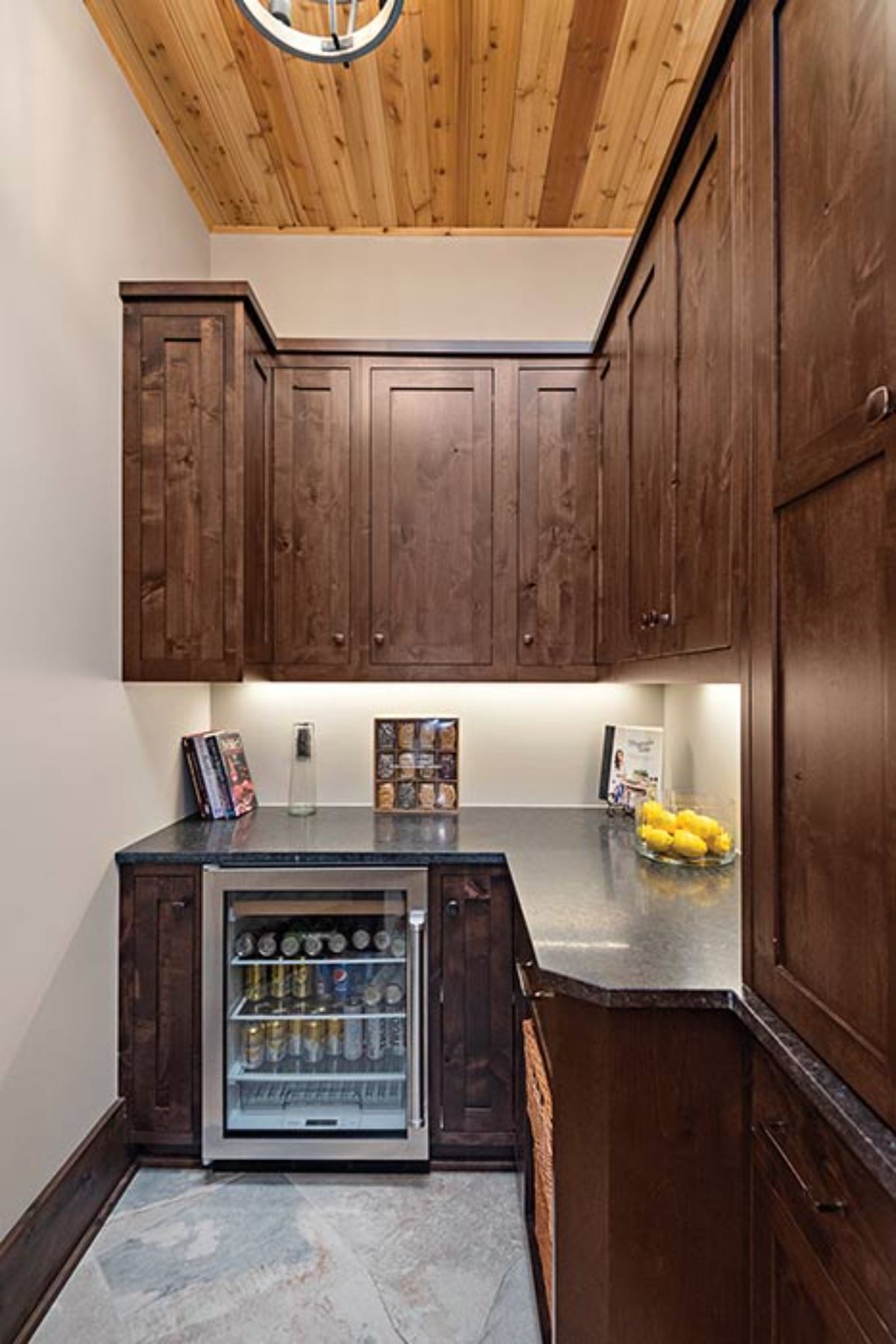 The master bedroom has a beautiful fireplace on one side with a private balcony on the other side overlooking the property. This is truly a stunning space that is more than welcoming.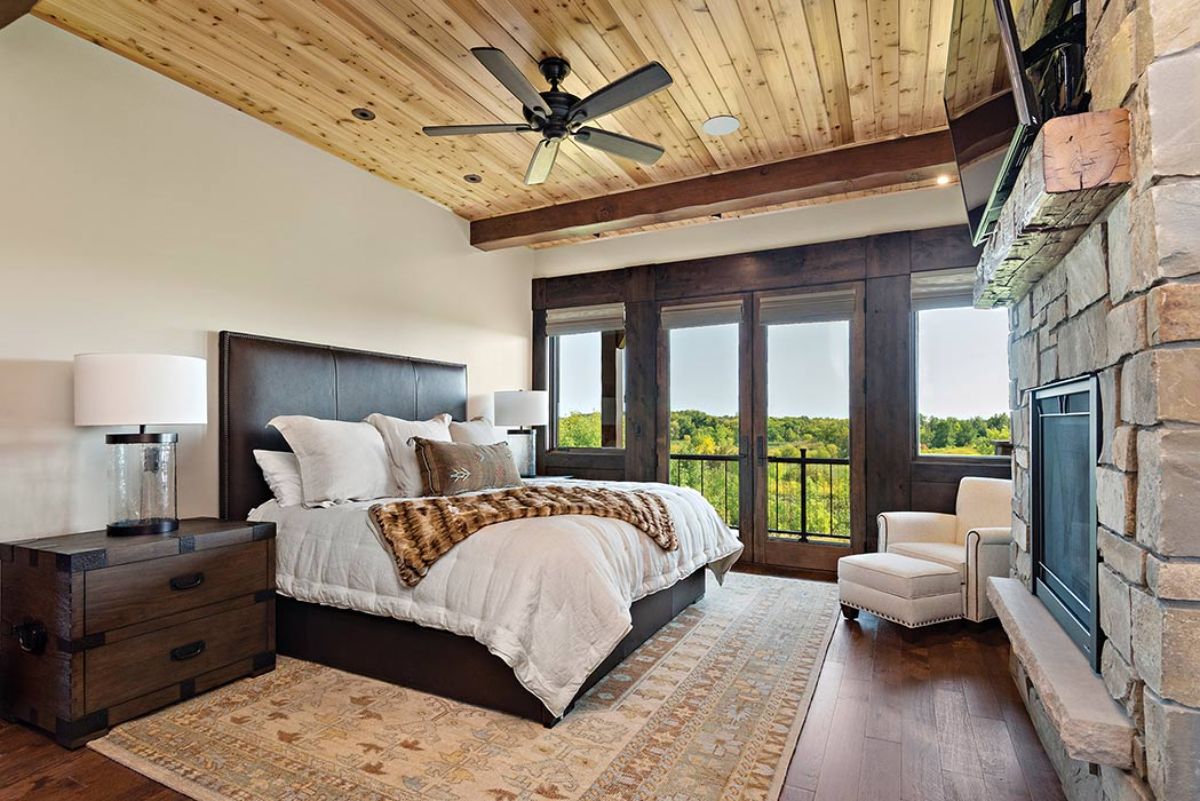 The master bathroom is gorgeous with a beautiful tile shower and tons of dark wood cabinets. This is a true oasis with all of the luxury additions you can imagine in a spa, all in the privacy of your own home.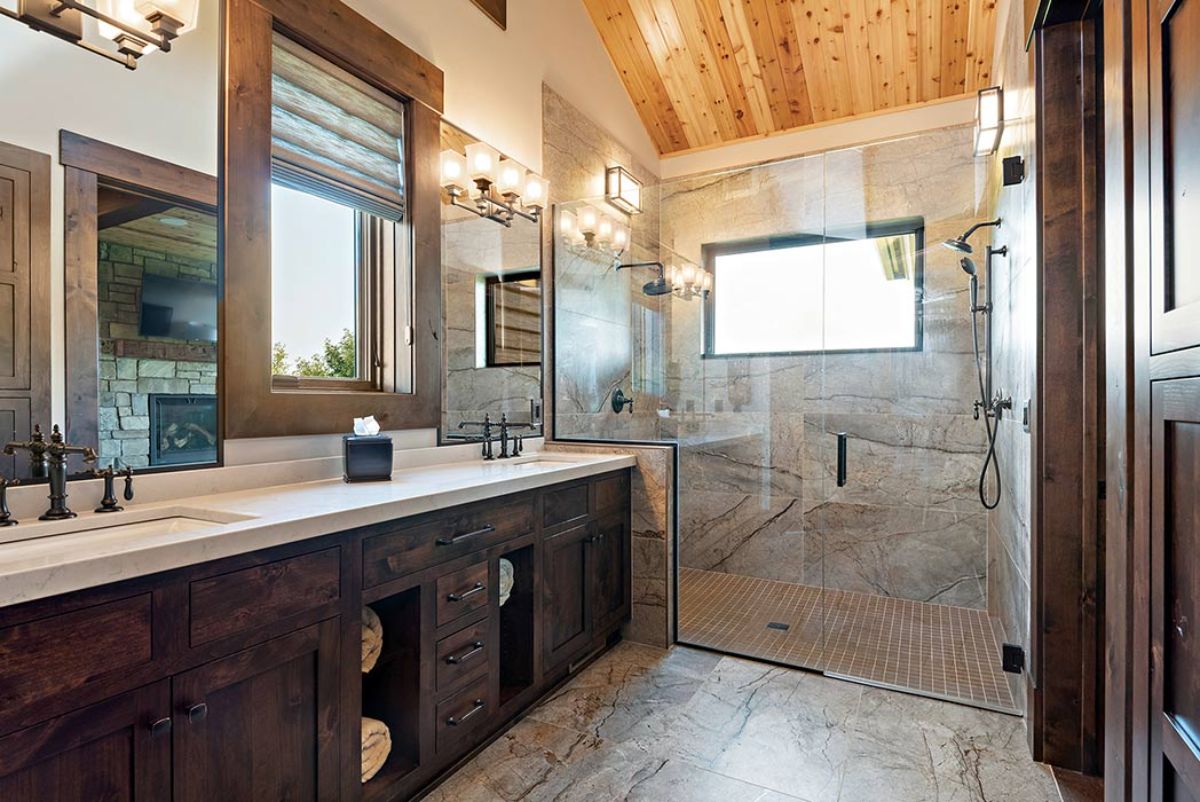 The other bedrooms are just as luxurious. Many include a private balcony view over the outside of the home and property.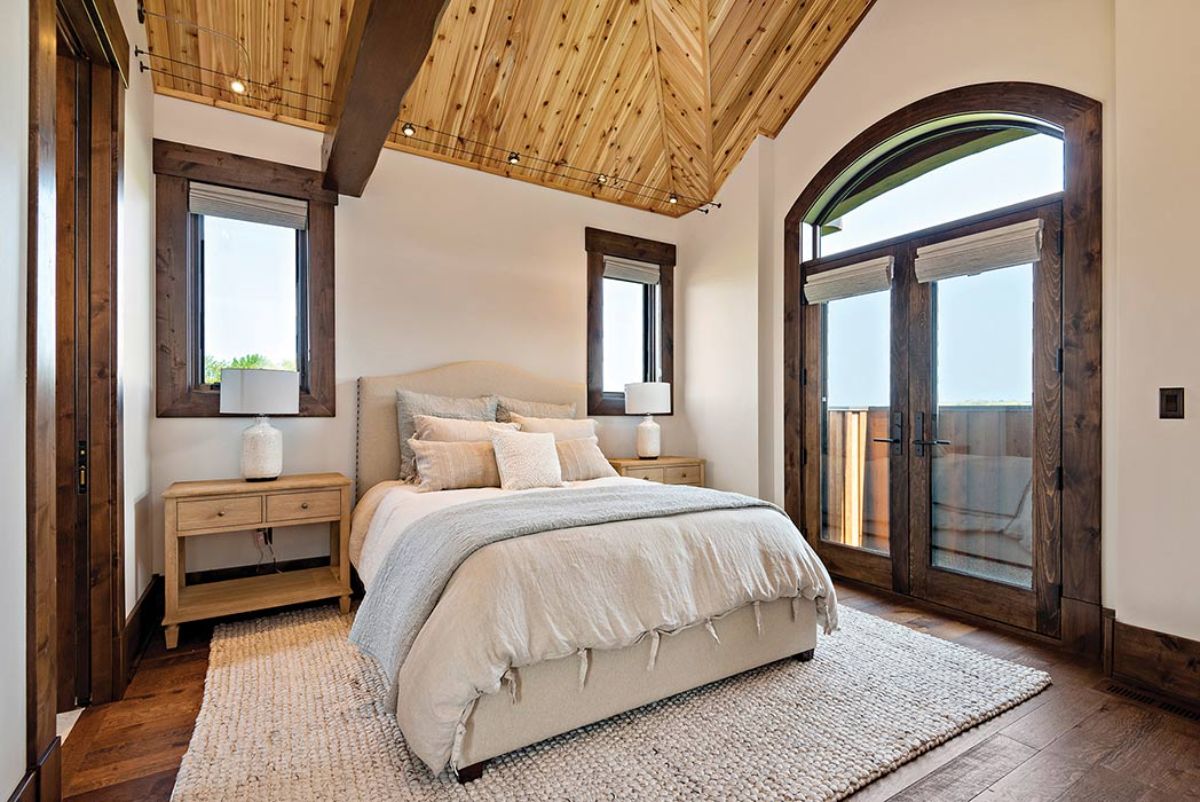 Upstairs, a small sitting space is in the loft and is ideal for a personal reading nook or a lovely spot to relax with a friend for a chat.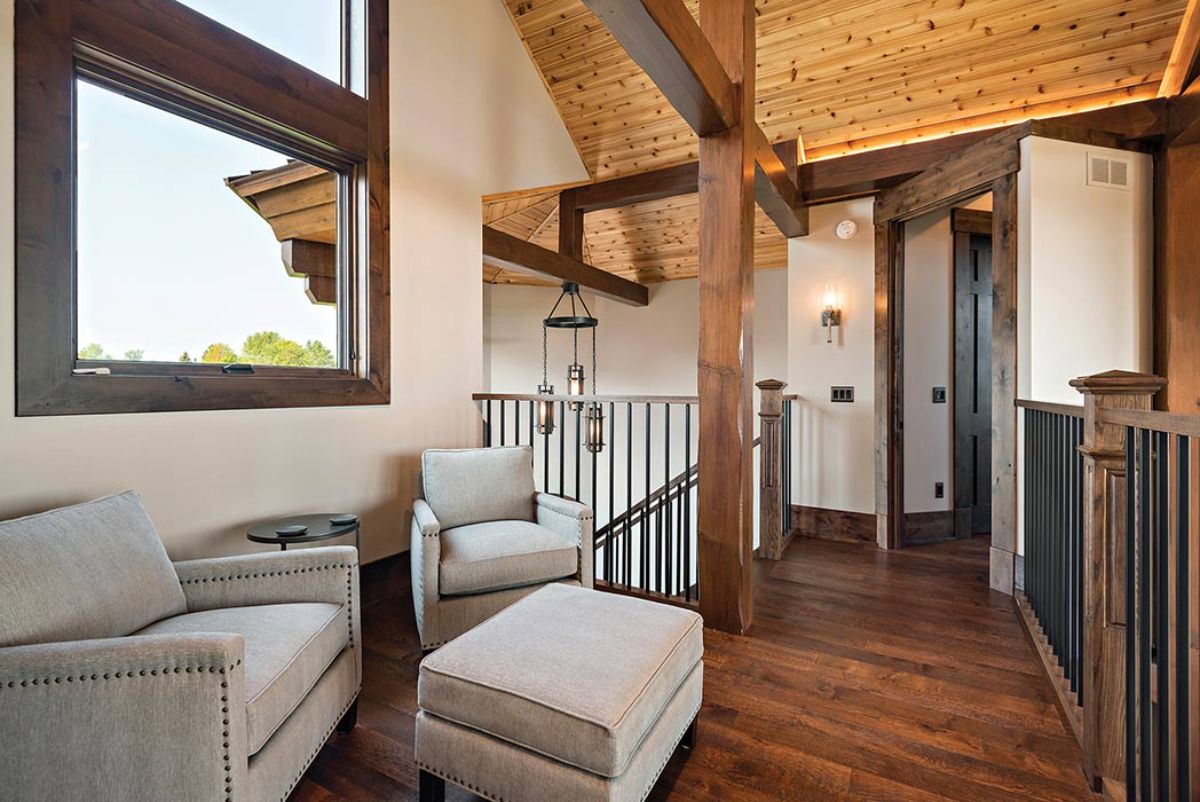 On the lowest level of the home, a laundry space is just below the stairs giving you a nice private area that is convenient to the rest of the home.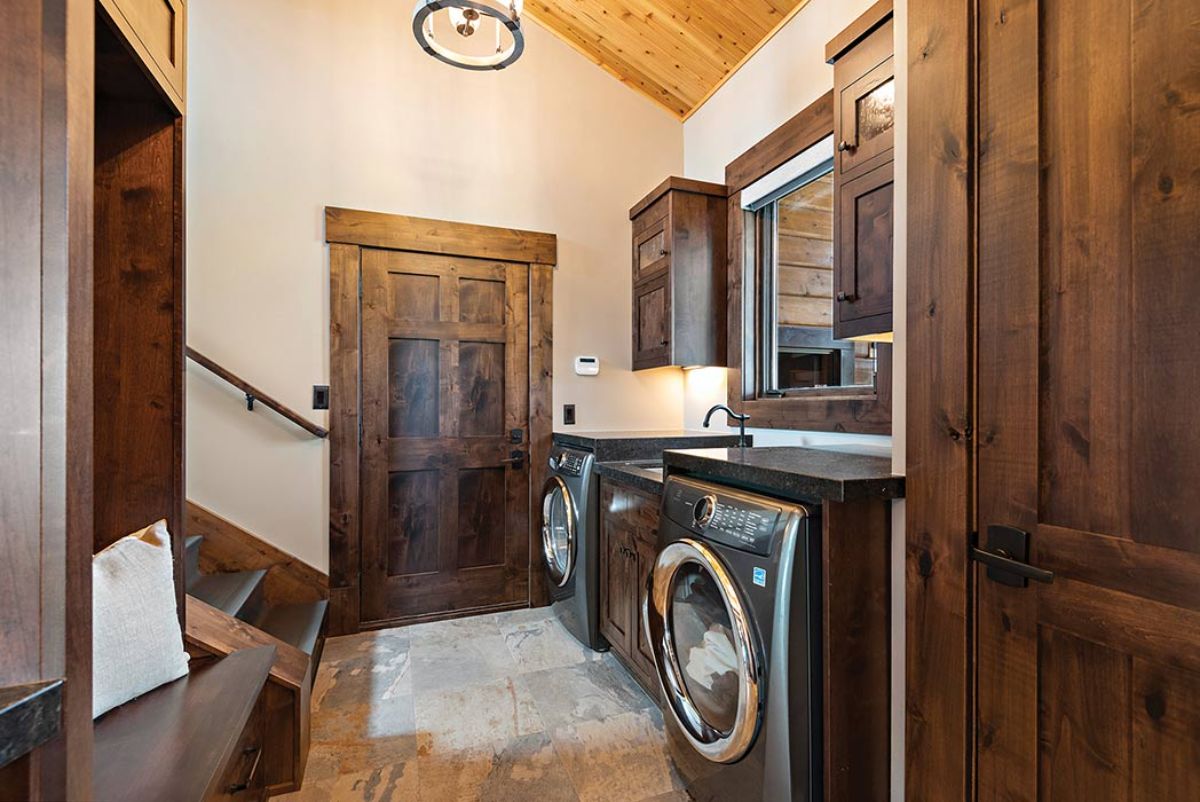 Of course, I love that the basement suite has a nice-sized kitchenette with a bar and a round table including multiple high-backed stools.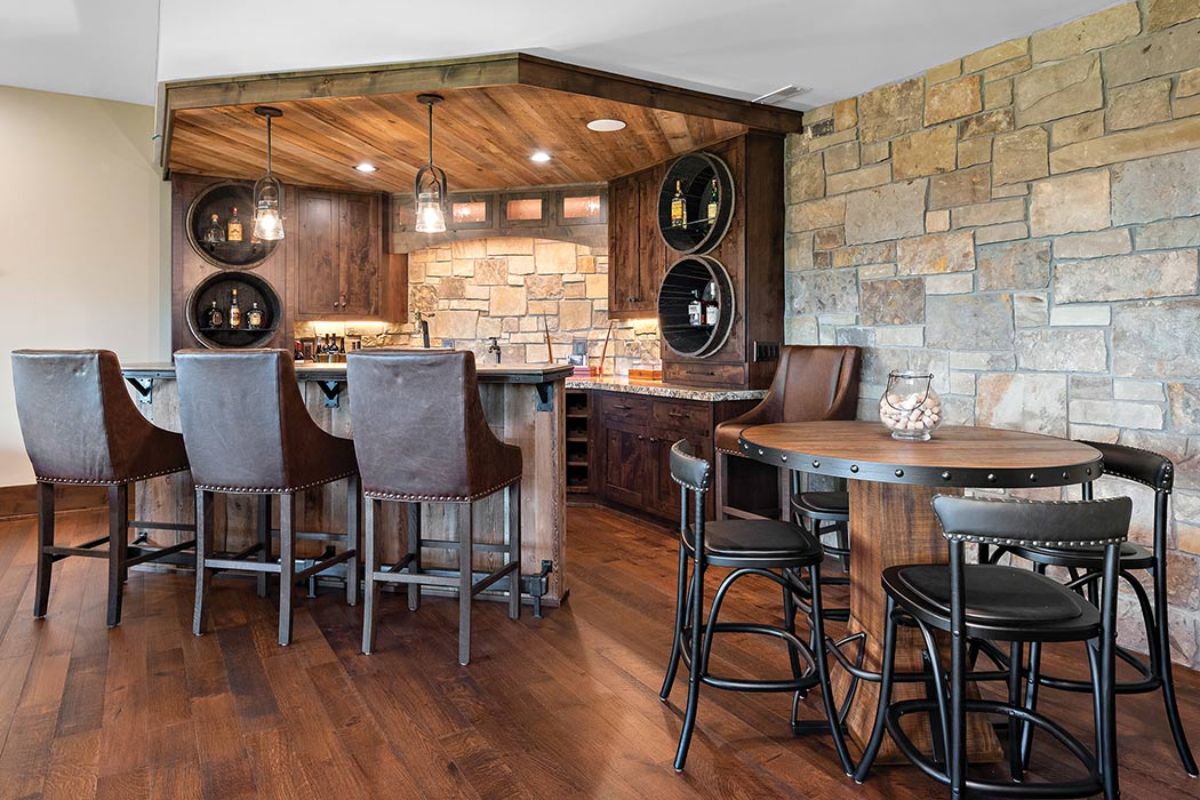 Included in this space is a game room with pool table, games, and cozy seating to relax and enjoy games with the family.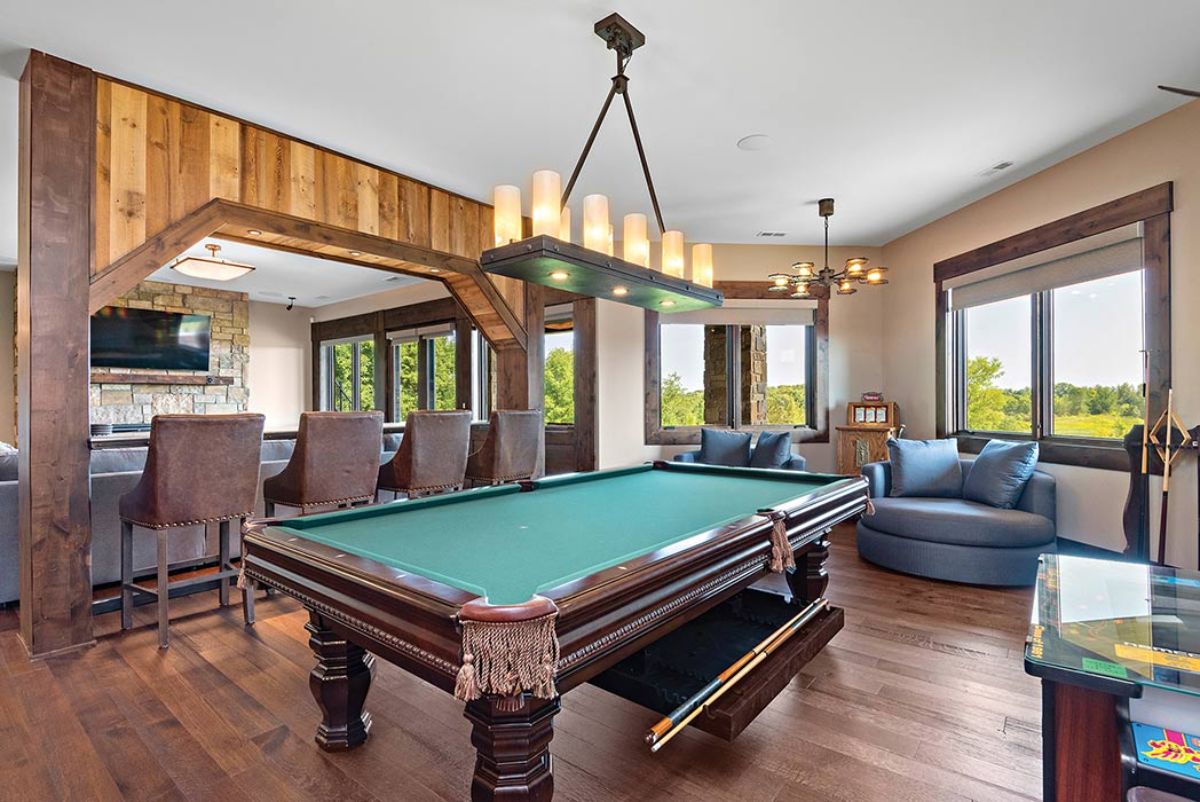 For more information about this beautiful log cabin build, check out the Precision Craft Log & Timber Homes website. You can also find them on Facebook and Instagram for regular updates of their latest builds. Make sure that you let them know that Log Cabin Connection sent you their way.
More Log Cabin Kits and Tours