It's amazing how this design managed to fit three bedrooms and gorgeous open space sin just 1140 square feet! The Ascutney log cabin is a stunning build from Coventry Log Homes that has style, modern amenities, and tons of that rustic style you love.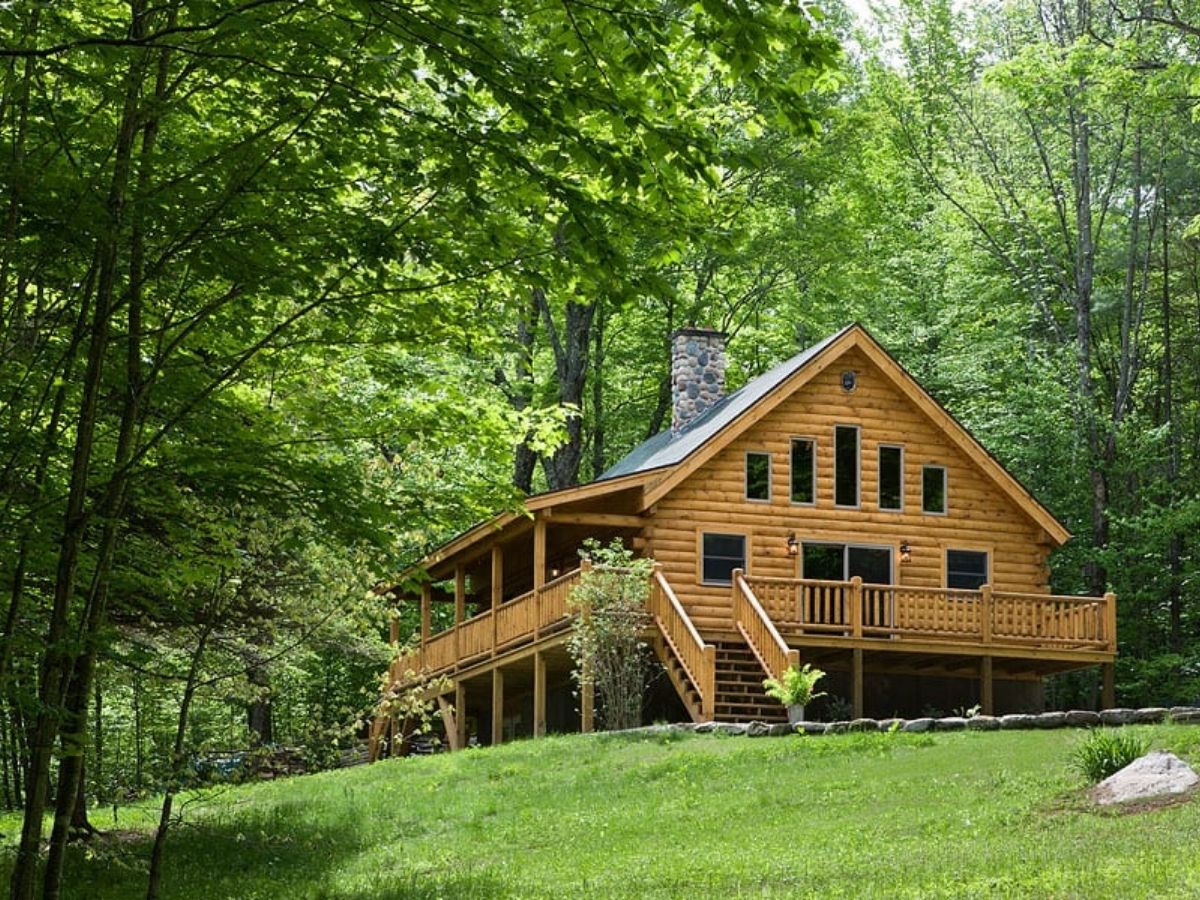 Log Cabin Size
1140 square feet
24' by 32' footprint
3 bedrooms
2 bathrooms
Log Cabin Pricing
Pricing varies depending upon size and specifications with the base price beginning at $132,350.
Log cabin Features
One main floor bedroom and bathroom with two second floor bedrooms and a bathroom.
Large open living room and dining room space that leads into the modern kitchen.
Stunning custom stairways and raililng featuring rustic log and wood accents.
Beautiful wrap-around decking with some covered areas and porches for entertaining.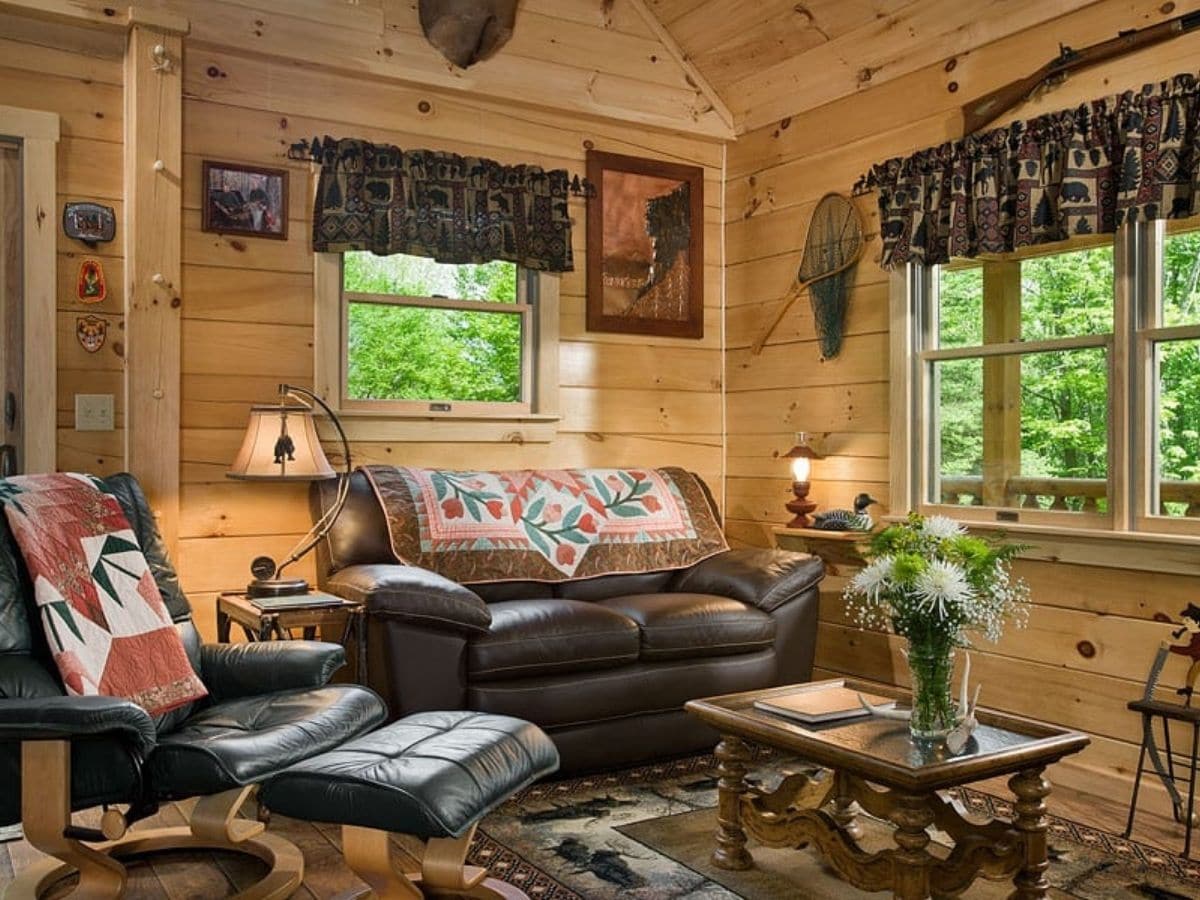 One of the main features inside this home is the stone chimney and fireplace that sits in the center of the home near the stairs to the second floor and the living spaces downstairs.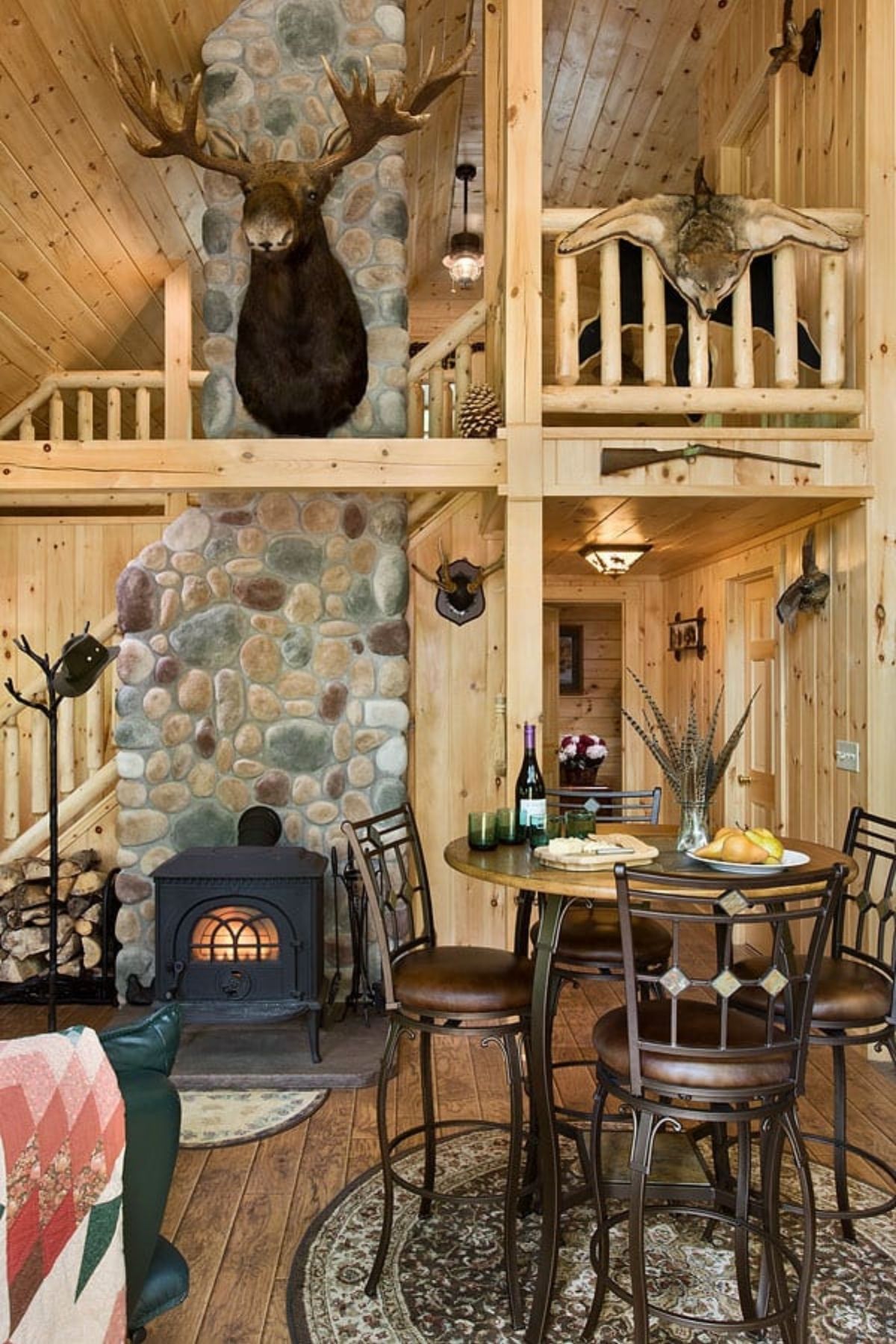 The open concept gives the living room, dining room, and kitchen a freeflow that allows for easy entertaining. An elevated 4-person table between the kitchen and living area is a perfect addition for family meals.
The sliding glass doors off the back of the home walk right out onto the sizable deck. While the home itself may be smaller in square footage, the exterior spaces really make this a welcome oasis.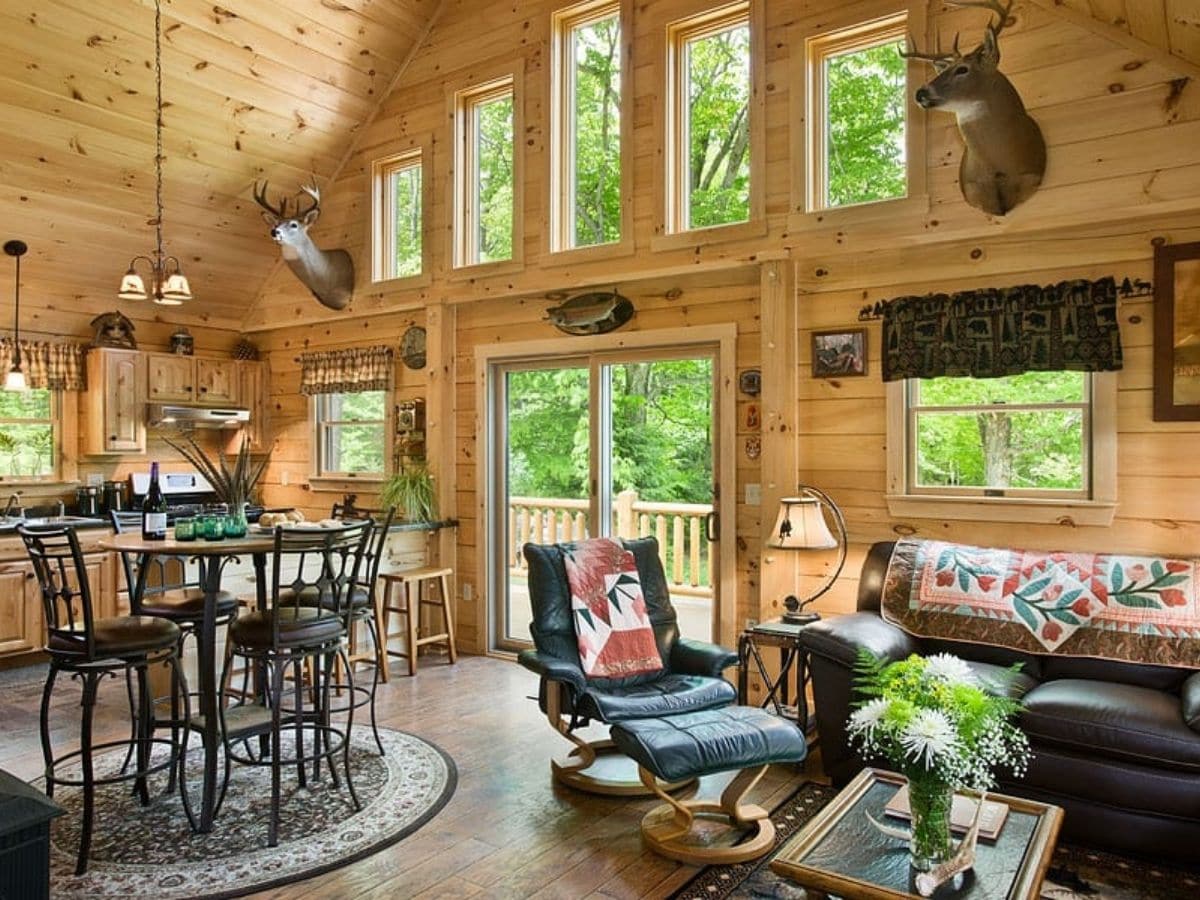 The three person bar is part of the U-shped kitchen and creates a perfect breakfast nook or additional seating when guests are visiting.
A modern style is added against the rustic accents, decor, and cabinets. Stainless steel traditional appliances round out the kitchen making it a perfect family space! Plus there are tons of windows and the open door nearby for added natural light in this room.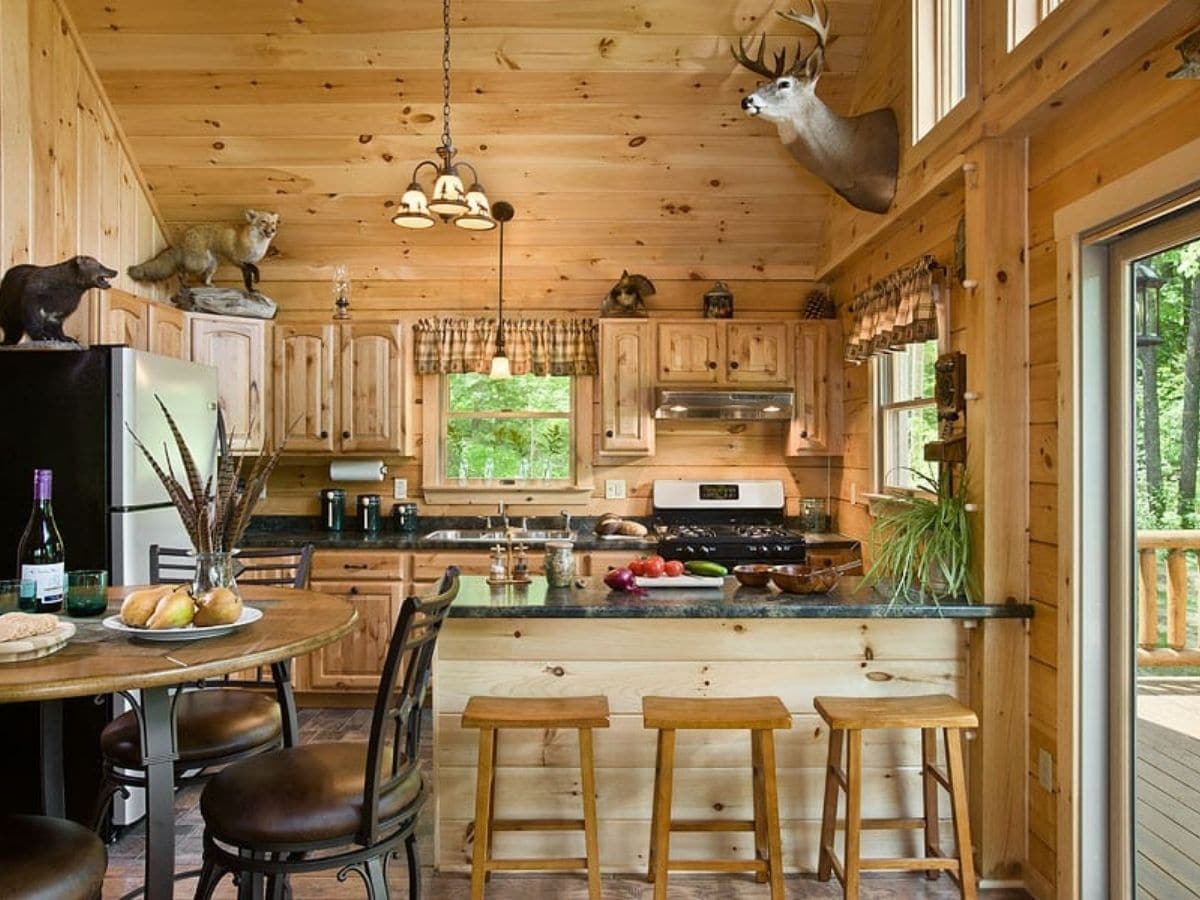 Upstairs you have a small open loft area by the doors to the bedrooms. This is ideal for a reading nook or to use as simple storage. Plus it give syou a wonderful view of the large windows on the front of the home.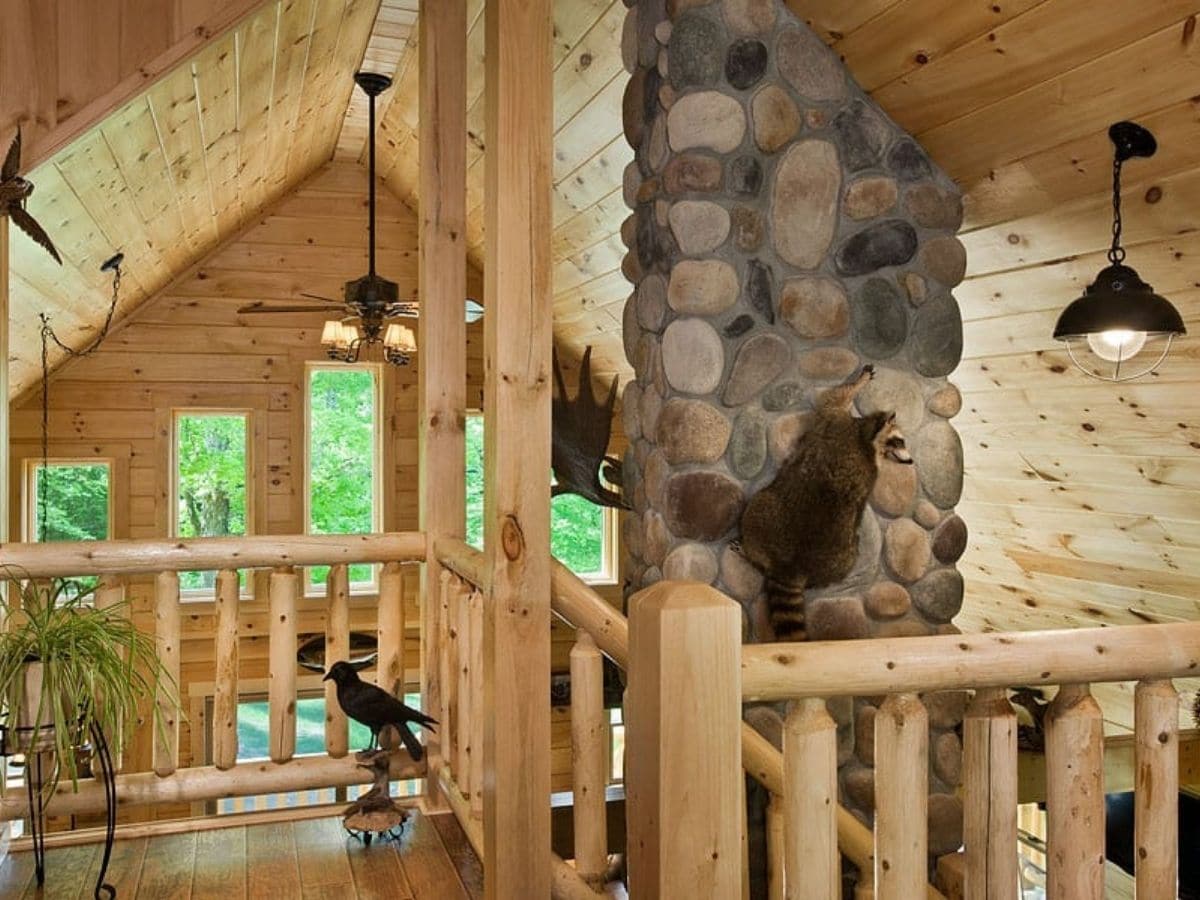 The bedrooms are comfortable with log walls, windows, and big areas for comfortable seating or multiple beds. If used as a master bedroom, it would be ideal for adding a small reading chair, loveseat, or an entertainment center to have a nice movie night in bed!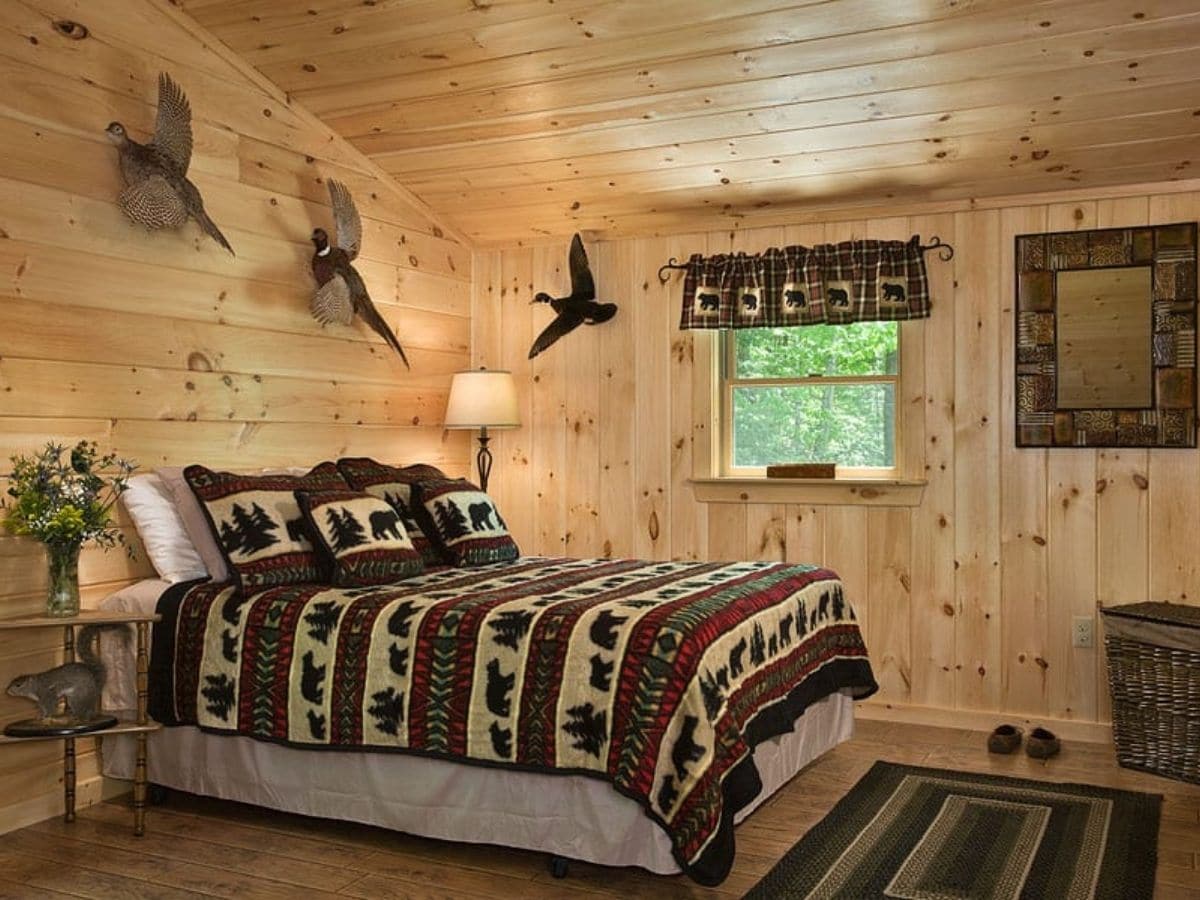 This bedroom is great for kids or a fun little guest room with twin beds that fit easily against the wall or could be replaced with a king-sized bed instead if you prefer.
It appears that on the second floor there are three doors off the landing so perhaps the layout includes a "Jack and Jill" bathroom between the two bedrooms. It could also jus tbe an additional storage closet. Regardless, there is no tiny bedroom in this house, but three comfortable spaces.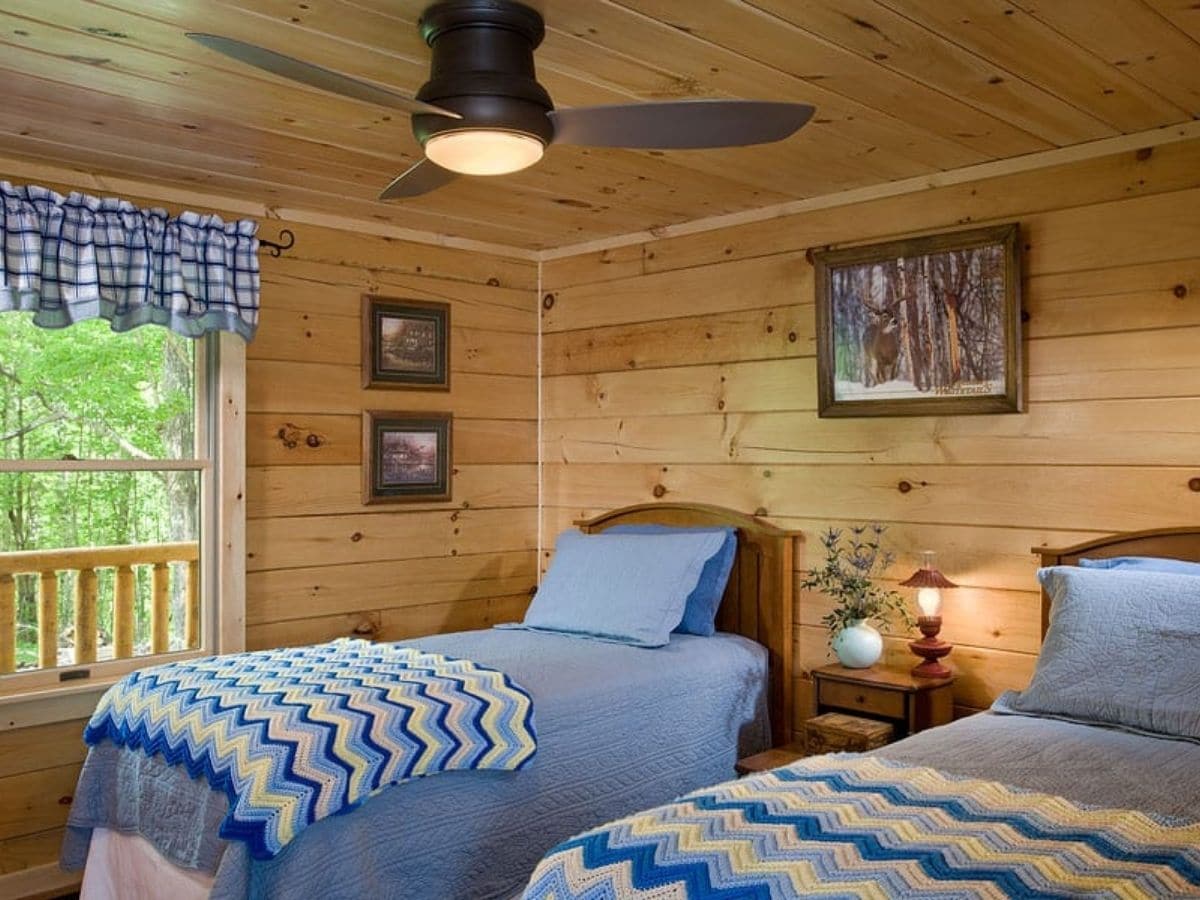 Want to see more? Check out the video tour below!
If you are interested in having this model built for your own log cabin home, check out the Coventry Log Homes website. You can also follow them on Facebook and Instagram for more updates on their latest log home plans. Make sure you let them know that Log Cabin Connection sent you their way.
More Log Cabin Kits and Tours