Honest Abe Log Homes present so many amazing models for building your dream home. This customized version of the Bellewood model called the "Daniel Home" is a true family home log cabin that is gorgeous both inside and outside.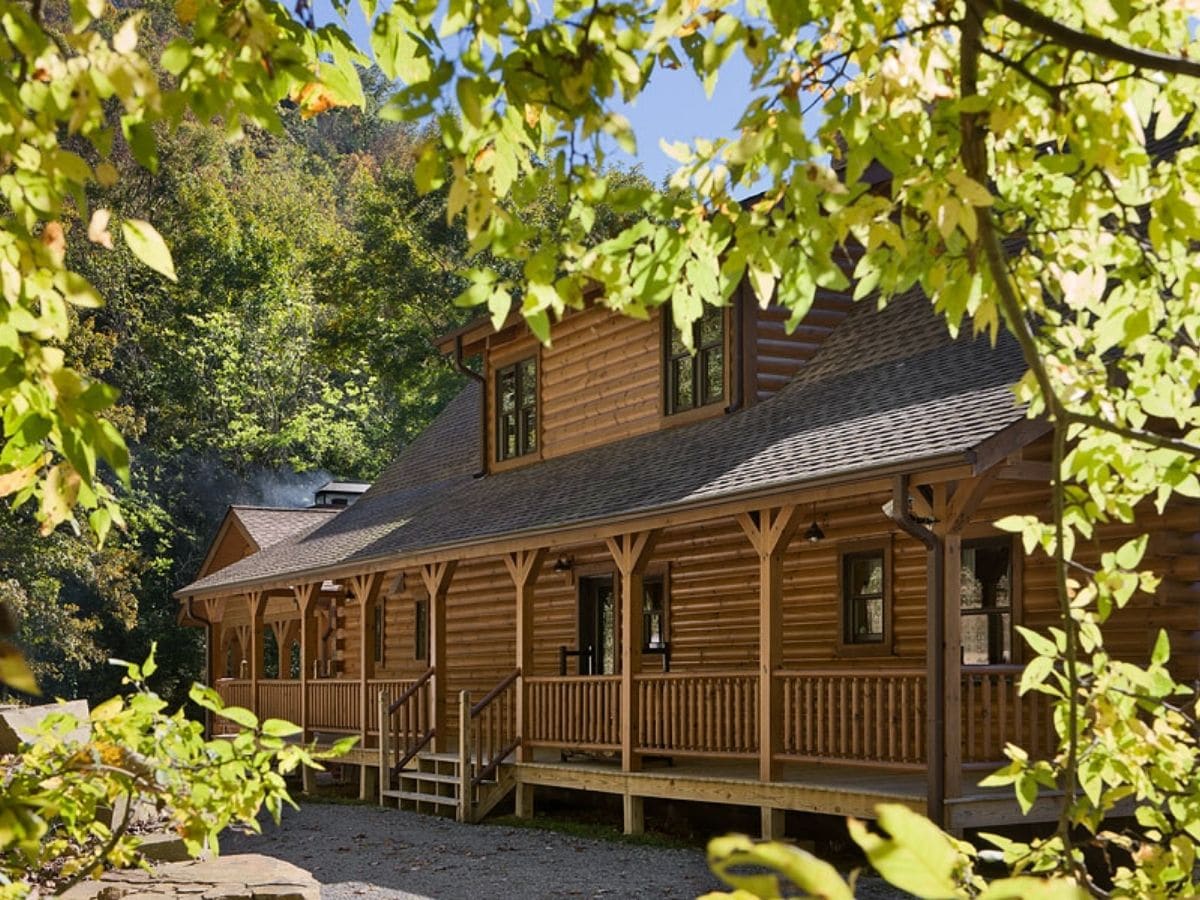 Log Cabin Size and Options
This home is a customized plan so not identical to what is listed below. However, the Bellewood model it is based upon fits the following statistics.
2,519 square feet
3 bedrooms
3 bathrooms
3 floors - walkout basement, main floor, and second floor
Large open great room with decks and porches all around home.
Noted to be the most popular log home kit they offer, the Bellwood model includes tons of beautiful porches and decking to create that outside entertaining space you love and want.
Cathedral ceilings, sizable open kitchen and dining space, and master suites with beautiful bathroom spaces adjacent to bedrooms make this a beloved model for many.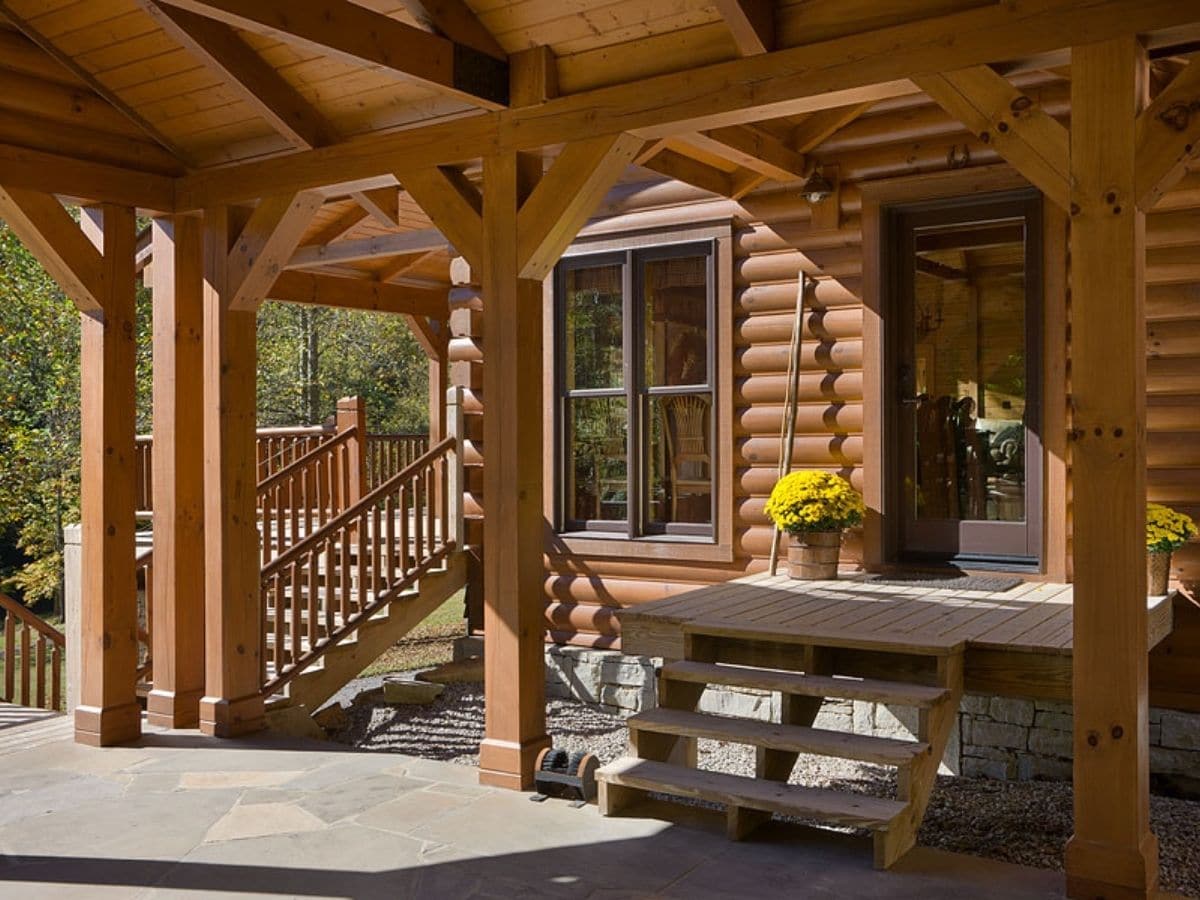 One of my favorite places in this home is this covered deck with an outdoor fireplace. You can enjoy sitting outside even in the colder months with this!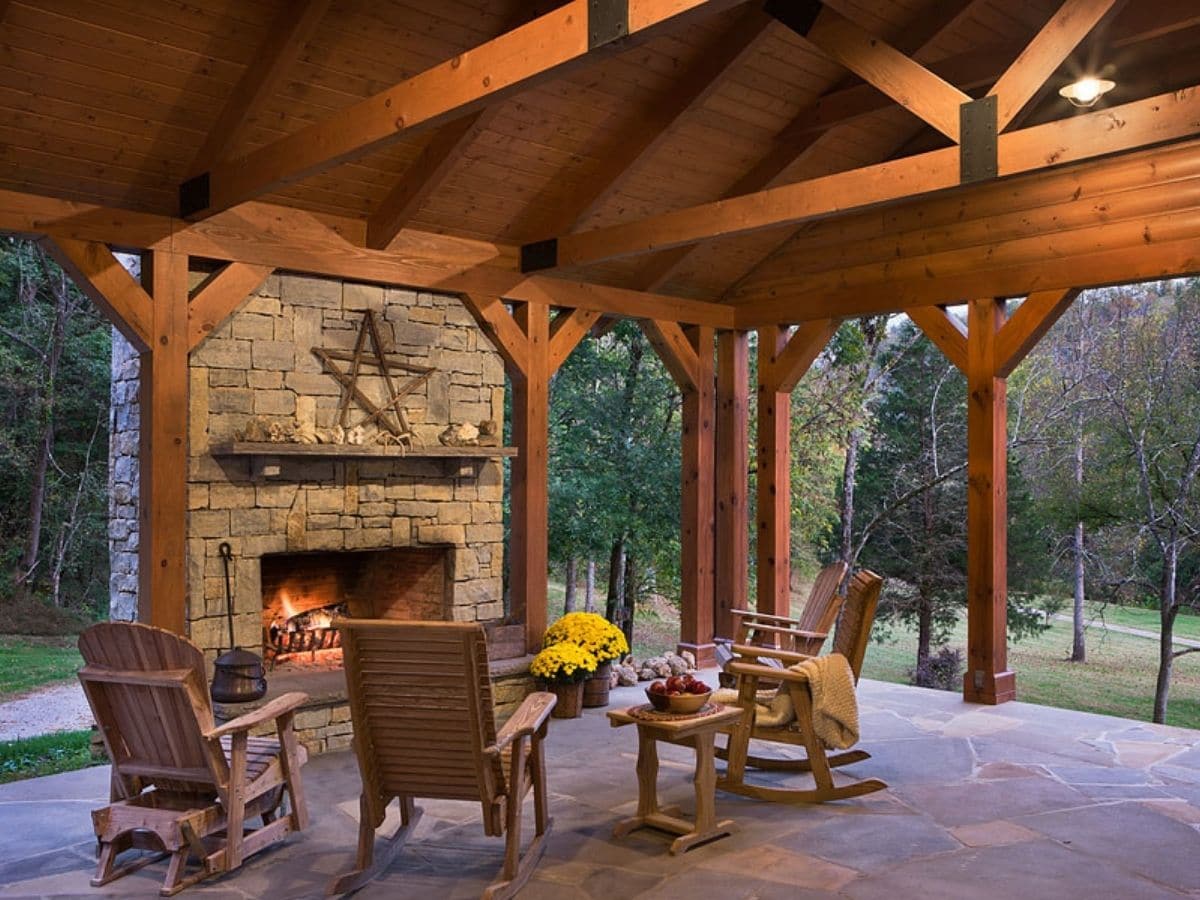 The back of the home has a walk out bottom-floor basement that is beautiful and convenient.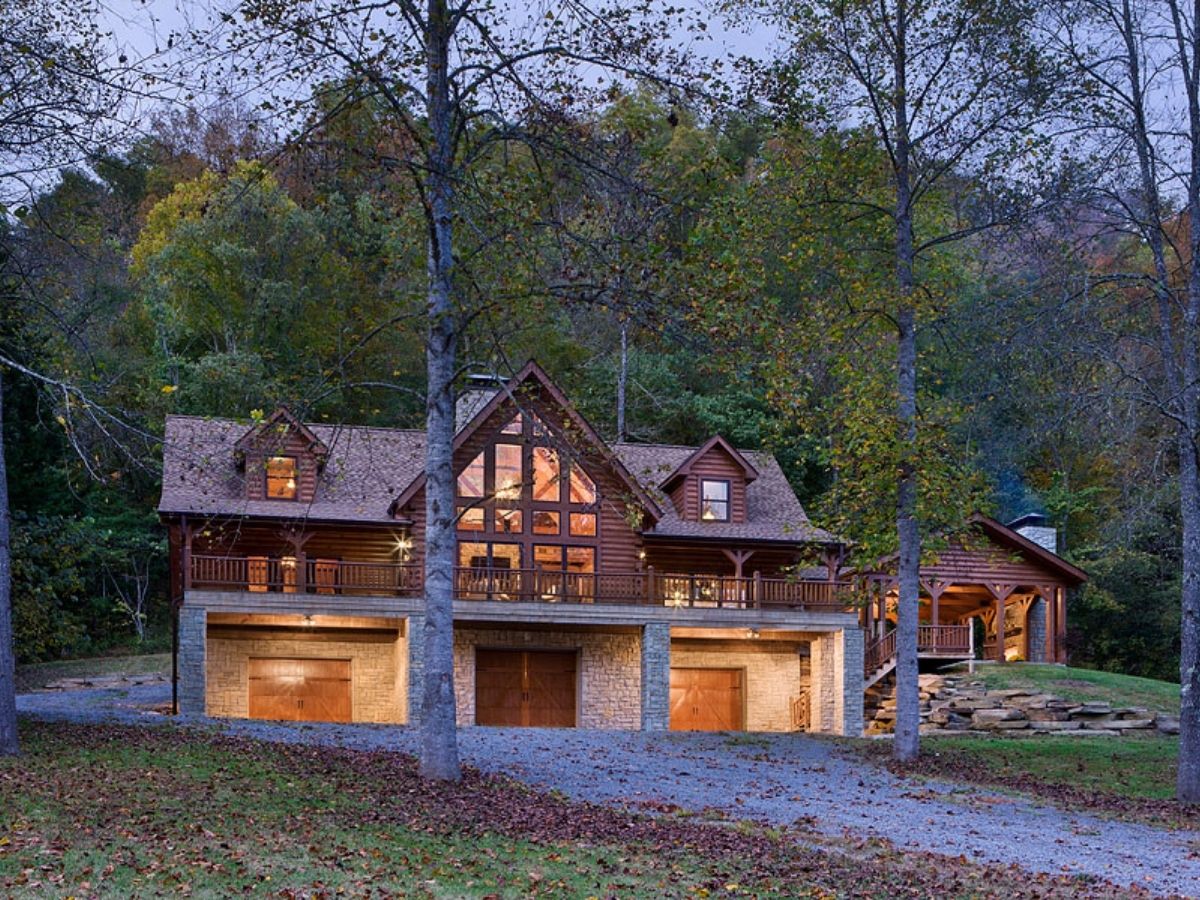 The "great room" in this log home is like many with a wall of windows featuring stunning views and tons of natural light. Little accents like the antler chandelier add character but also keep function.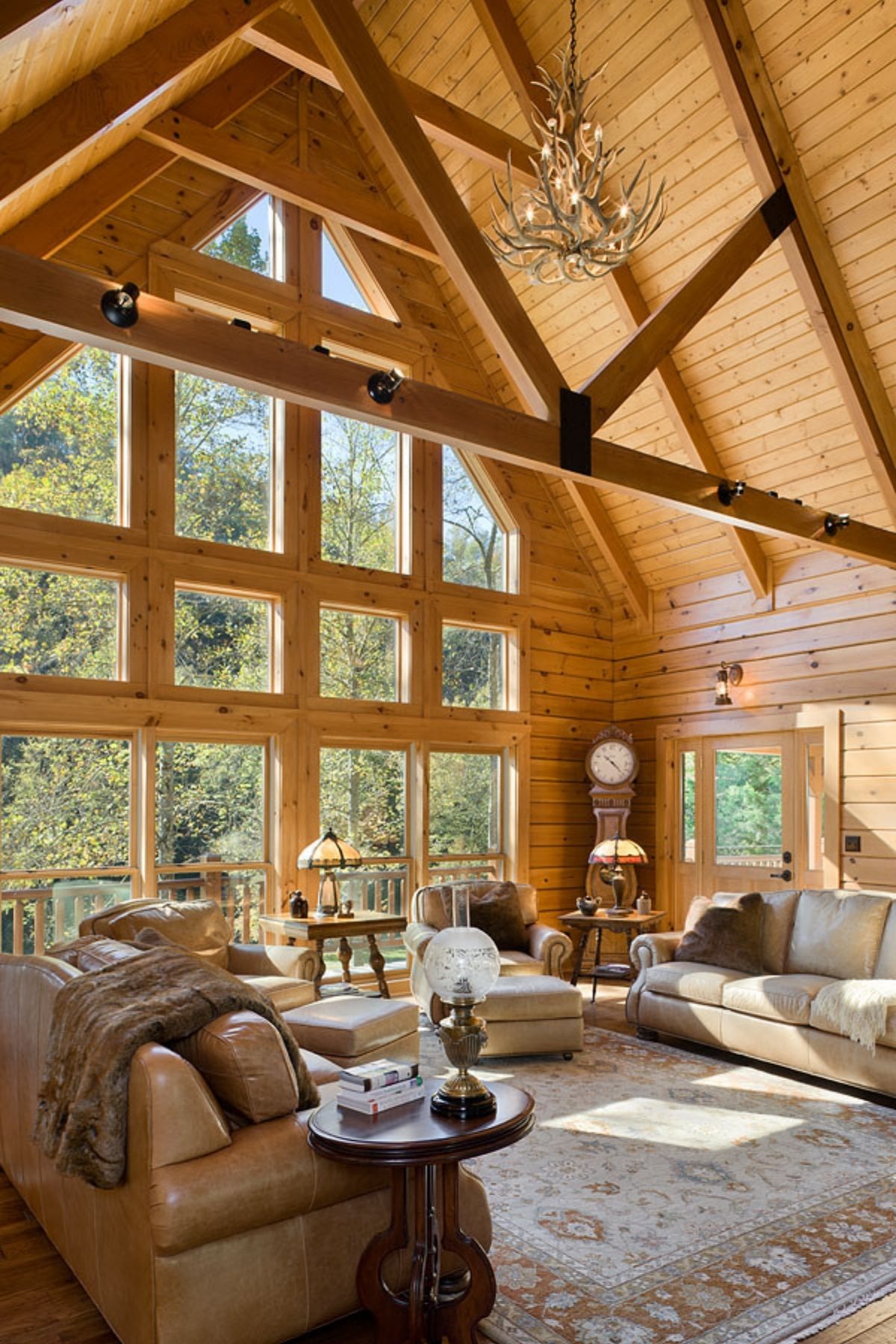 And a fireplace is in the center of the home for warm winter evenings indoors! In the image below you can see how the home is divided on the main floor with the great room opens to the dining room and kitchen as well as having a door leading right outside to the deck.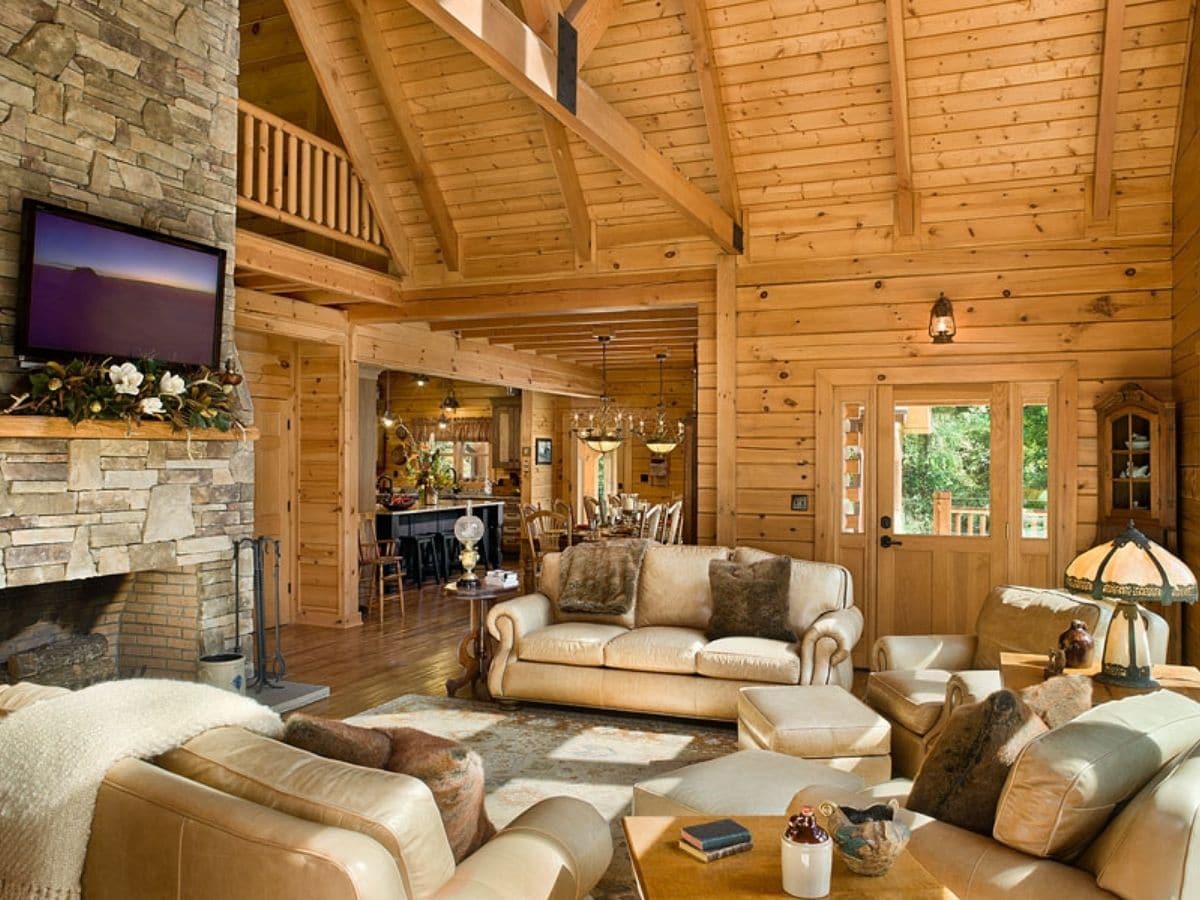 There is a lovely nook near the stairs that I am loving. This is behind the fireplace and at the entry with a little wine cabinet, chair, and entry table. It's the perfect space to welcome guests to your home.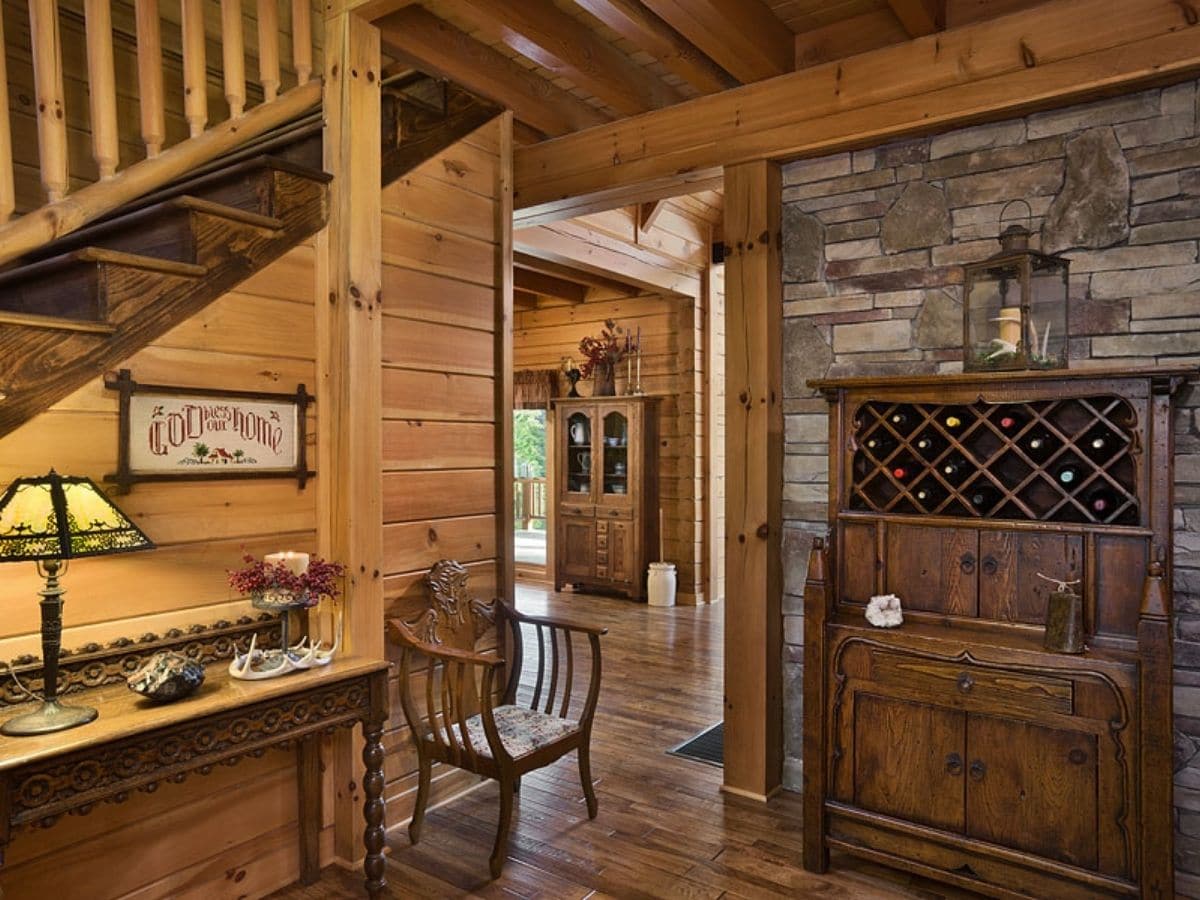 The dining room that is open to the living area and kitchen is surrounded by windows and doors out to the deck. Just look at the beautiful woodwork and this custom table they have added that is ideal for hosting dinner parties or family holiday events.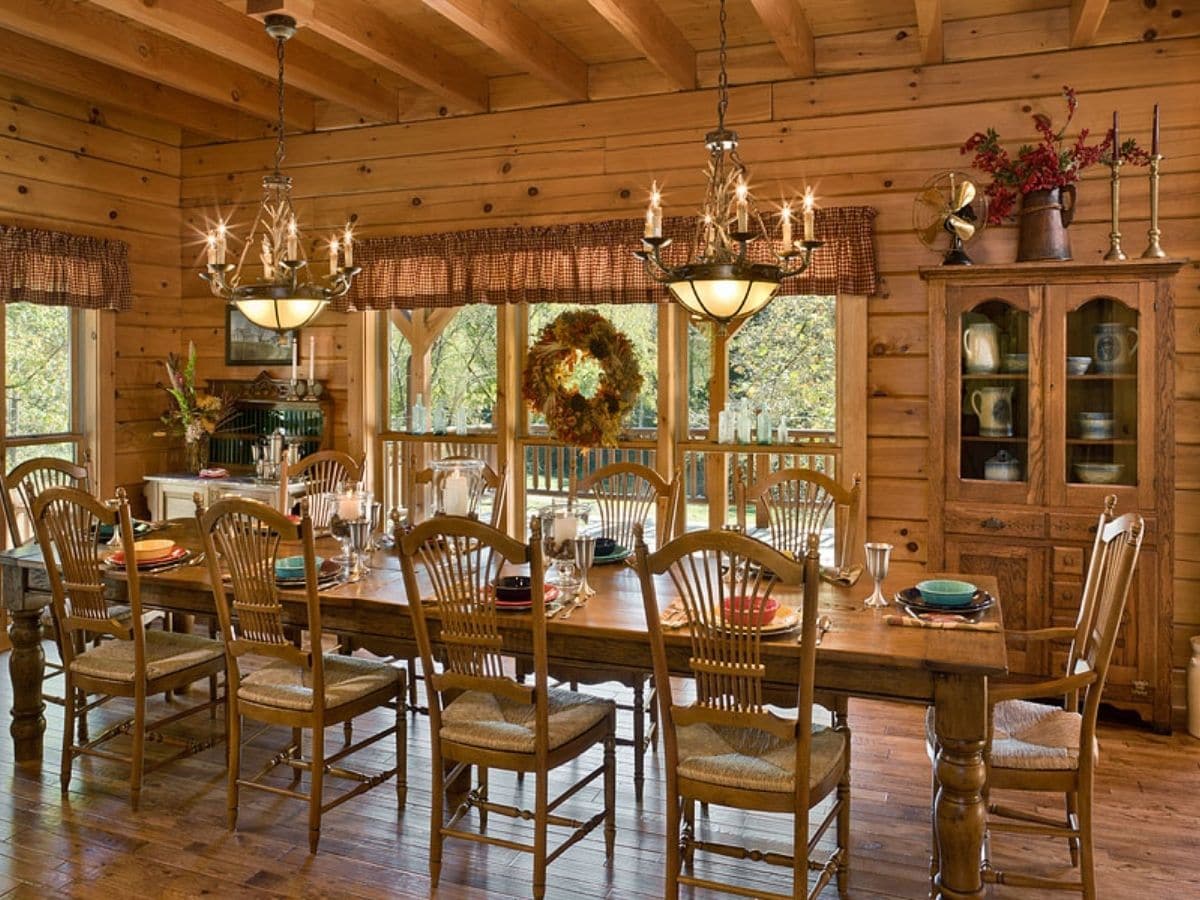 A perfect combination of modern and rustic is found in this kitchen. Log walls and gorgeous wood cabinetry surround modern stainless steel appliances and gorgeous backsplashes. Plus, you have this huge island bar in the middle, with a sink, that helps meal preparation become a fun family time!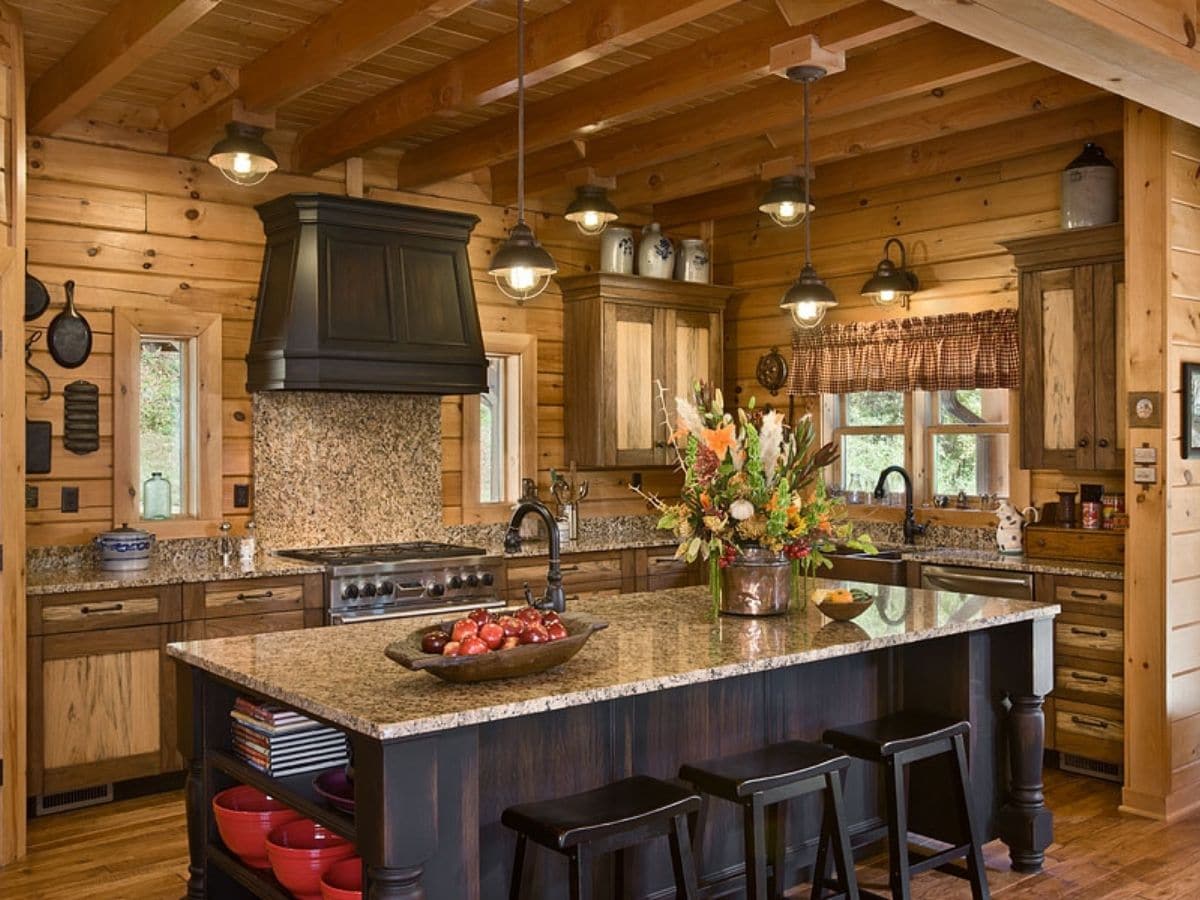 The master bedroom has its own private entrances to the balcony and decks with gorgeous views. Plus, this tall open space is just welcoming.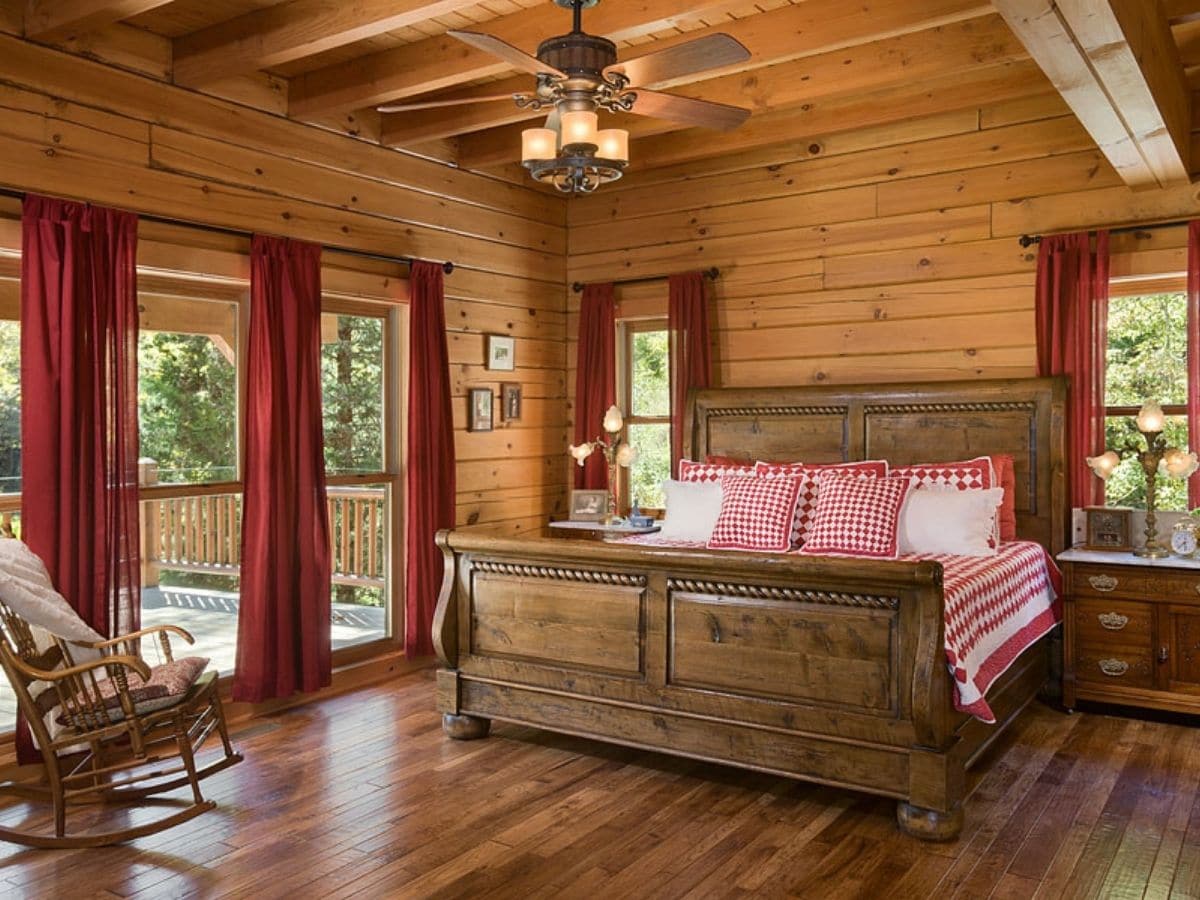 And the bathroom - talk about an oasis! it includes a gorgeous vanity with tons of storage, a corner shower, and this beautiful soaking tub.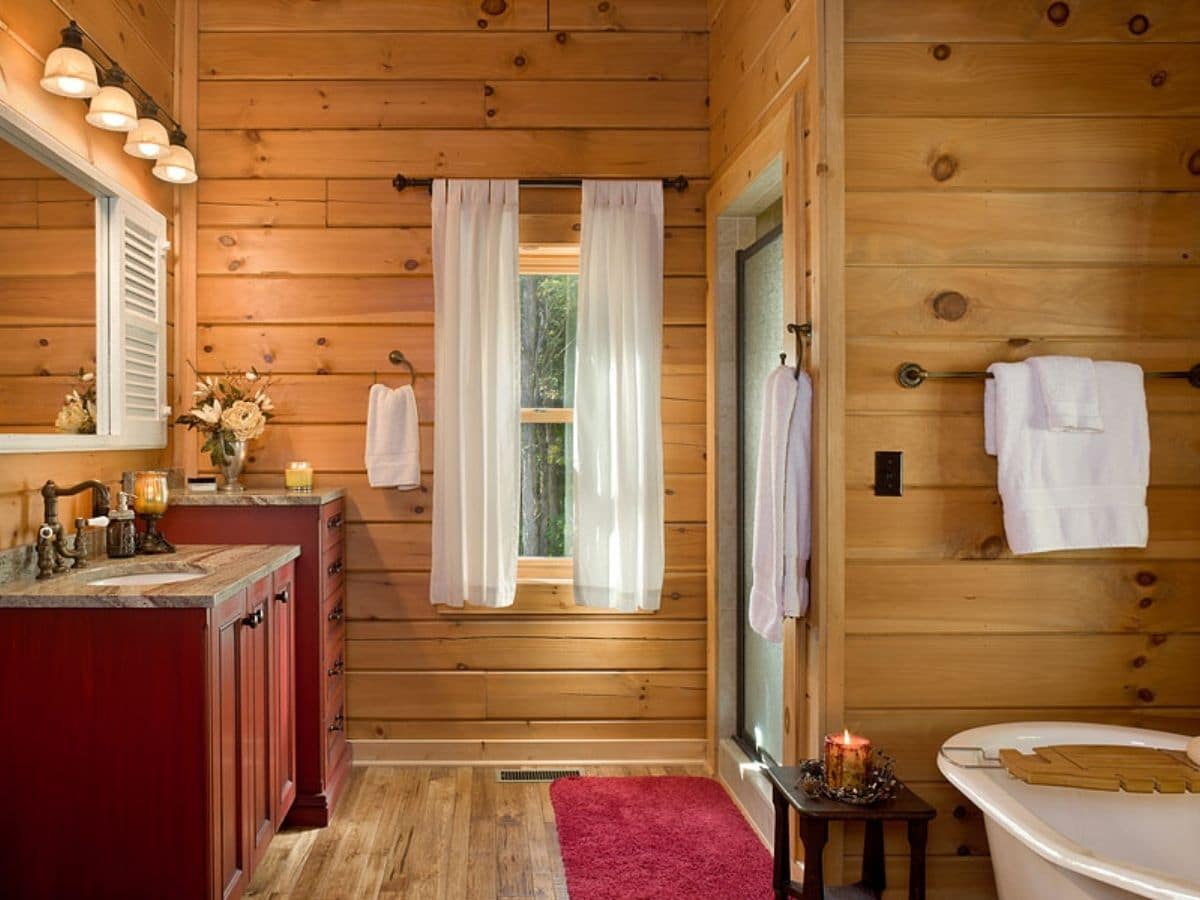 Other bedrooms include the ones on the second floor with unique window views that create a cozy little nook for a reading chair or sewing table.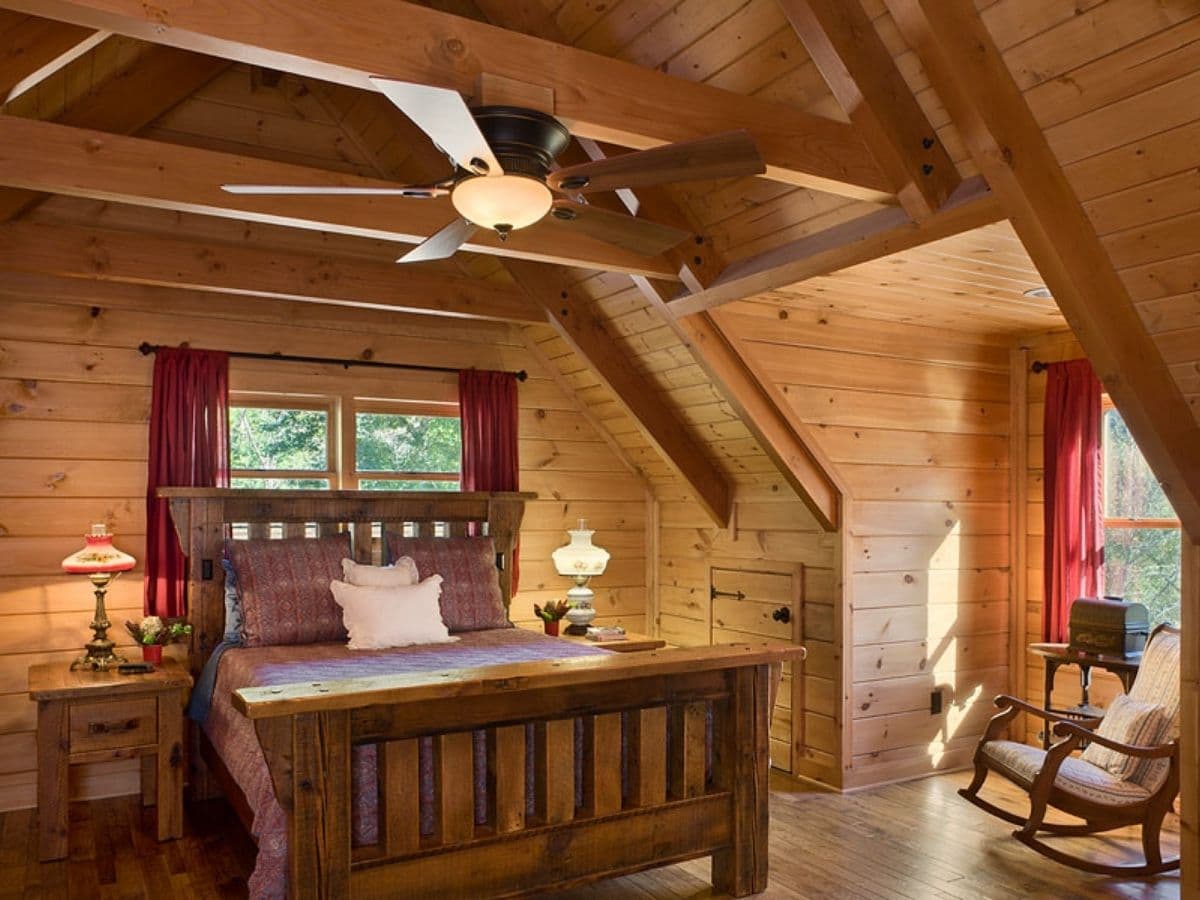 And a second bathroom is filled with a combination of classic wood walls and the rock chimney as a wall.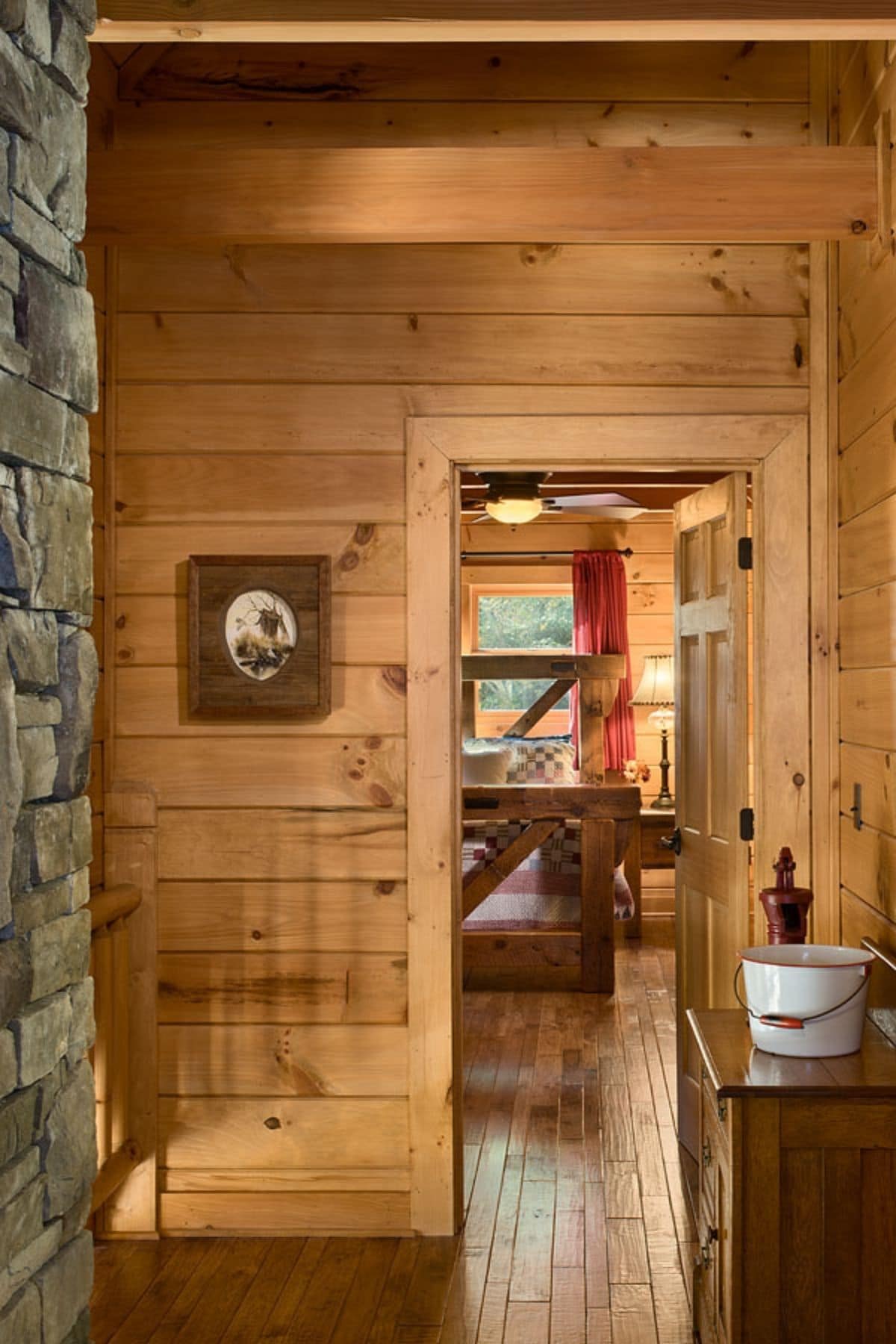 For more of a look at this model in a different setting, check out the virtual tour video below!
If you are interested in this model home, make sure to check out the Honest Abe Log Homes website. You can also find more information about their builds on Facebook, Instagram, and YouTube. Make sure you let them know that you found them via the Log Cabin Connection.
More Log Cabin Kits and Tours