While log cabins are always preferred, sometimes a cabin comes in a different package. This cedar cabin s not a traditional log cabin but has all of the charms in a unique open floor plan that is ideal for turning into your home.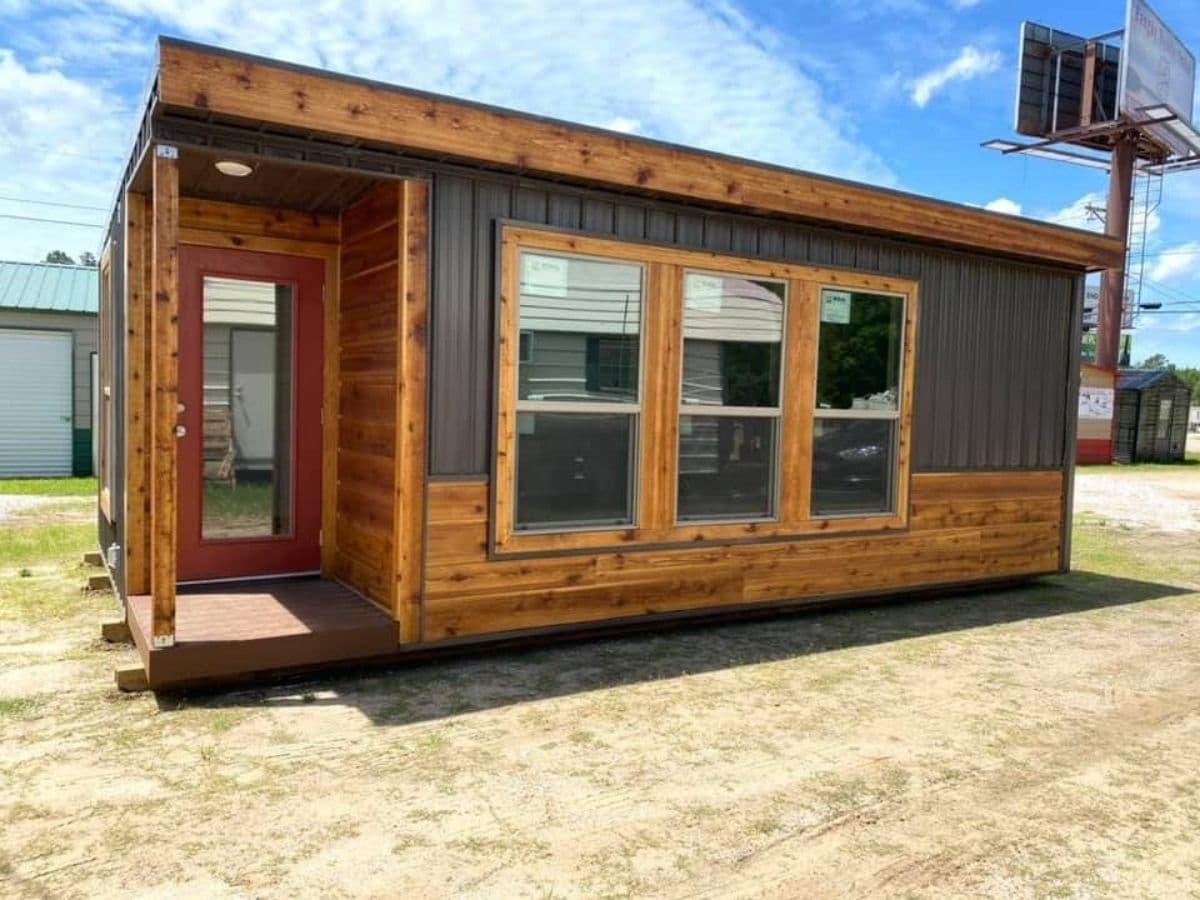 This cedar cabin is a smaller space at only 336 square feet total. It measures 14' by 24' with a single open space that is both living room and bedroom. While the home is open and airy, it is ideal for a getaway, single individual, or couple. There are no private bedrooms in this home for family stays.
It includes a sizable bathroom with a toilet, sink, and shower with additional storage cabinets. The kitchenette is small with just a 2-burner cooktop and mini refrigerator.
The exterior is partially cedar and partially vinyl siding. A fusion of modern tiny homes and rustic log cabins that is inviting and comfortable.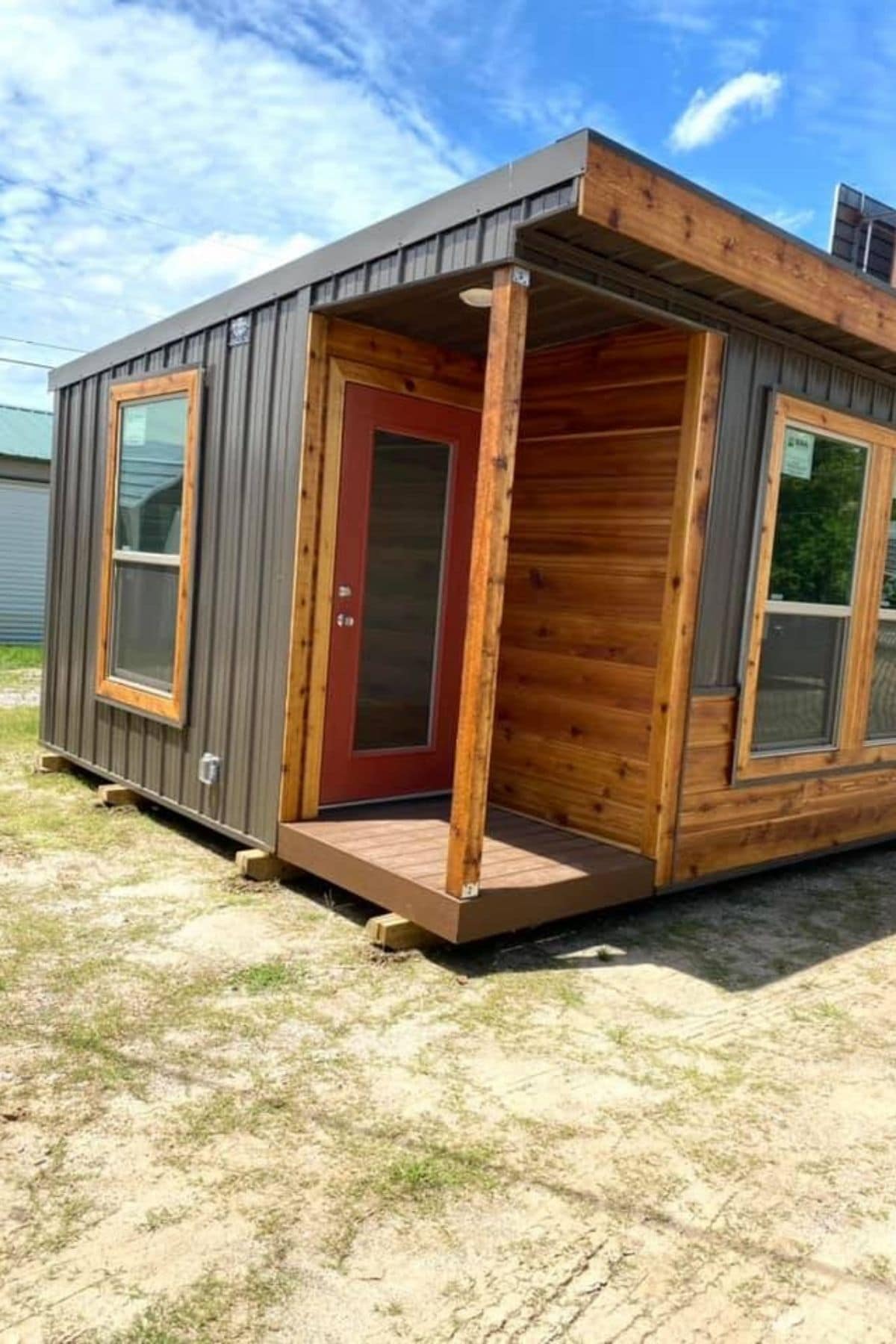 The inside of this cabin is simple and clean. Painted drywall walls are simple and fit well against the wood trim and corrugated metal ceiling. Well insulated, but still rustic and simple keeping costs low.
You enter the home and are greeted immediately by the bed against one wall and a variety of chairs and open areas for seating.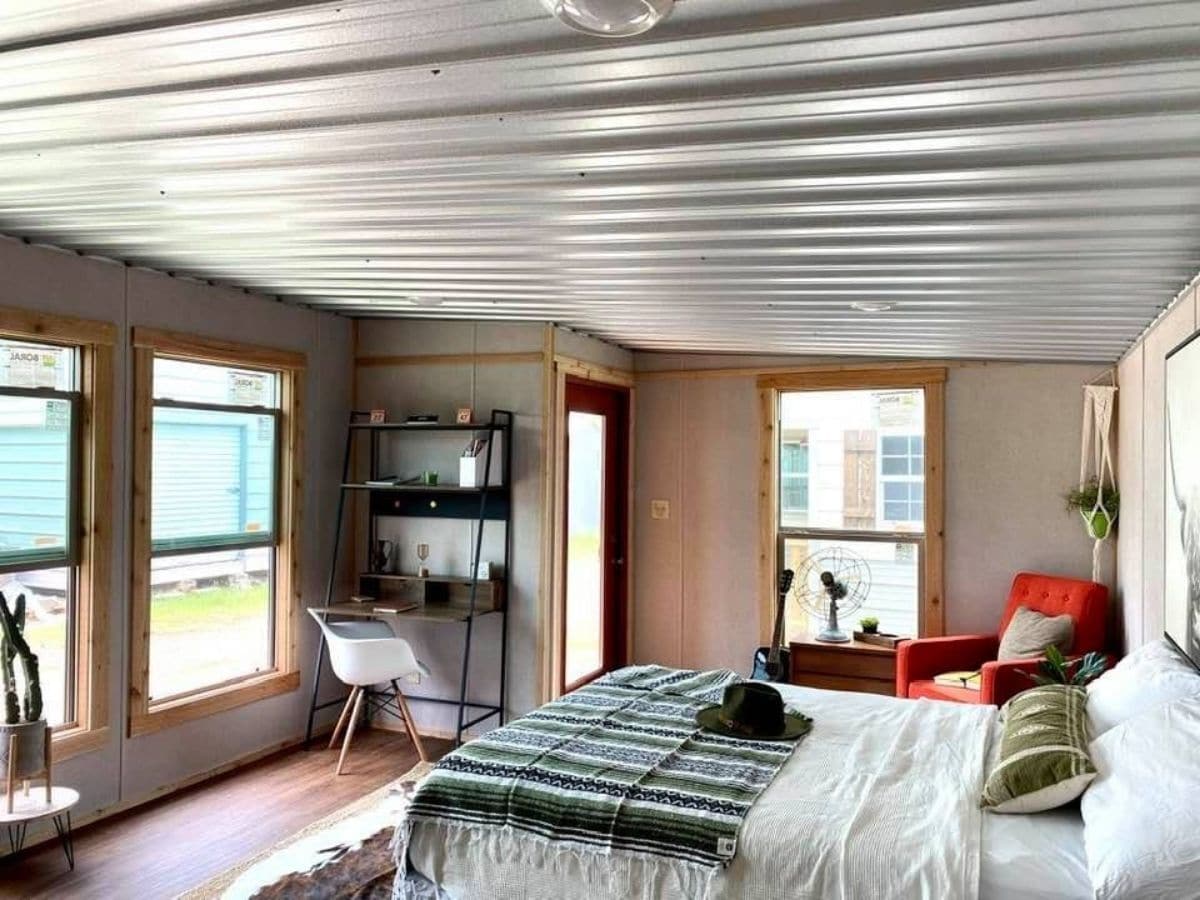 I like the corner chair for lounging and it appears that space is large enough that you could put a loveseat or even a futon if you prefer. If using this as a family home, there is room for bunk beds and a partition with little change needed to the layout.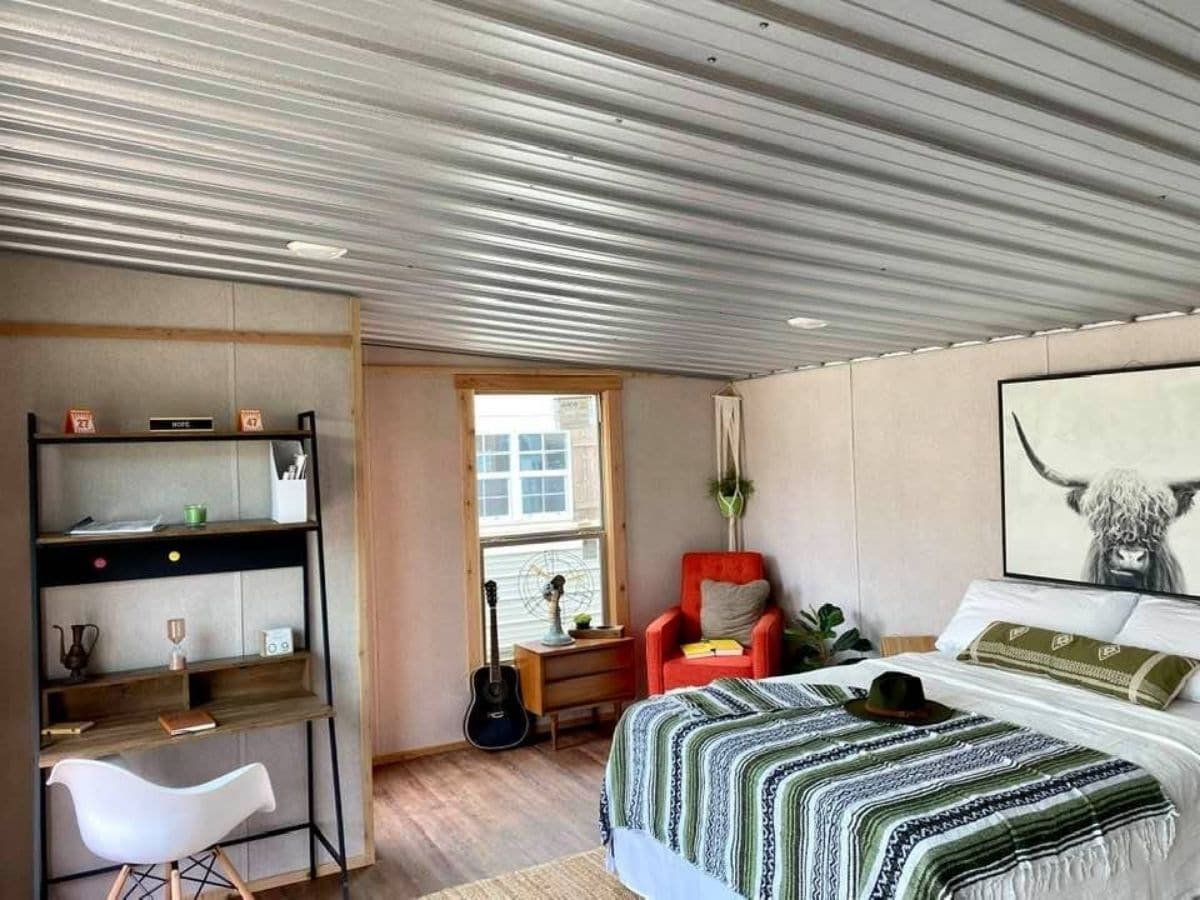 This corner holds a desk and chair, but it too could be used for another seating area or just storage and bookshelves. Again, the open floor plan makes it easy to adjust the space to suit your unique needs.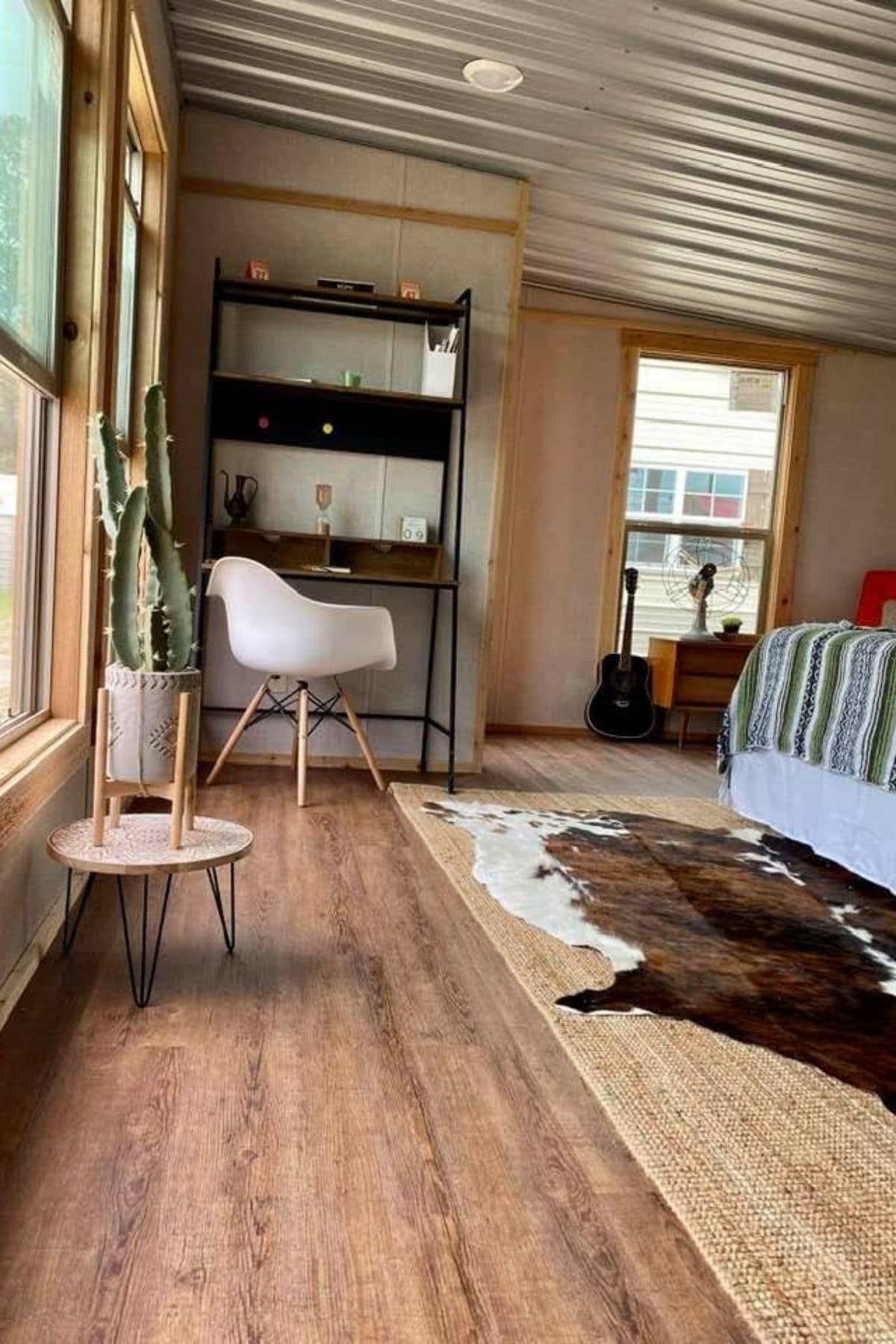 One thing about small spaces like this is that you use imagination and creativity to make room for everything you need. I don't see television in this layout, but I can easily see mounting one on this wall instead of the desk and using it for a cozy little living room area.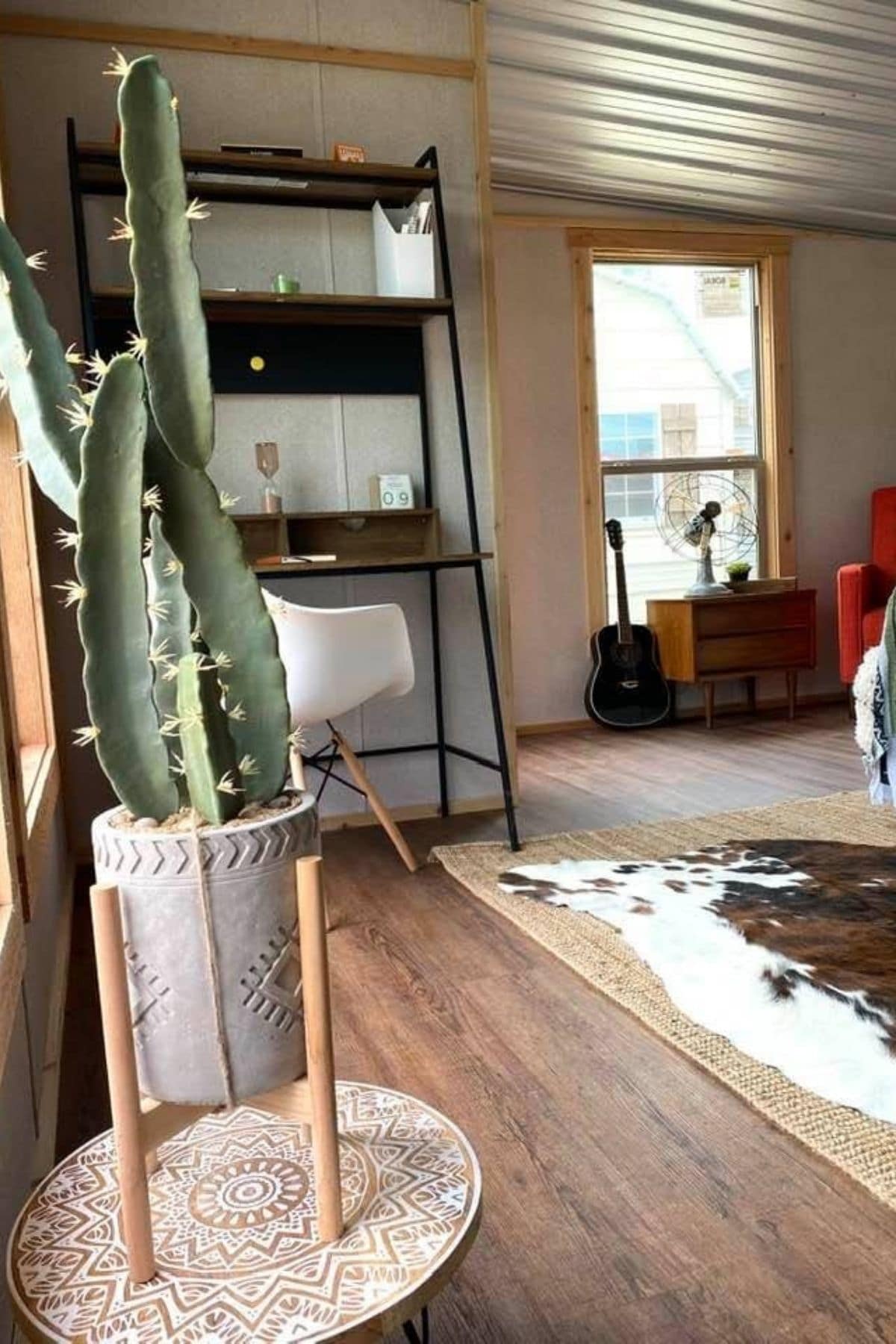 Of course, if you work from home as I do, then a corner desk is a must. This is large enough of an area to hold a desk, shelves, and that television for lounging after your work is done.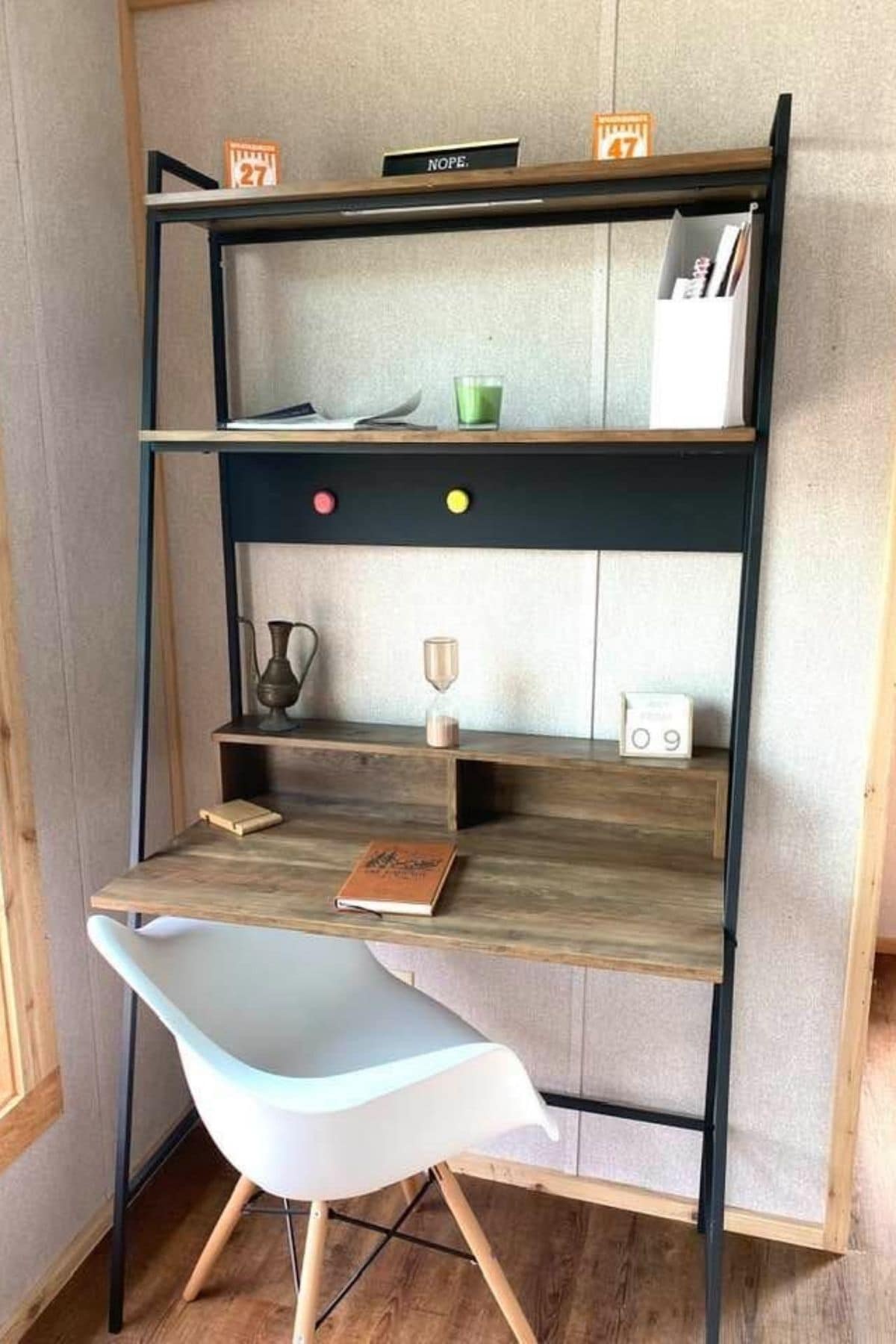 My eyes immediately fell on this cute little chest of drawers or side table. It has that mid-century modern look that I personally adore!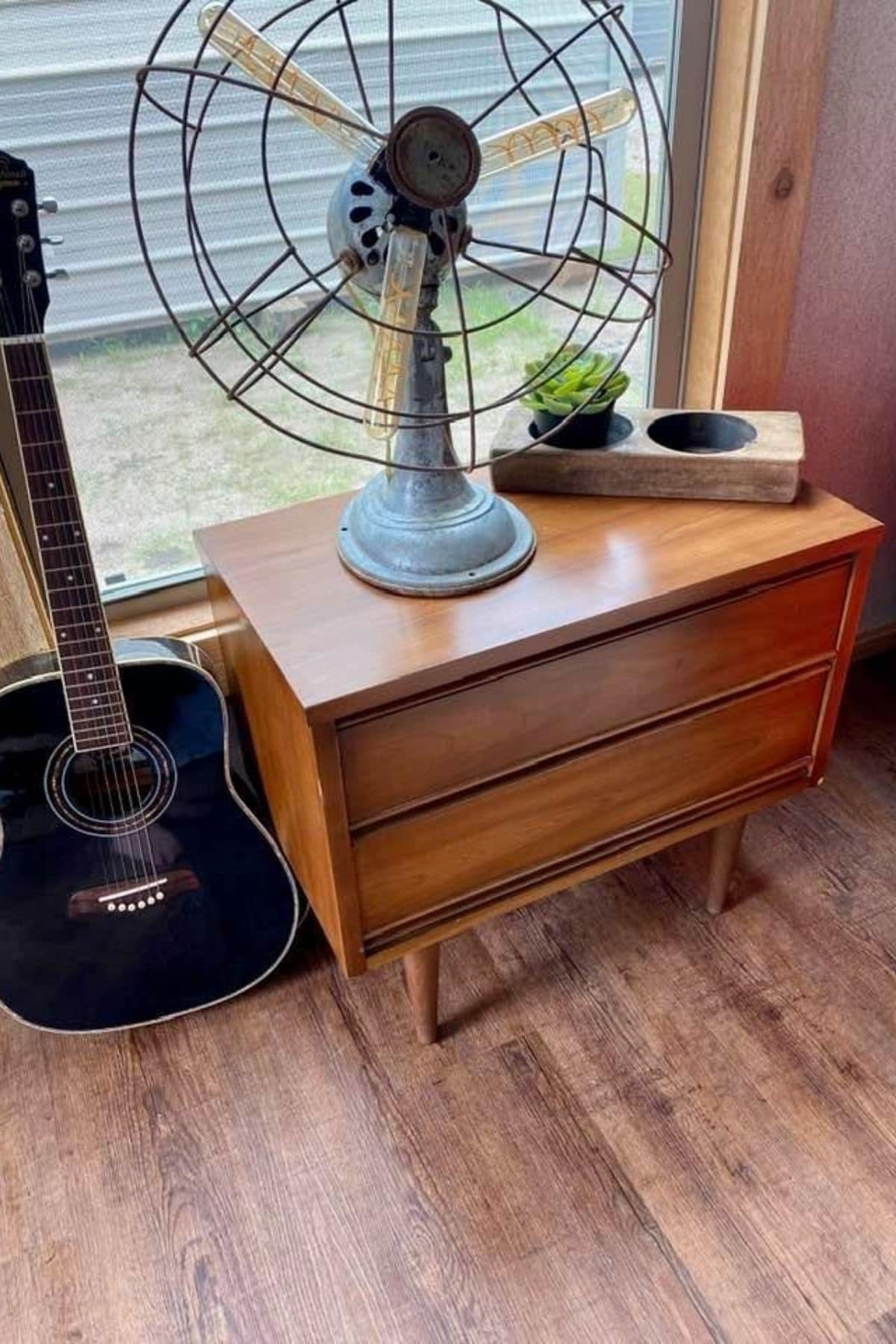 Most cabins have some sort of kitchen, and this one has a small corner kitchenette. If you need more, there is room to adjust and add a regular kitchen, but this model shows an open space with chairs and a table and the kitchenette to the side in a corner.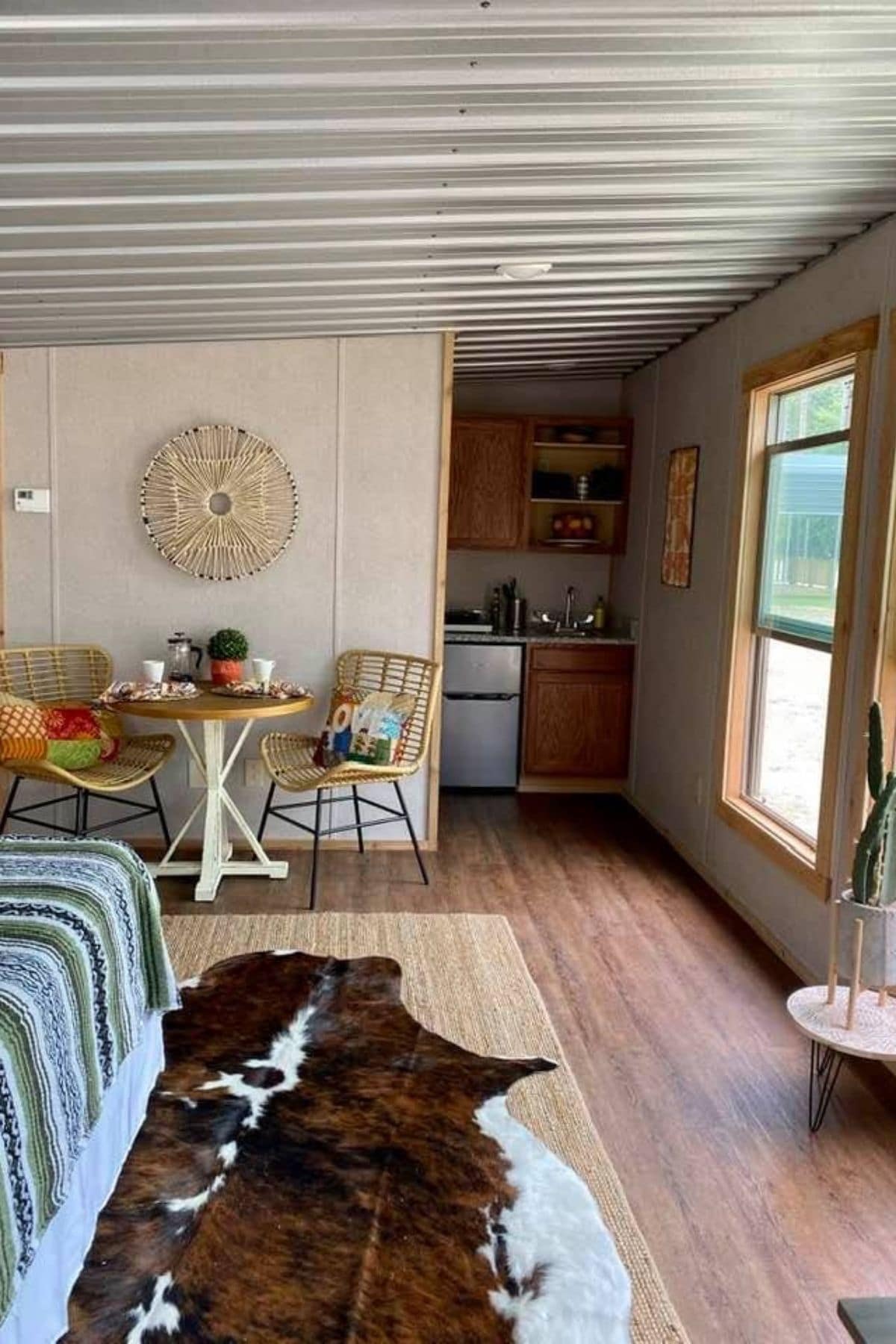 This area is open enough it could be transformed with a sofa, loveseat, futon, or big cozy chair if you don't want the dining nook option.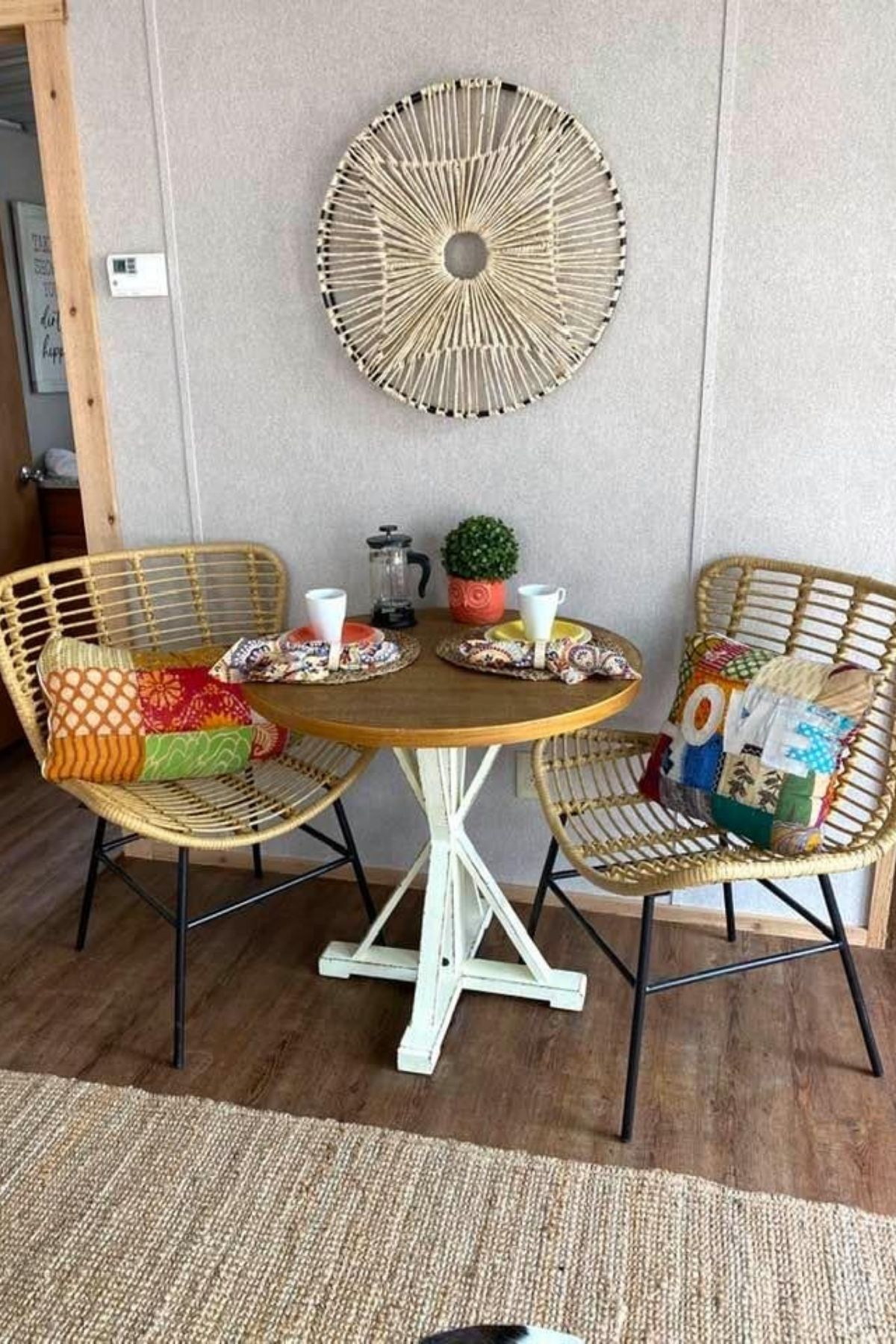 Of course, the kitchenette here is simple but functional. A few cabinets, a sink, refrigerator, some open storage, and a hot plate are all you need for basic meals.
I am loving the rustic southwest-style decor in this home. It feels like a cowboy is coming home to settle after a day of roping cattle!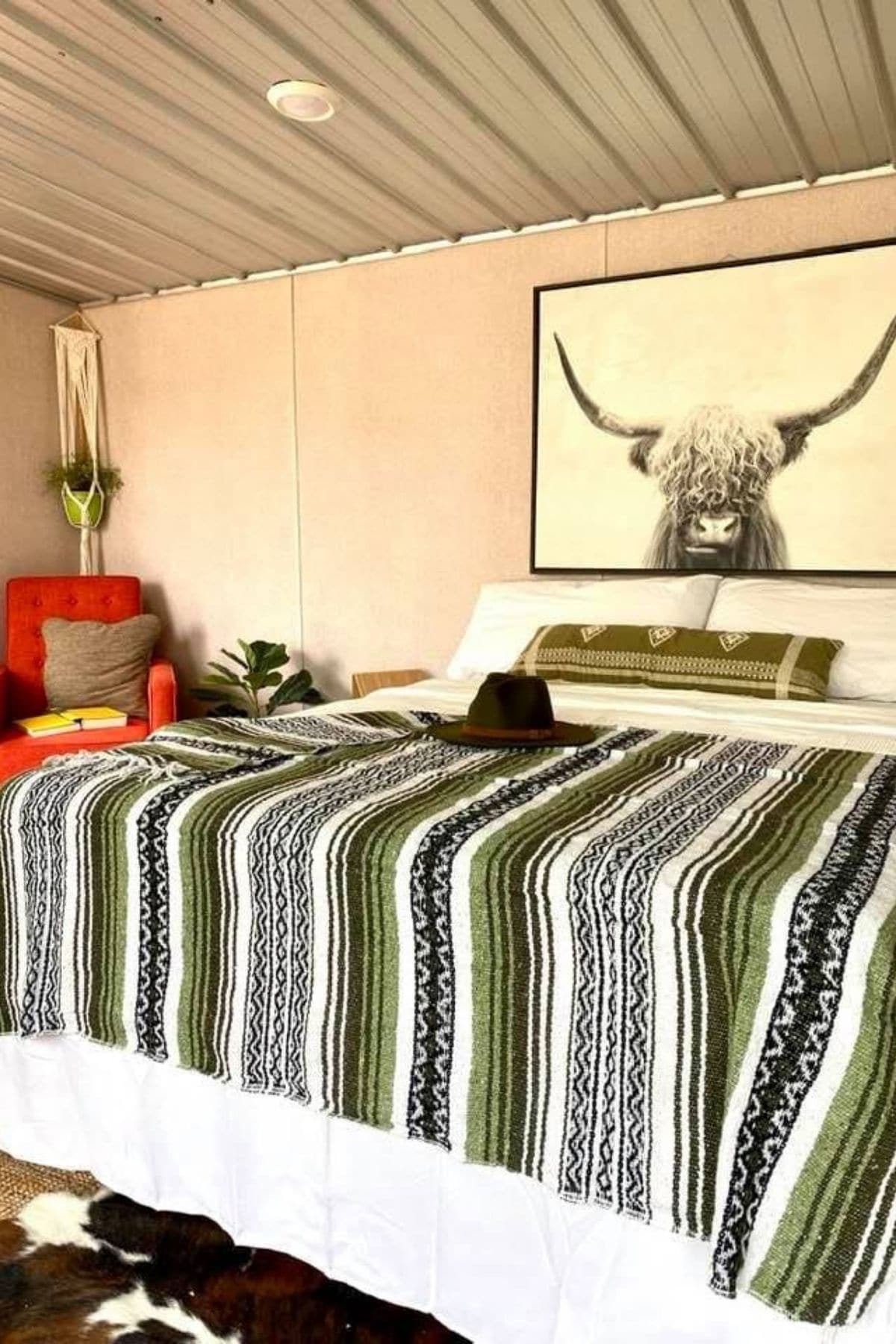 The bathroom is a simple affair with everything needed fitting into the space easily. A corner sink unit has storage beneath with a wall-mounted mirror above that could be replaced by a medicine cabinet for more storage if you prefer.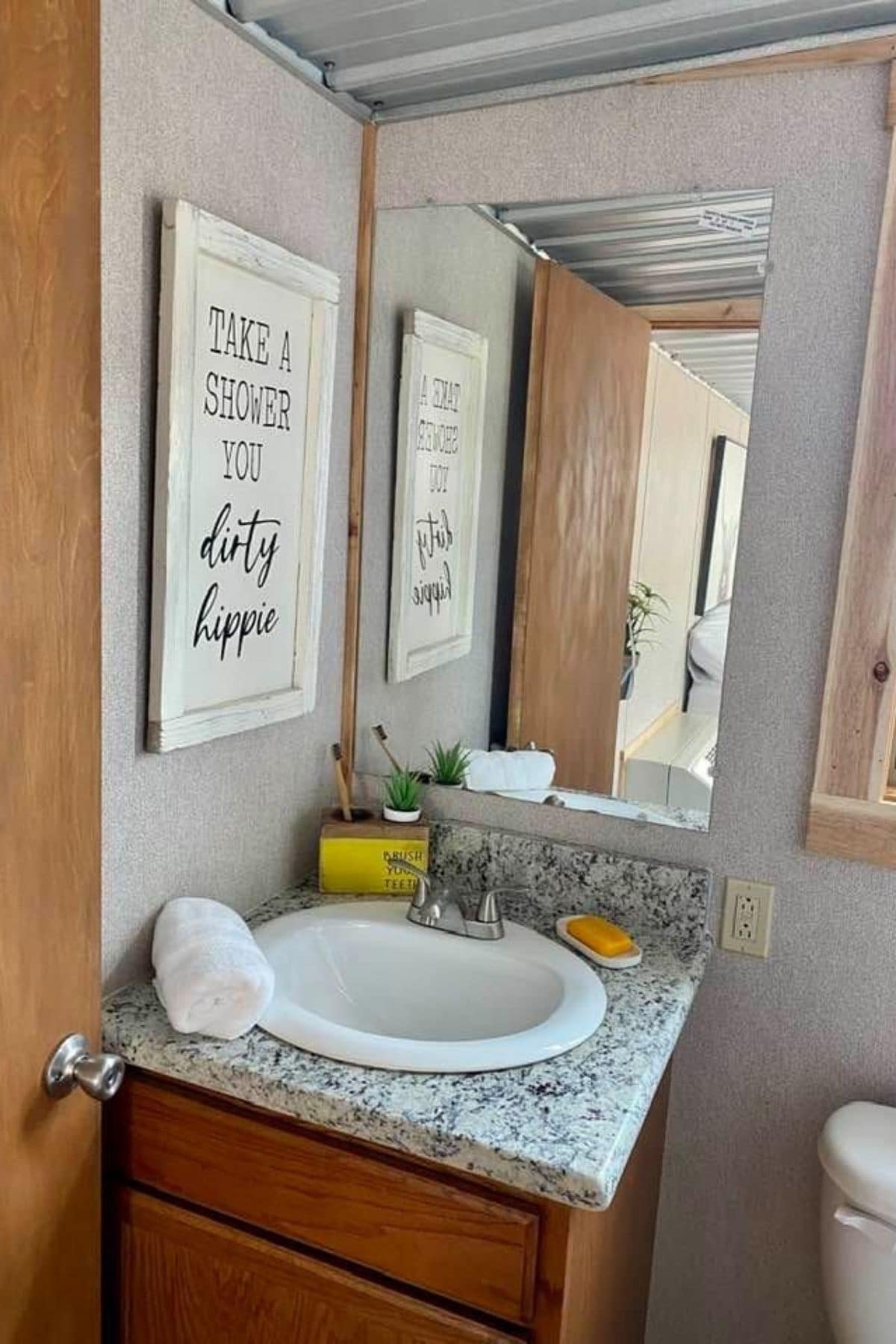 A flush toilet is between the sink and shower stall with a window above for airflow and light. curtains or blinds can give you privacy here of course! The simple shower stall has a curved curtain rod to make it feel larger without sacrificing space in the bathroom.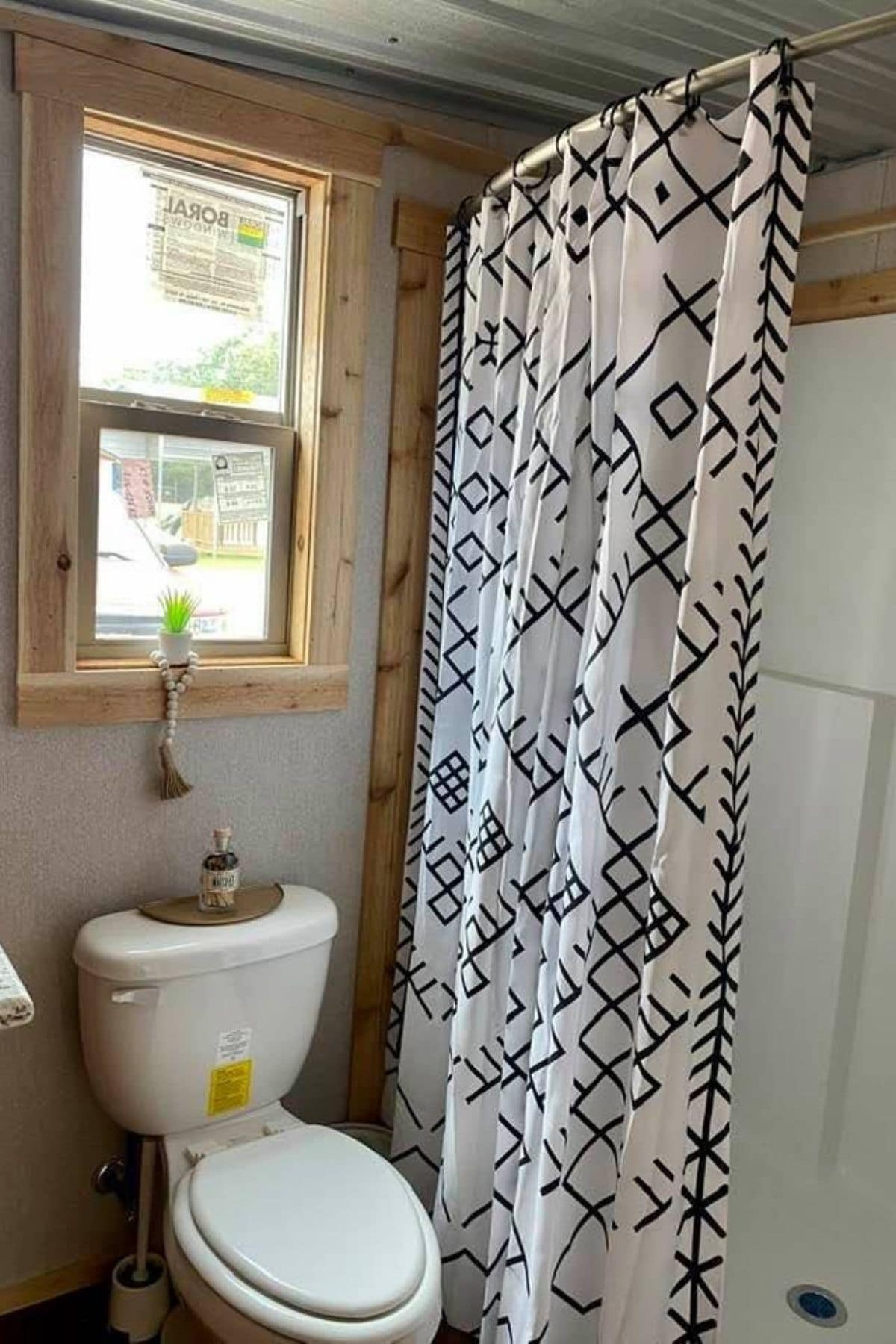 We found this cedar cabin on the Facebook group, Tiny House Marketplace. You can learn more about how to buy this or similar models via that listing.
More Log Cabin Plans and Information