There are way more than 10 great reasons to buy a log home, but here are the top ten. The decision to buy a log home is a big investment and involves balancing practicality, emotion and careful planning to get your money's worth. The great news is that a log home creates an immediate feeling of warmth and "homeyness" while still offering energy efficiency, long-lasting durability and a great return on investment if you decide to sell.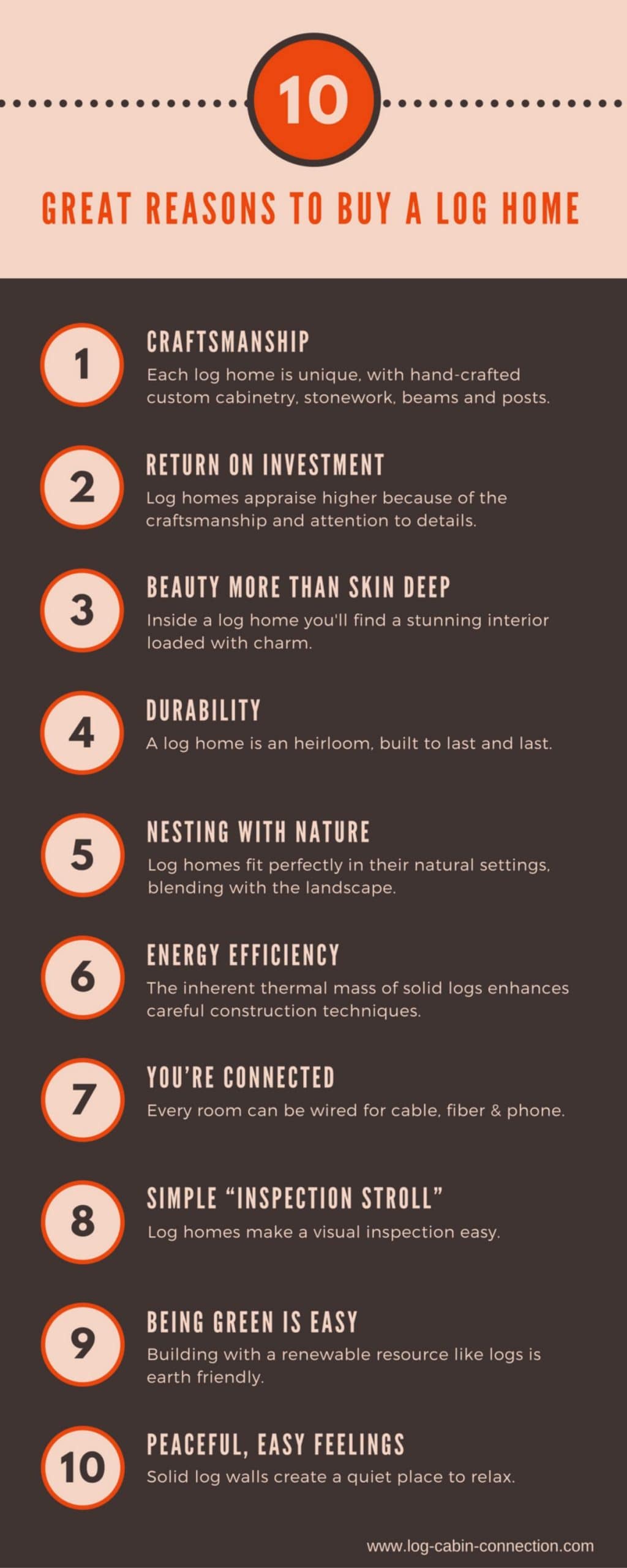 1. CRAFTSMANSHIP
Each log home is unique, with hand-crafted custom cabinetry, stonework, beams and posts. From the cathedral ceilings to the plank cabin floors, local craftsmen take the time & extra care required to make sure the finish work is the best possible.
2. RETURN ON INVESTMENT
Log homes appraise higher than a conventional home because of the commitment to quality construction, craftsmanship, and attention to details.
3. BEAUTY THAT'S MORE THAN SKIN DEEP
Log cabins are naturally gorgeous on the exterior, but step inside a log home and you'll also find a stunning interior, loaded with charm. You'll see hand-worked character log posts & beams, hand-laid native stone fireplaces, stairways & railings crafted from heavy timbers & materials varying from iron to pine. Our cabin kitchens are custom-designed with granite countertops and cabinetry built on site and made for entertaining. We hand-brush all our varnish & paints for a finish you'll want to run your hand over.
4. DURABILITY
Logs last & last… & last. A log home is an heirloom, and by using the best log stains and caulks you can help keep your log home looking its best. Large overhangs & deep covered porches protect the homes from sun & weather.
5. NESTING WITH NATURE
Log homes fit perfectly in their natural settings, blending with the landscape, the colors of nature, & the topography. A quality-built log home enhances its surroundings and the neighbor's too.
6. ENERGY EFFICIENCY
Log home builders seal the homes properly between the foundation & logs, between each log, & where logs meet the roof. Log homes are generally better insulated than conventional homes and that means money saved in energy costs. Log homes have what's known as "thermal mass", a property of the logs which allows the walls to collect & store energy during the day & then radiate it into your home, keeping it comfortable all year long, and making it an inviting space to live in.
7. YOU'RE "CONNECTED"
Every room in our log homes is wired for phone and TV (satellite or cable). Even if this is your vacation home, you want to be in touch with family & the world.
8. SIMPLE "INSPECTION STROLL"
No one wants a high-maintenance home. You can easily walk around a log home and do a visual inspection for potential problems like insects or mildew. Conventional homes can hide insect infestation & mold inside the exterior wall cavities, creating damage. We have all our homes treated professionally for insects, and our log stains are specially formulated to repel moisture & mildew for years to come.
9. BEING GREEN IS EASY WITH A LOG HOME
When you build with a renewable resource like logs, you're building "earth friendly". And energy efficient log homes not only save you money on energy bills, you'll use less electric power and gas, and that's as green as it gets!
10. PEACEFUL, EASY FEELINGS
Thanks to the natural thermal mass property of logs, which not only helps with energy efficiency but also deadens sound, your log home will be a quiet place to relax. "Peace of Mind" is built into every log home. SO, WELCOME HOME…
Hopefully these top 10 reasons to buy a log home will reflect your concerns and convince you that it's time to pursue your dream.
More Log Home Education Pages:
Log Cabin FAQs Answers to many log cabin FAQs and other questions about building with logs and timbers.
Log Cabin Glossary Defines Common Terms This log cabin glossary defines and explains many common terms encountered when researching log homes and cabins.
Get a Log Home Education Getting a log home education involves utilizing the many cabin resources available.
9 Interesting Facts About Log Cabins Think you know all about log homes? Learn these 9 interesting facts about log cabins.
How to Renovate a Heritage Log Cabin Interior - DIY Style See how one family learned how to renovate a heritage log cabin interior - DIY style in British Columbia.