The Alderson is another stunning build from Honest Abe that we have fallen in love with completely! The rustic log exterior on this model combines with some stunning stonework to create a home that has two full levels plus a walkout basement overlooking the water in the background.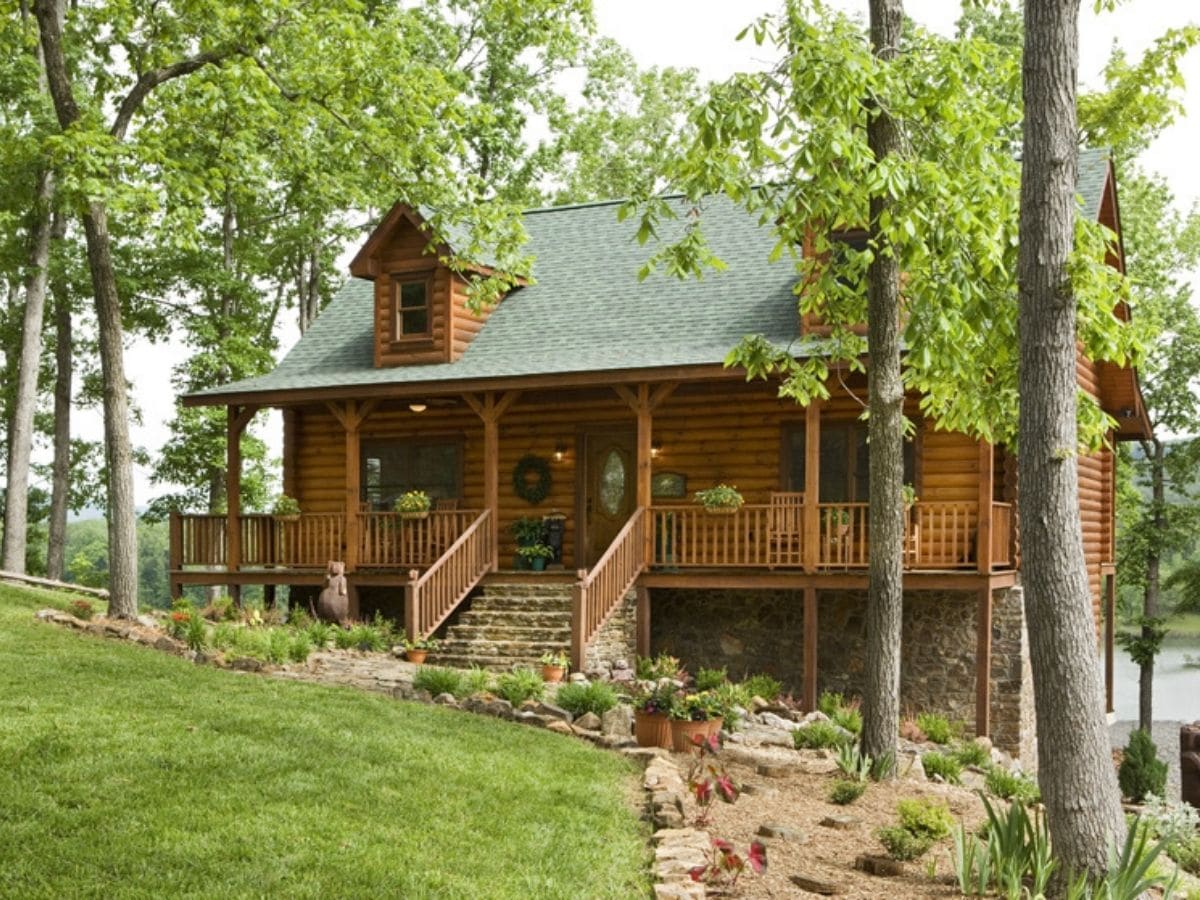 Log Cabin Size
2,800 square feet
4 bedrooms
2 bathrooms
2 floors plus basement
Open greatroom and loft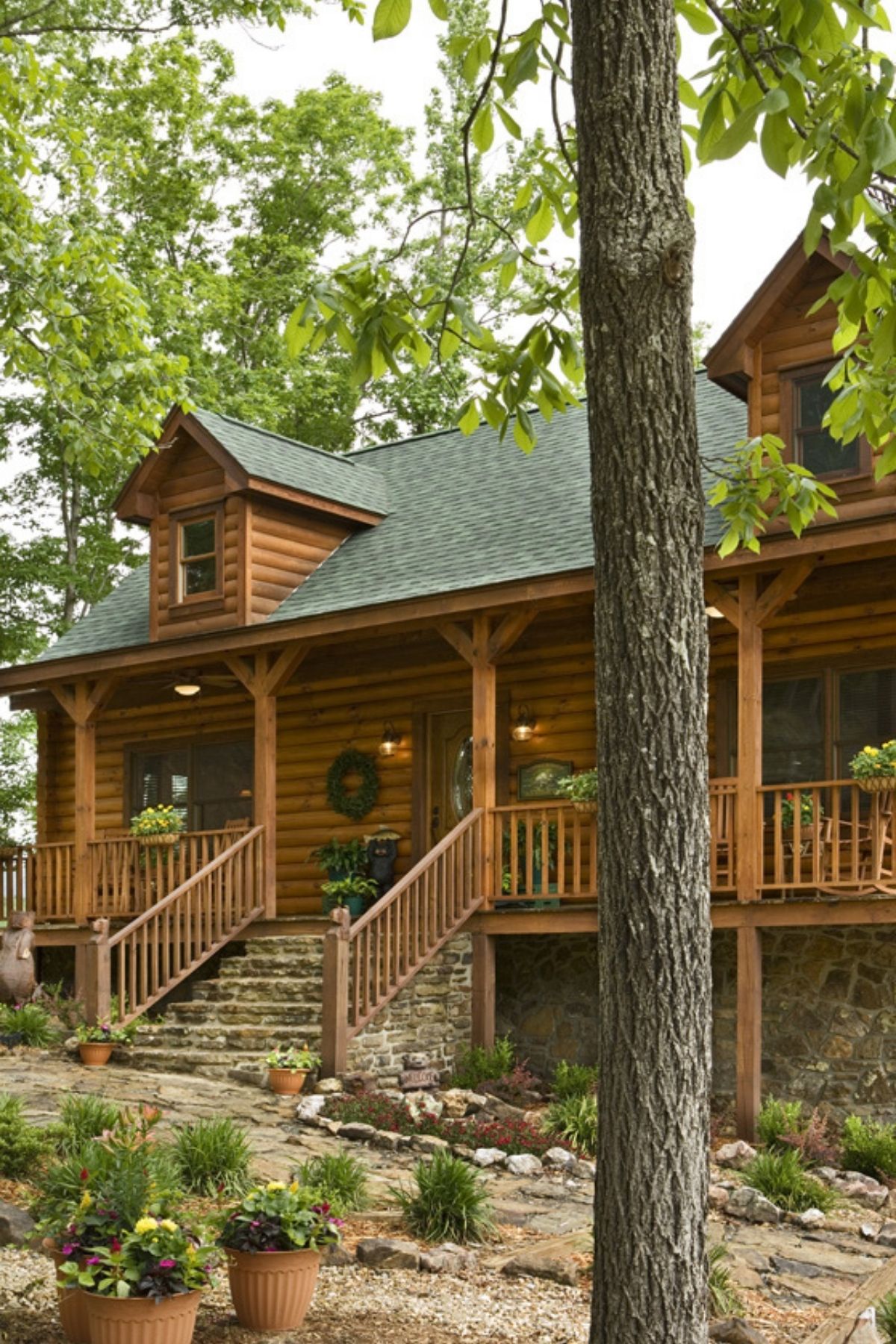 This cabin is a beautiful timber frame home with a full-length front porch as well as a matching porch on the back above the open basement. This porch offers stunning views and has been set up as a small entertainment space that includes a little table and chair set for a picnic on the porch on beautiful afternoons.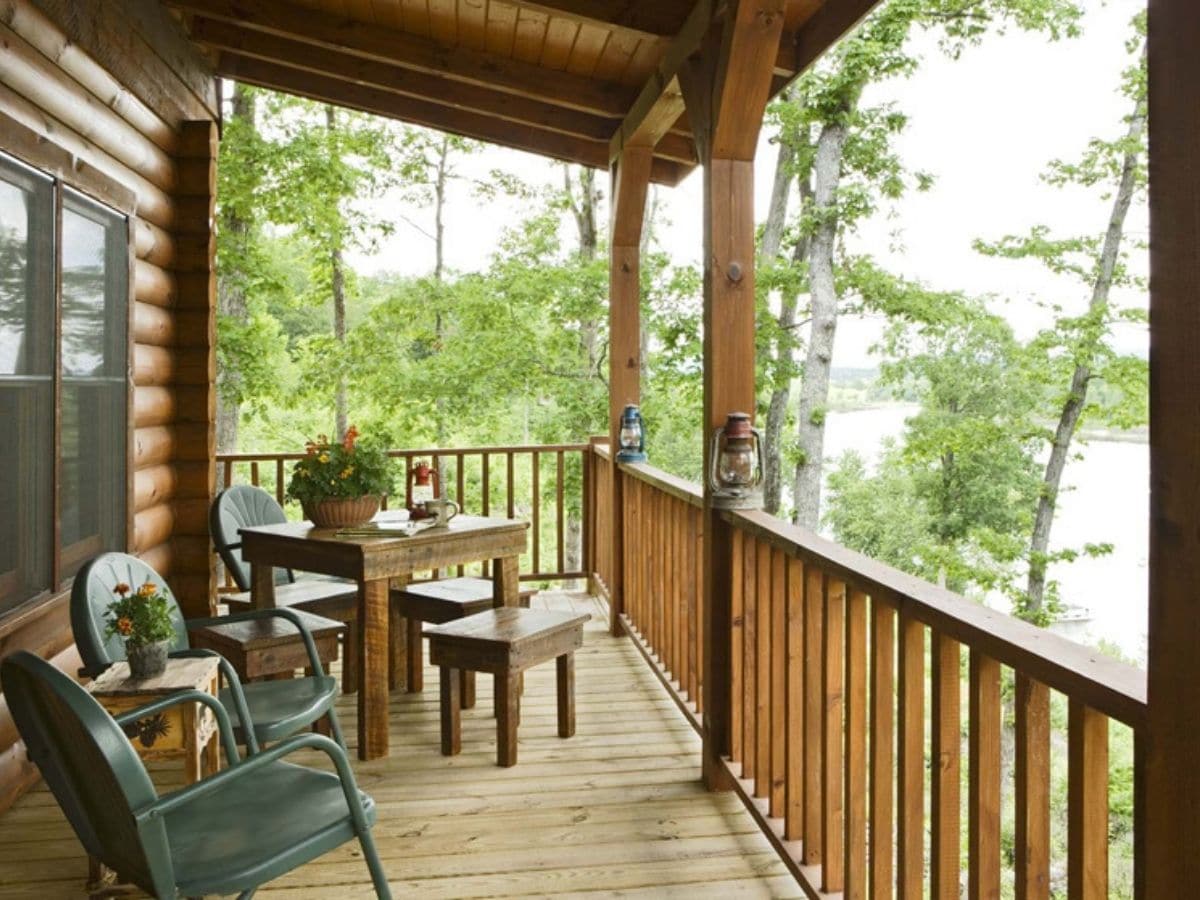 The front porch gives you a beautiful place to welcome guests or the ideal morning coffee spot!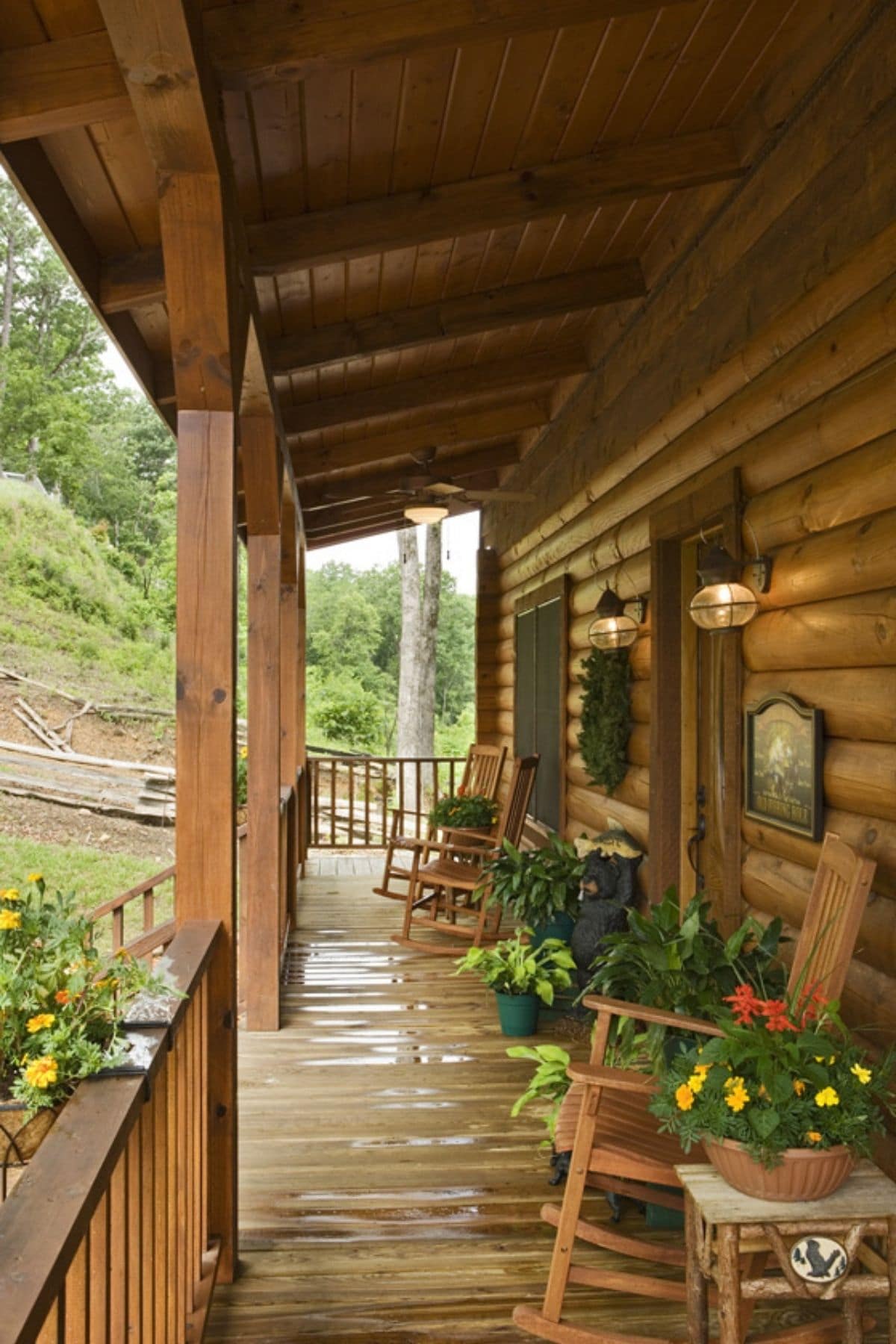 The main floor of the cabin includes a large great room and living room space, a full dining area, a modern kitchen, and a master bedroom with a full bathroom. This living room is large and open with an entertainment center on one wall and windows throughout for natural lighting.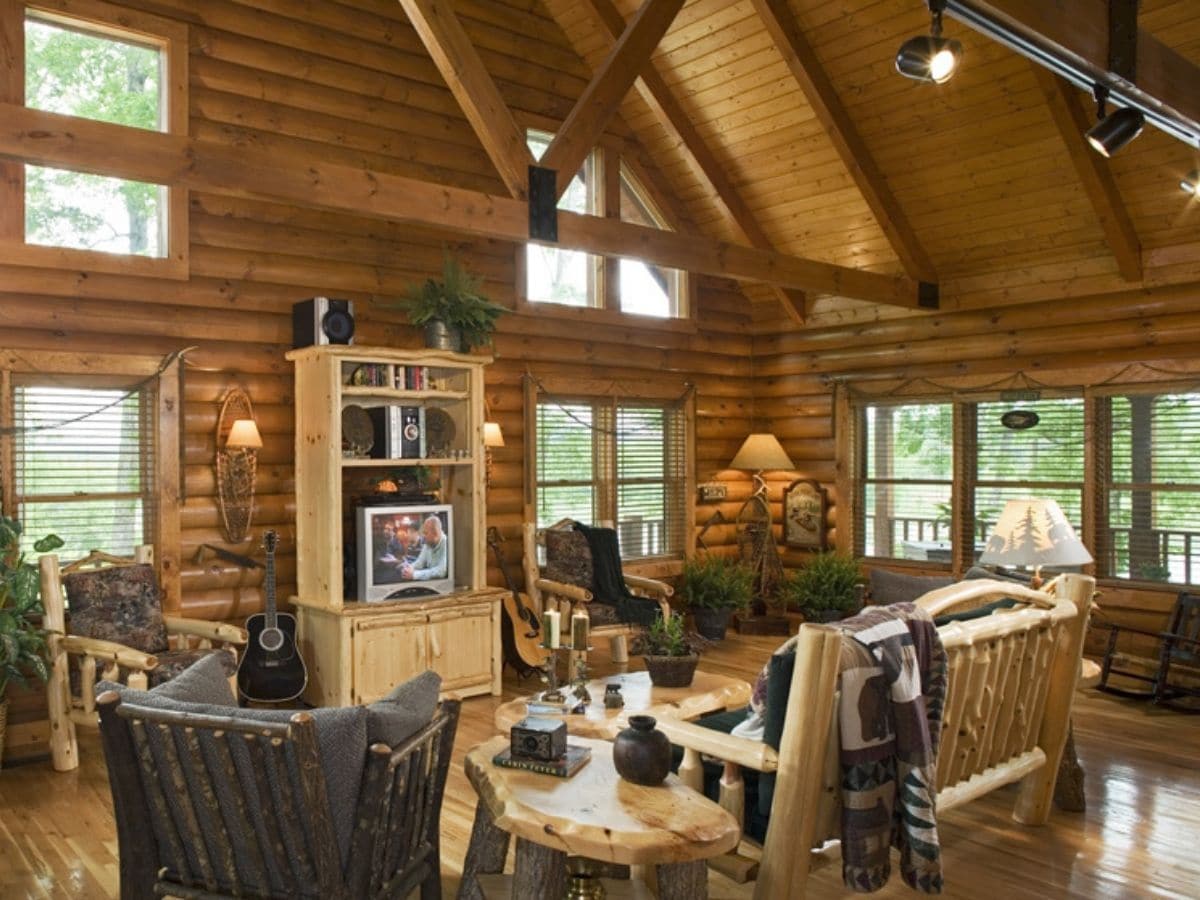 The loft overlooks the great room and allows you to see all of the exposed beams and natural woodwork throughout the home, including a nice look at the living space as shown below.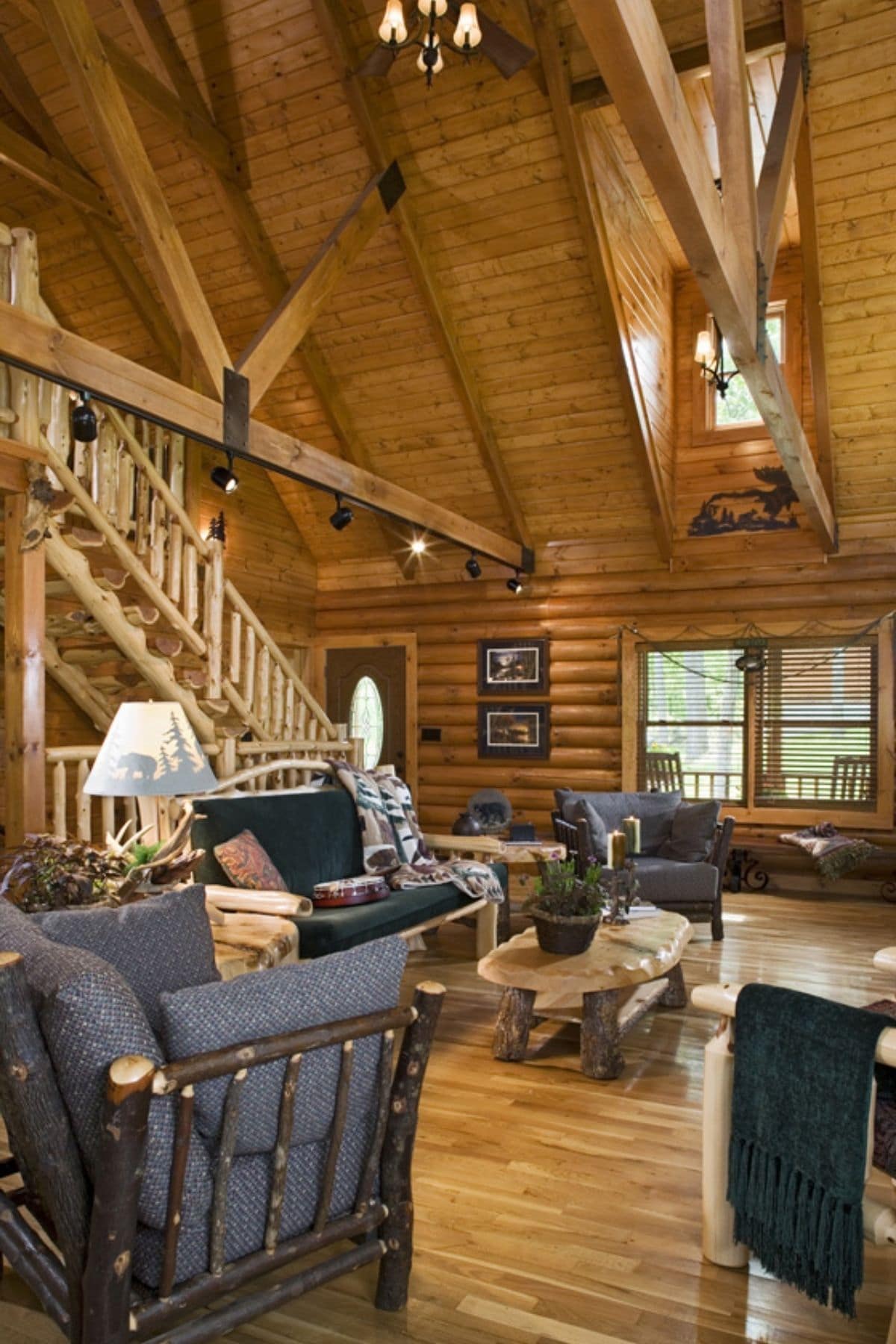 The dining room is just off the living room and kitchen and features absolutely stunning hutches and buffets. These spaces include beautiful hand-carved details that fit against the natural beauty of the log cabin.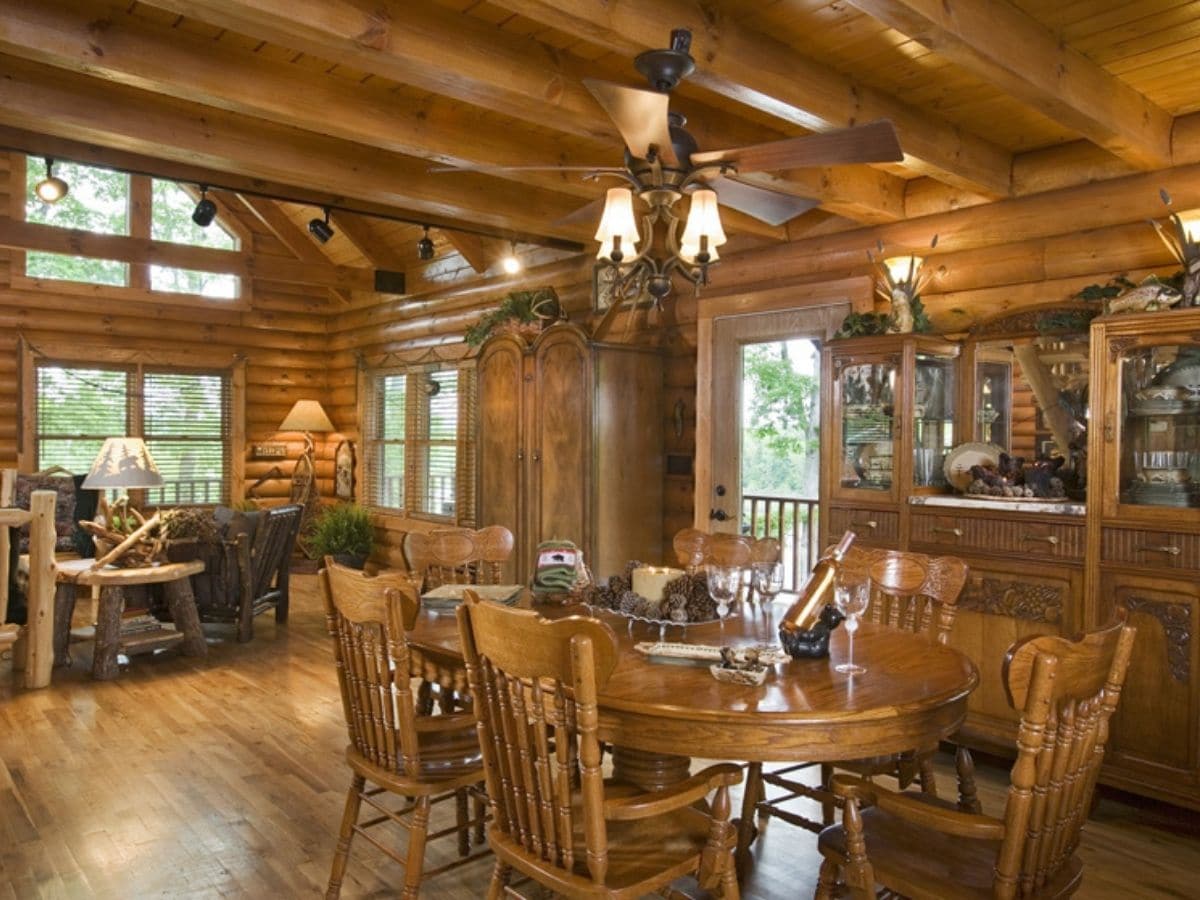 I love this look over into the main room. This home is built with a perfect layout for entertaining. The kitchen and dining room flow right into the great room, perfect for hosting family events or parties where you can have private nooks to converse or an open area for sharing food and making memories.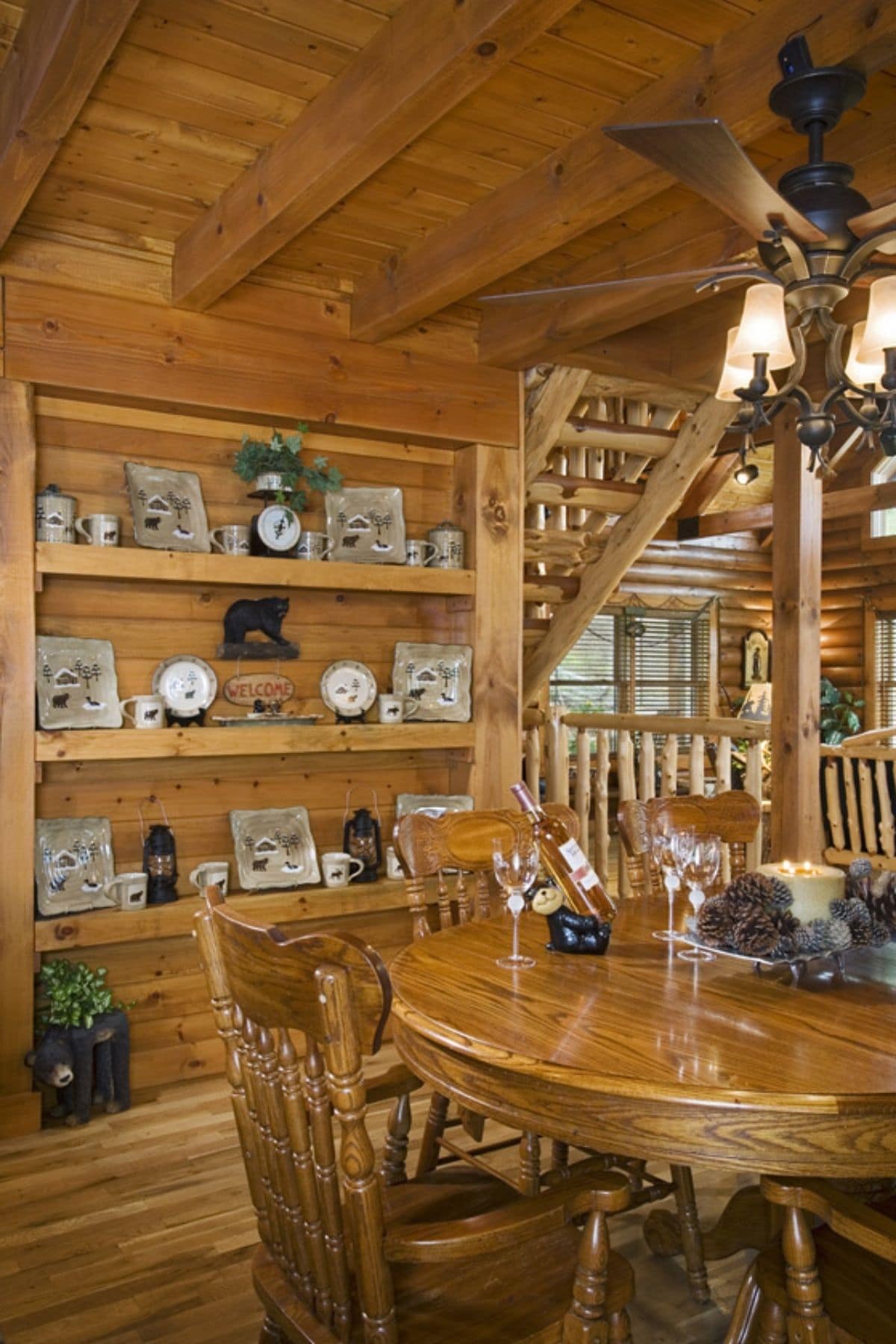 The kitchen is a full modern space with all of the rustic looks you expect in a cabin. Stunning woodwork on the cabinetry along with modern countertops and appliances create the ideal fusion between two worlds.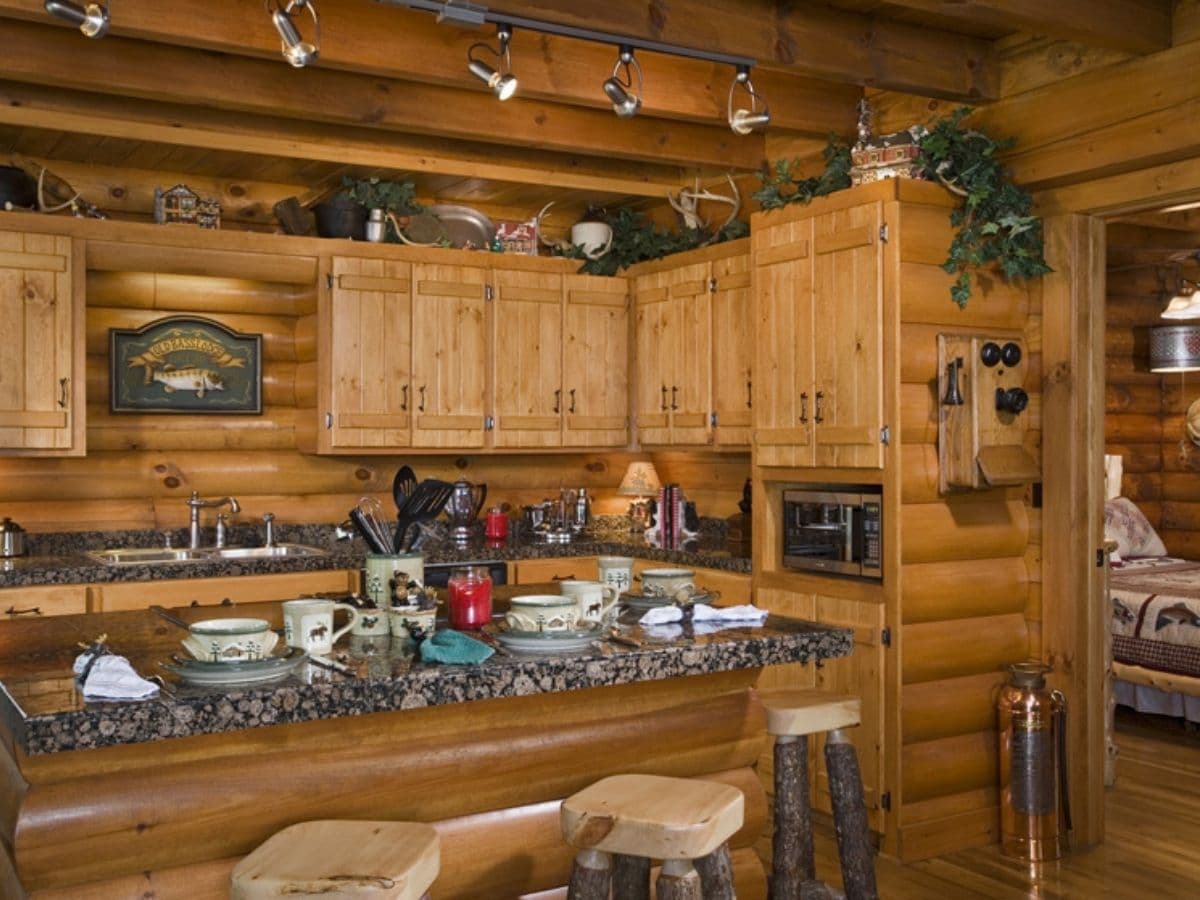 The loft floor even has this lovely space to overlook the great room. I love how they have added a little bistro set here to relax and have a snack or even to use as an open workspace.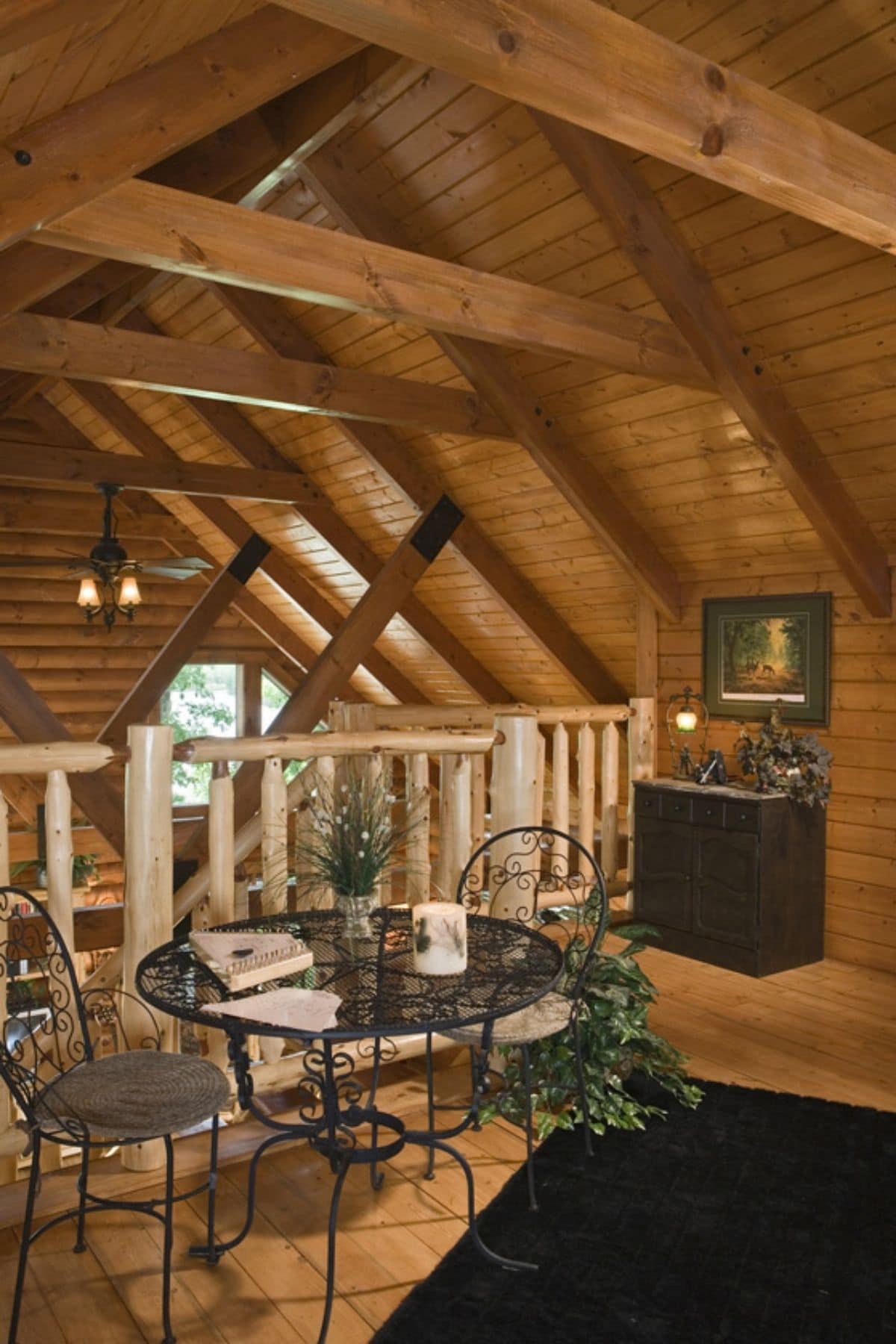 Bedrooms upstairs are large and open with tons of nooks and crannies for storage. Plus, all of the little rustic additions like exposed beams and more. I love how they have used the corners created from dormer windows for things like built-in chests of drawers or even closet spaces.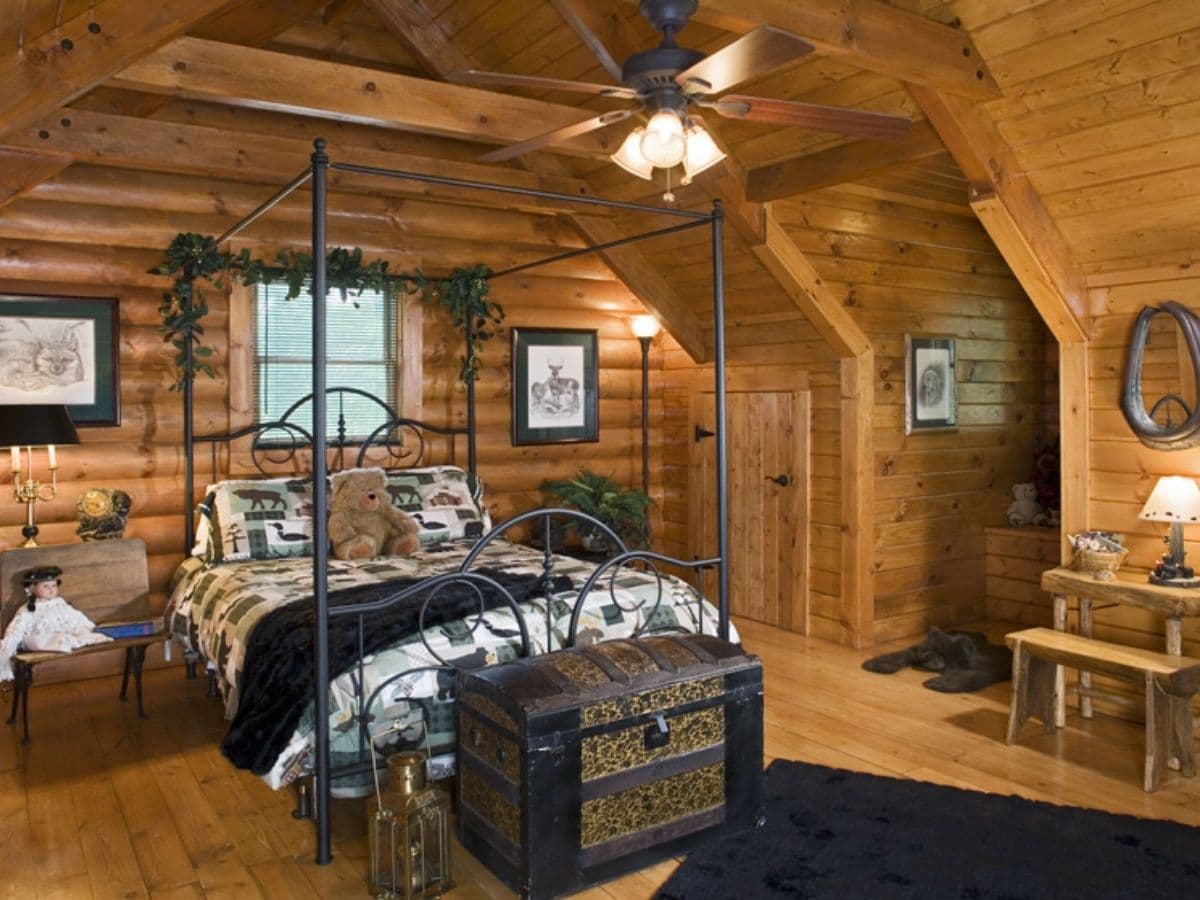 The master bedroom downstairs is just off the kitchen. It has an attached bathroom and is larger than the other spaces but not too large to seem overdone. I love the windows out to the back porch and overlooking the lake. So lovely and a perfect window view to wake up to in the mornings!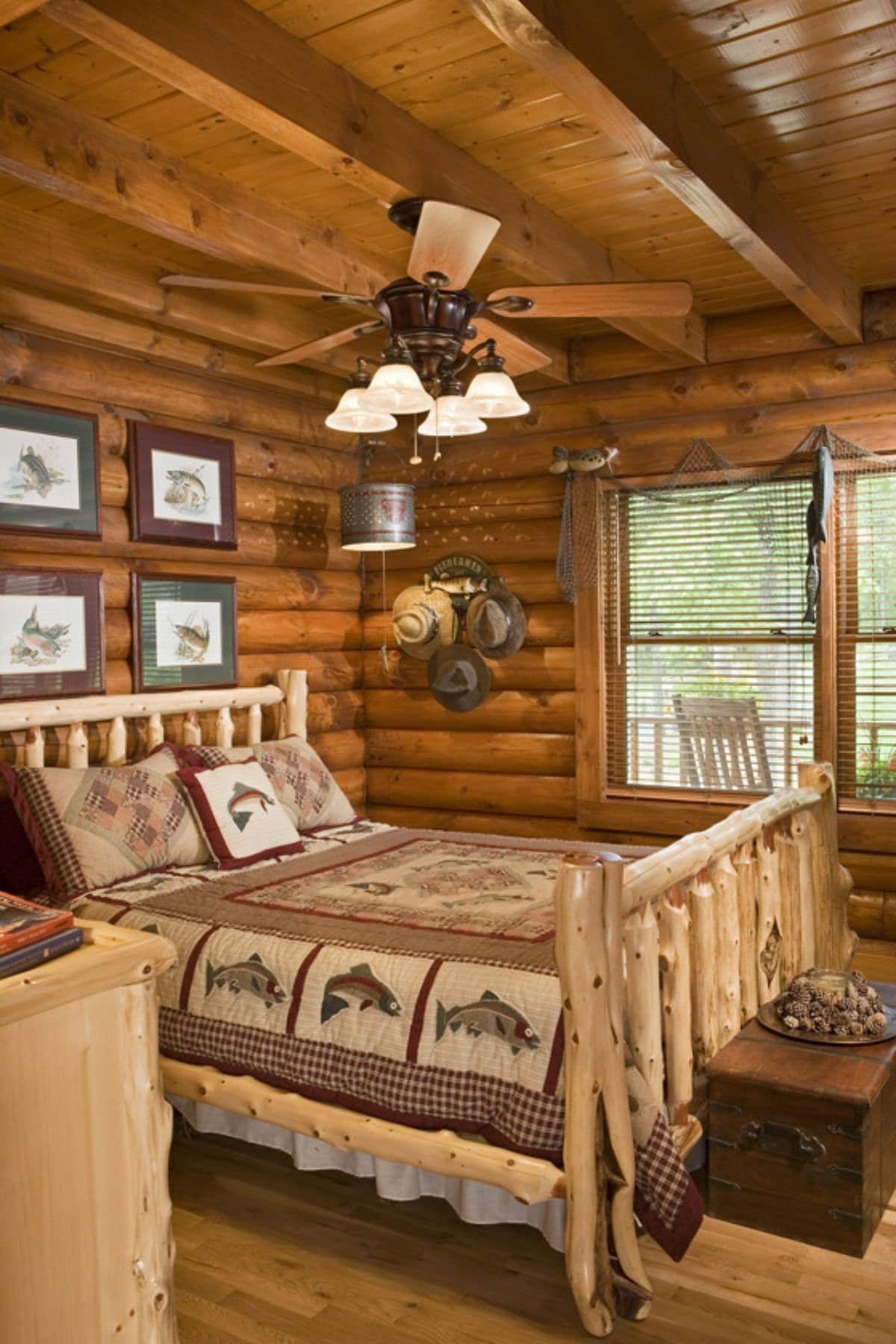 For more information about this cabin and other builds, check out the Honest Abe Log Homes website. You can also find them on Facebook, Instagram, and YouTube for more day-to-day shares of their latest builds and designs. Let them know that Log Cabin Connection sent you their way.
More Log Cabin Kits and Tours