Cedar Knoll Log Homes is a wonderful builder with a variety of styles and quality builds. This particular log cabin tour is going to feature one of their gallery homes that is simple but comfortable and ideal for a family.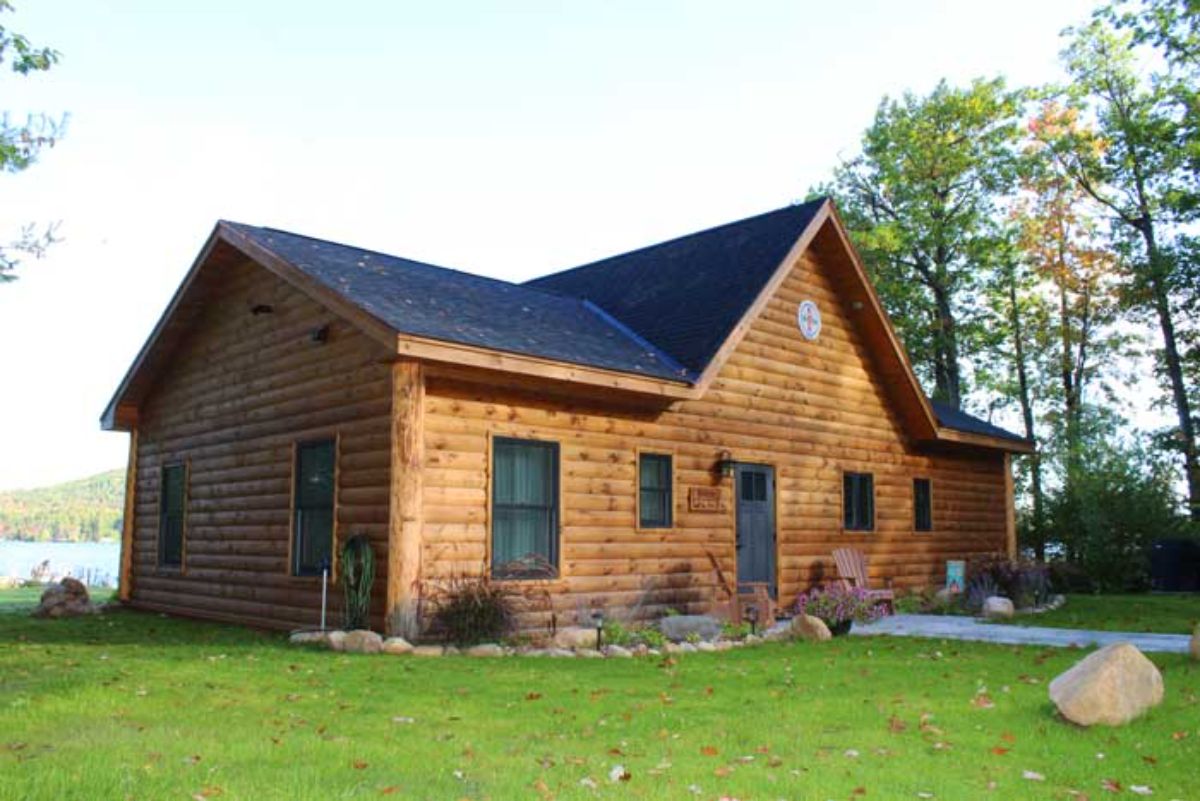 The front of the home is a bit lackluster compared to some. It has a simple front door with only a handful of windows. Driving up to this you would think it has nothing exciting to offer, but you are wrong.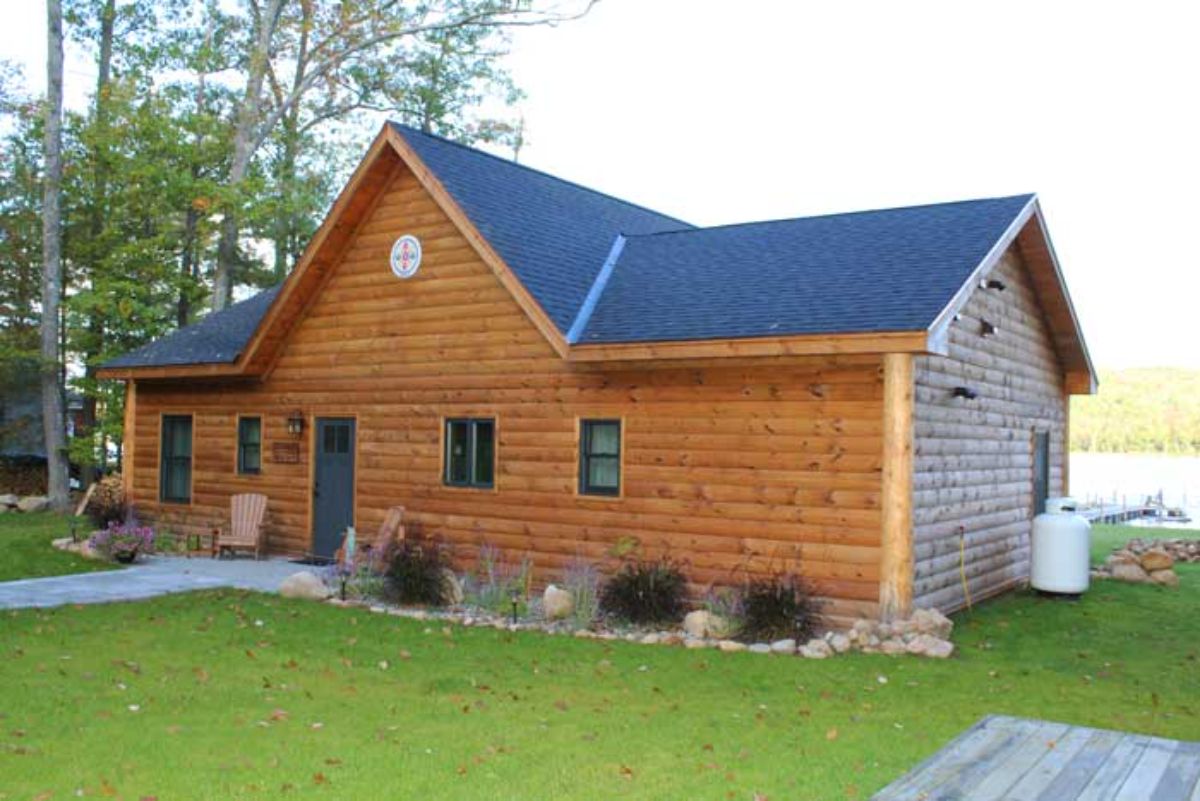 On the other side of the cabin, you see a more traditional luxury cabin style with the classic wall of windows overlooking the lake.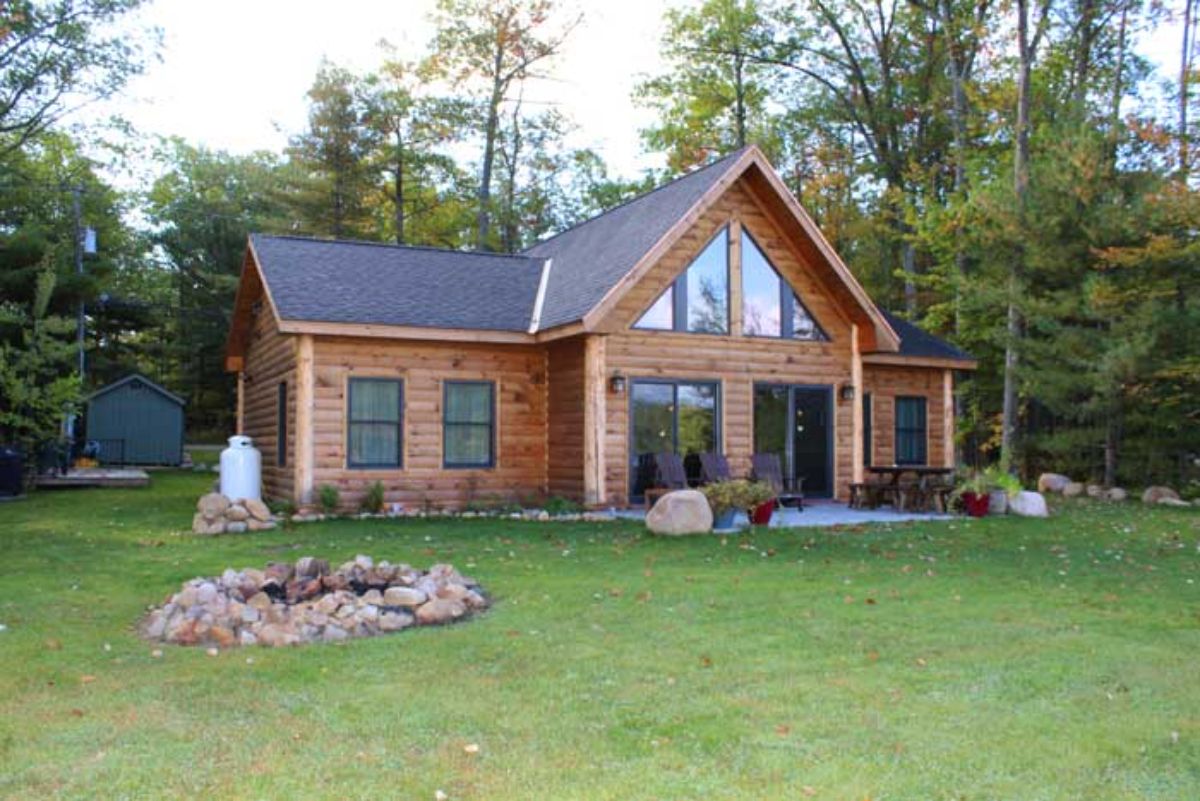 A beautiful log cabin with a large backyard that overlooks the lake is a dream come true for many. This home is smaller than some we share, but that doesn't mean it is without luxury or personality. Just because the floor plan is small doesn't mean it isn't a great home for families or as a weekend getaway.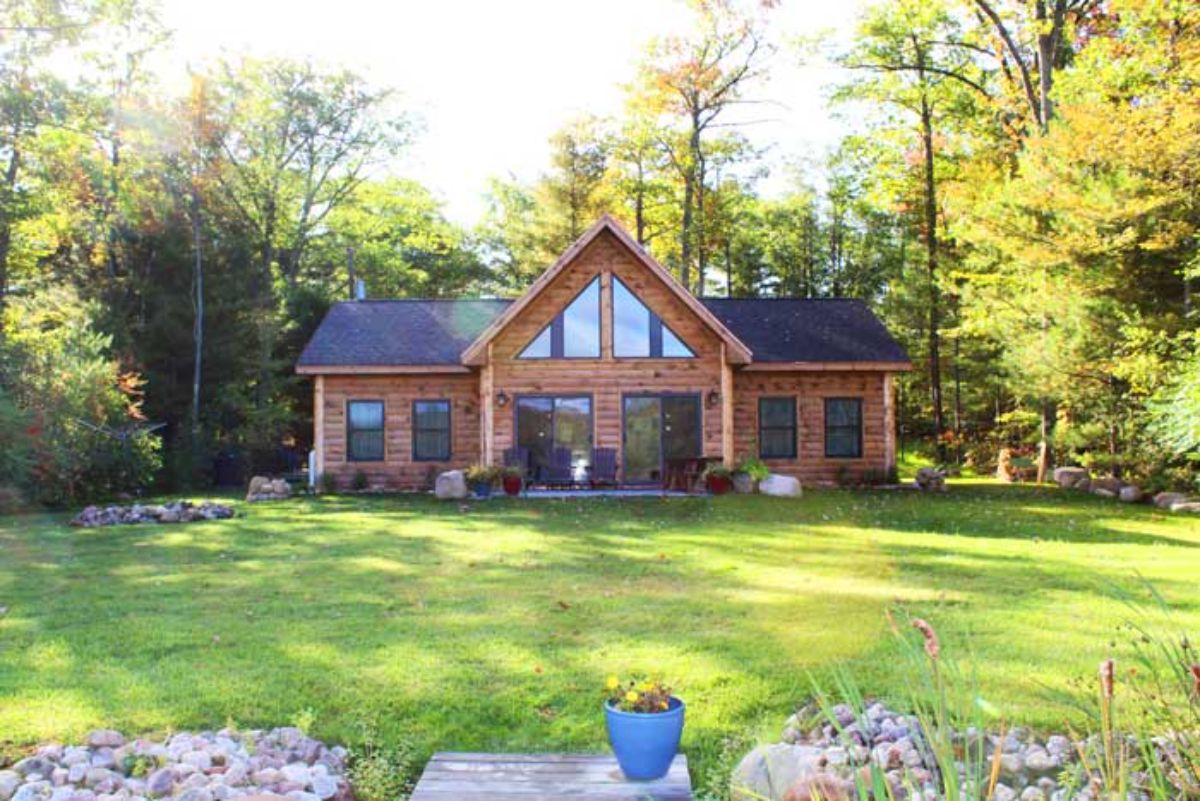 They even have a private dock here that is perfect for relaxing with a fishing pole on sunny days.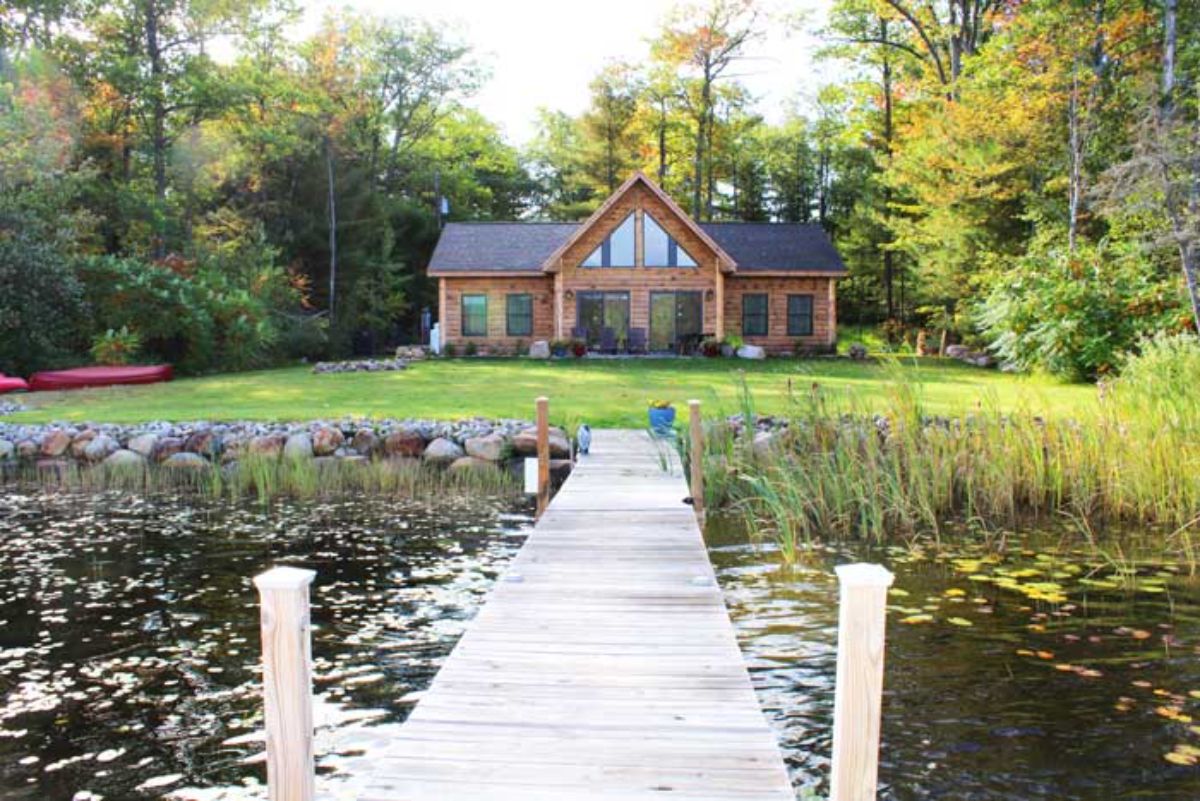 I love the aerial images that give you a nice look at the overall size of the property.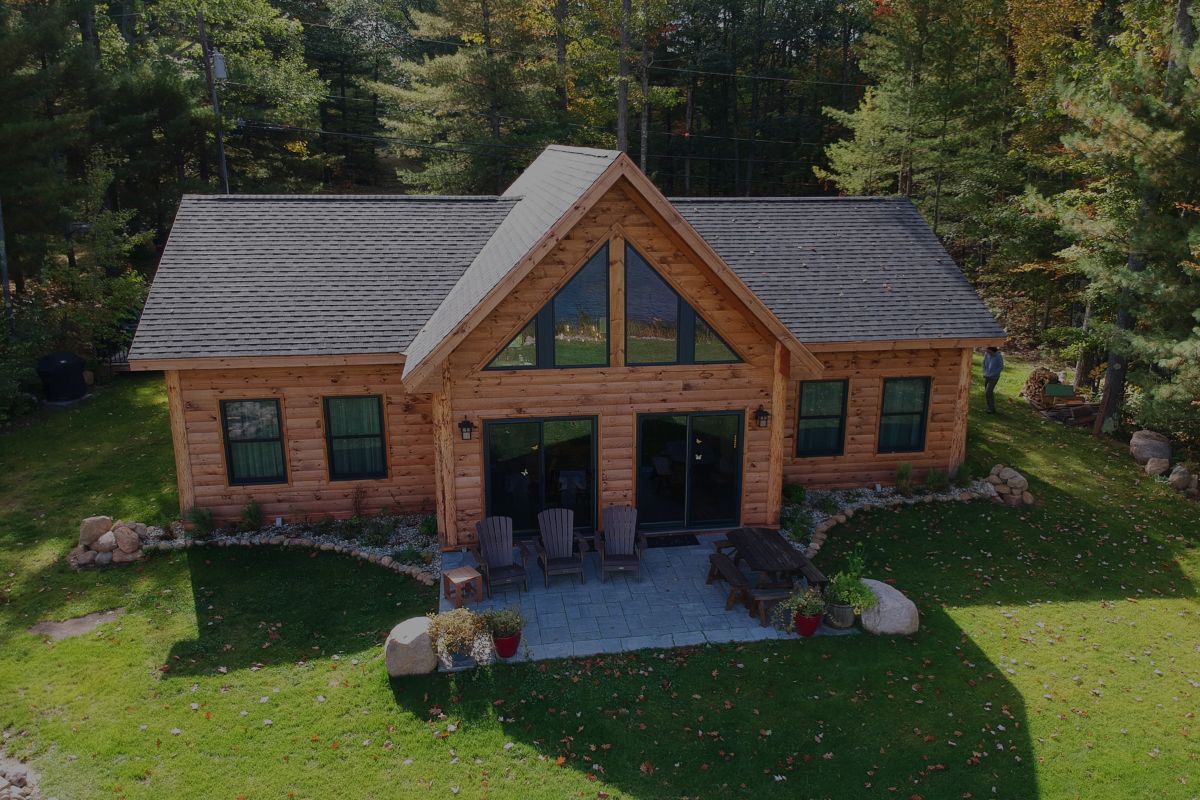 Inside the log cabin, you have a standard open floor in the center with bedrooms and bathrooms on either side. Here you see a chandelier made of antlers in the middle of the room over a live edge picnic table next to the kitchen.
Note that the front door that is so simple outside, opens right into the kitchen space!
The home is small, but it fits what you need. Bedrooms, bathrooms, storage closets, a nice picnic table in the kitchen, a comfortable kitchen space, and a living room, all with beautiful rustic style.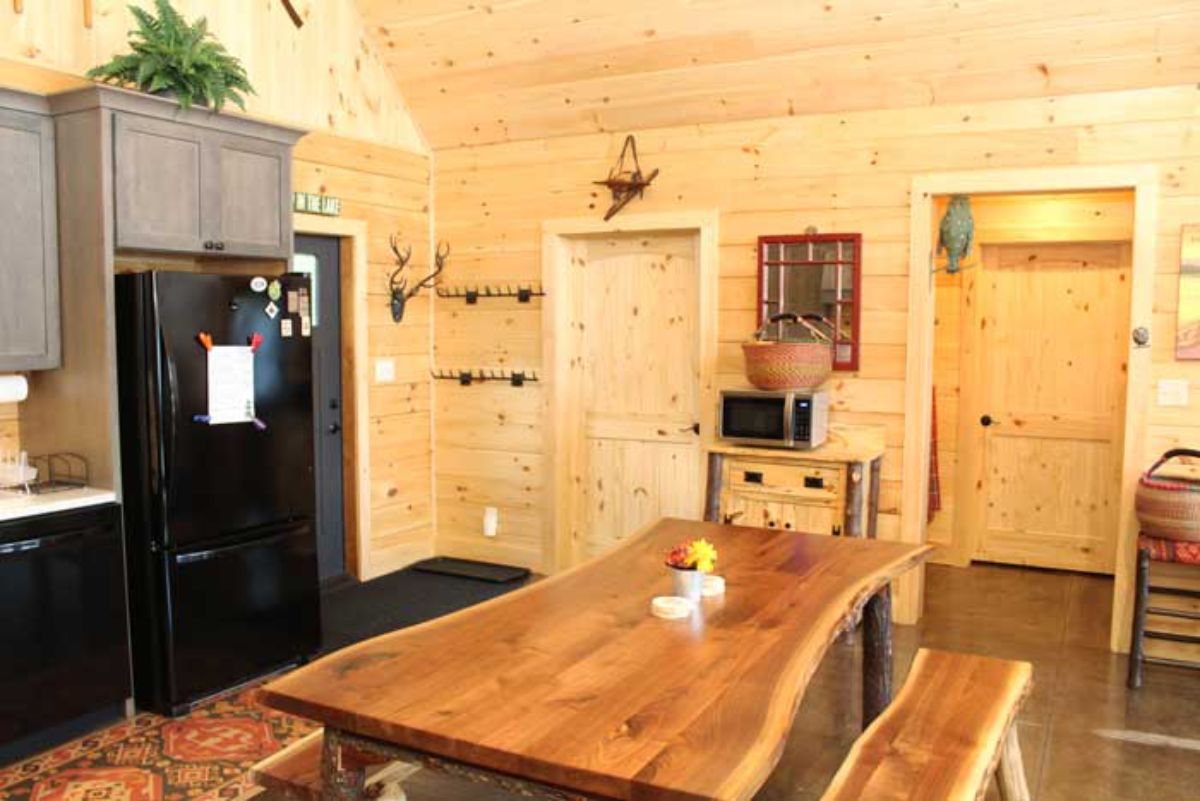 The master bedroom is nice and large with room for the bed, desk, nightstands, dresser, or a chest of drawers. Plus, I love that ceiling fan above!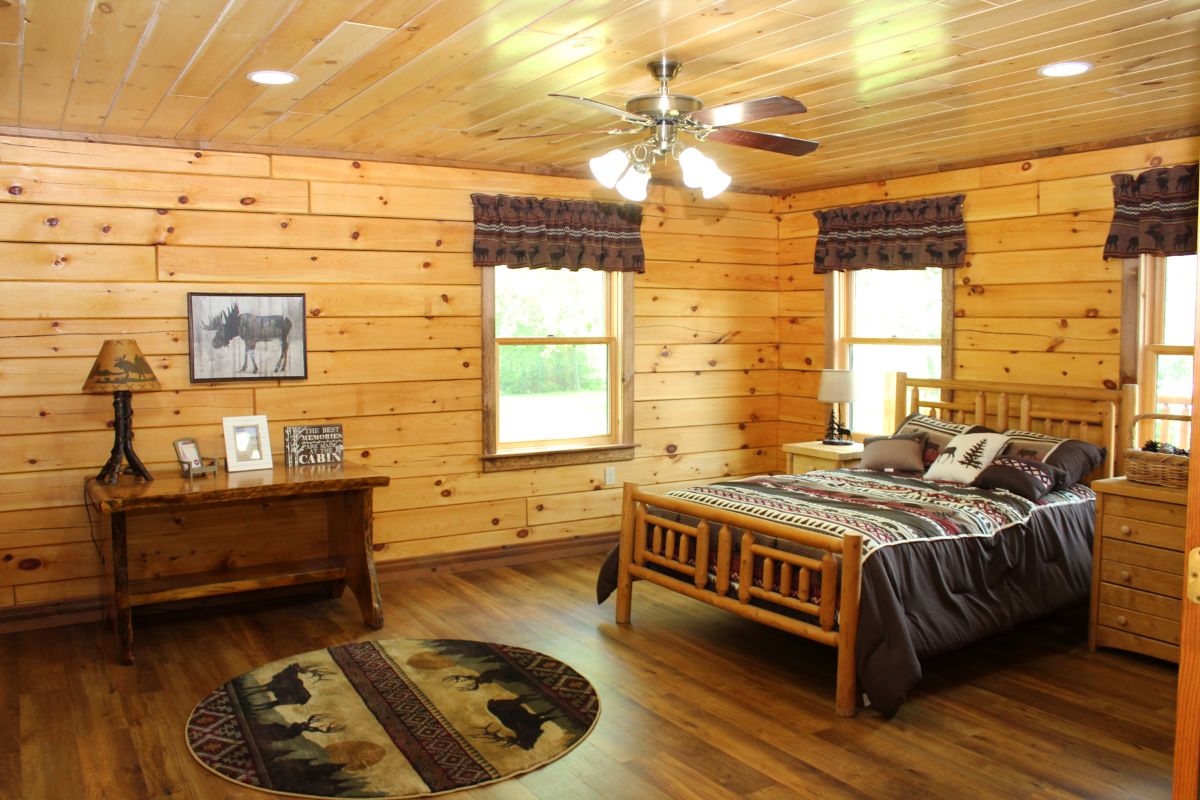 A second bedroom is a bit smaller, but still has room for everything needed. Plus, windows that overlook the back of the property and bring in tons of natural light.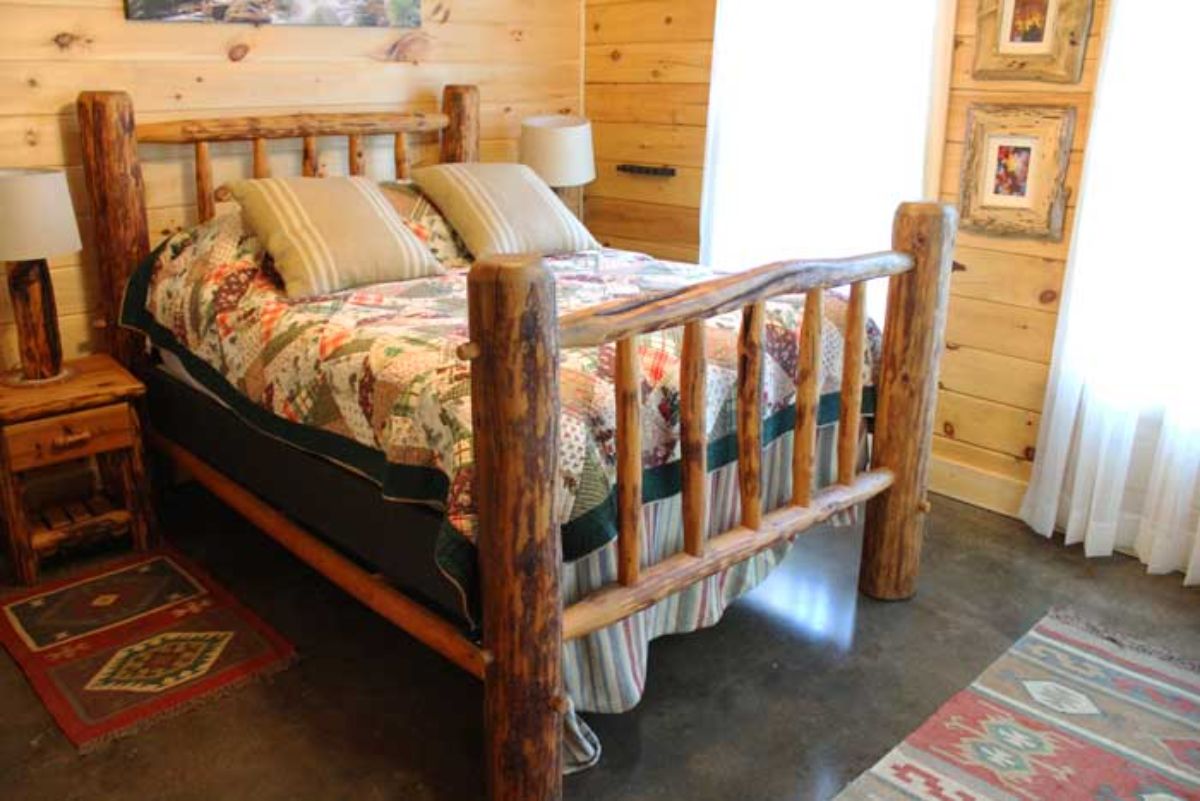 The living room is pretty small but open and has room for a few chairs, a sofa, storage, and has the two glass doors leading out to the yard to extend the space.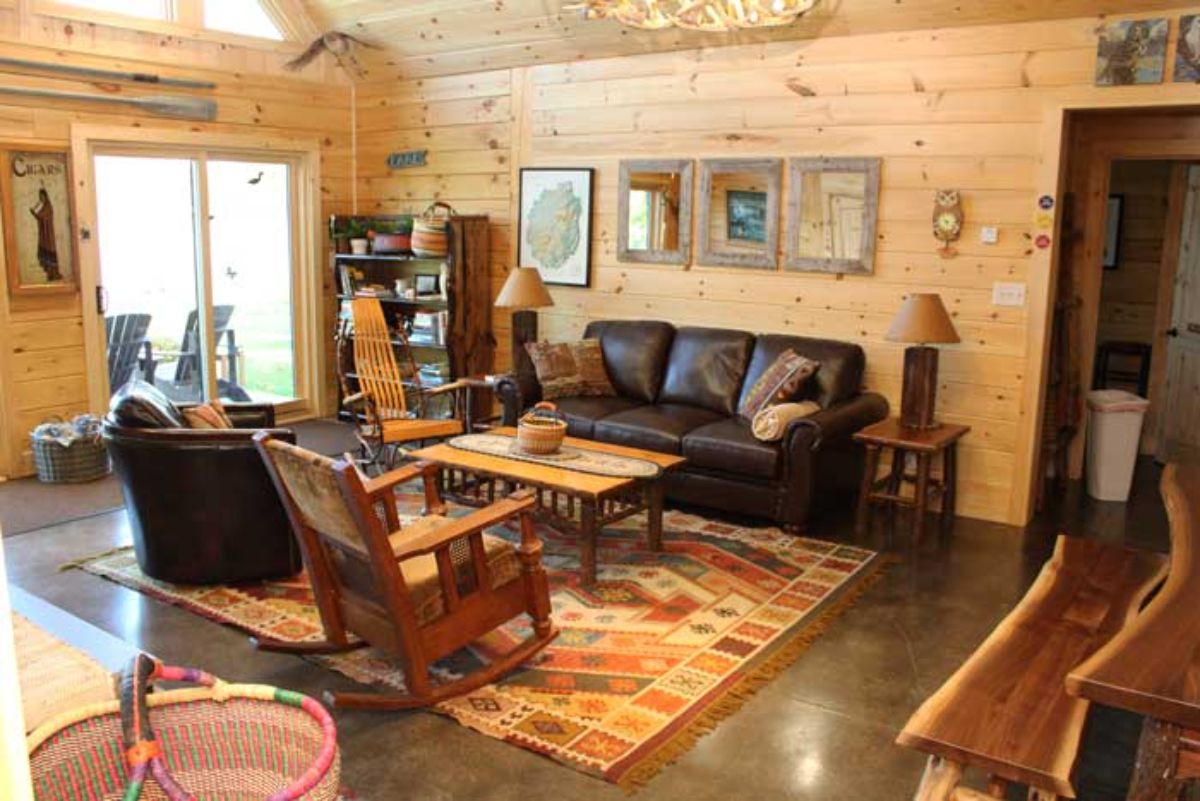 A bathroom can be found on both sides of the home with a simple log cabin style and basic vanities, toilets, and a combination bathtub and shower.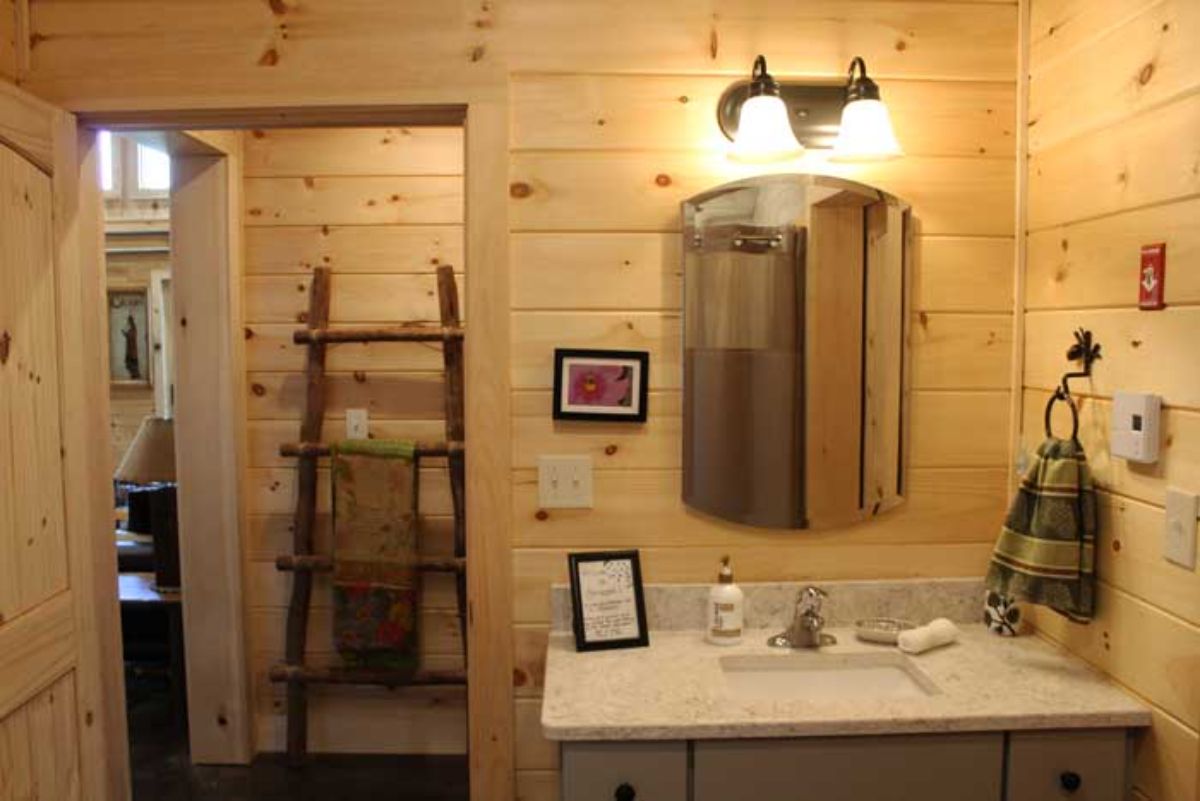 I love the light green these cabinets are painted. Such a nice look that fits the rustic style of the home.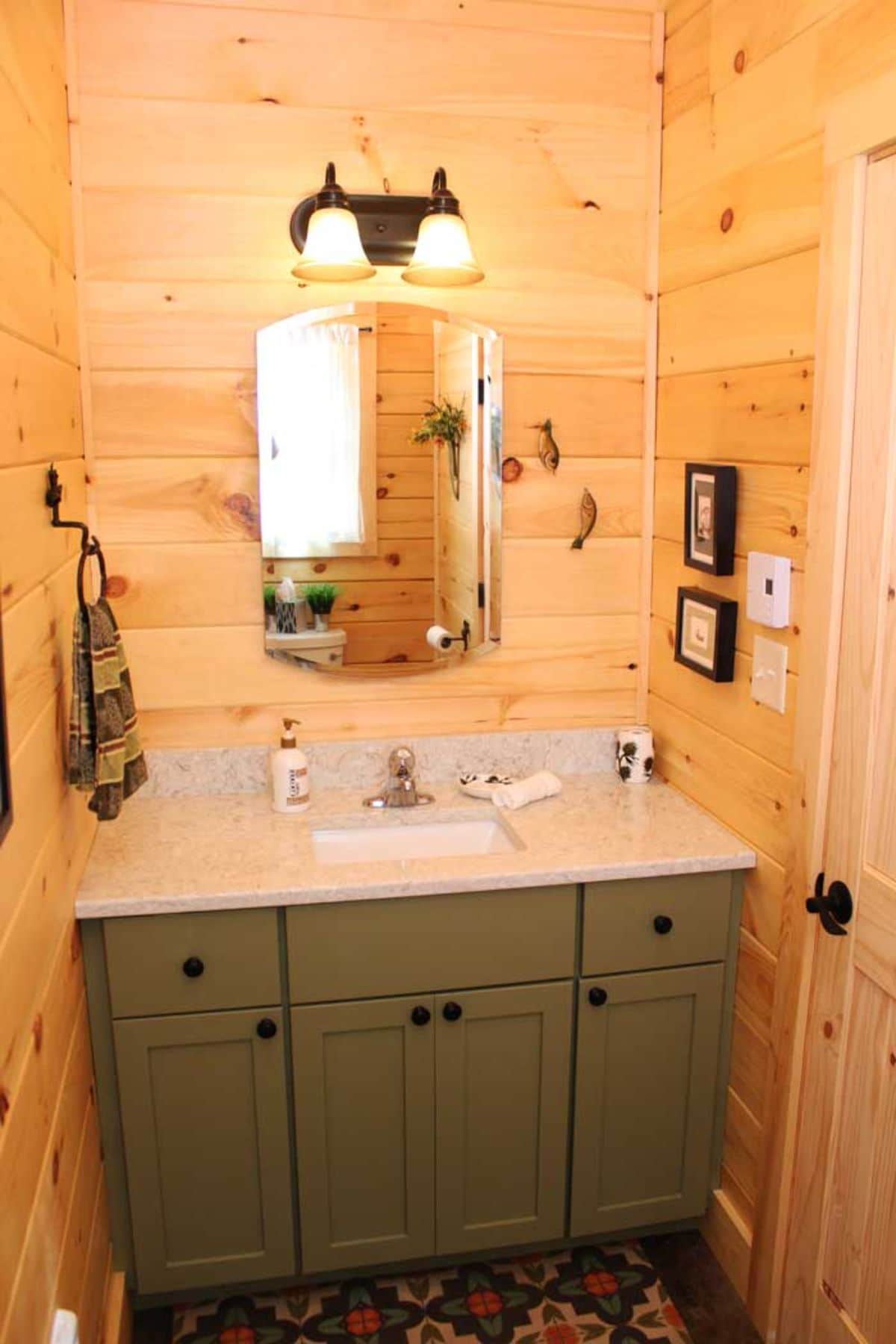 I like this overall look at the middle of the home. It shows all that gorgeous woodwork, out the back windows, and how much can fit into a smaller floor plan.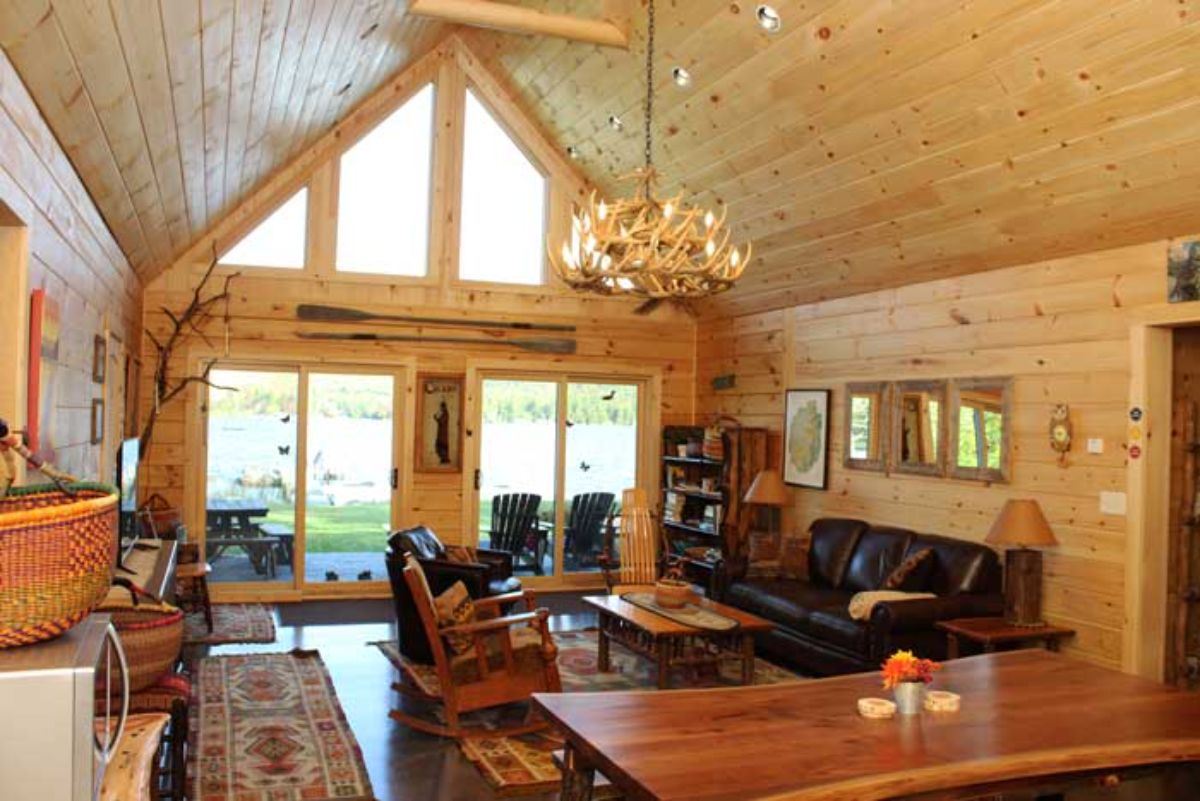 There is even room on the side of the living room for a little storage cabinet to hold your television!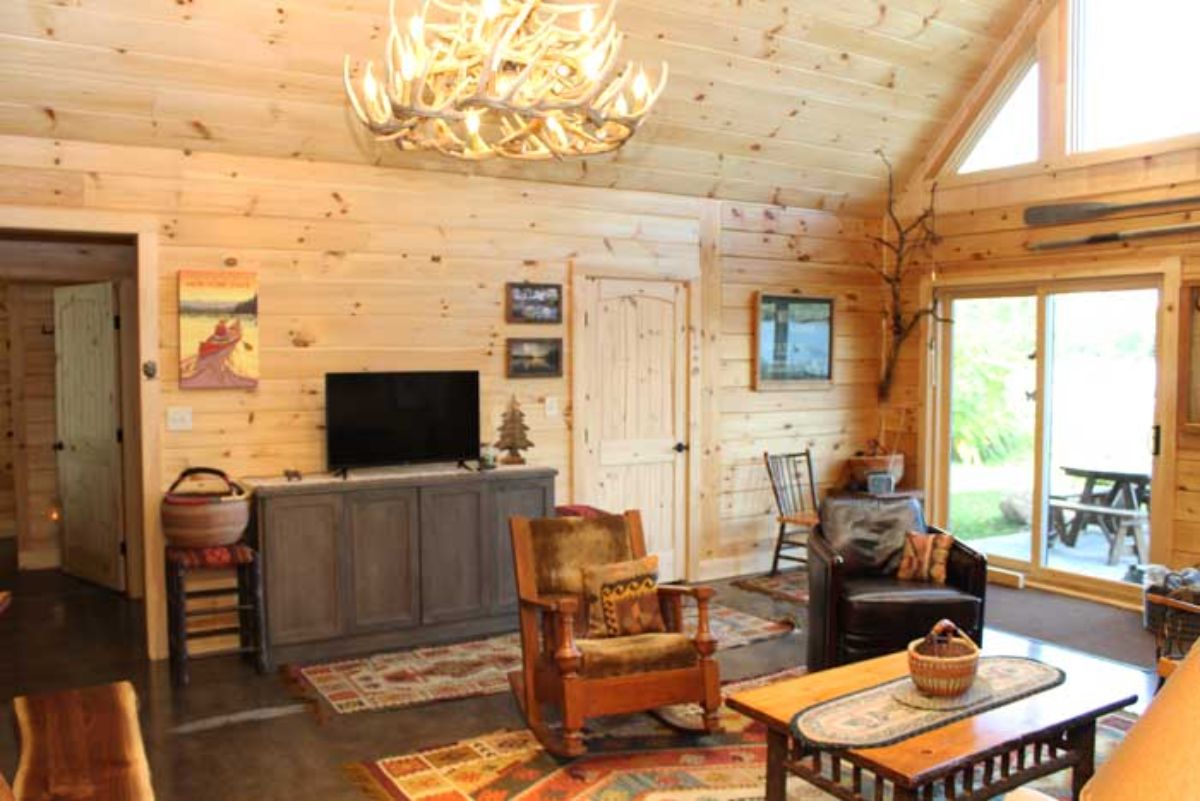 This is just one example of what you can find with Cedar Knoll Log Homes. Check out their website for more information on the homes they build. You can also find them on Instagram and Facebook with regular updates of their latest builds. Let them know that Log Cabin Connection sent you their way!
More Log Cabin Kits and Tours