The Senator log cabin is one of my favorite basic floor plans. It has wrap-around porches, and a classic wall of windows next to a chimney with a fireplace ideal for a relaxing evening inside. Whether you are building your retirement home or looking for a retreat, this home is a great choice for your next build.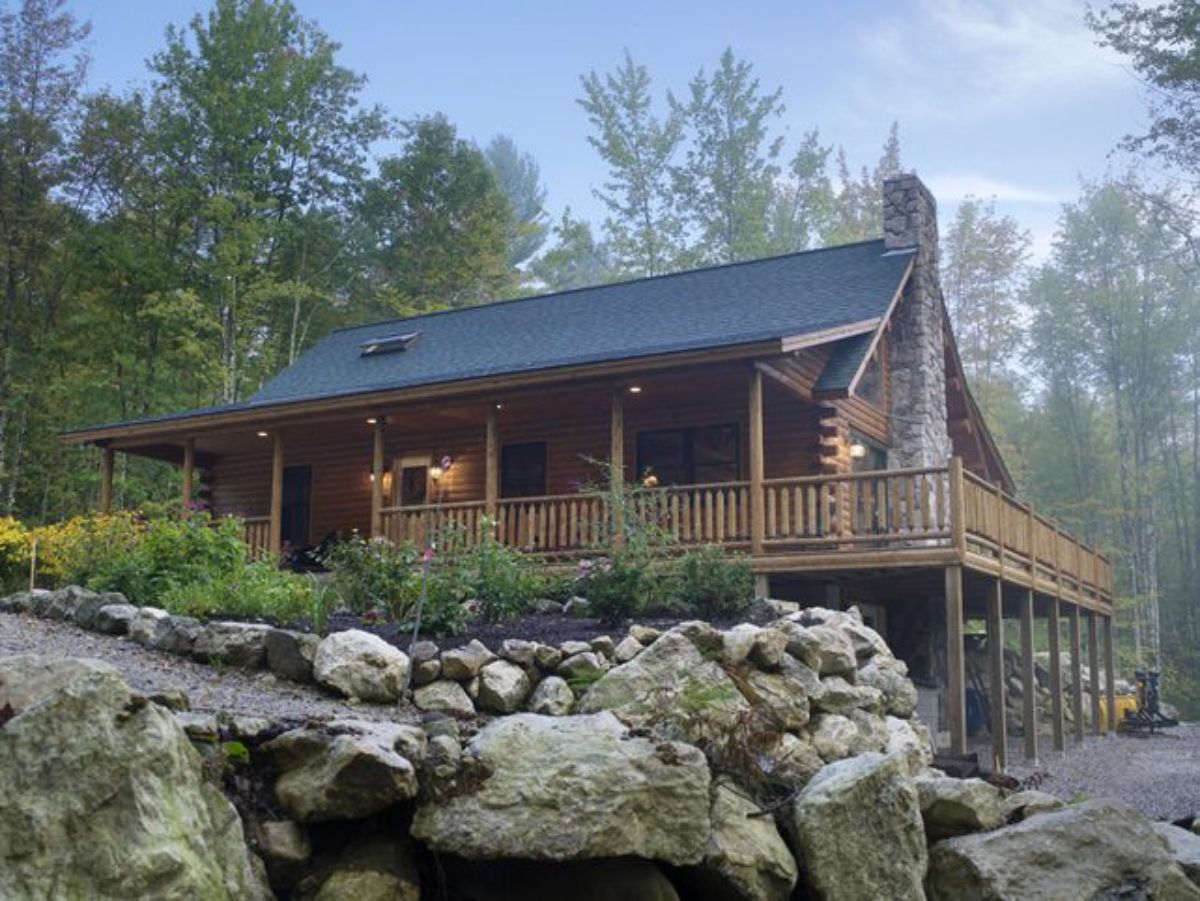 Log Cabin Size
1,595 square feet
3 bedrooms
1.5 bathrooms
To see an overview of this model, you can look at the architectural plans HERE.
Location is a big part of the appeal of this home for me, but the home itself is truly amazing. A main floor open living space includes your living area, dining room, and kitchen with one main floor bedroom and bathroom. Upstairs are additional spaces, as well as a walkout basement.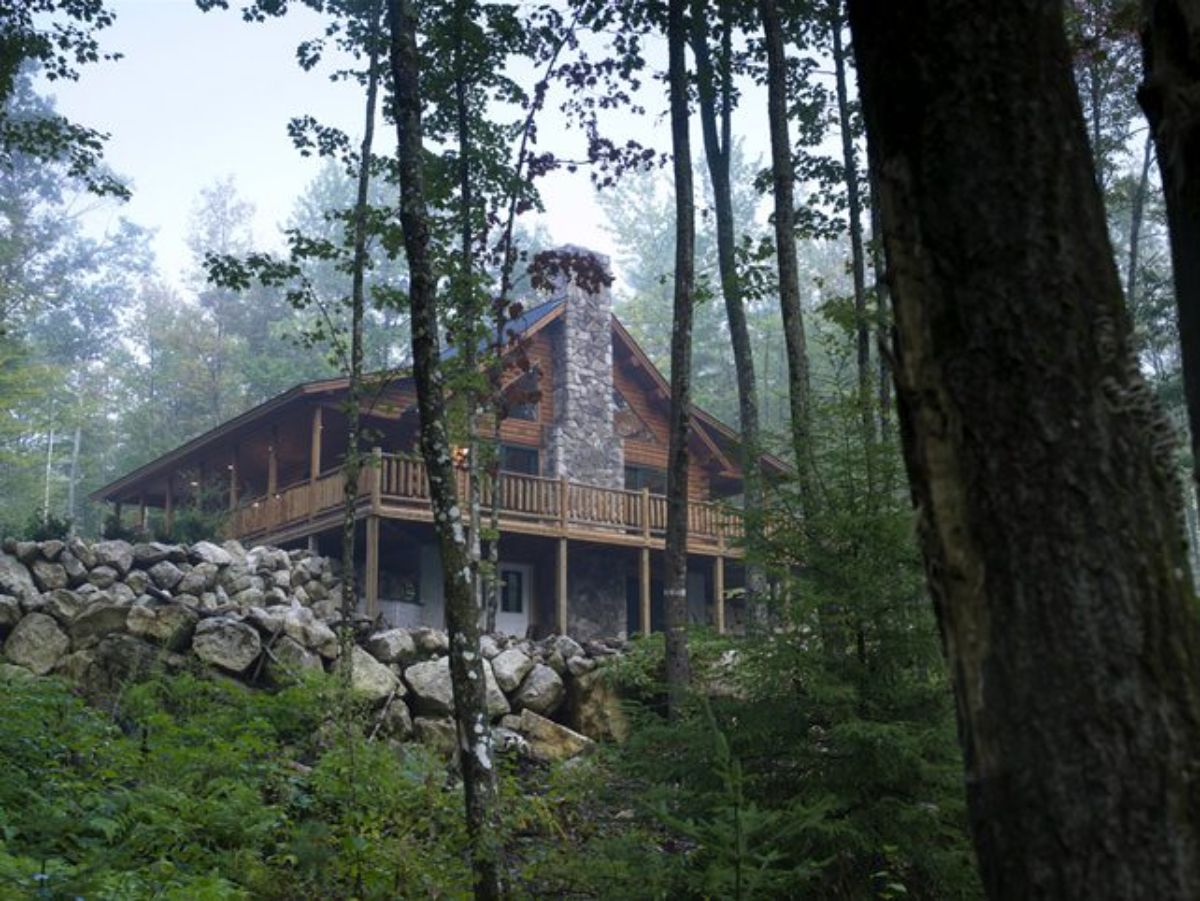 Of course, you can't ignore the wrap-around porches. This beautiful wide porch is open around the front, side, and back of the home with roofs over part of them, and plenty of room for chairs, rocking chairs, a porch swing, or even a bistro set.
I love any home that has a porch for rocking chairs, but especially a cabin! The Senator doesn't dissapoint!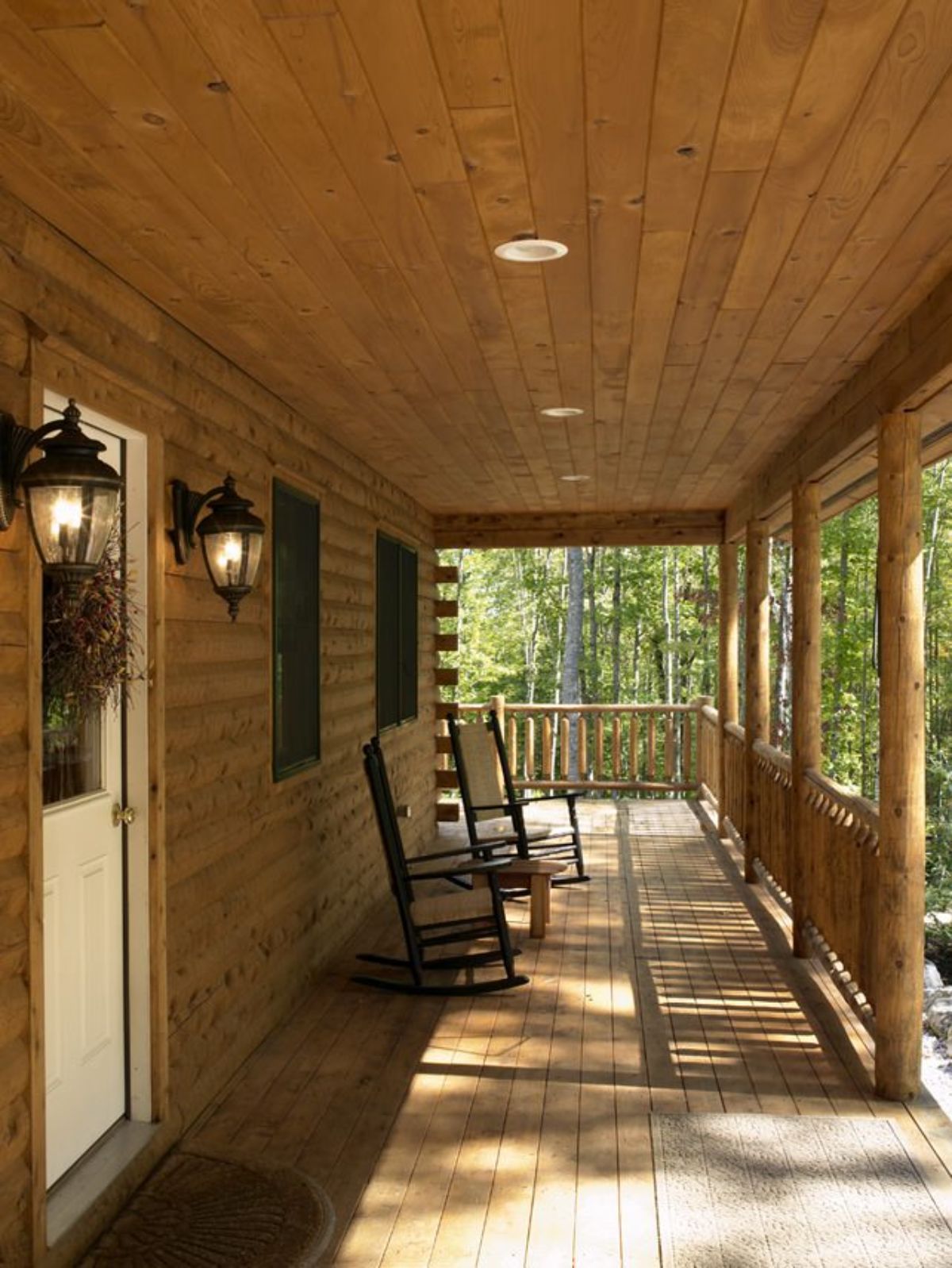 Inside, the main floor of this home houses large open spaces you are going to love. On one half of the main floor, you have cathedral ceilings and this lovely wall of windows and doors on the side of the home. This space includes the fireplace and doors to walk out to the side porches and deck.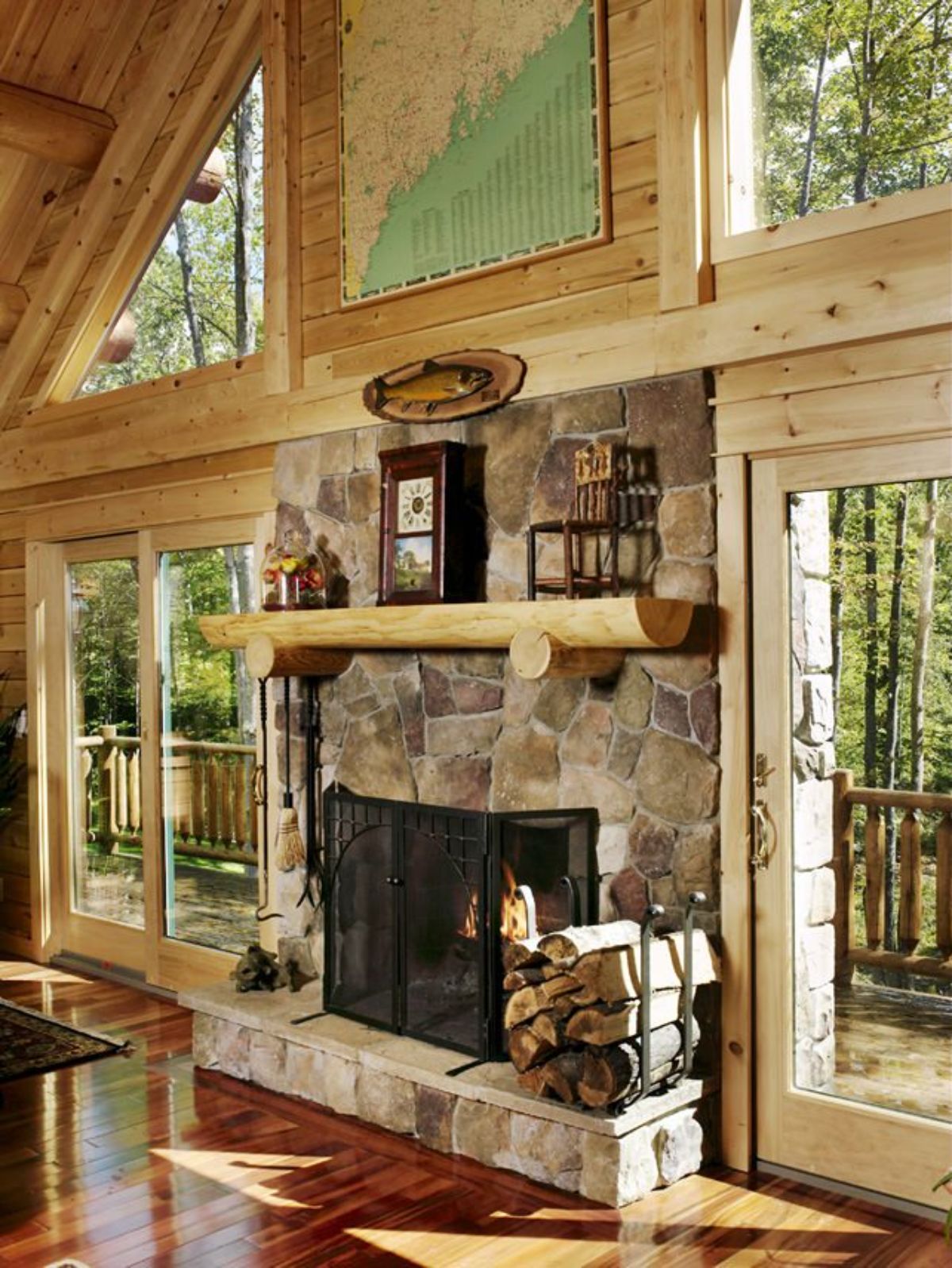 Inside that space is also a little living nook with sofas, a wardrobe hiding away a television, and of course, the pool table. As you can see, this is a spacious area. Plus, there is that nook on the side for a dining table!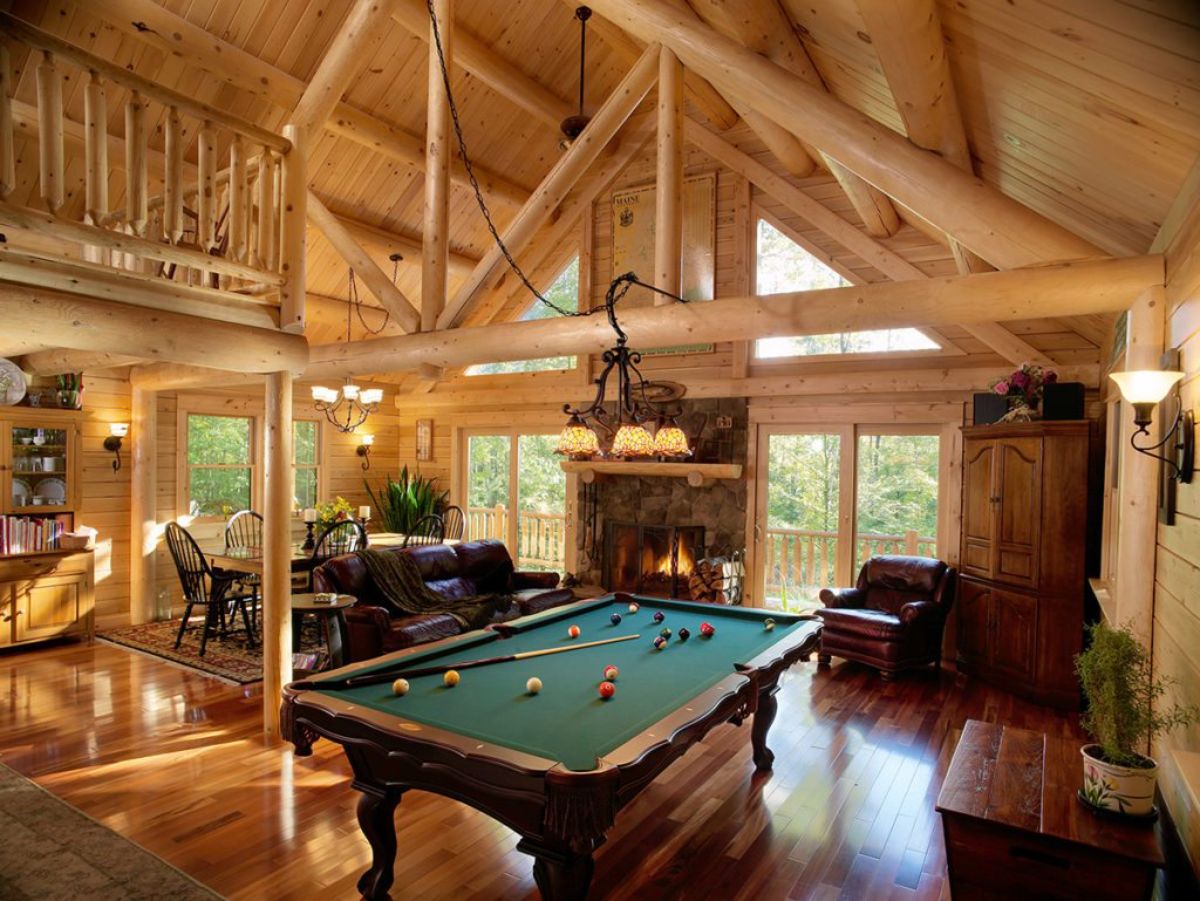 On the far corner of the living room, you go around a corner for a kitchen space that is open to the living and dining room, but still a bit private.
I love the light wood cabinets with lattice and glass openings so you can see what is stored. Plus they just add a nice fresh look that opens up the space.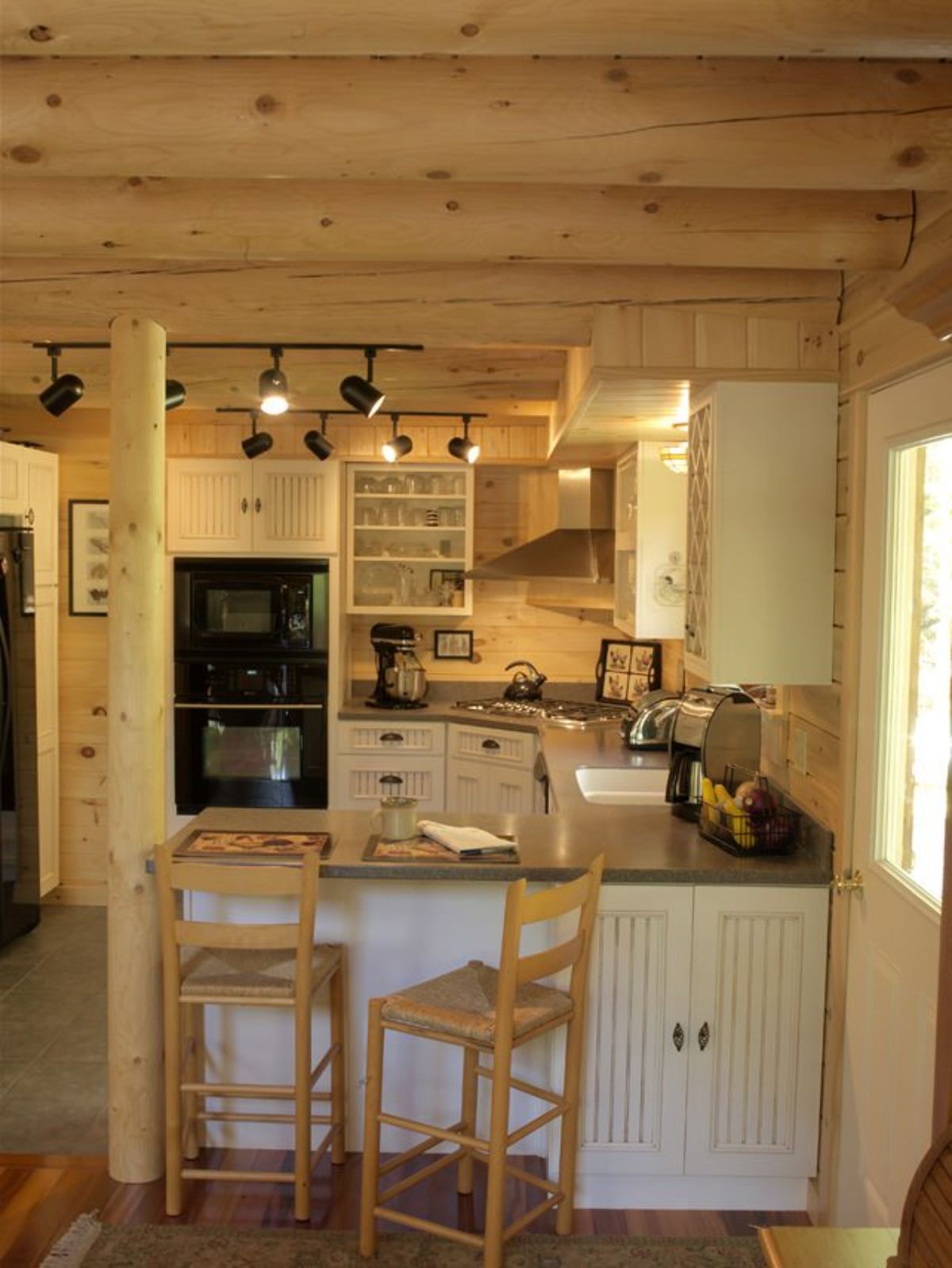 Below you get another look at the kitchen in the corner, plus a door beside it leading out to the porch on the back of the home.
To the left in this image is a staircase leading up to the loft. On this side of the home, there is a lofted bedroom above the main floor bedroom.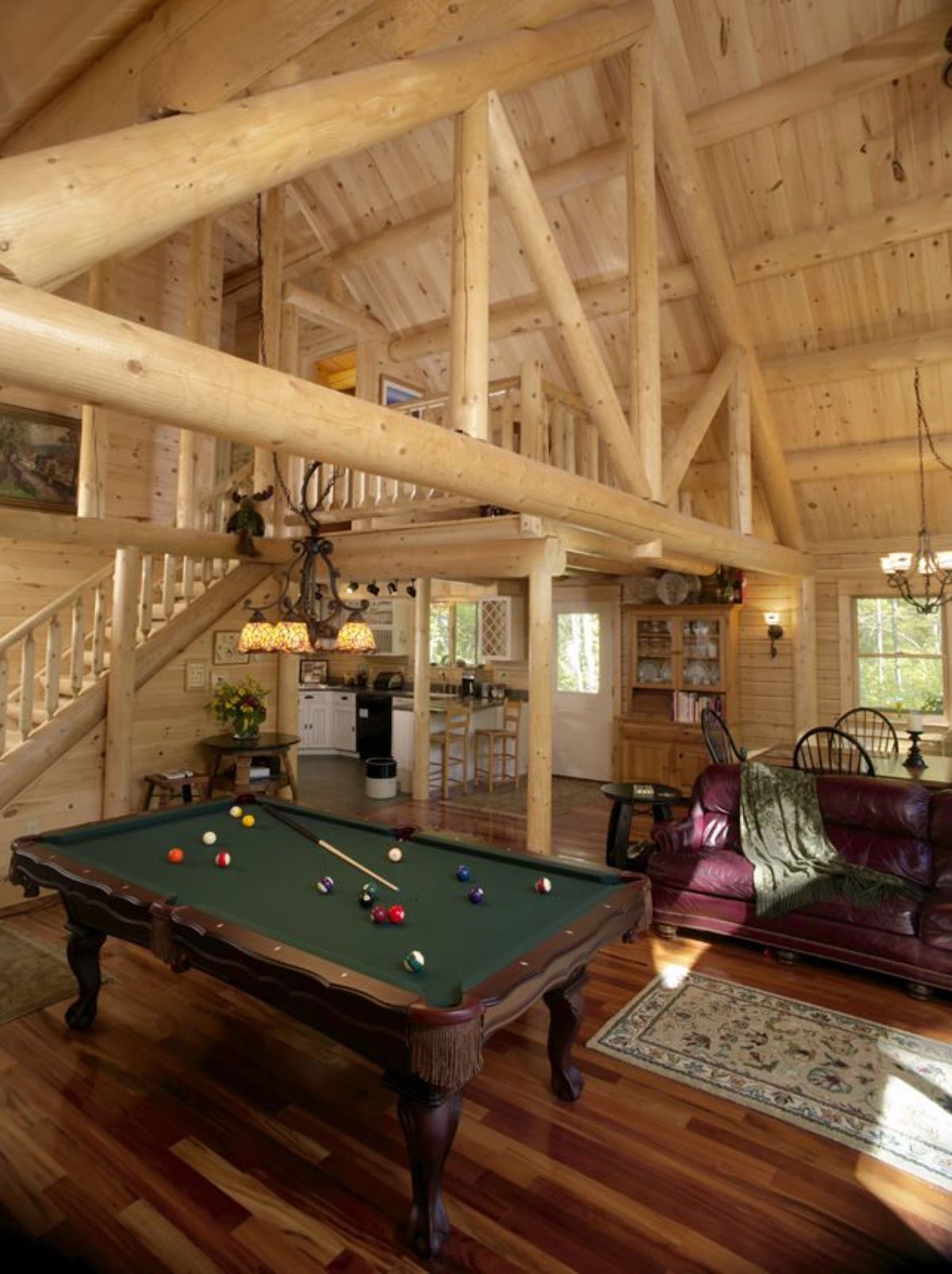 I love the beautiful light wood beams here and how it is so open and lets that natural light in from the other side of the home.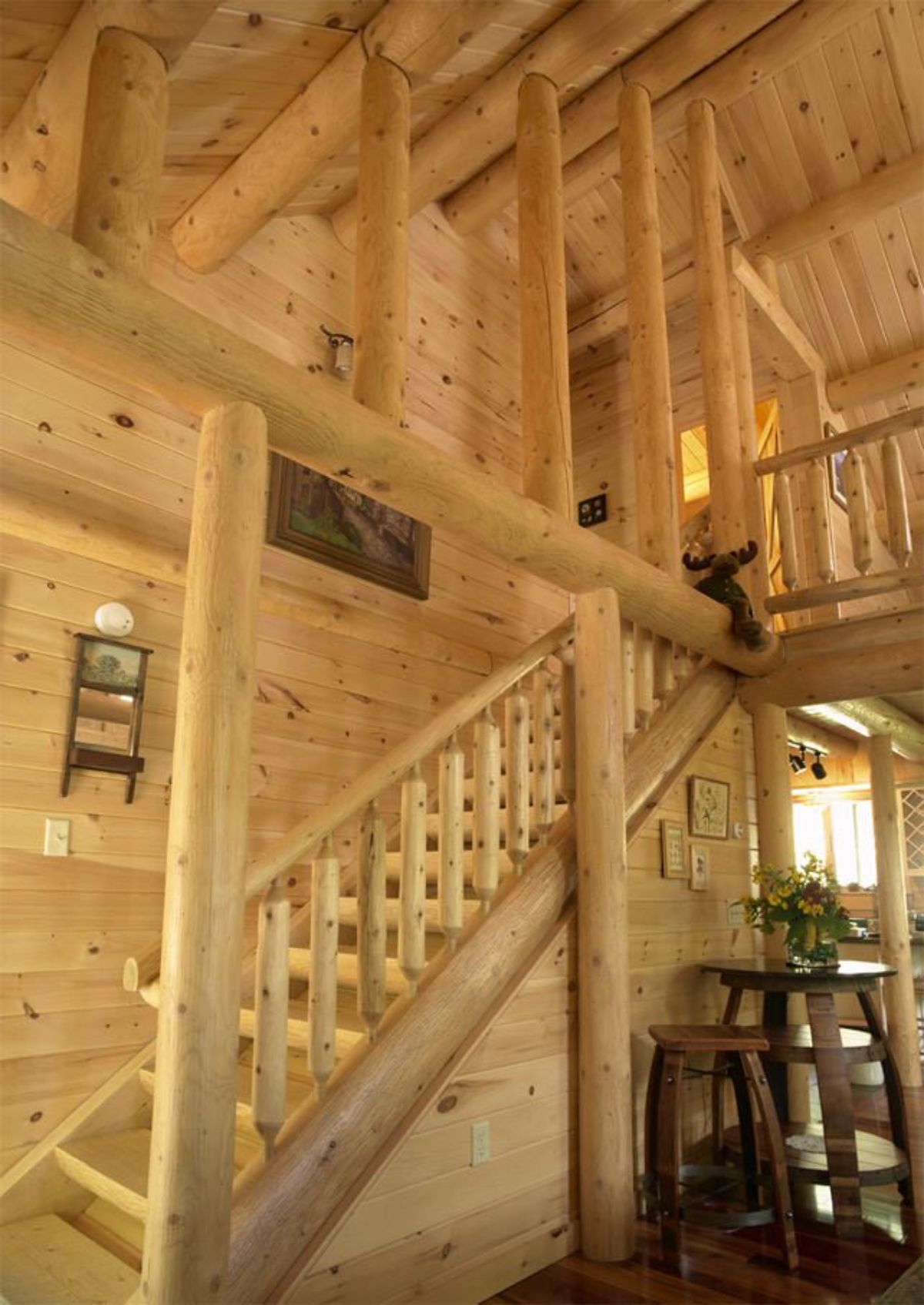 And looking down, you get another look at the pool table. Plus that fun hanging light above that is reminiscent of pool halls everywhere!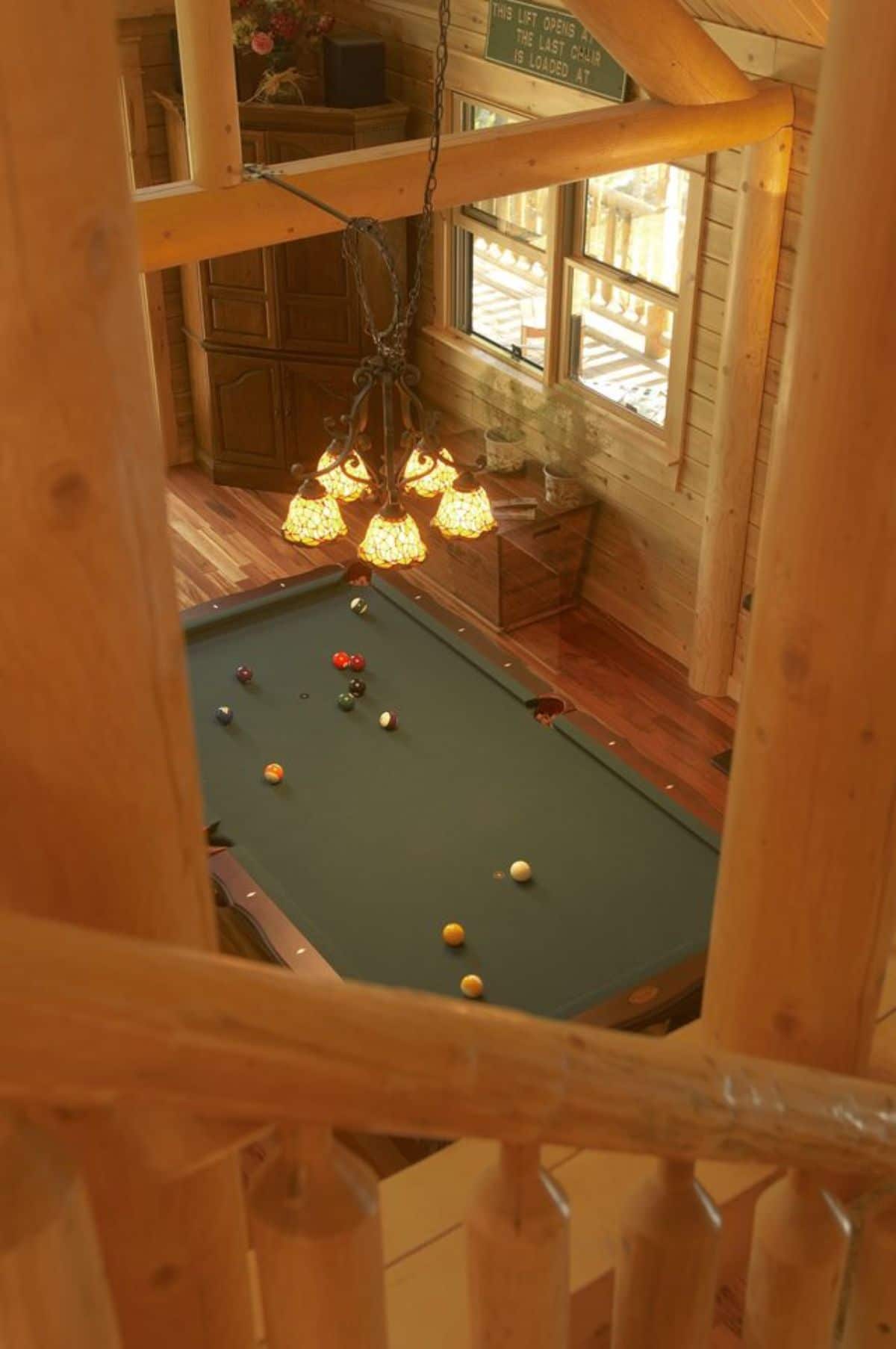 On the loft landing there is room for a rocking chair or even a small loveseat.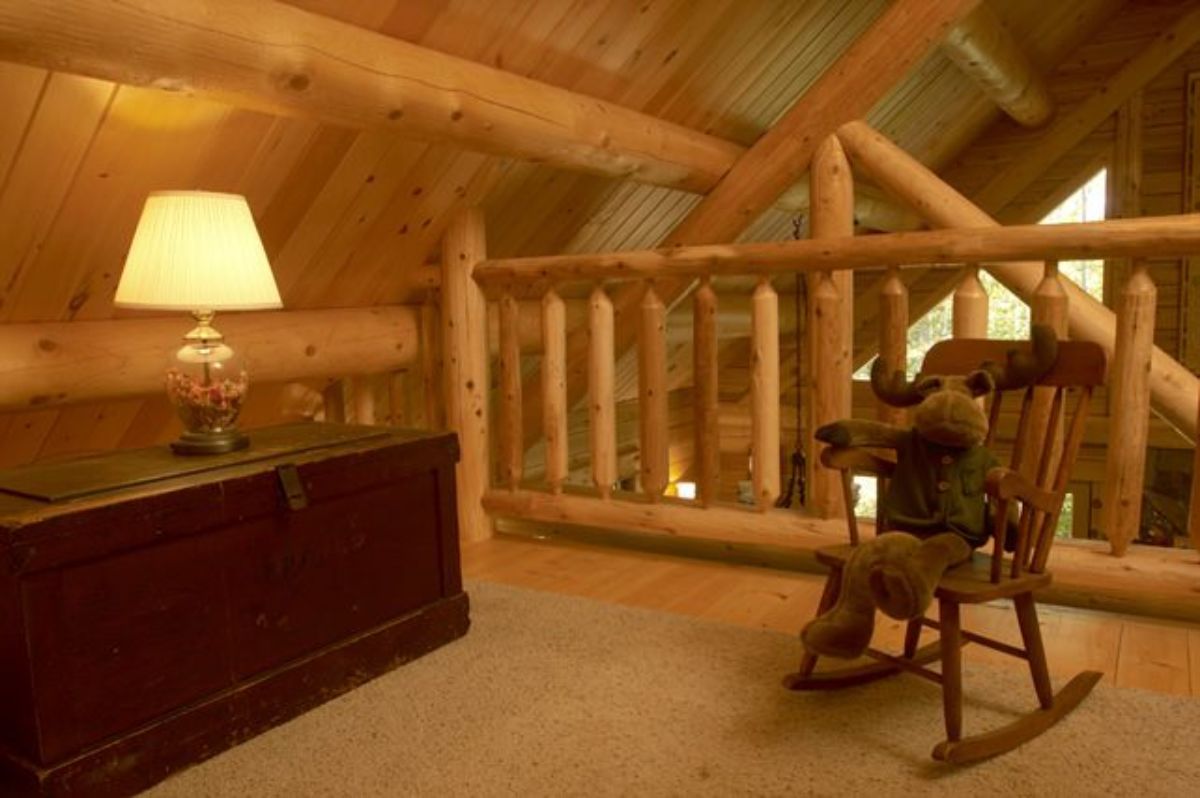 While the home has 3 bedrooms, the master is on the main floor and is a comfortable space that has room for a bed, dresser, chest of drawers, and large open windows that bring in light.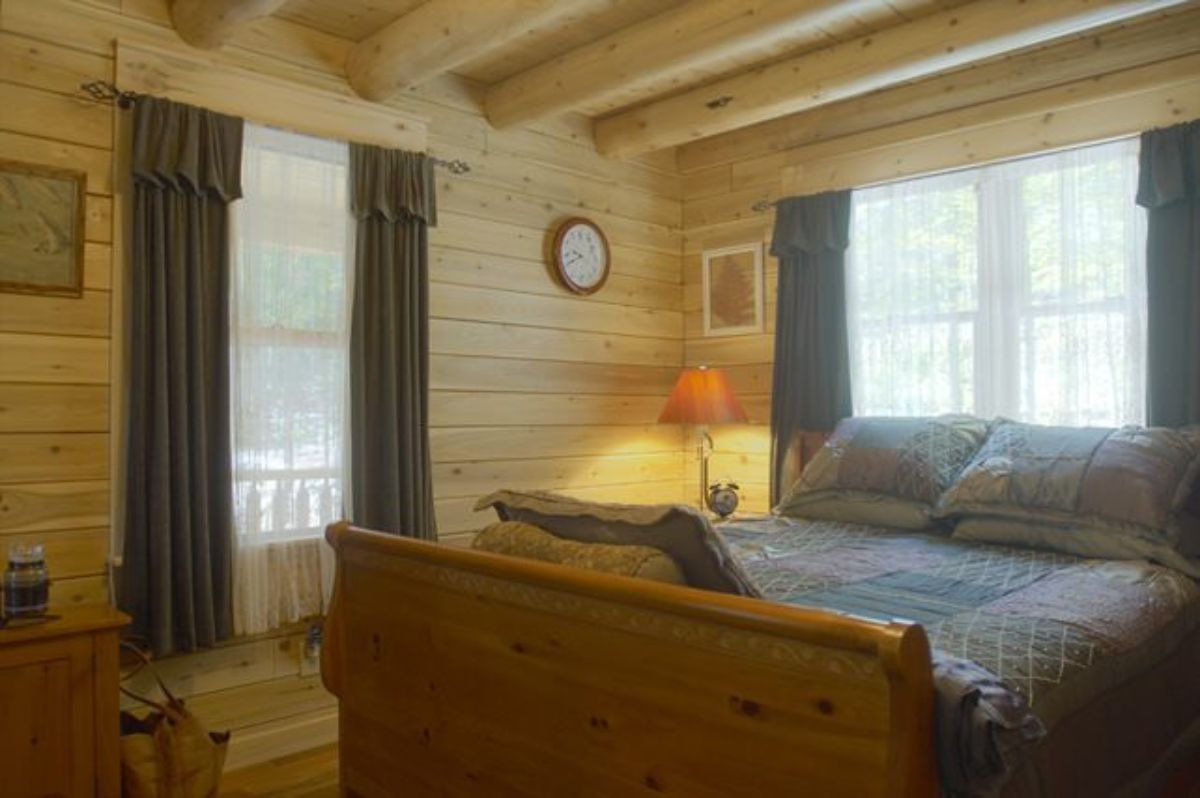 Of course, one of my favorite parts of the upper lofted area of this home is this walk-out balcony. Such a lovely private nook for your own little late-night glass of wine or early morning cup of coffee.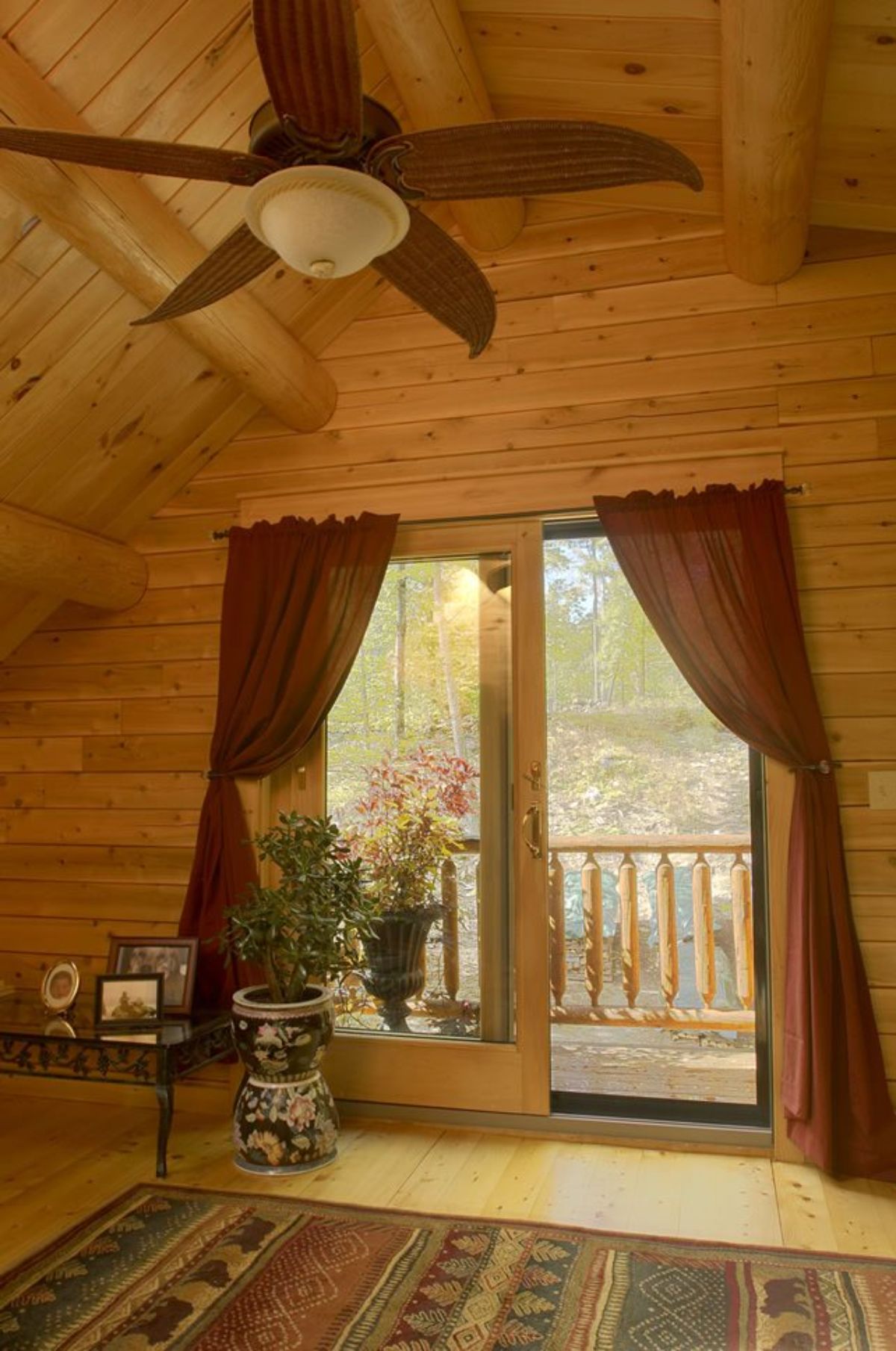 To learn more about this particular log cabin, check out the Katahdin Cedar Log Homes website. You can also find them on YouTube, Instagram, and Facebook with regular updates on their latest models. Make sure that you let them know Log Cabin Connection sent you their way.
More Log Cabin Kits and Tours