A classic family home, the Beuchel Log Cabin is another beautiful build that is ideal for creating your own unique floor plan. This home is inspirational for families with large open spaces, multiple bedrooms, and even a private second-floor balcony overlooking the front yard.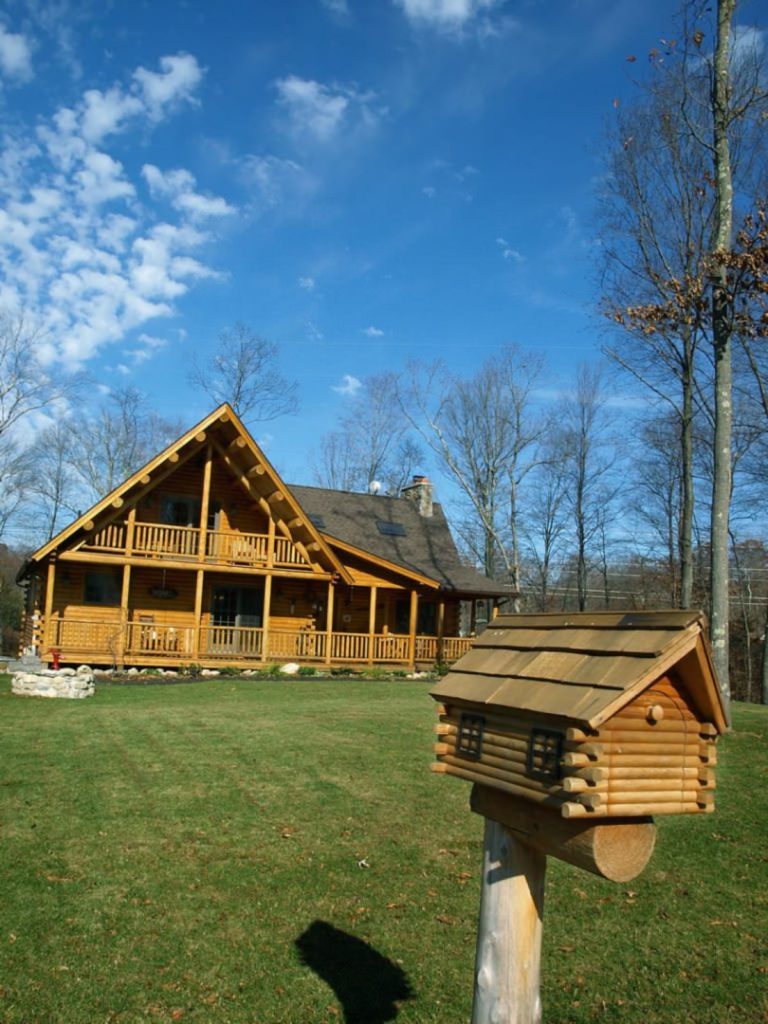 On the outside of this cabin, you will see a traditional shingled roof with a fairly steep pitch that allows for cathedral ceilings in the living room and a second-floor lofted bedroom.
Not only is there a covered porch all along the front of the home, but also a covered private balcony on that second floor. This would make a great master space with a private nook for your morning cup of coffee or a glass of wine after dinner.
And of course, I have to mention that they even built a mini log cabin for their mailbox! How adorable is that?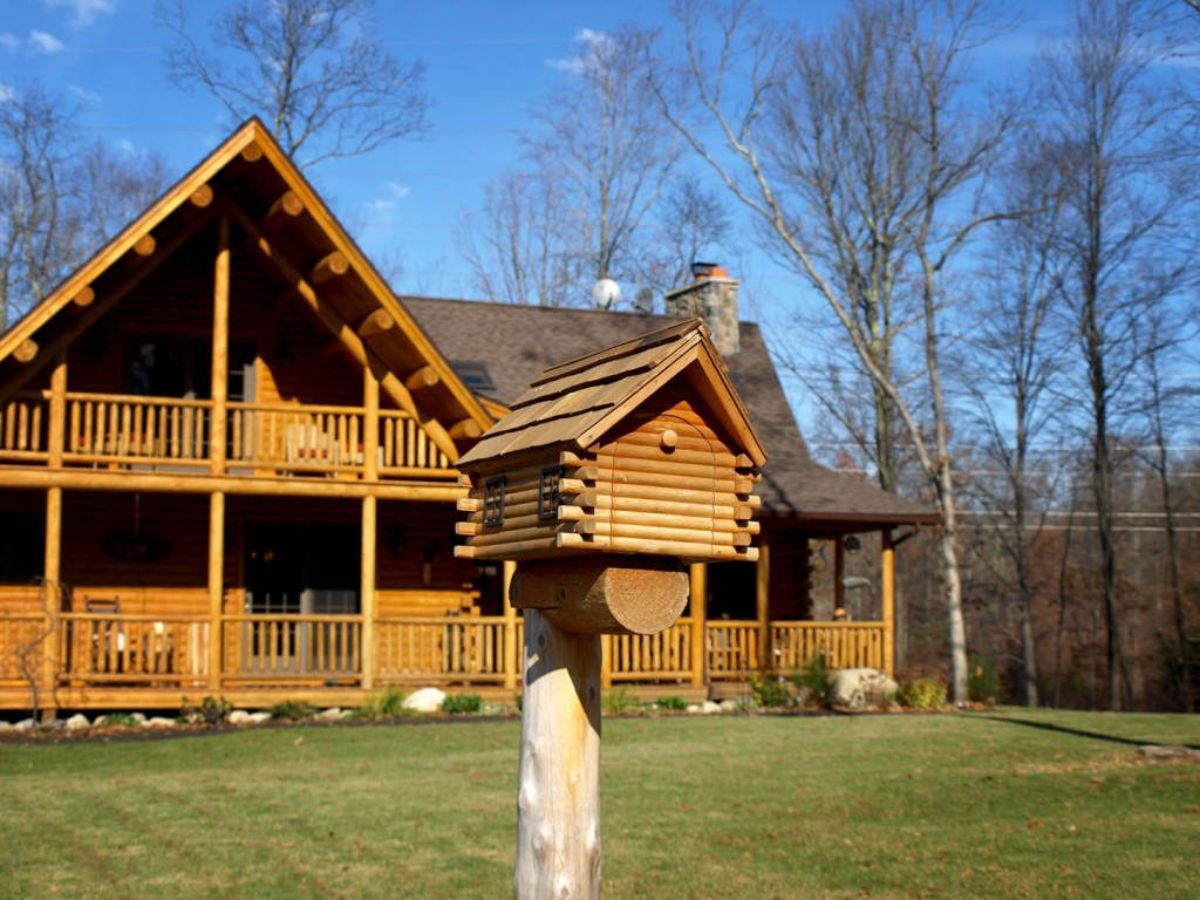 While we don't get a look at the backside of this property, you do get a look at the side showing the chimney and a part of the roof showcasing skylights for more light inside the home.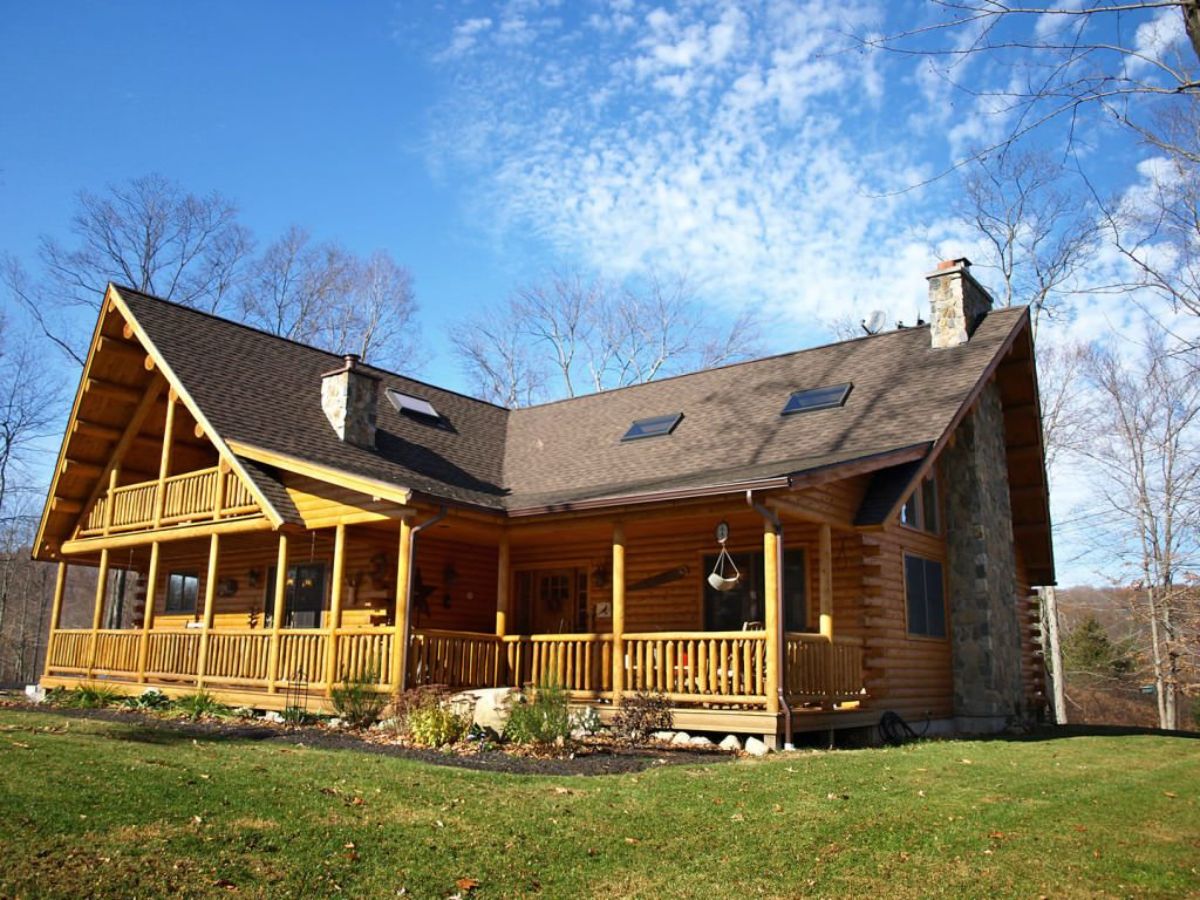 In the image below you can also see a bit more of that woodwork up close from the side of the loft balcony. And you get a glimpse showing the ceiling fan here!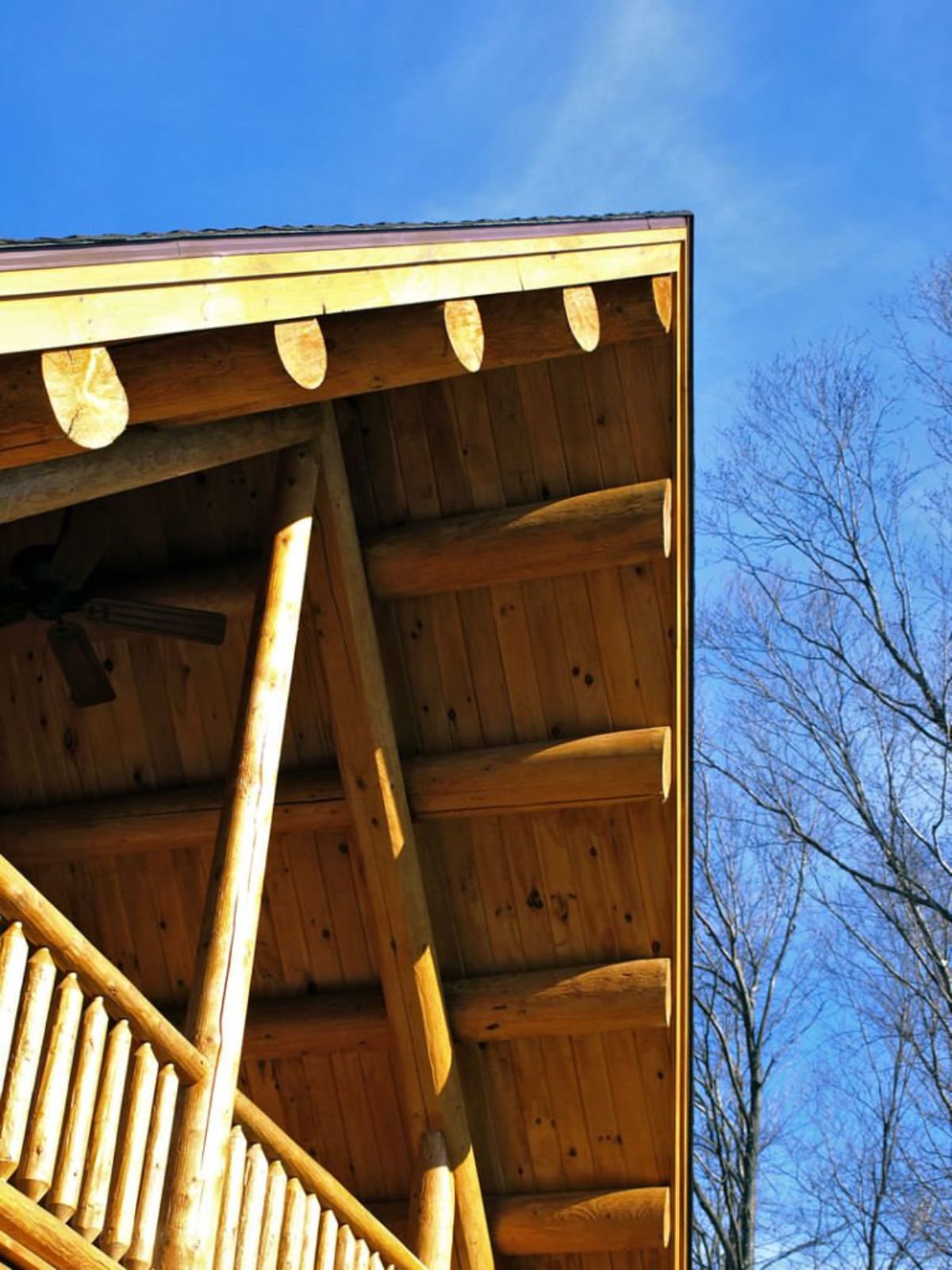 Front porches are a favorite part of any home, and cabins make them even more special with cozy seating nook like this one off to the side. They've added rocking chairs, a wicker loveseat, and two tables for a great space to relax with a book or have a glass of lemonade with a friend.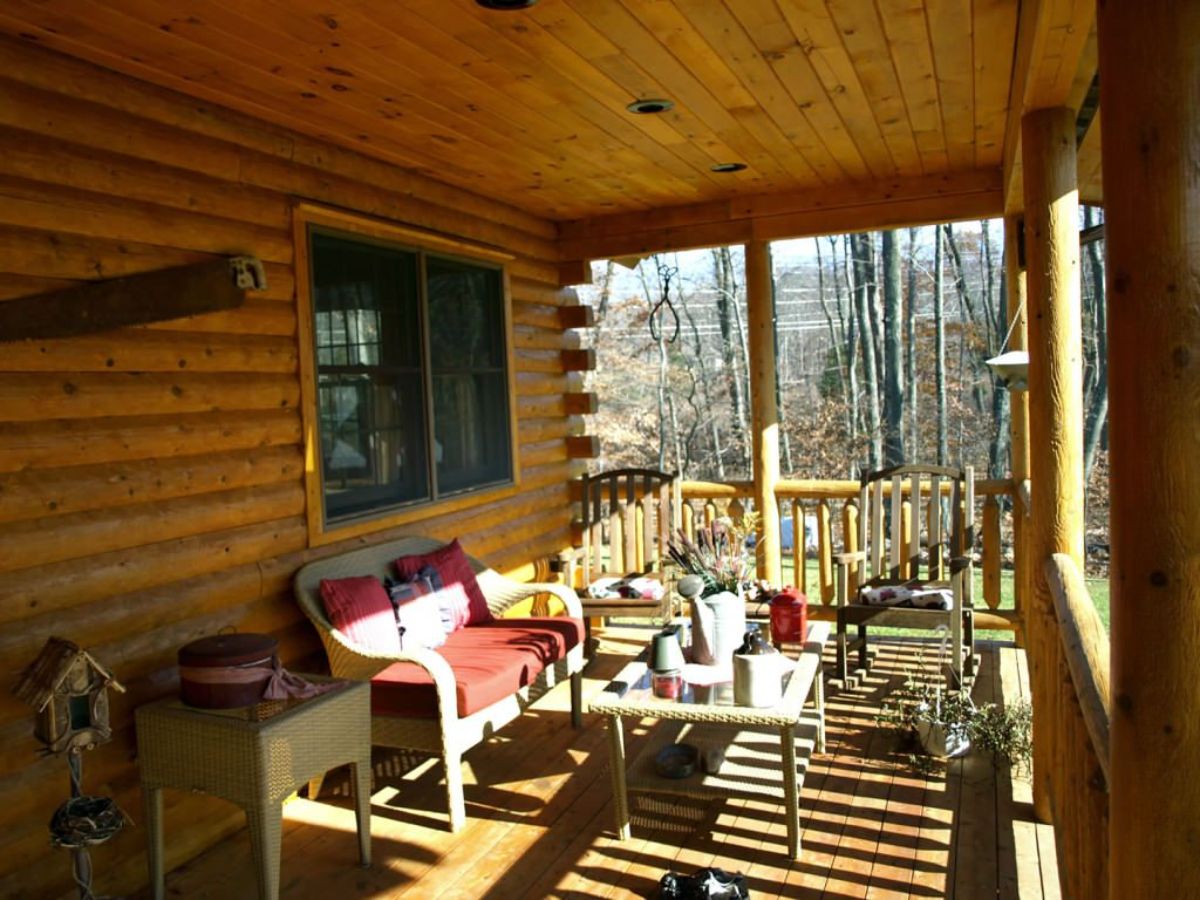 On the other side of the porch is the door with yet another little seating area. I like that they have also decorated this porch with rustic elements and style.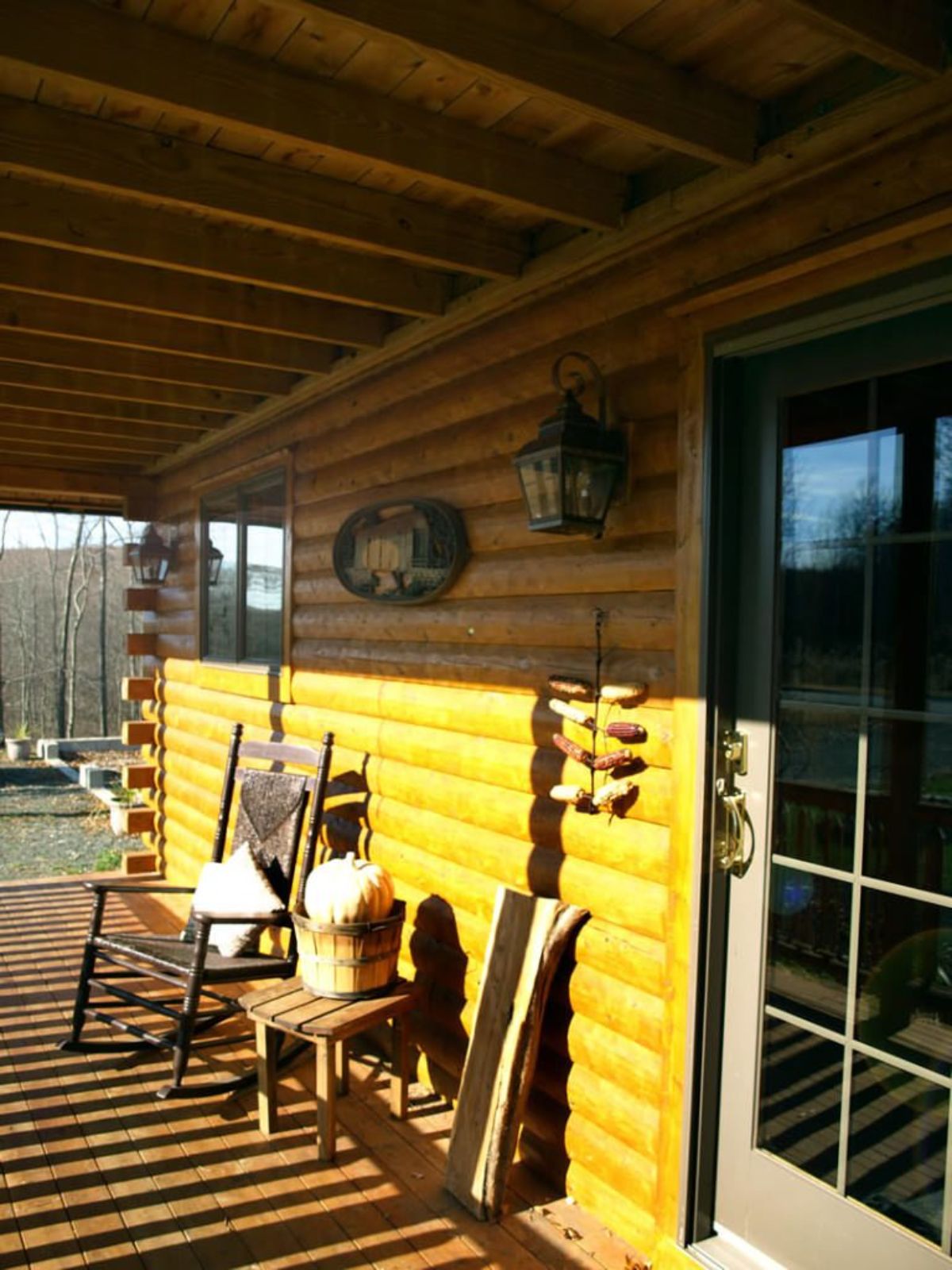 Inside the home is a nice large great room/living room with a fireplace, plenty of room for seating, and this gorgeous wall with trapezoid windows and skylights bringing in extra sun on cloudy days.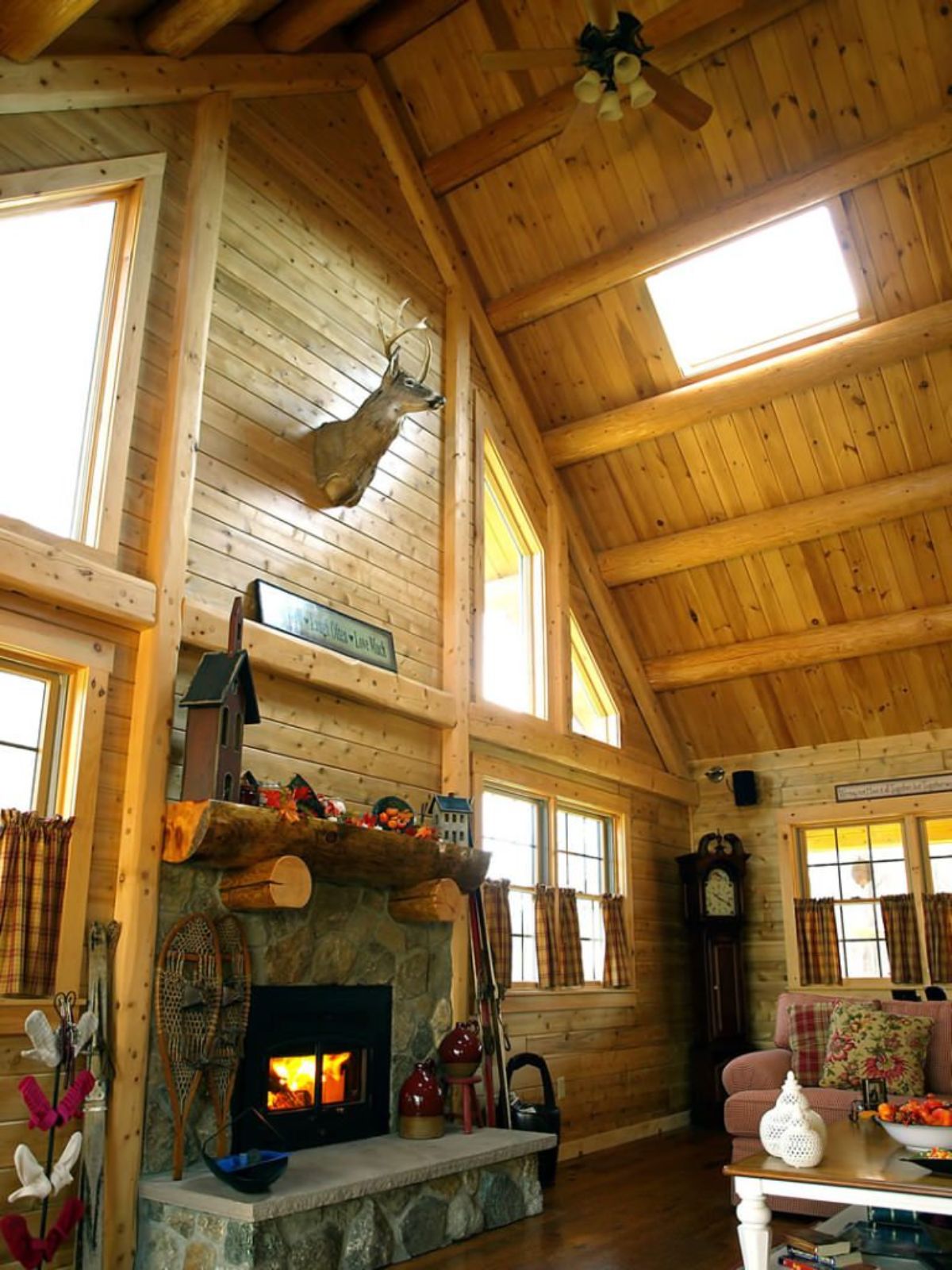 A gorgeous log staircase takes you up to that second-floor loft bedroom. I appreciate the raw wood look with half-log stairs and log spindles all along the railing.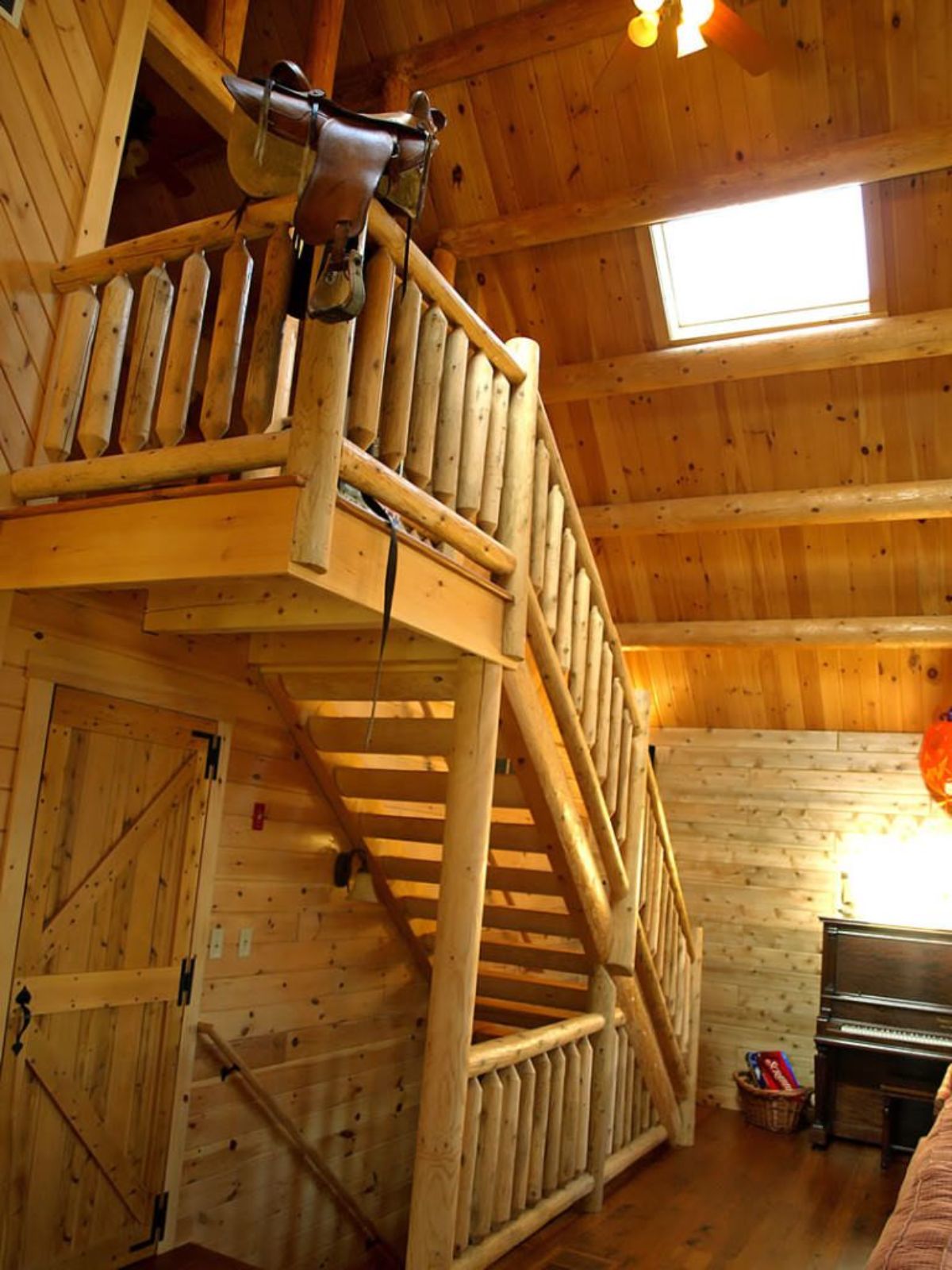 The kitchen in this cabin is a lovely combination of modern and old-school farmhouse style. With additions like this retro stove against one wall and modern cabinets with glass doors all around, it's a true home chef's kitchen.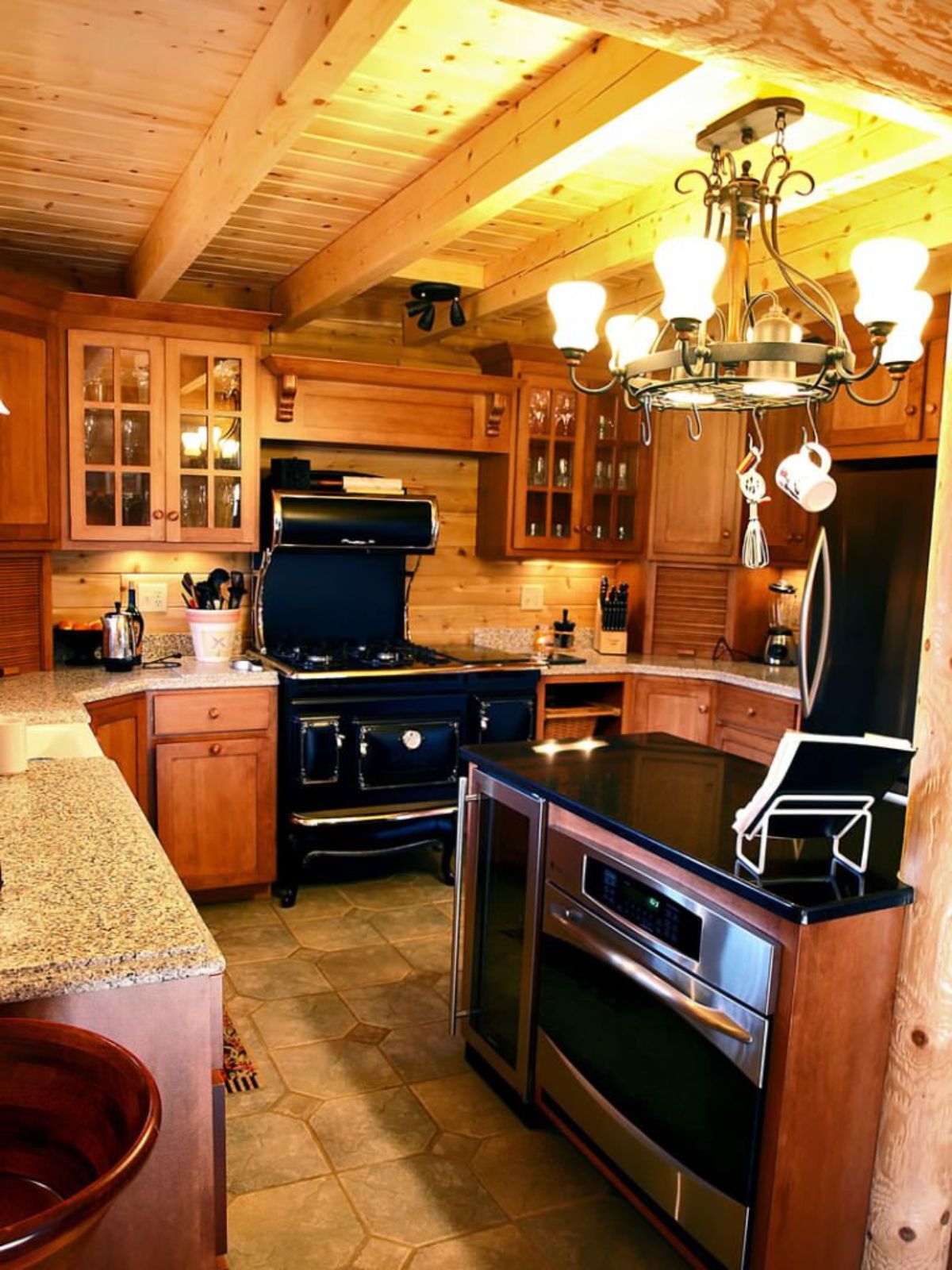 On the main floor, one bedroom is tucked away behind the great room and kitchen. It isn't an overly large bedroom but is comfortable with plenty of room to store your belongings and relax in a comfortable bed of your choice.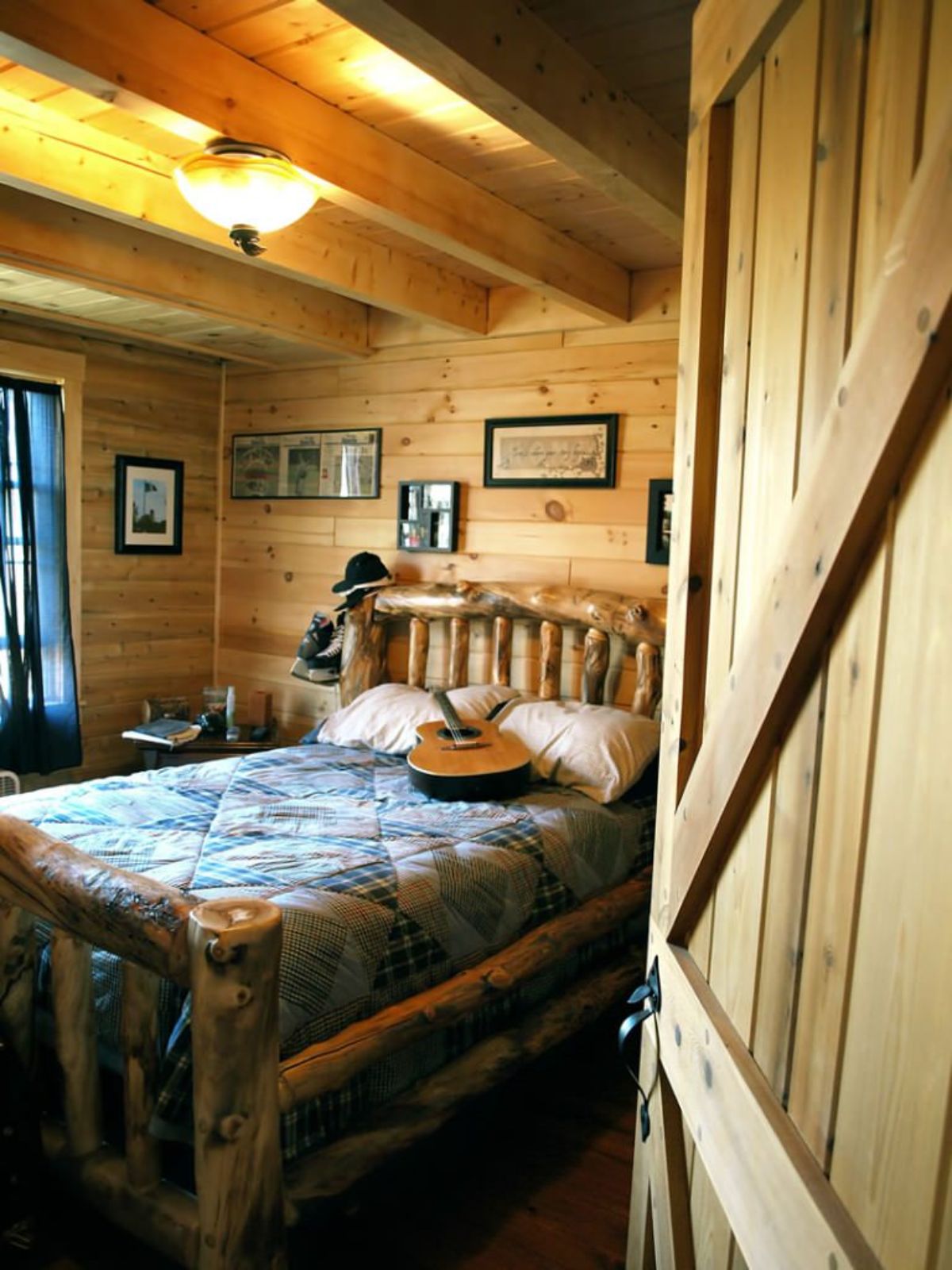 Upstairs, the lofted bedroom is probably my favorite room shown. I just love the idea of that private balcony plus the ceiling fan dangling over the bedroom. This wide-open space just feels like the ultimate oasis from the outside world.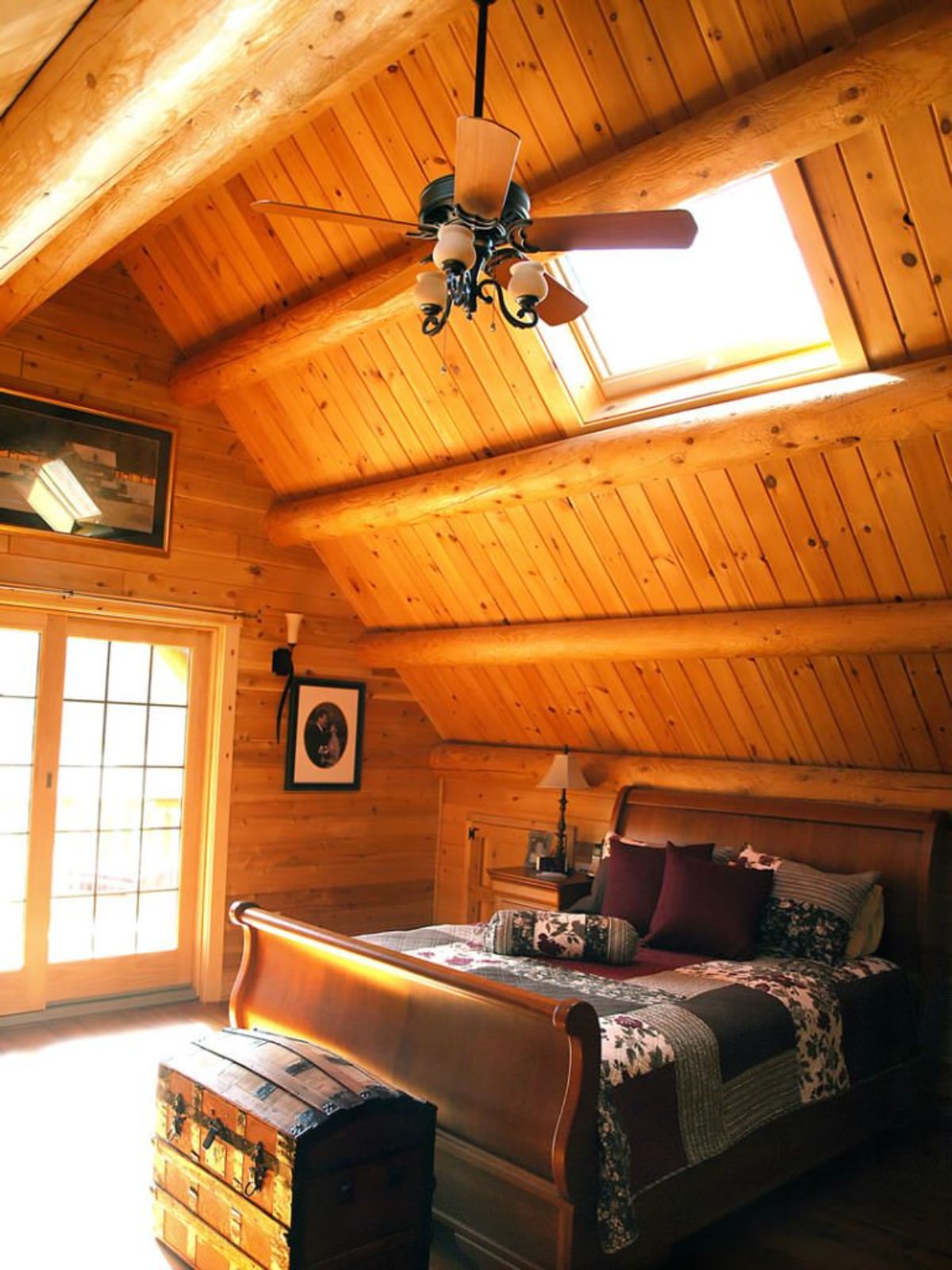 For more information on this model and others, check out the Katahdin Cedar Log Homes website. You can also find them on Facebook, Instagram, and YouTube for more regular updates. Make sure you let them know that Log Cabin Connection sent you here.
More Log Cabin Kits and Tours