A sprawling ranch-style cabin is one of those homes that are ideal for families. Open porches leading out to the backyard and plenty of room for everyone to gather make the Smith Westport log cabin a beautiful example of a sturdy log cabin built with personality and function.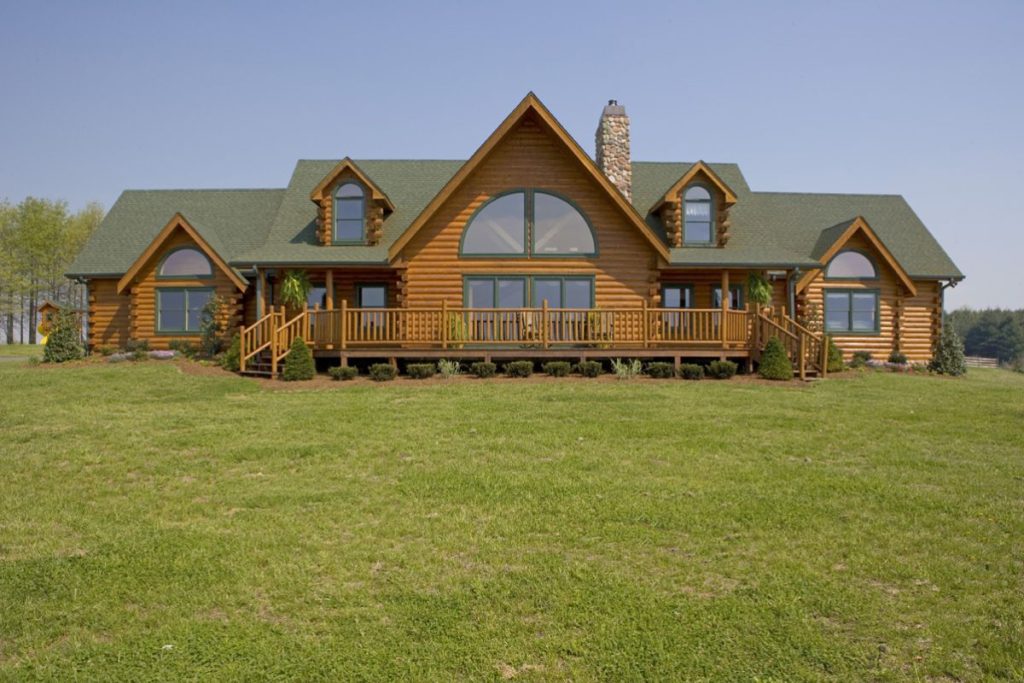 Log Cabin Size
1,928 square feet
3 bedrooms
3 bathrooms
This cabin build is based on the Westfield cabin plans. With some changes, a custom family home was built that is ideal for their needs.
Log Cabin Features
Attached garage.
Loft with bedrooms.
Open great room with fireplace and wall of windows leading outside.
Large deck on the back of home just outside great room.
Cathedral ceiling in parts of the main floor for the classic open feeling.
Master suite with walk-in closet and attached en suite with walk-in shower and garden tub in the corner.
Kitchen open to living and dining area for easy entertaining.
A breezeway attaches the garage to the home with a laundry room setup.
The second floor includes two bedrooms, a full bathroom, and an open space that could easily be a home office or reading nook with views of the main floor below.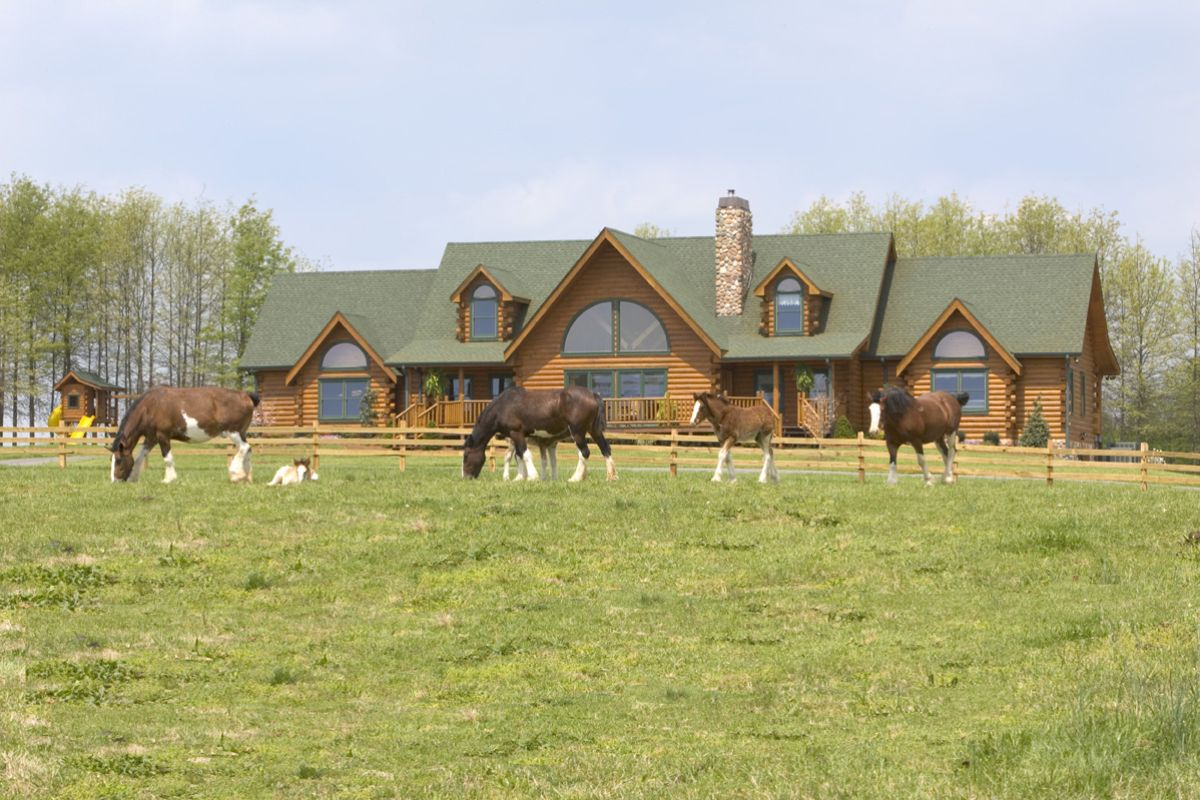 The Smith cabin was built on a beautiful piece of property as part of a ranch or farm layout with horses in the pasture. While it looks and is a luxury home in many ways, you'll see that it can be ideal for any lifestyle, with just a few changes needed.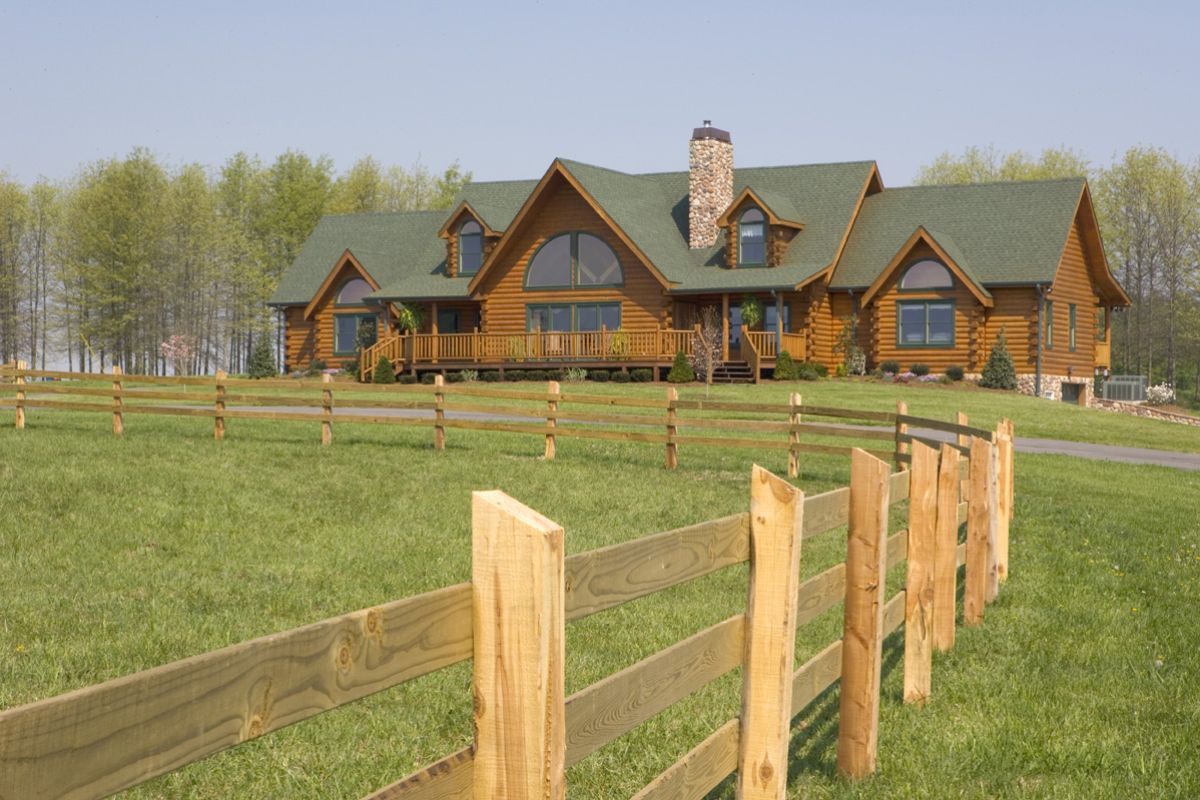 One of my favorite parts of this home is that you have wrap-around porches with covered and open options. On this front side of the home, you have covered porches along the length of the cabin with the second floor including a small balcony off of the loft that is an ideal private reading nook.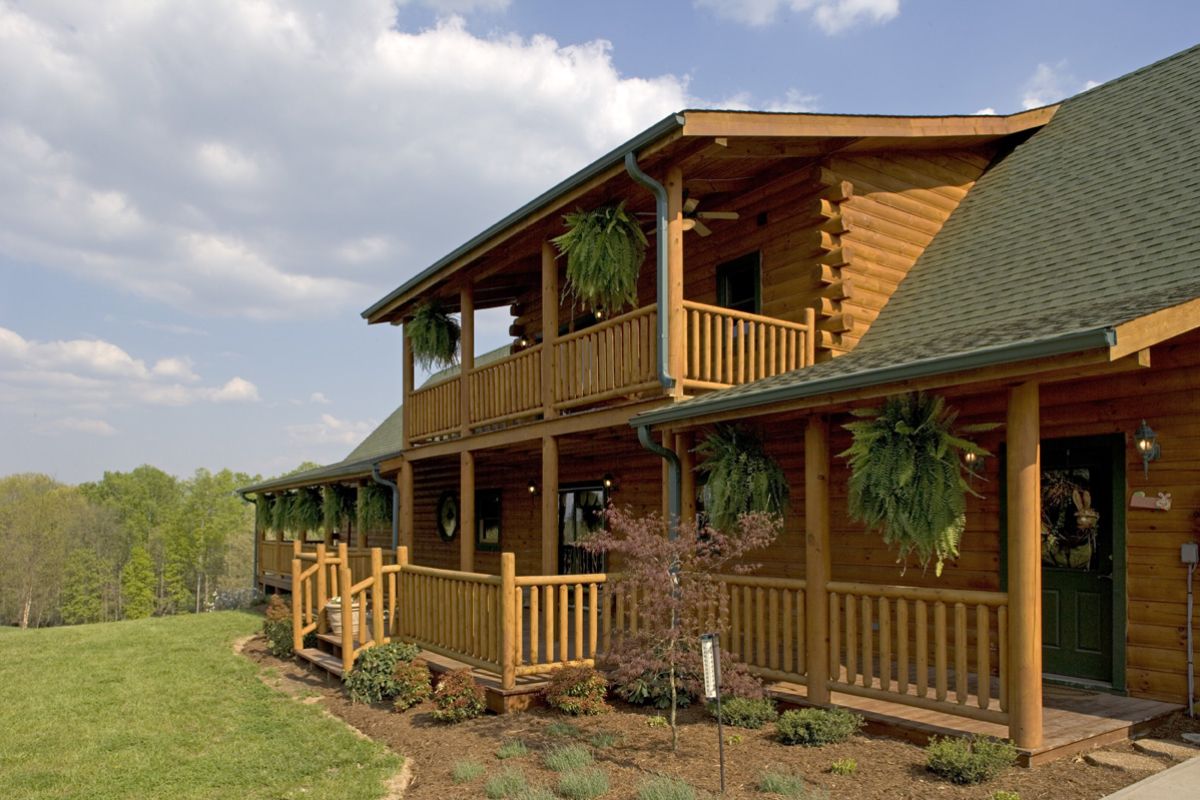 Below, you can see a bit more of the back of the home with those great room windows and doors. I love the open deck here that is ideal for that afternoon sunshine, and the fact that it has stairs leading down into the property on both sides.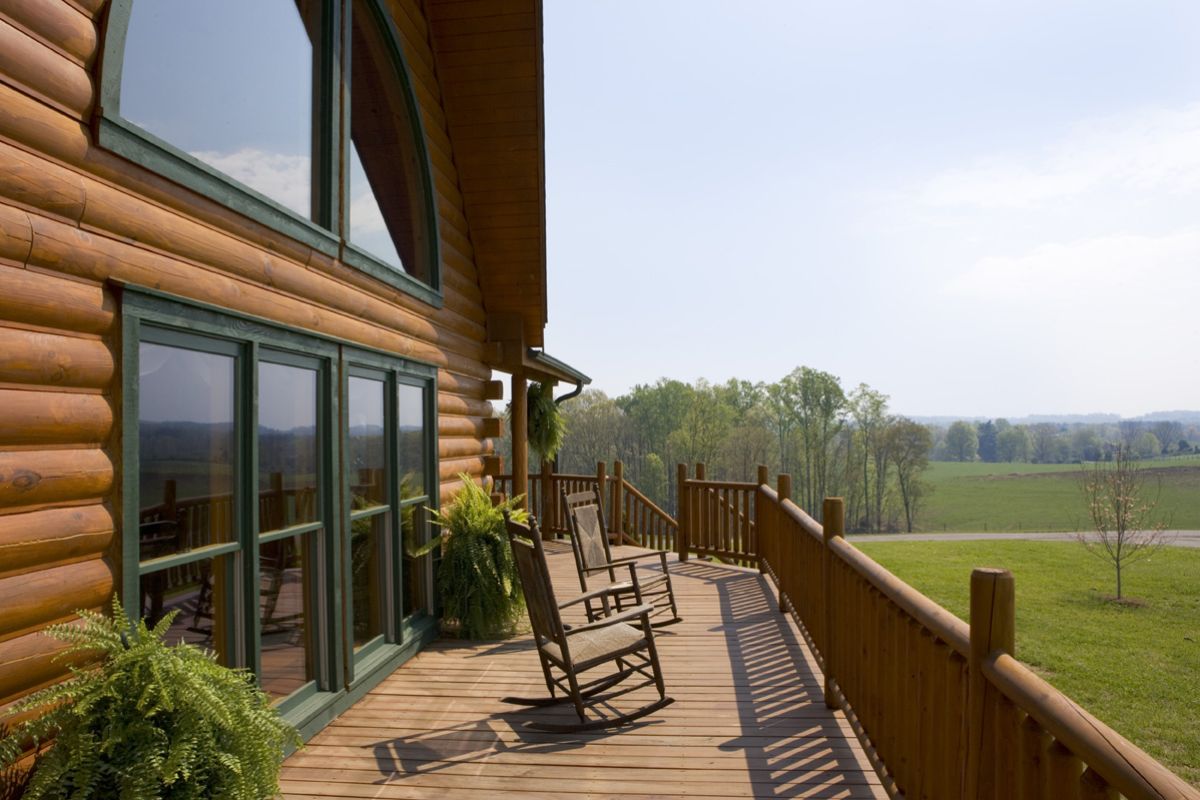 Of course, on the outside of the front of the home, you have a place like this for a few rocking chairs in the shade. I can just imagine sitting here with a glass of lemonade or sweet tea rocking in the breeze on a summer day.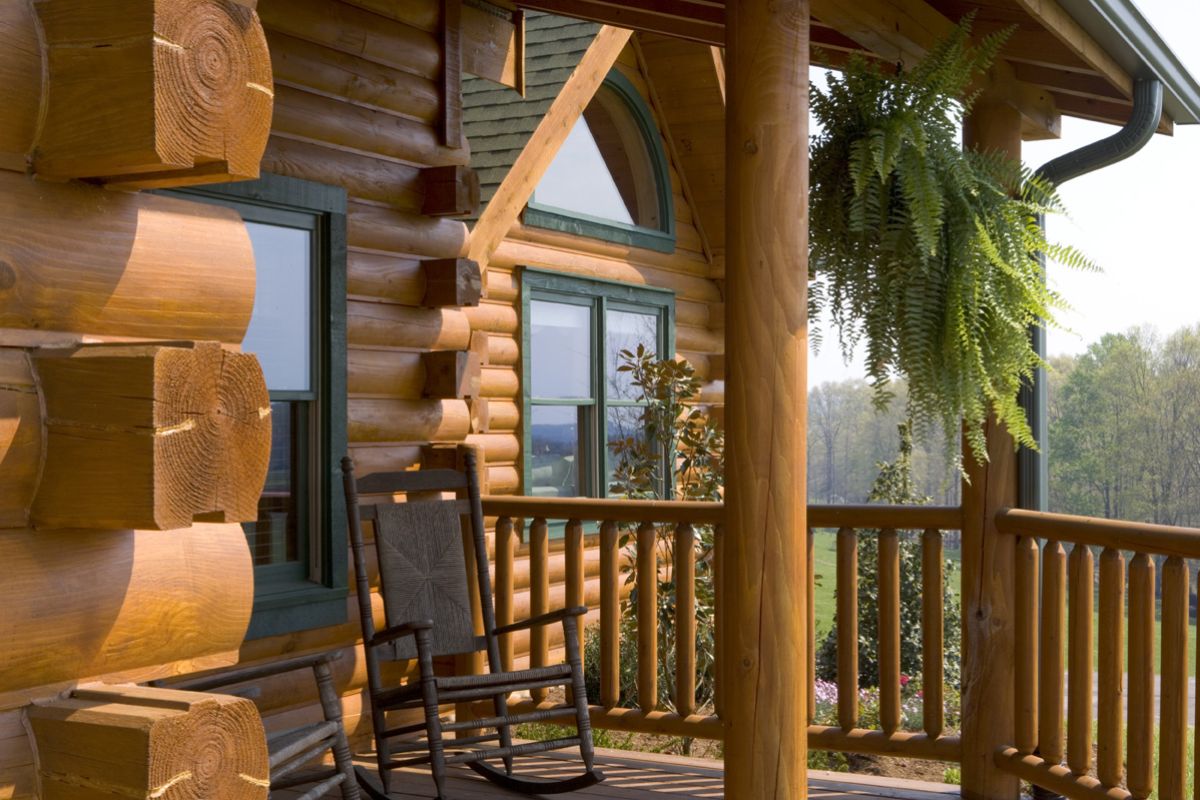 The front door is off the side of the home and enters right into the great room and living room area. Here you can see this is set up as a nice little seating area with a stone fireplace on one side and open glass doors and windows on the right side looking out onto the uncovered deck.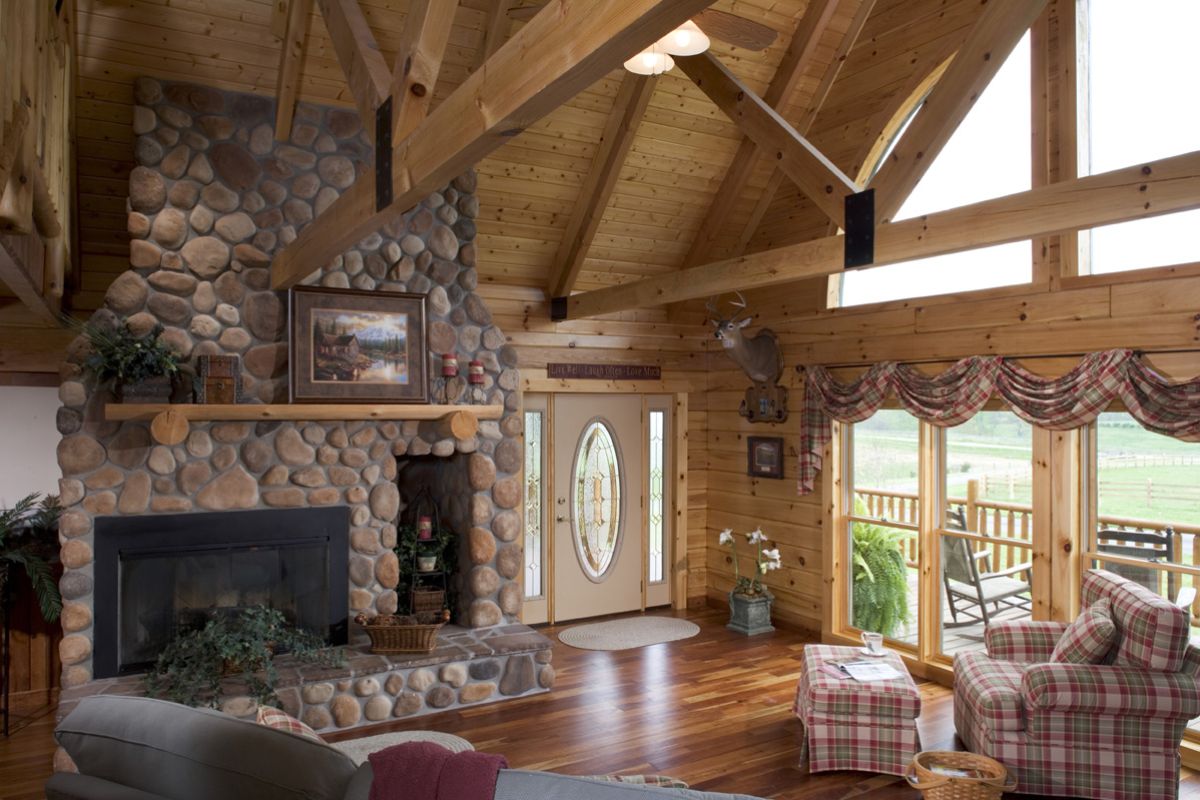 From another angle, you can see a bit of the open loft upstairs as well as into the dining nook on the other side of the fireplace. This home has that easy layout that makes it simple for you to go from room to room or entertain guests while not feeling like you are all crowded in a small space.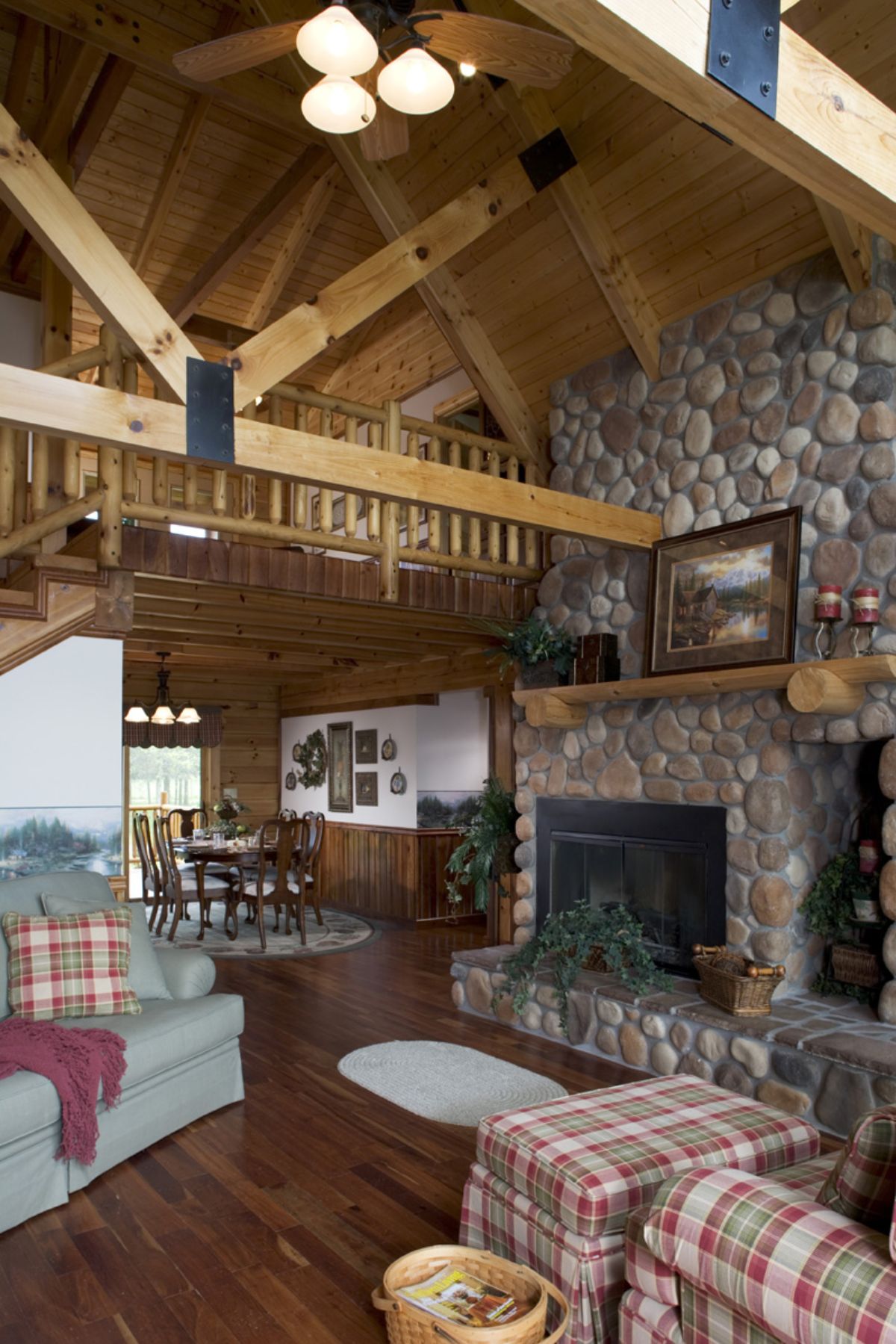 The dining room is just outside the living room and kitchen making it convenient both for simple family meals as well as formal dinner parties. Plus, you have sliding glass doors on the other side that takes you right out to the deck. This is important for those weekend barbecues or parties when you want guests to enjoy the outdoors but still keep food chilled and handy through that door.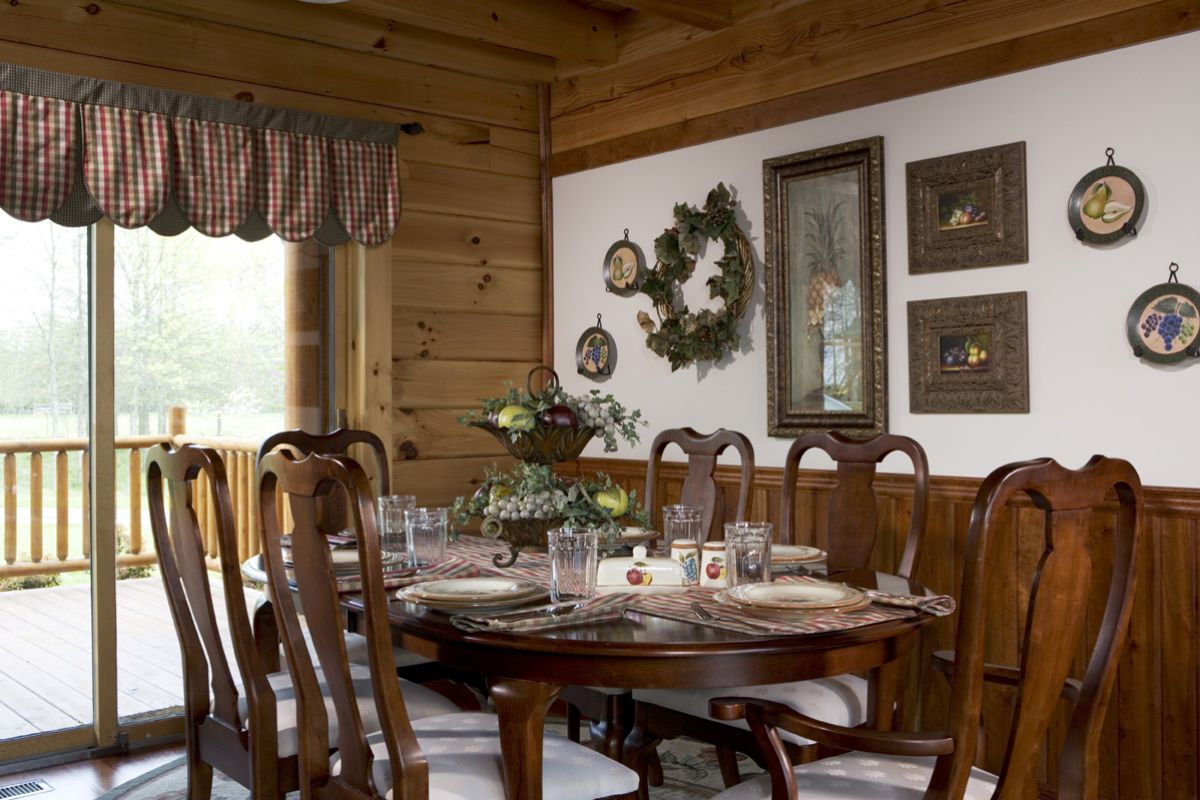 A simple kitchen with everything you need in this little u-shaped layout is a wonderful addition to any home, but especially this cabin. At first glance, I love the style of this farmhouse country chic kitchen. It feels homey and welcoming.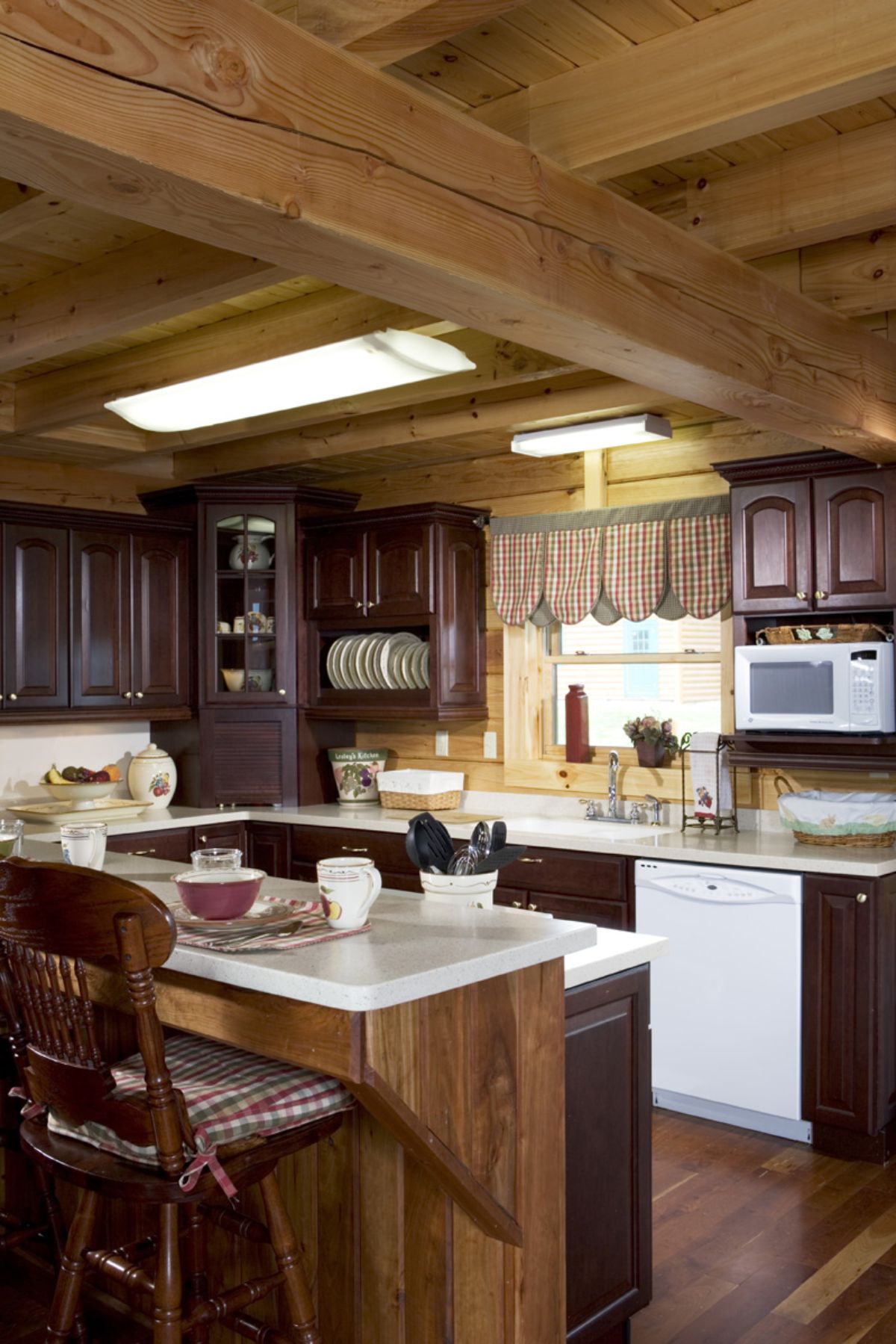 On the second floor of the home, the stairs take you up to an open loft area here, with bedrooms on both sides and a full bathroom in the center for easy access. This is great for the kids or even for guests to have a semi-private space that is convenient.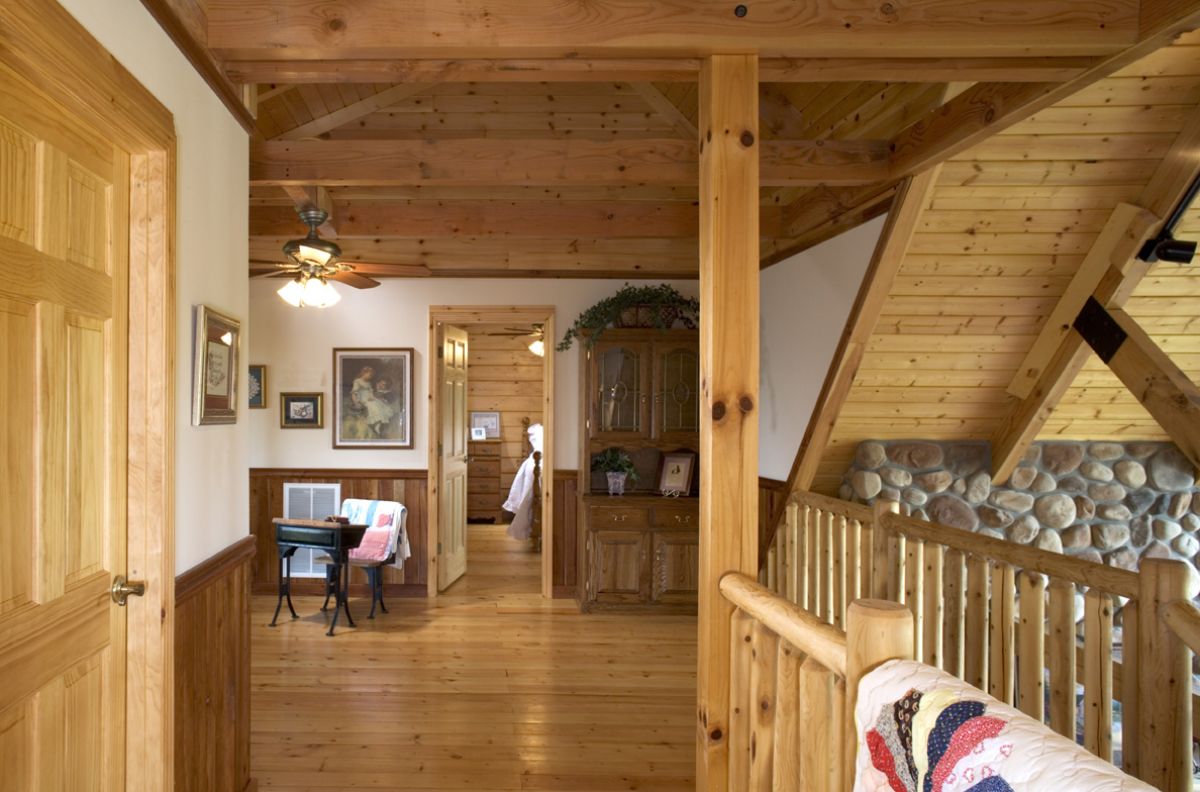 One of the advantages of a lofted bedroom is that you have these taller ceilings plus the extra natural light from those dormer windows. And, one of my favorite things about this space is the little door tucked in the corner for extra storage under the eaves.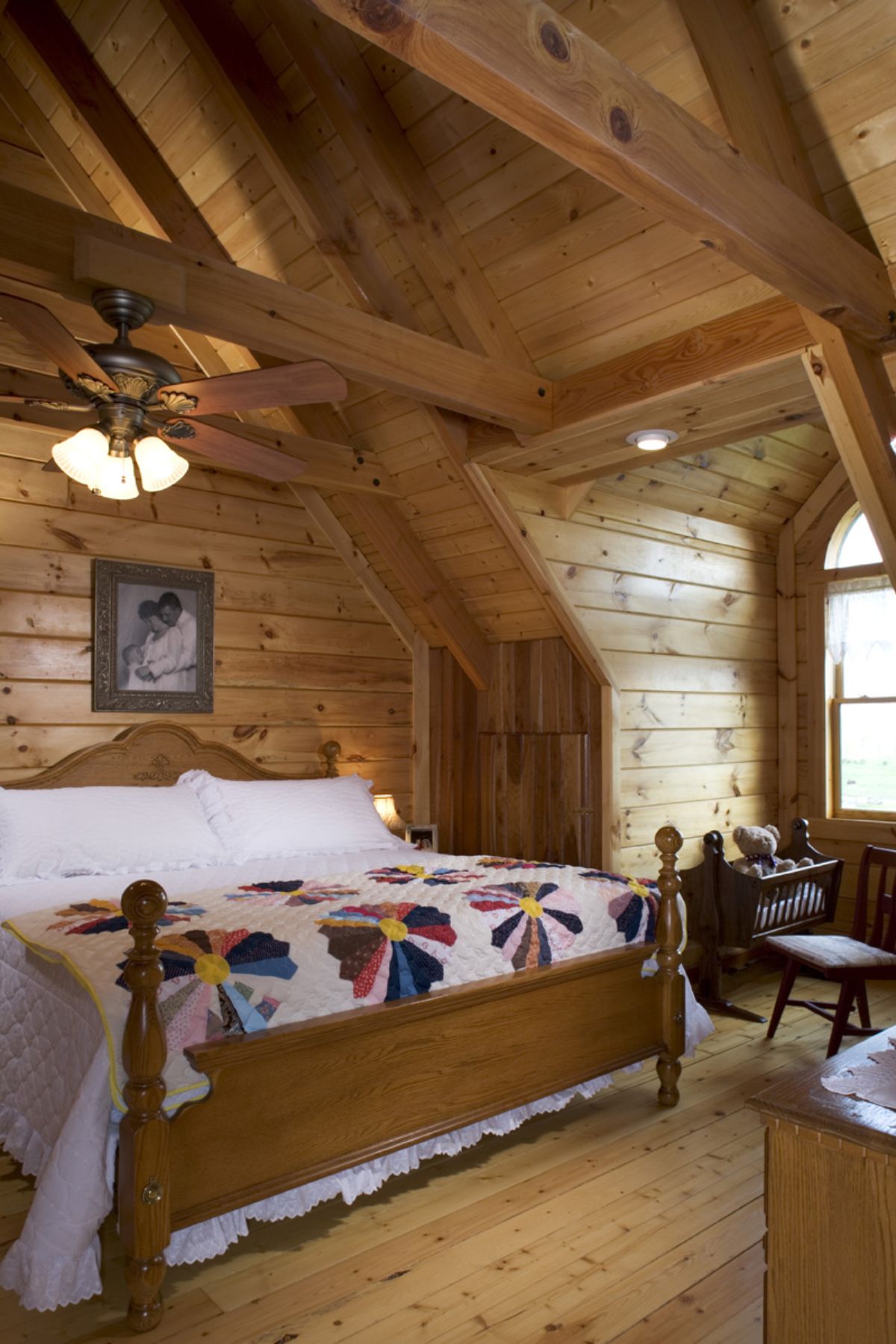 A kid's bedroom on the main floor has a bunk bed setup with a larger bed on the bottom bunk and a twin on the top. This could be great for any child or even guests. It's a simple space with room for your needs and natural light from windows pouring into the space on both sides.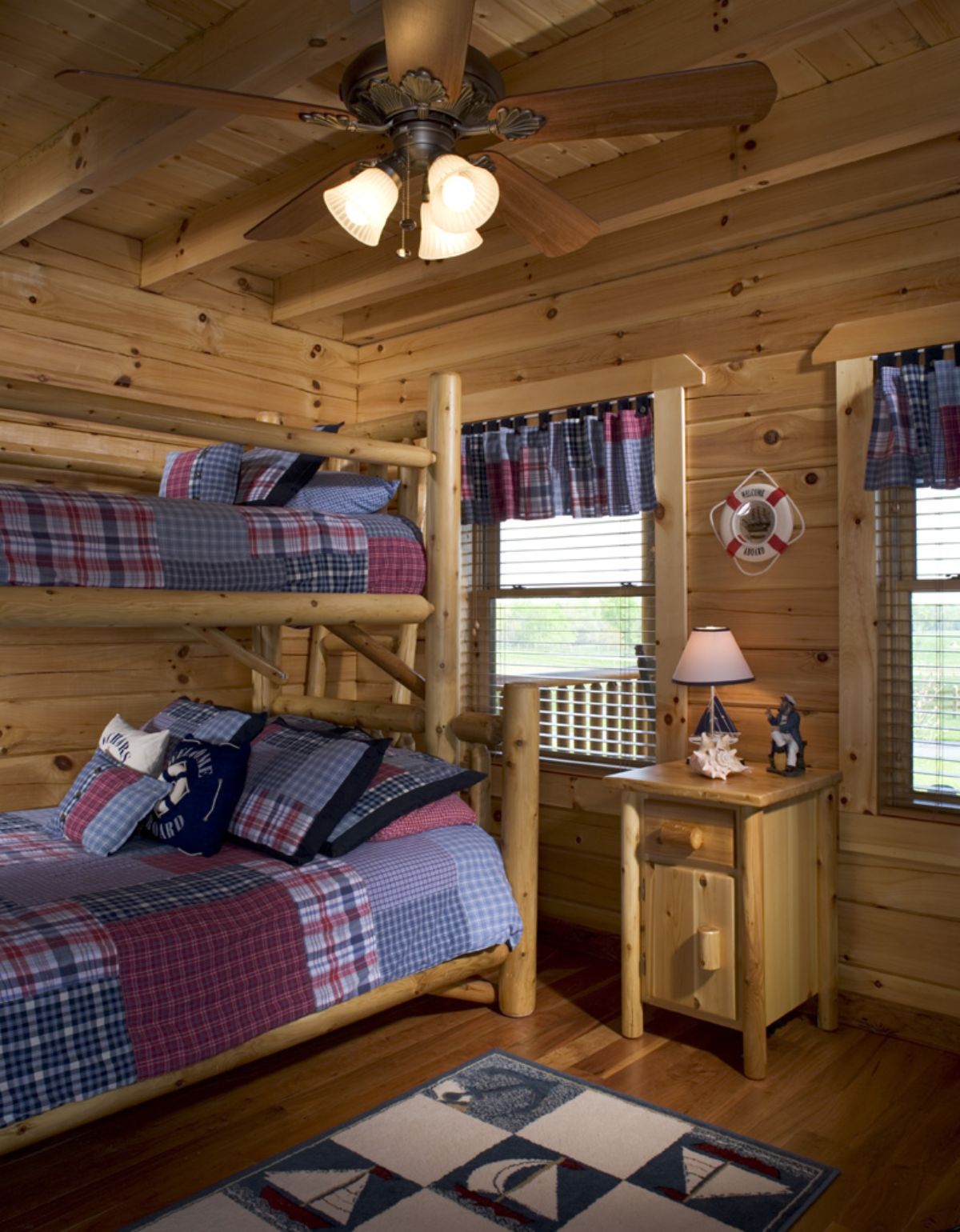 In the master suite, you see a larger space that runs the full length of the home. There is room for the bed on one side, and a sofa against the windows on another side. A walk-in closet isn't shown but is in this space with extra room for more chairs or storage if desired.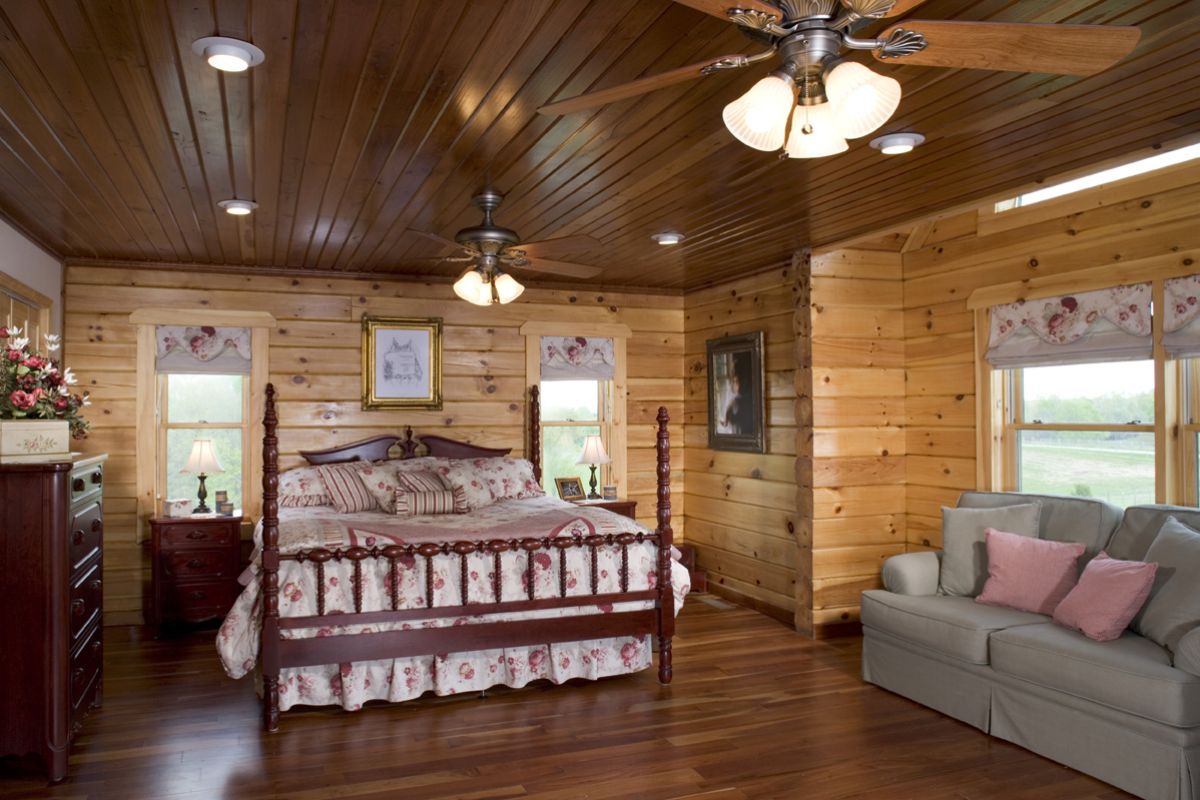 Through glass doors, you find the bathroom that includes a walk-in shower on one side and this lovely garden tub or jacuzzi-style bathtub in the corner with a stained glass window above. It's beautiful and welcoming while becoming the oasis you desire from the rest of the world.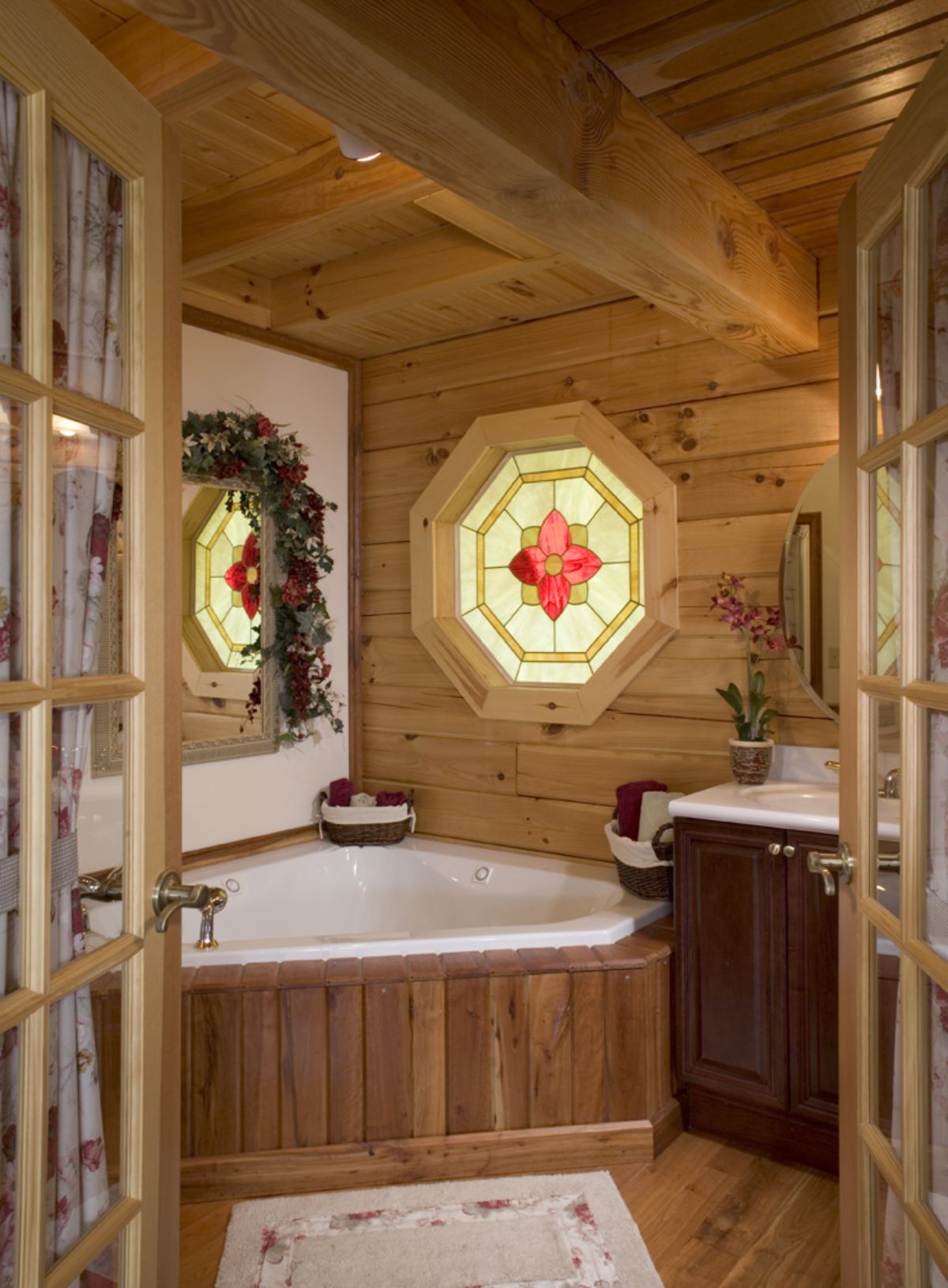 For more information about this cabin and similar plans, you can check out the Honest Abe Log Homes website. You can also follow them for more regular updates on their Facebook page, Instagram profile, or even over on YouTube for more home tours. Make sure that you let them know that Log Cabin Connection sent you their way.
More Log Cabin Kits and Tours