For those who want to build their dream home as a log cabin, Fairview Log Homes is a wonderful option with gorgeous designs, high-quality construction, and multiple options to choose from. One of my favorites is The Roswell with the simple layout, extended porches, and sloping roofline. A beautiful home both inside and outside.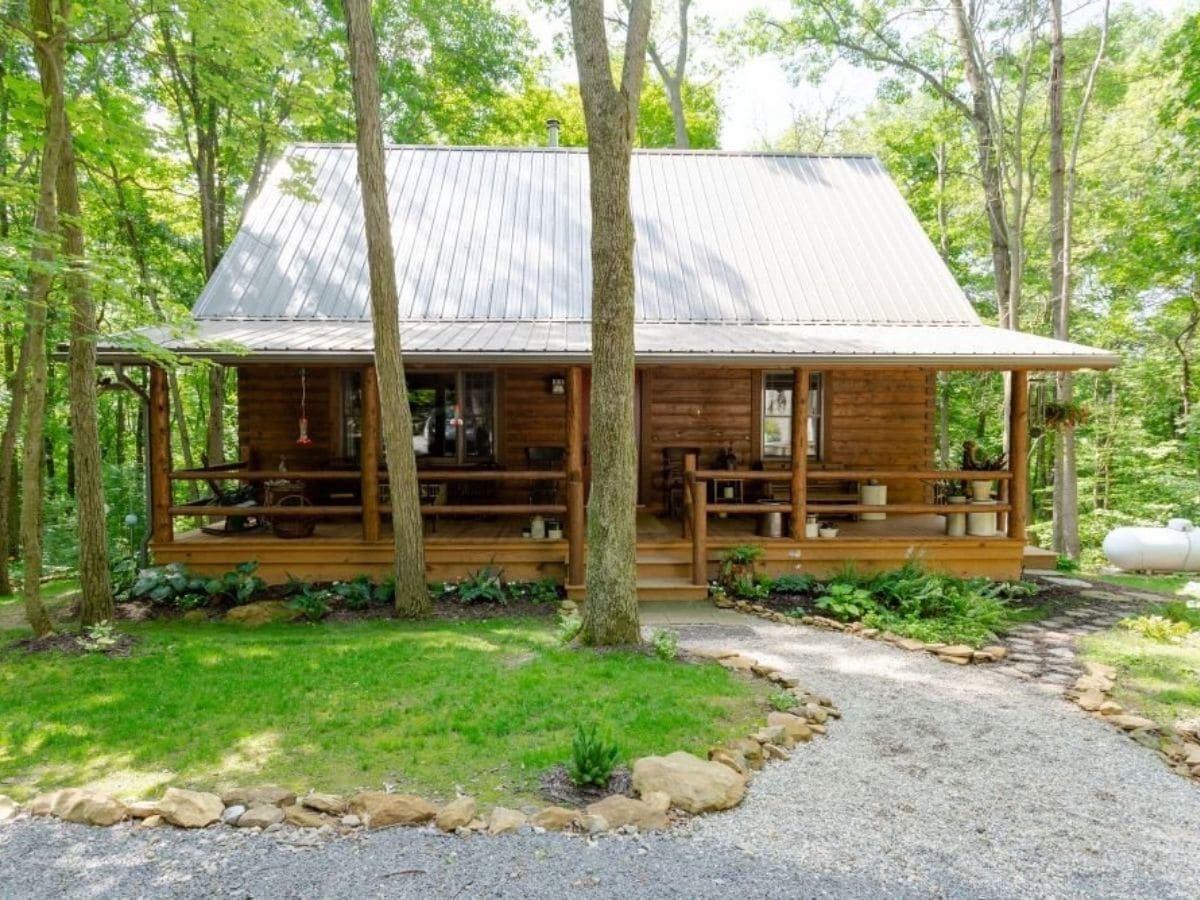 The Roswell is a gorgeous cabin nestled in the woods that comes in at 1194 square feet total and has 1 bedroom, 1 loft sleeping space, and 1 bathroom. The open floor plan includes a sizable living space with a wood stove and an open kitchen with room for the dining table of your choice.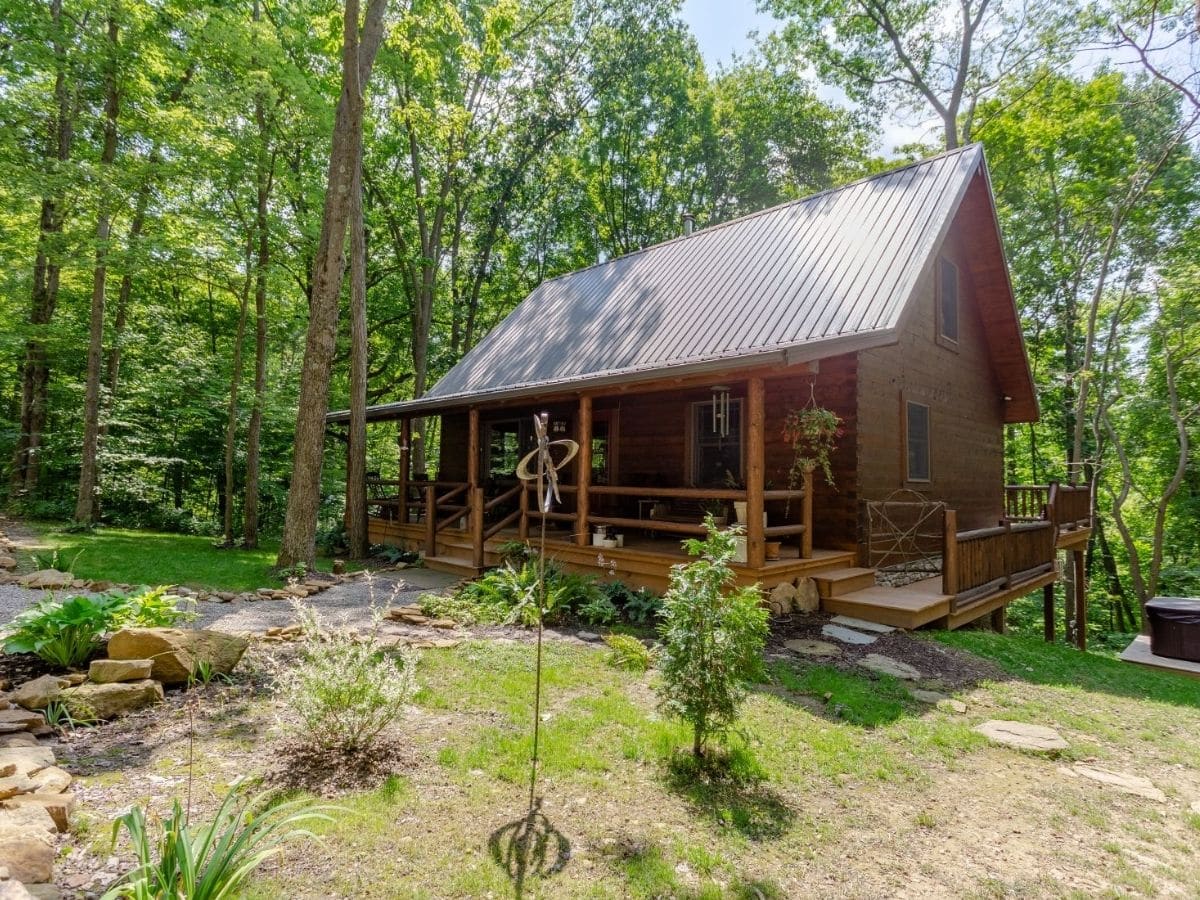 The exterior of this design includes a large front porch plus a side walkway that leads to the balcony porch on the back of the home. A beautiful home with space both inside and outside to enjoy with your family.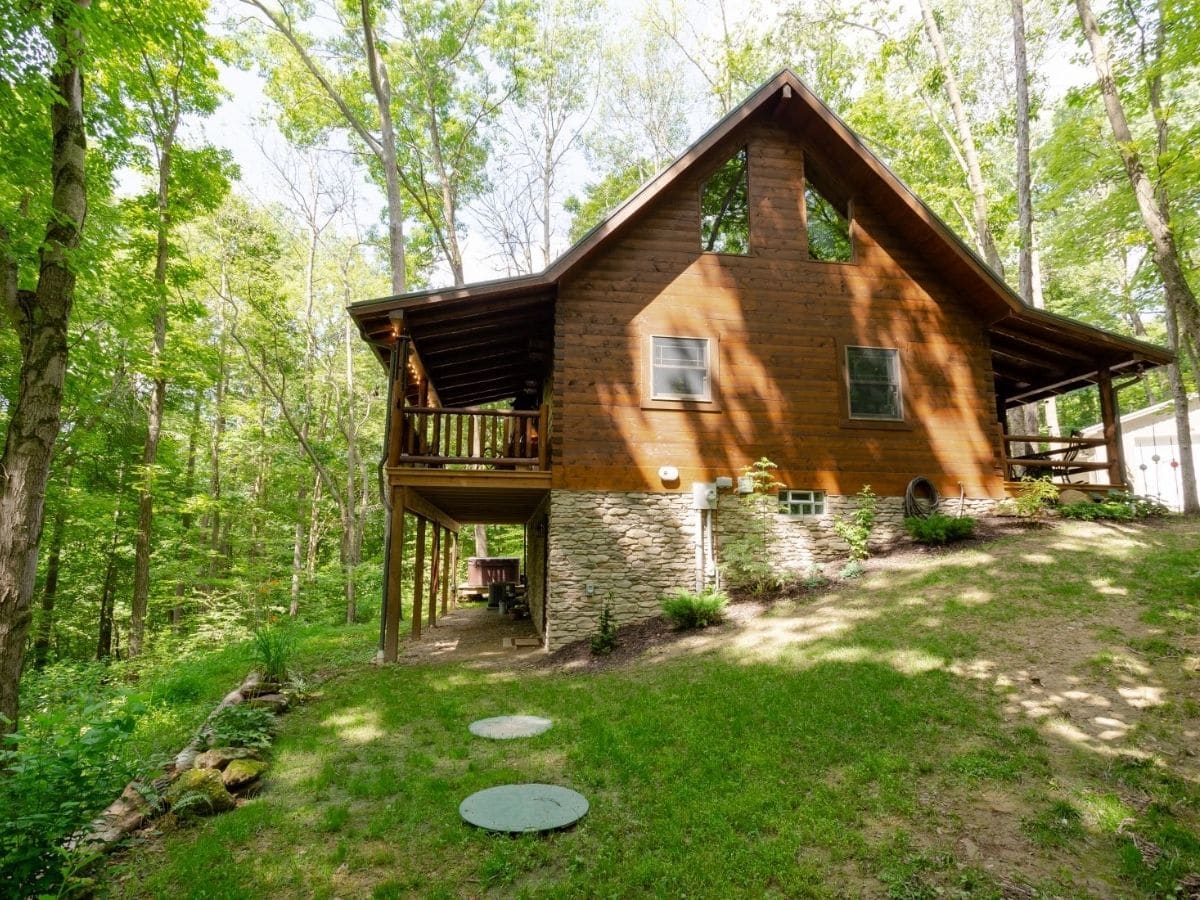 The home features cathedral ceilings that make it feel even larger. In this location, they have tons of space outside for relaxing and exploring, but the covered porches really extend the space, regardless of where it is located.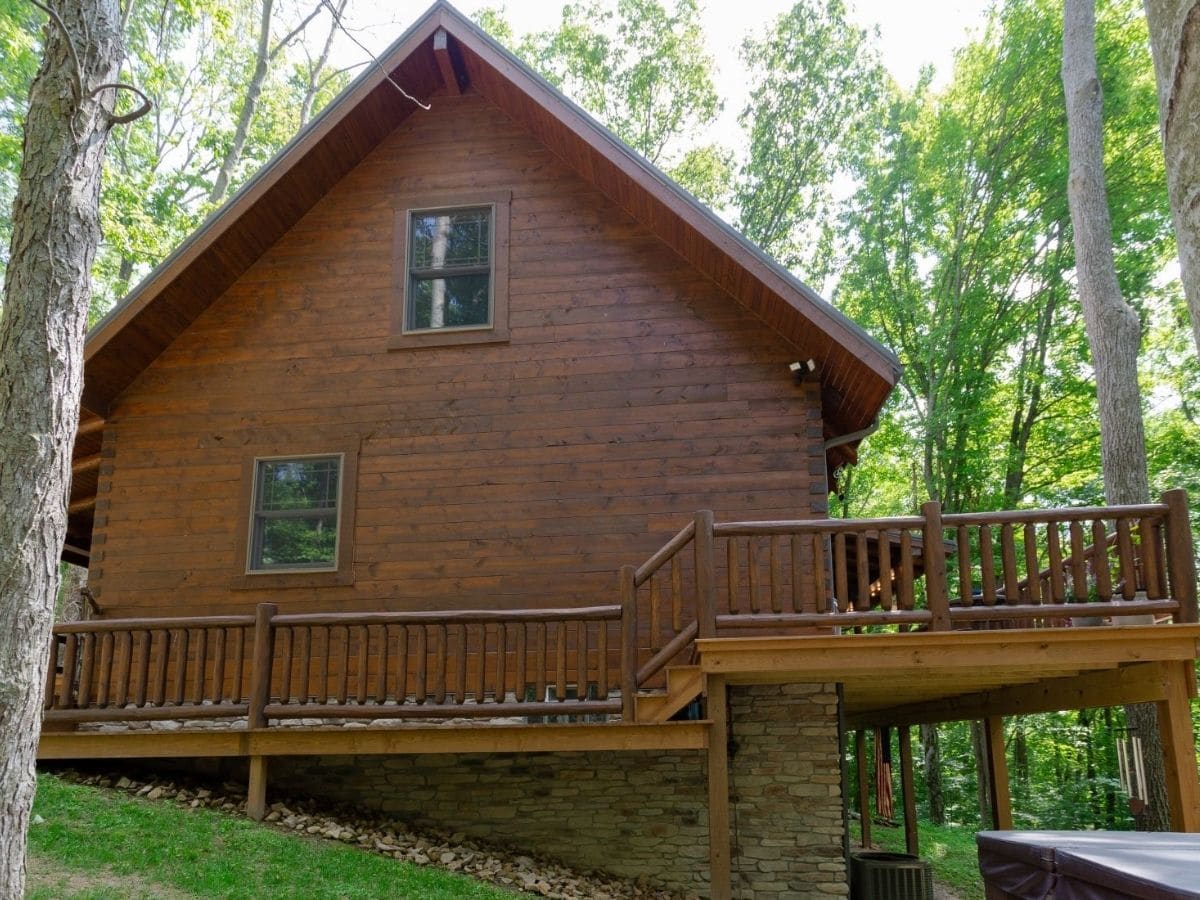 The home is built with 8" x 6" square Lodgepole Pine logs and finished with Dovetail corners as shown below. You will also notice above the rock work around the foundation. Fairview Log Homes pay attention to detail and will give you exactly what you prefer in style while maintaining quality throughout.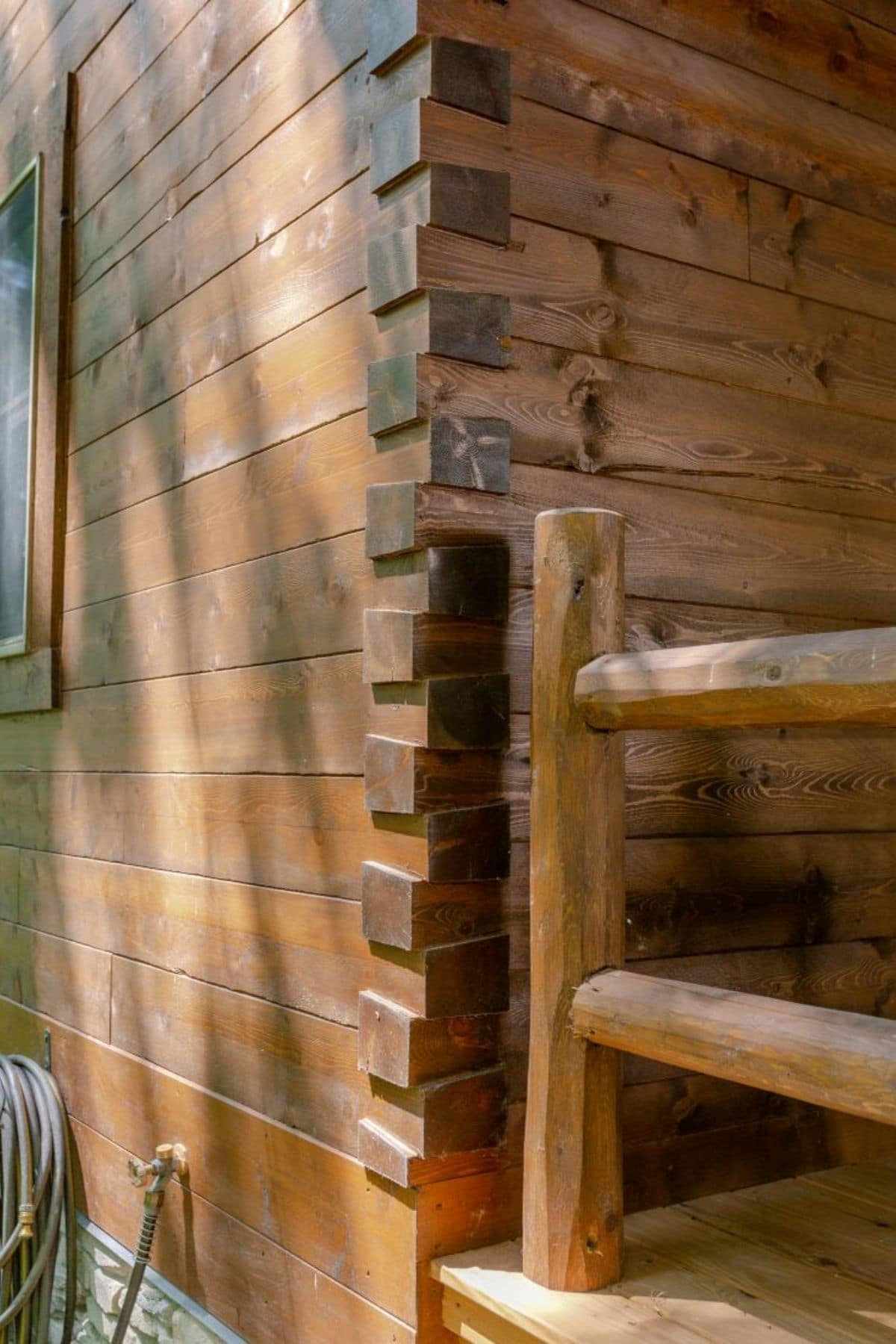 As you walk up those steps to the front porch, you will find yourself falling more in love with each step you take. Whether it is a brightly colored front door you love, or the space allowing for porch swings and rocking chairs, this layout is truly welcoming.
Home Features
Extra-wide front porch with extended walkway to back porch. Both porches including extending covers for protection from the elements.
Open floor plan with cathedral ceilings and open loft space for additional sleeping room.
Custom wood flooring throughout the home.
Gorgeous woodwork on kitchen cabinets with traditional farmhouse sink and vintage stove alongside modern refrigerator.
Large master bedroom with tons of natural light.
One full bathroom on main floor of the home.
Separate laundry room with extra stroage.
Wood burning stove in the center of the home.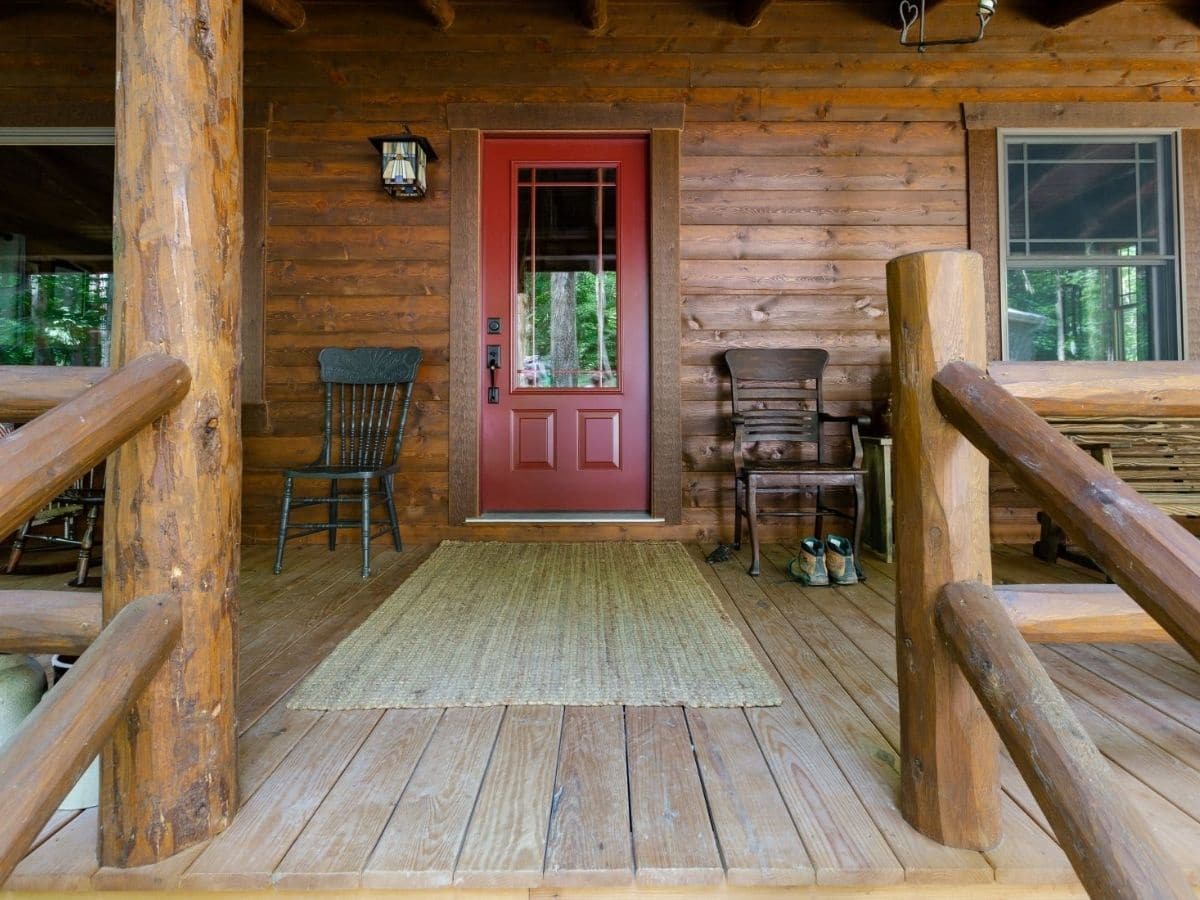 The extended roof over the porches gives you protection from rain or snow, but still gives you the open and airy space you desire. There is more than enough room for chairs, swings, or even a small table in this space for evenings watching the sunset or a morning cup of coffee with the sunrise.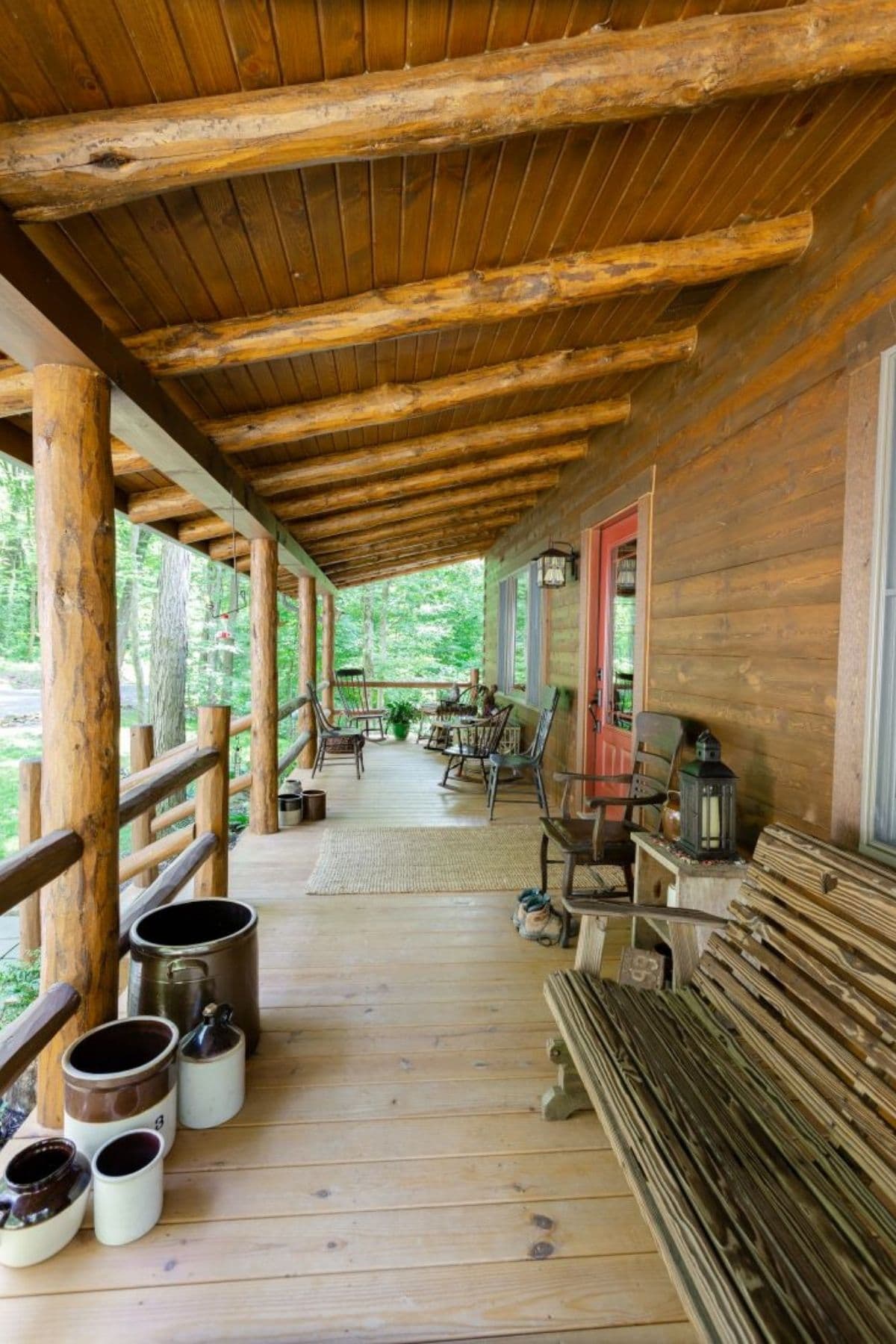 Inside the Roswell, the owners have chosen a gorgeous combination of modern and vintage styles. You have comfortable sofas and a television right next to the rustic kitchen space with rock background and vintage stove.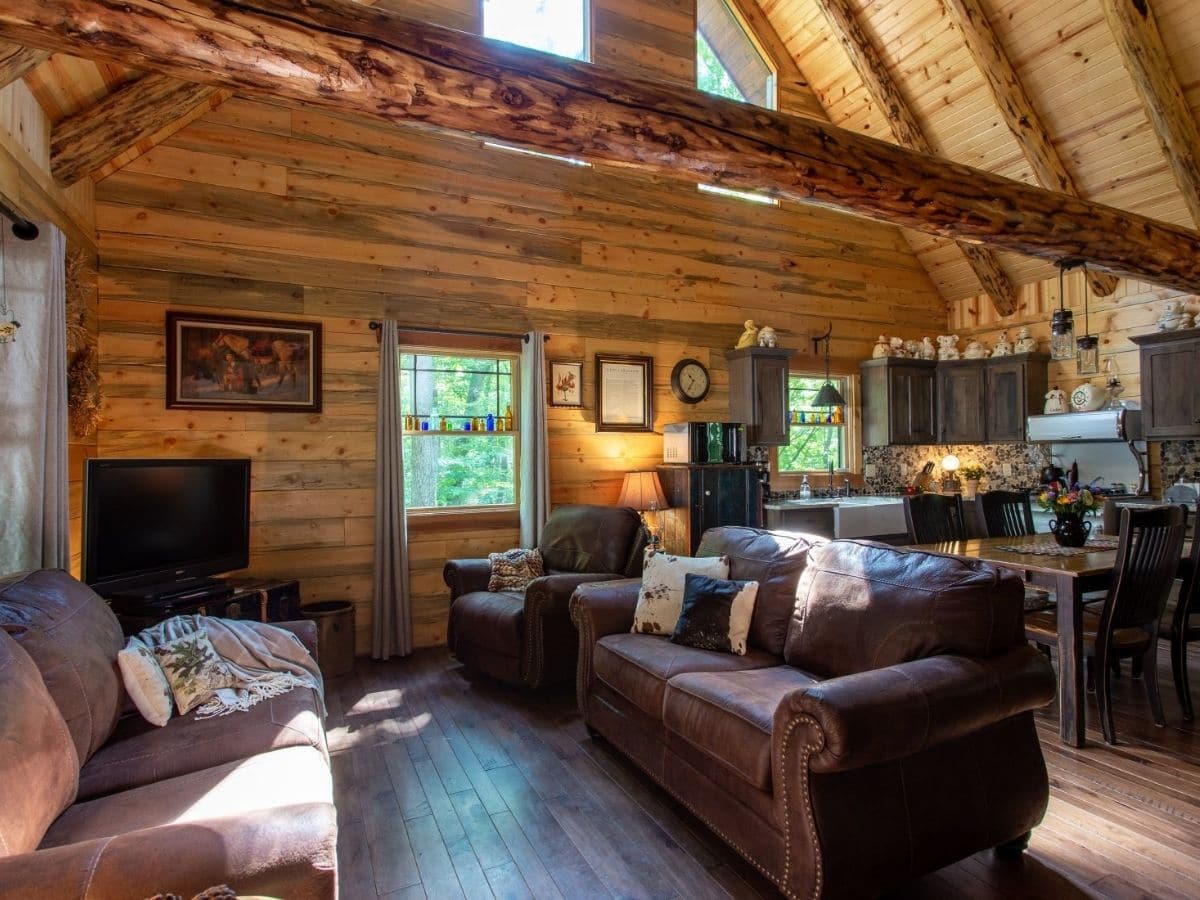 The cathedral ceilings give you the gorgeous windows above bringing in tons of natural light. With the open floor plan, you can easily have a cozy and spacious living room alongside a dining area that leads right to the kitchen. This layout is ideal for entertaining or family meals.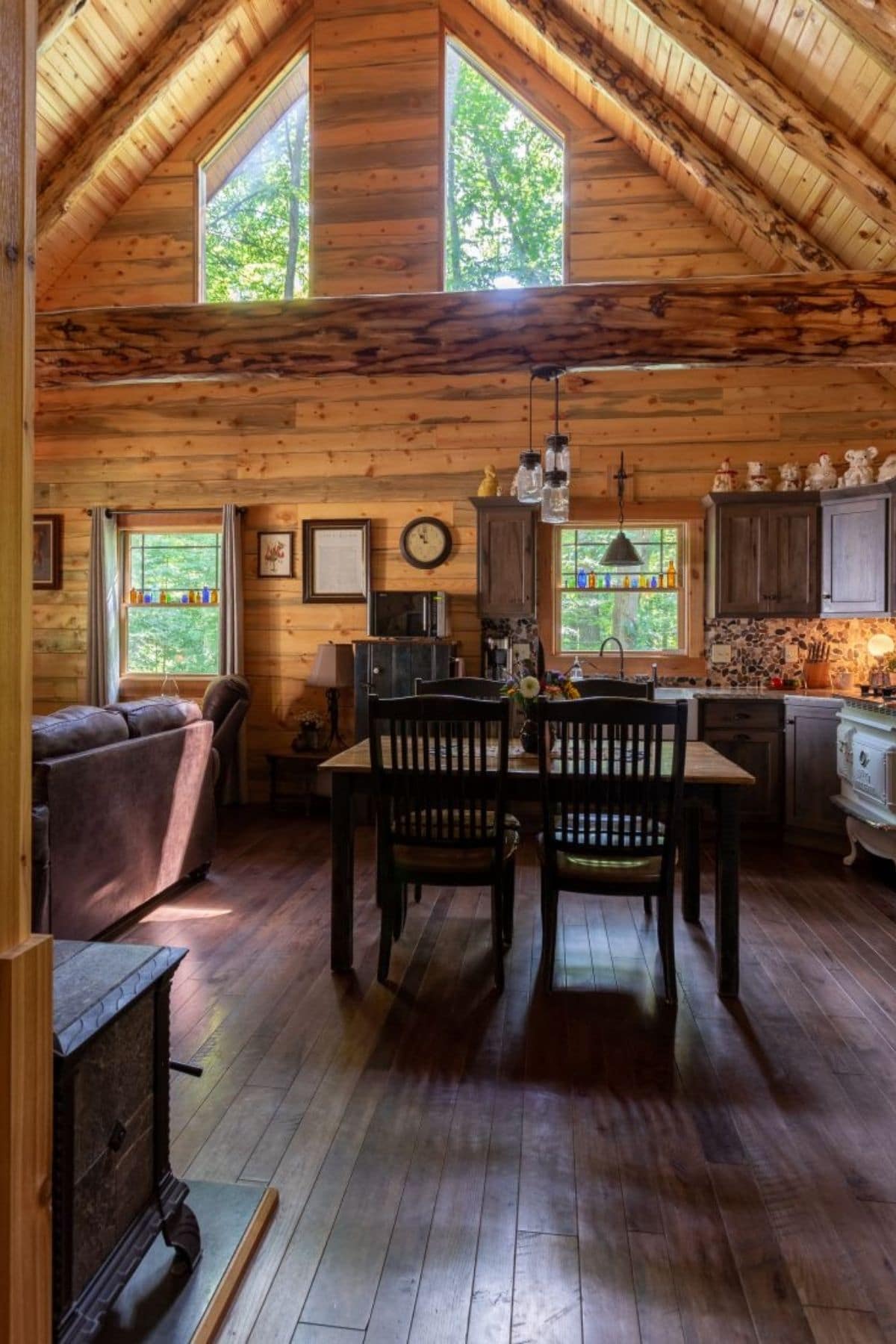 Against the wall that leads to the loft and the hall to the bedroom, you have a sizable wood stove. This sits right in the center of the home and is perfect for keeping things toasty warm in cool winters.
I adore the natural woodwork throughout this home. Not just the exterior has the log home look, but the inside is filled with this same rustic appearance with modern additions.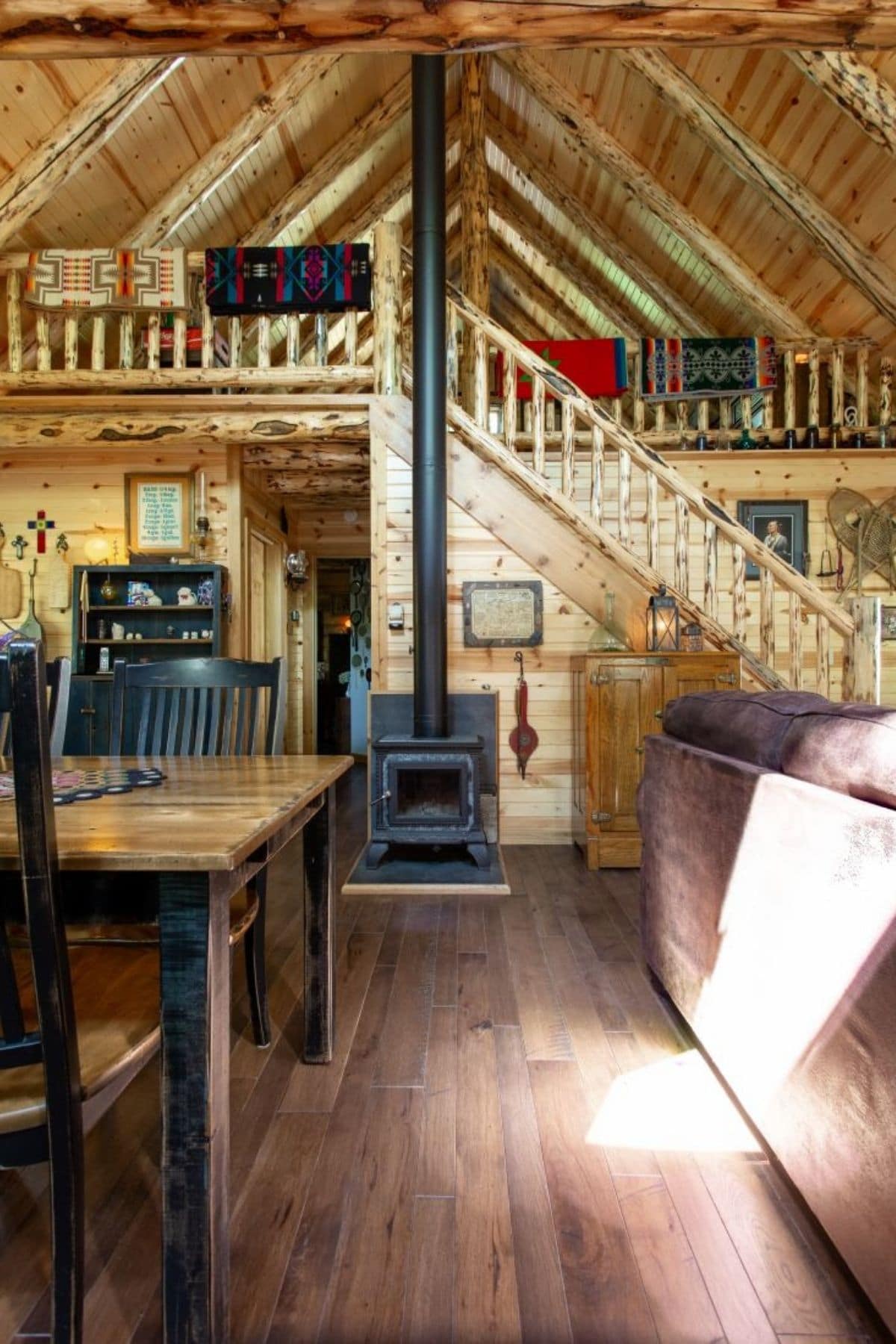 As mentioned before, the kitchen is a wonder of fusions between vintage and modern worlds. You have a stainless steel refrigerator alongside the vintage stove, deep farmhouse sink, and wood cabinets and drawers. A beautiful homage to older days but bringing the comforts of modern times.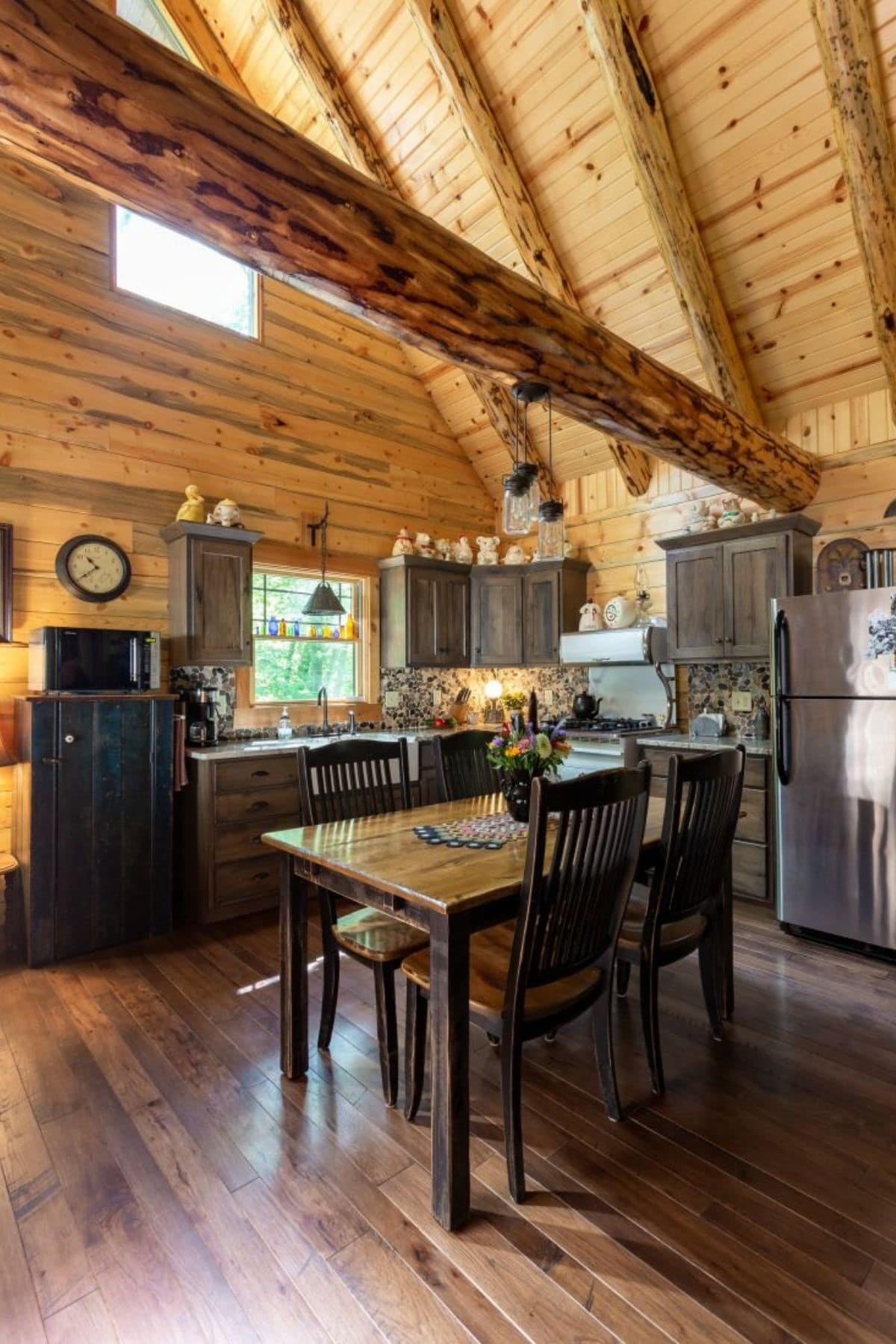 Rather than a fancy tile backsplash, they chose this rock look that feels more traditional to what an older log home would include. The farmhouse sink has been made popular in recent years with modern farmhouse styling and is a natural fit in this kitchen.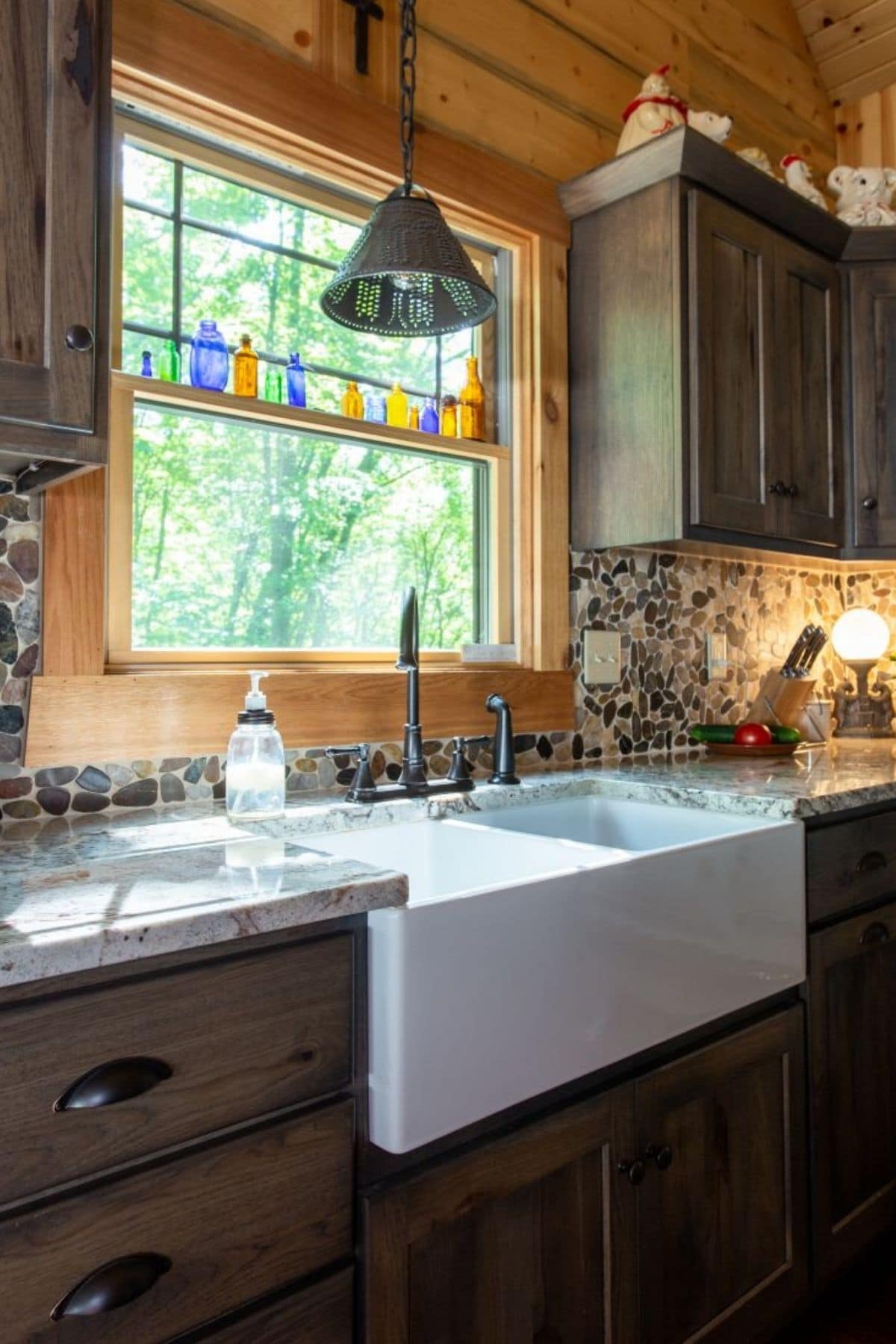 Of course, my favorite part in this home is definitely the vintage cook stove. You don't find these often and this one, in particular, is absolutely gorgeous.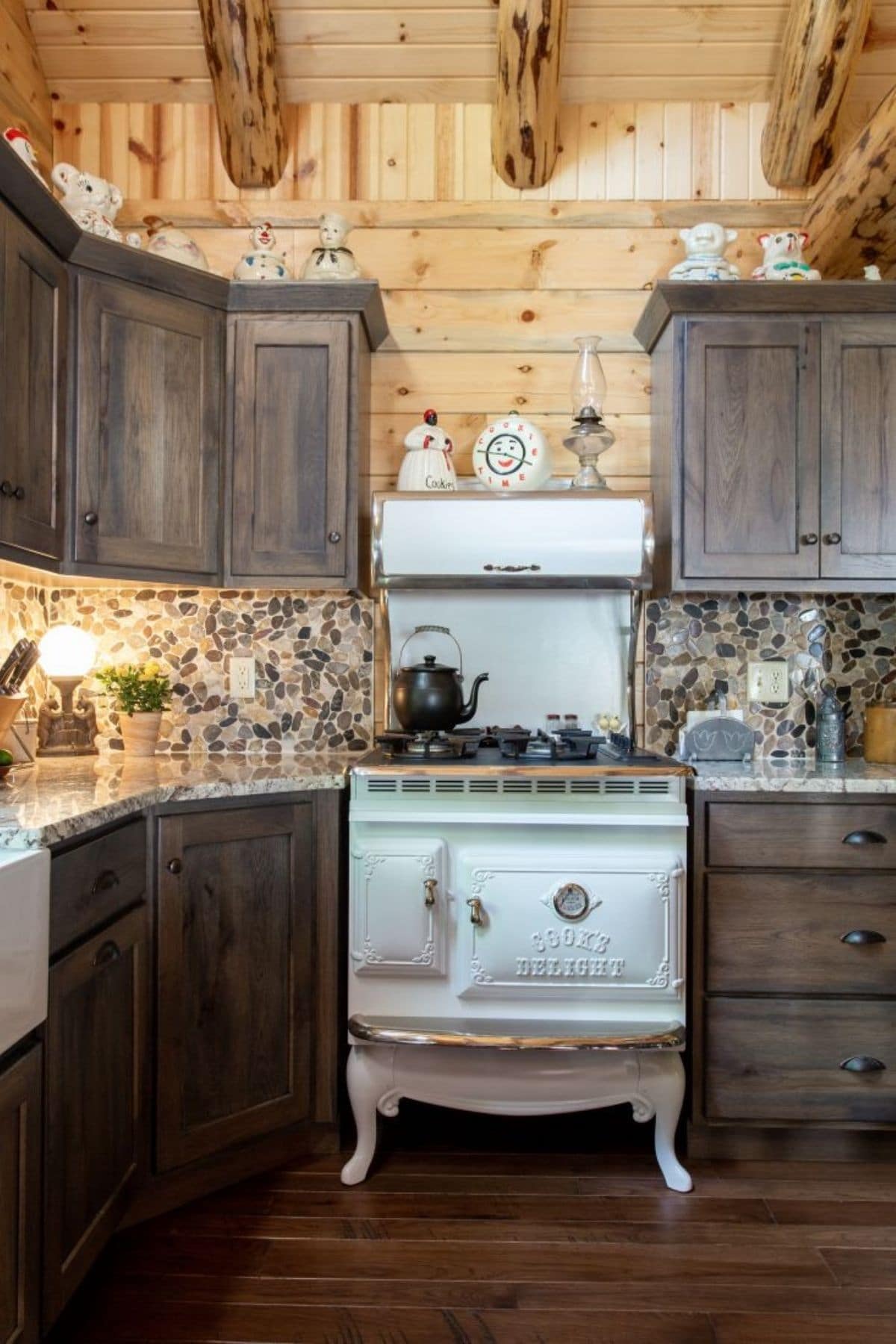 Upstairs in the loft, it may not be considered a bedroom by architectural guidelines, but it most definitely can be a sleeping space that is inviting, large, and comfortable. Whether you used a loft for more sleeping space or turned it into a game room doesn't matter. This space is gorgeous and has many functions. Just use your imagination!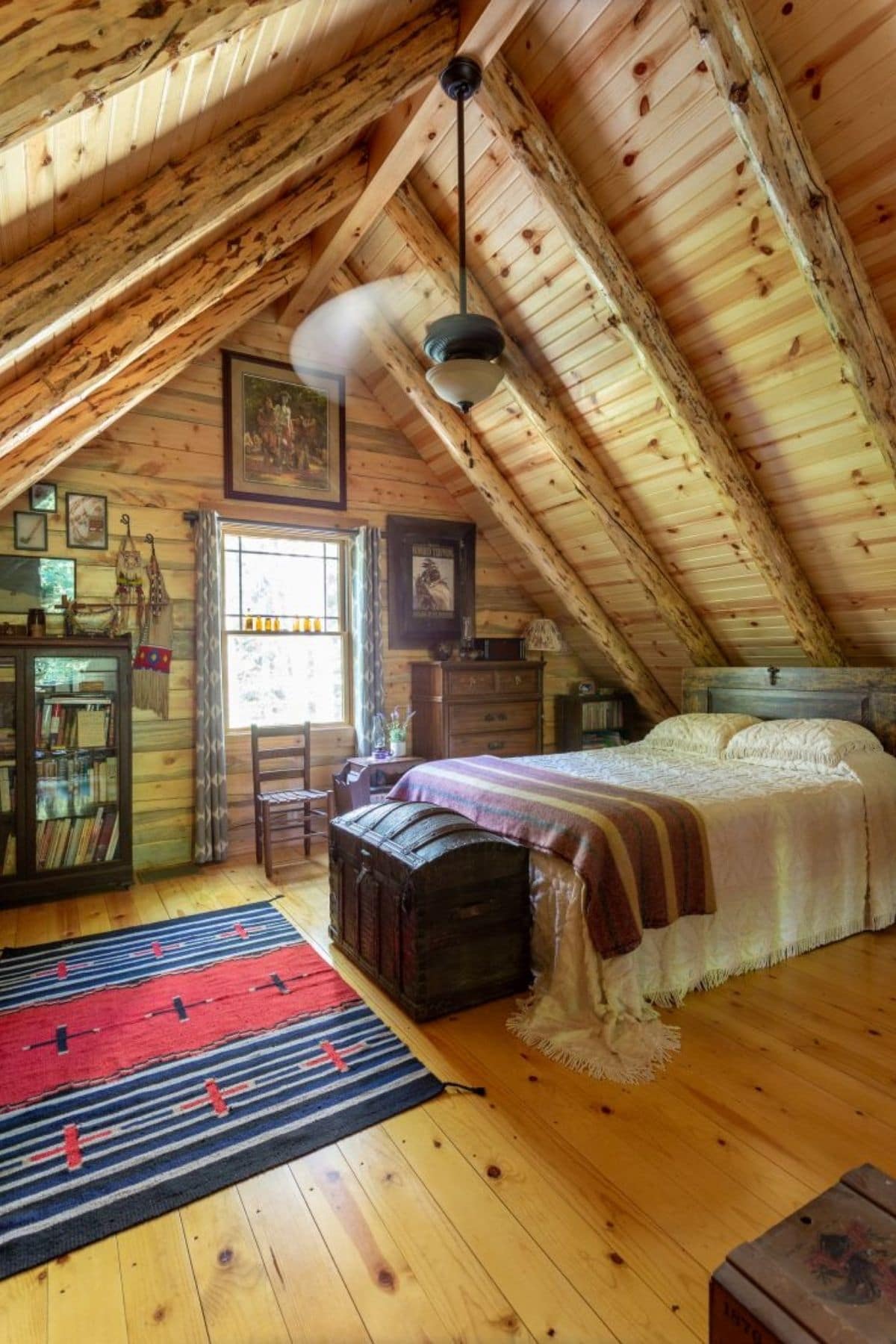 Downstairs, the master bedroom has a more traditional layout but still has that same rustic charm. Imagine waking up here each morning with the gorgeous wooded view out your window? So beautiful!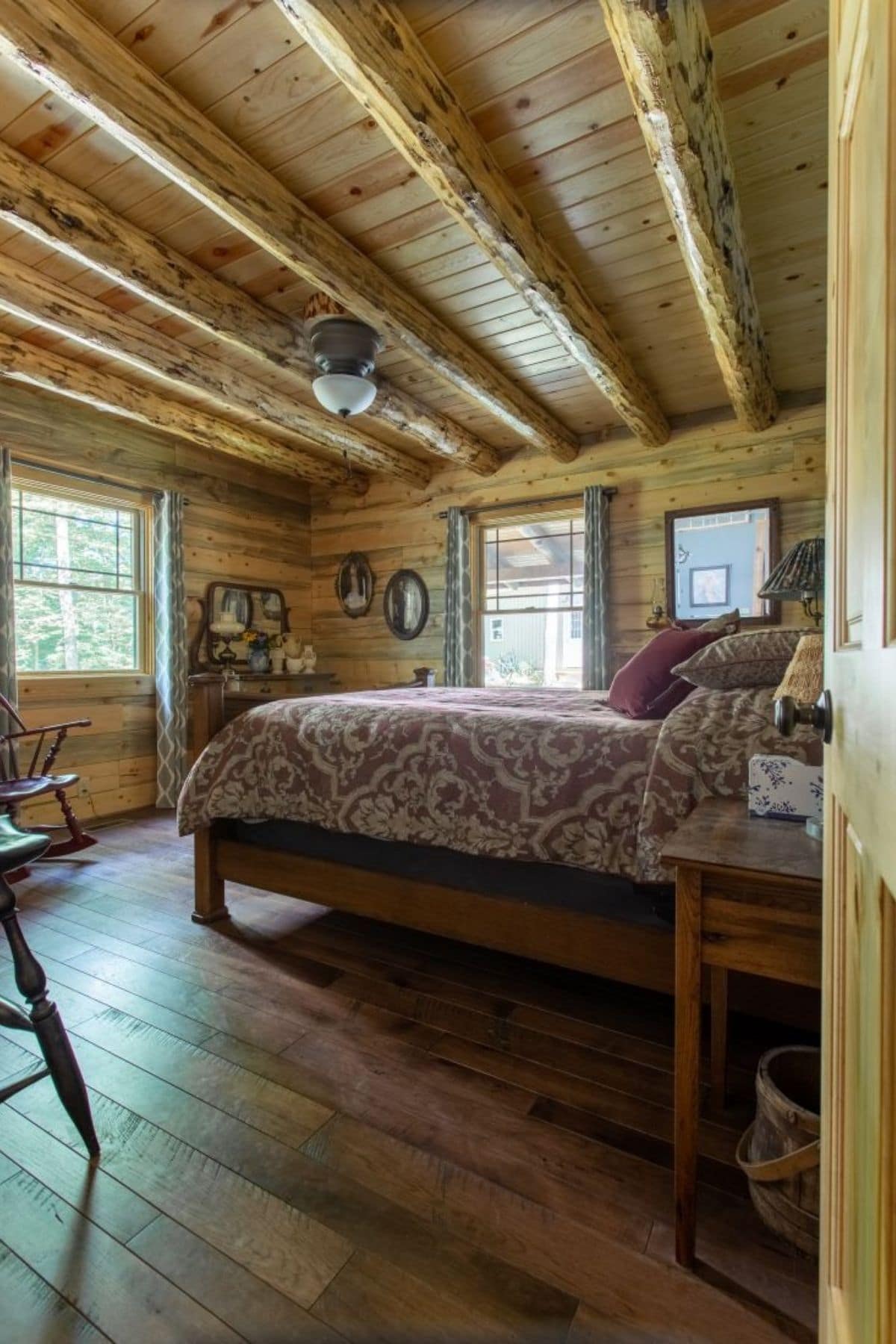 Interested in having your own version of the Roswell built? Take a look at this model and others available from Fairview Log Homes. You can also find their models and more information on their Facebook and Instagram channels. Make sure you let them know that Log Cabin Connection directed you to them.
More Log Cabin Kits and Tours