Log cabins aren't just for living or vacation. A log structure can also be a barn, a unique outdoor shed, or in this case, a grill house. If you've never seen these, you are in for a treat. Rather than standing out in the cold winter wind to grill a steak, you can now have a gathering around an interior stove that keeps you warm while cooking or entertaining despite the weather. The Kona Grill House is a gorgeous structure that is affordable, easy to assemble, and perfect for entertaining in a cooler climate.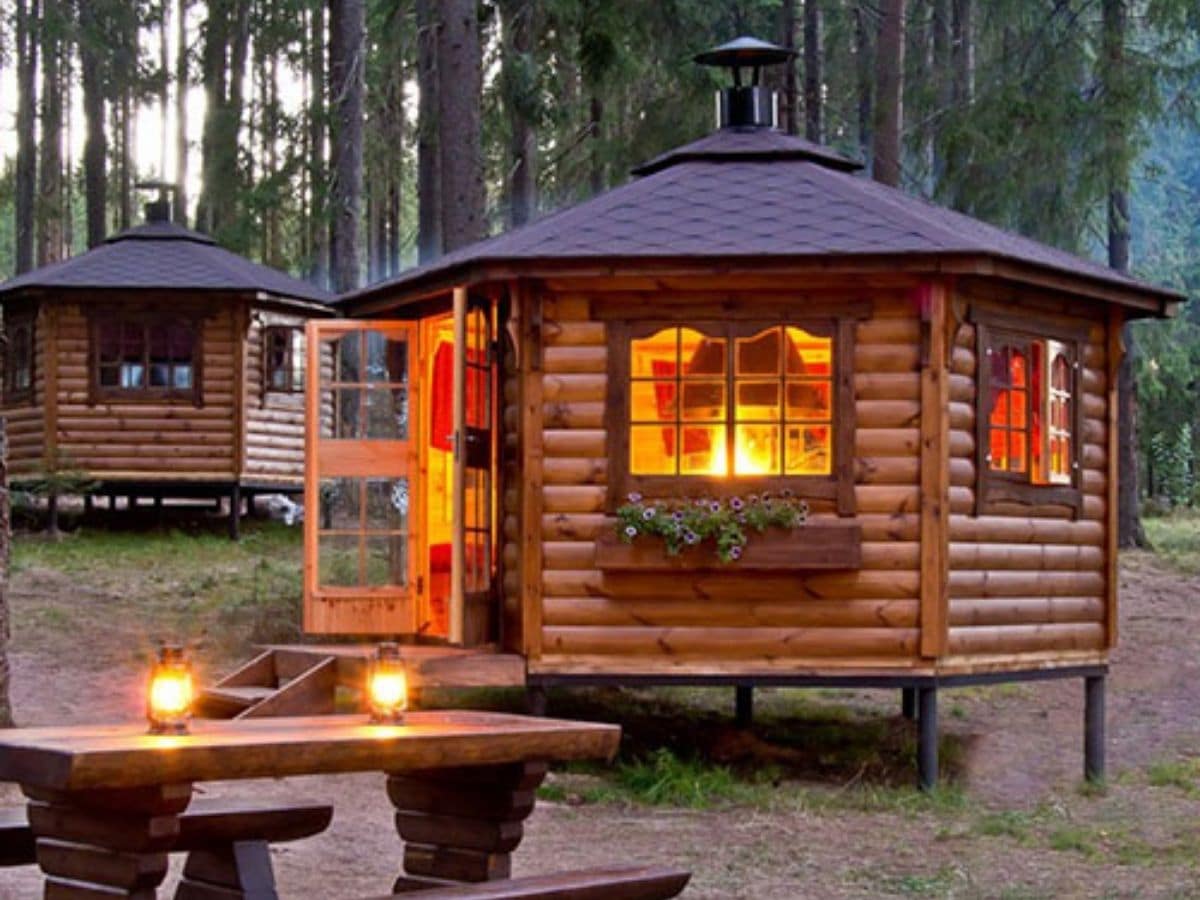 Structure Sizing:
105 square feet
74" hexigon top
90" walls x 6
32" chimney
Roof Dimensions:
6 pre-shingled roof panels
Roof pitch 5/12
Structure Pricing:
$12,000 base structure price. Additions or setups will increase the cost.
This cost is for the DIY option. You are given all information, instructions, and videos to help you assemble this building on your own. All walls and sections are pre-assembled, you just have to put them together. It states this is a 2 person job that should take 10 hours or less from start to finish.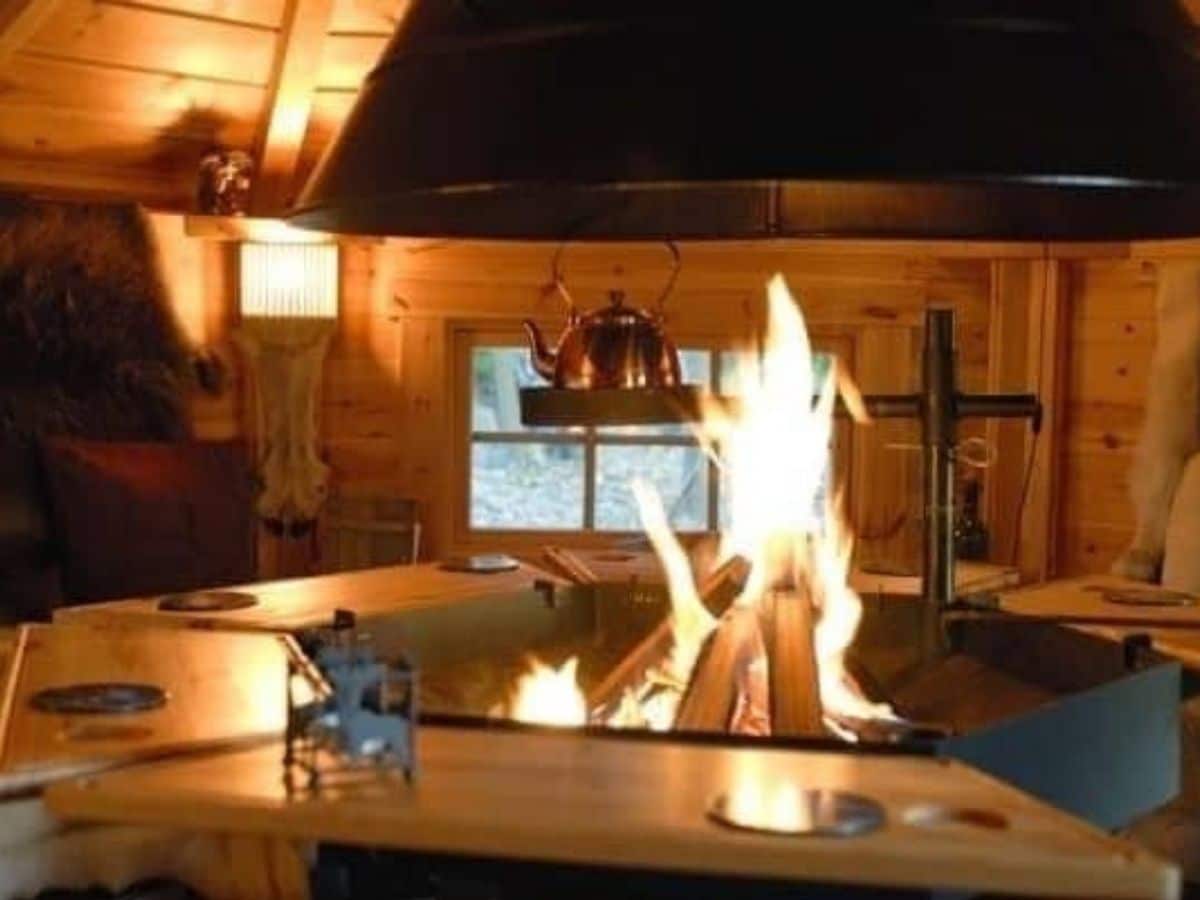 Structure Material Information
English pine
44 mm thick walls - 6 pre-assembled wall panels
Double pan windows and doors (screens not included)
Optional:
11,600 BTU cooling and heating unit using a standard 110V outlet with bluetooth integration for easy remot activiation.
Optional Assembly Package
Depending upon your location, there is an optional assembly package where they will come out and put your Kona Grill House cabin together for you. Below are a few of the benefits of this.
Includes assembly plus Ondura roof covering panels.
Can include an easy-to-build wooden foundation base for you to assemble prior to arrival of team to put the unit together.
Optional deck building services may be available.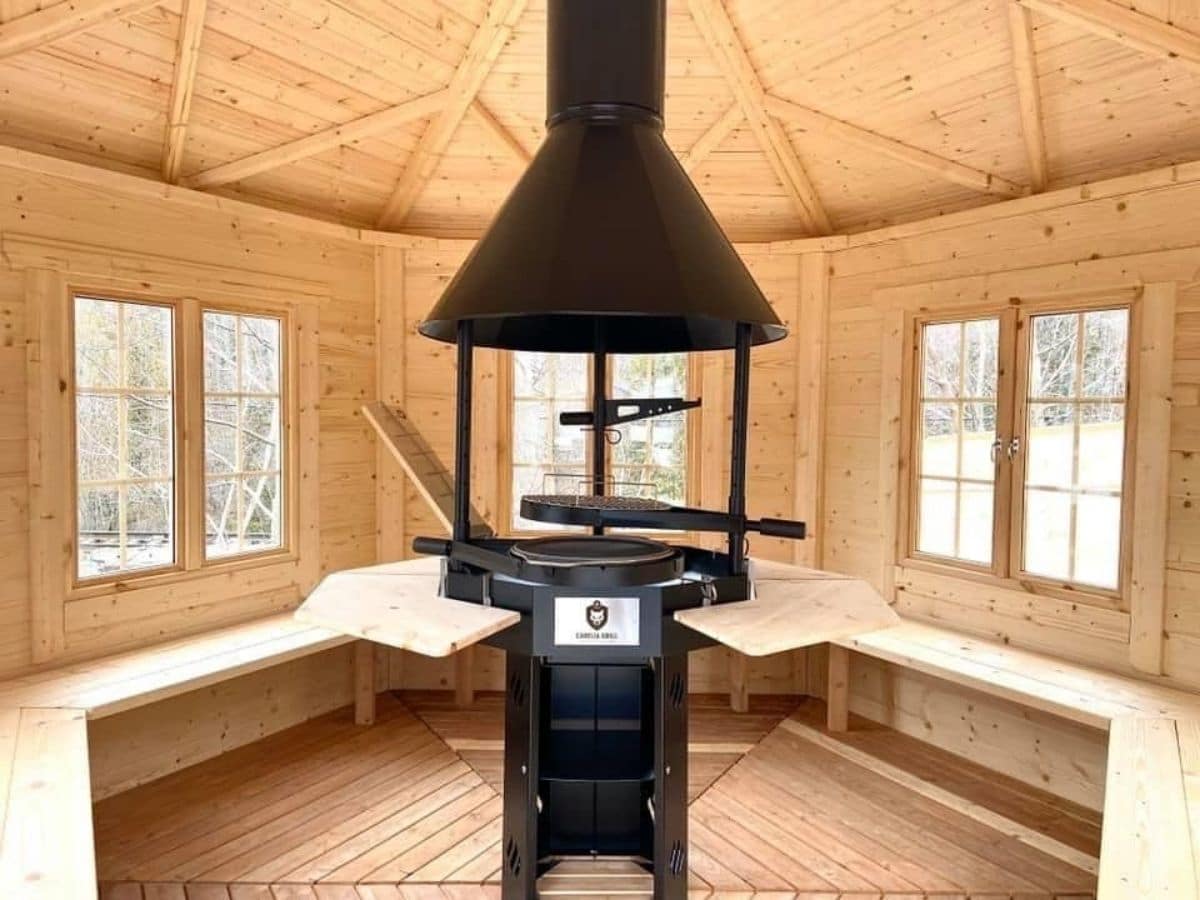 This structure is designed to be a space you can cook out, grill, and entertain outside of your home but still remain out of the elements. The stove in the center can be used for heat or just to grill a steak. It's the ideal "bonfire" location for colder winter days!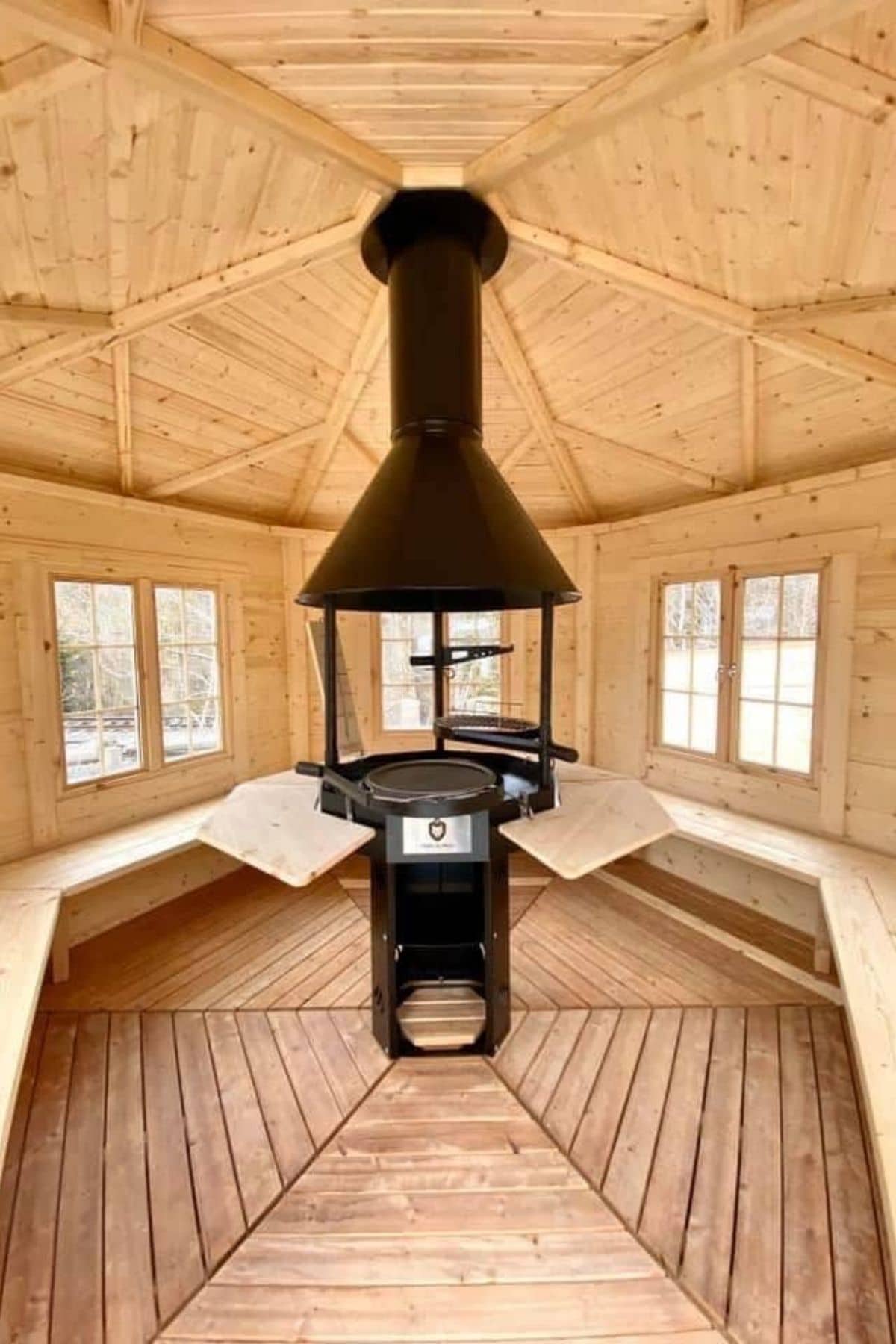 Around the outer edge of the interior are bench seats. One per side, for 6 nice-sized areas to sit. This is ideal for bringing in anywhere from 2 friends to a dozen friends to join you in the grill hut.
I love the space underneath each of these benches can also be used for storage. Hand hooks on the walls for utensils, store toast of blankets, gloves, and hats beneath the benches, or even toss a few throw pillows on them to make it more cozy.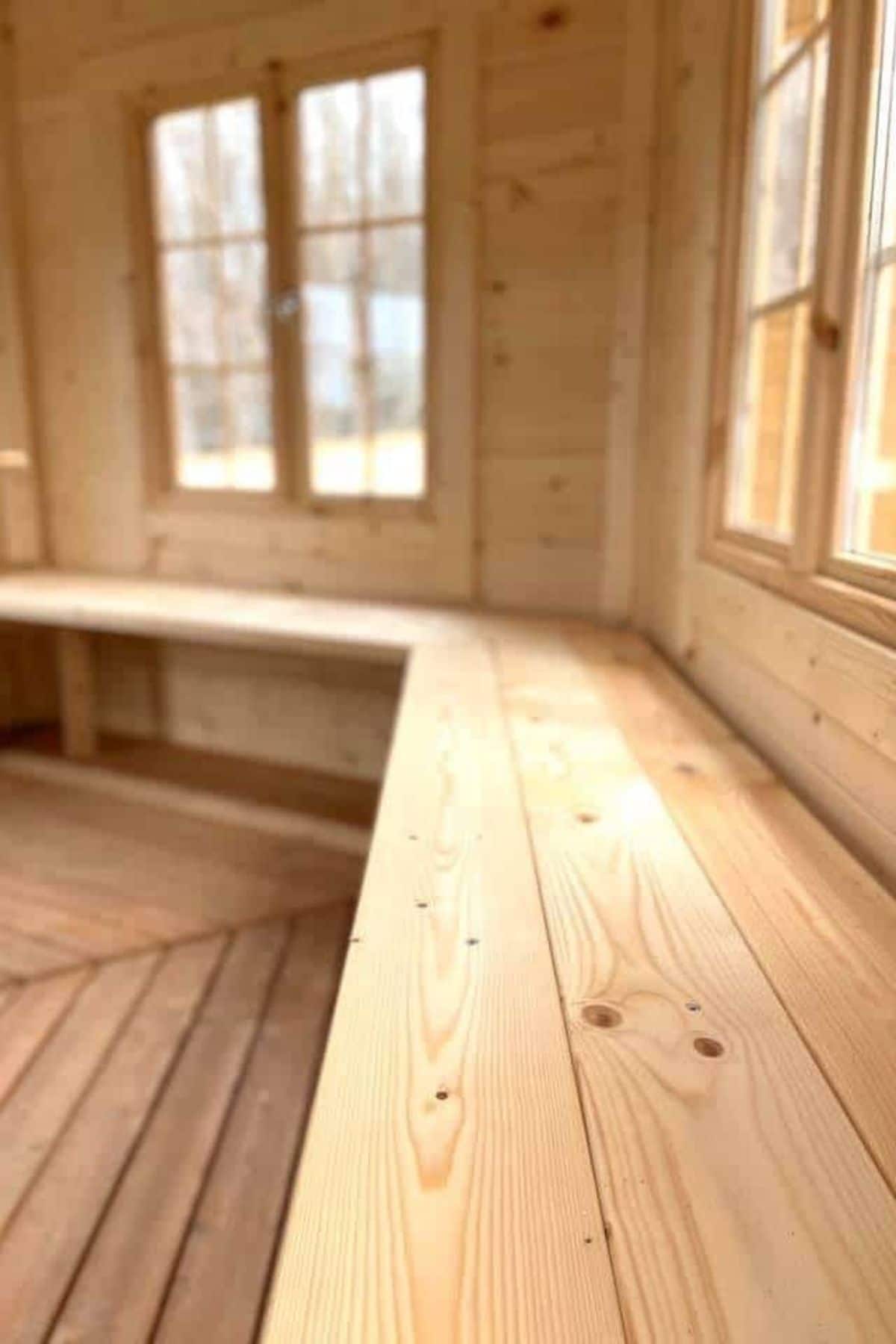 Seeing these along each wall makes me think it could also be used as a temporary shelter if desired. Could you build on land as a camping or hunting cabin? I think so!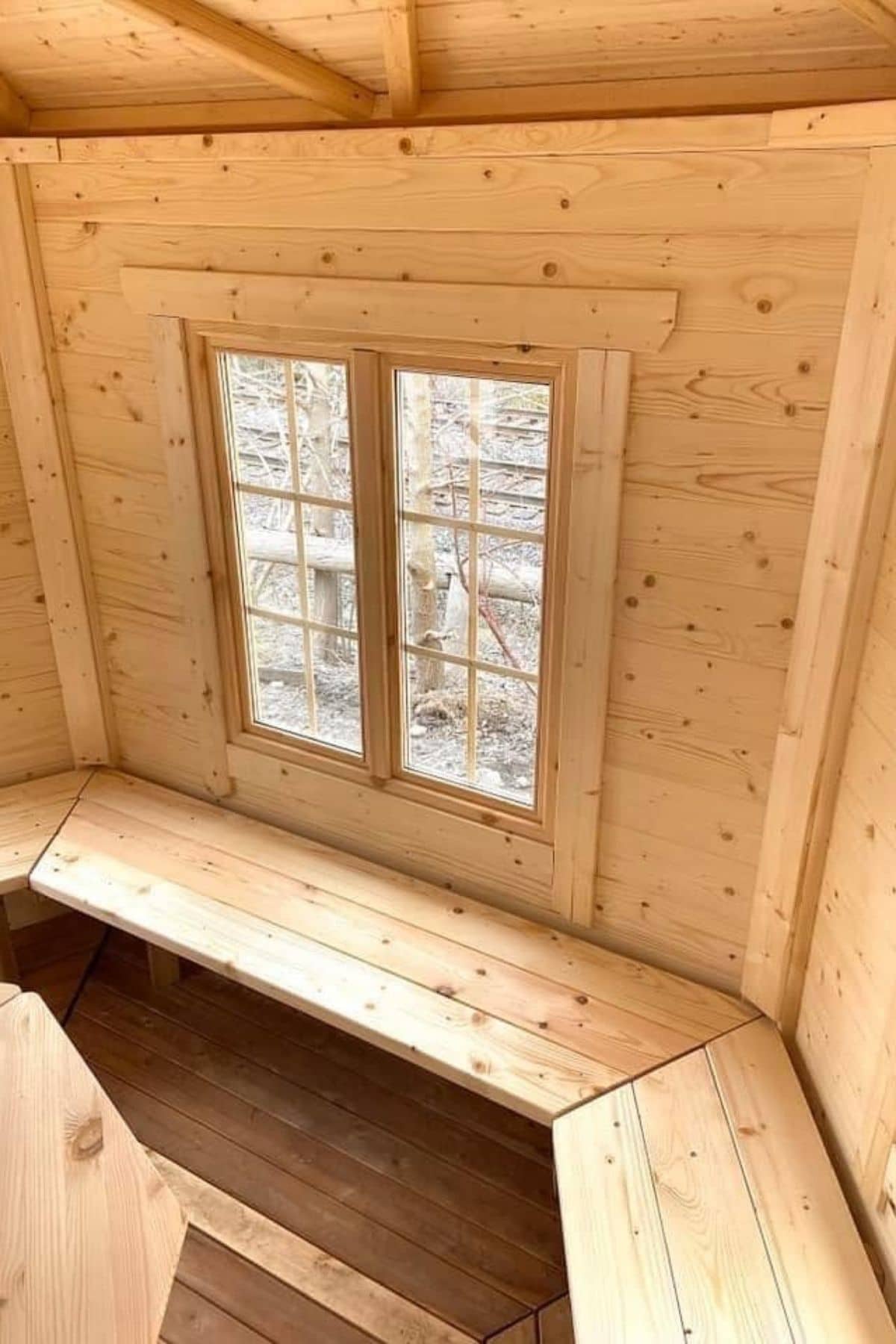 The double-pane windows open easily from the inside but seal tightly against the elements and can be locked for protection. No, this building is not traditionally insulated, but that doesn't mean you can't make adjustments. In fact, in their DIY information, Sawmill Structures makes plenty of suggestions for how to add extra insulation to the space.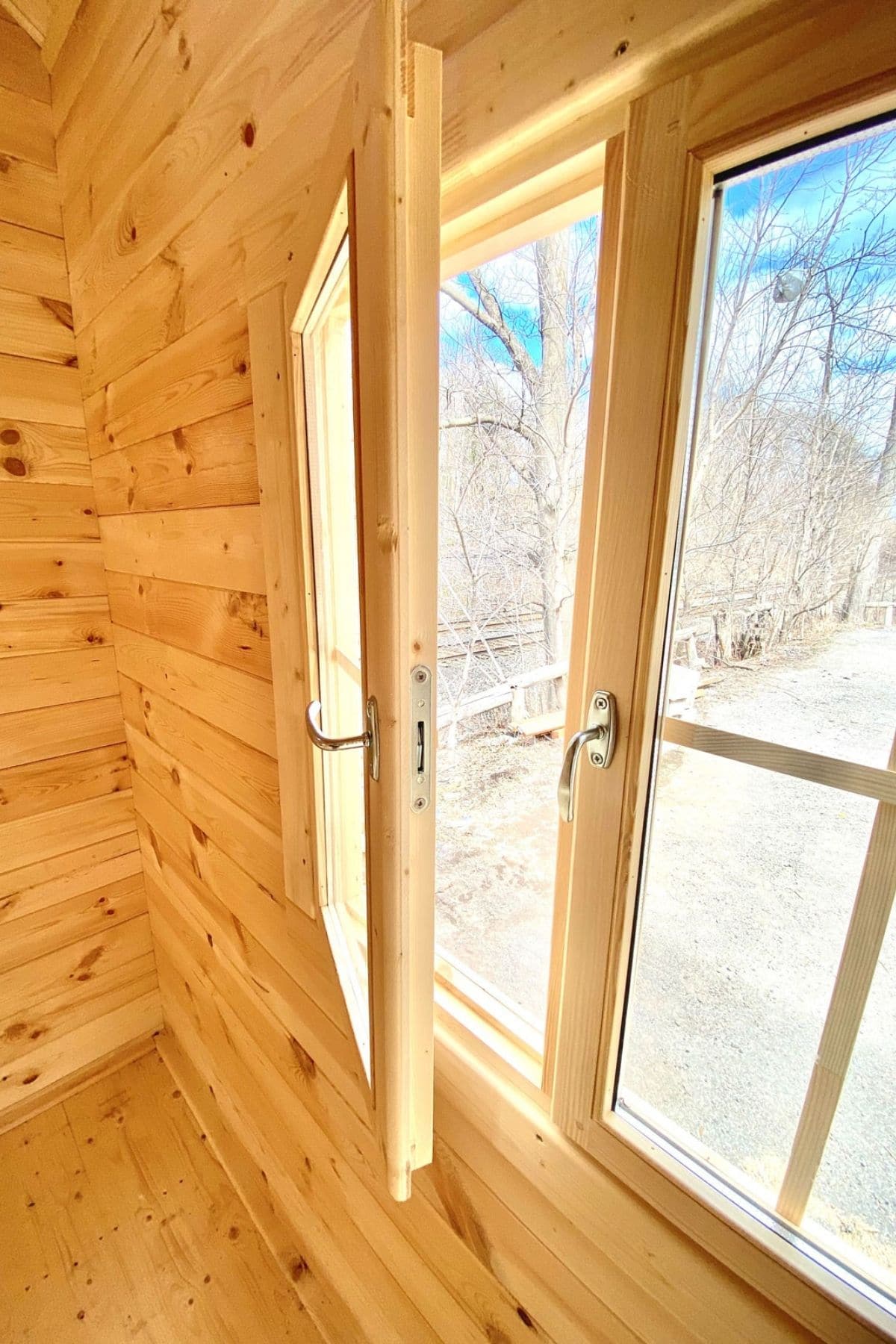 It can also be used for summertime grilling and events. With windows open on every wall, you easily get a nice cool breeze to air out the structure!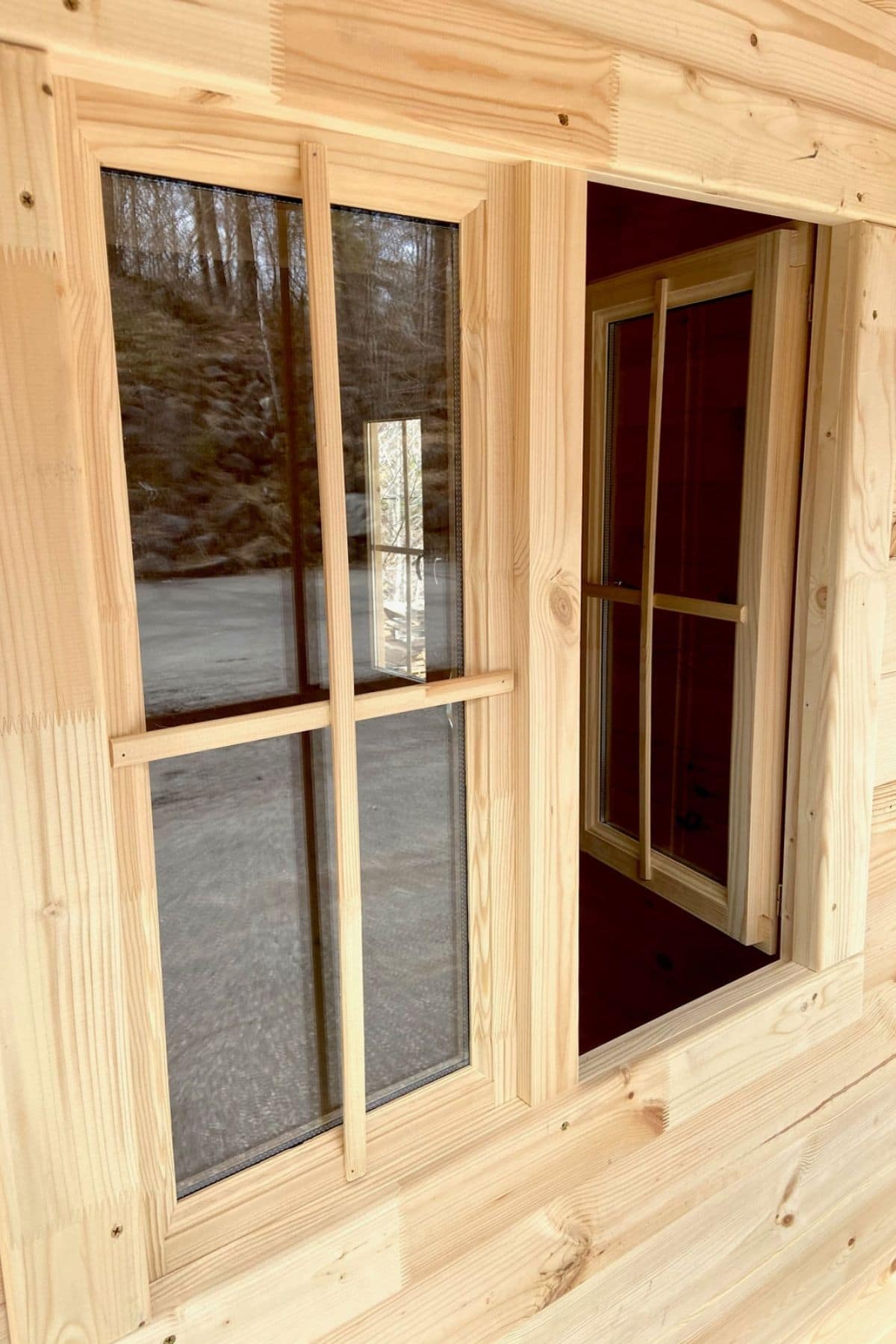 I can see just how easy it would be to add some curtains for privacy if you wanted to in this unit. Plus, you can see just a bit of an extra shelf above the walls at the base of the ceiling. This could be turned into more storage space so easily!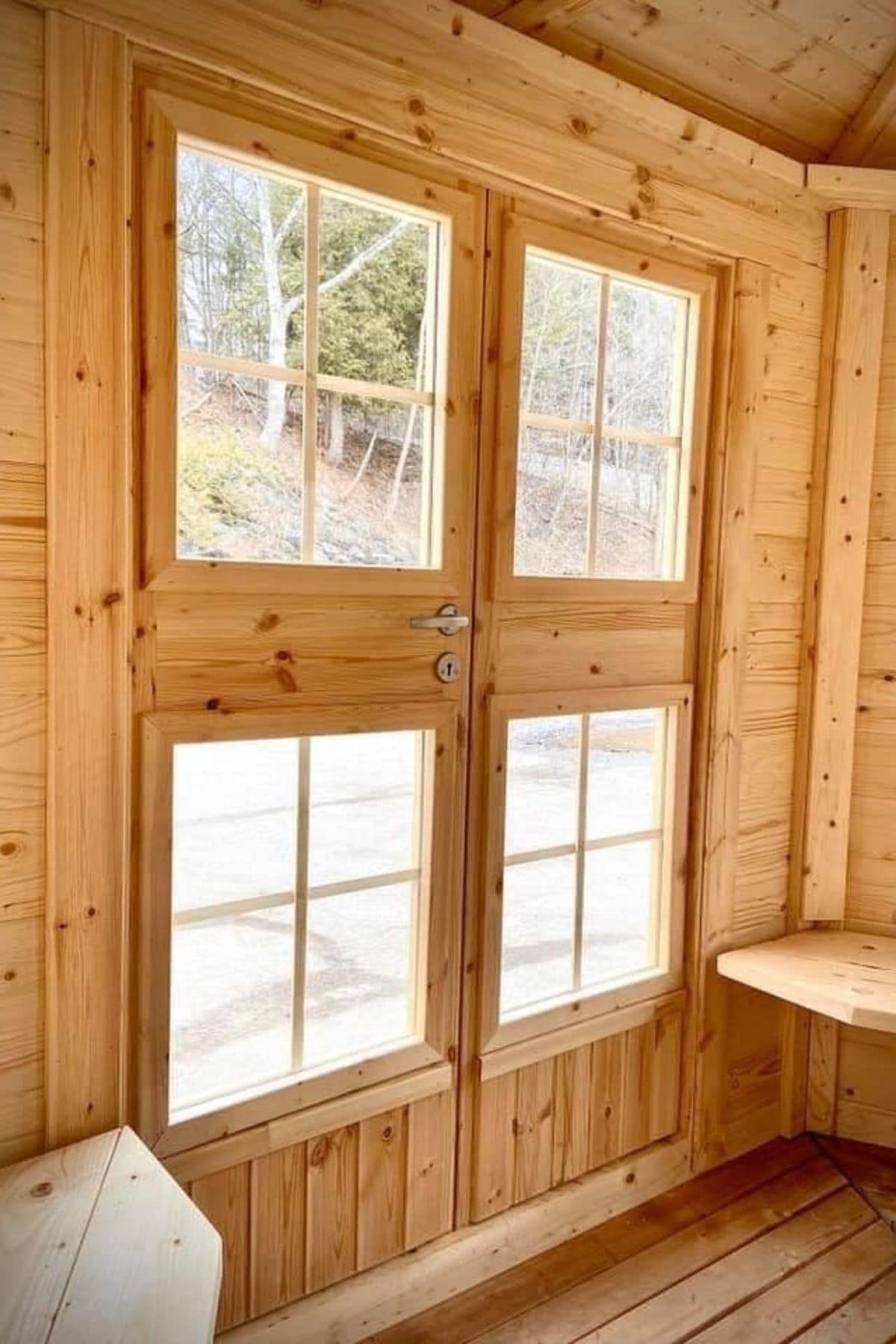 Locks throughout are included and just part of the semi-built layout of this grill house. With each panel already assembled, you can put it together and be functional in just one day!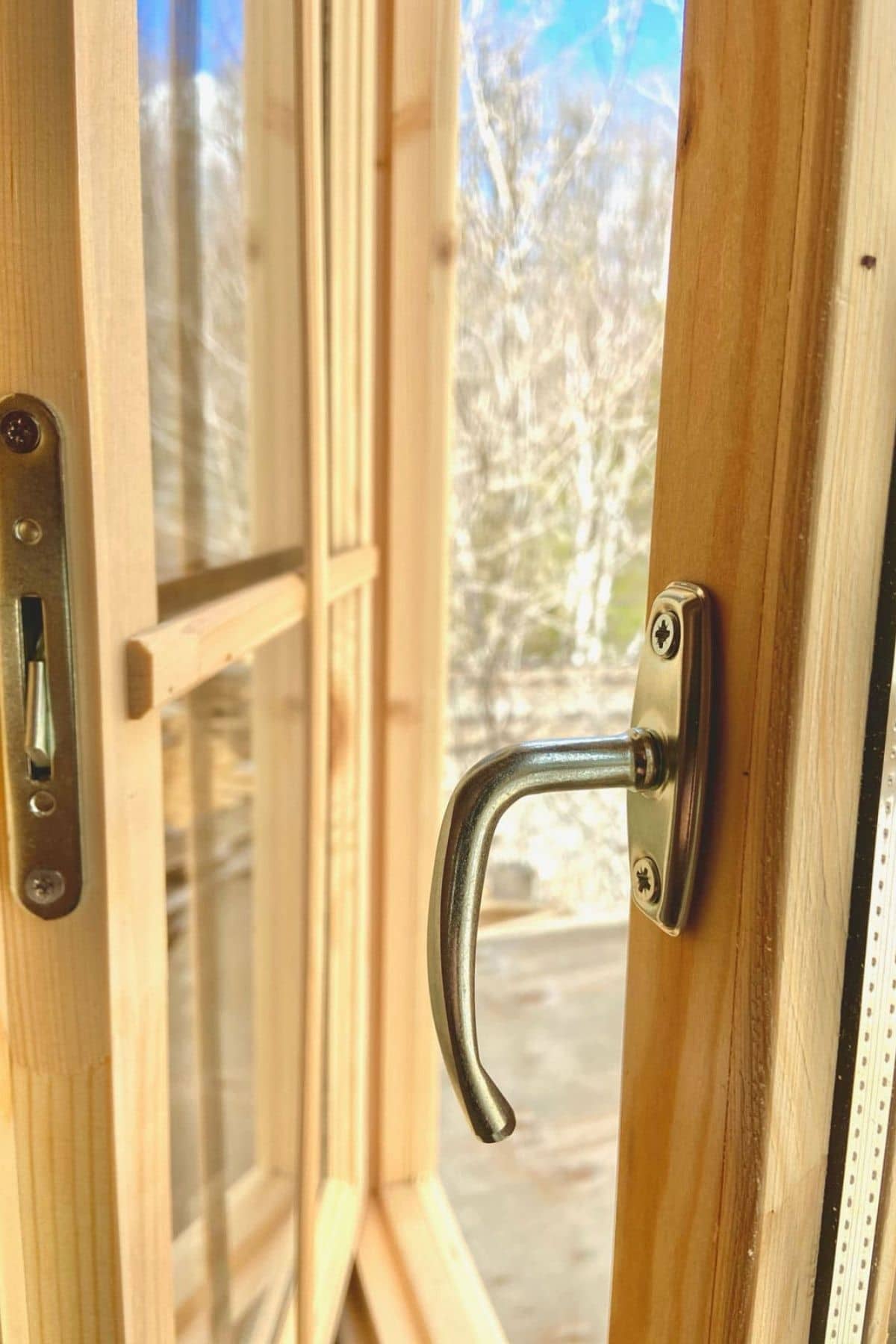 The roof panels come already shingled so all you have to do is put them into place!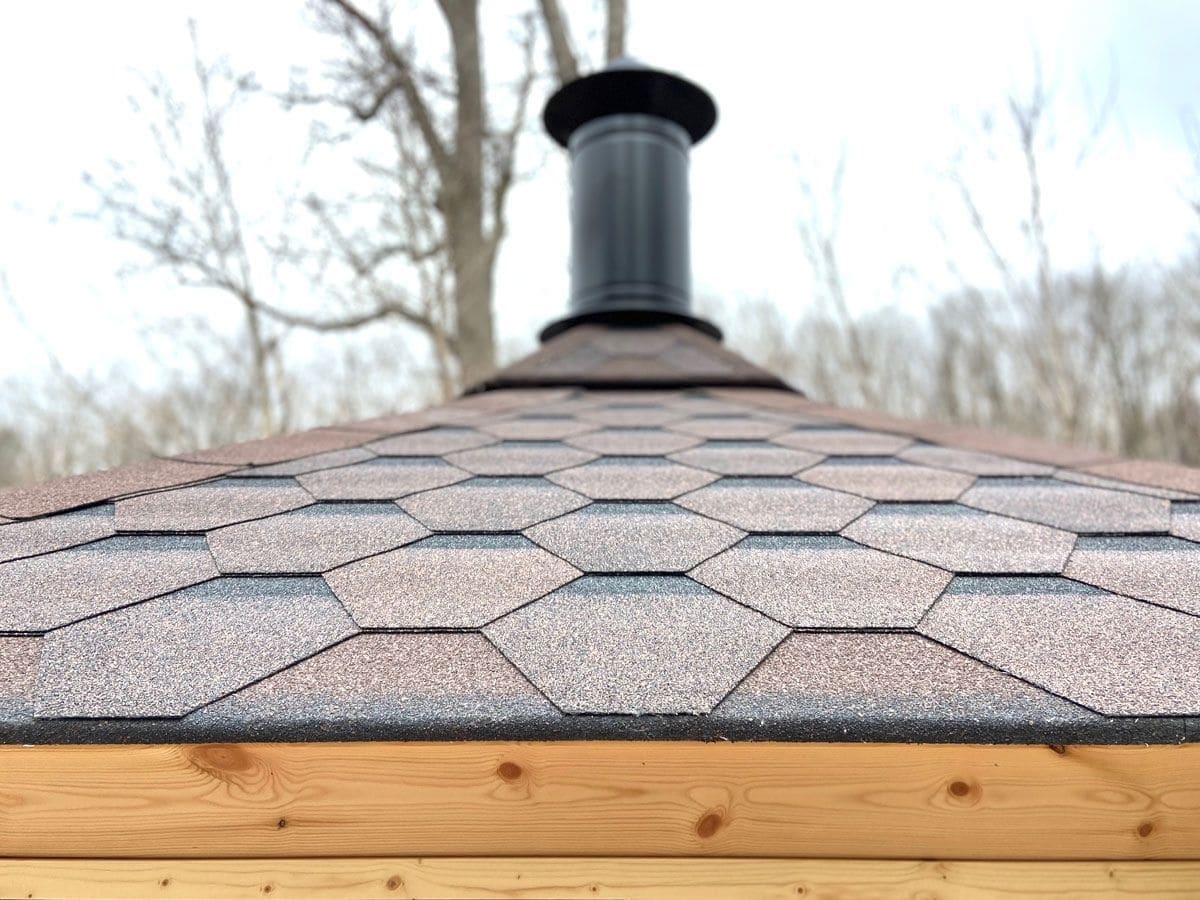 While the unit is not stained or painted when it arrives, you can definitely paint, stain, or water treat the outside to suit your own desires and decor preferences.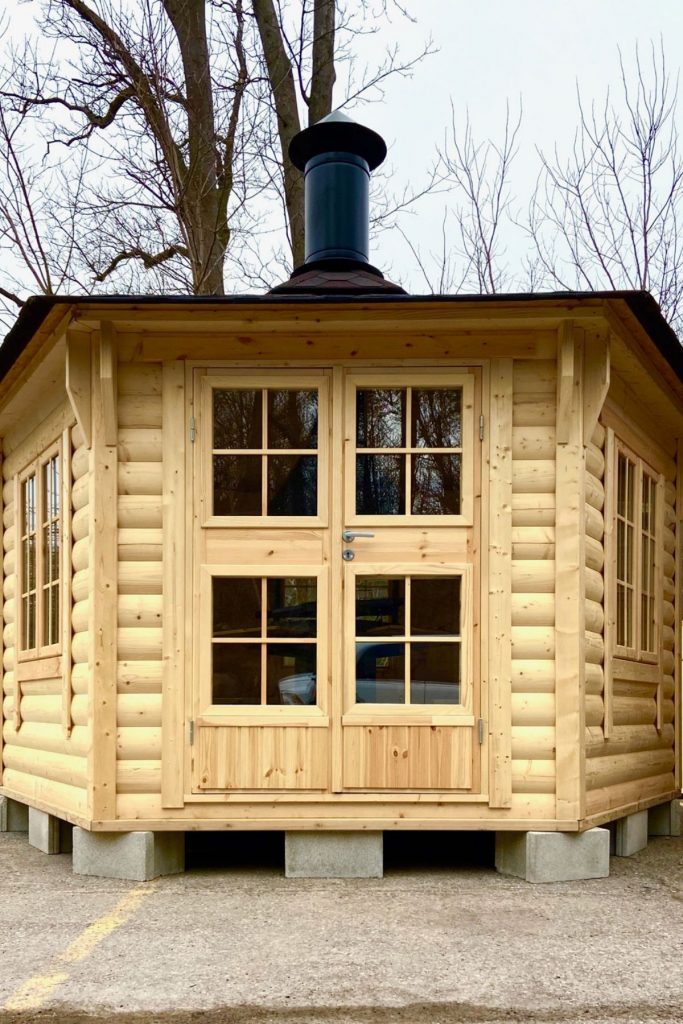 While this may not be a standard log cabin, the log cabin looks to this grill house really appeals as a wonderful kit ideal for use in the winter months for entertaining and more. To order your own, check out the Sawmill Structures website. When ordering, let them know that Log Cabin Connection sent you their way.
More Log Cabin Kits and Tours