This classic log cabin has the ideal look you want when designing your future home. A classic log exterior, green metal roof, covered porches, and beautiful stone accents are all you see when you pull up out front. Stepping inside, you'll find even more beauty in this log home.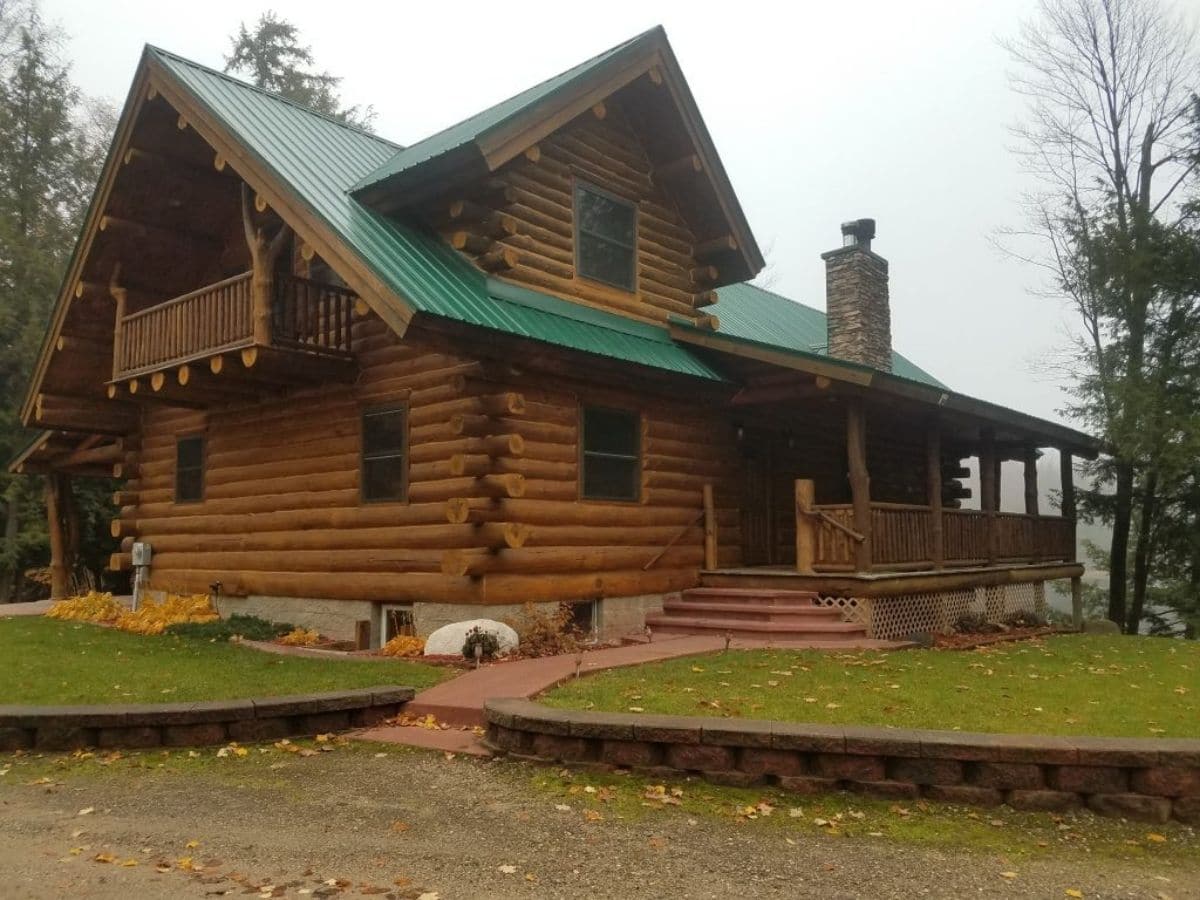 Home Size
2200 square feet
3 or 4 bedrooms depending upon your needs/desires
Home Price
Prices vary depending upon what is included. There are options for the kit only that you pick up as well as delivery to your home site.
$102,307 - kit only picked up at their location
$127,434 - kit plus deliver to your home site
Home Features
Large covered front porch with a 36 foot side porch.
Loft with sizable balcony.
Optional garage or carpot options.
Custom log stairway to loft space.
Walkout basement option.
I love the private balcony shown here off one of the bedrooms. A lovely view you can enjoy for a private cup of coffee in the morning or a glass of wine at sunset.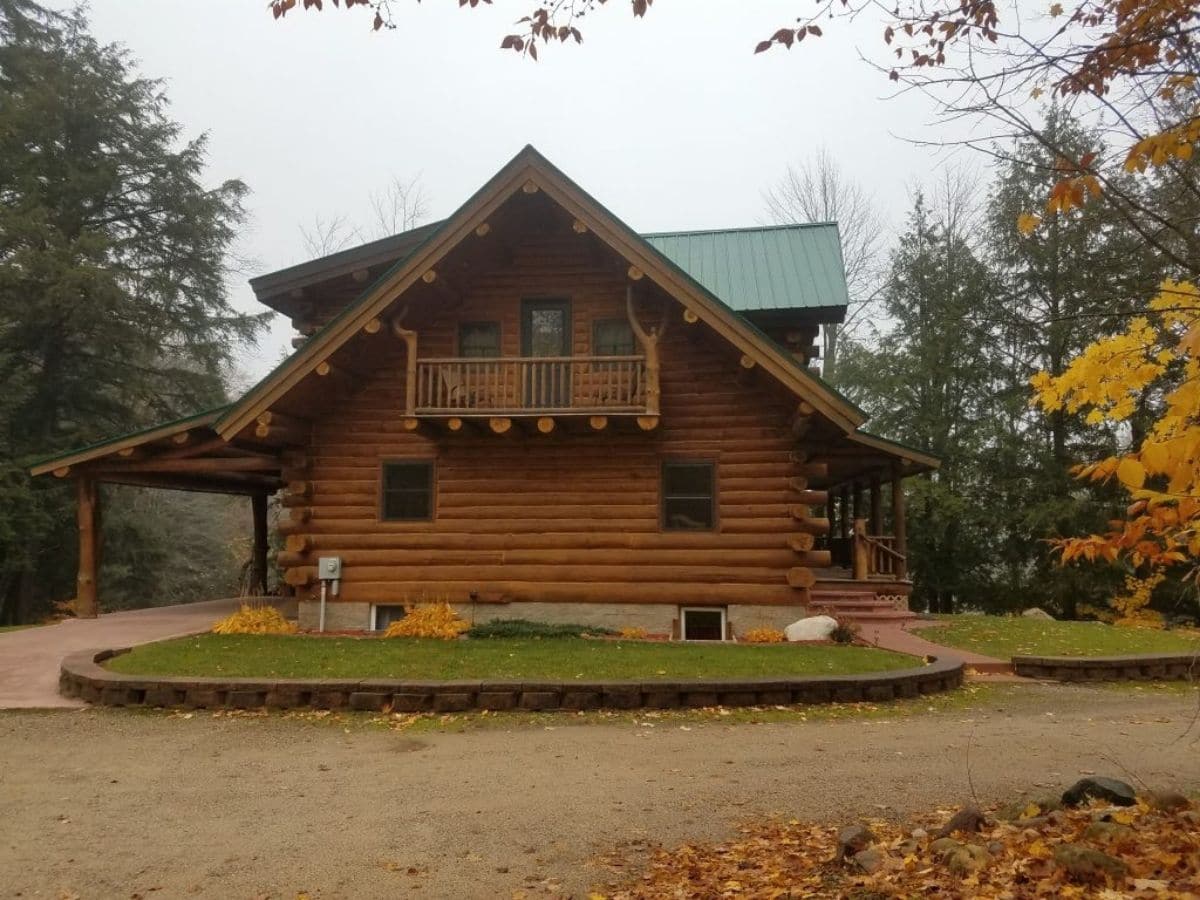 A garage is an option you can add to the kit, but this shows the home build with just a carport. That in itself is a nice addition and allows for some protection from the elements. This is especially handy if you live in a cooler climate when snow is a big part of the winter weather.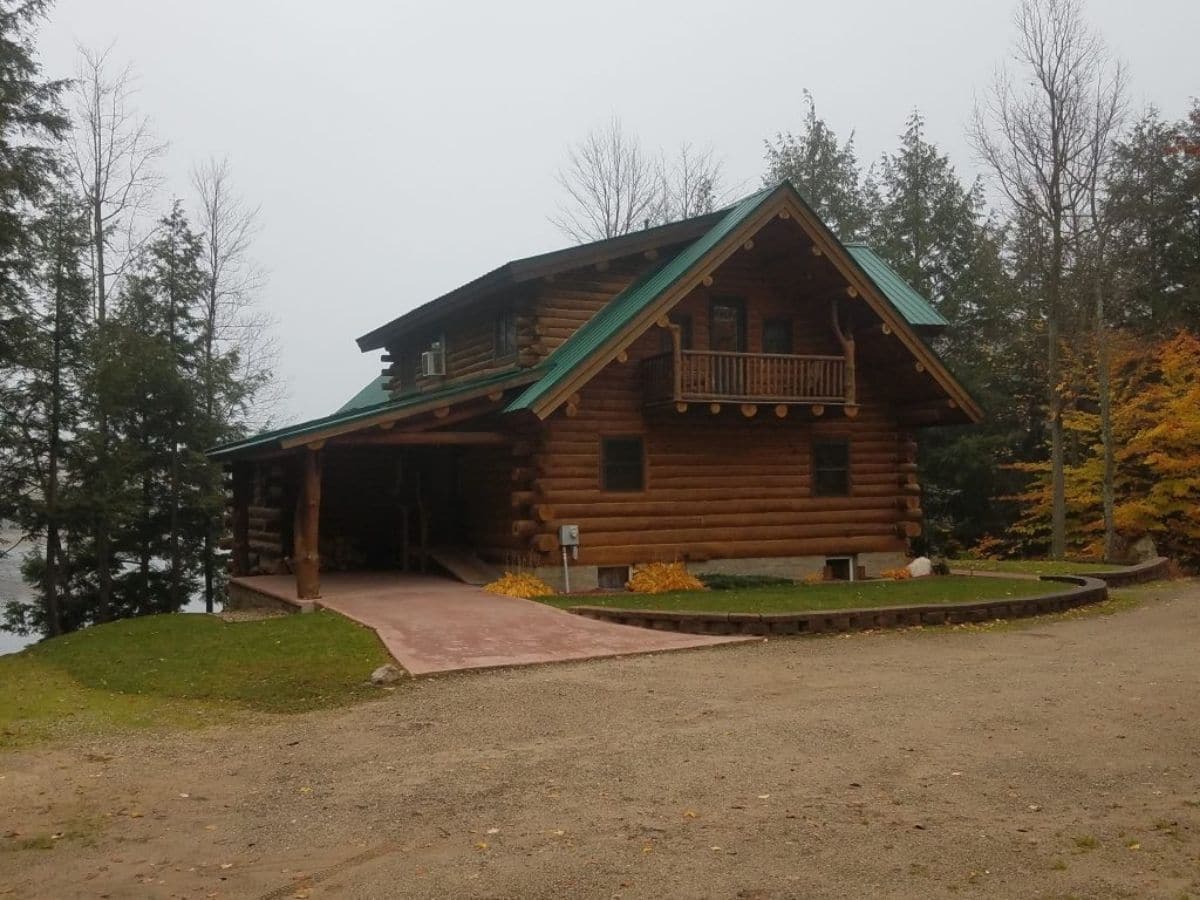 This home includes a walk-out basement space with bottom-level storage options. Beneath the covered porch around the outside of the home is a walkway down to the waterfront, but the views from here are spectacular.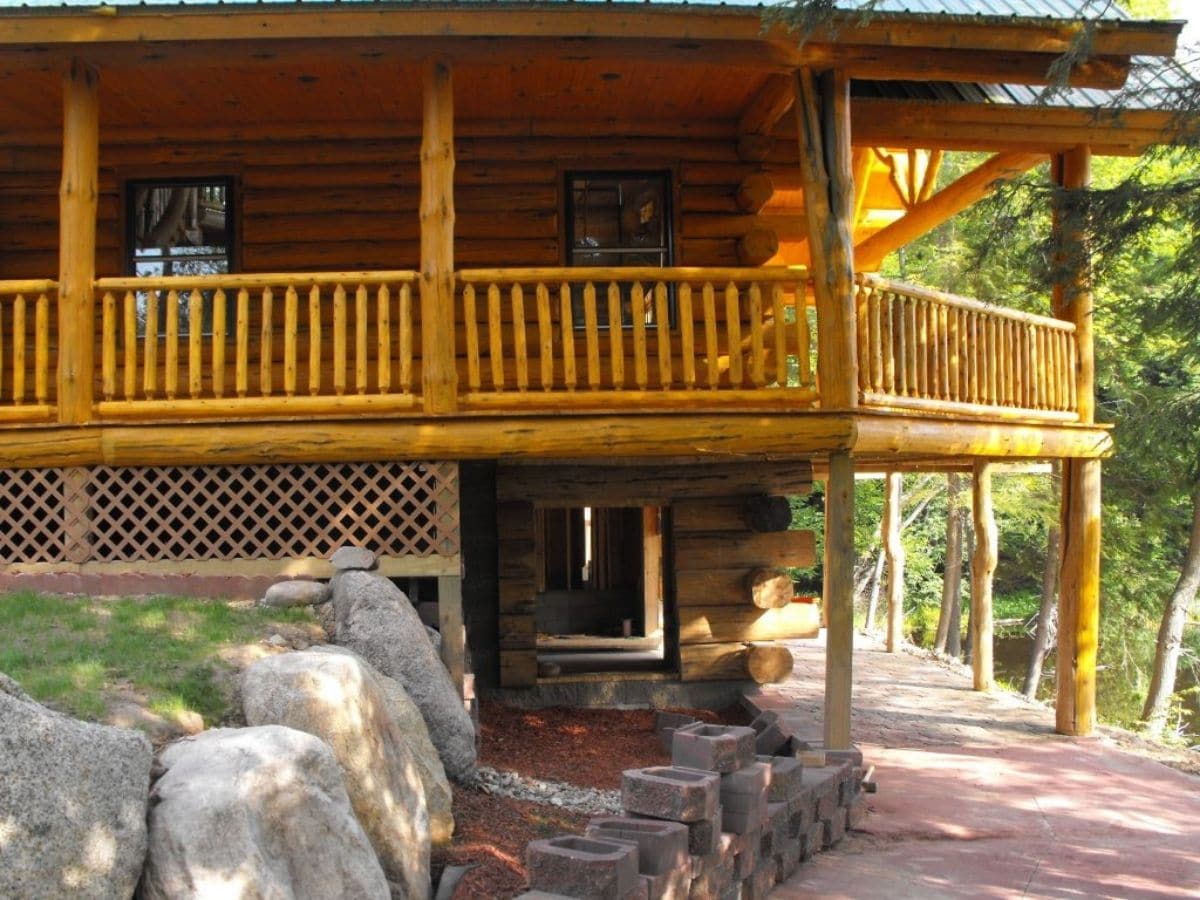 Just look at that view! Plus the log work on the outside of this home is gorgeous. I can just imagine adding a few rocking chairs here to relax in the summer with a glass of sweet tea, or a nice cup of hot cocoa to watch the snow fall.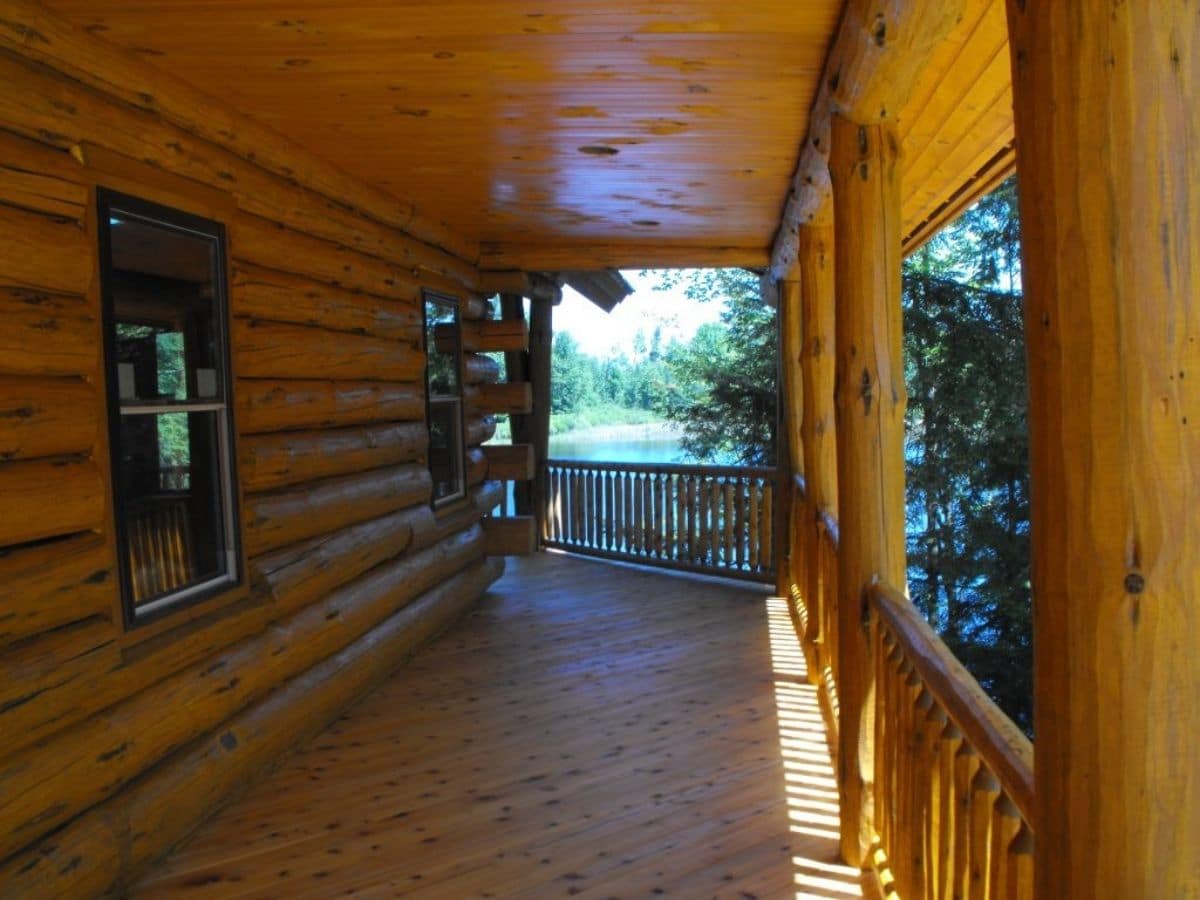 And this view, it may just be a simple pond out back, but it's a gorgeous way to spend an evening. Just sit down, relax, and enjoy!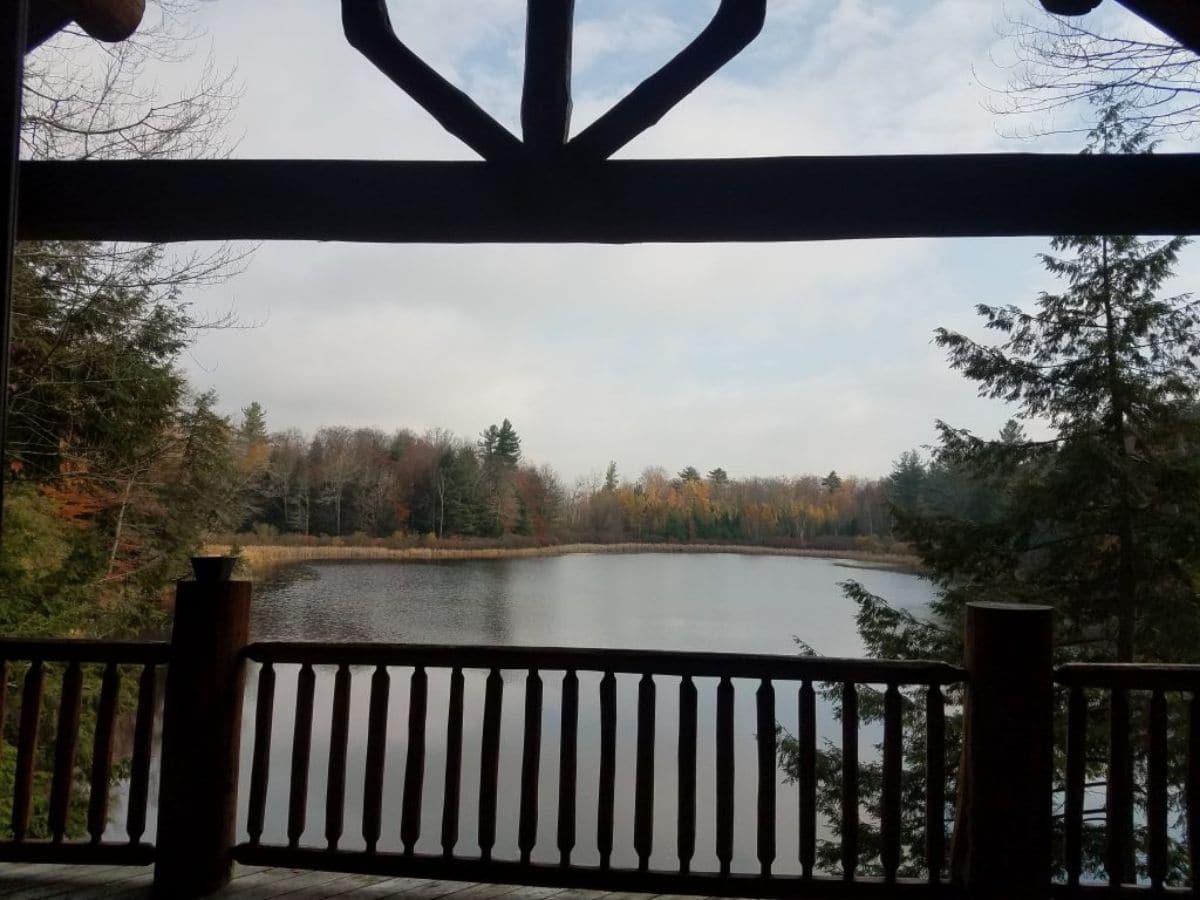 A stone fireplace is one of the features of the main floor living space. The stone is beautiful but the log mantle really brings the rustic style to the home.
This is easy to relax in an atmosphere with sofas all around, a cozy nook for reading, and gorgeous log columns.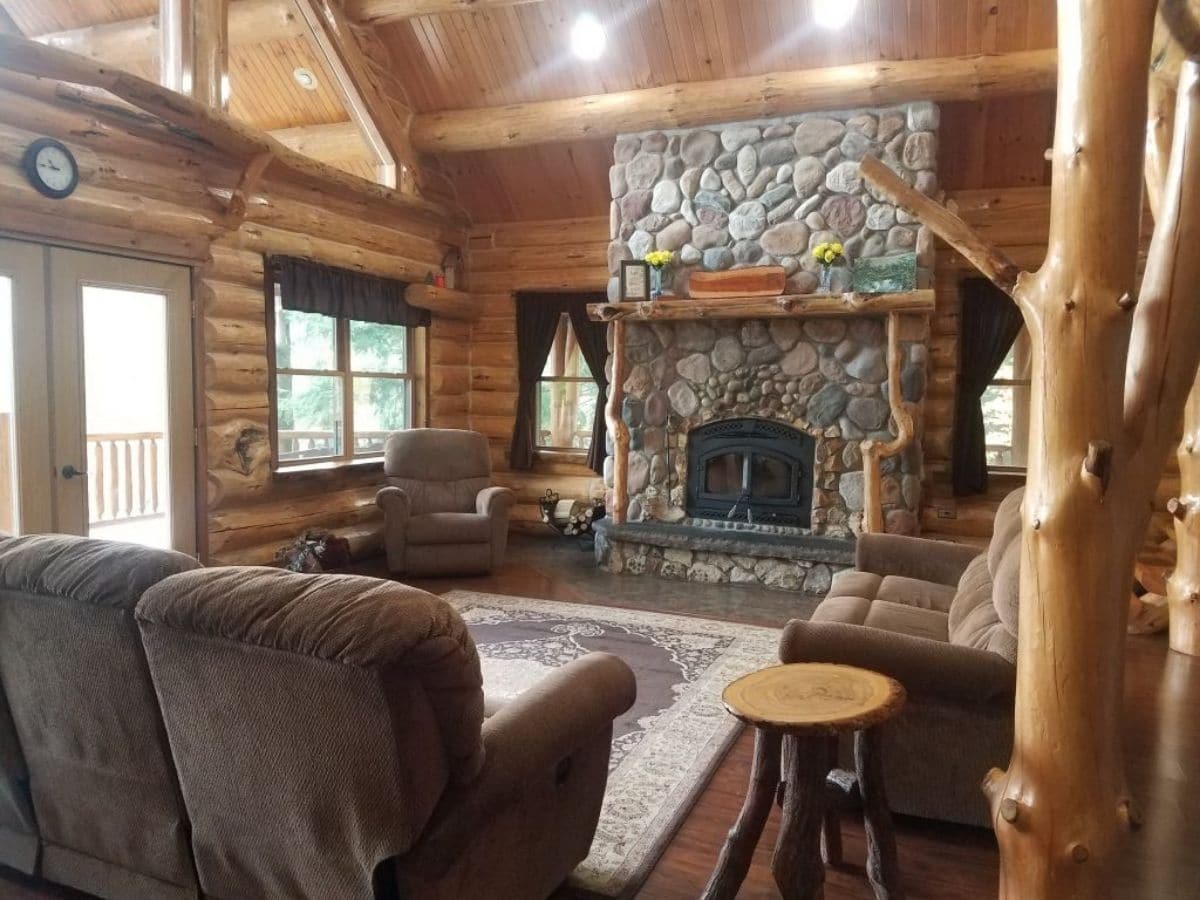 This kitchen is one of my favorite parts of the home. I love the real logs as side walls and beams on the ceiling. Plus, you can see behind the stove, a unique log accent against the wall. It's beautiful, unique, and welcoming. Plus you have all of this open counter space and tons of cabinets to store items in your kitchen.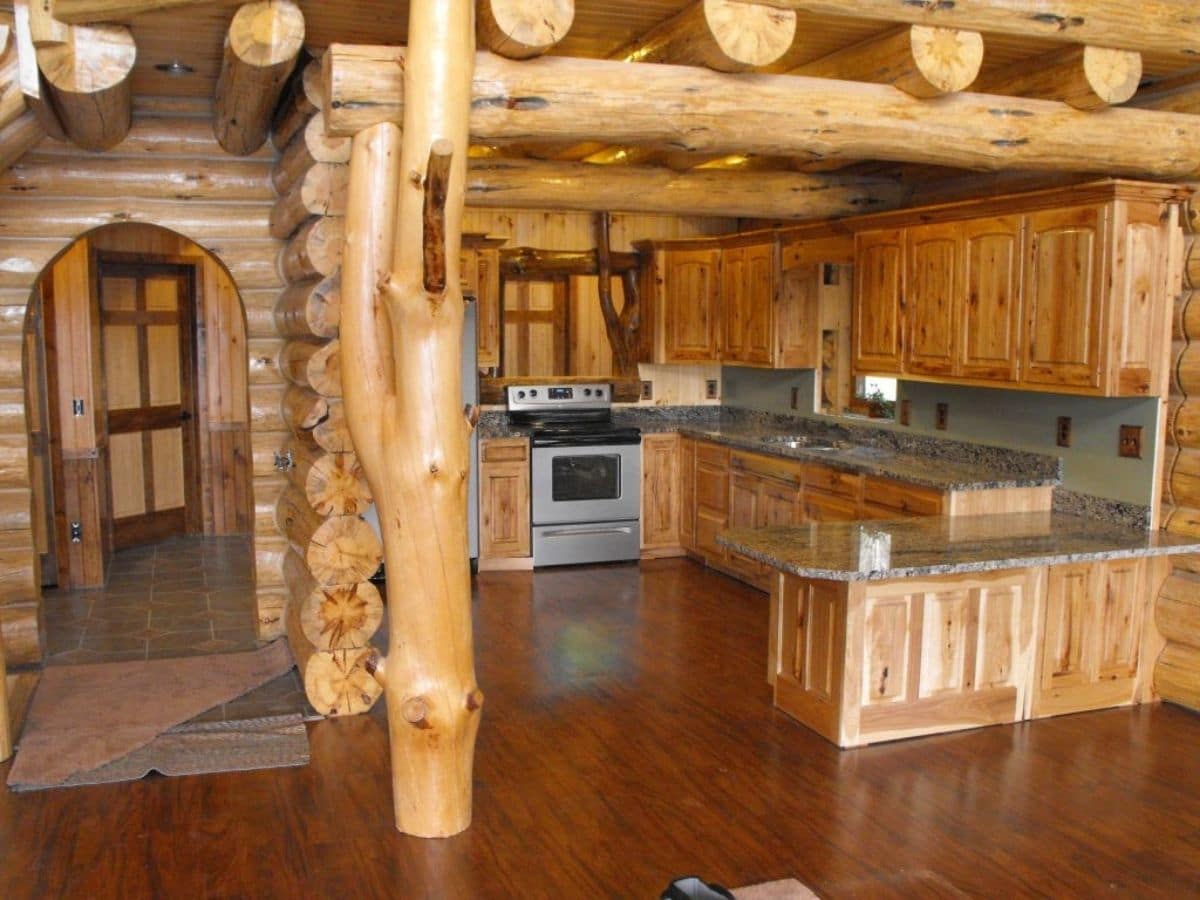 The bedrooms of this home are just as rustic, and this owner has added a gorgeous hand-crafted log bed to the mix. You can add modern additions or just stick with the rustic look to create a cozy home with a bit of the past in every corner!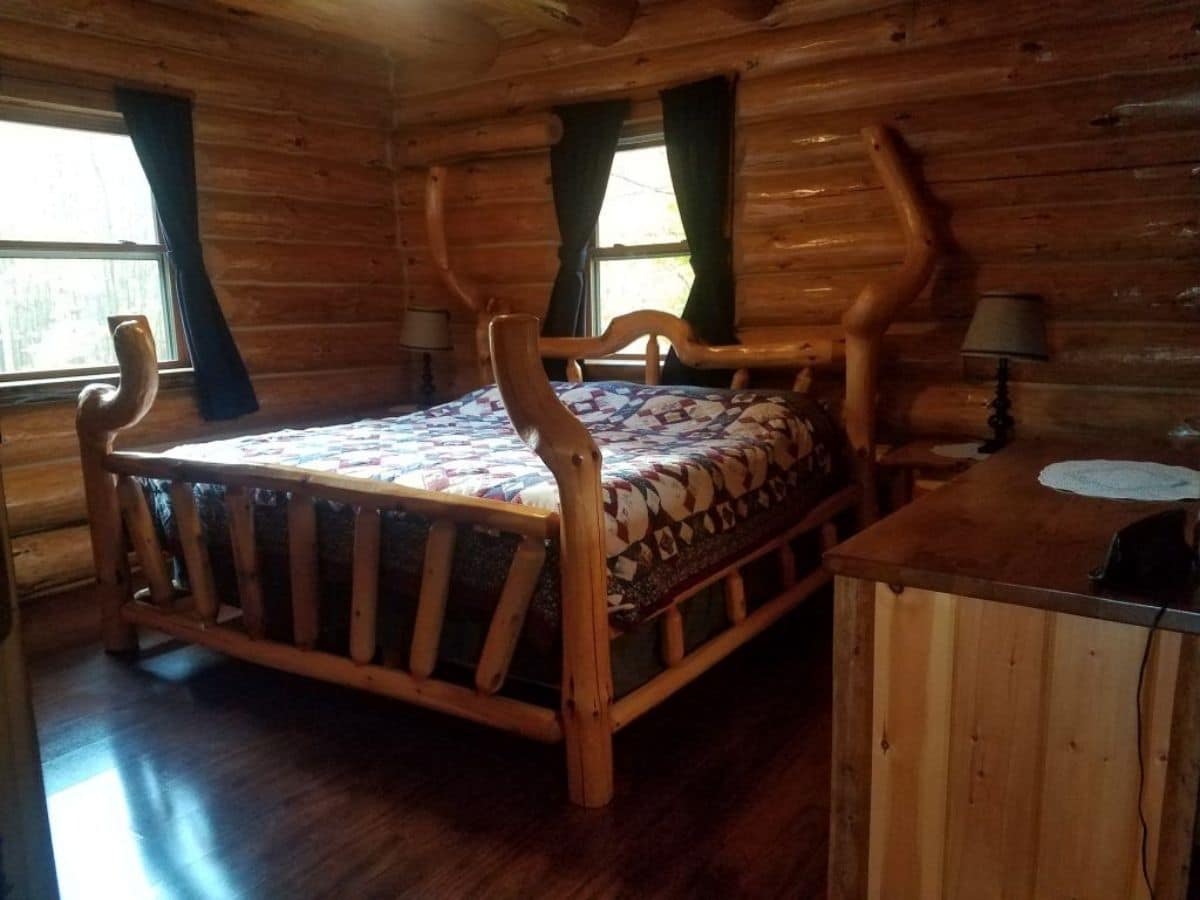 The master bathroom is a beautiful creation. Yes, a creation that is a work of art! Log walls, and a truly one of a kind base for the vanity make it rustic, but you will also adore that soaking tub in the corner with it's own private shelf for storage!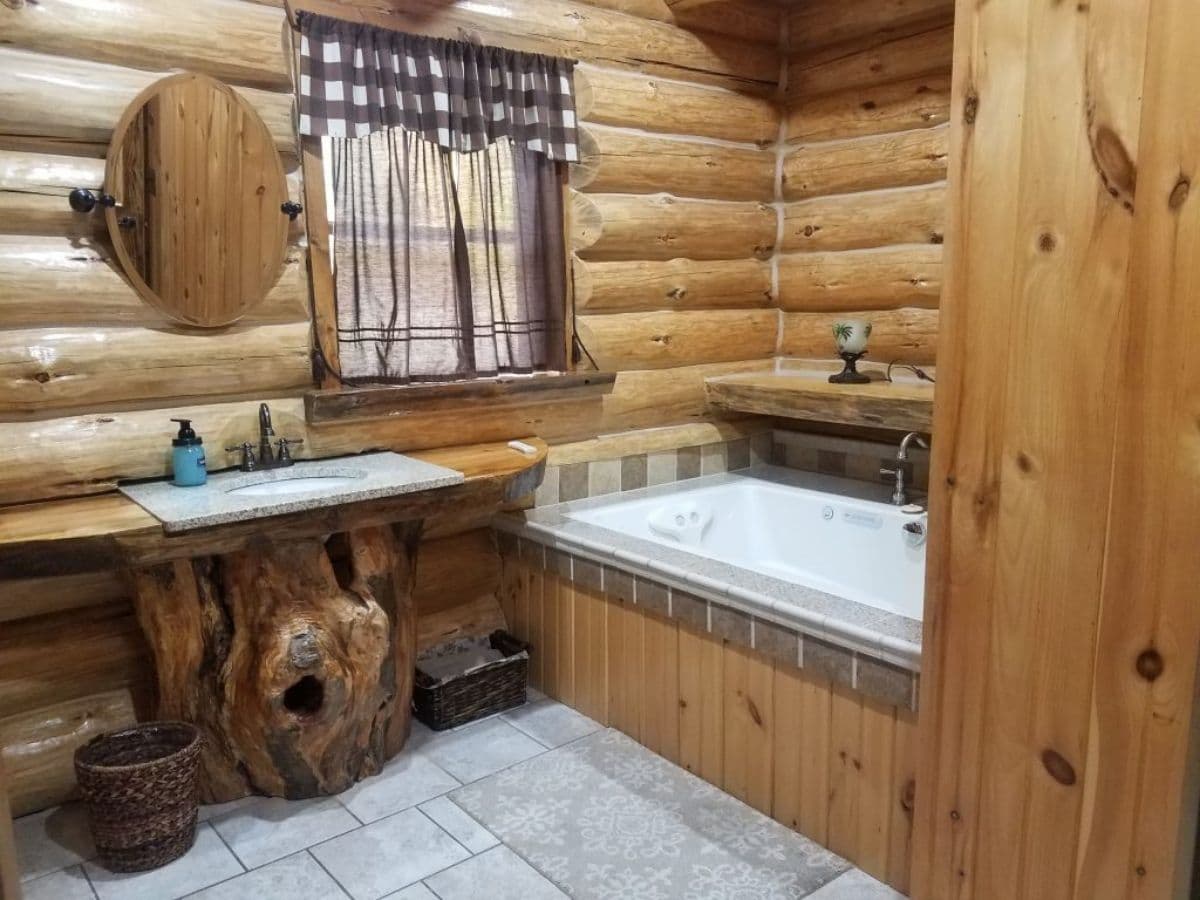 Of course, the bottom level has its own unique charm. The combination of stone and log are welcoming and the layout includes a ping pong table, space for a few sofas, and the perfect area for a family room or game room!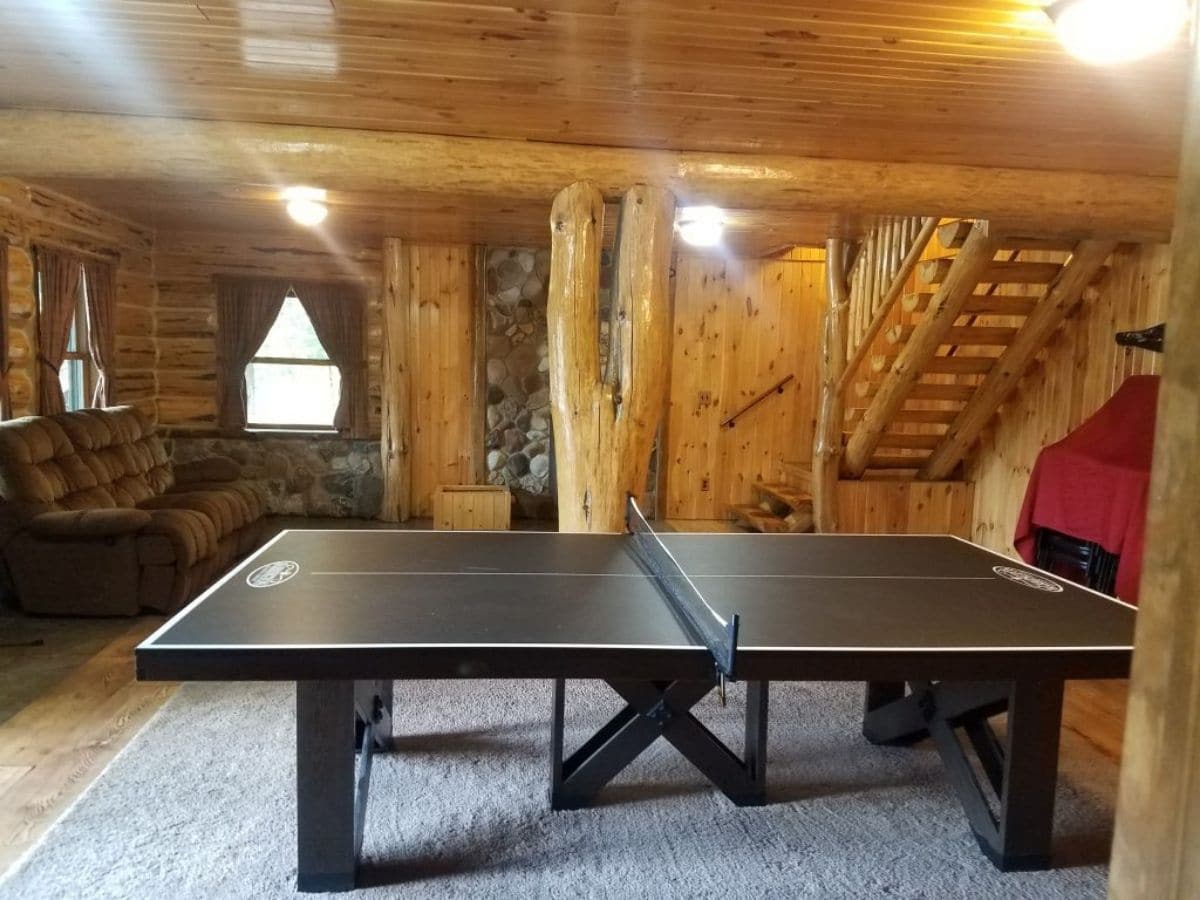 If you are interested in your own custom build, check out the Cedar Log Cabins website. You can also find them on Instagram for more regular updates. Make sure that you let them know that Log Cabin Connection sent you their way.
More Log Cabin Kits and Tours