The Ski Home Ranch is a gorgeous Rocky Mountain log cabin that is beautiful both inside and outside. With rustic log cabin exterior, you expect a classic build but walk inside to a stunning combination of modern and classic looks and tons of woodwork and stonework.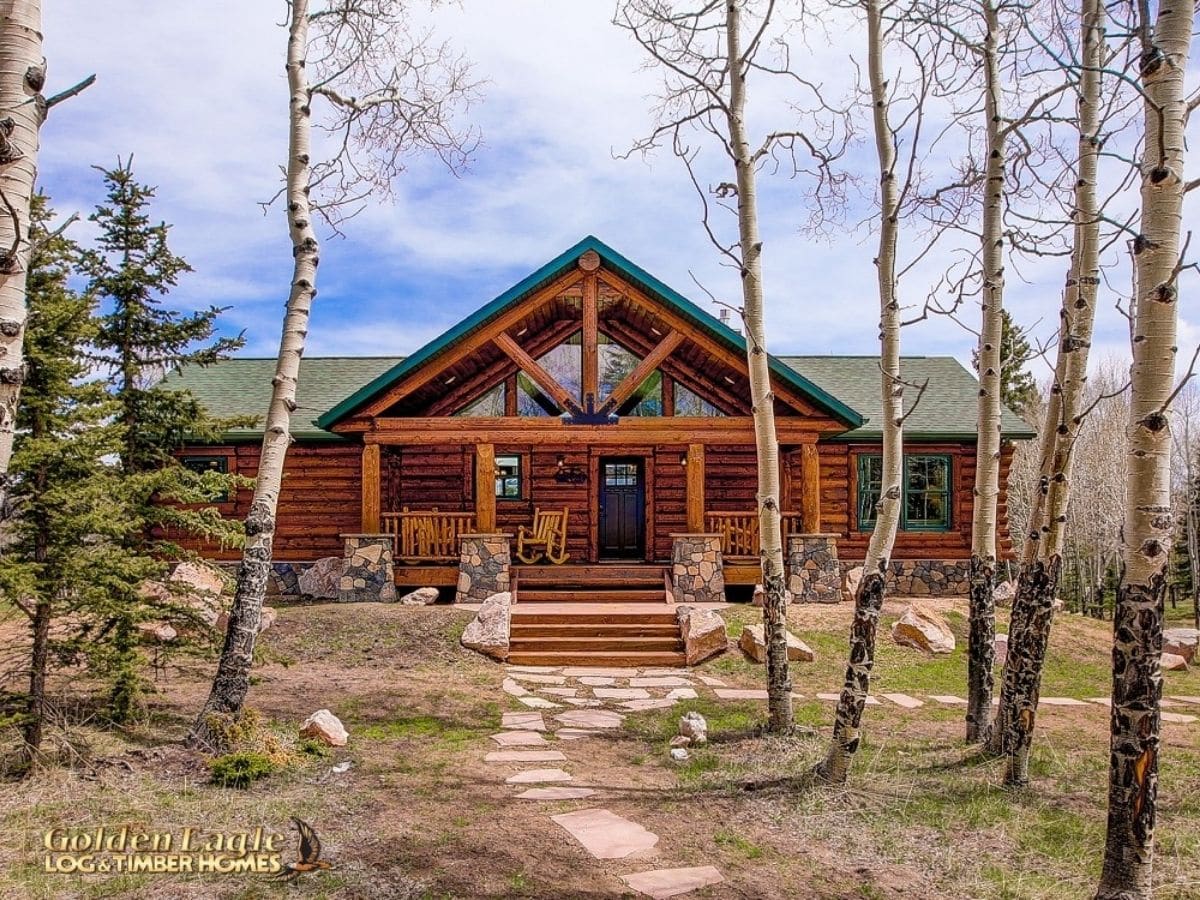 Log Cabin Size
2,714 square feet
5 bedrooms
4 bathrooms
Walkout basement
This build uses the 1418AR plan with customizations to create the ideal ski resort home for this family. The location definitely makes things better, but the home design is a huge part of that beauty. Large windows, stonework that is phenomenal, and the gorgeous log work that you expect and desire with a log cabin build are all part of this home.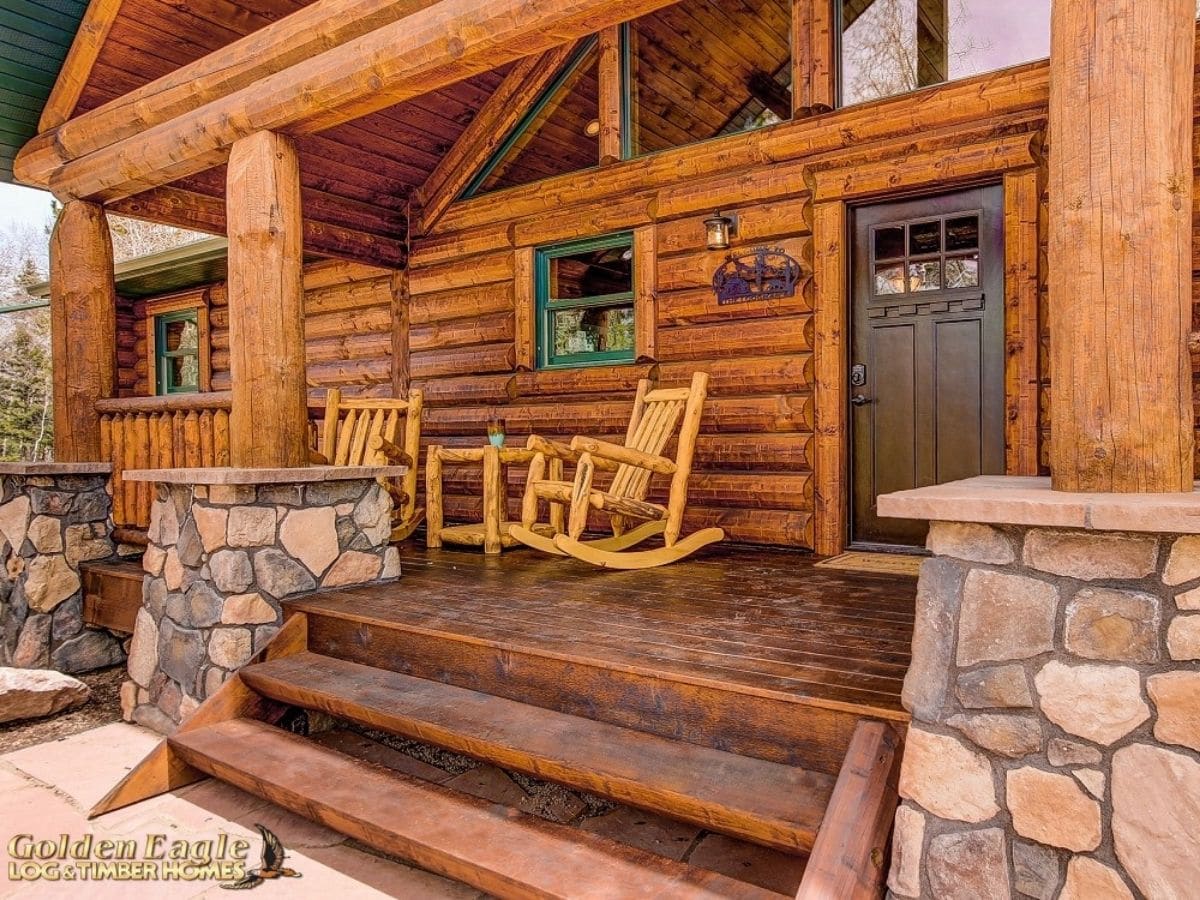 The front porch is large enough to hold a few rocking chairs and is a great place to settle in with a cup of coffee to enjoy the view.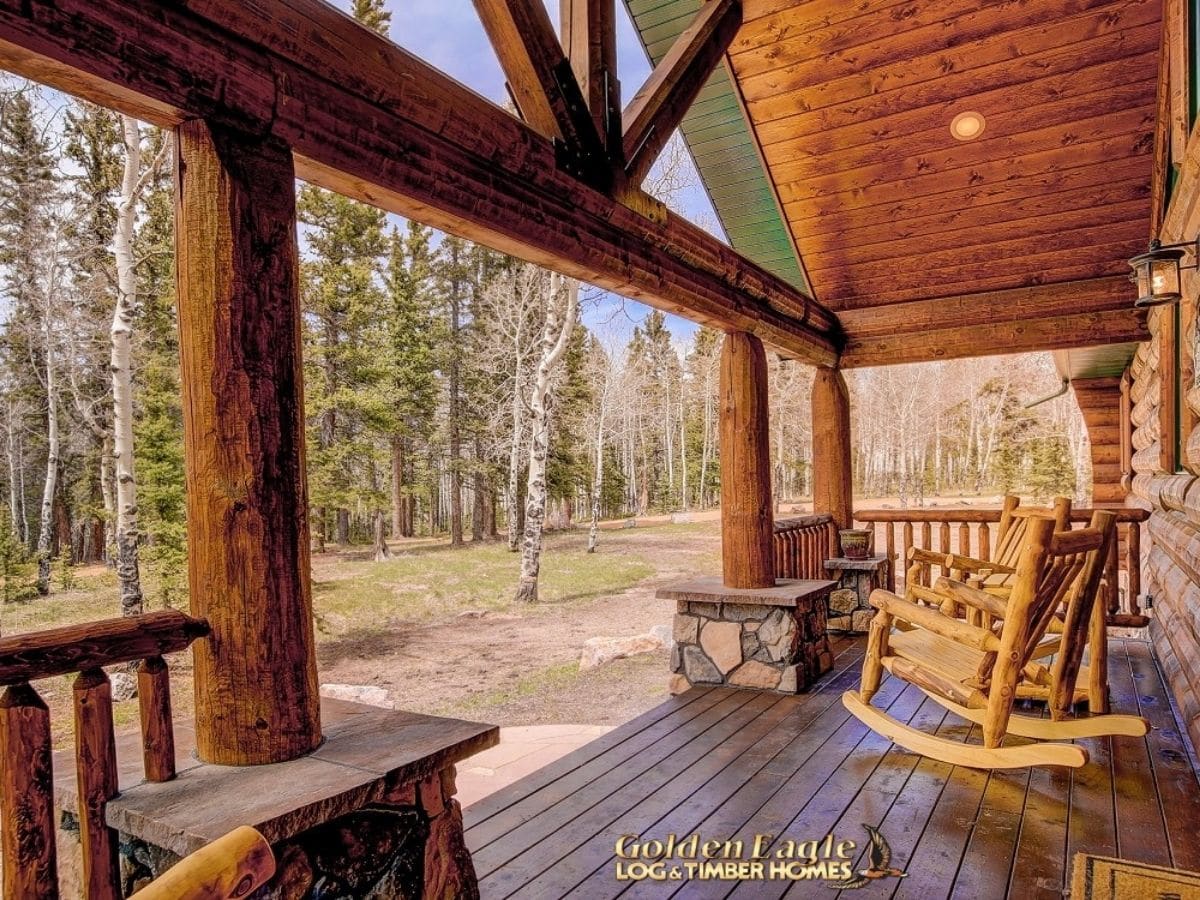 This home also includes a detached garage that is just a few steps away. While attached is common, in this case, the detached option suits the build and location much better.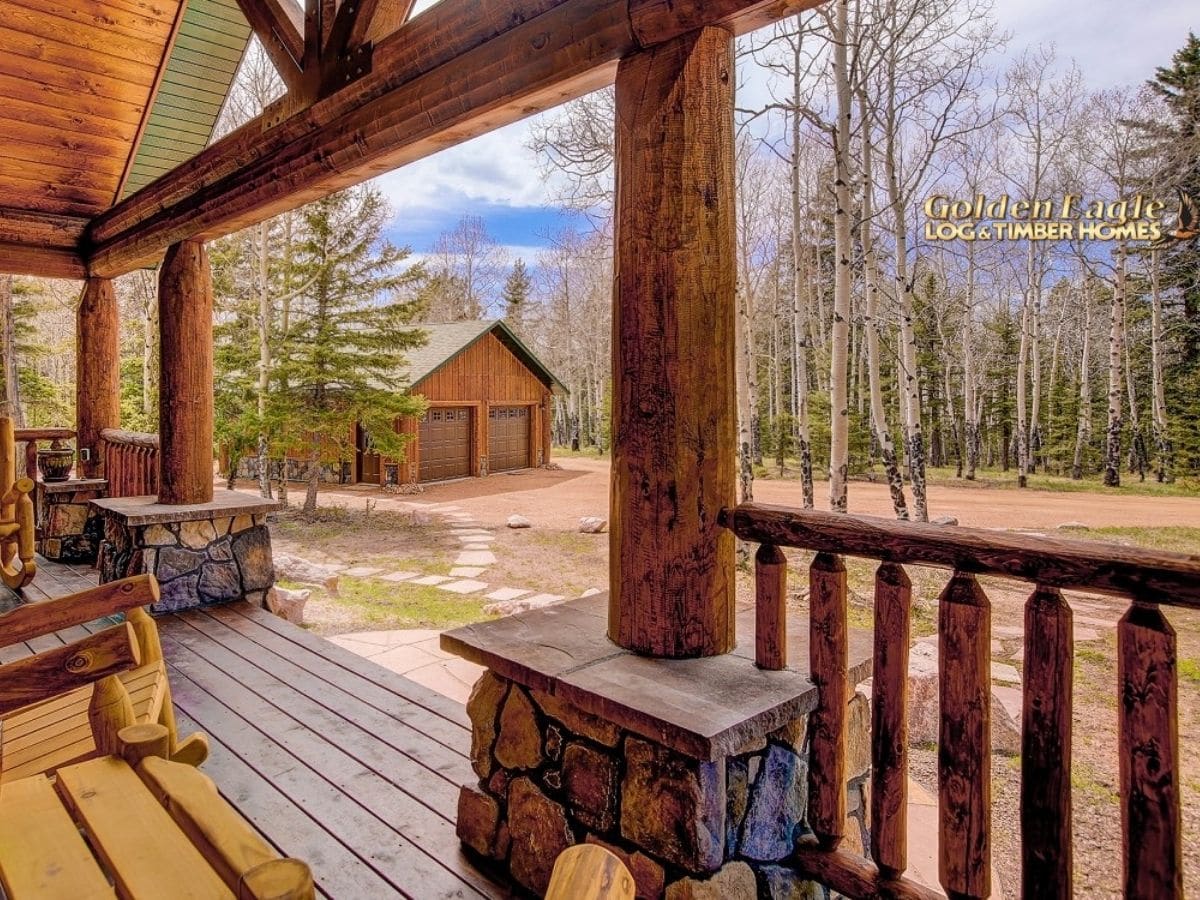 This image of the side of the home gives you a nice look at the lower-level doors as well as that stunning stonework. It's just beautiful!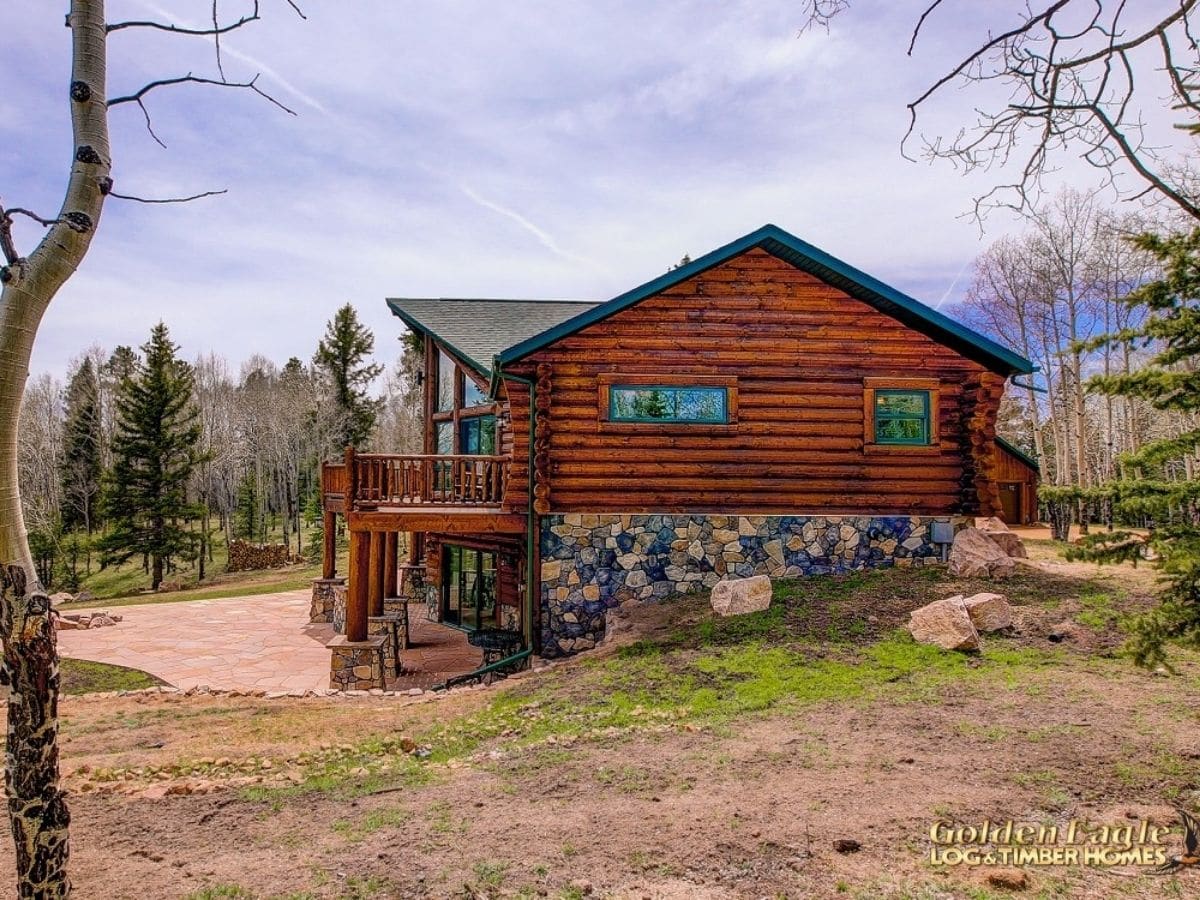 The back of this home has a beautiful walk-out basement that is stunning and has these beautiful stone columns you are going to fall in love with for sure.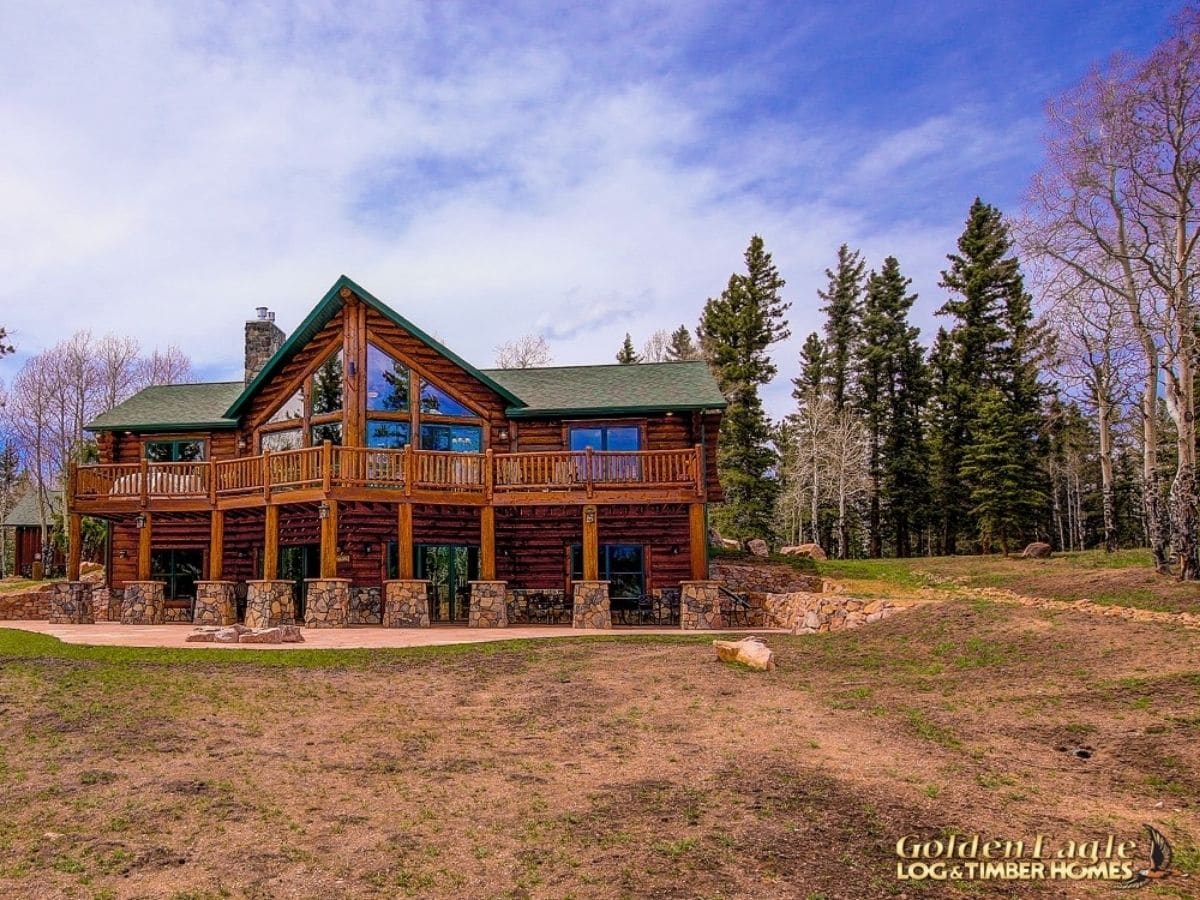 Just look at the detail! I love that the builders combine the beauty of both natural elements. Stone and wood pair to create a build that is extraordinary.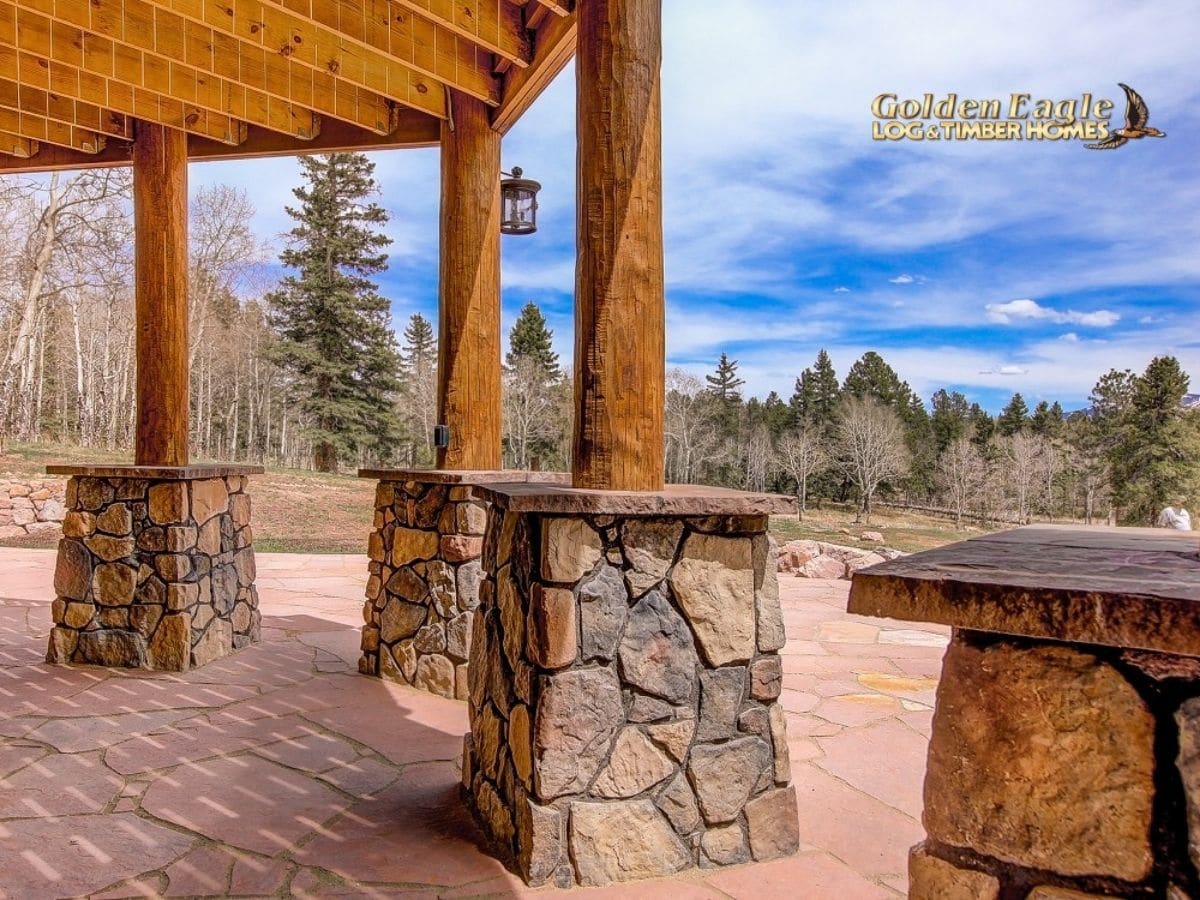 And beauty isn't just on the bottom of the home, but this deck along the back of the main floor is truly breathtaking. While it is not covered, it is a gorgeous location for an afternoon barbecue, a cup of coffee in the morning, or a glass of wine with dessert after dinner.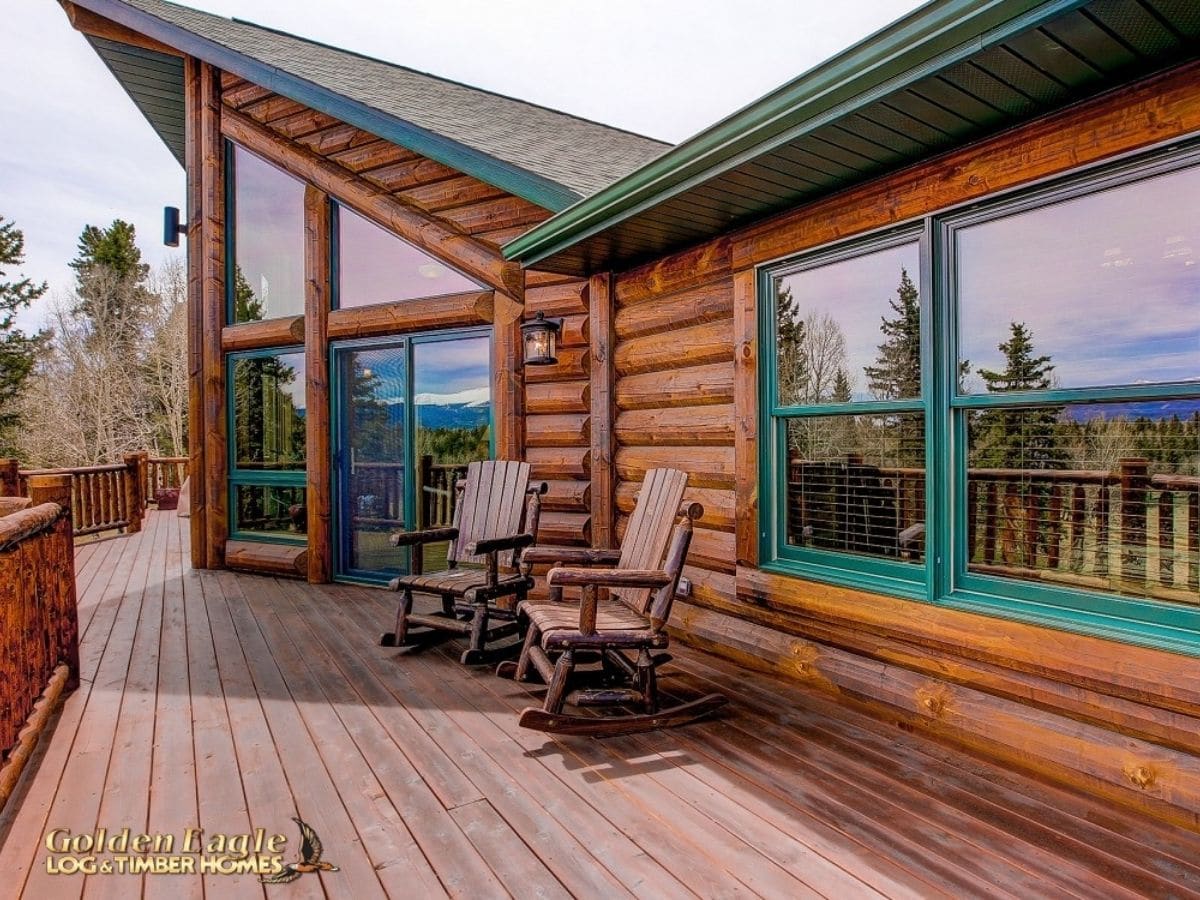 Inside the home, the beauty continues in ways you expect. The home has a combination of raw log panels, walls, beams, and ceiling, alongside stonework in unique ways. Just look at the entry with this statement wall on one side and the stone bar at the edge of the kitchen.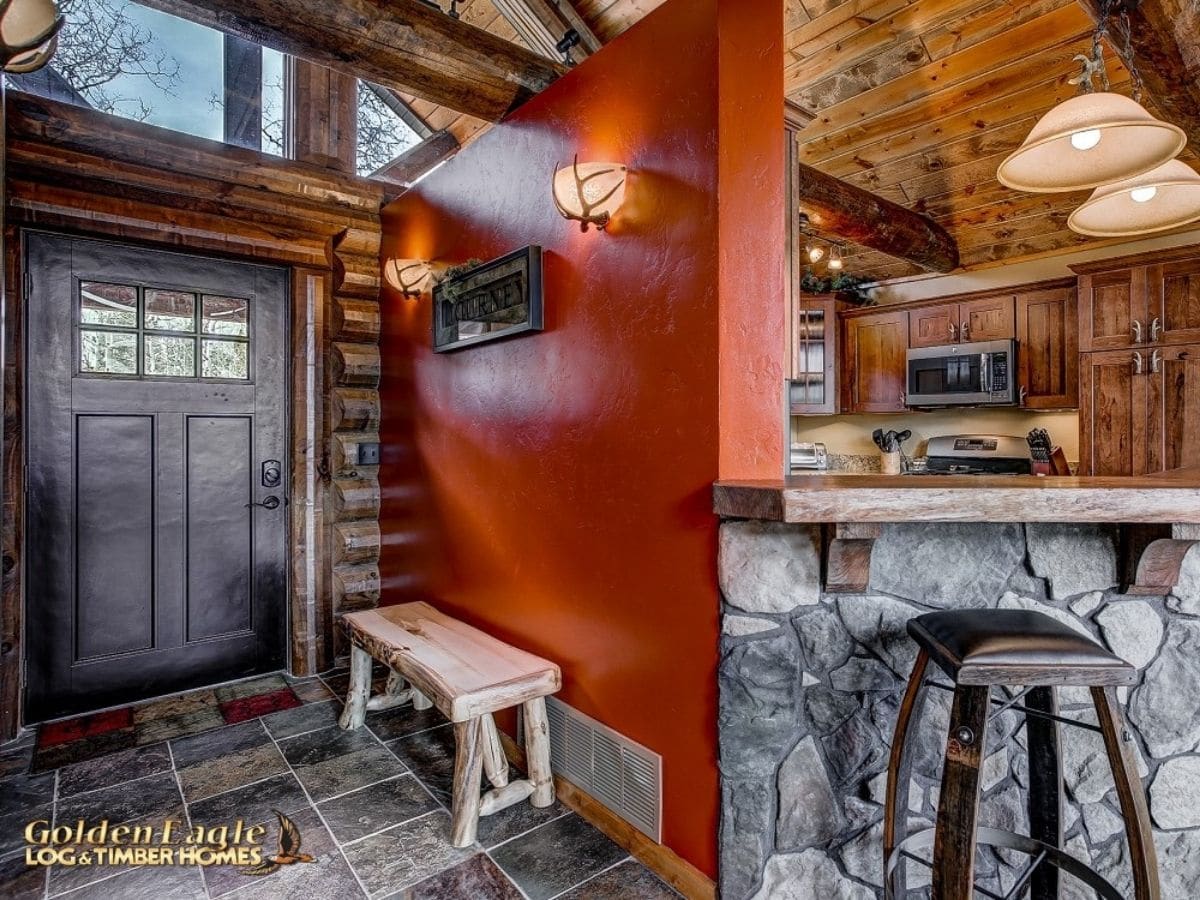 The great room has no better word to describe than great. I adore this space with the log column support right in the center of the room. So beautiful and unique!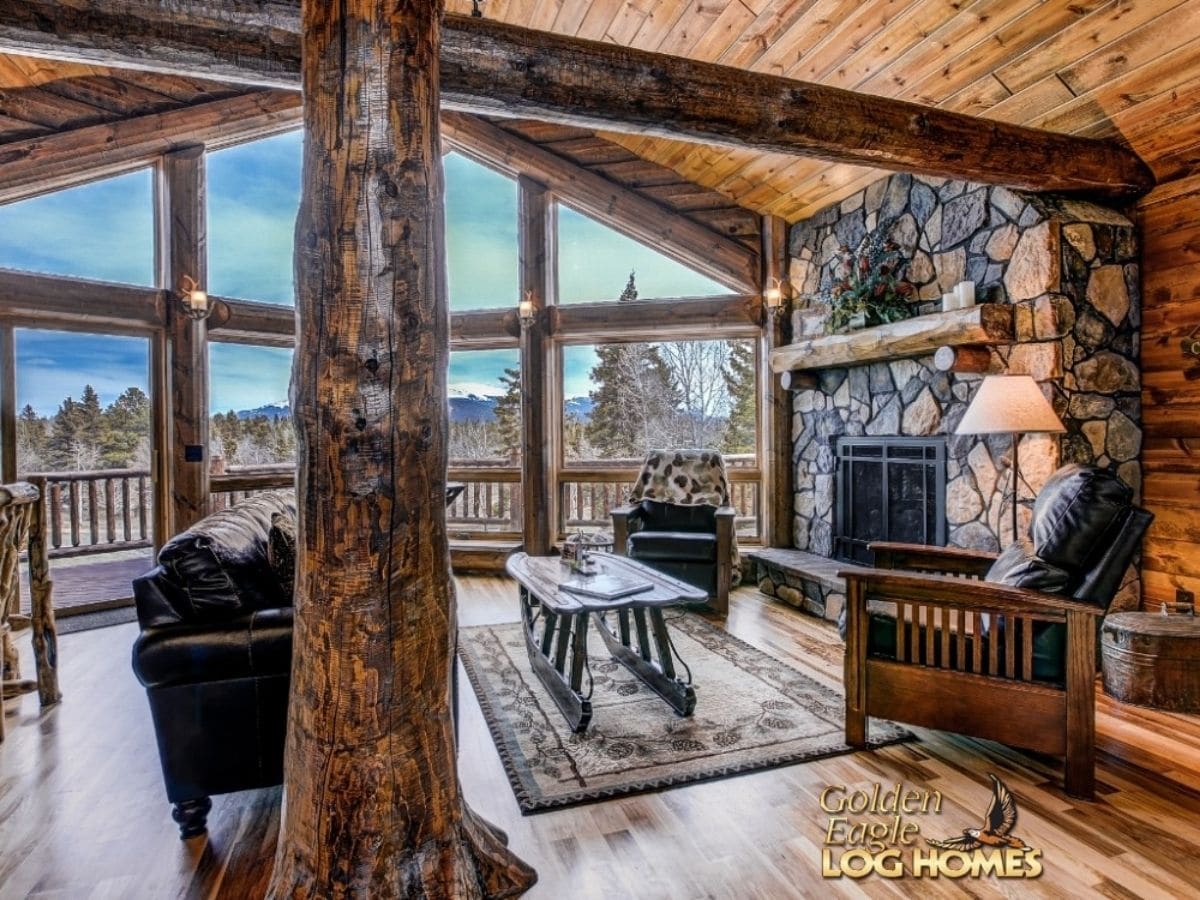 Of course, no great room is complete without a wall of windows, and this one definitely delivers. There is, also, the beautiful stone fireplace with a log mantle that is sure to impress.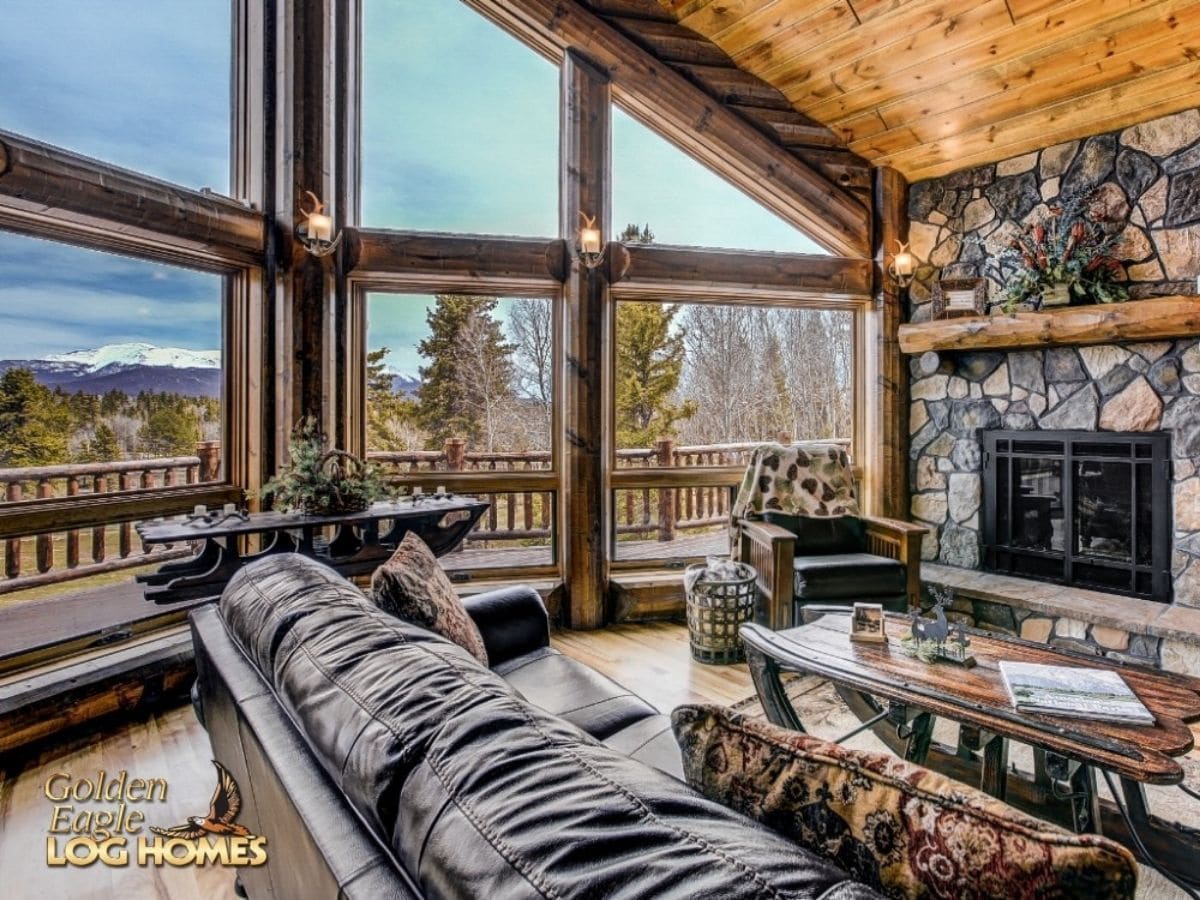 They have combined the dark leather and wood furniture with this rustic look to give a welcoming feeling to the home.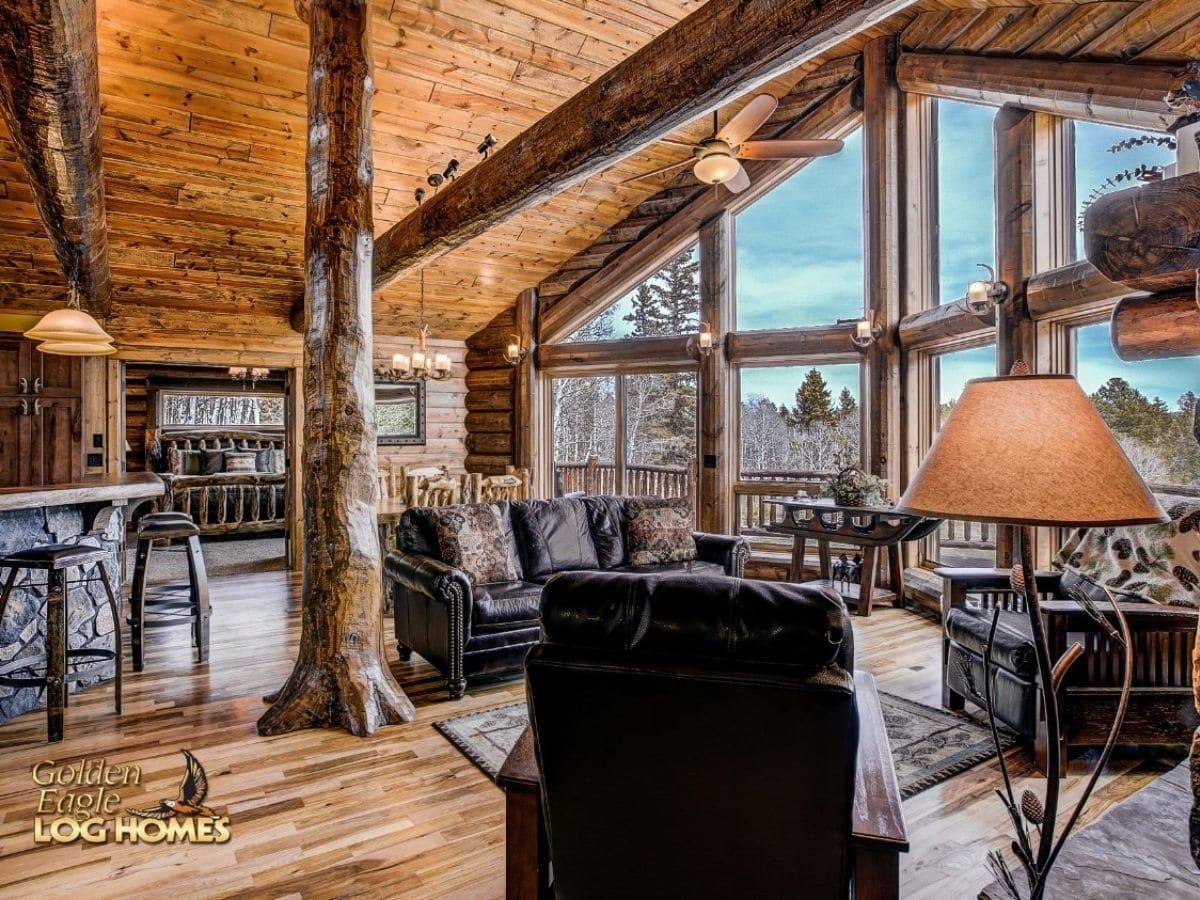 Behind this sofa, you get a glimpse into the kitchen nook and the dining area. This home is more about relaxation than anything else, and the area definitely gives that with a unique and cozy welcome.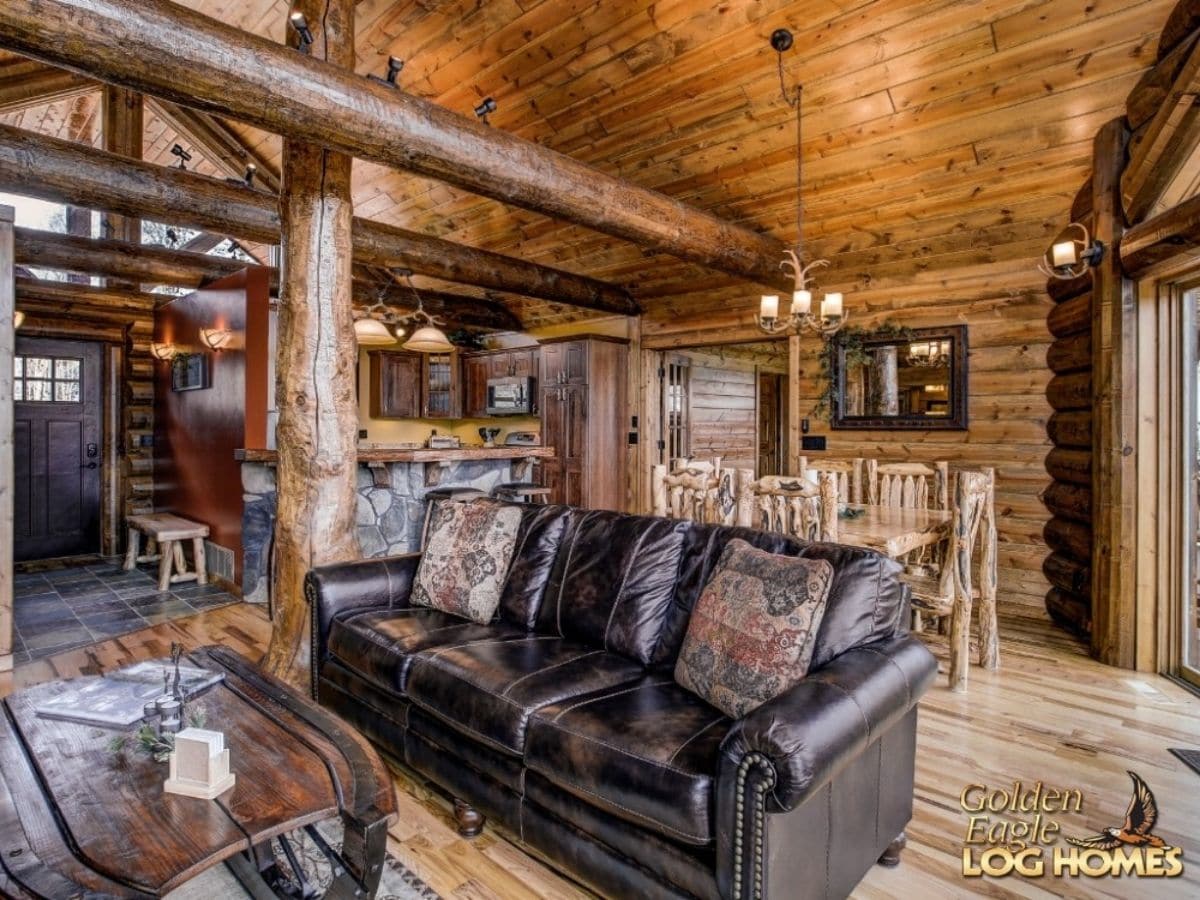 A custom-built square wood dining table with matching chairs makes for the perfect breakfast nook with incredible views.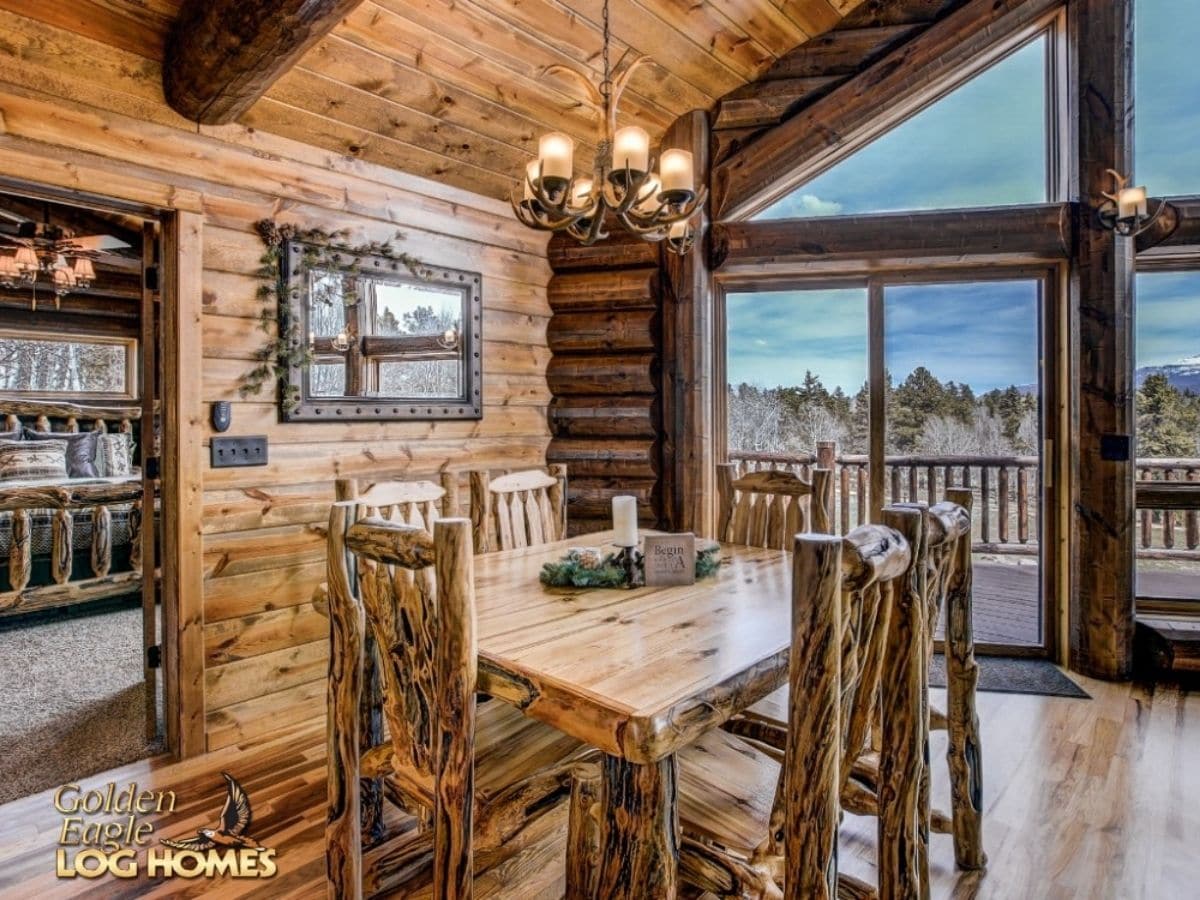 The open layout really makes it easy to entertain or just relax together as a family. A dining room and kitchen on one side with the living space on the other is surrounded by bedrooms on both sides for a comfortable plan that is designed ideally for enjoying with friends and family.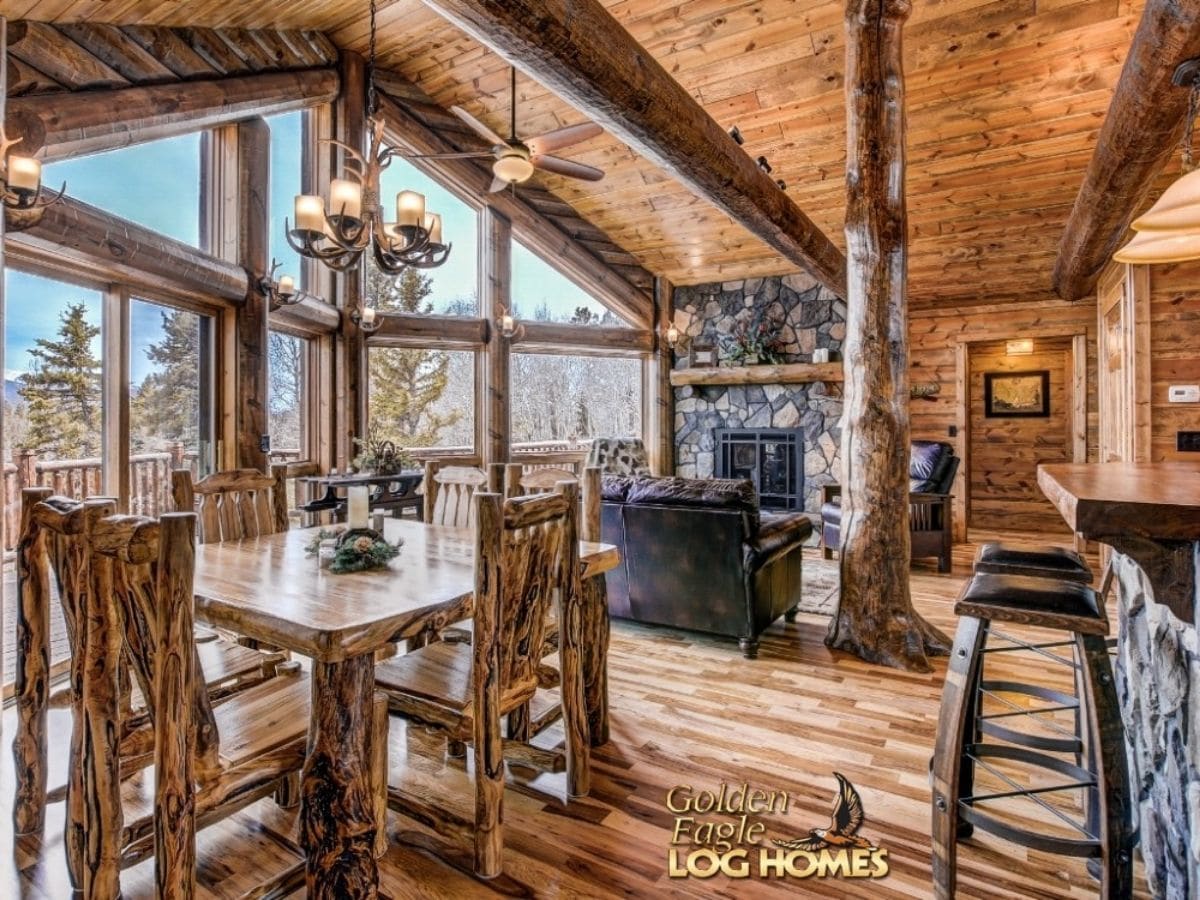 Some kitchens are large and gourmet, but this one is a smaller option with just enough room for preparing meals. I love the u-shape with a bar on one side of the kitchen allowing you to have family sit and chat while you cook.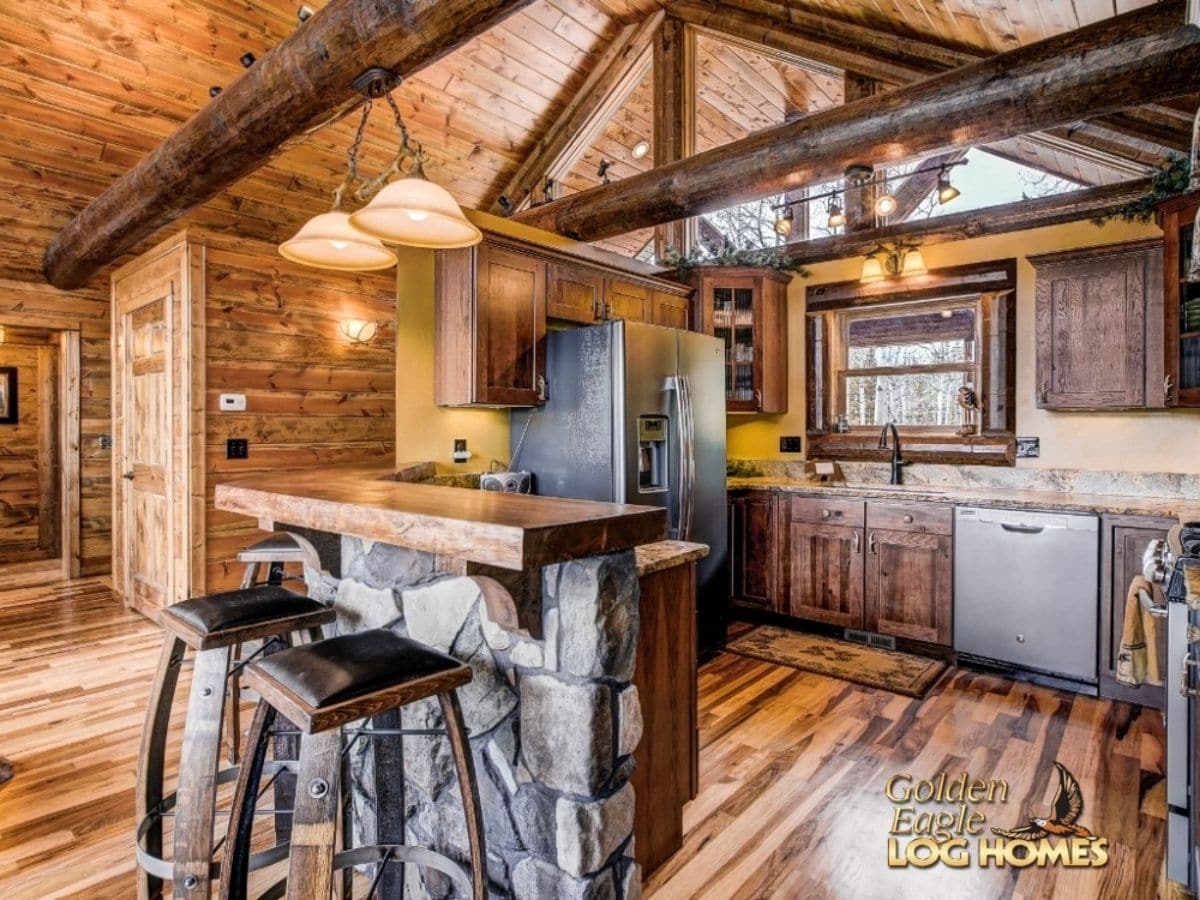 It's such a beautiful space with the yellow accent wall, antler base on the light fixtures, and gorgeous dark wood cabinets.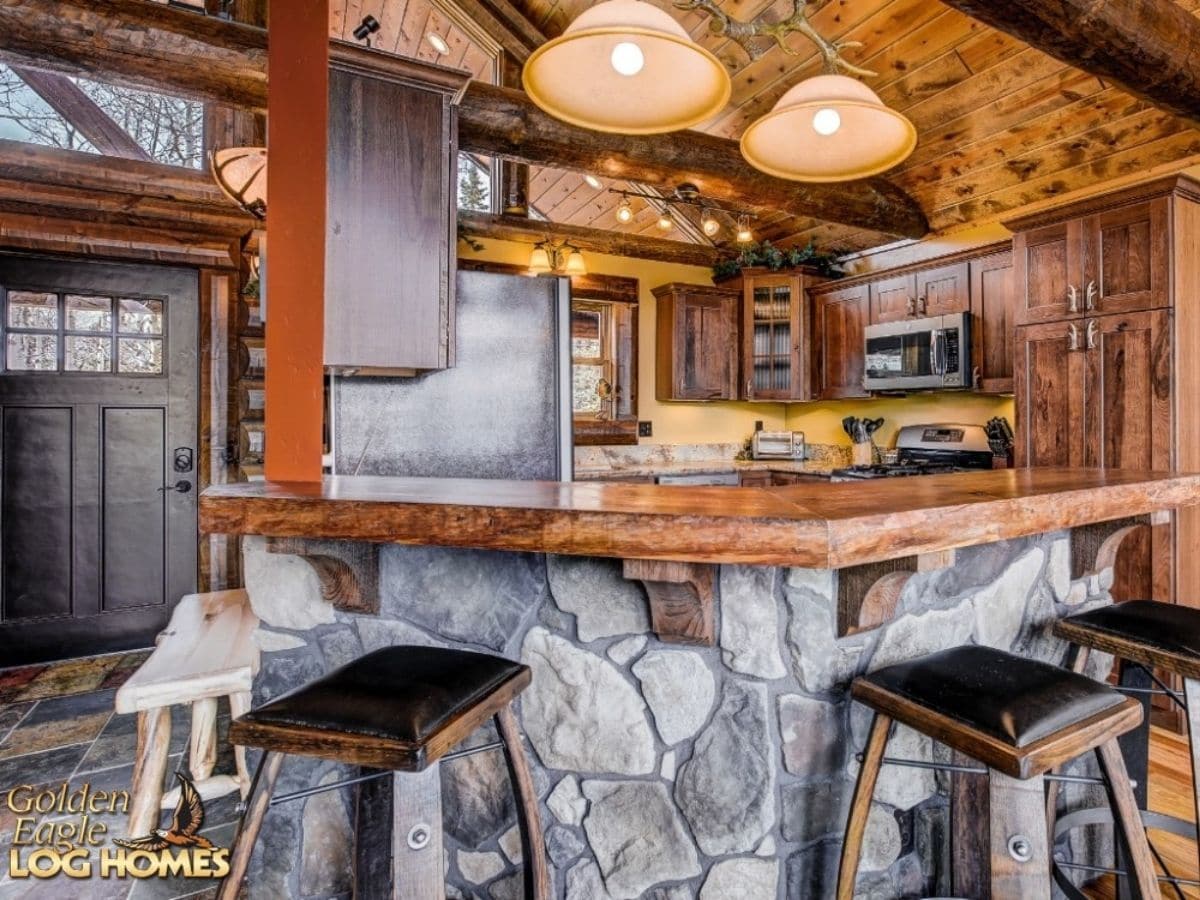 It's amazing just how much storage they have added in such a small corner kitchen. I truly love this space!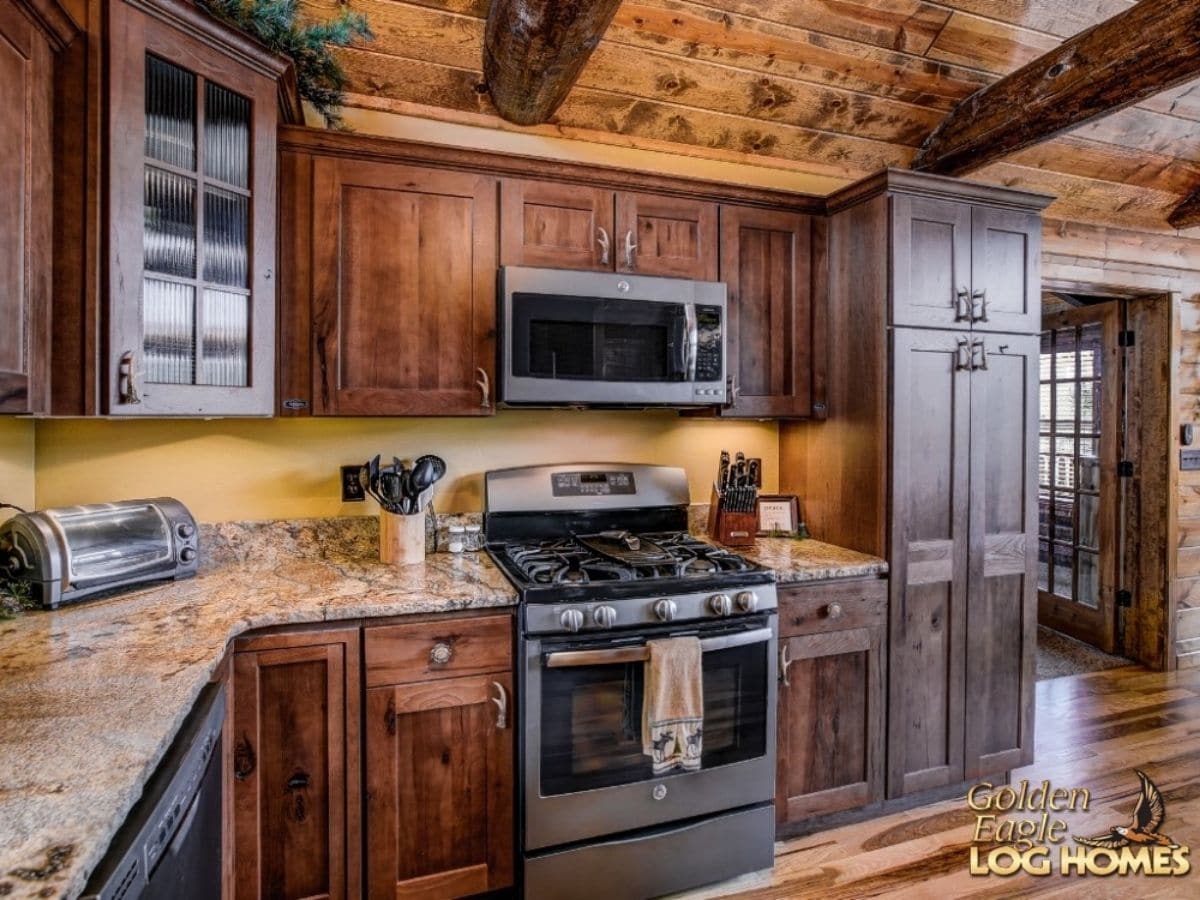 And the view from here, it is just as stunning as the ones in the great room and downstairs in the walkout lower level.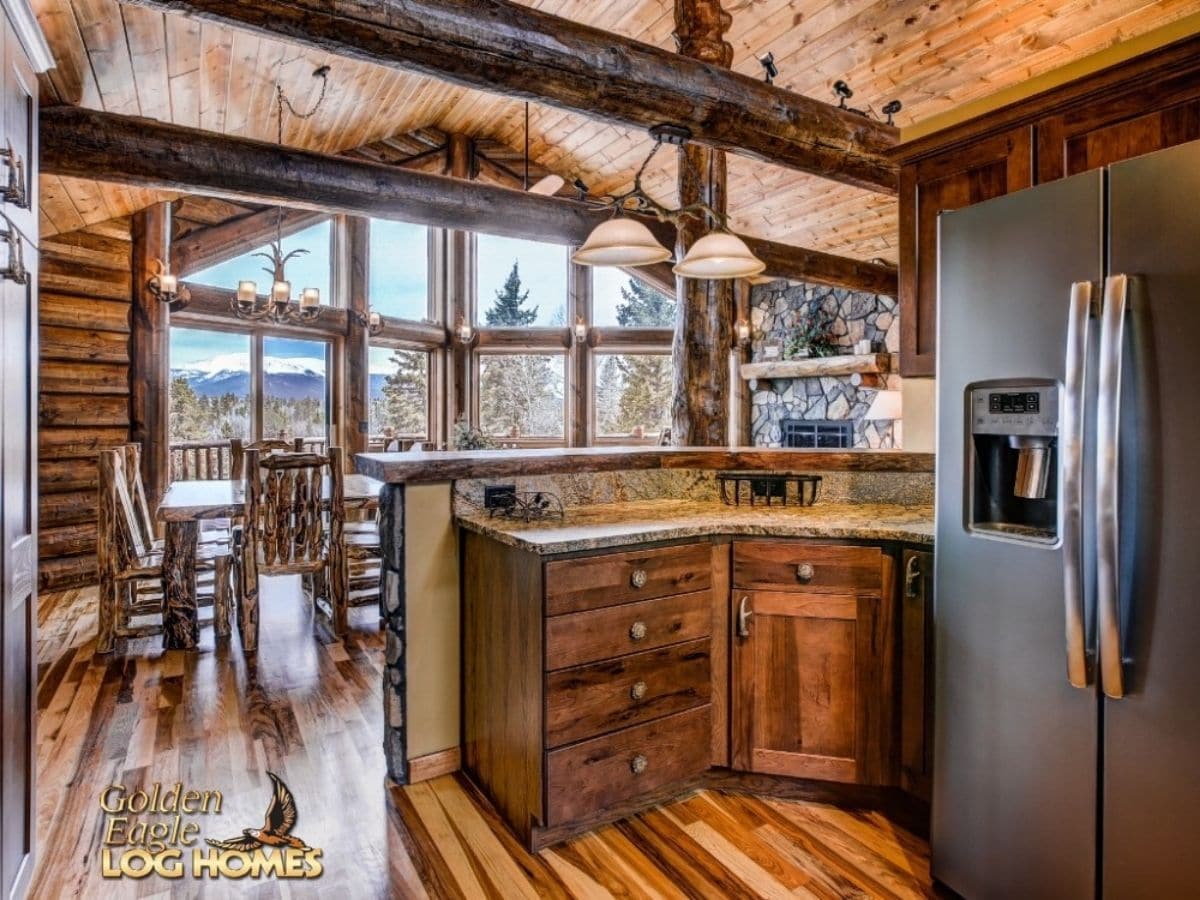 If you look into the bedroom just off the kitchen you find a beautiful master bedroom. With the log work and the gorgeous bed frame, it's a true oasis.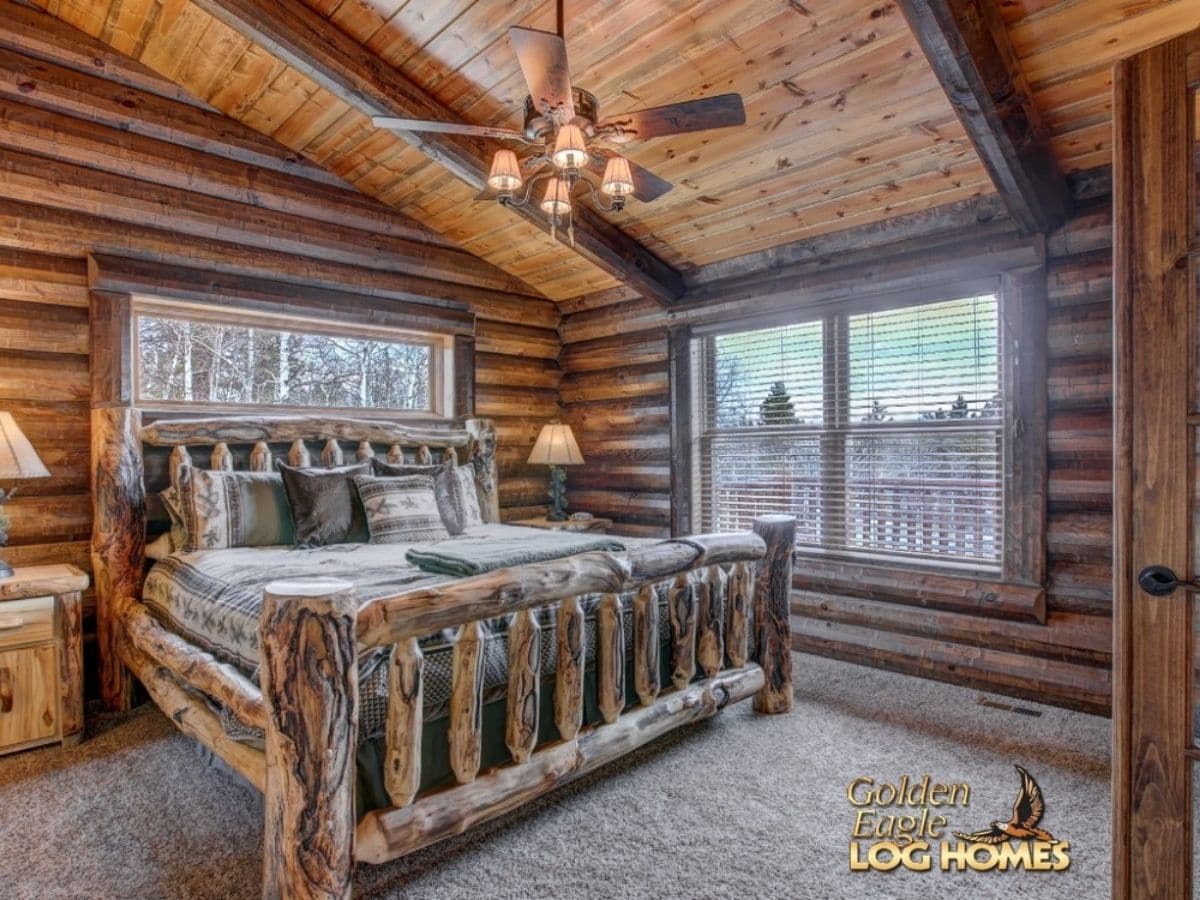 A walk-in closet and stunning master bath are just to the side of this room and I love the French doors with glass panes looking out into the living spaces. A curtain adds privacy if desired.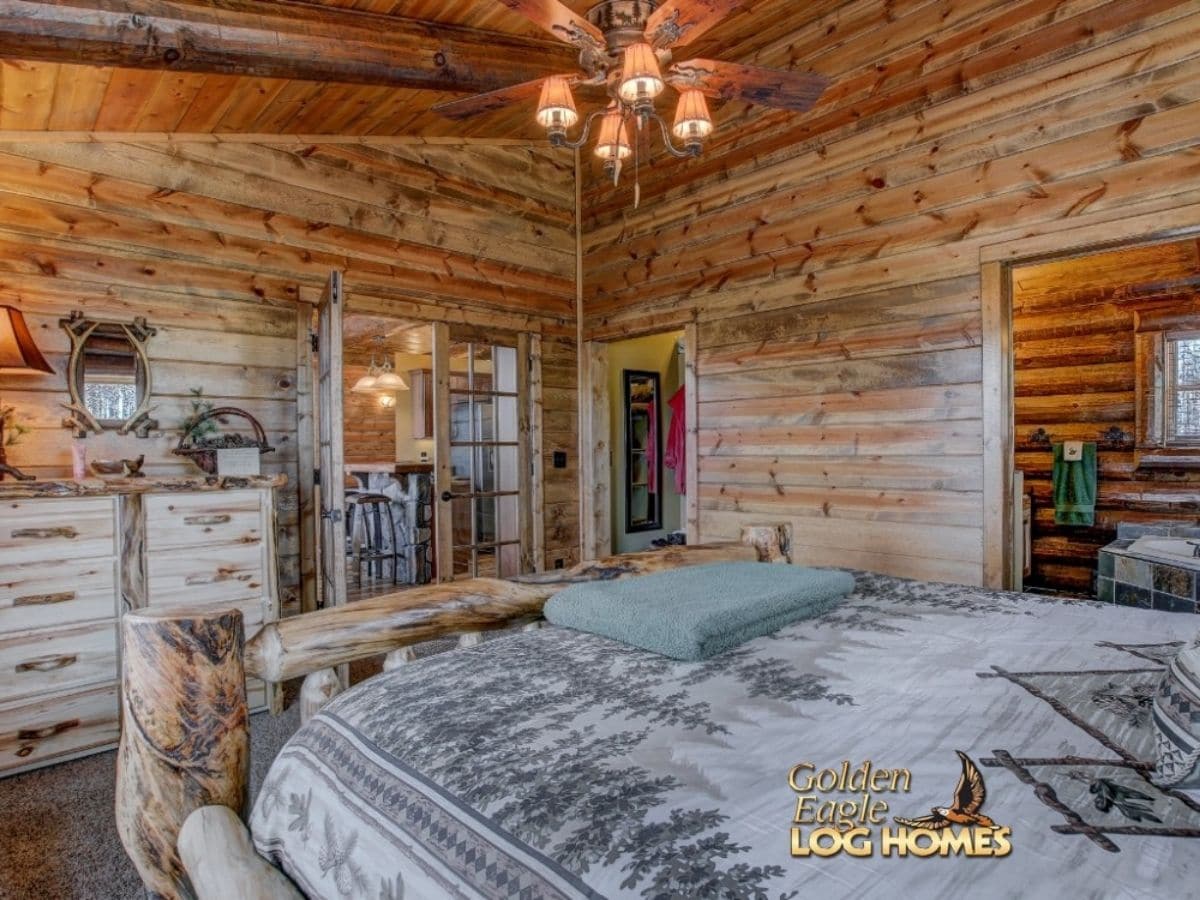 This bathroom though, it's beyond extraordinary. The tile work matches the wood beautifully, and you have a soaking tub and a shower with extra room in both.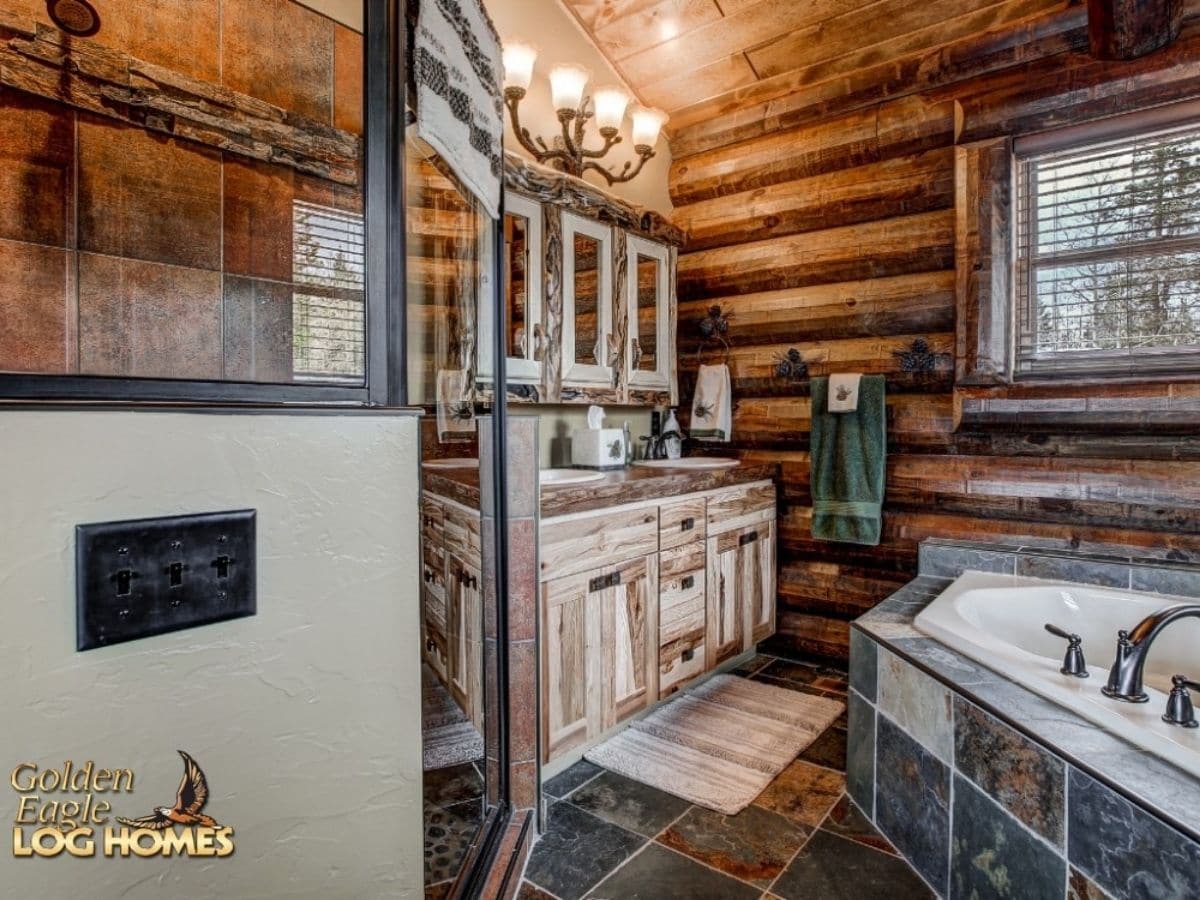 A two-person soaking tub in the corner of this log cabin is definitely a romantic setting!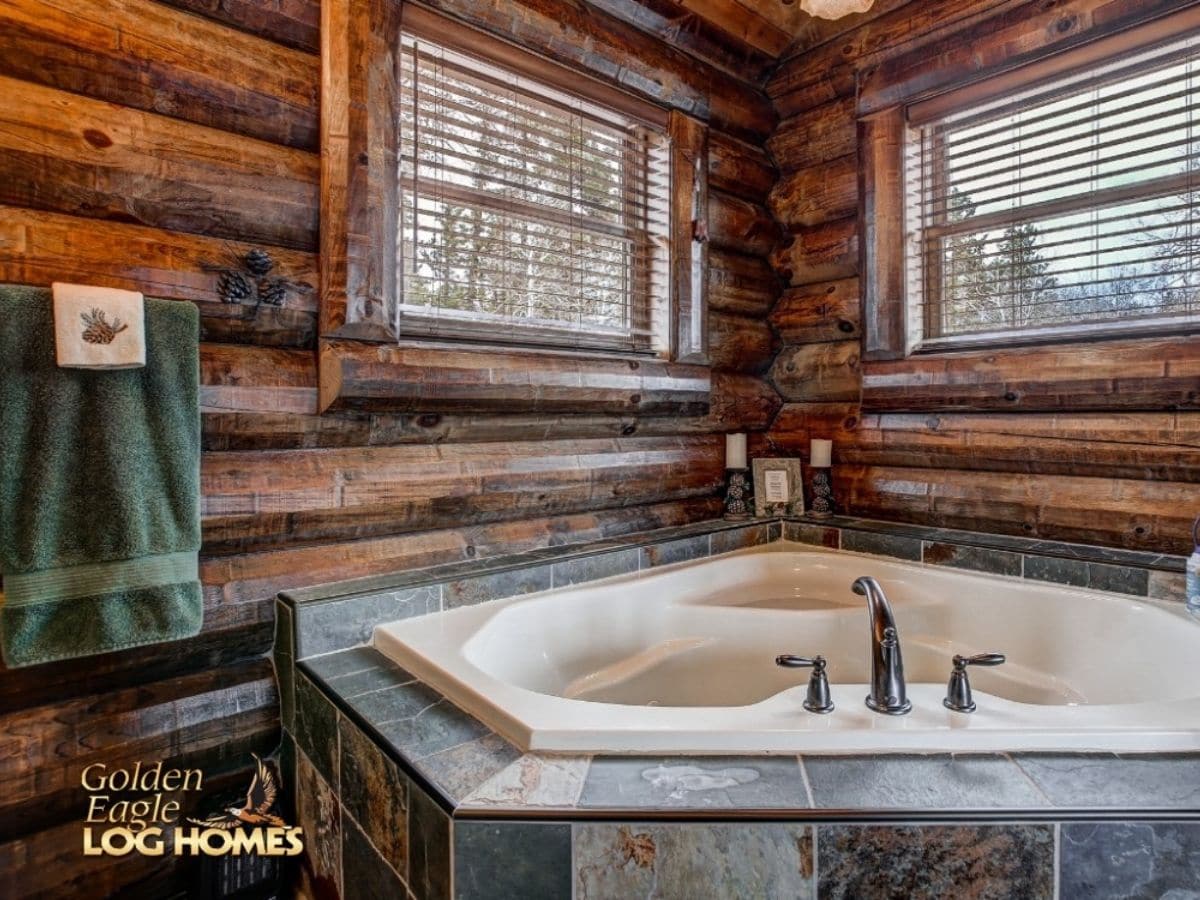 The shower has tile on the walls and floors that match the rest of the bathroom wonderfully. But that medicine cabinet above the vanity, that is a piece of art! So beautiful.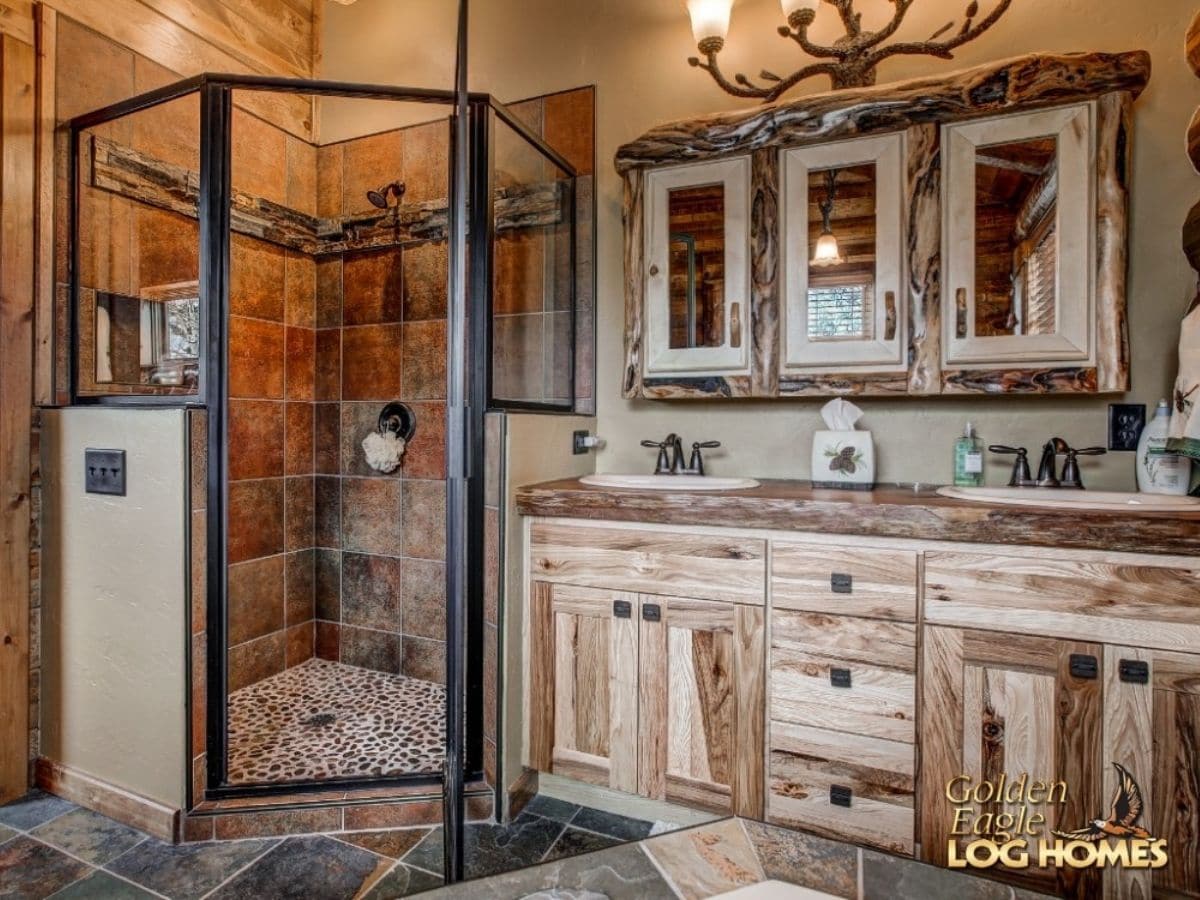 With multiple rooms in this house to choose from, you can turn some into private studies or even a small den like shown below.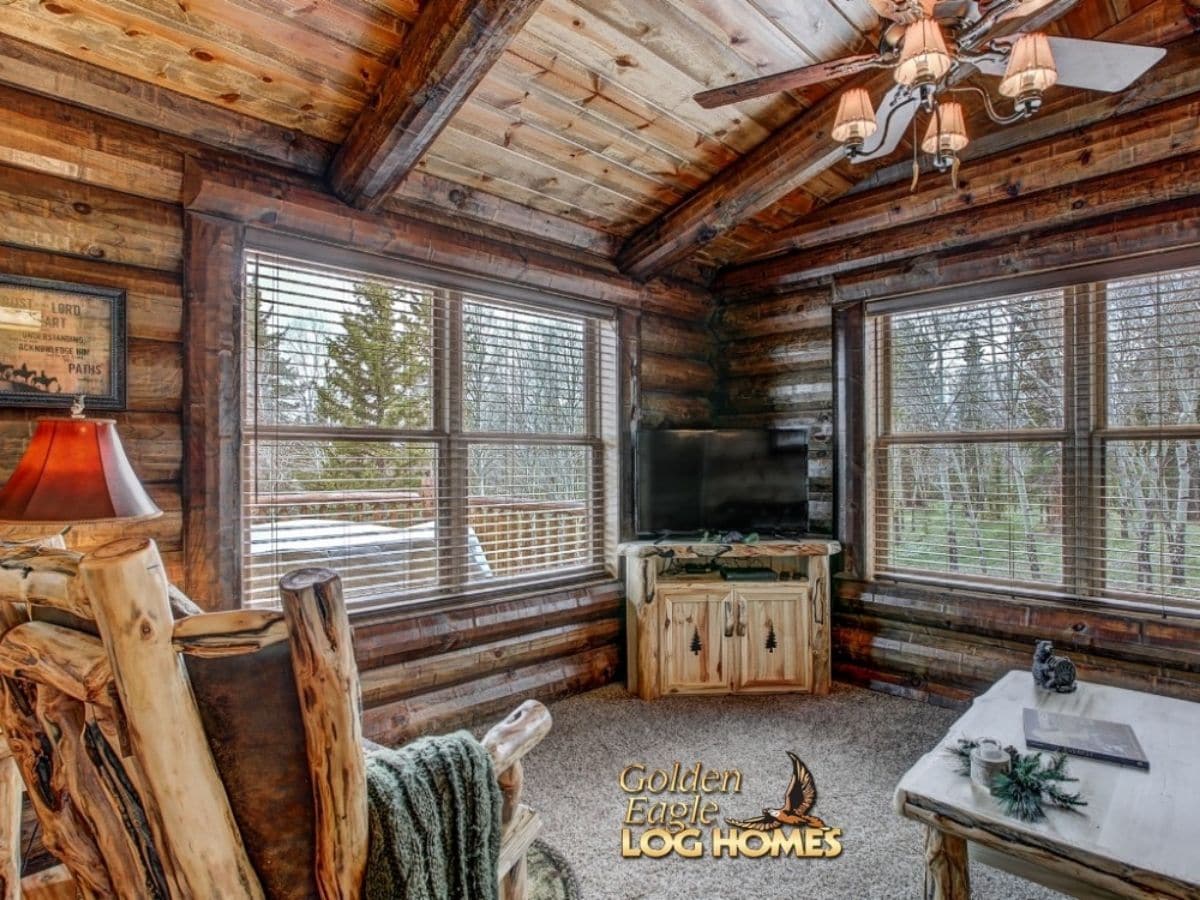 This room is a great place to settle in with a good book, watch a movie marathon with family, or to even create a small home office.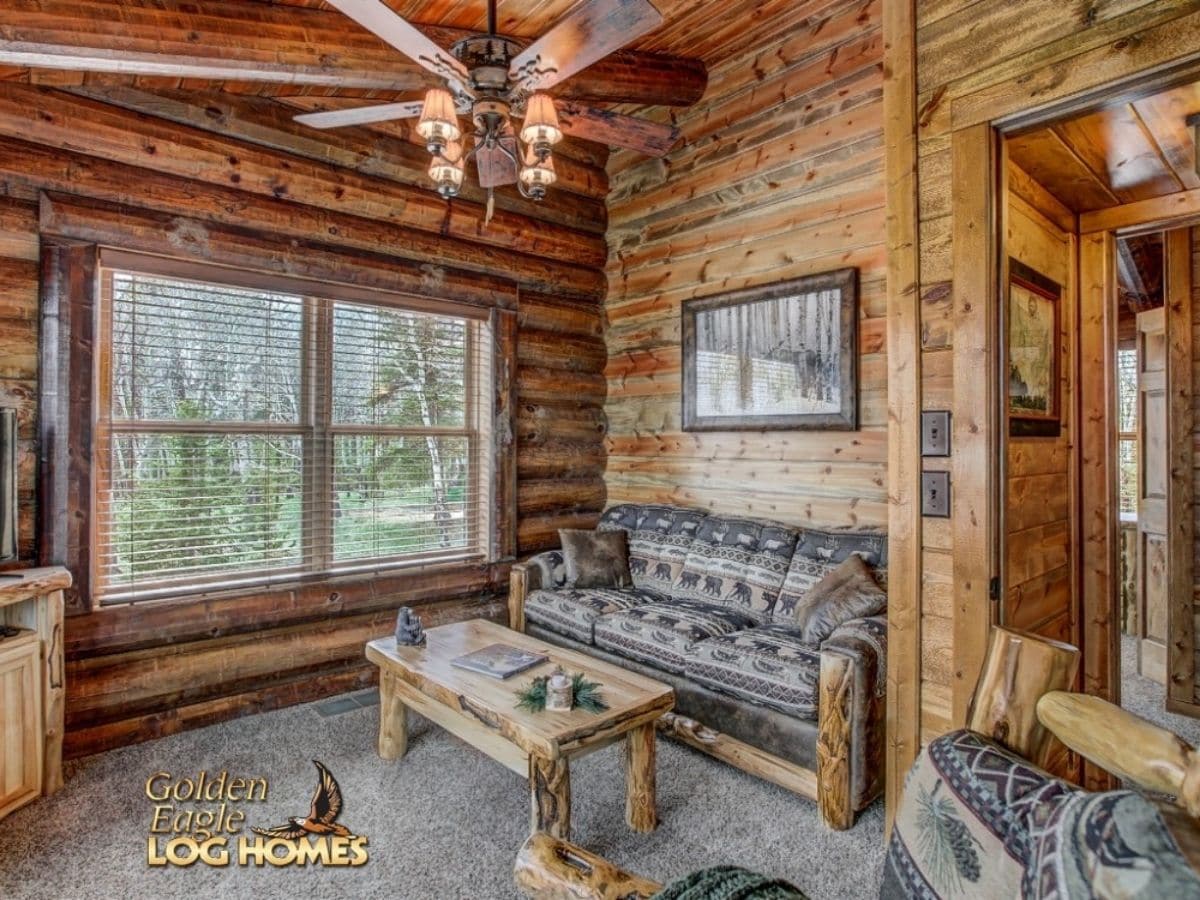 See how a little different layout in the opposite but identical room gives you a perfect home office space!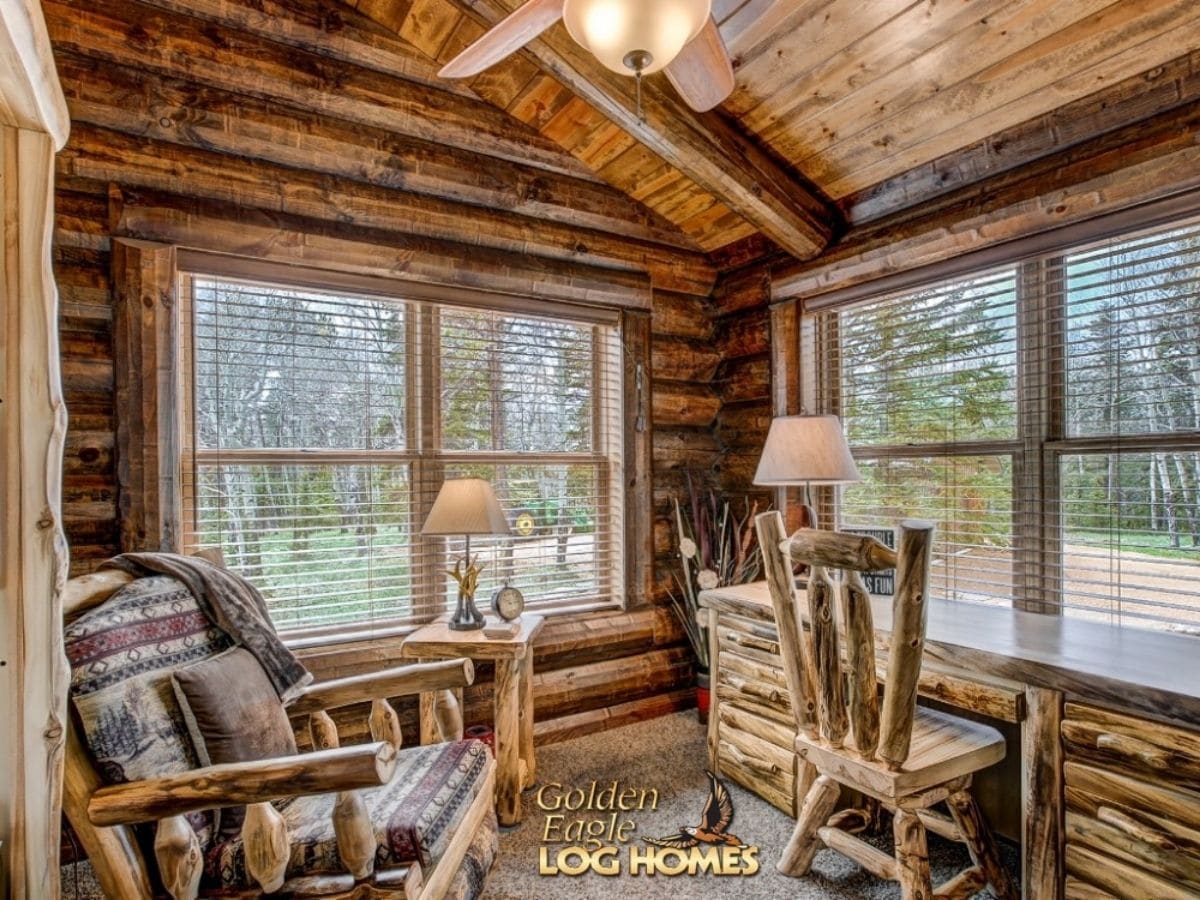 For another look at this home, check out the video tour below!
For more information on how you can customize your own build, check out the Golden Eagle Log & Timber website. You can also find them on Facebook, Instagram, and YouTube with more up-to-date models and information. Make sure that you let them know that Log Cabin Connection sent you their way.
More Log Cabin Kits and Tours