Nothing beats the barn home style. So similar to the log cabin, this red-sided home has everything you want from a cabin, plus that fun modern barn look that reminds you just a bit of the neighborhood cider barn in fall!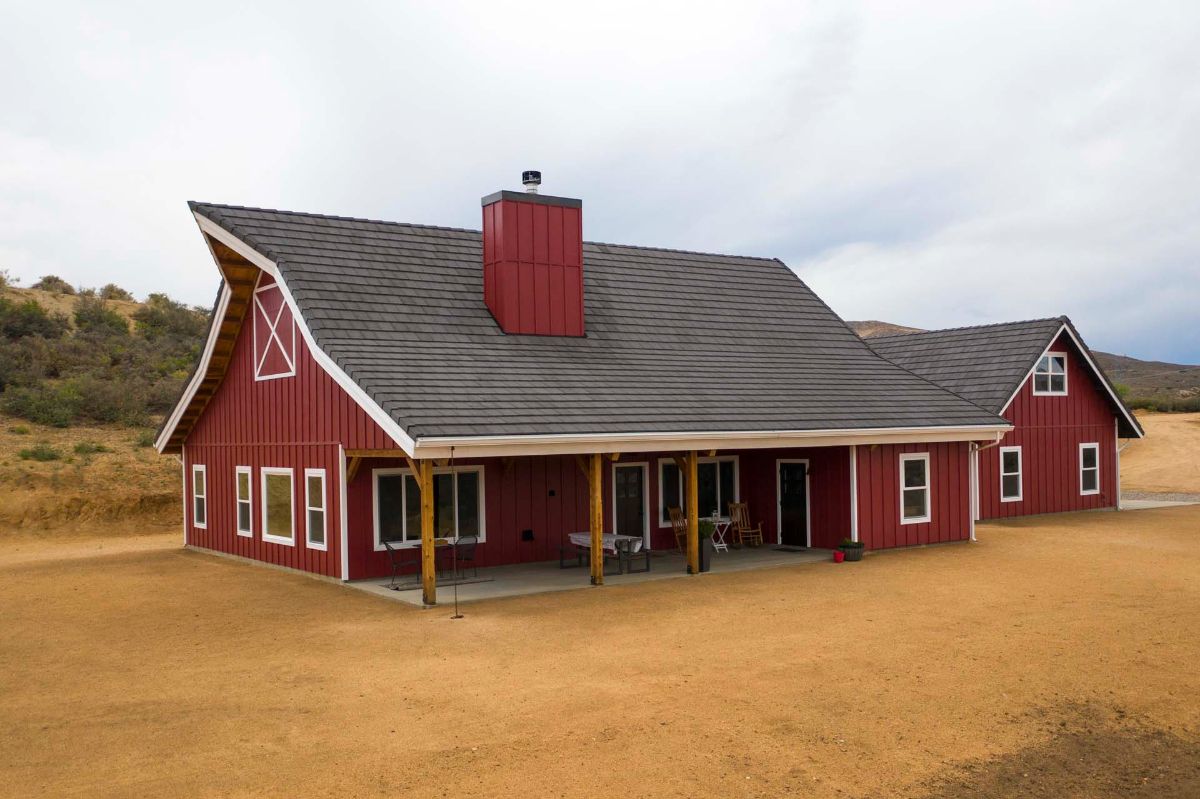 As the website describes, this home is nestled in the mountains of Arizona and has "grand character and a timeless appeal". The rustic look is deceiving. Stepping into this home you find yourself in the center of a modern farmhouse with exposed wood beams, barn door closures, and a large fireplace you will love.
Cabin Size
36'x50' overall size
1 1/2 stories (1/2 story loft bedroom)
Main floor - 1,968 square feet
Loft space - 720 square feet
Alongside this, you have a large covered front porch and a mud room on the back of the home for storage and as a cozy entry to brush off shoes before heading into the home. This truly is a home ideal for families.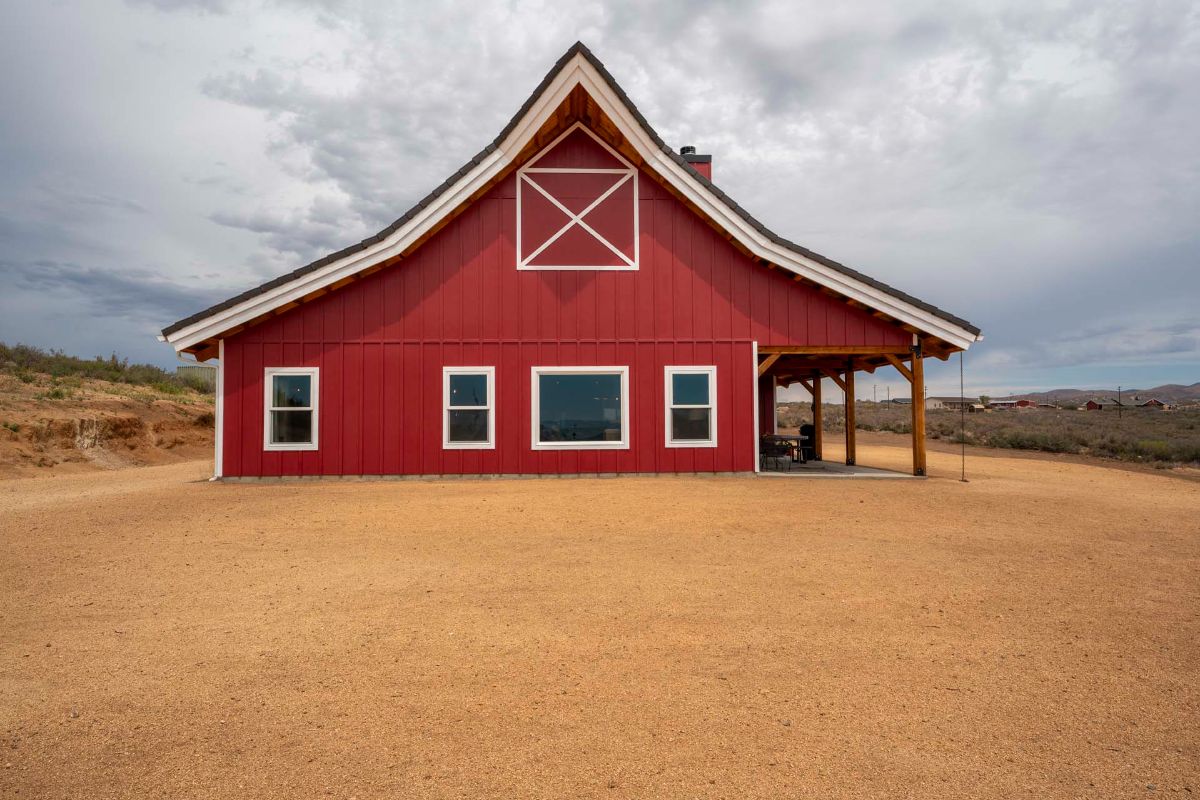 Cabin Features
Every cabin that we share here has something unique. This cabin has many additions that can be a part of the build, but also a few added just for this family's benefit. That is a great example of how Legacy Post and Beam work so hard to give you, the customer, just what you want and need in the home they build.
3 bedrooms with 2 on the main floor and one large loft bedroom with an adjacent landing play area.
Open floor plan so the kitchen, dining room, and living room flow seamlessly together making this the ideal home for entertaining.
Large master bathroom with soaking bathtub.
Family kitchen with tons of storage and an extra-large island that doubles as a bar or breakfast nook.
Stone fireplace in the living room.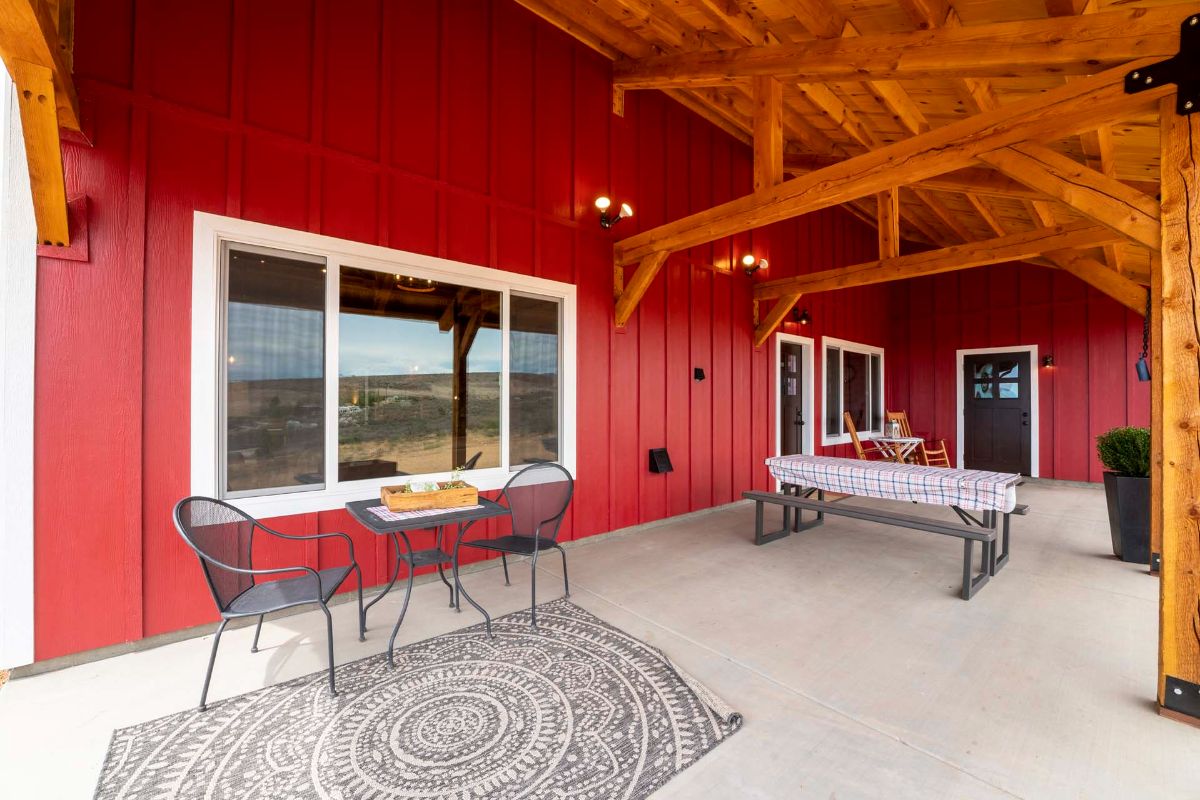 I love the layout of this living room. It's large and open with sofas and chairs for the whole family. I can easily see the space being divided into two sections. One around the fireplace, and a separate area near the side that is used for a TV or movie viewing area.
One of my favorite things in this house is not just the fireplace, but how it has been built with storage underneath for wood. You also have built-in bookshelves on both sides that are embedded in stone. Plus, the reclaimed wood cover over the chimney is a beautiful addition.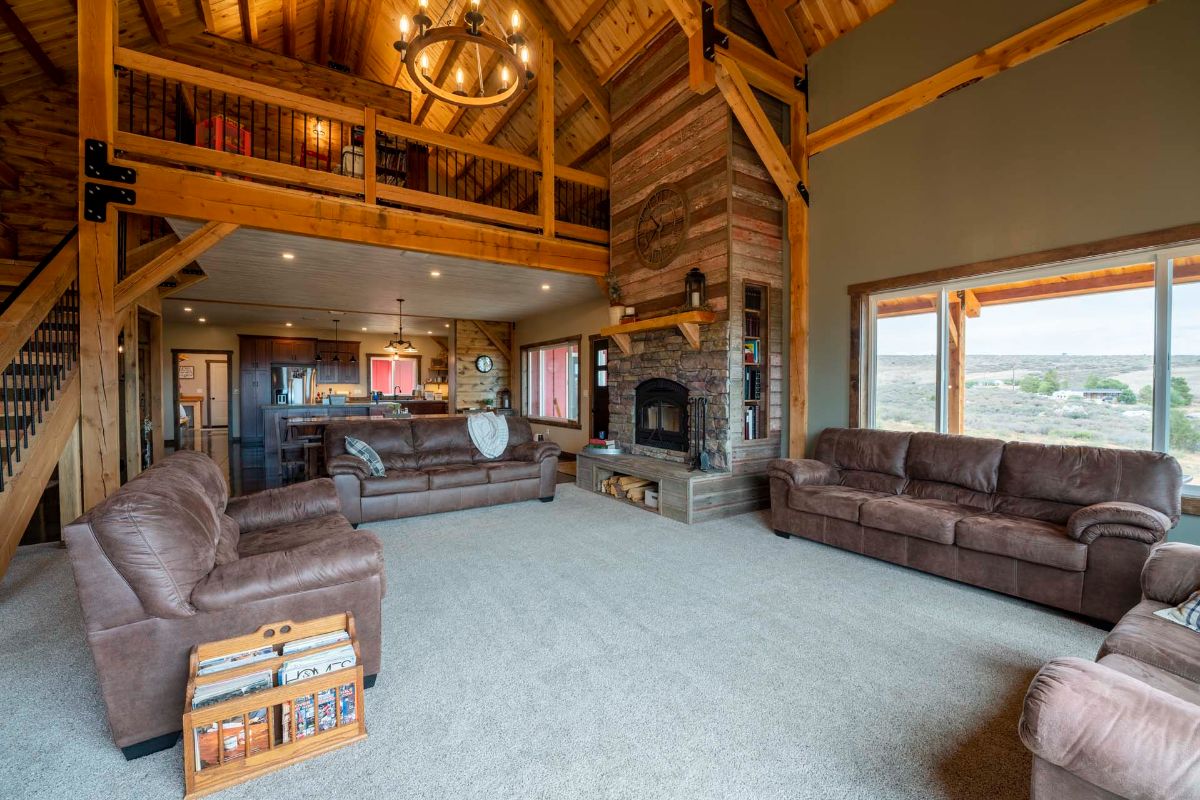 The master bedroom is just off the living room with a beautiful barn door sliding closure that matches the reclaimed wood you see throughout the home.
To the side and above, you can see the open loft space that is a lovely play area for kids, plus a large bedroom upstairs.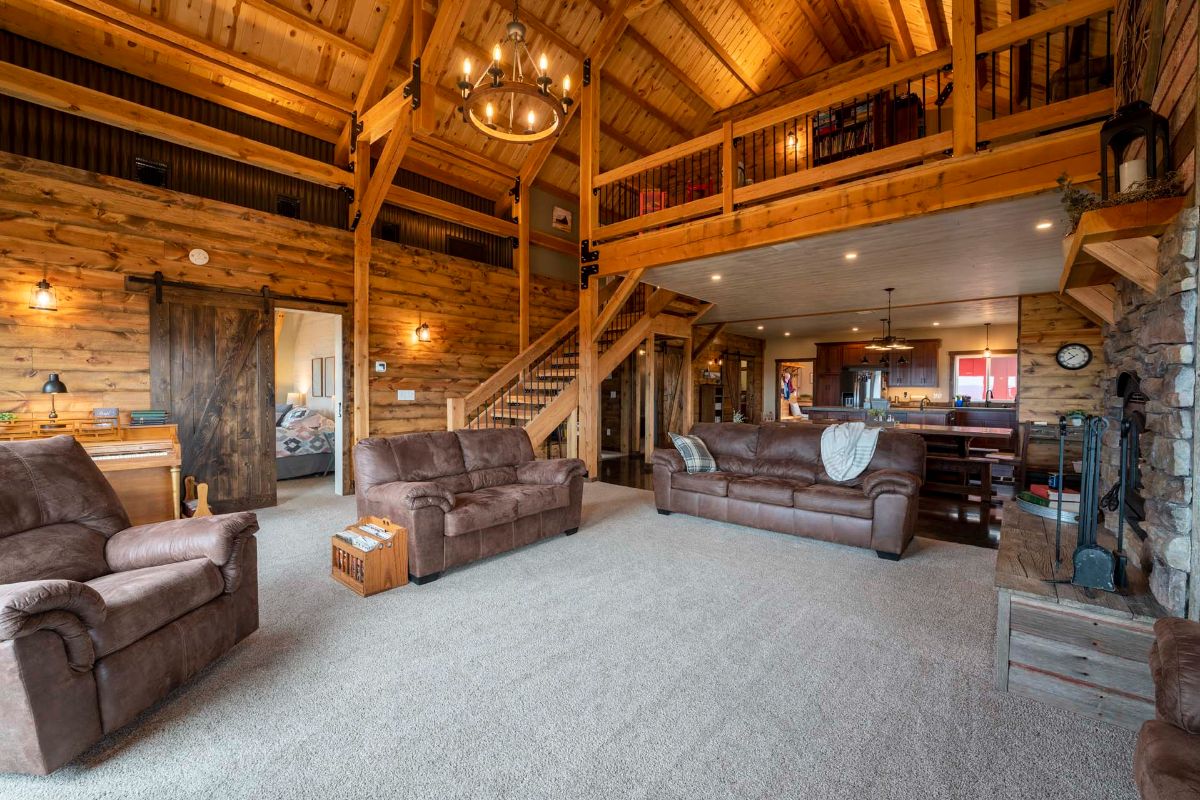 This master bedroom is so pretty and comfortable. I love the wood accents in here with the classic ceiling fan, open window spaces, and a closet.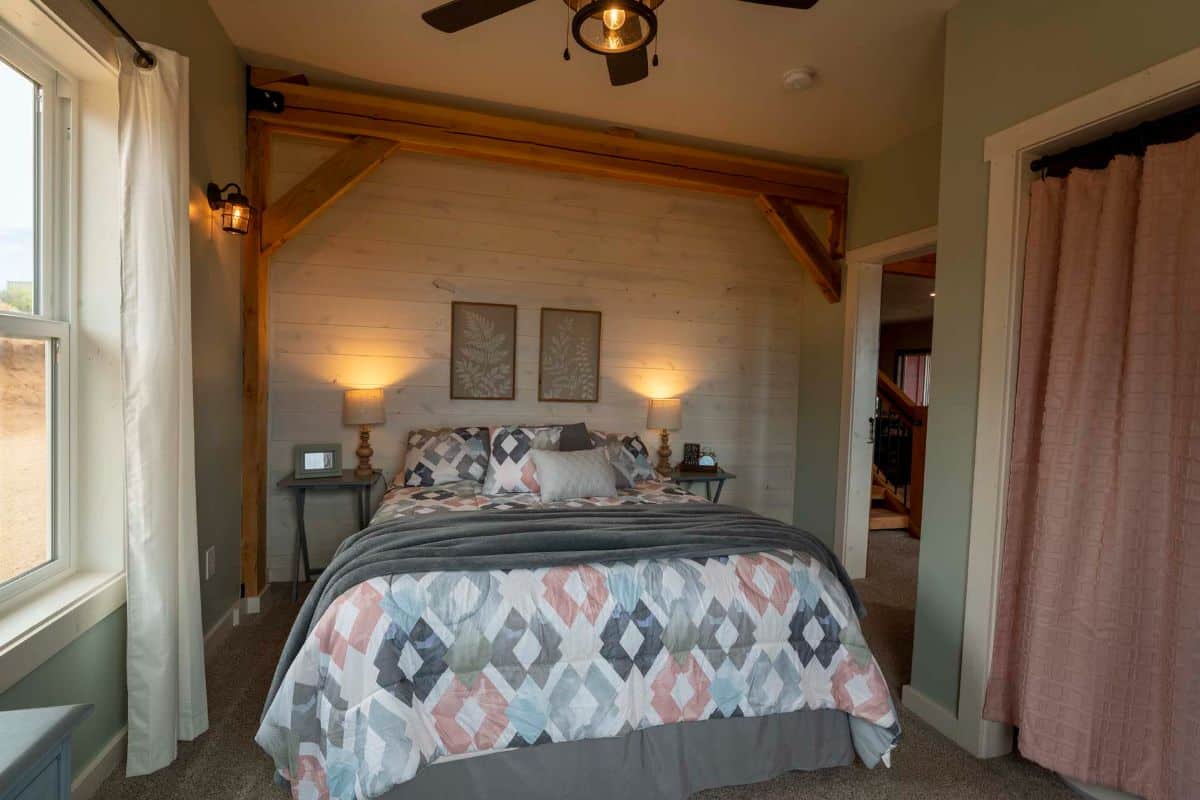 The dining room area is just between the living room and kitchen. I adore the family-style picnic table they have here. Of course, you could make this a more formal area with a traditional dining table, but this just fits the overall farmhouse look.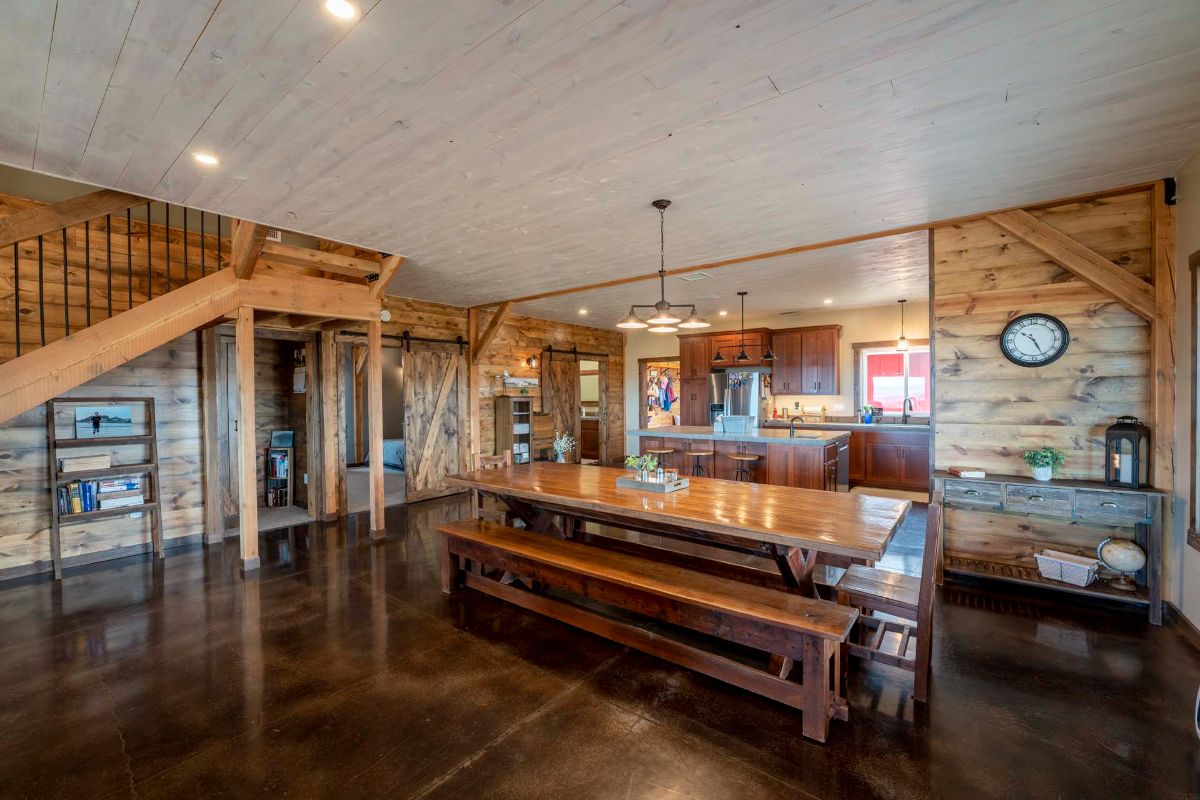 The front door comes in right between the living room and dining room, with a great view of that large porch here from the dining table.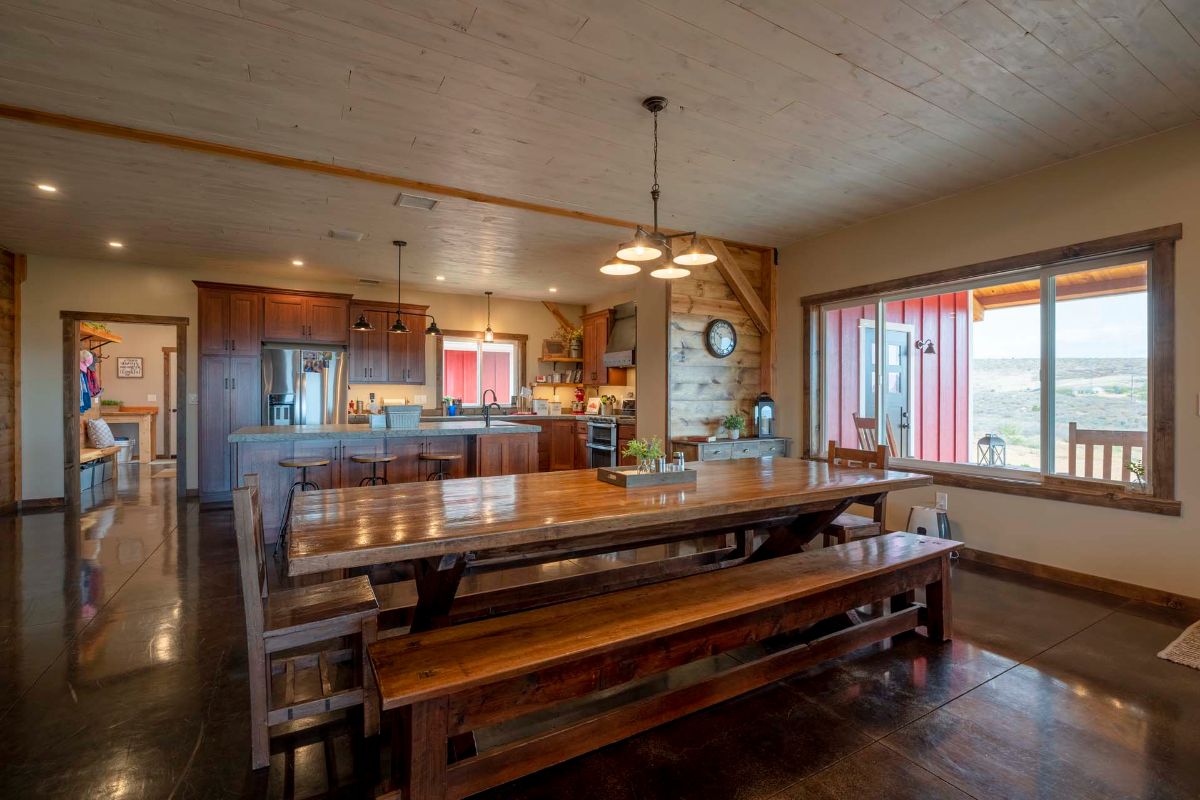 I love a large kitchen, and one like this that has both a large island and a separate pantry nook is a personal favorite. As you can see, the island in the center doubles as a bar or breakfast nook. It includes a sink separate from the main one in the back of the room.
To the right, you will see a door that leads into a custom private pantry. I love how easy this is to access when you are cooking. And, as you look at the space, there is a ton of storage space and even some open shelving on the back wall. A perfect kitchen for a busy family.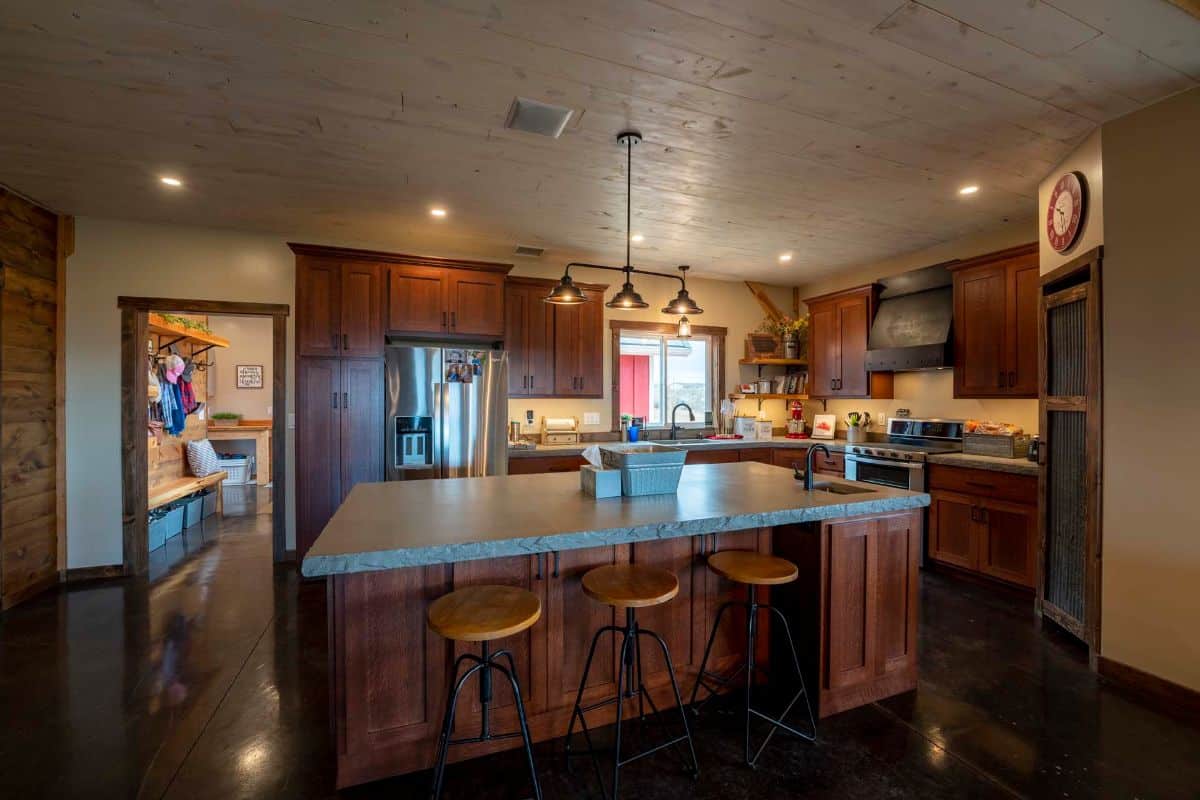 And here, you can see how they have tucked a dishwasher and microwave into their island. It's super convenient and easy to access without taking away from the space in the kitchen.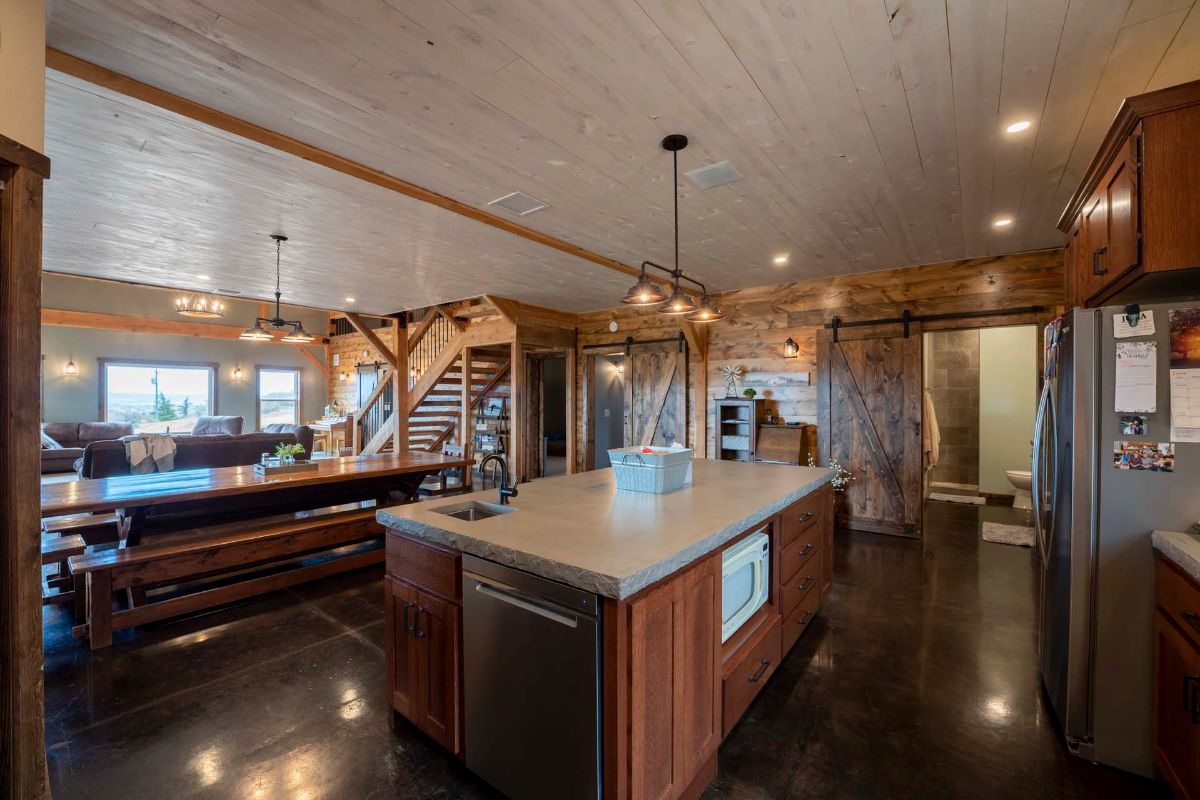 The second first floor bedroom is a simple space with wood accents on one wall, an exposed beam on the ceiling, and light gray walls that look wonderful next to the woodgrain.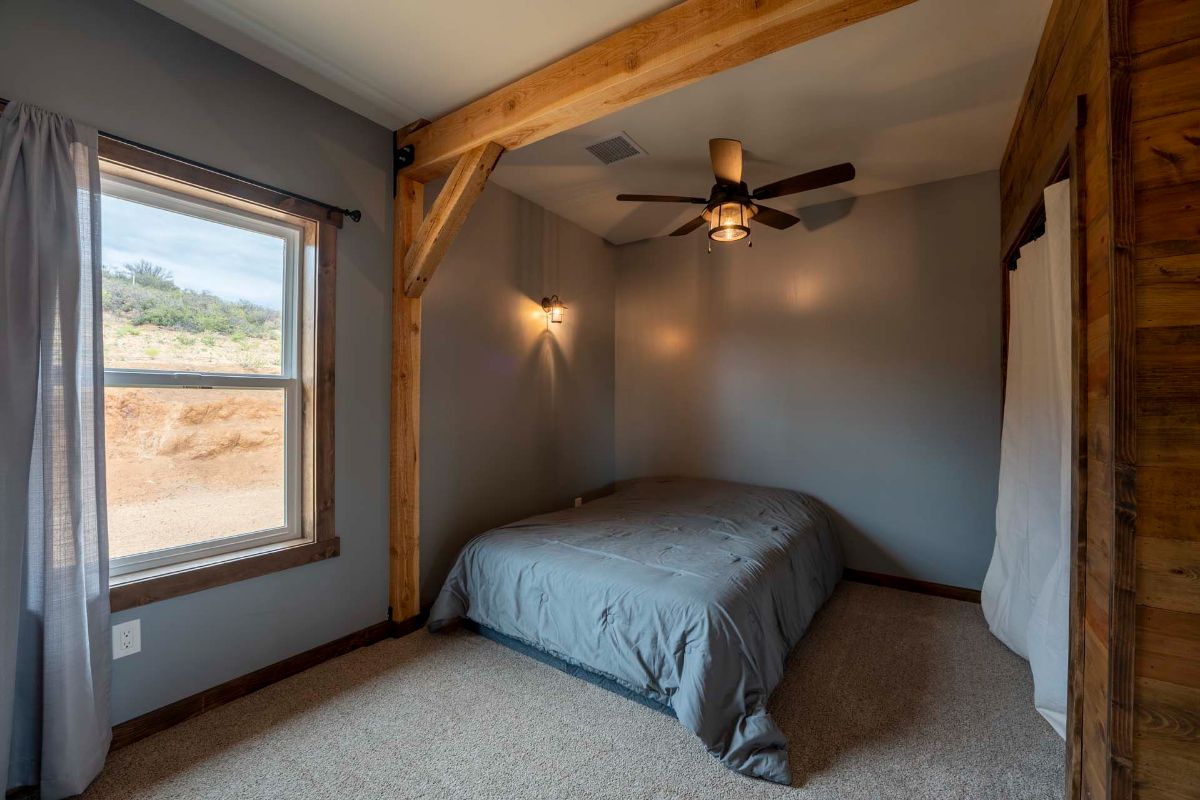 Upstairs is the large open loft that I adore. This is perfect for a reading nook, or as shown, a kid's play area. Tons of toys, chairs, or bookshelves easily fit here.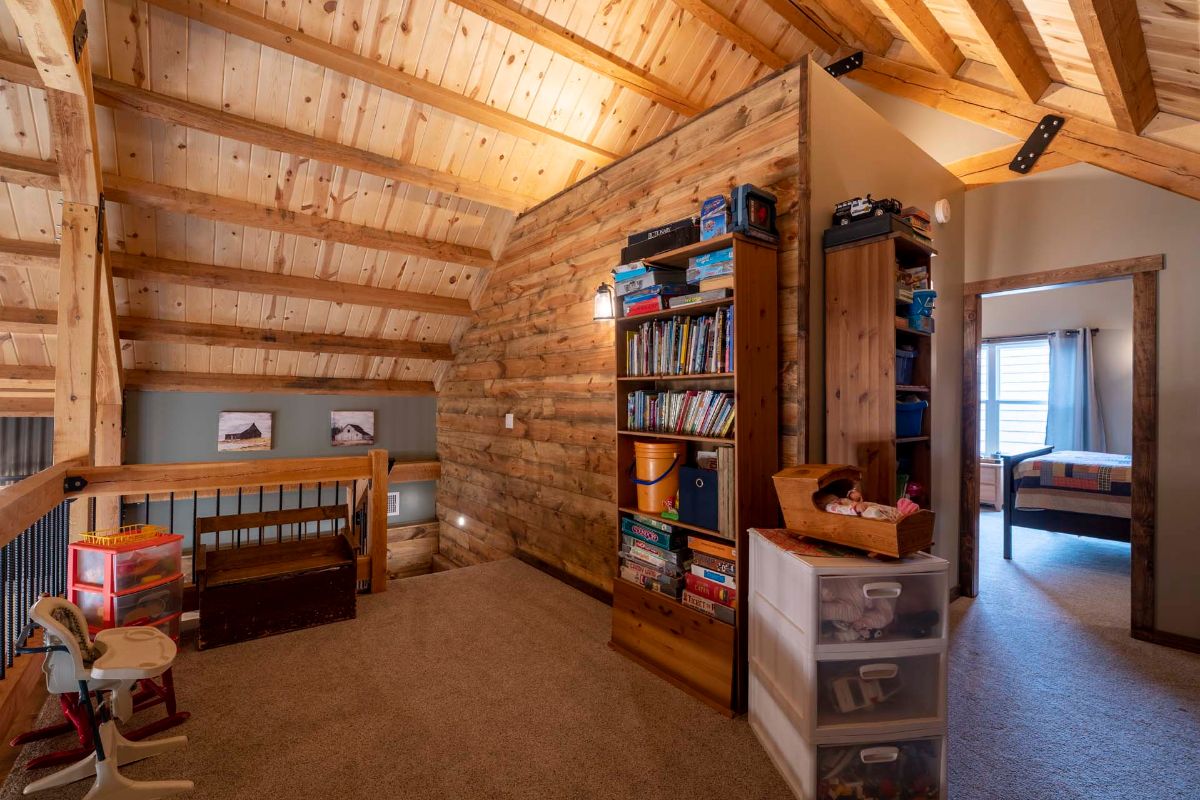 This bedroom is another nice space that could be a master suite, especially if you have a small baby underfoot. The room here gives you the option to keep a crib nearby and even the rocking chair in the corner.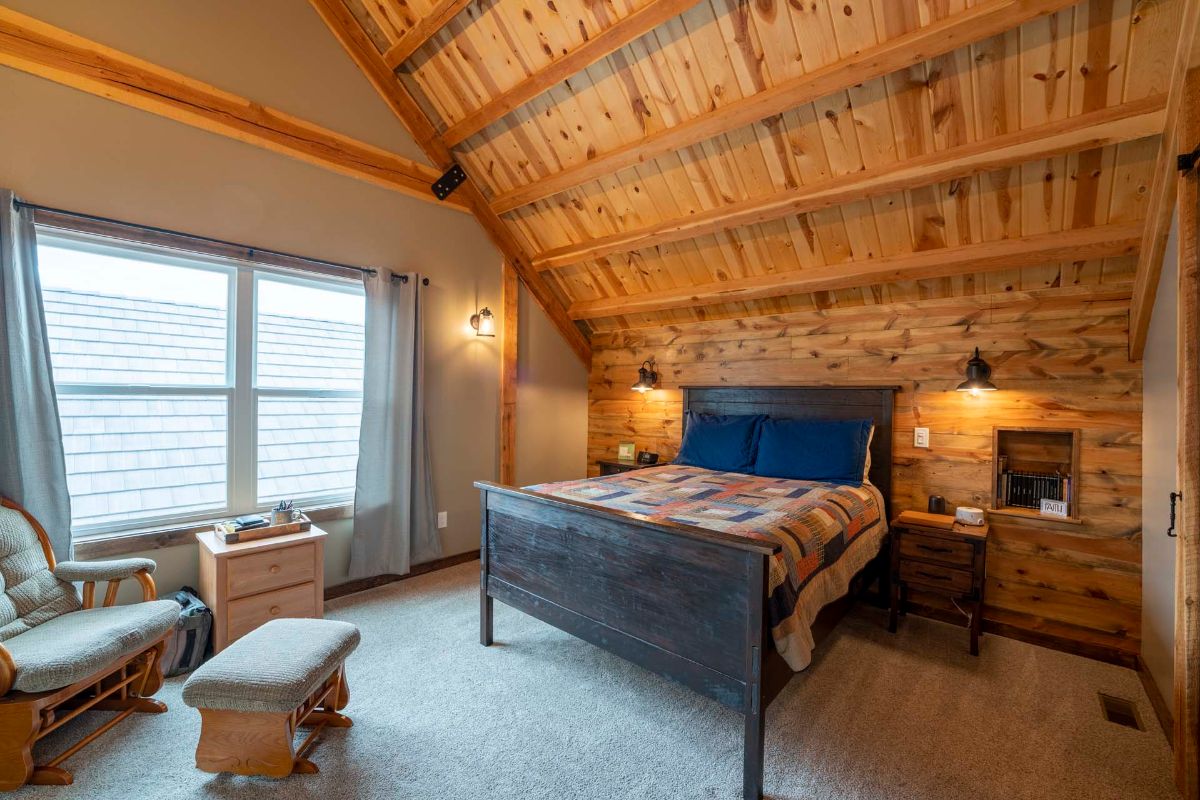 And like you have seen in other spaces in this home, the barn door closure is one of my favorites that ties the whole look together.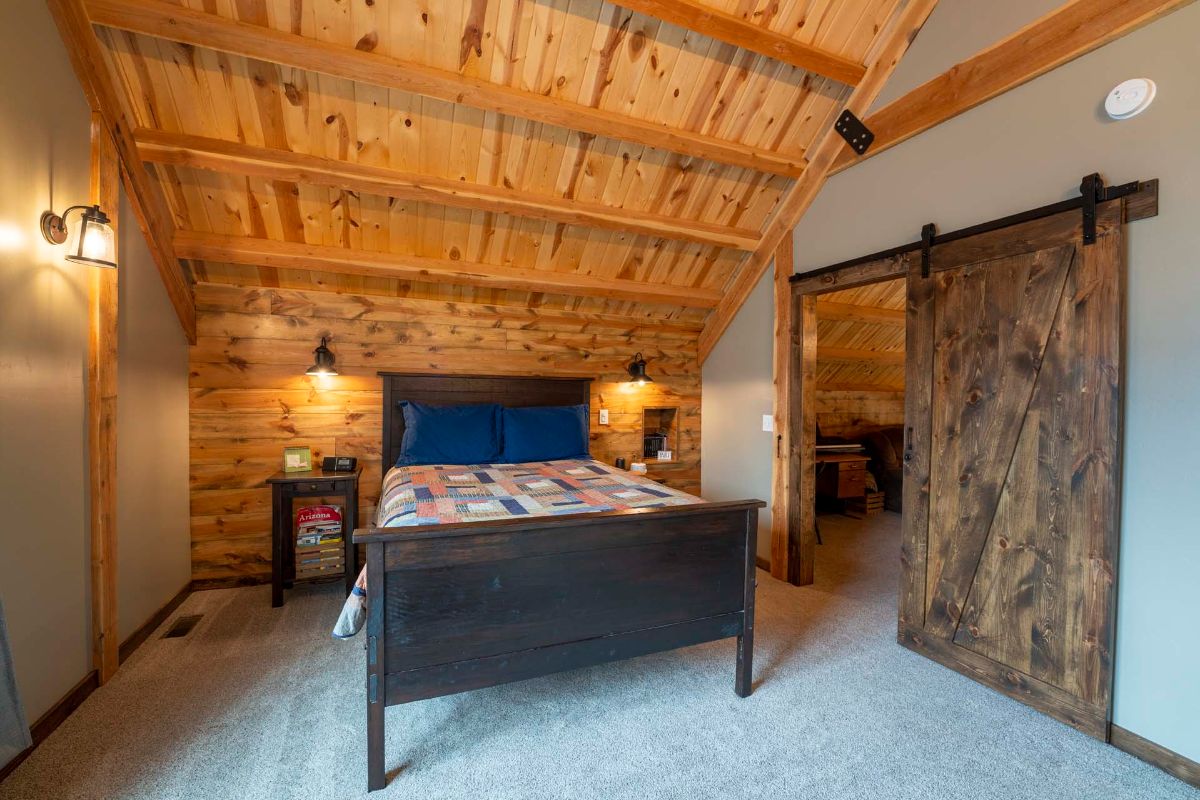 Of course, I have to share the bathroom here with this beautiful soaking tub. It's ideal for a master bathroom and is partially open to the room with just these saloon doors on the front.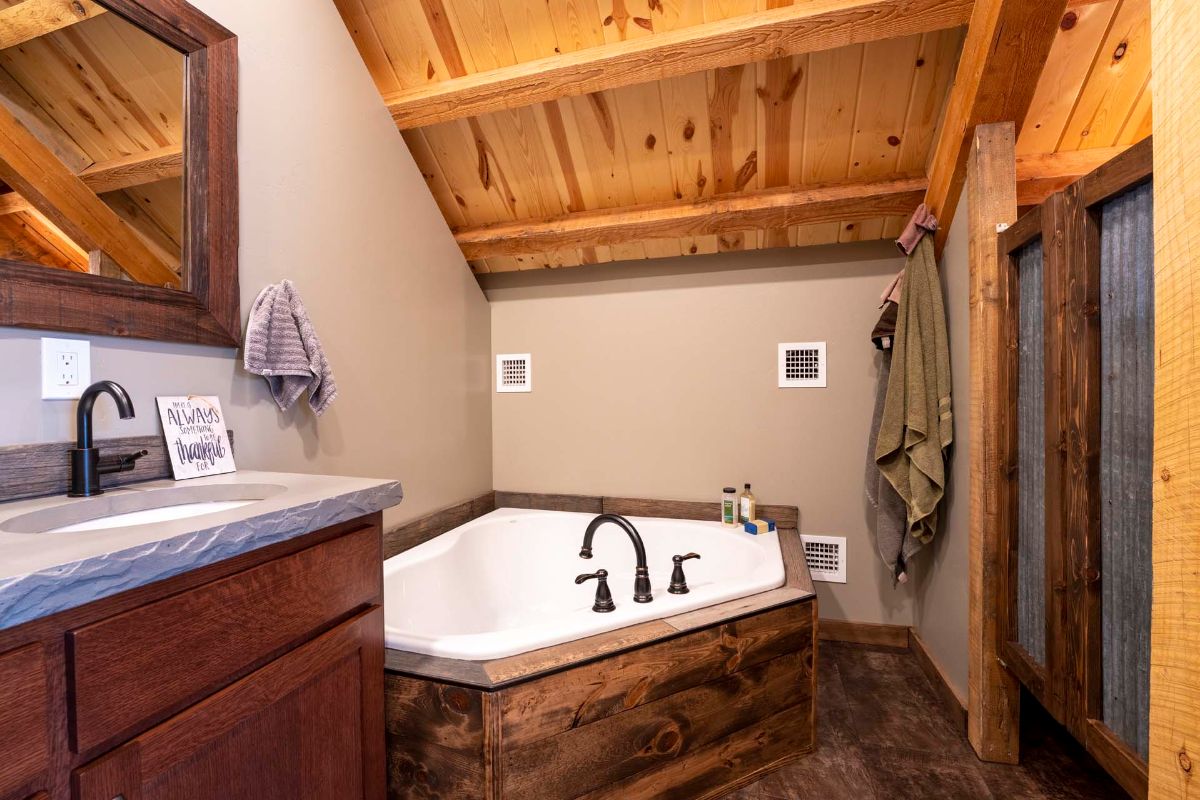 For more information about this cabin style, check out the Legacy Post and Beam website. You can also follow them on Facebook, Instagram, and YouTube for regular updates and new builds. Make sure that you let them know that Log Cabin Connection sent you their way.
More Log Cabin Kits and Tours