If you are looking for a cabin build that is ideal for a family, then this home from Legacy Post and Beam is going to be high on your list. With multiple bedrooms on two floors, an attached garage, and open floor plan on the main level, it is a great home for families of all sizes.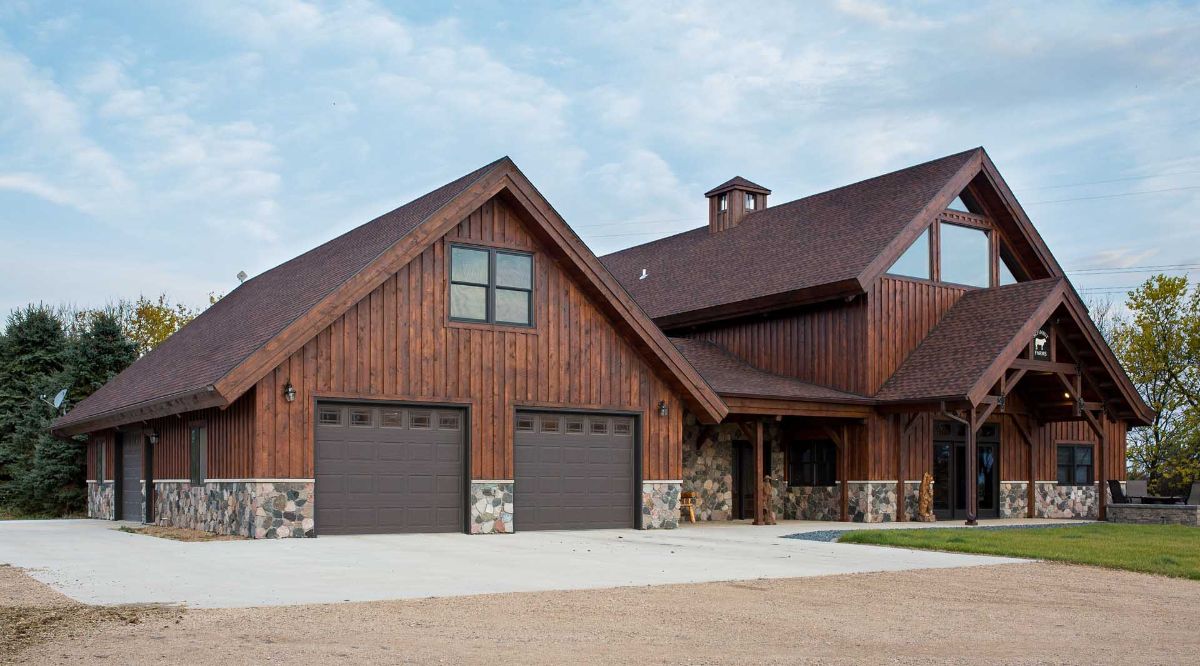 Cabin Size
92' x 60' total footprint
2 stories with bedrooms on both levels
3,520 square feet with 2,800 on the first level and 720 on the second level.
This beautiful home is ideal for entertaining since the living room, dining room, and kitchen are open and seamlessly connect. Another bonus in this home is the attached 2-car garage with a connecting breezeway that has been turned into a home office. This office even has a separate outside entrance making it the ideal work-at-home space for clients to visit while not being in the middle of your home.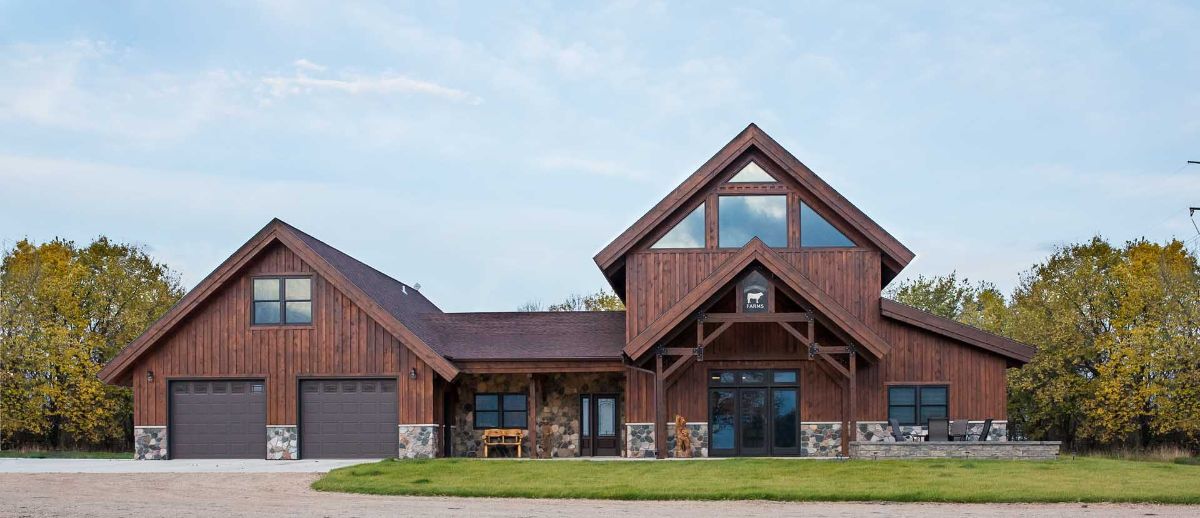 First off the office is set between the garage and the main living room space. I really love that this is a functional space and not an empty hall. It's ideal for a home office, but could also be used for a game room or a kids play area if you prefer.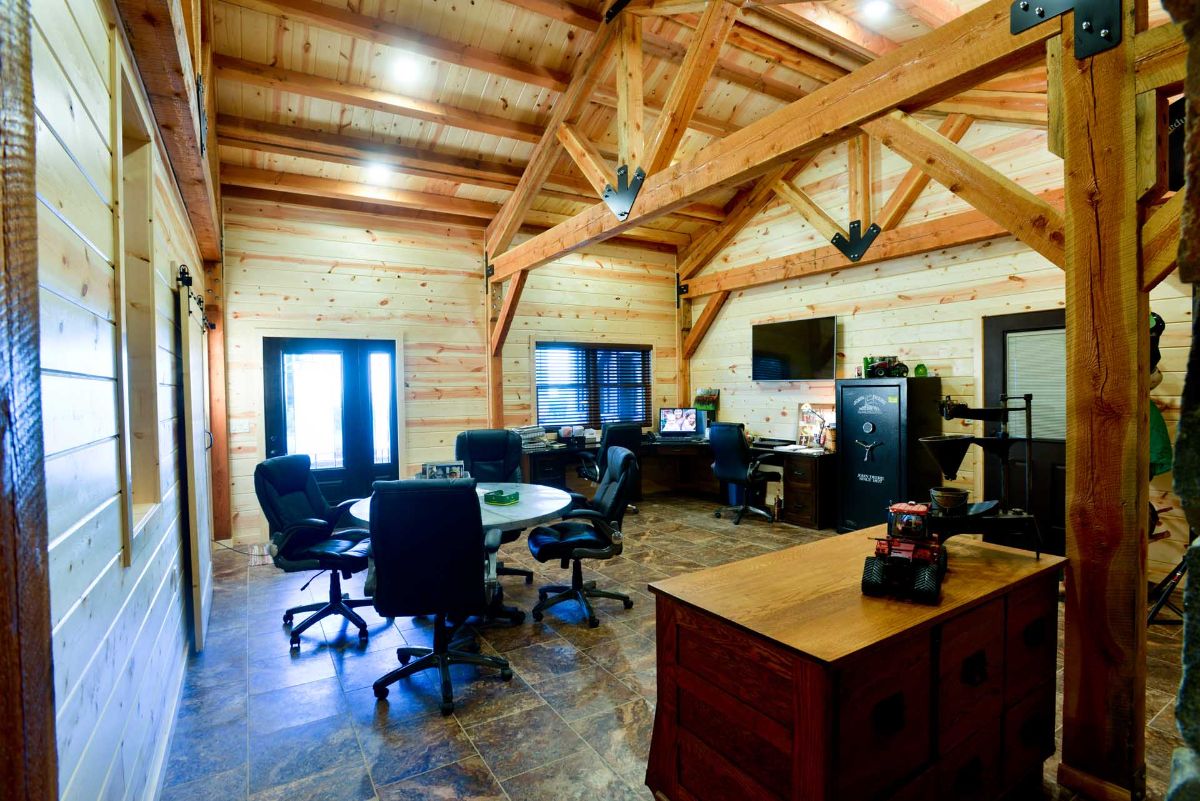 That rock wall in the back of the office is so pretty and really gives it an upscale finish. There is room here for a table for conferences or to use for game night with the guys.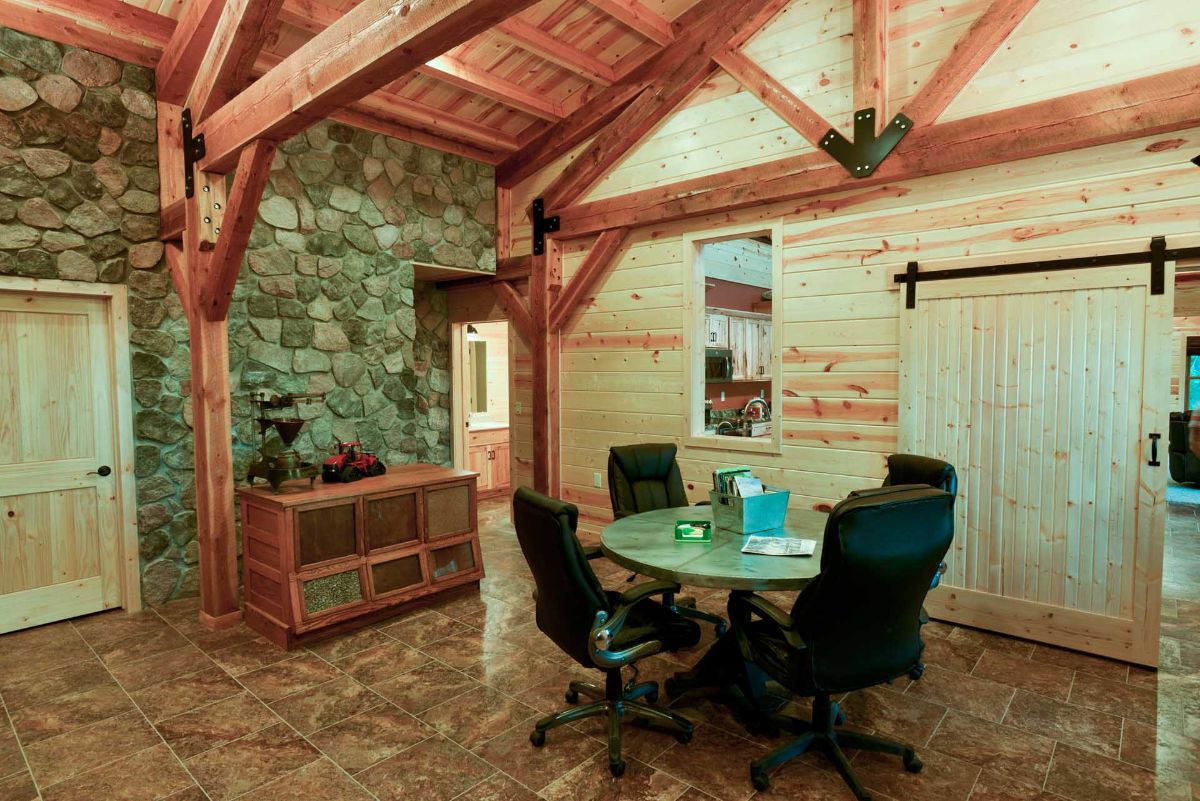 In the main living room, you have a large open space that is divided into areas for comfortable seating. Below you see the main living area with a fireplace against the wall and a television mounted above that. It's comfortable yet ideal for relaxing with the kids for a movie.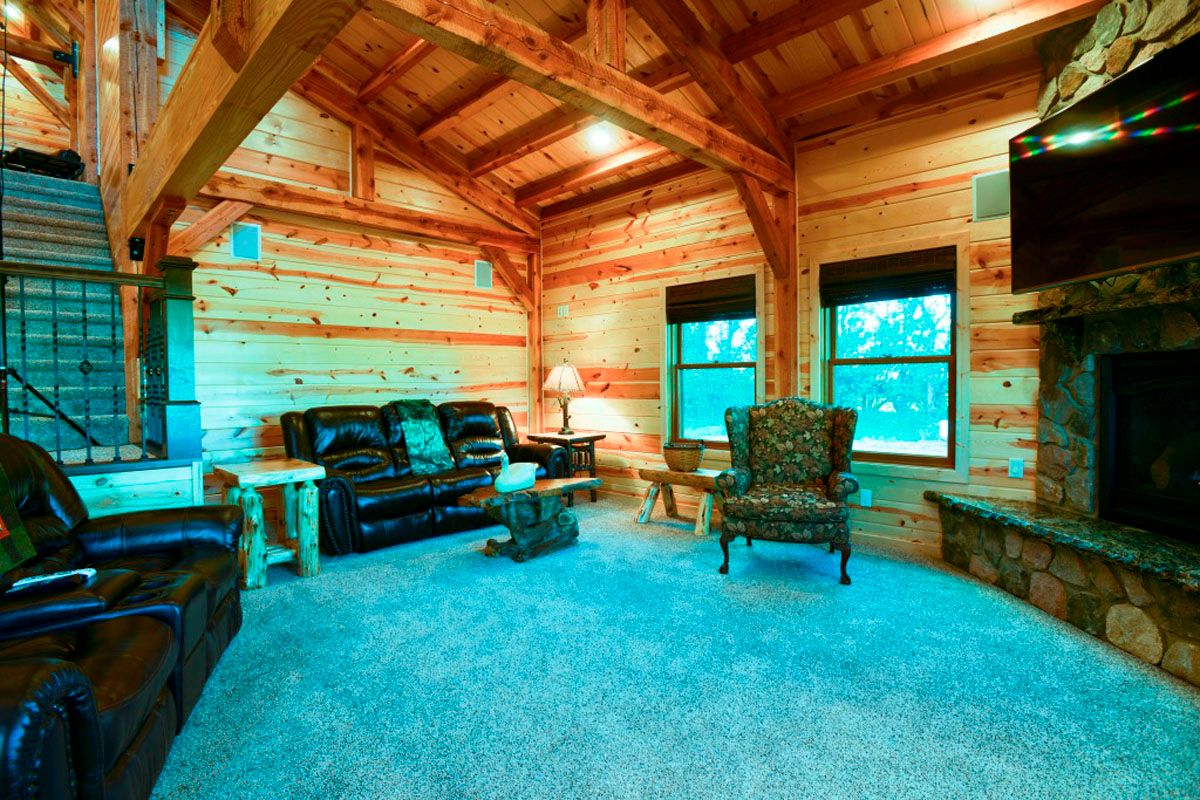 Behind the living nook, stairs lead up to an open loft space that also includes a small bedroom. I love this space because it is ideal for a kids space that feels a bit separate but is still close to you and all of the main floor amenities.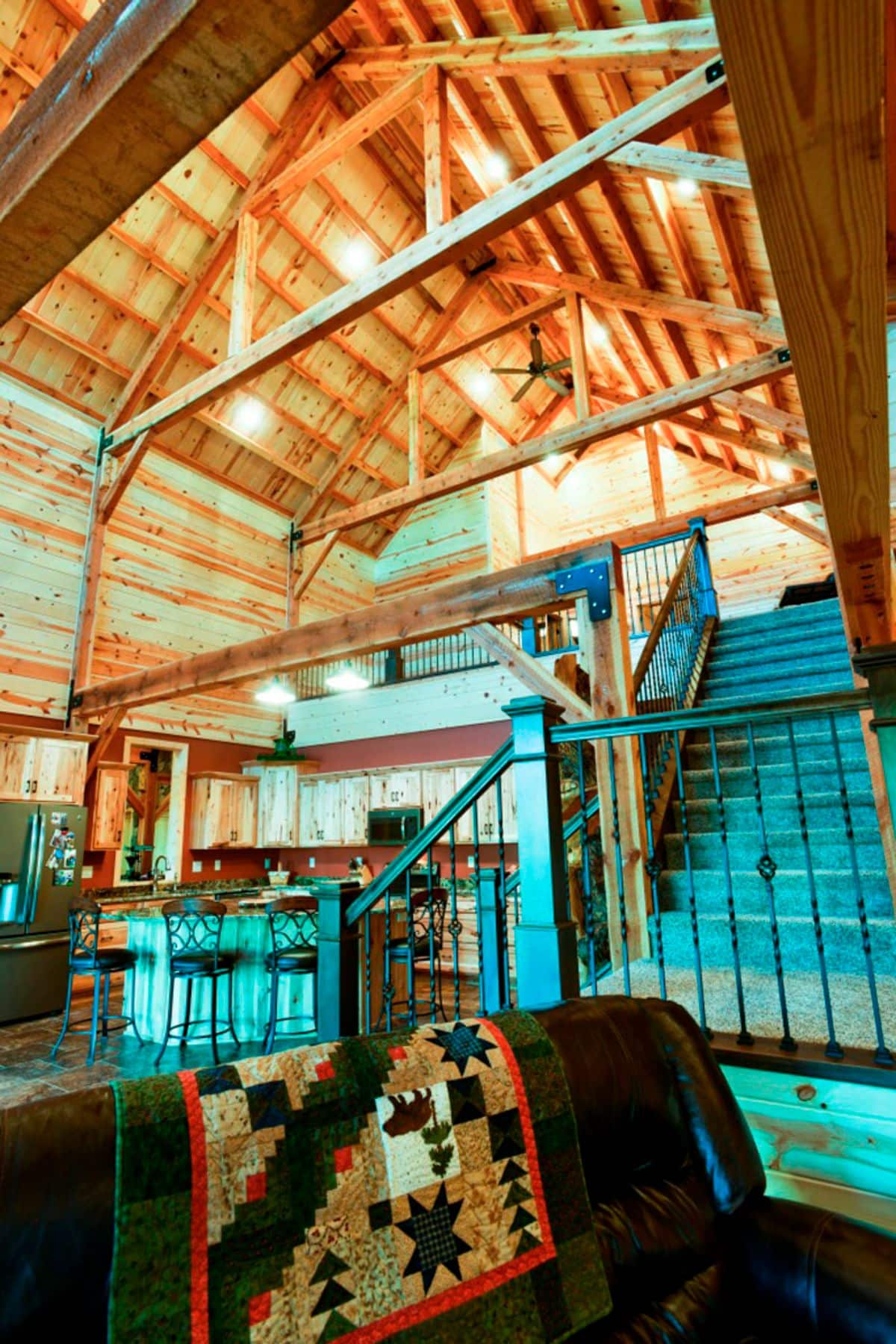 Behind the living room are the kitchen and the dining nook. This family has added a nice-sized wood table that has that picnic table look to it. A table like this is welcoming for the kids at family dinner but makes for a great space to gather friends and family during the holidays for a potluck, or just a simple game night.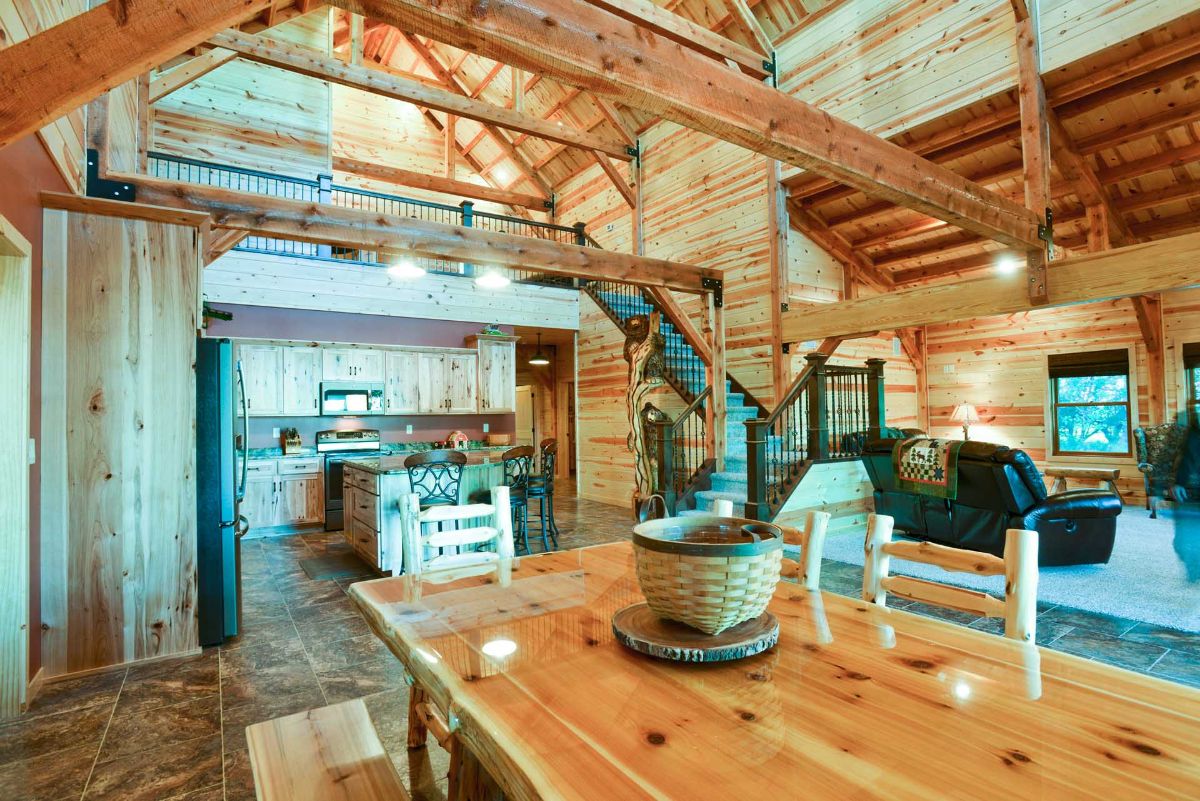 Of course, no home is real without a heart. That is the kitchen! In this space, the kitchen has stunning wood cabinets and a unique angled island that has plenty of extra storage and counter space. It also easily fits 5 to 6 stools around the outside facing the living room for a cute breakfast nook or bar.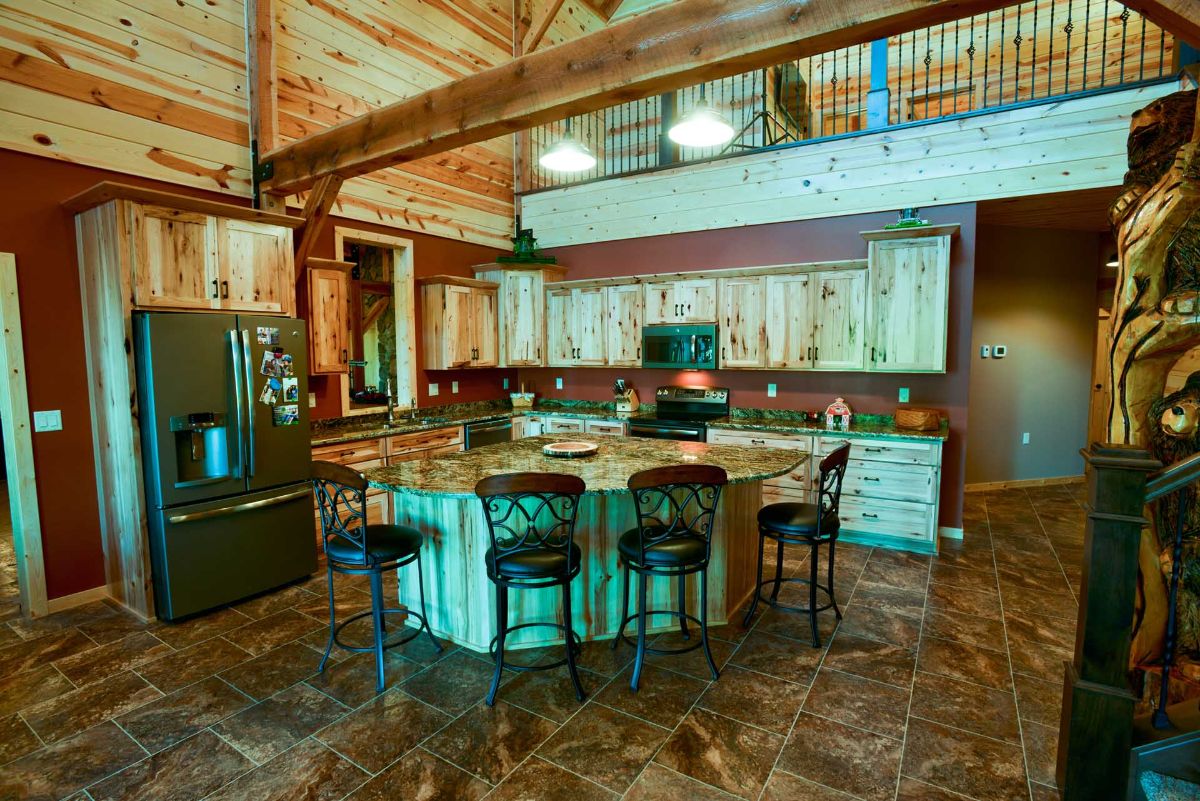 This kitchen is outfitted with everything you need including the classic appliances. I love that they have added a pass-through window behind the sink here that looks into the office. What a fun way to deliver lunch to your spouse while they work!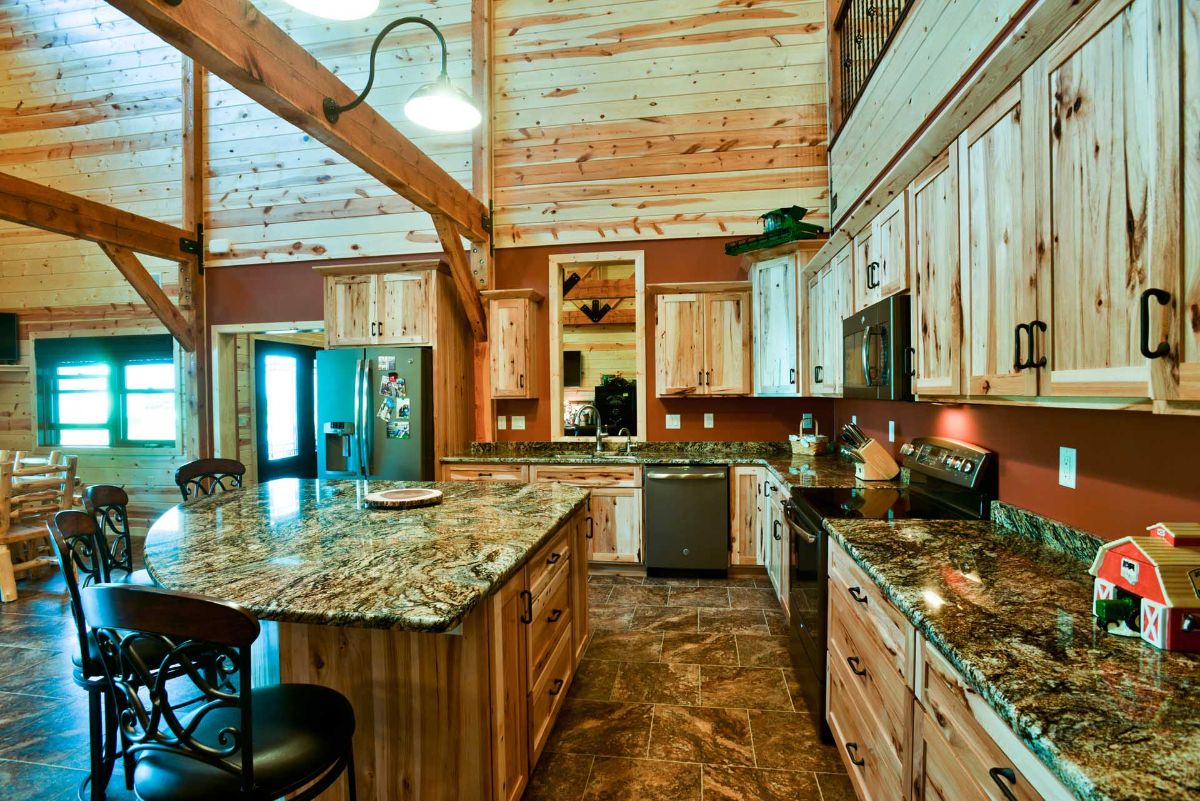 And here is a look through that window over the kitchen. So many ornate details throughout the home, including the carved and stained wood against the stairs.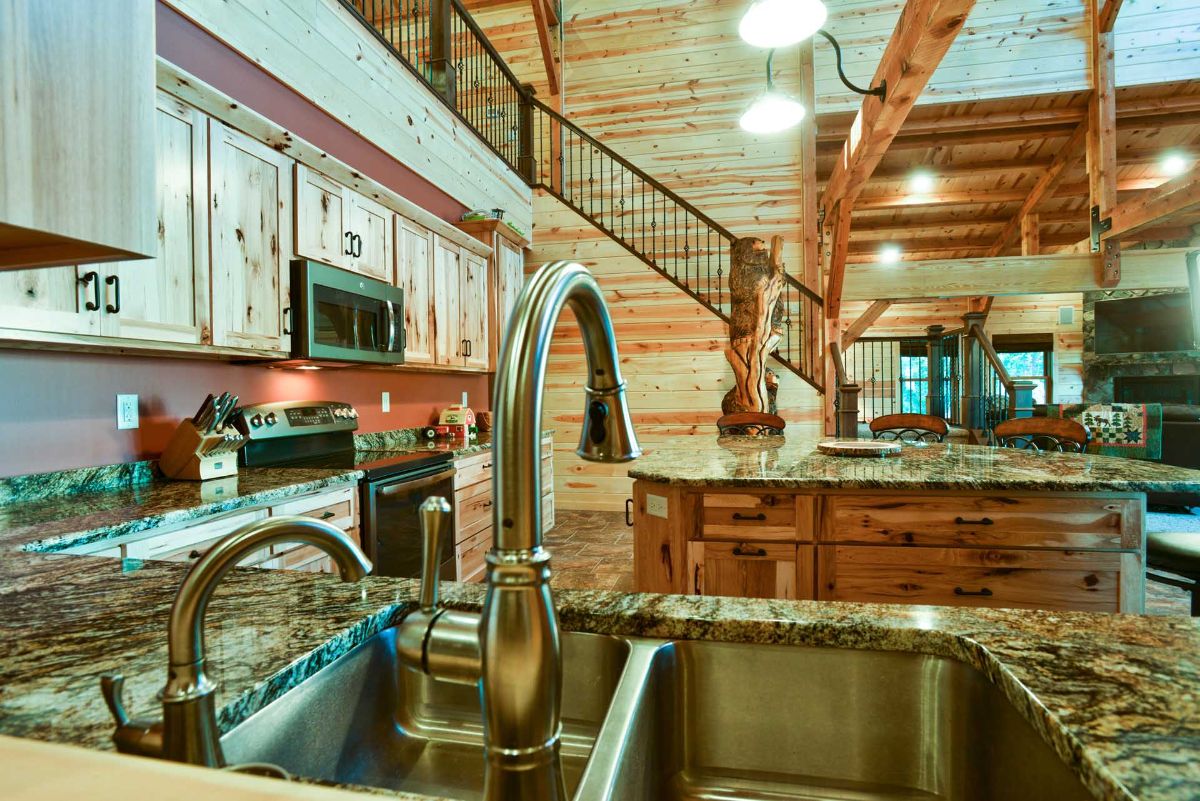 Upstairs the loft space gives you a full look at the main floor of the home. Here you can see the size of that island in the kitchen, and how the living room with fireplace has its own little separate space apart from the rest of the home, while still being open.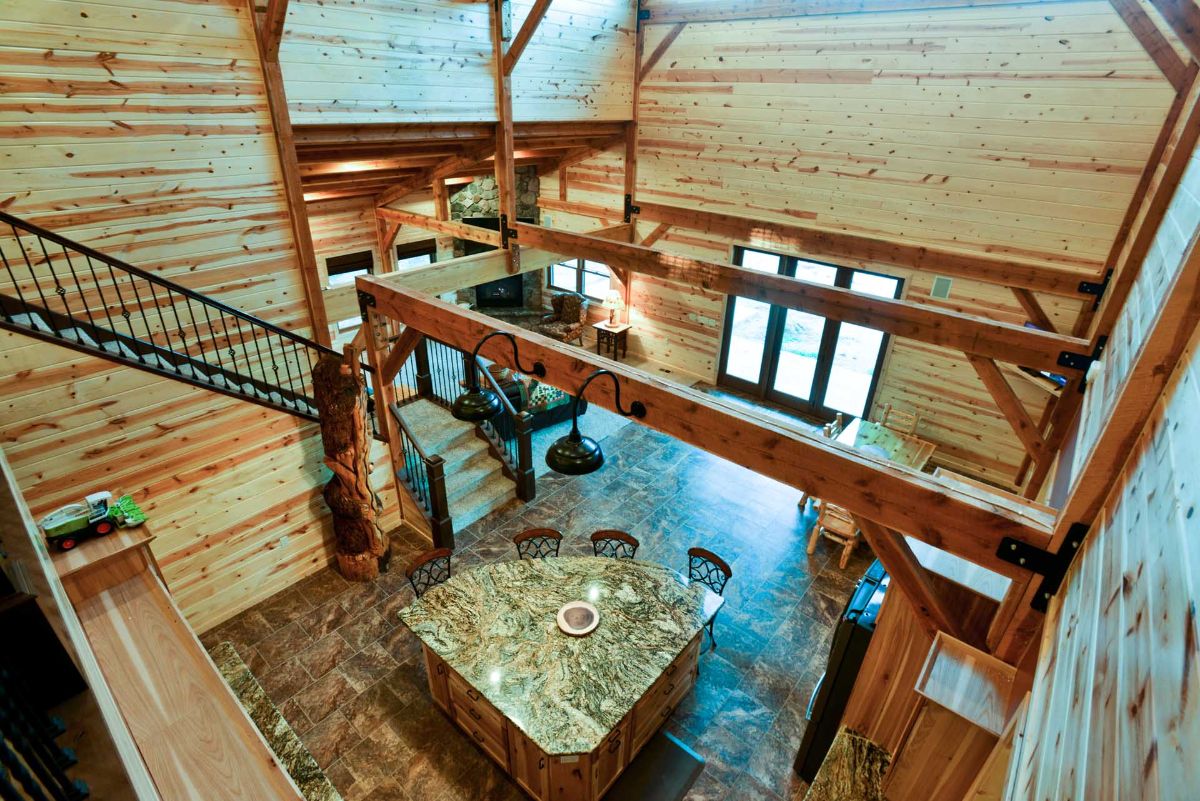 Of course, upstairs has a bedroom as well. This is a smaller space, but has all the charm you want and need.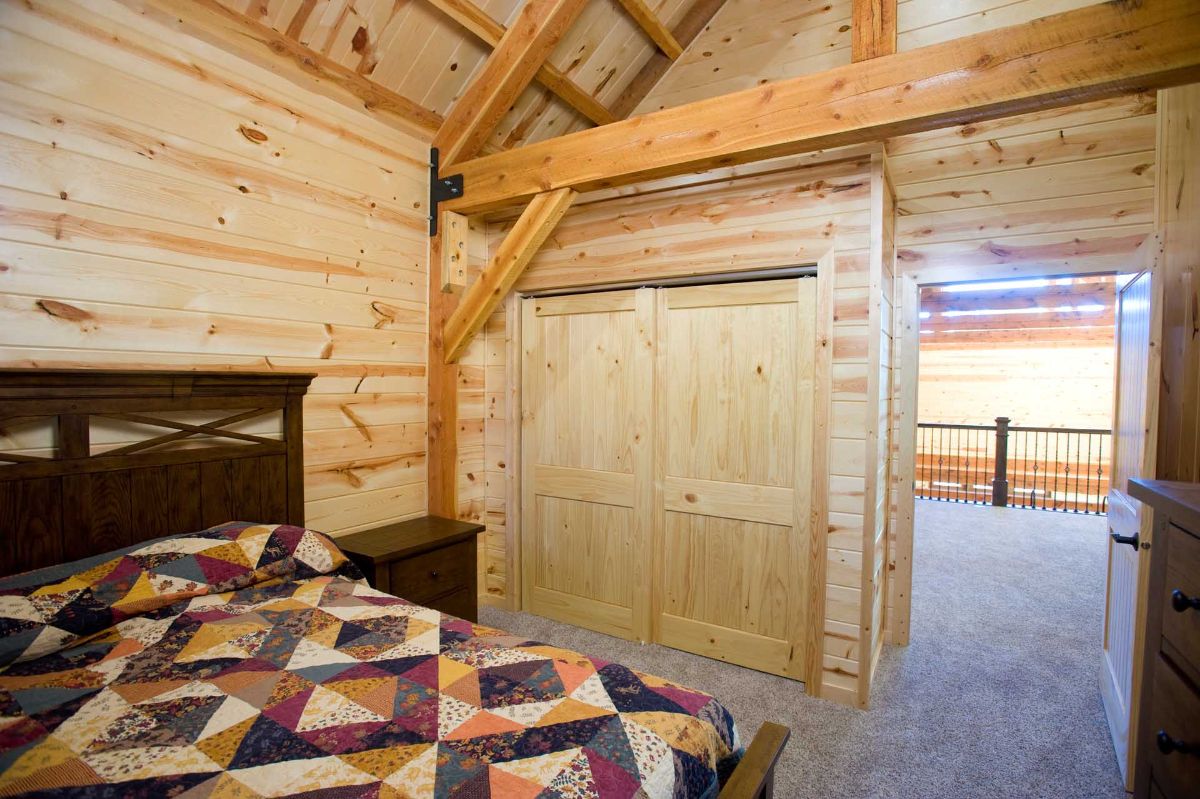 THe closet is huge, and the room could easily fit a king-sized bed if you wish. Plus the open space above the closet is ideal for storage.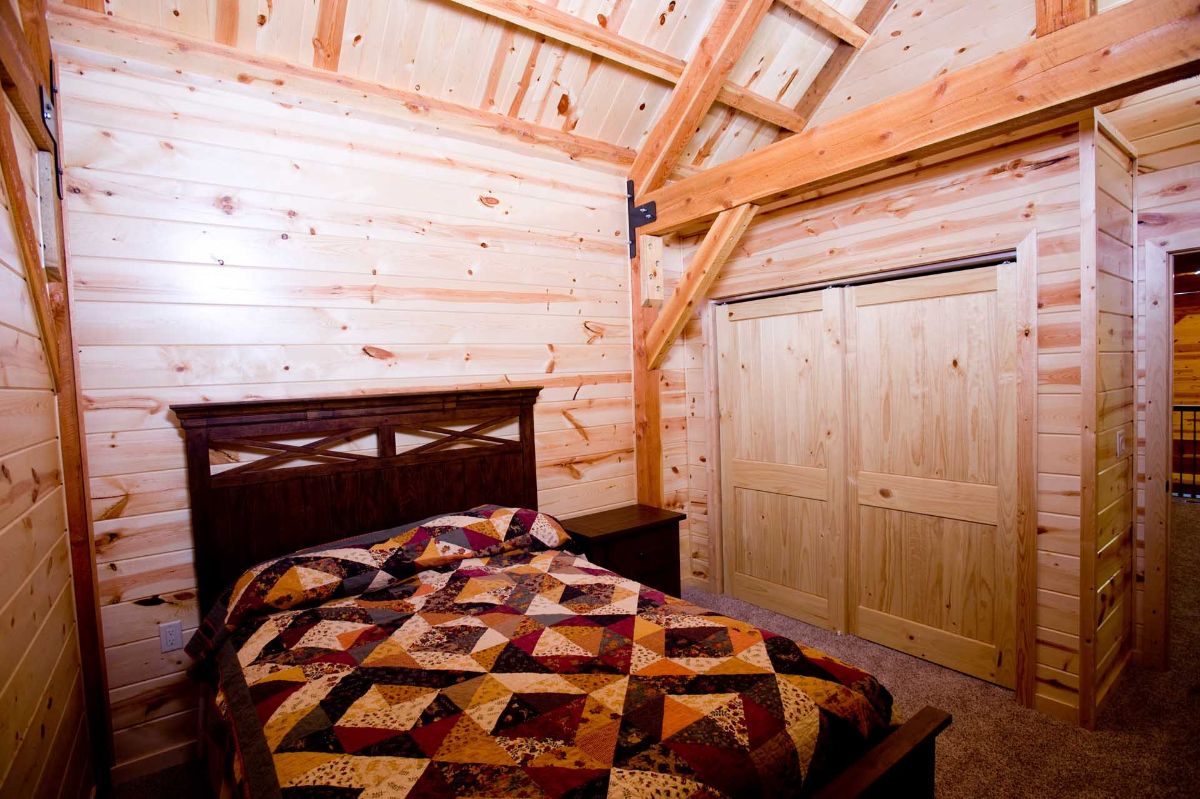 This cabin is truly a work of art and ideal for any family looking to get away from the world and feel like they have their own unique space to rest and relax.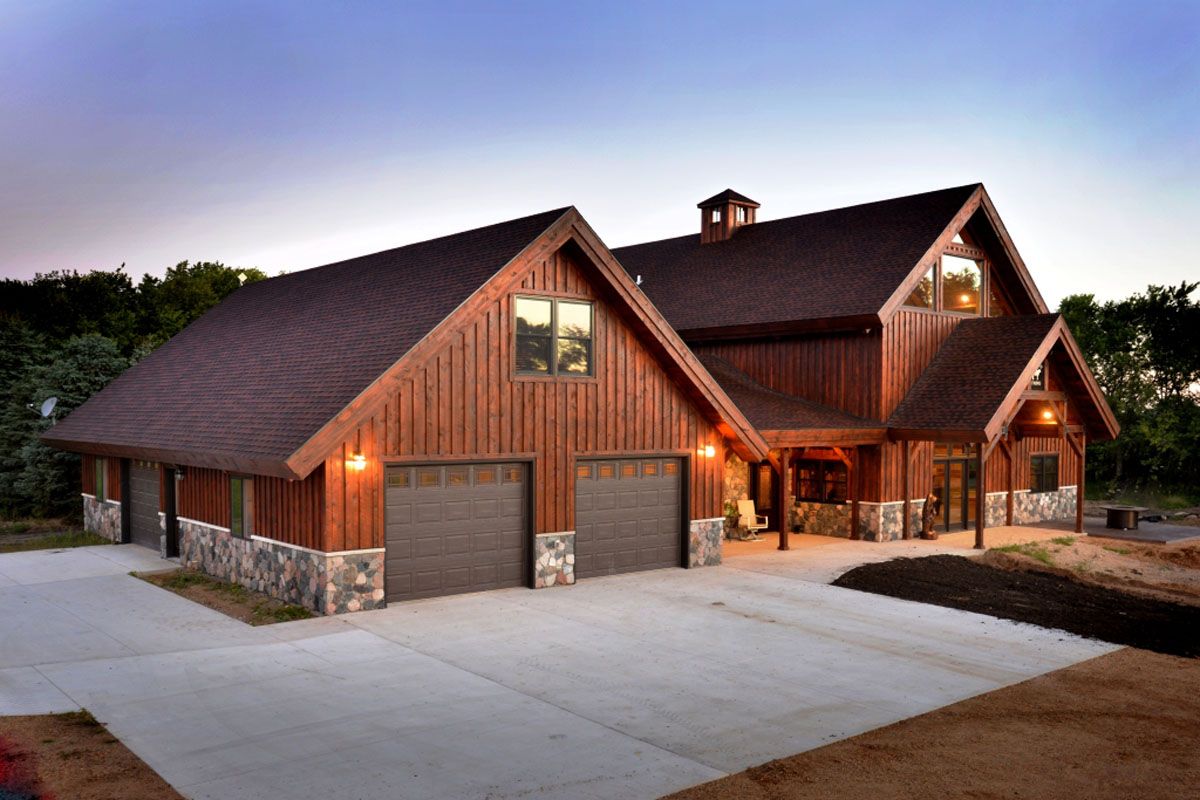 If you want to know more about this model, or similar builds, check out the Legacy Post and Beam website. You can also follow them on Facebook, Instagram, and YouTube for their latest new models and updates. Make sure you let them know that Log Cabin Connection sent you their way.
More Log Cabin Kits and Tours