A stunning cedar log cabin, the Mountaineer is a little over 2,000 square feet of the beautiful family home. From the multiple levels that lend to separate living areas, to the wide-open main floor, this home is ideal for families of all sizes.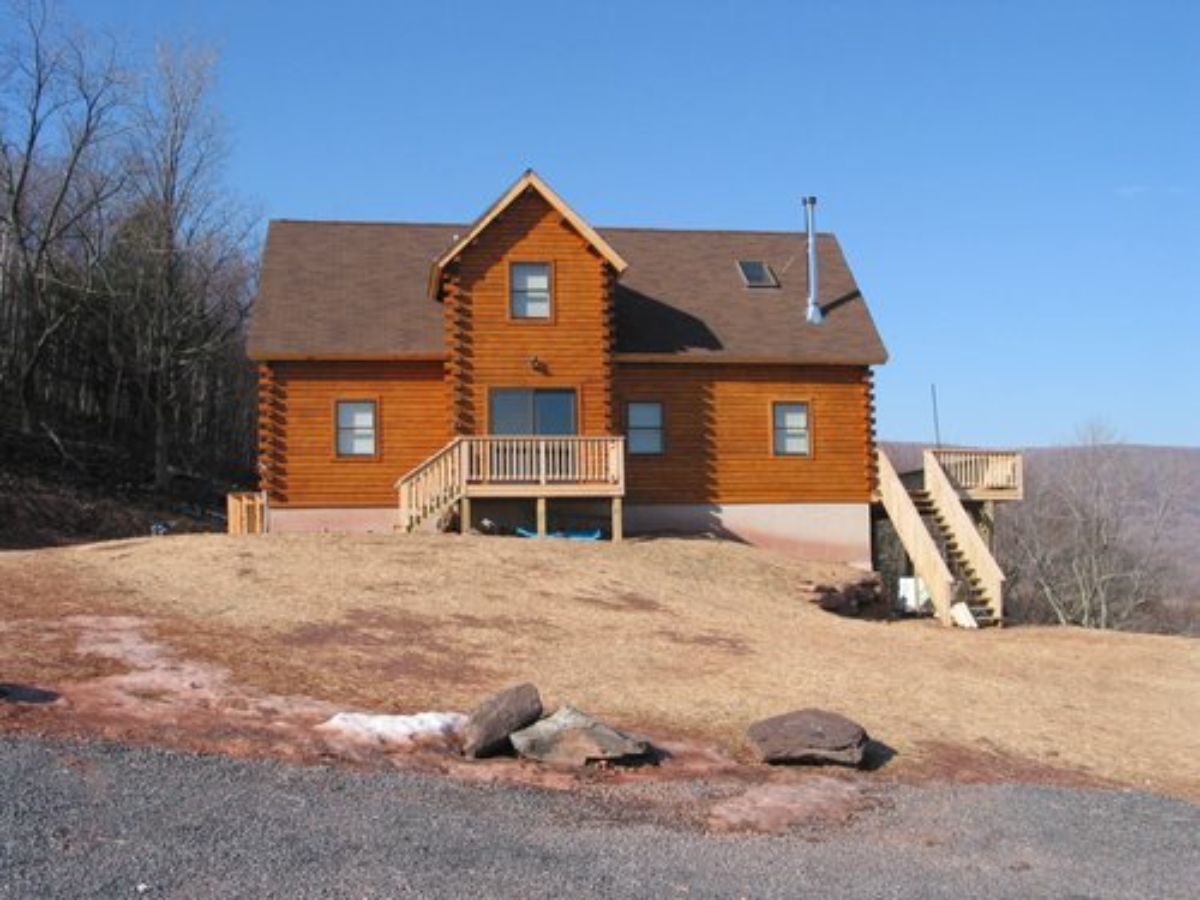 Cabin Size
2,205 total square feet with 3 levels including the loft, main floor, and basement
3 bedrooms
2 bathrooms
Large open kitchen ideal for families
Attached 2-car garage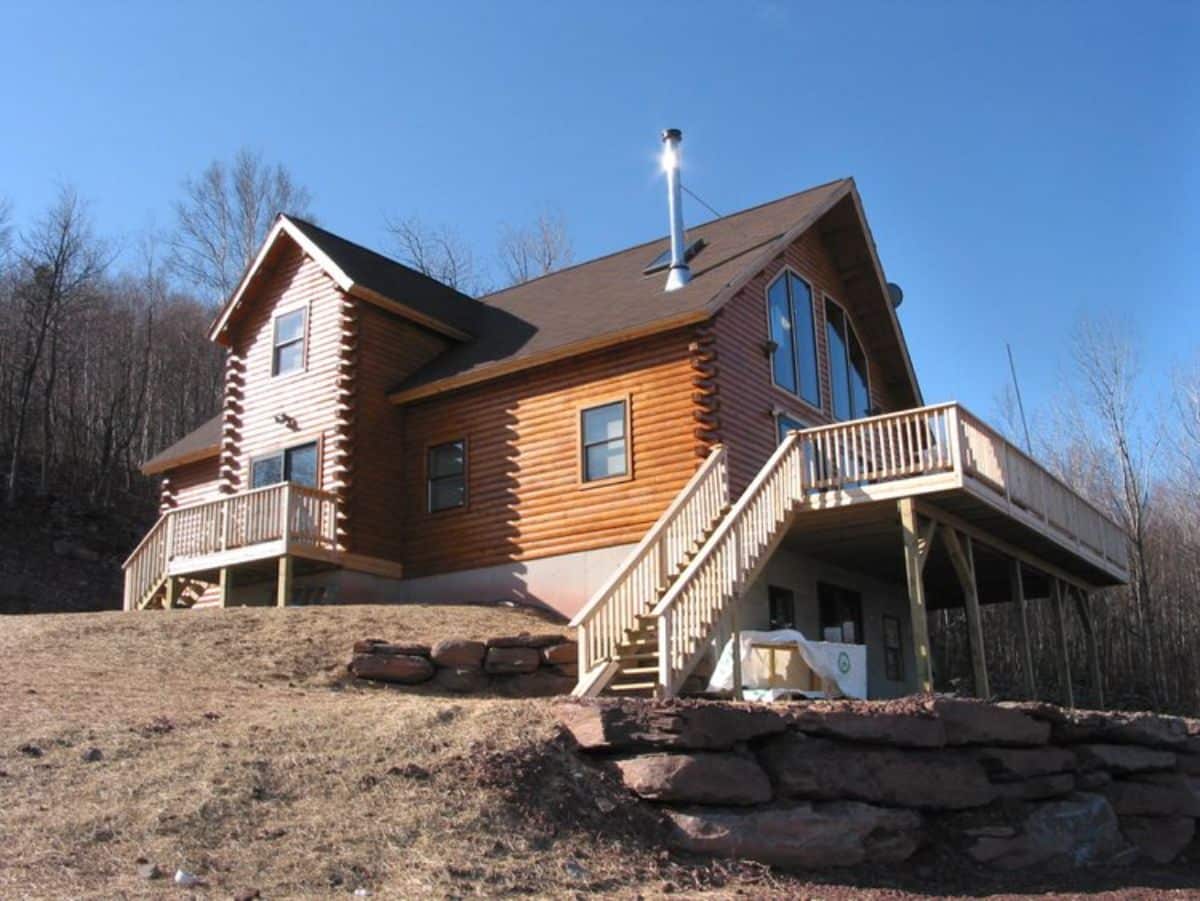 One of the best things about this cabin is the porches. All around the home are decks and porches that are beautiful, open, and ideal for relaxation or entertaining. I really love the idea of this being a home base for friends and family to come to relax on the weekends.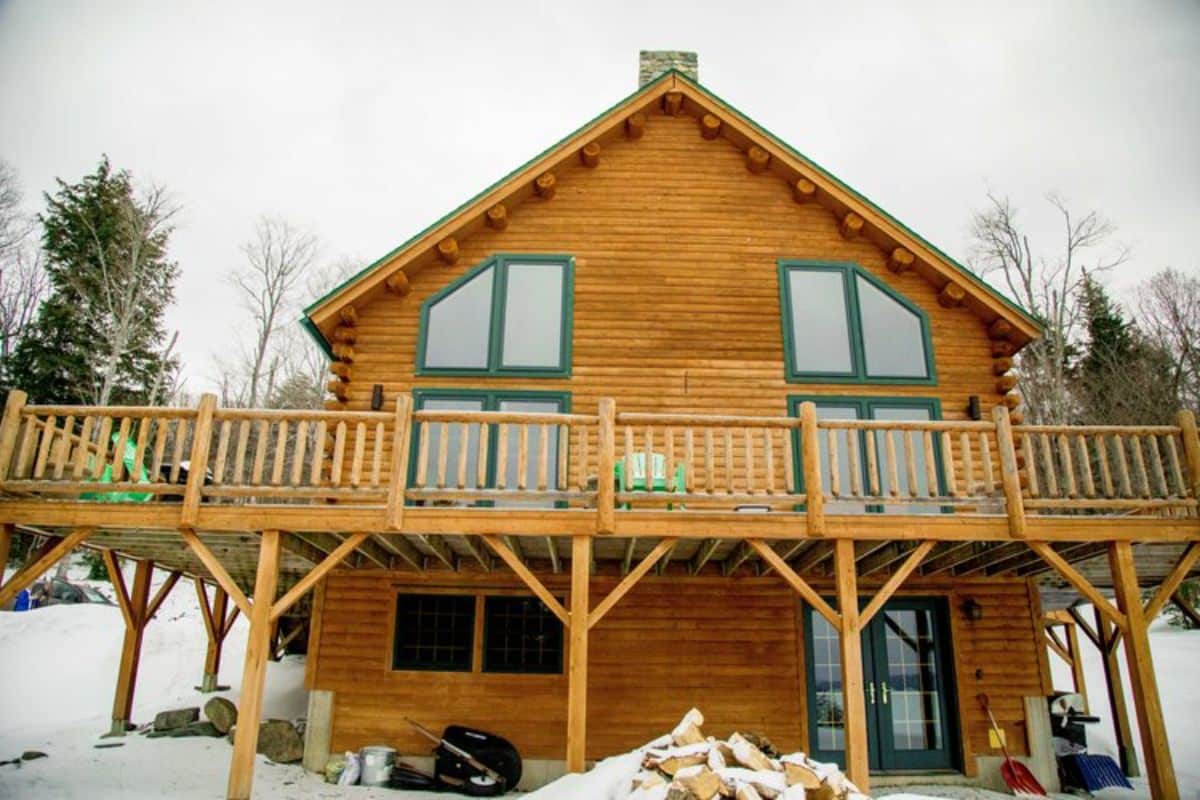 An attached 2-car garage is another benefit to this home. It's nice to be able to pull in during colder months and not have to get out in the biting wind to go inside your home.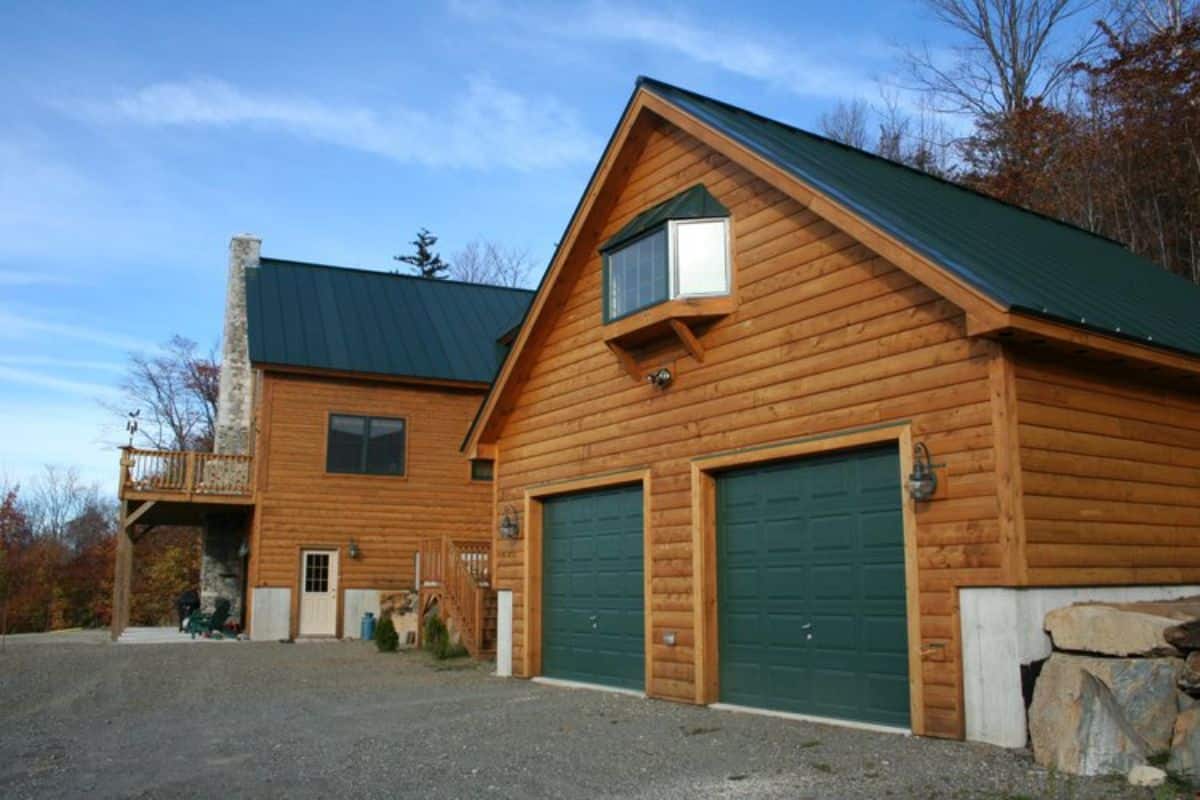 On the main floor of this home, the open floor plan allows for the dining room, living room, and kitchen to flow together easily. I love the great room windows that surround this fireplace, and how it has the dining nook in front of the windows below.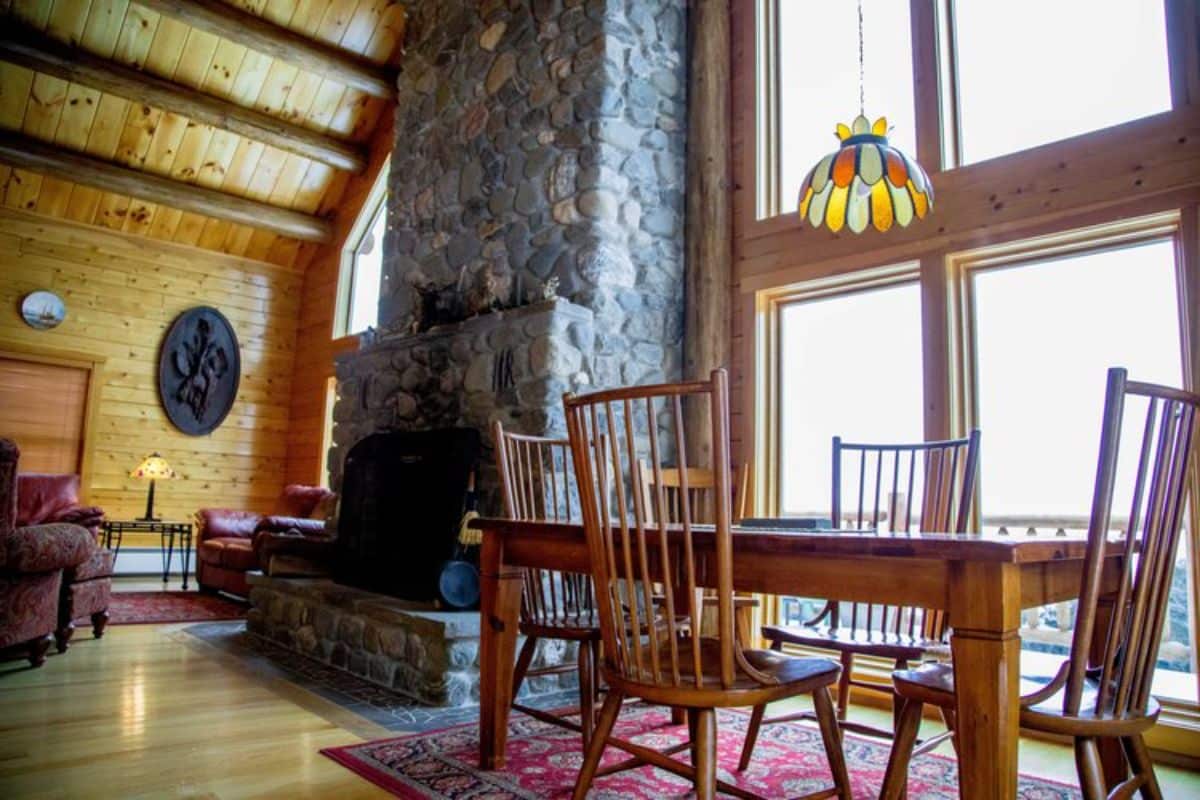 The fireplace has chairs around it to create that cozy living room nook you want for chats with friends or movie night with the kids.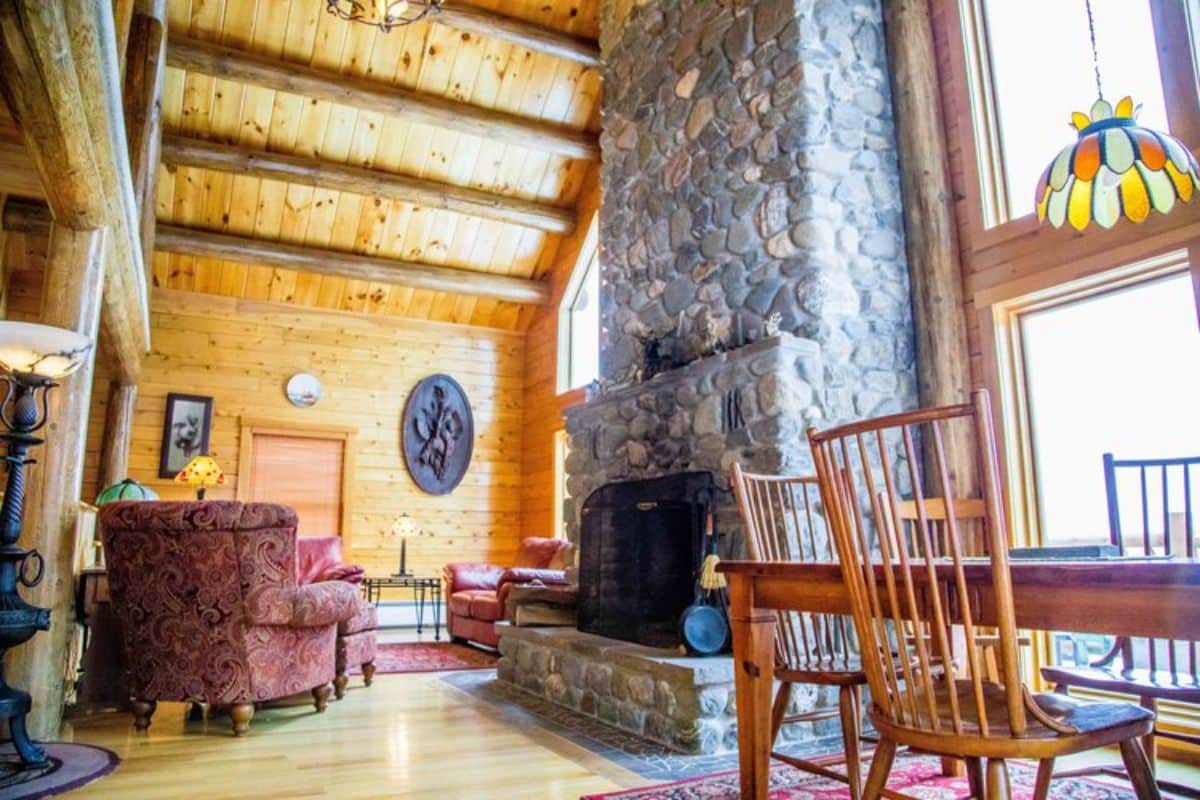 One thing to note is this fireplace goes all the way down to the basement level. It also has a walkout basement and a small fireplace in the open living space there. I love the idea of a formal living area upstairs and the real family room downstairs in the basement.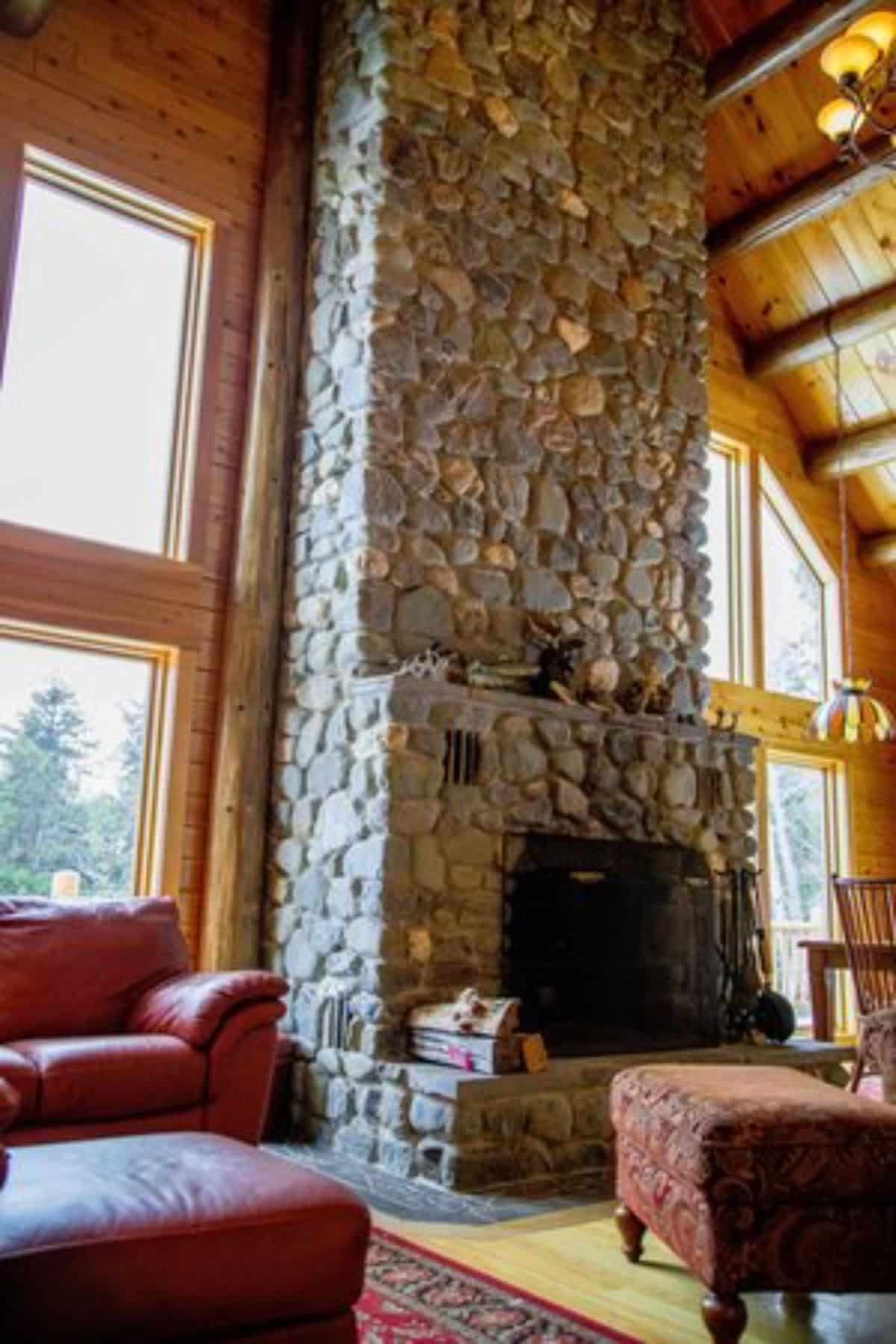 Of course, a modern kitchen is a must for me. The stainless steel appliances, tons of wood cabinets, and gorgeous countertops are just a part of this.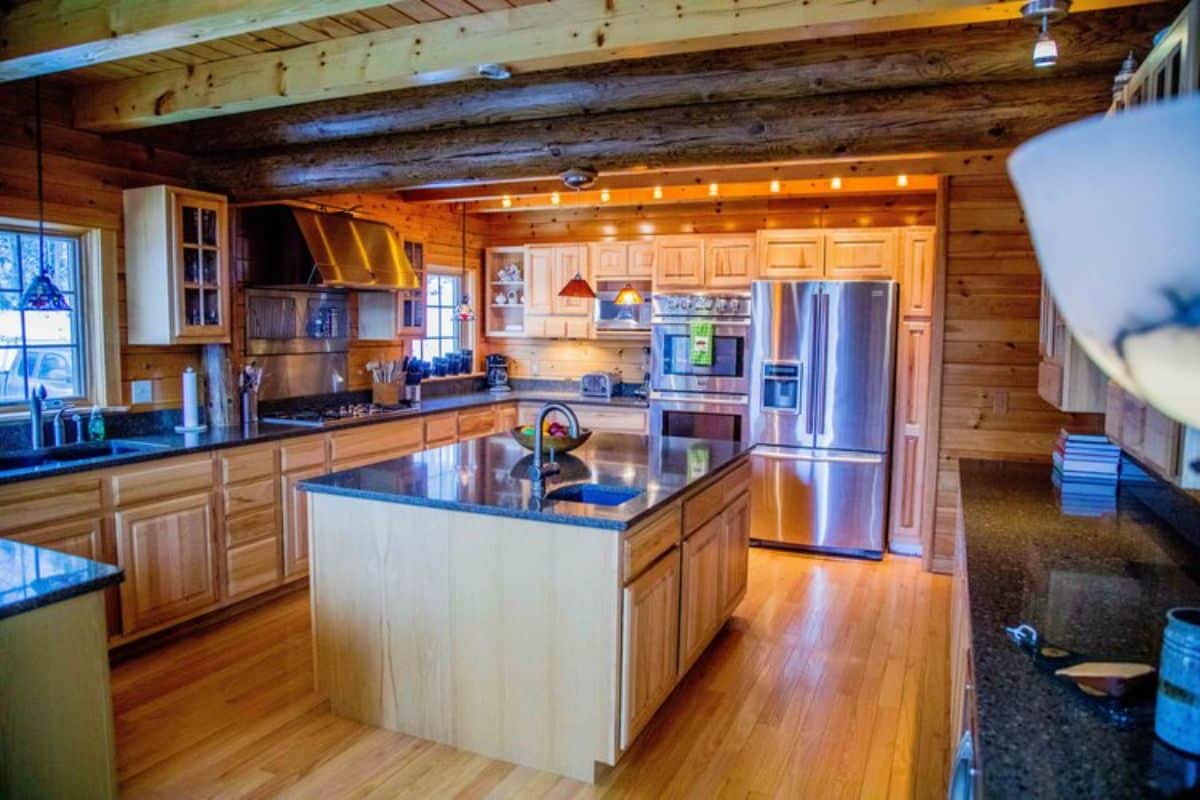 Having an island in the center of the kitchen expands storage and functional counter space. This one has a dishwasher on one side, and a secondary sink on the other side. There is so much space here, you can have your own little mini bar between the kitchen and living room if you wish.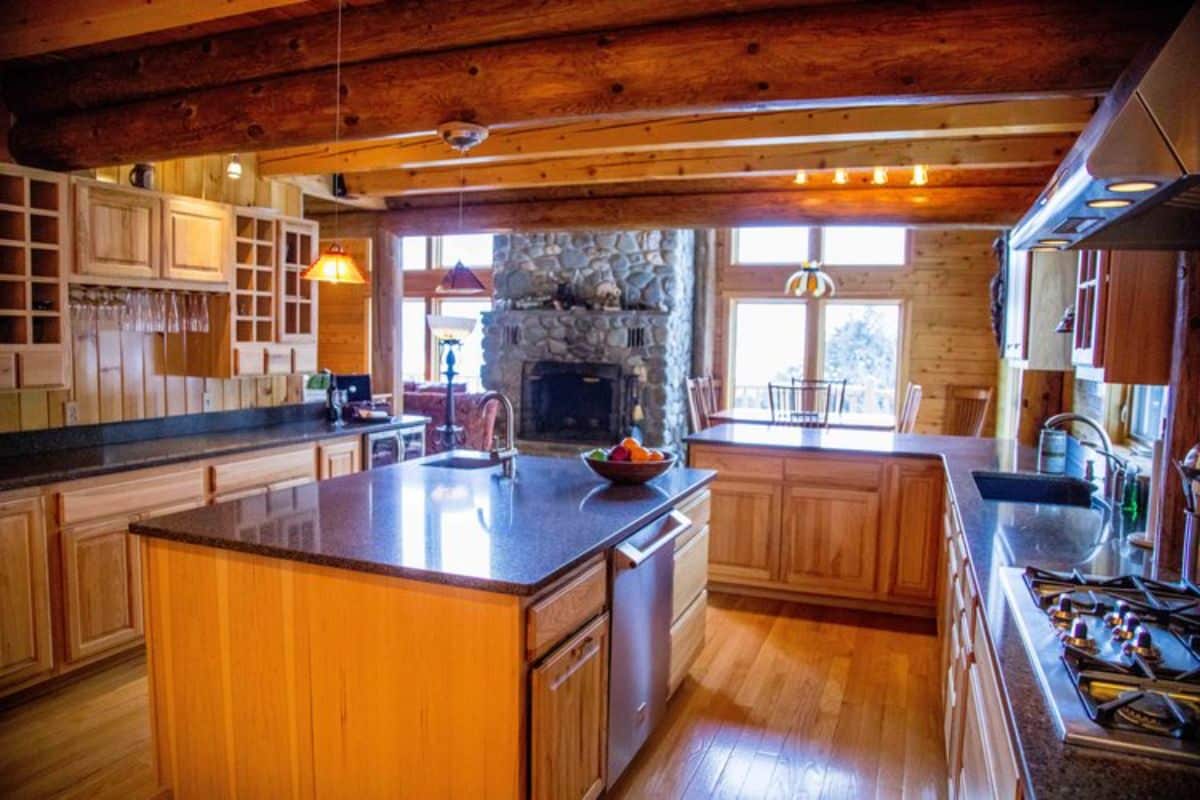 And here is that basement I mentioned above. You have a fireplace, but also a little living room with a television. The French doors take you out to the ground level of the property and allow you to have a covered patio for relaxing in the shade.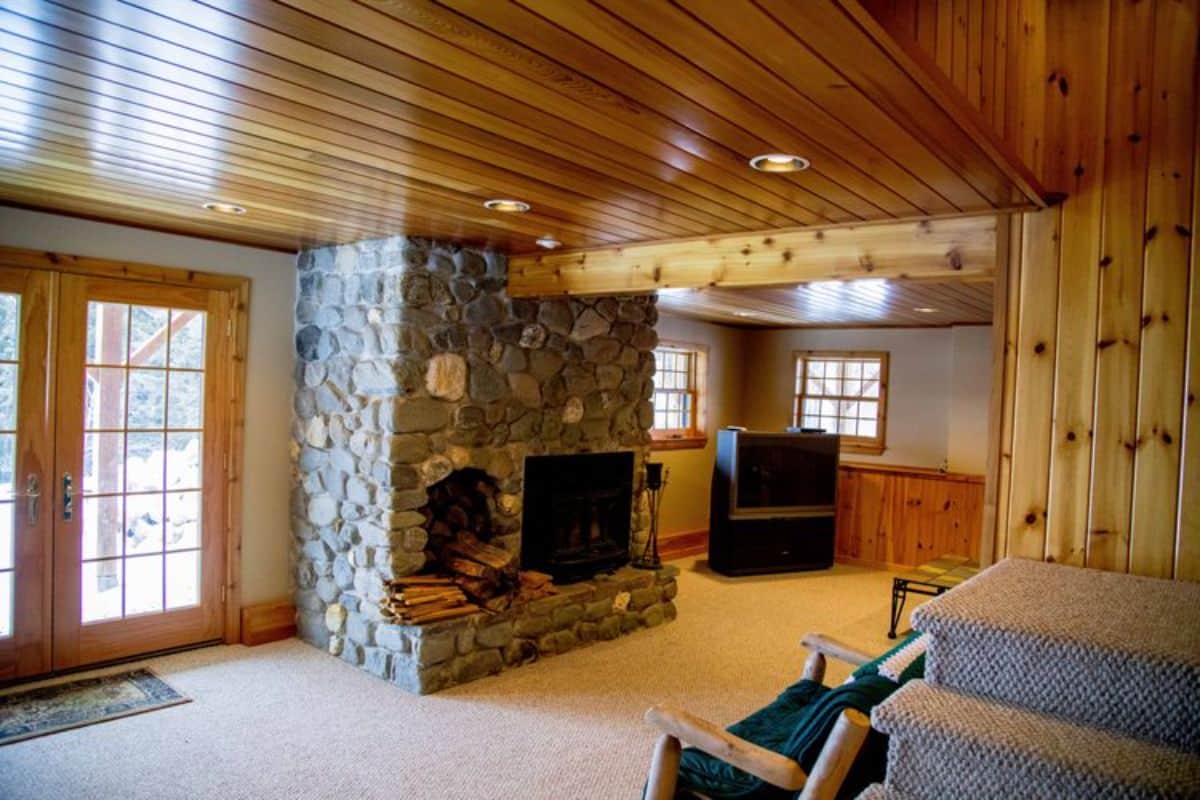 Upstairs, there is a third floor that is about half the size of the main floor. The high ceilings here give you a nice little open loft space that has room for a sofa, a few chairs, or even a desk. I can easily see this being a kids play area or a home office space.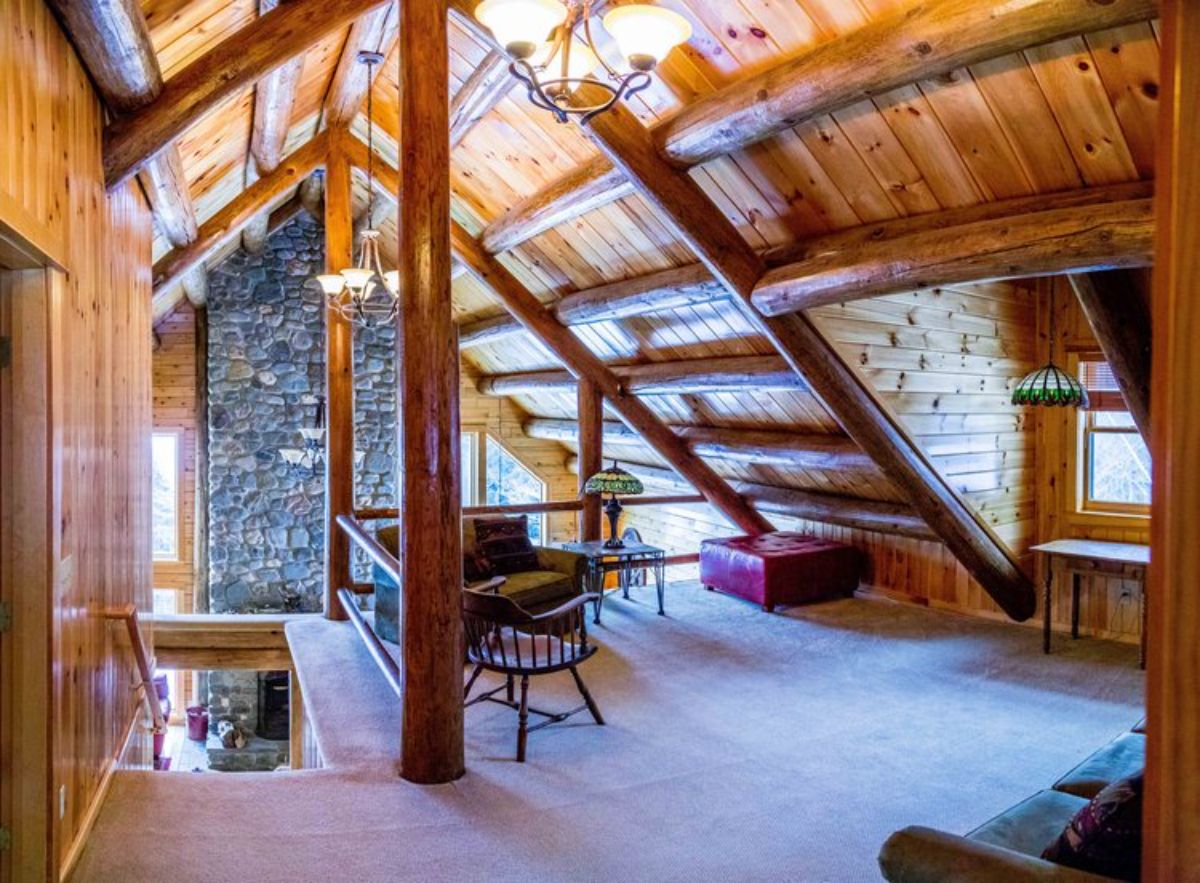 Upstairs, the bedroom has those same tall ceilings and gorgeous exposed wood beams. It's sizable and would be an ideal master bedroom. You could also add a couple set of bunk beds here and make it the guest room for grandkids coming to visit.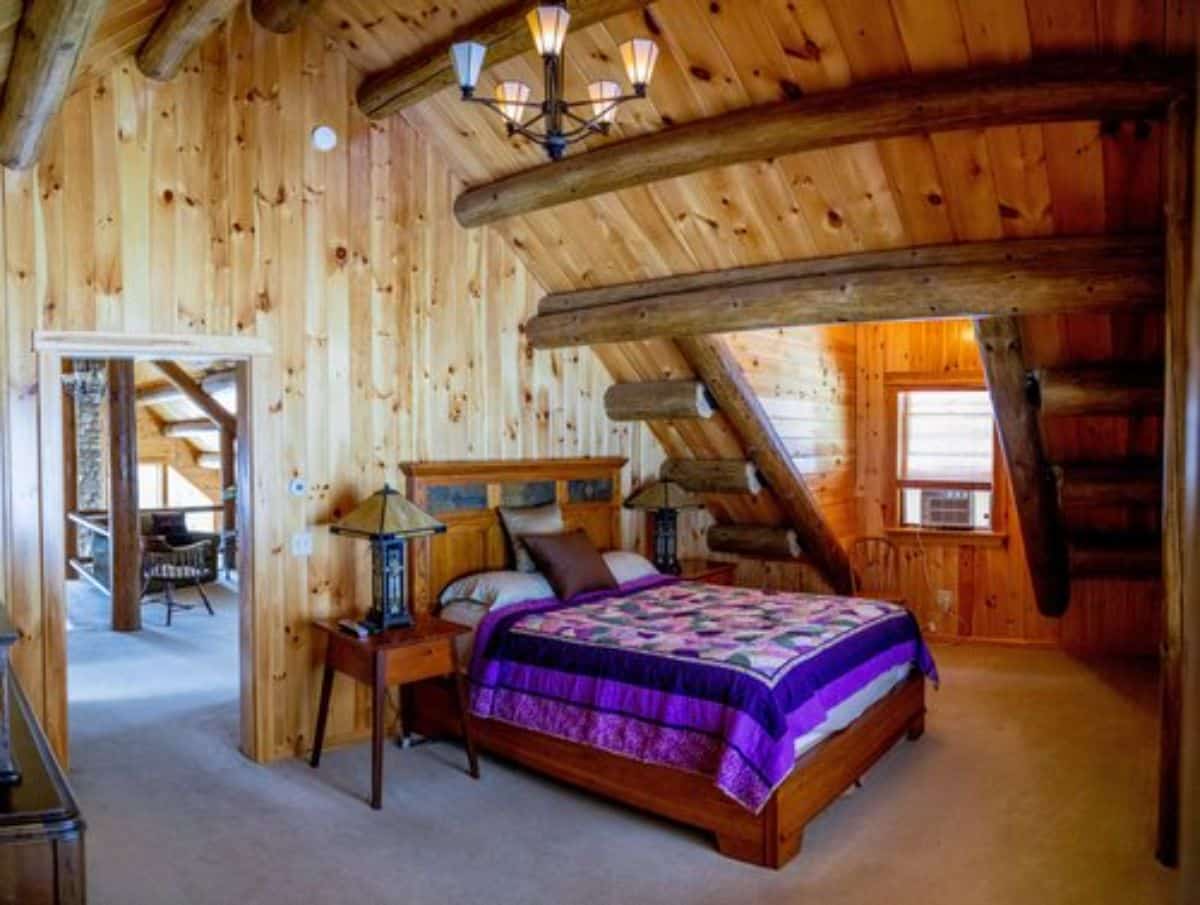 There is even plenty of room here for a chest of drawers or a dresser to hold your clothing. And you could easily add a large closet here and not sacrifice any space in the bedroom.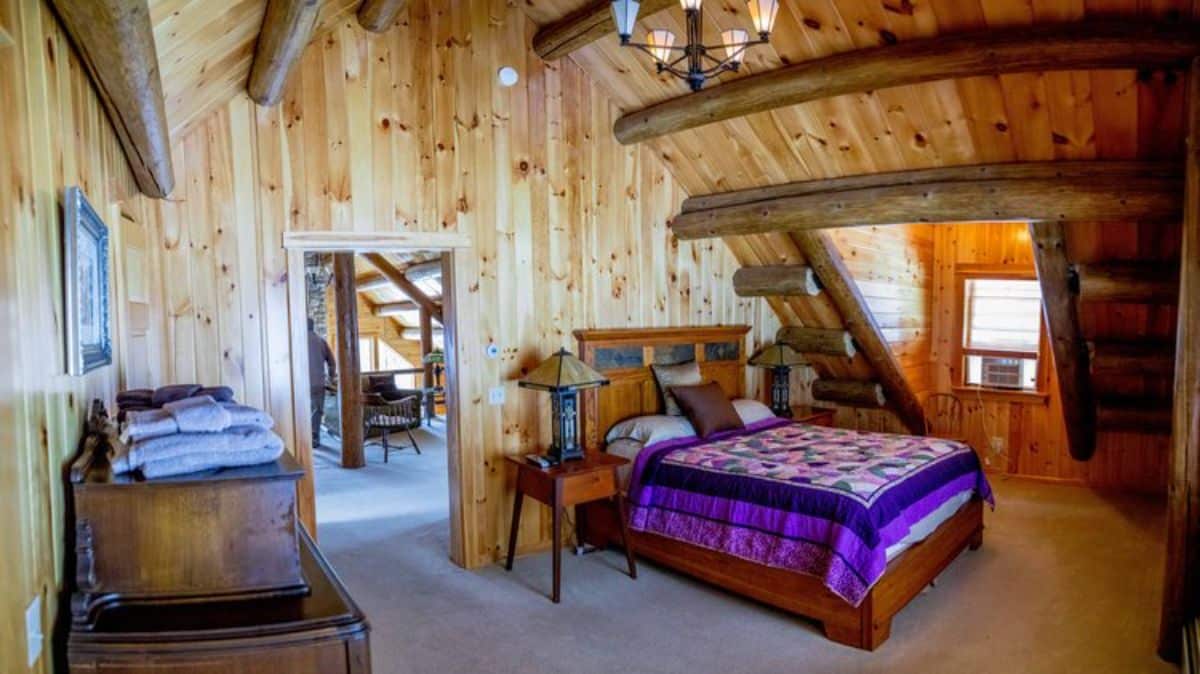 Of course, that upstairs master bathroom is a show stopper It has not just a shower but also a soaking bathtub.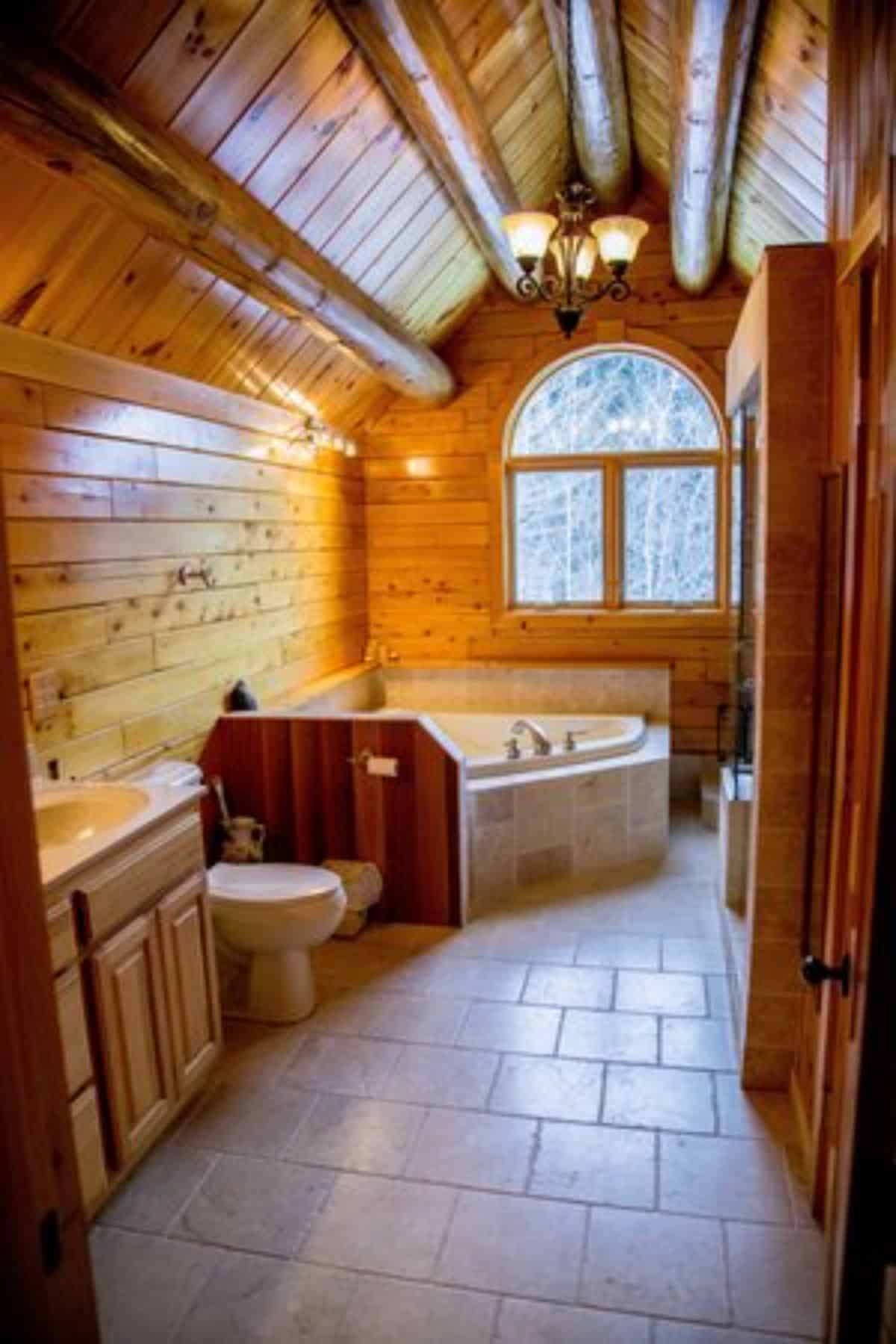 The tile-lined shower is next to a small wood stove meaning you will never get cold in this bathroom. I love how open this is and how comfortable it looks to be as a master bedroom space you can relax and enjoy apart from the rest of the home.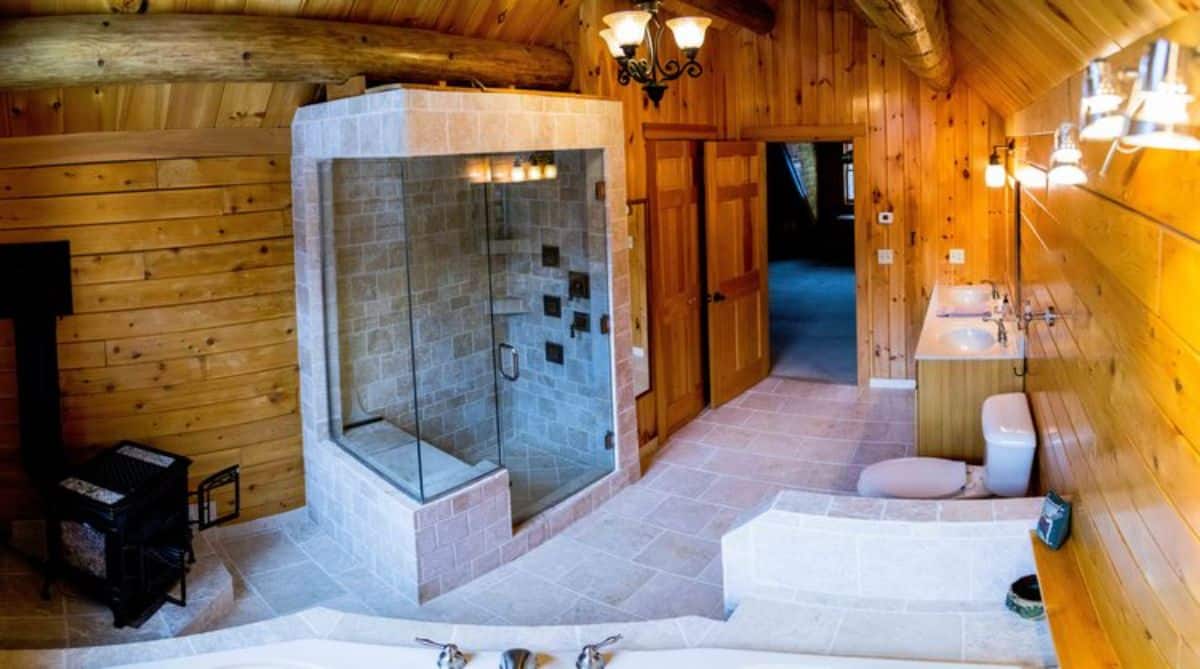 For floor plans or more information about this build, check out the Moosehead Cedar Log Homes website. You can also find them on Facebook with regular updates and their latest plans. Make sure that you let them know that Log Cabin Connection sent you their way.
More Log Cabin Kits and Tours