The Stoney Brook log cabin model is a perfect example of a cabin that has the rustic appeal you desire with wrap-around porches and perfect open spaces for a family living space. You'll fall in love the moment you drive up, and stepping inside only goes to prove the point of just how perfect this home is for you and your family.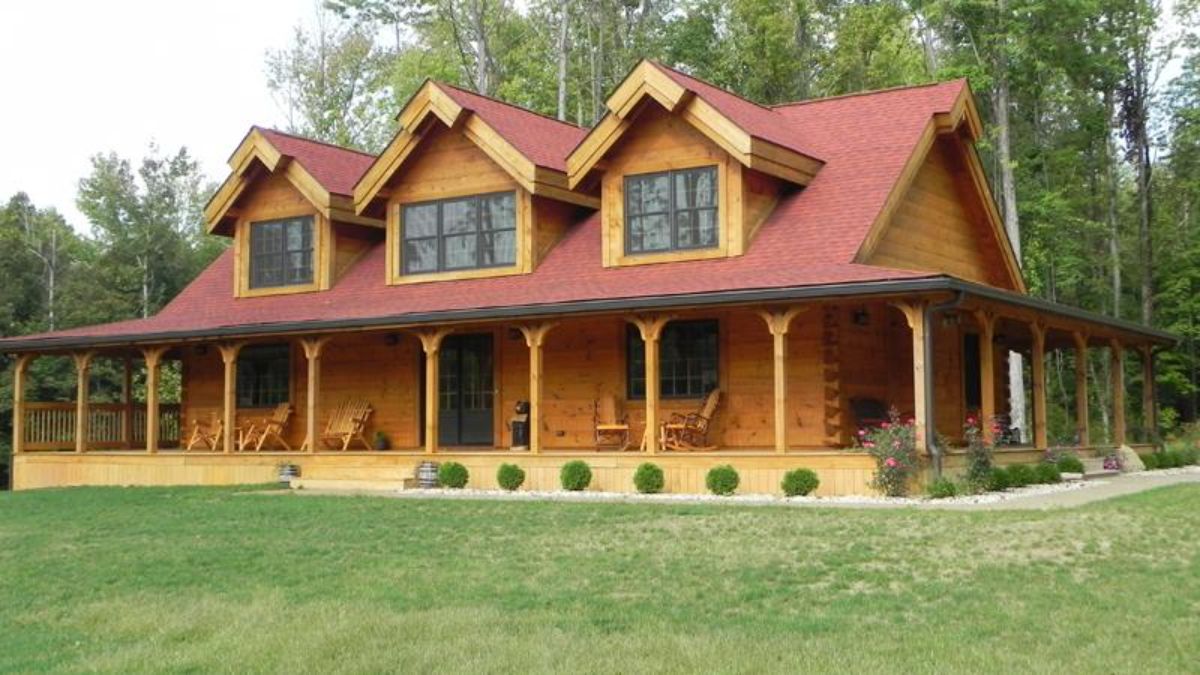 One of the things most appealing about this home is the side entrance to the porch. You can enter from any side, and you know there is plenty of room for multiple seating areas. This is ideal for friends and family coming over to relax or have a weekend barbecue with the kids playing out in the yard.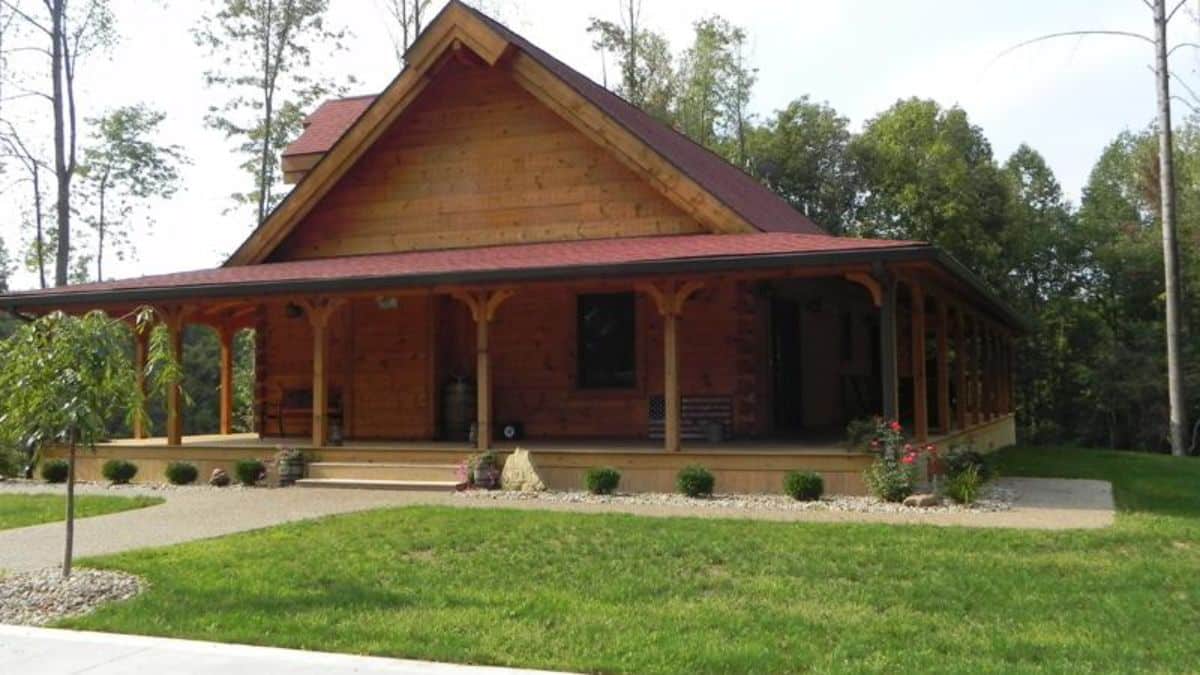 Inside the cabin, the same classic styles can be found that you expect from a cabin. A stone fireplace and chimney on one wall are both decorative and bring in warmth on cold days. The wood mantle is a perfect shelf to hold little items and a corner TV makes the living space cozy. The tall walls here are ideal for hanging decor or leaving blank and giving the space a bit taller feeling.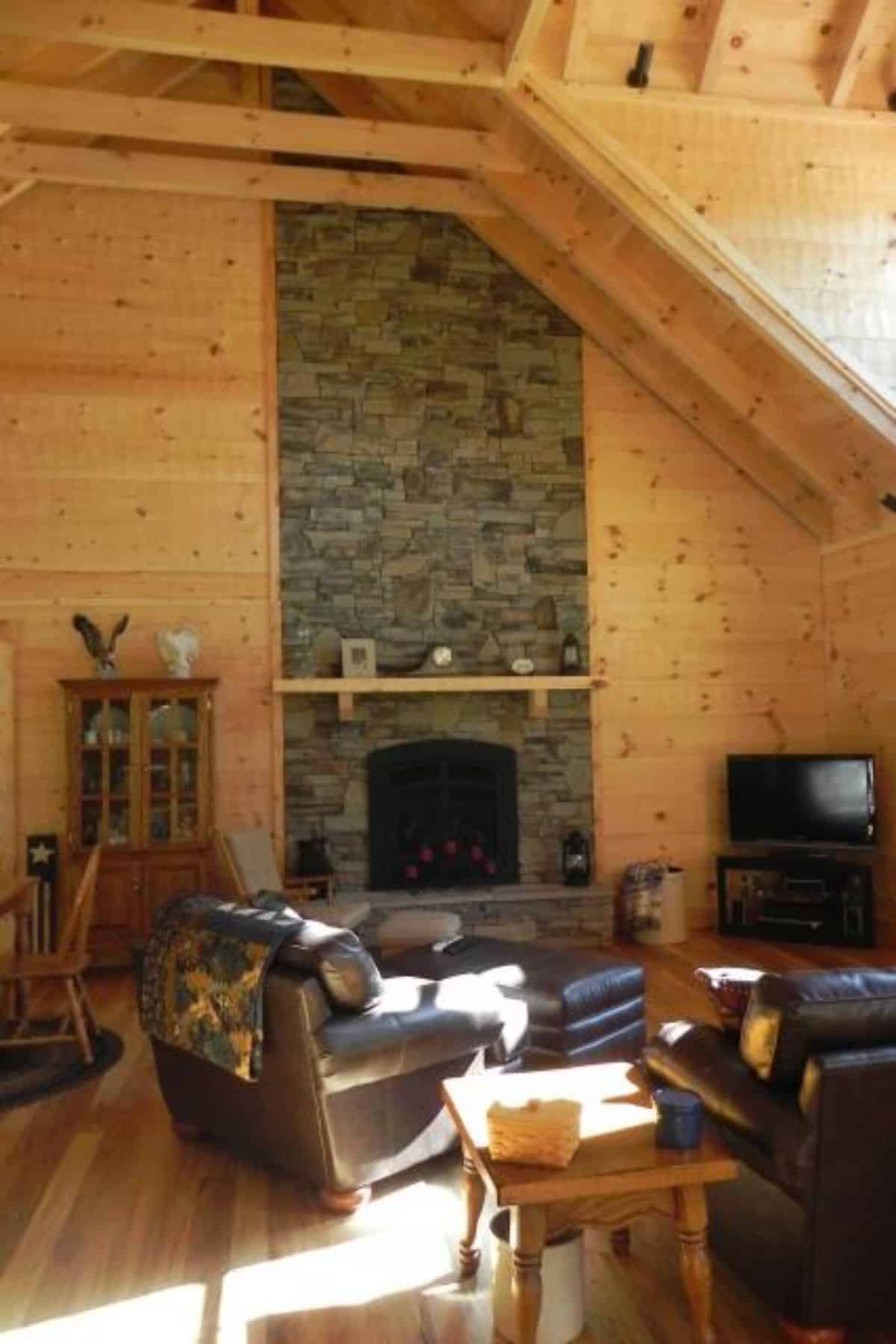 On the other side of this main floor area, you have a kitchen with lofted spaces above. I love the wrought iron railing on the loft. It's decorative and functional. A perfect way to add some beauty to an ordinary space in your home.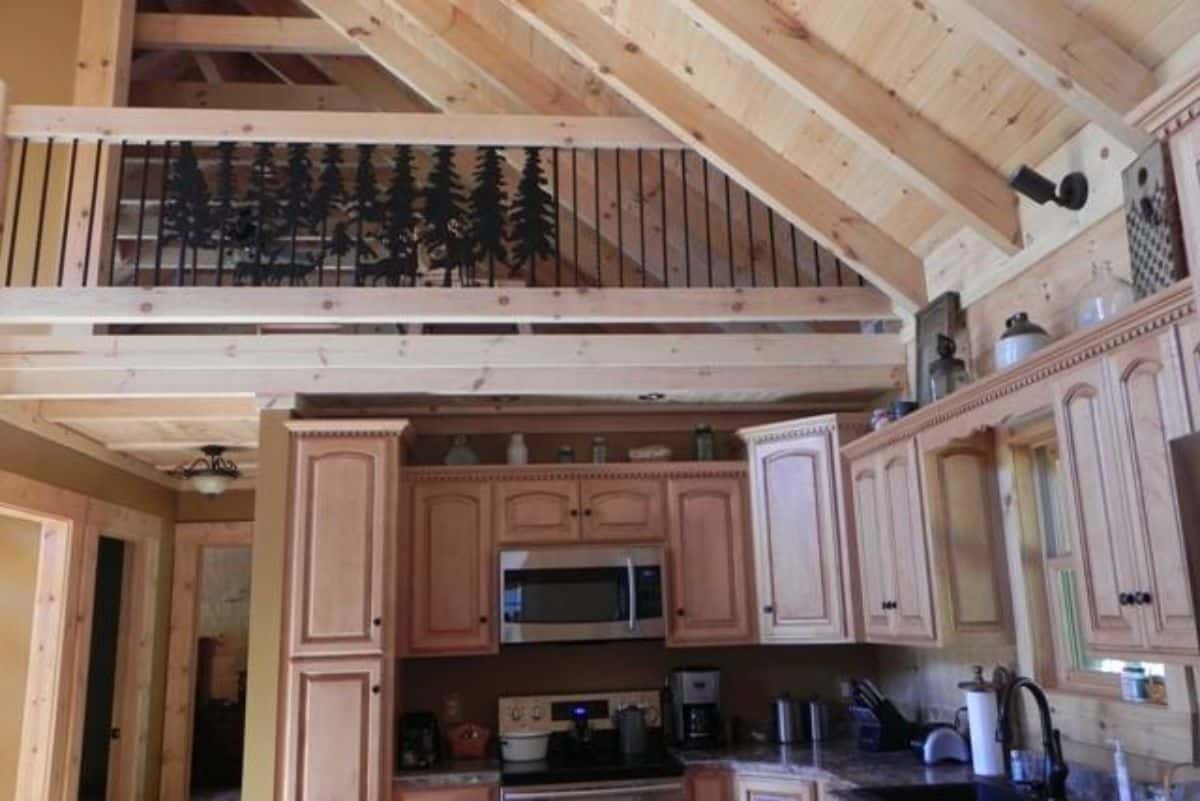 Here you can see the kitchen a bit better. It has lovely custom wood cabinets with beautifully carved edges. The stainless steel appliances are a modern addition that is excellent and fit the look wonderfully.
Of course, you can't see this kitchen without seeing the island bar that is facing out to the living area. I love this addition for extra workspace and storage, but mostly as a morning coffee spot.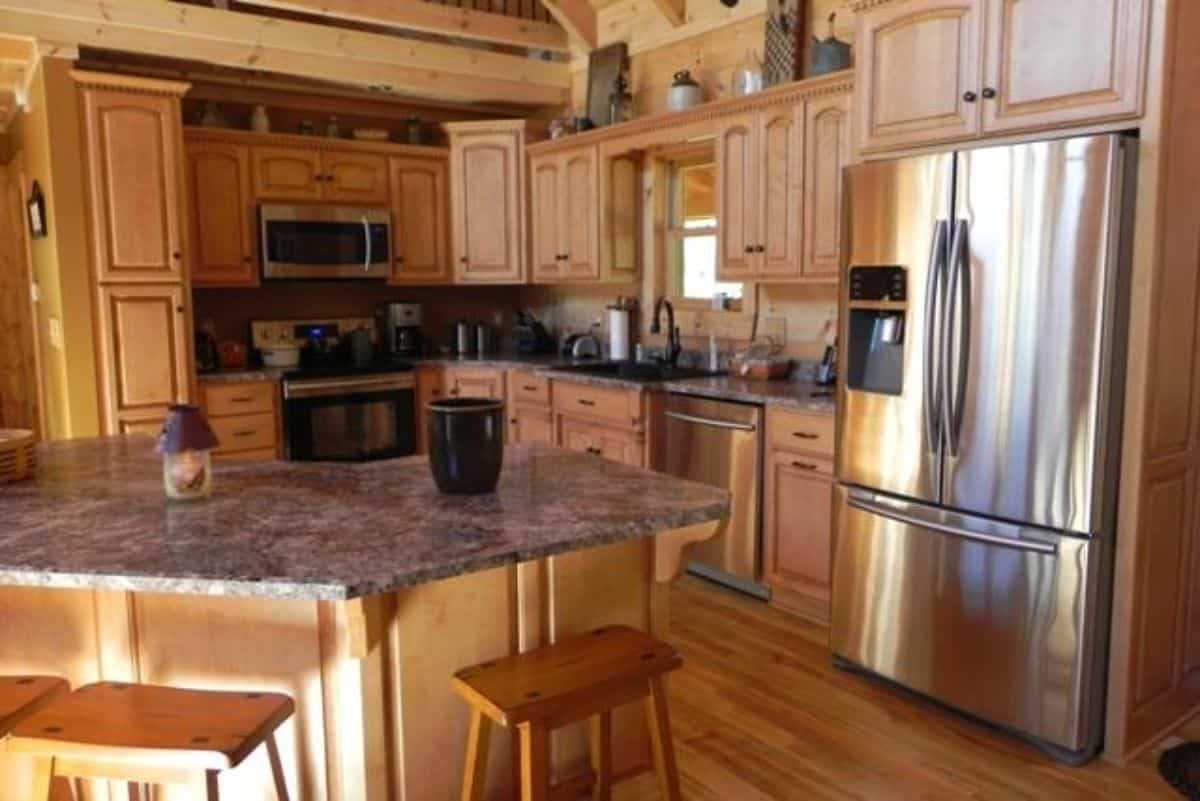 The bedrooms are lovely with tons of room for a queen or king-sized bed, storage with a chest of drawers or wardrobe, and even a bench seat at the end of the bed. You'll notice on the far right side, however, a door that leads out to the porches. A private bedroom door is such a lovely addition!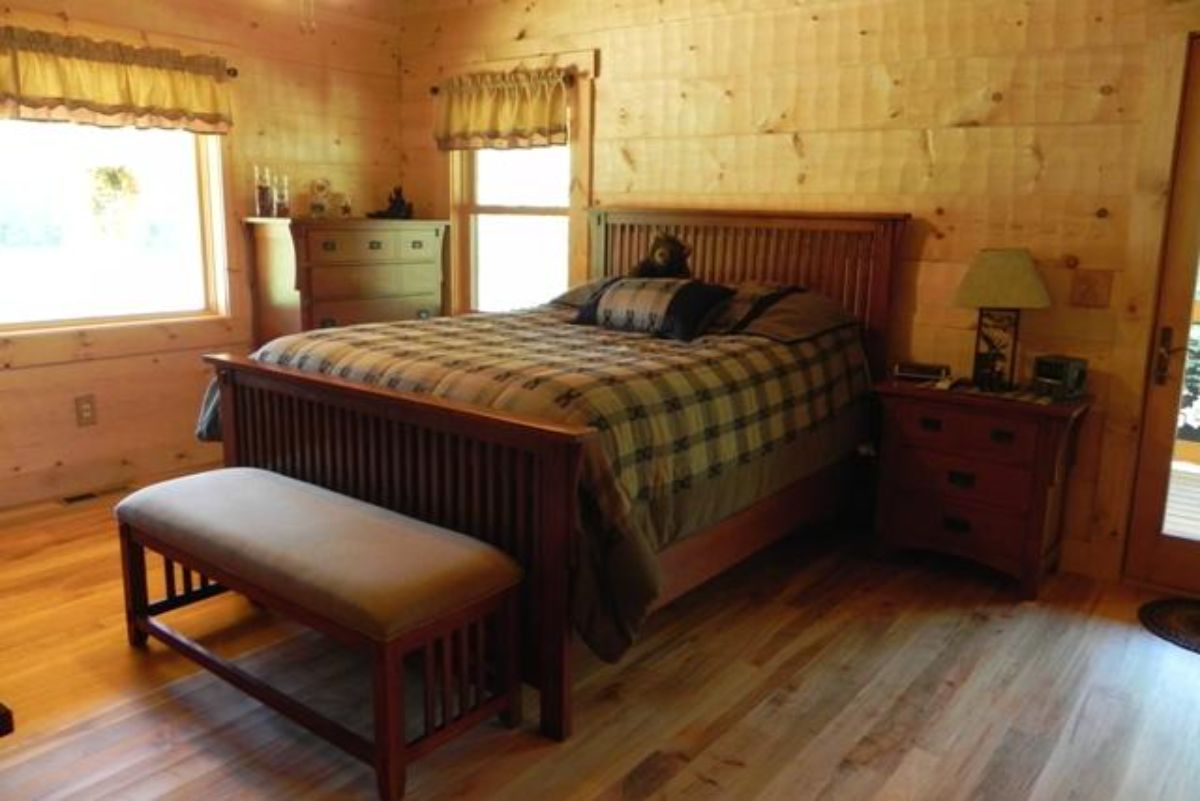 And the master bathroom, well, it's a luxury space that just feels like a dream come true. A corner soaking bathtub is a luxury that everyone appreciates. Beside it, you have a glass door shower so you have both options, and of course, the dual sinks and mirrors above the corner cabinets make it an ideal "his and hers" layout.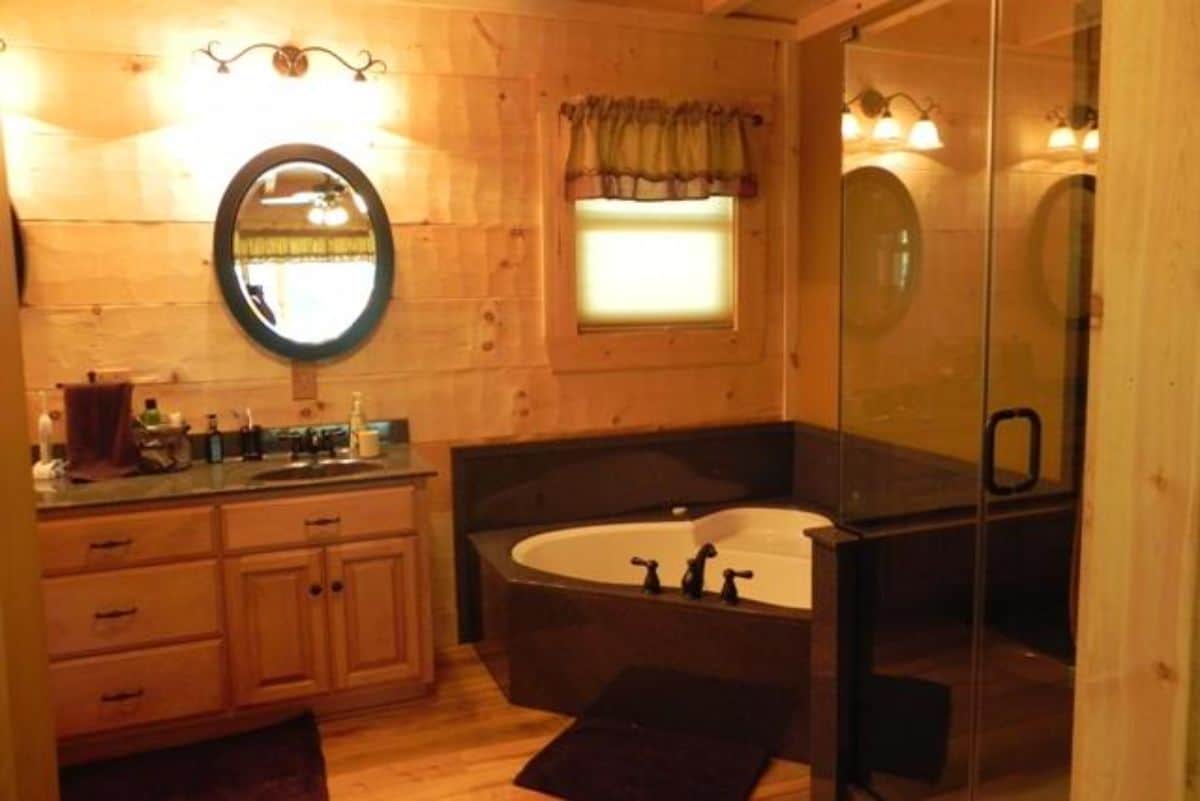 This home could easily have a basement level, and while I believe this is just a separate game room off the side of the home, it may be a basement option for this model home. There are tons of variations like this that you can appreciate and make use of to create the dream home you have always wanted.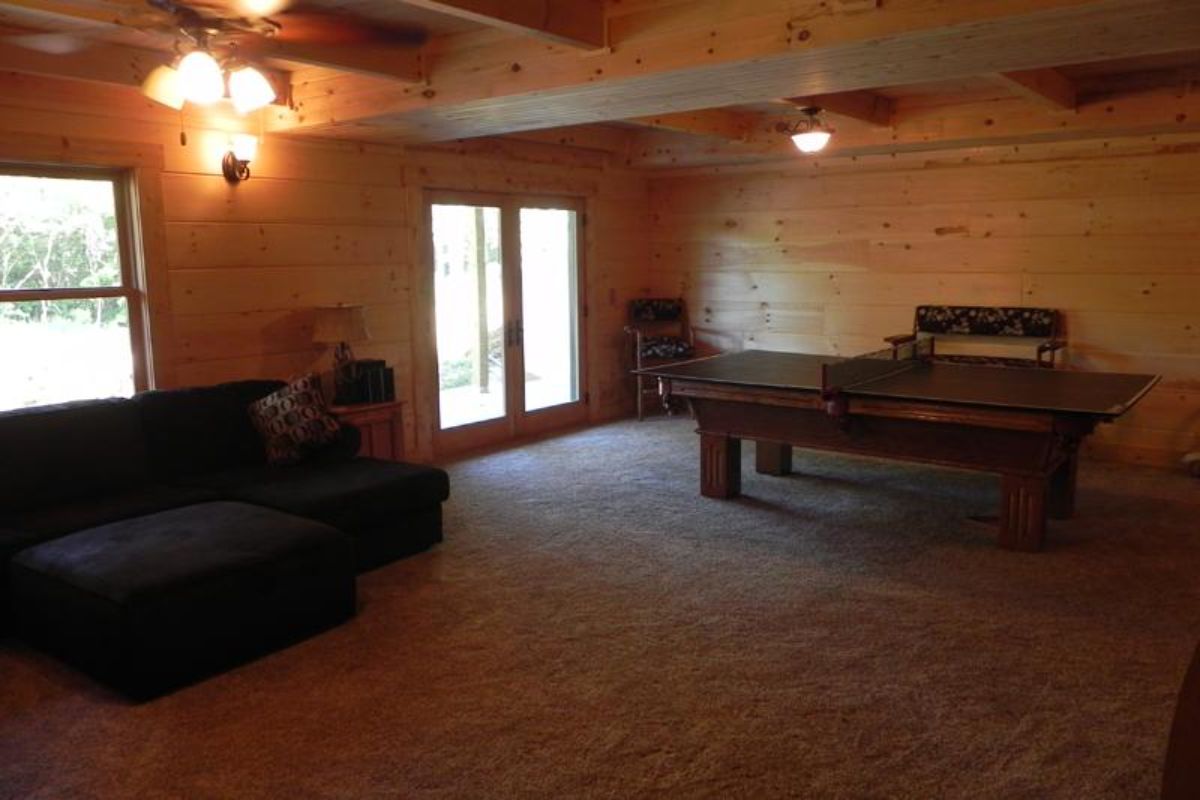 For more information about this log home, check out the Country Mark Log Homes website. You can also follow them on Facebook and YouTube for their latest updates. Make sure that you let them know that Log Cabin Connection sent you there.
More Log Cabin Kits and Tours