Is it a tiny house or a cabin? How about both? I love that Rockerville has created a cute little destination that features lodges as well as these tiny cabins. Each space has something to offer and is ideal for the simple comforts of home while being on vacation.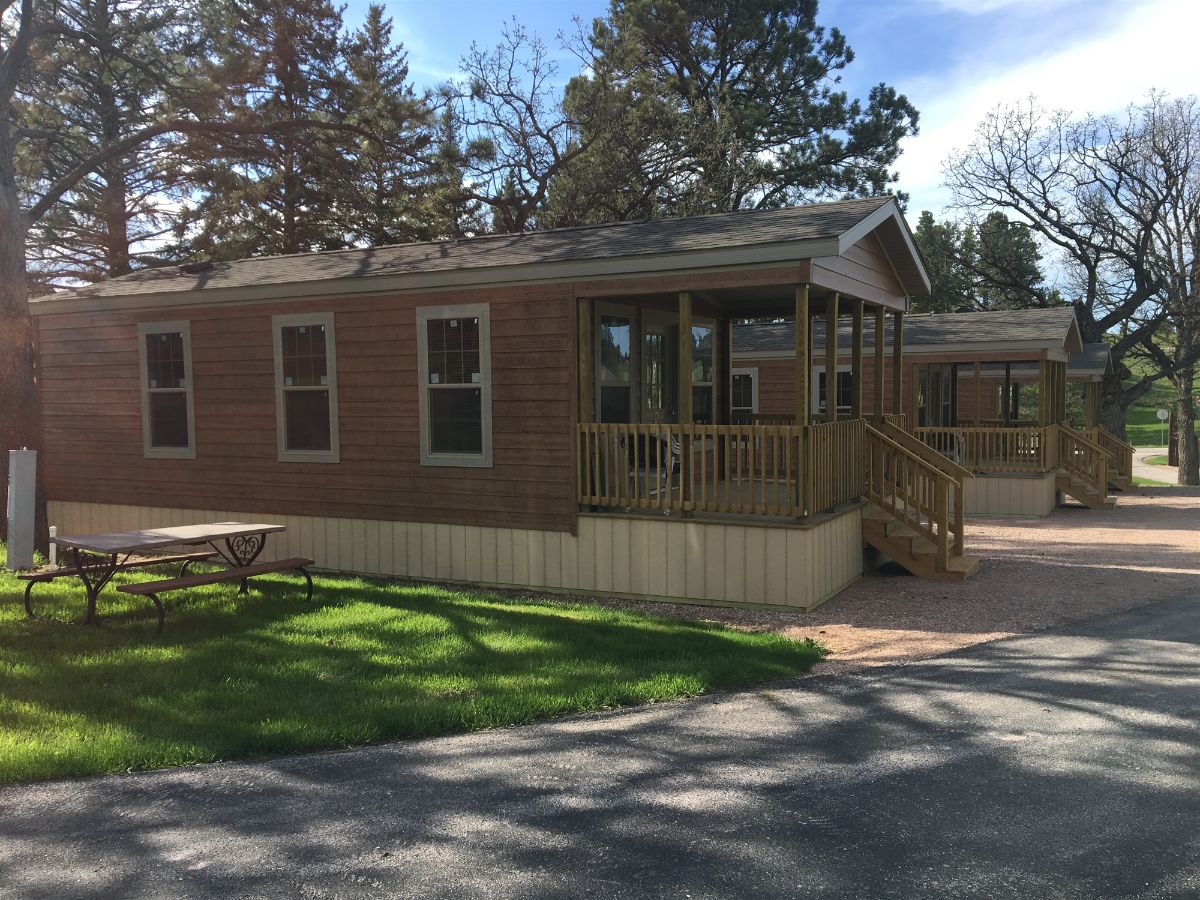 Rental Cabin Price:
This cabin is $149 per night on average. Other cabins range from $125 to $199 per night depending upon their location, size, and how many they sleep.
Cabin Size:
2 bedrooms
1 bathroom
Sleeps 4 to 6
The home has 2 bedrooms. One includes a queen-sized bed. The second bedroom has a bunk bed with a full-sized mattress on the bottom and a twin size on the top. Additionally, in the living room area, as shown below, there is a full-sized futon. While you can technically fit up to 6 people here, the two full-sized beds are best for children rather than adults, so a group of 4 adults could be comfortable, or 2 adults and 2 to 4 children.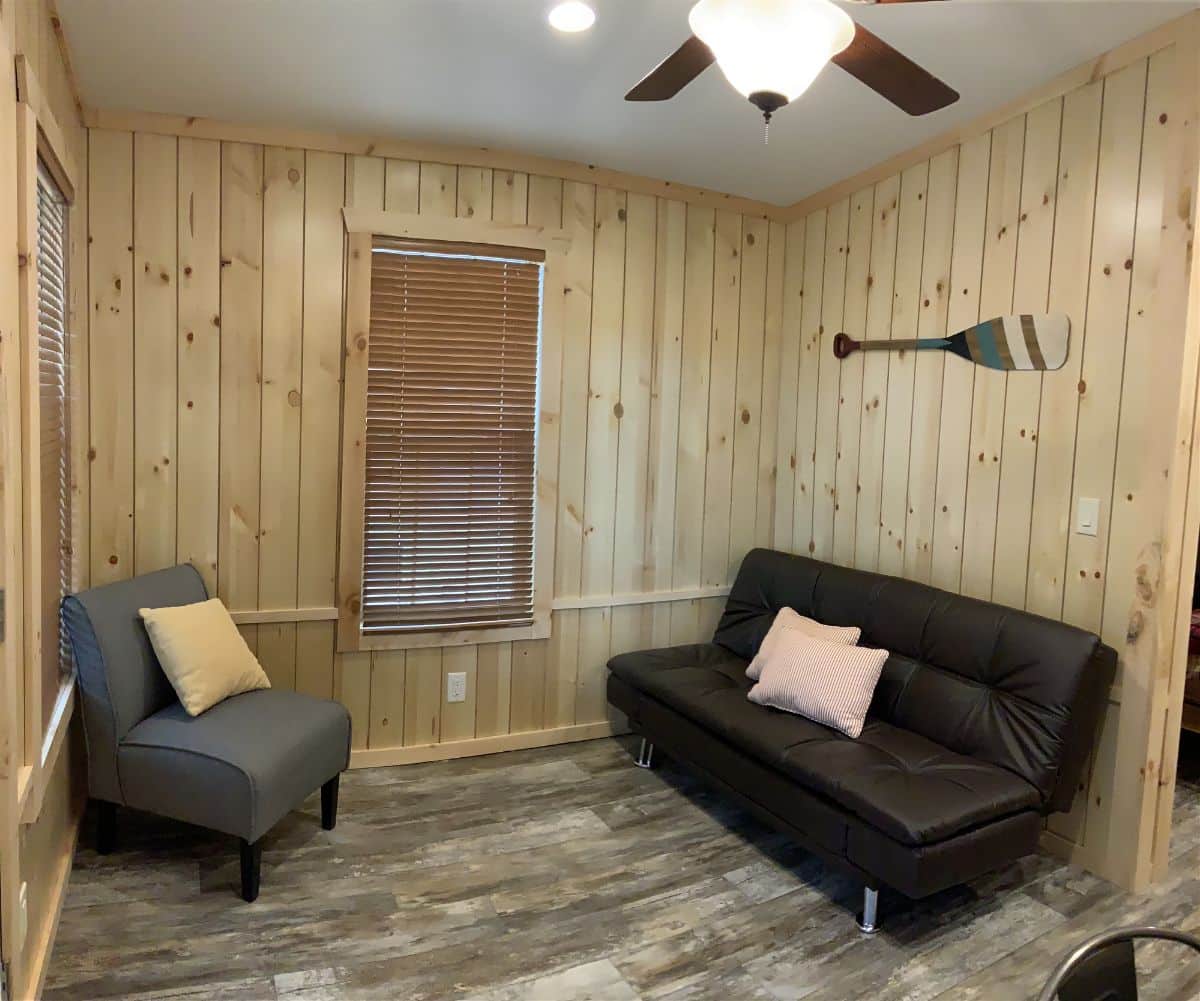 Cabin Features and Amenities
This relaxing vacation destination is the ideal combination of a tiny house and a cabin. The smaller floor plan is perfect for those trips where your activities outside the home are the priority and you simply need a comfortable place to sleep at night.
This cabin is comfortable and modern with a kitchen, full bathroom, private bedrooms, and a small living area. It's not the space you want if you plan to stay in during your whole stay, but it is ideal for those who have a lot of activities planned but want a few comforts and the option to relax and stay in if desired.
Below are the amenities you will find at this home:
Free wi-fi internet available.
Satellite television with a flat-screen TV for entertainment.
The bathroom includes free toiletries and a hairdryer.
Climate control with both heat and air conditioning.
Exterior BBQ grill on deck at the main lodge as well as a campfire ring in the open common areas.
This home includes a small kitchenette space with a full-sized refrigerator, microwave, sink, and 2 burner cooktop. It isn't overly large but has what is needed for basic meals.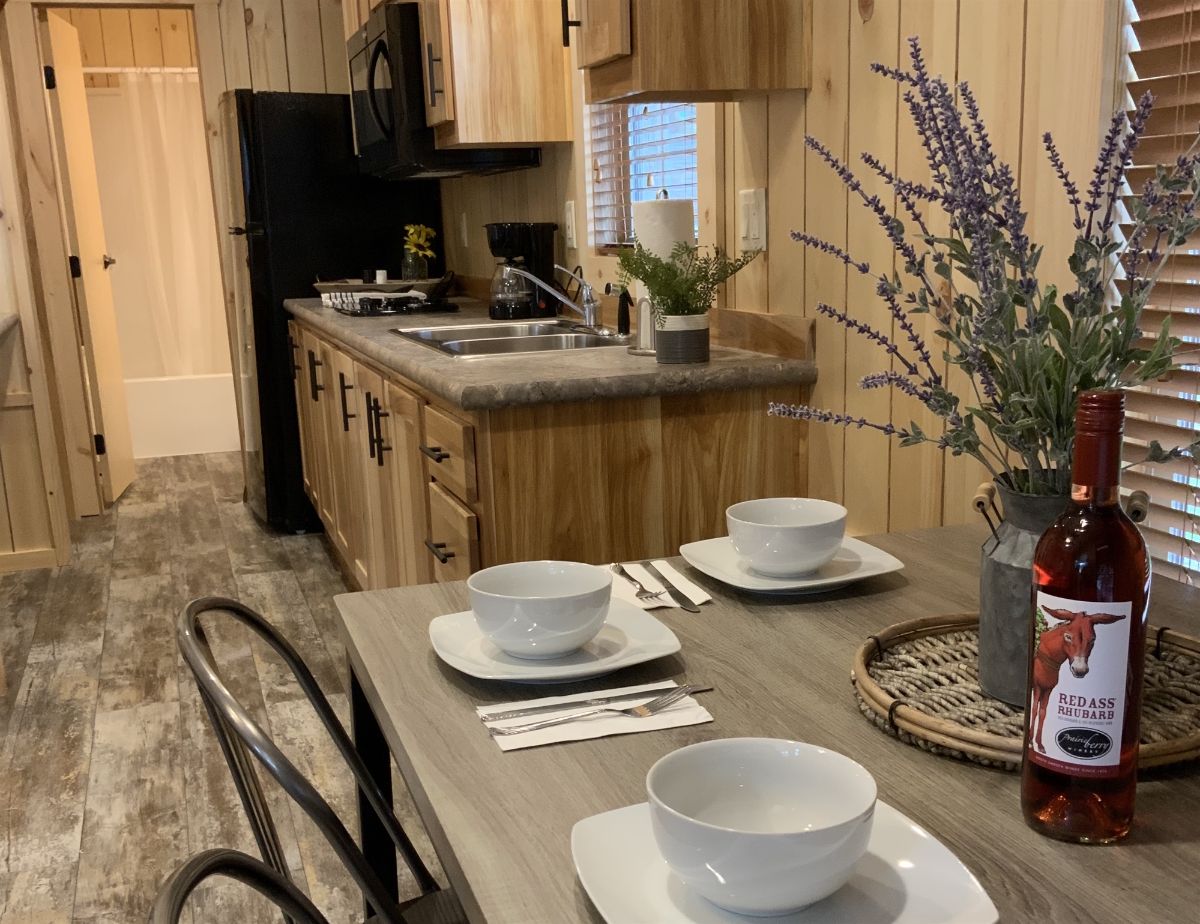 The cabin includes two bedrooms for your convenience and privacy. They are small with just enough room to hold a bed and nightstands, but still, give you the extra space to relax and get away for a few minutes of privacy when needed.
An upgrade over a hotel room, this gives parents and kids both a room with a door so they are together, but separate. This is a popular option for small families. Of course, the price is right but the cabin experience is also a bonus at this location.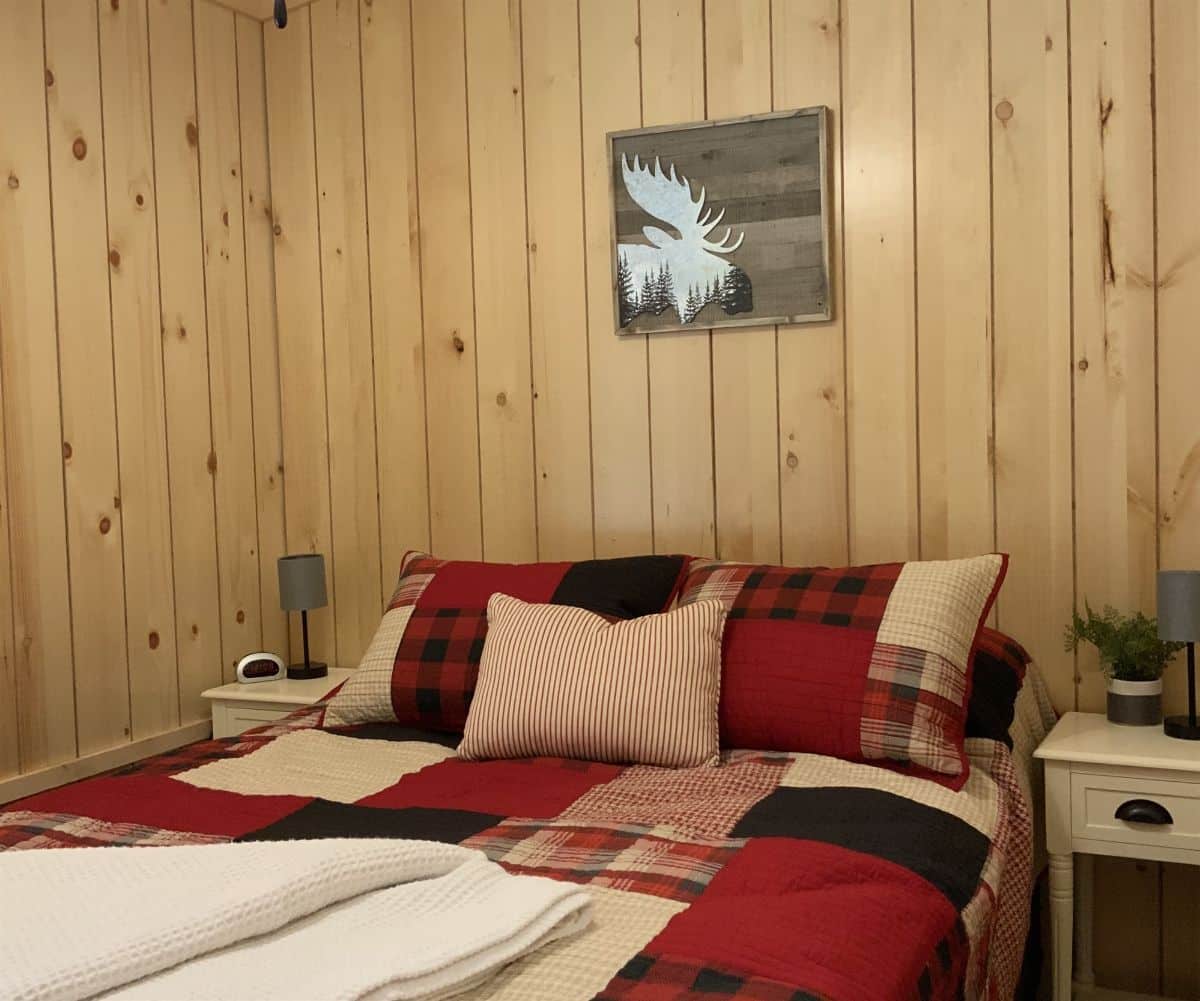 The second bedroom includes a built-in set of bunk beds. This room is a bit smaller but has a nightstand and the two different sizes of beds make it ideal for kids.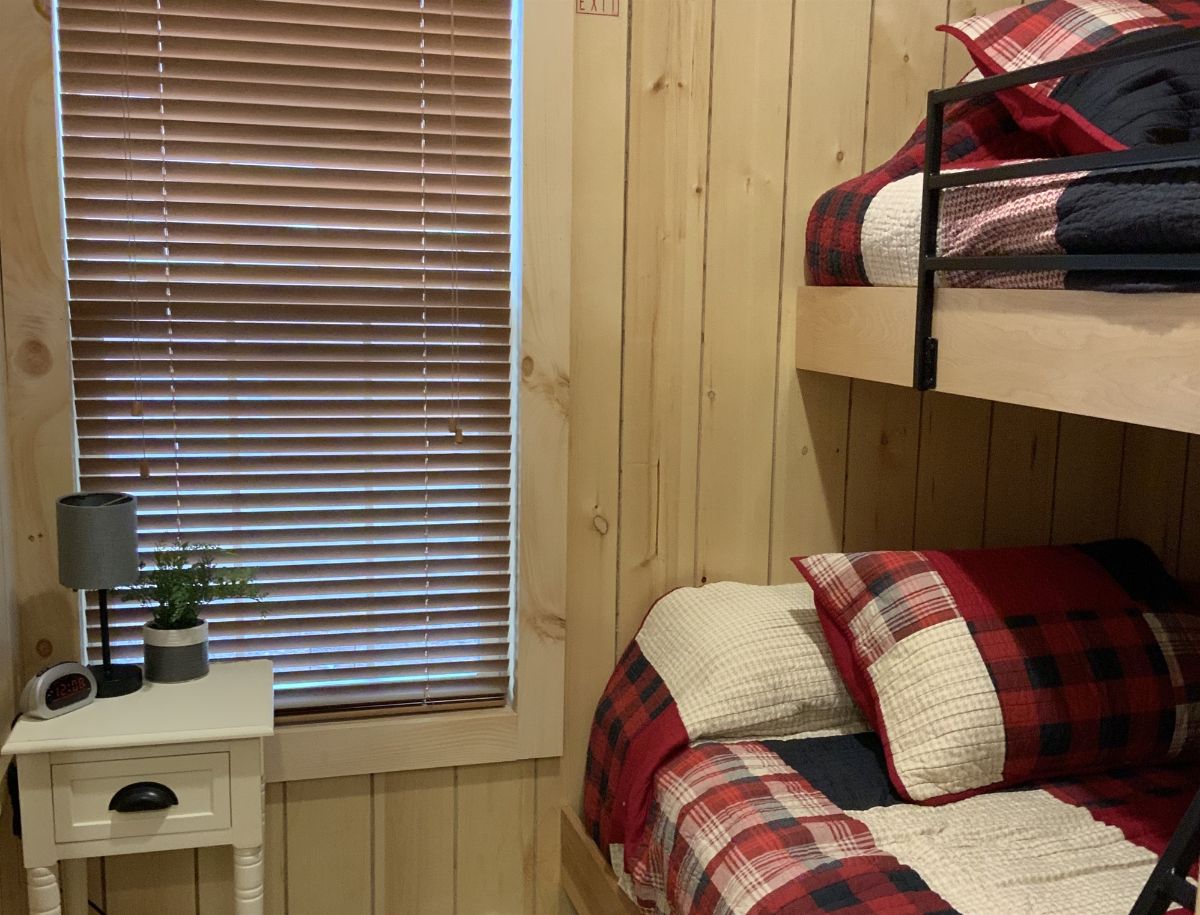 To book your stay, check out the Rockerville Lodge and Cabins website. You can also follow them on Facebook for updates on their latest cabin builds and rental availabilities. Make sure that you let them know that Log Cabin Connection sent you their way.
More Log Cabin Kits and Tours