If you want a perfect combination of modern with classic log cabin style, the Rock Creek is a great model. This family home has an attached 2-car garage and stunning covered porches and patios to hold all of your picnics and family gatherings.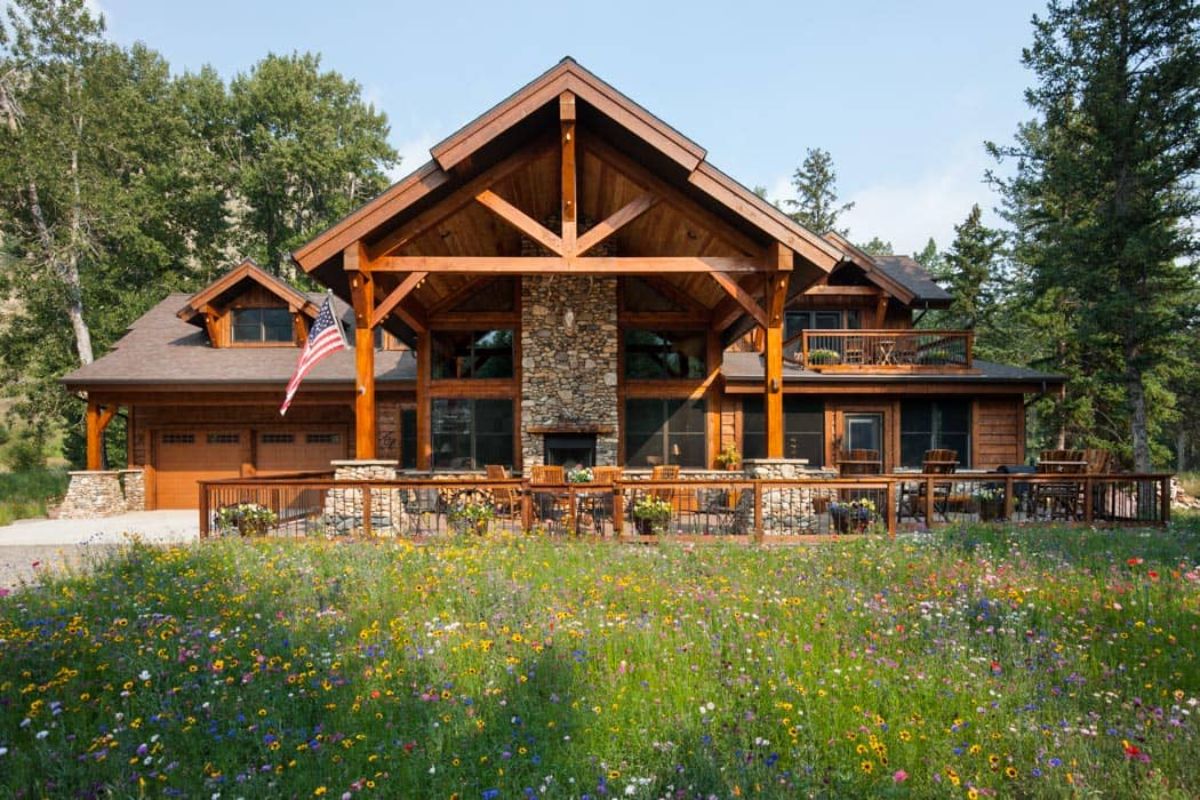 Log Cabin Size
A stunning view out back is just part of the appeal of Rock Creek. Tons of beautiful flowers, mountains, and truly breathtaking vista views make it the ideal destination to get away from the world.
The open deck has an awning above for protection from the weather but has plenty of space for chairs around the fireplace, a small bistro set, and even on the far open end, a smoker for preparing your favorite summer smoked meats.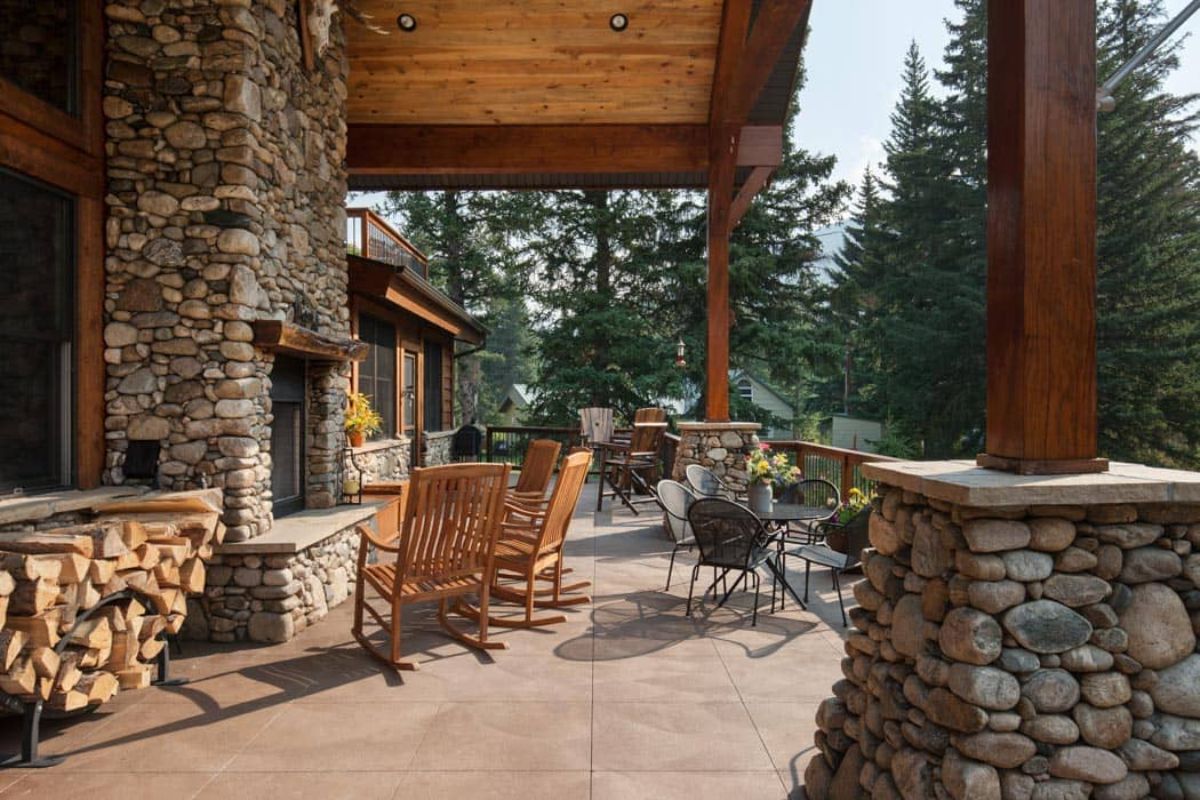 While you usually find a home with porches on the back, this one is unique in that the best views are off the front of the home.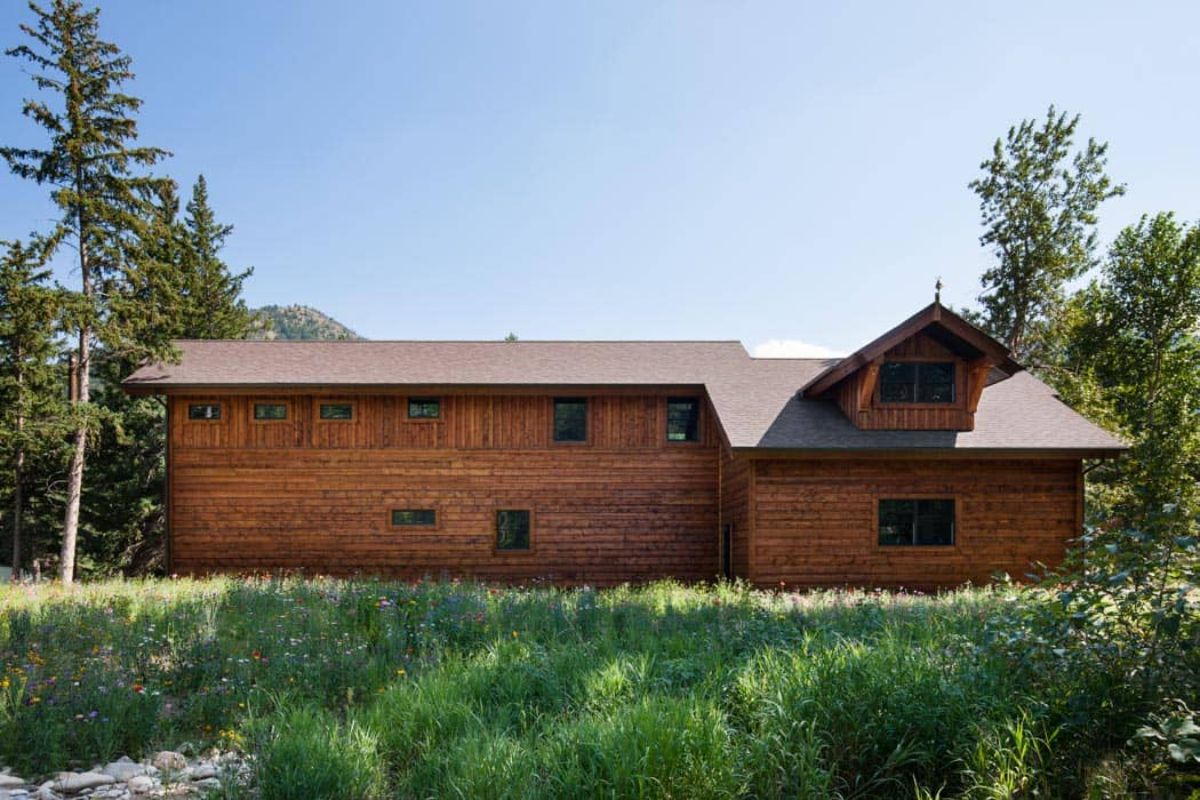 Just check out this gorgeous look! It really lights up after dark and has a lovely space for relaxing to stargaze out in the field of wildflowers.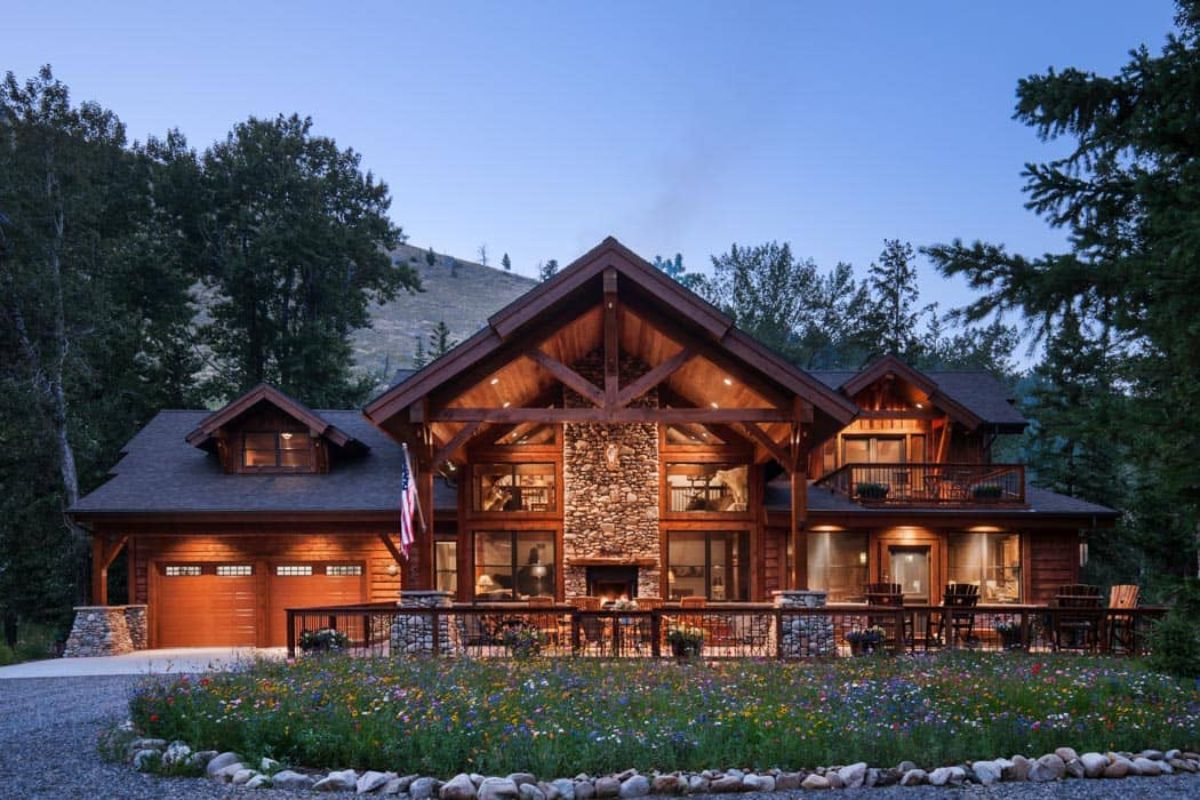 I can just imagine relaxing here with a cup of coffee in the morning or a favorite nightcap on the master bedroom balcony to stargaze in the evenings.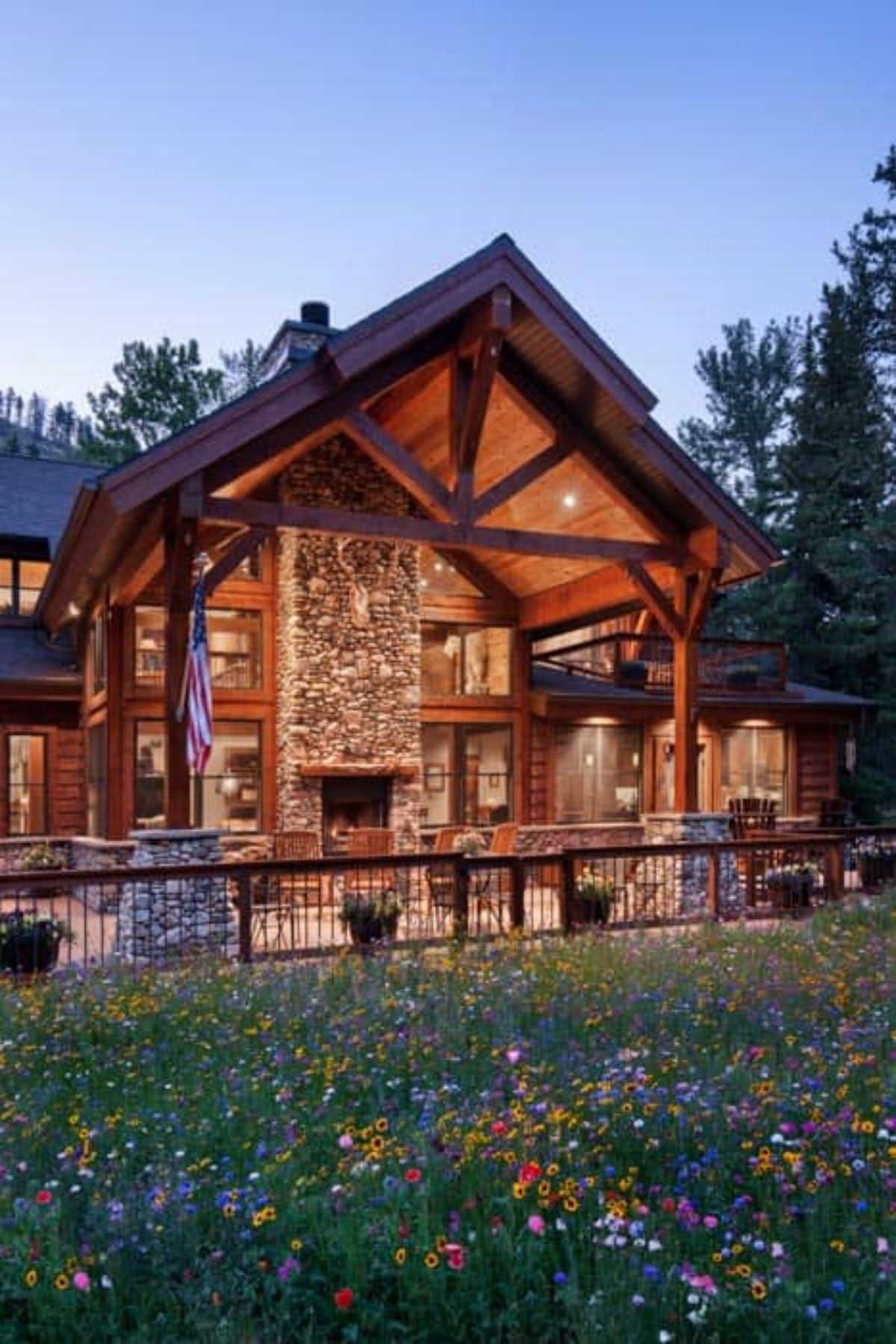 Inside the home, the living space is open and welcoming with a large fireplace in the living room, a sizable dining space, and the kitchen in the background. Everything flows together beautifuly for entertaining but is far enough apart that you can still have those private conversations.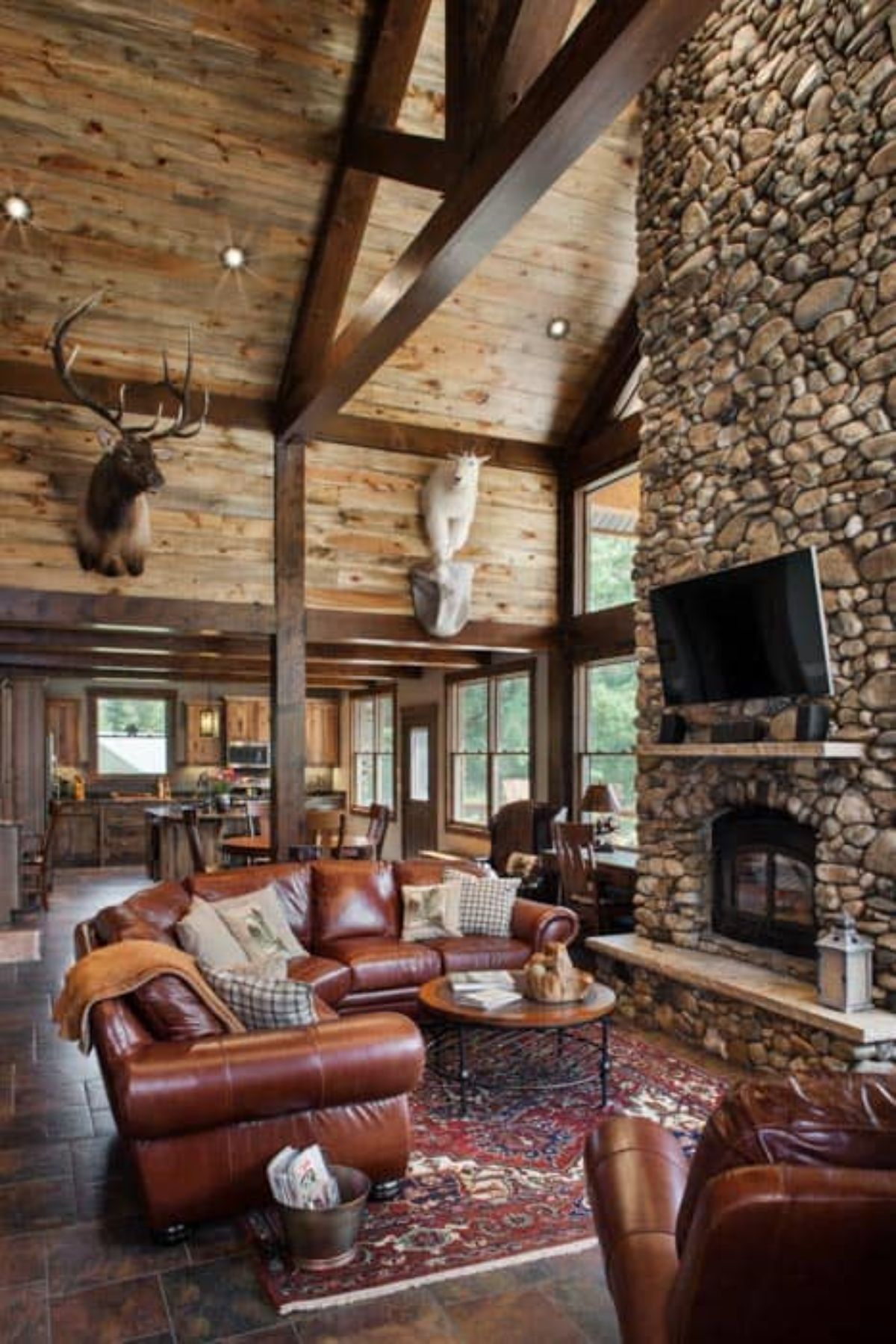 Behind this area, the living room has a gorgeous built-in rustic bookcase that sits just below the loft space. An open area that overlooks the home and creates a feeling of home and welcome.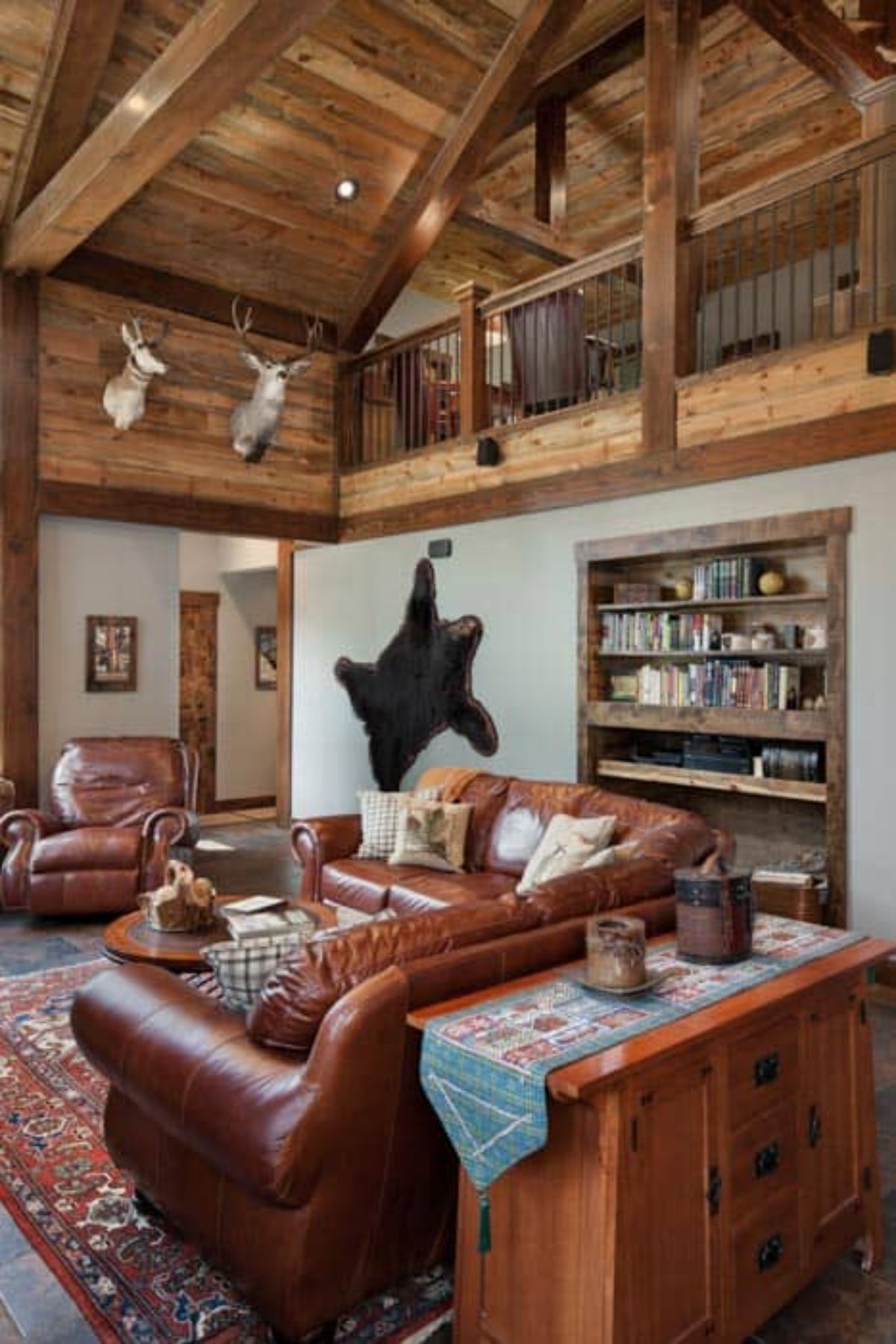 The way that the kitchen and dining room flow into each other is a personal favorite. Benches below the winow add additional seating when the table is pulled out and expanded.
This, along with the gorgeous wood cabinets and shelves around the space, makes it a perfect area for family meals. And the bar in the kitchen island is angled so there is extra seating on one side.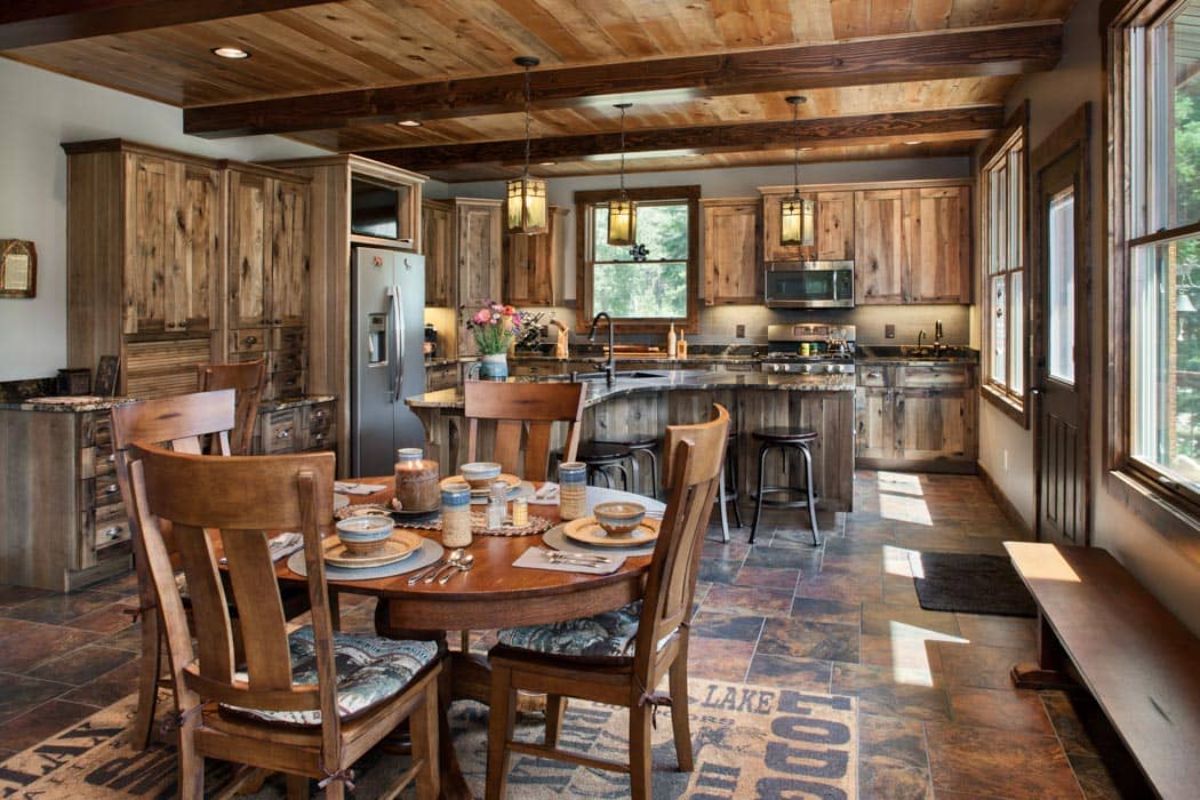 There is even a coat room and storage space just round the corner. I love the Dutch door in this room! So rustic and unique. Plus tons of hangers and cubbies so every kid has their own place to hang their jacket and put their gloves and hats.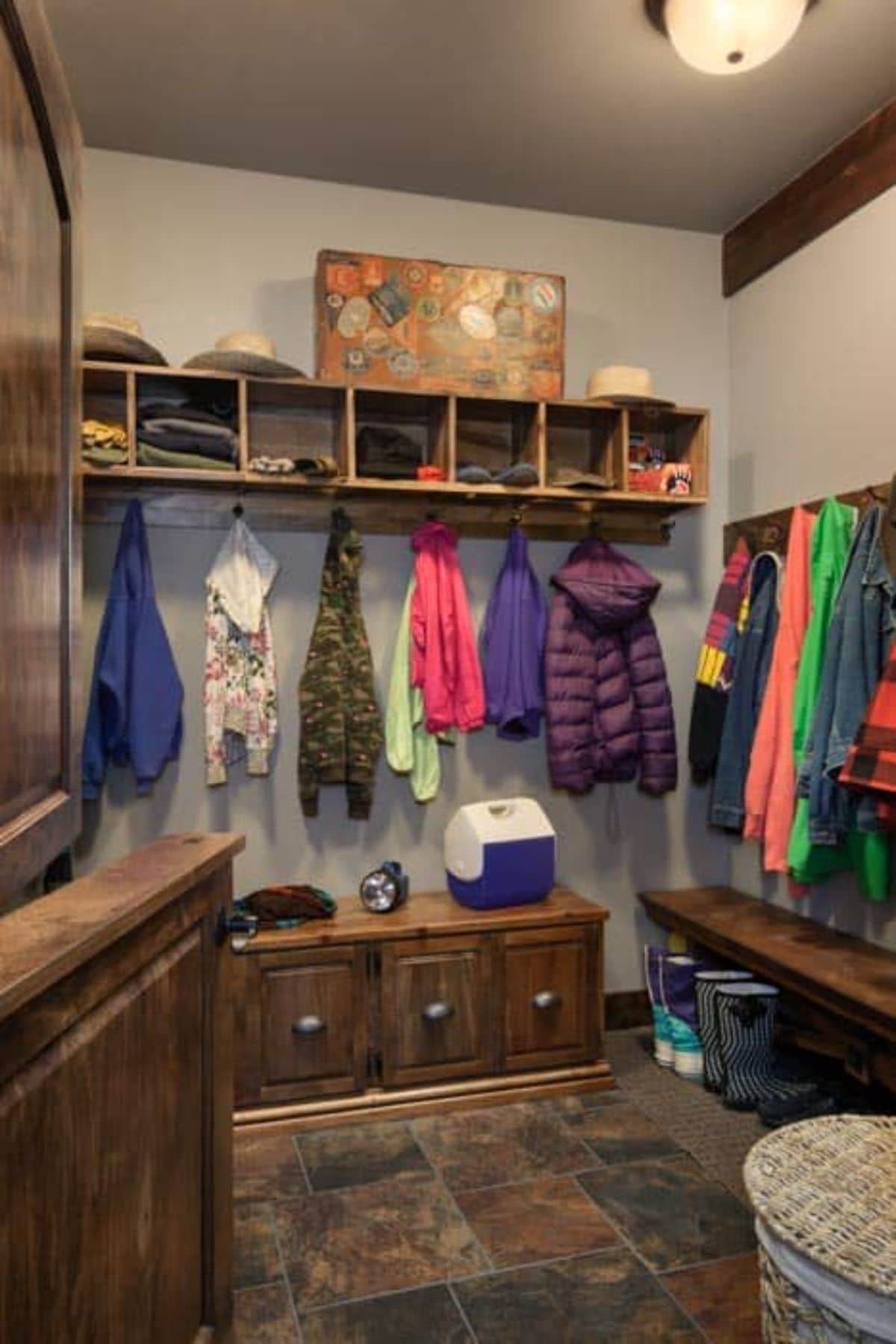 Upstairs, the kid's guest room has bunk beds, a private sofa, a small table for games. Plus tons of extra additions for entertaining the kids with an open floor space ideal for playtime and sprawling out on the floor with a book.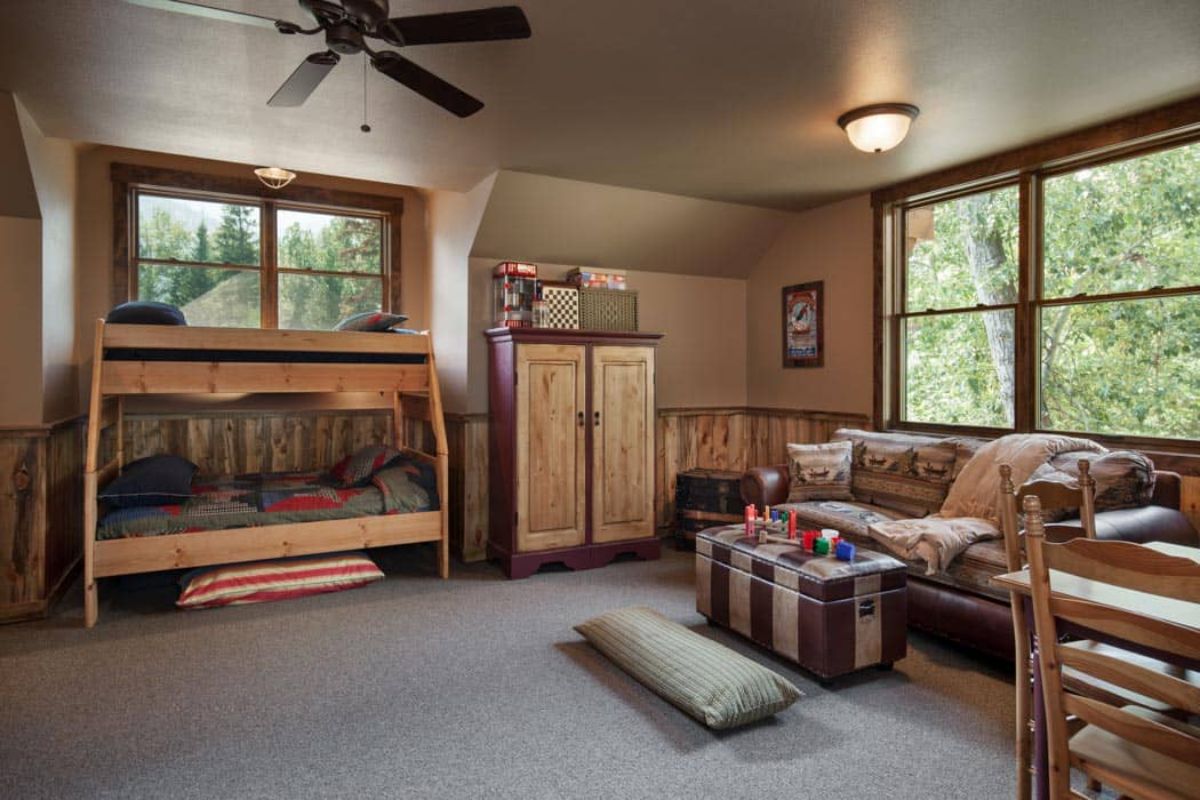 In the open loft space, there are sofas and chairs but also a television and a private bar upstairs. This is a great little area to relax, but I think it's ideal for teenagers to set up as a gaming space with their friends! That mini fridge is perfect for a few of their favorite sodas, juices, and some water.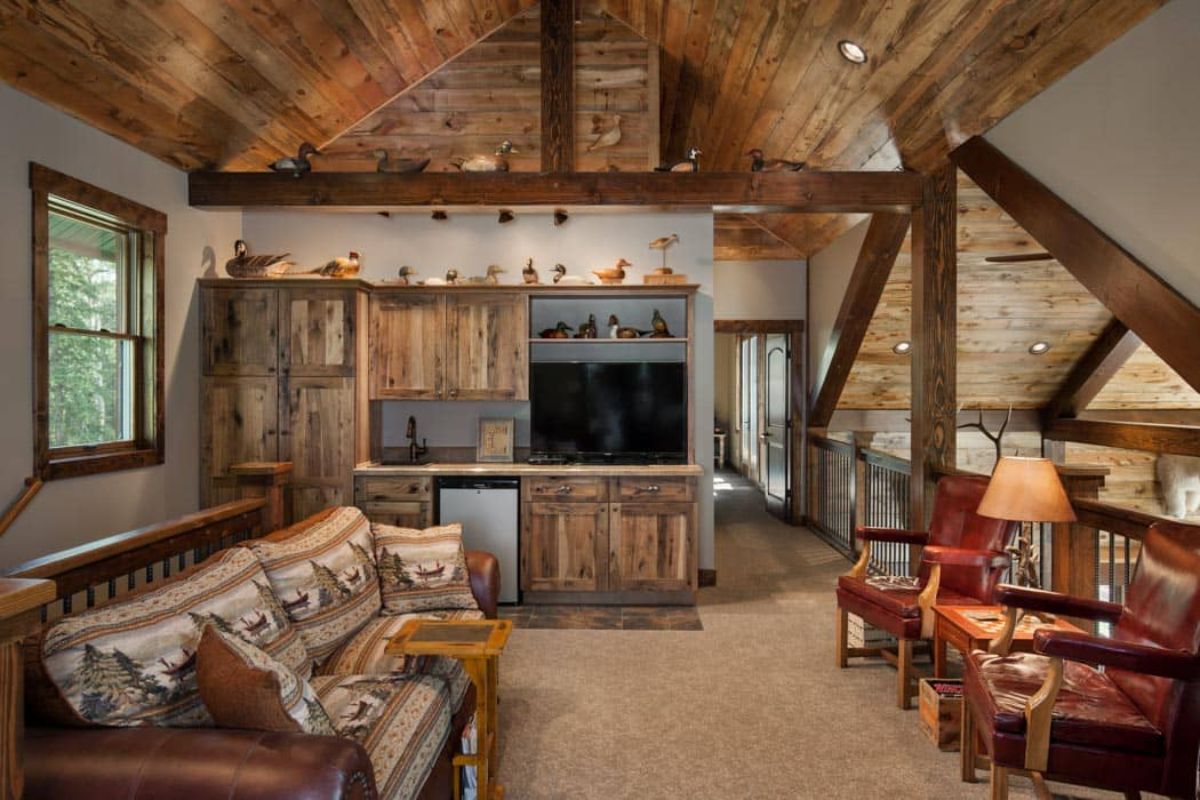 Bedrooms are nice and large, but one of my favorite things is these barn doors that cover the doorways and closets. Reclaimed wood is just a stunning addition that really pulls from the rustic style you love.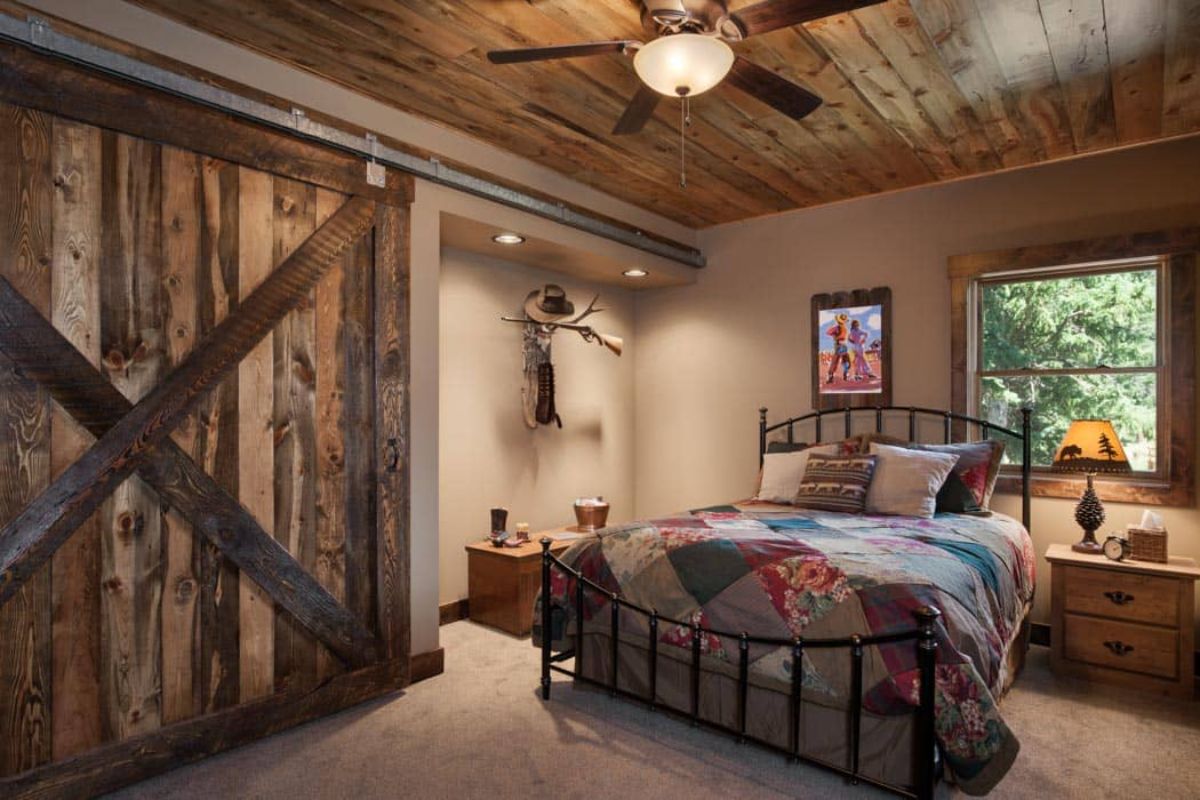 In this room, you have this reclaimed wood door along with some bunks that easily fold up behind that for use when needed. What a great way to have extra sleeping space for your kids and guests!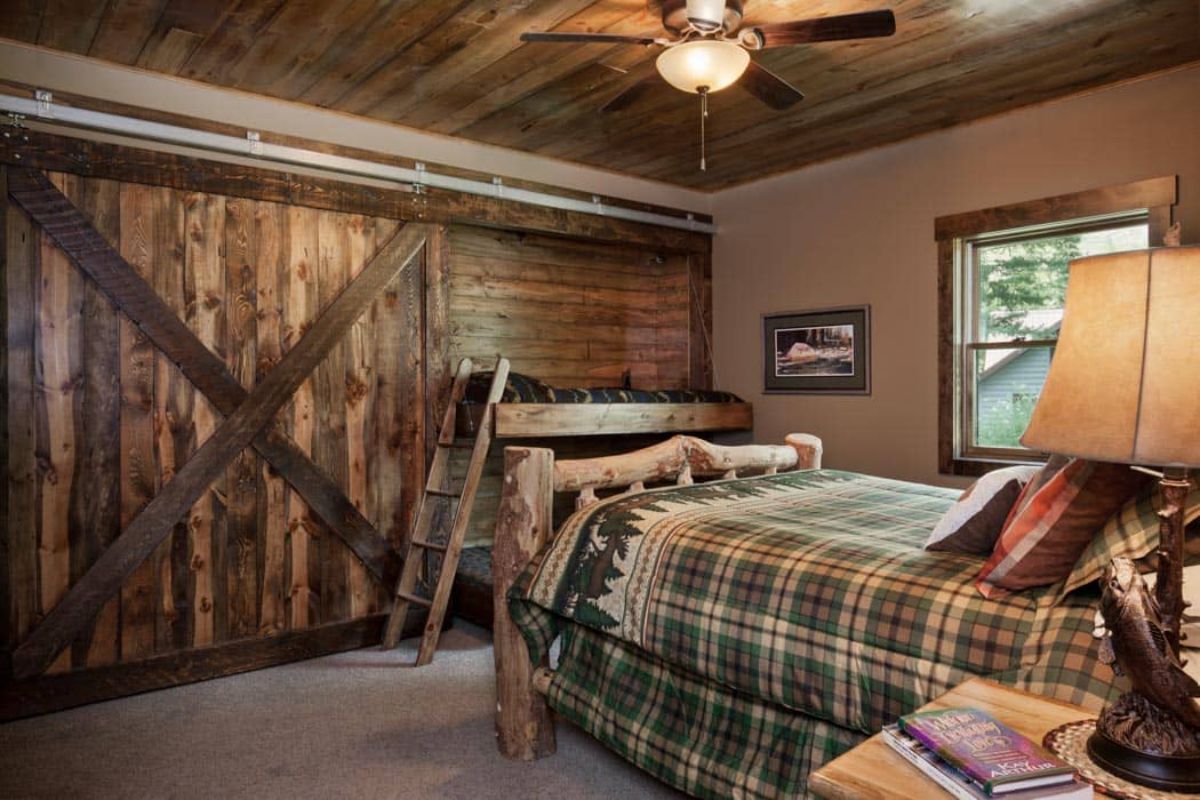 Of course, the master bedroom is my favorite. It has the tall ceilings above a rustic wood bed frame, and a loveseat at the end of the bed is ideal for relaxing after a long day and watching the view outside the wall of windows in front.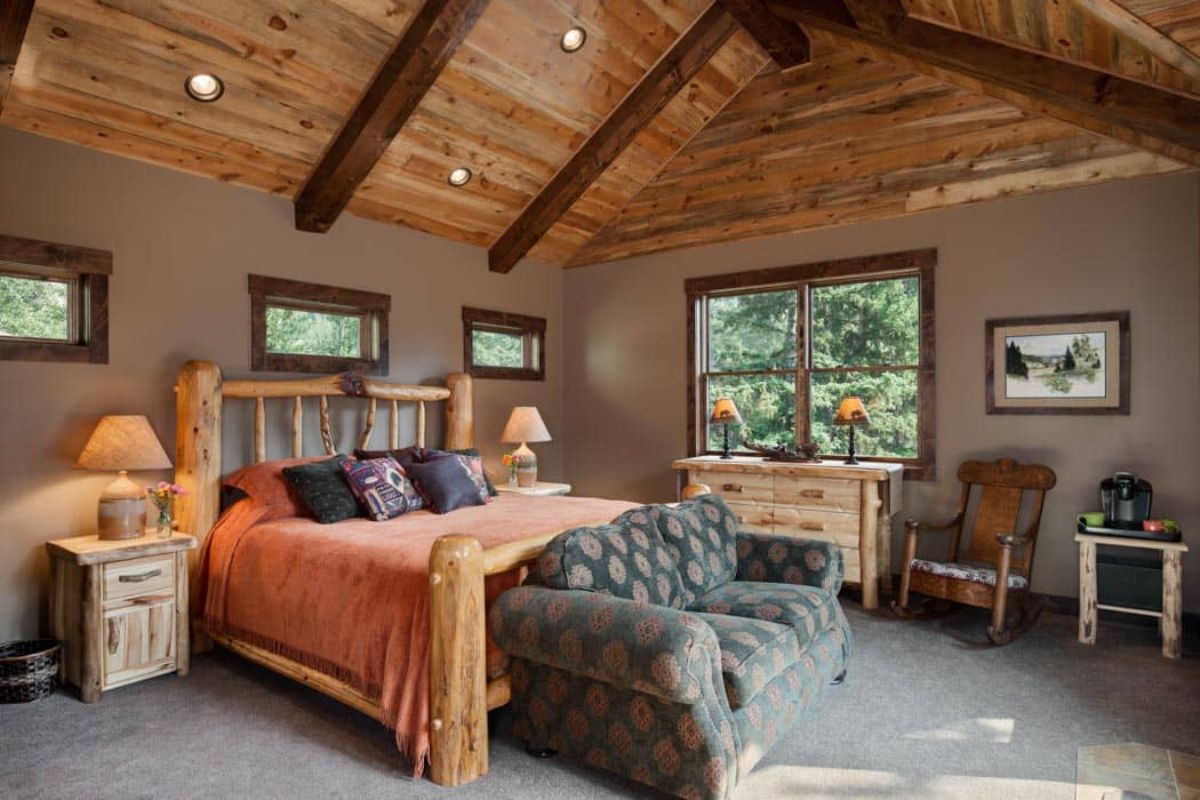 The balcony is stunning and a perfect place to relax for a romantic evening of star gazing!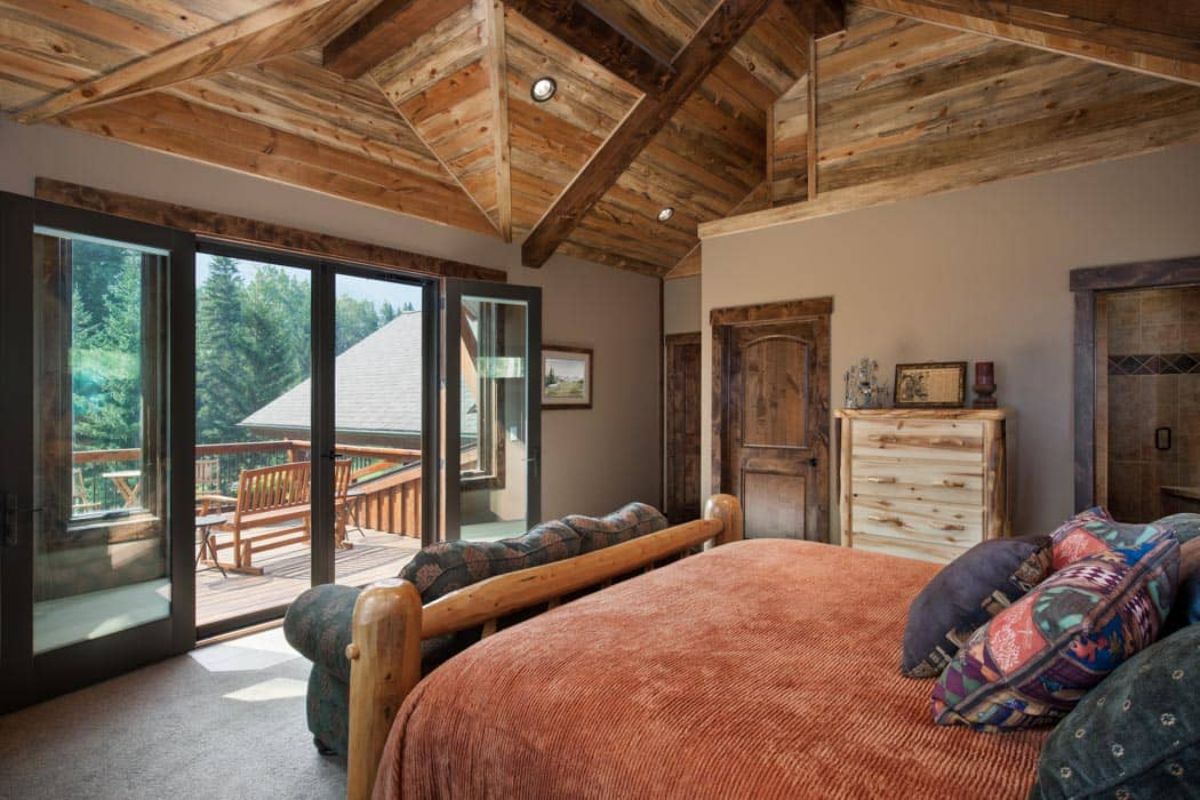 The master bathroom of course, is a great addition to the home with beautiful spaces for storage, a tiled shower, and tons of wood accents all around the space.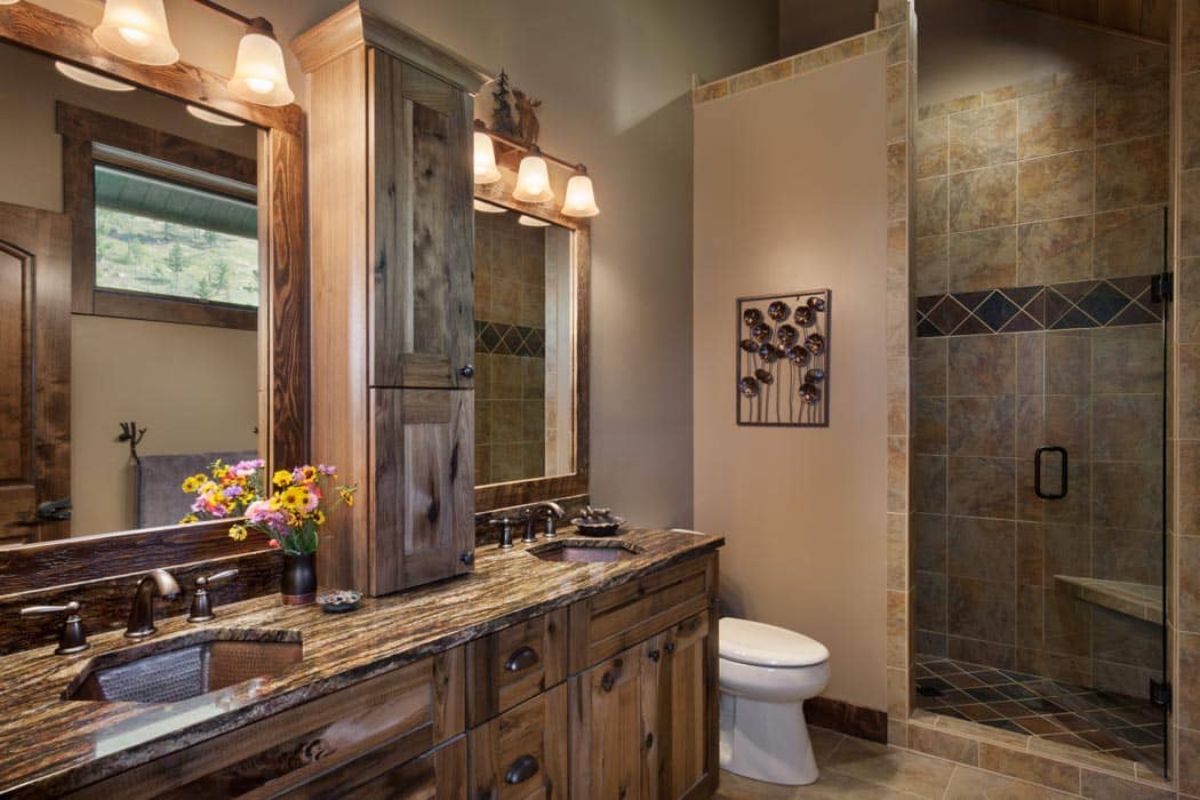 For more information about this beautiful log cabin build, check out the Precision Craft Log & Timber Homes website. You can also find them on Facebook and Instagram for regular updates of their latest builds. Make sure that you let them know that Log Cabin Connection sent you their way.
More Log Cabin Kits and Tours