Riverside and luxury create the stunning log home that has all of the features you expect from an upscale build while retaining much of the classic beauty and style of a cabin build. If you like rustic but want a bit of luxury, this home is the perfect oasis for you and your family.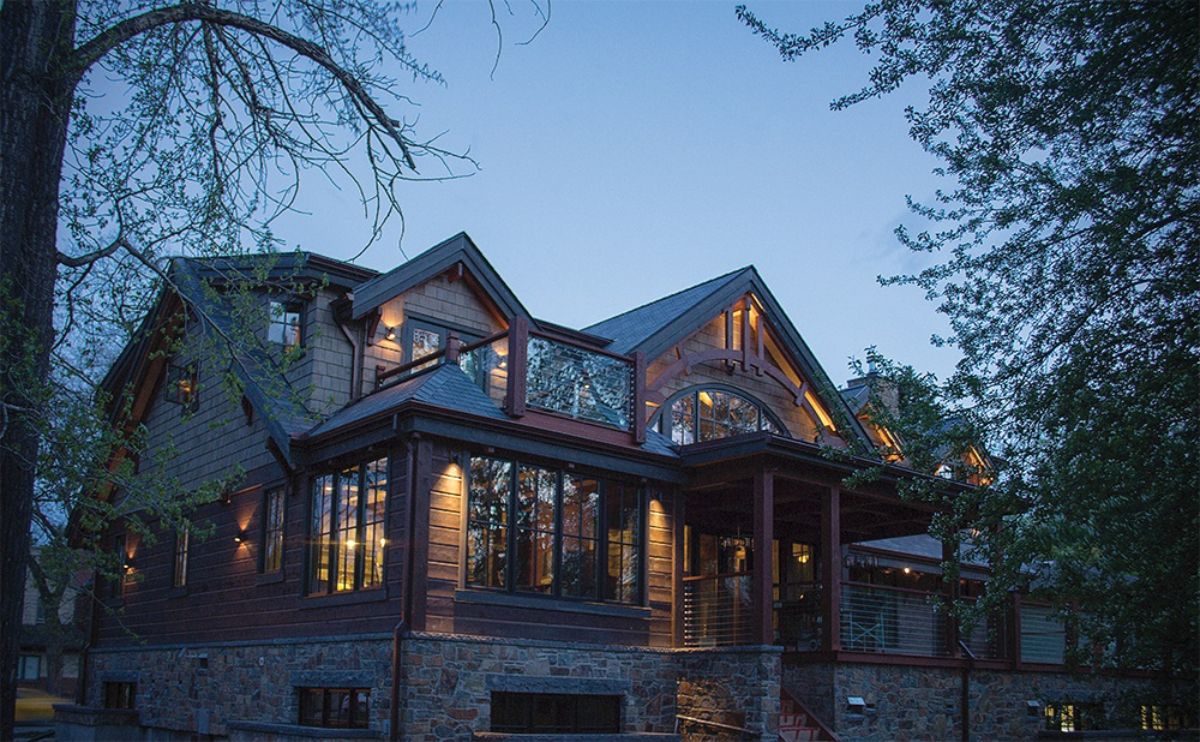 This log cabin is built on the Elbow River just outside of Calgary. A lovely build that includes all of the trendy rustic looks of recent days alongside modern furniture and a stunning Douglas fir timber frame base.
Log Cabin Features
A dark-finished Douglas Fir timber frame
Iron turn-buckle and tie-rod timber frame hardware
Light finished tongue and groove ceiling decking
Native Canadian carved doors
Rustic charm and warmth with modern amenities
Rustic wood wall paneling
Totem pole feature on the staircase landing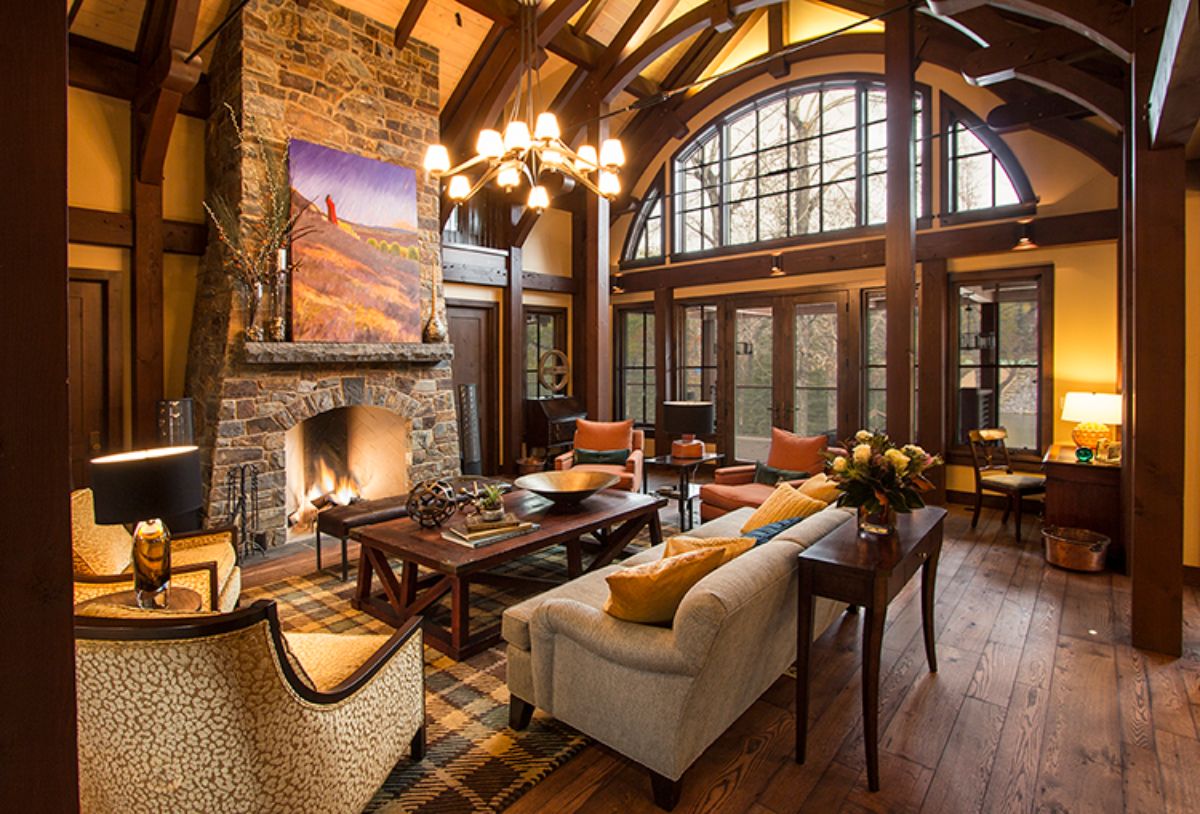 The main floor living space is one of my personal favorites. It creatively combines the formal living area with comfort and rustic style. A fireplace brings warmth to the space, but the French doors and stunning archway of windows on the side lead out to stunning views of the river and surrounding landscape.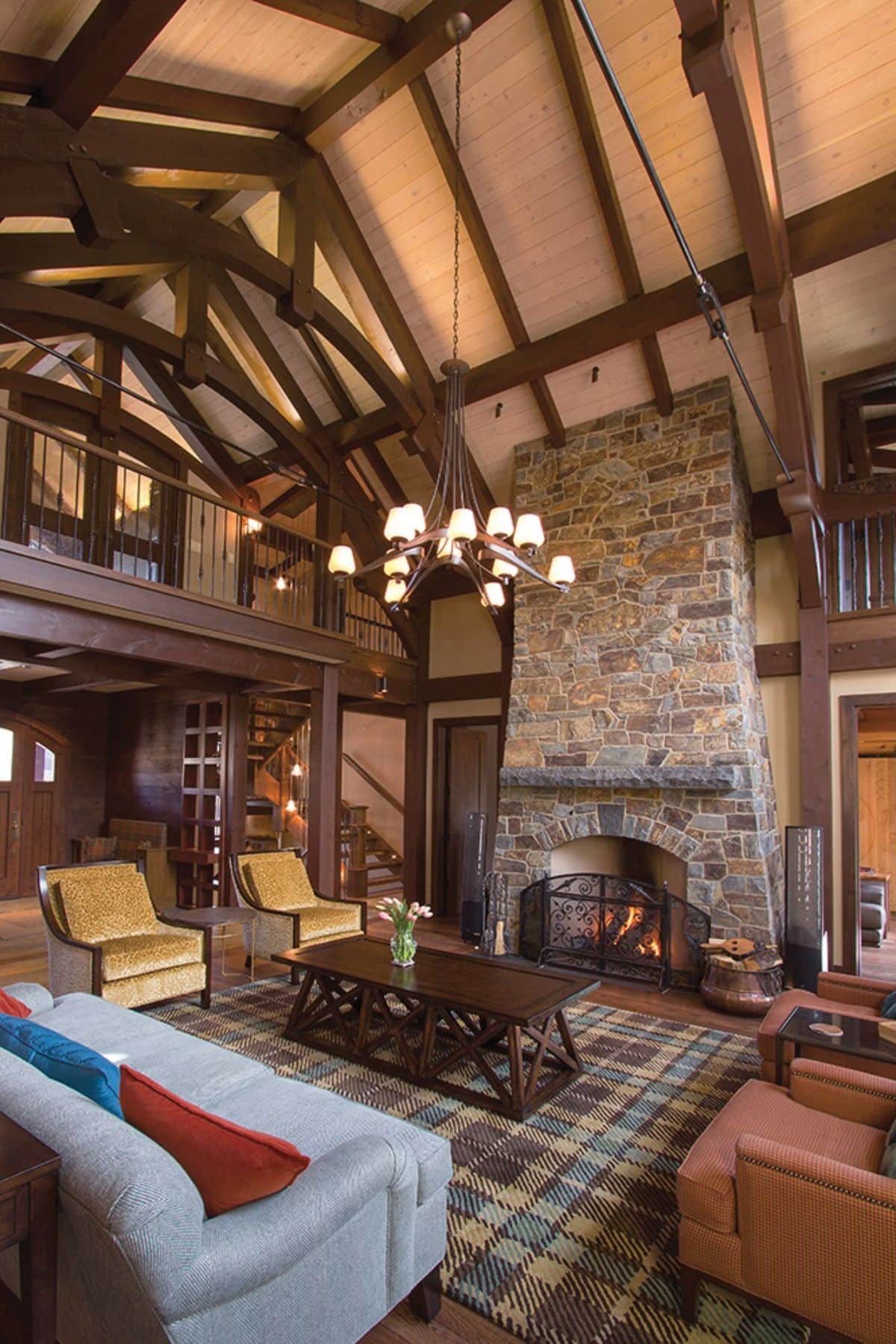 One of my favorite pieces of this home is actually tucked away in the corner of the stairwell leading to the upper level of the home. A custom-carved totem pole here was added to pay homage to the Canadian culture of the owners.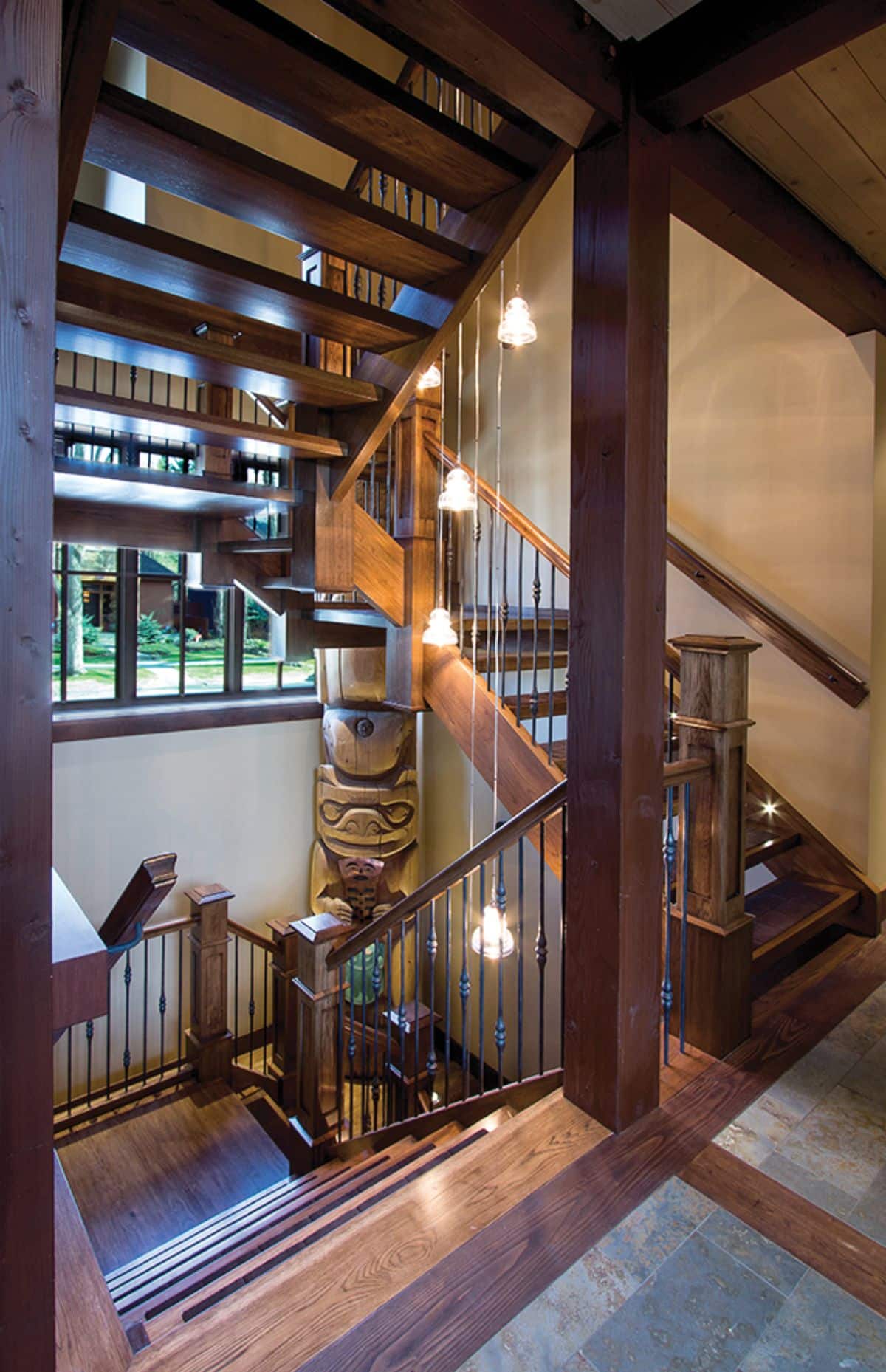 This view from the loft landing is absolutely breathtaking. I love that you can see down into the home, but mostly that view outside of the river below.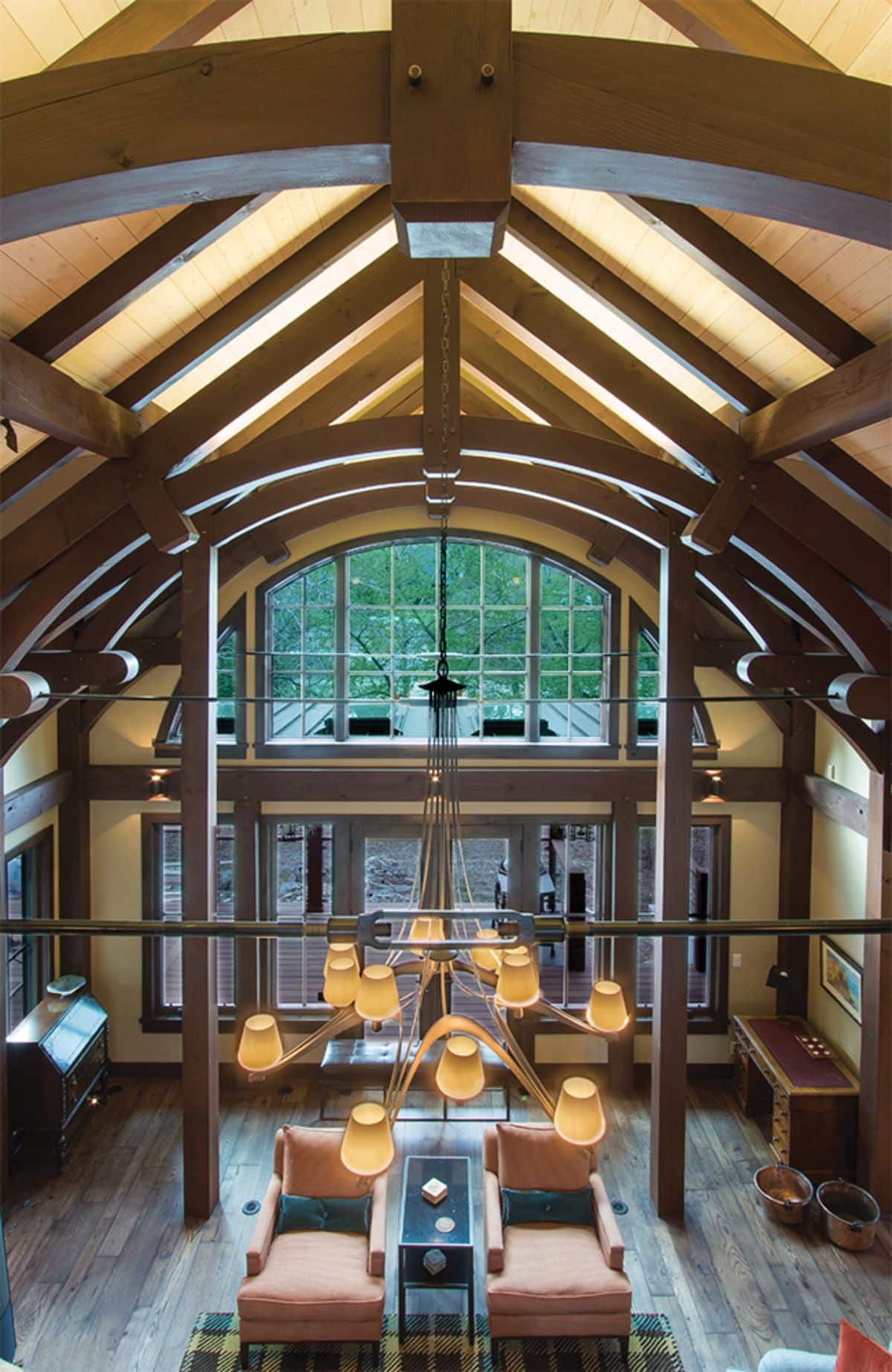 From this view below you can see right into the kitchen space. That uniquely curved bar top is a personal favorite in the area because it serves its purpose with a hint of something extra.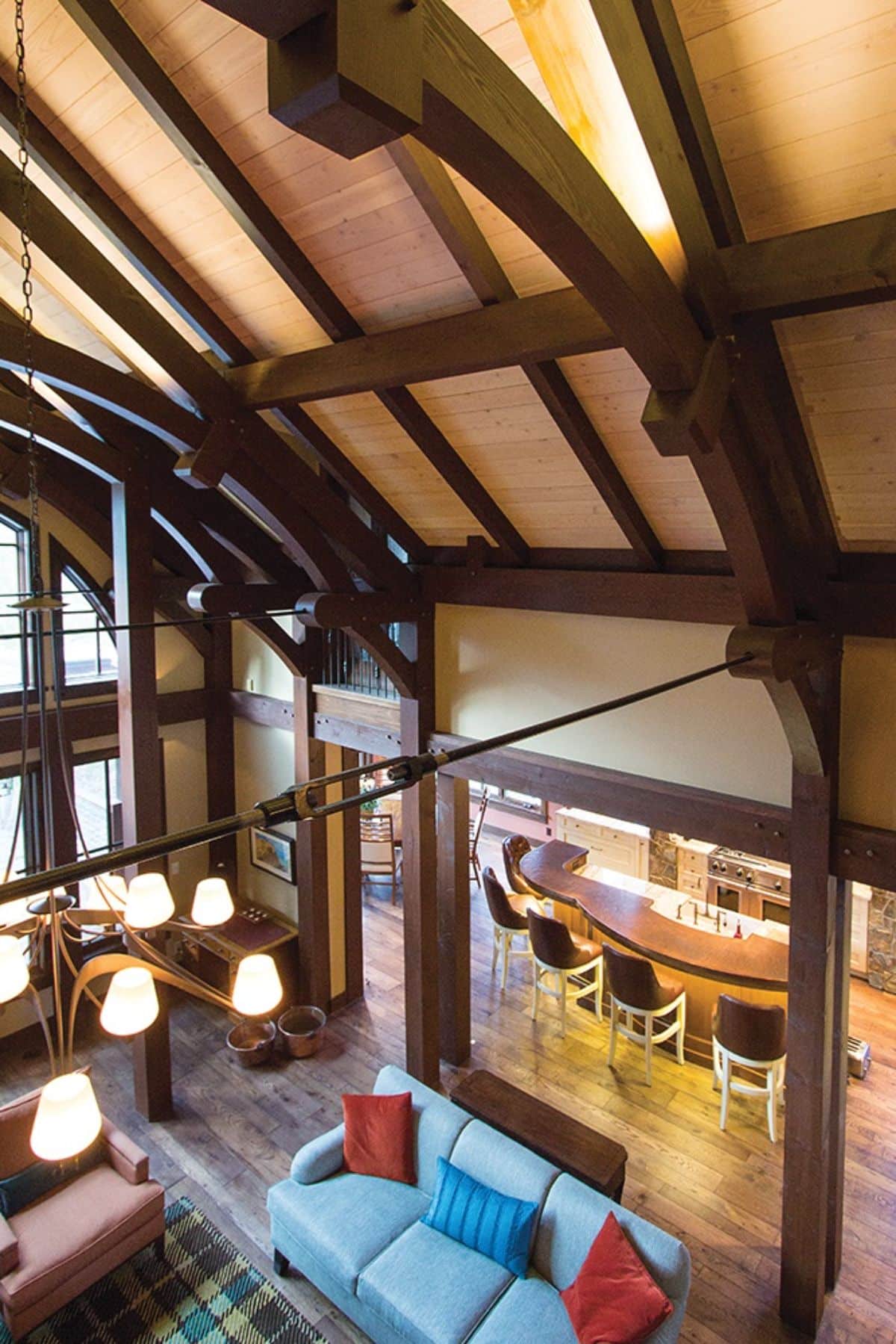 The kitchen in this home is a long space with a combination of white cabinets, light marble countertops, tile, and stonework. It has a little of something for everyone, with tons of storage space and a large 6-burner gas stove along with two ovens.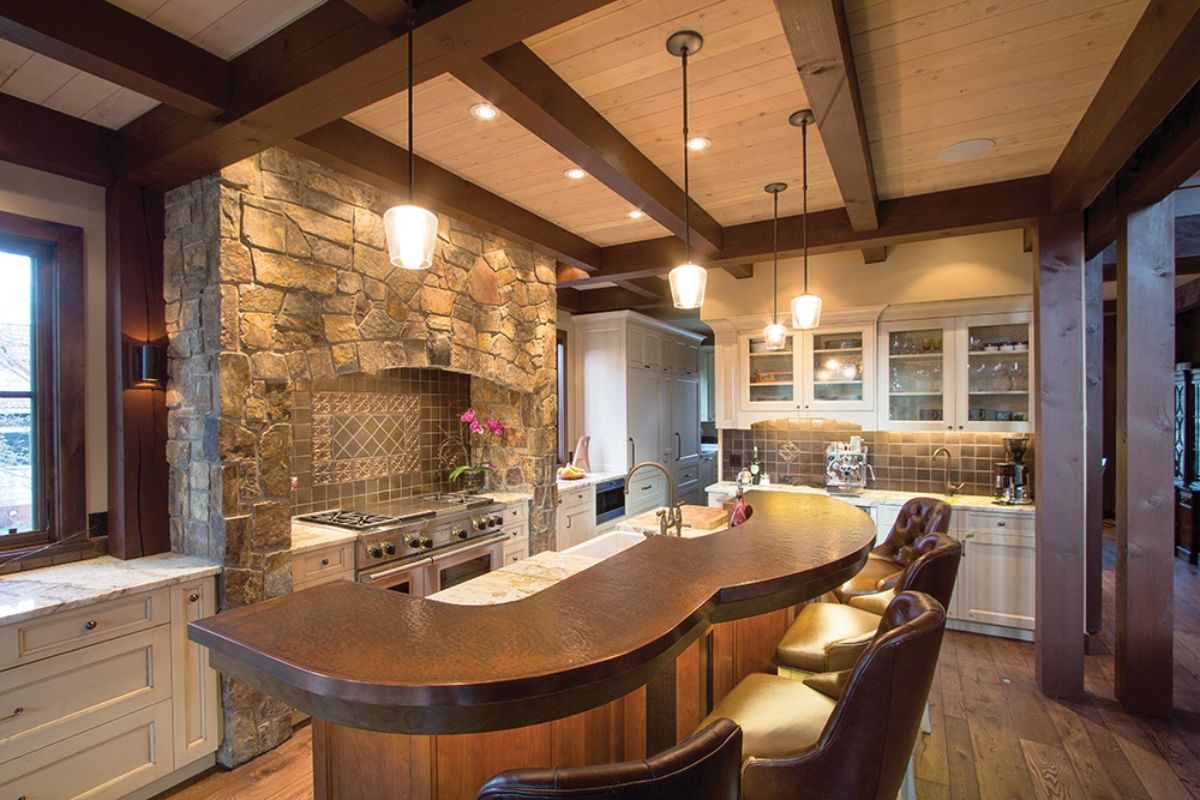 Just to the side of the kitchen is the informal breakfast nook or dining space. A small table and chairs here is the perfect location for family meals, and you have easy access to the deck outside through a side door.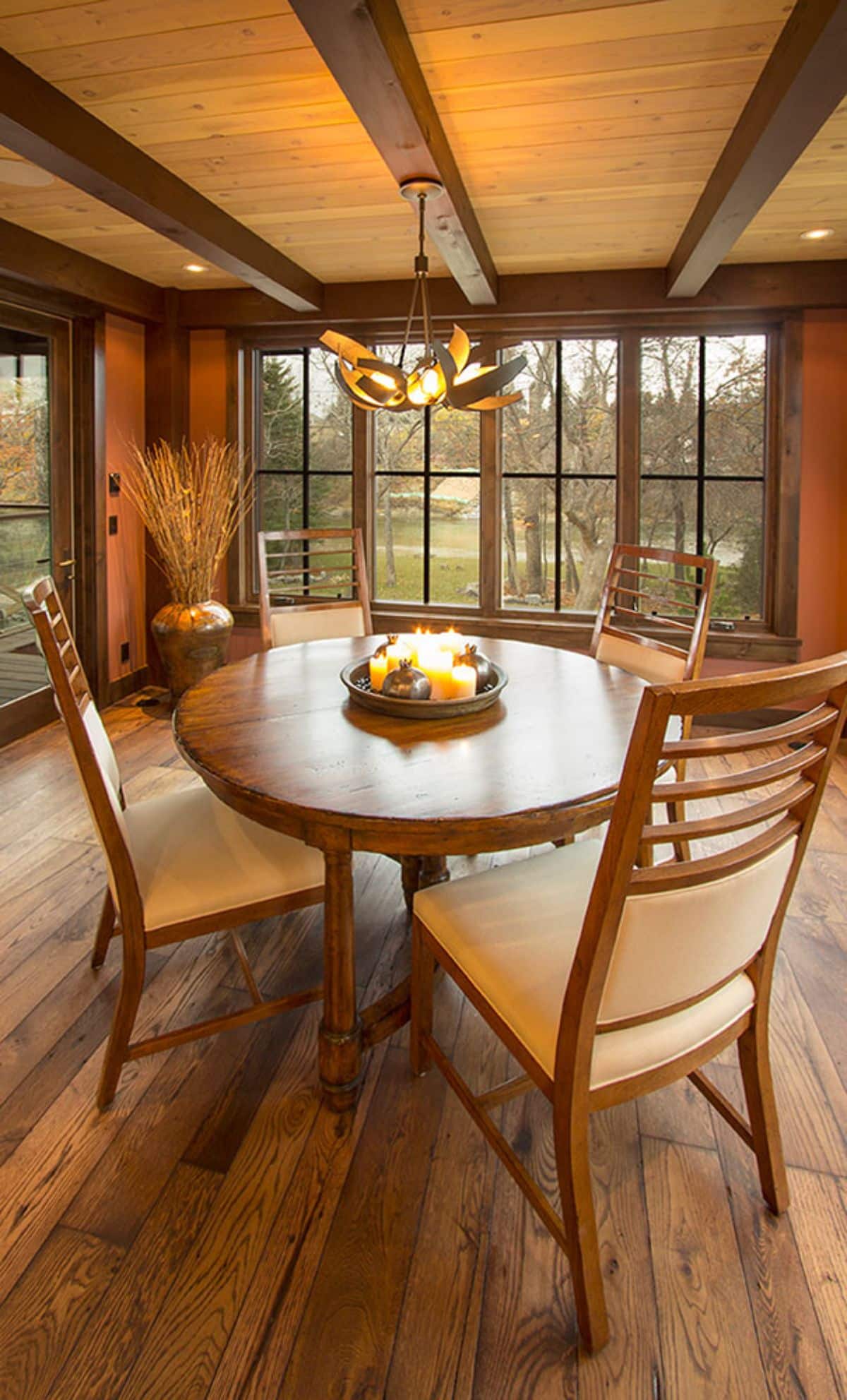 Around the corner, more formal dining space is set up. This has a gorgeous wood table with unique chairs and seats on both sides. I love the idea of a "loveseat" on each side instead of individual chairs or a bench.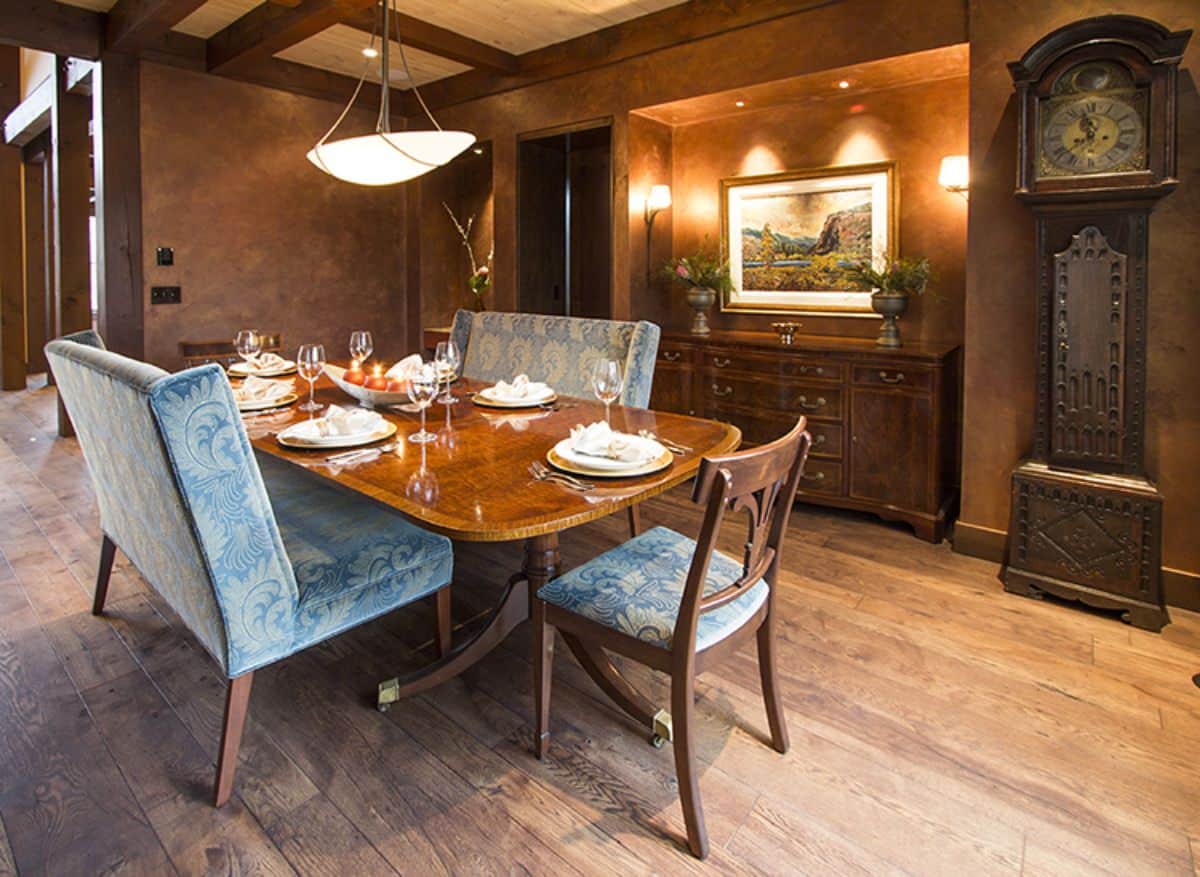 A nook for the buffet is just behind the table here, and a simple shelf with light above on the side also adds ambiance to the space. I love that this space combines modern with vintage so perfectly.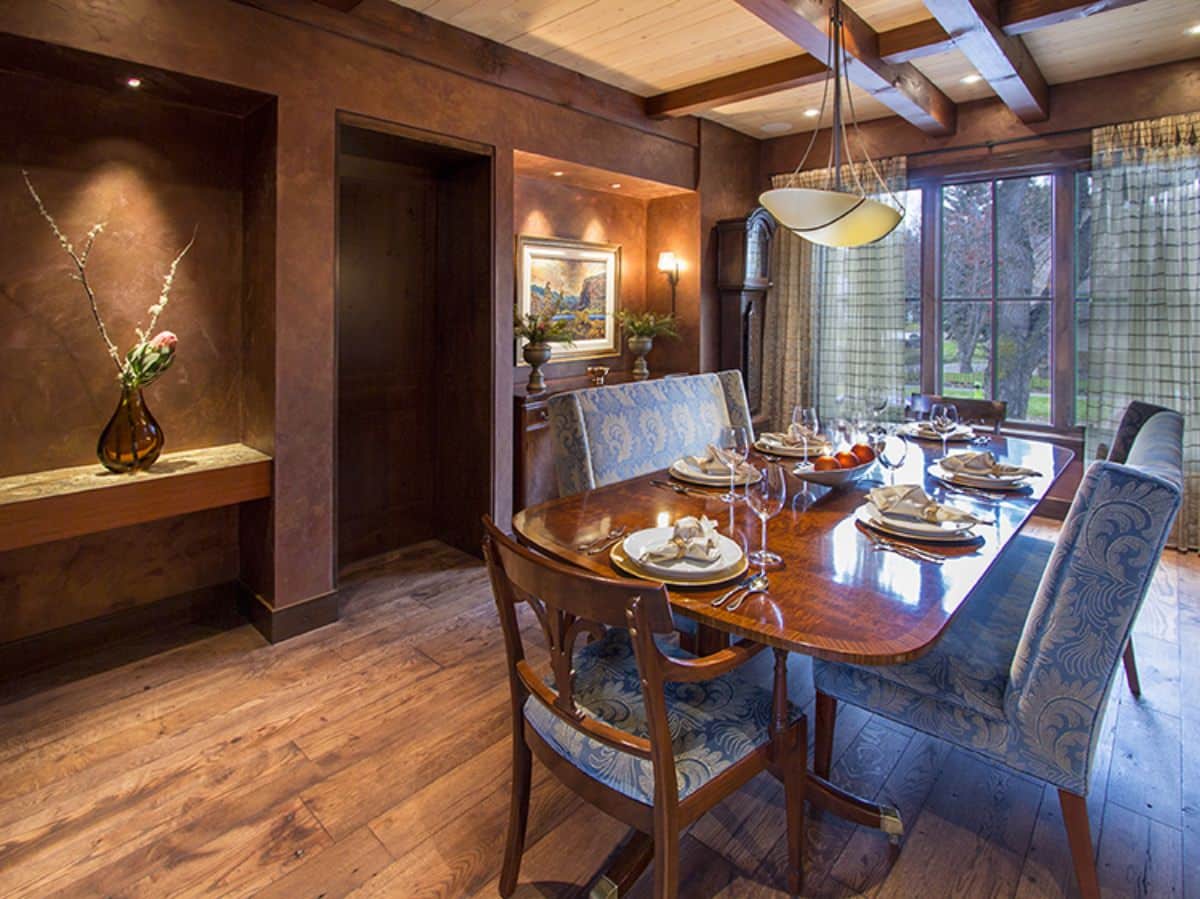 One thing the Riverside cabin has is tons of living space. You have formal living rooms, and then a den-like shown below that has a cozy sofa for relaxing, and what looks to be a projector mounted above. This is the ideal TV room or home theater!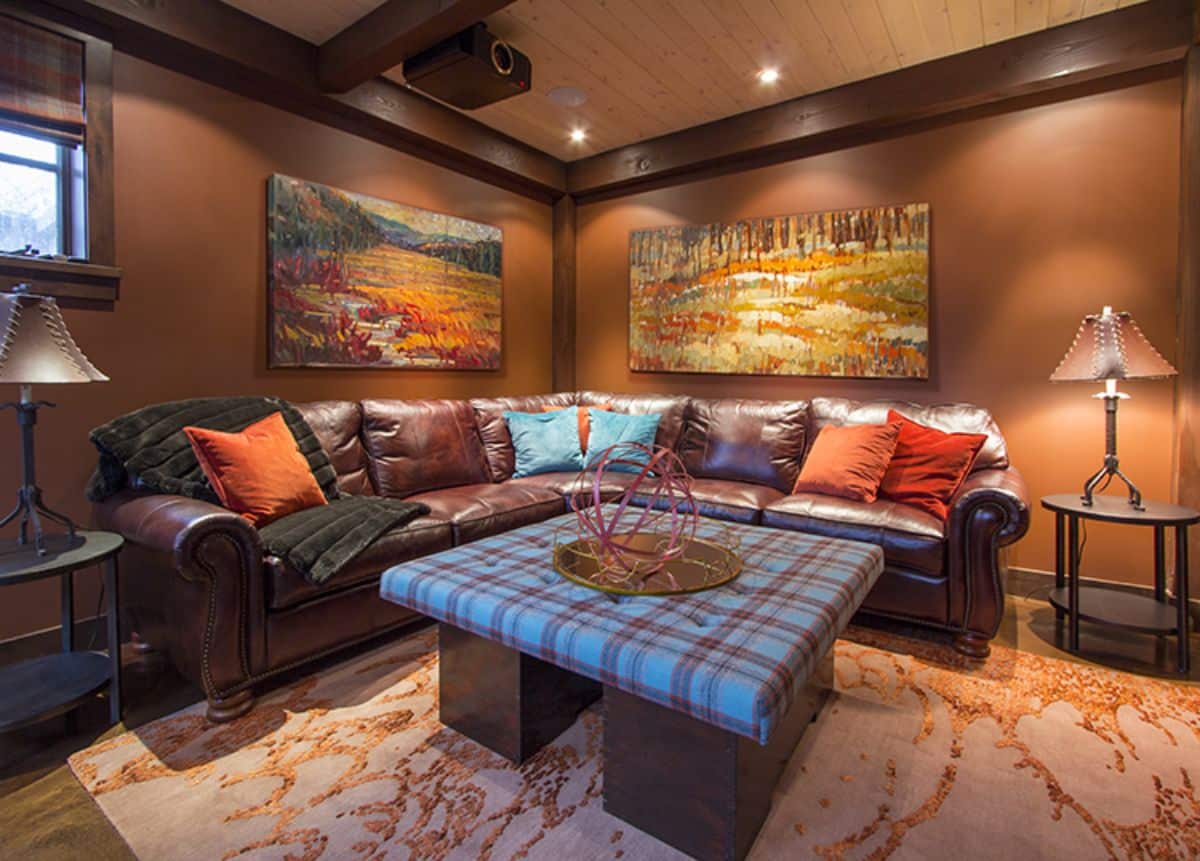 In another nook of the home, is a third seating area right by the home office. I see a guitar in the corner, which tells me this could be the family music room. And, if you look at those doors to the office, you can see a beautiful carved image that is completed when the doors shut. So many of these little details add to the beauty and style of the home.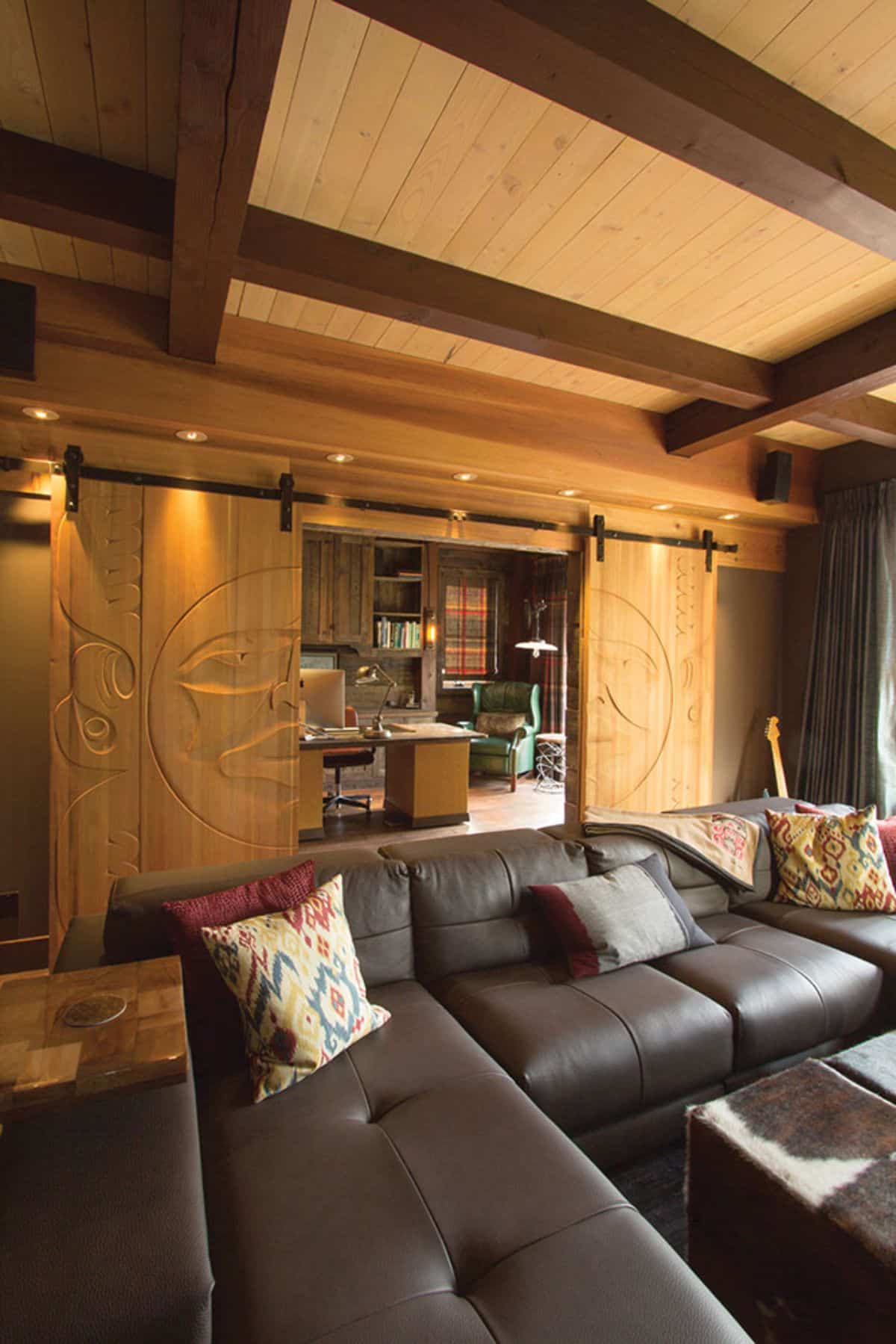 A specially designed home office includes open shelving, cabinets, and this gorgeous desk. This definitely makes running your home business easier to manage.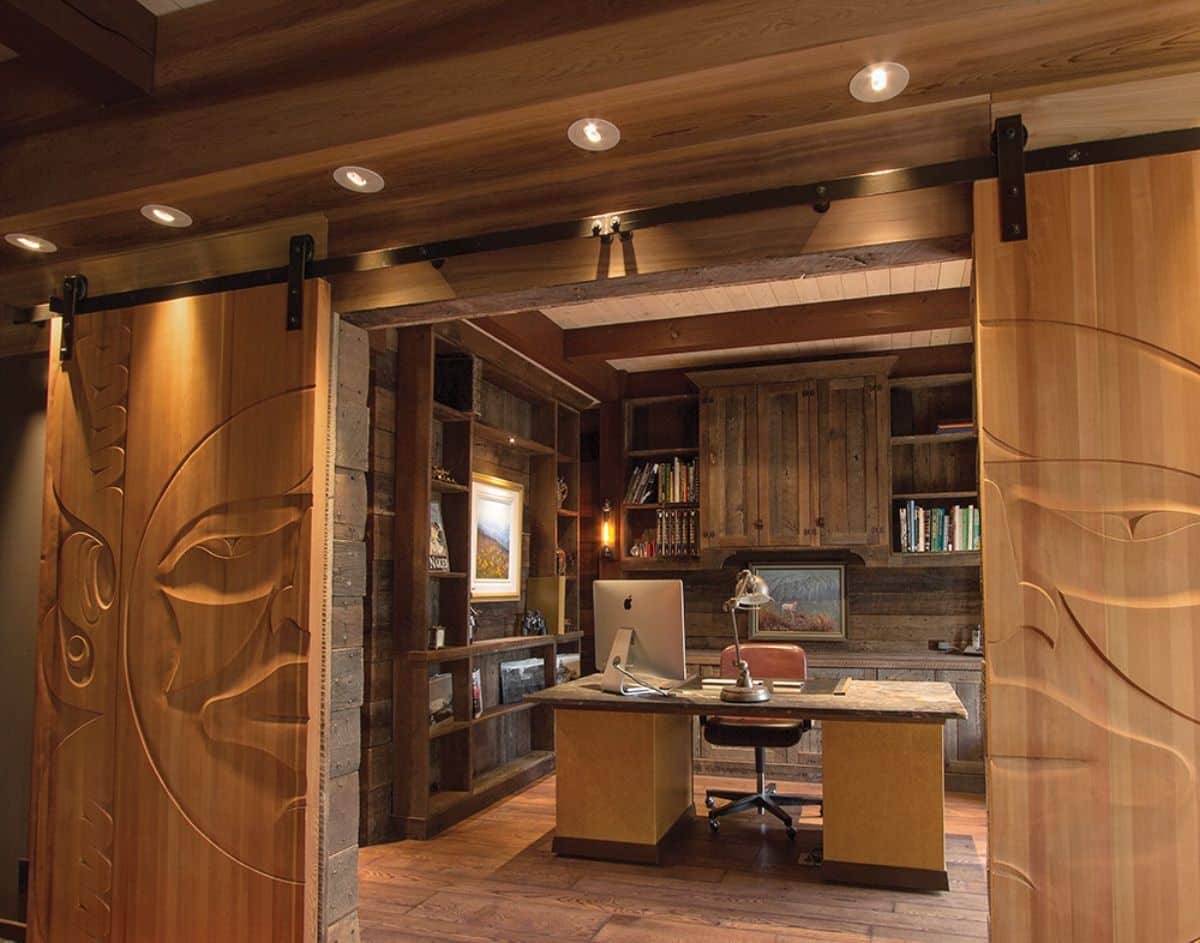 And here, I love seeing the bookshelves filled and a cozy chair in the corner that is great for relaxing or a change of pace while working.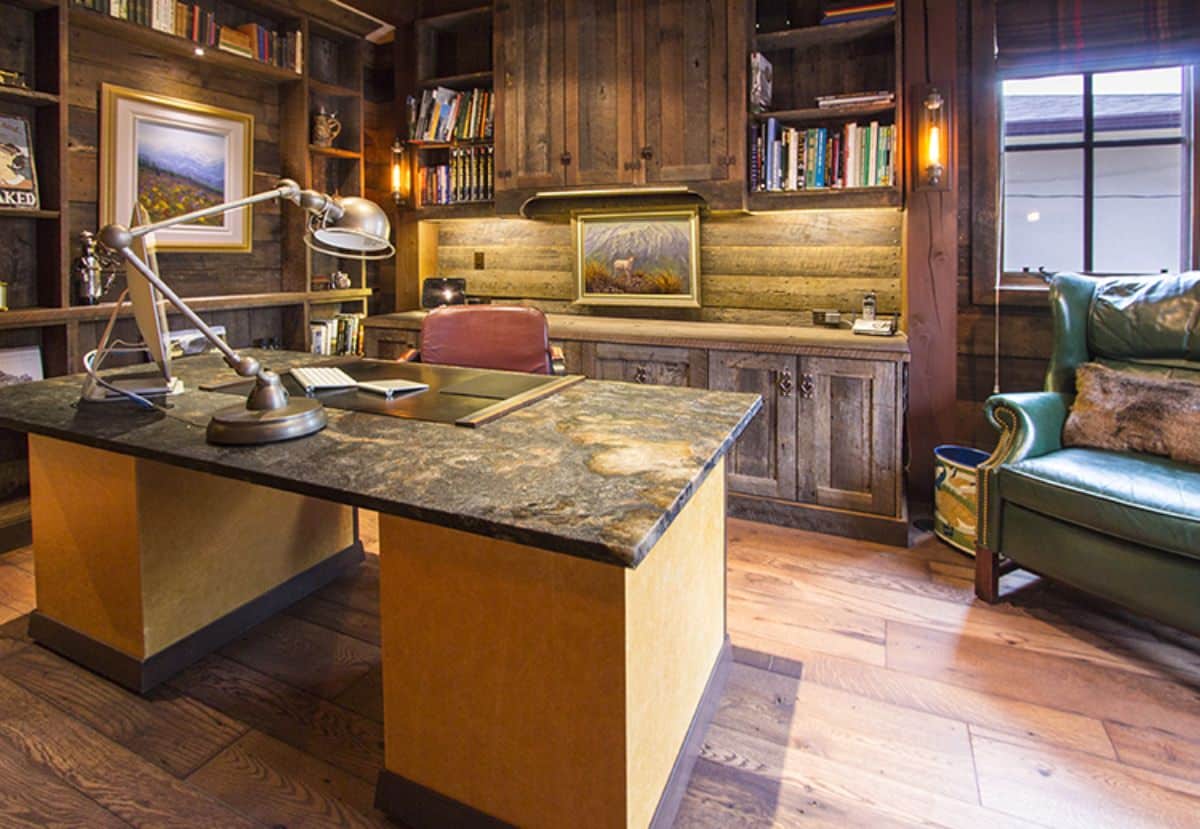 The unique style doesn't end with just the open spaces. Behind closed doors, places like this bathroom include just as much beauty and function. A bit of a nod toward modern farmhouse design can be found here with this copper bowl sink and towel rod.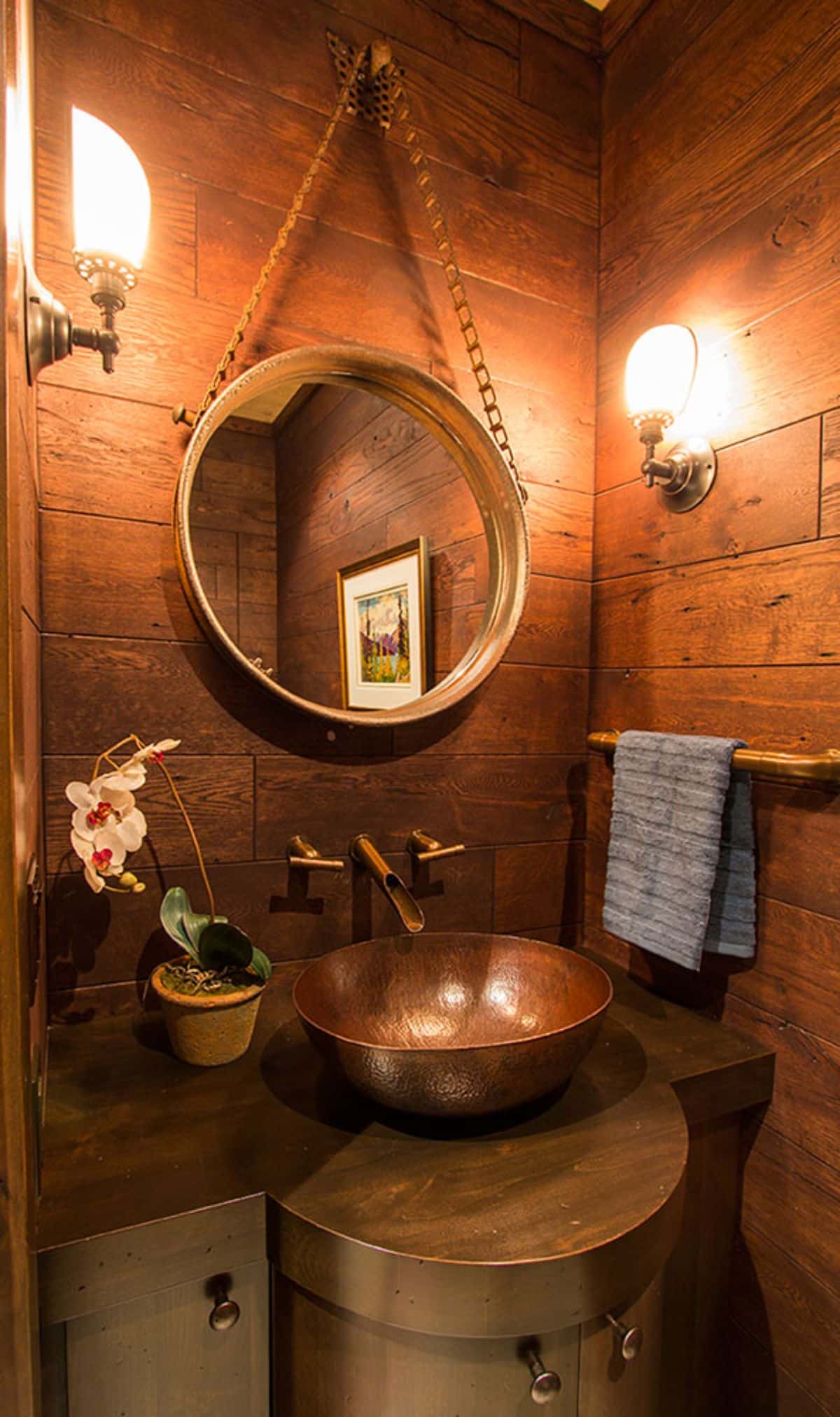 Of course, the master bedroom is the perfect modern addition to the home. A private balcony on the side has your own little access with curtains to pull over for extra privacy if needed.
There is room here not just for the usual bed and storage, but also a sitting area with a chair for reading or lounging.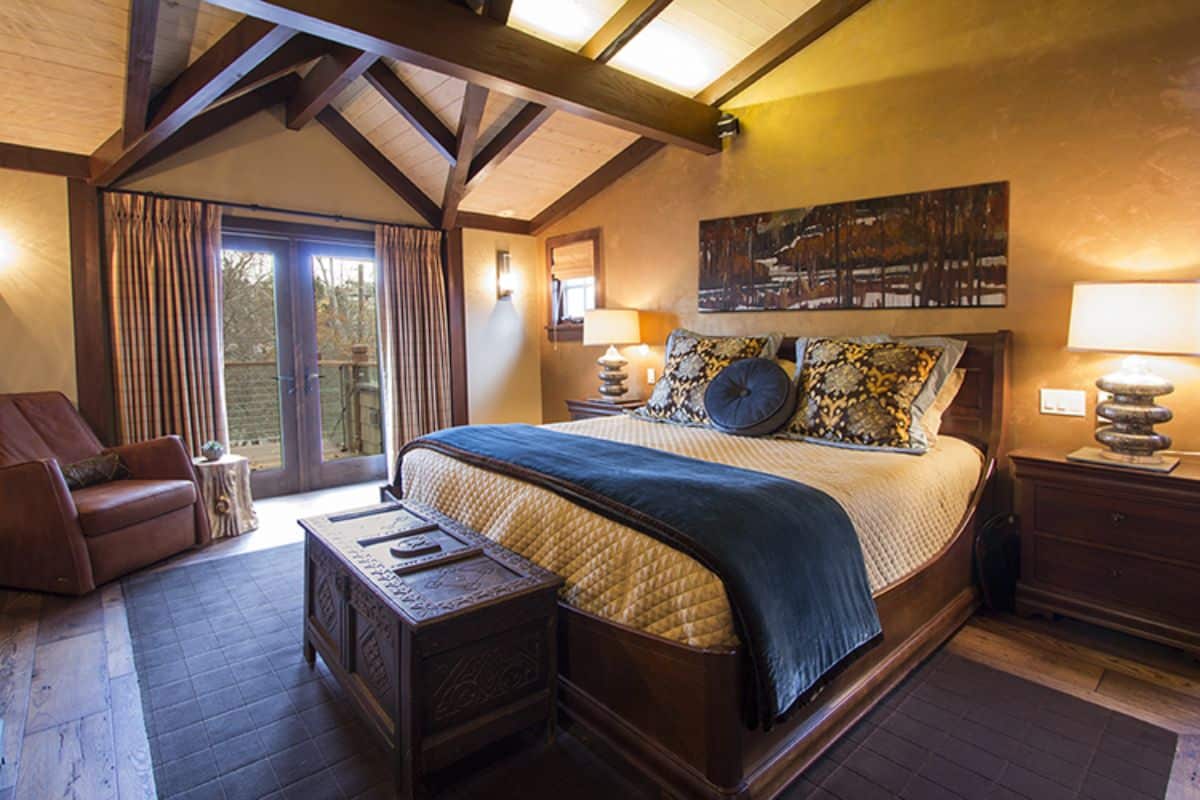 And I cannot share this home tour with you without highlighting the master bathroom. That soaking bathtub is one that is a dream come true! The large open space feels perfect for relaxing at the end of a long day.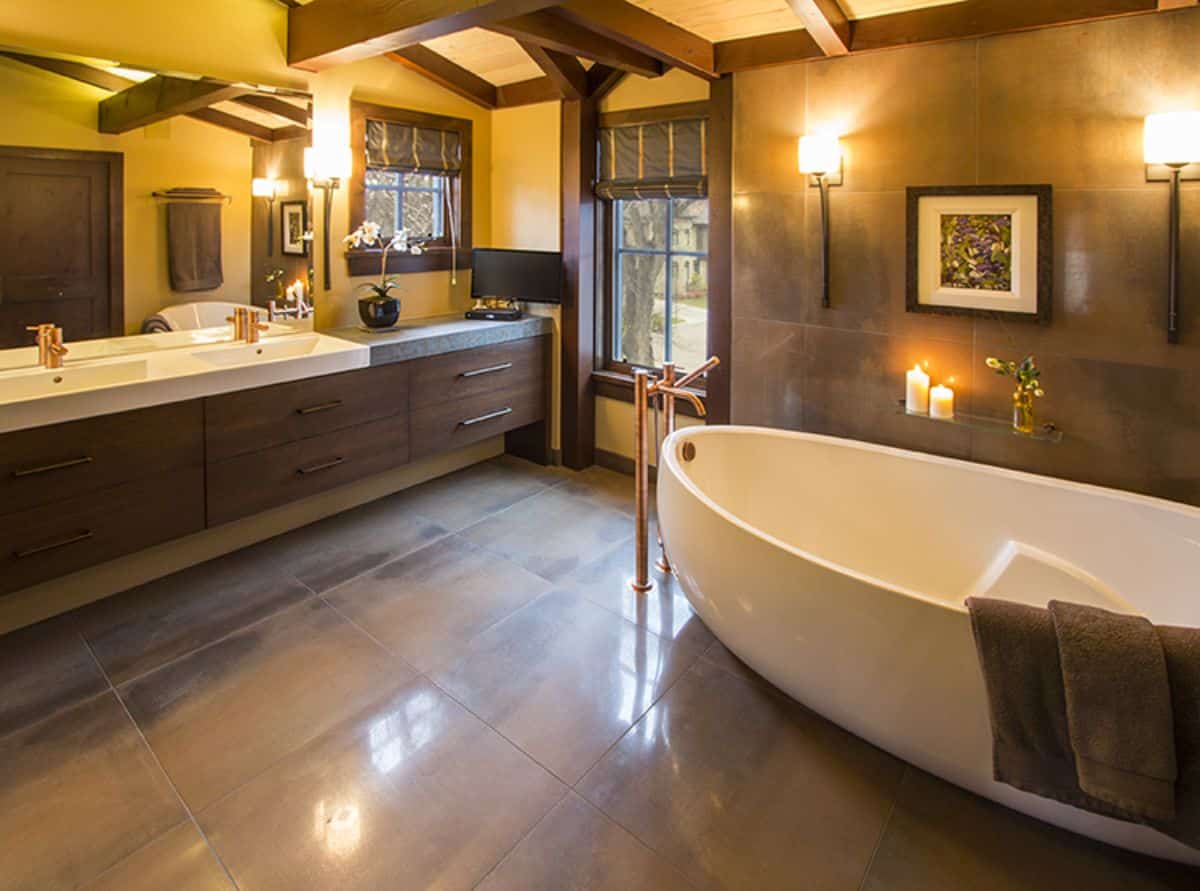 Last but not least, this home even has a wine cellar and special bar nook. I believe this is on the basement level, but could be just around the corner from the dining room upstairs. It's just a special place that everyone will appreciate and just makes your wine collection feel more upscale.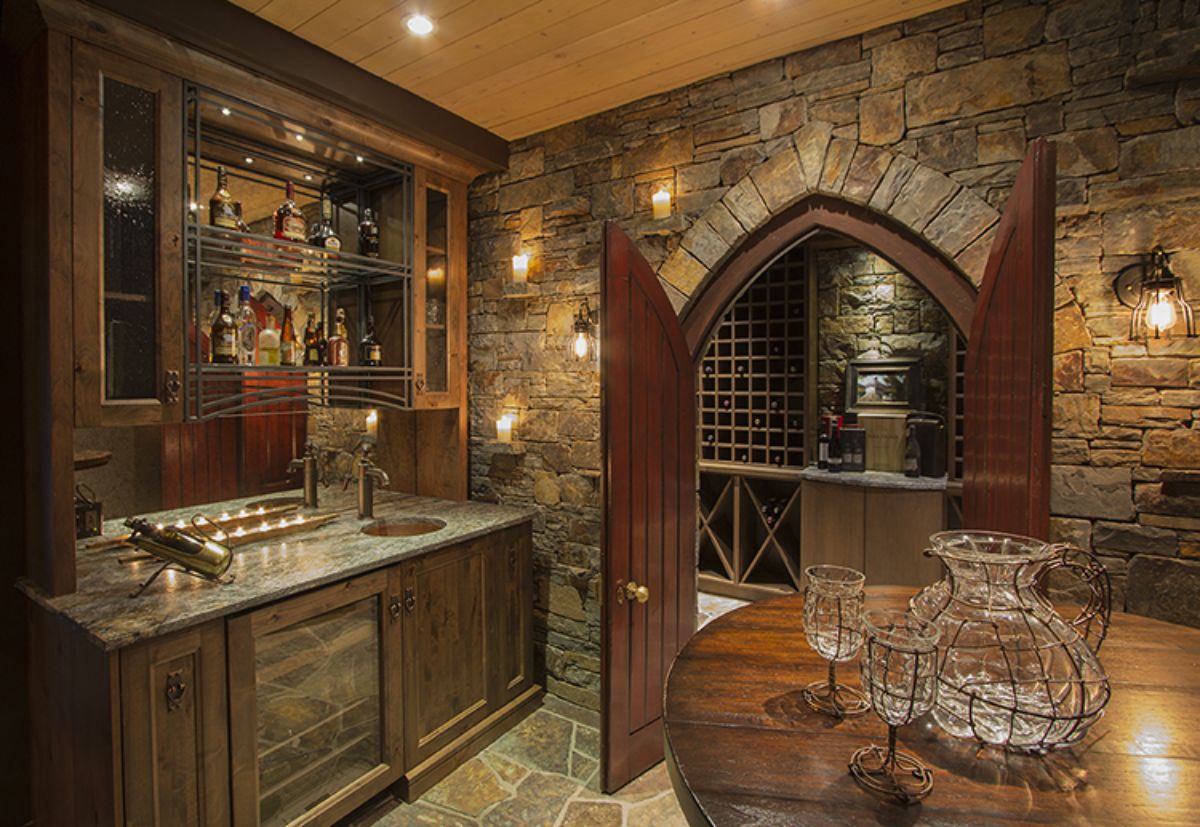 For more information about this build, check out the Hamill Creek Timber Homes website. You can also find them on Facebook for more tours. Make sure that you let them know that Log Cabin Connection sent you their way.
More Log Cabin Kits and Tours