Another beautiful family home is featured here with the Orchard View log home. This sprawling cabin build has an attached two-car garage, expansive main floor living space, main floor master bedroom suite, and bedrooms on the second level that are ideal for children.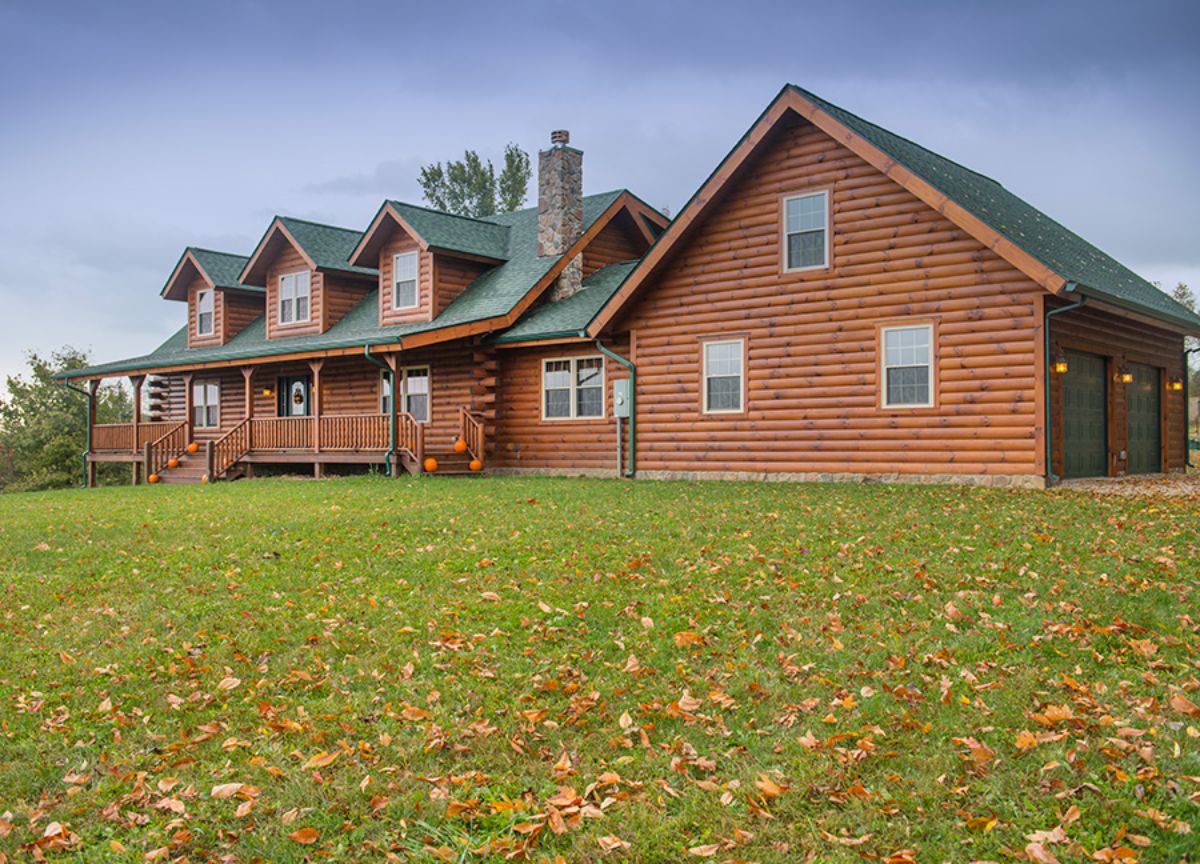 Above, you can see the large covered porch along the front of the home. This is perfect for relaxation and enters the home to find a relaxing living space. On the other side of the home is the room shown below.
This cozy living space is beside the dining area and has a door leading out to the back deck and back half of the property. I love that this room has tons of windows bringing in natural light, but also that it is open to the rest of the home. It makes for an ideal family room for movie nights or relaxing with friends and family.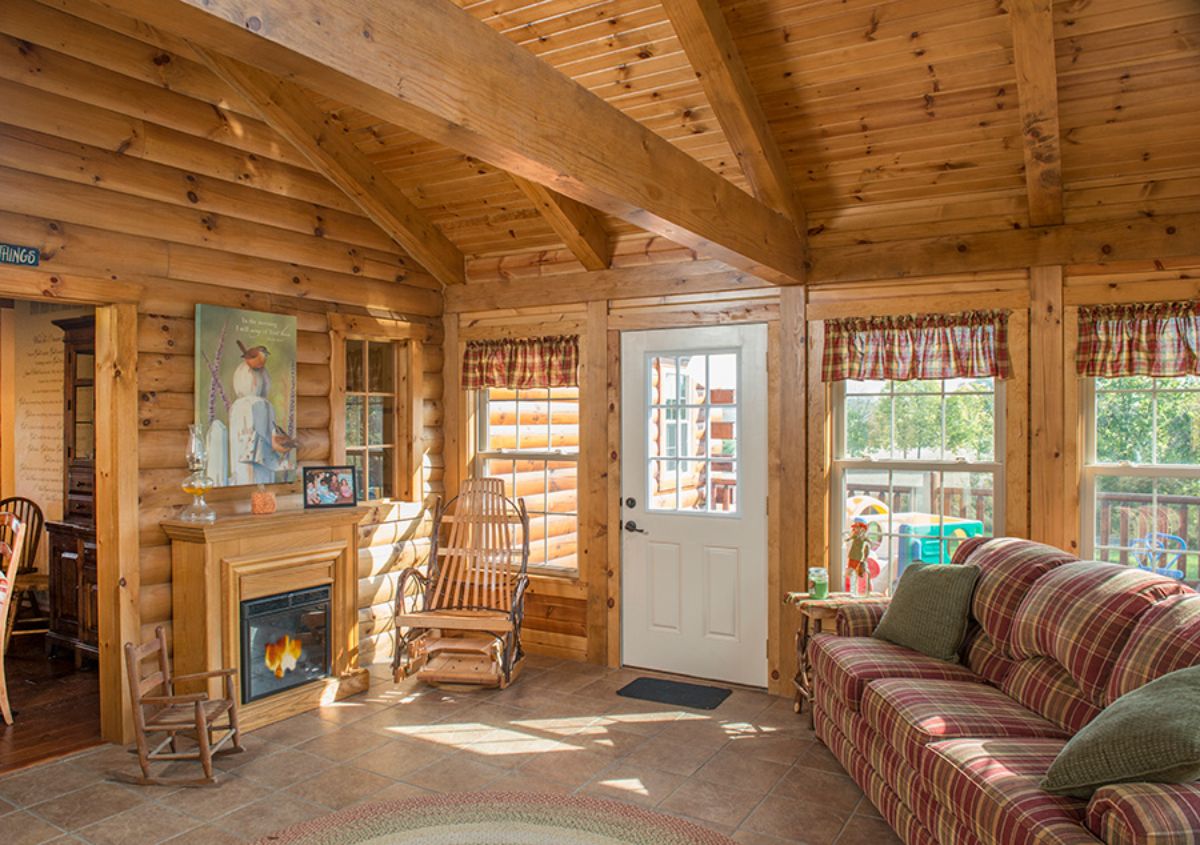 Below, you see the dining room with the large opening showing the room above on the side. This large open space makes it ideal for entertaining since the dining room, living area, and kitchen flow easily together.
I love that this family has added a hutch for storage against the wall, along with a verse on the wall that is meaningful to their family. It really feels like a family space and somewhere you could raise a child.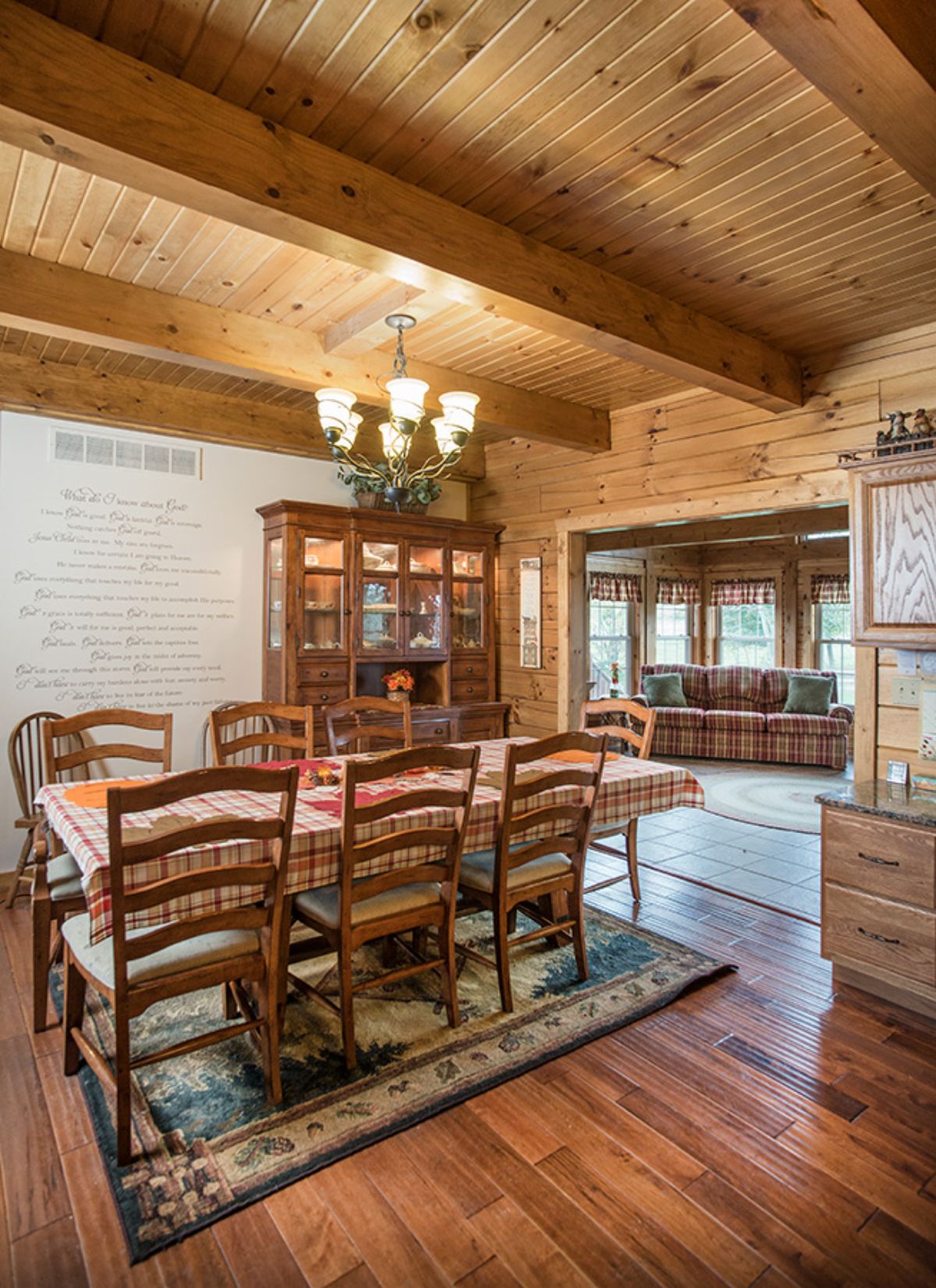 Inside the kitchen, you have an additional seating area for a simple breakfast nook or extra guest seating. The stone veneer on the outside of this bar island brings a bit more of that rustic look you love, with a granite countertop matching the kitchen and other spaces throughout the home.
I love that this owner also added a combination of open glass-paned cabinets as well as closed cabinets in the space for storage.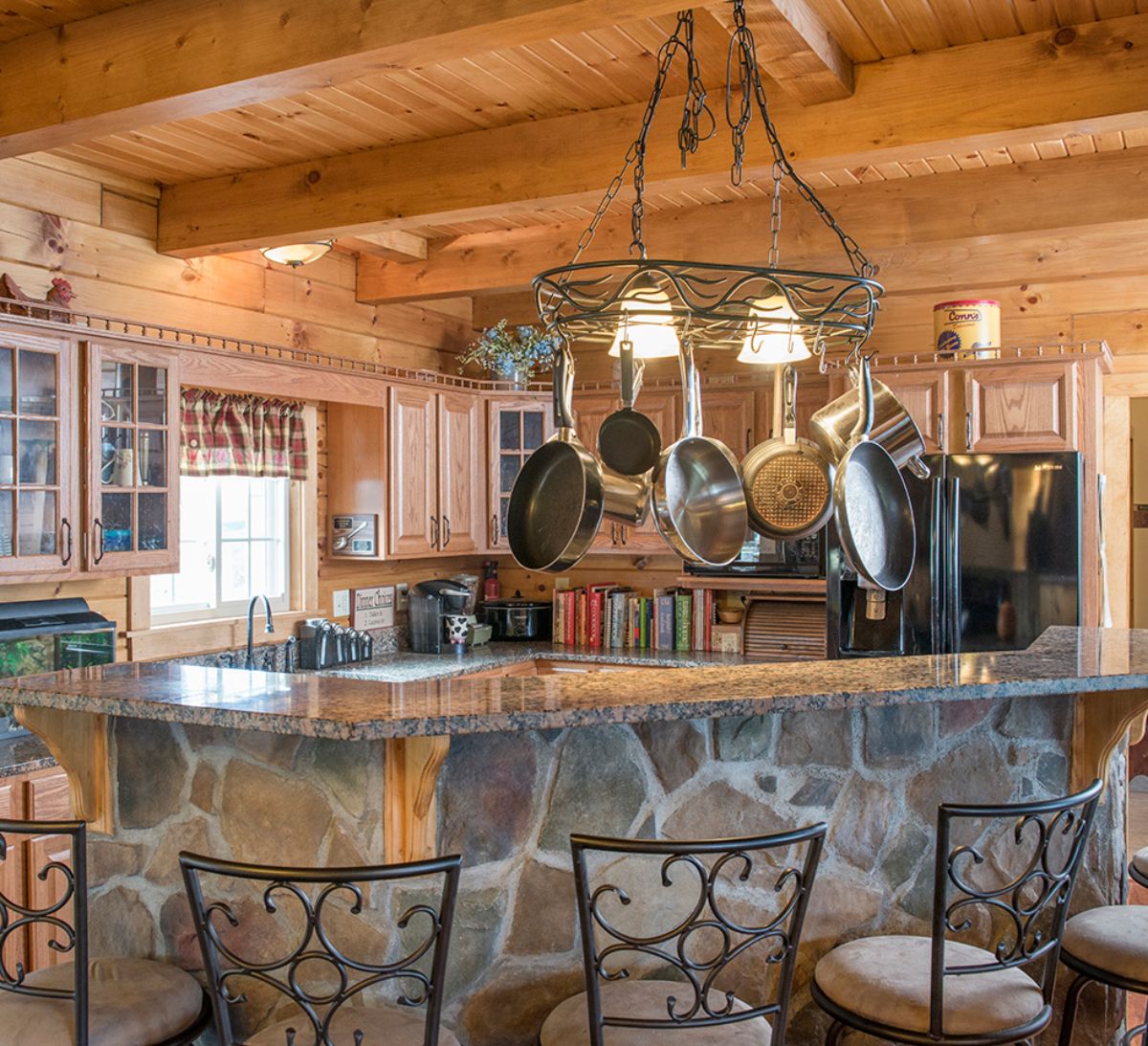 The kitchen itself contains tons of counter space and storage alongside updated black appliances. A dishwasher, large refrigerator, and flat-top electric range are all found in this space with plenty of extra room to move around.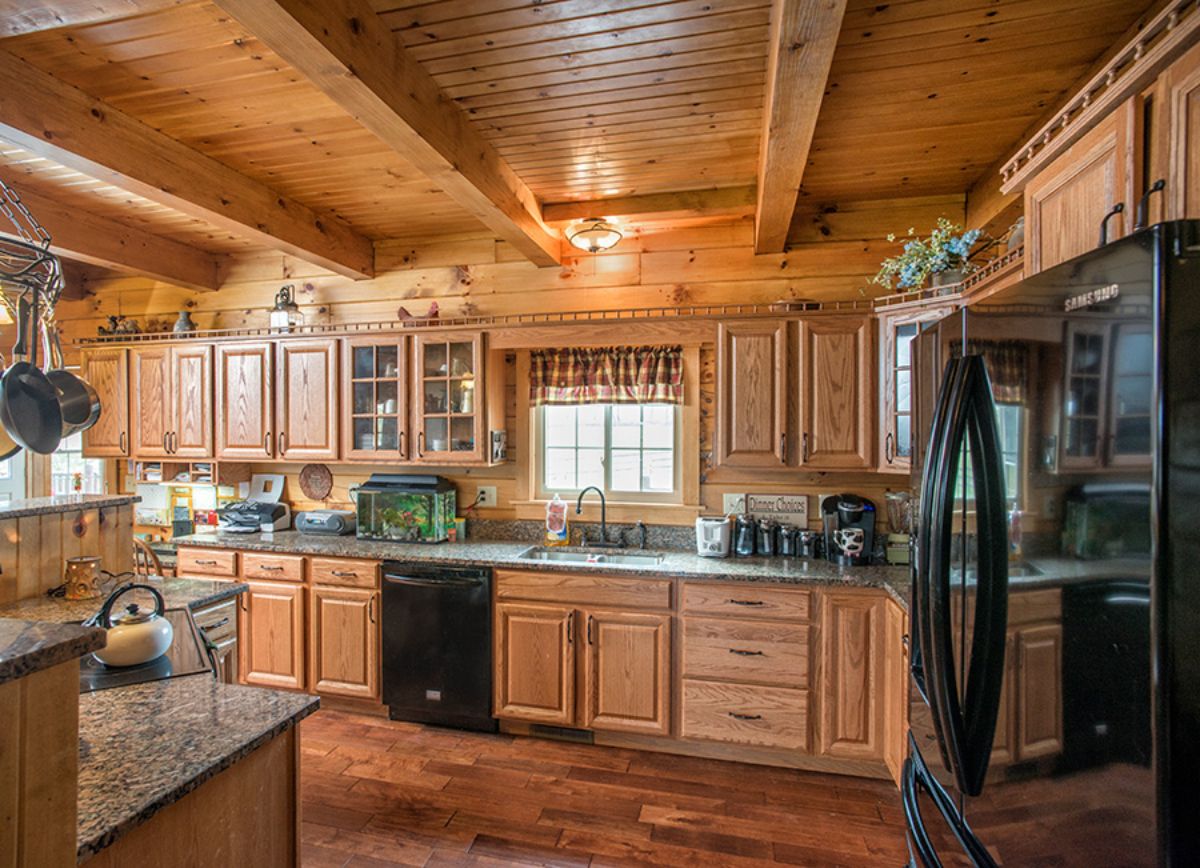 Another cozy seating area on the main floor gives you an extended space for relaxing in front of the fireplace or with a family movie night. This space is also open to the rest of the main floor and is definitely designed for family use on a daily basis.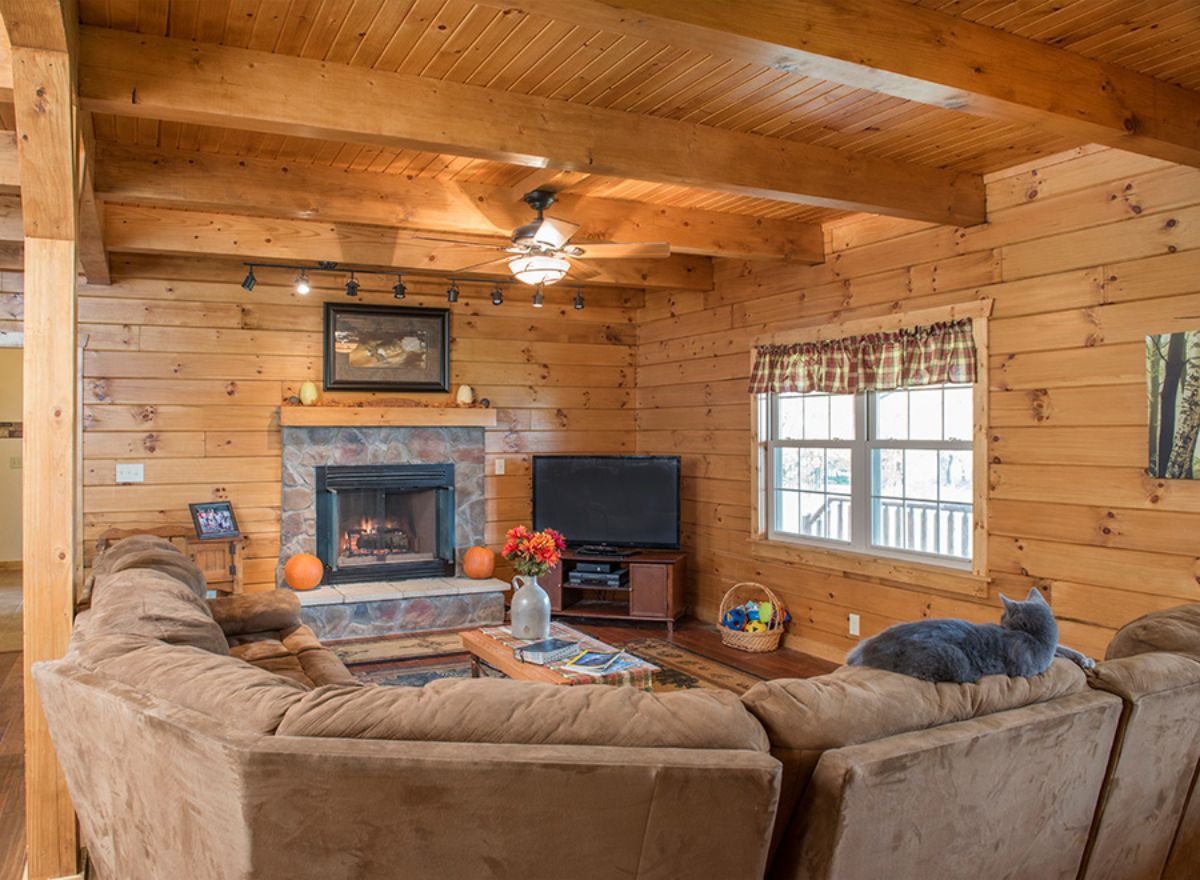 In the master bedroom on the main floor, you'll find a combination of white walls with wood walls and wood ceilings. A carpeted floor offers a bit of extra warmth.
Along with these features, I love the inclusion of windows on both sides of the bed, and the attached en-suite bathroom for convenience.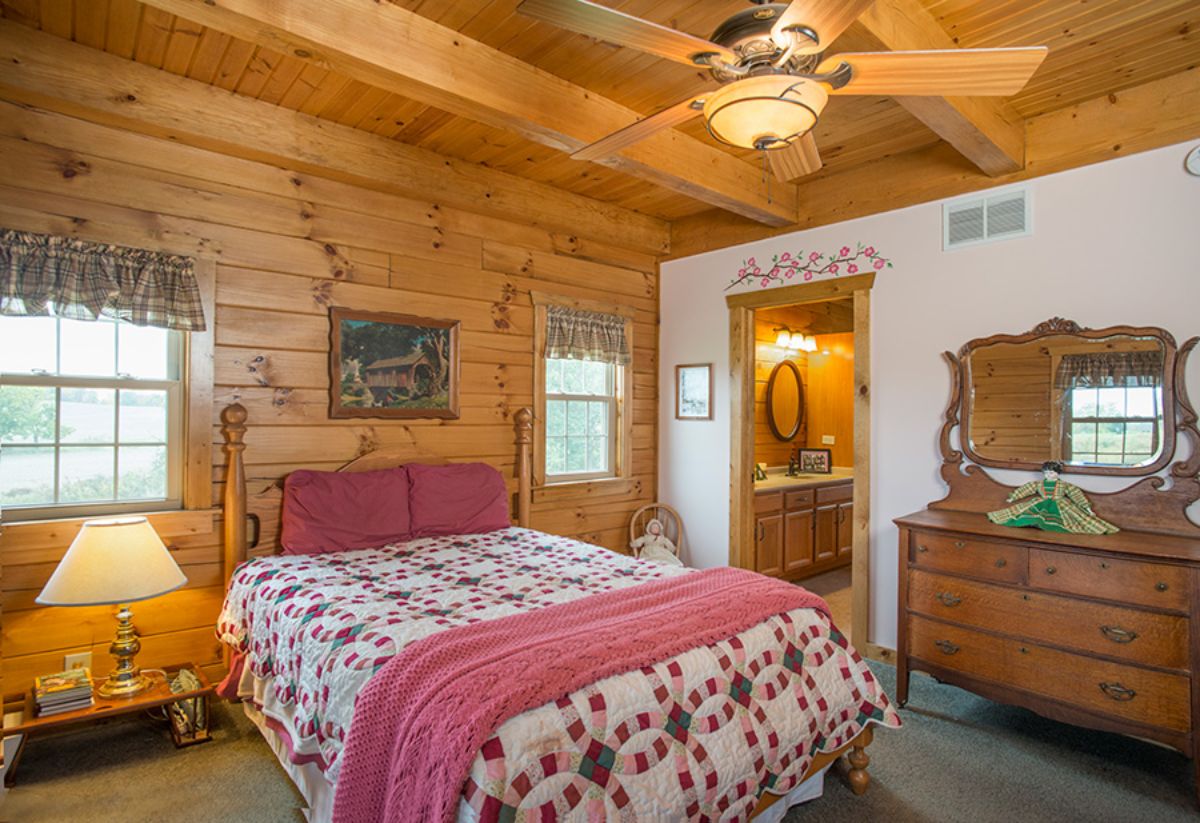 Upstairs, the second floor has tworooms that are ideal for bedrooms or even a home office. In one space, they have a painted wall with this fun deer decal.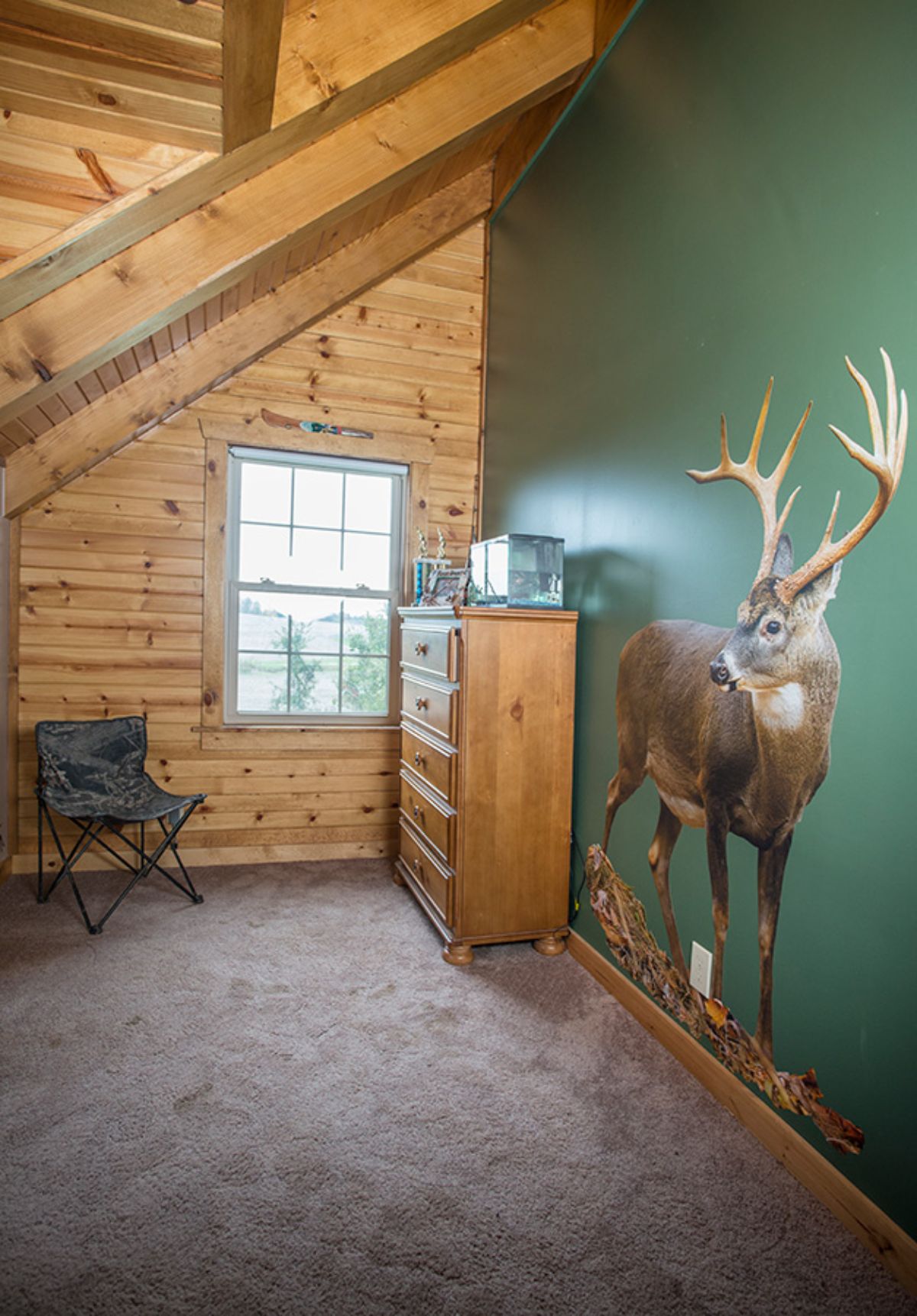 A second space on the loft level looks to be set up as a school room or music room for children. I love the way they have used the dormer window space for additional square footage in the room. A perfect place for a floating chair and a few bookshelves.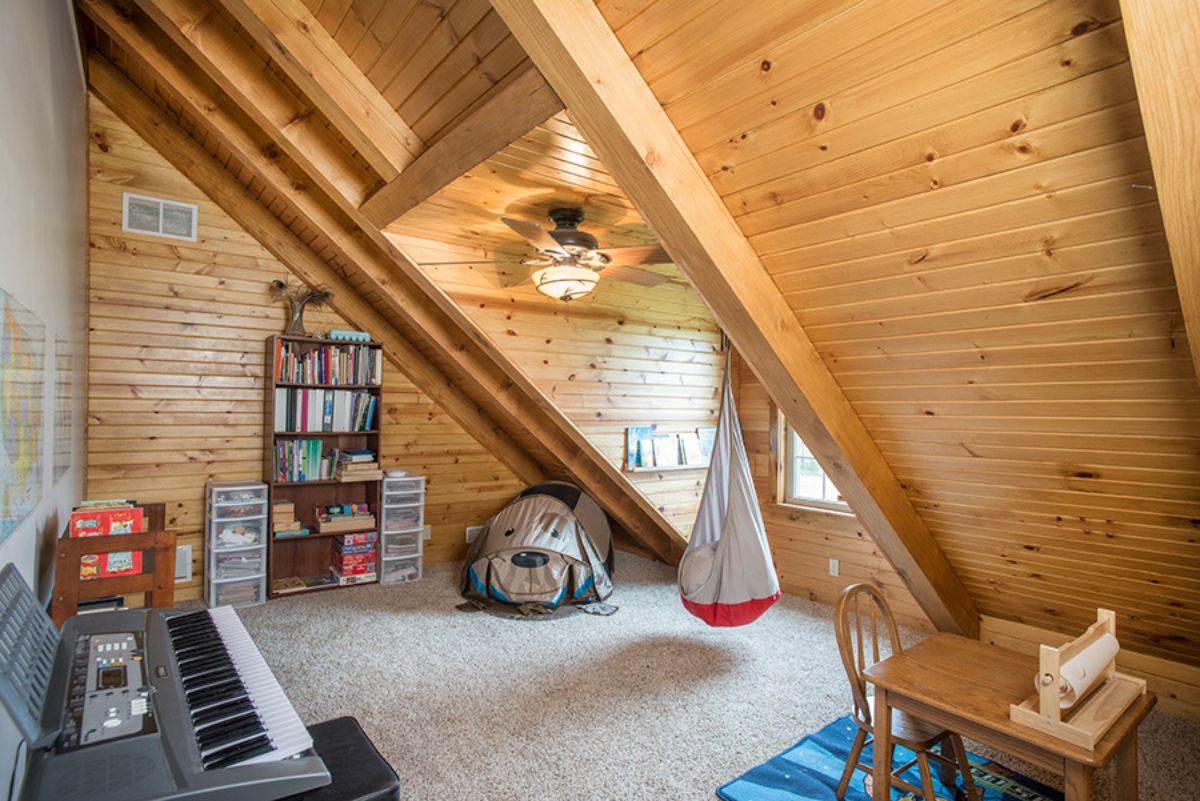 While it appears to be on a main floor or basement level, I am not certain of the location of this extra space. A child's room would make sense given the animal mural on the wall and child's toy.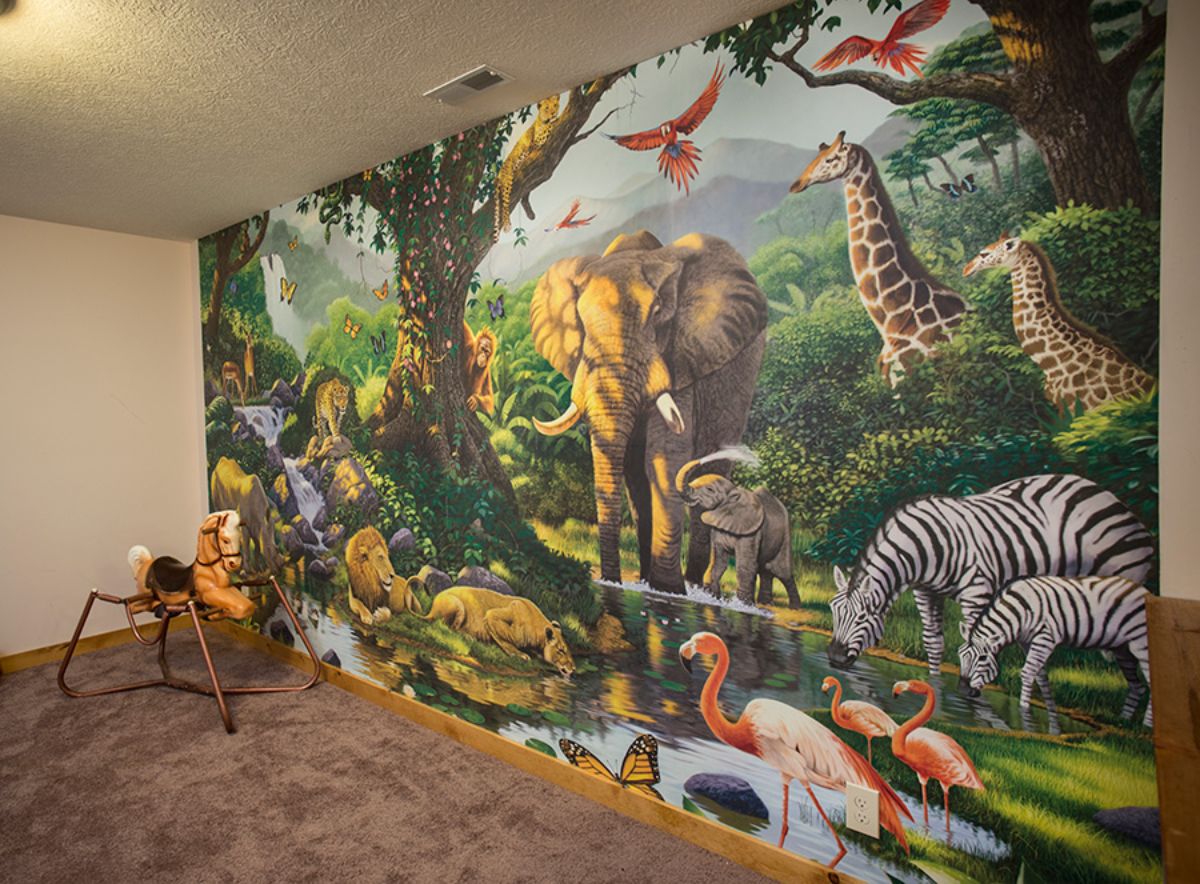 An additional bedroom, most likely on the main floor, is wide and open with white and red walls. This is the one space that is least rustic, with the unique style and lack of woodgrain. It looks like a perfect bedroom for a teenager.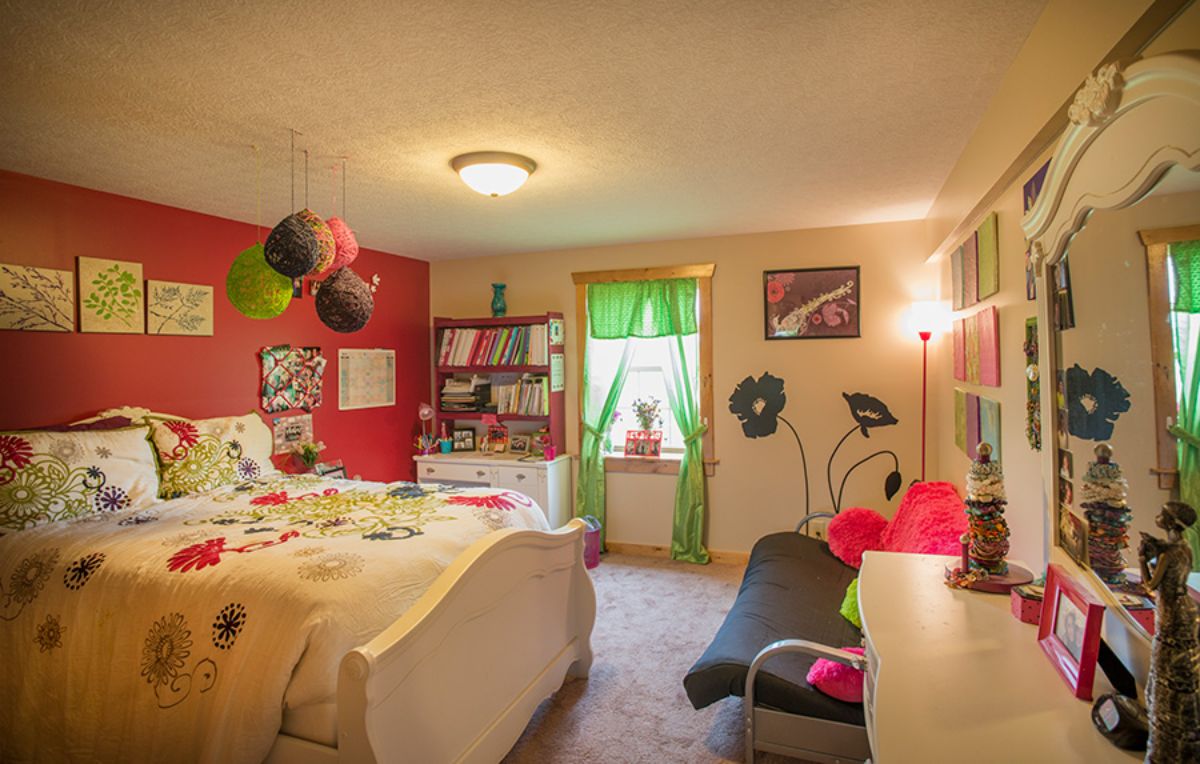 Lastly, in this home, I love seeing the fully finished basement space. A third living room area downstairs includes shelves with books, movies, and games. It's a great choice for kids to relax with friends.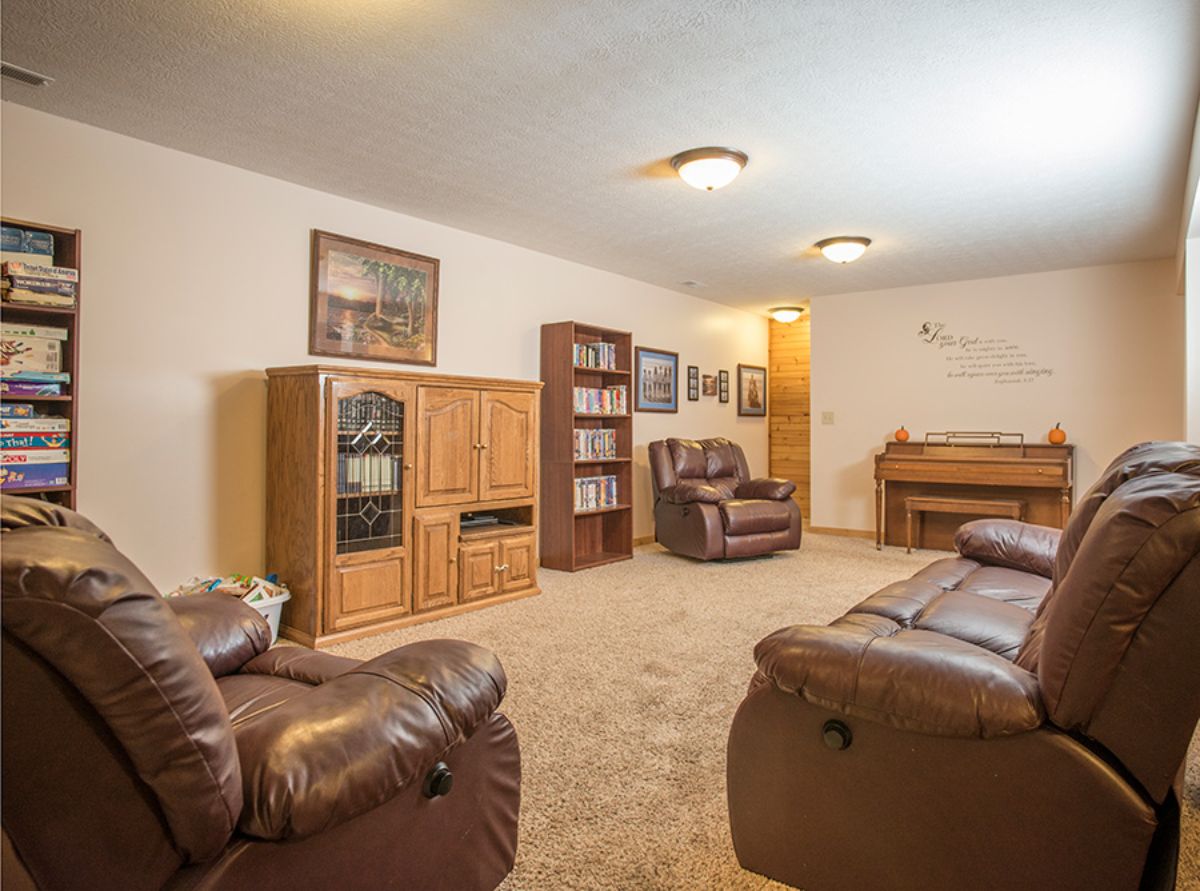 For more information about this log cabin build and more, check out the Hochstetler Log Cabins website. Make sure that you let them know that Log Cabin Connection sent you their way.
More Log Cabin Kits and Tours