Golden Eagle Log and Timber Homes is a steller builder with tons of amazing style and quality in all of their builds. The Lofted Log Cabin is a beautiful family home with luxury, comfort, and style in one stunning home that is just under 2,000 square feet.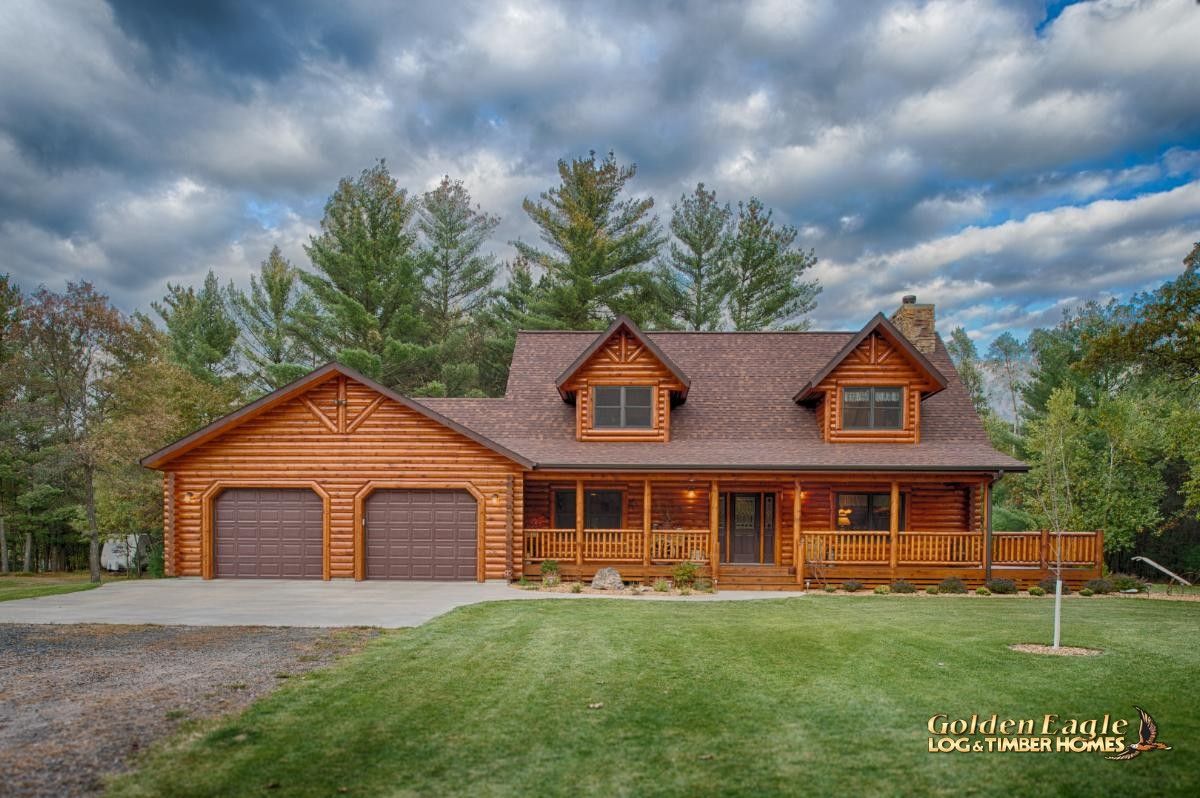 Log Cabin Sizing:
1,969 total square feet
1,260 square feet first floor
709 square feet second floor
2 bedrooms and 2 bathrooms
Additional basement level not included.
Log Cabin Pricing:
Complete build starting at $318,466
Kit only starting at $245,533
Find the full details and pricing options on the website HERE.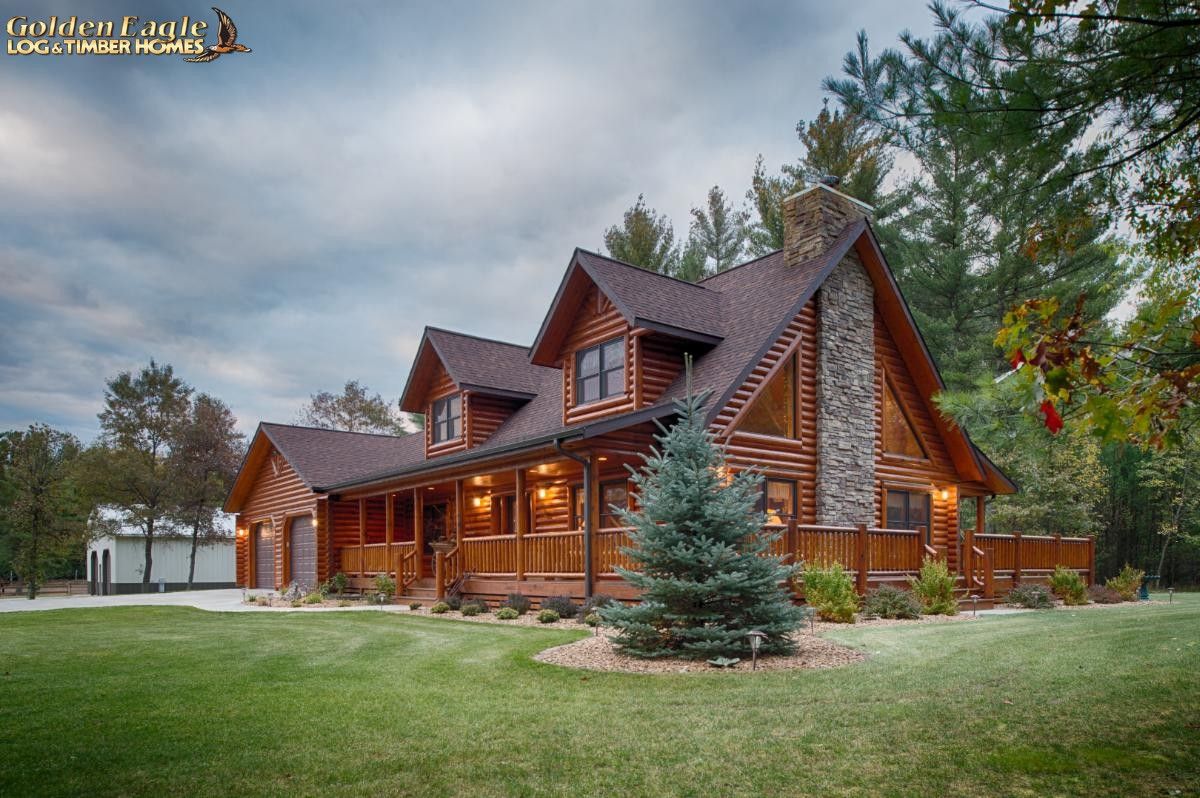 I love the covered front and back porches on his home that allow you to enjoy the outdoors even with the weather changing. But, the end of the home also includes the open porches next to the great room windows or a bit of uncovered entertaining space.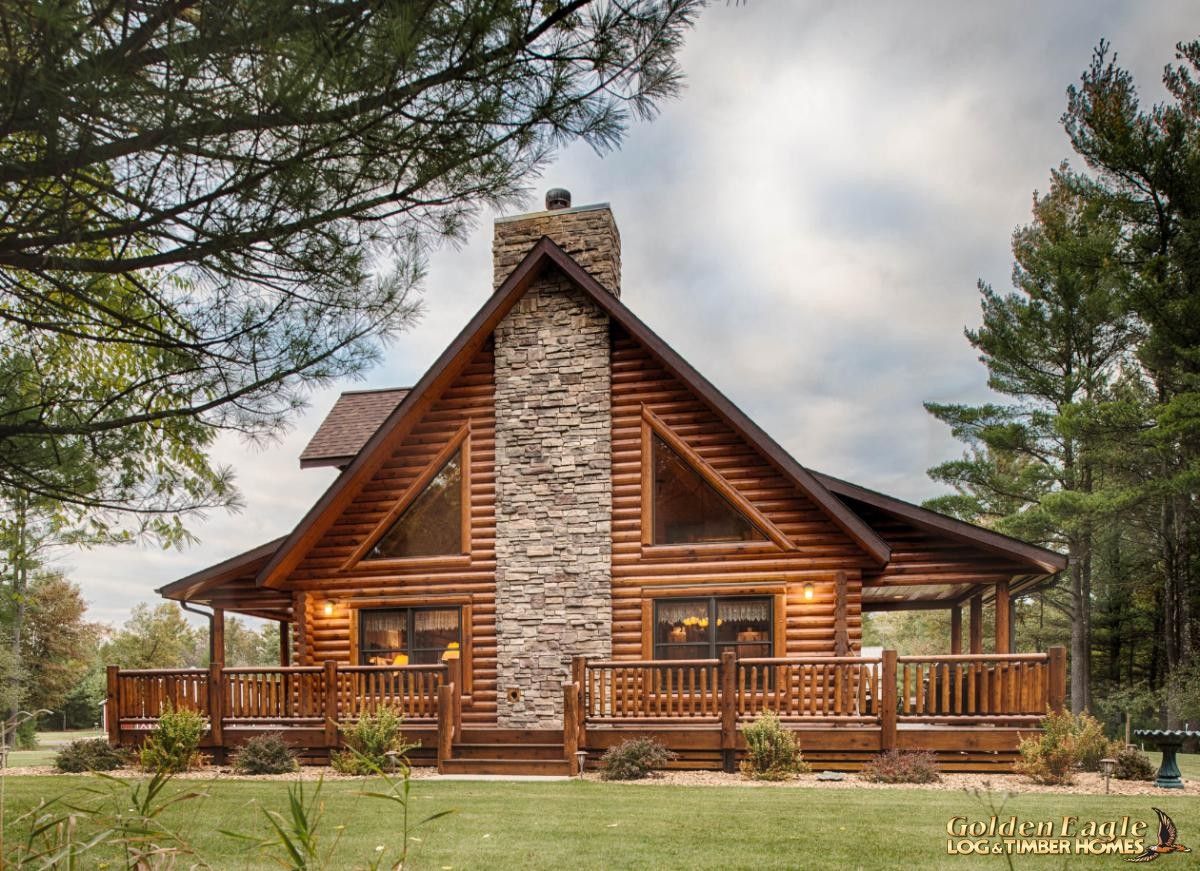 The back of the home is just as welcoming and even has a small patio with seating and an outdoor bar.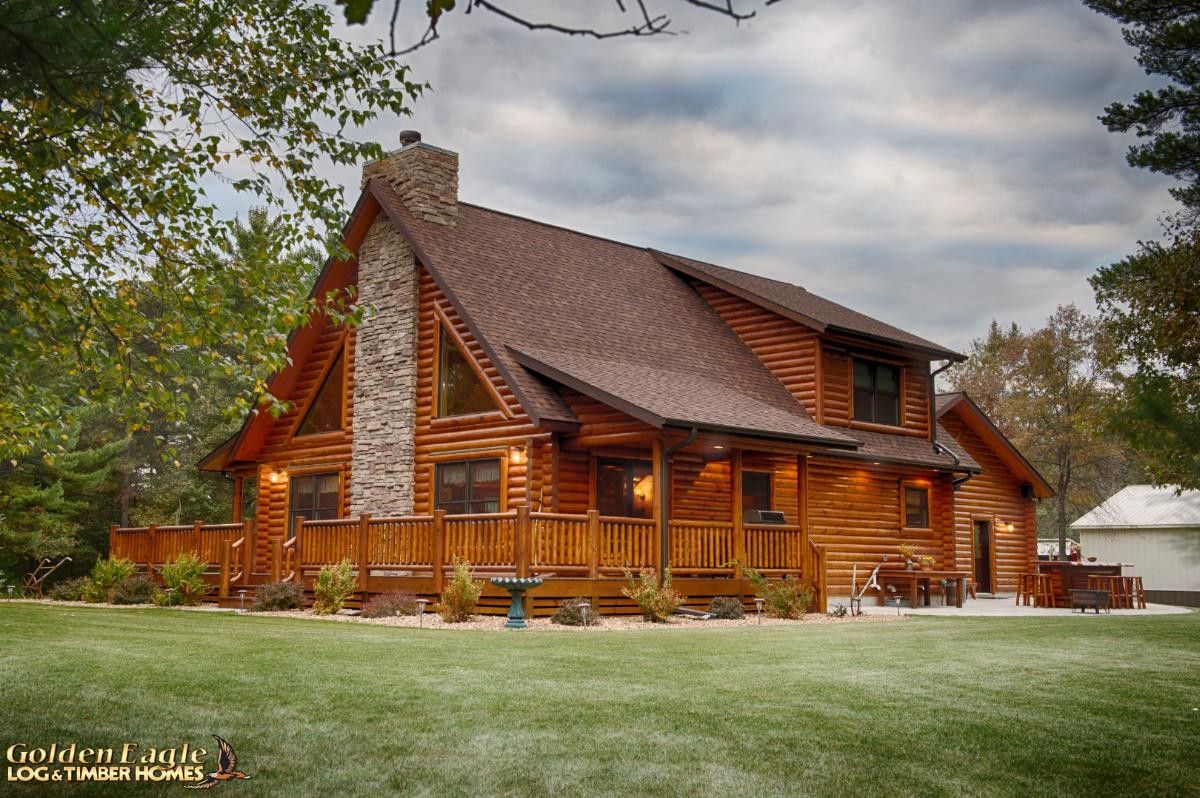 My favorite part of the outside spaces of this home has to be the outside island and bar. This setup is perfect for weekend barbecues, but could also be the ideal space for a comfortable gathering or reception event.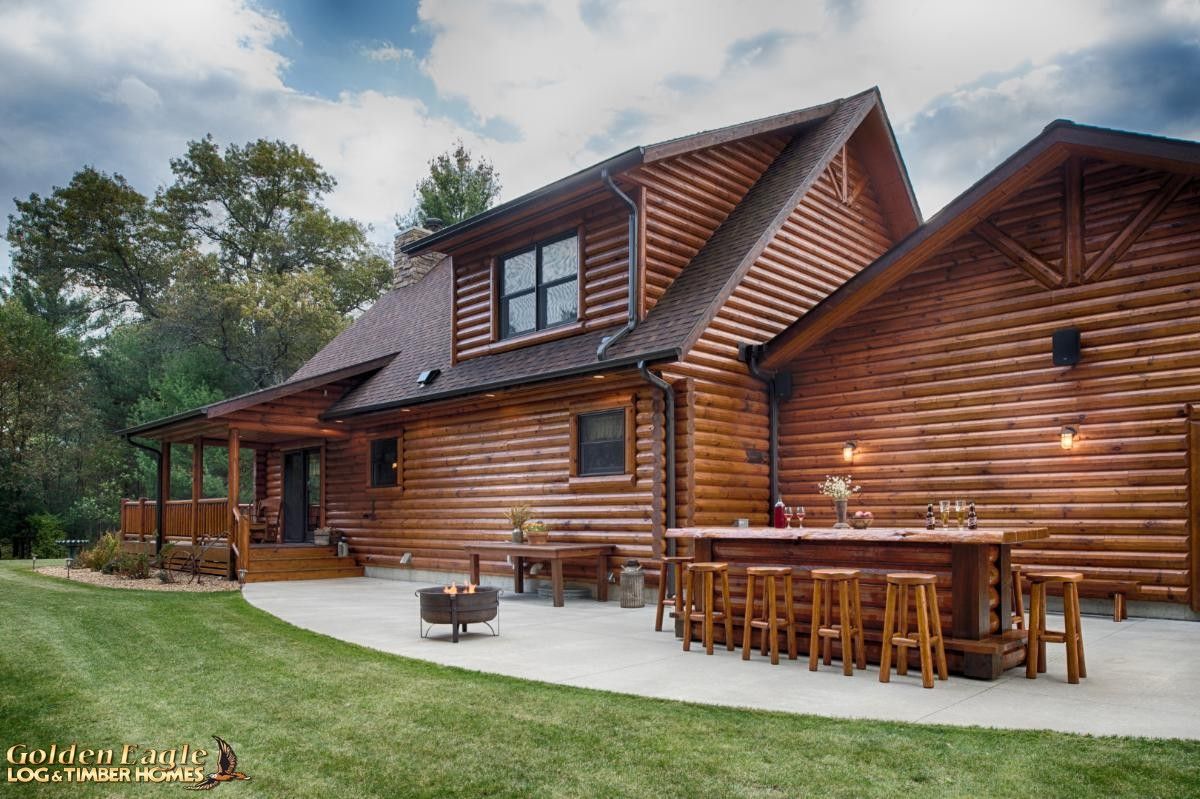 The front porch has plenty of room for seating such as these cozy chairs, and of course, unique rustic decor if wanted. I love this welcoming space for a nice cup of coffee in the morning or an evening nightcap.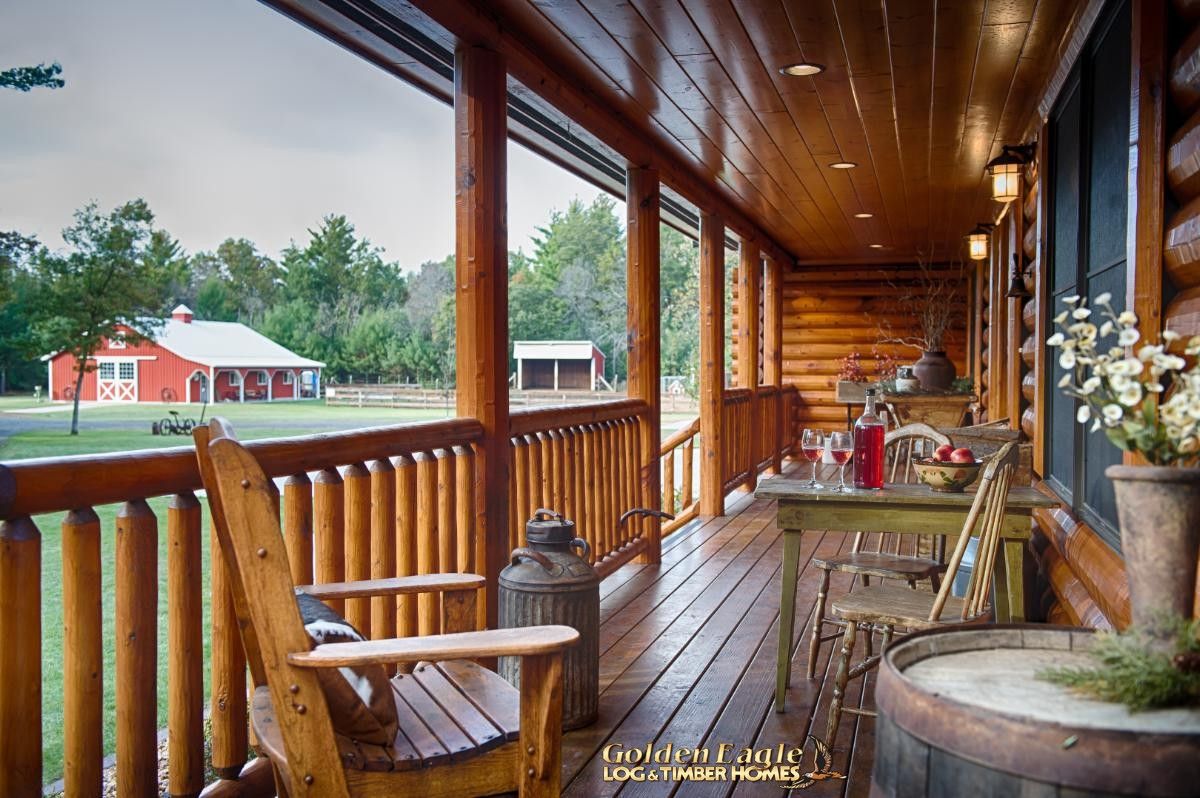 The inside of the home is just as stunning with real log beams, a stone fireplace, and tons of rustic decor at every turn.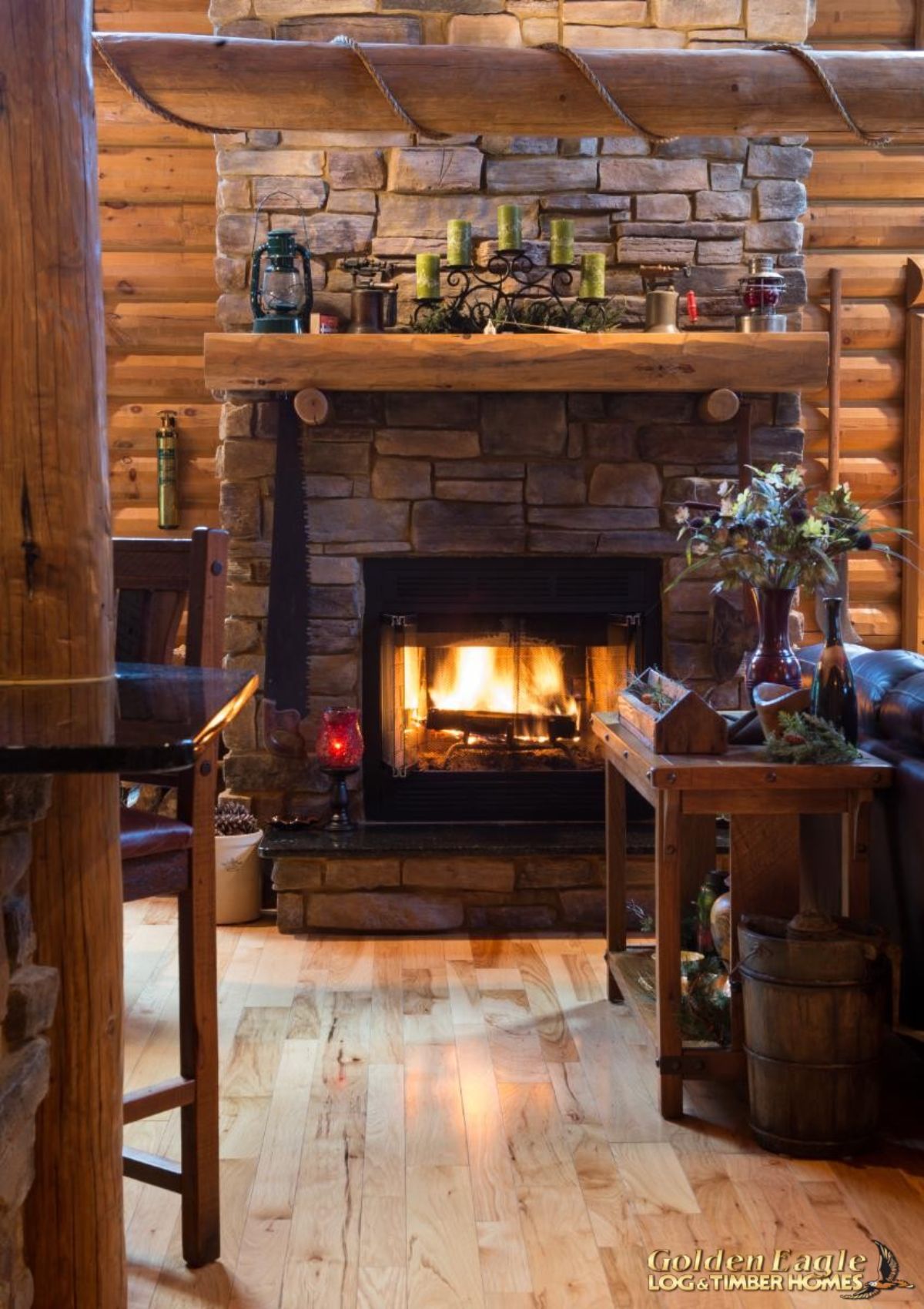 The main floor is a nice open space that was designed for entertaining with the living and dining room open to each other and the kitchen just to the side of the dining room.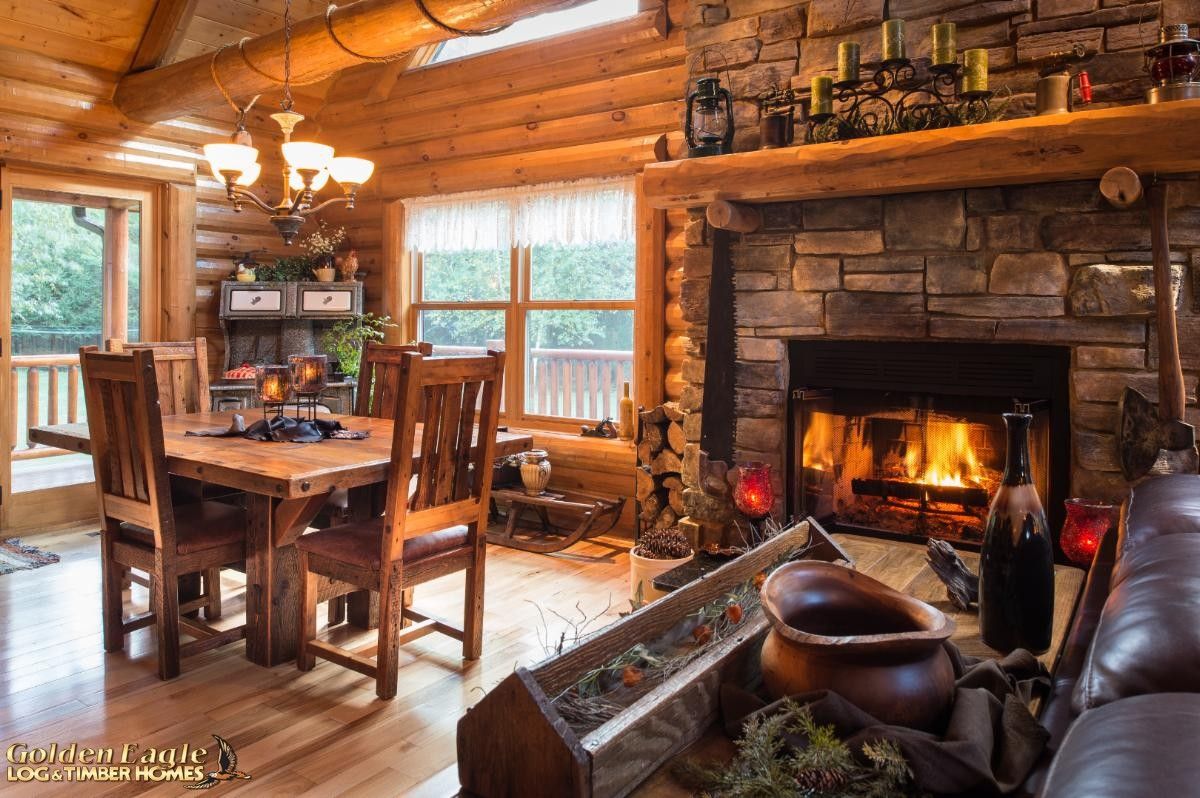 If you love having an open space for friends and family to relax, then this home is going to blow you away. The kitchen has this gorgeous stone island side with room for bar stools or chairs for a kitchen breakfast nook. Plus, the kitchen has gorgeous custom wood cabinets and stainless steel appliances that are sure to be a hit with the cook in your life.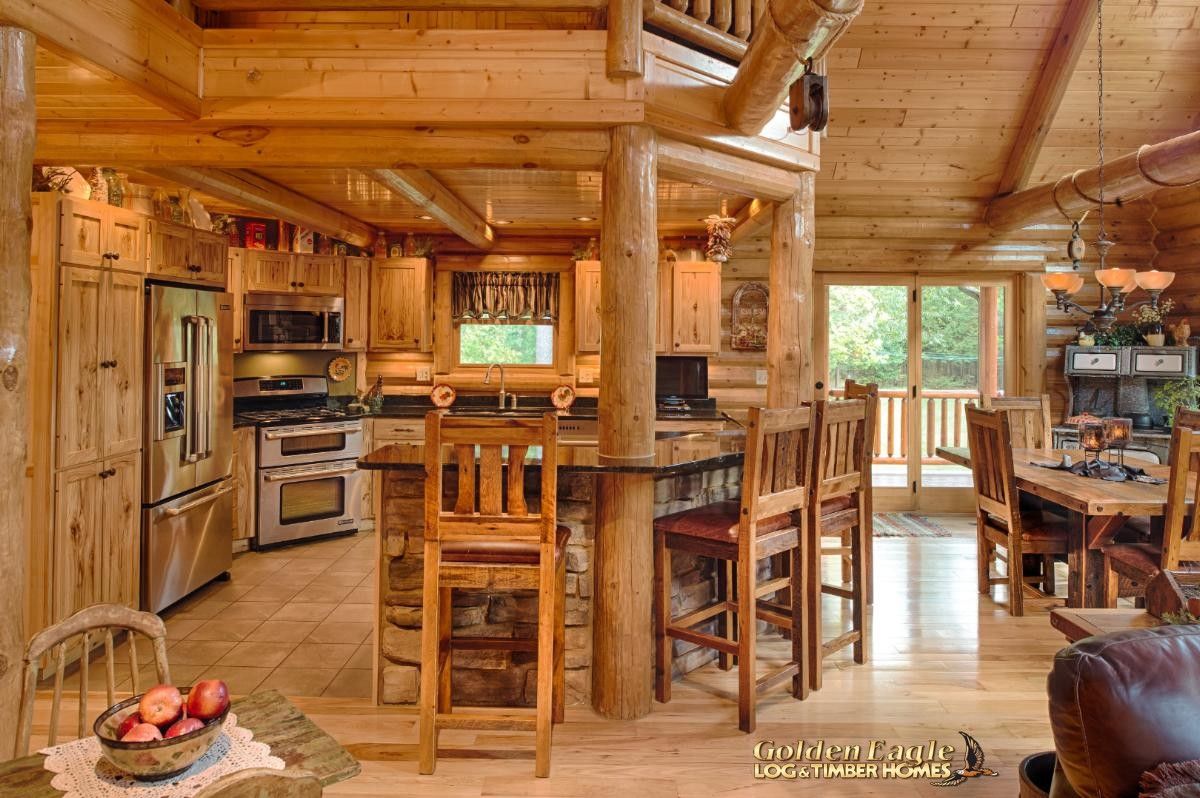 Half log stairs lead up to the second level for a real authentic log cabin look. I appreciate the shorter staircase with a landing in the middle to break up the stairs nicely.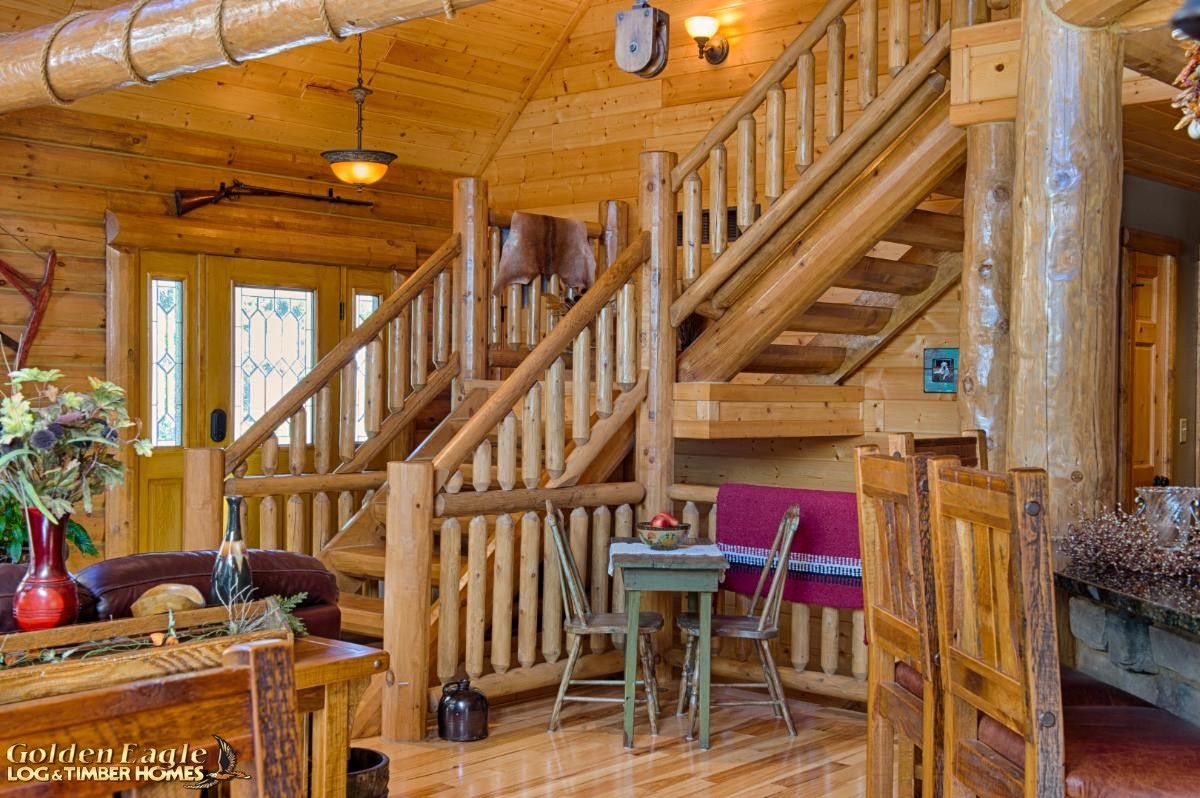 This view from the landing gives you a great look over the bulk of the living space. With a cozy seating area on one side and dining table on the other side, I can just envision a family holiday here with laughter and children playing at every corner.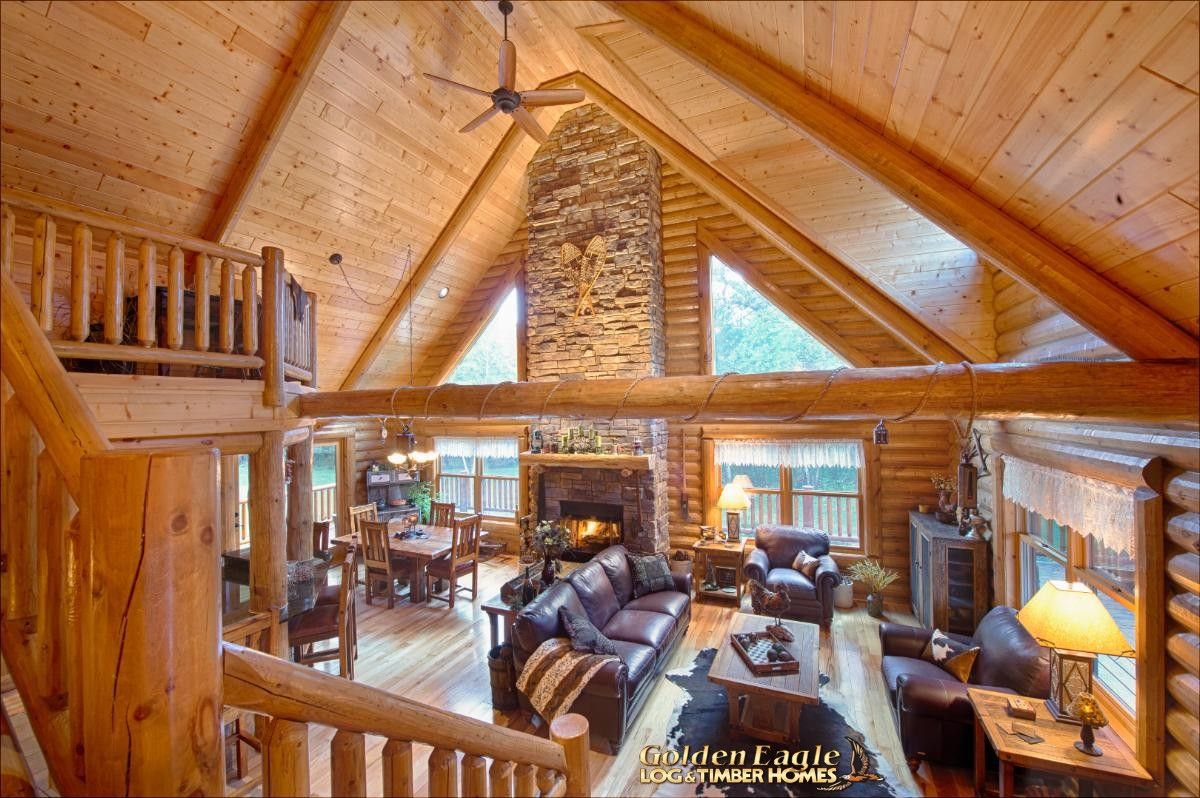 The loft landing has a nice little nook for seating as well that overlooks the main floor. I really love the little space here for a desk or a reading chair.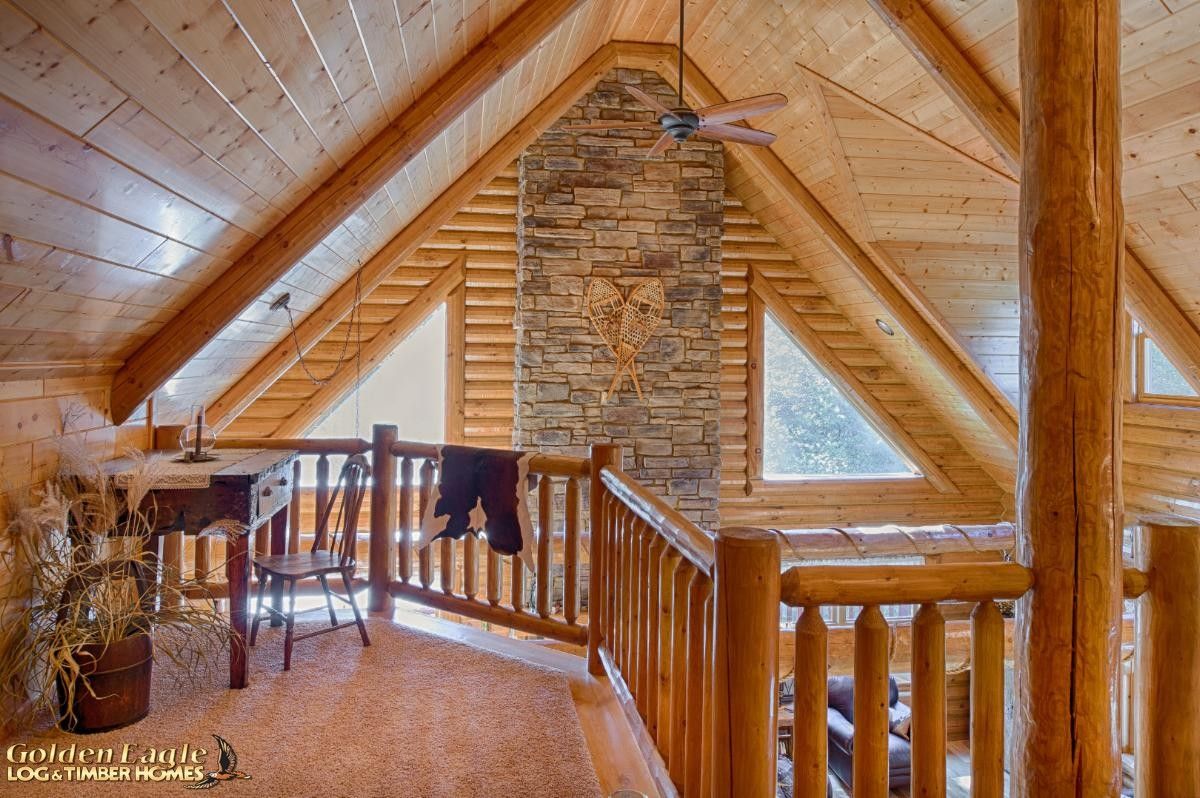 There are two bedrooms in this home that are large and welcoming. I love the spaces with tons of room for dressers, a chest of drawers, wardrobes, and chairs. This room, in particular, is really adorable with the old-fashioned desk, open wardrobe, and rustic elements on all sides.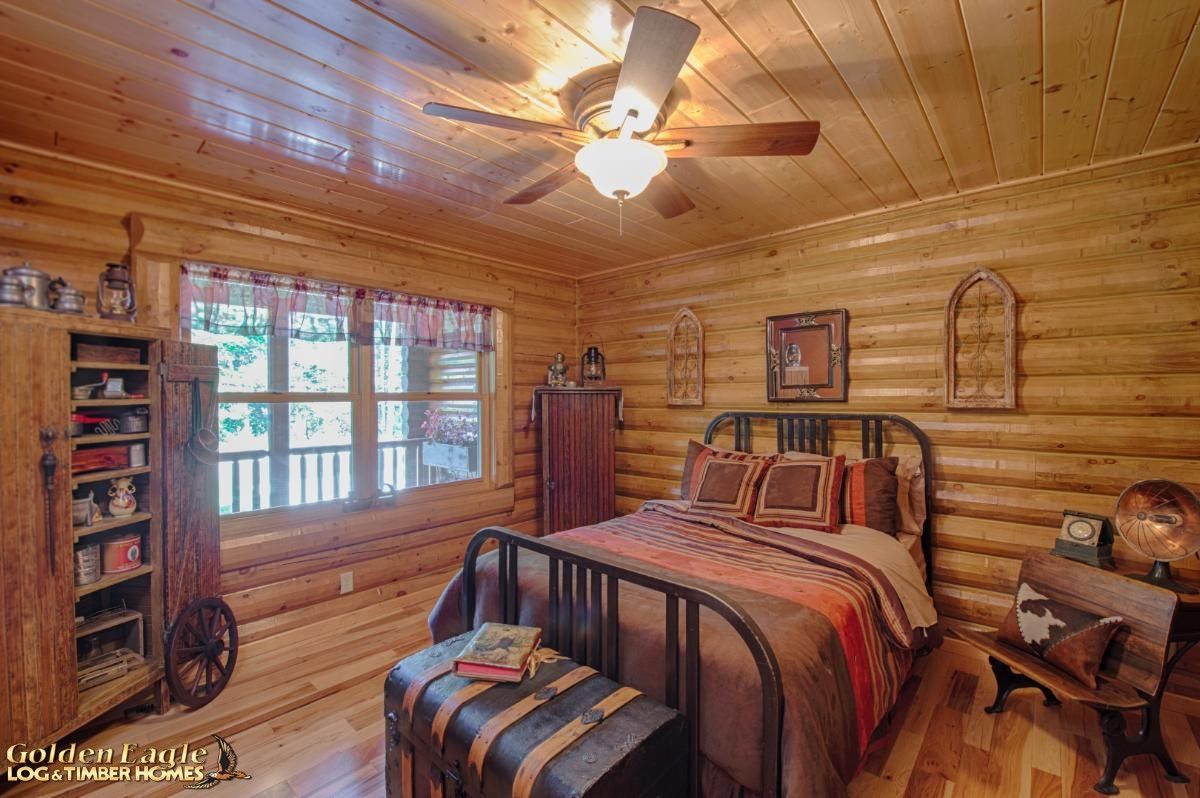 Matching the rustic theme is this beautiful bathroom with a stunning clawfoot bathtub for soaking. Plus a white pedestal sink across from storage cabinets makes this a true oasis from the rest of the home.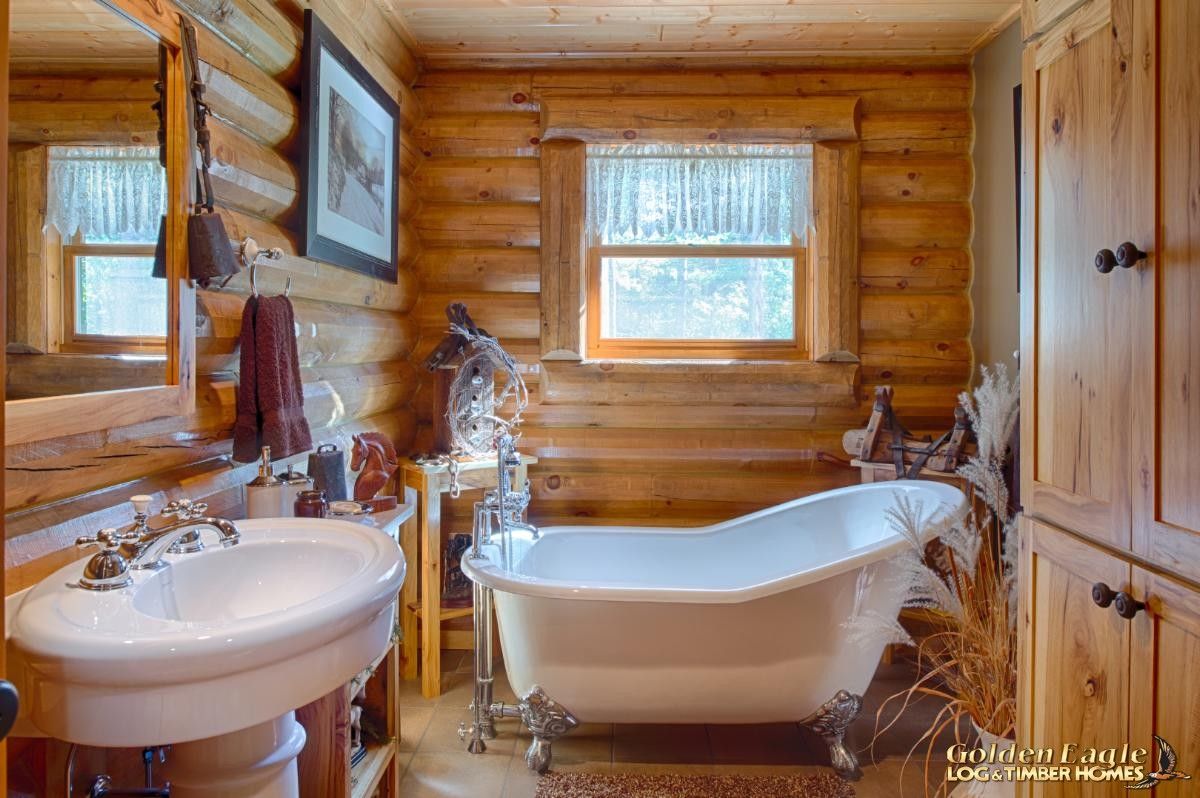 The master bedroom is, even more, astounding with the beautiful open space, tall ceilings, and a view like no other.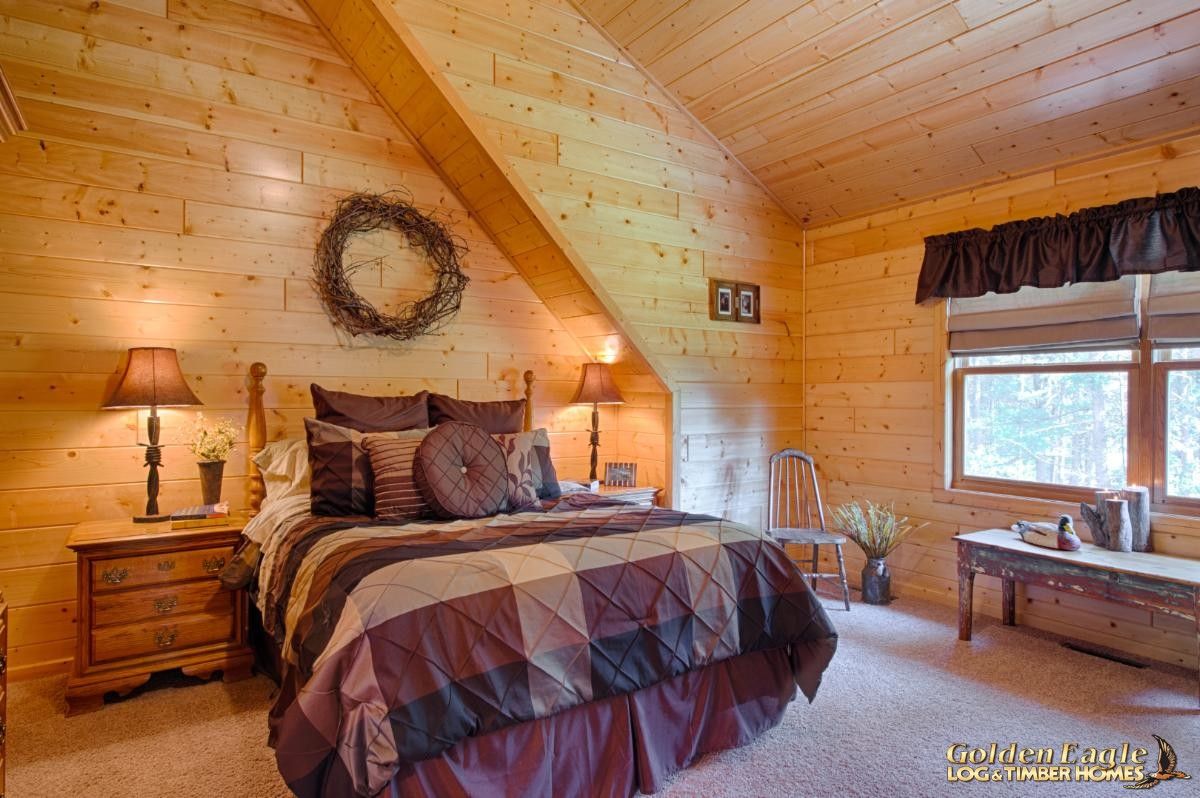 A large master bathroom includes this more modern tile surrounded soaking bathtub with a combination rustic and modern vanity that is large enough to hold all of your toiletries.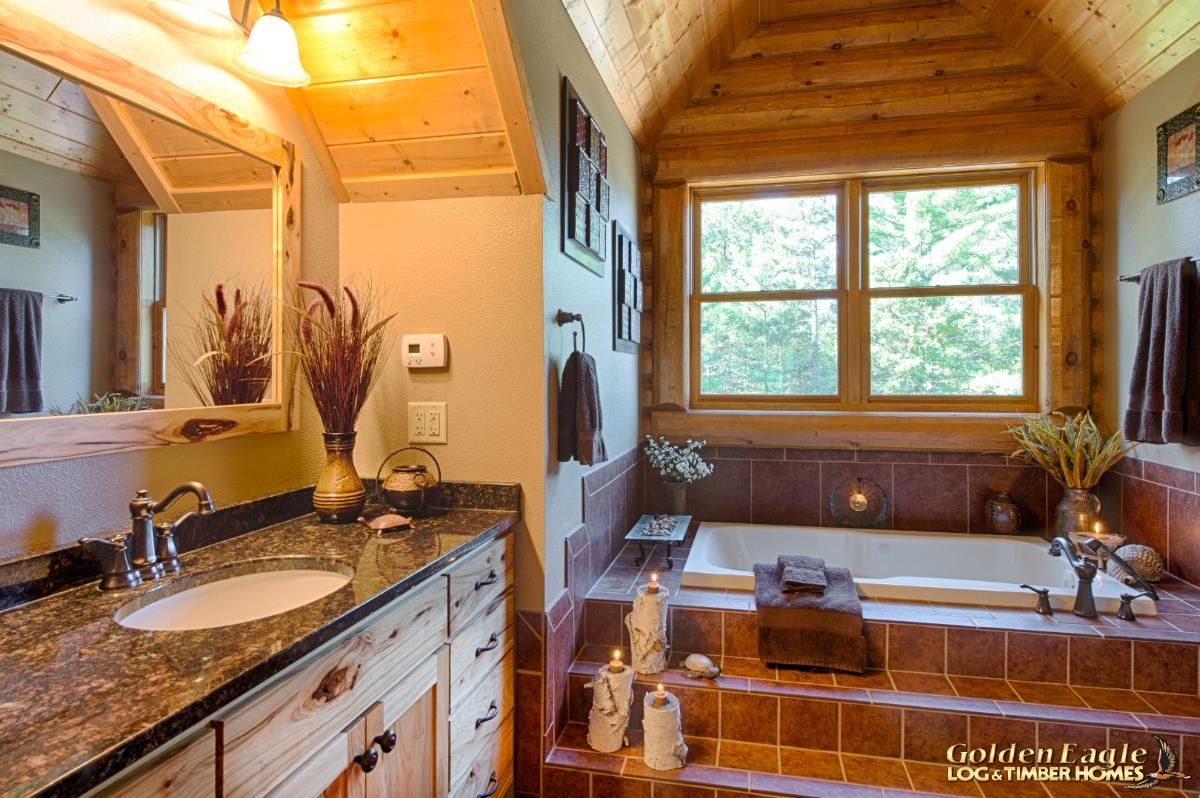 The basement is a favorite space of mine with a large open entertaining space. This is what I would call a theater room and is ideal for viewing movies with friends and family.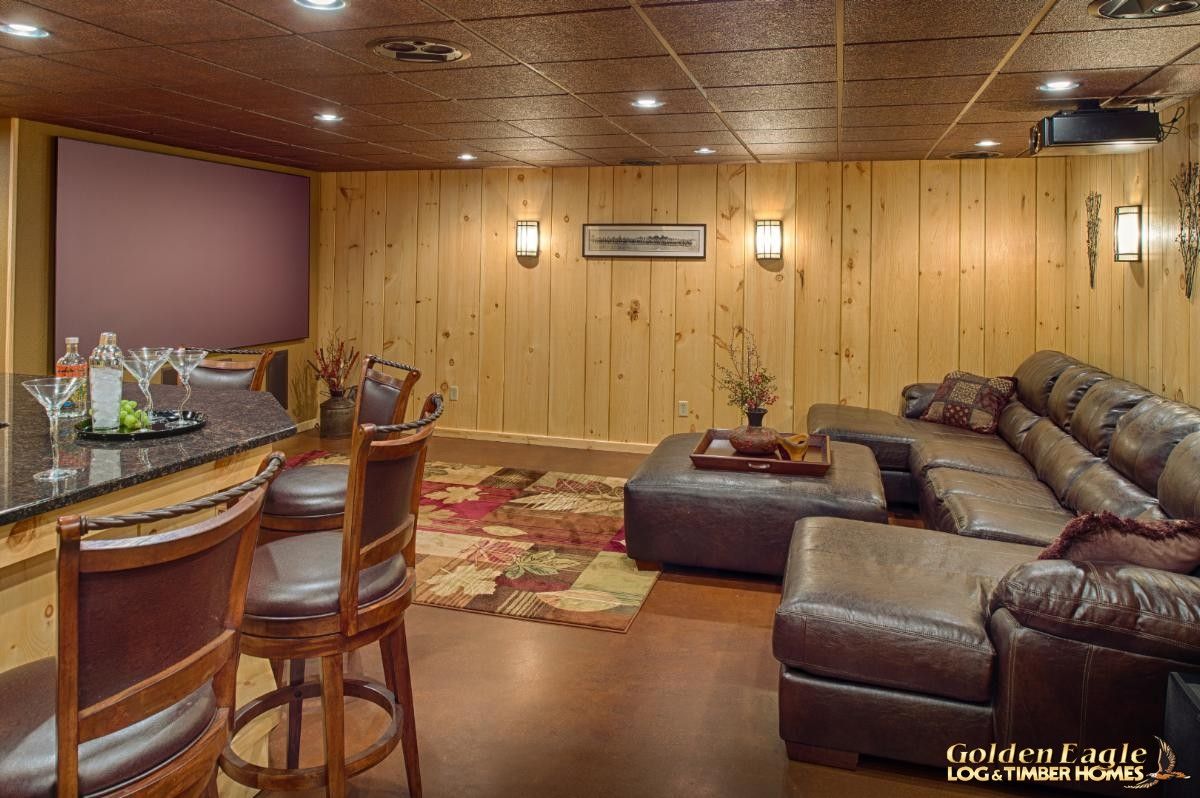 The basement also has a second kitchen space with an oversized refrigerator that is ideal for storing drinks and snacks. And the right-hand side of this image also includes a nice-sized bar for serving up your favorite drinks.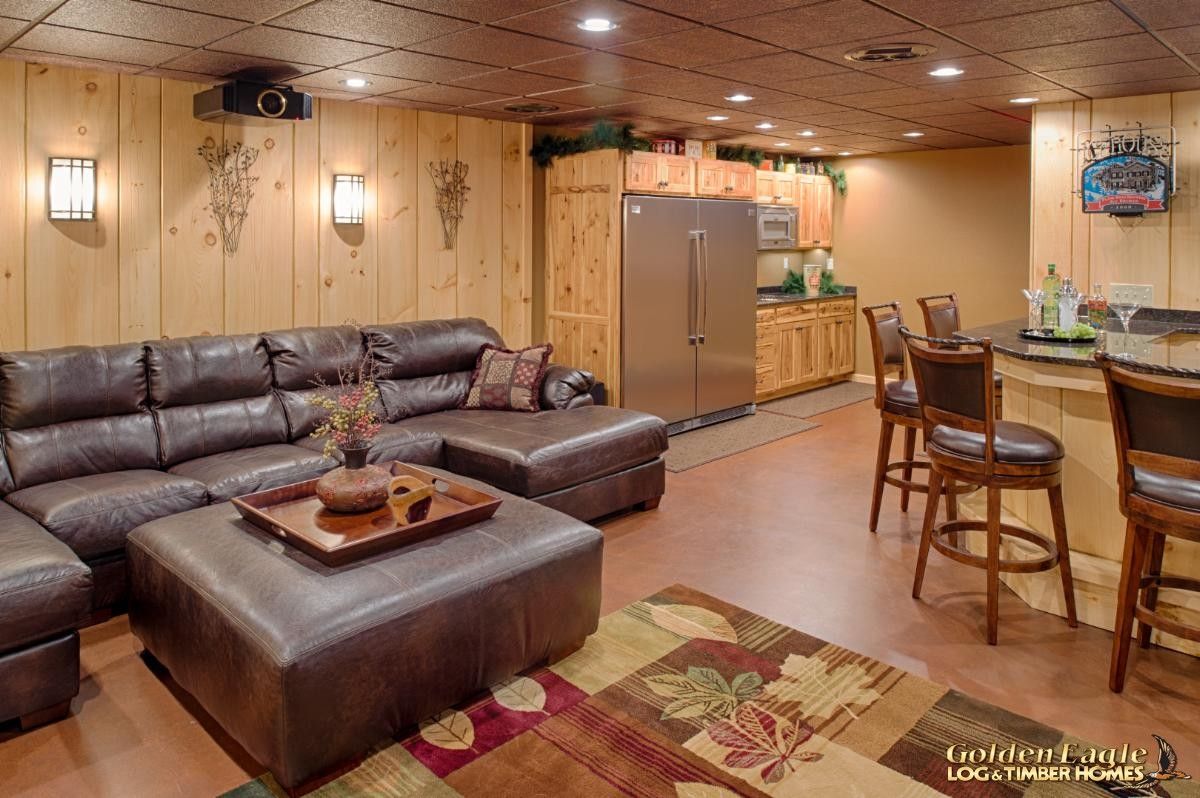 You can also view the video tour below!
For more amazing log cabin builds, check out the Golden Eagle Log Homes website. You can also find them on Facebook, Instagram, and YouTube. Let them know that Log Cabin Connection sent you their way.
More Log Cabin Kits and Tours