If your idea of a log cabin is that rustic look lakeside, then the Kodiak is definitely a home for you. Nestled in the treeline with lakeside access, this home is a beautiful build that is ideal for families to live in full-time, but could also become a favorite family retreat.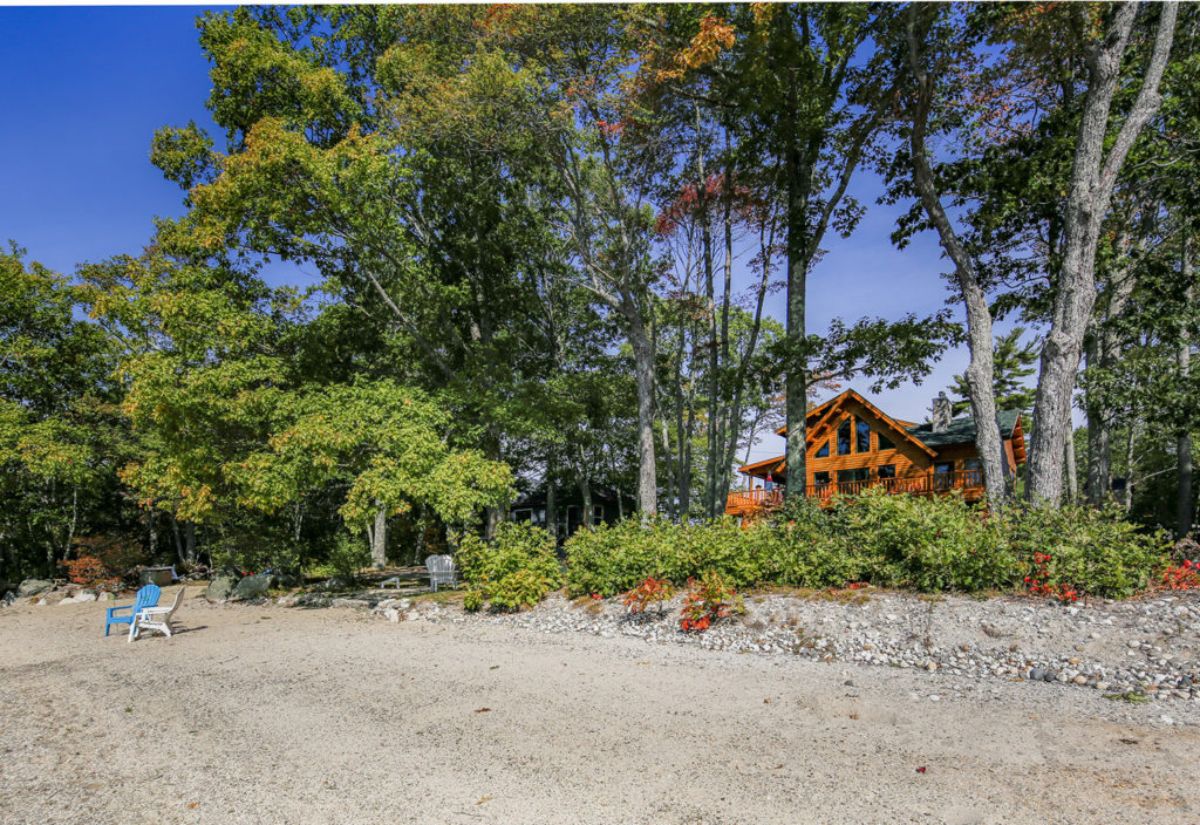 Log Cabin Size:
1,785 square feet
3 bedrooms
2 bathrooms
Built-in Maine, this home is ideal for a four-season home with a finished sunroom and decks on the back overlooking the water. A truly perfect retreat from the hustle and bustle of the world.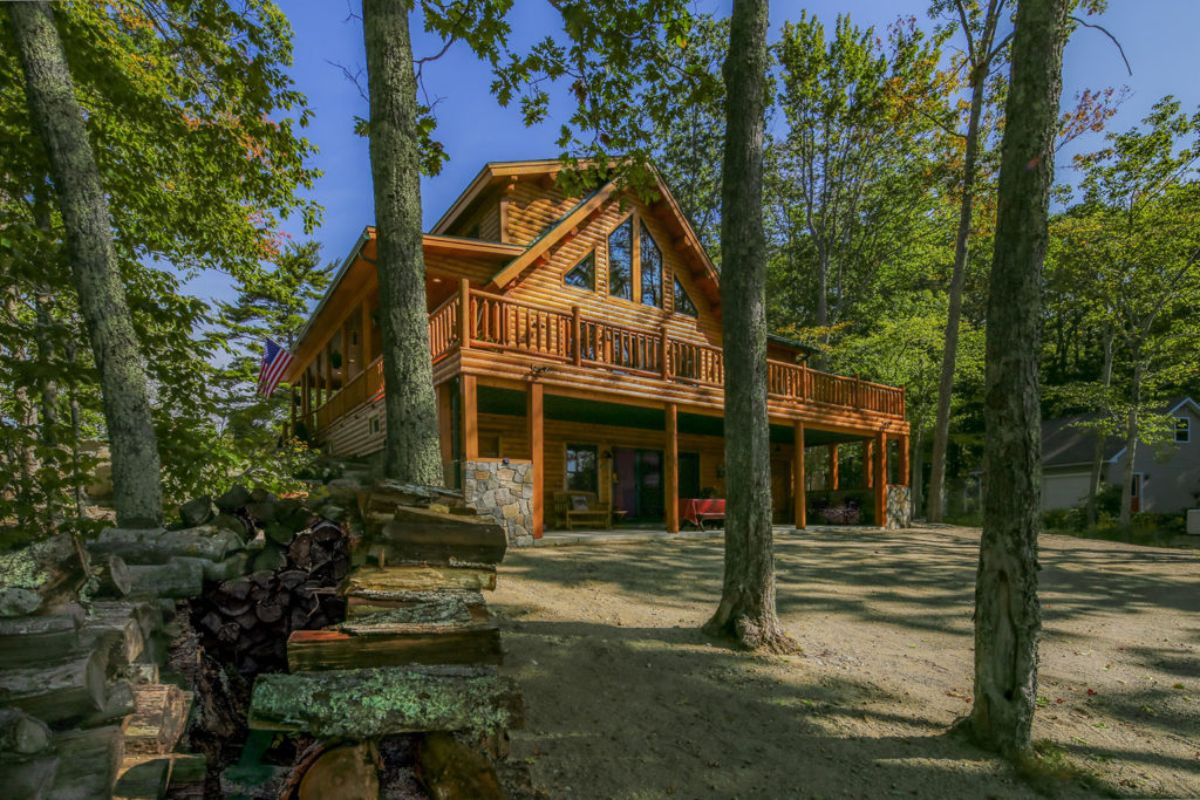 A three-floor cabin with a smaller loft, the main floor that is spacious and welcoming with porches on three sides, and of course, the walkout basement floor that has a gorgeous covered patio with a picnic table and relaxing chairs for cozy summertime afternoons.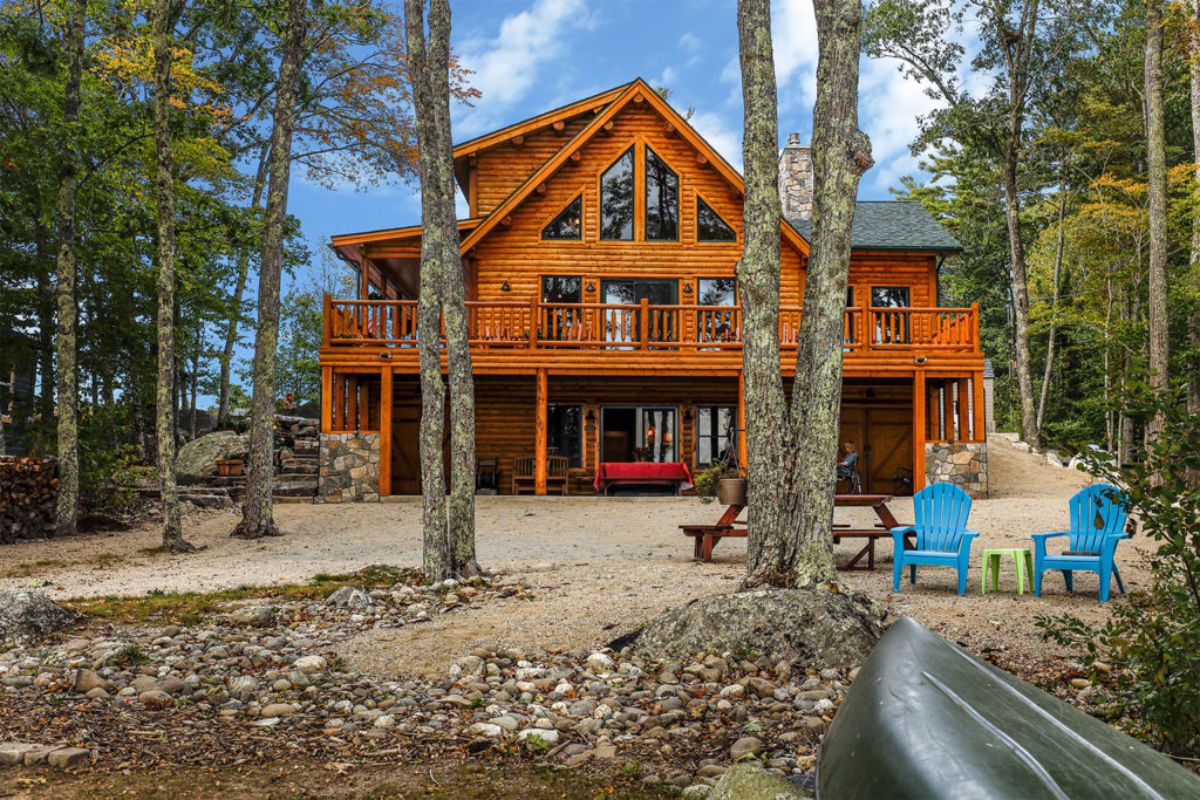 Below you will see that the walkout basement also has two large doors on either side that house storage space. And, on the left side, there is room for a grill with a little outdoor kitchen setup that creates the perfect weekend barbecue location. Tons of shade on the lower property, with plenty of sunshine above!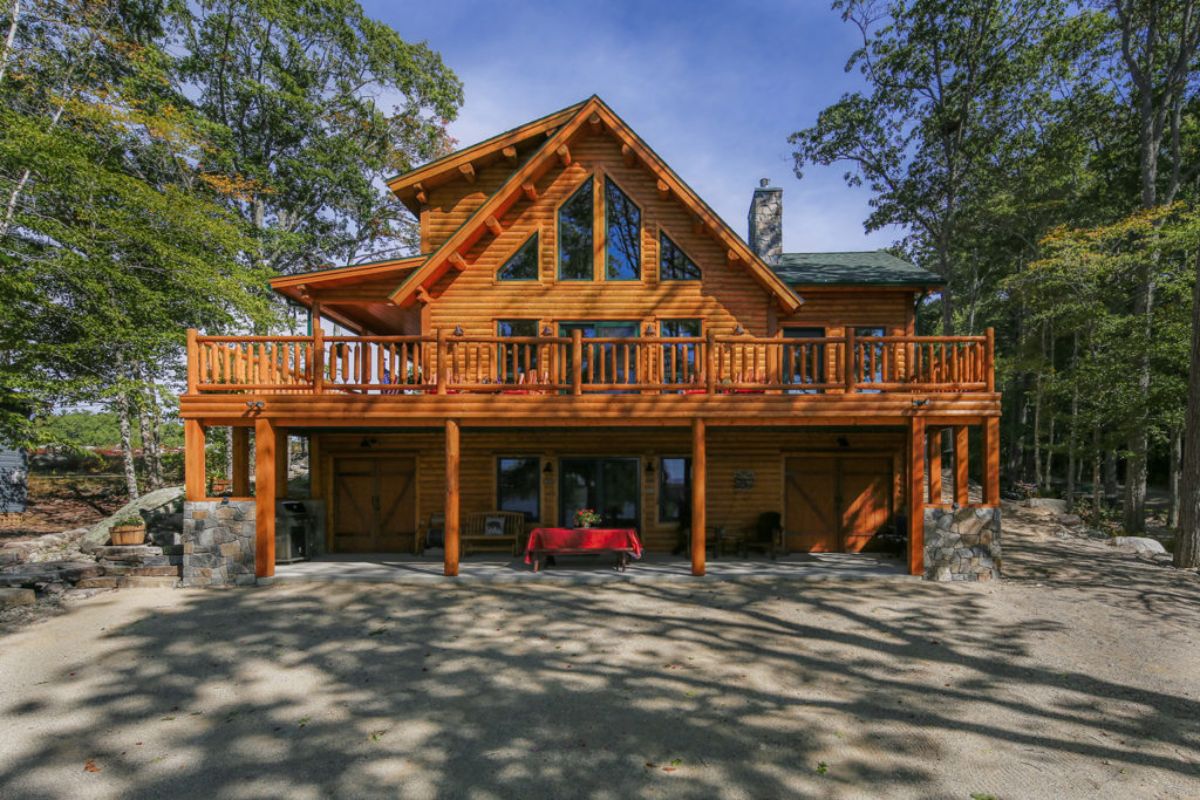 Just look at that beautiful deck! The side of the home includes a covered porch that leads out to the front door with the back side being open to the lakeside view. It's ideal for a few cozy Adirondack chairs and the open windows and doors on the great room level help to extend it for anyone wanting to entertain but not feel crowded inside.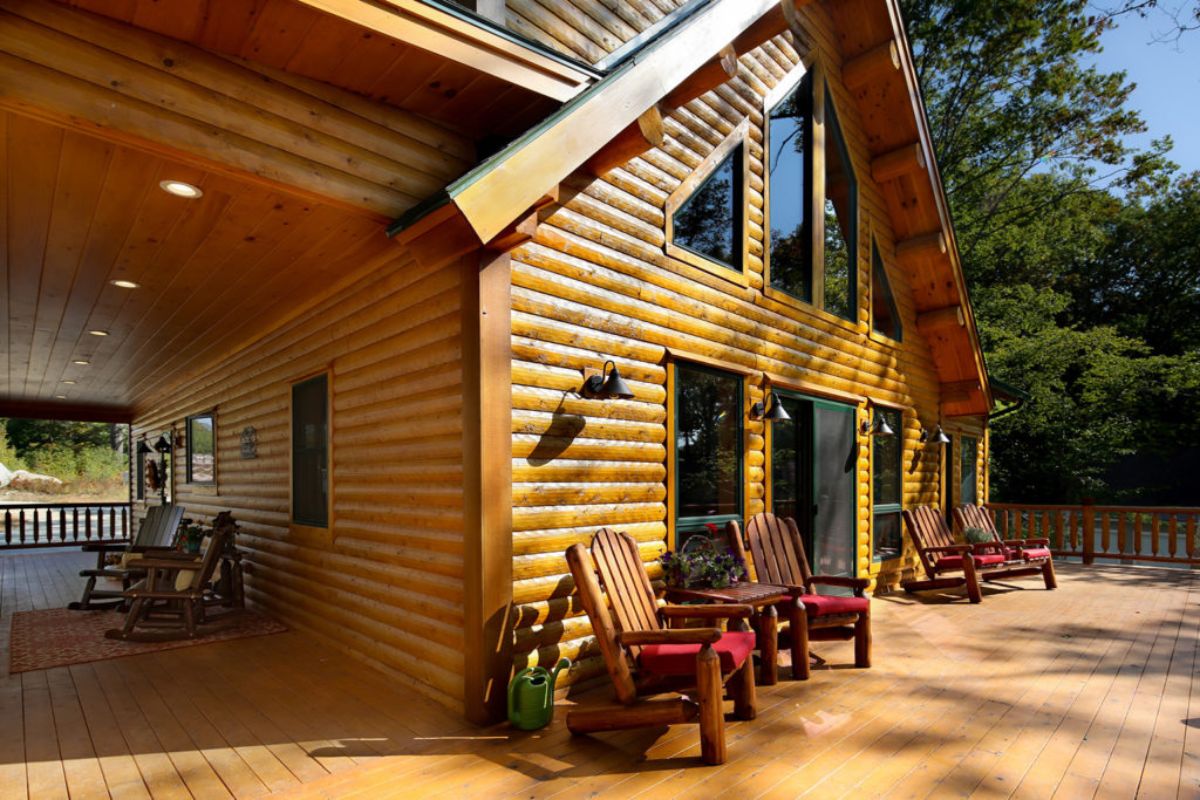 Inside the Kodiak, you will find the familiar open floor plan that is common in this style of cabin. The large living space includes the classic wall of glass that leads out to the deck. Here, you can easily set up a few chairs, tables, and even storage cabinets by the fireplace.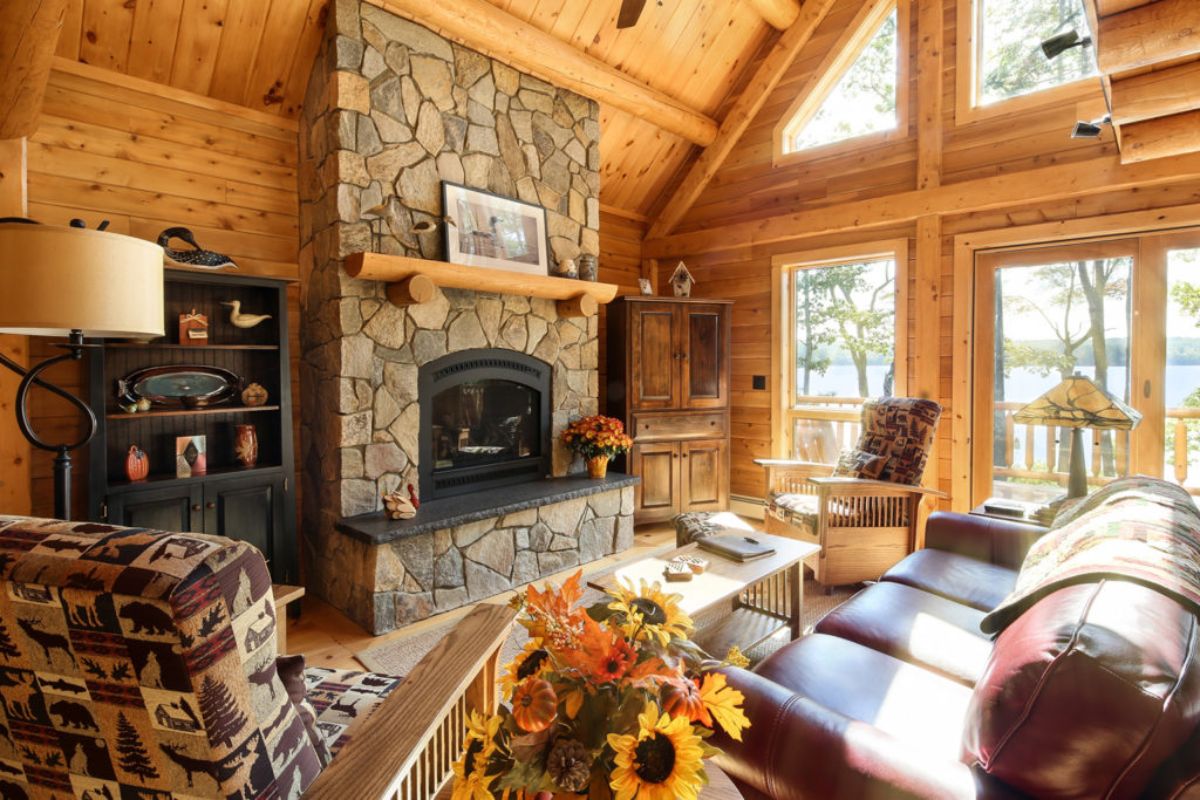 I love seeing a fireplace inside one of these cabins because it so often shows that you can use it for heat and save on energy costs. Plus, it's just cozy and romantic for that weekend retreat you've been longing to enjoy.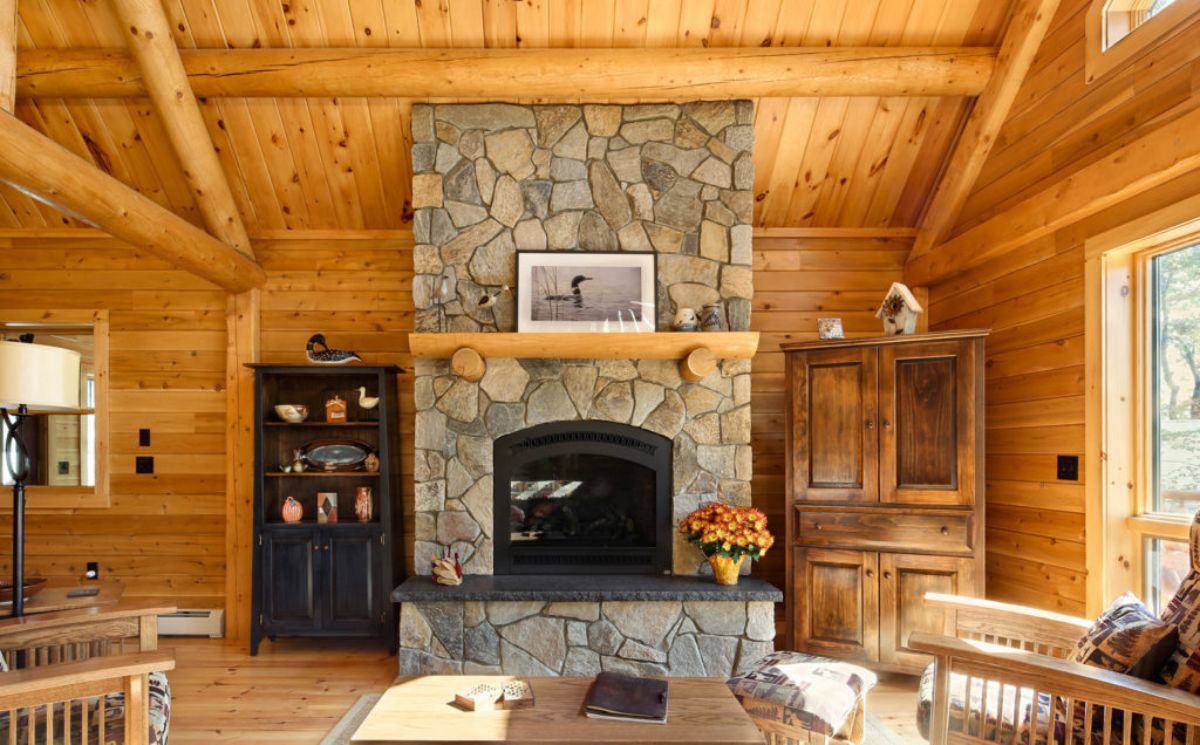 On the opposite wall behind that fireplace is the sister chimney and fireplace of the sunroom. This long space has a wall of windows that leads out onto the deck out back, but holds a few chairs and sofas for cozy reading nook or a favorite sitting area to chat with friends.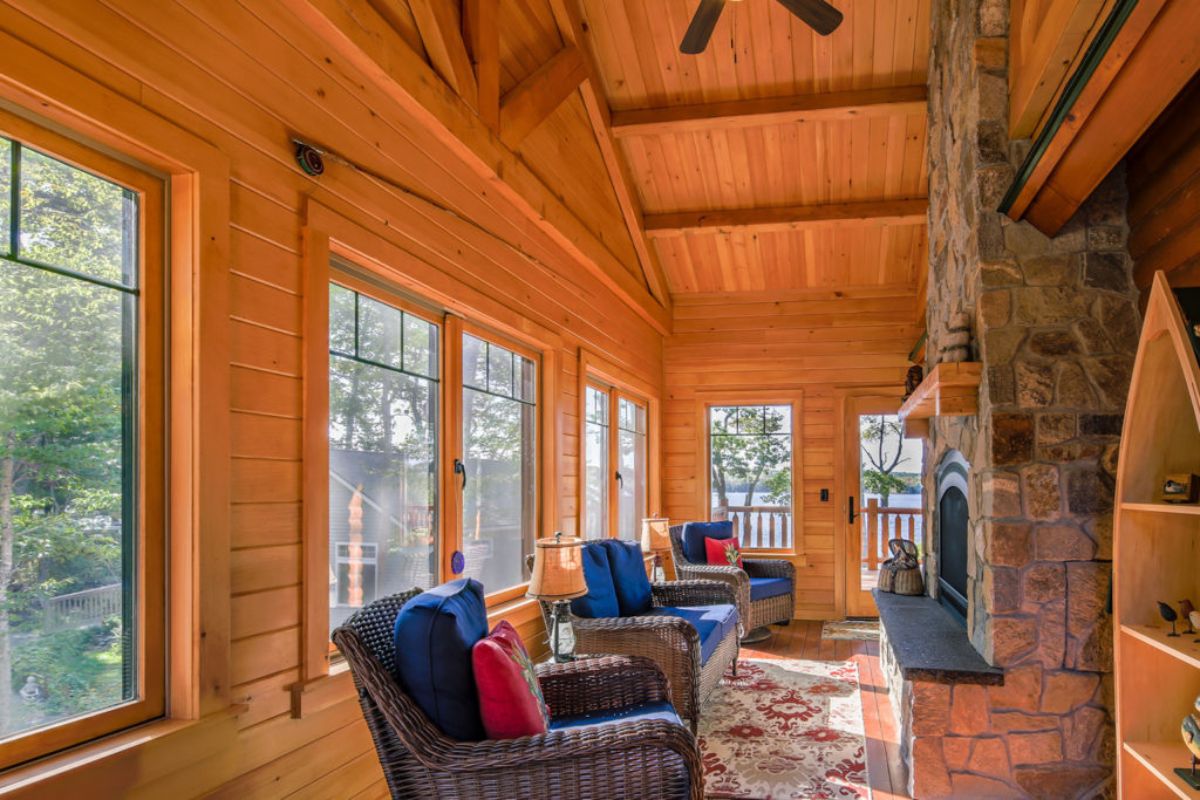 Of course, the heart of every home is the kitchen, and this home does not disappoint. This space is long and has a corner nook for a perfect coffee station near the refrigerator.
A larger 6 burner gas cook stove in the center creates a perfect place for family meals to be prepared. Plus, the bar opens up to the open living space and gives you a chance to set out food as a buffet for entertaining, or to just talk with guests while you stand over the stove with a meal simmering.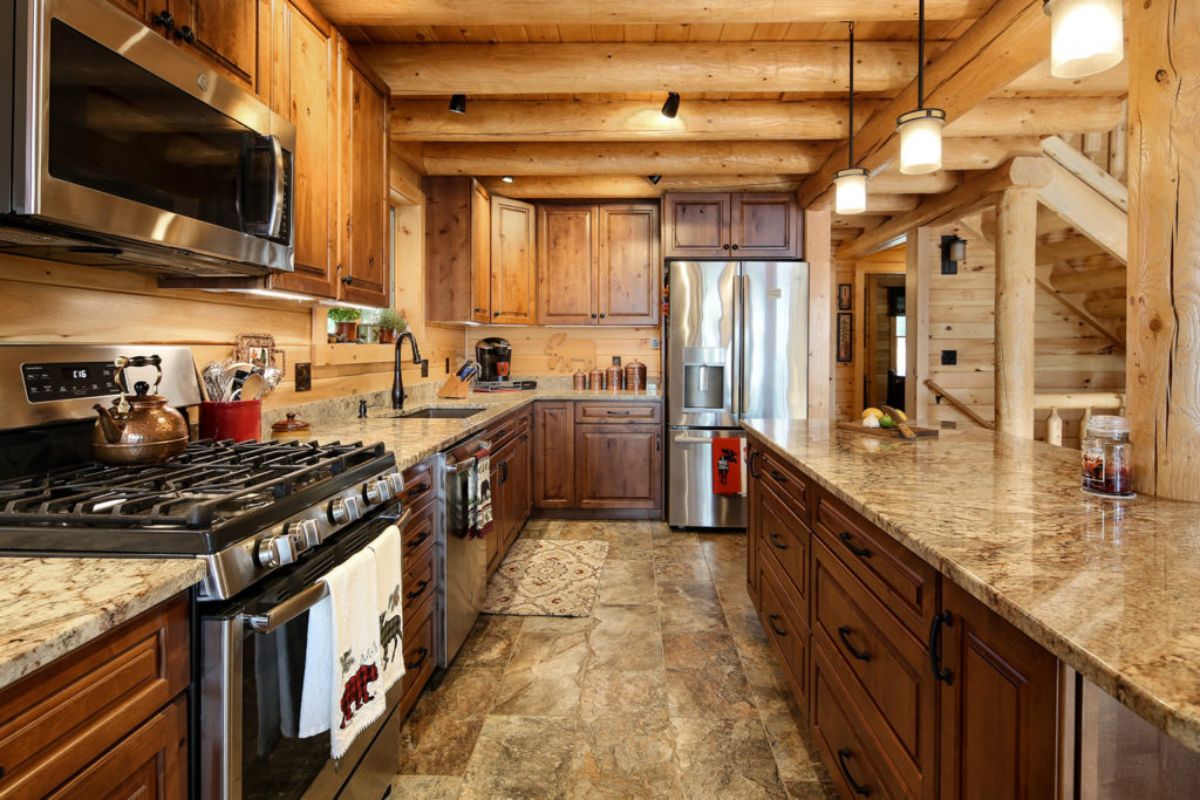 In this cabin, the log work goes inside not just on the walls, but also as half-log stairs on the staircase up to the loft level. Plus you have gorgeous hand-cut log spindles on the rails.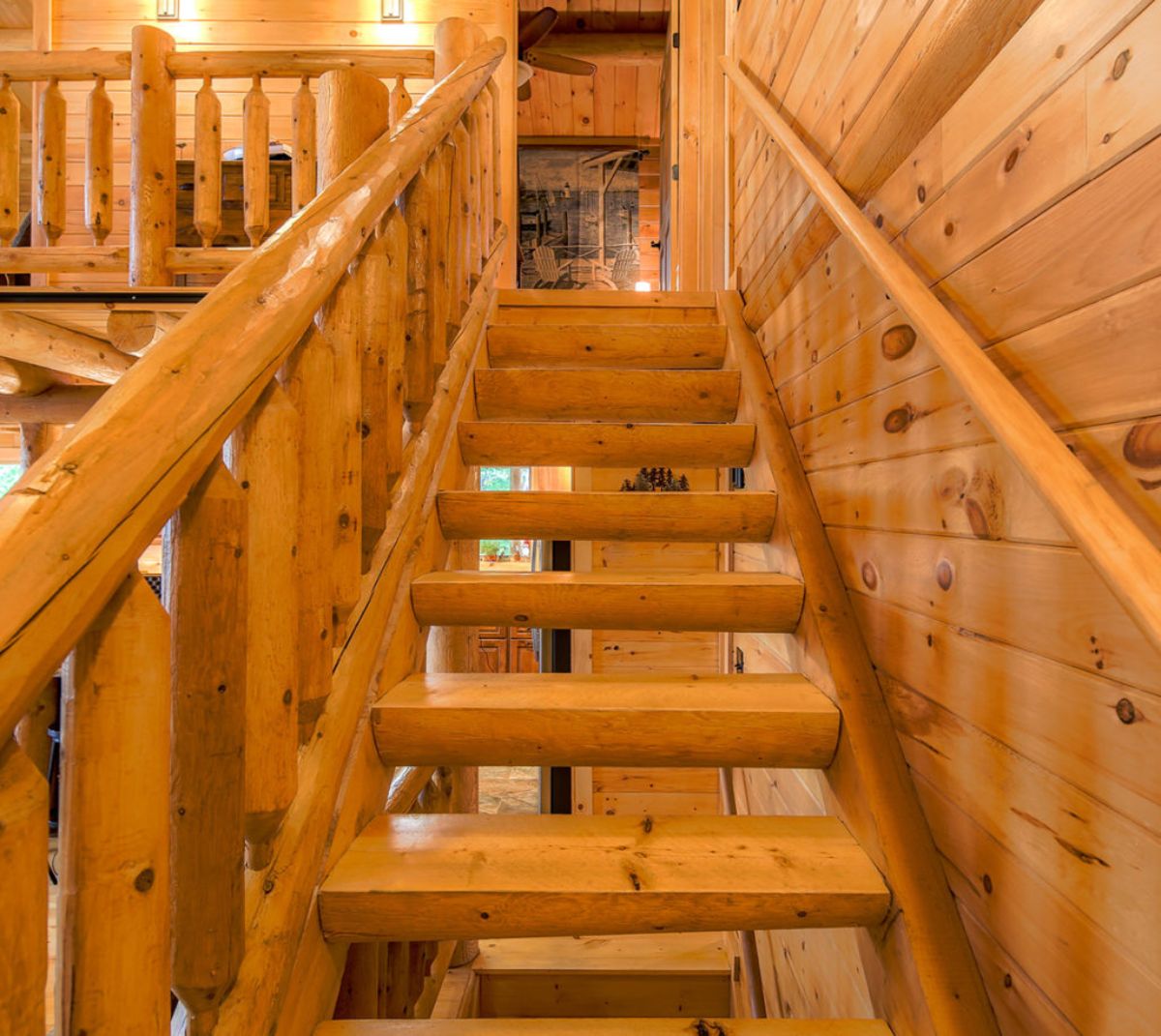 When you reach the top of those stairs, you can go one direction to a bedroom and bathroom, or over to an open living space that sits above the main floor living room. Notice the windows on that back wall? I love the natural light they bring to the entire home!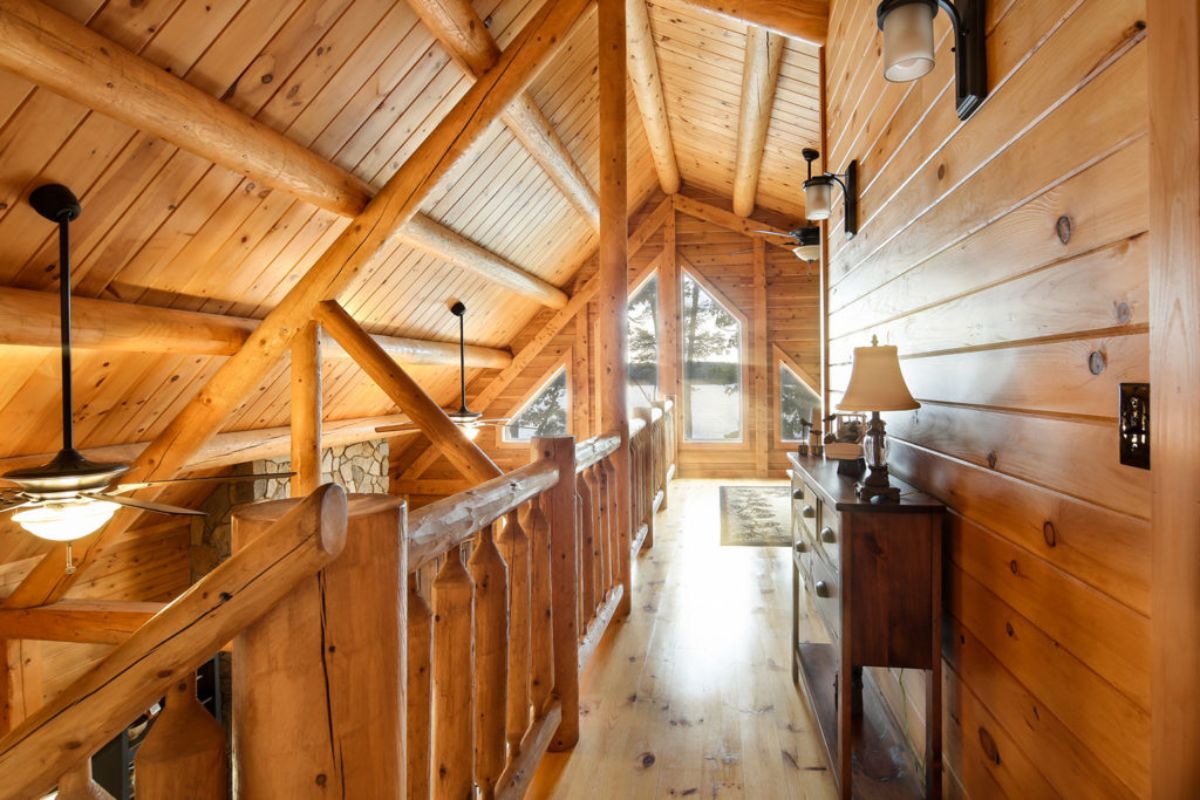 This home has 3 bedrooms and 2 bathrooms. One bedroom and bathroom are shown here in the lower level.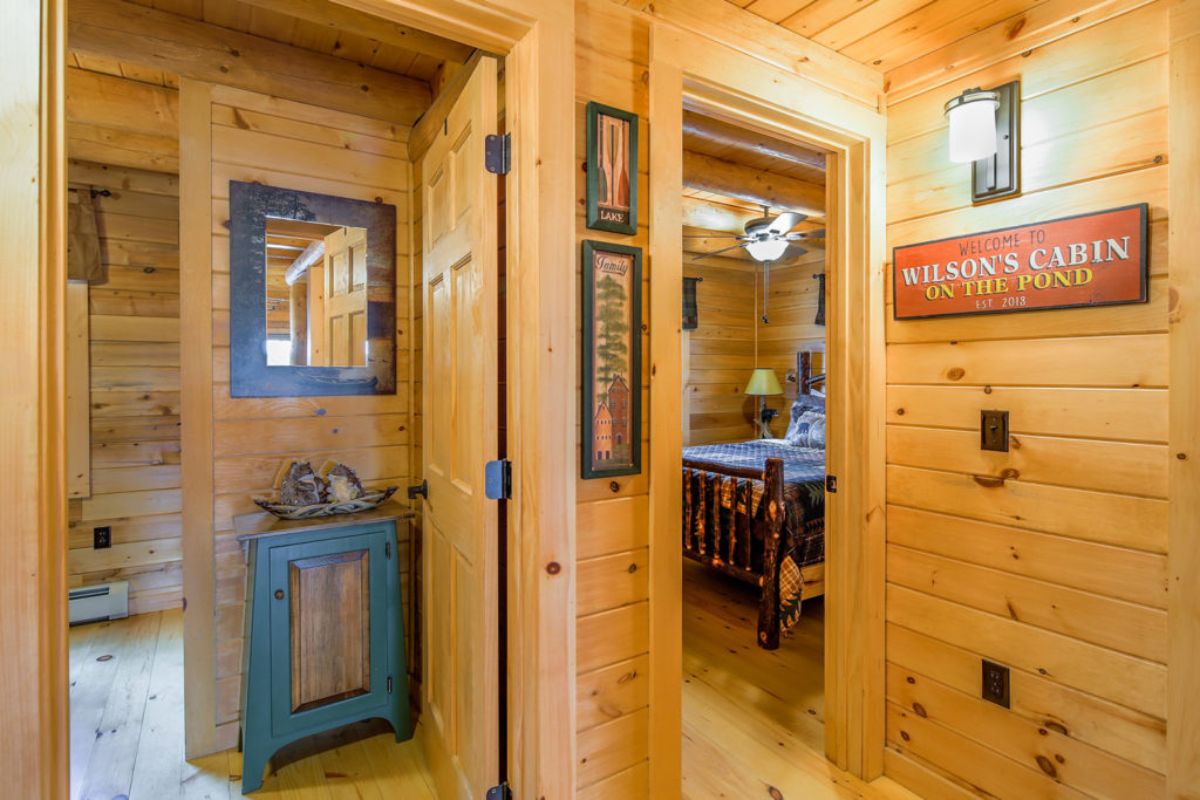 But upstairs, the lofted master bedroom has a gorgeous private bathroom with this beautifully tiled shower with glass door.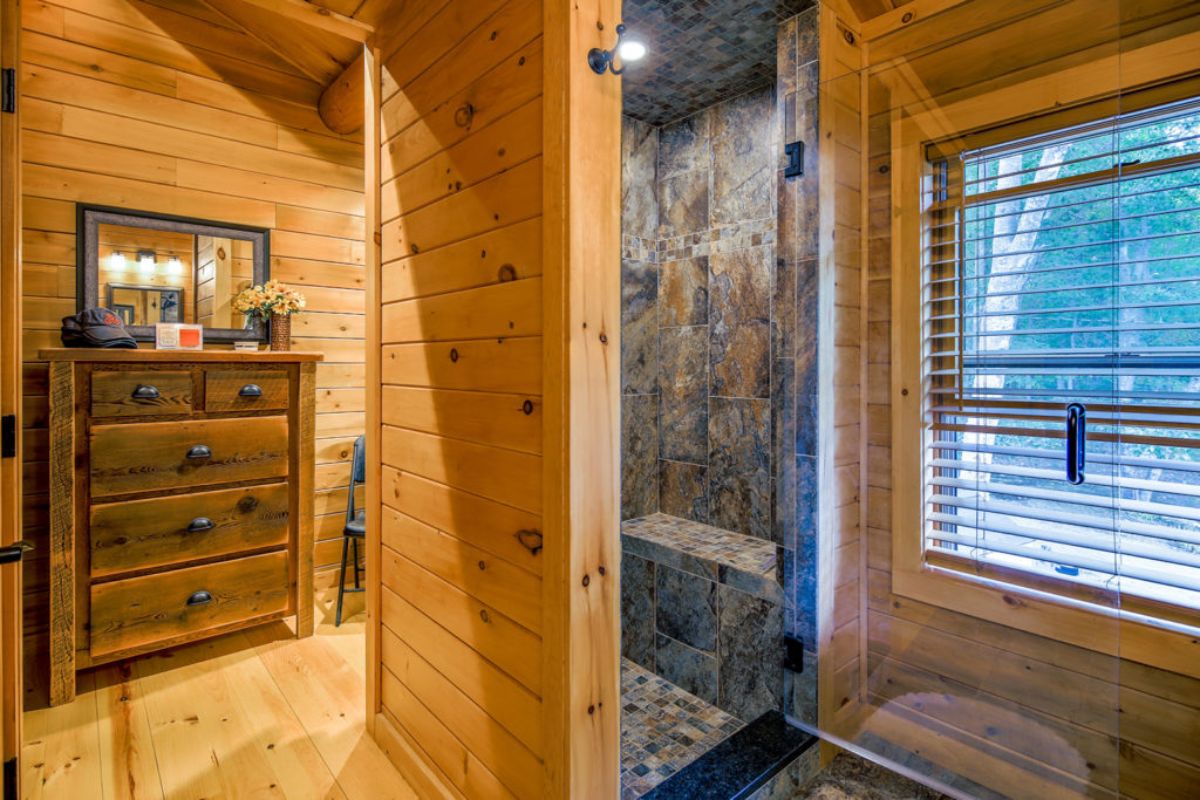 And this master bedroom is so nice and large with room for a chair by the window or even a second bed if you have small children you want to keep closeby!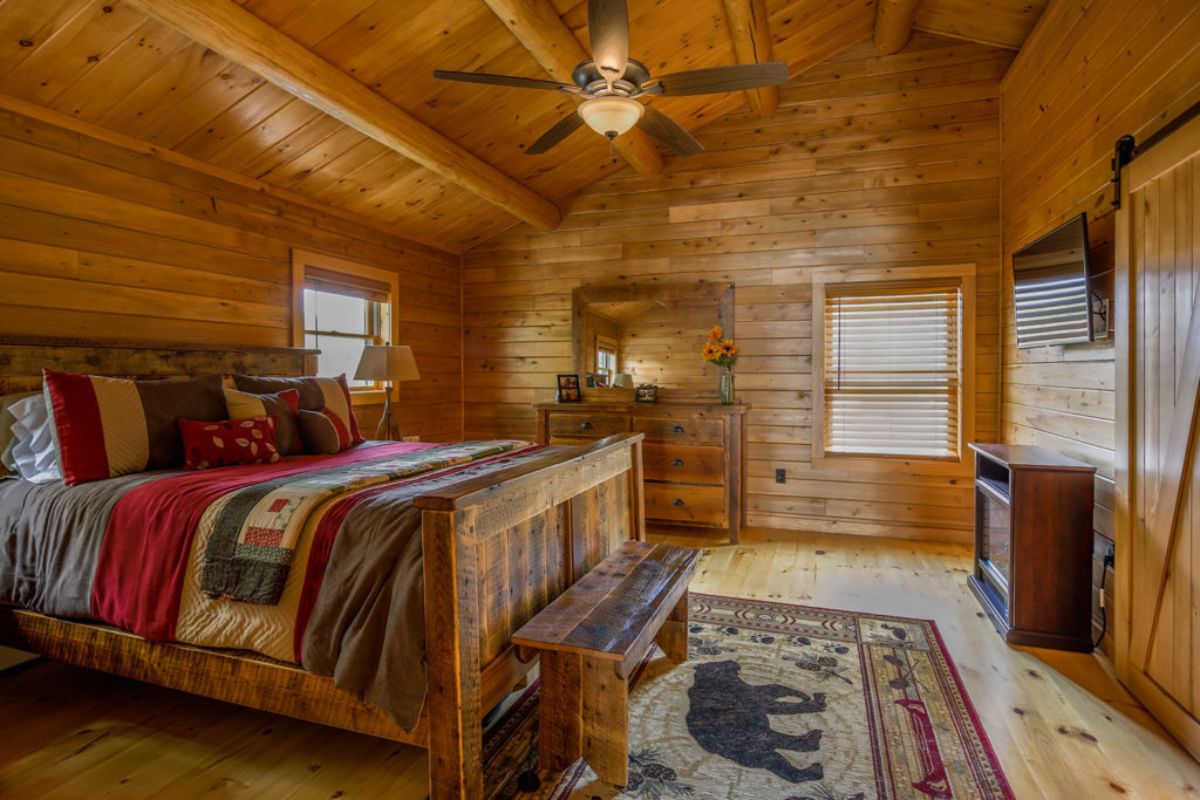 If you like this home and are interested in the official plans or similar models, check out the Katahdin Cedar Log Homes website. You can also see their latest builds and updates on their social media pages on Facebook, Instagram, and even YouTube. Make sure that you let them know that Log Cabin Connection sent you their way.
More Log Cabin Kits and Tours