One of my favorite cabin styles has to be the A-frame. They tend to be a bit on the smaller side, so when I saw this Jocassee model that uses the A-frame style as a base and expands on it, I knew it was going to be my new favorite!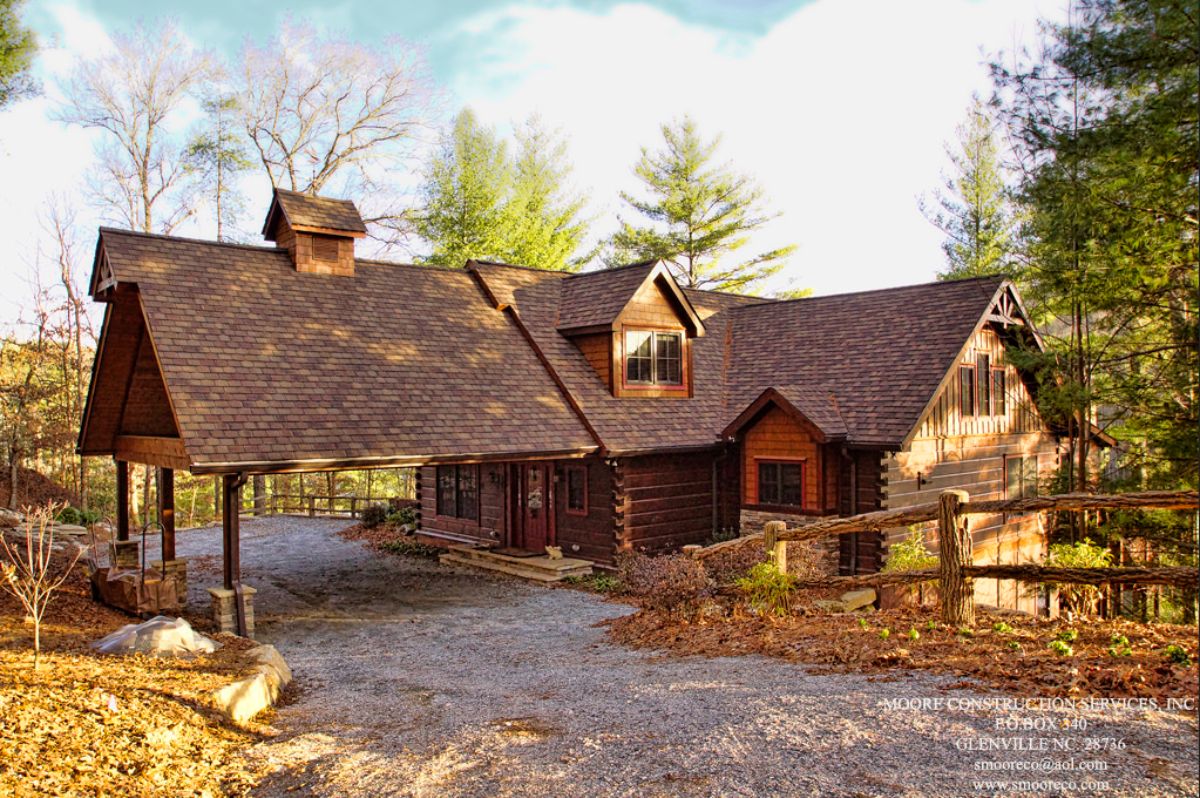 Log Cabin Size Options
Below are the different models of this particular home and the size ranges available. You'll find that these have multiple options to suit your needs.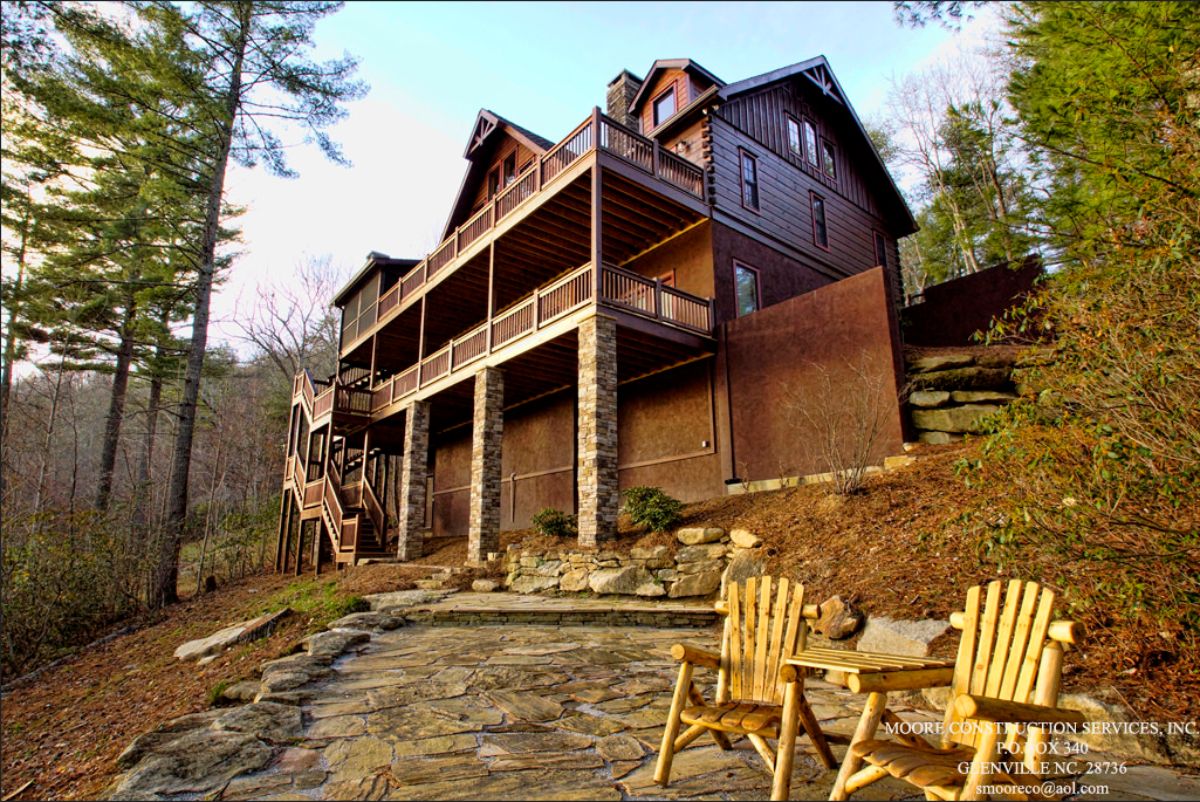 Log Cabin Features
All models are designed with family comfort in mind.
Expansive glass and vaulted ceilings are true to the beloved A-frame style.
Large decks on the back and sides of the home as desired for expanded exterior living spaces.
Stunning master suite with ensuite bathroom including double sinks and a soaking whirlpool bathtub.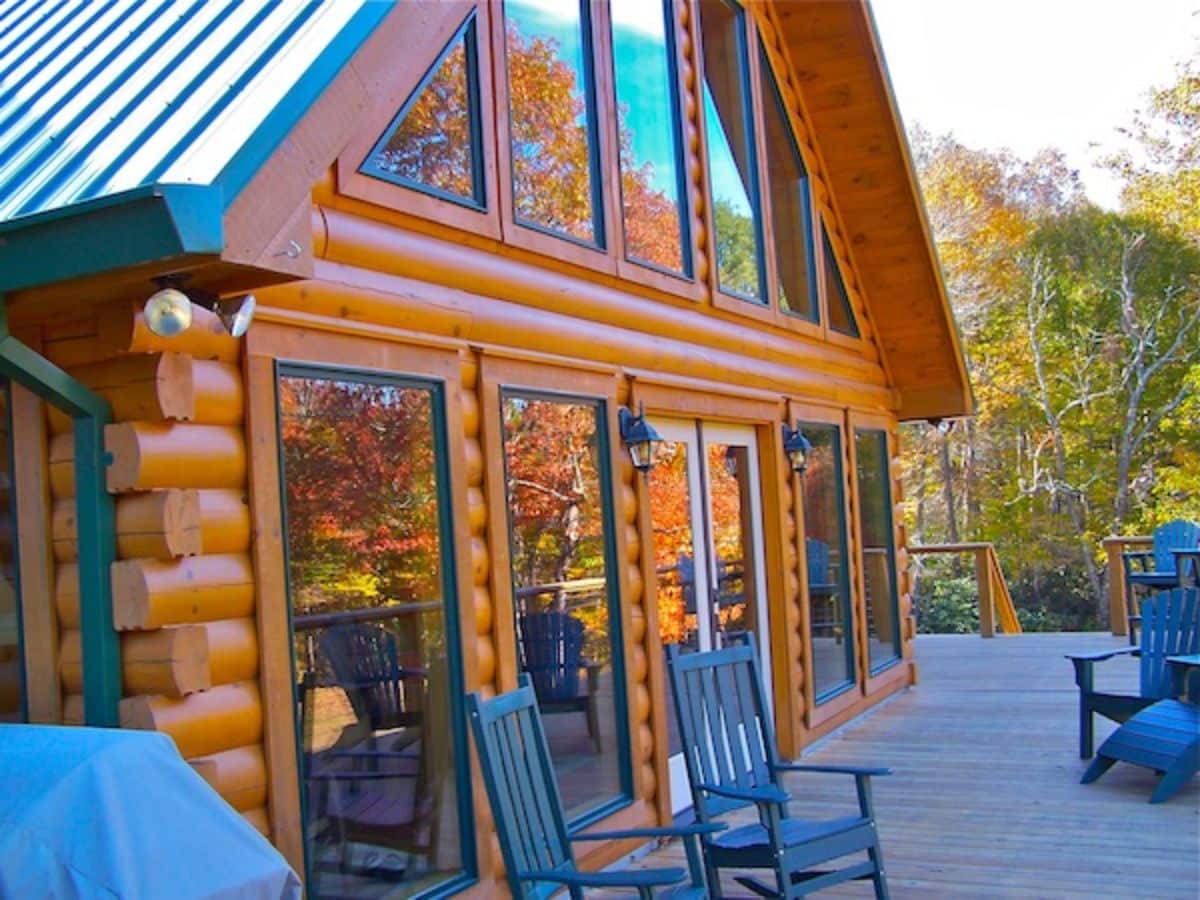 The floor plan varies slightly depending upon which version you choose, but all of these homes offer two floors with open living spaces. Below you will see your first glimpse into the interior of this home. A stone fireplace along one wall adds the classic cabin ambiance but also acts as a functional heating source.
I love that this owner has added bookshelves on both sides of the fireplace as well as using the mantle above to mount a television. It can easily transform this space from a stuffy formal space to a cozy living room for the family.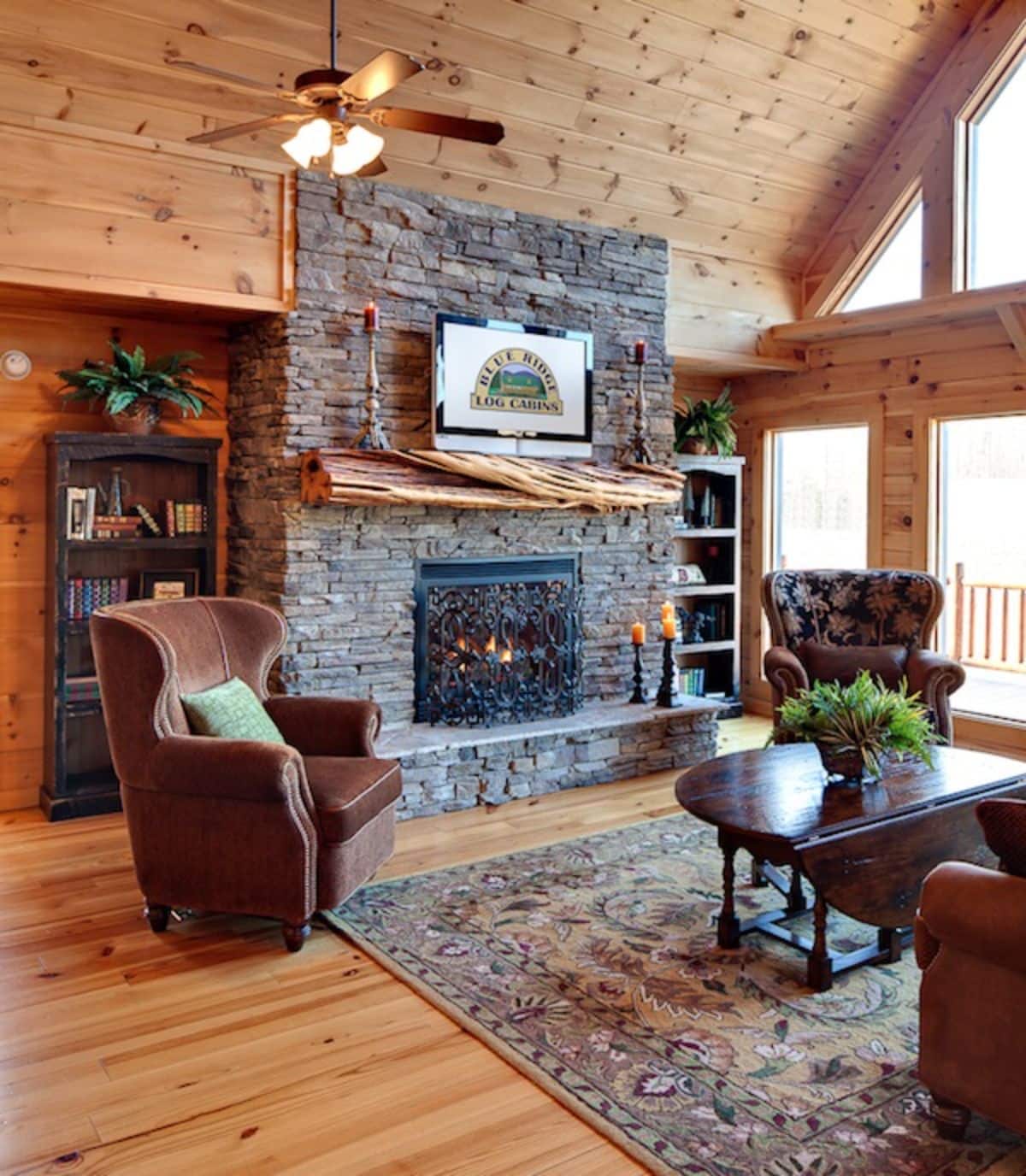 From below, you can see the large wall of windows that is a classic on a cabin but especially with that A-frame style. I love that this holds doors out to the deck for even better views.
The expansive living space feels large and open and flows right into the corner dining room as well as the kitchen. This makes the home ideal for families or those interested in entertaining friends and family.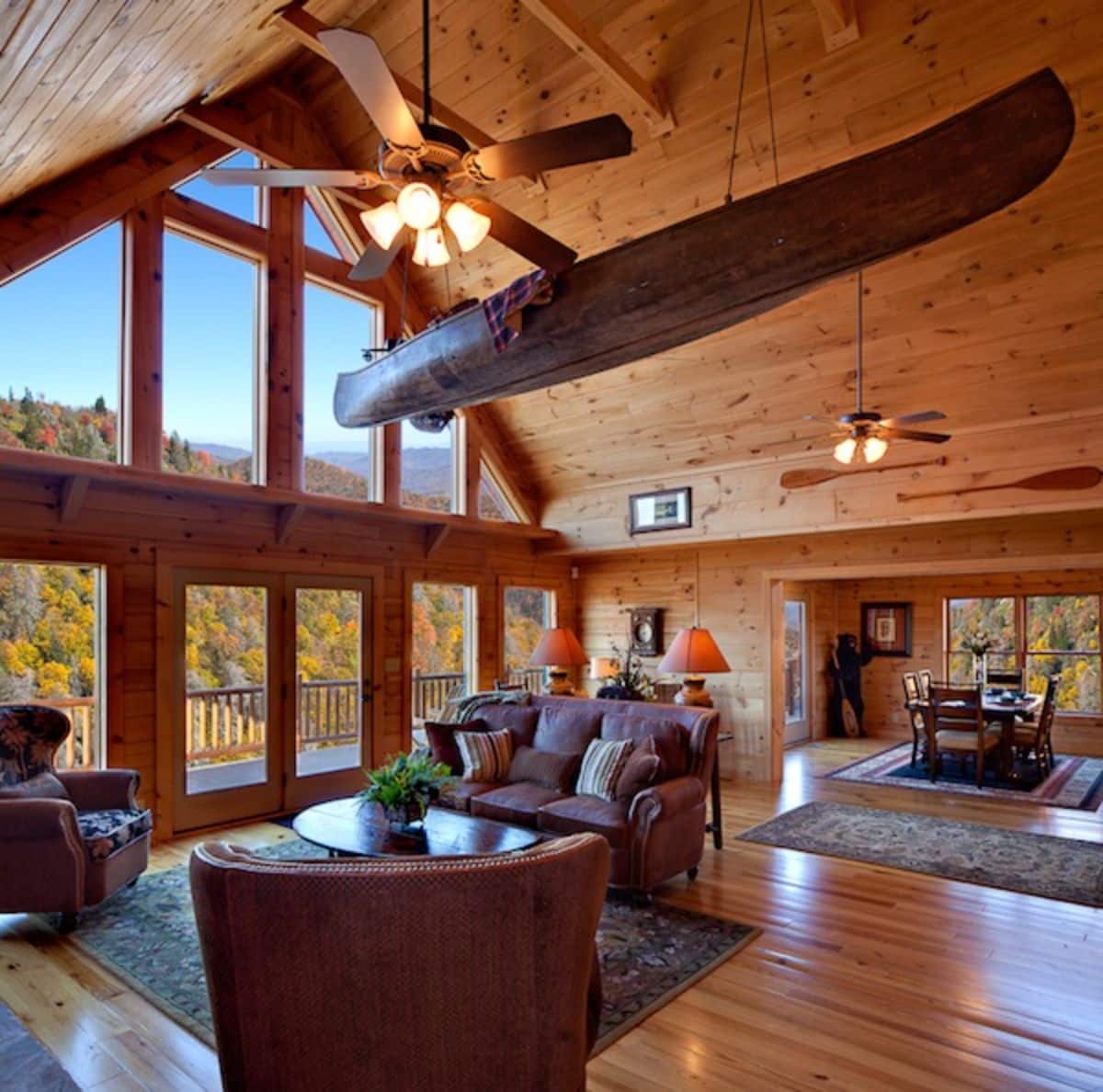 Inside the kitchen, you will appreciate the rustic and modern coupling with simple wooden cabinets featuring a natural woodgrain against the stainless steel appliances. Having an island on the outside of the kitchen gives some division to the space but also adds a small breakfast nook or bar for gathering for your morning coffee.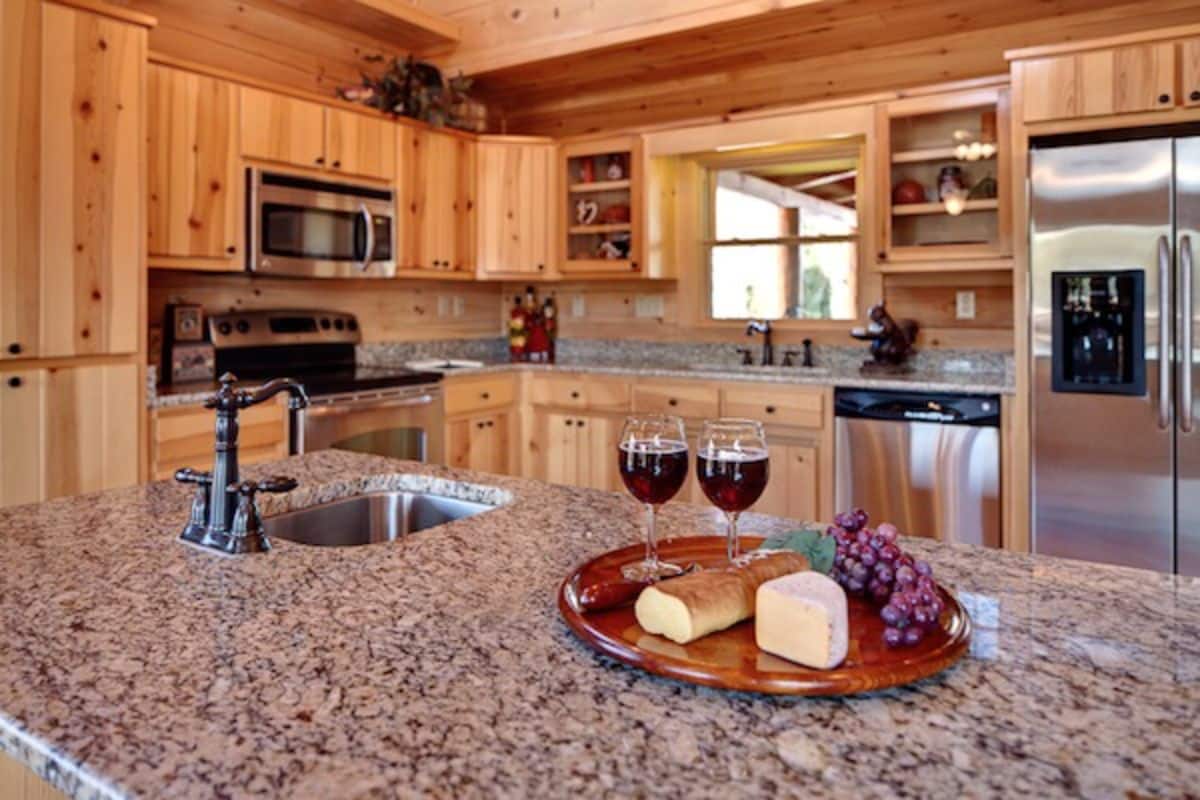 Of course, the bedrooms are an important part of any home, and this one certainly doesn't scrimp in that area. The master suite is a lovely space with those same vaulted ceilings, tons of windows around the top half of the room for sunlight, and a private deck entrance for romantic stargazing at night.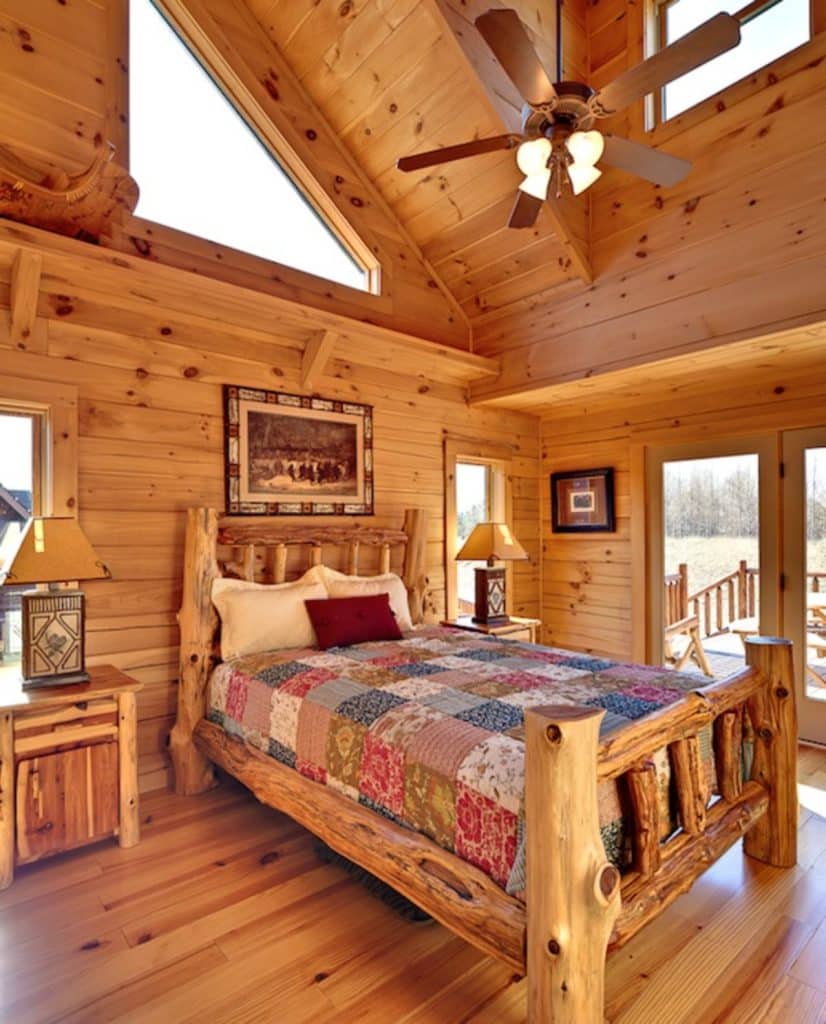 This room has room for storage, a closet, unique decor like the boat on the shelf above the bed, and of course, an en suite bathroom just through the door.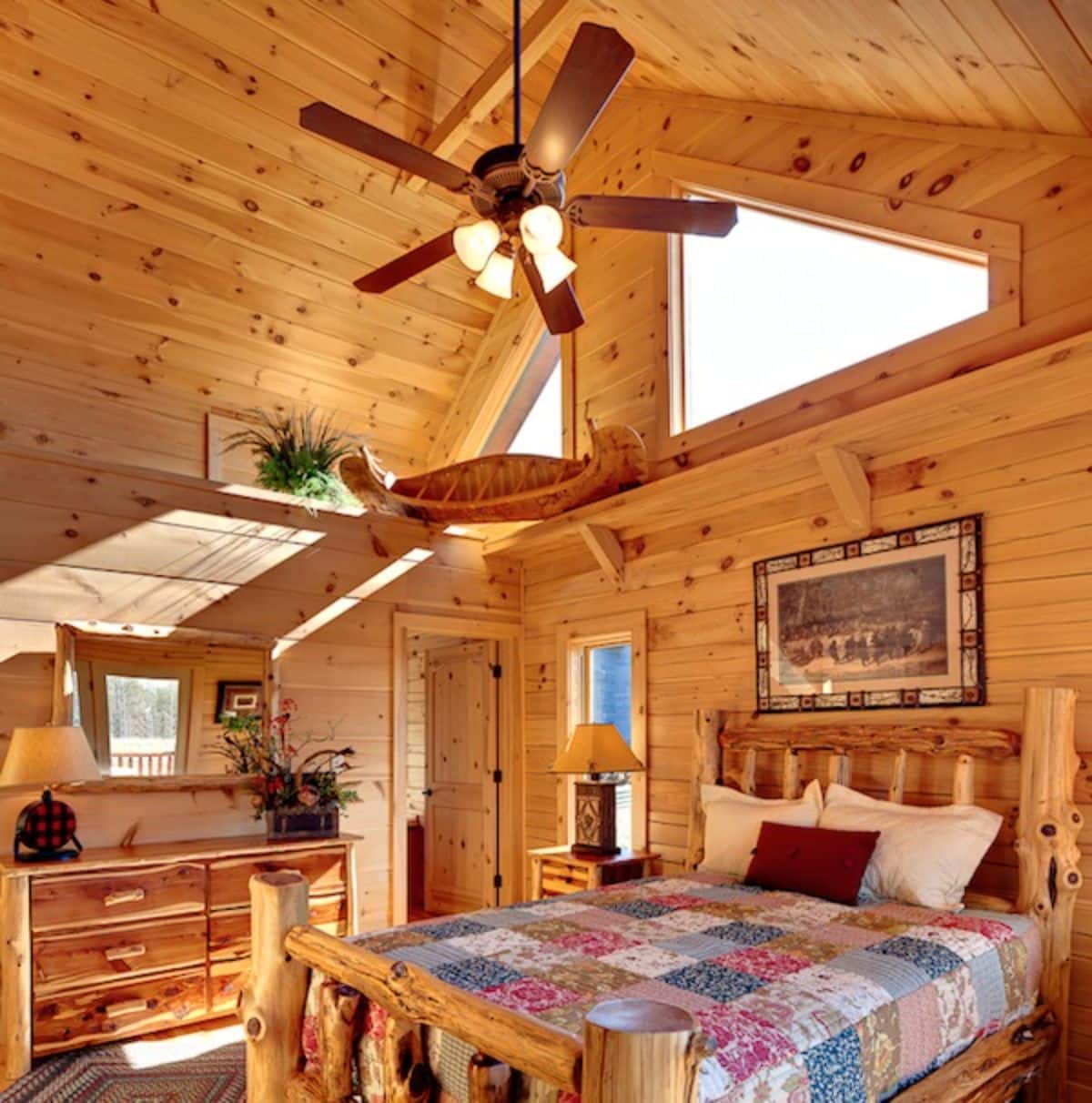 This space is probably my favorite just for the large soaking whirlpool bathtub in the corner. I can imagine enjoying a relaxing bath there after a long day of work!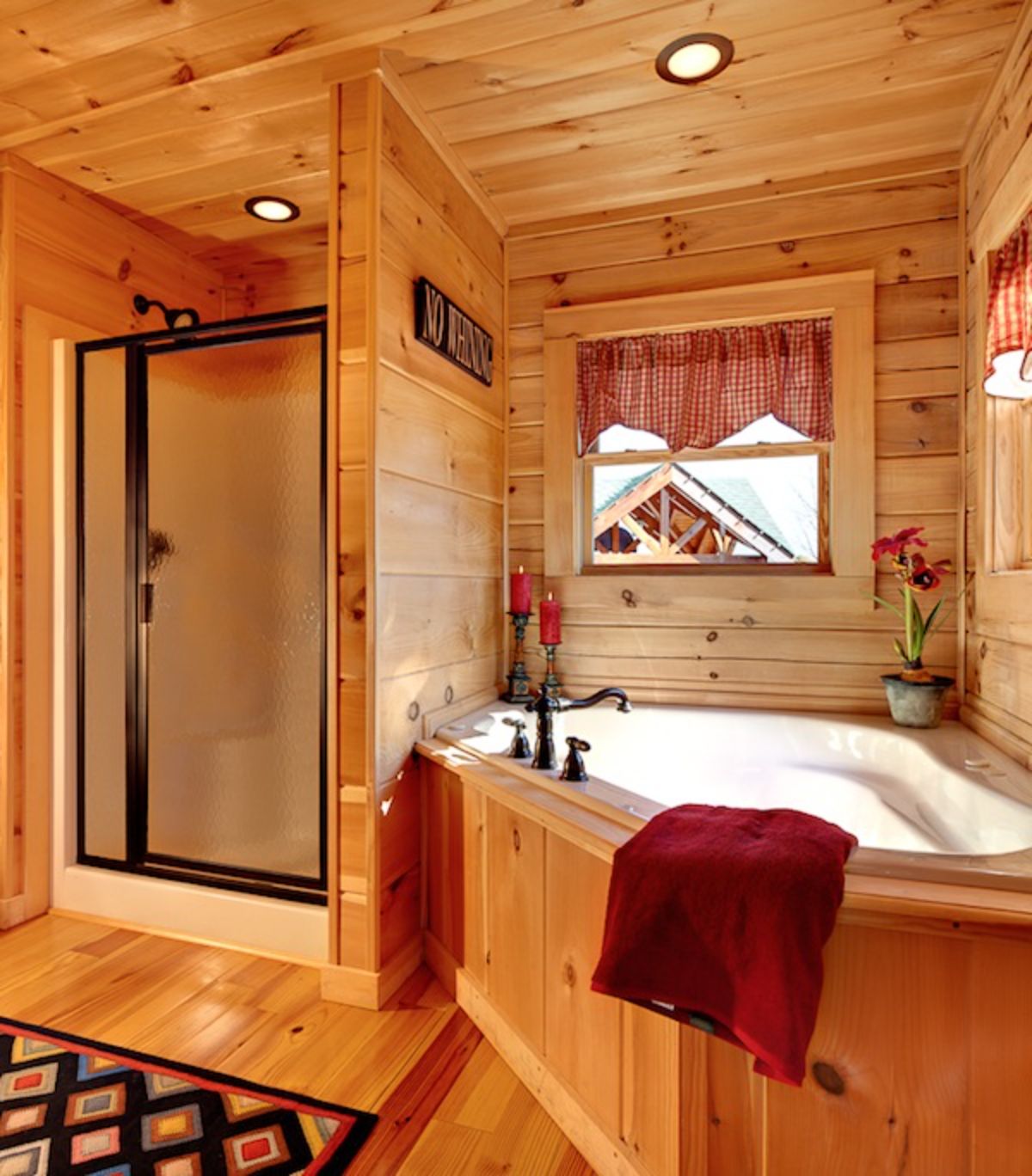 I really love the idea of suspending a canoe in the middle of the room like this. It's a unique style addition that adds personality and could easily be a way to reflect interests.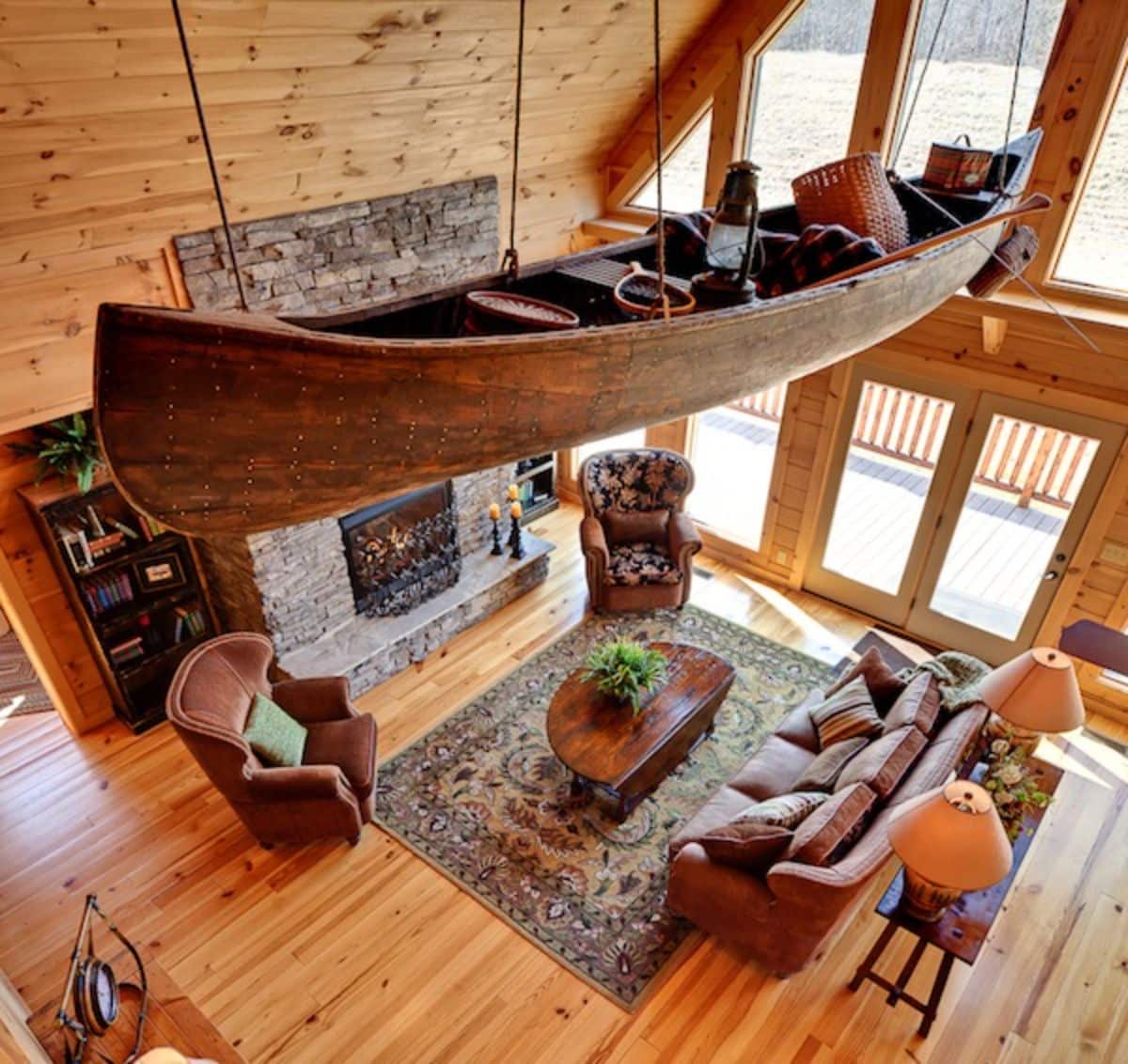 The loft space above the main floor has just enough room for a cozy sofa and table, but the daybed under the window is my favorite. It's so simple but ideal for sitting or use as a guest bed.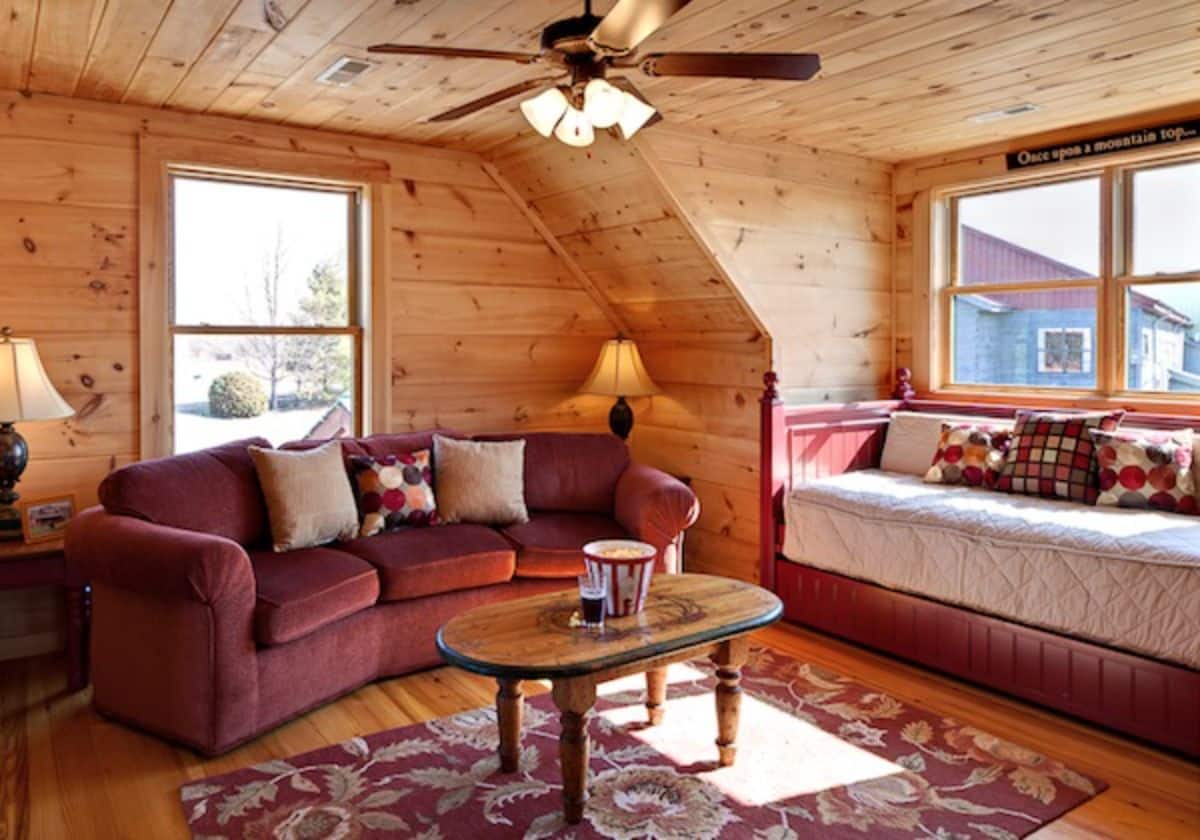 Below is an excellent time-lapse video of one particular Jocassee build you may enjoy viewing.
For more information about this model log cabin, check out the Blue Ridge Log Cabins website. You can also find them on Facebook, Instagram, and YouTube where they share regular updates of their latest models. Make sure that you let them know that Log Cabin Connection sent you their way.
More Log Cabin Kits and Tours