Not only is the cabin name unique, but this build is as well. A small lakeside cabin, the Ice Angel is ready for your family. This is the ideal retreat home or retirment home, but can be a cozy place for a family to be raised.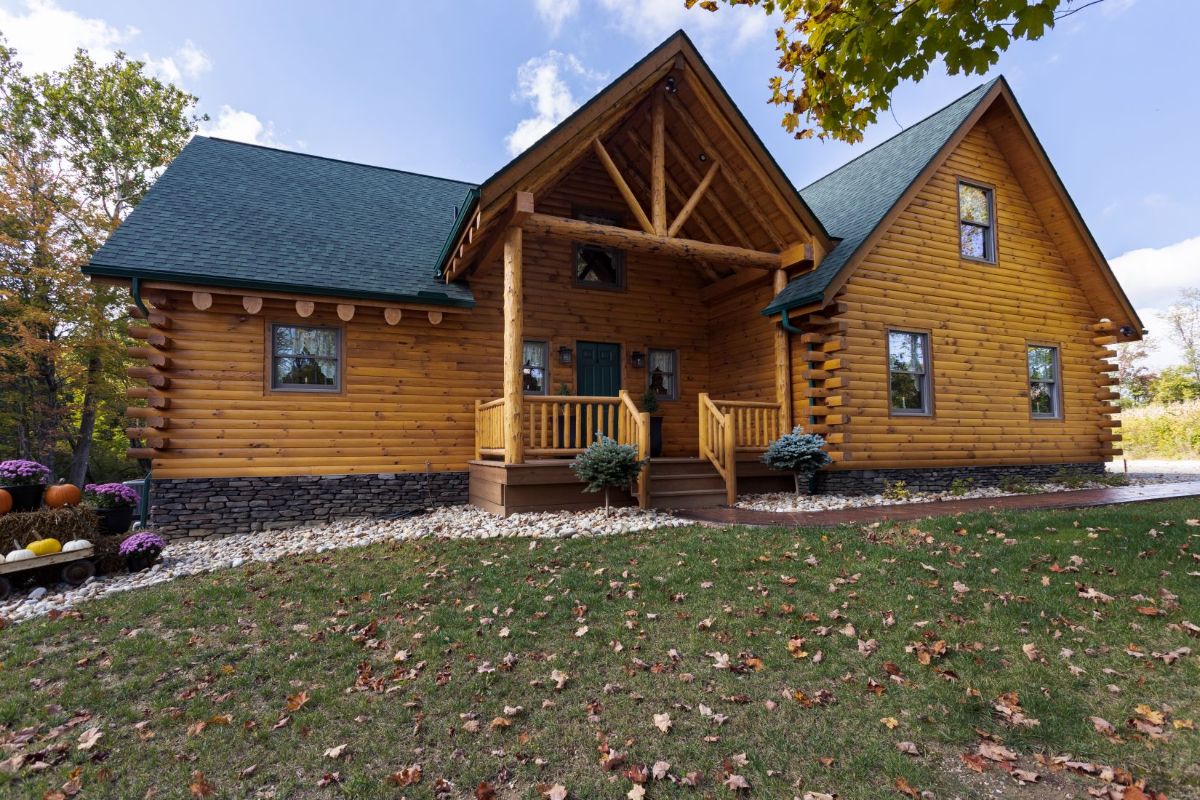 Log Cabin Size
2,021 square feet
2 bedrooms
2 1/2 bathrooms
Log Cabin Features
Built with 6"x8" mille round Eastern white pine logs.
Master suite includes a large luxury bathroom and walk-in closet.
Custom kitchen in the open concept main floor with stunning woodwork and a separate bar countertop for additional seating.
Attached two-car garage.
Floor to ceiling stone fireplace in living room with log mantle.
Great room wall of windows overlooking lake and open deck on back of home.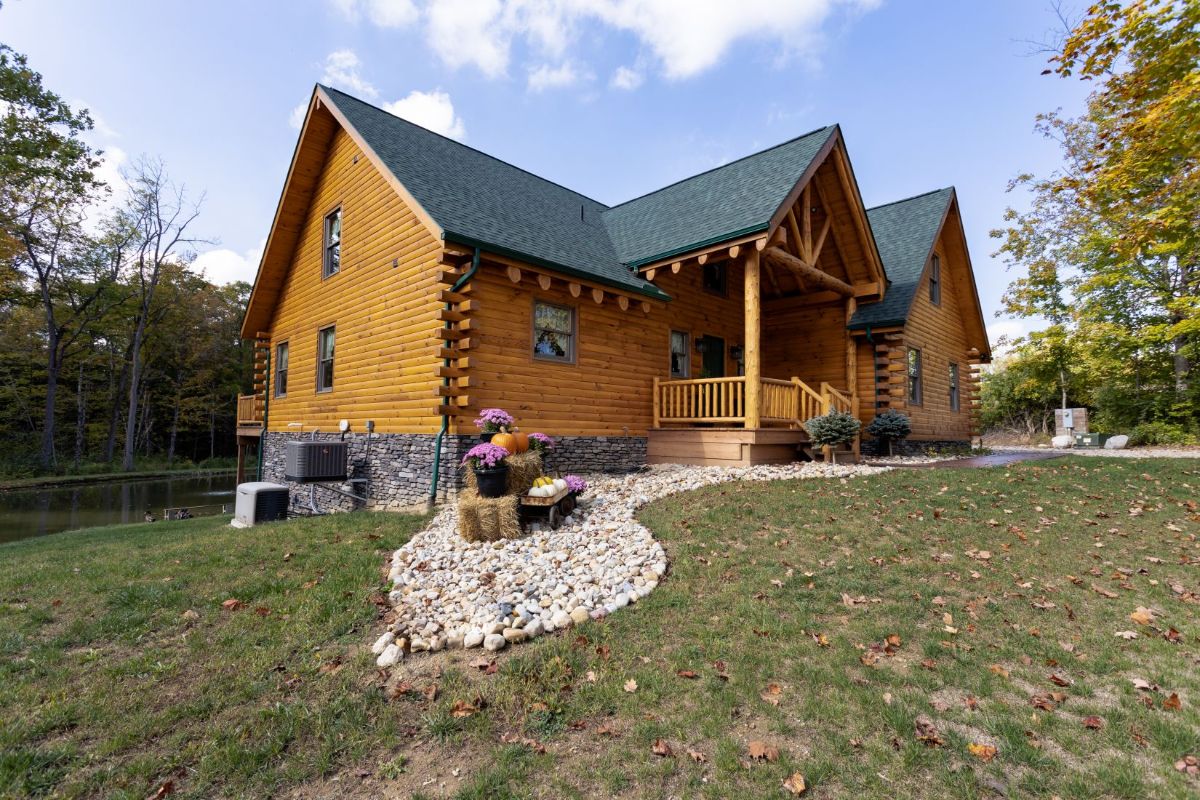 This model includes a small covered entry porch with room for maybe 1-2 chairs, but the back deck is the real porch. This open uncovered space is the ideal back dec for barbecue weekends or relaxing in a hammock for a nap in the sun.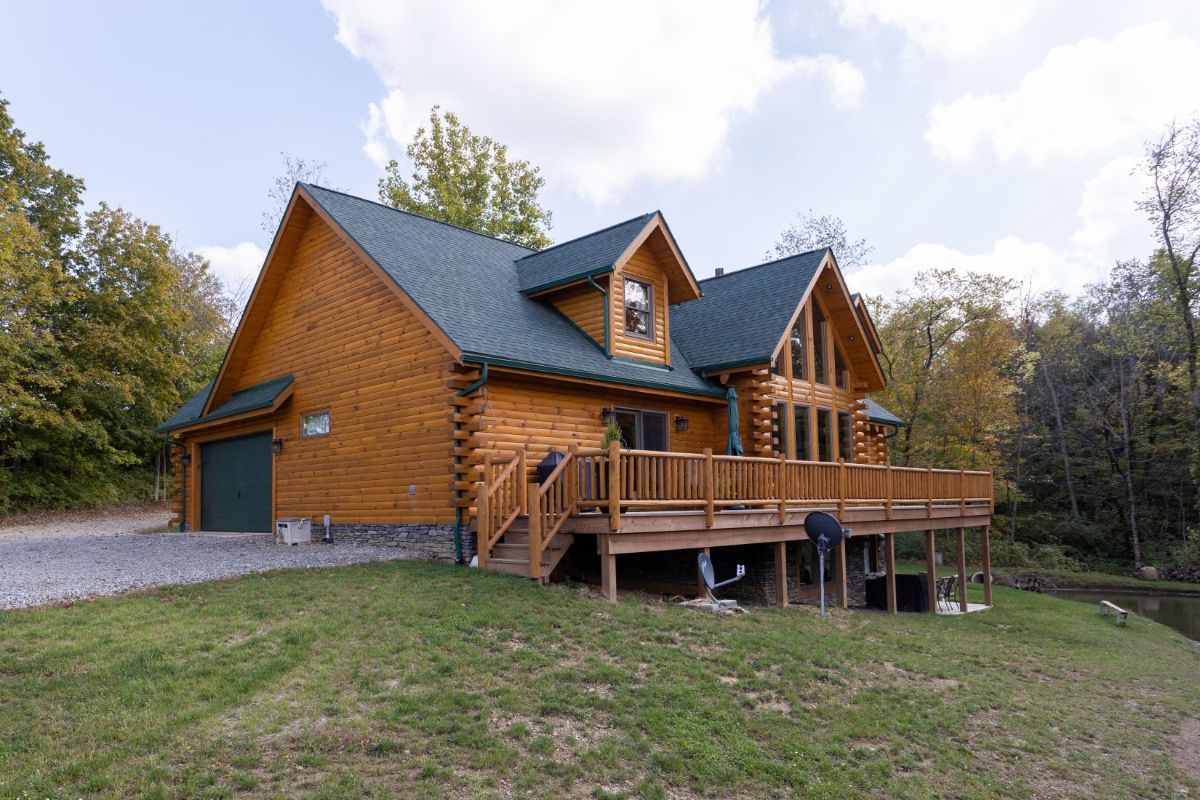 There is a walkout basement that leads out beneath this deck. It has it's own small patio area with a bistro set and side door entrance.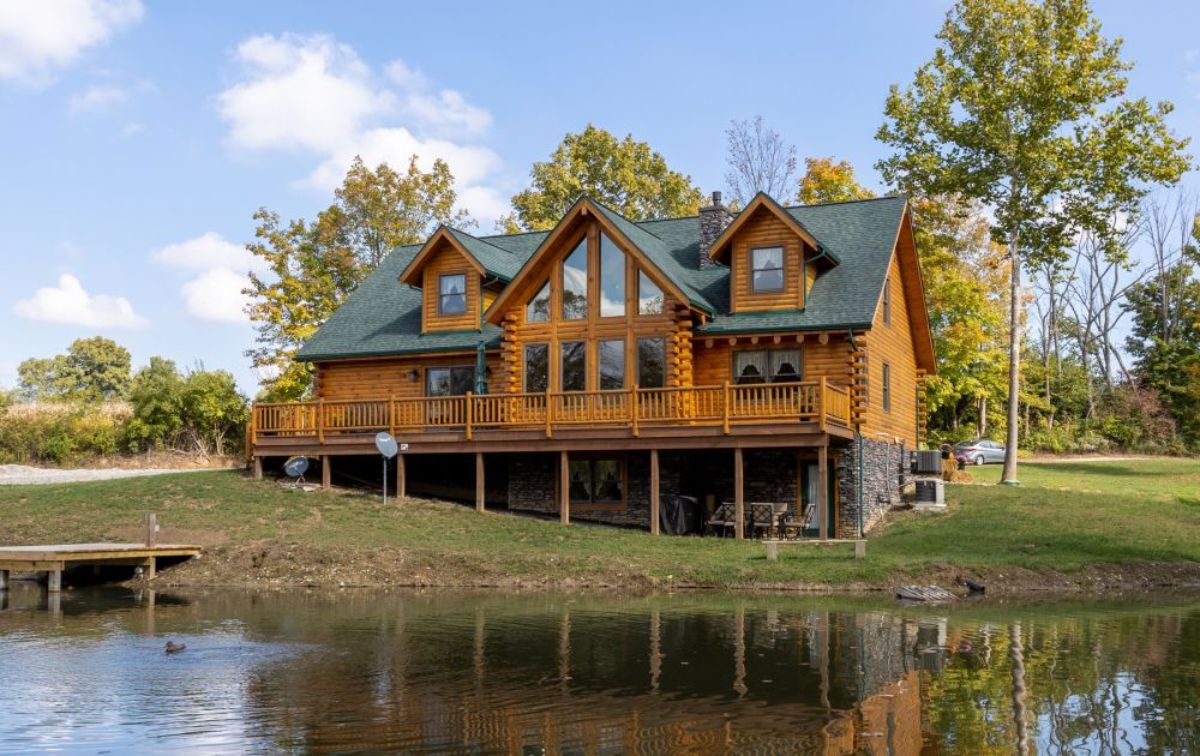 Inside the home you will find a combination of beautiful pine logs, stone veneer, and dark wood cabinetry. The great room is open and cozy with cathedral ceilings and plenty of room for sofas, chairs, and a relaxing family living space.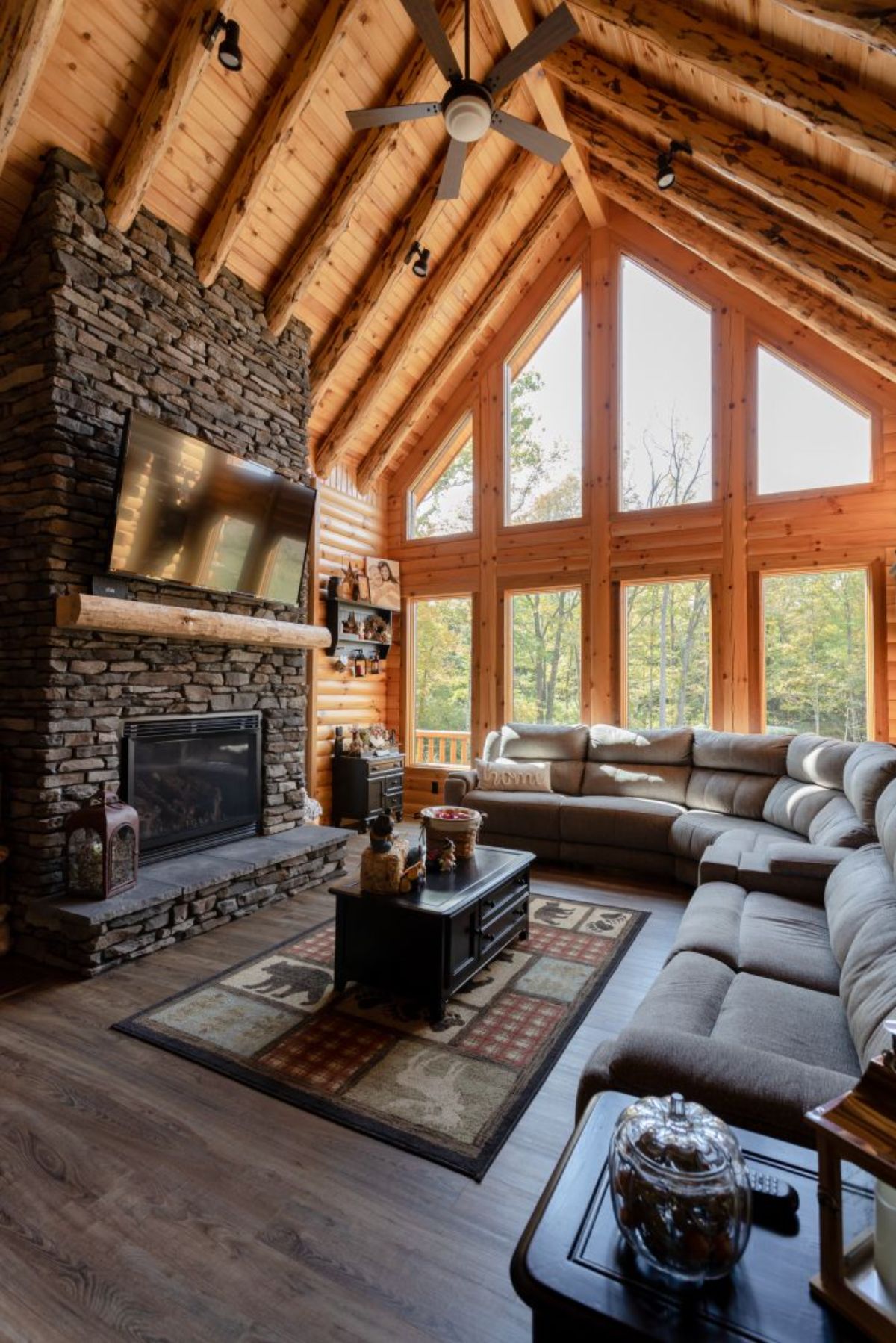 The fireplace takes prominence in this room and provides heat in the cooler months but also is used as a way to mount the television for convenient viewing on familiy movie nights.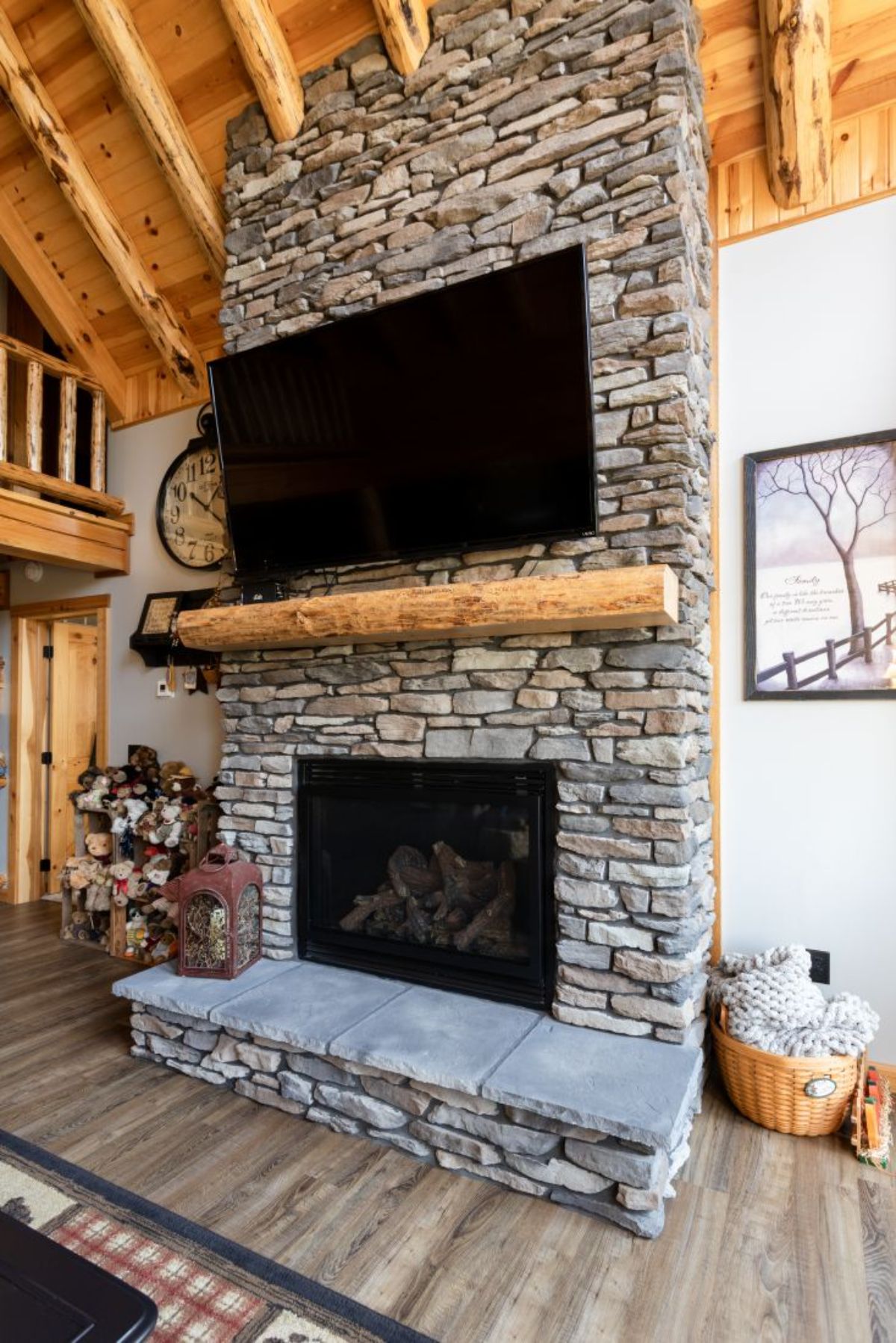 Behind the living space is the kitchen on the smaller side of the home with the garage on that far end. This open floor plan makes entertaining easy since you can dine, relax, and cook while visiting with anyone in any other part of this room.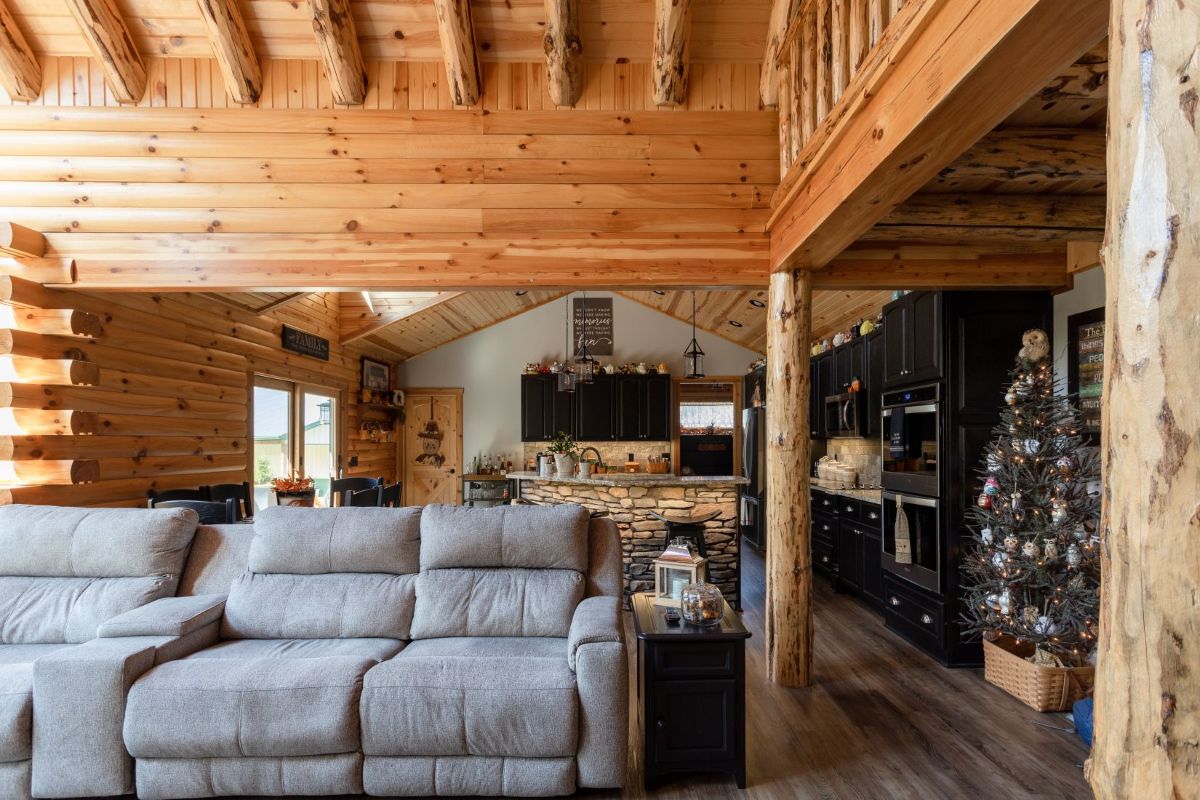 Black cabinets are a unique modern look against the stone backsplash and veneer on the edge of the bar. This paired with stainless steel appliances and a gray blend granite countertop gives the space a sleek look.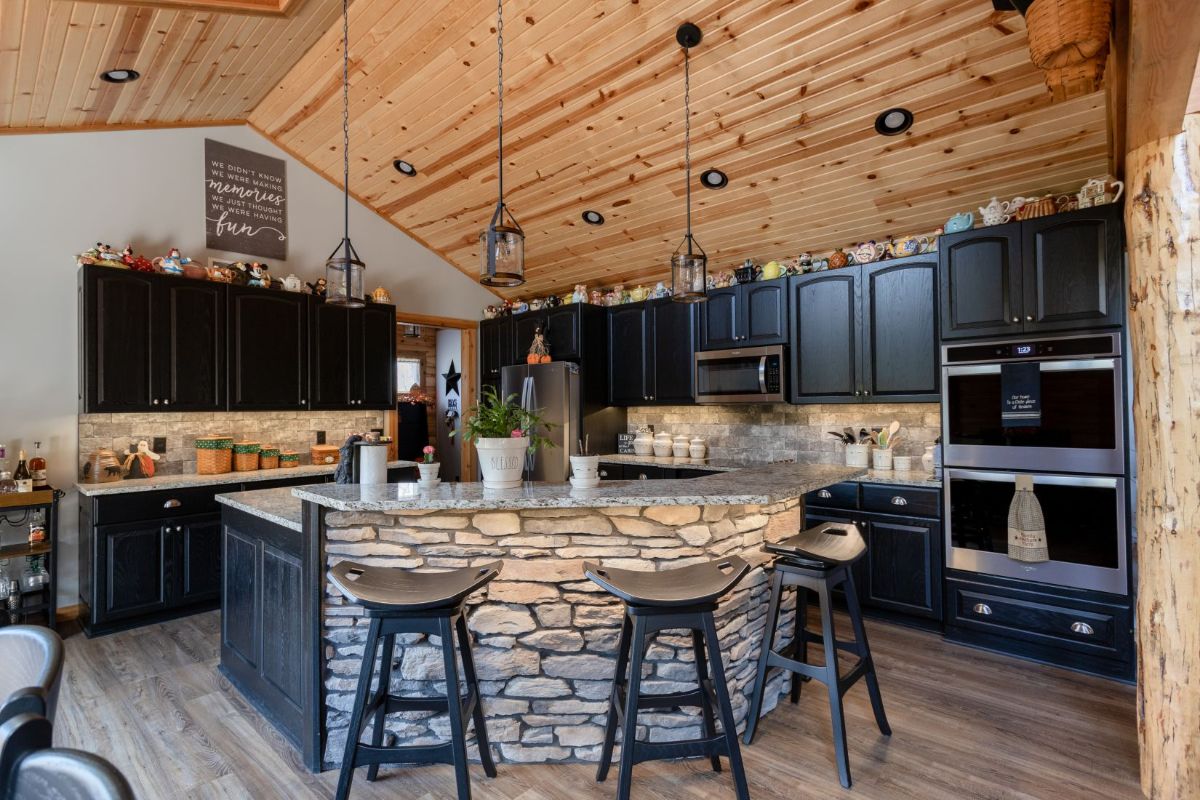 I love how open this is, but especially that the kitchen and dining area has this dormer window that brings in tons of natural light overhead.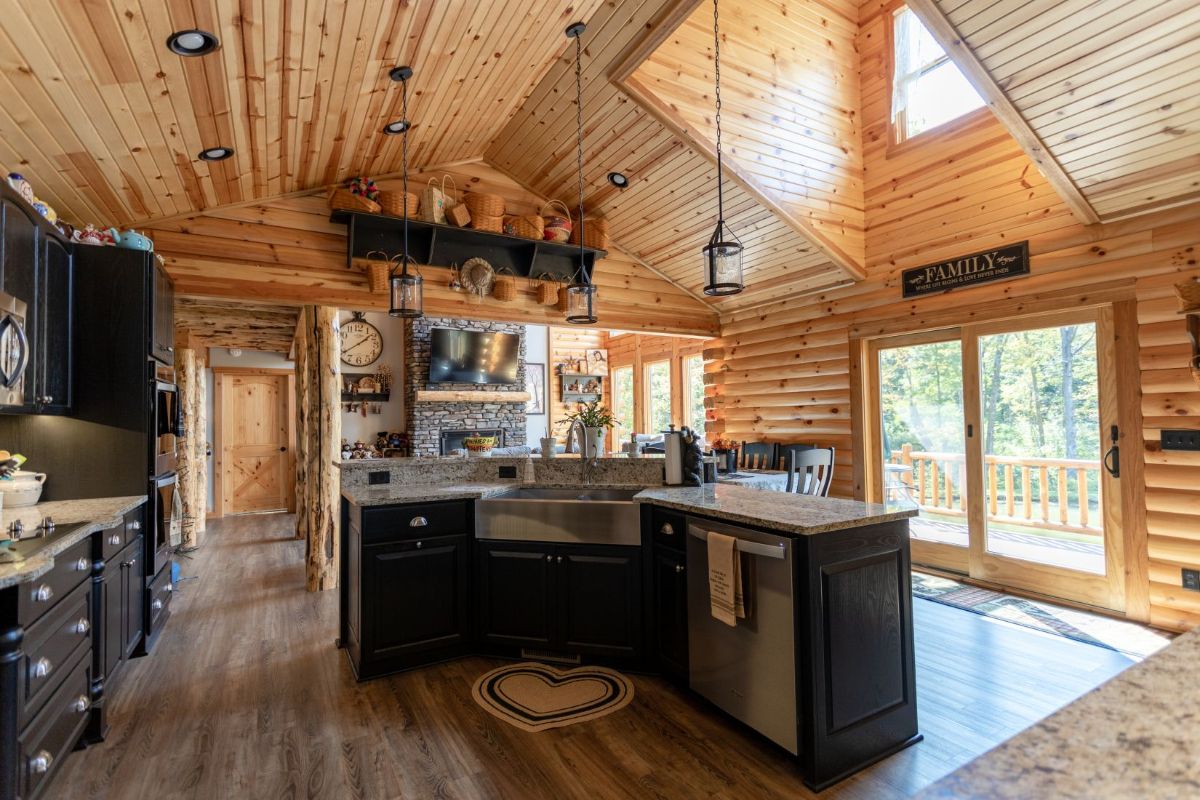 Rather than a traditional range, this kitchen has a cooktop built into the countertop below a vent hood microwave unit. The stoves are a short distance away muonted into the wall of cabinets. I much prefer this style so there is less bending and stopping to pull things in and out of the ovens.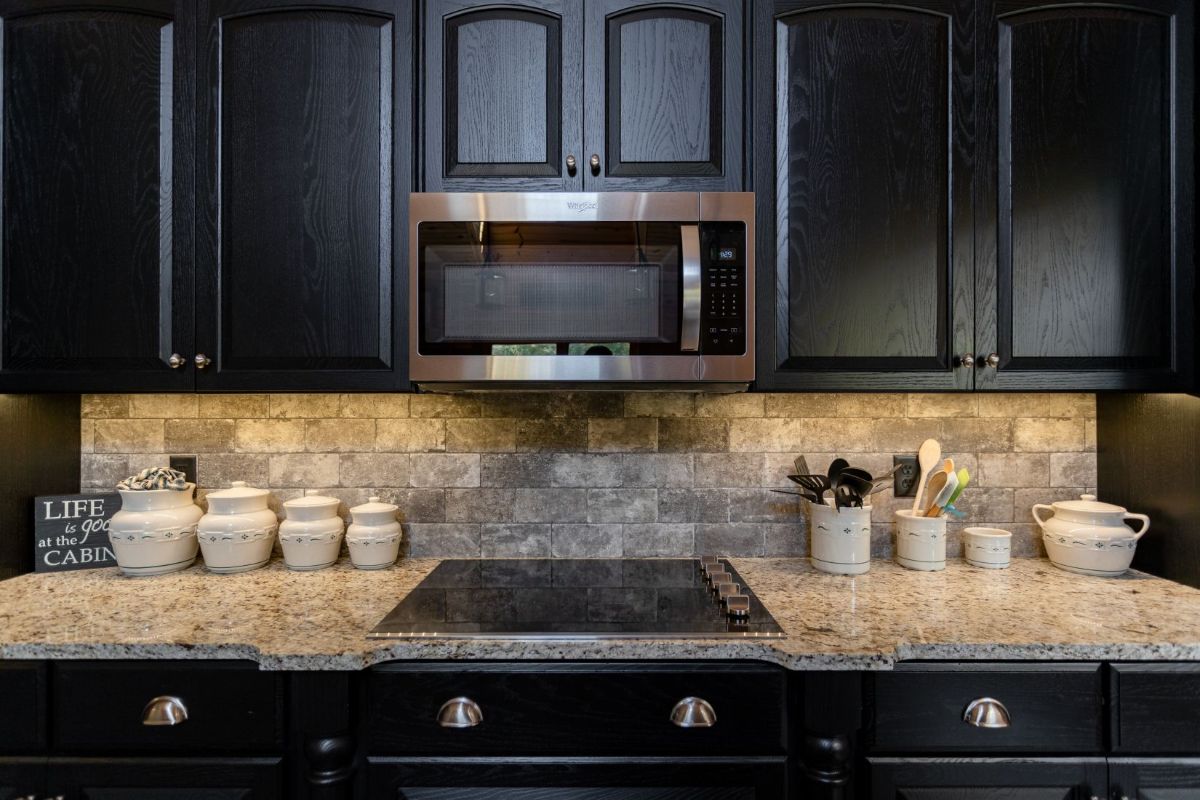 With only two bedrooms, it is a bist smaller than some homes, but the bedrooms are spacious and welcoming. This master bedroom has tons of windows and looks out over the side and back of the property with the open deck. There is even room in the corner for a sitting area.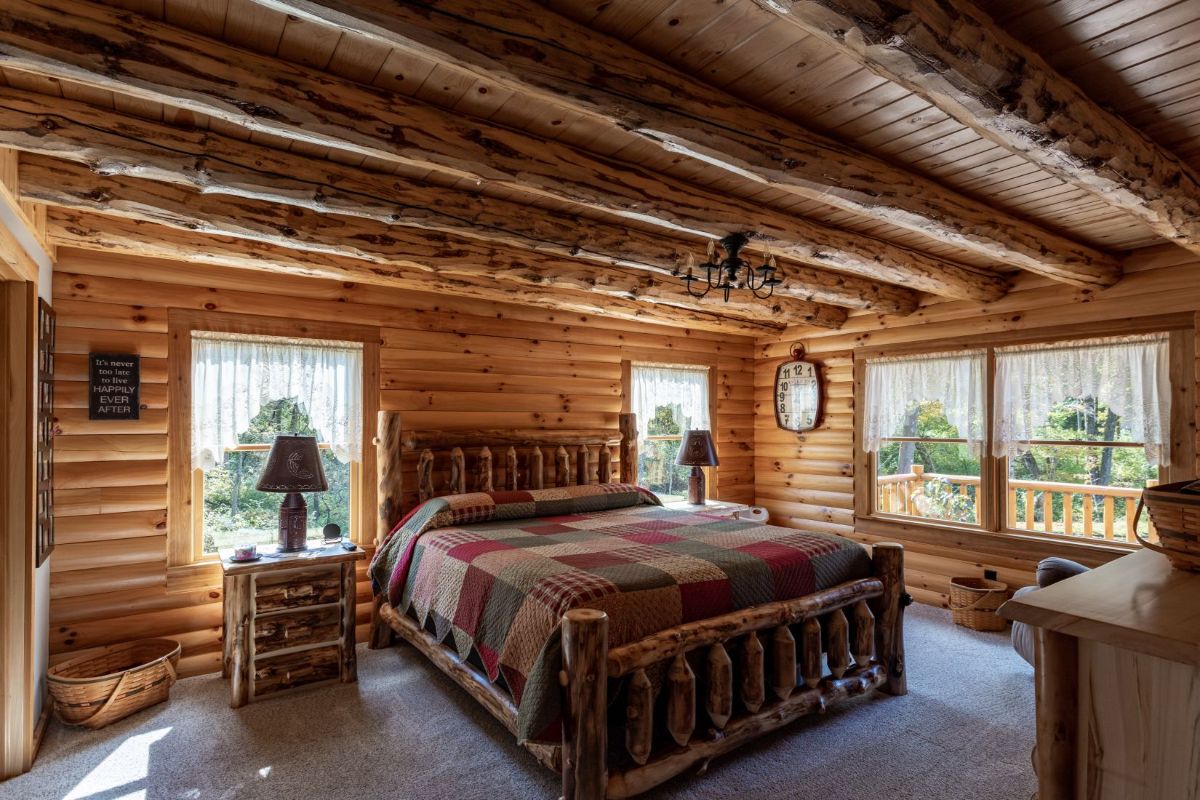 Upstairs, a lofted bedroom has a little extra seating nook in the dormer window and with angled ceilings feesl much larger than the square footage.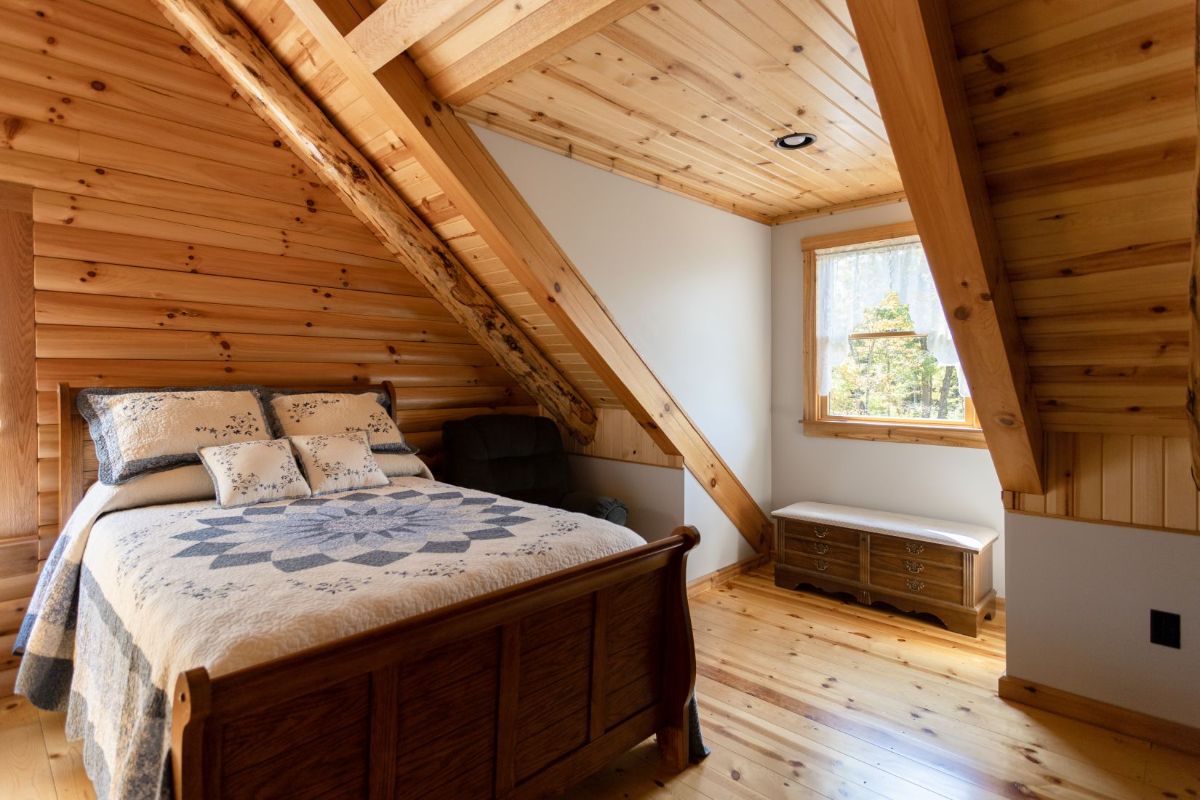 Bathrooms in this home include similar styles with light pained walls couple with wood floors, ceililngs, and accents.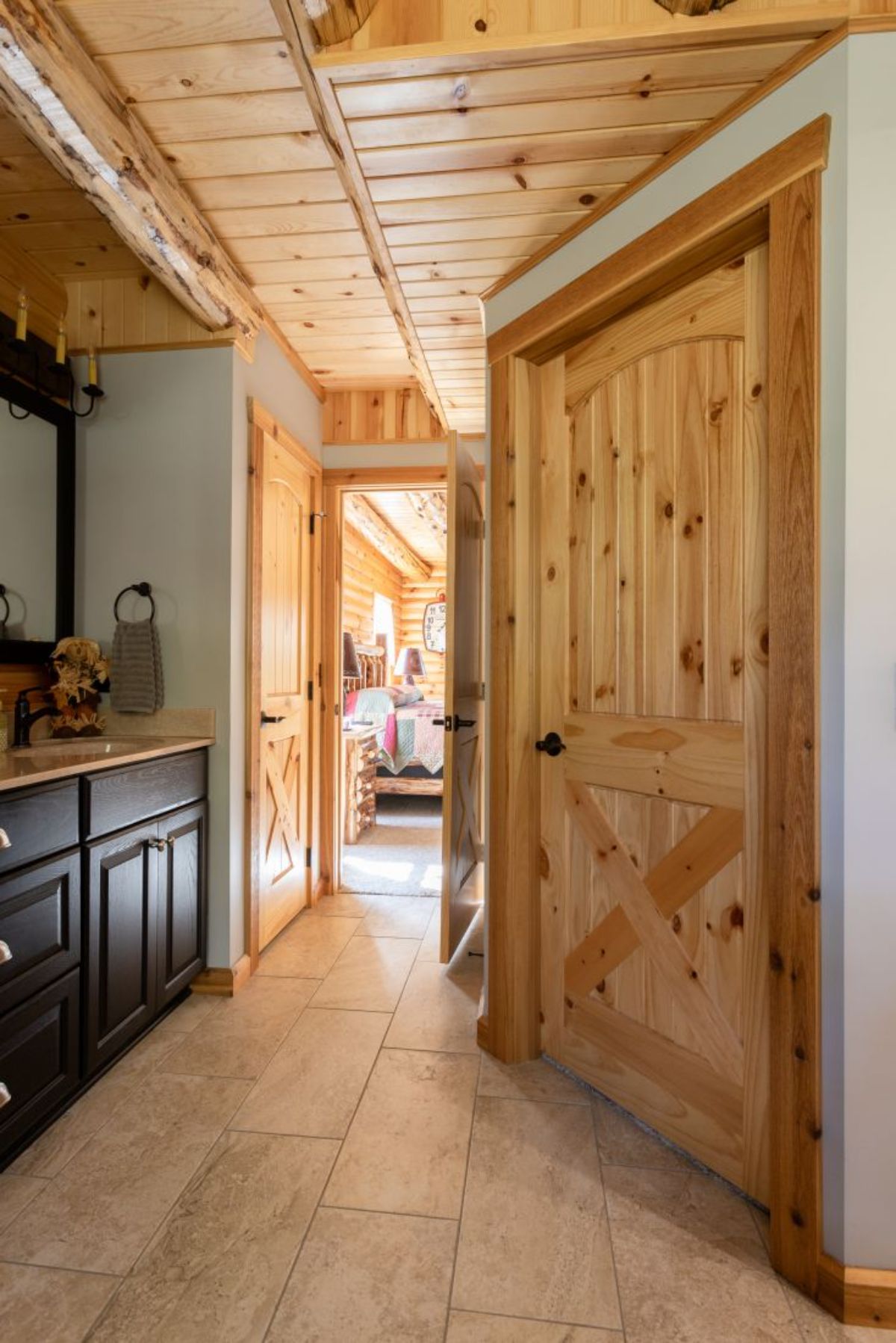 The double vanity in the master bathroom has the same black cabinetry as the kitchen with a simple dividing wall at the end giving you privacy for the toilet area.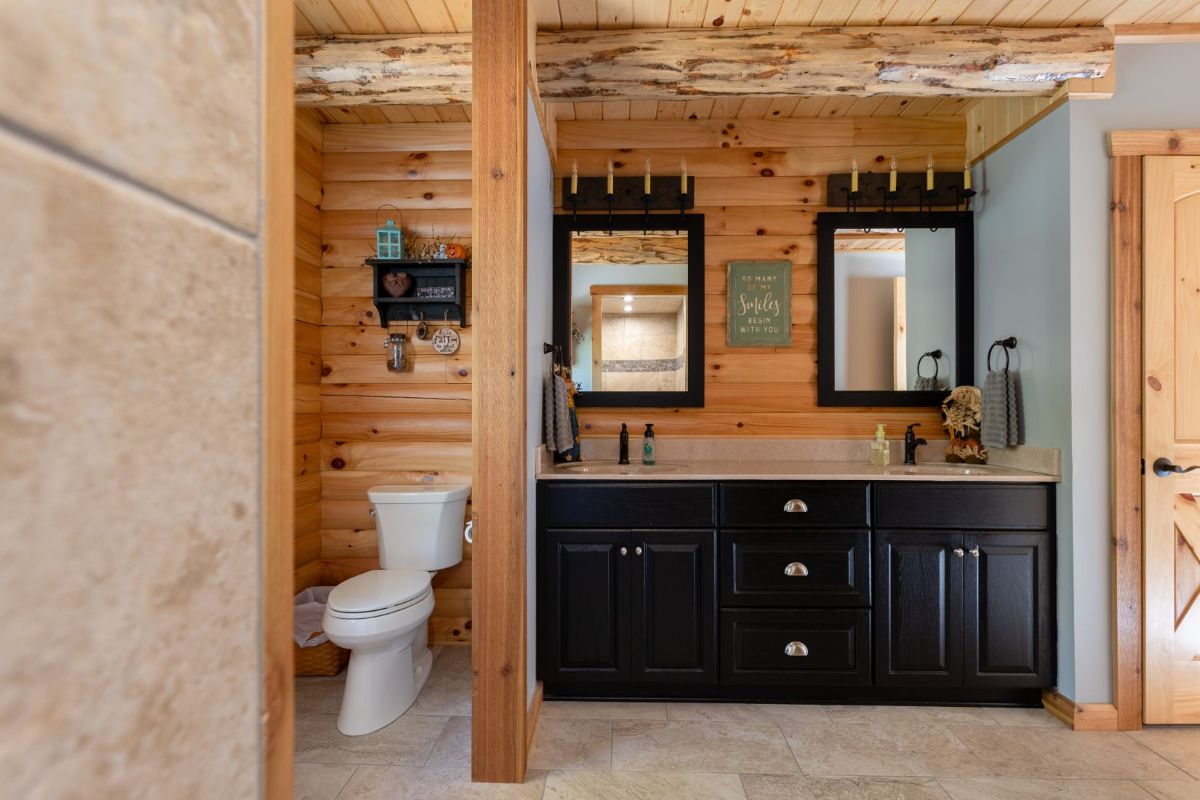 A custom tiled shower is a luxury that is worth the time and money spent. This space has two shower heads, a simple cubby built into the wall and a short bench seat that make it an oasis from the world.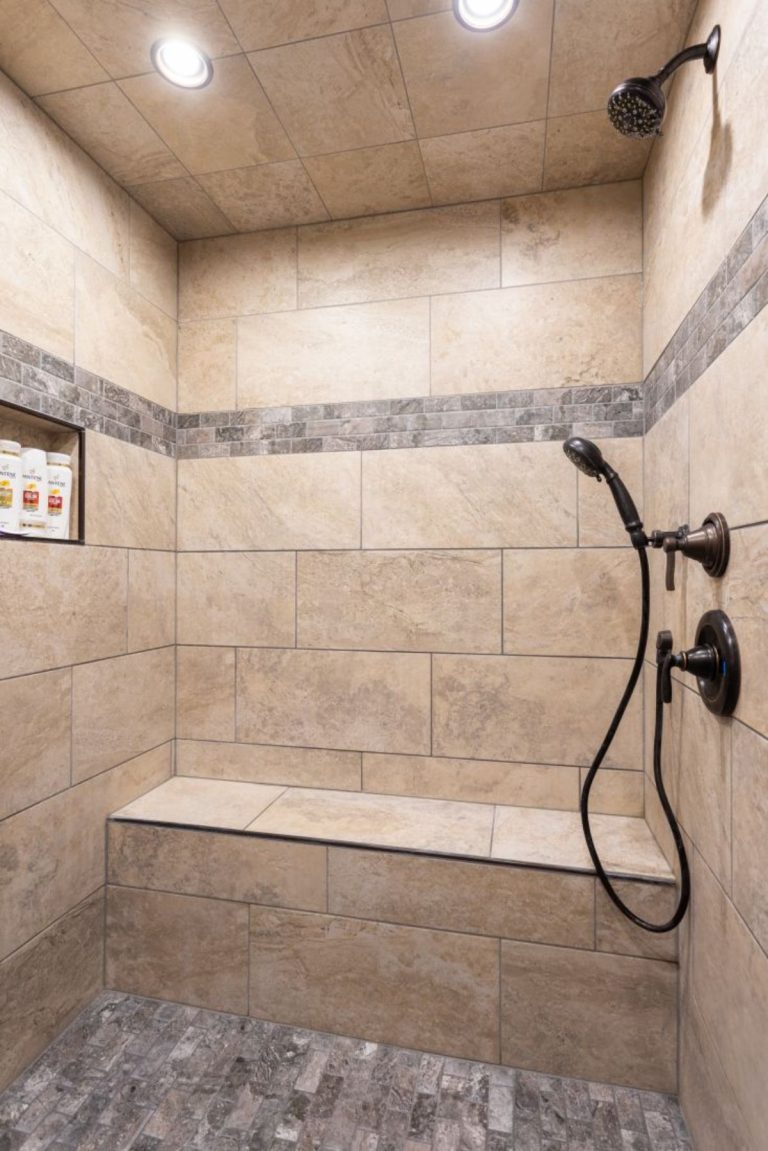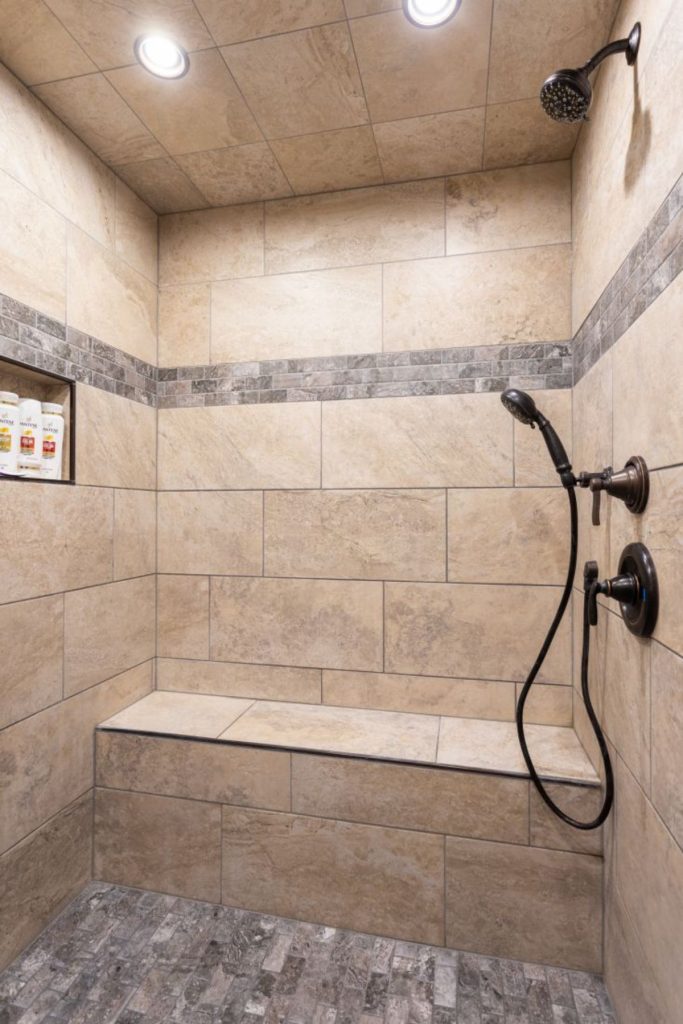 While the upstairs bathroom is a bit more simplistic, it still has everything needed with a combination bathtub and shower against the back wall.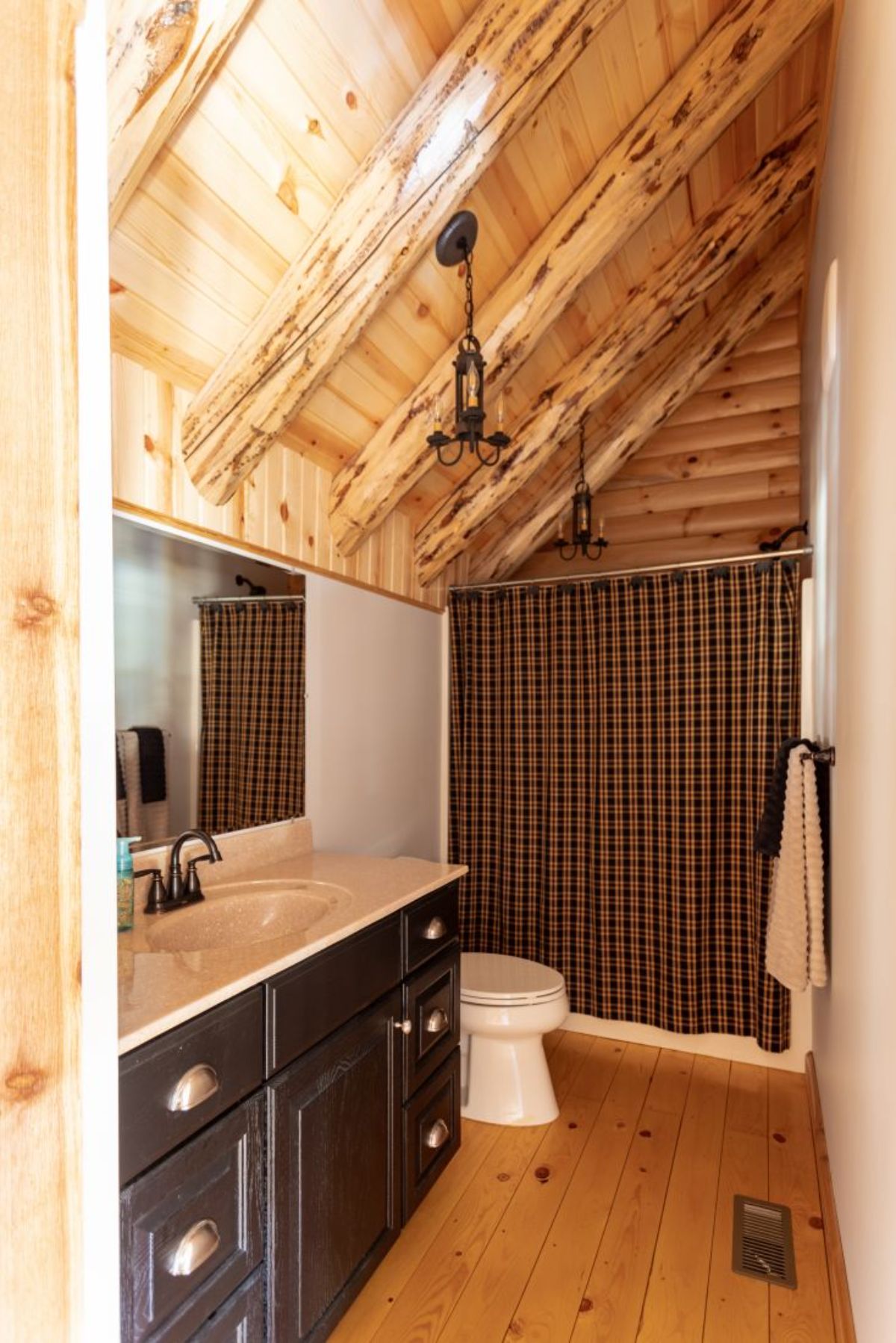 The views both inside and outside this home are appealing to all and create beautiful inspiration for the log home of your dreams.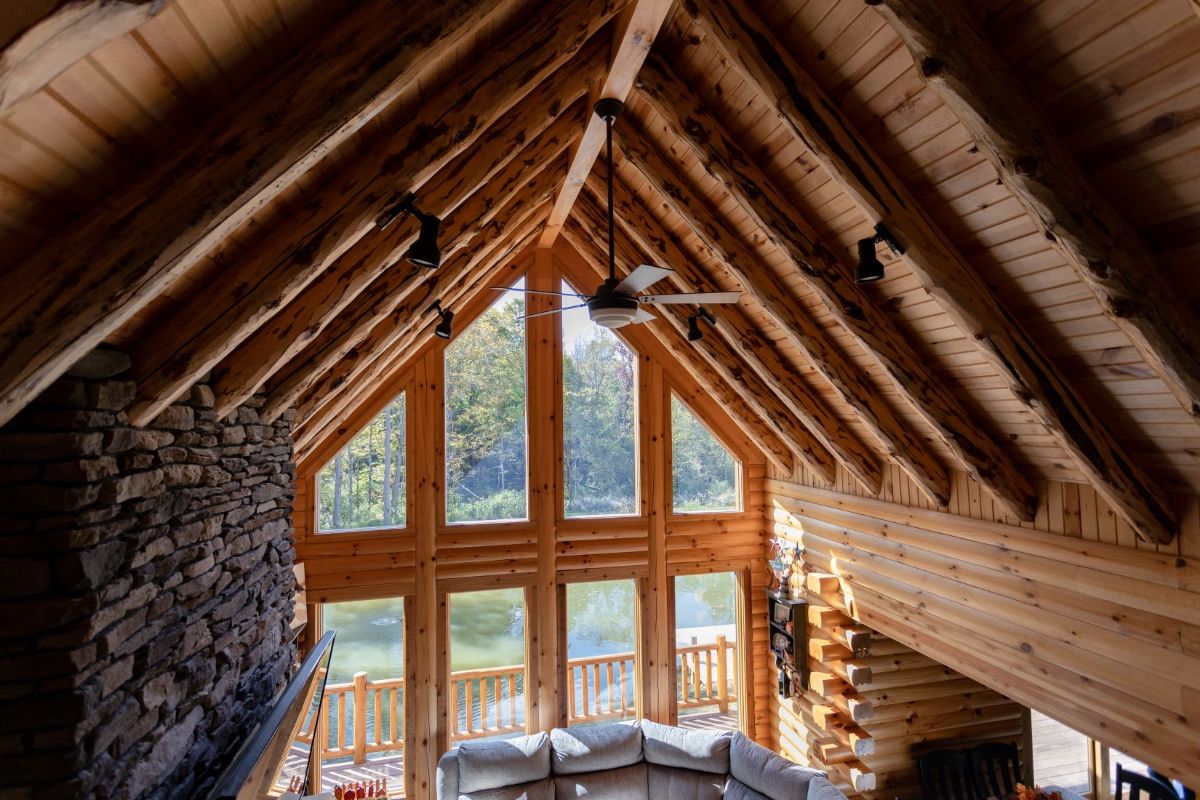 This model and similar builds can be found on the Fairview Log Homes website. You can also find them on Instagram and Facebook for daily updates. Make sure that you let them know that Log Cabin Connection sent you their way.
More Log Cabin Kits and Tours