If you want a home with gorgeous rustic log walls and views that are breathtaking through a wall of windows, then this hillside Moorefield layout is sure to please!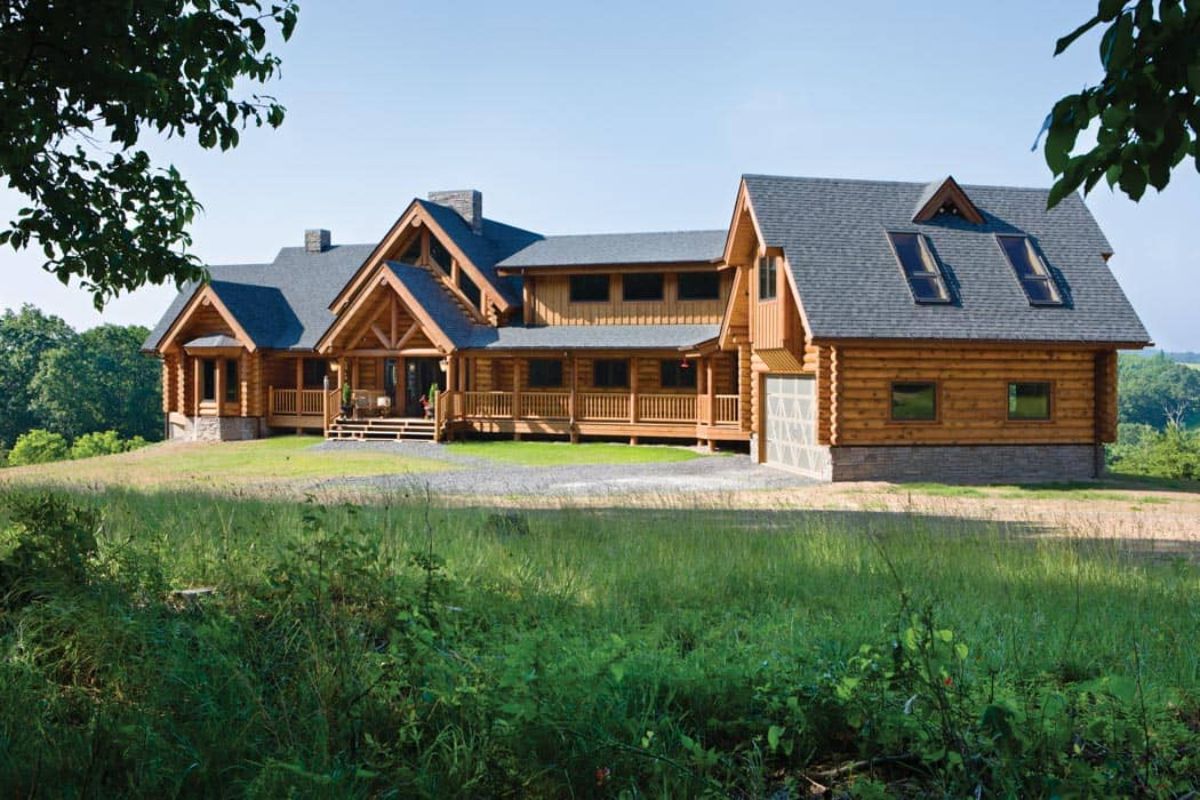 Log Cabin Size
Log Cabin Features
Two floors with multiple porches both covered and open.
2 car attached garage.
Walk-out basement that makes a perfect guest suite.
Milled log siding and interior walls with twin window prows and stone accents.
A perfect blend of mid-century modern style with rustic elements.
Expansive great room with stunning cathedral ceilings and walls of windows.
Multiple window and bay window seats with cozy reading nooks.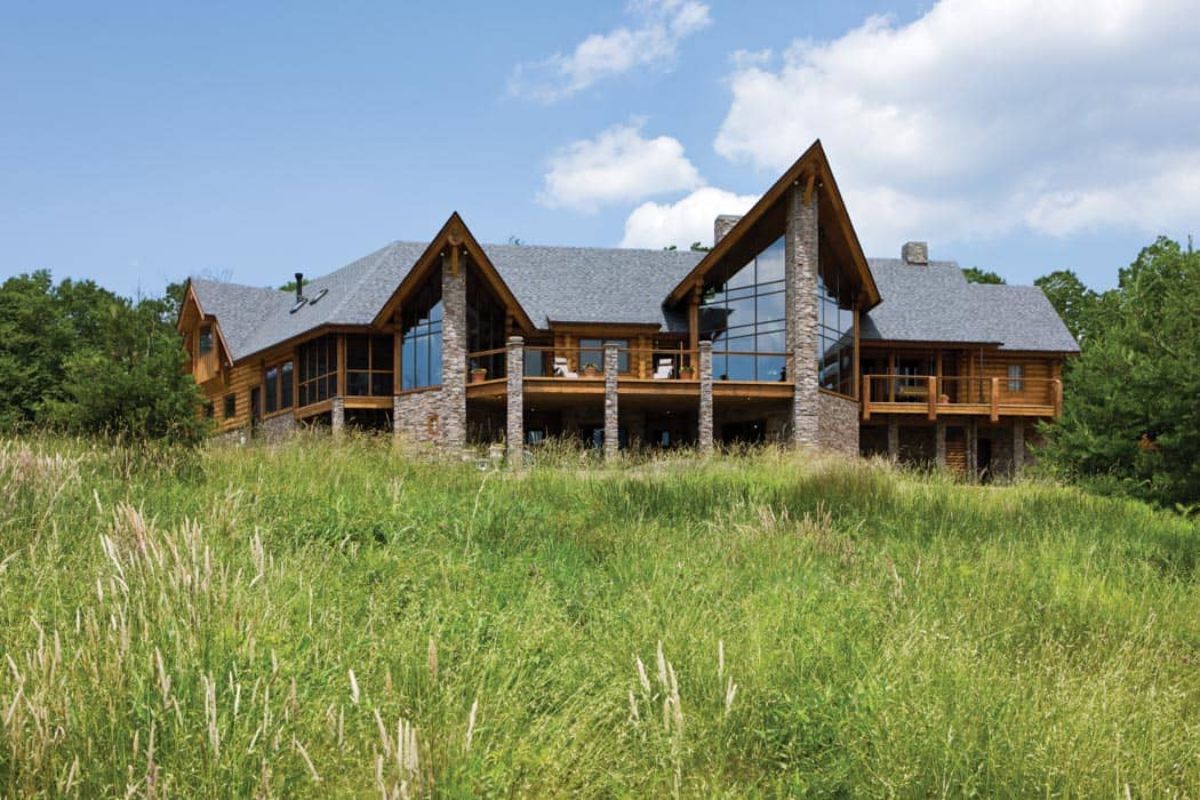 The back of the home has tons of room with open decks for relaxing in the sun, but also has plenty of shady covered areas to view the landscape while staying out of the weather elements.
I love that the great room has this protrusion out the back of the home that is covered in windows and has plenty of private access from various rooms out to the deck on the back of the home.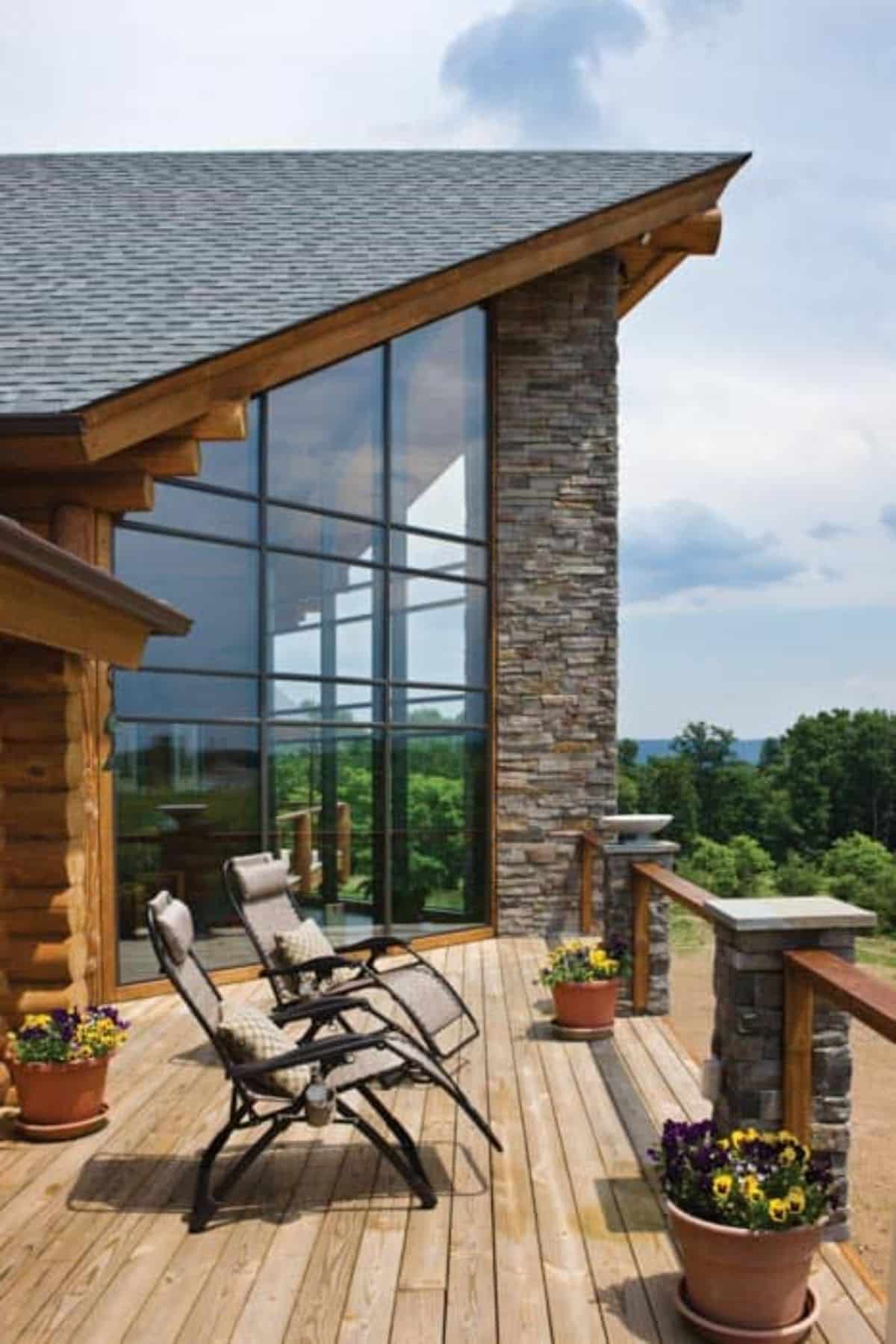 One of my favorite things in any cabin is the fireplace. This home is no different. A stone fireplace is set in the middle of the room with doors leading out to the deck on the back and chairs with a cozy table and sitting area right behind it.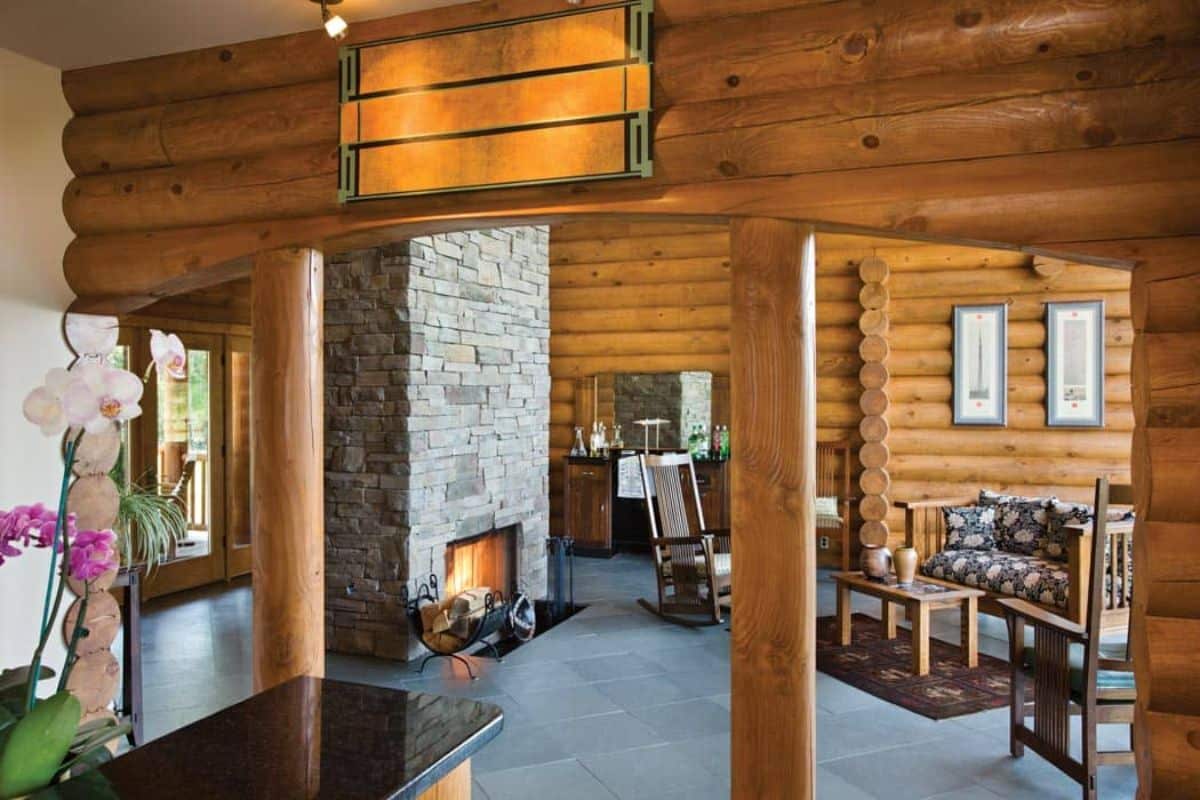 You've never seen a home so open and welcoming. I love that the owners have brought their love of mid-century modern style to this home. This along with all of the windows and areas to sit and relax around the home has turned it into one of those places that pull you in and makes you never want to leave its beauty and comfort.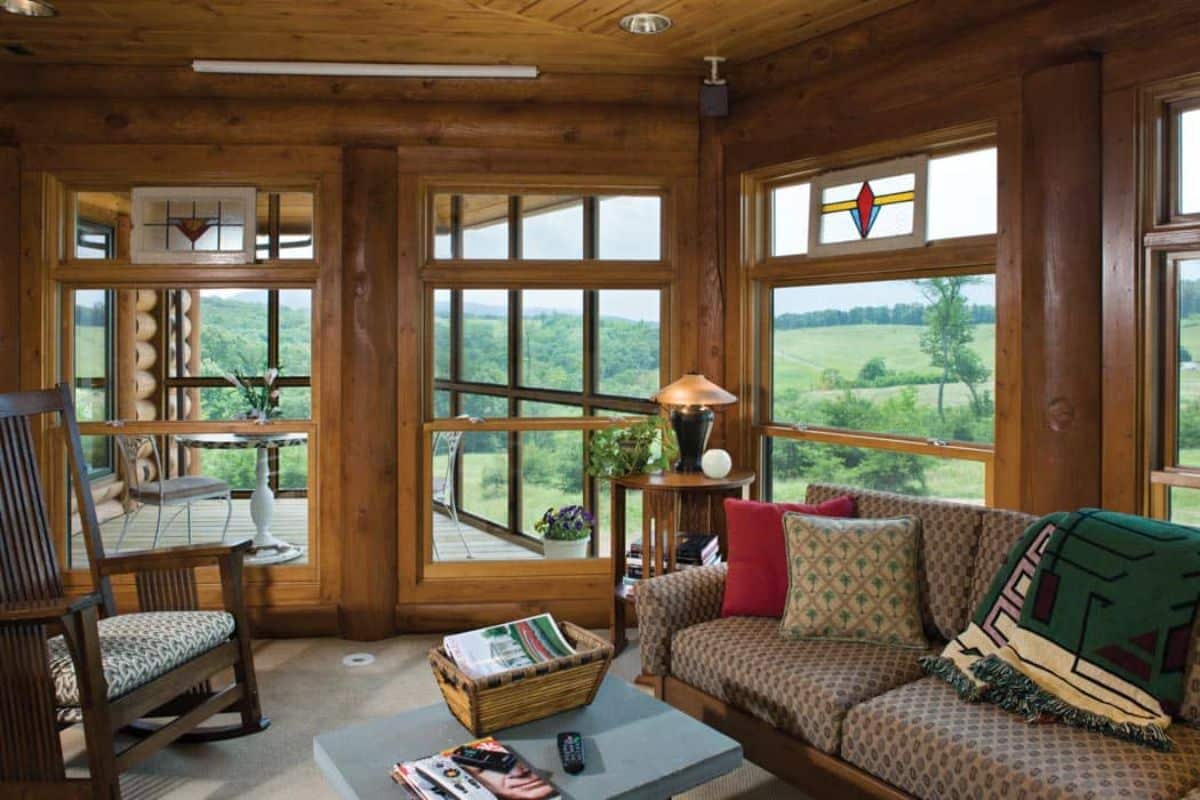 If you've ever considered a cathedral ceiling or a complete wall of windows, then you are going to love this floor plan. So many archways and openings that lead right to the next space.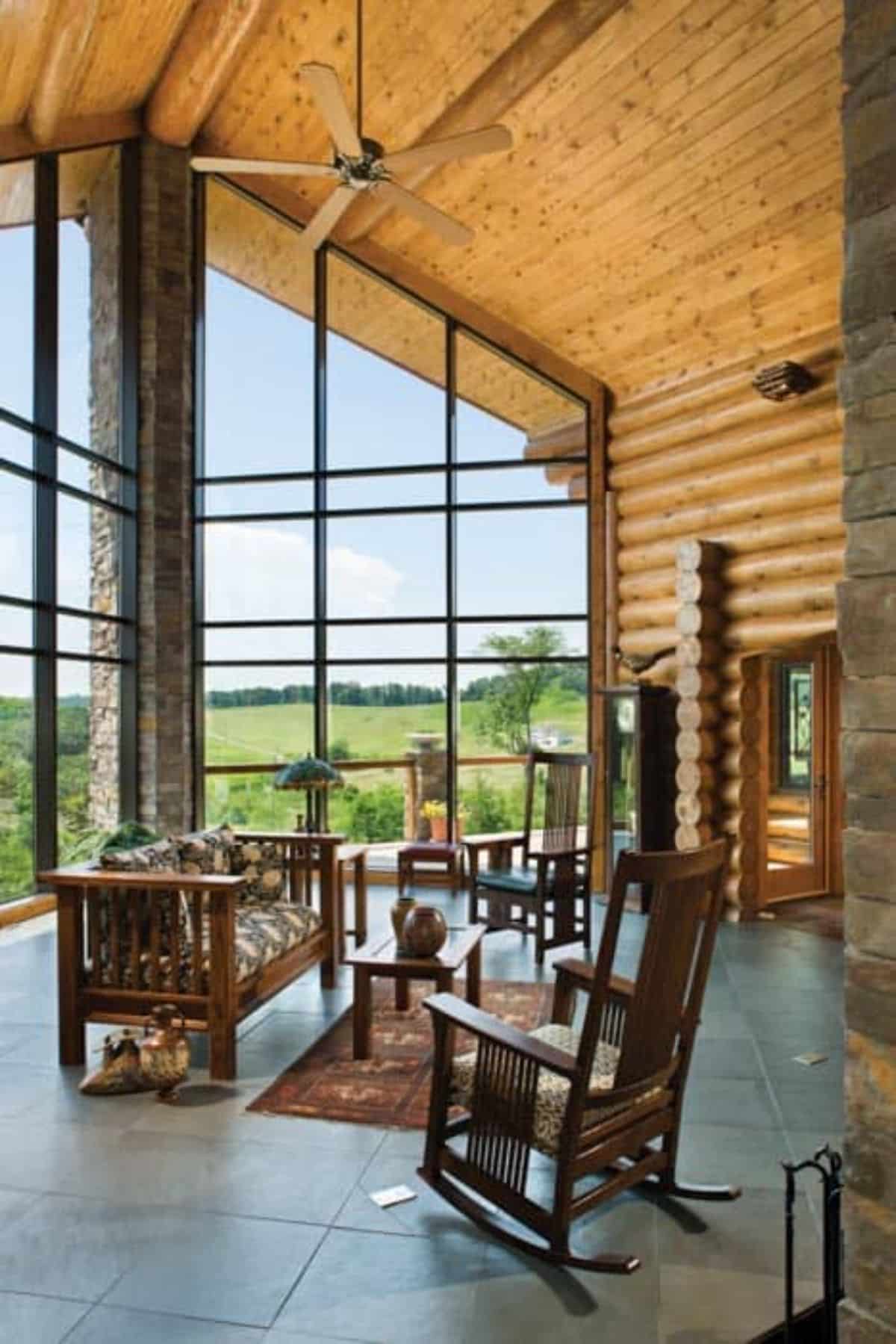 This is my favorite window seat. It is open underneath so you could slide a basket of books there or games for convenience. I can easily see this being a place to relax and read a book or sit by the little table and play a game of cards with your kids.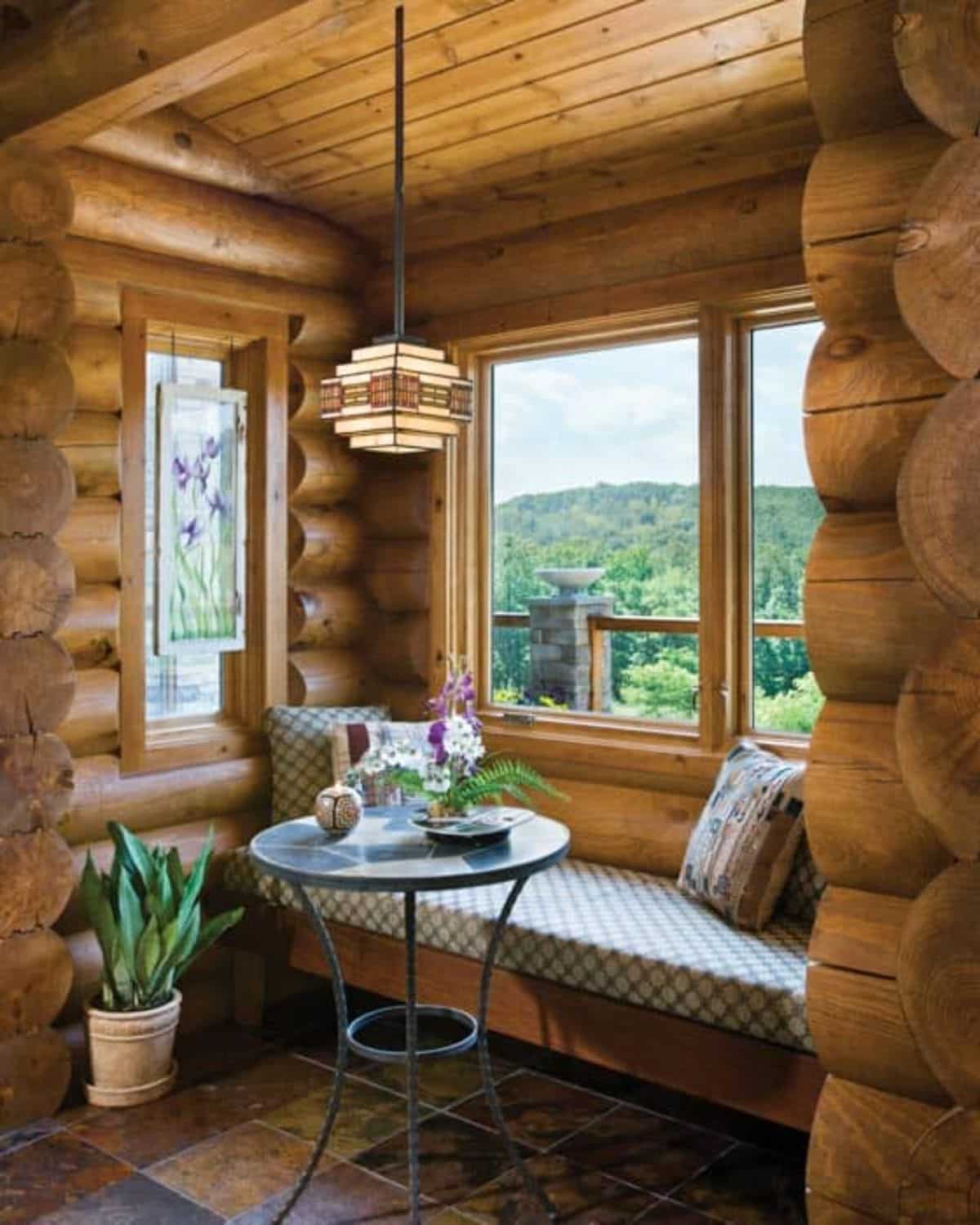 And off one of the bedrooms, you'll love how cute this little bay window is. This is ideal for another reading nook.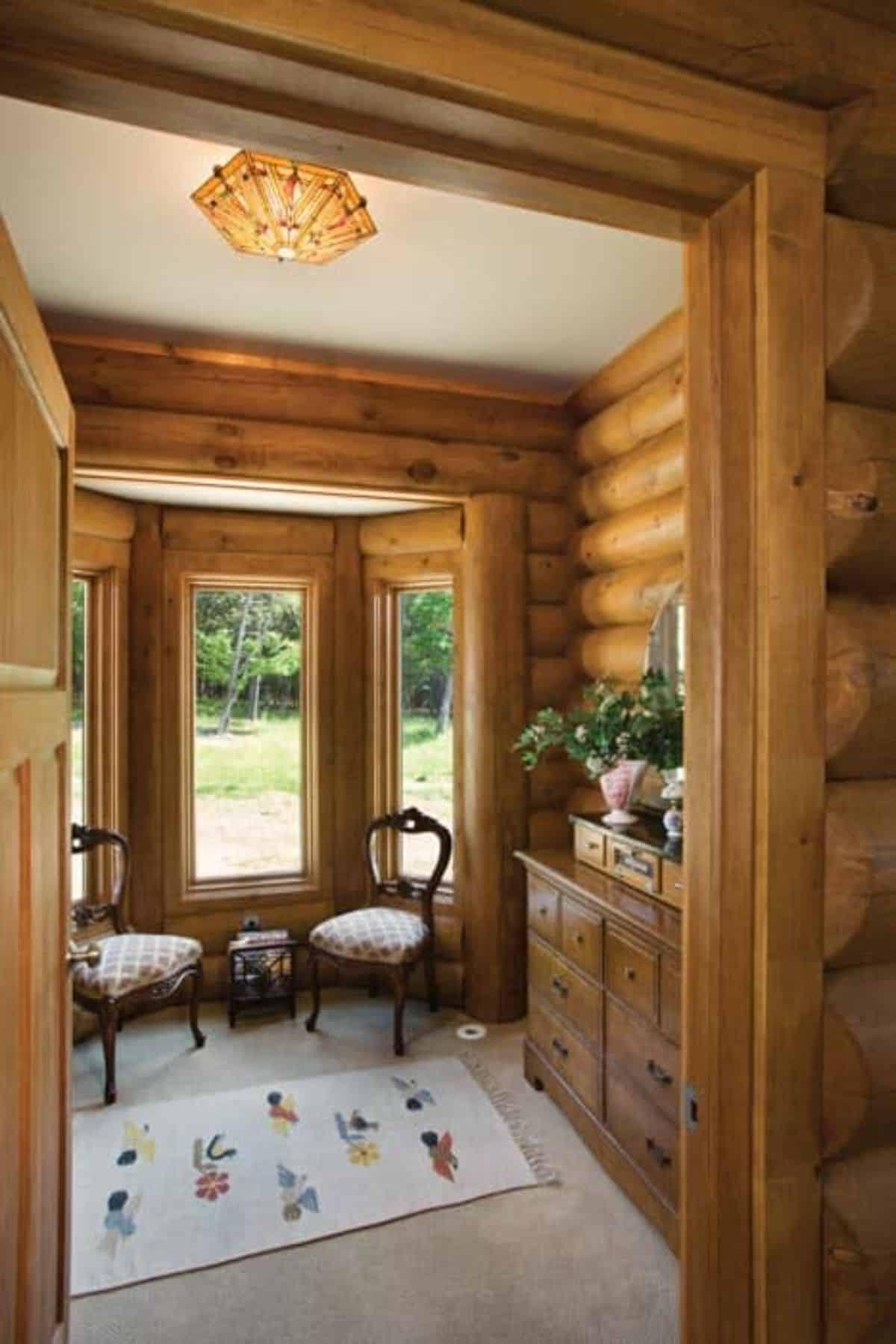 While the home is open with tons of archways that open into each room, there is some privacy between spaces. Below, the kitchen has dark wood cabinets with a long island that doubles as a bar. It's a great space to prepare your favorite family meal.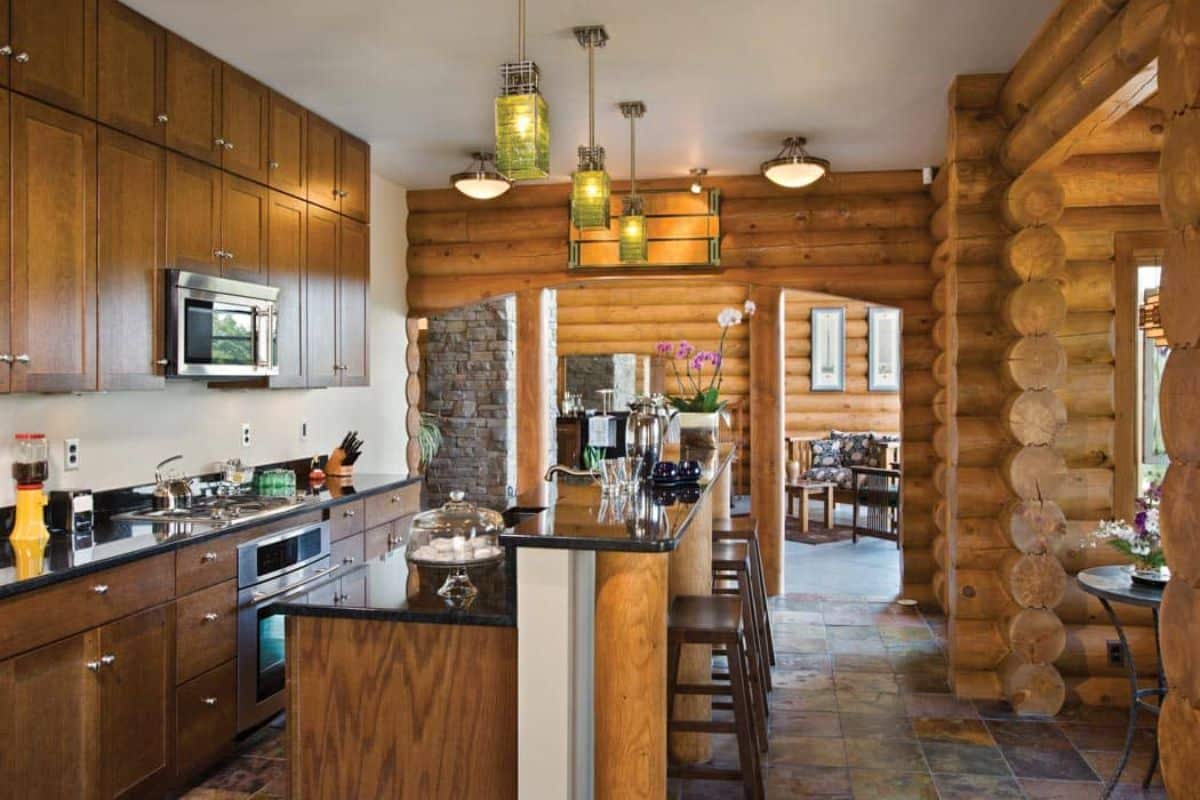 And on the other side of the kitchen is a log wall with an archway that passes right into the formal dining space. I love the use of this area as a hallway bar that includes storage space for all of your glasses, alcohol, or even just special dinnerware.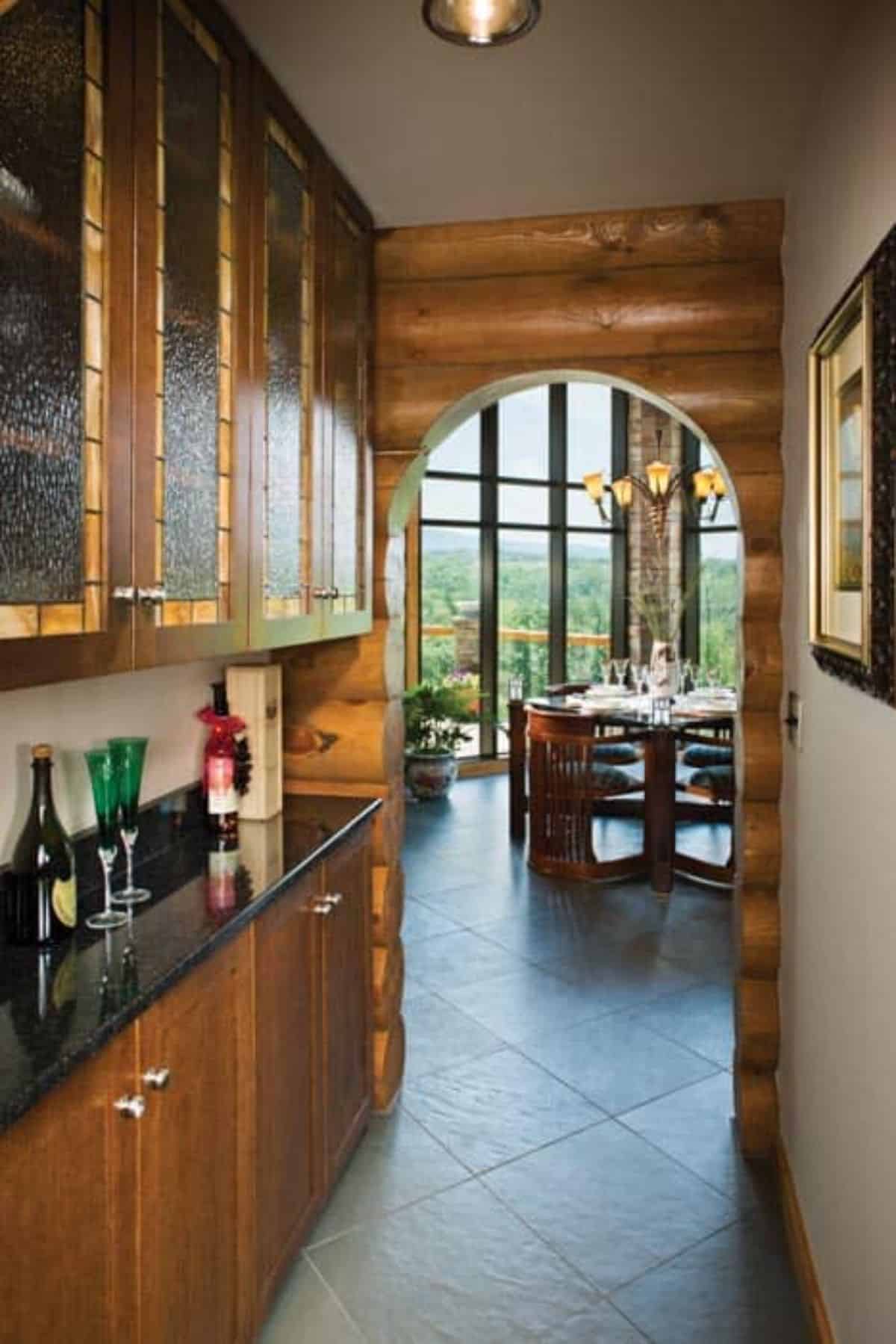 In the formal dining room, you have those same gorgeous walls of windows along with a mid-century modern style table and chandelier. Such a lovely combination of the two styles together in one place.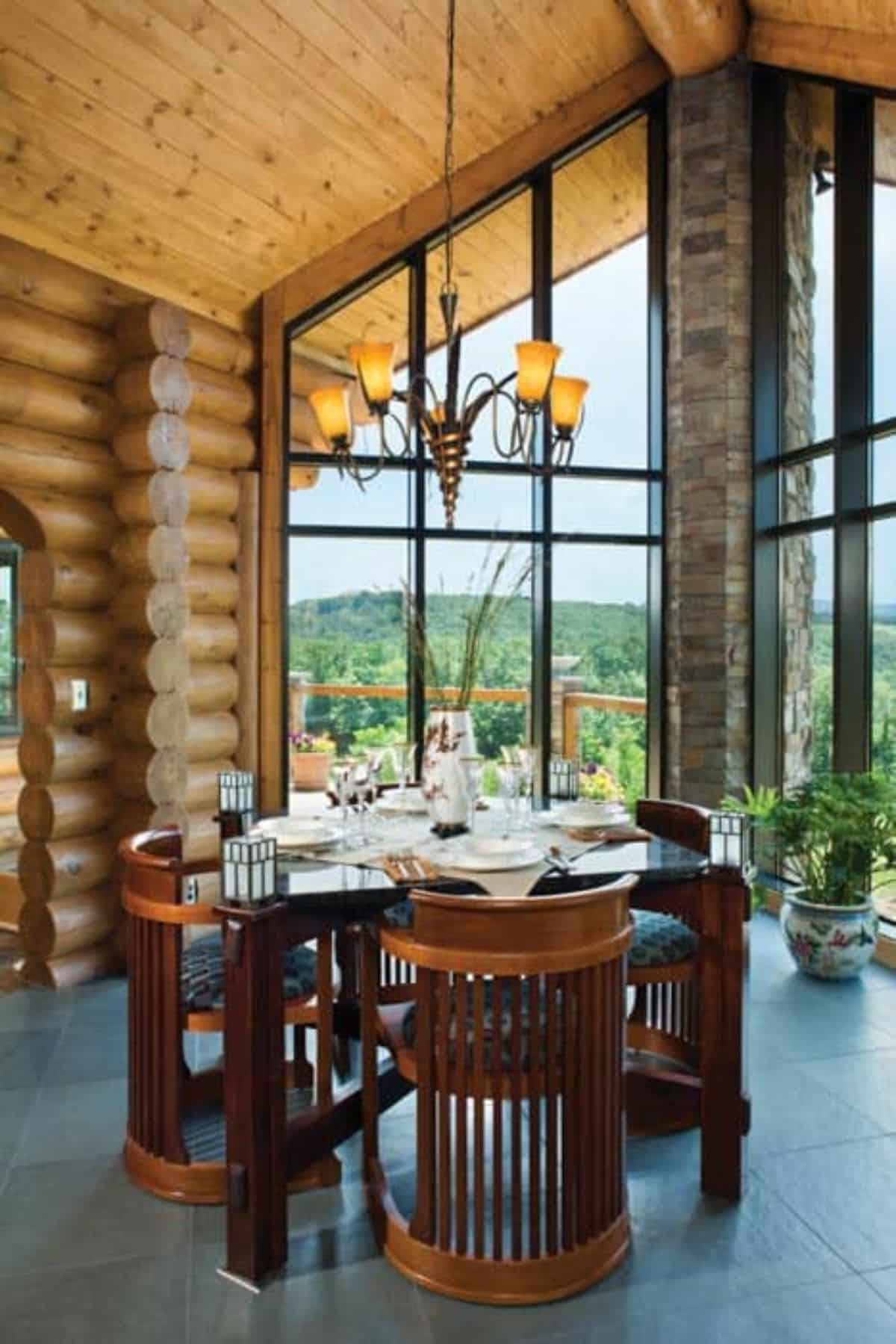 If you go up to the top level of the home, you find a bedroom with a private window seat and a dormer window that opens up to its own little private balcony. What a wonderful place to call your oasis from the world!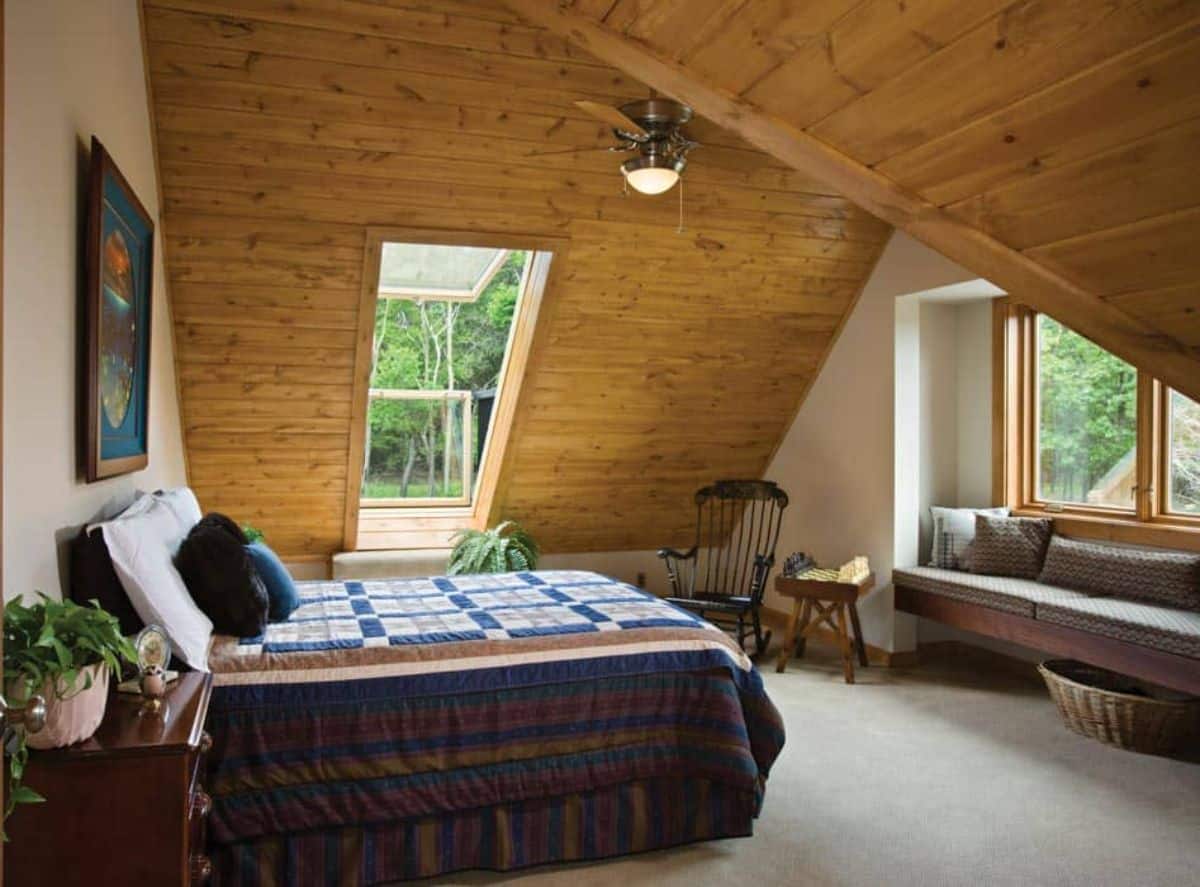 Or you can go downstairs for the master suite with its own doors opening to the deck, as well as a lovely set of French doors that leads right into the great room.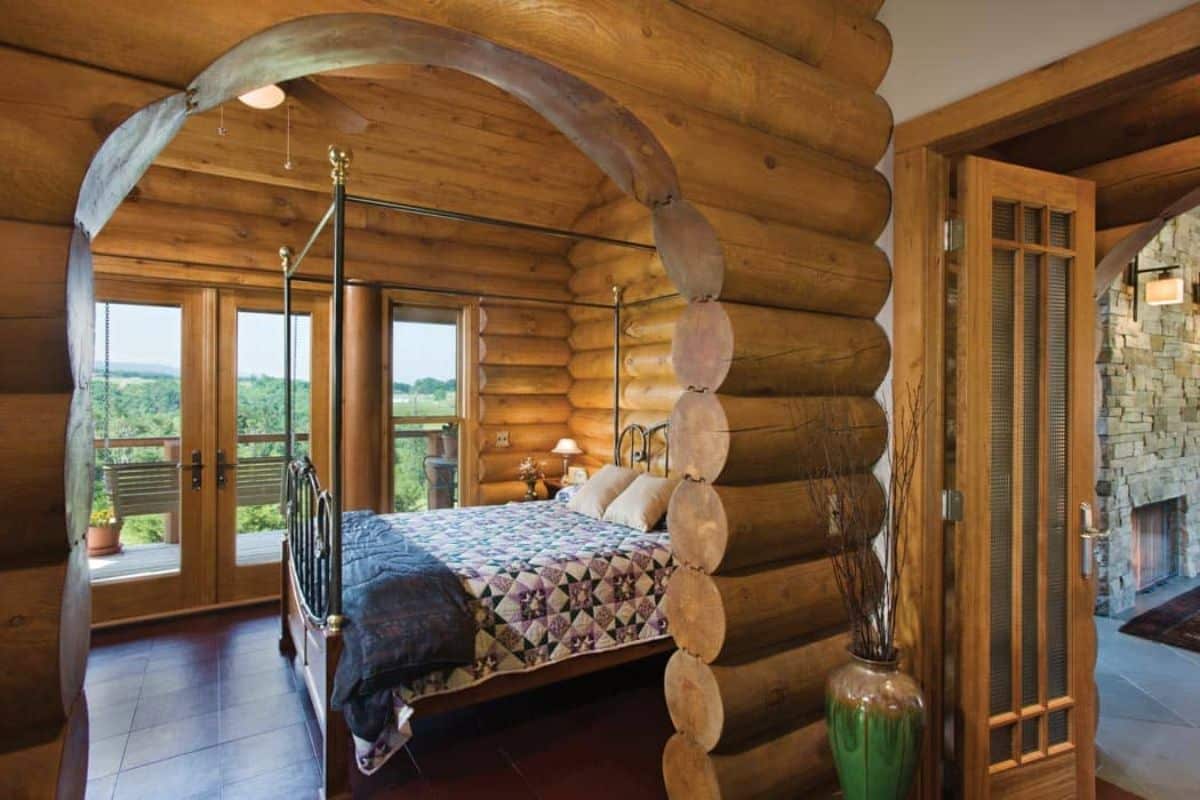 And of course, this stunning mid-century modern bathroom against the log walls is a personal favorite combination of styles. Truly beautiful in every way!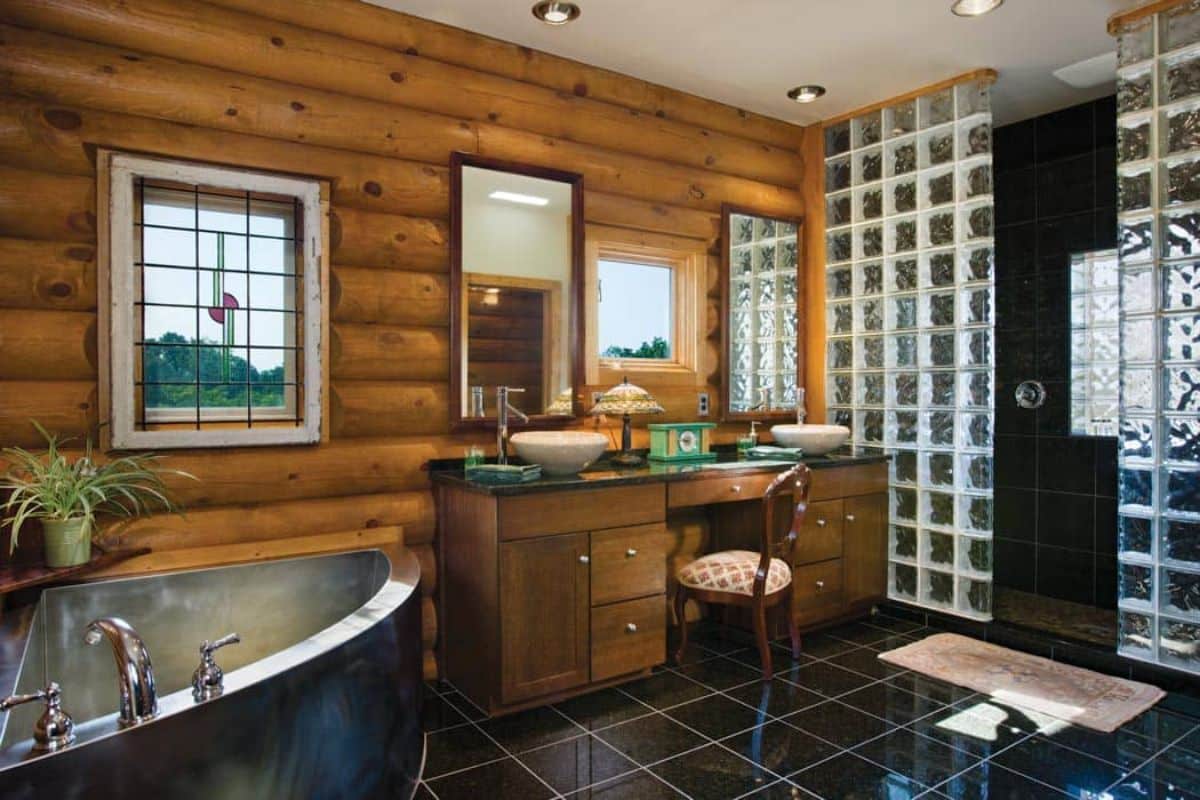 For more information about this model and others, check out the Precision Craft Log & Timber Homes website. You may also find them on Instagram and Facebook for regular daily updates. Make sure that you let them know that Log Cabin Connection sent you their way.
More Log Cabin Kits and Tours