A wonderful combination of rustic log and stone, the Grazi residence is a beautiful home with a sprawling ranch-style layout and tons of gorgeous exterior spaces. This home is not a traditional log cabin, but one that uses a log as a bae with tons of natural elements to bring a cohesive look to the home.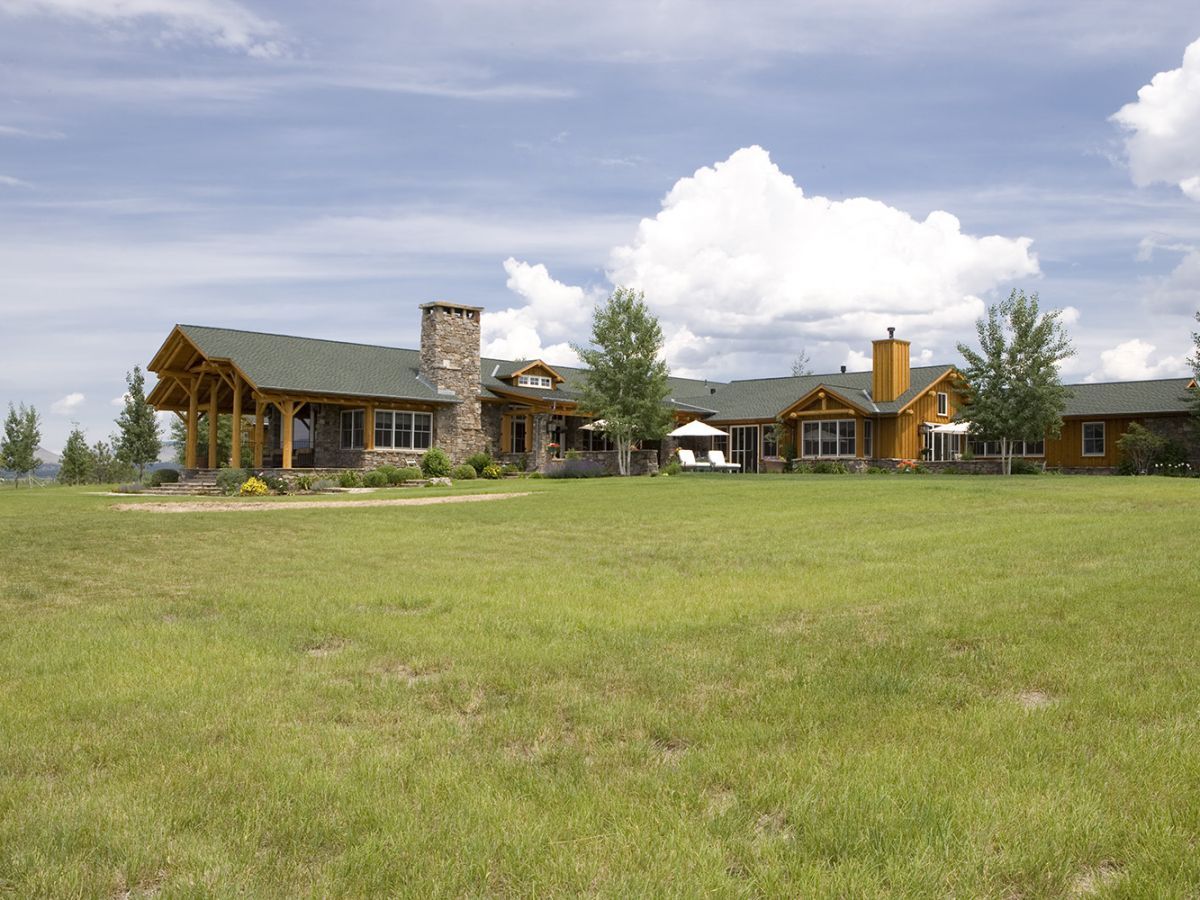 This side porch on this home is welcoming with log beams supporting the roof over a custom stone porch and wall of the home. There is a metal railing on the sides making it safe for kids to run around, but also leaving it open for a beautiful view.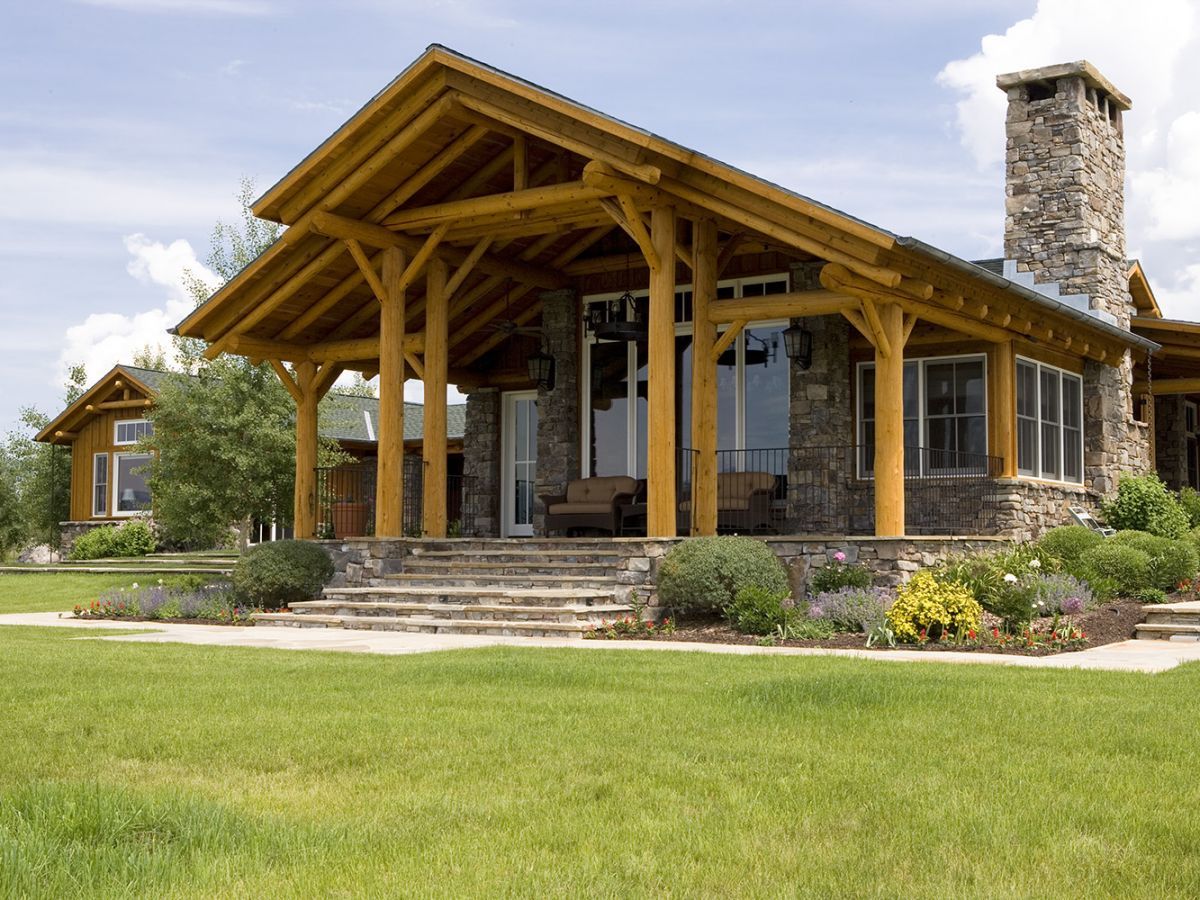 The home has a few entrances and porches around the side that all include elements of log beams with stone columns and facings. I love this particular entry with the stone walkway and beautiful exterior elements including wood shutters with matte black hardware that give it a rustic feeling.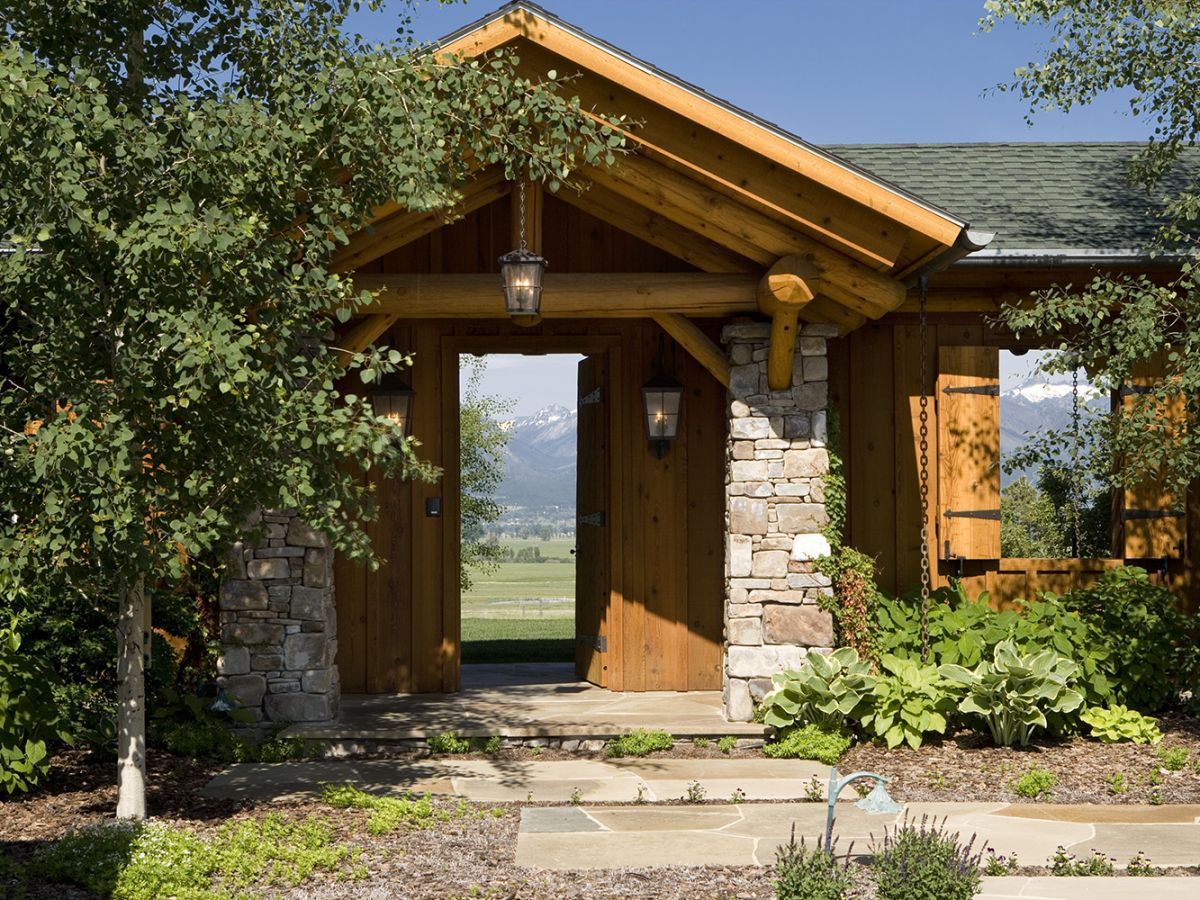 The landscaping around the home brings tons of beautiful natural elements to life with hanging baskets, potted plants, and lovely walkways filled with shrubs and flowers.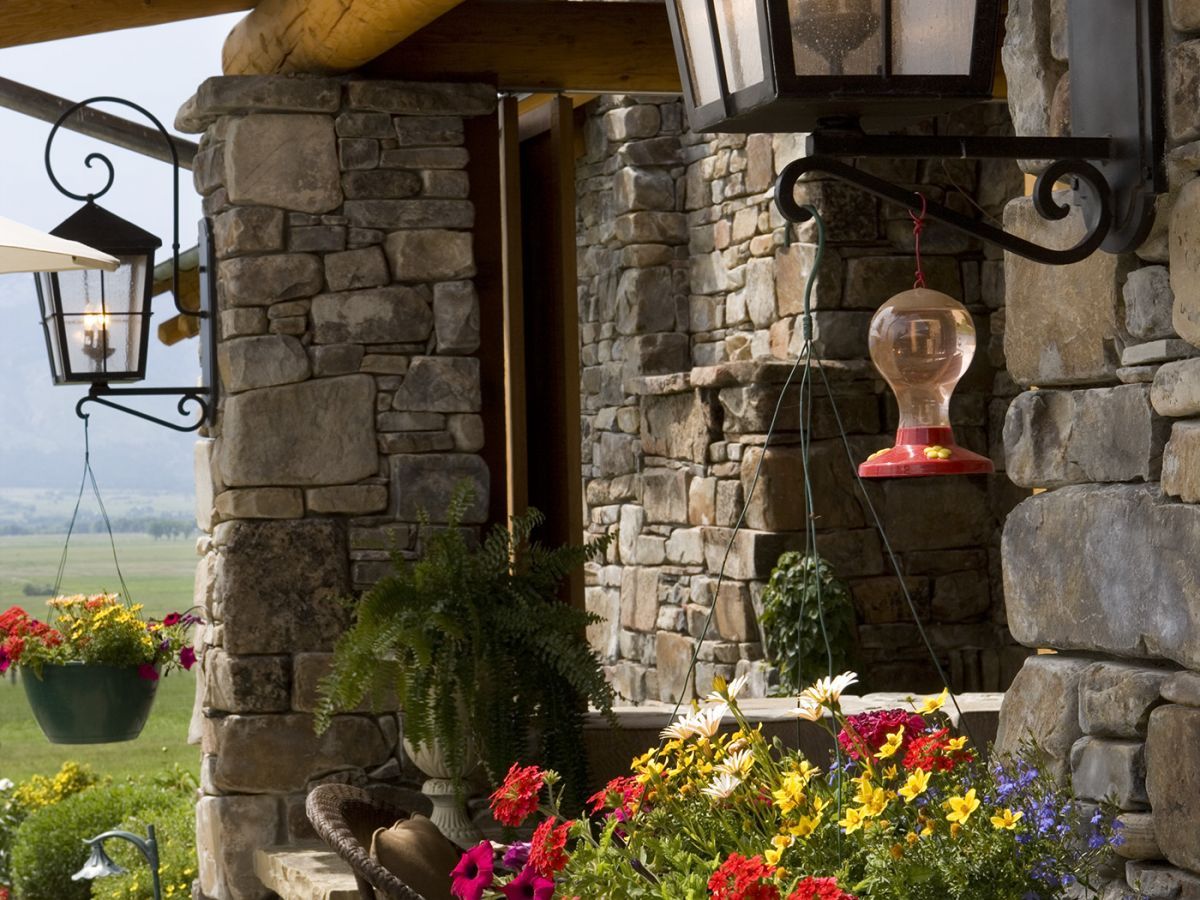 There is just something welcoming about the stonework combined with rustic wood shutters, doors, and walls.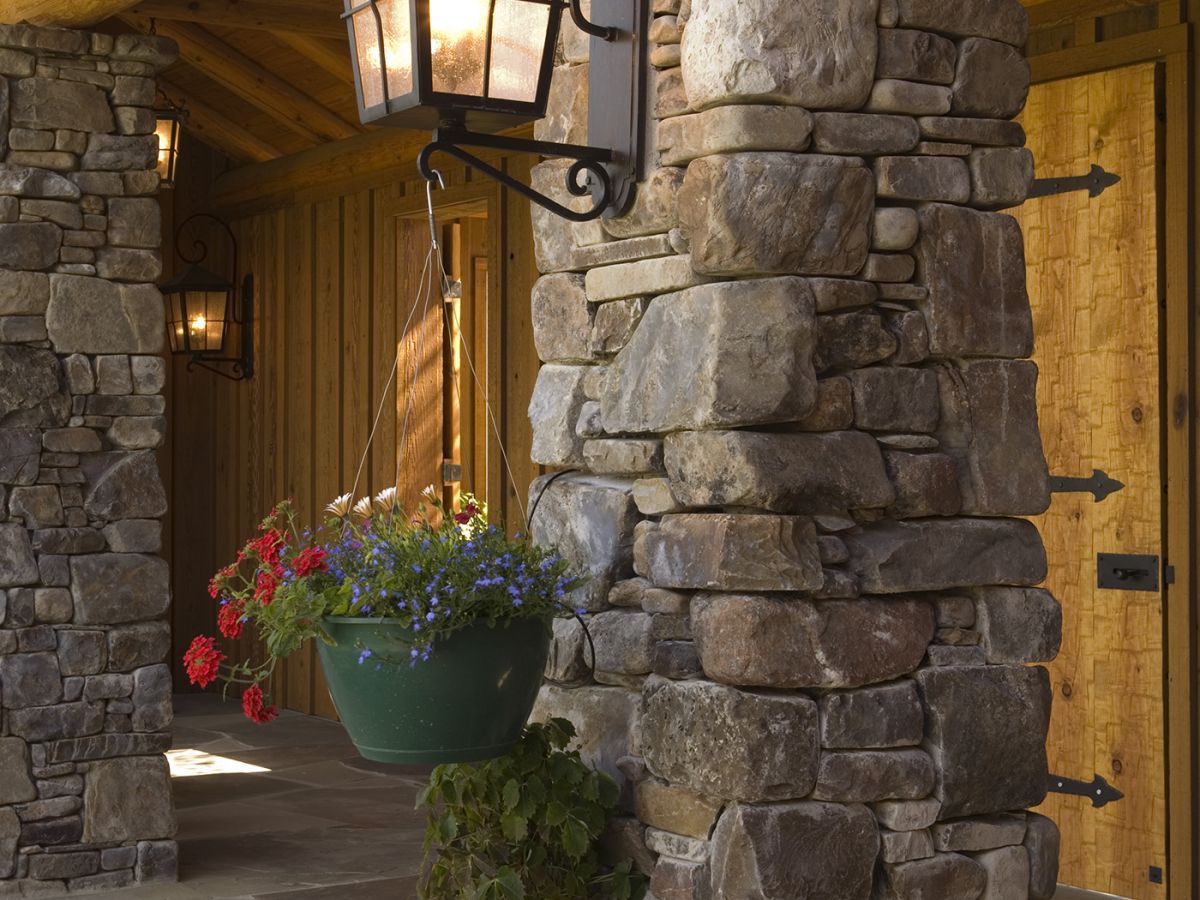 Even the front door combines the wrought ironwork alongside the wooden door with a view right inside the beautiful home.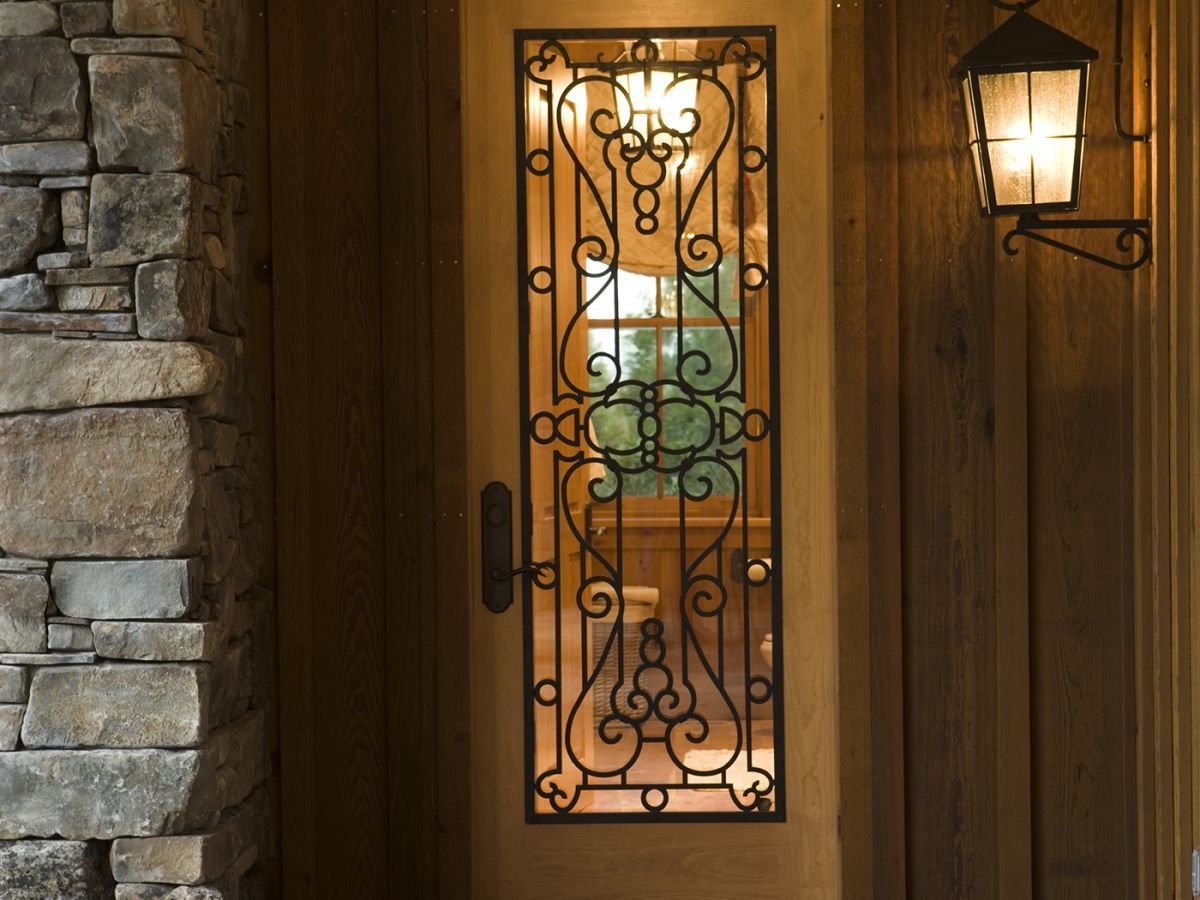 Inside the home, the decor is elegant and inviting. A great room seating area is comfortable with sofas and chairs around custom wood coffee tables. Plus, the kitchen opens up into this space making it ideal for entertaining.
I also love the stone columns inside the home. They include little cubbies in them for decor, or as a fun little pass through or way to open up the space with more light.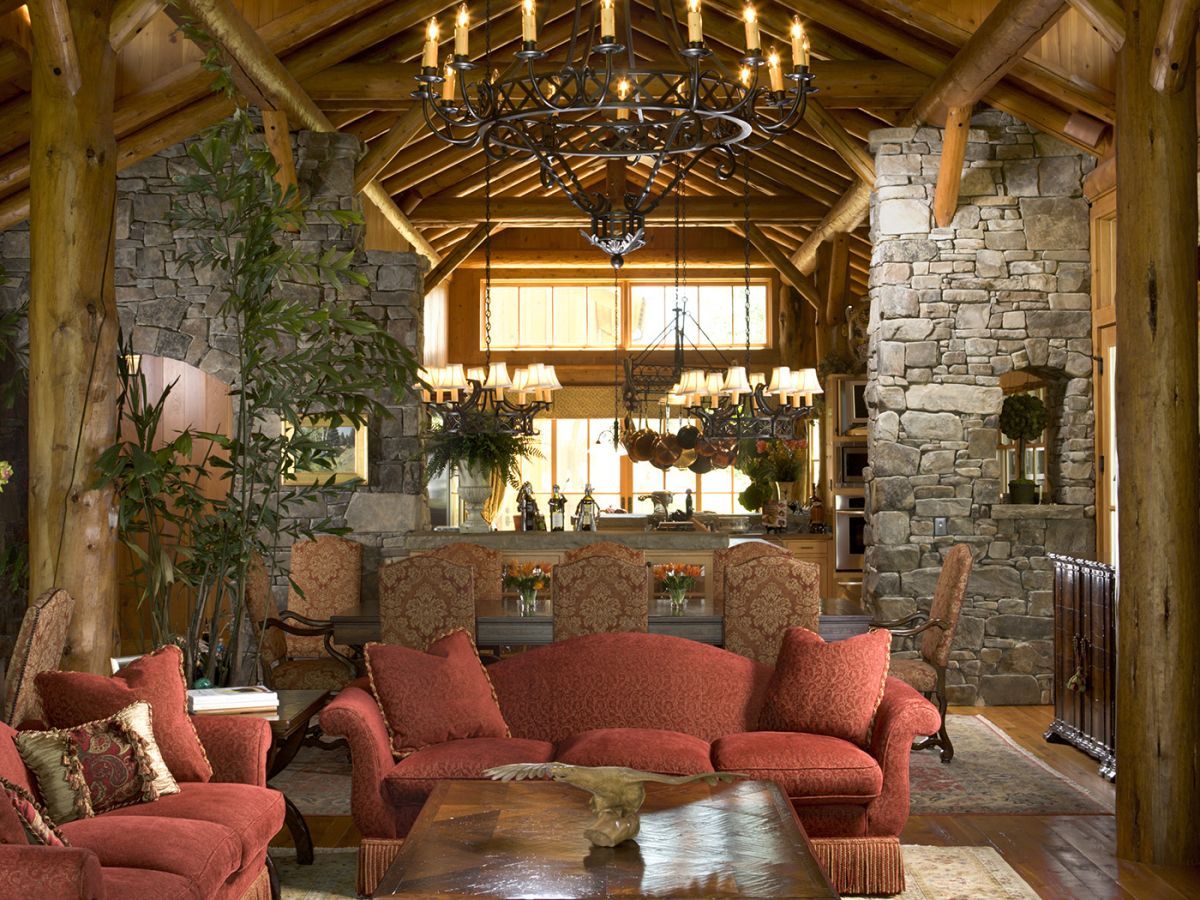 Ornate details like the beautiful matching chandeliers are just part of the beautiful inclusions. I love the log beams in the room as support as well as the open beams on the ceiling.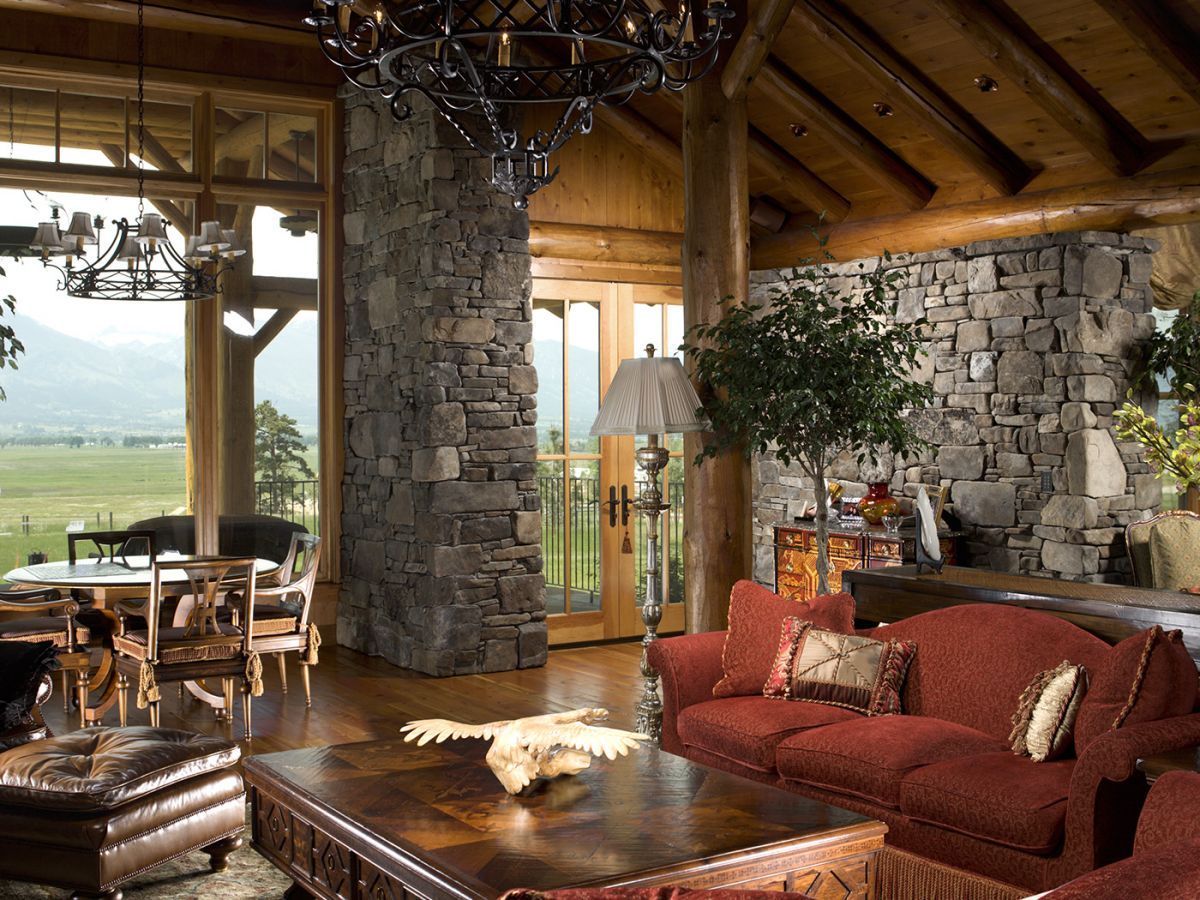 Custom hutches like this one are ideal for storing glassware and dinnerware. This room is ideal for a family meal or to welcome guests for your own evening dinner party.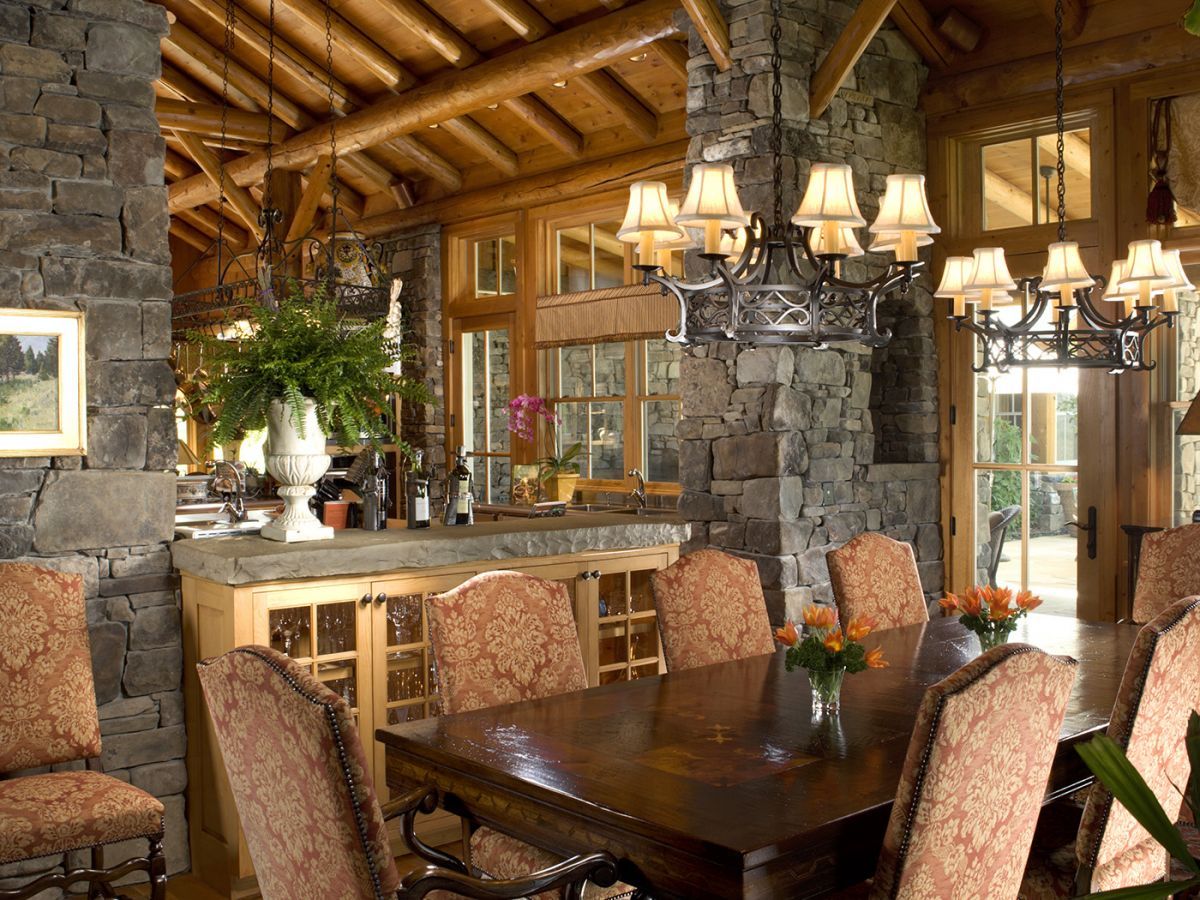 The kitchen is not only open to the rest of the home but a beautiful and welcoming space that is chock full of modern updates. From the stainless steel sink and appliances to extra spaces with stainless steel tops for easy cleanup.
Racks hang above the counter for holding often-used pots and pans. One of my favorite additions in any home, but here it really adds sophistication to the space.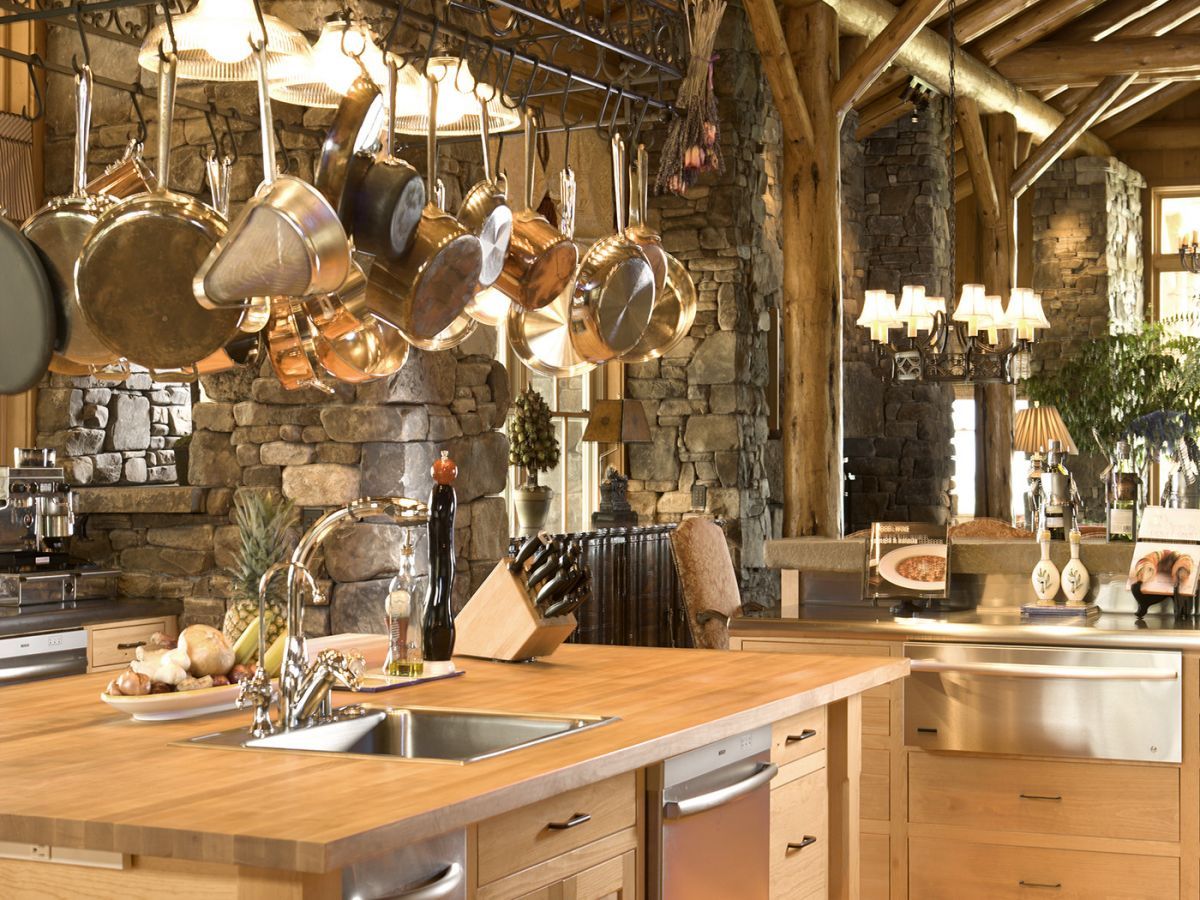 The master bedroom of this home is a beautiful oasis with luxury everywhere. From the ornate bed and linens to the French doos leading out to a private patio, this is one place you want to relax and never leave.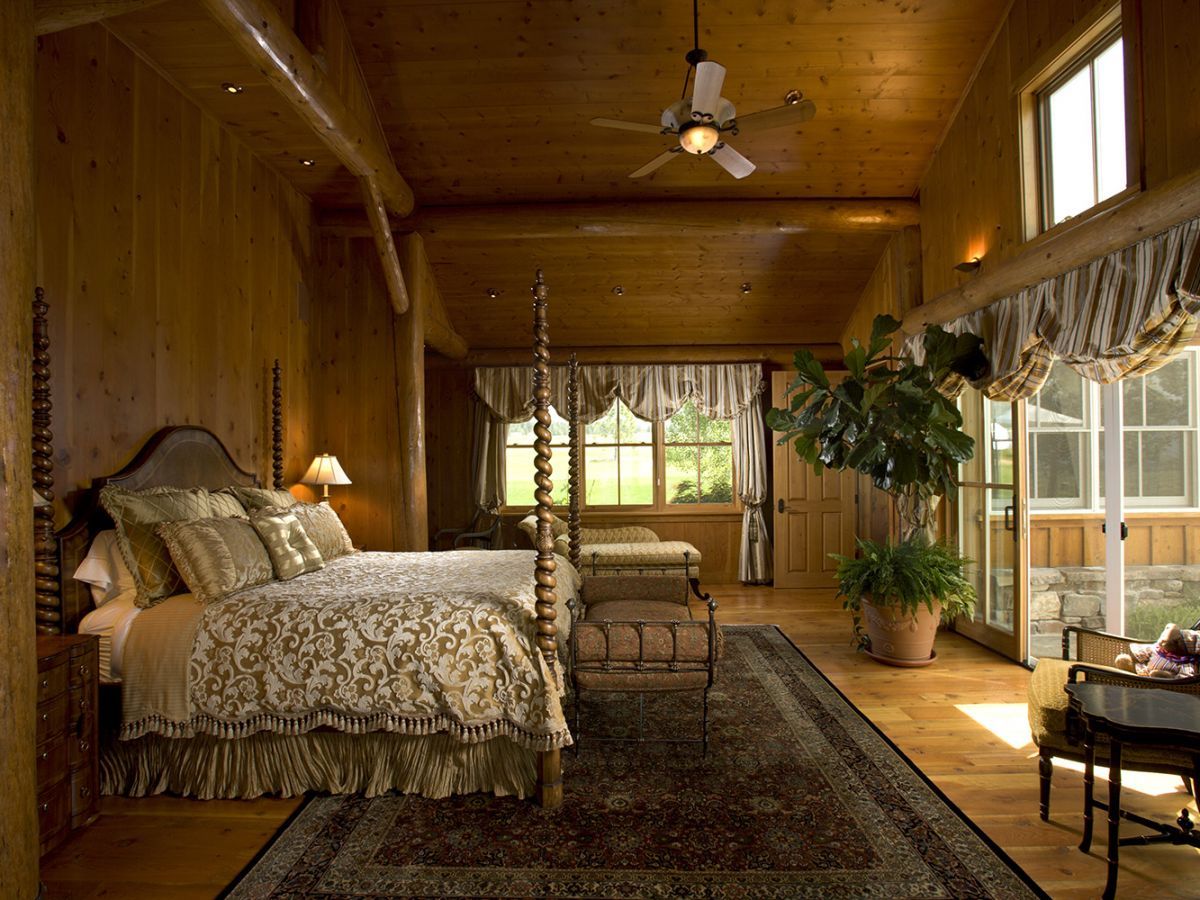 There is even this wonderful reading nook at the end of the room with a small lounging soda and a custom retro wardrobe. The wardrobe matches those end tables beautifully.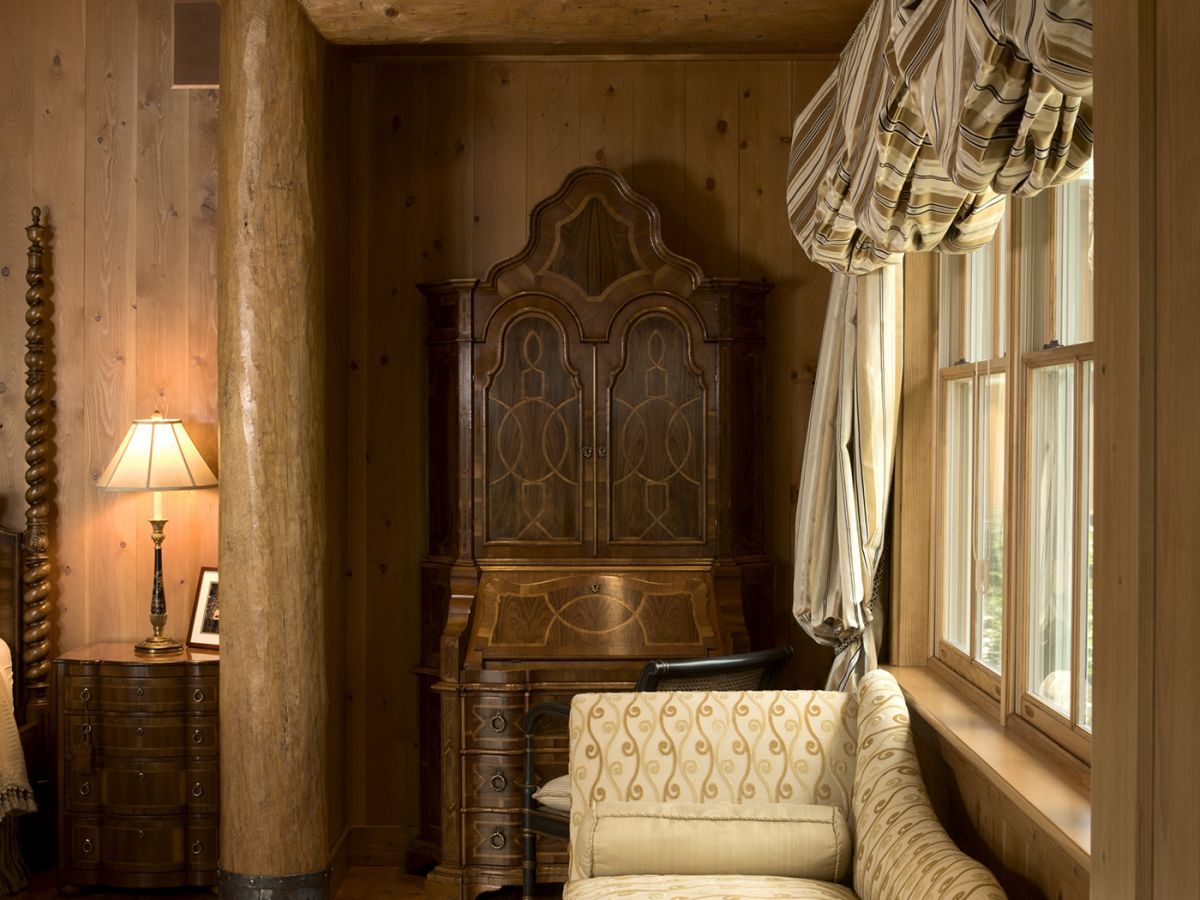 Just look at the detail on the bed! So much beauty that perfectly matches the home. This bedroom showcases the log beams and braces throughout giving you the perfect space to relax in comfort with both rustic style and modern conveniences.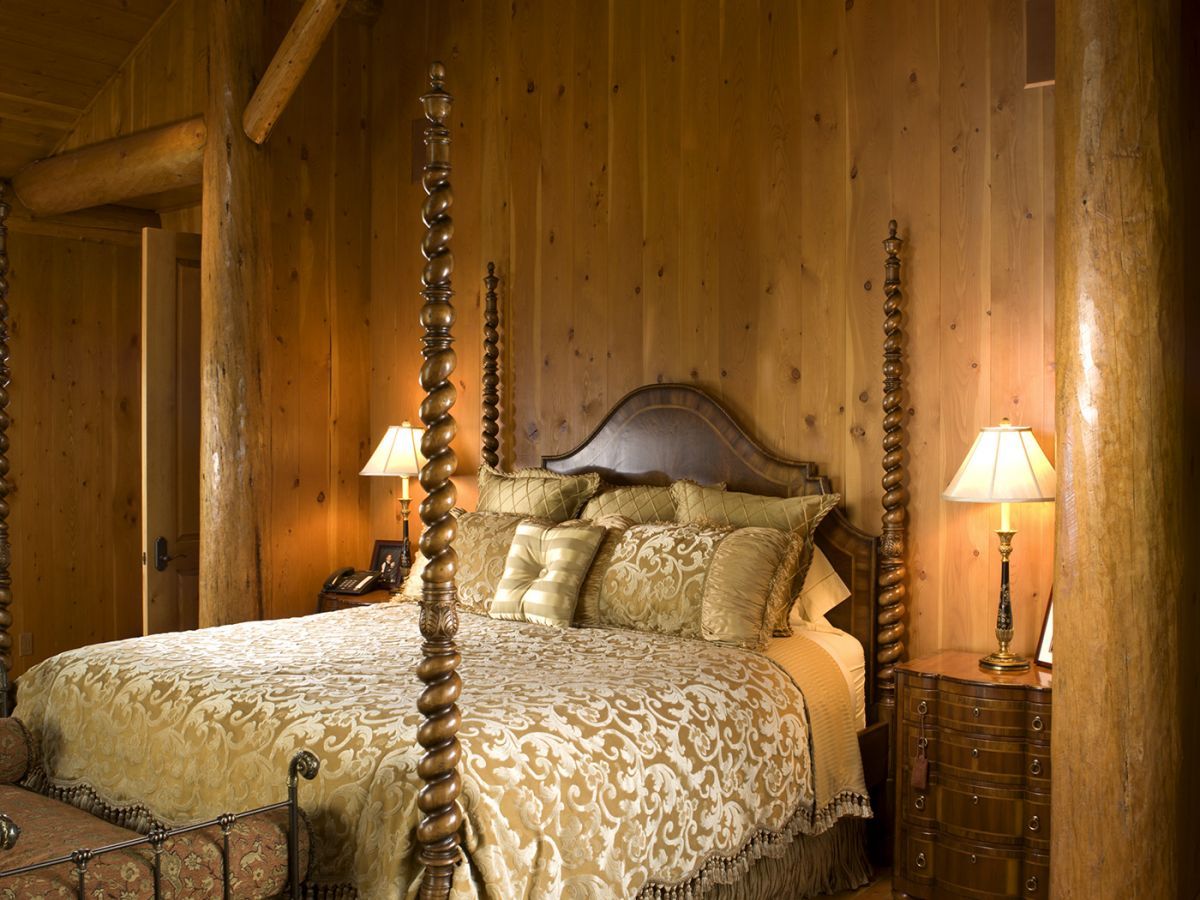 The home's show stopper? It has to be this absolutely gorgeous bathroom! A soaking tub is surrounded by beautiful stonework, and that shower is a gorgeous space with a bench seat and plenty of room for all of your toiletries.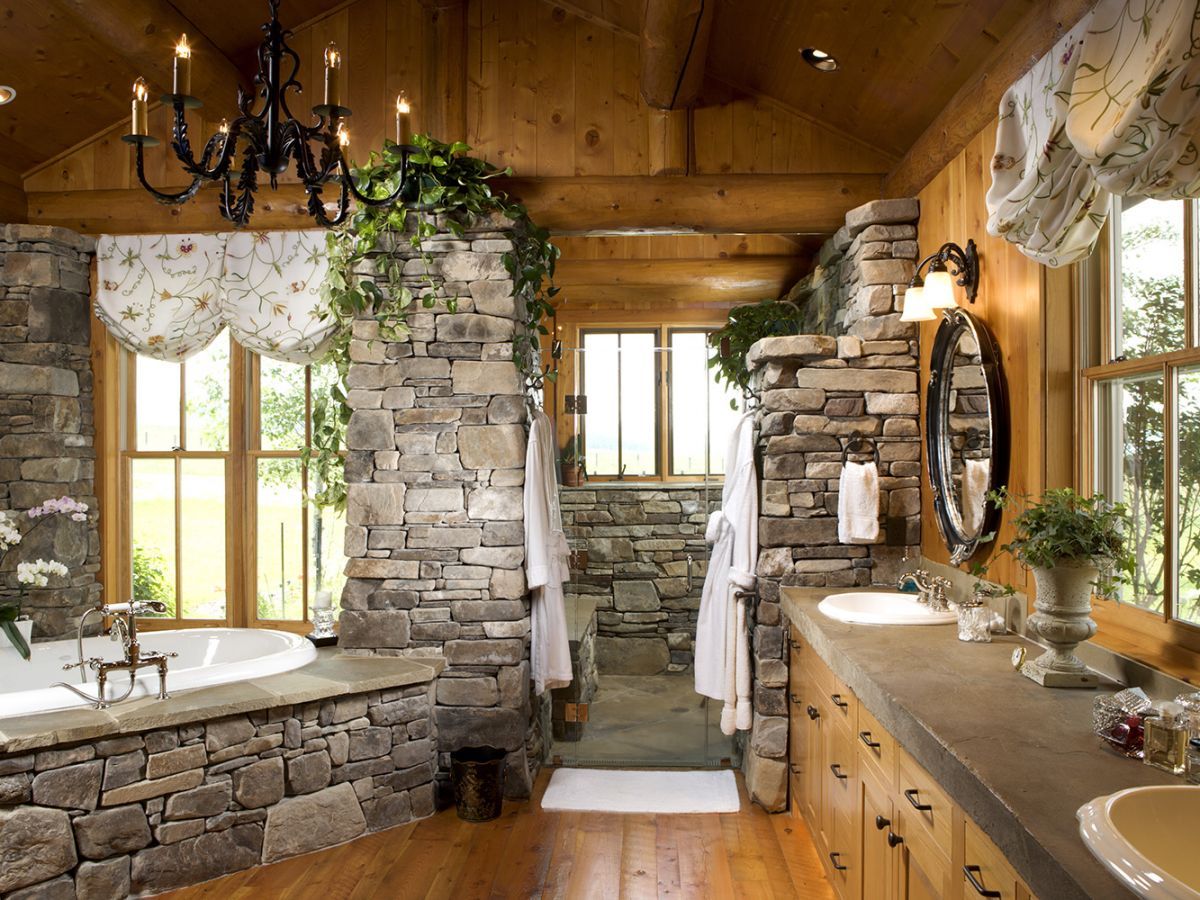 The long vanity has tons of storage and two sinks with these lovely mirrors above that you are going to adore. Just look how ornate they are! A perfect match to the rest of the home and the added details.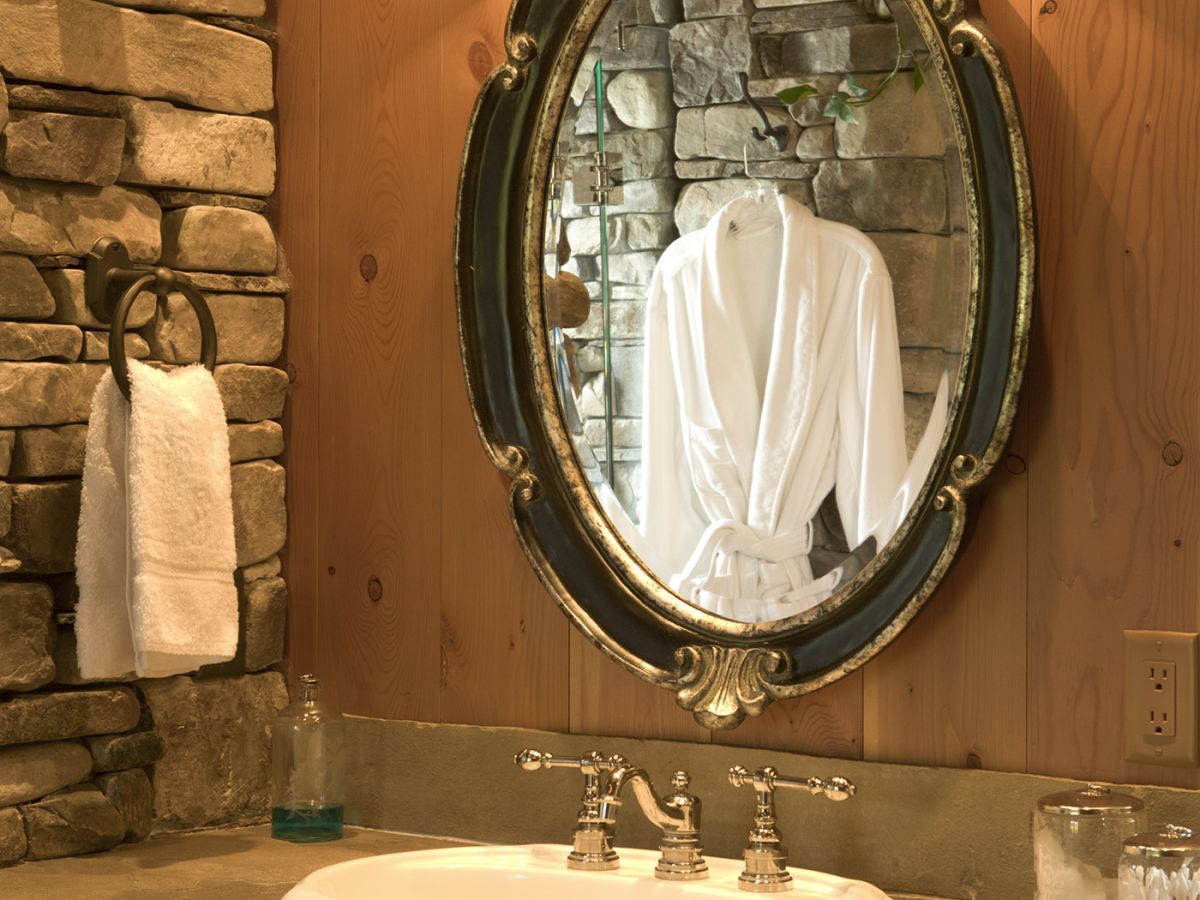 The beauty isn't just inside, but also outside. This exterior patio has a perfect area for bistro tables, cozy seating, a small fire pit, and even a grill. The ideal place to entertain friends with a barbecue weekend.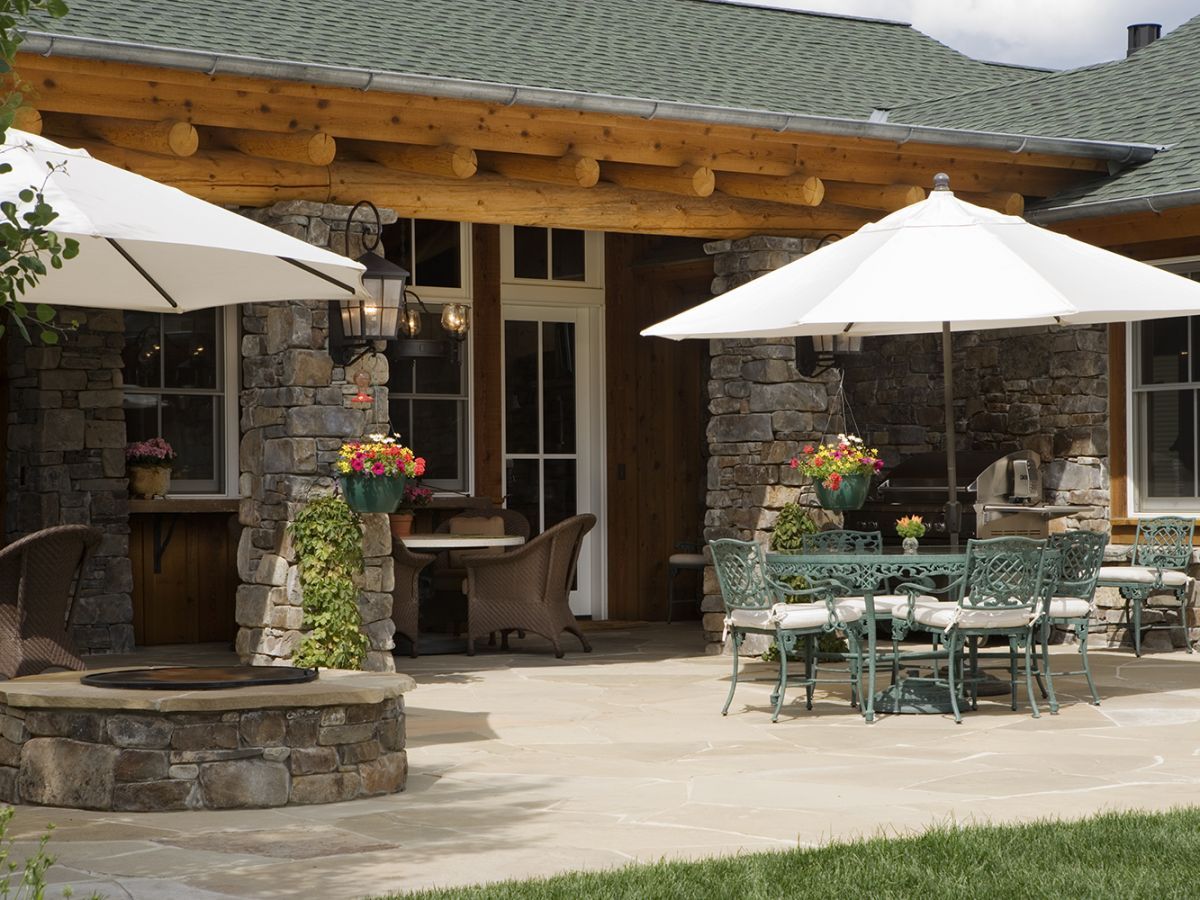 You can see this and other cabin builds on the Rocky Mountain Log Homes website. They can also be found on Facebook and YouTube with more information about their latest builds. Make sure that you let them know that Log Cabin Connection sent you their way.
More Log Cabin Kits and Tours