I love finding smaller cabins like this one. The Den is a combination of a classic cabin and a tiny house. It's a lovely modern interpretation of cabin life, and is ideal for a single individual, couple, or to be used as a weekend getaway.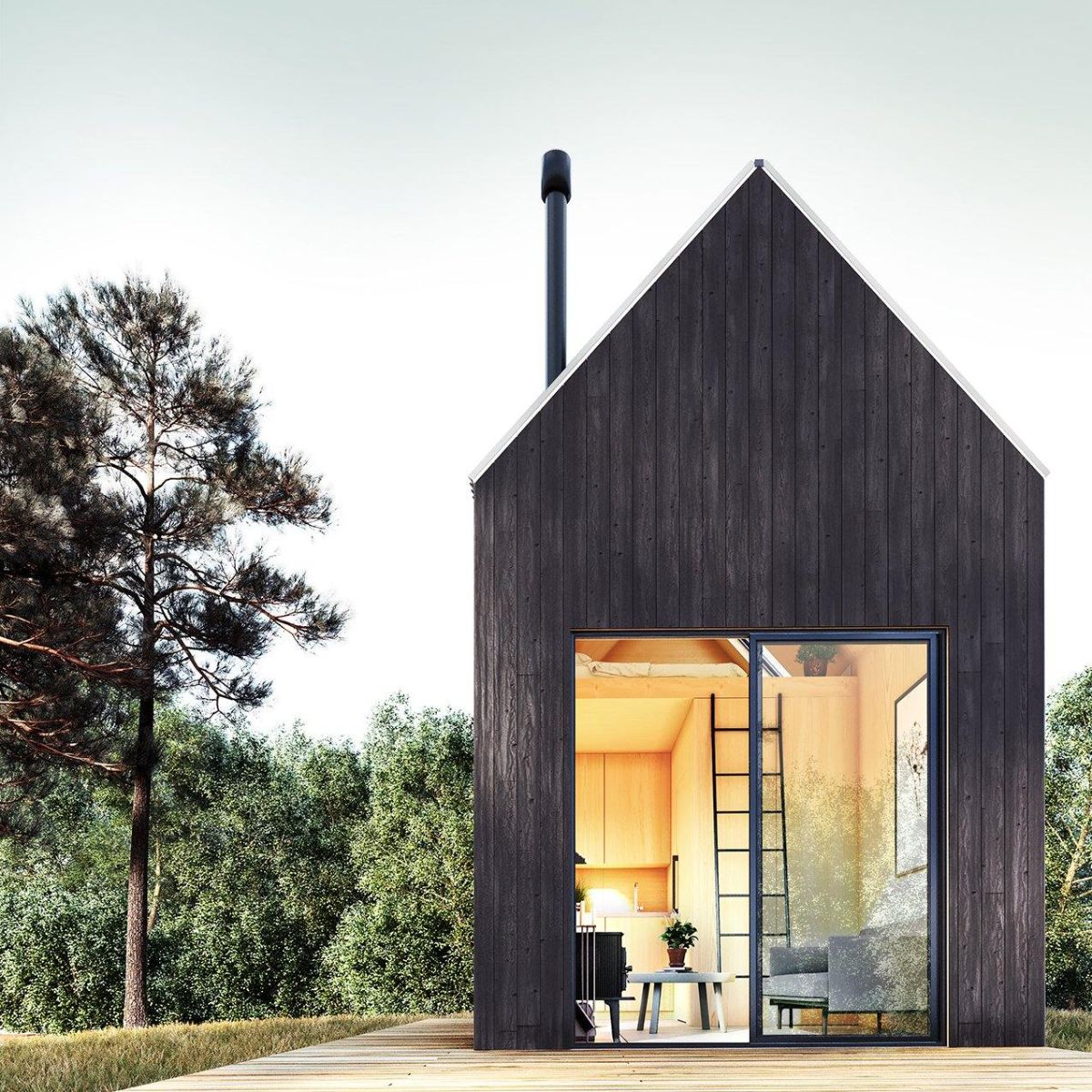 Cabin Price
Cabin floor plans/blueprint: $99
Approximate cost to build: $35,250
Cabin Size
144 square feet
16' long and 9' wide
14' top at the highest peak
Cabin Features
Single loft "bedroom" easily sleeps 1 or 2 in comfort and can hold a queen mattress with no issues.
Includes bathroom with toilet and shower.
Has a small kitchenette with 24" cabinets and your choice of appliances can be integrated.
Has space for a small wood or gas stove space at front of the home.
Large sliding door on end as well as picture windows and a skylight for tons of natural light throughout the home.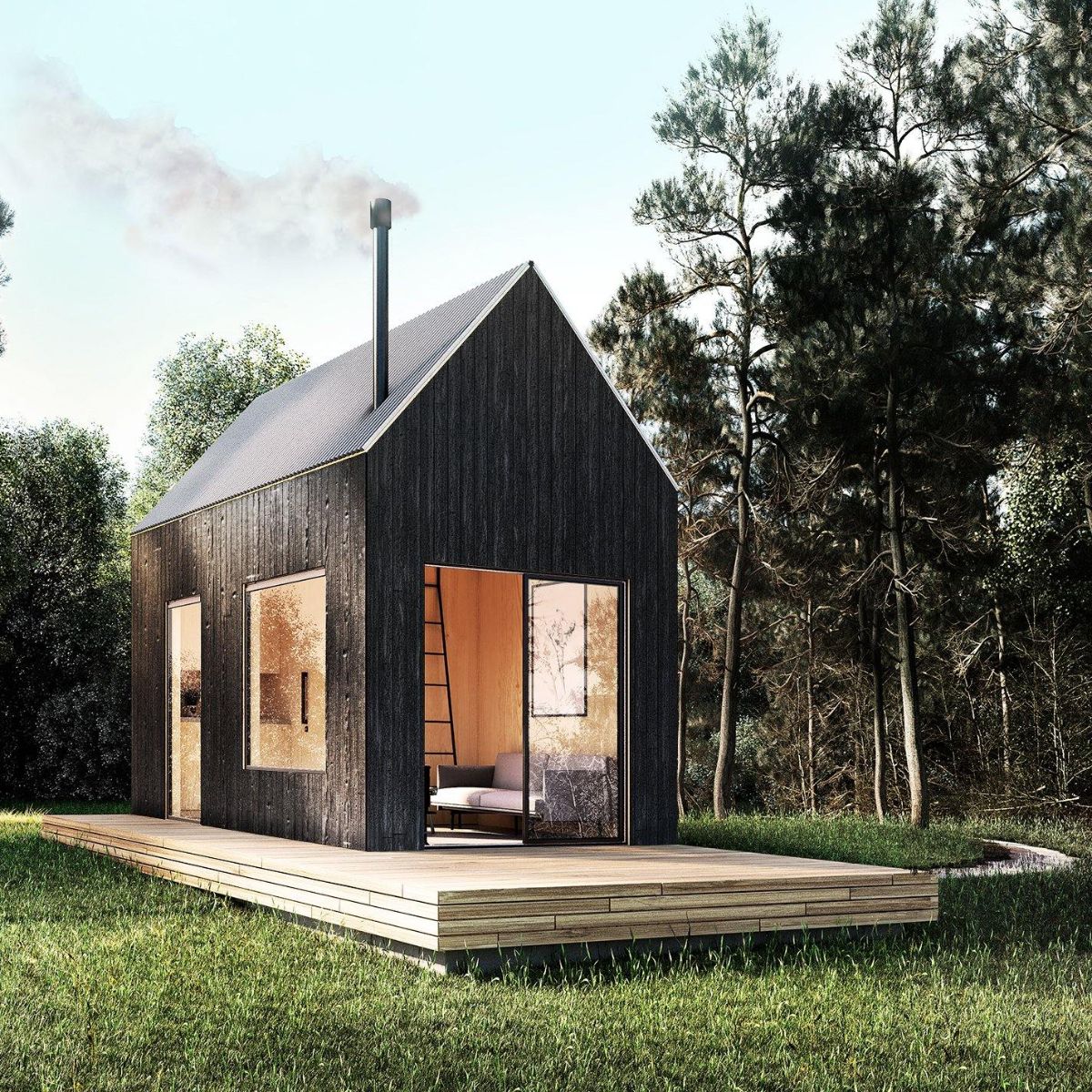 This is not a traditional cabin in any sense of the word. It is definitely leaning more toward a tiny home or retreat, but that doesn't mean it can't be a permanent home for you.
The end includes sliding glass doors that open right into the living space with a glass door on the side that opens into the kitchenette. From the image below, you can see that the home has room for a sofa and table here in the living area. You could easily turn that into a Murphy bed or even a simple futon for added sleeping space.
A wood stove in the corner offers heat and a true cabin ambiance, but can easily be replaced with a gas stove or a different heating system if you prefer. This is ideal for a mini-split AC/Heat setup.
At the back of the space, you see a ladder leading up to the small loft where a mattress fits easily. There isn't closet space here, but you can definitely fit shelves or storage cabinets on the main level.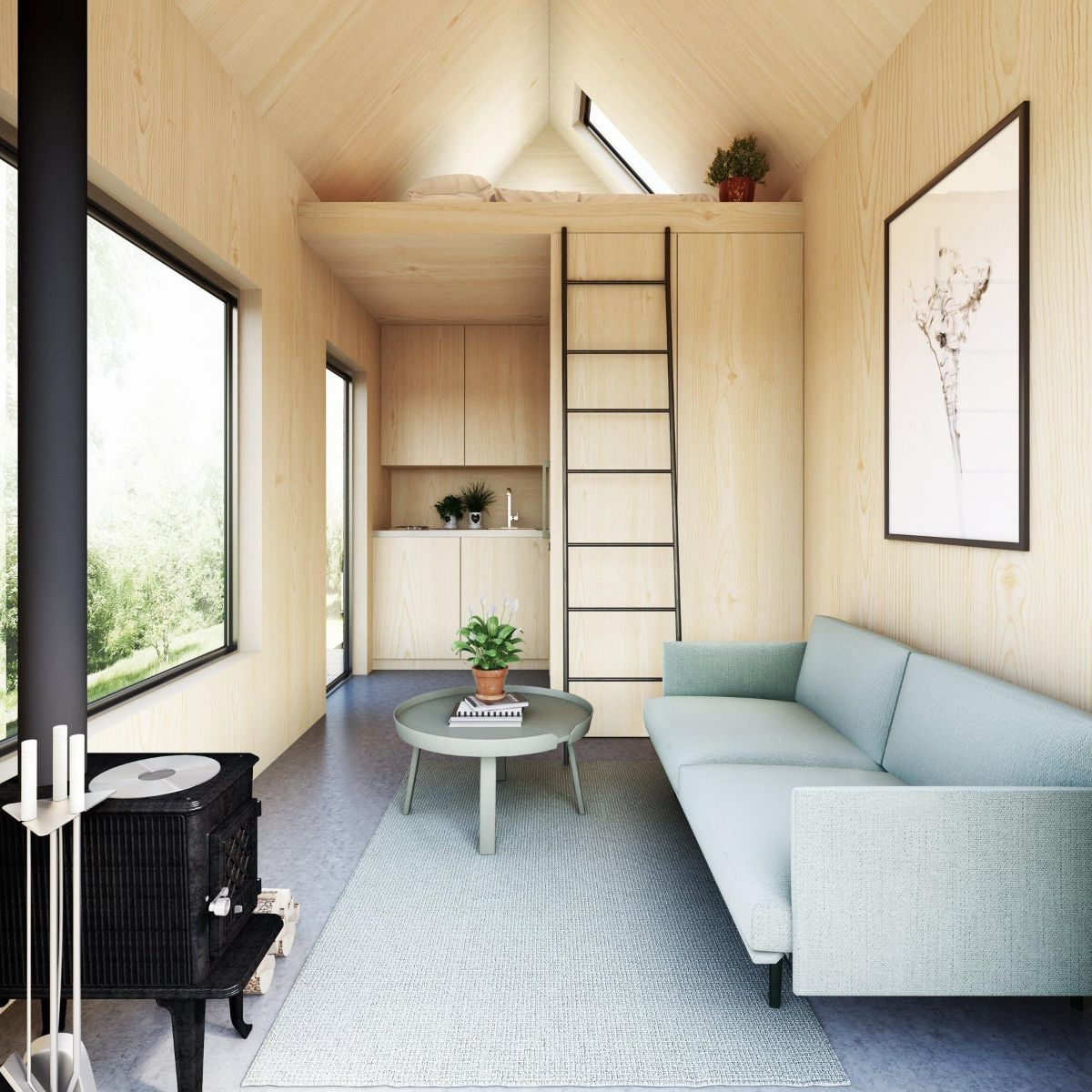 On the back side of the home, just behind the living space and beneath the loft, a simple bathroom sits. This home shows a toilet and shower, but you could potentially expand for a bathtub and toilet combination with some minor changes in the layout.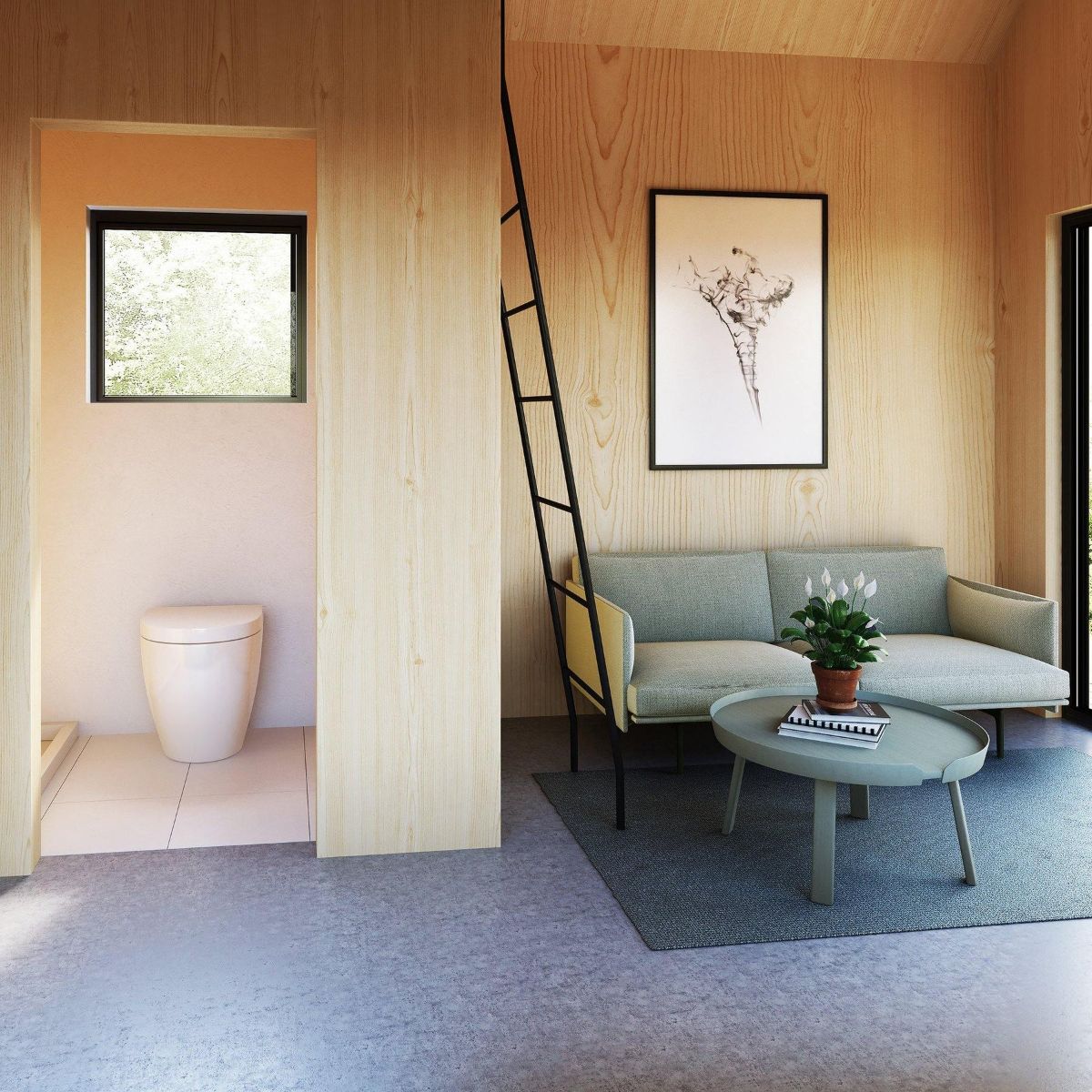 Below, you can see the overall main floor layout from the lofted space. The taller gabled ceilings give the smaller square footage a larger feeling. This home is a fun cabin rendition that is modern and sleek, but still gives you the cozy "cabin in the woods" feeling of your dreams.
If you are looking for a cabin-styled home, but prefer the minimalist style and modern additions, then the Den is a great choice for you and your family. This home is ideal for just 1-2 people but could be a home for a couple with a small child. Alternately, it is a perfect weekend getaway for up to 4 people when a futon on the main level is incorporated.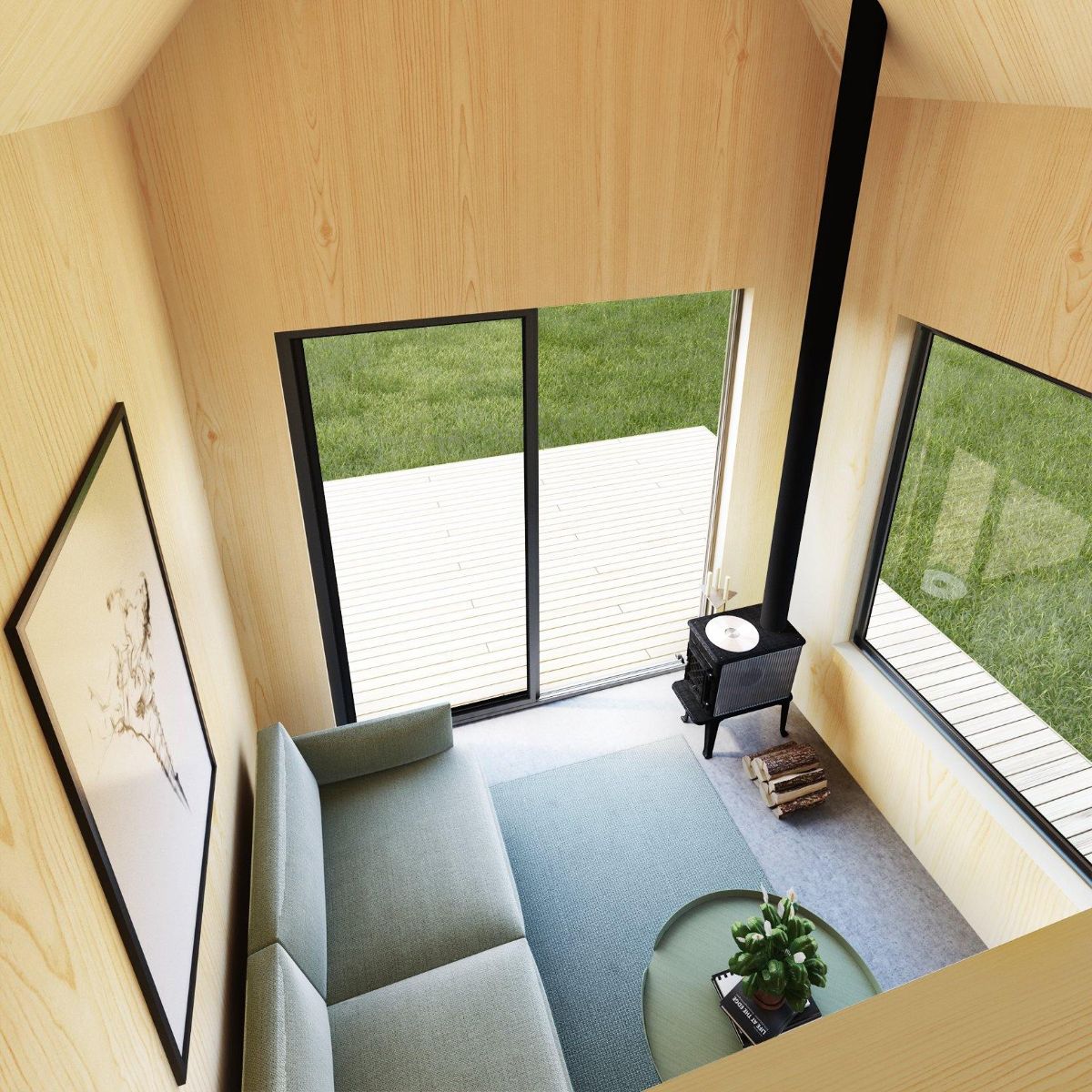 If you are interested in the plans for this adorable little tiny cabin, check out the Den Outdoors website. You can also follow them on Instagram for more inspiration. Make sure that you let them know that Log Cabin Connection sent you their way.
More Log Cabin Kits and Tours