If you want the barest of spaces with a modern minimalist style, then look no further than the Back Country Company and their System00 A-Frame home. This simple home is one that is ideal for those who are looking for that simple retreat to get away from the world.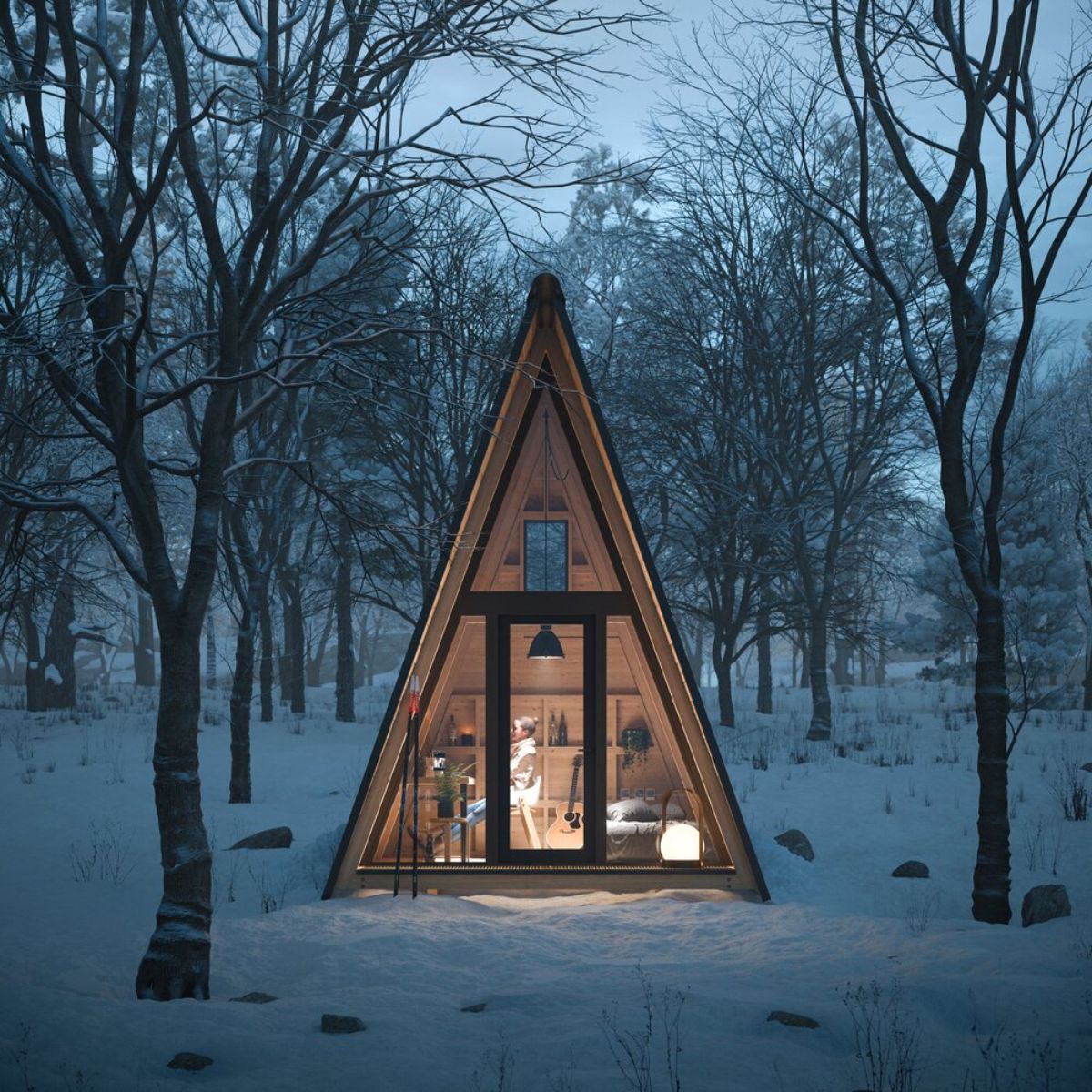 System 00 A-Frame Price
$56,495 - depending upon additions and subtractions from the build. This does not include things like appliances, heating, cooling, or other finishing touches such as carpets.
They have larger builds with more traditional features such as private bedrooms, bathrooms, kitchens, or even dining nooks. This build is not for everyday life, but as a retreat from the world.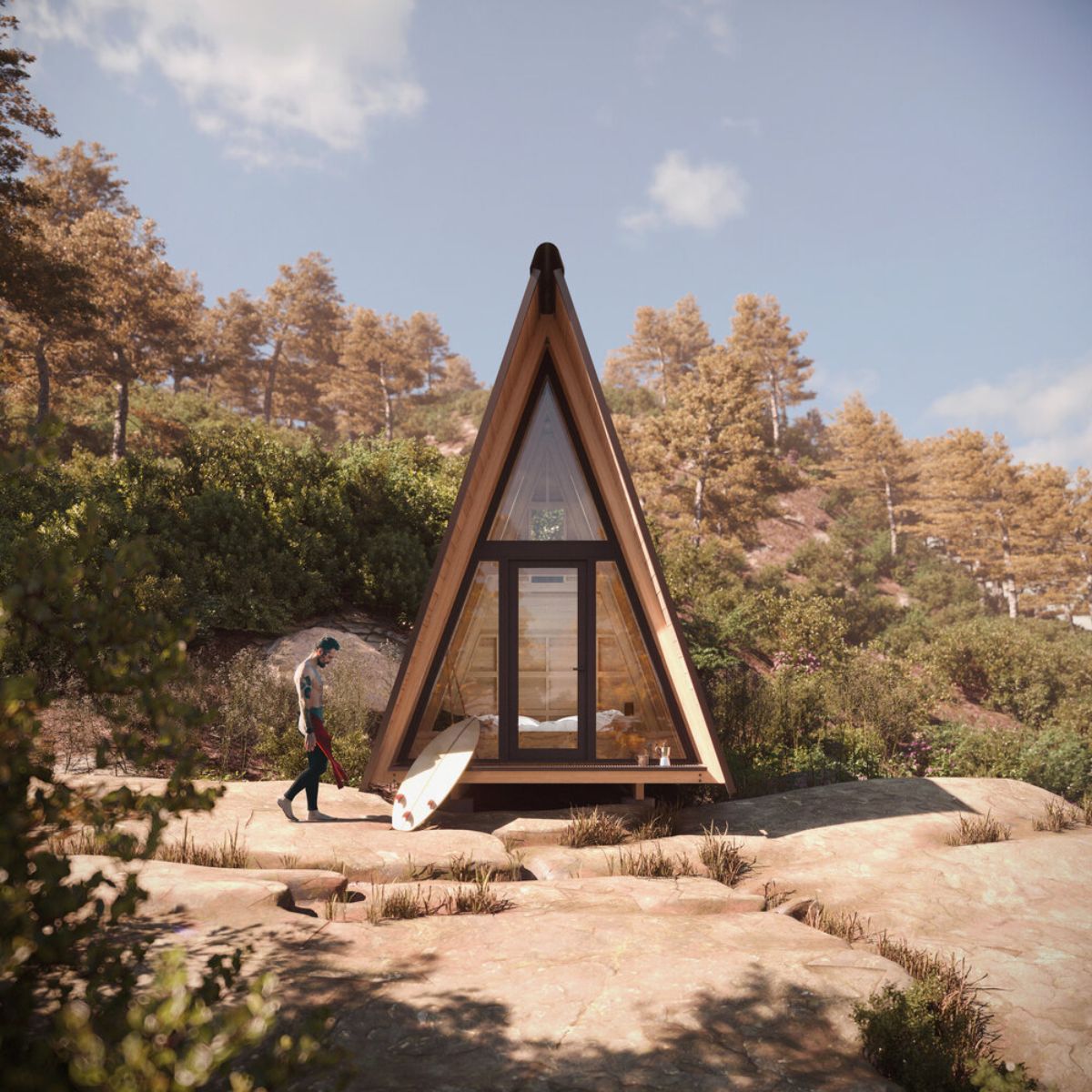 About the System 00 A-Frame
This iconic A-frame design is the purest of all of the units. The website tells us that it is indeed their smallest and most streamlined build with a tiny 10'x10' space. It is ideal for a single-bedroom bunk room, a yoga studio, or a "home" office behind your existing home.
If you choose this build, you know it can be built in under a week and is truly DIY-friendly. There are many benefits to this unit, but there are also a few downfalls. It isn't a true home with a kitchen, bedrooms, bathrooms, and room for more. Instead, it is an A-frame building that is more like "glamping" than a residence.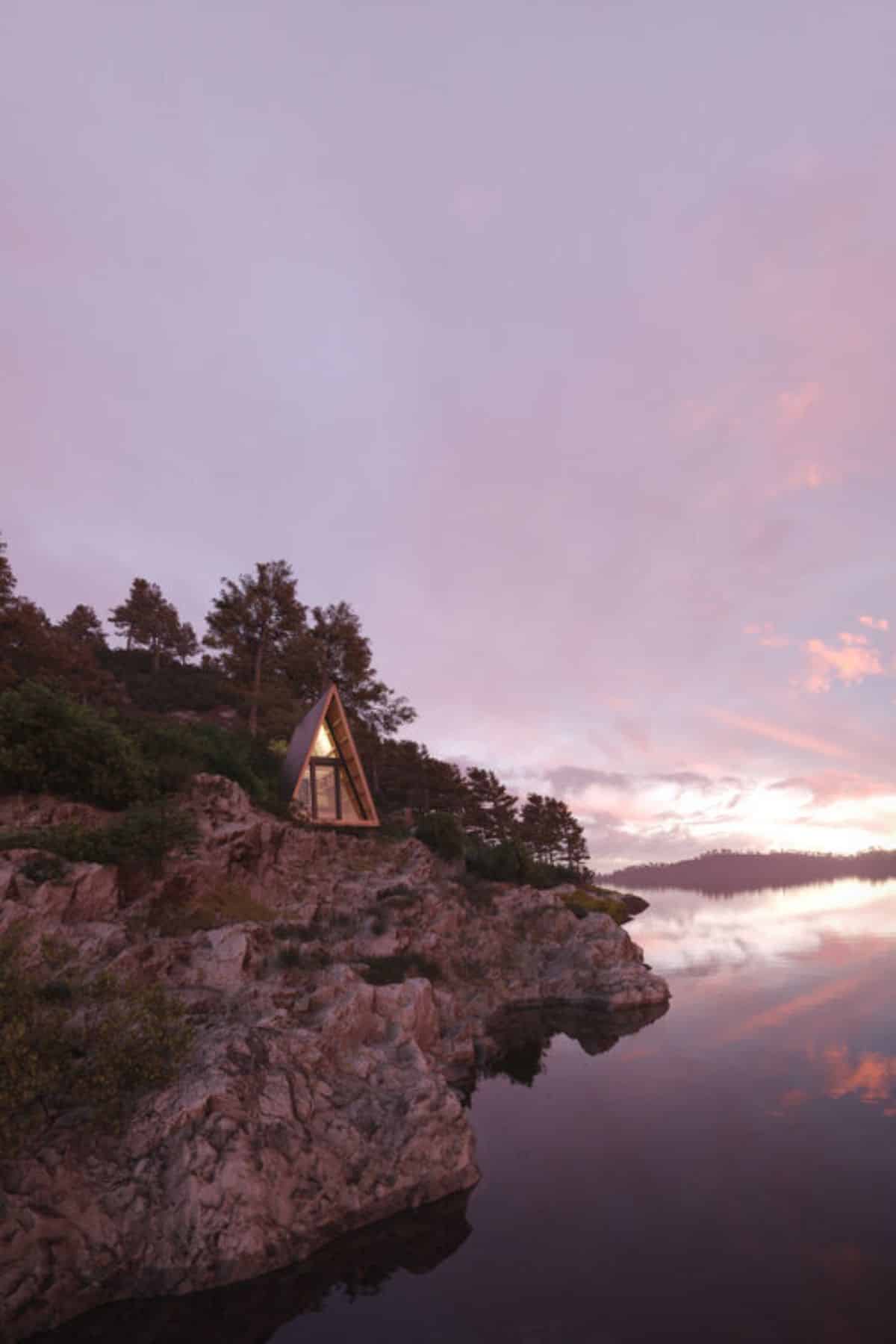 This is a perfect cabin retreat for someone looking to get away for a few days. I love the idea of this being a lakeside home as shown below. It's a perfect small place for a fisherman or hunting cabin even.
The building includes a small covered porch on the front by the door. This is just wide enough to keep you safe from elements, but could easily be expanded upon to create a larger deck or porch space.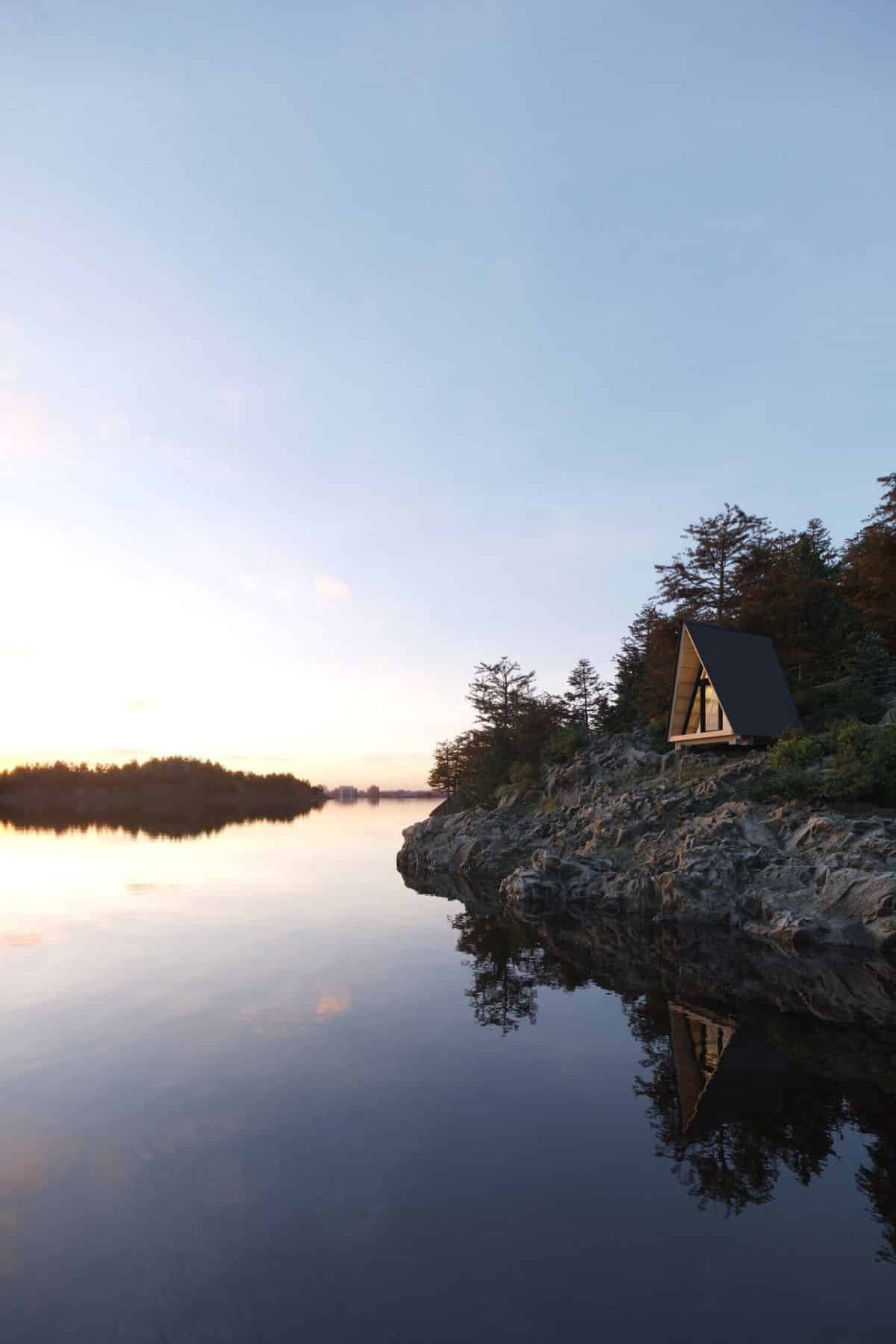 I can imagine this being used as a guest house, a mother-in-law's cottage, a yoga studio, a home library, or even a work studio. If you work from home, this would be ideal to give you that separate space while not having to drive into an office.
Or, for me, a perfect retreat to get away from the world for a few days. Pack a bag with snacks, some easy-to-prepare meals, and your favorite books or games, and relax in comfort with a rustic but modern aesthetic.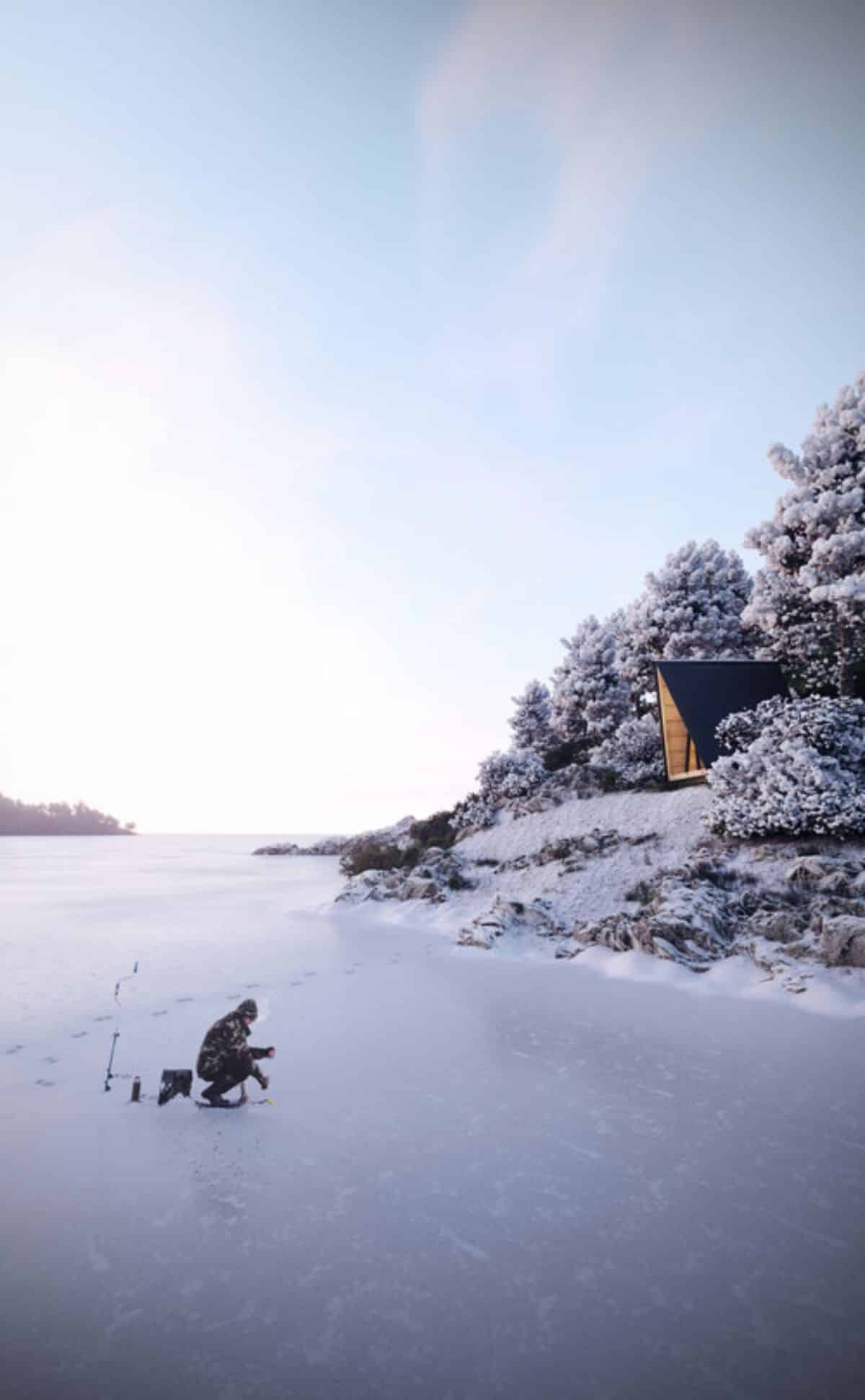 Despite being such a small space, it really is cozy and feels bigger. The A-frame design gives a tall ceiling and walls that open up the space and make you feel less cramped. Below you get a glimpse inside at how someone has created a cozy bedding nook. Waking up to the sunrise or falling asleep to the view of the stars in the sky is a perfect addition to this stunning little cabin choice.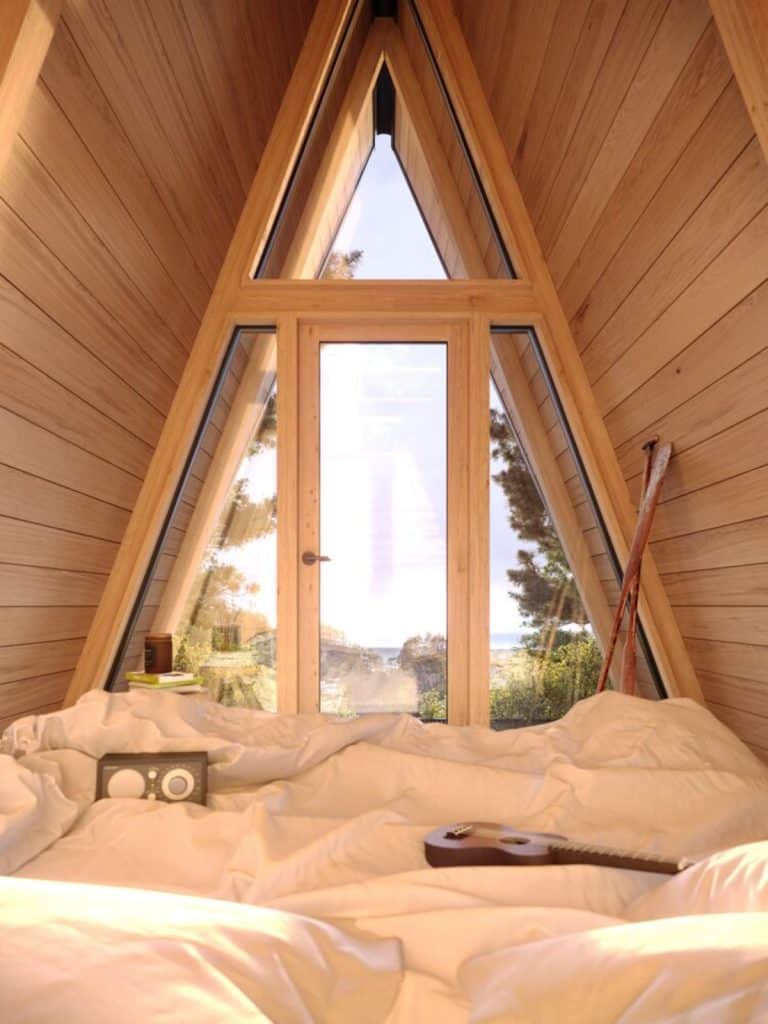 To learn more about this, and other options, check out the Back Country Hut Company website. You can also follow them on Facebook and Instagram for regular updates. Make sure you let them know that Log Cabin Connection sent you their way.
More Log Cabin Kits and Tours