Legacy Post and Beam always bring beautiful homes to the forefront. This stunning cabin builds, model JM01019 is a perfect family home. A gable roof, attached 2-car garage, and flowing open floor plan appeal to any family.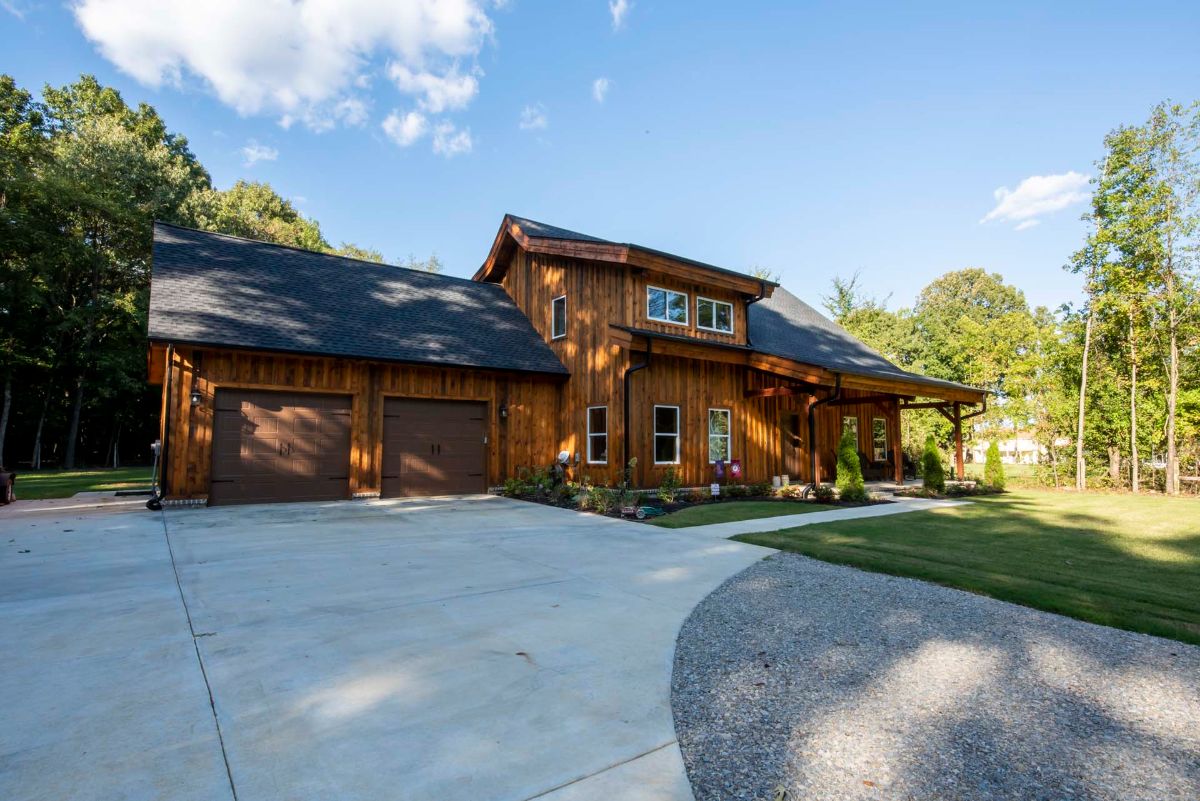 Log Cabin Size
Basic 42' x 42' layout
Gabled roofline
1 1/2 stories
1,588 square foot main floor
840 square foot loft area
Total 2,428 square livable space plus porches
Log Cabin Features
Inviting and elegant mix of exposed timbers with modern finishes throughout.
Blonde brick fireplace on the main floor in the living area.
Main floor bedroom and bathroom plus loft area with additional bed and bath spaces.
The open floor plan flows from the living room to the dining nook and kitchen.
Large modern kitchen with island bar in the center for additional seating.
Small back patio with covered nook.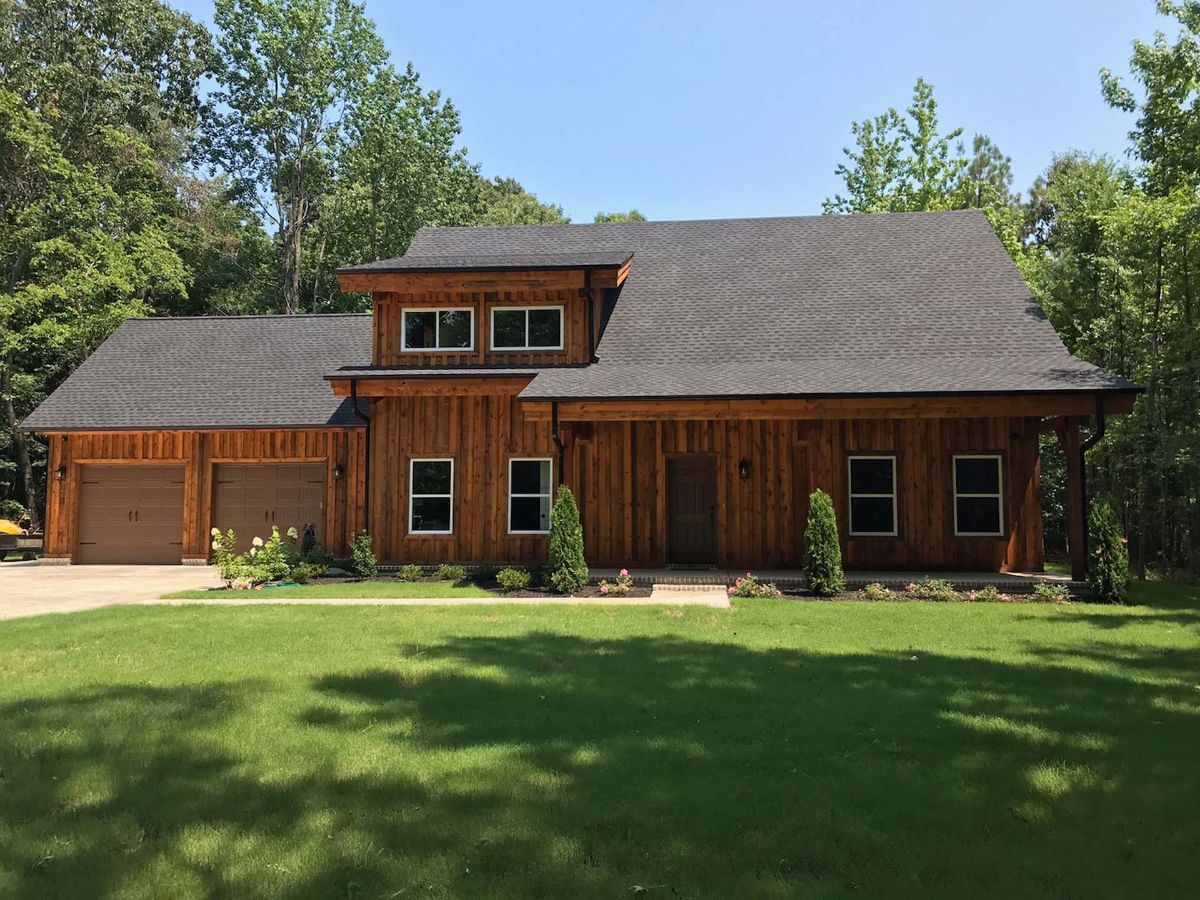 This cabin is built with families in mind. Pull up to the front drive and find a 2-car attached garage that opens up to the back yard through double doors while also leading right into the kitchen from inside.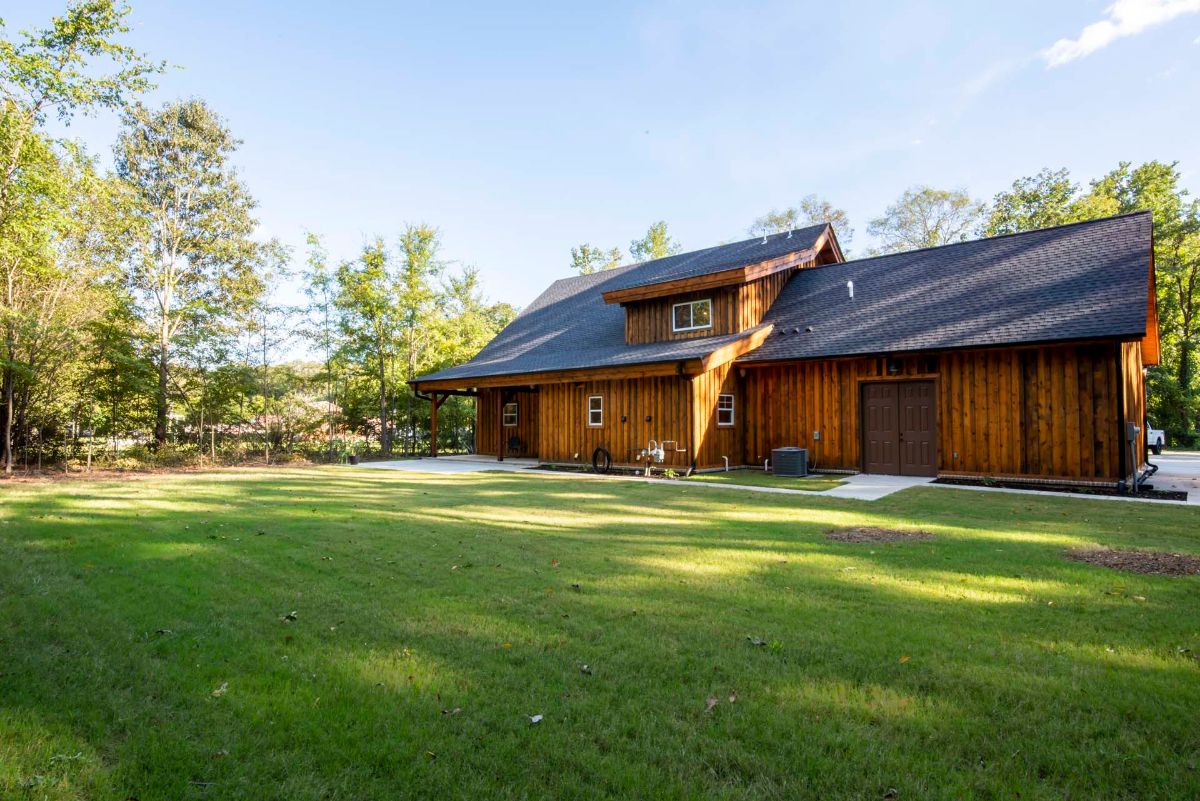 While this is obviously built on a lot with large yard space, the back of the home has two exits and a covered patio area making it perfect for those who want to be able to sit outside comfortably to watch the kids play.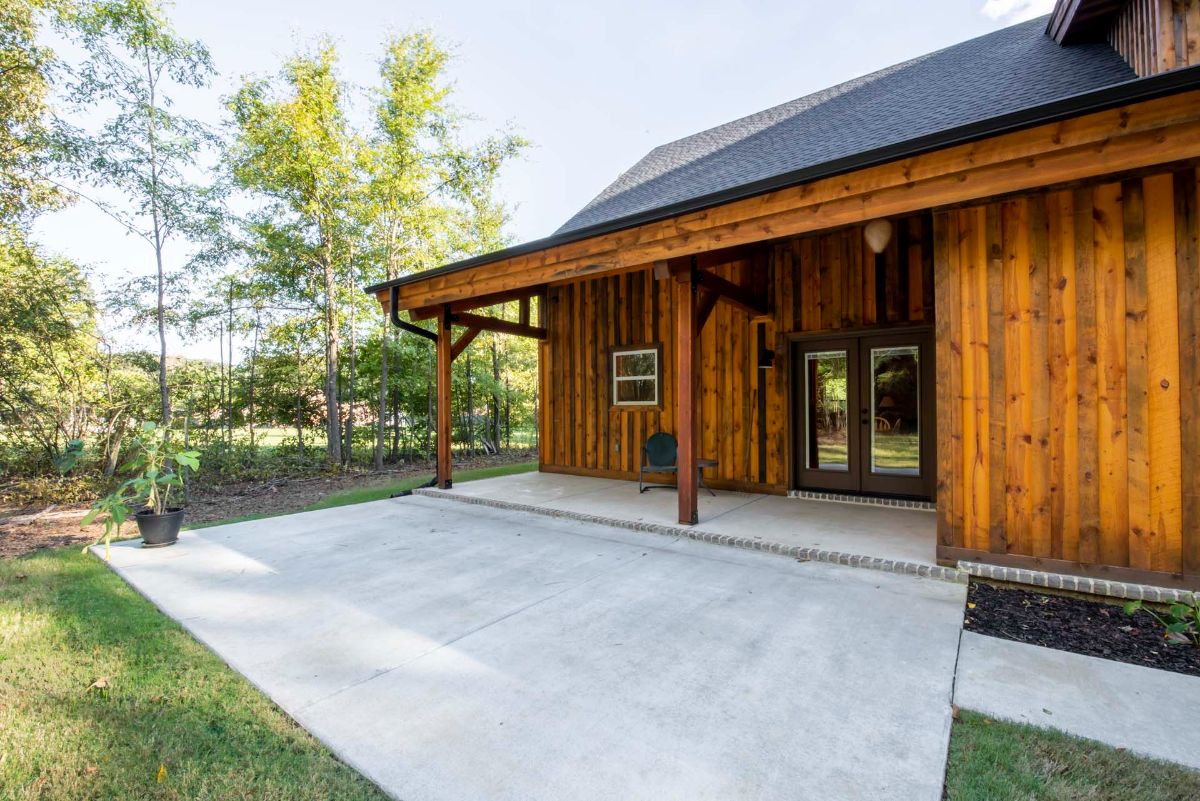 Of course, no cabin is complete without a few chairs on the porch. This low-covered front porch has plenty of room for a few chairs, rocking chairs, or even a bistro set if you desire.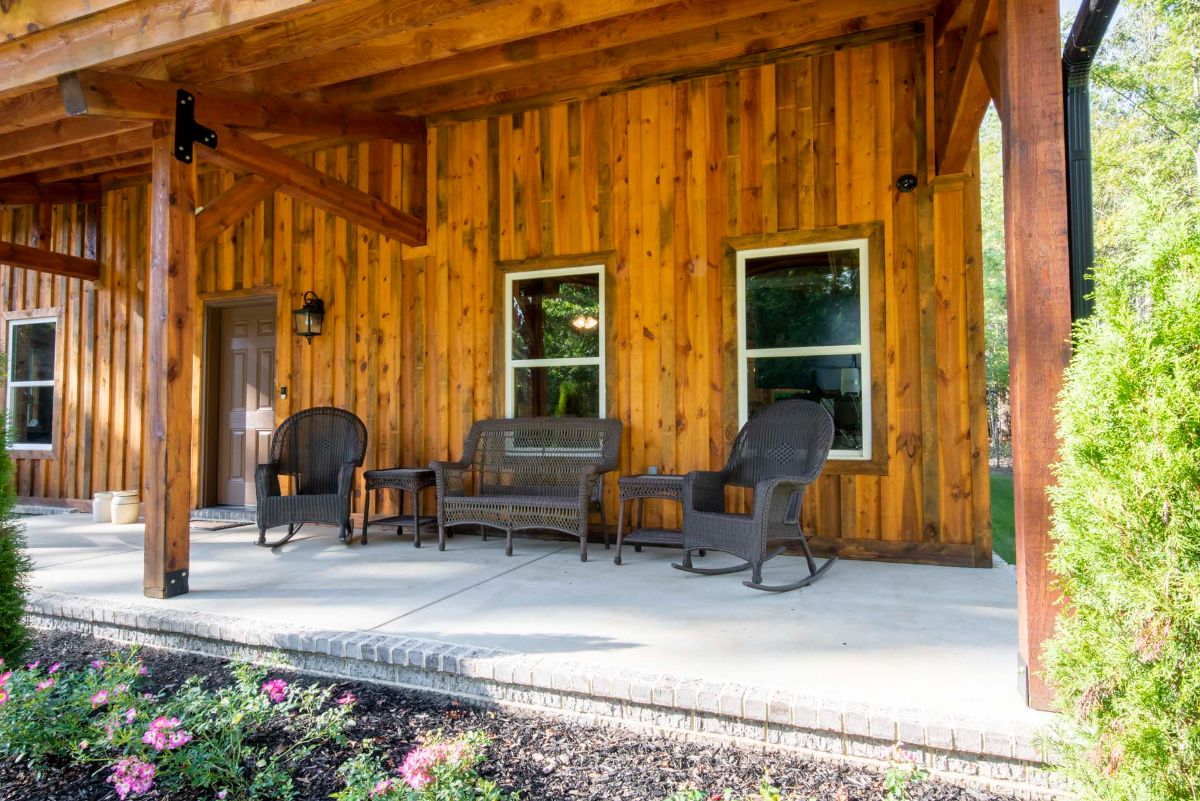 When you step through the front door, immediately in front of you is the open living space. Here you will find room for a sofa of your choice, seating of all kinds, and of course the cozy fireplace against the outer wall.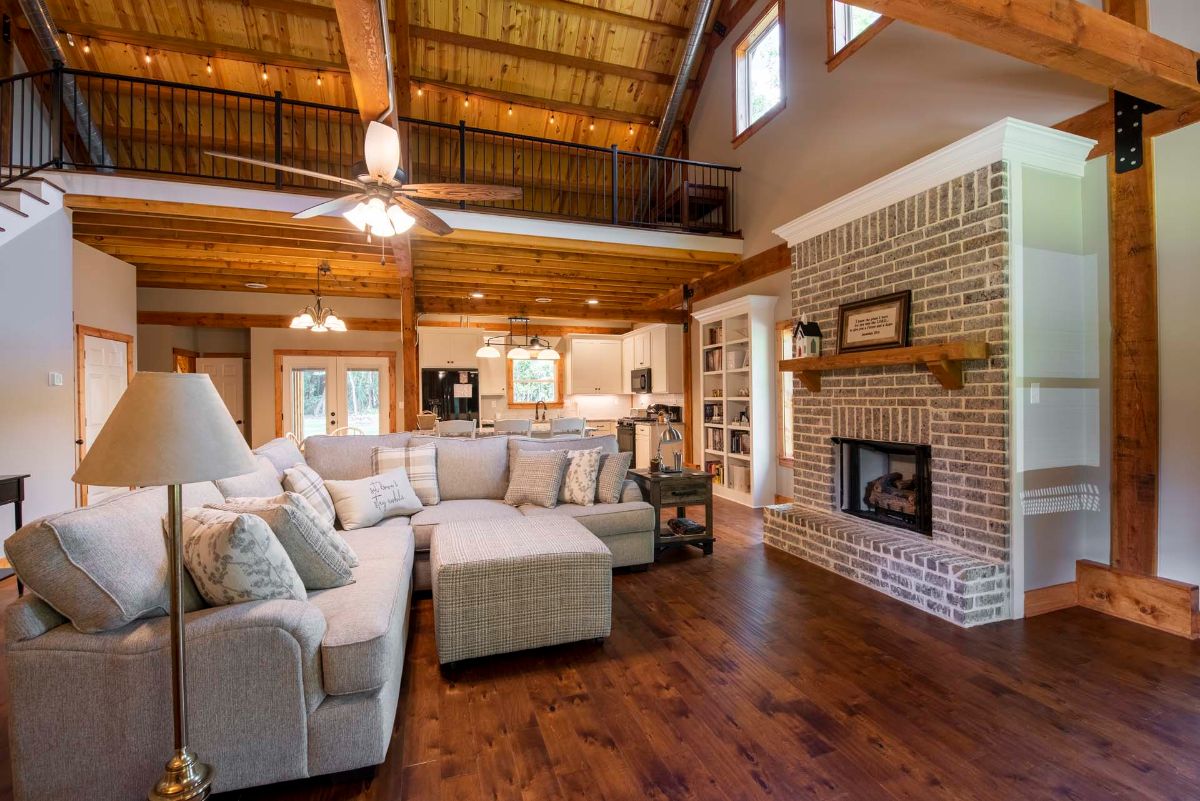 I love seeing a fireplace in any cabin, but this one, in particular, is a central part of the main floor. Of course, it has a log mantle, but you could use this space above to mount a television, family portrait, or just general decor as shown.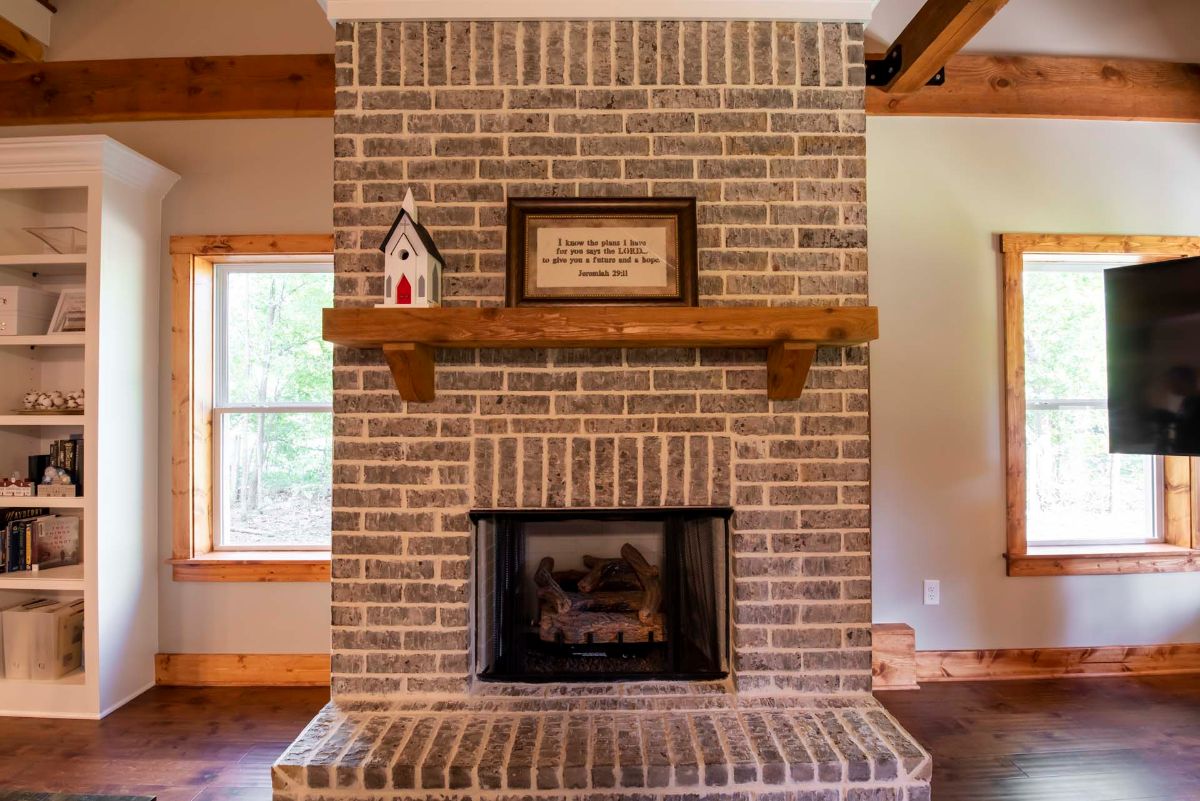 The addition of bookshelves between the living room and kitchen helps the spaces feel combined yet still defined individually. And just look at those cathedral ceilings! I love how it really opens up the space.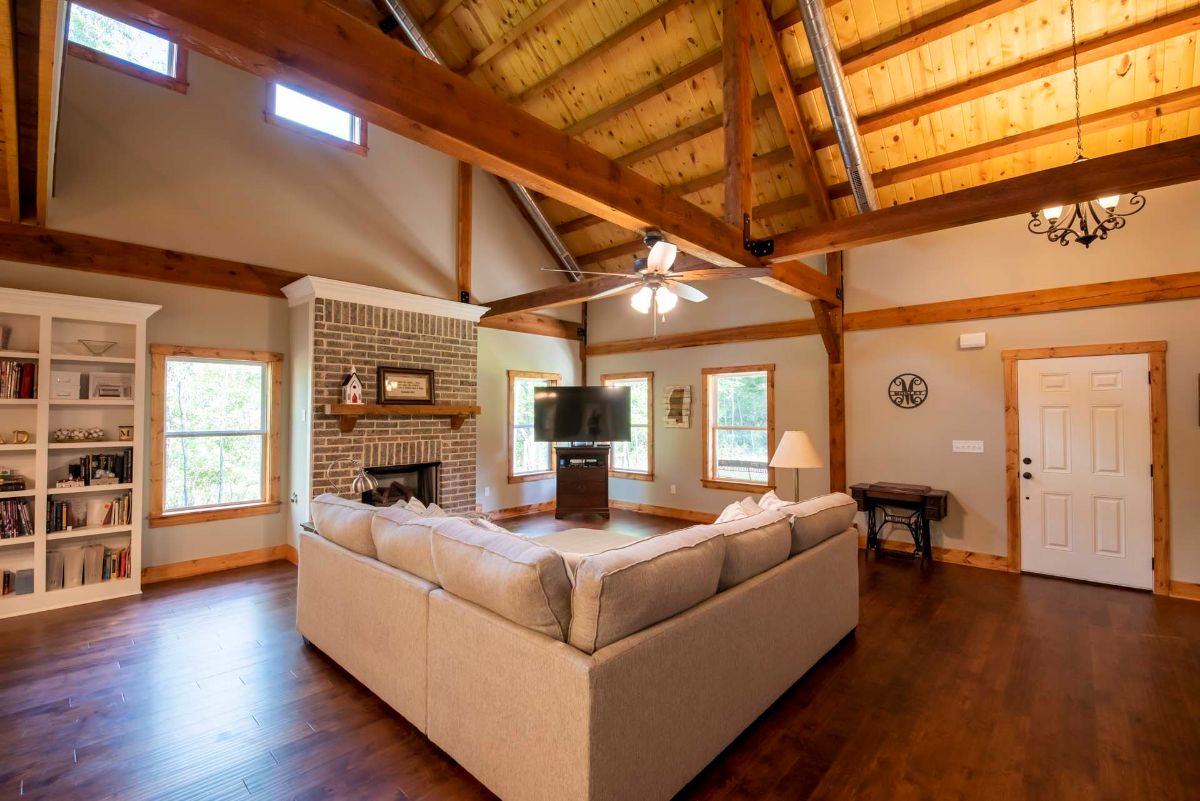 Here the kitchen has an outside island/bar that is ideal for a family breakfast nook or a space for kids to work on homework after school. Especially with the bookcase handy, they can store their school supplies right there!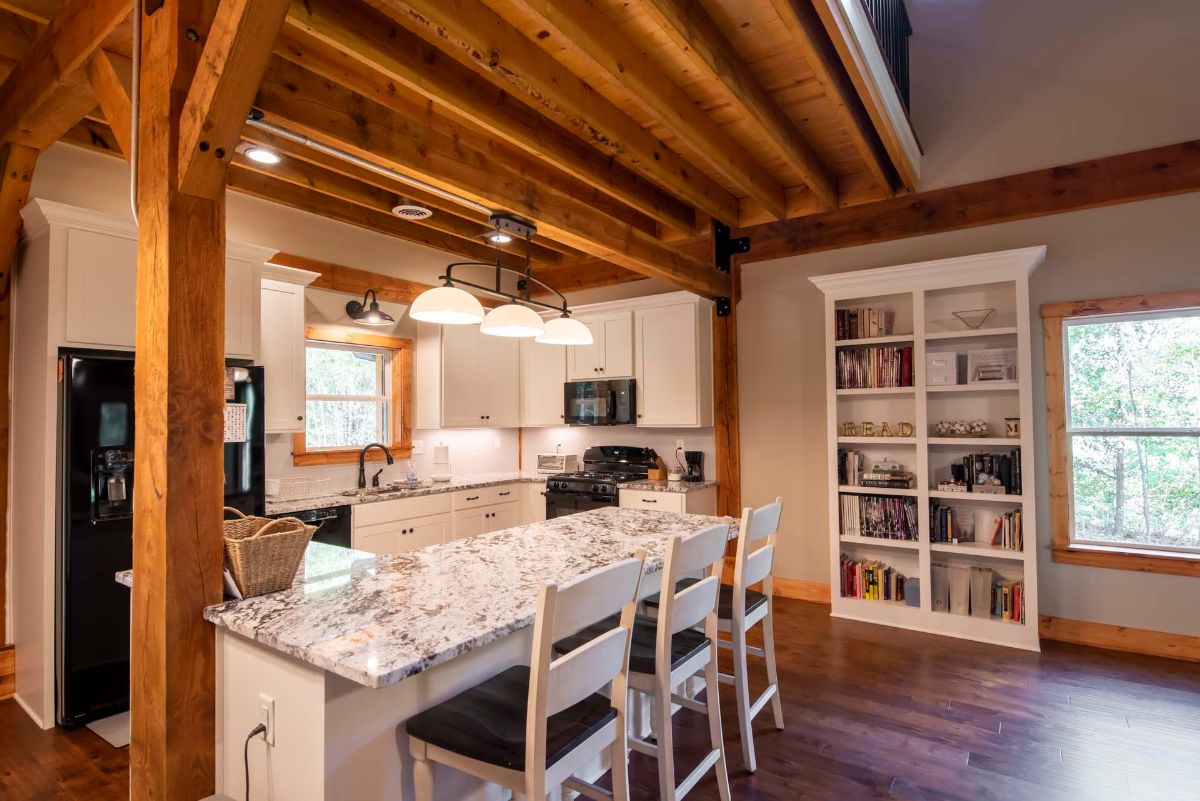 From this angle, you can see a bit more of the kitchen layout with the beautiful countertops, white cabinets, and black appliances. Plus, to the side, you have double doors leading to the patio, and behind that, you can see the bathroom and main floor bedroom.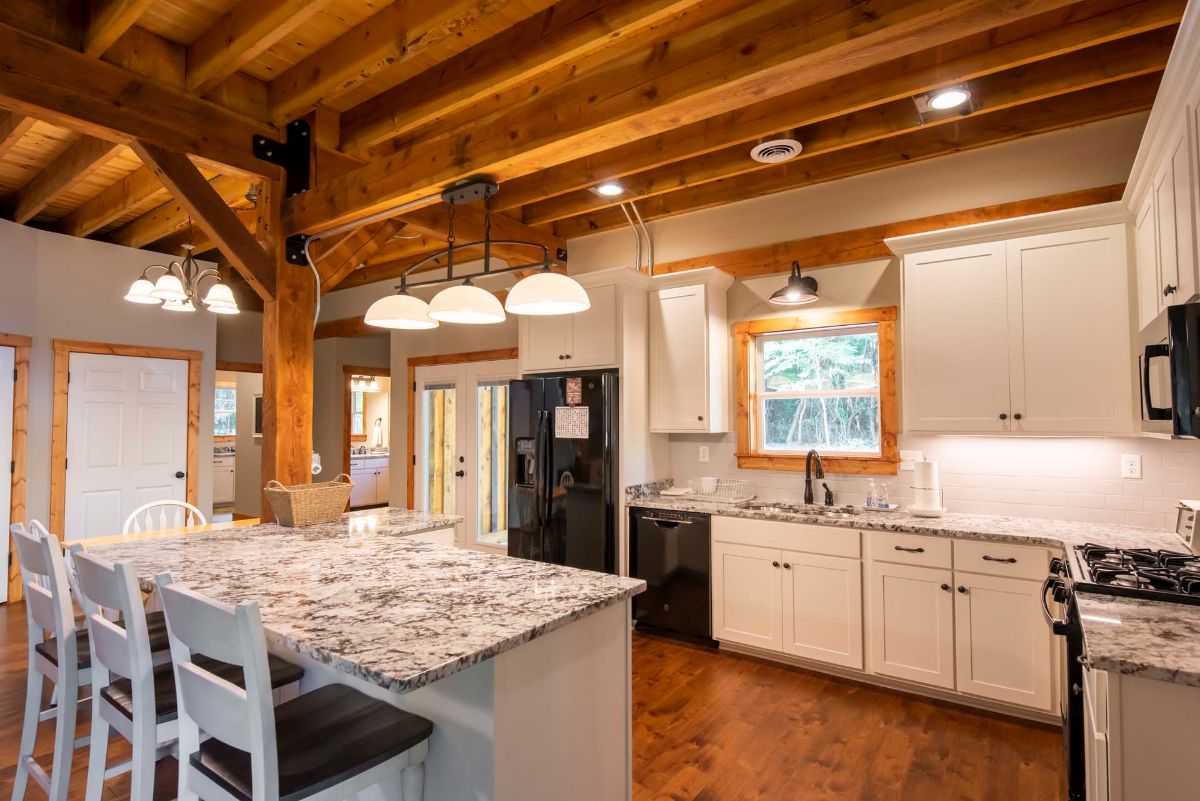 Here is another look out at the living area from the kitchen. To the right is a small 3 or 4-person dining table. You could replace this with something more formal between the spaces if you preferred or planned to entertain groups.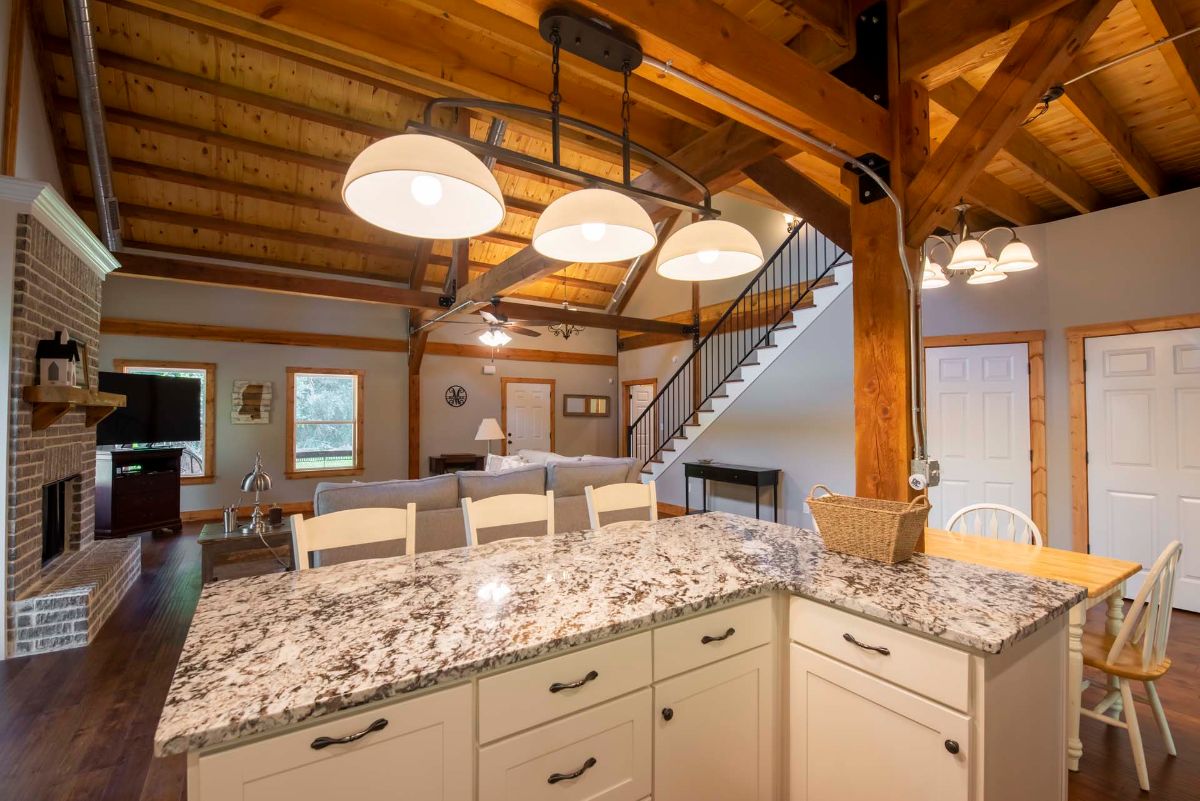 The master bedroom is a personal favorite thanks to the larger space. I love a room with space to walk around and store all of your belongings. And this one has a look right outside through the wood-trimmed windows.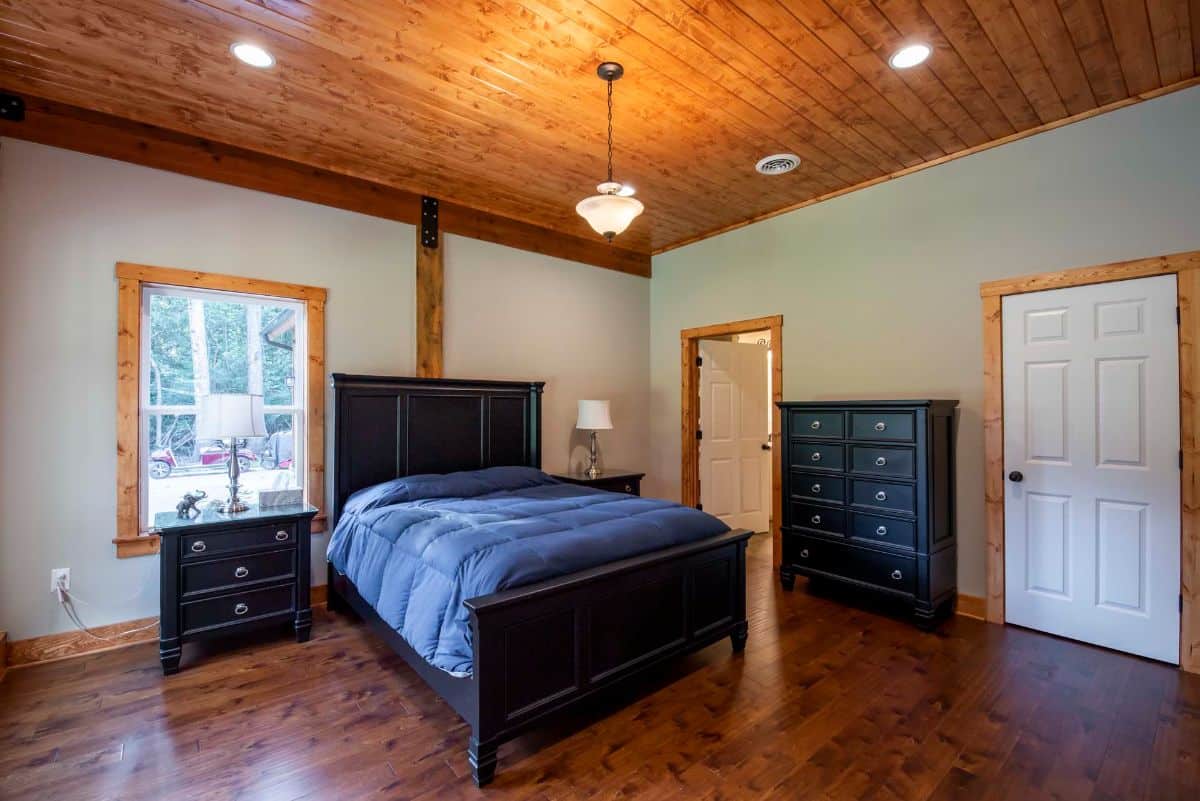 Bathrooms in this house combine luxury and function. Here you have a dual vanity with a shower and toilet at the back of the space. Tons of storage space and open wall space for additional shelves makes it a great master bathroom, or potentially a shared childs bathroom.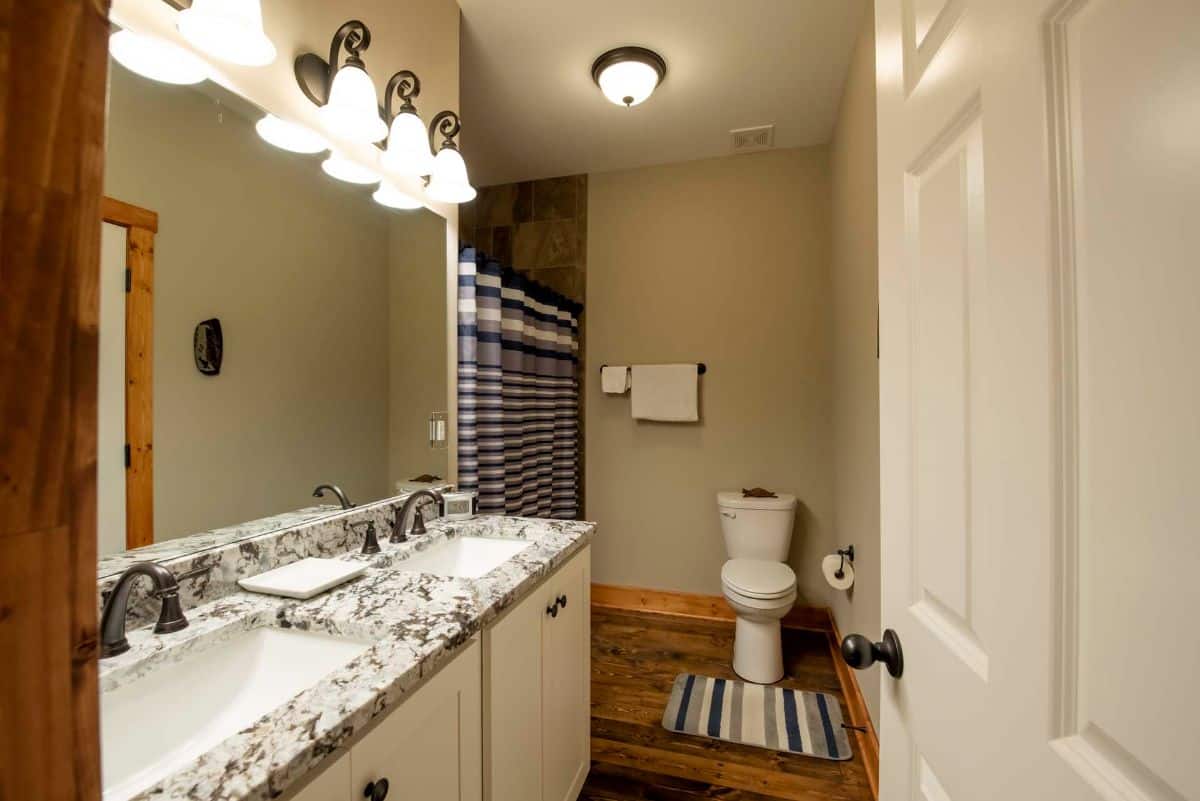 And of course, I do love the master bathroom with a corner tiled shower at the back of the space near the closet, and a soaking tub right inside the door. This room is a great oasis from the world.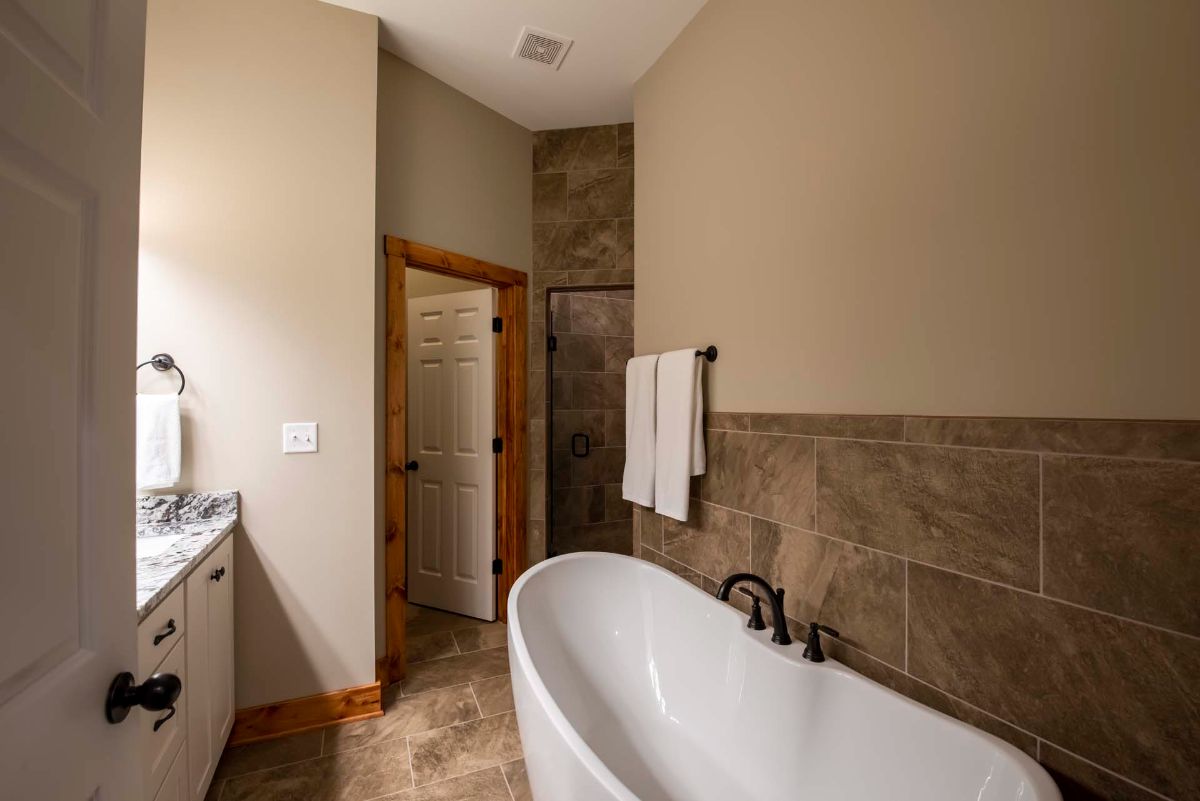 This home is built as a 1 1/2-story space. That may sound odd, but the loft area takes up only a portion of the upper area of the home. Rather than covering the entire living area, it sets back and houses an open landing and work space above.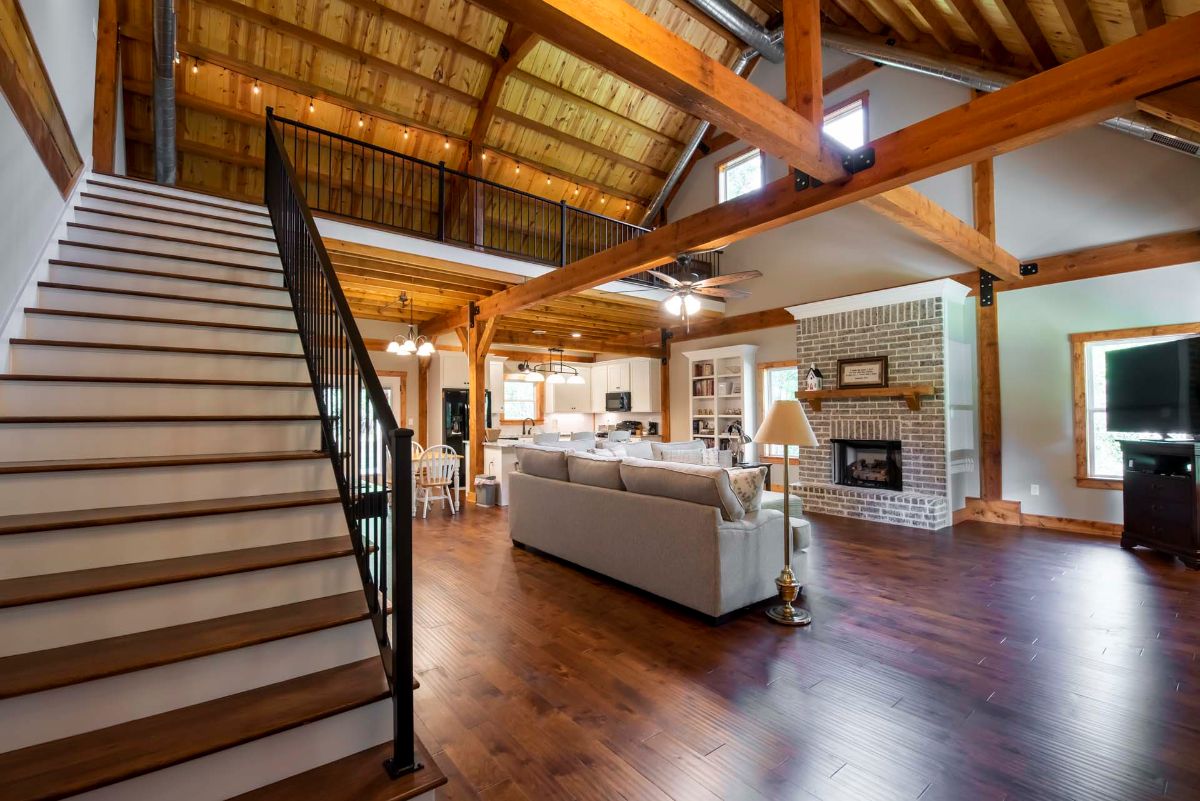 Here is a look down from the loft showing those exposed beams and the size of the living room just a bit better. Isn't it lovely?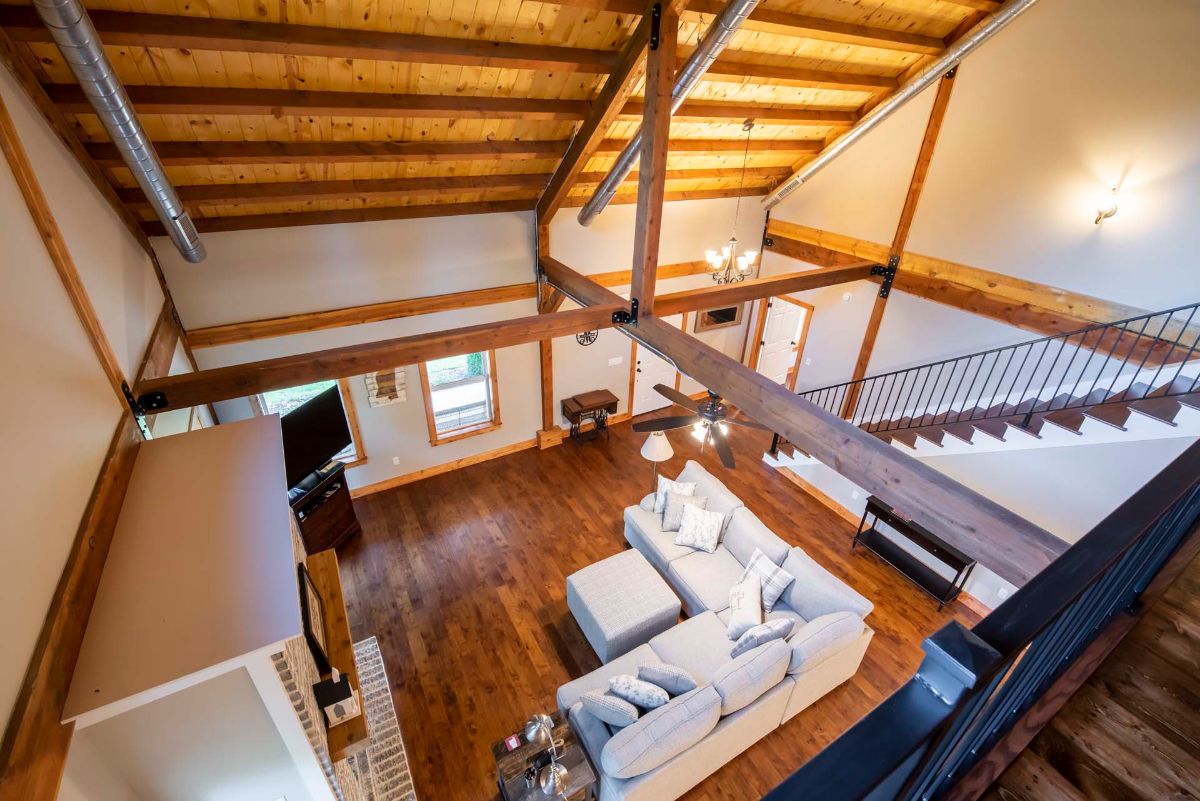 And here, just upstairs on the loft level, you have a cozy nook that could be the perfect bedroom for a child, or in this case, a nice little office space or study.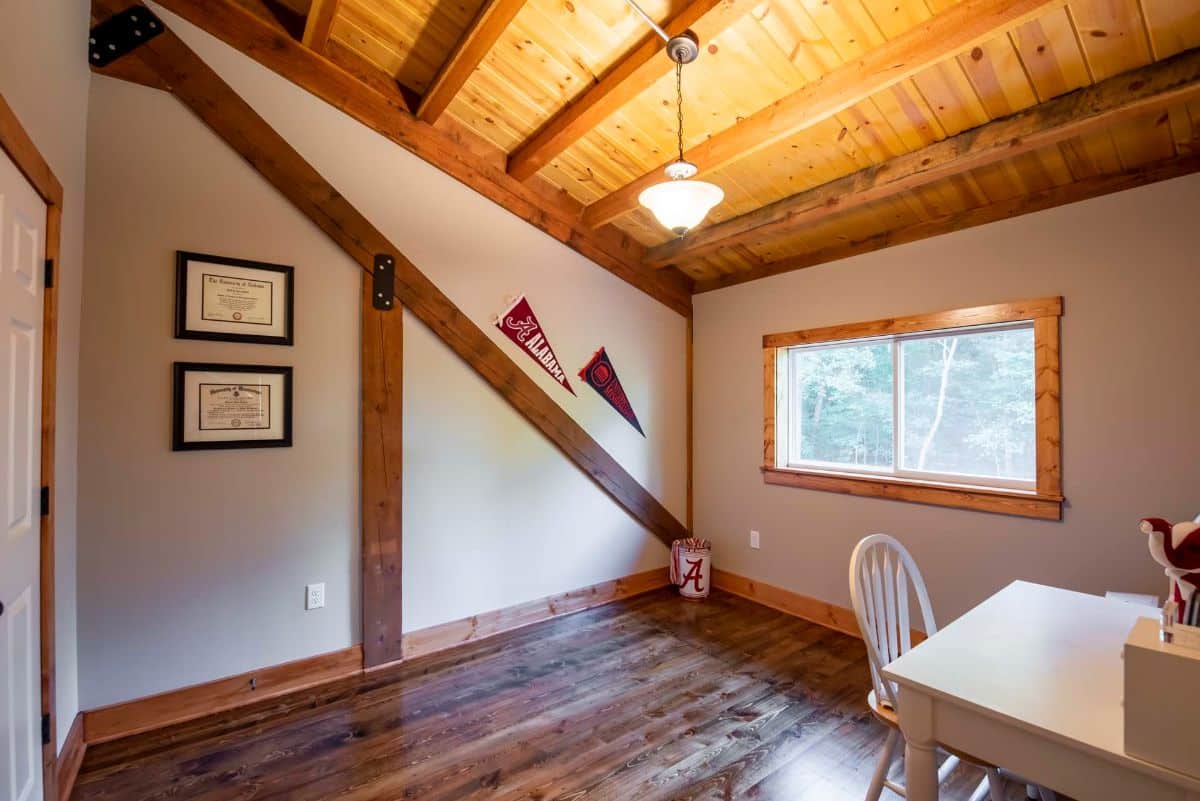 For more information about this stunning cabin build, check out the Legacy Post and Beam website. You can also find them on Facebook, Instagram, and YouTube with regular updates. Make sure that you let them know that Log Cabin Connection sent you their way.
More Log Cabin Kits and Tours