The Cranbrook is a lovely log cabin that is both rustic and modern with a unique country chic style throughout. A nice sized family home, this shows just how easy it is to build a rustic cabin in the midst of traditional homes.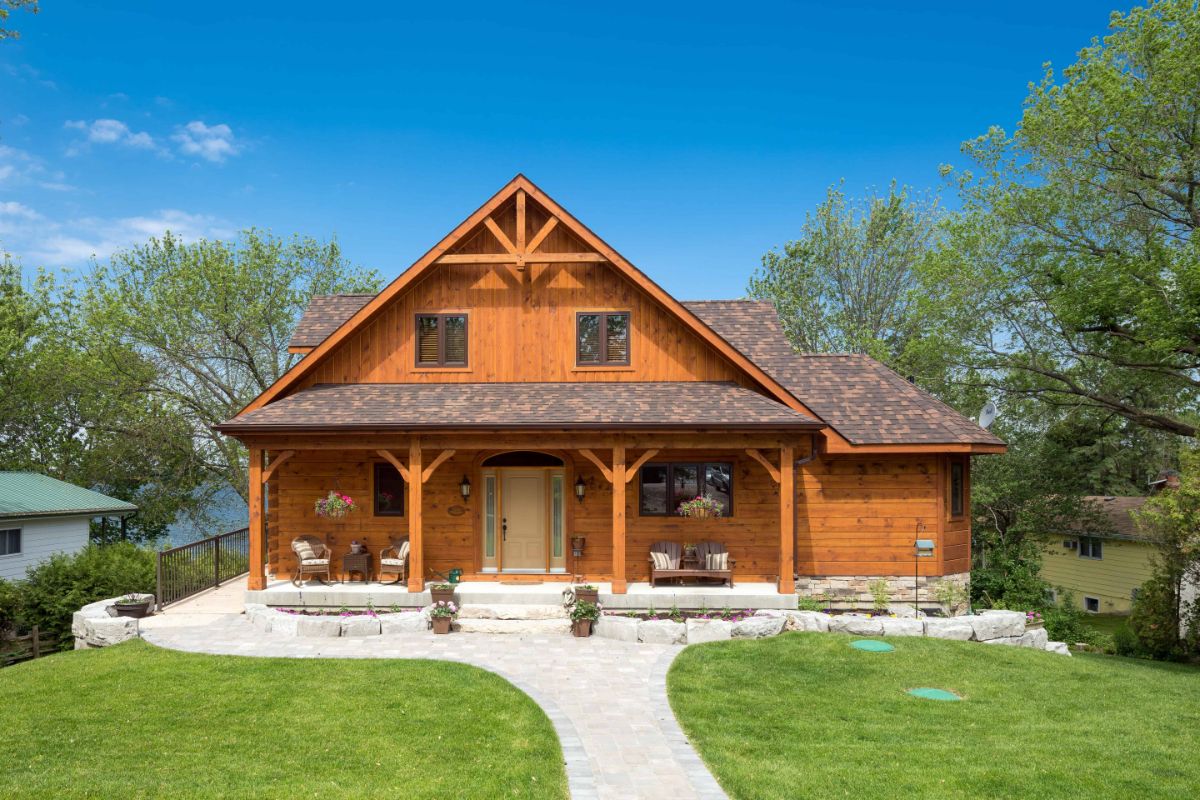 Log Cabin Features
2,051 square foot plus in first and second floors of main living space.
Second floor includes two spacious bedrooms plus a home office space.
One bedroom and full bathroom on the main level for a master suite or comfortable guest suite.
Second floor two bedrooms plus office space.
Walkout basement level includes a full "in-law" suite with a kitchen and living area that could also be used as a guest suite.
Covered front porch with open wrap-around porches and decks on the back of the home.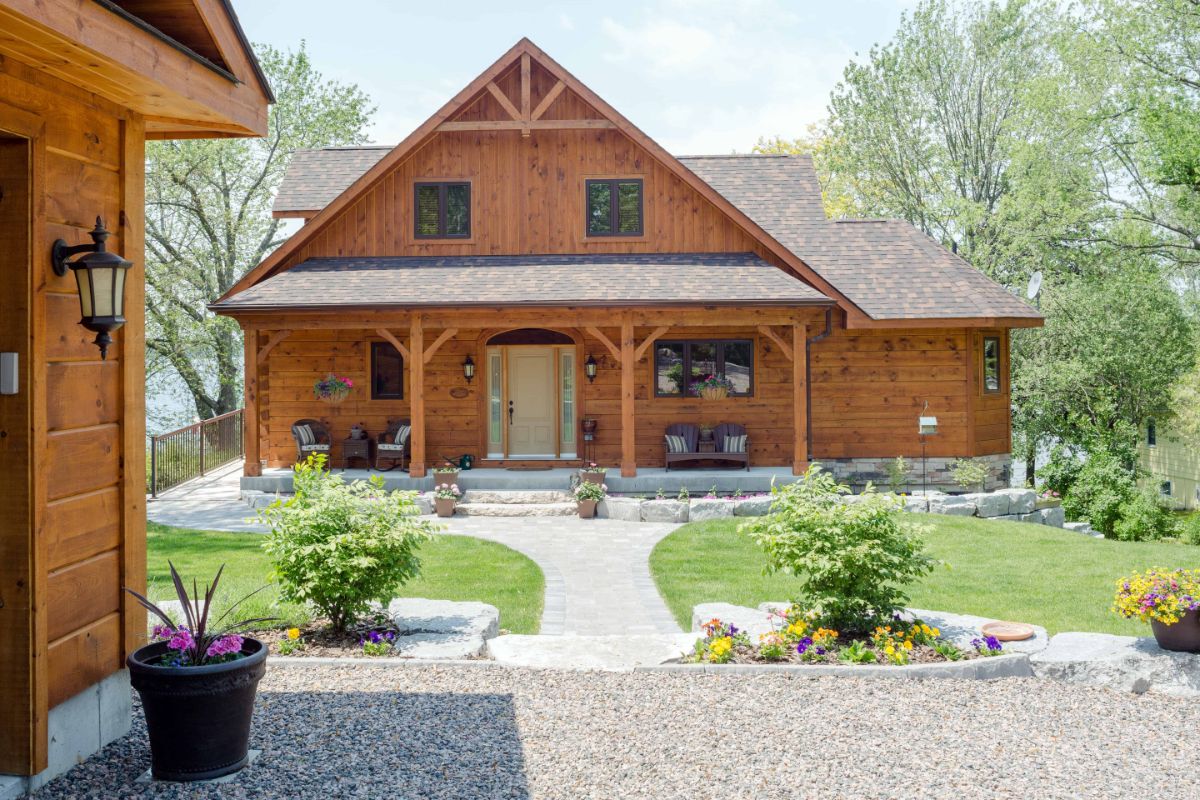 This lakeside home is a great combination of the log, stone, and comfortable modern style. There is nothing but a welcoming atmosphere here that is sure to make any family feel like they have stepped back in time to a classic cabin.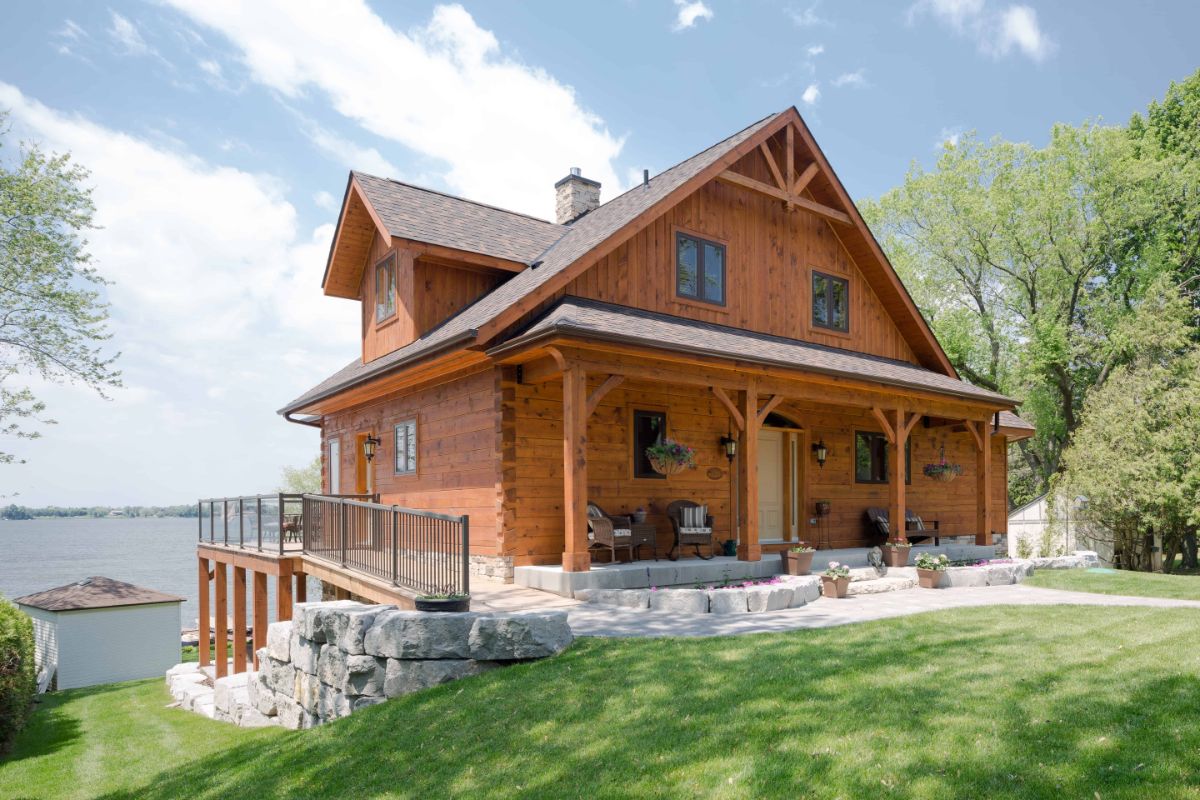 I love that this cabin not only has the two main levels for living but also a walkout basement suite. From the back of the home, you can see how the second/main floor porches have a lovely deck for entertaining, but you also have this covered space at the walkout basement that is ideal for a bistro set and a few chairs.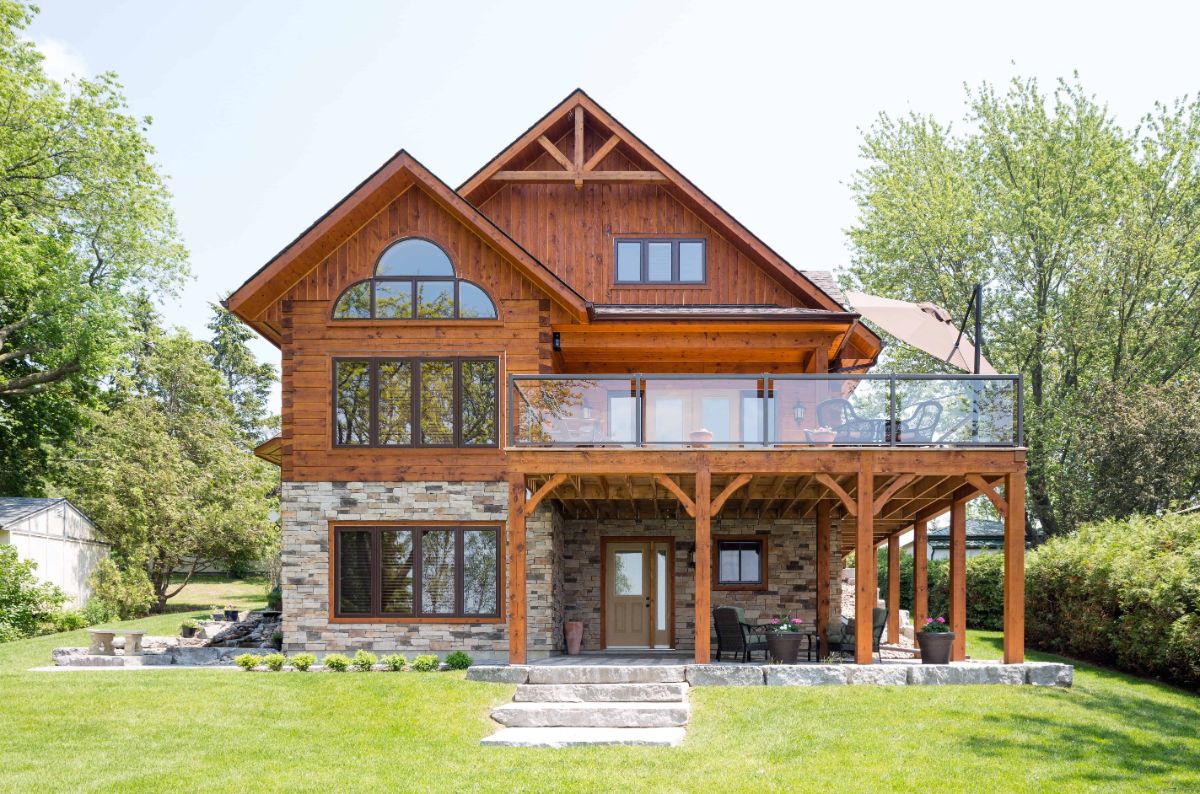 The main floor entrance takes you right into a large and comfortable living room space. This area has modern furnishings but the light wood walls and finishes of a log cabin.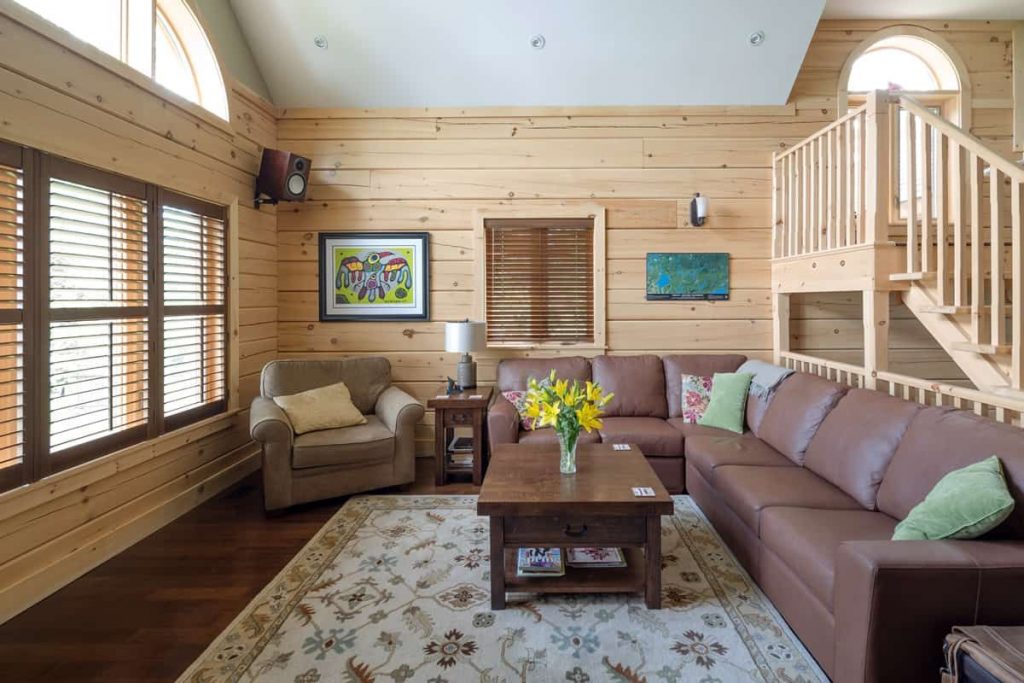 One of my favorite additions here is this stone fireplace right in the middle of the home. The fireplace itself is open on both sides while giving a partial wall in the main floor that divides the kitchen and dining room from the living room.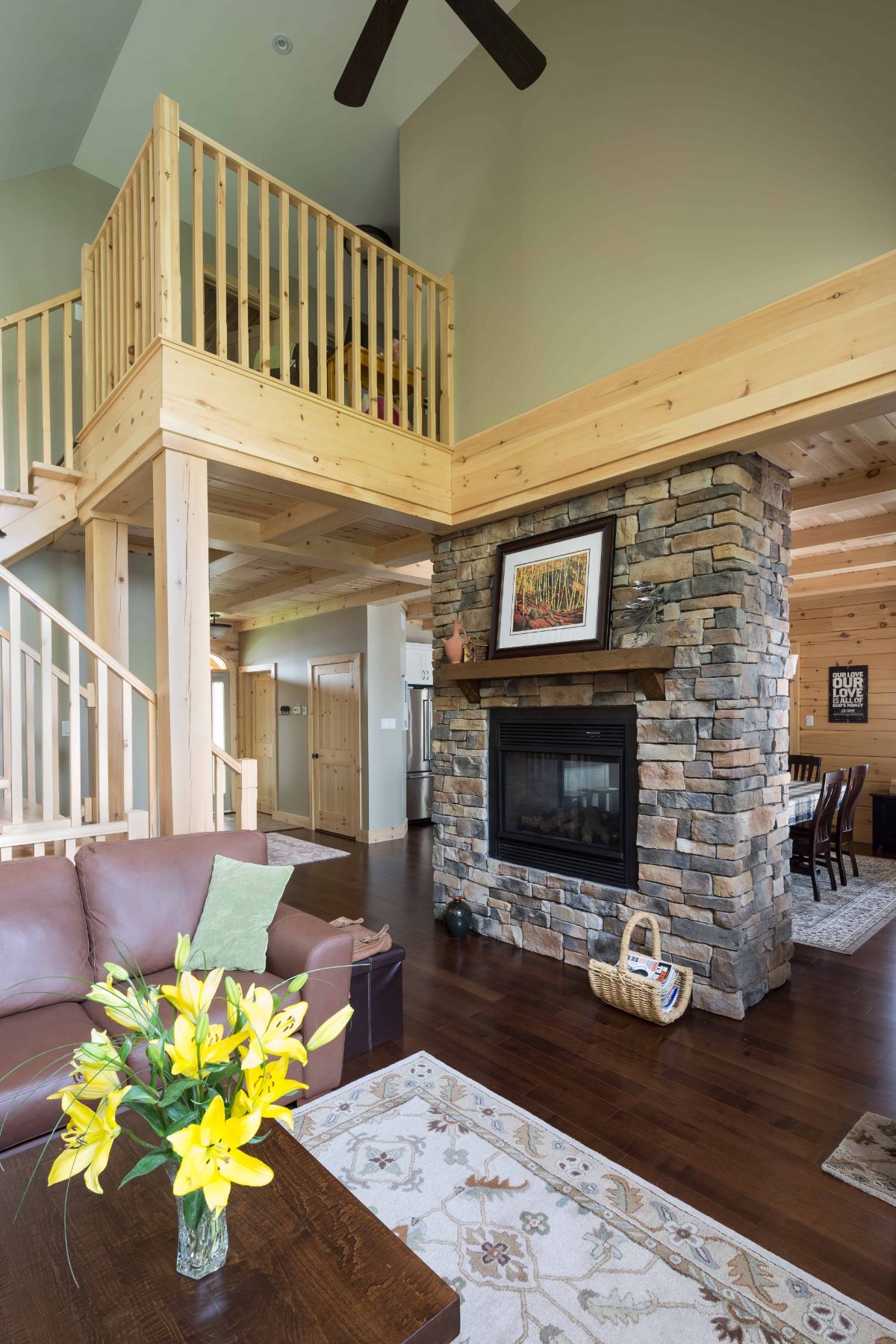 And just behind the living room wall are these gorgeous wood stairs that lead both up to the second floor as well as down to the basement. Beautiful and functional - the ideal combination in any home, but especially a log cabin such as this one.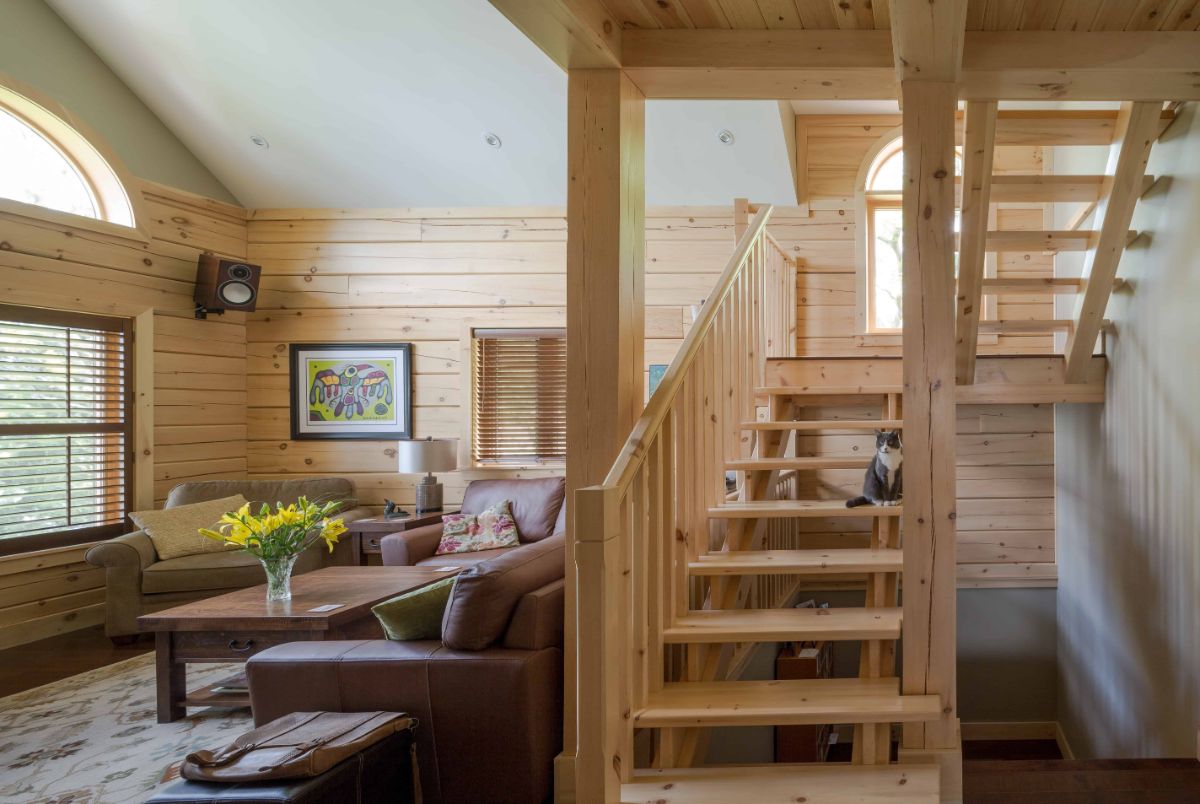 The kitchen is just on the other side of the fireplace. On one side is the dining room with beautiful large windows to open for natural light. The other side of the space is a modern kitchen with a small bar to use as a breakfast nook.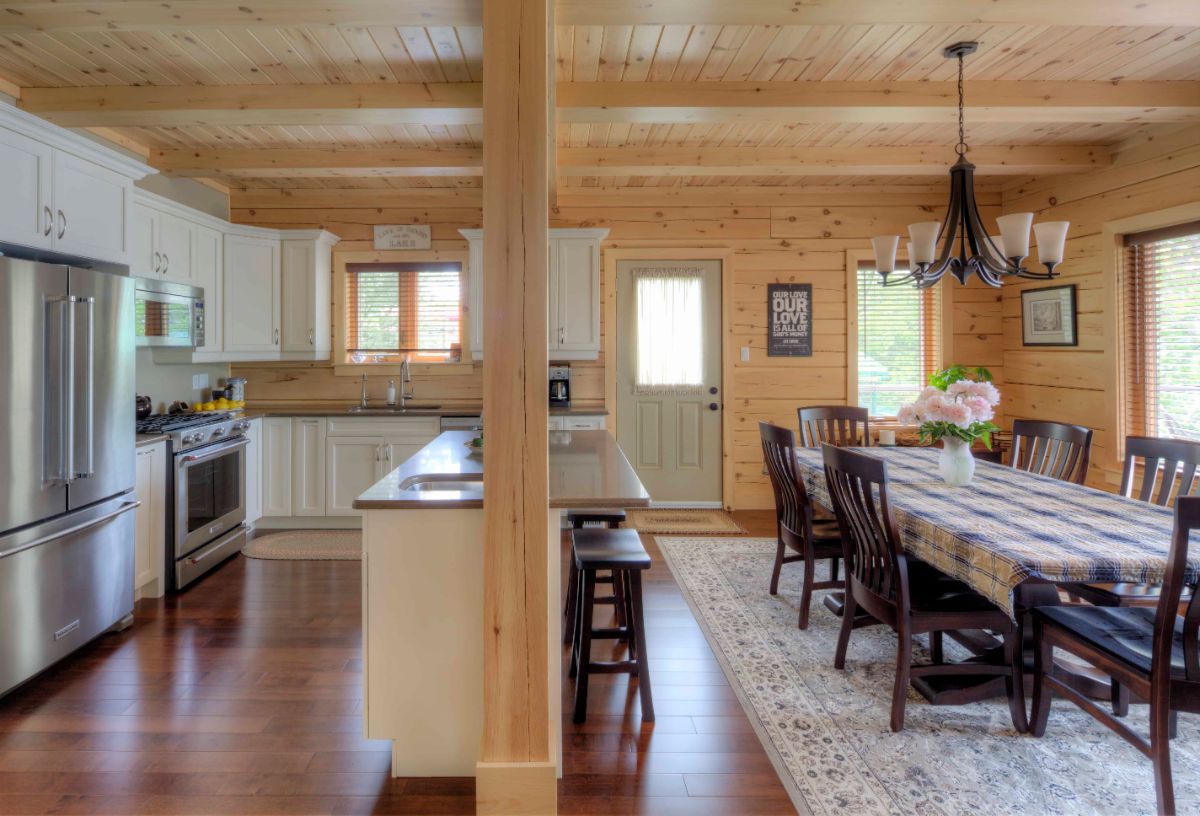 I love that this home has exits off the dining room on both the side and back of the home. This is ideal for those weekend barbecues you want to have with friends and family.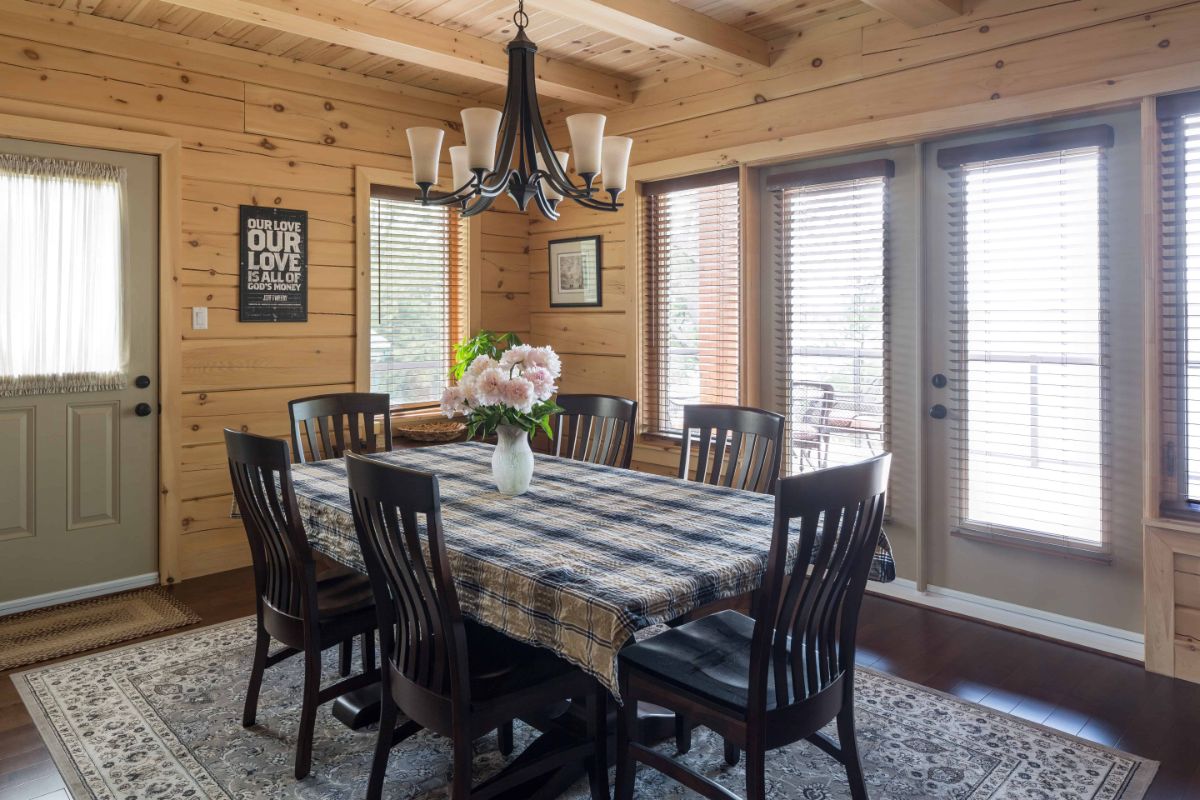 And here you can see how that fireplace opens on both sides of the room. I love how this helps heat the whole home and creates a warm glow of comfort on both sides.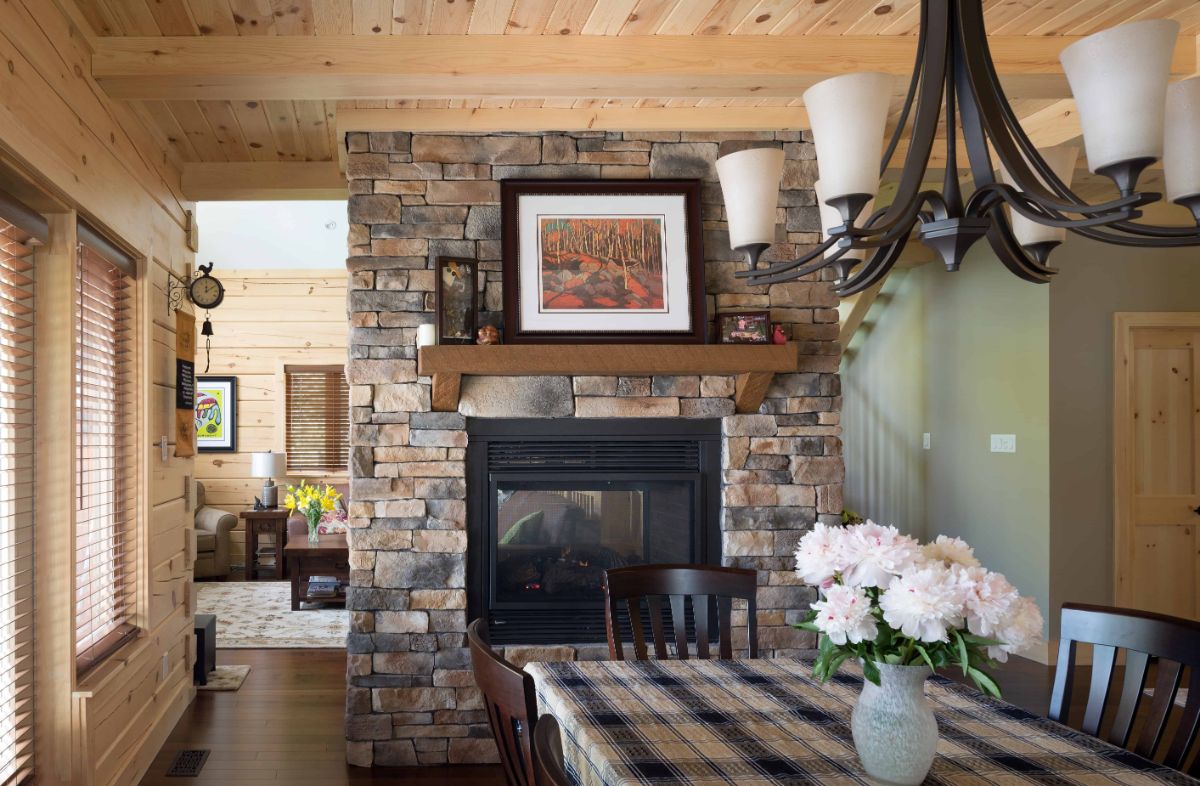 Of course, behind the kitchen is the downstairs bathroom and bedroom with extra storage space as well to give you room for a family to roam about comfortably without feeling overly crowded.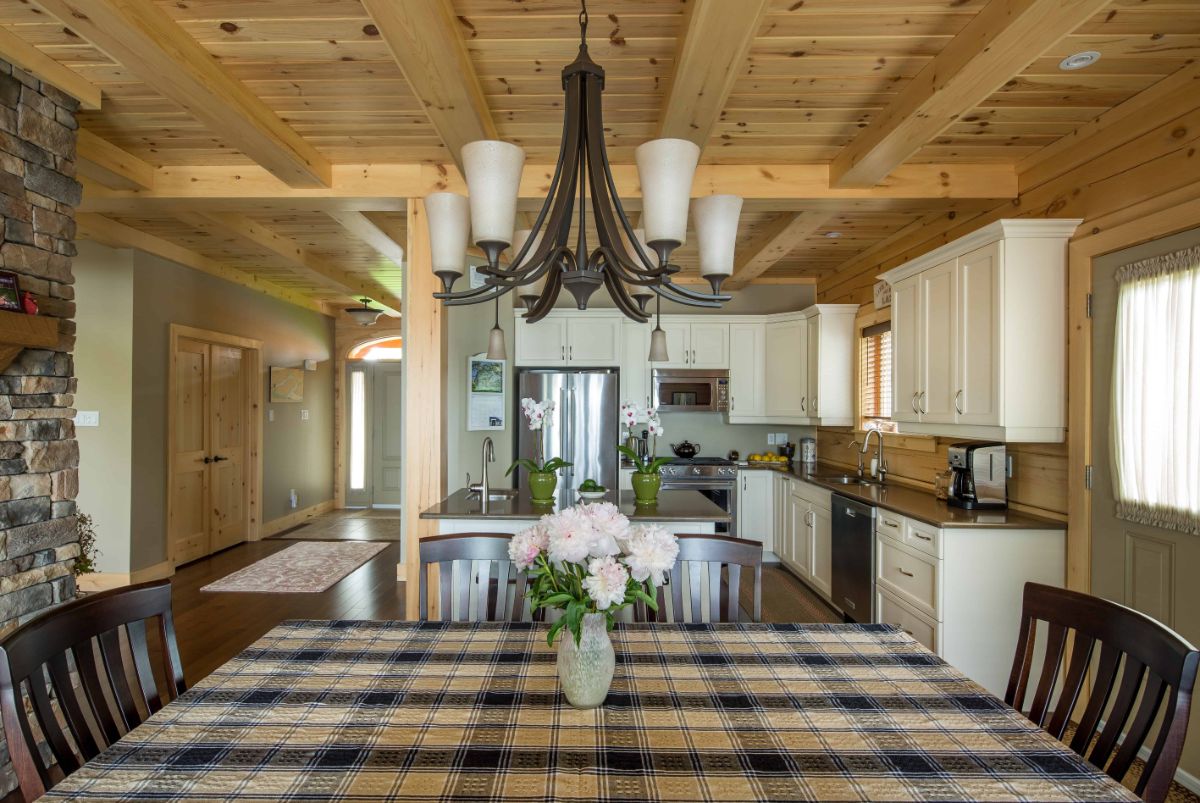 Stainless steel appliances and stunning open light painted cabinets create a kitchen anyone would love to prepare meals in for their family.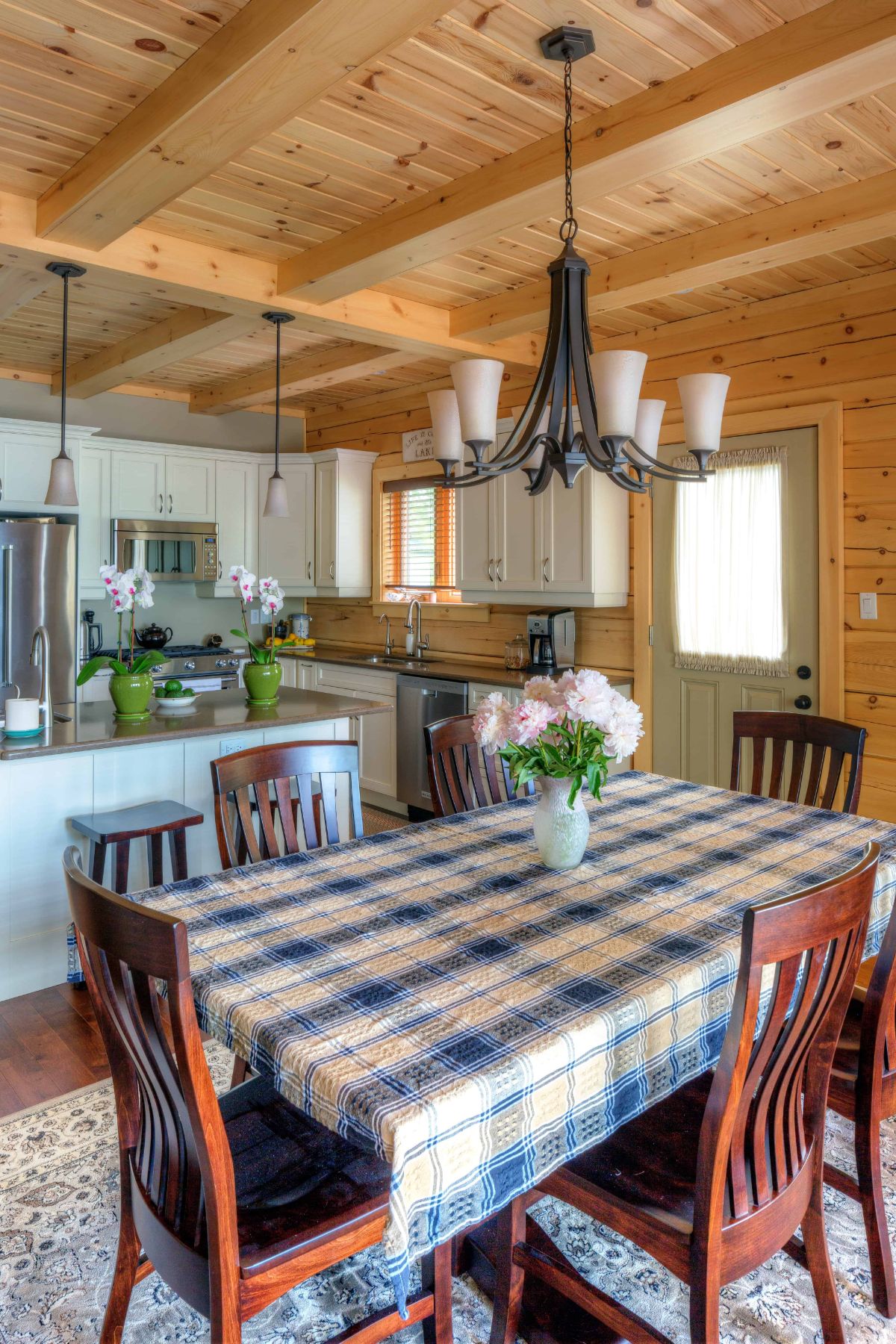 And I love that there is this second sink in the island that allows you to have a handwashing station separate from the main sink.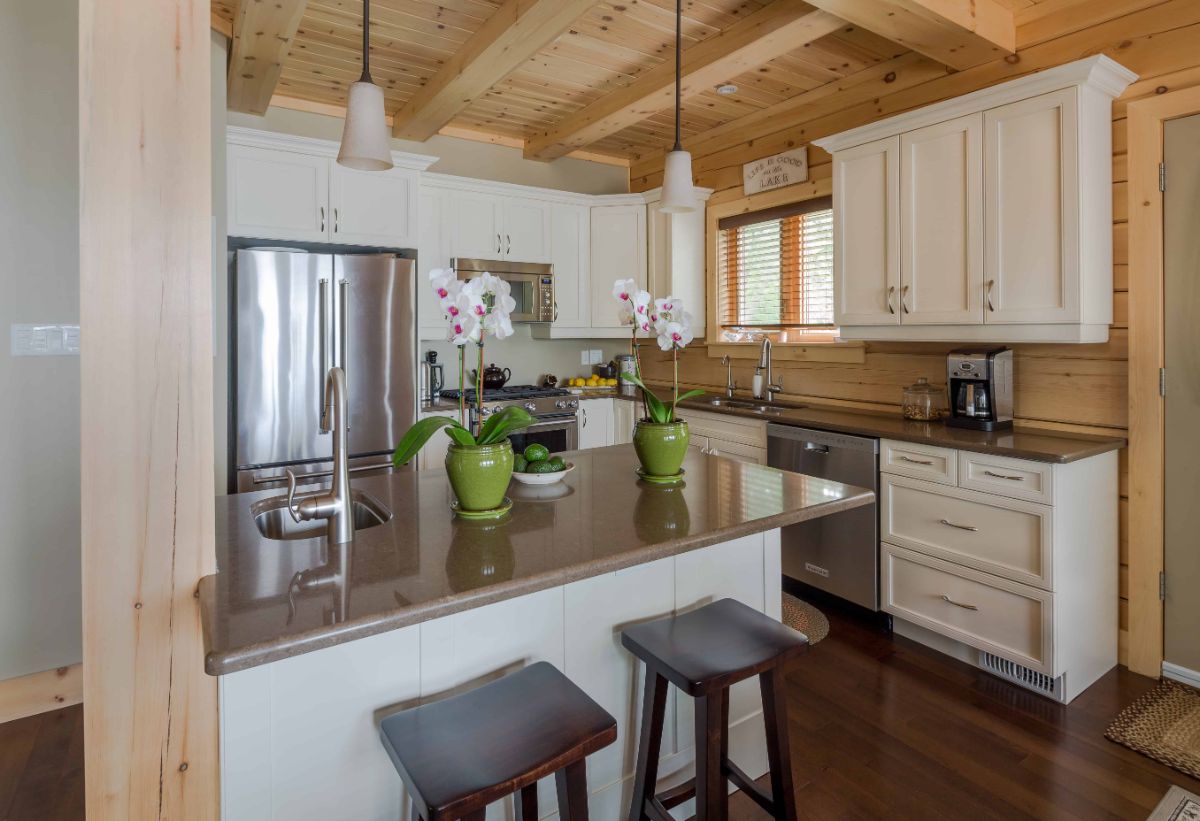 Whether it is the main floor master bedroom with gorgeous log walls and a bathroom just across the hall, or one of the upstairs rooms, this home has space for the whole family.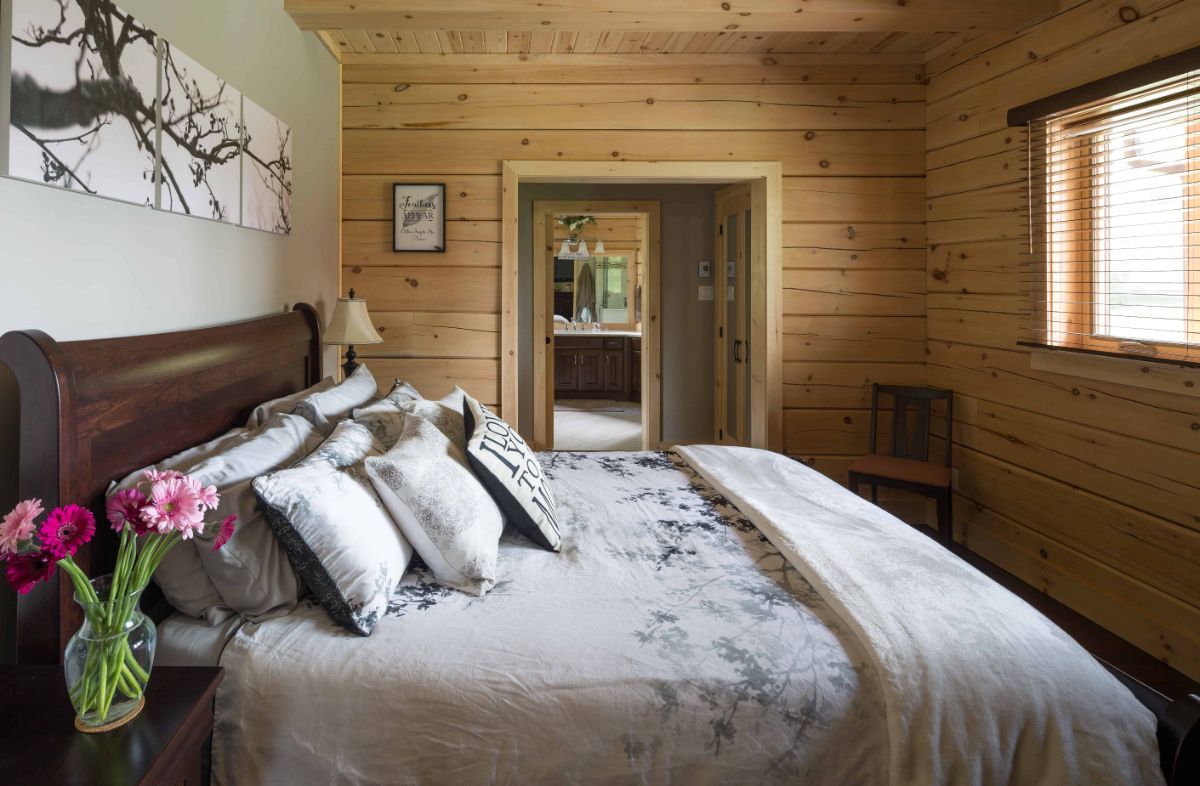 Even the in-laws have a place to relax when visiting with this basement suite. Of course, I love the idea of renting out the basement for extra income!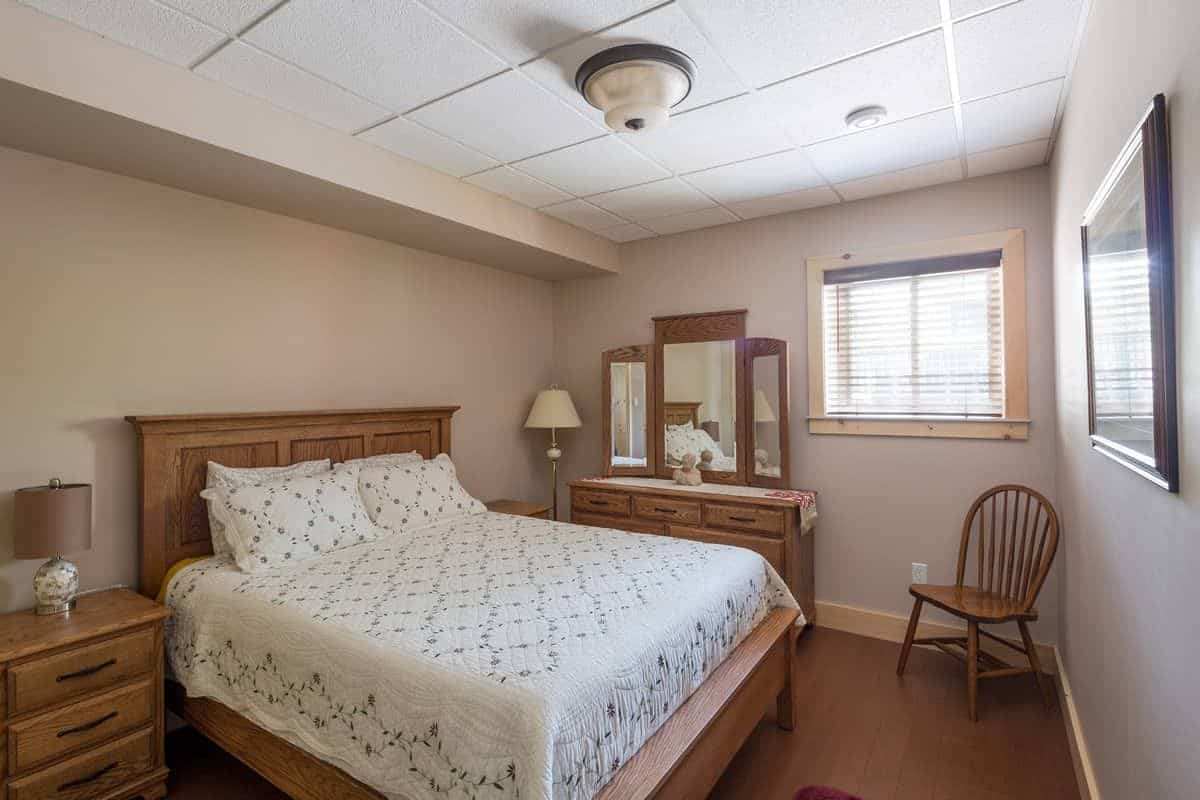 See the small living space and a kitchenette just out of sight give you the full experience while being separate from the main living space.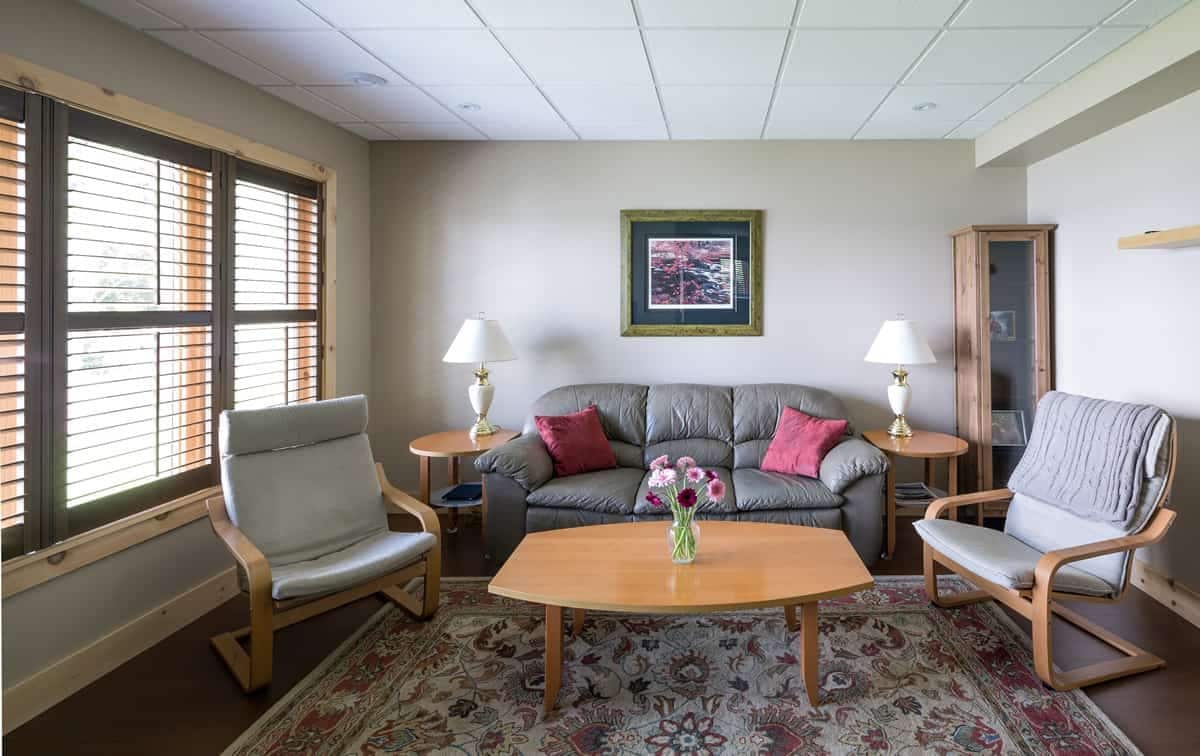 You can learn more about this and other beautiful homes on the Confederation Log Homes website. They can also be found on Facebook, Instagram, and YouTube for more daily updates of their latest builds. Make sure that you let them know that Log Cabin Connection sent you their way.
More Log Cabin Kits and Tours