Have you ever dreamed of having your home featured on HGTV? Well, the Broken Twig rental cabin in Bryson City, North Carolina can claim that title! A stunning log cabin with large open porches along the back, room to sleep 8, and a hot tub with firepit nearby - that is what creates this stunning home!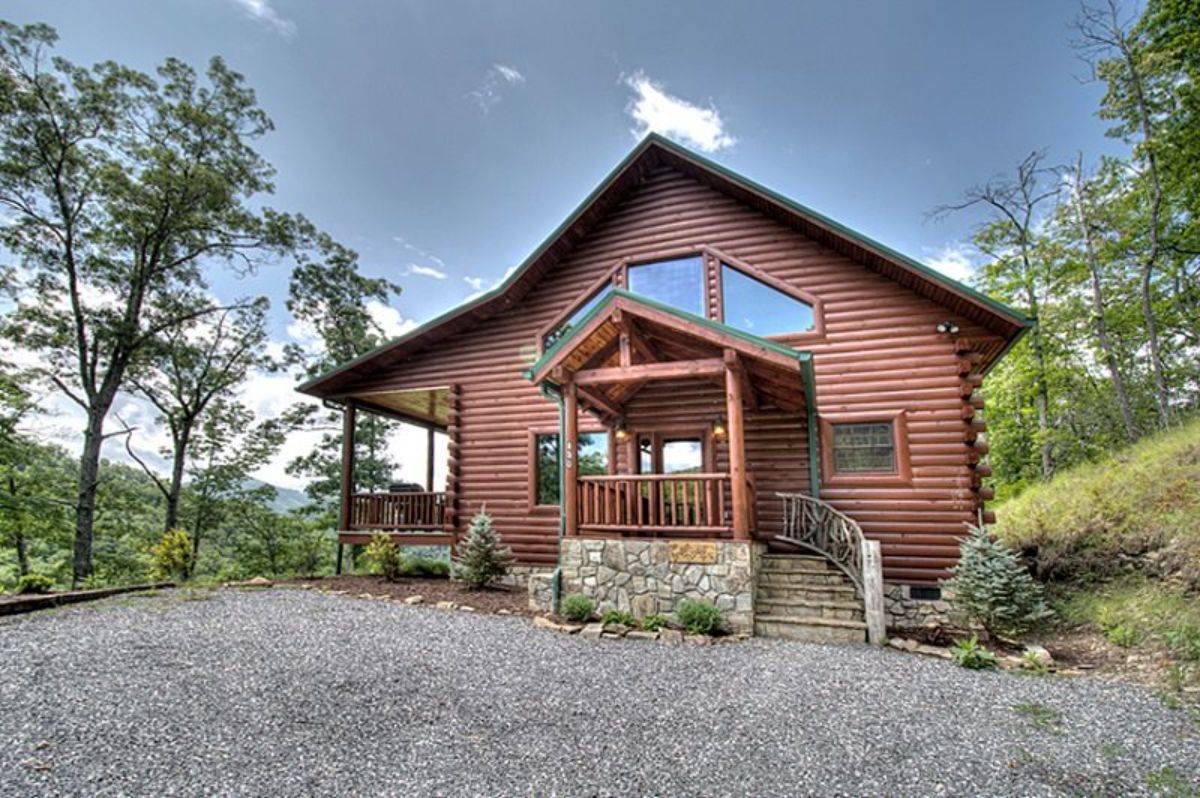 Log Cabin Features
2 bedrooms
2 bathrooms
Easily sleeps 6 to 8 guests
Wide covered porch with rocking chairs looking out on the long-range mountain views.
Hot tub, fire pit, high elevation, and cool mountain breezes.
A sizable living area with sofas, an HDTV, a gas log fireplace, and a sleeper sofa for an added sleeping area.
A large corner kitchen has stainless steel appliances, granite countertops, and a 6-person dining table.
The Master bedroom on the main floor has an en suite bathroom with a king-sized bed and room to relax in comfort.
A lofted bedroom includes 2 queen beds, a bathroom, and a standing Ms. Pacman Arcade unit that includes 60 games!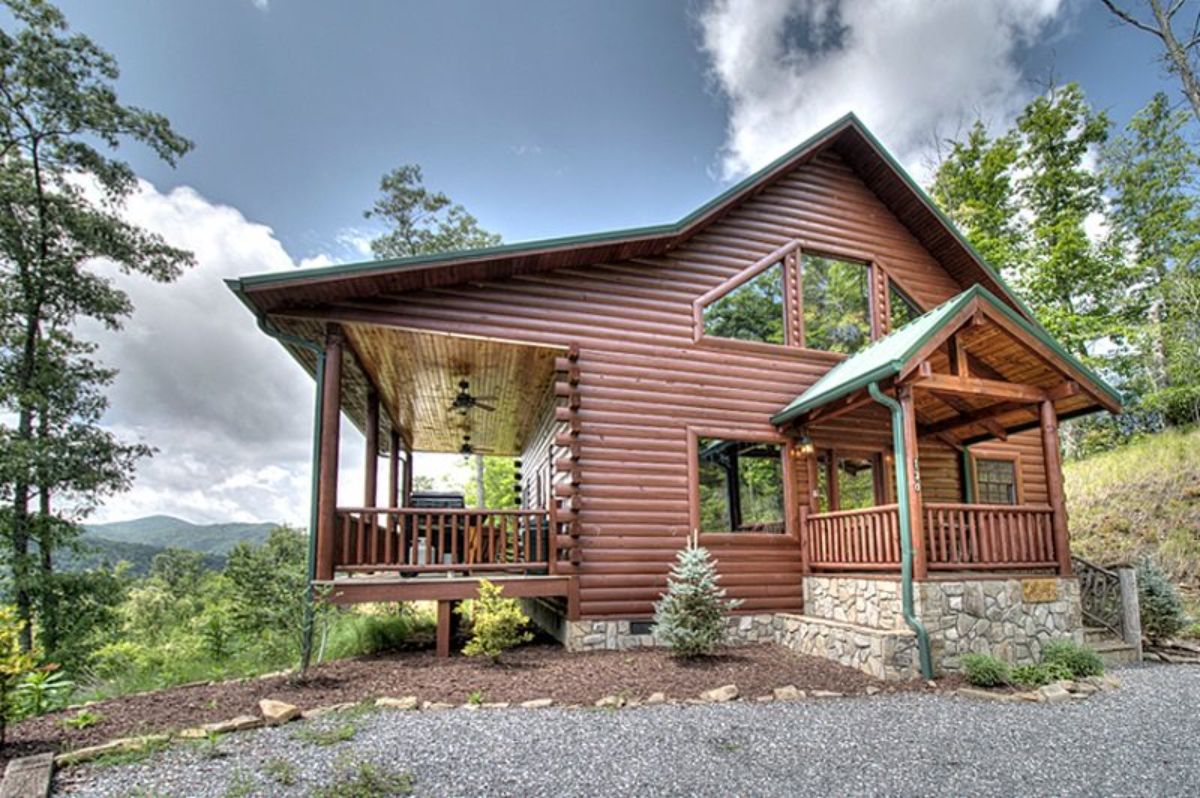 For the outdoor enthusiast, within 30-minutes or less of the cabin are things like The Great Smoky Mountain Railroad, Great Smoky Mountain National Park, Deep Creek Community, Nantahala River Gorge, Tsali Biking, and Fontana Lake.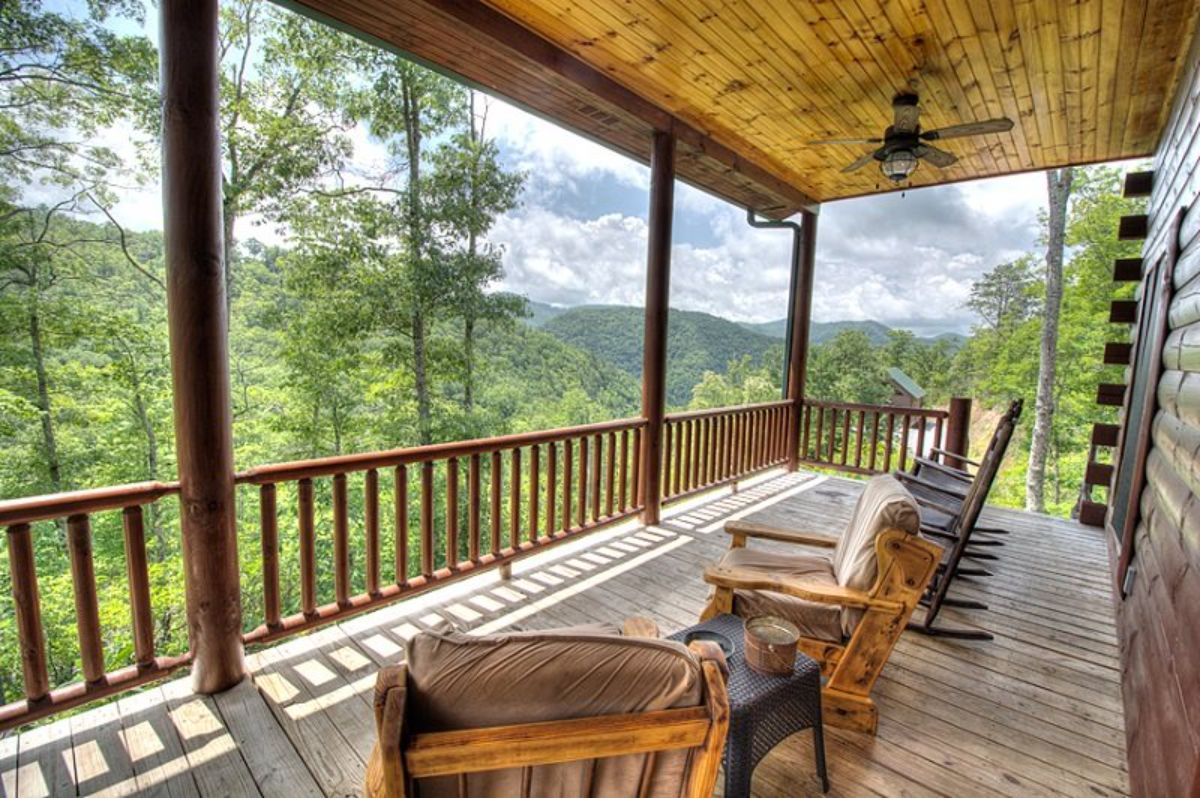 Of course, if you don't feel like cooking dinner, you can take a short drive down to Bryson City and indulge in local food and entertainment.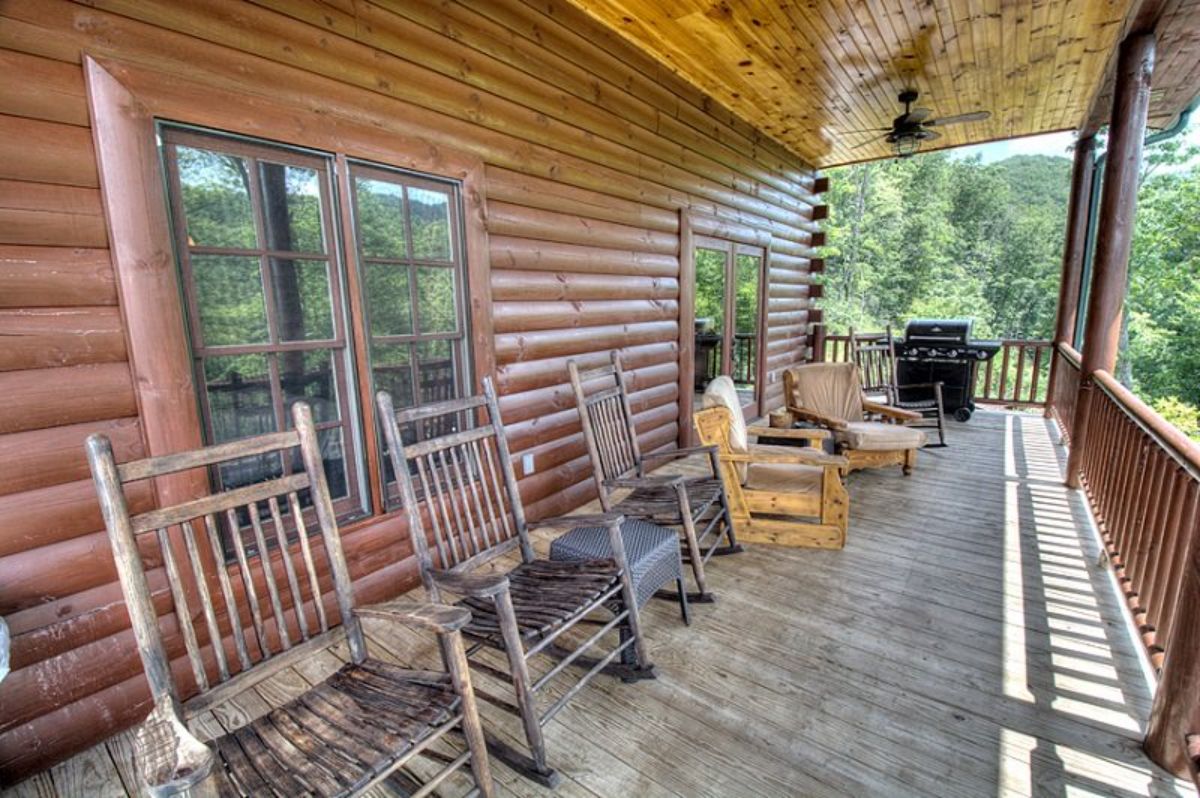 But, personally, I can imagine nothing would beat a simple meal at the cabin if it means you get to lounge in the hot tub with these views.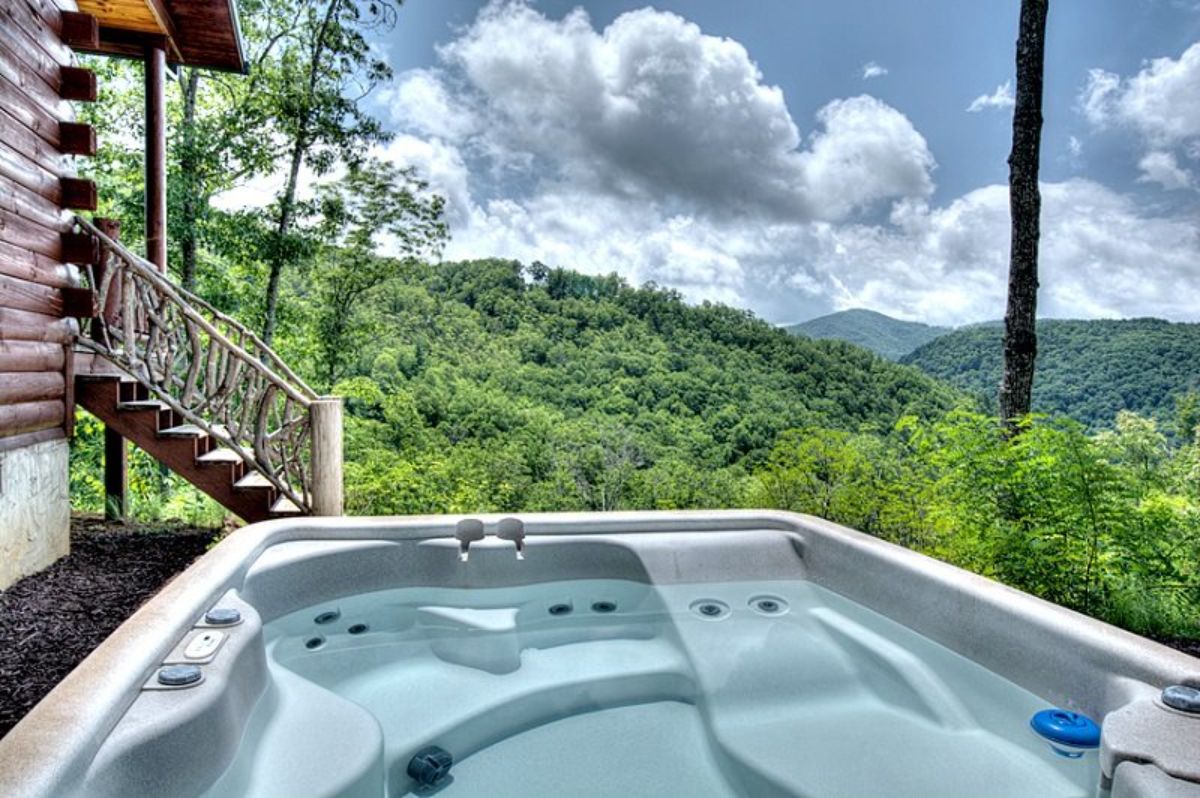 After dark, light up the firepit with nearby benches and a picnic table for a relaxing place to enjoy making s'mores with the kids.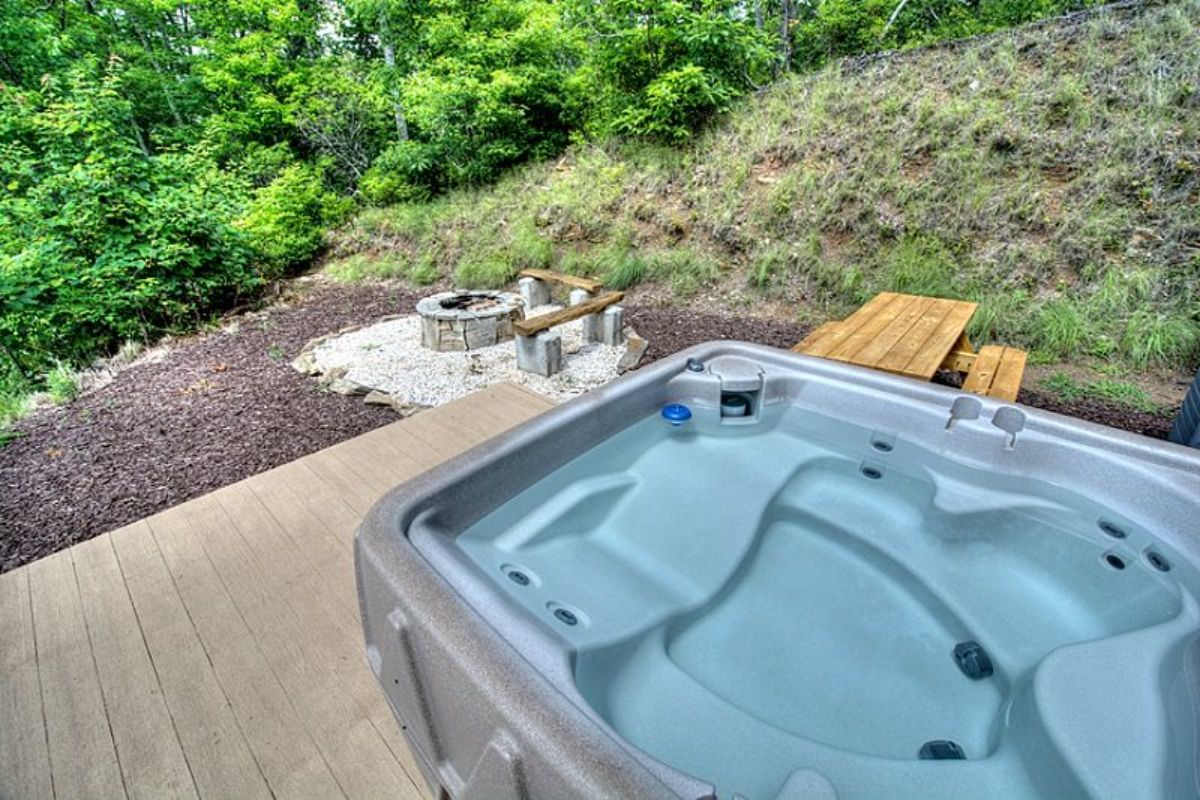 Look at the views from this space! Can't you imagine sitting here and enjoying a morning cup of coffee?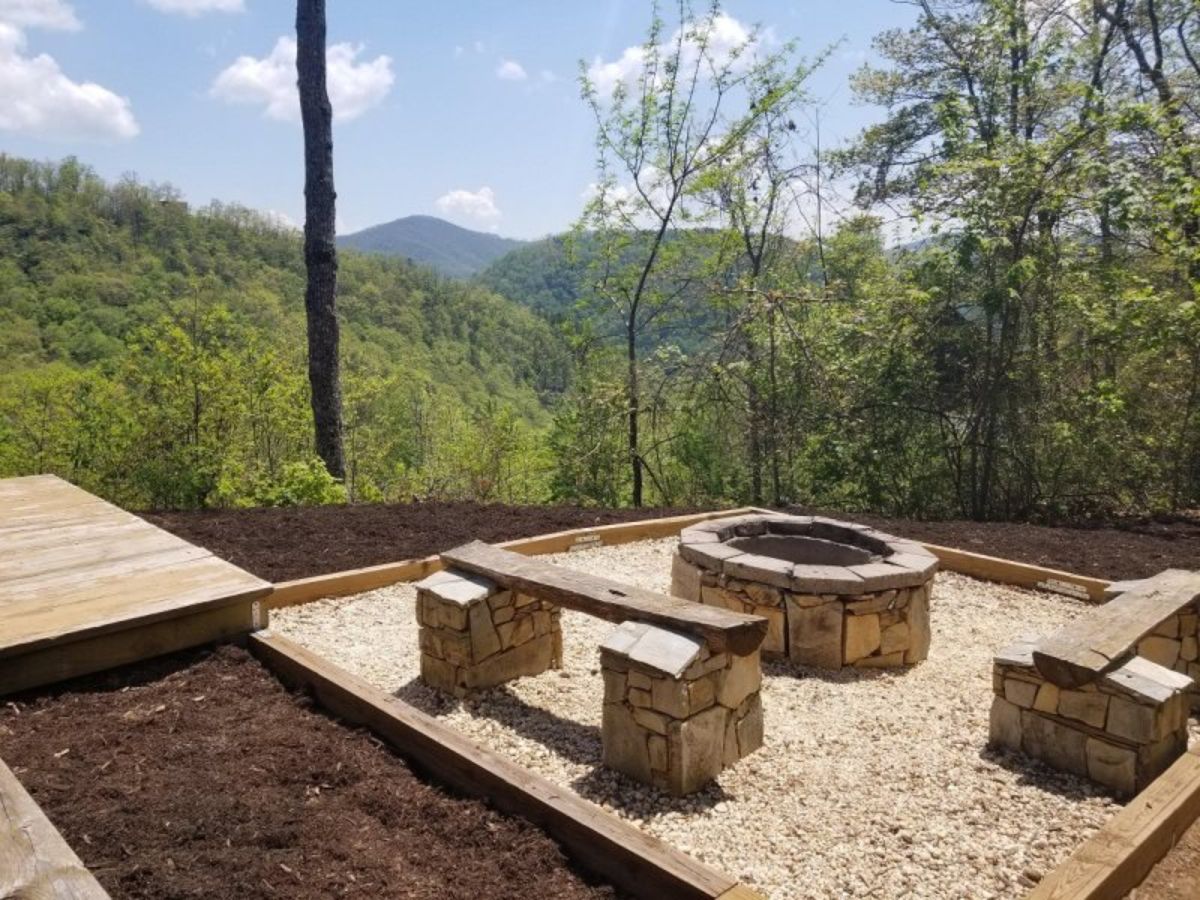 Inside the home, you won't be disappointed. The main floor includes a sizable living space with the sleeper sofa, a kitchen in the corner, a dining table between both, and the master bedroom just off the space.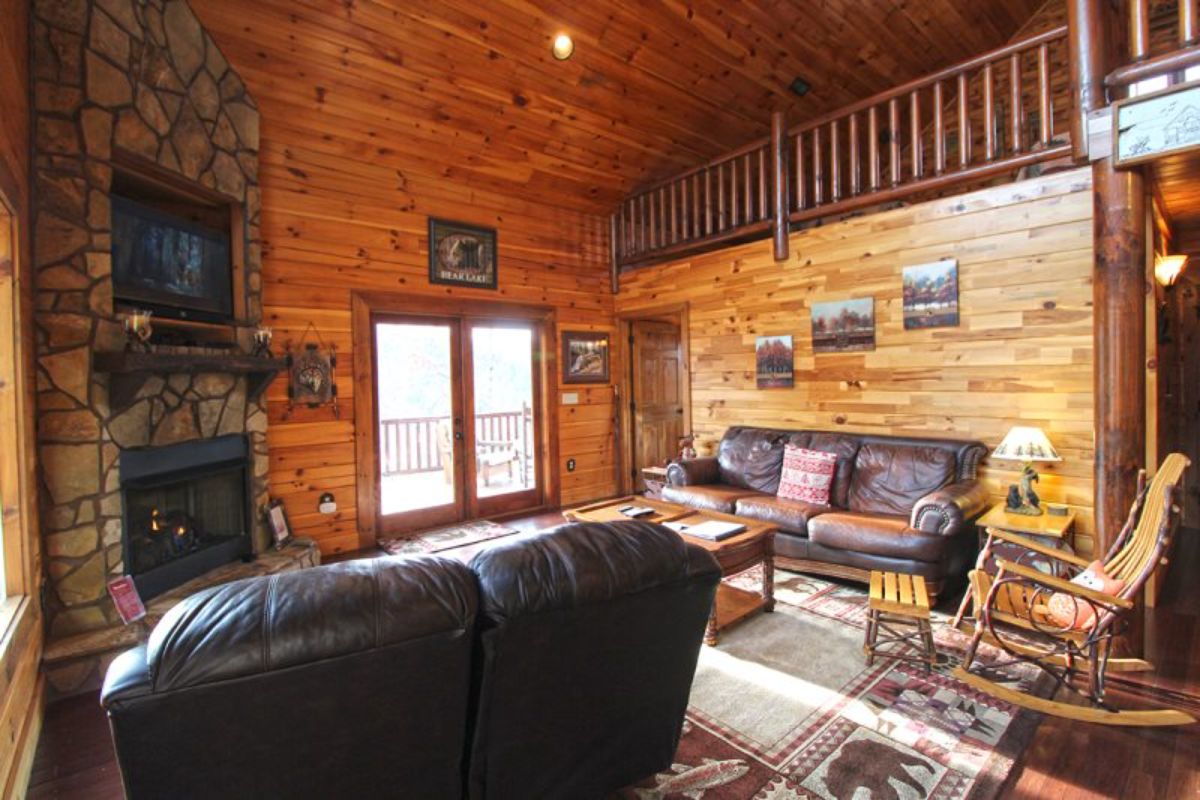 Of course, none of this compares to those views! The side entrance opens right into the living space, but the windows above give you tons of natural light and views of the surrounding mountains.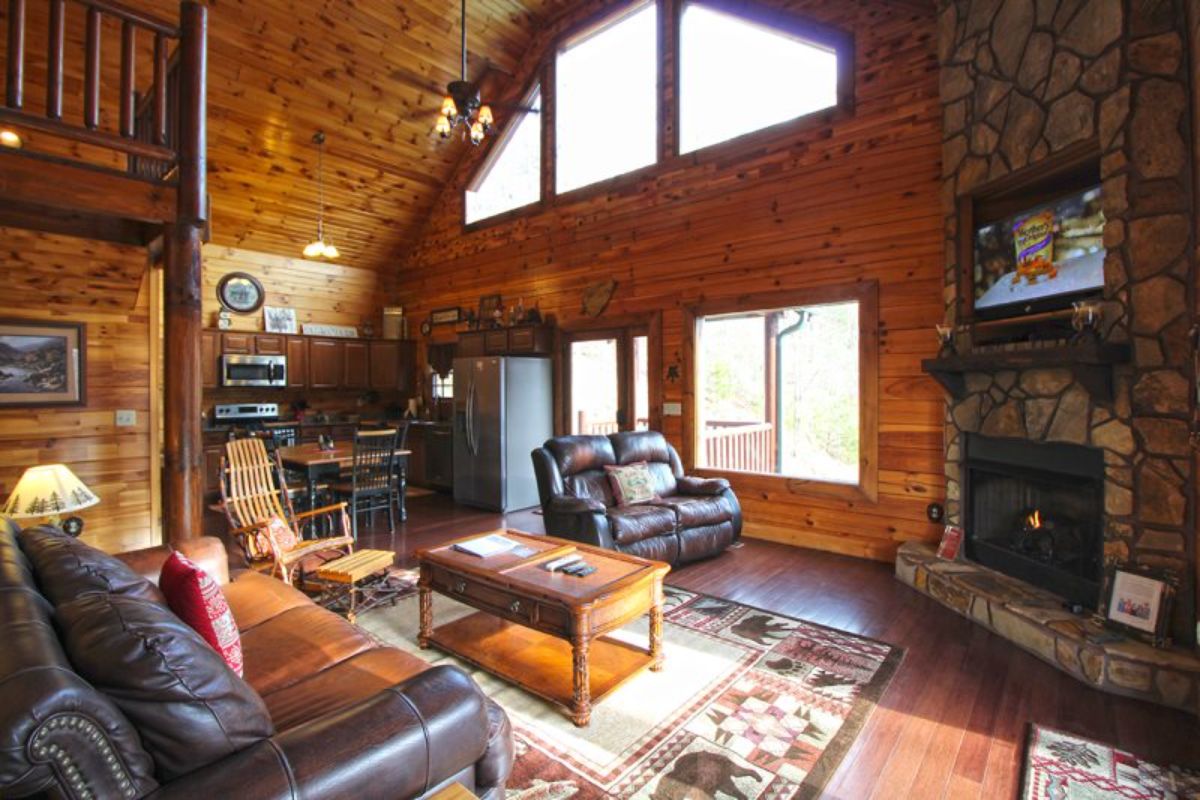 A simple space you can relax for a movie or have fun playing a game, or even, leaning back and taking a nap.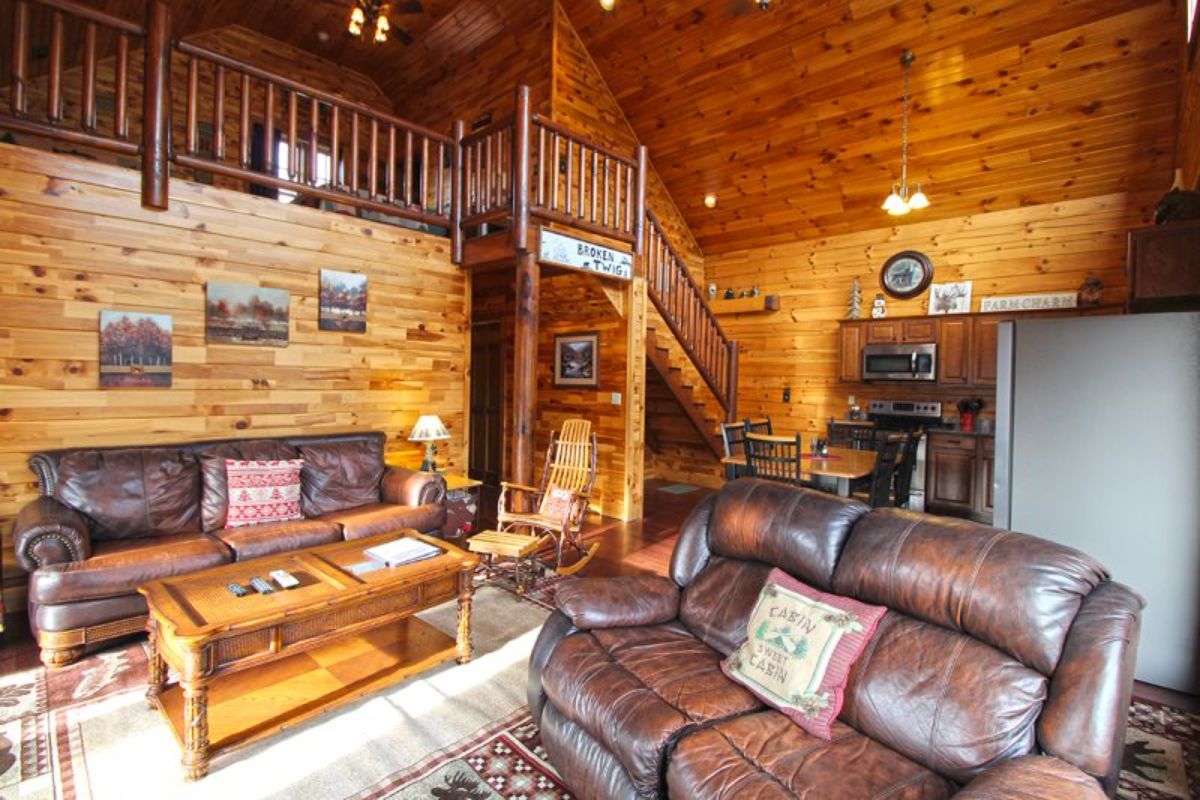 The corner kitchen is smaller than some but has full-sized appliances, including a dishwasher. These cabins come with everything you need for basic meals. Cookware, utensils, dinnerware, and a few small appliances (coffee pot) are already in place.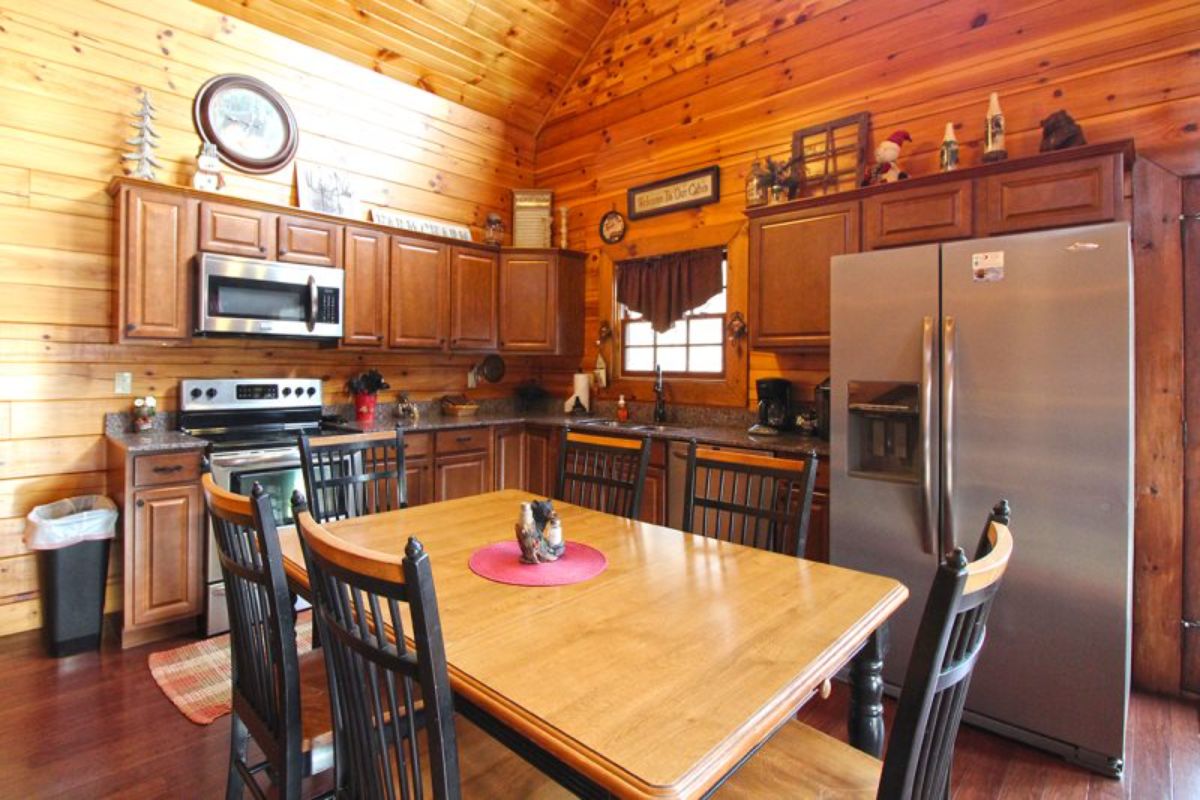 Stairs on the corner of the space lead right up to the open bedroom above. I love the idea of a loft bedroom, and while this one doesn't have that wall separating it from the rest of the home, it still has plenty of privacy.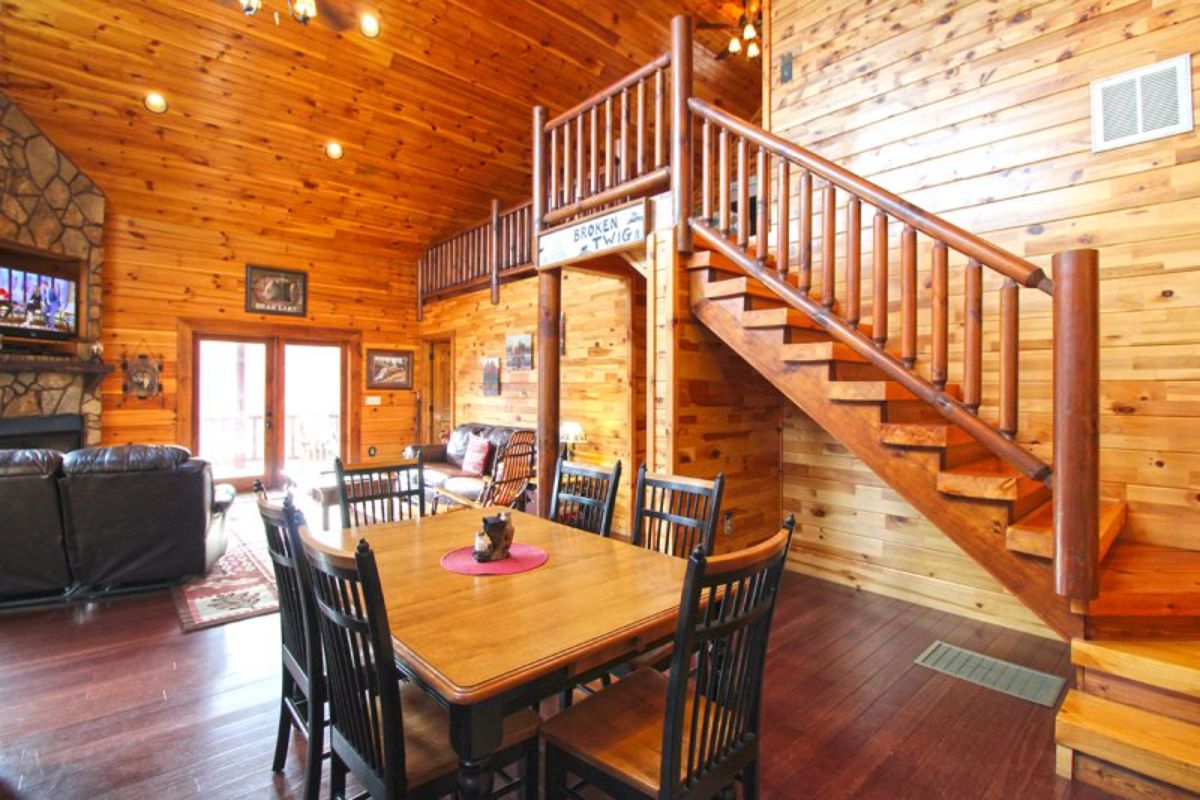 The main floor master bedroom is just off the hall with room for a queen or king-sized bed, nightstands, wardrobe, and closet space.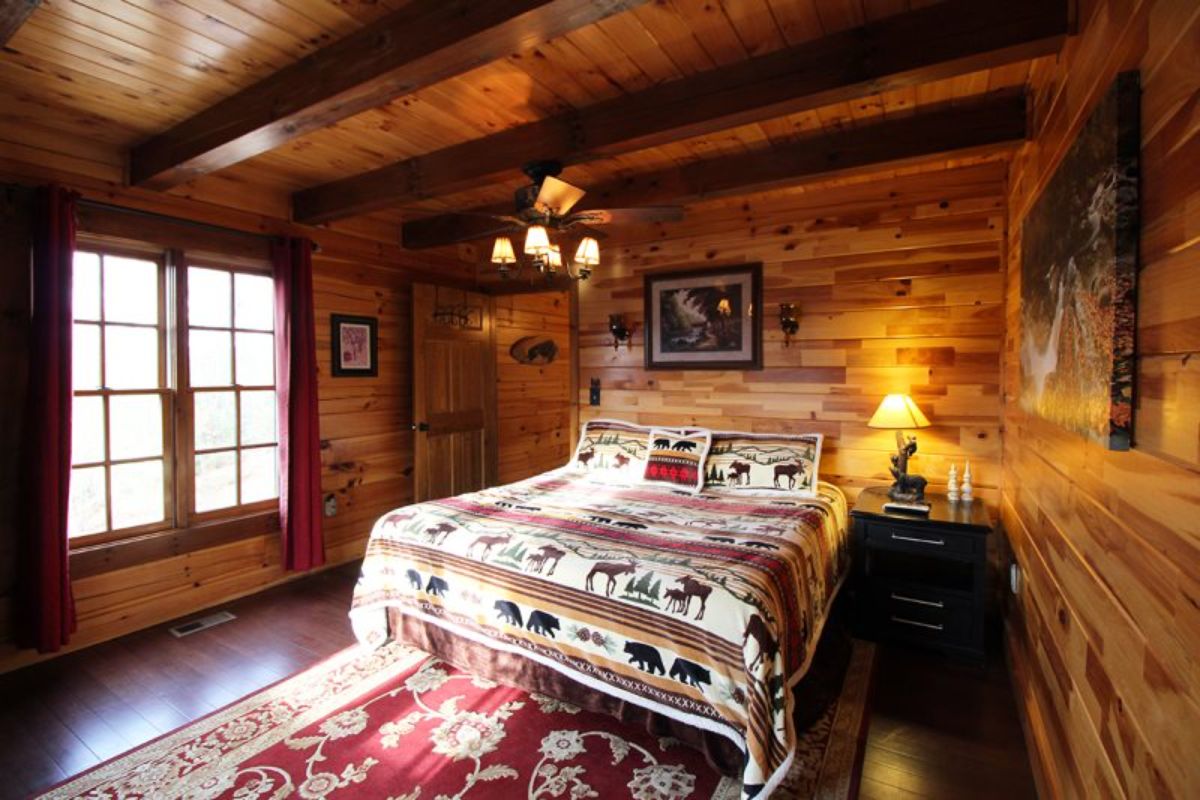 A master bedroom near the main floor bathroom is so cozy and convenient. This bathroom includes the basic combination shower and bathtub, but the updated tile work makes it look amazing.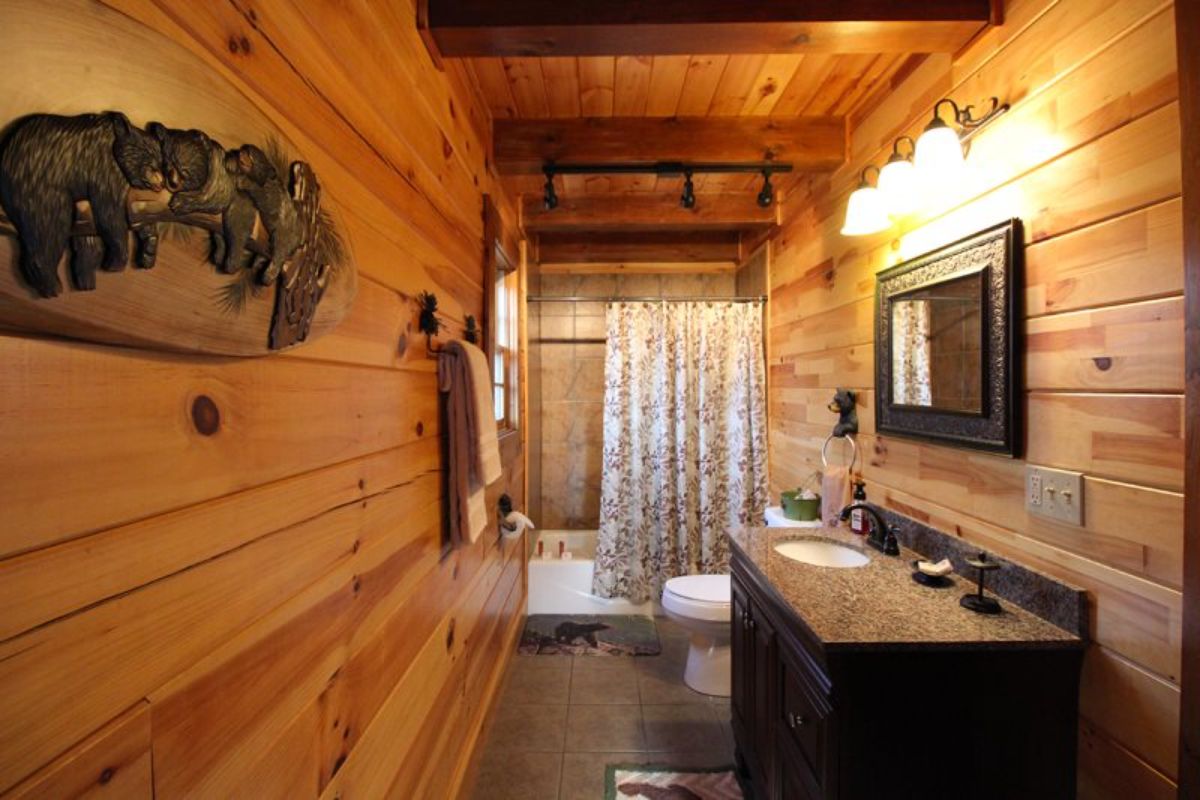 Upstairs in the loft, you have two queen-sized beds at angles with tables and an open door in the back corner to the bathroom.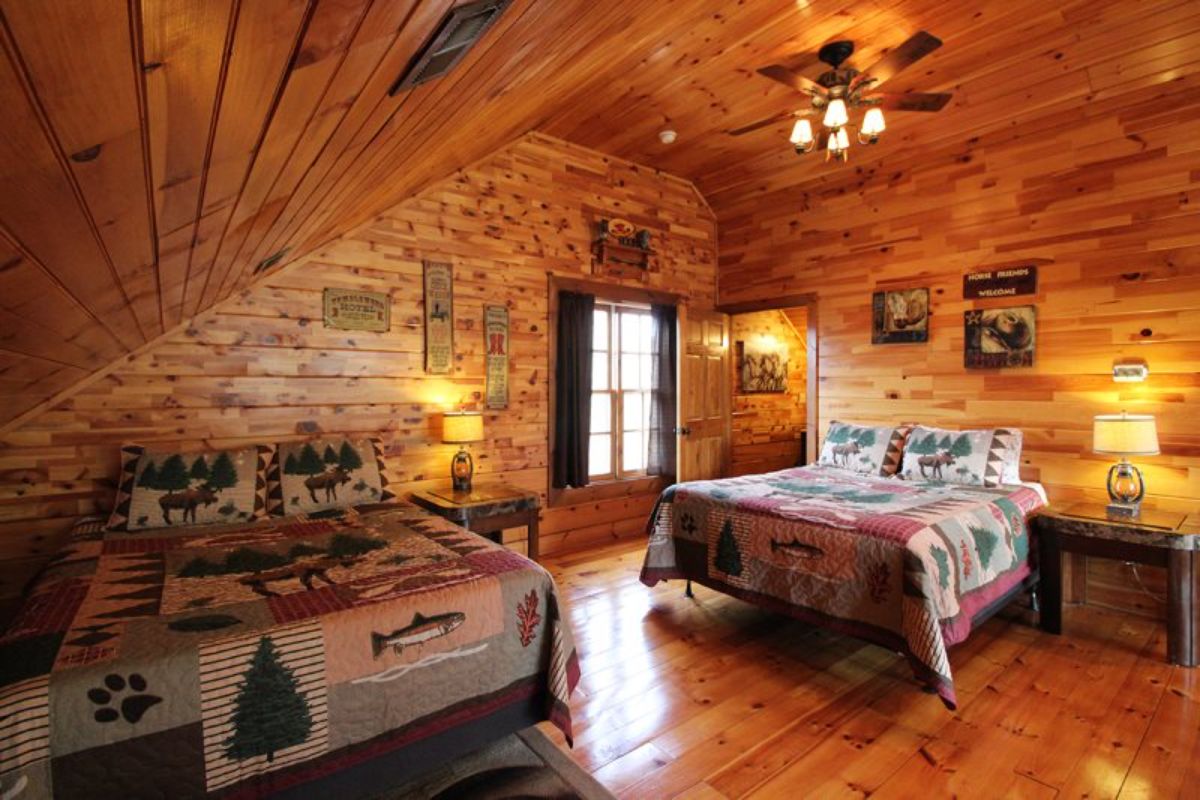 My favorite part of this particular cabin is the inclusion of a Ms. Pacman arcade with 60 games. I would spend all weekend playing this!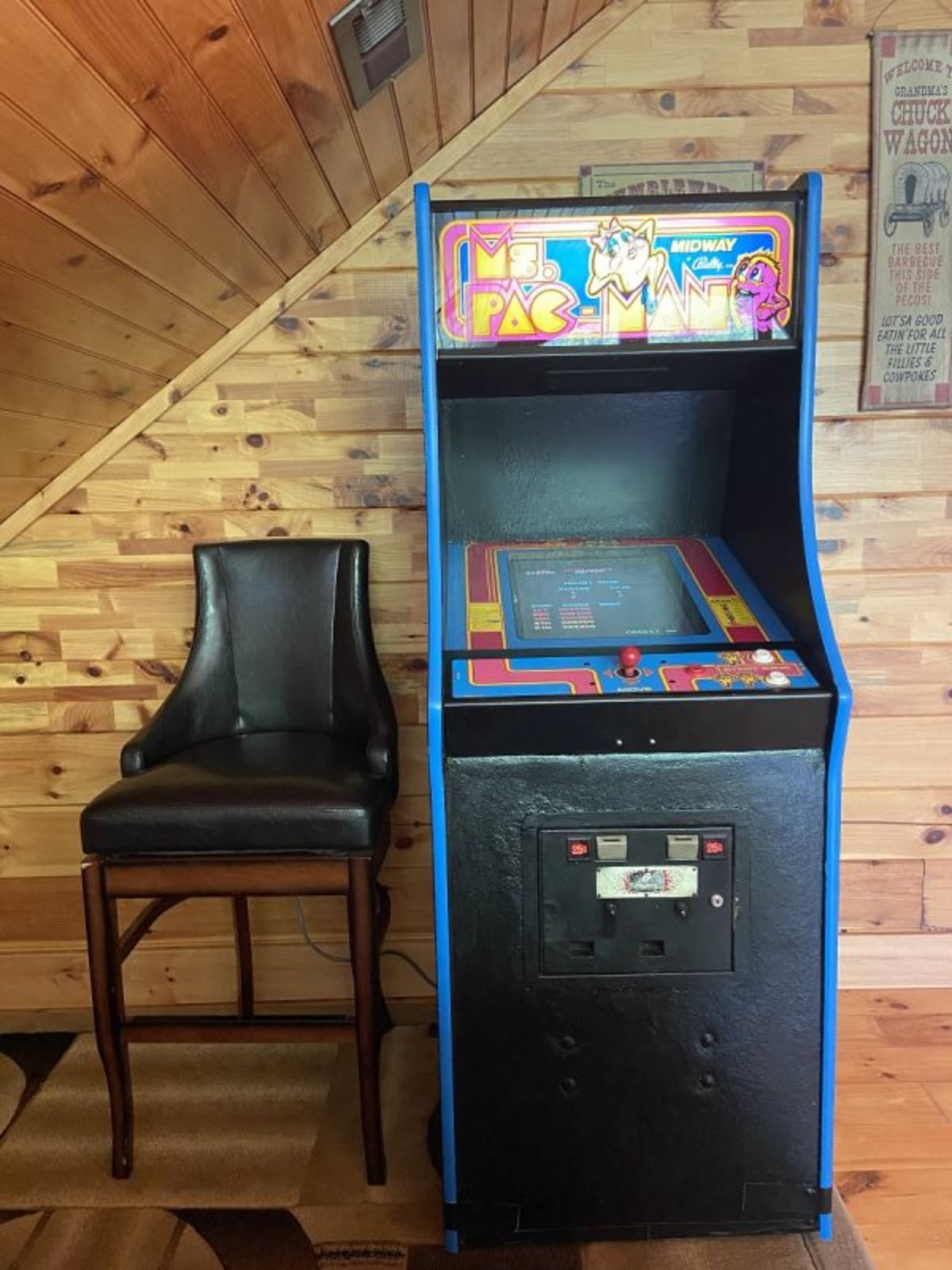 And the upstairs bathroom is laid out similarly to the main floor bathroom with a tiled combination shower and bathtub at the back of the space.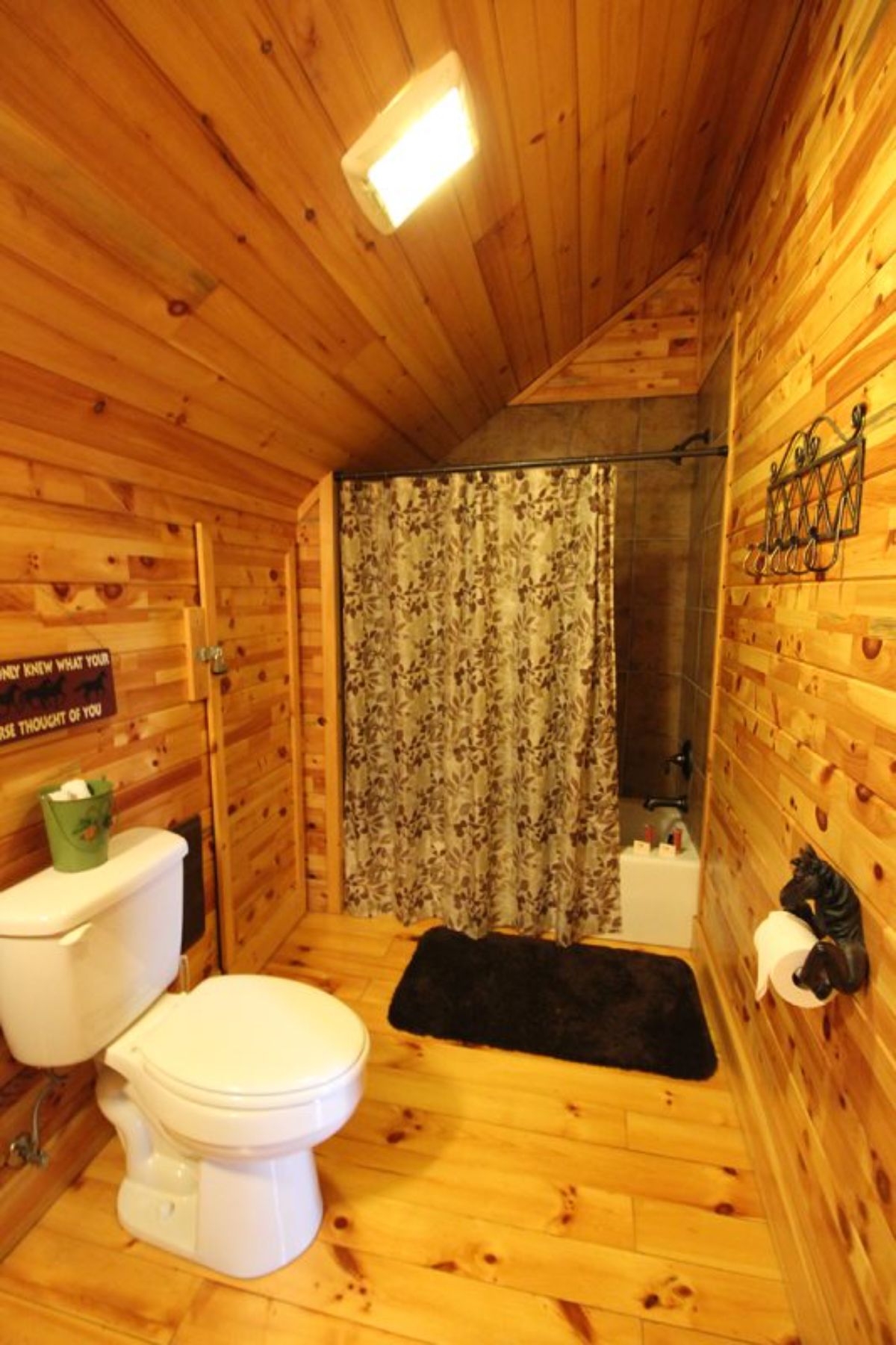 For more information about this cabin build, you can check out the Smoky Mountain Log Cabin Builders website. To book this or your own cabin retreat, check out the Bryson City Cabin Rentals website. You can also follow them on Facebook for regular updates. Make sure that Log Cabin Connection sent you their way.
More Log Cabin Kits and Tours