The Lark is a gorgeous luxury cabin rental just outside Bryson City, North Carolina. With an oversized floor plan, stunning views, multiple decks, and room for up to 7 to sleep in comfort, it's the ideal family retreat location.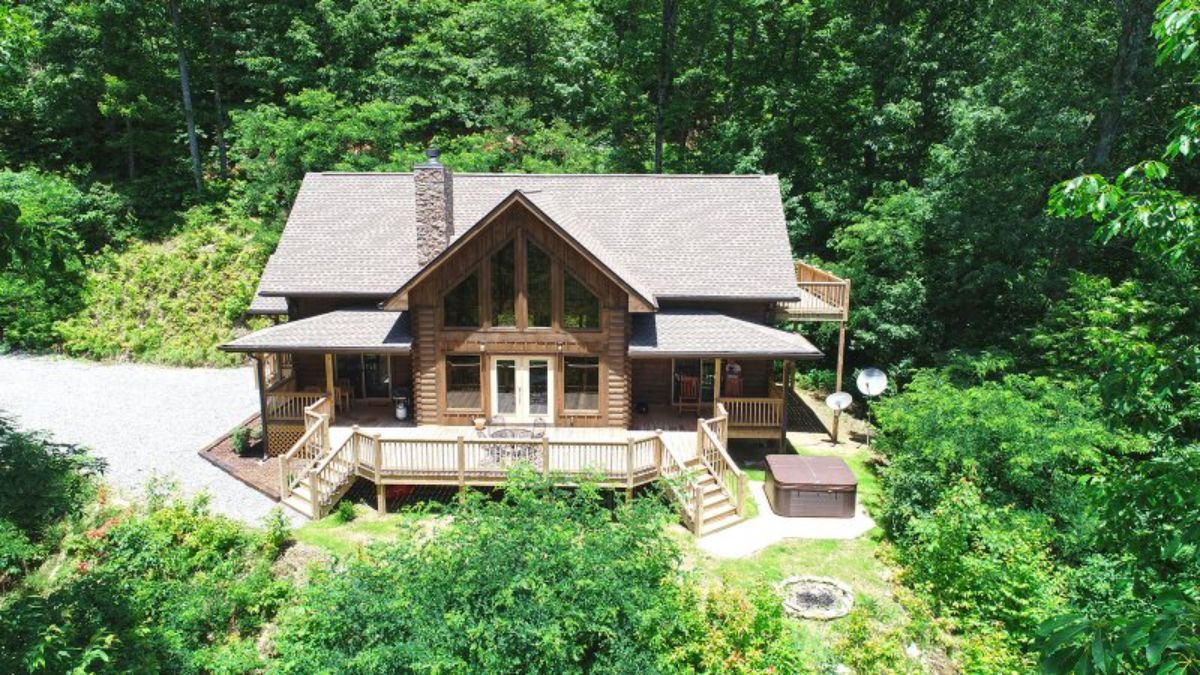 Log Cabin Size
3 bedrooms
2 full bathrooms
1 half bathroom
Easily sleeps 7 with a king-sized bed, queen-sized bed, twin bunk bed sets, and single twin bed available.
Log Cabin Features
4000-foot elevation with stunning views of the mountains.
Large open deck off the great room on the main floor of the home with side porches featuring covers for easy access no matter what the weather is like in the area.
Hot tub on the bottom deck with gorgeous views and open areas for a firepit nearby.
Large modern kitchen with granite counter tops, stainless steel appliances, and a large island bar that doubles as a breakfast nook for up to 4.
Extra-large great room with wood-burning fireplace, wall of windows, television, and tons of comfortable seating. Sofas could be used for an extra sleep space if desired.
Main floor master bedroom with private deck access and luxury en suite bathroom including soaking bathtub.
Separate laundry room with washing machine and dryer included as well as extra storage space.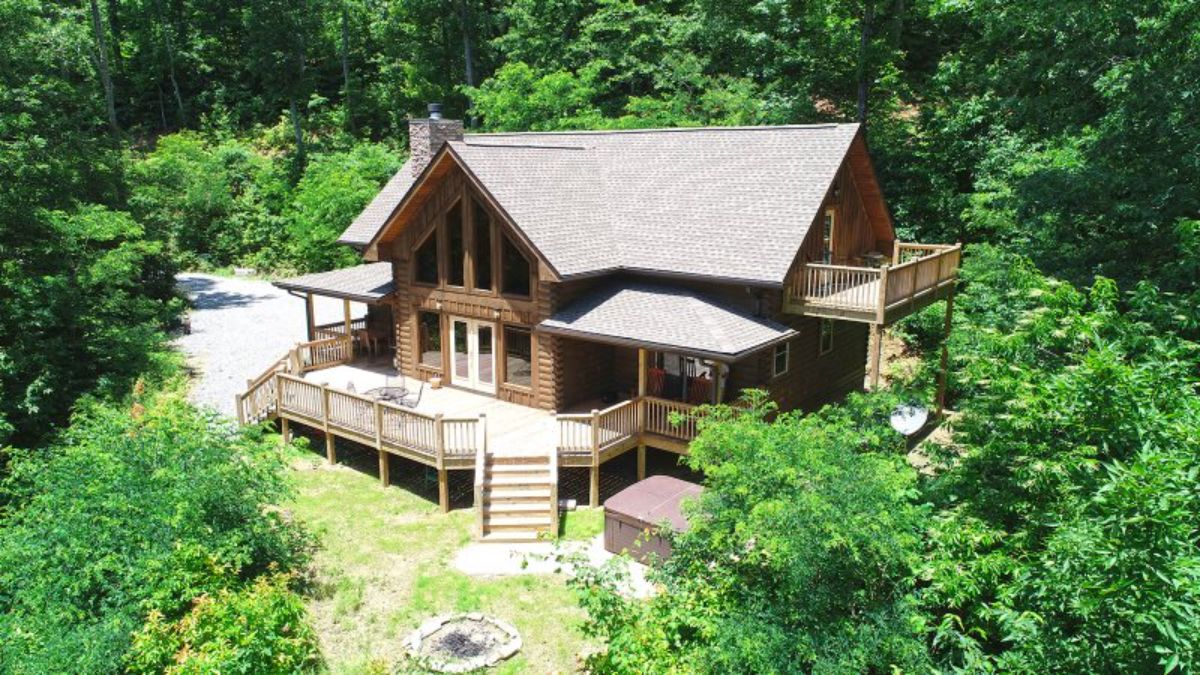 If you want a cabin destination that is set apart from the world outside but still close enough to hop out for a bite to eat or a movie, this is the place to go. The cabin is nestled in the mountains with only you and nature, but a simple drive to "town" is made in minutes.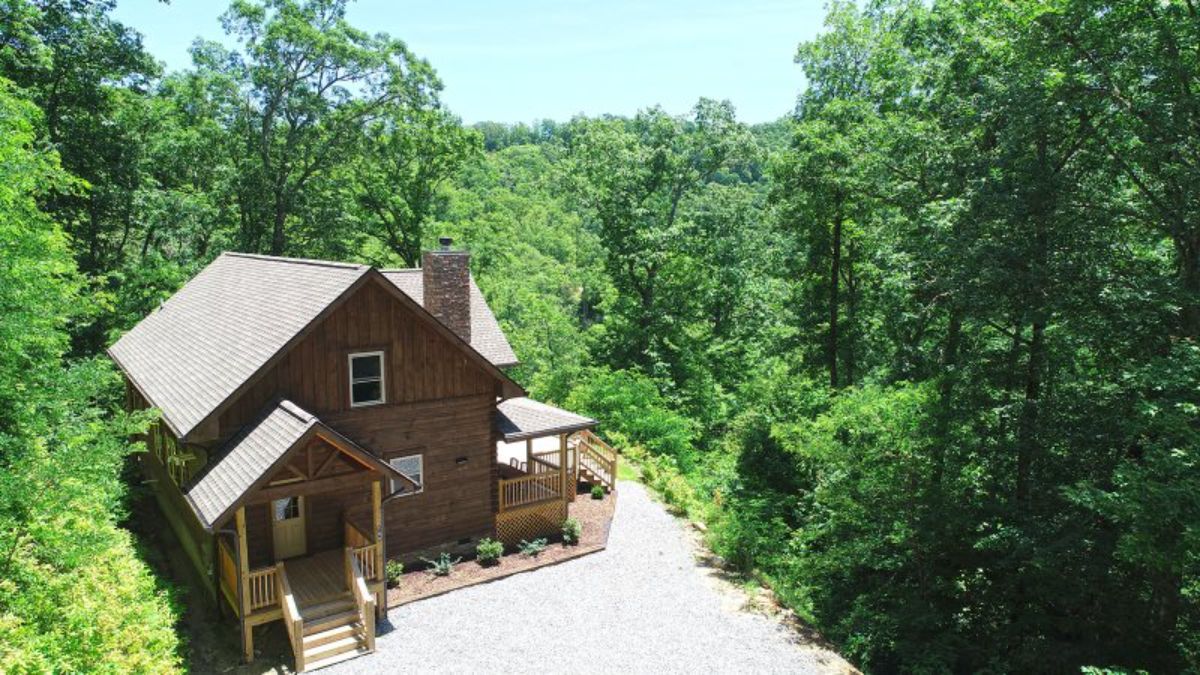 One of my favorite things about this home is that it is so nice and open on the main floor. You walk into the home and find a large open great room with a wall of windows and fireplace to greet you.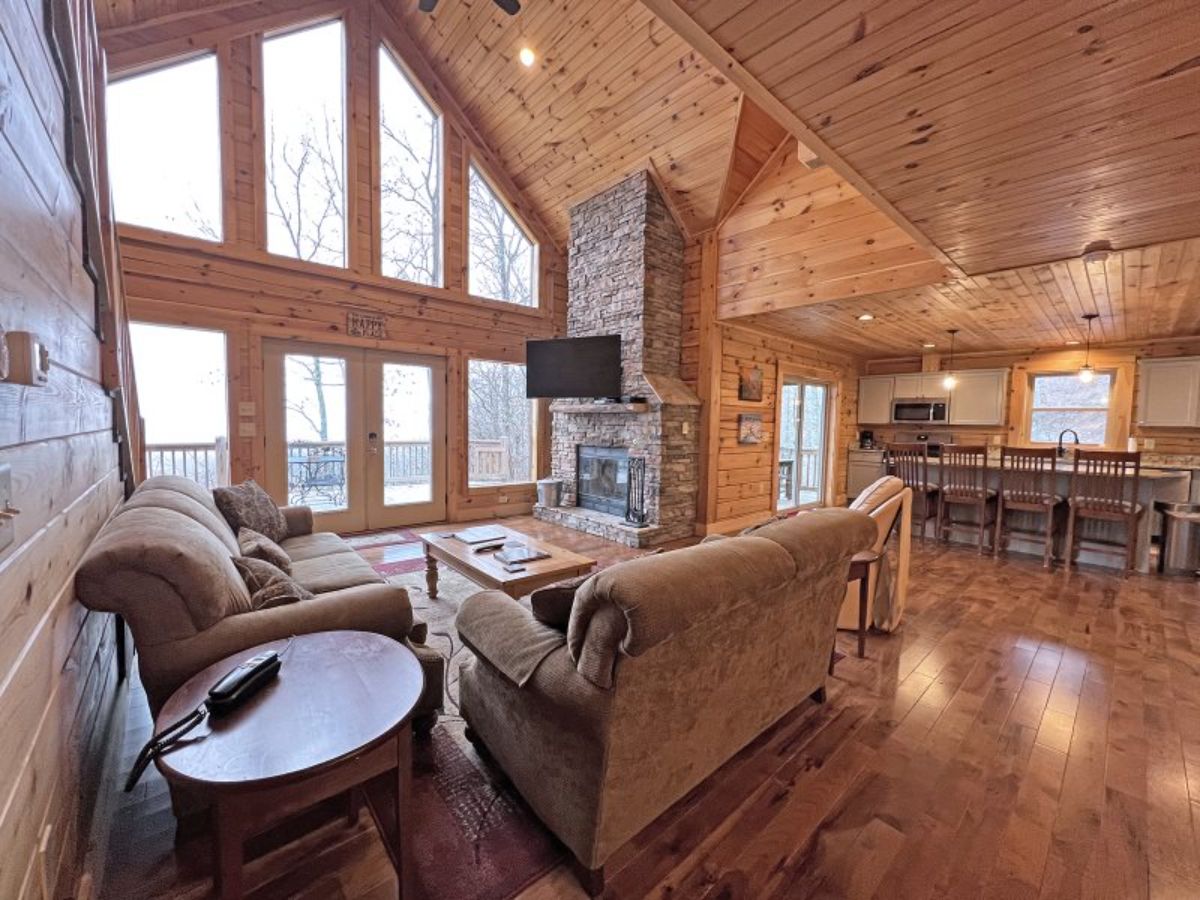 Behind the living space, you have stairs to take you up to the loft, or you can simply stay on ground level with the dining room, kitchen, or master bedroom all easy to access.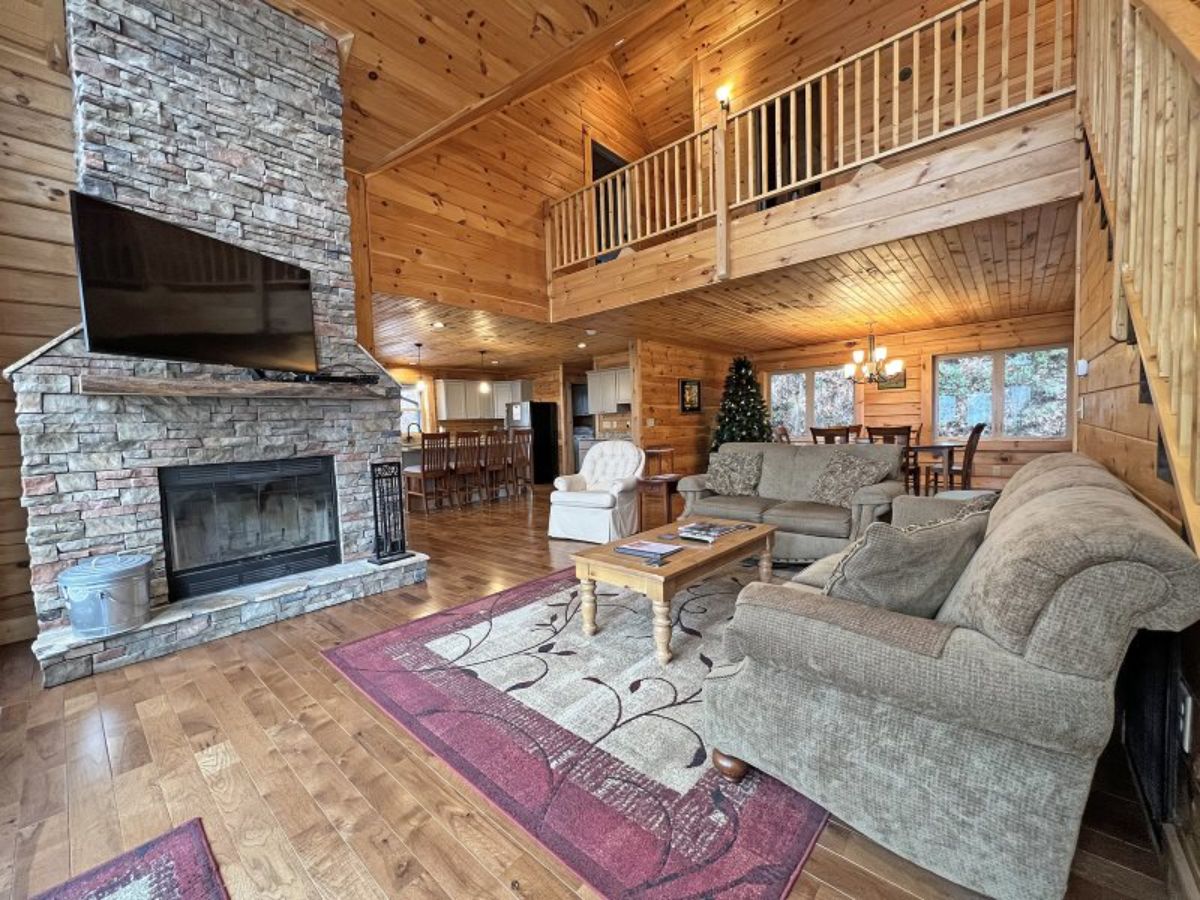 While I love seeing more rustic stairways with wood in cabins, this really adds to that updated modern style with a carpeted stairway up to the top level bedrooms and bathroom.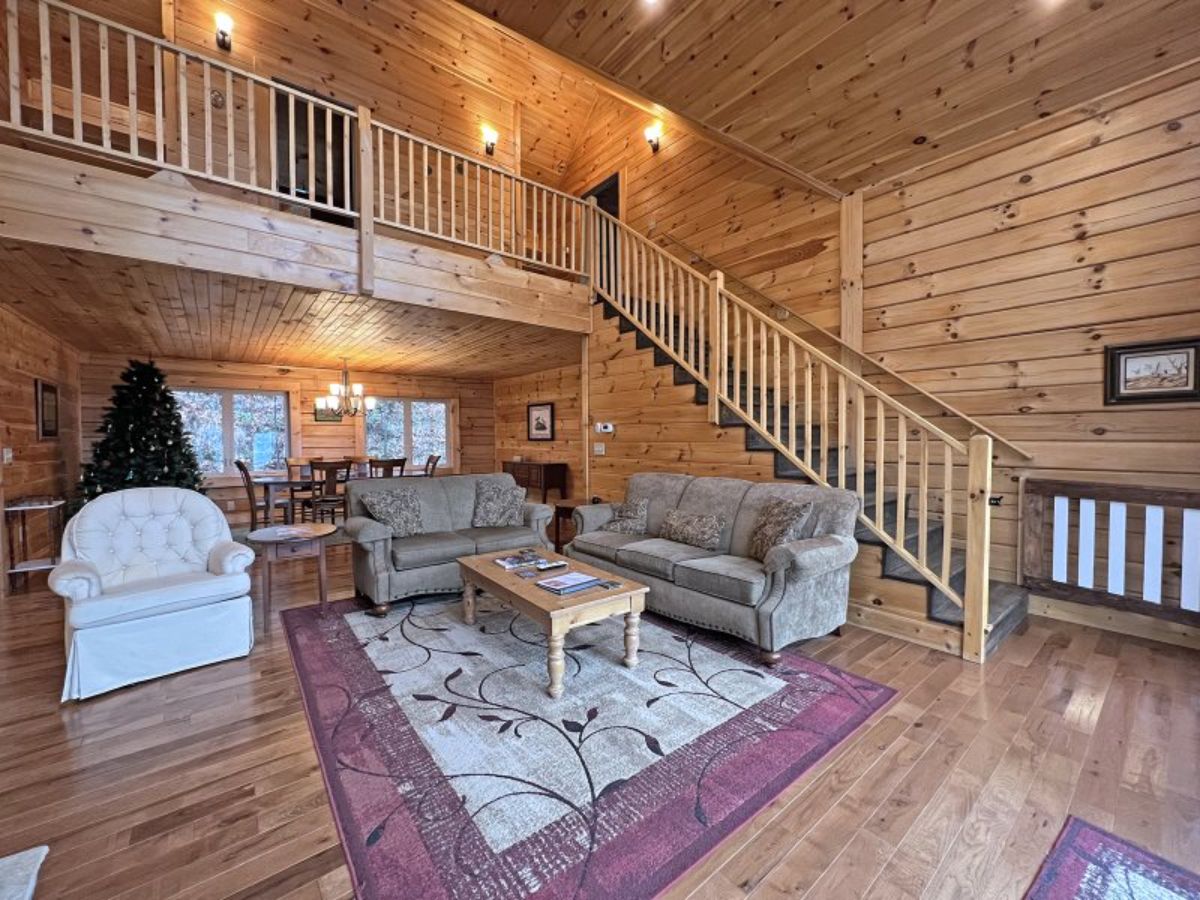 Just look at that view! Can't you imagine a nice fire going while you watch a movie and have a look outside at the mountains as the sun sets? So beautiful.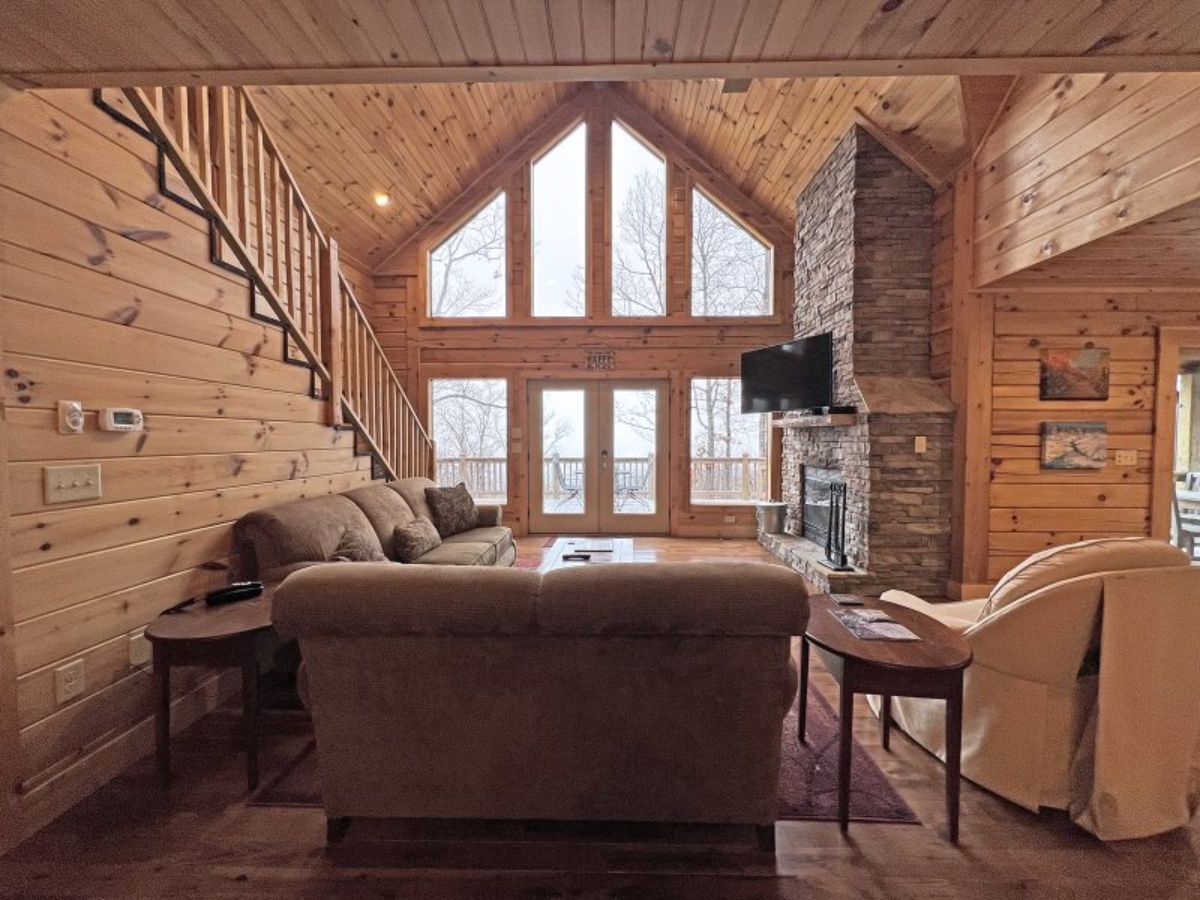 The extra-large area for a dining room is nice for formal meals. The table seats 6 naturally, but the room is large enough to hold a larger table if wanted.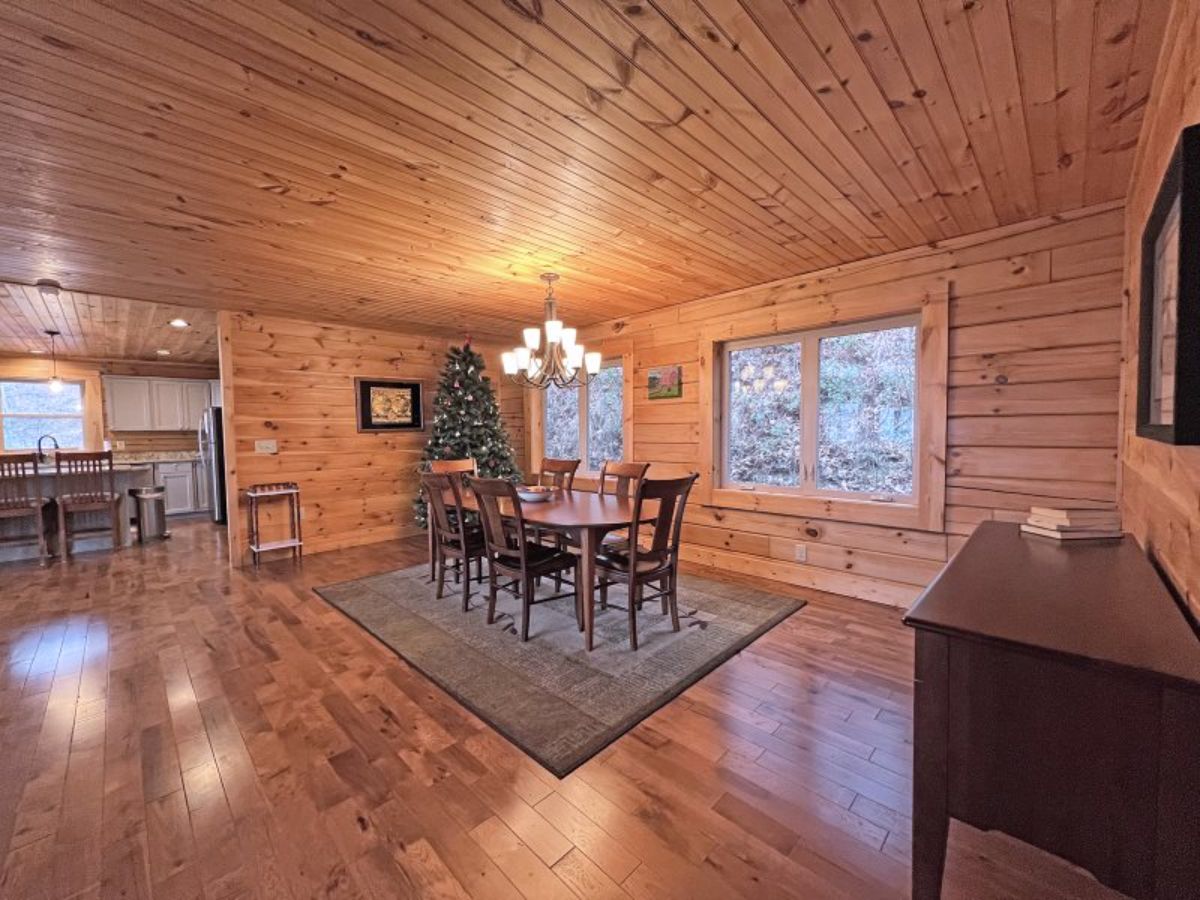 Of course, I have to love this tree in the corner. Can you imagine taking a winter vacation to celebrate Christmas in the mountains? If so, this is the house to do that in!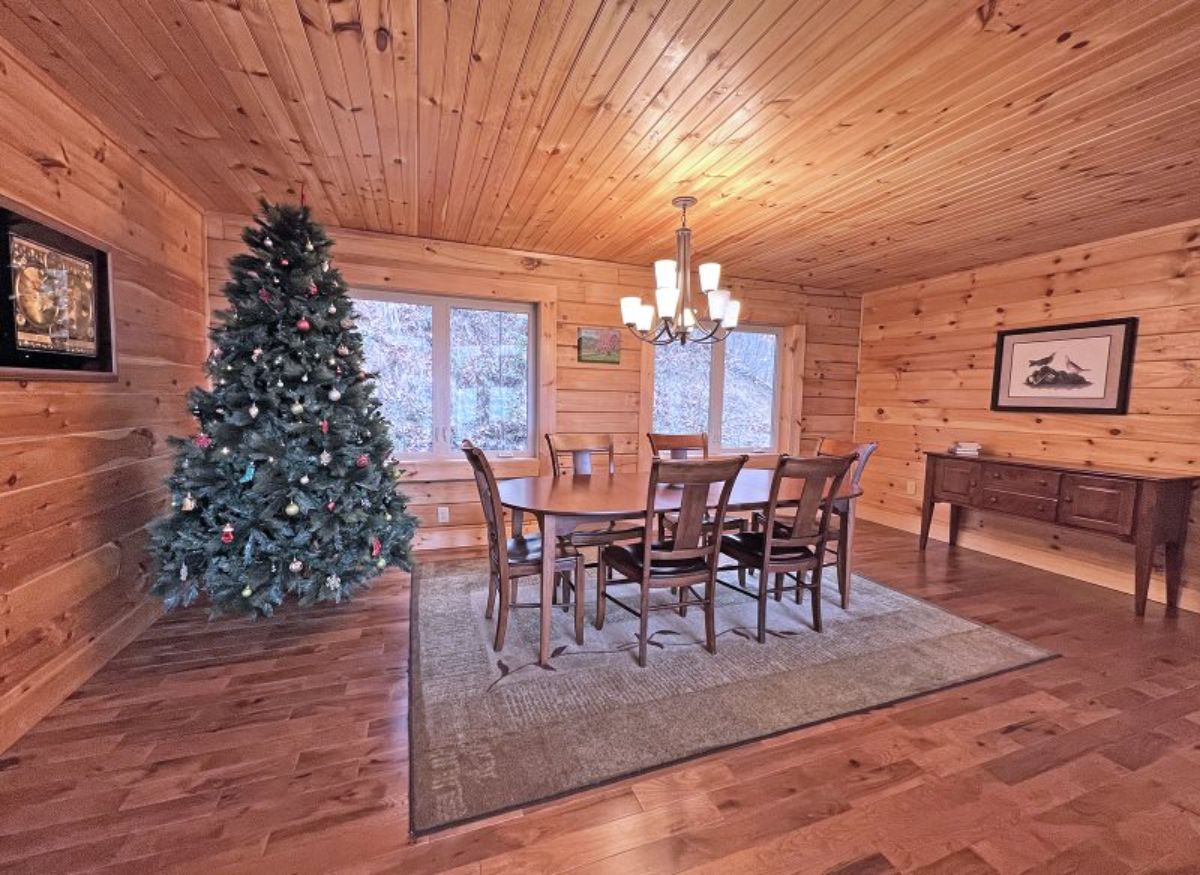 Inside the kitchen, you have tons of light grey cabinets with a light brown/beige granite countertop as an accent. I really love how this has a hall in the back that leads to the master suite and out to the deck through the laundry room.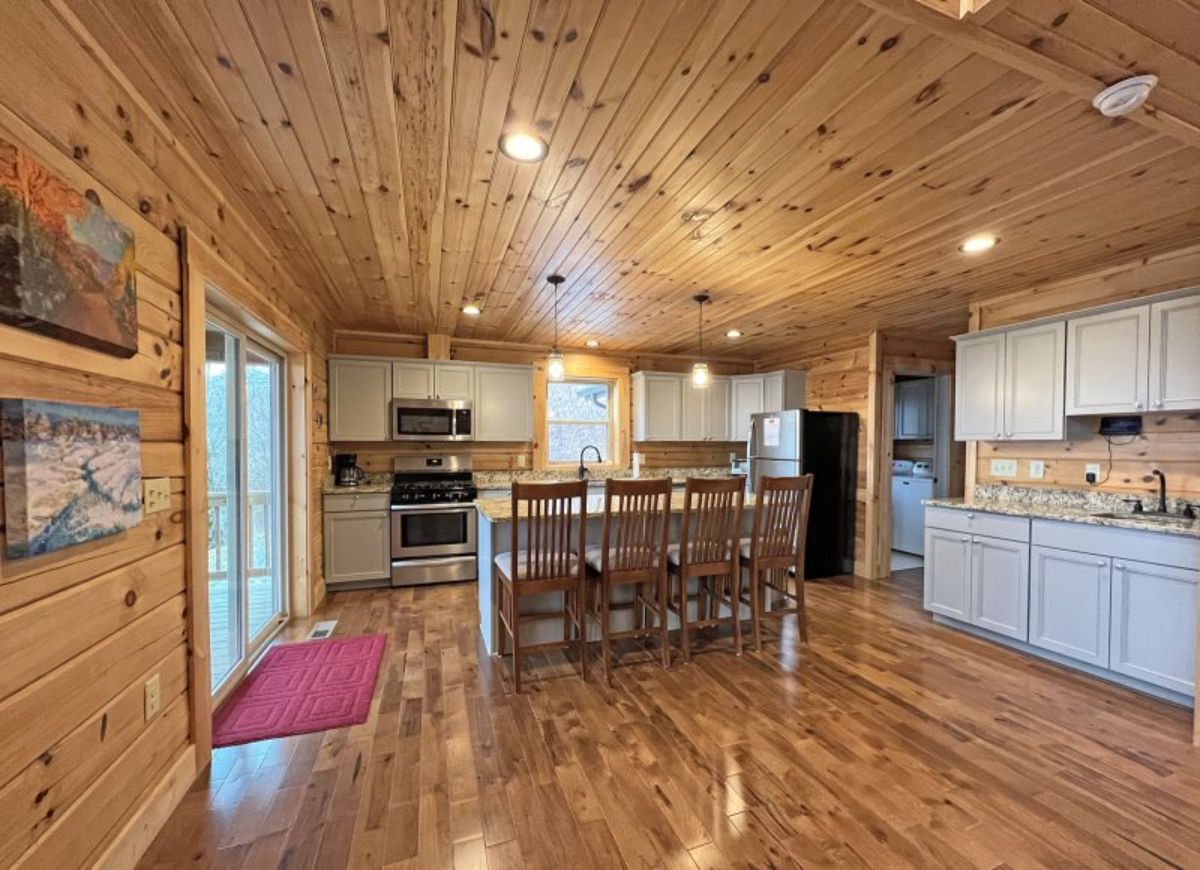 The open door on the side of the kitchen makes it easy to pass food back and forth when using this for a summer barbecue outside. The island can act as a buffet station for a party, with easy access to indoor or outdoor dining spaces.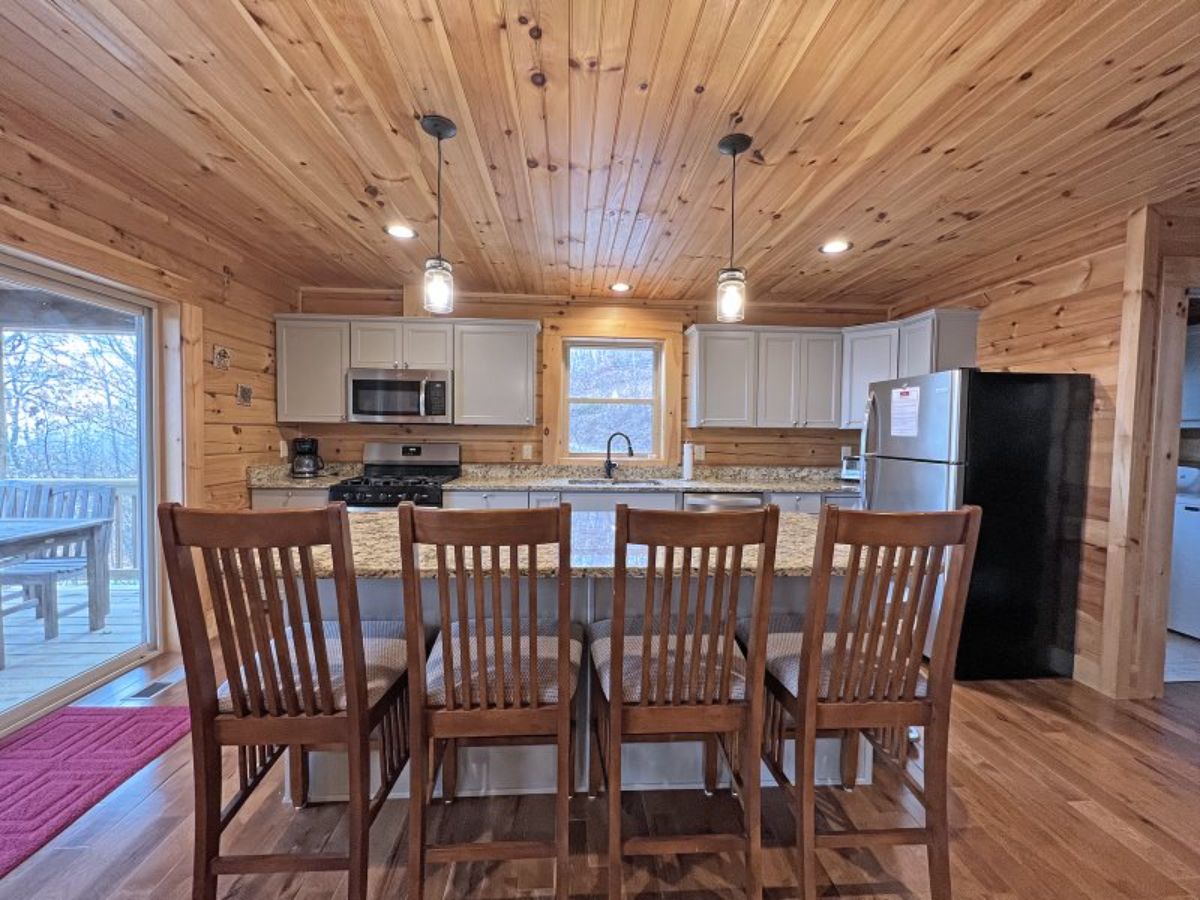 Regular appliances make any meal easy for you to make. A stove, refrigerator, dishwasher, and double sink are accessible with so much storage hiding away all of your much needed utensils and cookware.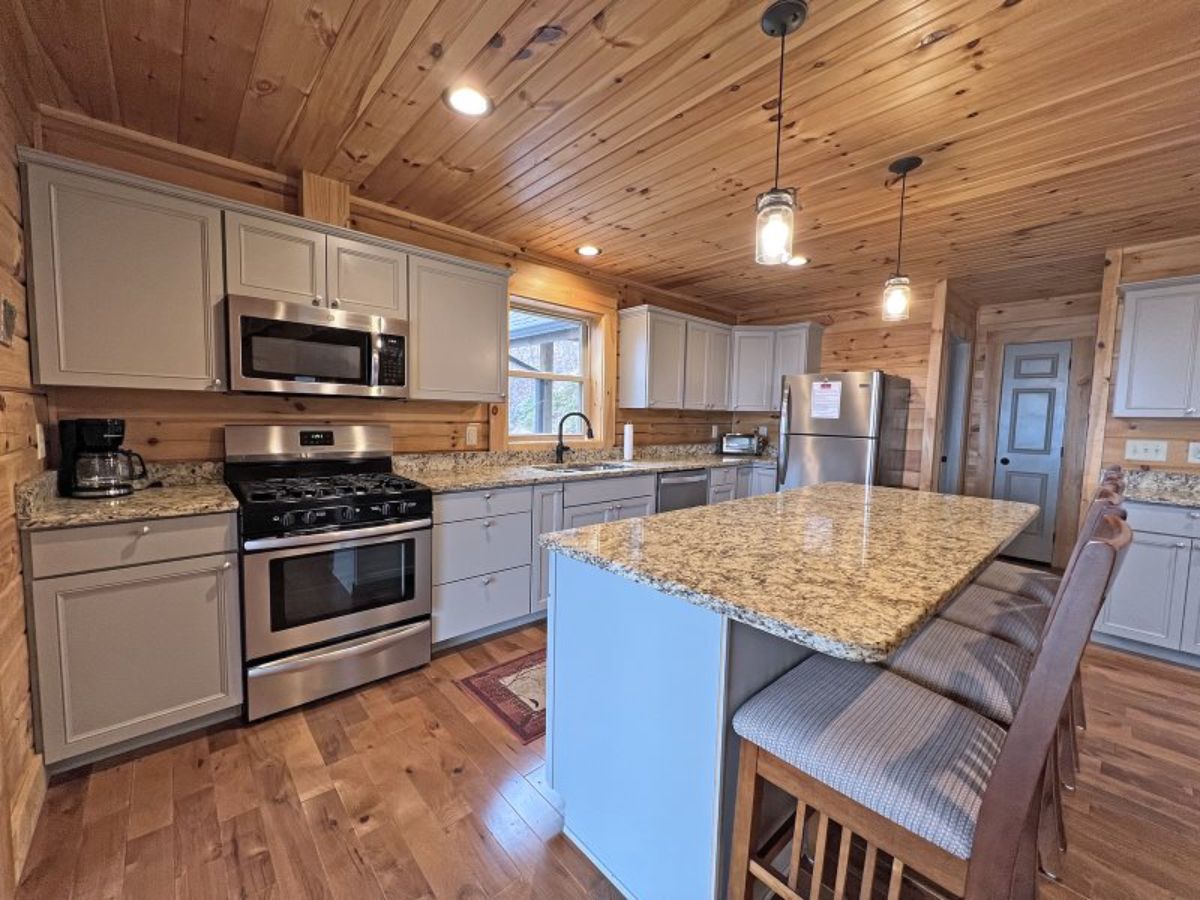 That island bar looks perfect for rolling out cookie dough with the kids! I can envision that being a huge part of the time spent with family.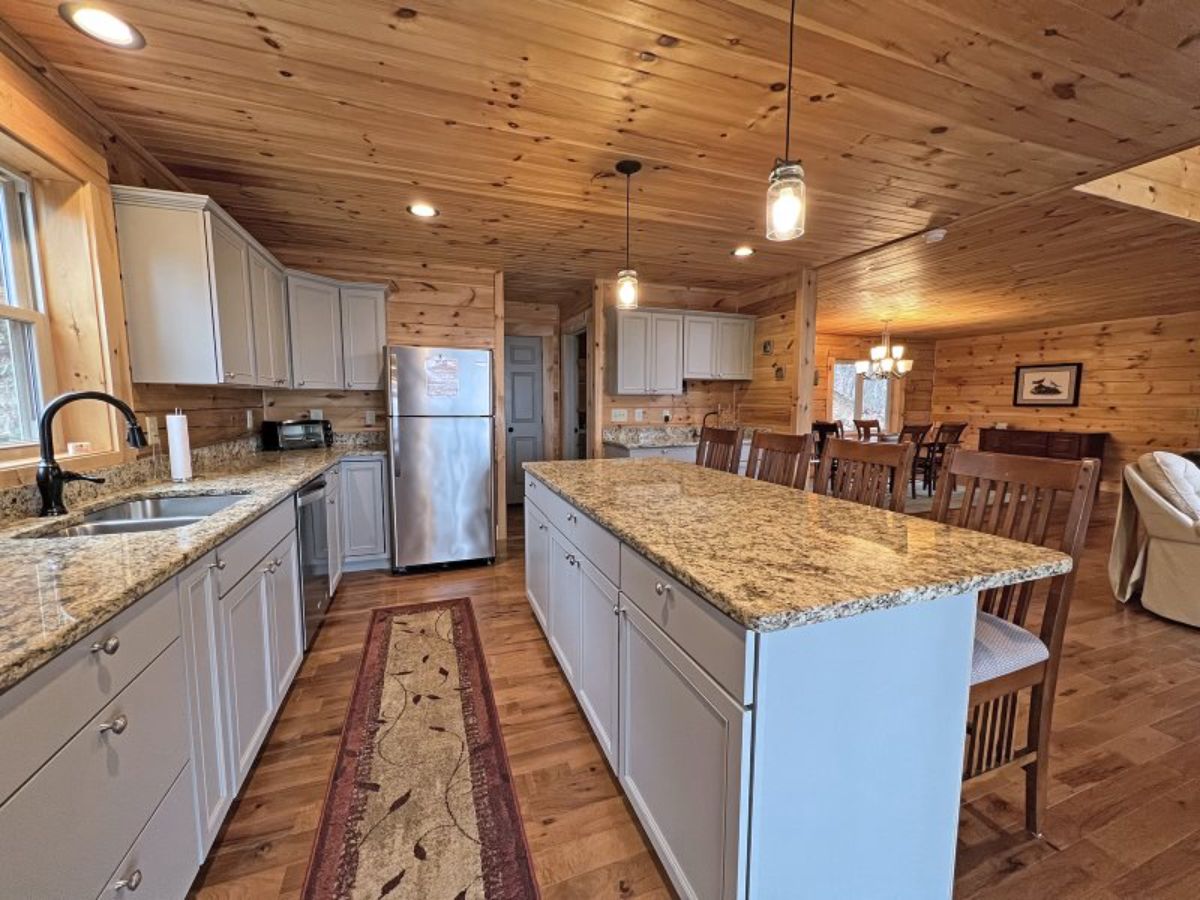 On the main floor, the master bedroom is a large open space with windows on sides, a sliding glass door to the deck, and room for more.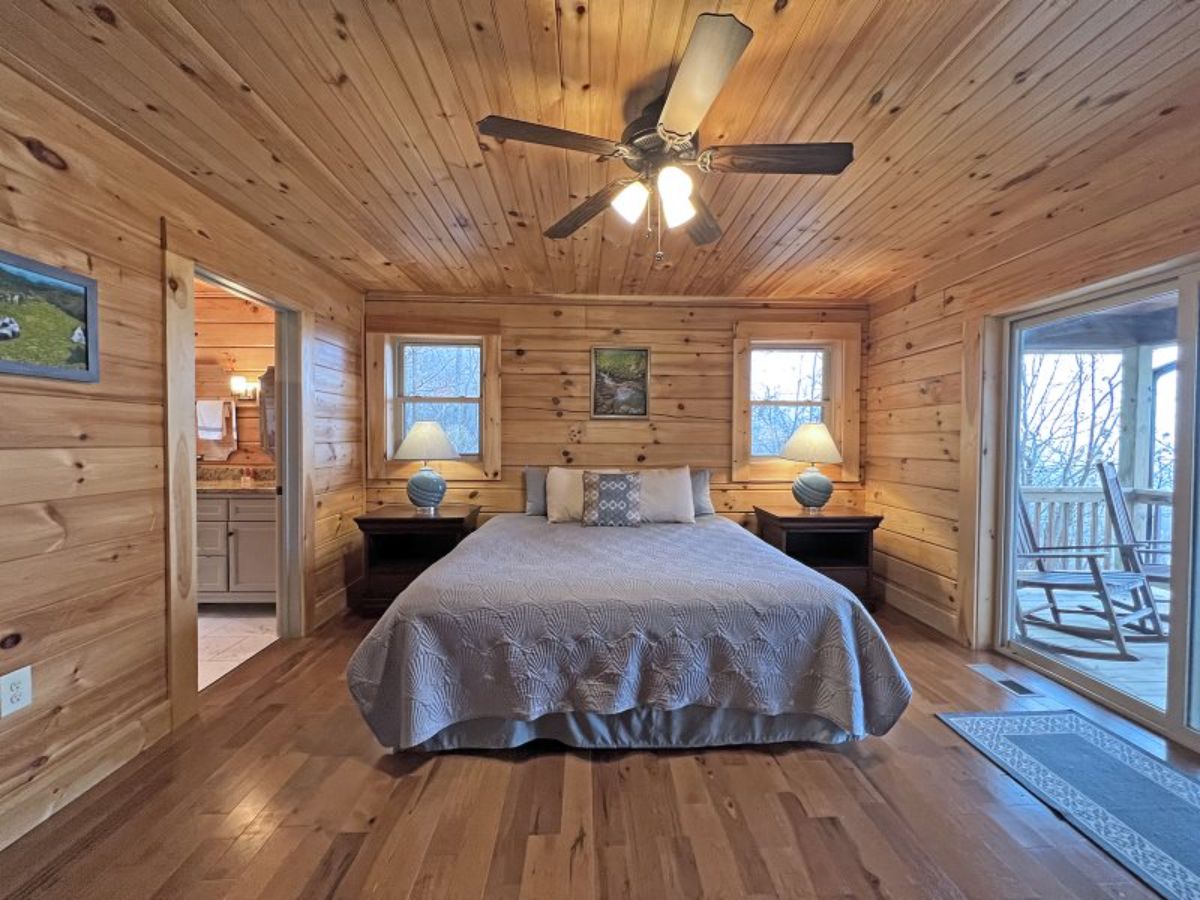 They have included a dresser in the corner and a closet is included for your clothing needs. Plus, this room also has a private television so you can retreat to your room for a movie in bed if wanted.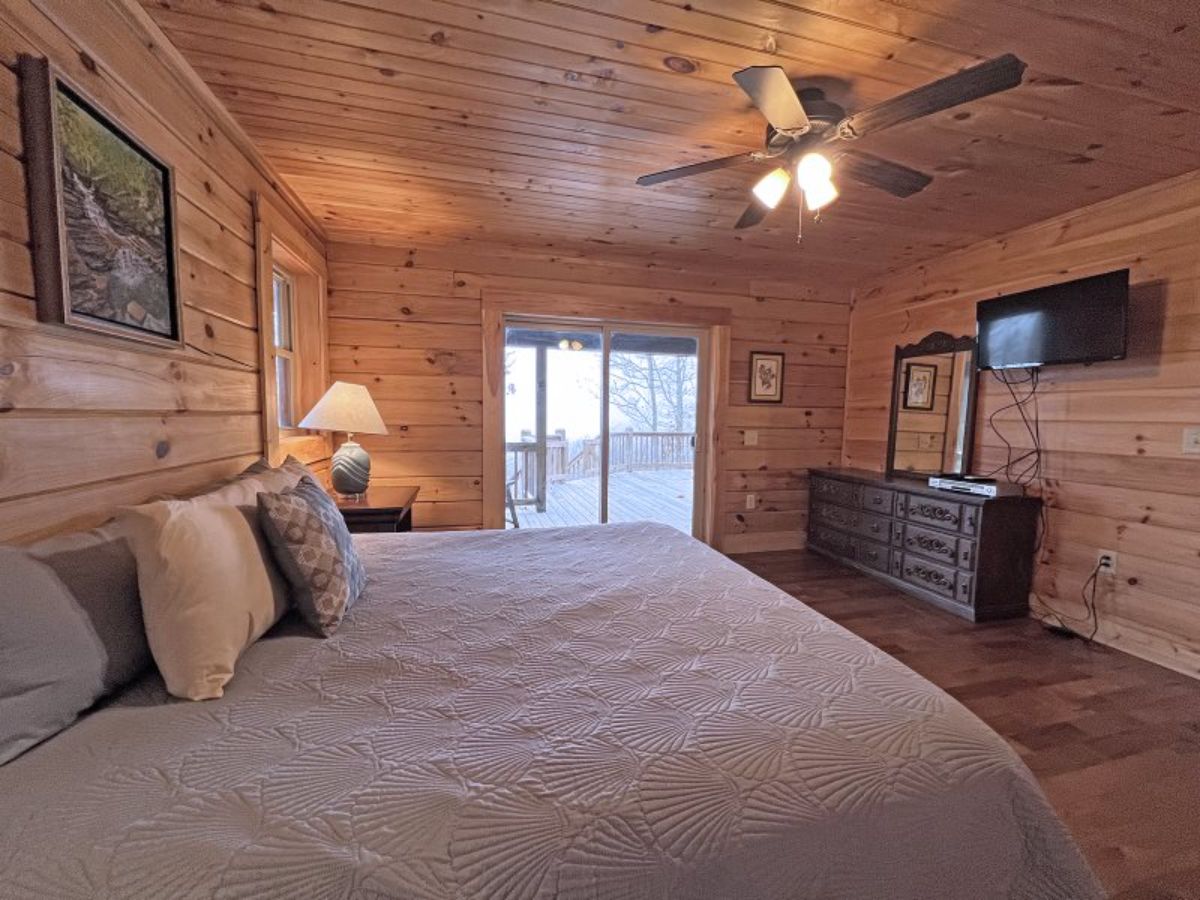 It's the master bathroom that is amazing to me. Granite countertops and grey cabinets match those found in the rest of the home. But, the soaking tub underneath the window is the true star.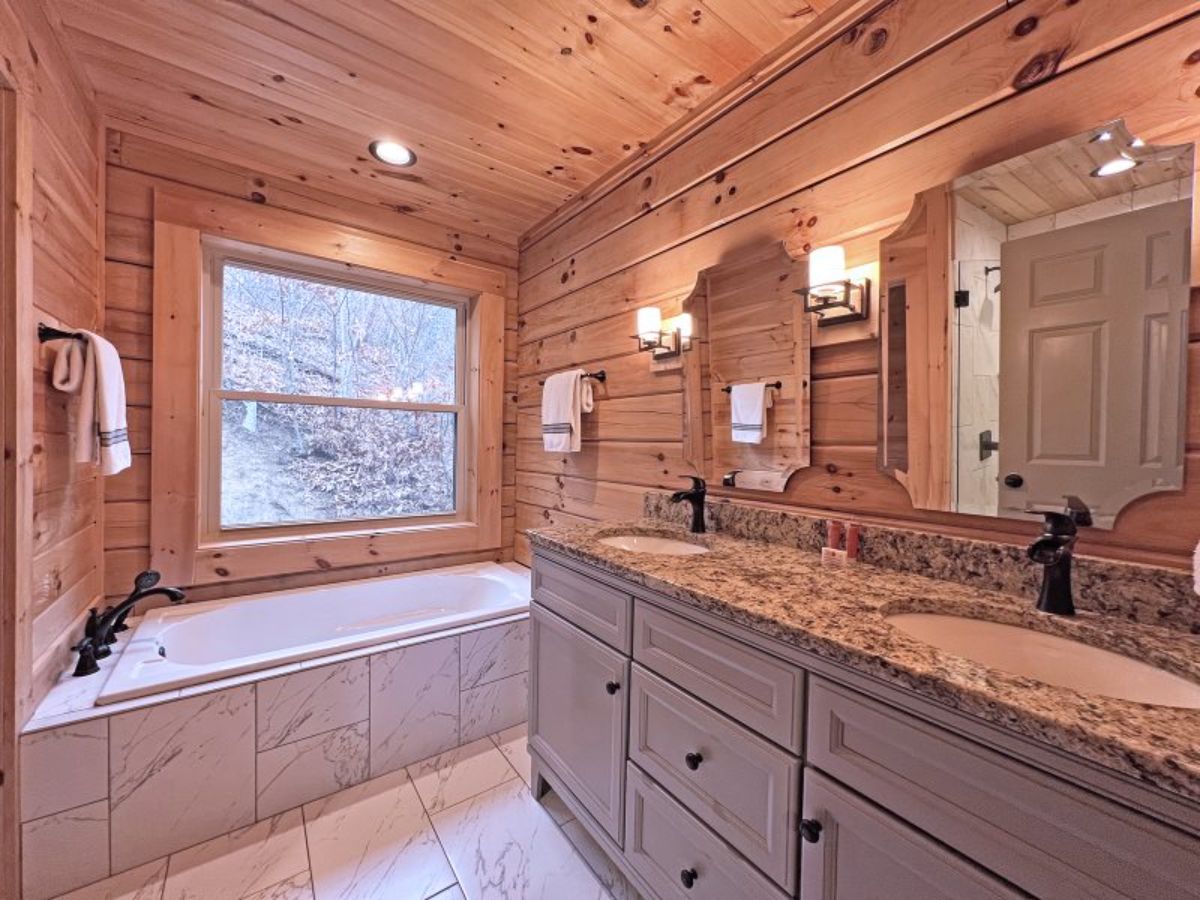 And a custom tiled shower on the other side makes this is large and open with a luxury style you are sure to love.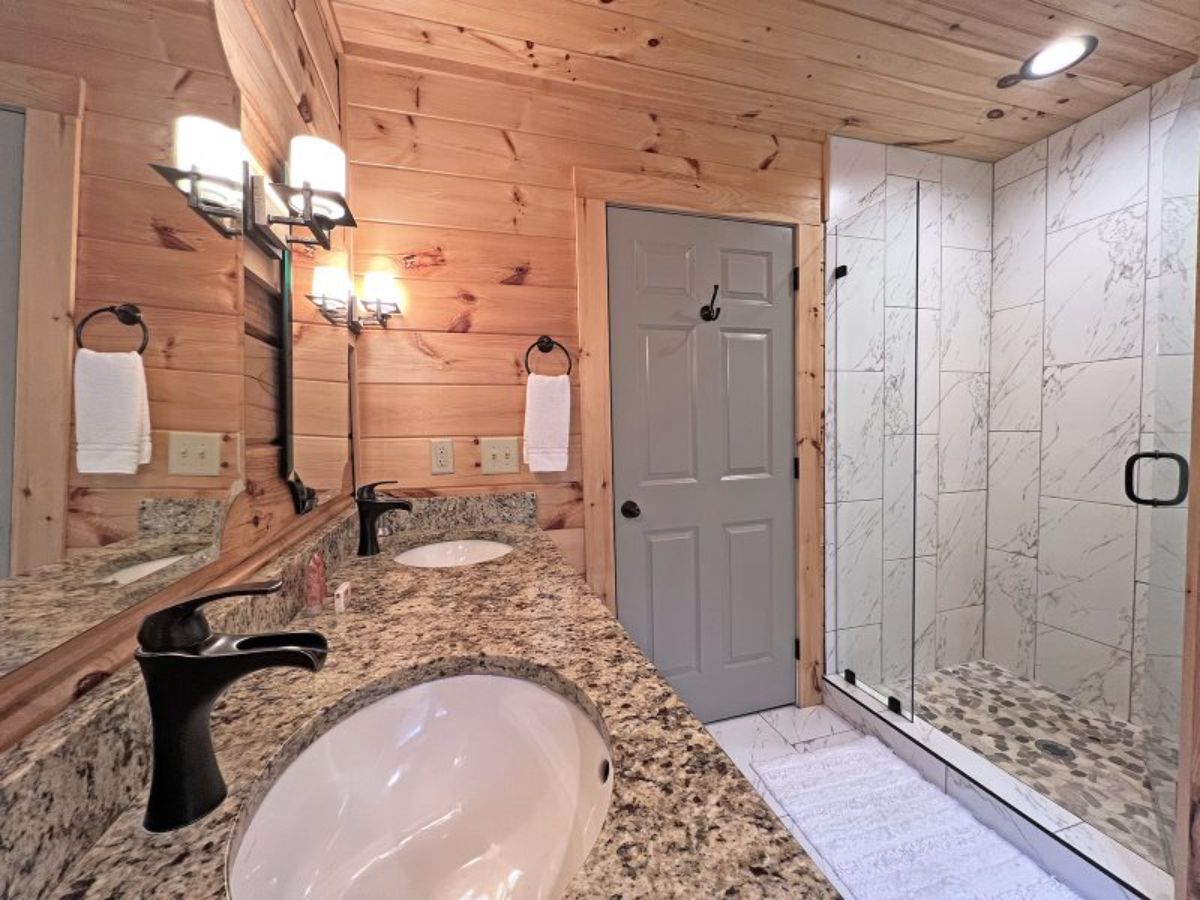 Upstairs a simple landing isn't as large as some but leads to the upper bedrooms, bathroom, and of course offers views to the main floor.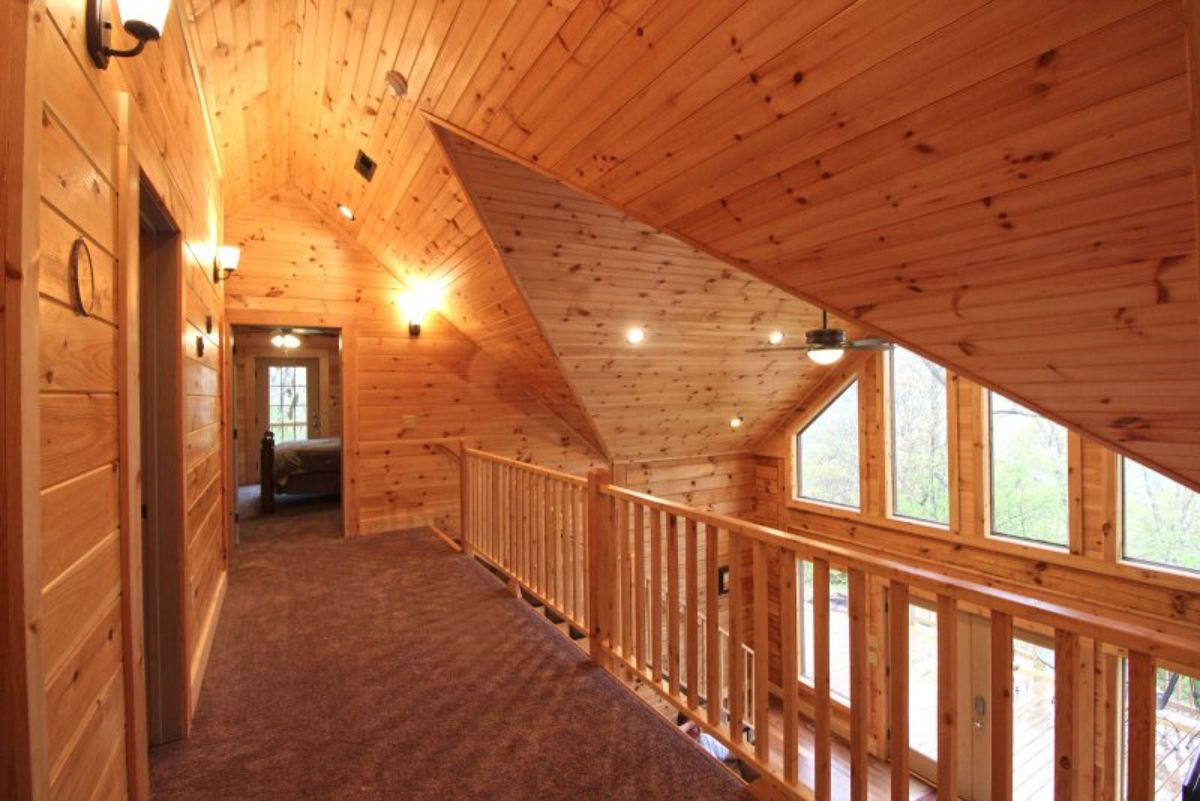 I love this view! It just shows how large the home really is and how much space you have to work with.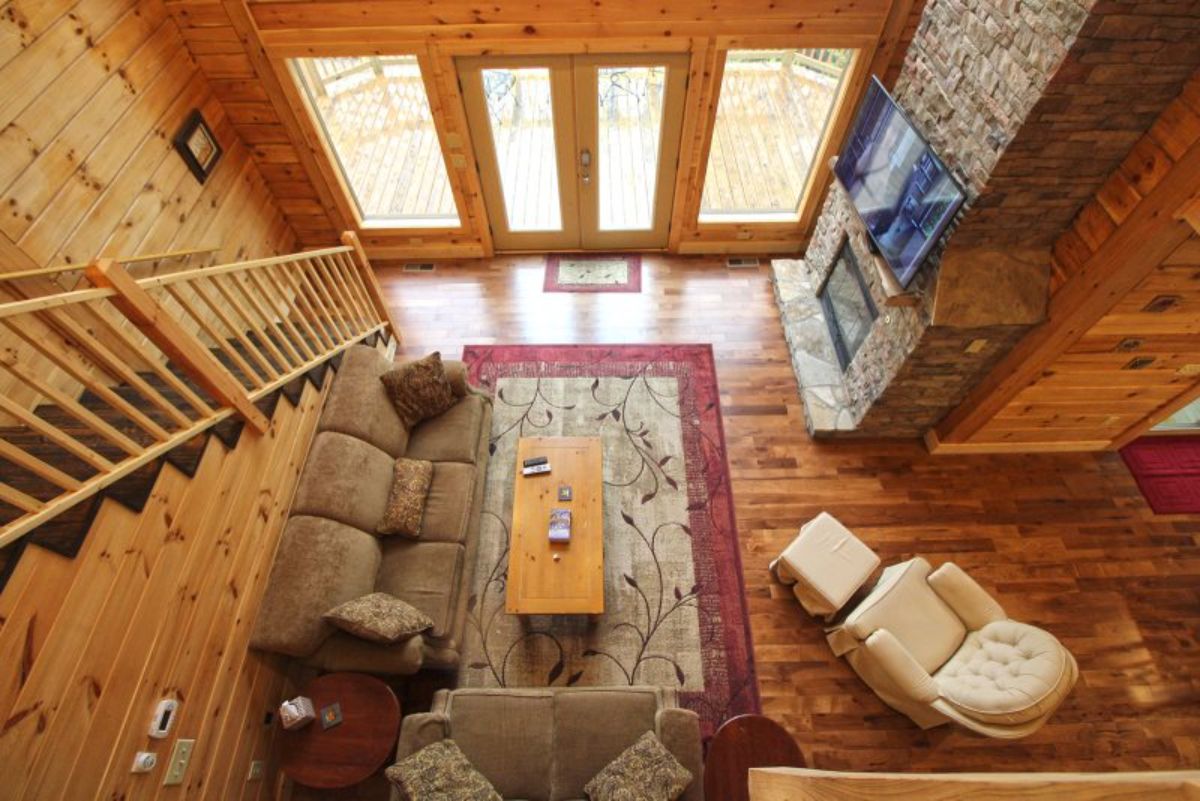 Upstairs are two bedrooms. This one has a nice large bed with a private balcony door off the side.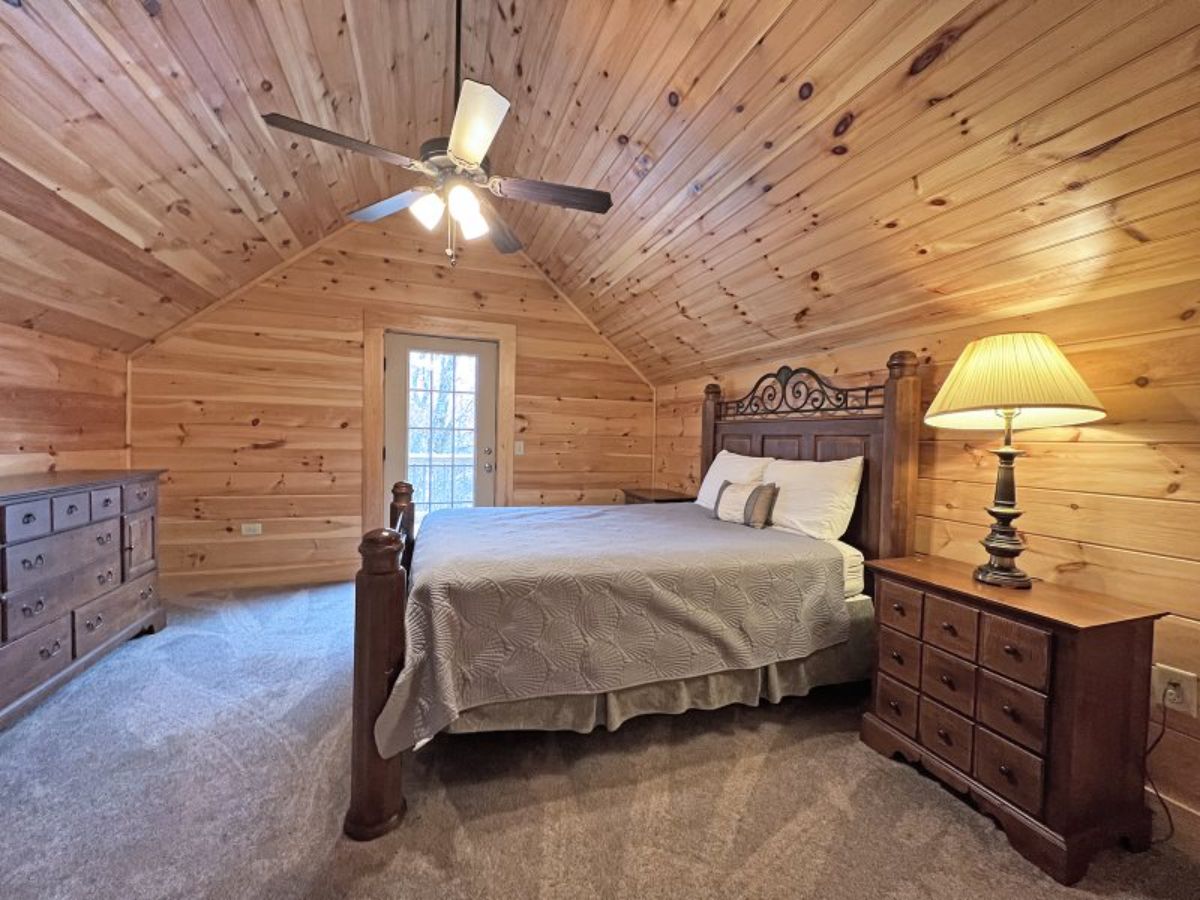 The second upstairs bedroom is designed more for kids with a set of twin bunks and a third twin bed against the opposite wall.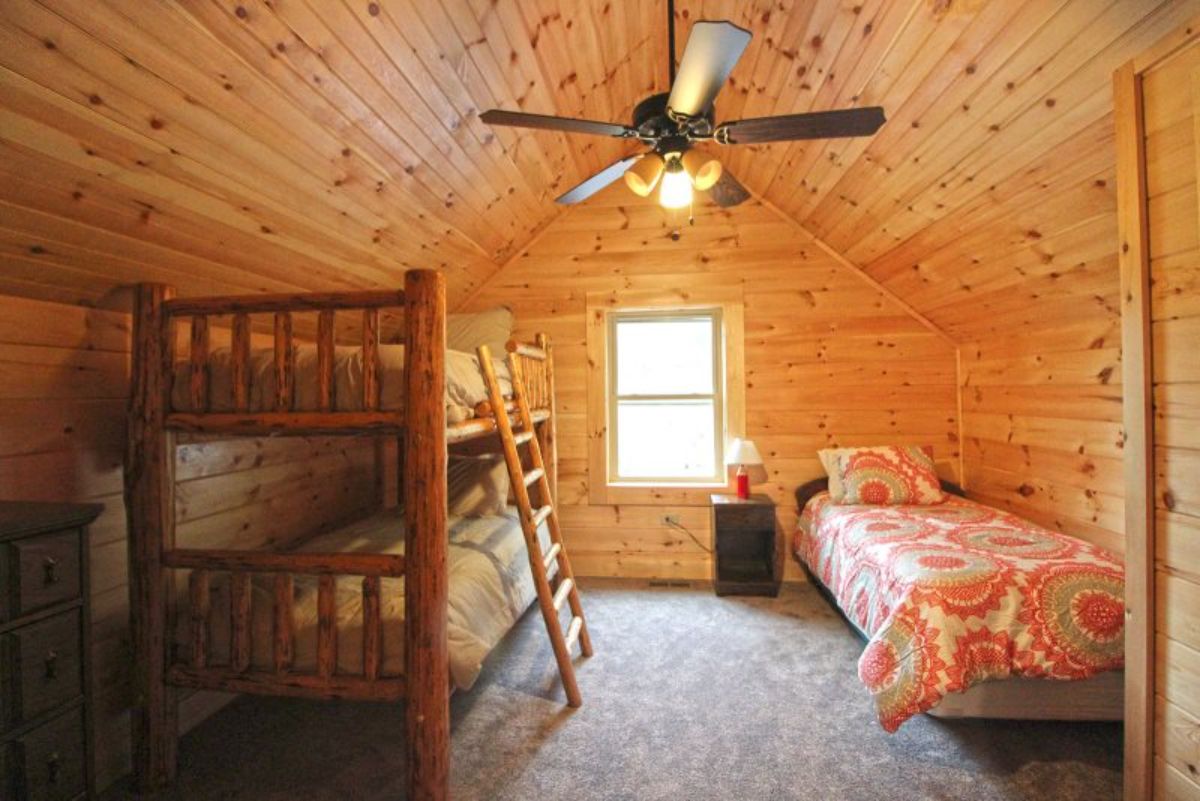 And the upstairs bathroom is unique as it sits between the bedrooms and has an arched ceiling, but has everything you need with a shower, bathtub, toilet, and vanity.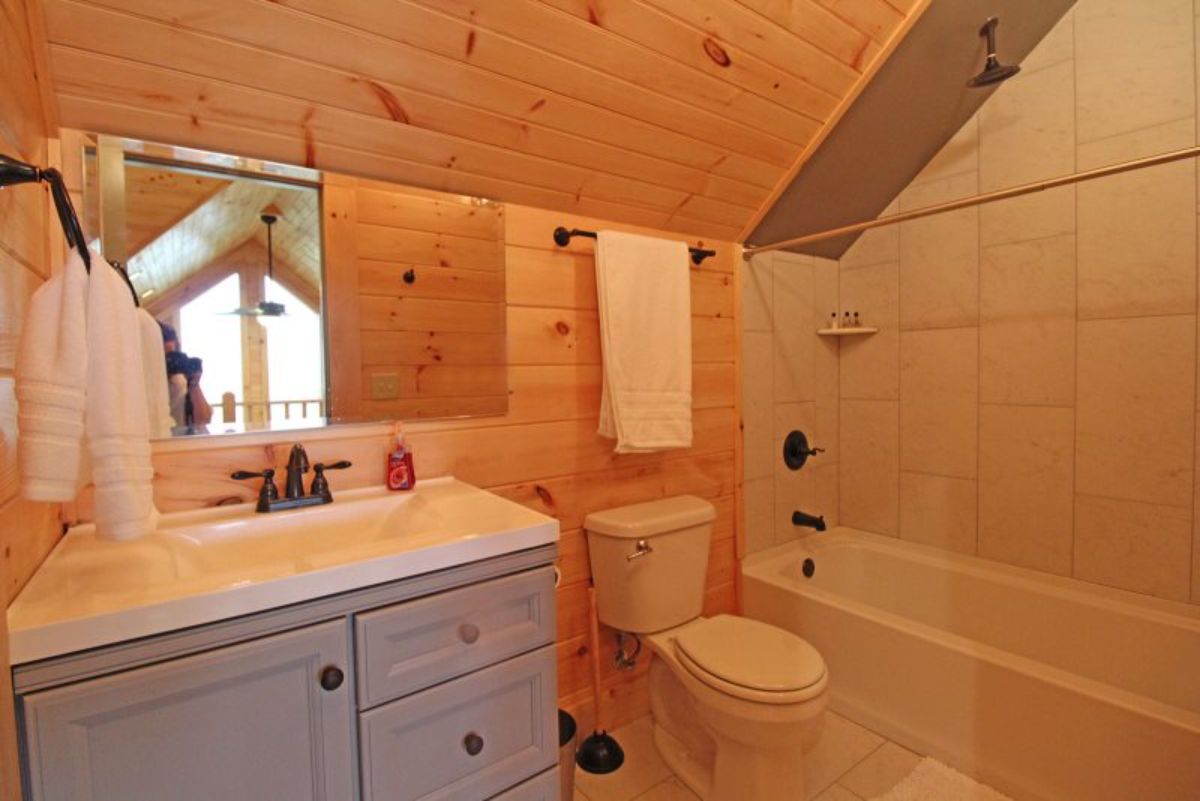 Other things we appreciate in the Lark are the beautiful decks outside with a combination of both covered and open spaces to relax.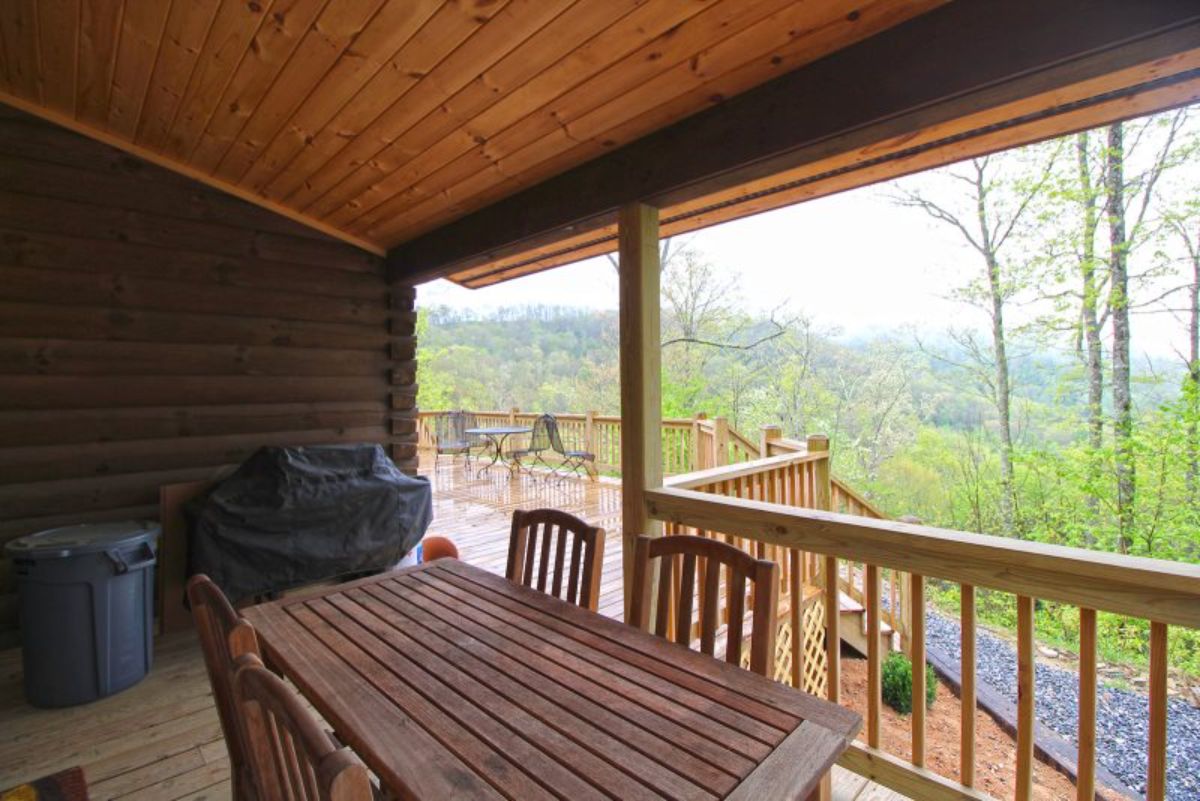 Look at that wide-open space! I love how it has so much room for a bistro set, picnic table, grill, or whatever you want to have on hand.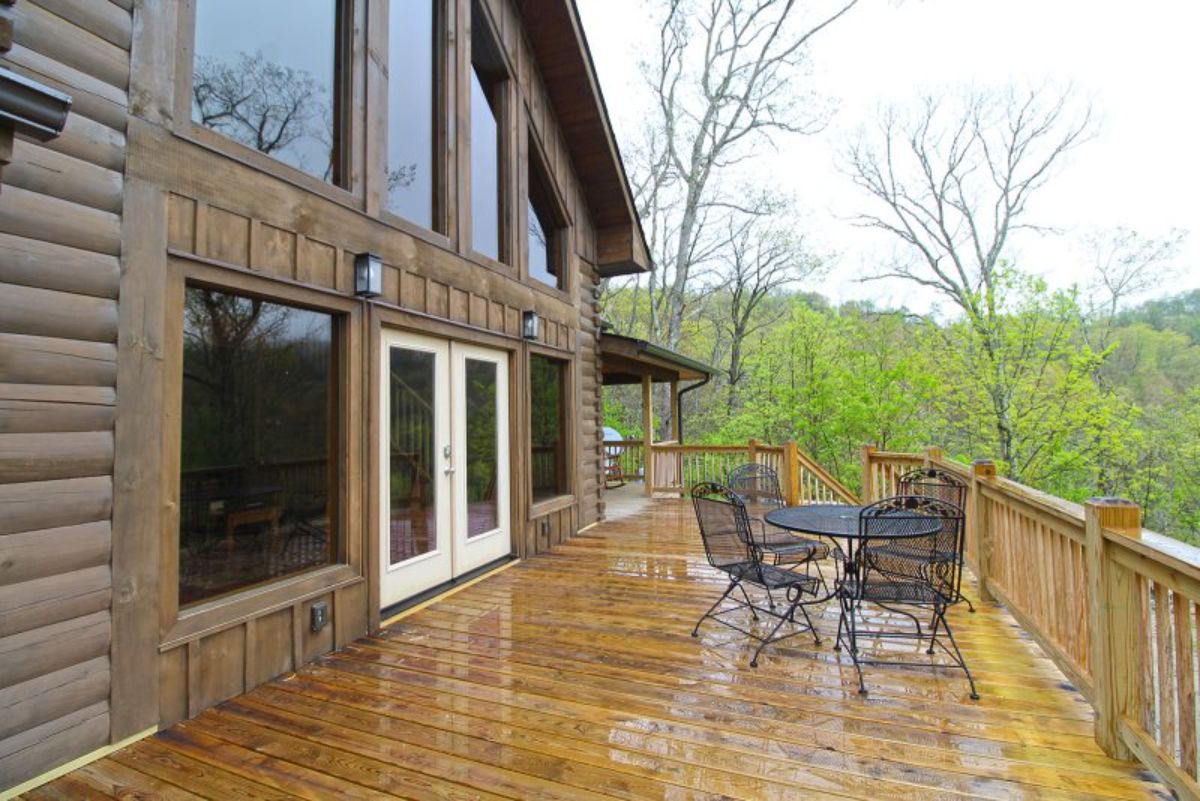 And of course, a short walk down the steps of the deck and you have a hot tub that is ideal for two to relax and watch the views outside.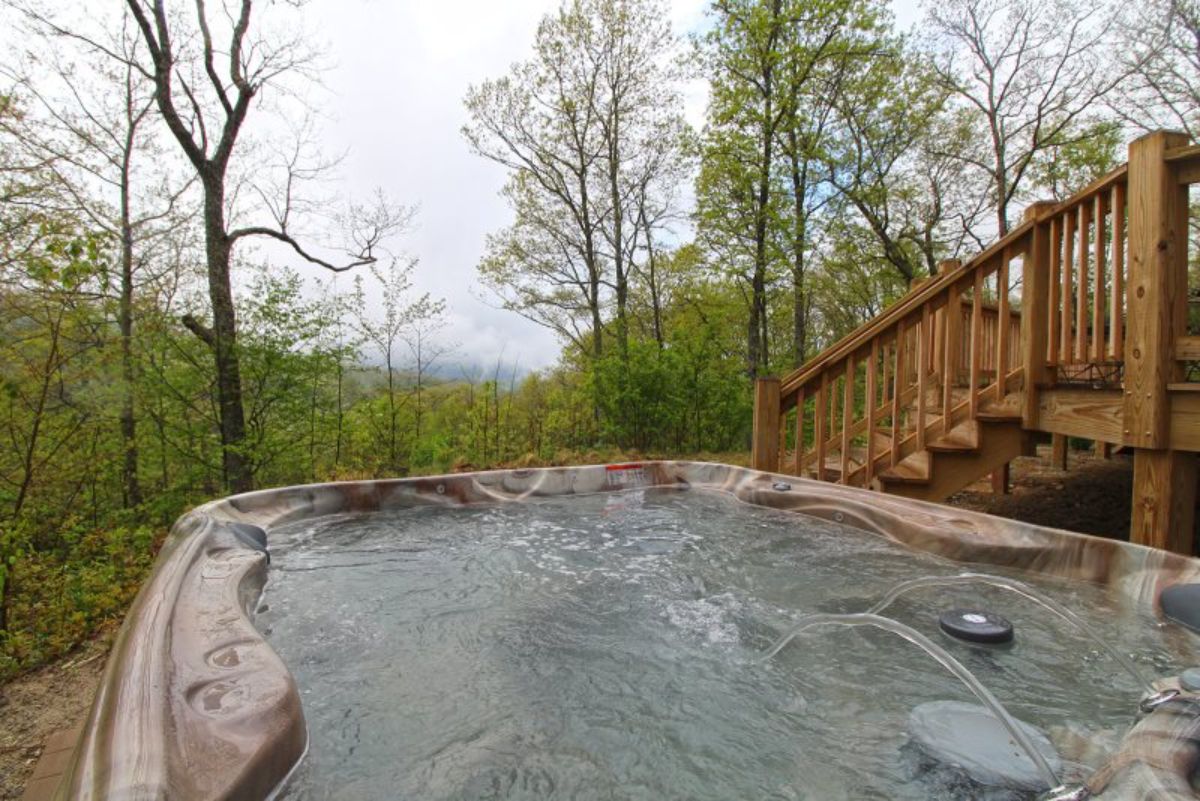 For more information about the cabin build, check out the full listing for the rental at Bryson City Rentals or the original build via Smoky Mountain Cabin Builders. You can also follow them on Facebook for regular rental updates. Make sure you let them know that Log Cabin Connection sent you their way.
More Log Cabin Kits and Tours