The Anson is a luxury family home with log cabin style. From the gorgeous siding to the pergola between the house and garage, this home is the epitome of updated modern style. You'll love the expansive layout with a walkout basement, large open decks, and plenty of room for all of your toys!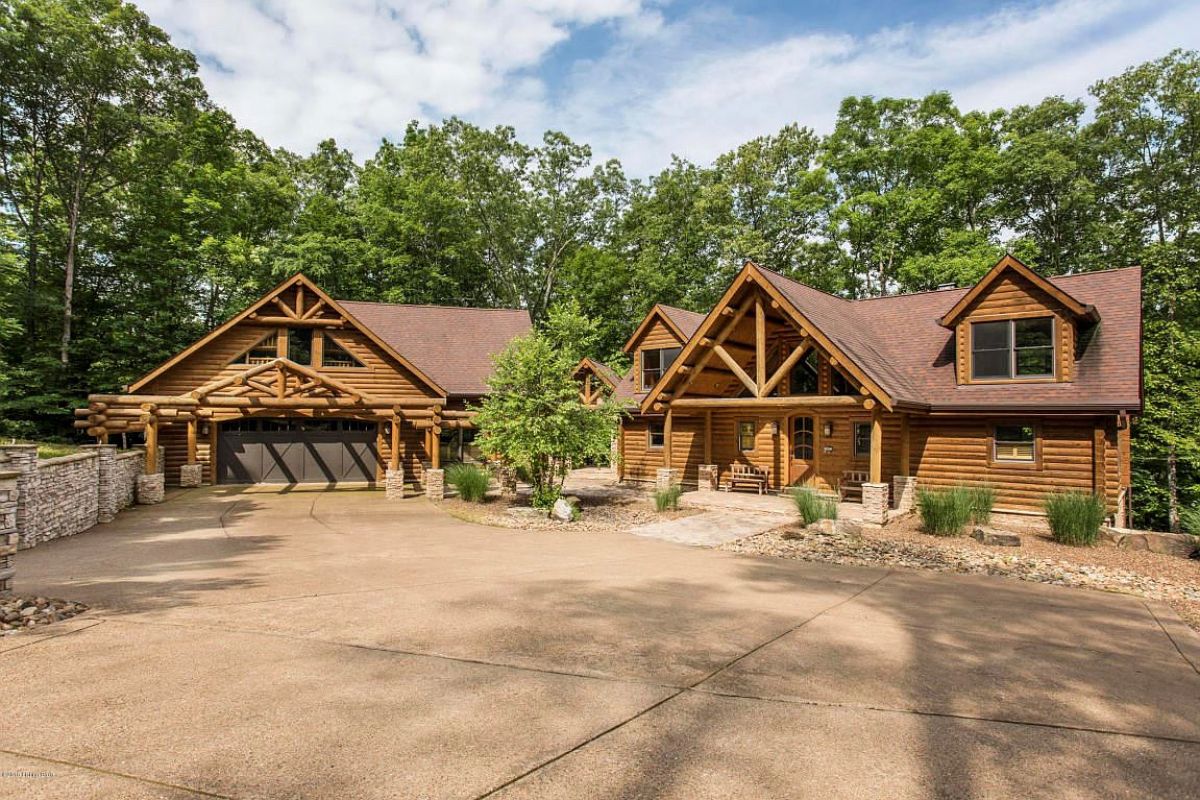 The entry to the log cabin is just off the driveway with beautiful rock and shrubbery landscaping. A minimalist approach to the front of the home is ideal since this build is on a hill.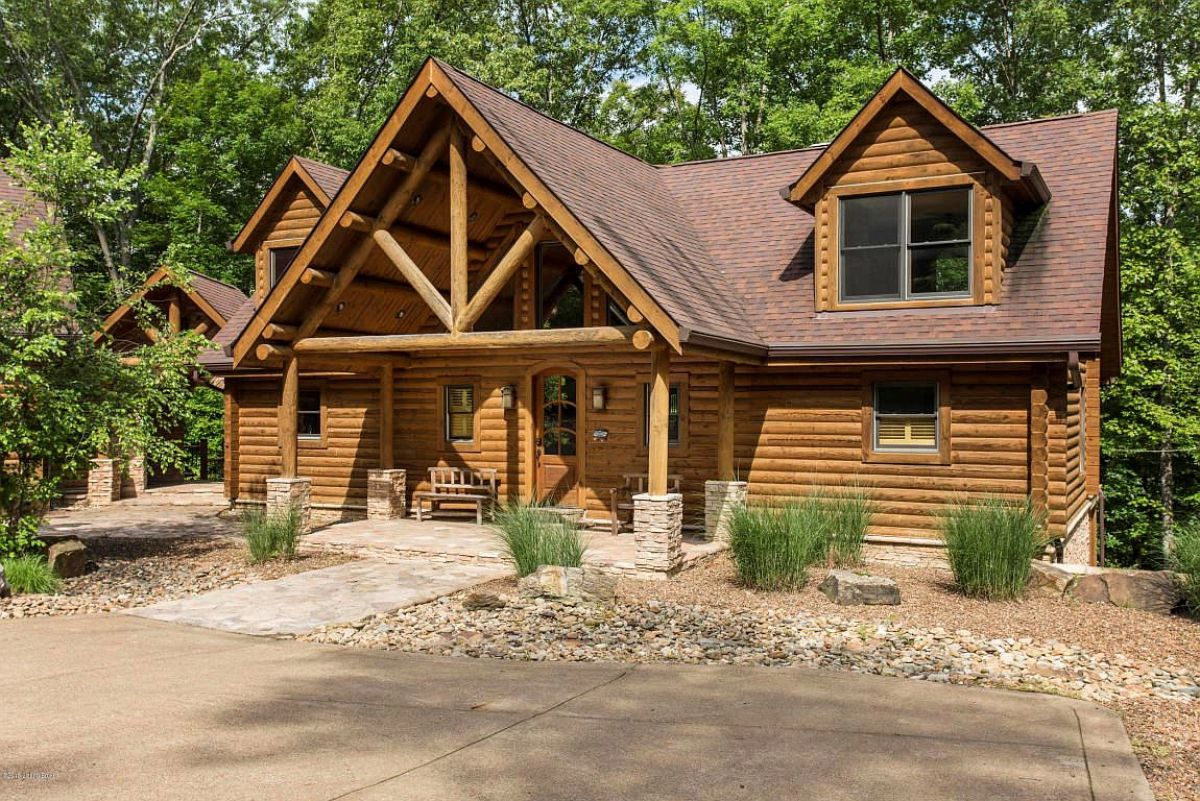 One of my favorite parts of this particular build is that the house and garage, while not completely attached, are connected. This breezeway between the two buildings is open in the middle with gorgeous stonework arches, and a covered roof to give you access to both buildings as well as the back patio and property.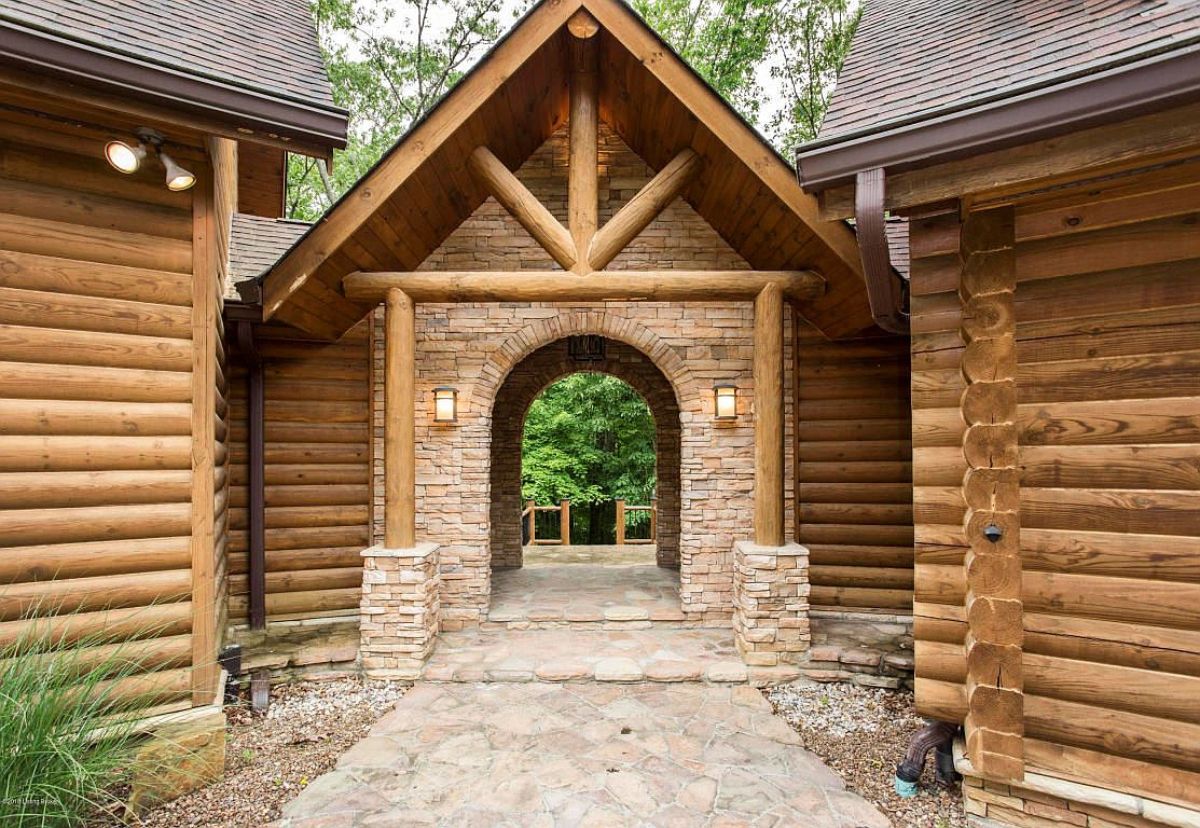 Another beautiful addition is the stone walkway between the two buildings. Above it sits a pergola that is a fun way to add rustic looks to the space while also giving a semblance of cover. I love the idea of planting ivy to wind over these boards.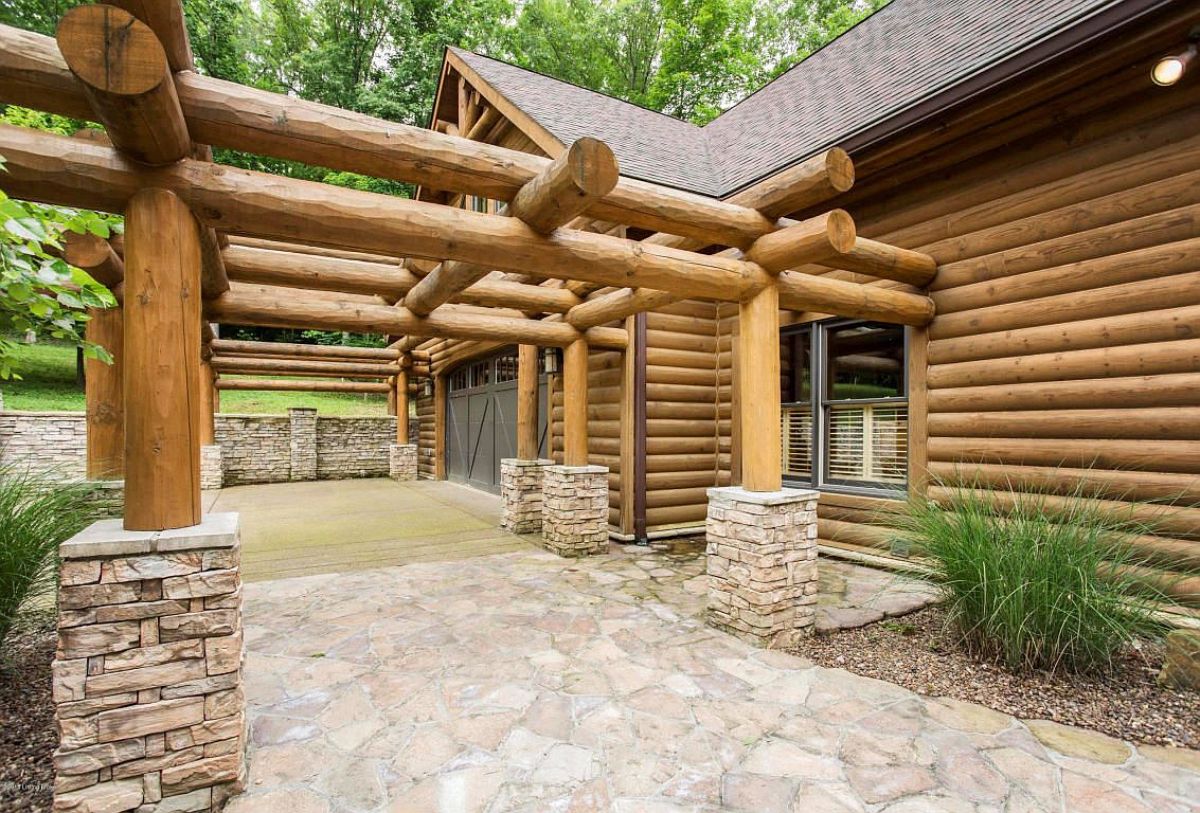 The garage space is large enough for 3 cars, or as this family chose, 2 cars and a few "toys" such as these jet skis.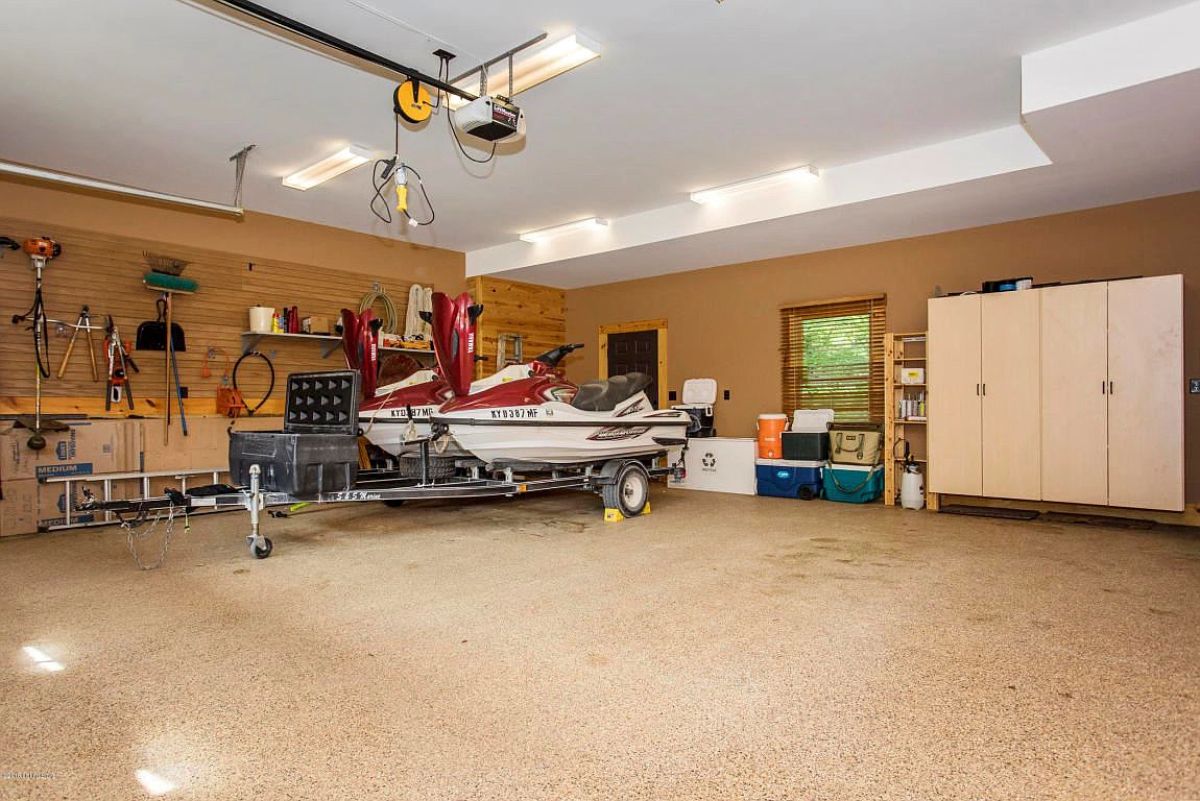 The home sits on a hill with the basement and lower level below. On this side, the rock foundation of the home includes an additional door that opens up for below-home storage. It could be used for additional garage space or just build out as an extra room for guests.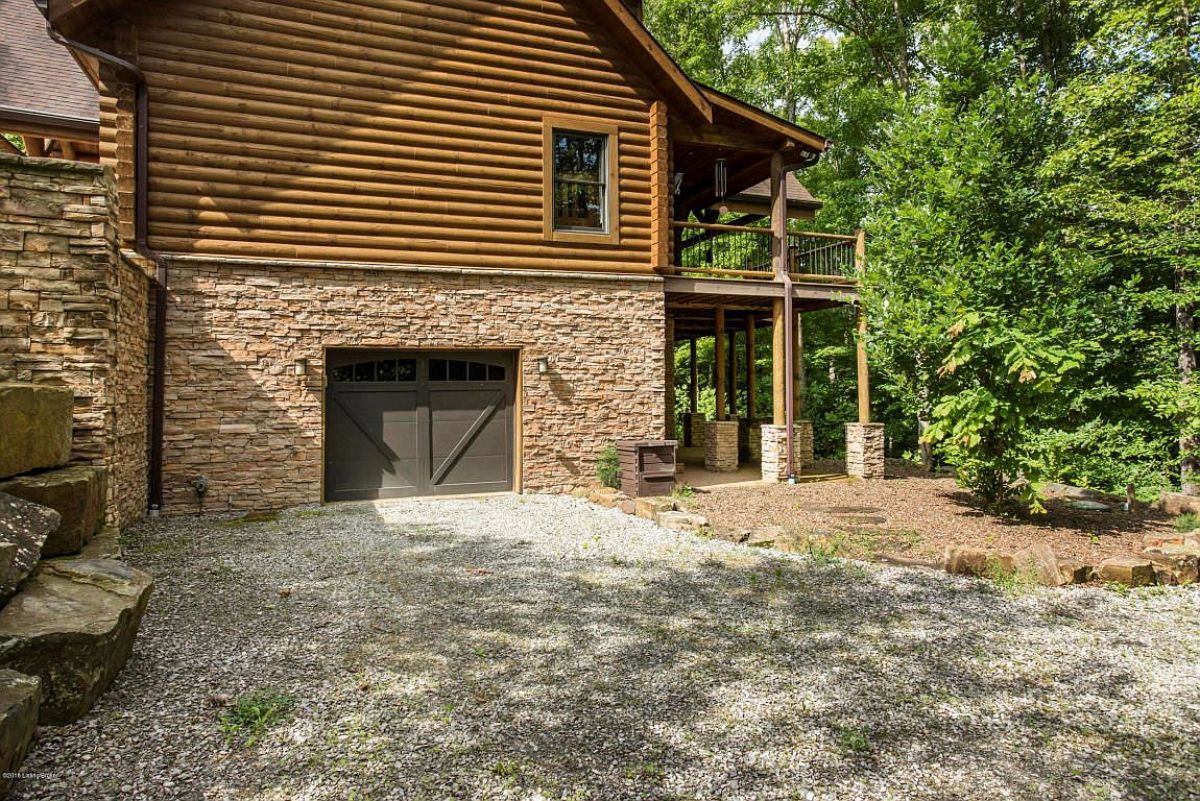 Along the back of the home are multiple open and covered decks, along with the walkout basement below and a unique outdoor shower just below. The home is built with family and fun in mind so all of the spaces are ideal for entertaining.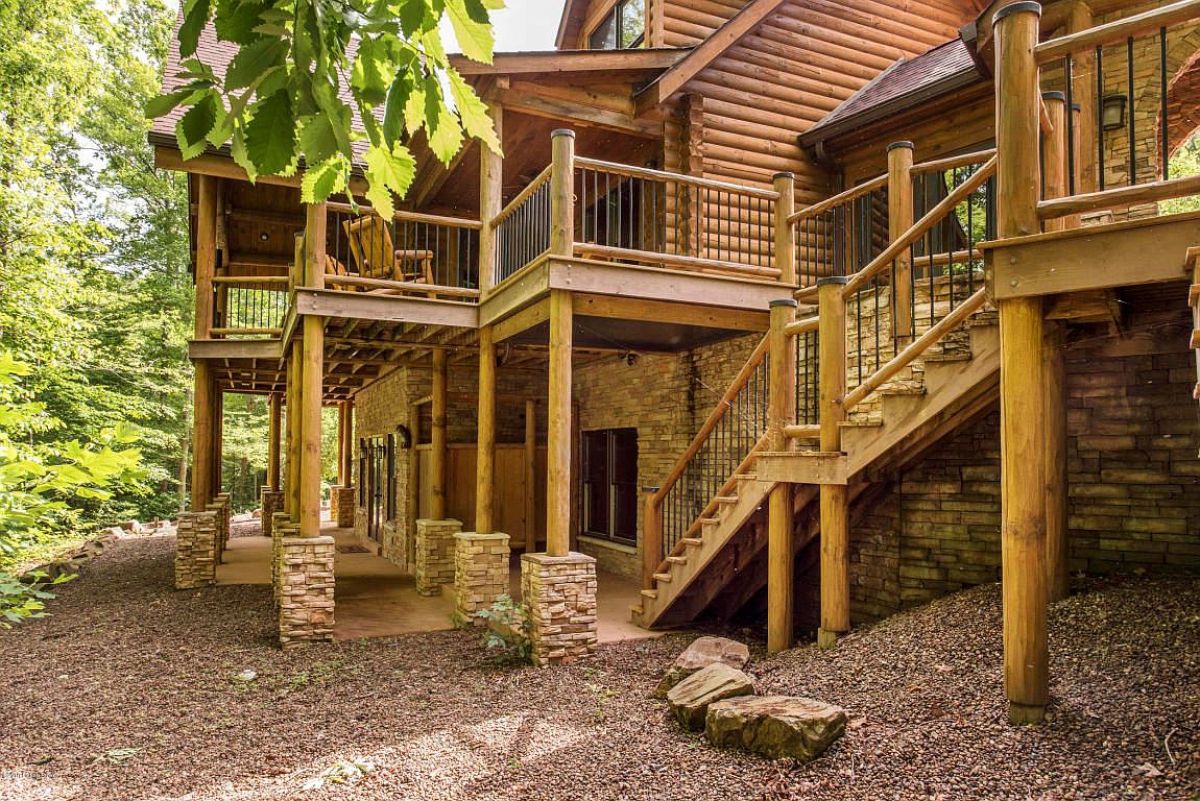 You can see even more of that gorgeous stonework from the image below. I love how the home combines function and beauty together to create a luxury space that is welcoming to everyone.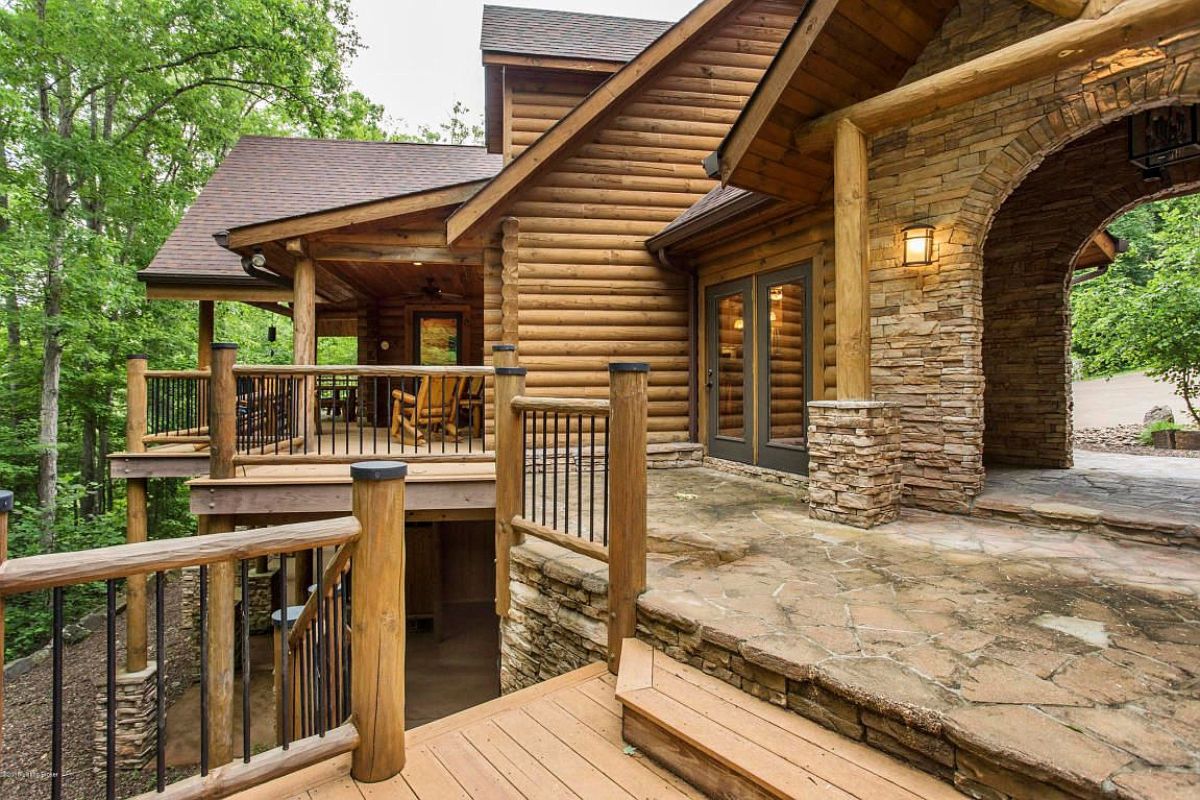 These decks and porches are ideal for enjoying the beautiful terrain and gorgeous treelined back yard.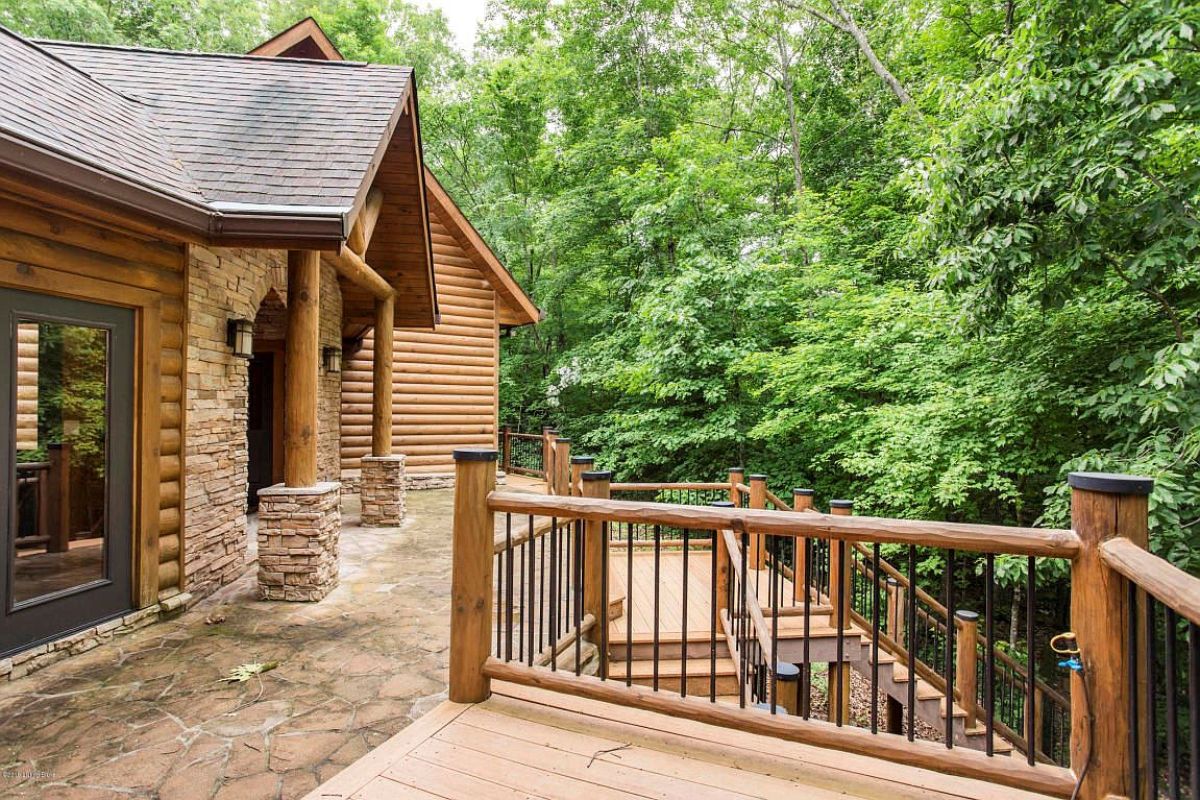 Adirondack chairs are one of my favorite additions to any deck, and this one is the perfect space for them to sit and relax in for hours.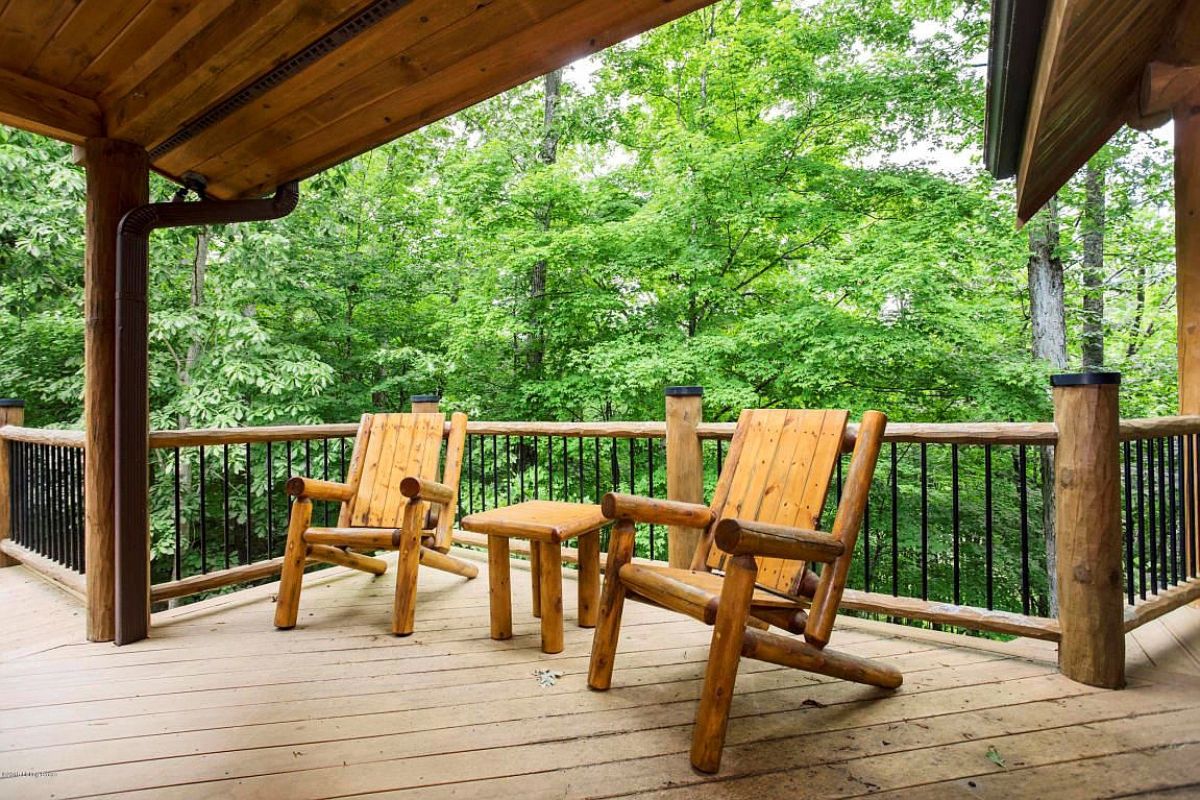 These owners have even added a beautiful picnic table here just outside the windows. Ideal for those summer weekend barbecue events with friends and family.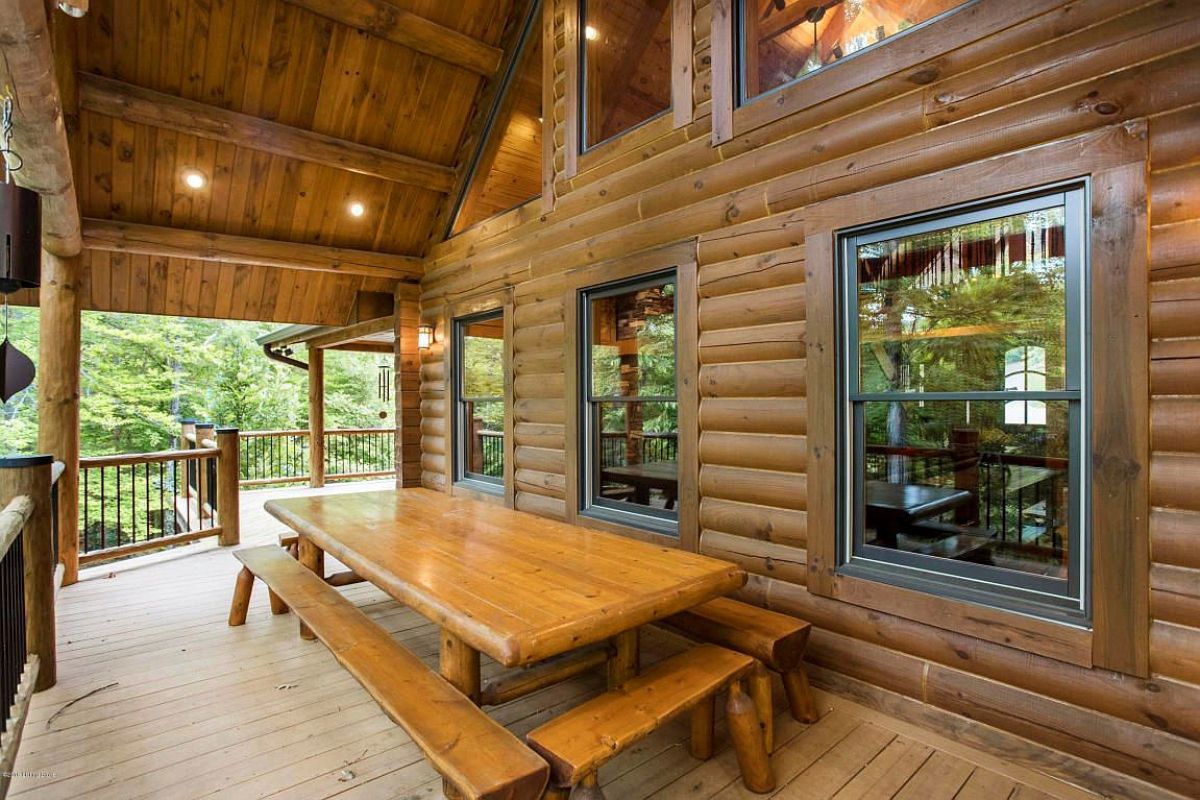 Inside this build is a space just as beautiful as the outside, with all of the modern comforts you know and love. This entryway is just a piece of what you will find here with beautiful light wood stairs, iron spindles, and light blue wall accents.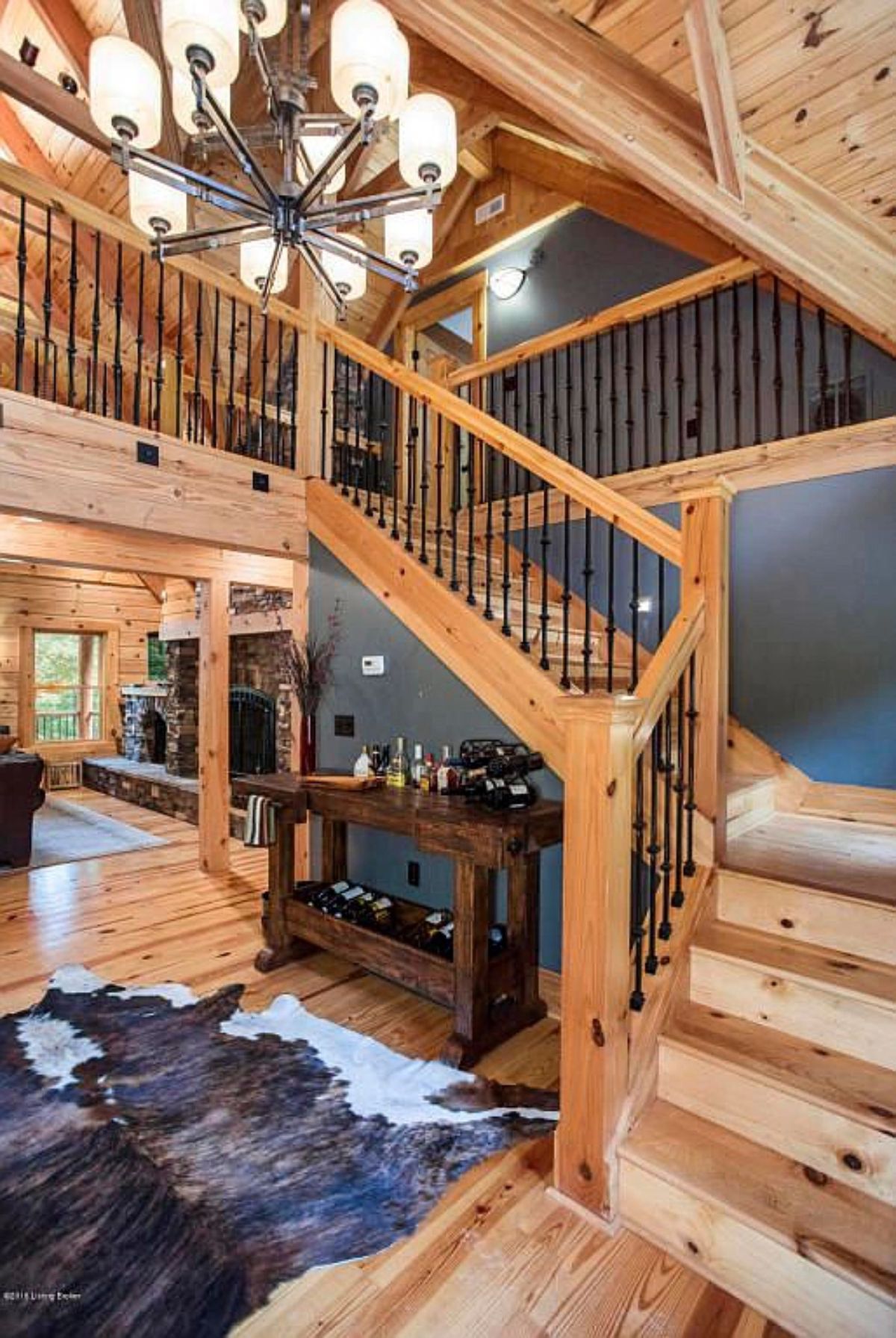 Below you can see the living space with a large dark brown leather sectional sofa that faces the big fireplace and a television to the side. Plus, just outside those windows is the wooden picnic table you saw above.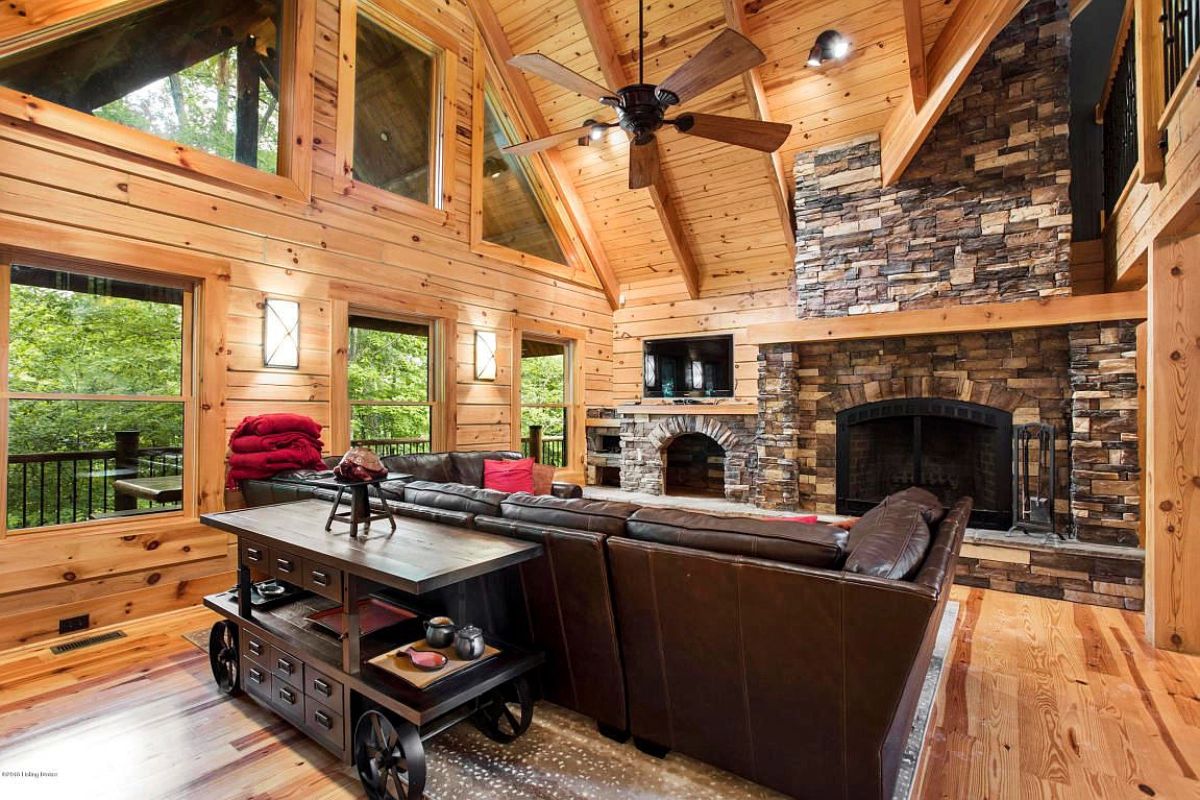 Classic stonework surrounds the fireplace with a brick interior and a small arch beside it for holding wood. I love that they have added a shelf for the television just to the side.
From the image below, you get a look back toward the entry door with a small bar just inside, and the kitchen to the far right.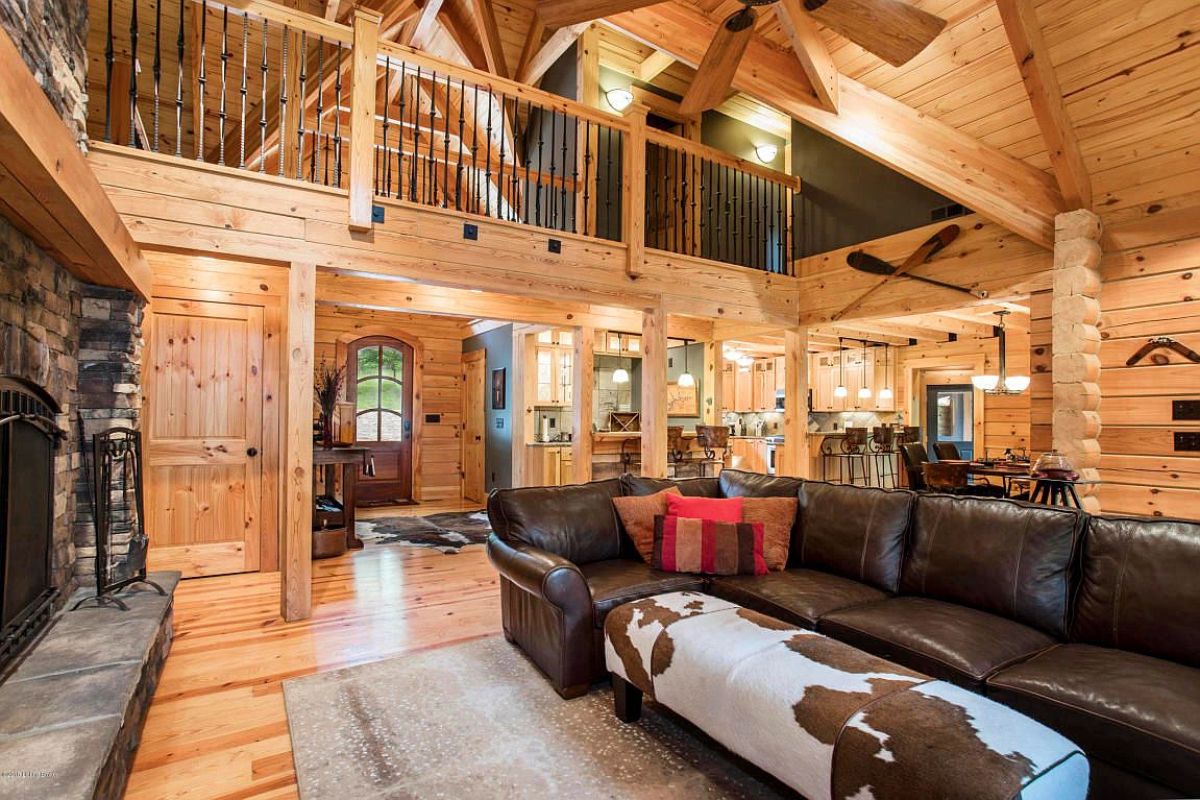 I love how this home has a separate bar area that is near the living room and kitchen, but still separate.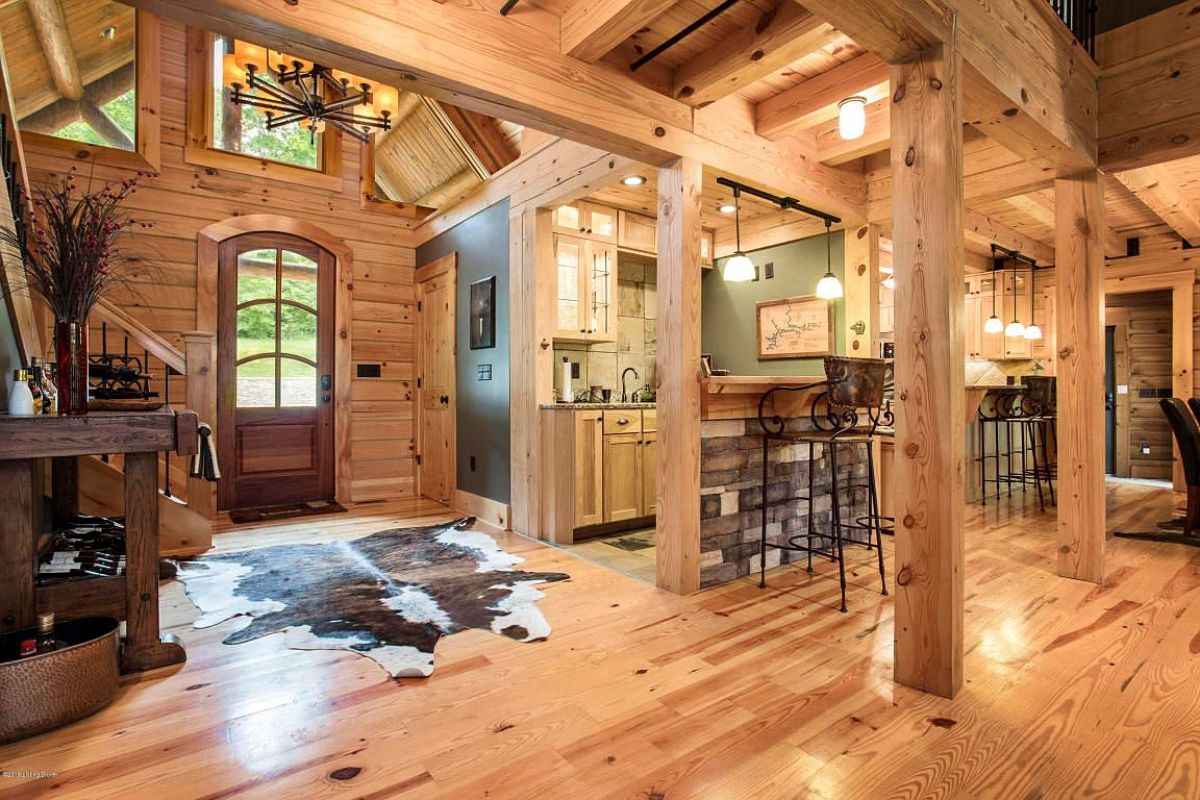 A small bar has storage, a cabinet with wine glasses, a stone veneer on the front, beautiful rustic stools, and of course, the sink for cleanup.
Around the corner, the kitchen is a large open space with light wood cabinets, gray tile, and stainless steel appliances. From this angle, you can also see the door to the breezeway just in the back right corner.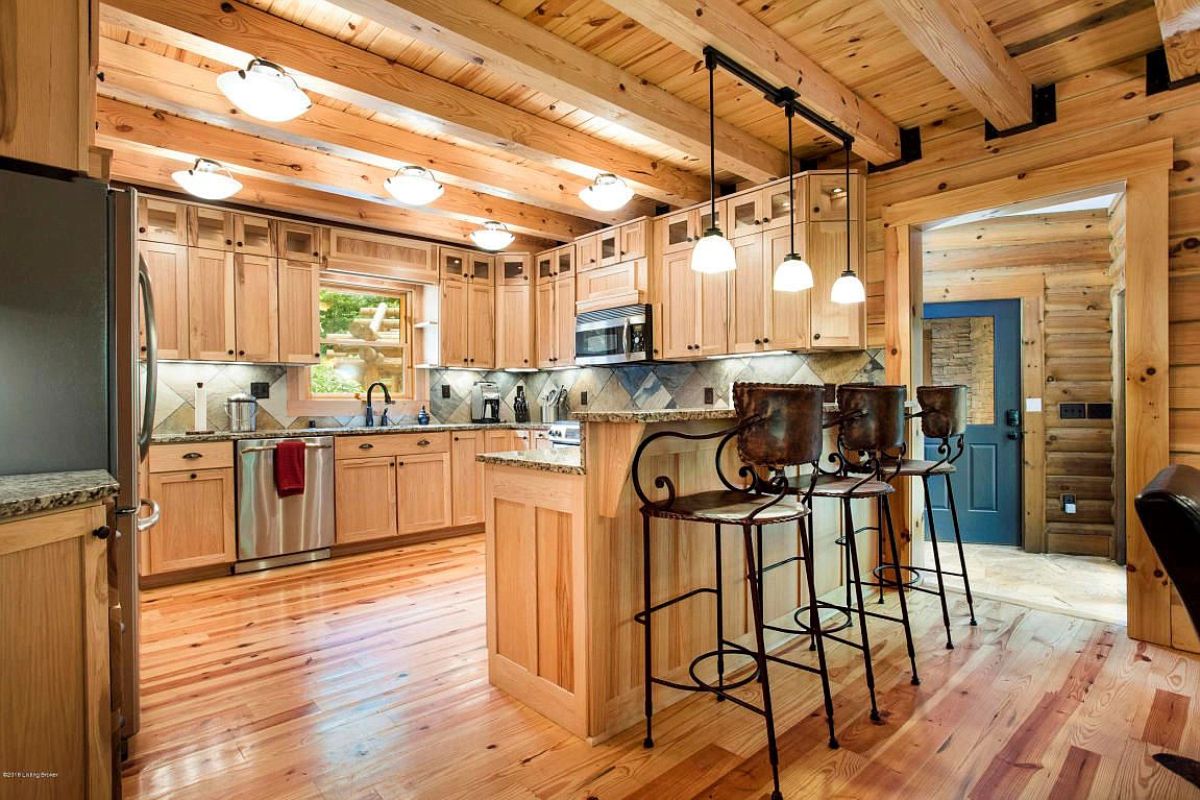 I wide U-shaped kitchen gives tons of counter space plus room to walk around. This is definitely a kitchen more than one cook can work at the same time comfortably.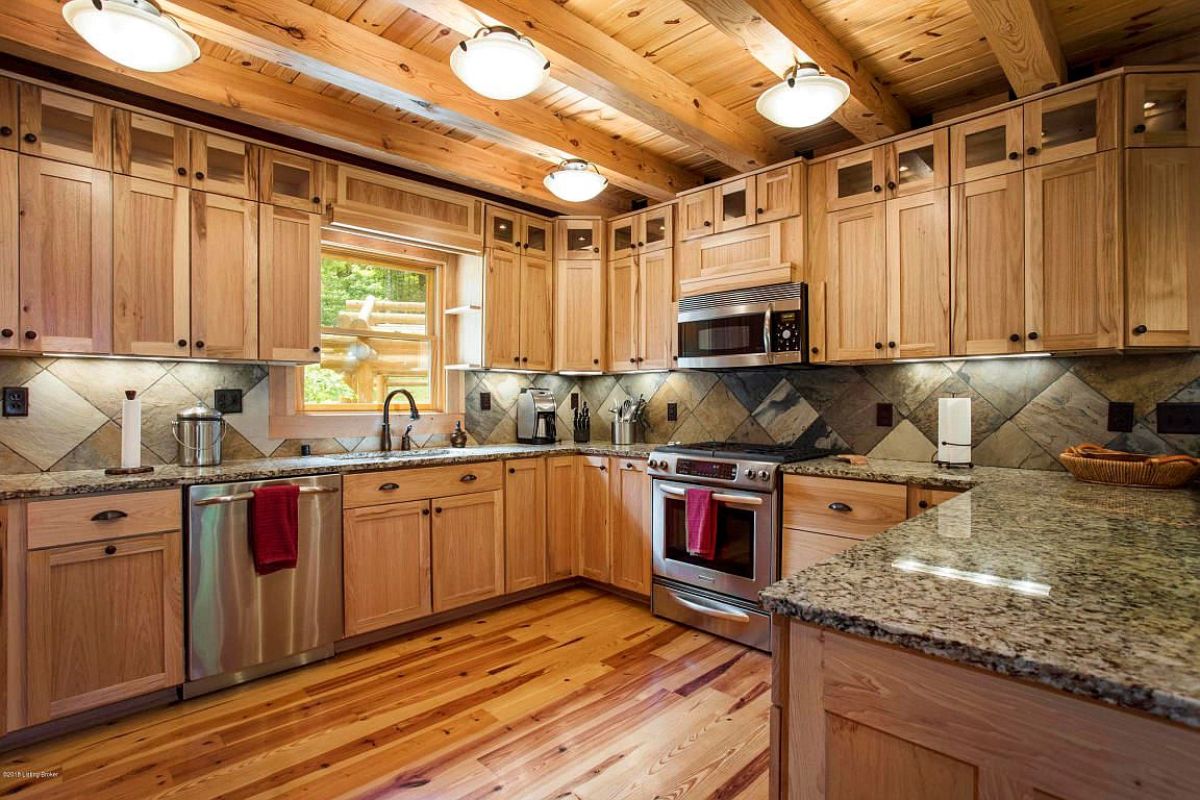 And a dining room just behind this space makes serving meals off that bar/buffet super easy. Especially when guests have come to visit.
I absolutely love the table with these leather-backed chairs. They are beautiful and modern, while still matching the rustic style of the rest of the home.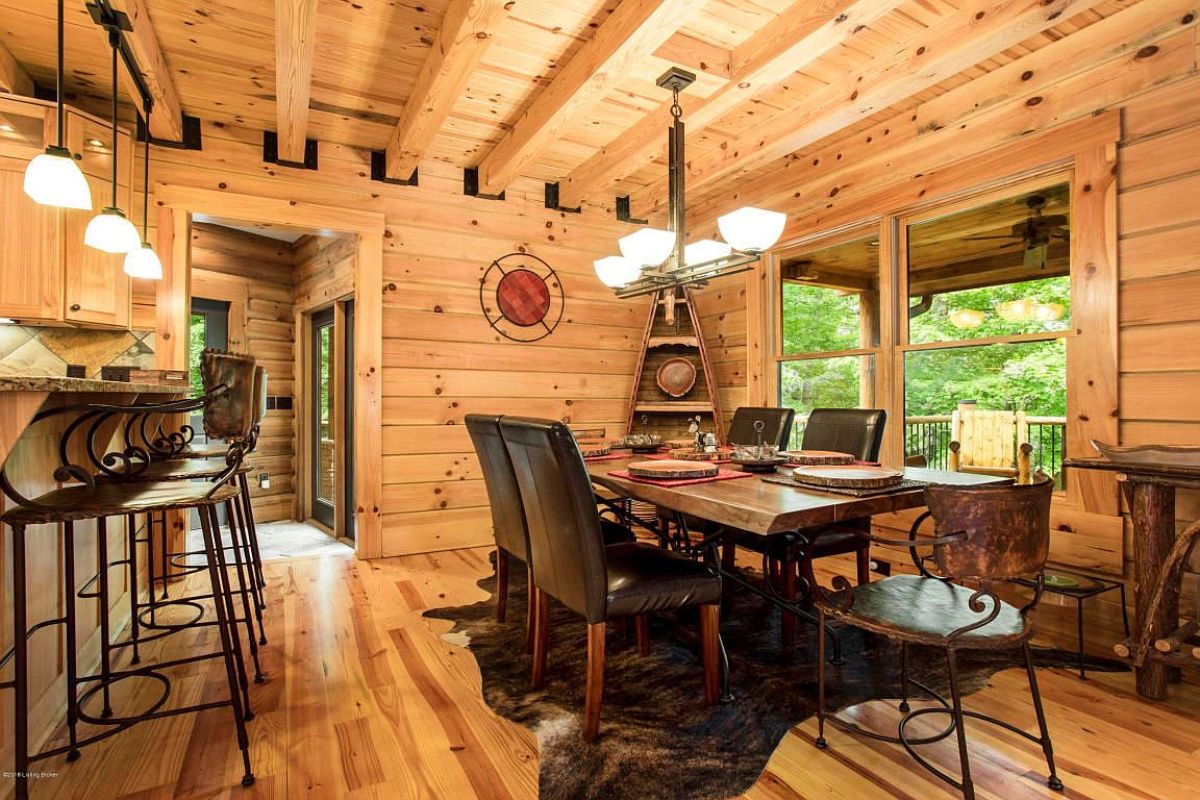 Looking down at the table you see their rustic addition of these wood slice plates and serving platters.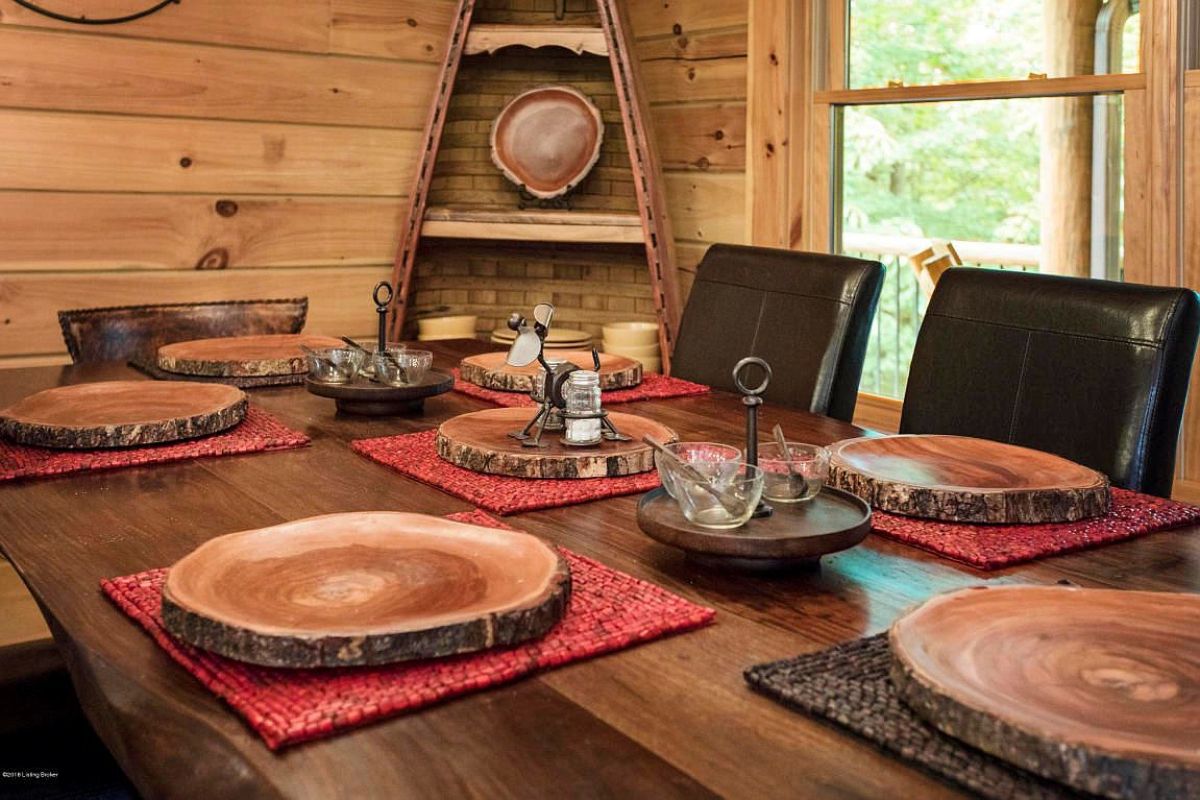 Around the corner is a large refrigerator that is in addition to the one in the kitchen. Alongside this, you have a laundry room with extra storage cabinets and a utility sink.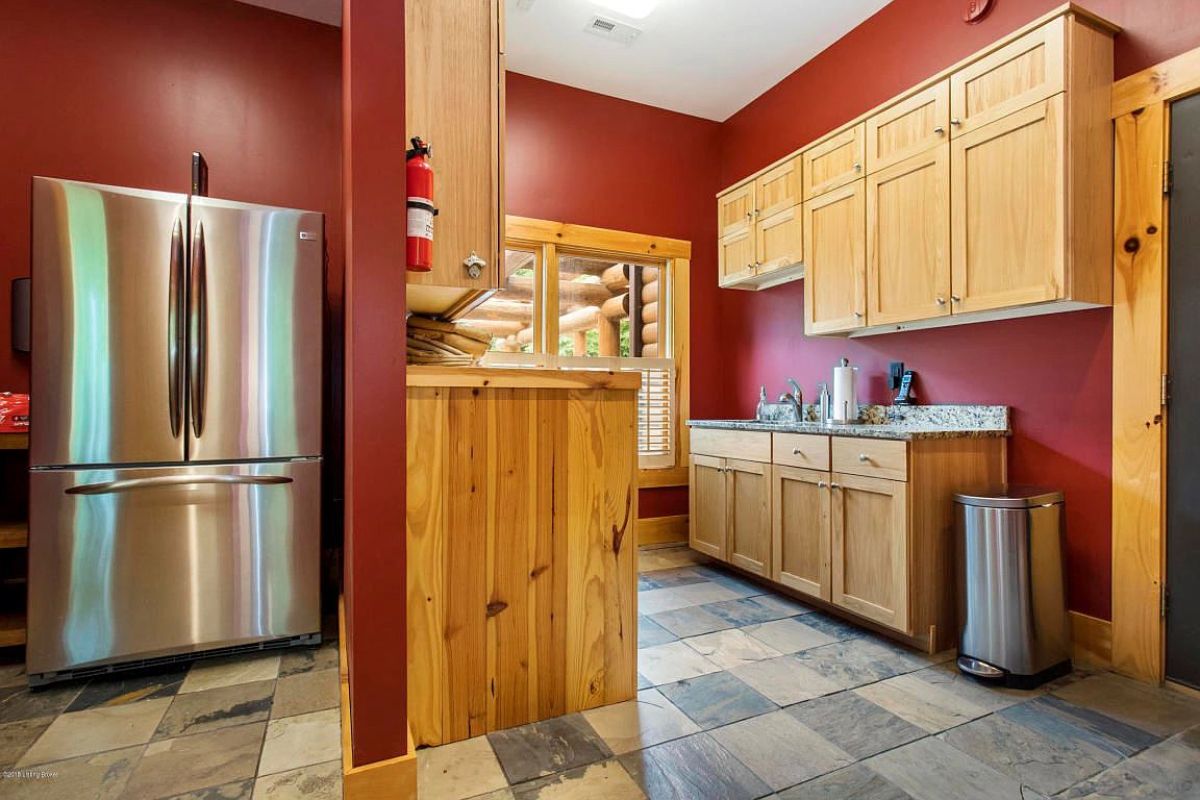 This sits just behind the dining area and to the side of the kitchen. It's handy while not being in the way or out in the open of the rest of the home.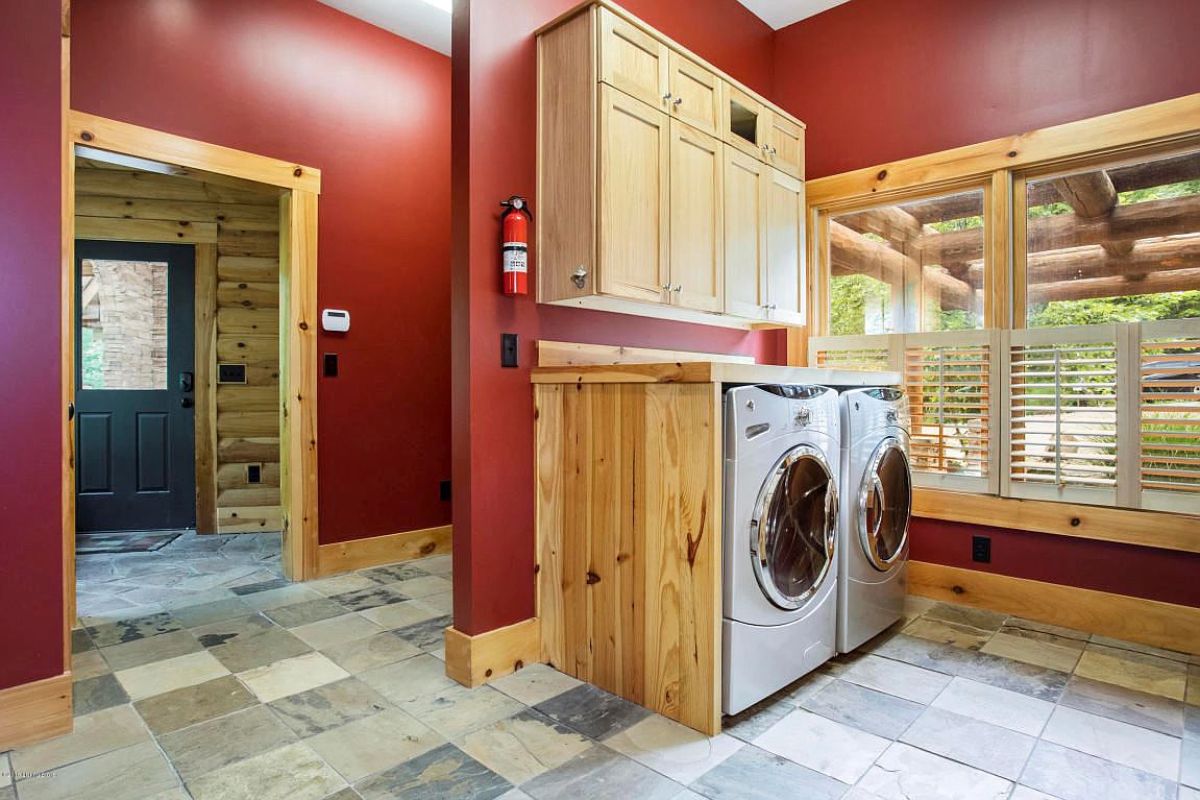 Of course, when looking at this home I have to include the bedrooms. This space could easily be the master bedroom with beautiful open spaces, a large picture window overlooking the deck, and of course a stunning bedframe made of wood.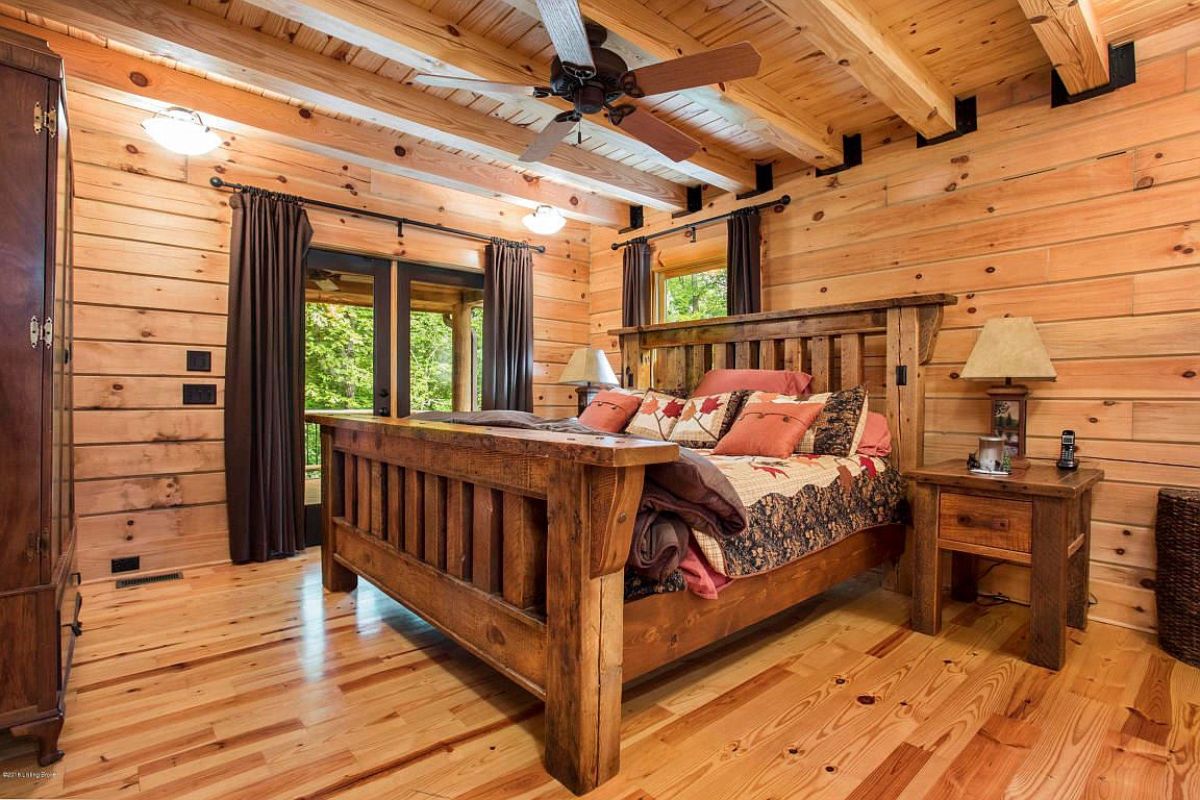 From this side of the room, you can also see a glimpse into the master bathroom.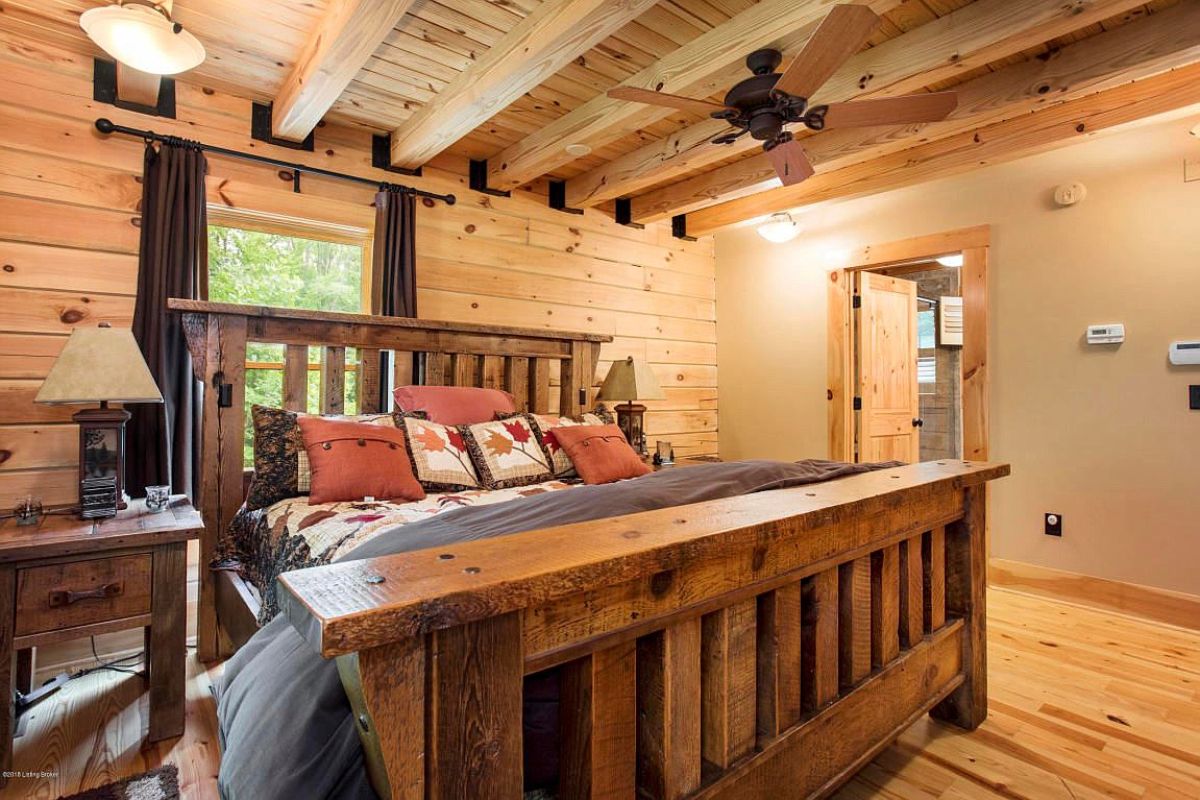 Wood walls, white countertops, and this gorgeous mirror above are a part of this space making it modern, rustic, and homey all at the same time.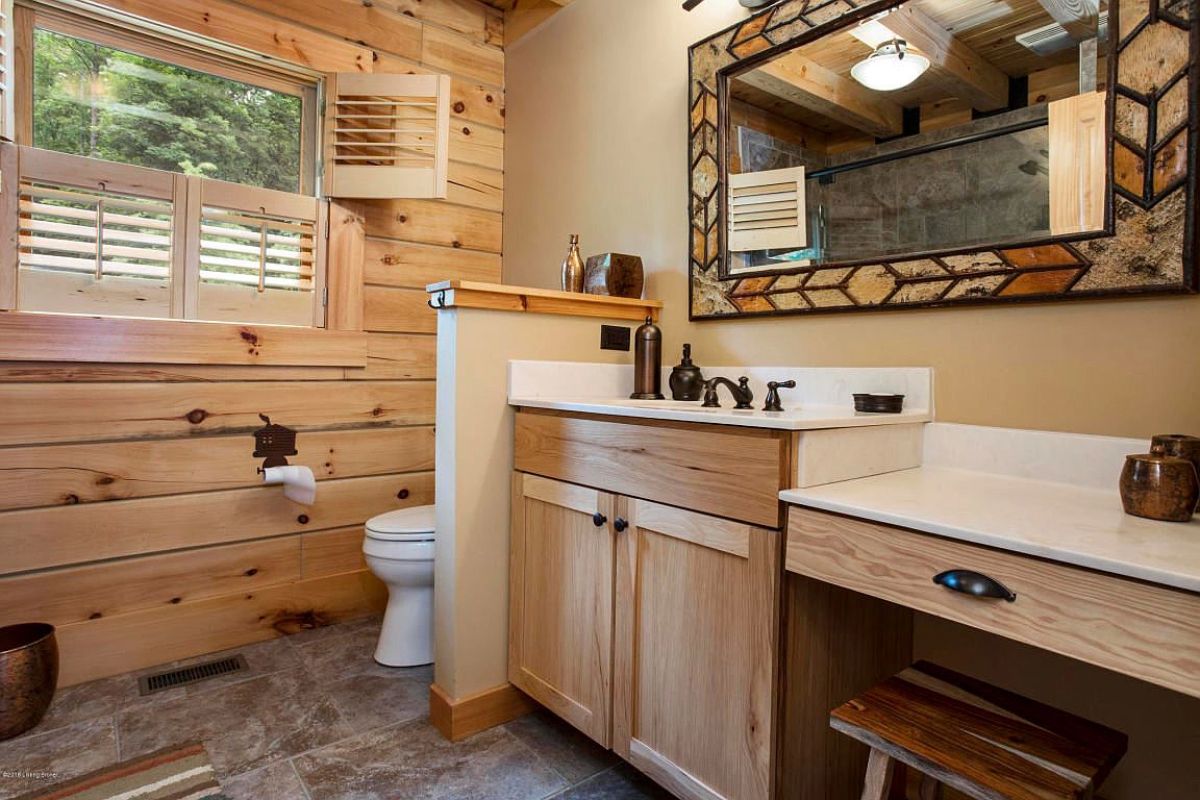 The gray tiled shower is large enough for two people with glass doors keeping it open and making the space feel larger.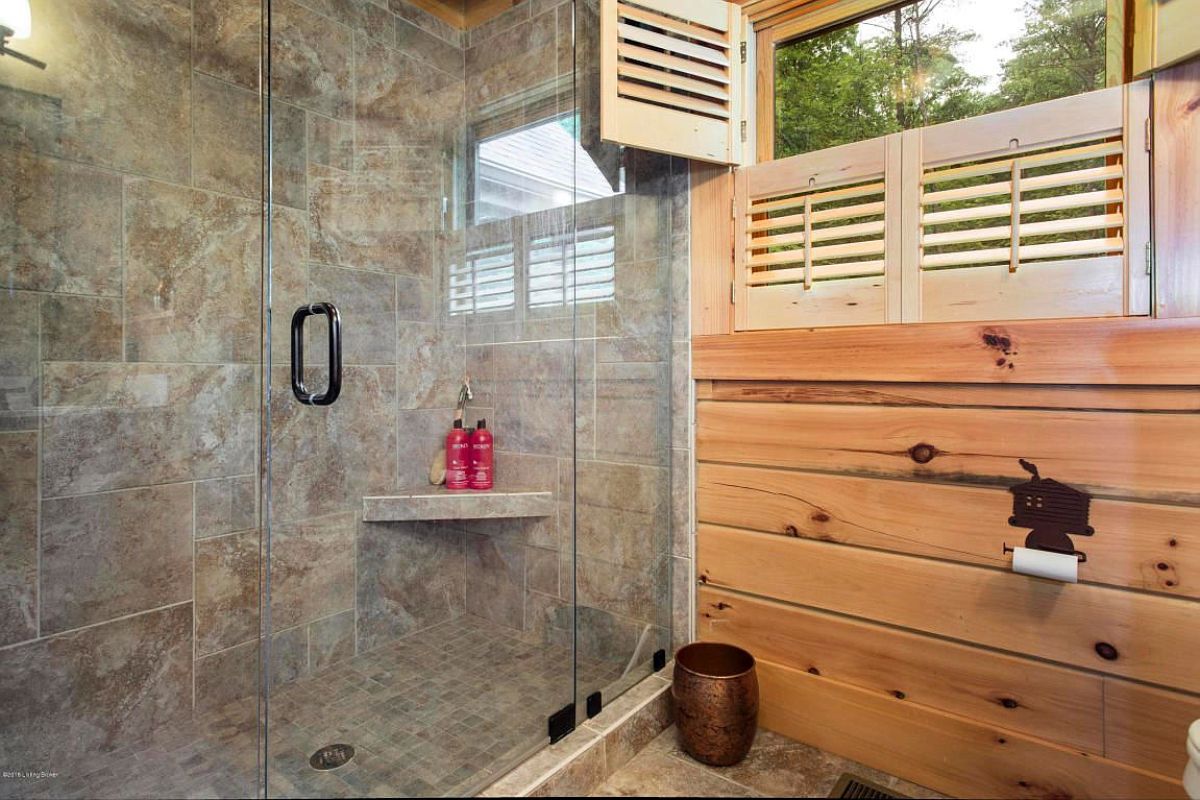 Other bedrooms in the home include large closet spaces, and a unique little bench window seat like shown below.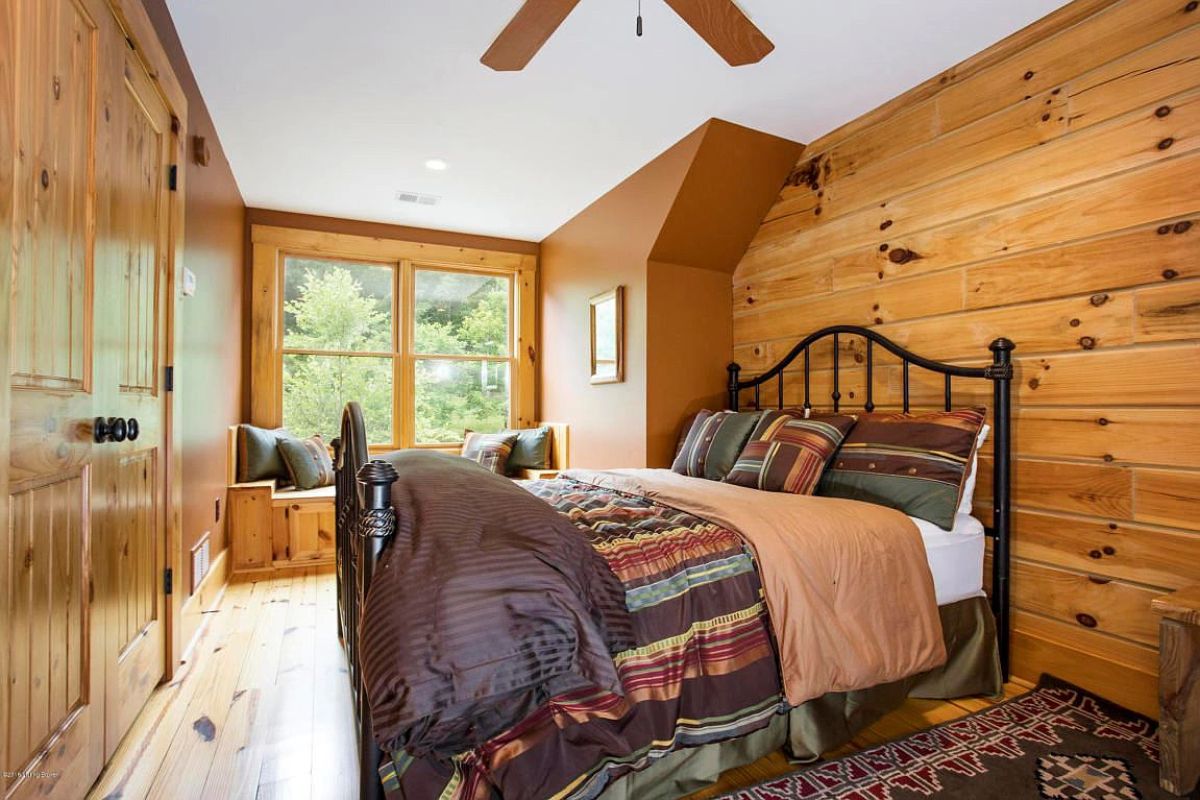 There is even a bedroom with room for a large bed and a twin bed in that window seat space.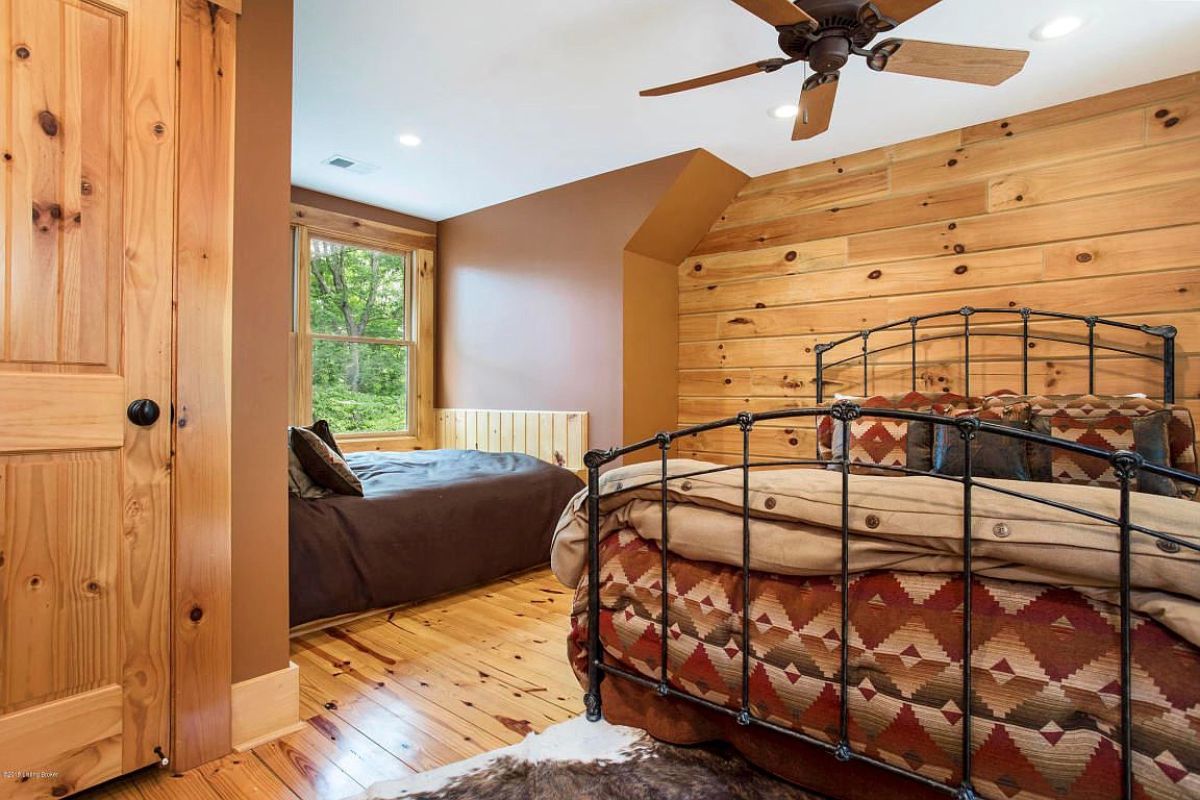 This can easily be used as just a seating space, but throw a mattress and linens on top and you have a sort of day bed with storage below.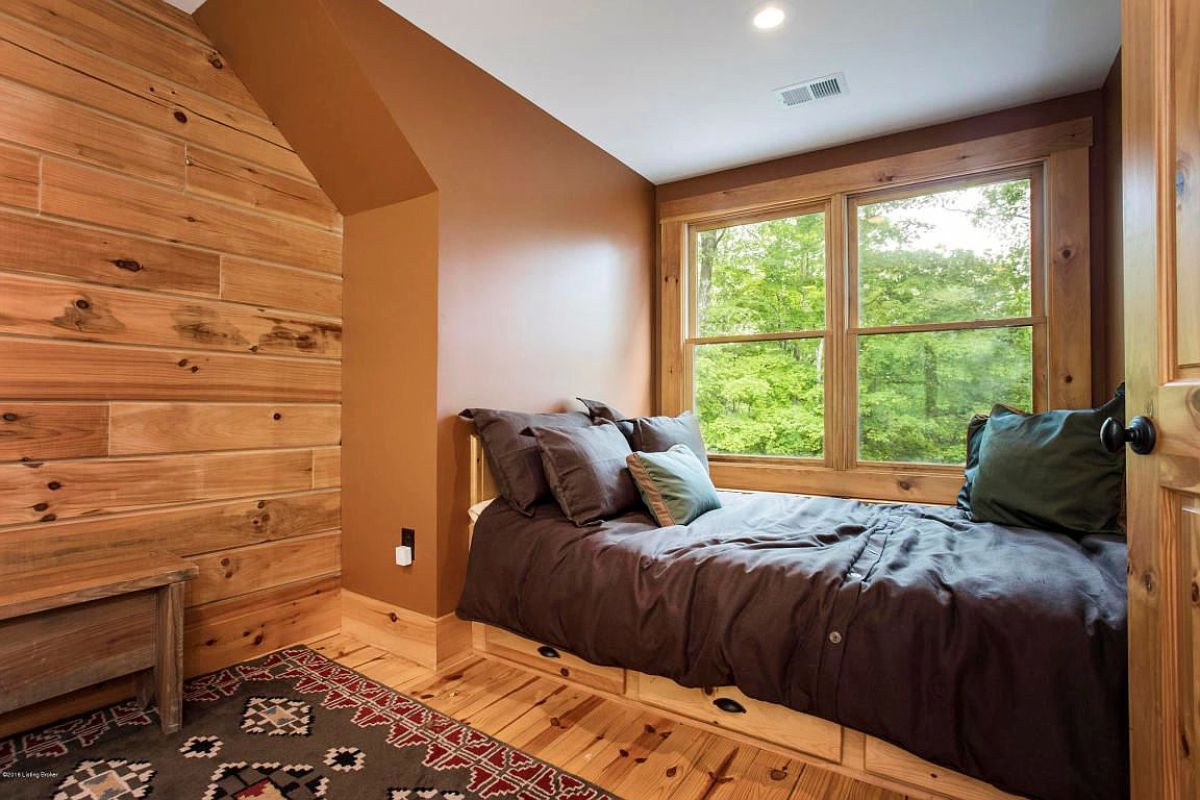 Extra bathrooms in the home include spaces like this with light blue walls, pink marble tile, and black accents.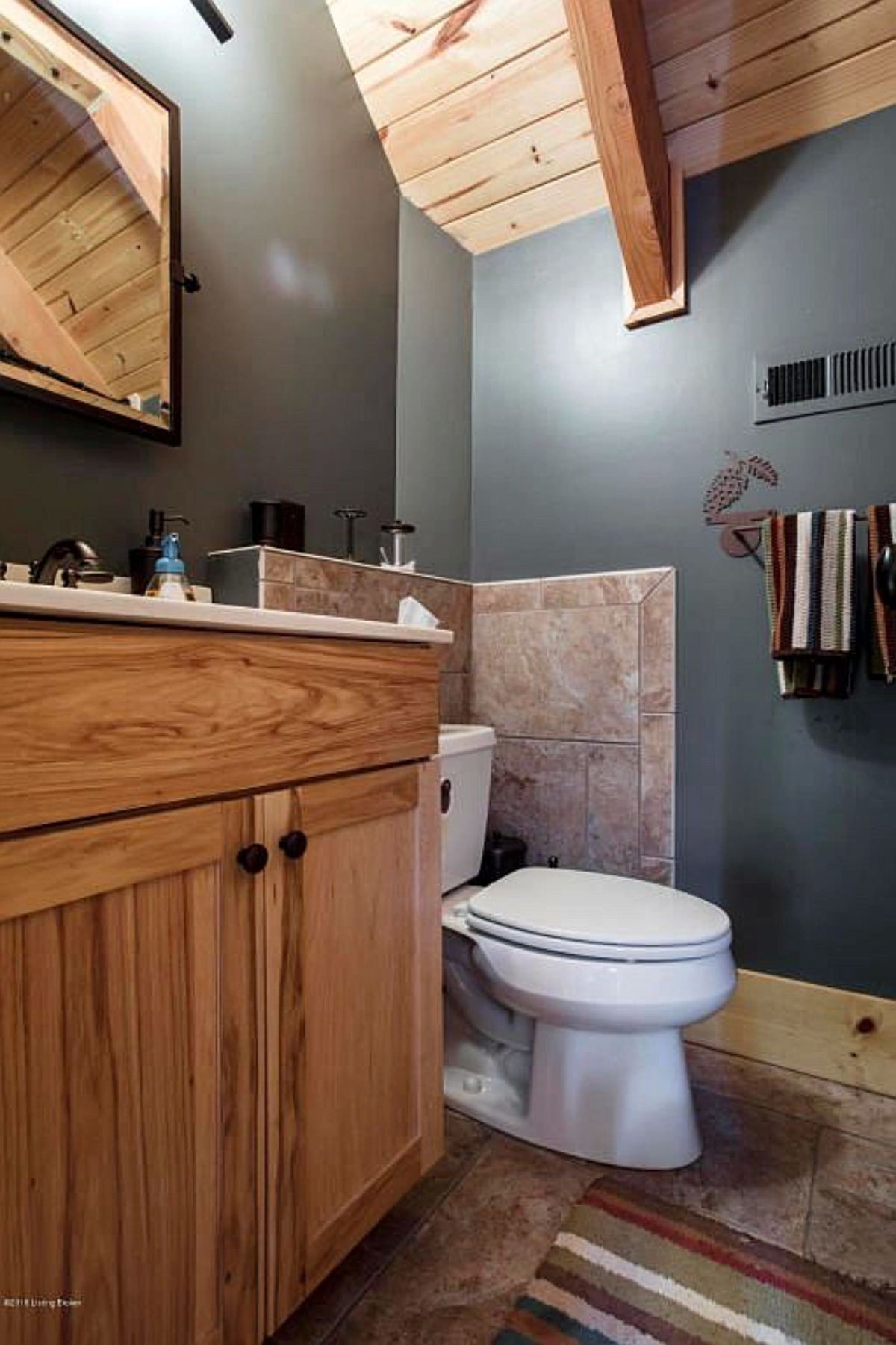 And this shower, while smaller than the master bedroom, it is still a luxury space with beautiful tile work and is ideal for guests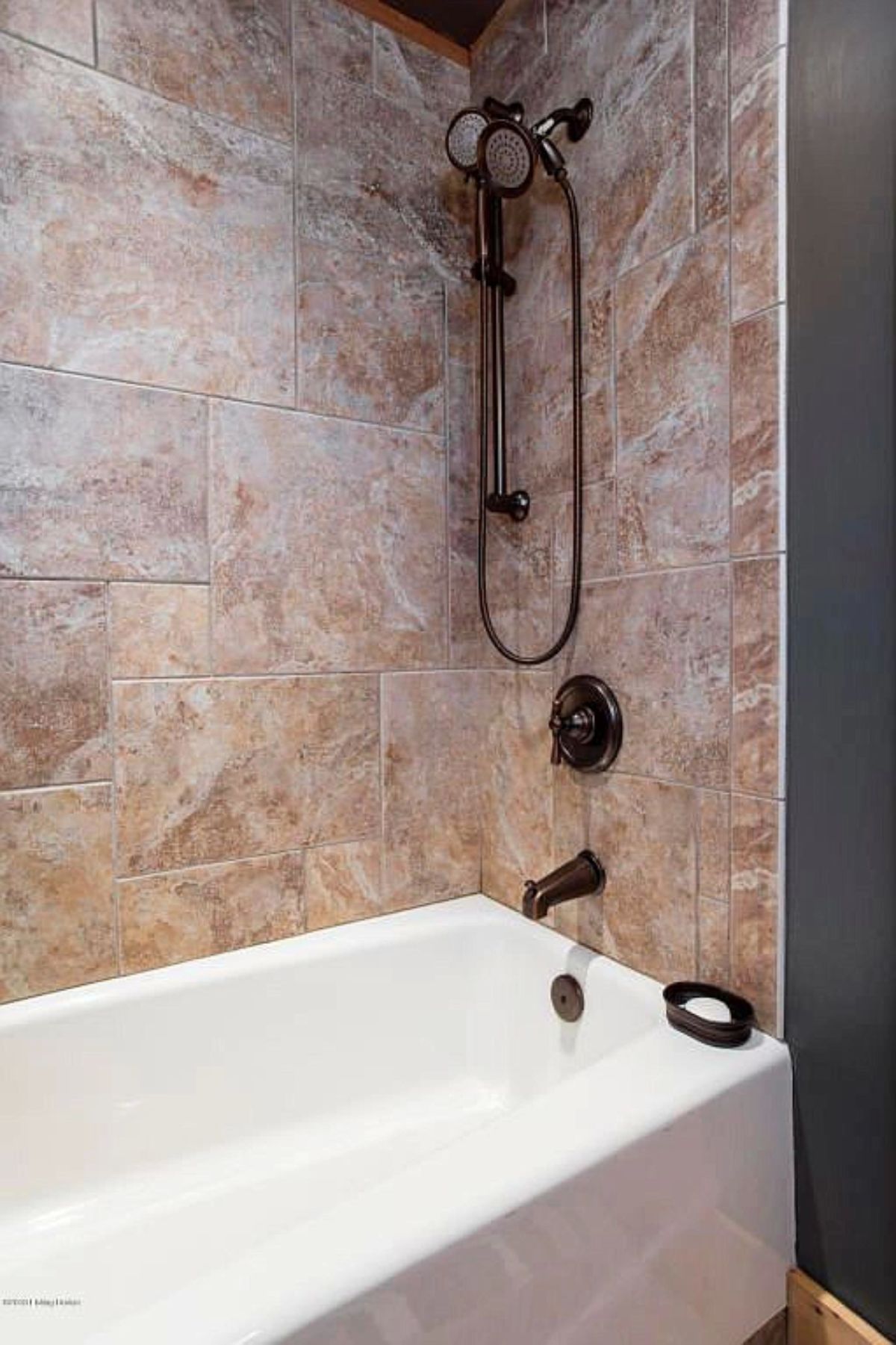 One of my favorite things about this home is the large upstairs space that is dedicated to multiple bunk beds and daybeds. There is space here to easily sleep 8 to 12 people! A perfect space for family retreats or reunions.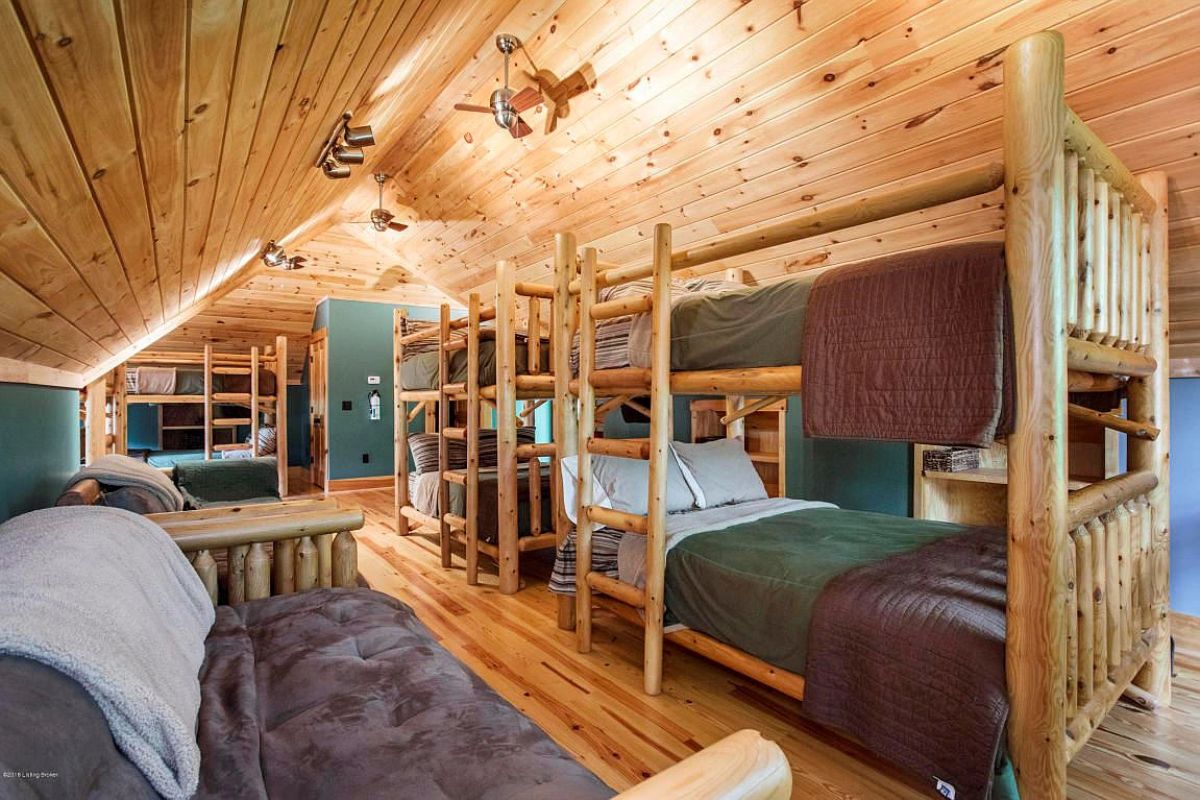 This space even has its own private balcony door and private bathroom. There is so much room here for kids to spread out and play, but it's also perfect for everyone to relax together.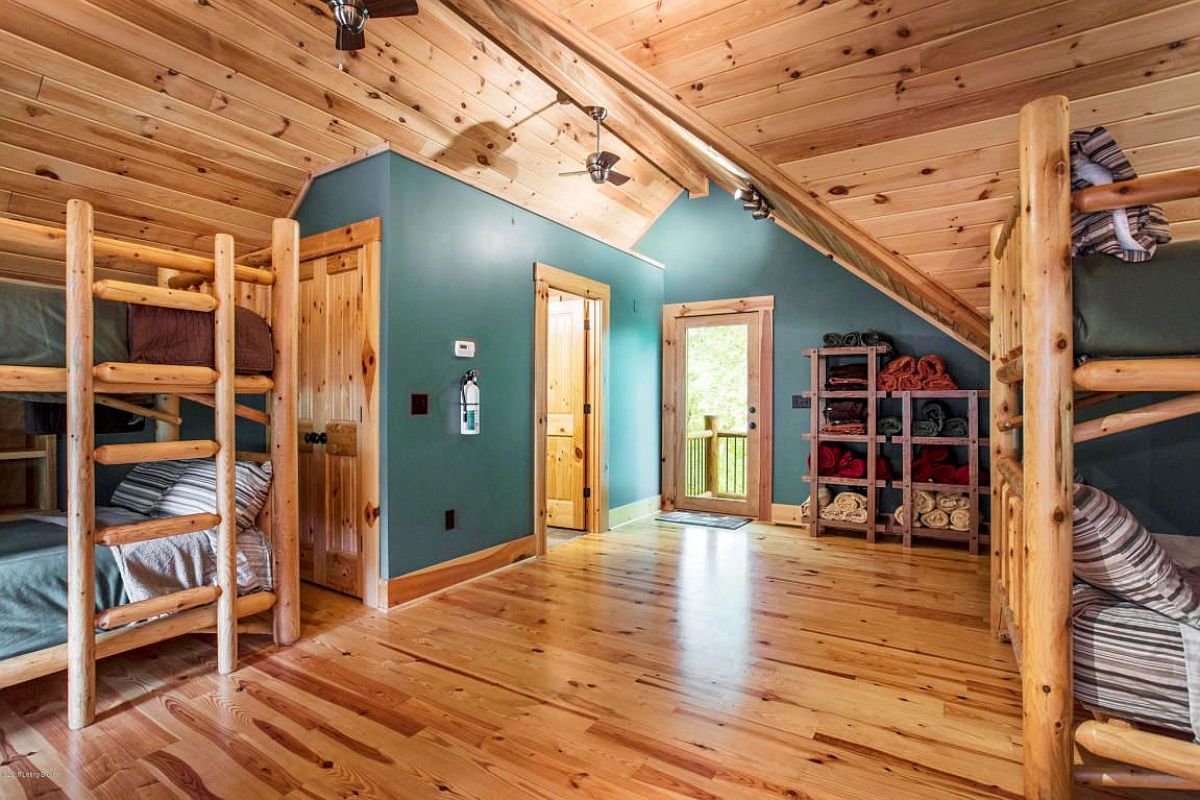 The attached bathroom is simple, but has what is needed for everyday use.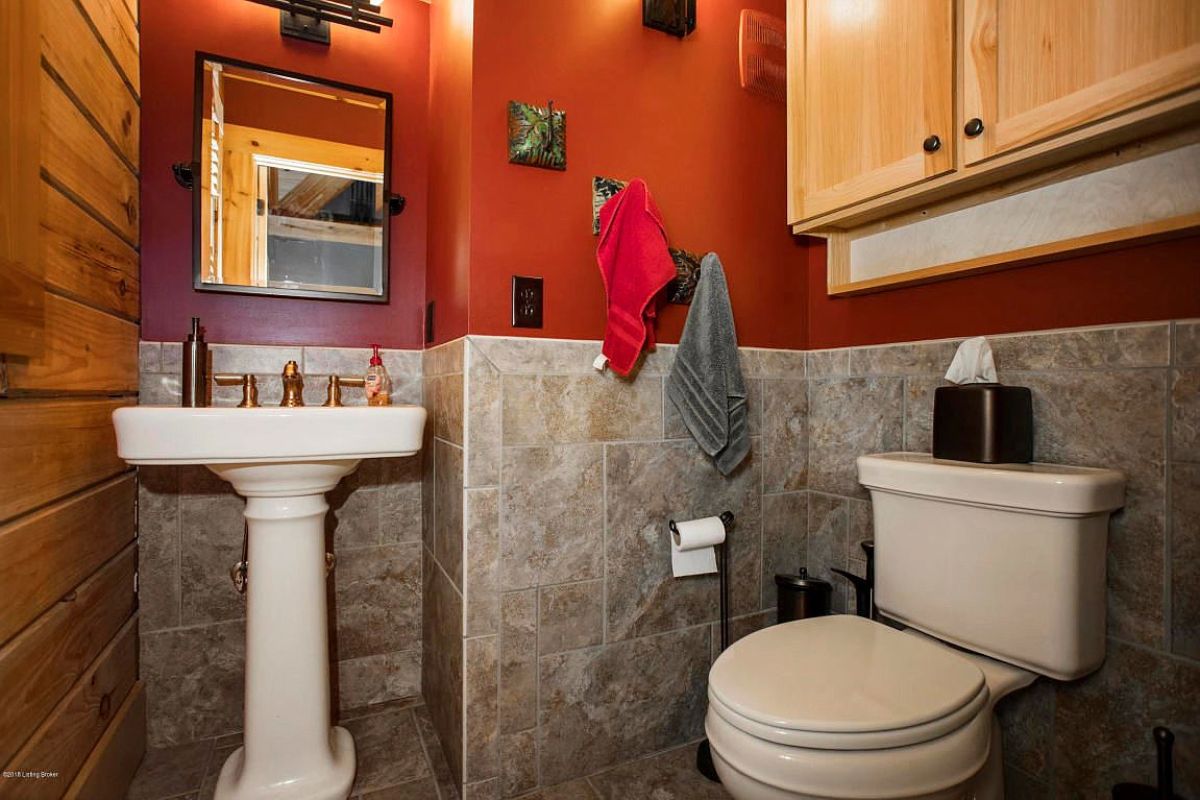 For more information about this build, you can check the Southland Log Homes website. You can see more of their builds on Facebook and YouTube where they post regularly with updates. Make sure that you let them know that Log Cabin Connections sent you their way.
More Log Cabin Kits and Tours